Disney Park Pack: Pin Edition 3.0 is a monthly limited edition enamel pin subscription from shopDisney. Every month in this subscription you'll receive three hand-picked, blind-boxed Limited Edition Disney Pins from Parks Attractions, Star Wars, Marvel, and more.
This box is returning from an extended hiatus – they just decided to stop the subscription for a few months while they reorganized the subscription. Now each limited edition pin has only 3 variants.
With the Pin Trading Edition 3.0 each pin is a Limited Edition of 500 and each monthly box of three pins will all be themed together!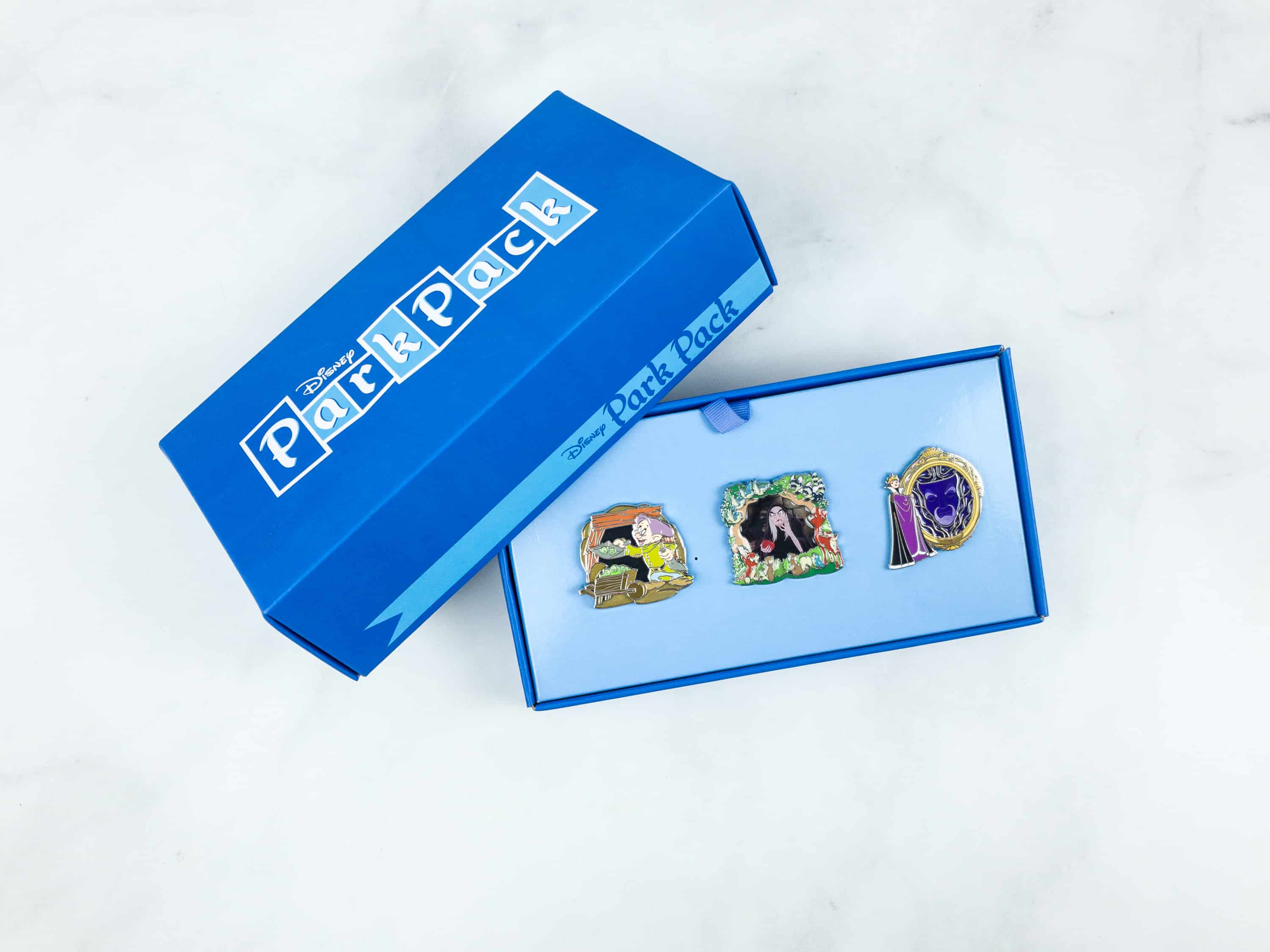 Here are the Park Pack 3.0 pins for May 2018!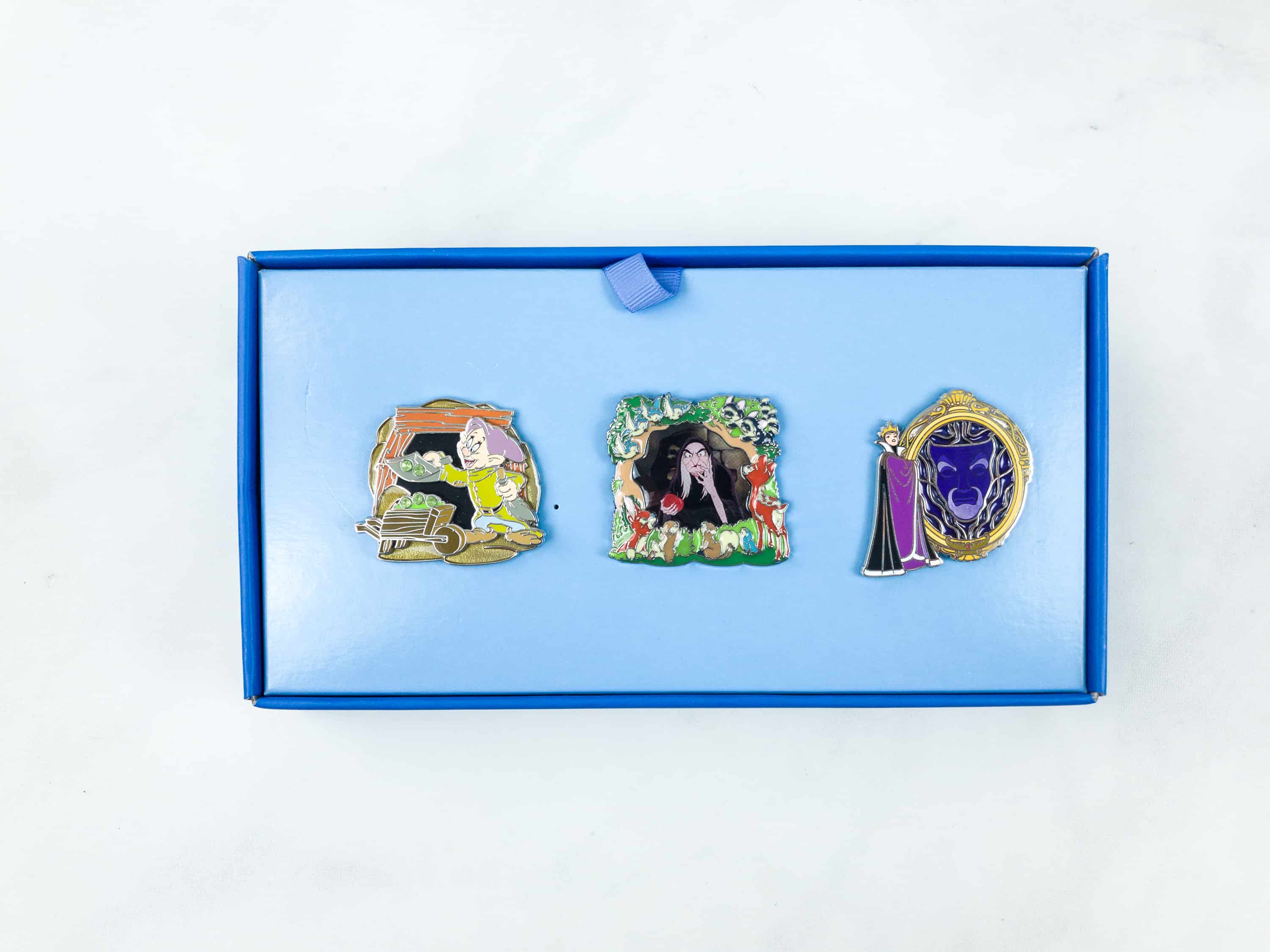 There is no information card for this box, and I always wish they'd included a curator's note – maybe with names for these pins and perhaps a matching exclusive postcard or a free lithograph like Disney Movie Club.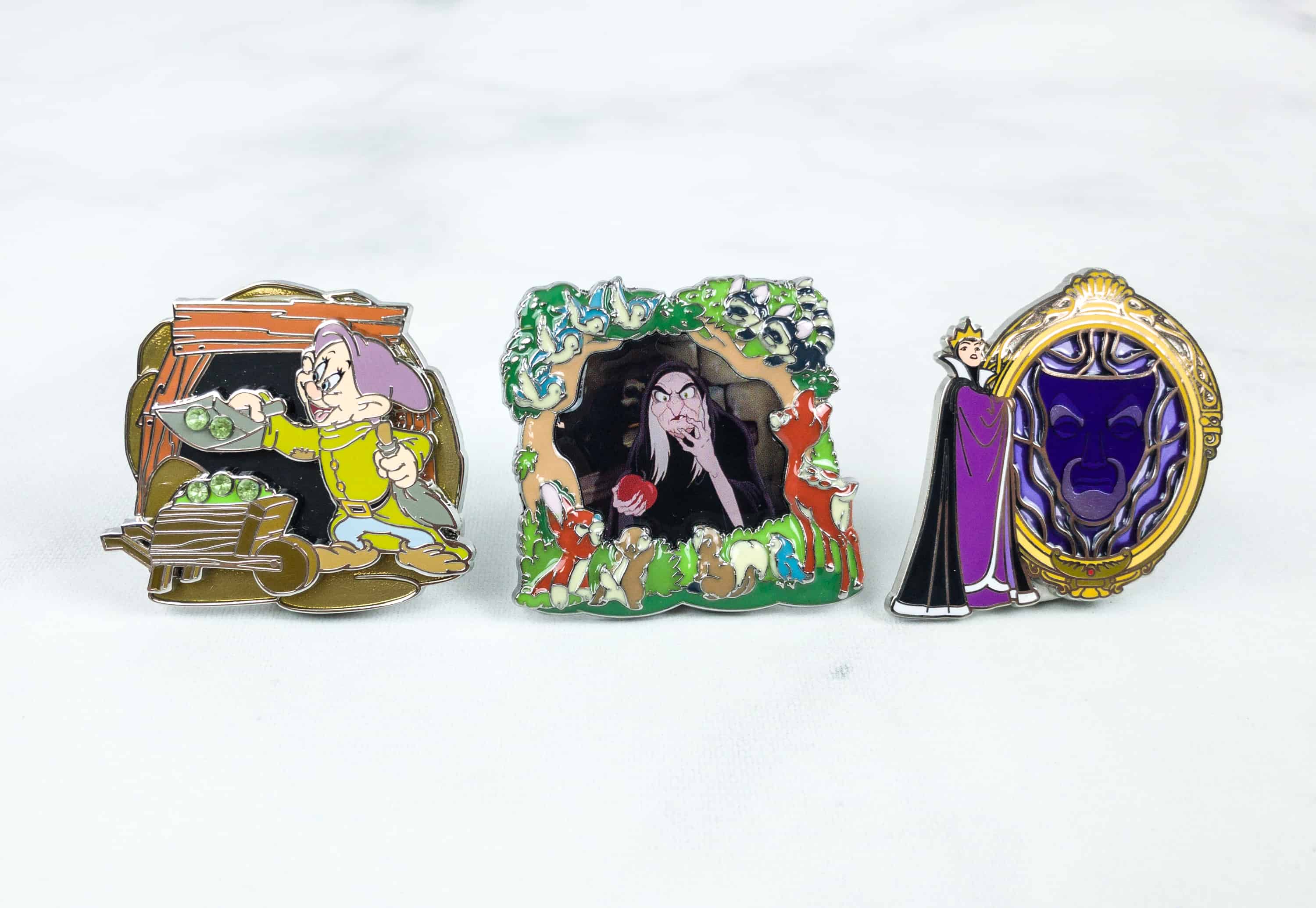 The Disney Park Pack Pin Edition 3.0 theme for this month is Snow White and the Seven Dwarfs.

All the pins this month came with two posts that fit a rubber Mickey pin back. There are 3 variants of each pin, and 500 of each.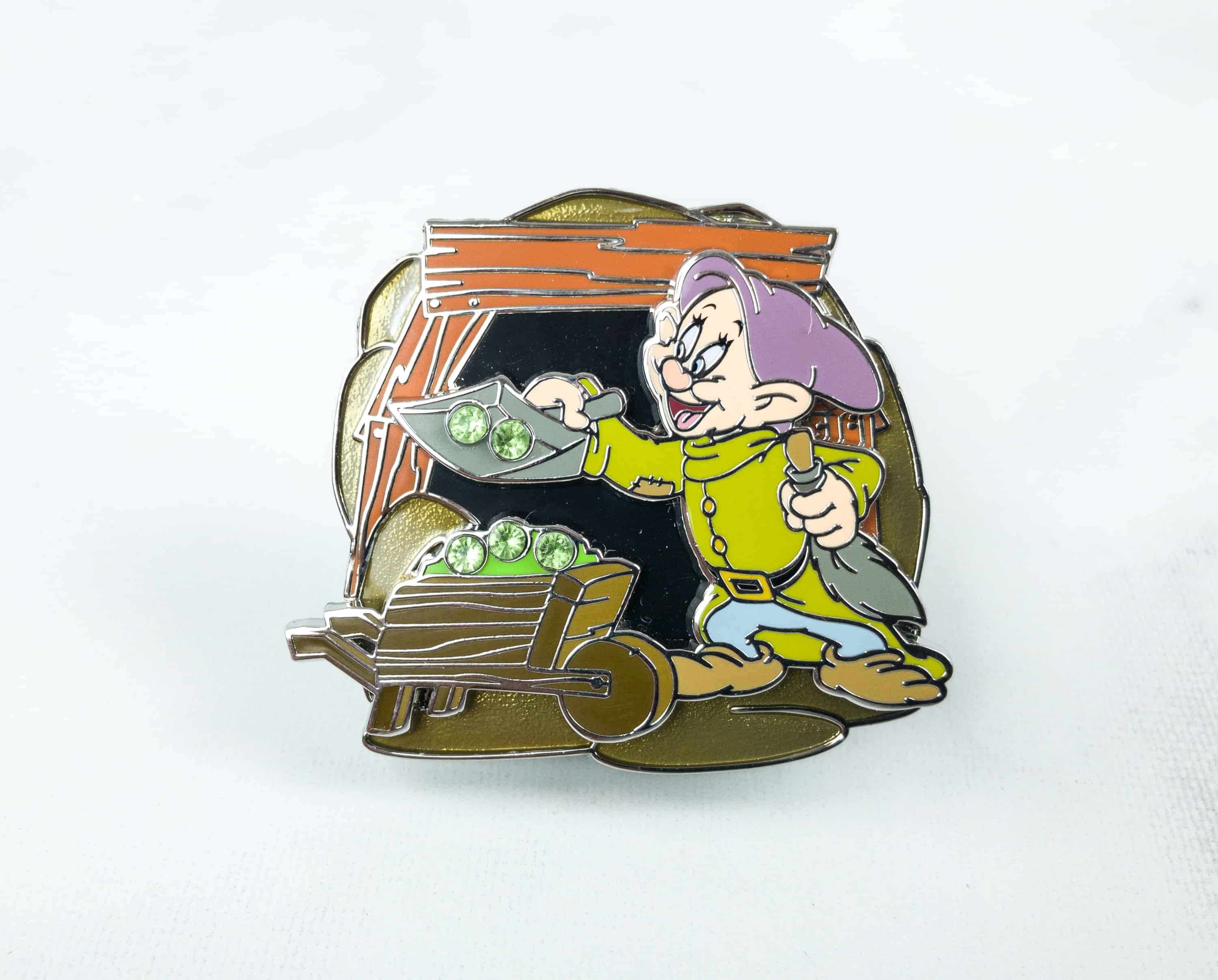 Dopey Pin. Dopey is the youngest of the seven dwarfs and usually is the butt of jokes. He's goofy and very charming, few of words but always means well. This probably is my favorite out of three just because of those 5 glimmering green gems attached to the pin and Dopey looks cute. Like the others, it appears to be layered too and has a rich golden color as a base.
The Evil Witch Pin. The enamel details of the animals are watching the witch in the pin like they're watching the movie. Then, they creatively incorporated the real cartoon image of the evil witch. Clever right? This is one of the iconic scenes. I loved how the details are layered and give a 3d effect.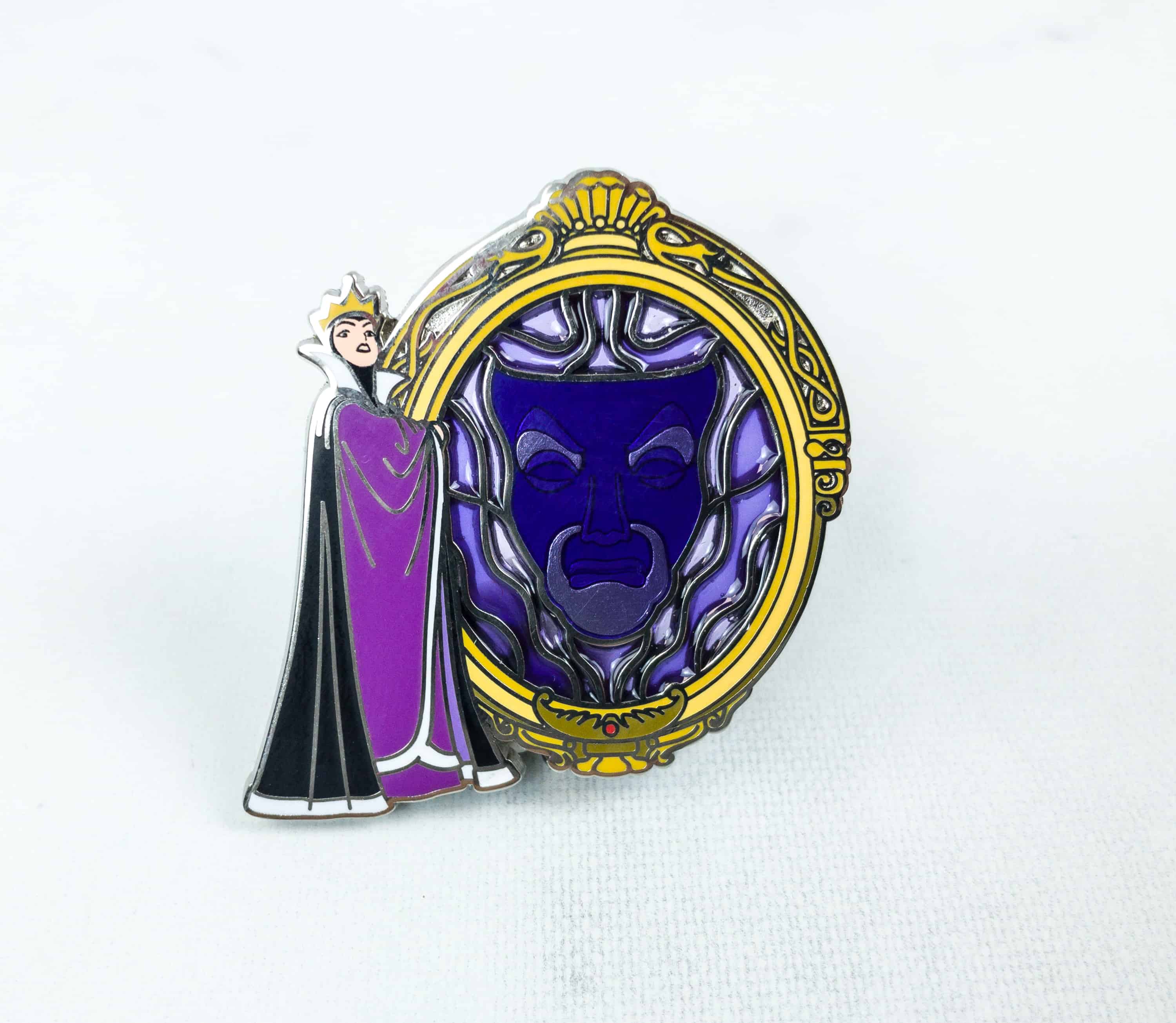 The Evil Queen Pin. Who would forget about the true form of the Evil Queen? I don't know whether she's more obsessed with the power of the mirror or her status in the beauty contest. She seems really proud here in this lovely design. This picture doesn't do this pin any justice. The face of the mirror is opaque enamel but the purple shards around it are transparent. It has a good effect when pinned on a printed background.
A collage of all possible designs – Source Nateeter on Disney Pins Blog Forums
Even VISA credit card has been touched by Disney! You can sign up here for a $200 statement credit.
These pins are beautifully made with unique details that make you want to take a longer look! Each pin has a different style to flaunt. The characters and their rich colors bring back memories of the fairytale we grew up to. These are perfect trading pins as they are made of high-quality cloisonne enamelling. I'm kind of disappointed not having Snow White in a Snow White-themed pin collection. I got two versions of the evil witch but I am not having the evil last laugh. Kidding aside, the kids loved them, the packaging is perfect for safekeeping and I'm excited for the next one!
What did you think of the Disney's Park Pack Pin Edition 3.0?
Visit the Disney Park Pack: Pin Trading Edition landing page to find out more.