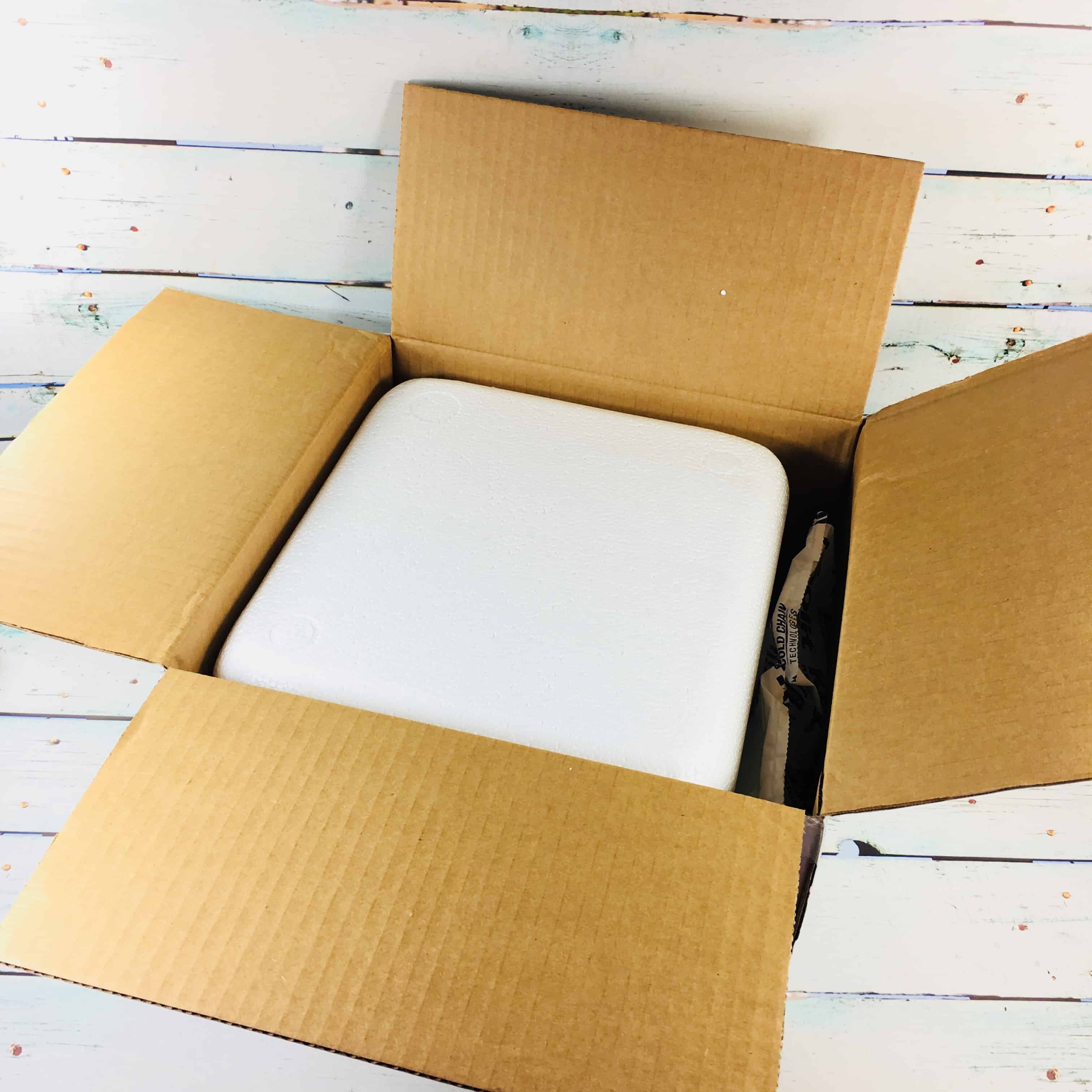 Chococurb is a monthly subscription containing extraordinary, premium, gourmet chocolates – this isn't your convenience store candy! These items can come from small, local chocolatiers or more established national brands. Every box will have something new, exciting, and absolutely delicious. You can choose from the Classic Box ($35), which has 5-7 items, or choose the Mini ($20), which has 3 items for smaller appetites. Shipping is free during the cooler months but expect to pay for FedEx shipping in the warmer months. I am reviewing the Classic Box today!
It's pretty much summer already so my box was shipped via FedEx in a styrofoam cooler with ice packs to keep the chocolate from melting. The packs were no longer cool but everything was in great shape.
Inside the cooler I found my box o' chocolates!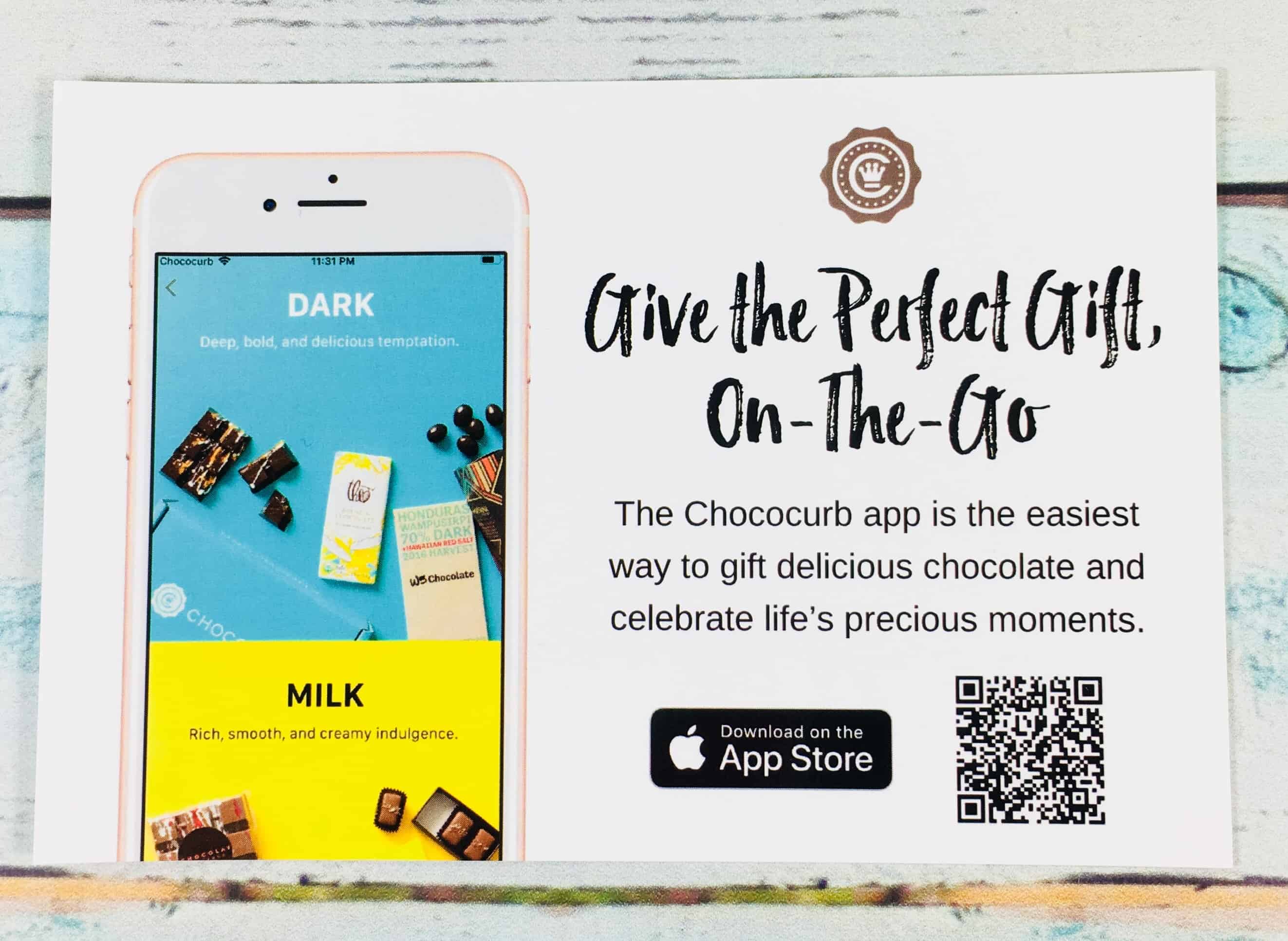 Chococurb doesn't put any product info in the box but they did include a card with info on their new app.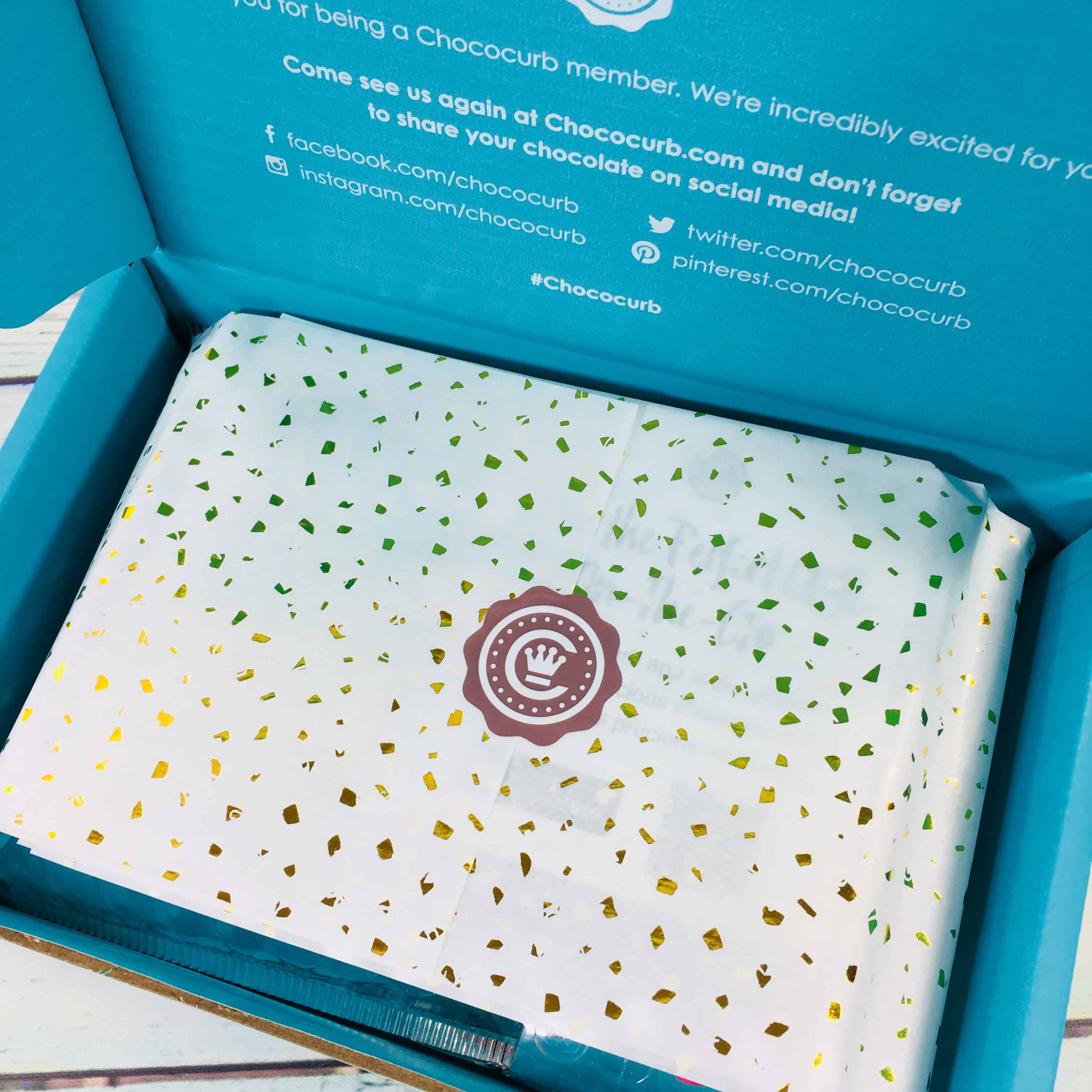 The presentation was simple, with gold flecked tissue paper and a Chococurb sticker.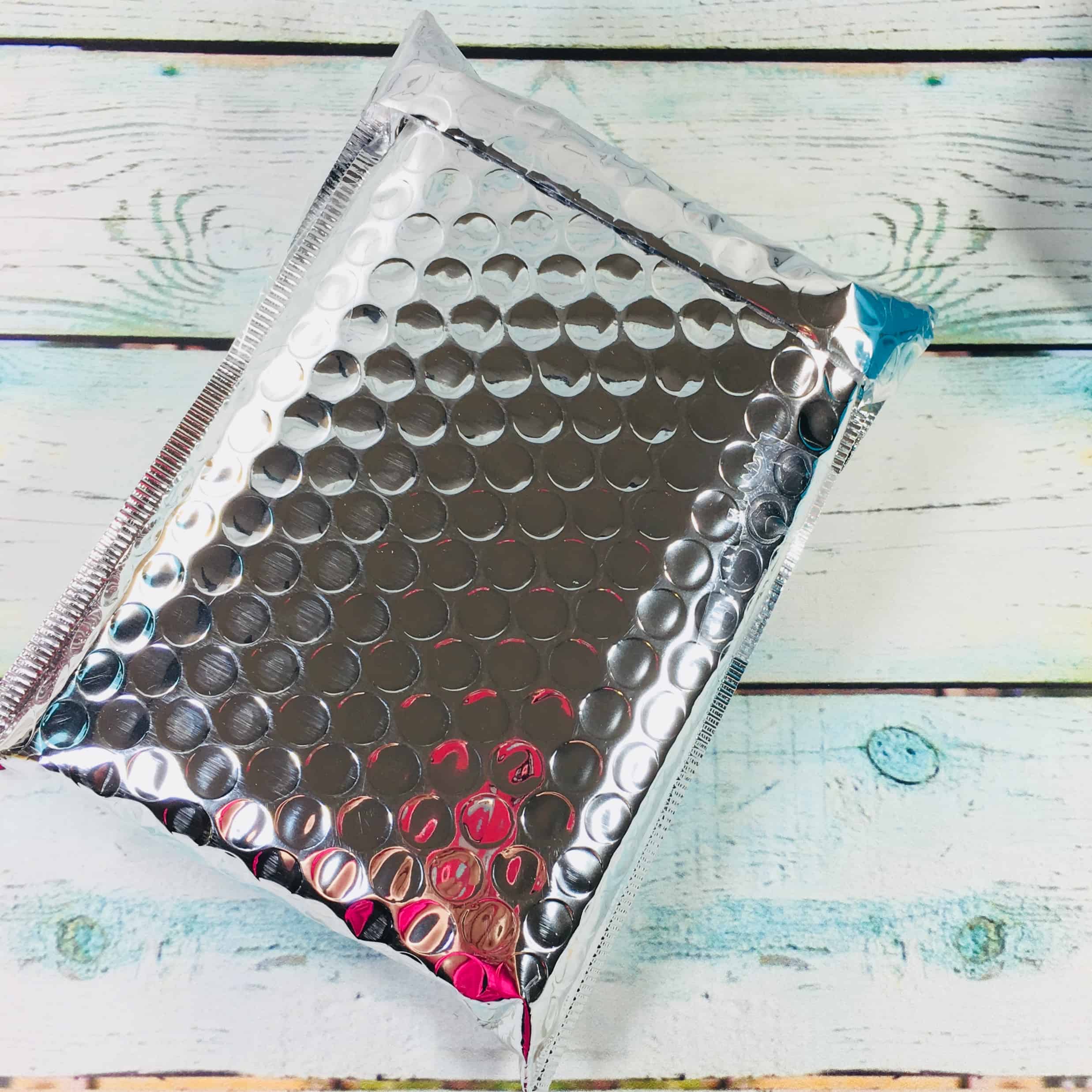 The chocolate was wrapped in a protective silver pouch to keep it from melting.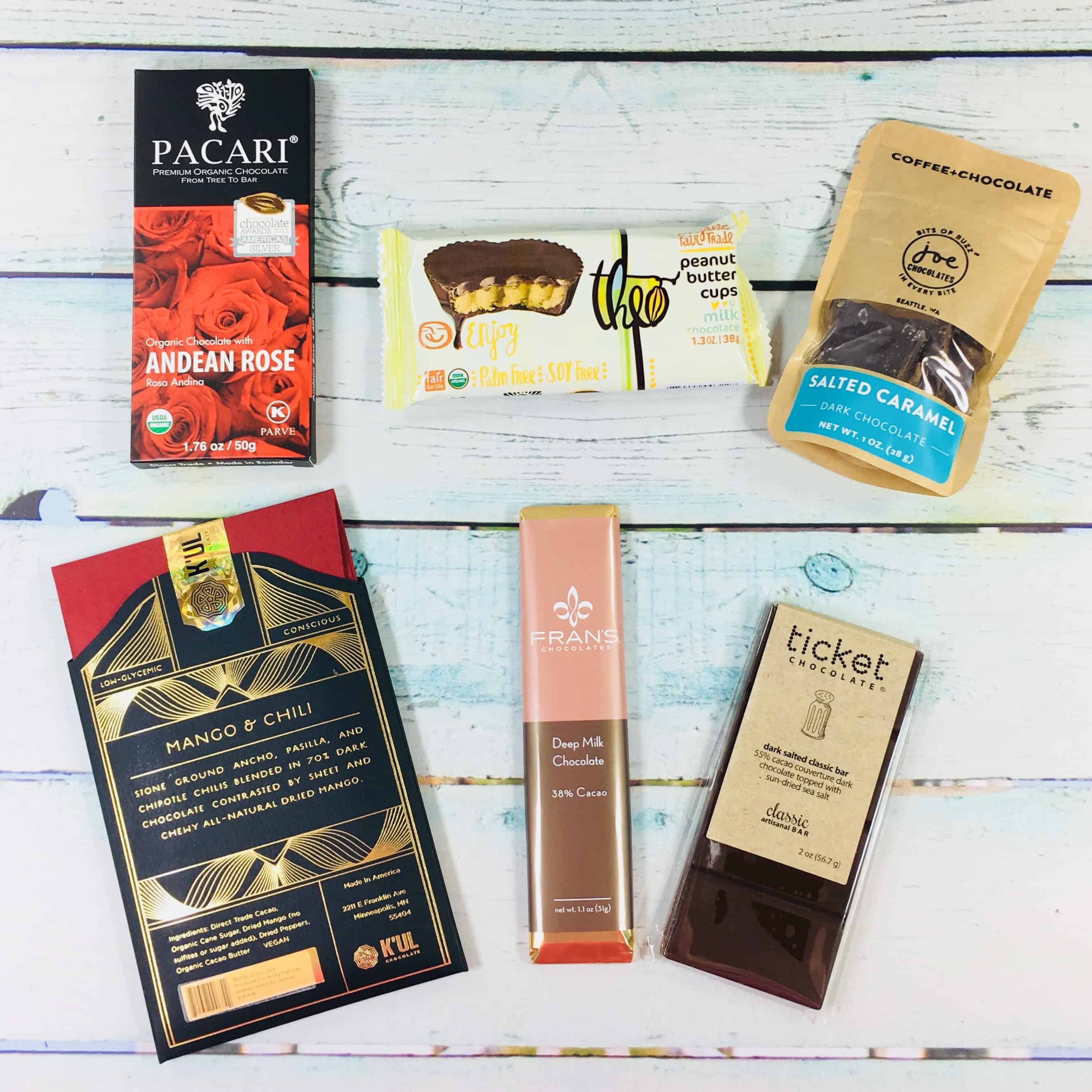 My May 2018 Chococurb! Please keep in mind that your box may vary depending on your preferences! I received 6 different items this month and they all look so good. I always enjoy the variety – white, dark, or milk chocolate; nuts, caramel, everything!
K'UL Chocolate Mango & Chili ($10) "Stone ground ancho, pasilla, and chipotle chilis blended in 70% dark chocolate contrasted by sweet and chewy all-natural dried mango."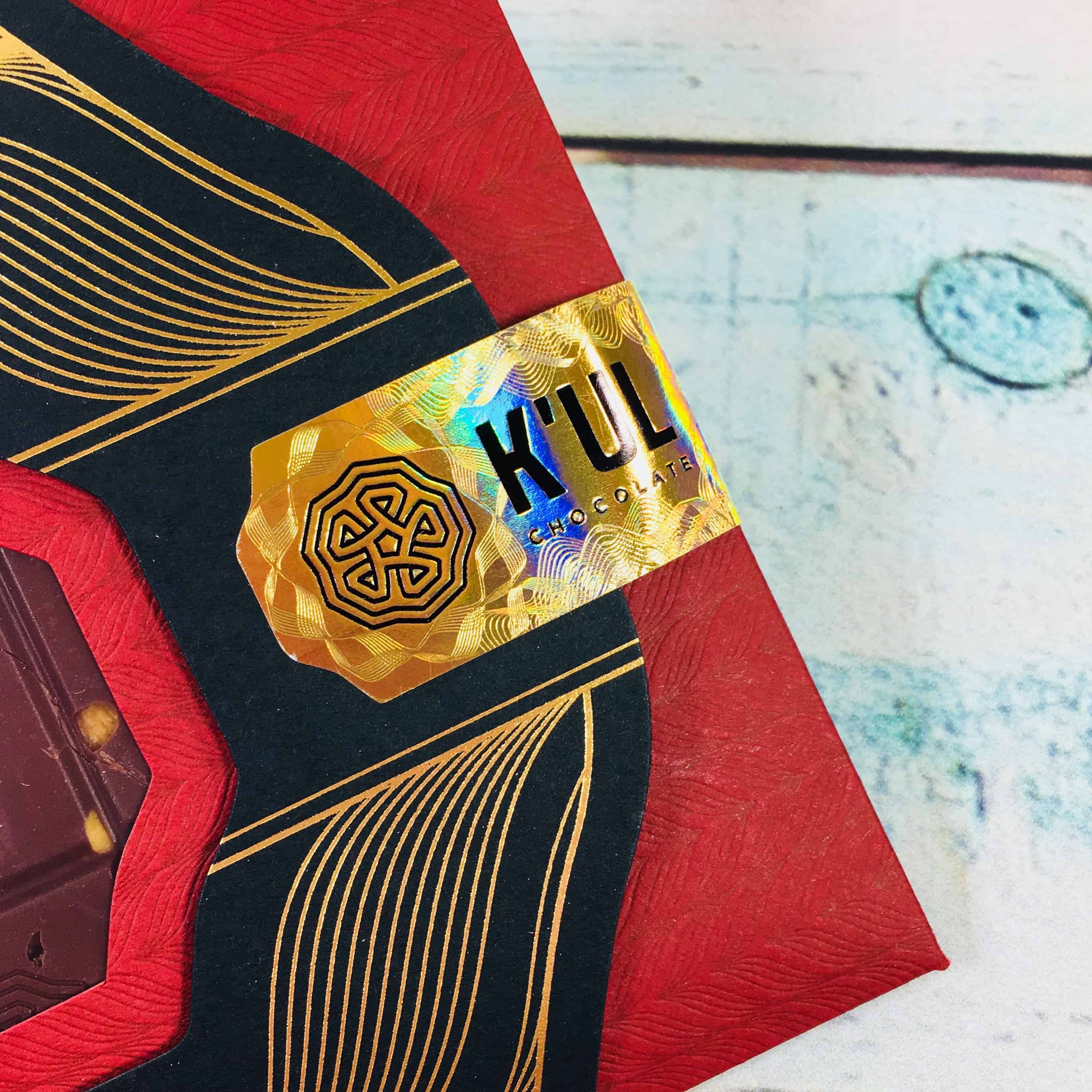 I love the sticker closure on this package, so shimmery!
You can see the dried pieces of mango in this bar, and the chili powders give it a slight tang, but nothing super spicy. The only other ingredients are cacao, sugar, and cacao butter. What a simple yet complex bar, full of contrasting flavors.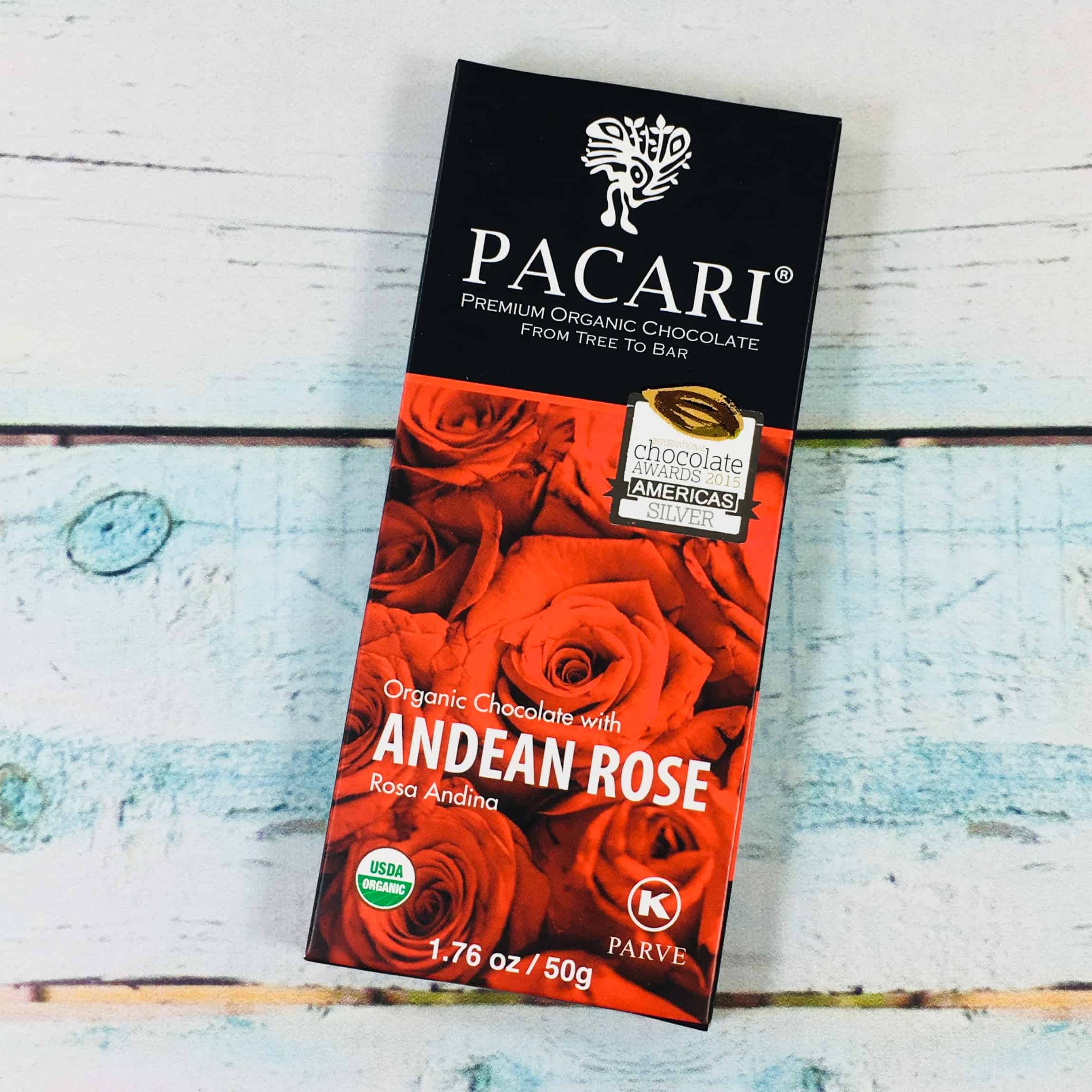 Pacari Organic Chocolate With Andean Rose ($10.44) "The uniqueness of the roses of the Andes has now arrived to be part of our Andes flavors collection."
I didn't think I would like this as much as I did! It reminded me of a Special Dark Chocolate bar but much smoother, and the rose flavor was a refreshing change, and I'm not usually a fan of rose-scented or -flavored items.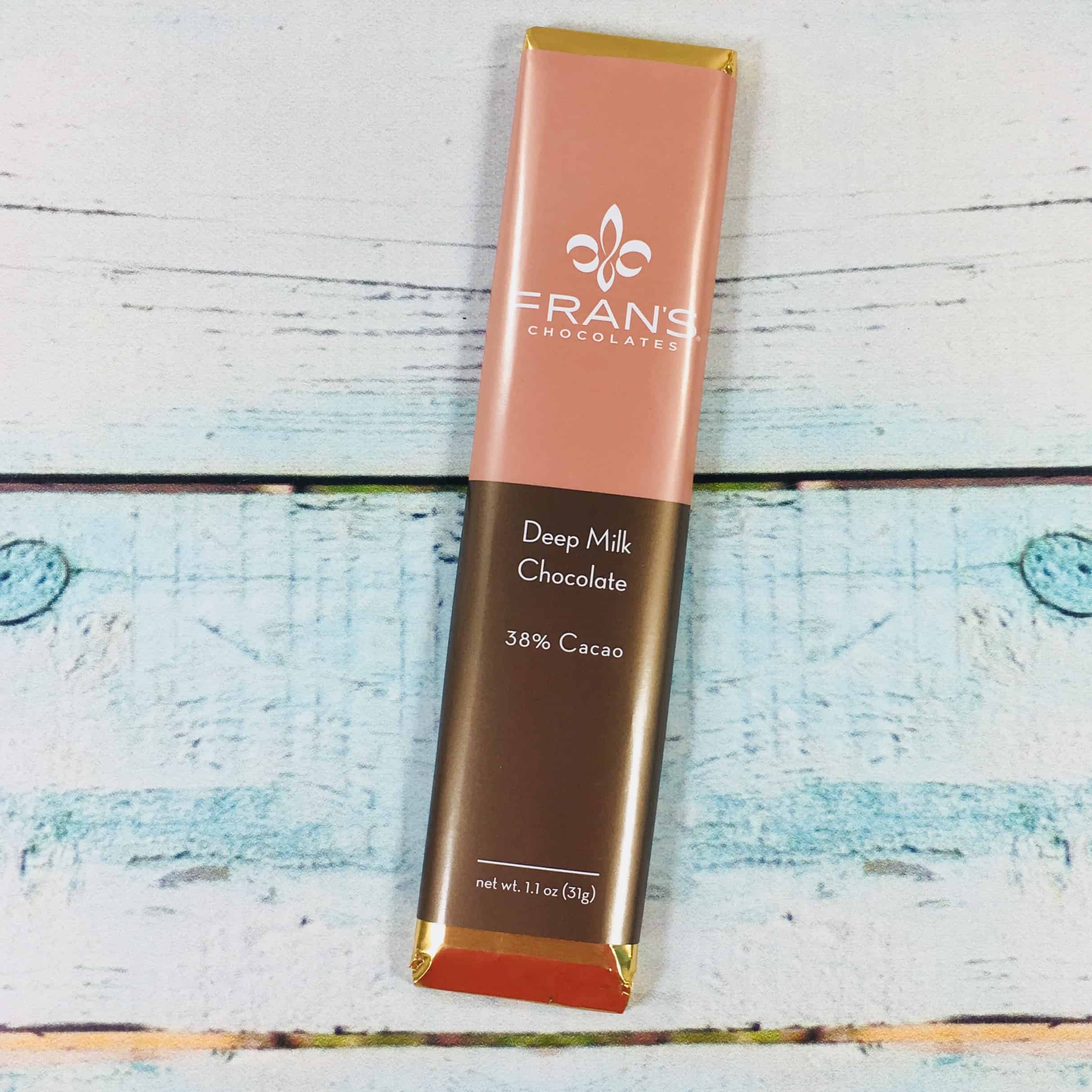 Fran's Chocolates Deep Milk Chocolate 38% Cacao ($3.83) "Indulge in the creamy texture of our 38% Venezuelan milk chocolate bar, and enjoy the rich notes of pure chocolate, caramel and vanilla."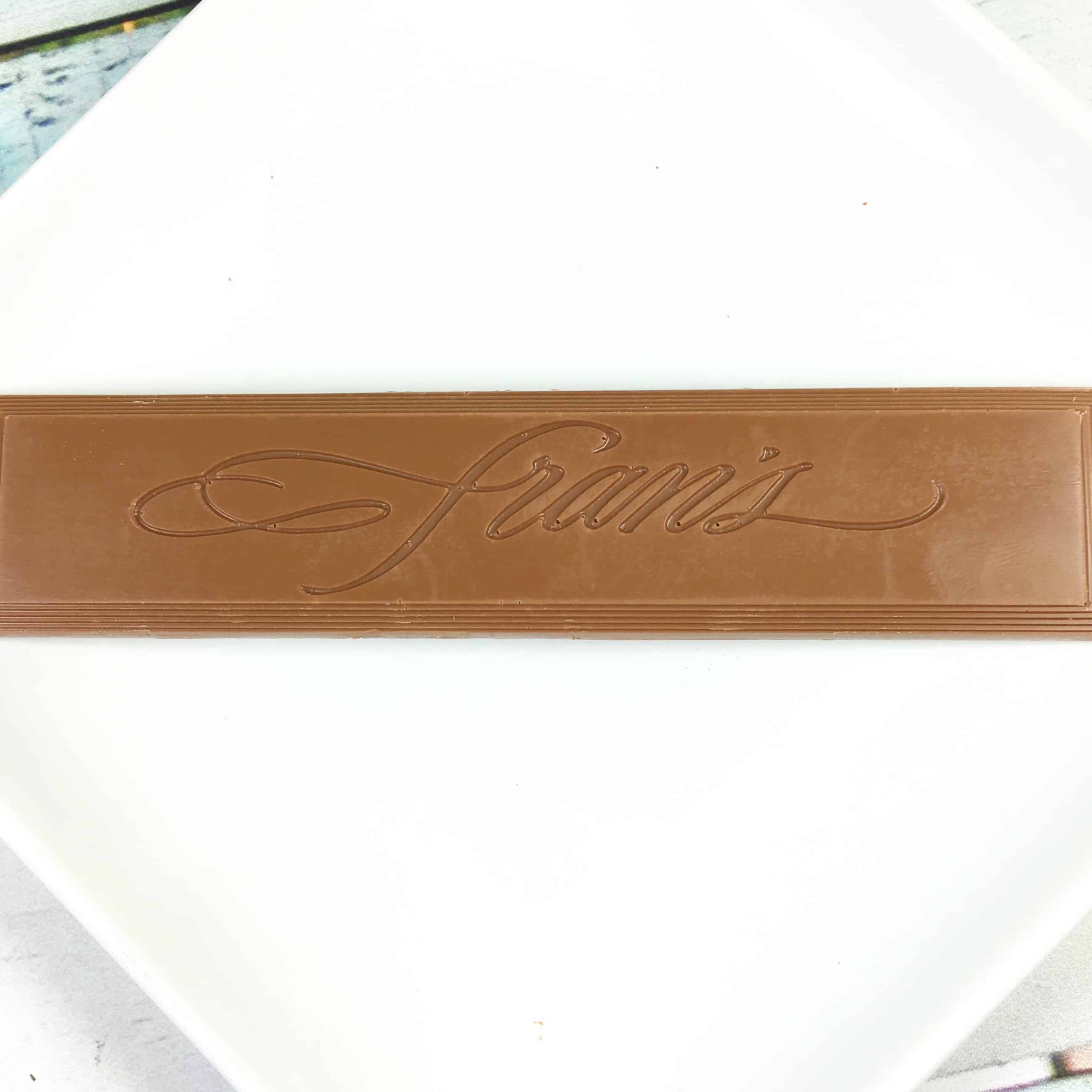 I wanted to show how pretty the cursive is on this bar, since it shows my mom's name! The flavor took me back to being a kid, when we would run out of fresh milk and add water to the powdered milk in the cupboard. Powdered milk in three different varieties are some of the ingredients! This was a very creamy bar of chocolate and was super sweet.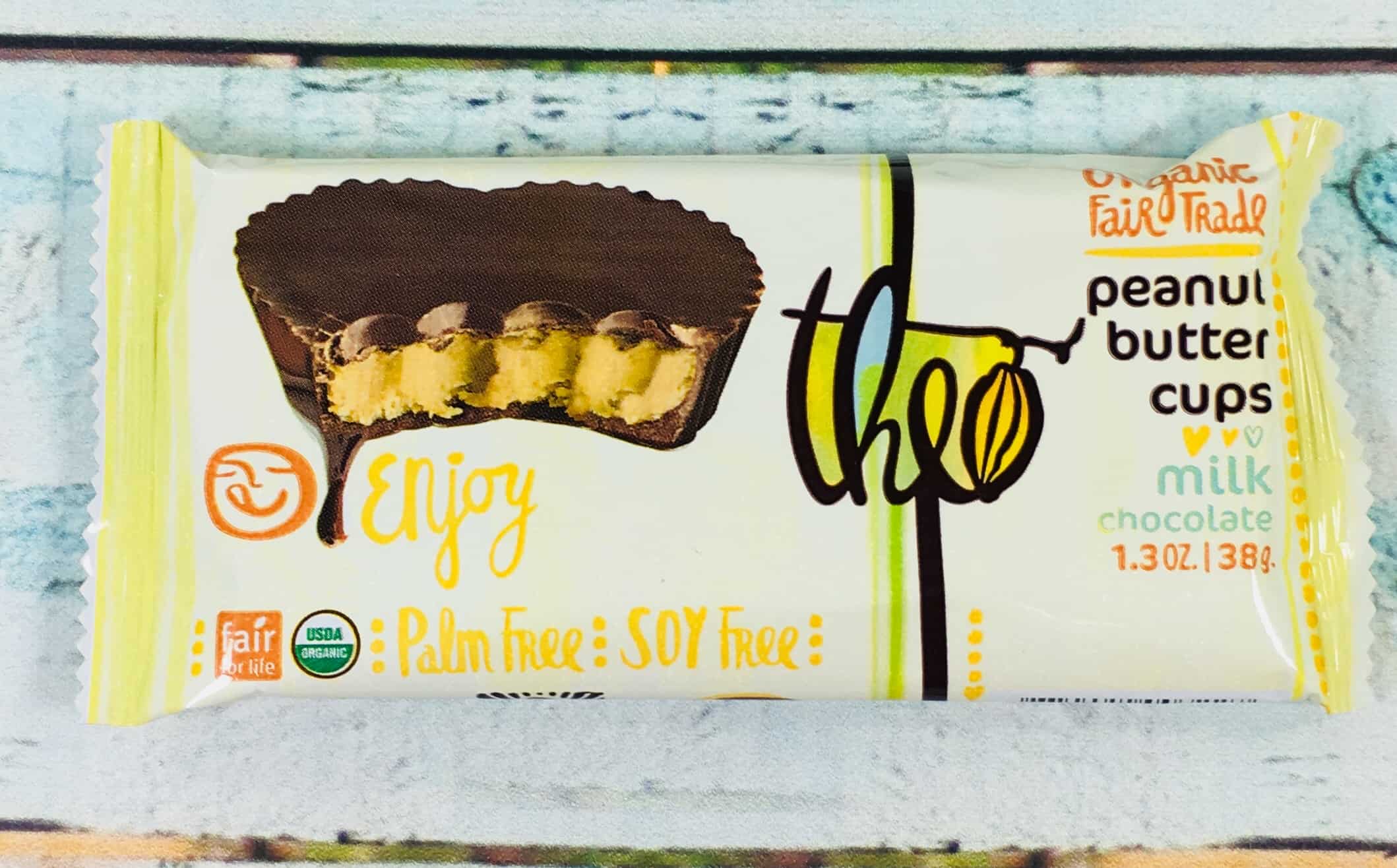 Organic Fair Trade Peanut Butter Cups Milk Chocolate ($2.29) "We partnered with CB's Nuts to create a delicious take on a classic combination. The result is the very first Fair Trade peanut butter cup!"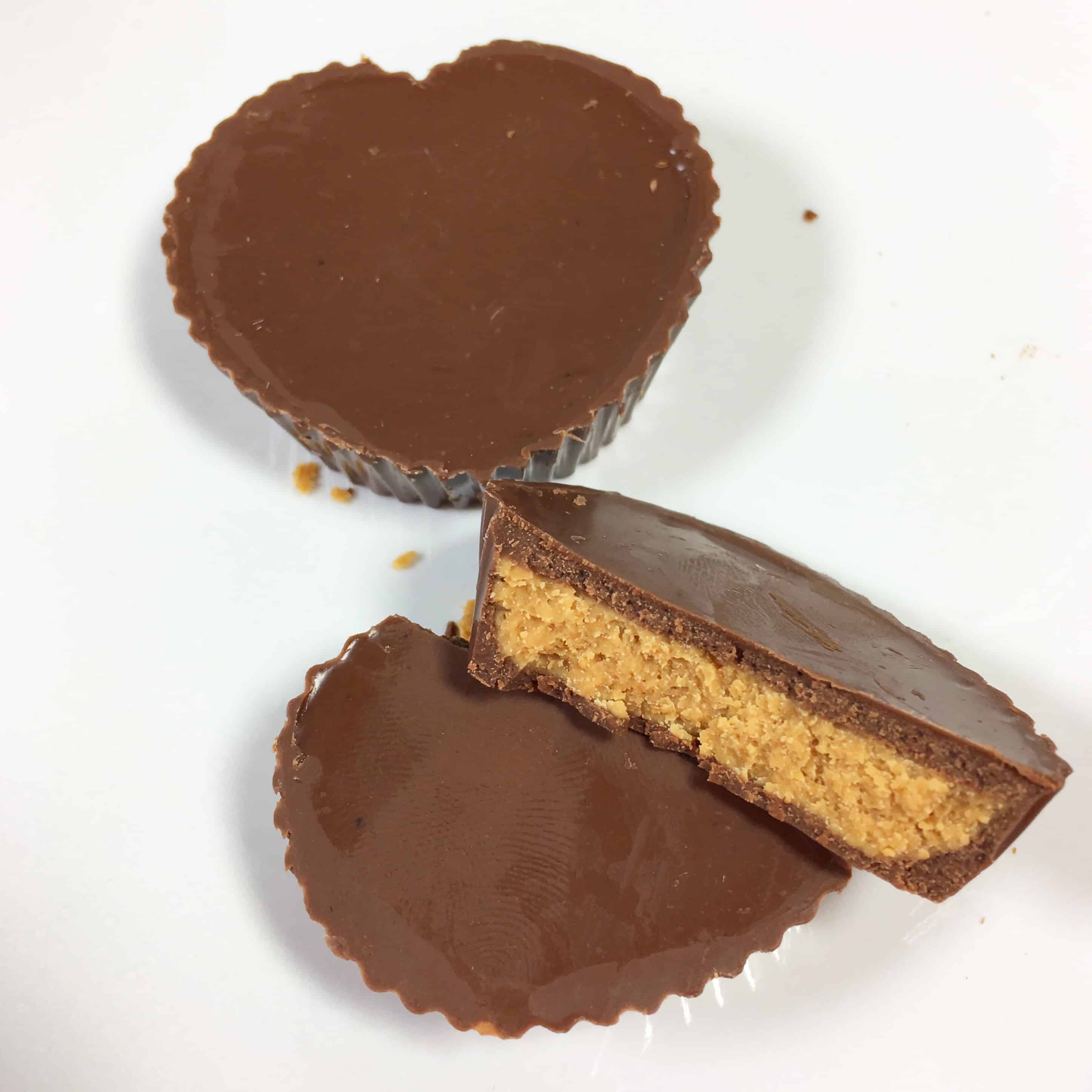 I wasn't expecting these cups to be heart-shaped but they were, what a sweet touch! What can I say, peanut butter and chocolate are one of my favorite combos and I love a great peanut butter cup, plus it's fair trade so I can feel good about purchasing these again.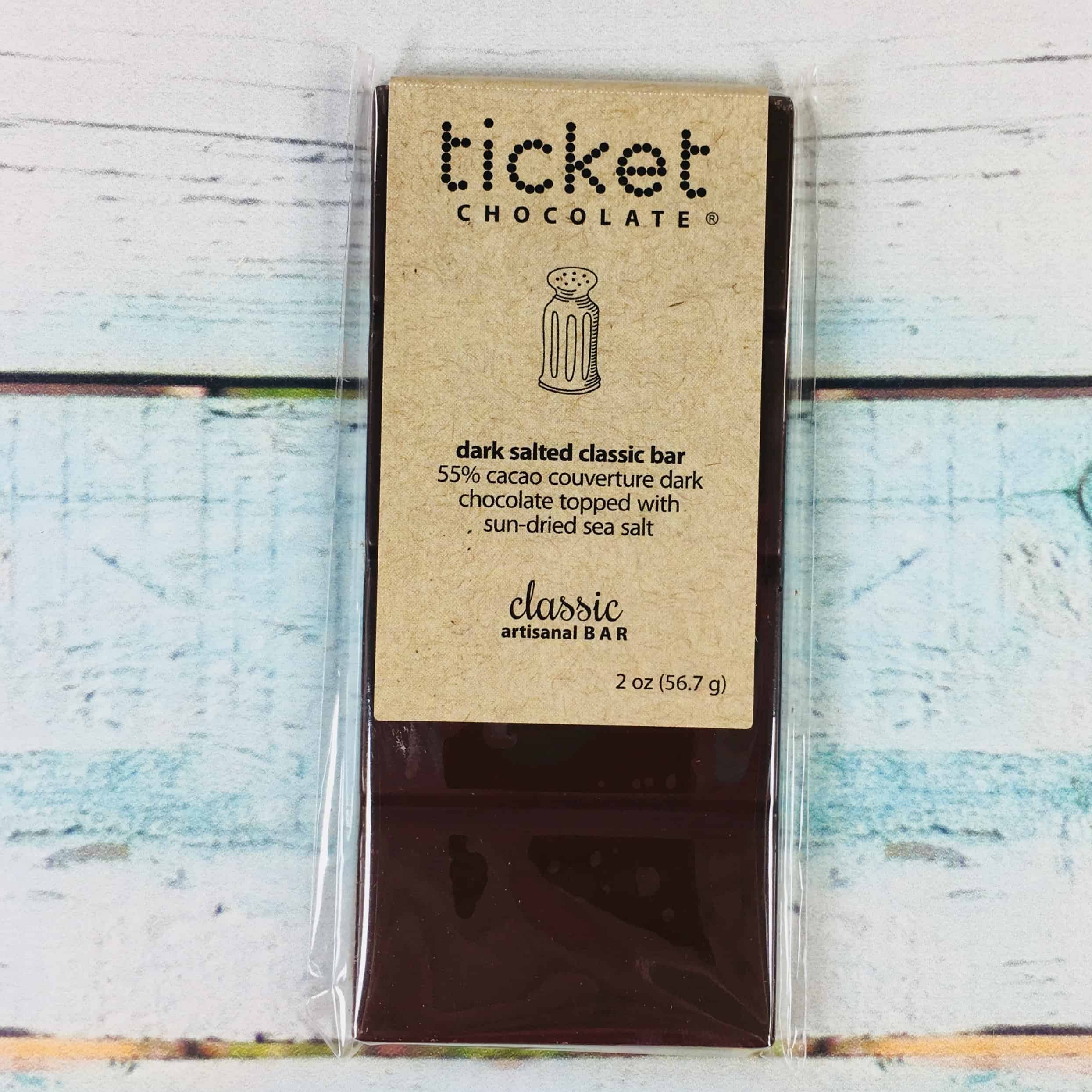 Ticket Chocolate Dark Salted Classic Bar ($5) "Each bar is hand-crafted from fine couverture chocolate, accented with a sprinkling of sun-dried sea salt for a simple yet delightfully balanced flavor profile."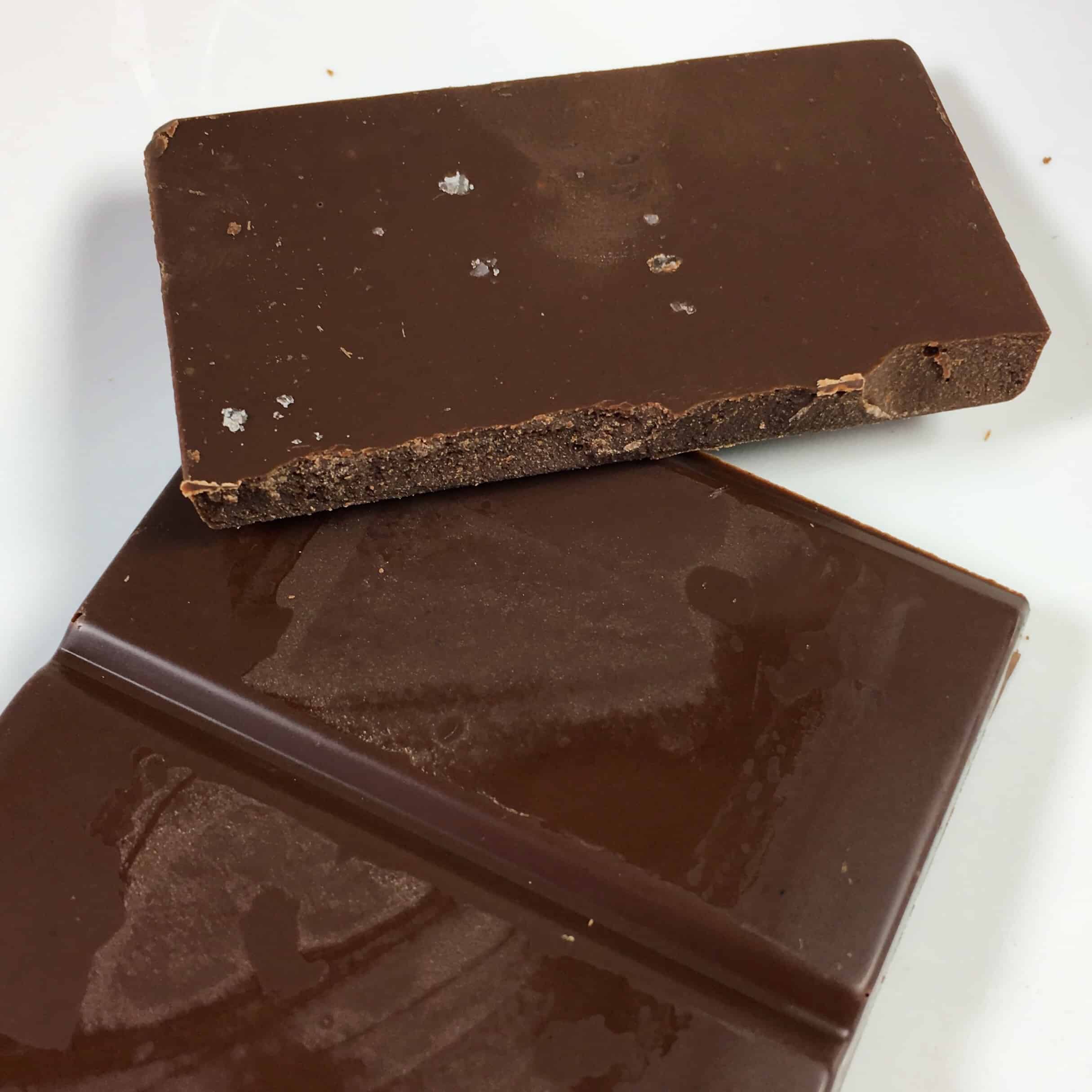 Wow. I'm just not sure what else to say. The smoothness of this bar is astounding, it just melts on the tongue and is super rich. Couverture chocolate has a higher percentage of cocoa butter than regular chocolate bars and is superior for melting. The back of the bar has a bit of sea salt for some contrast.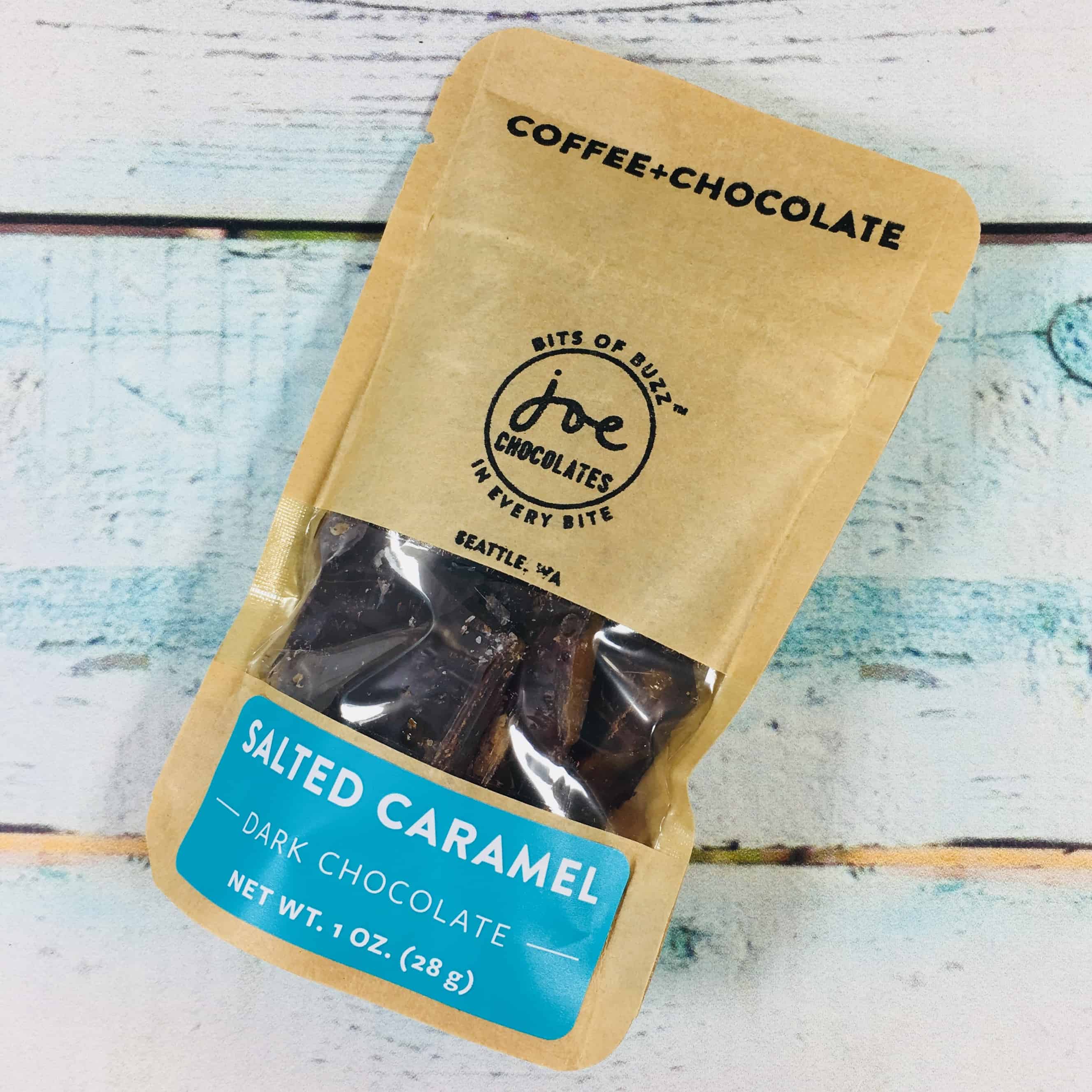 Joe Chocolates Salted Caramel Dark Chocolate ($2.60) "Handmade dark chocolate infused with small-batch roasted coffee and hard caramel."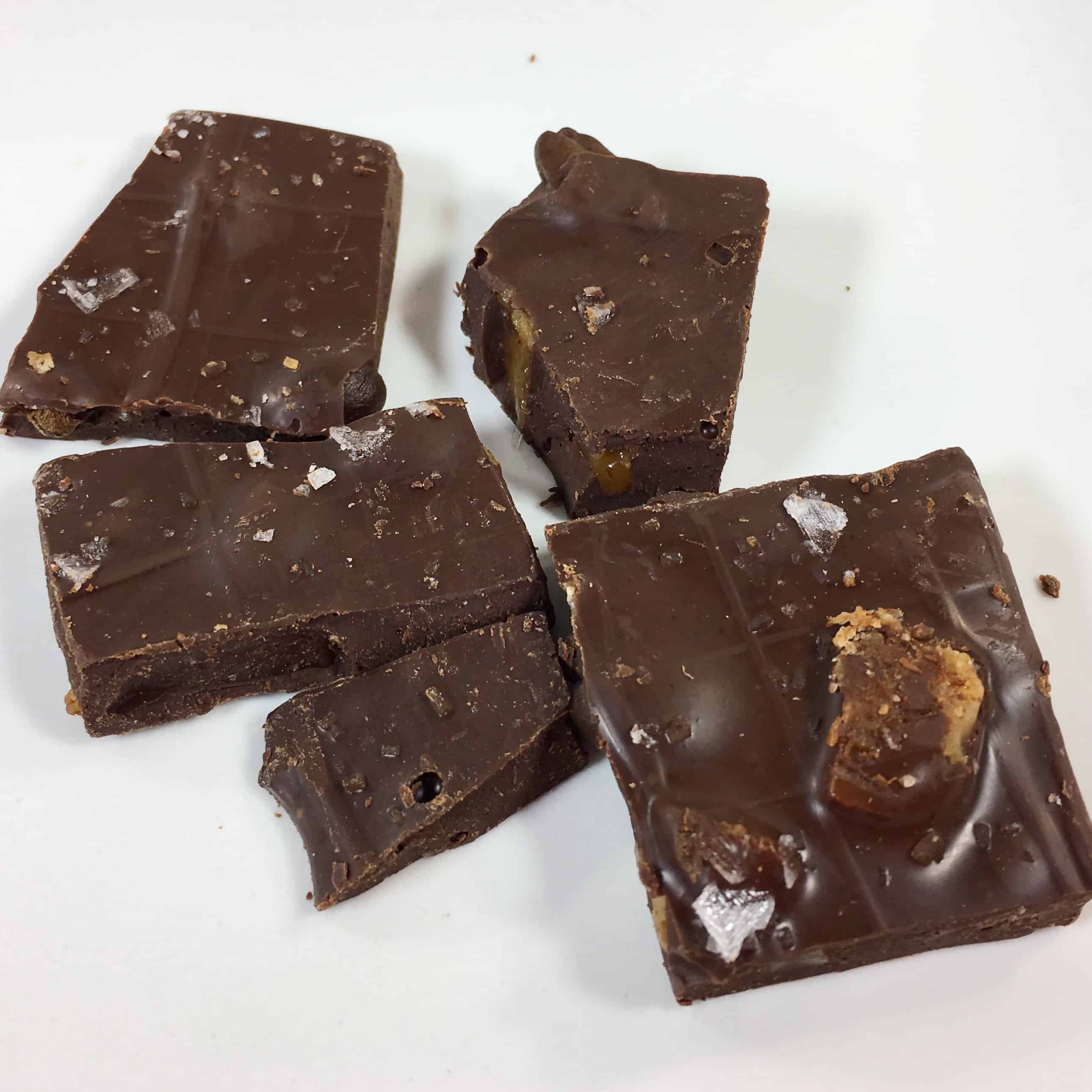 Can you see the chunks of good stuff in here? Chunks of caramel (I would call it toffee) and whole roasted coffee beans are surround by dark chocolate and sprinkled with a bit of salt on top. Like a caramel macchiato, but it's portable.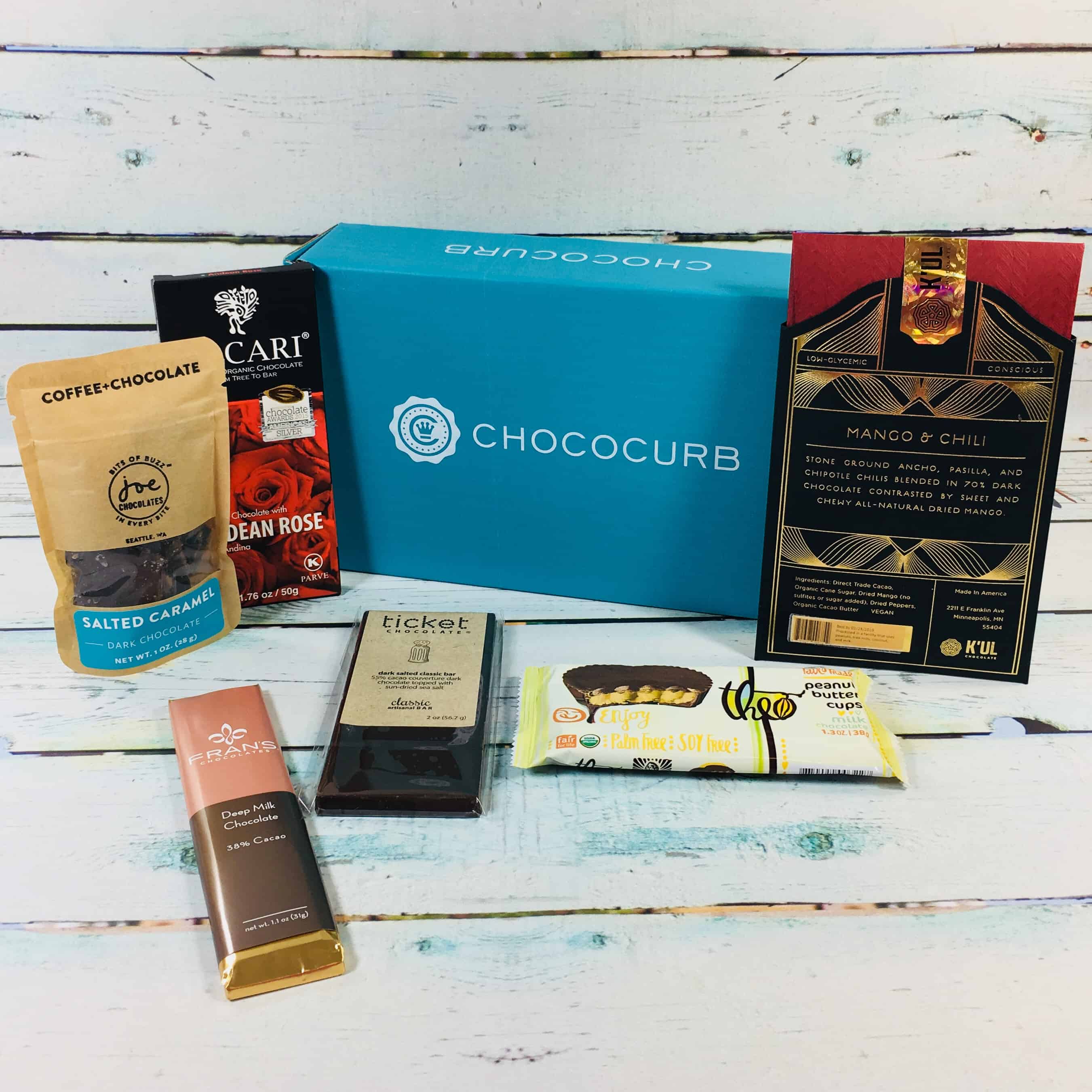 I am always amazed at the delicious chocolates I receive in this box and just when I think I've tried them all they throw in some unique flavors like rose or mango and chili. Plus, I never say not to a peanut butter cup. I enjoy the superior chocolates in this subscription and with the exception of the occasional Peanut M&M or Reese's PB Cup, I don't buy chocolate at the store anymore.
I have found my favorite monthly subscription box! Do you feel the same way too? Let me know in the comments!