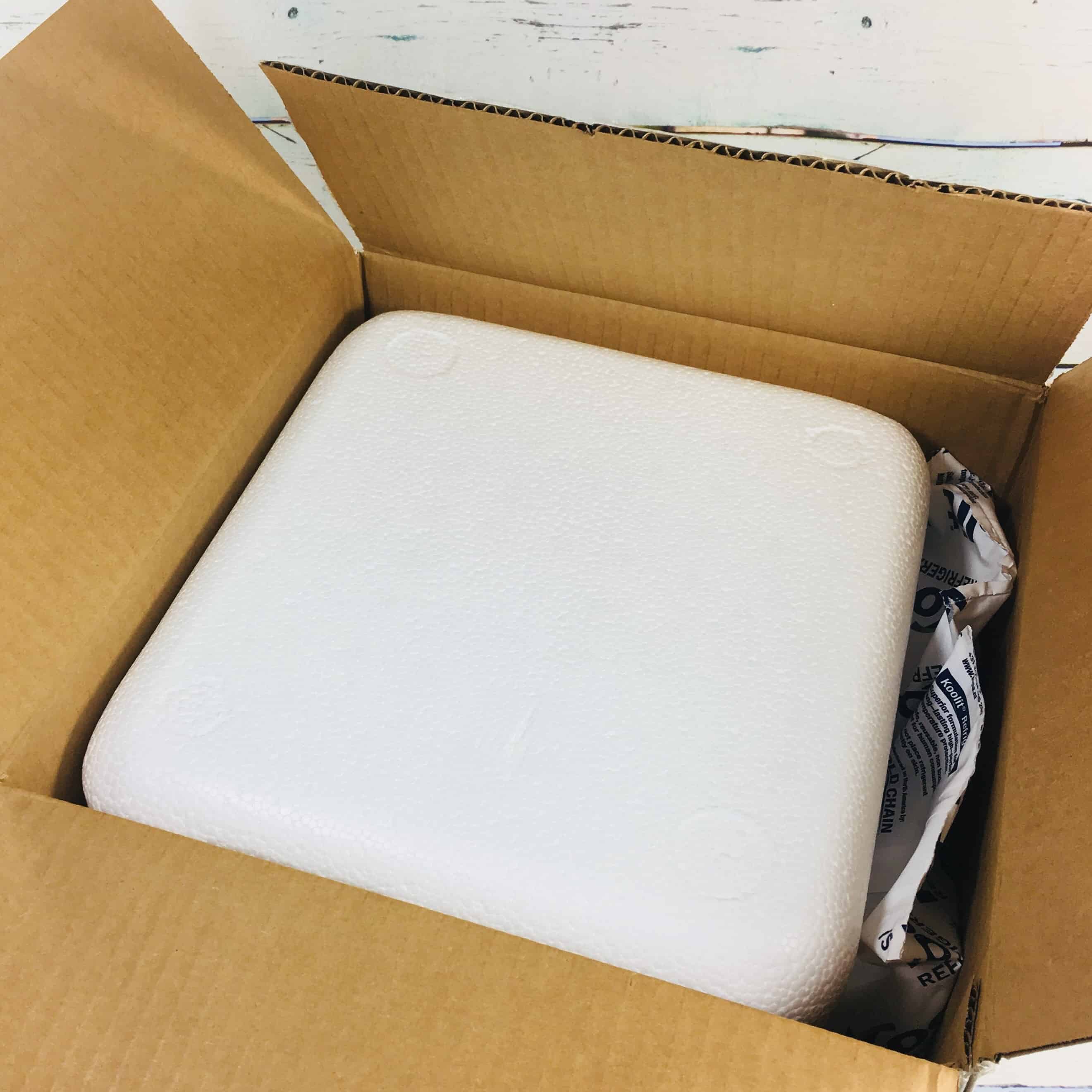 Chococurb is a monthly subscription containing extraordinary, premium, gourmet chocolates – this isn't your convenience store candy! These items can come from small, local chocolatiers or more established national brands. Every box will have something new, exciting, and absolutely delicious. You can choose from the Classic Box ($35), which has 5-7 items, or choose the Mini ($20), which has 3 items for smaller appetites. Shipping is free during the cooler months but expect to pay for FedEx shipping in the warmer months. I am reviewing the Classic Box today!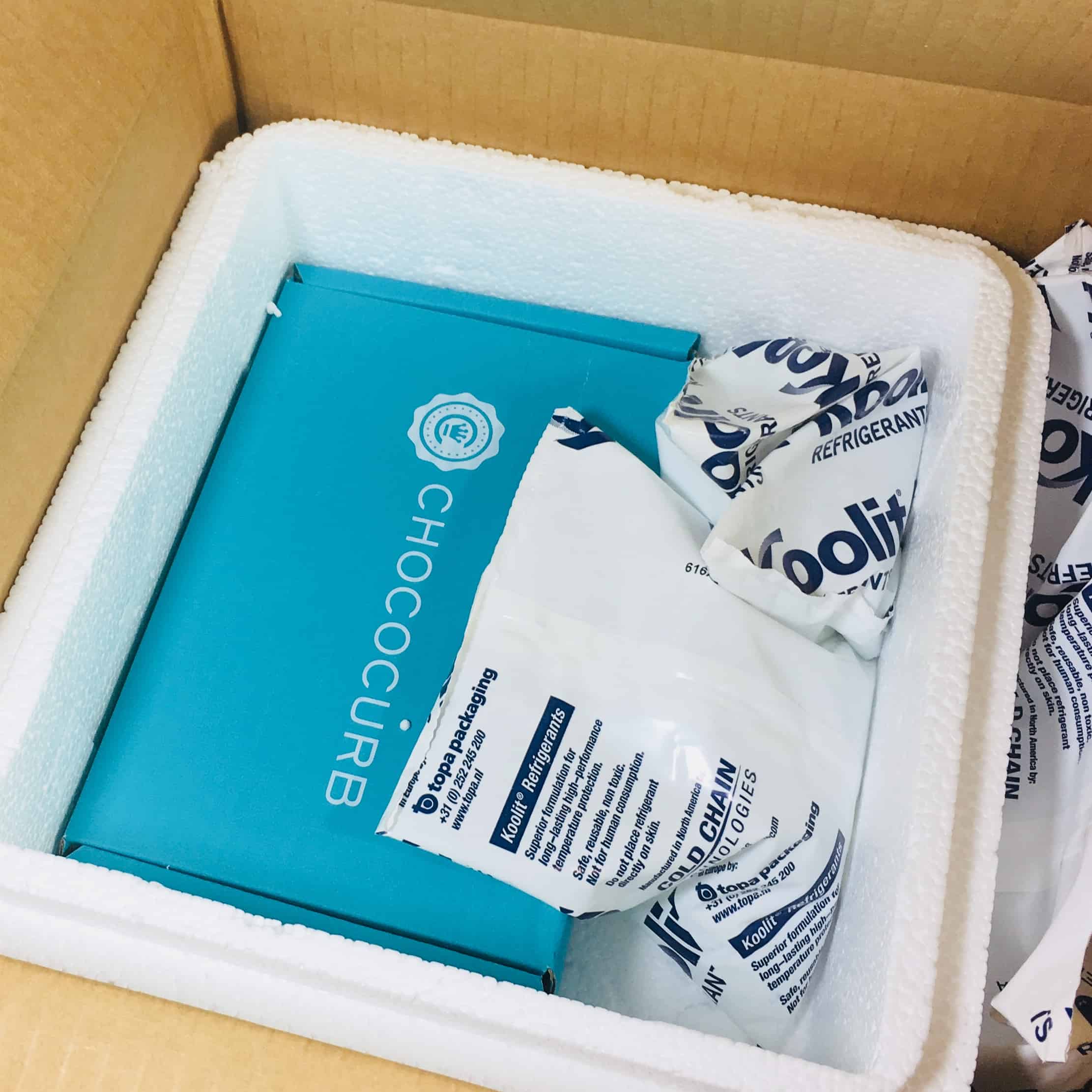 It's pretty much summer already so my box was shipped via FedEx in a styrofoam cooler with ice packs to keep the chocolate from melting. The packs were no longer cool but everything was in great shape.
Inside the cooler I found my box o' chocolates!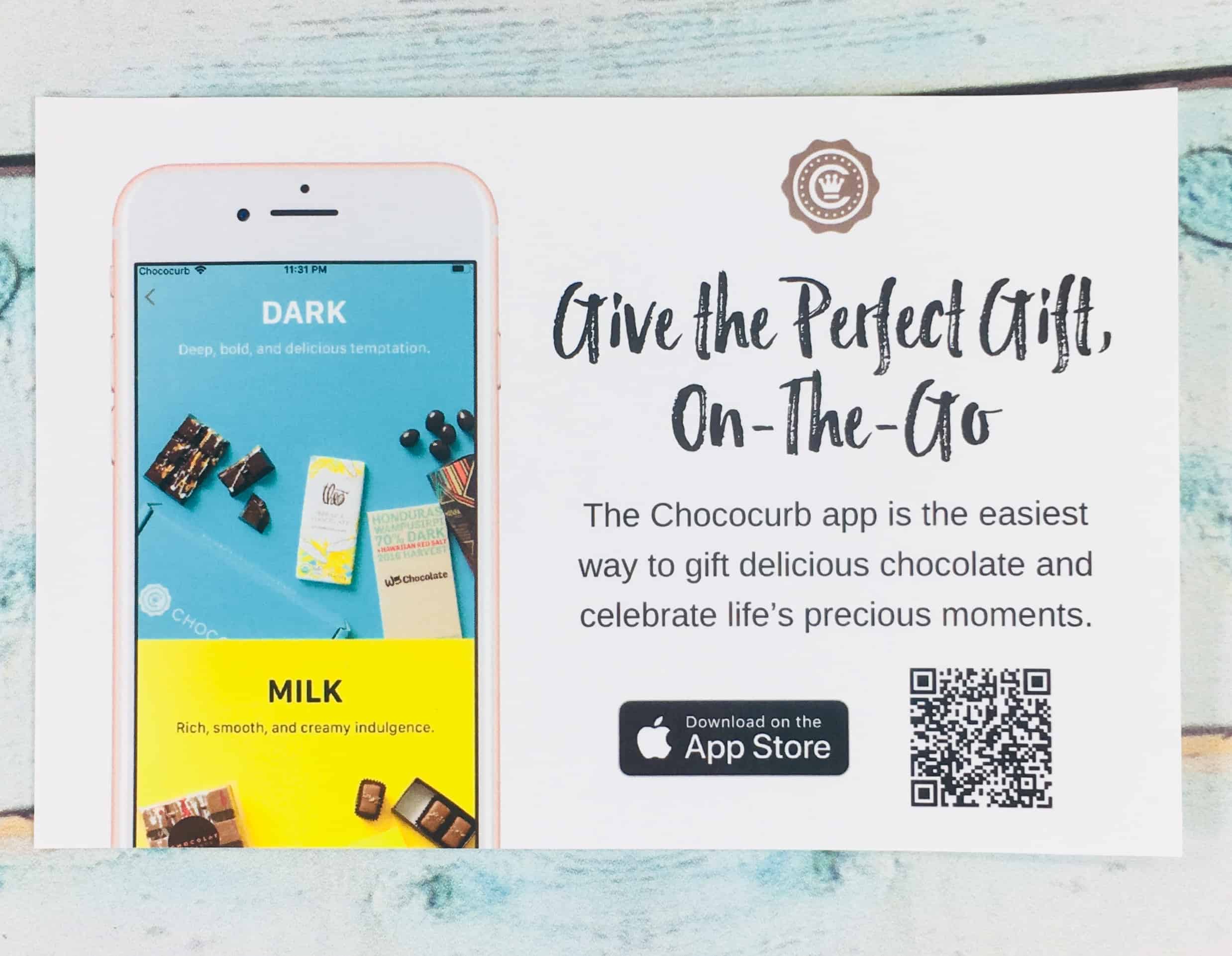 Chococurb doesn't put any product info in the box but they did include a card with info on their new app.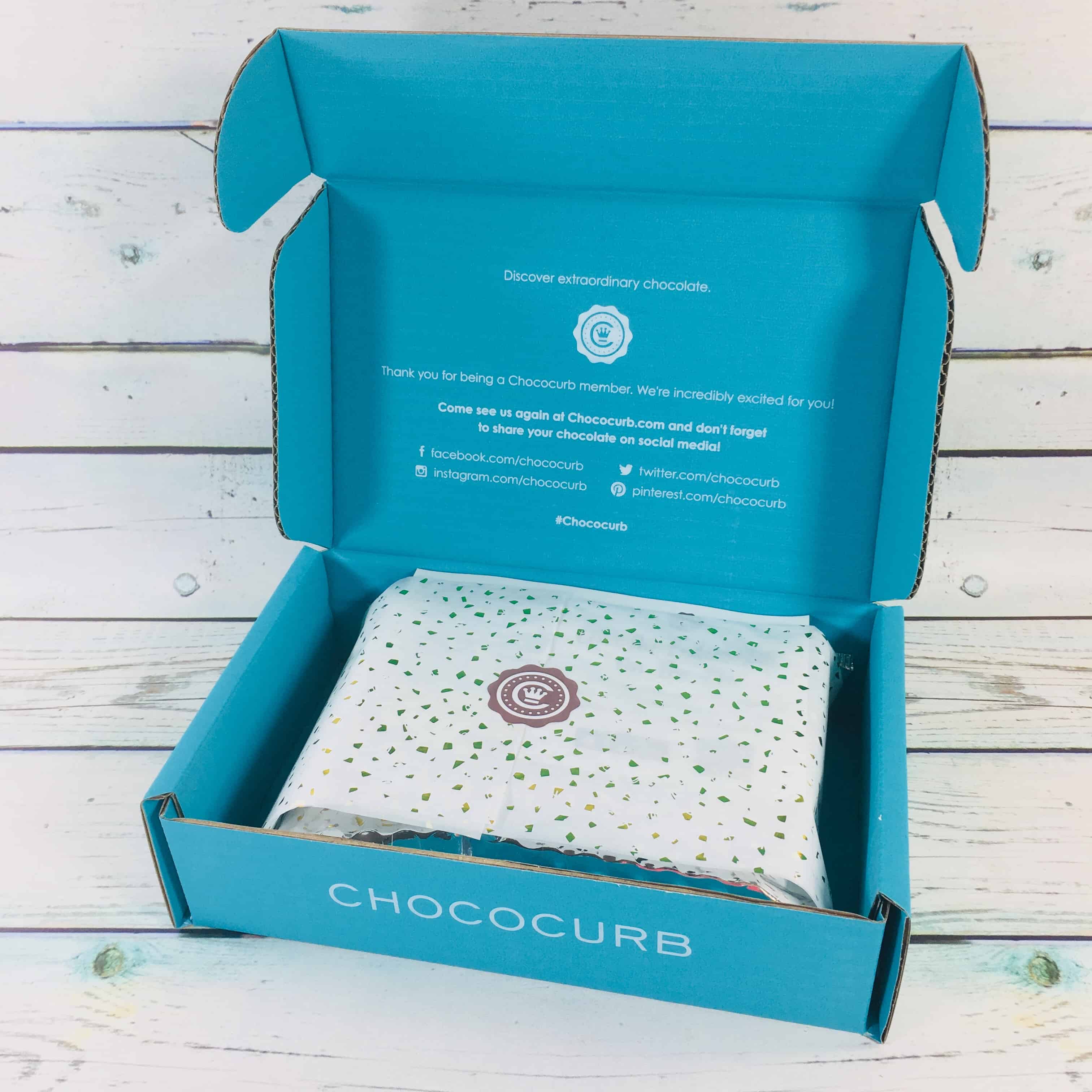 The presentation was simple, with gold flecked tissue paper and a Chococurb sticker.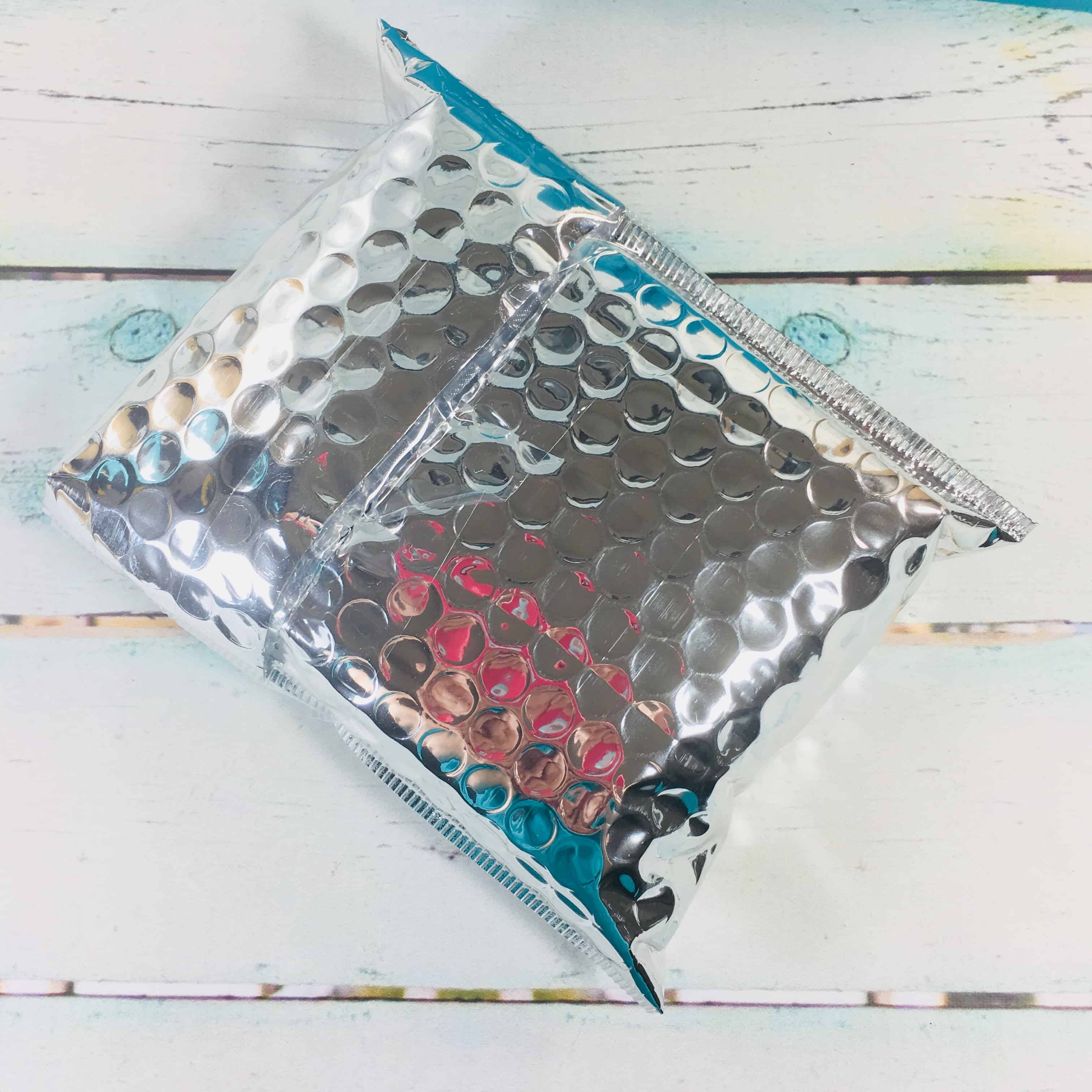 The chocolate was wrapped in a protective silver pouch to keep it from melting.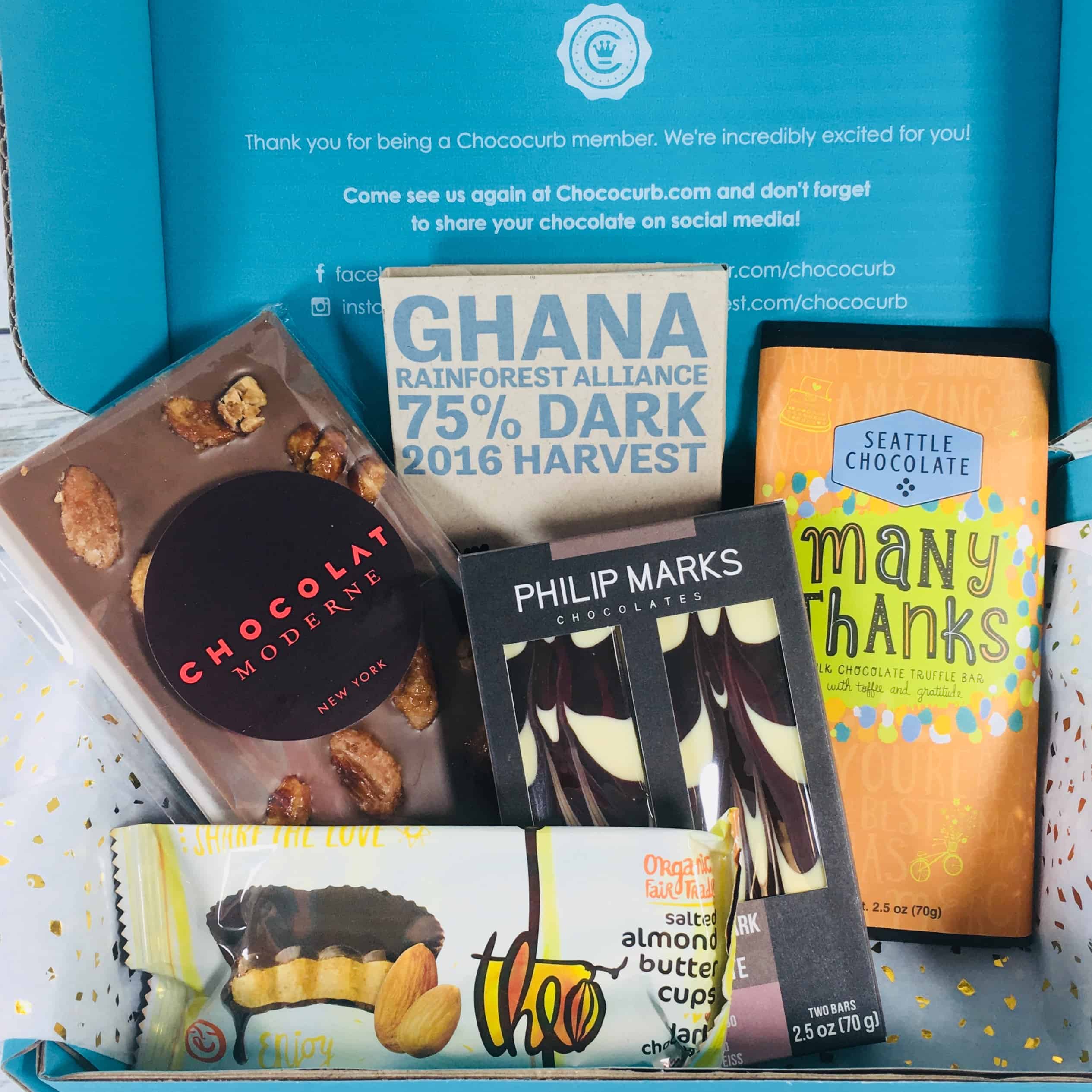 My June 2018 Chococurb!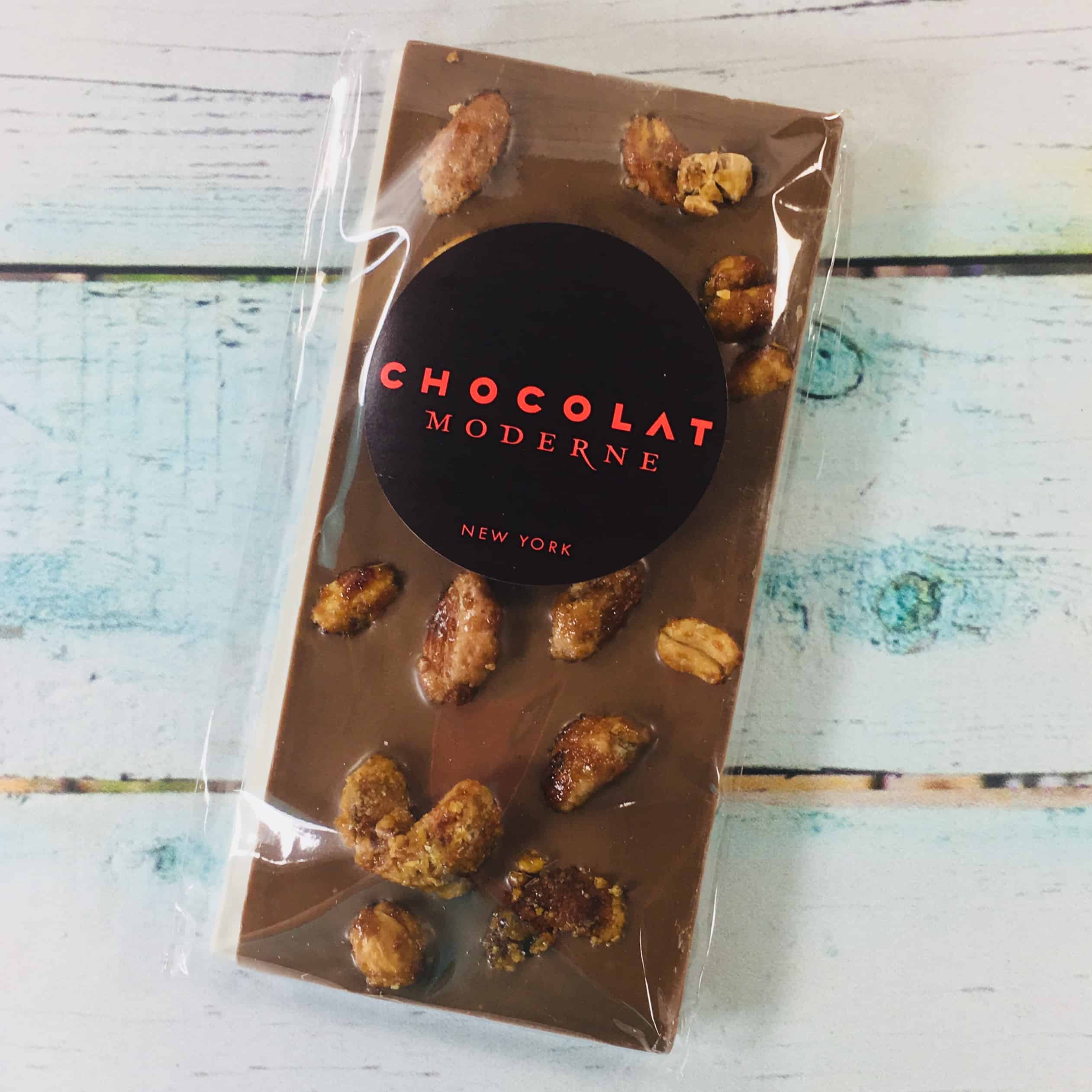 Chocolat Modern NYC Street Nuts Bar – Milk Chocolate ($9) "Our version of casual dining! We asked ourselves, "What could be better than New York City Street Nuts?" The answer: New York City Street Nuts with Valrhona Chocolate and a pinch of Sea Salt!"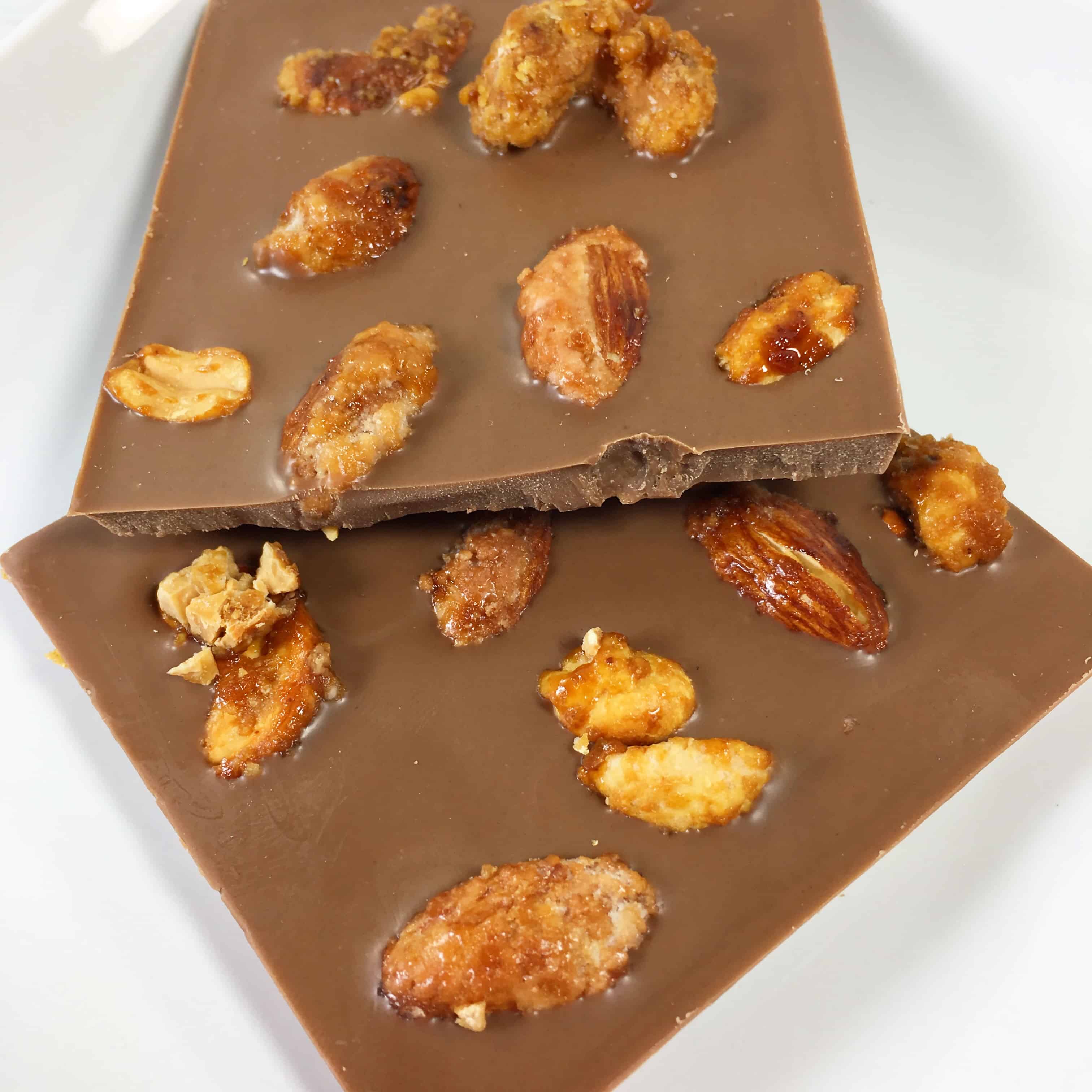 Caramelized nuts with amazingly smooth and sweet milk chocolate? This was amazing, I've never been to NYC but now I want to visit for these nuts!
Ghana Rainforest Alliance 75% Dark Chocolate ($6) "Bold, classic chocolate. Heavy roast for extra intensity."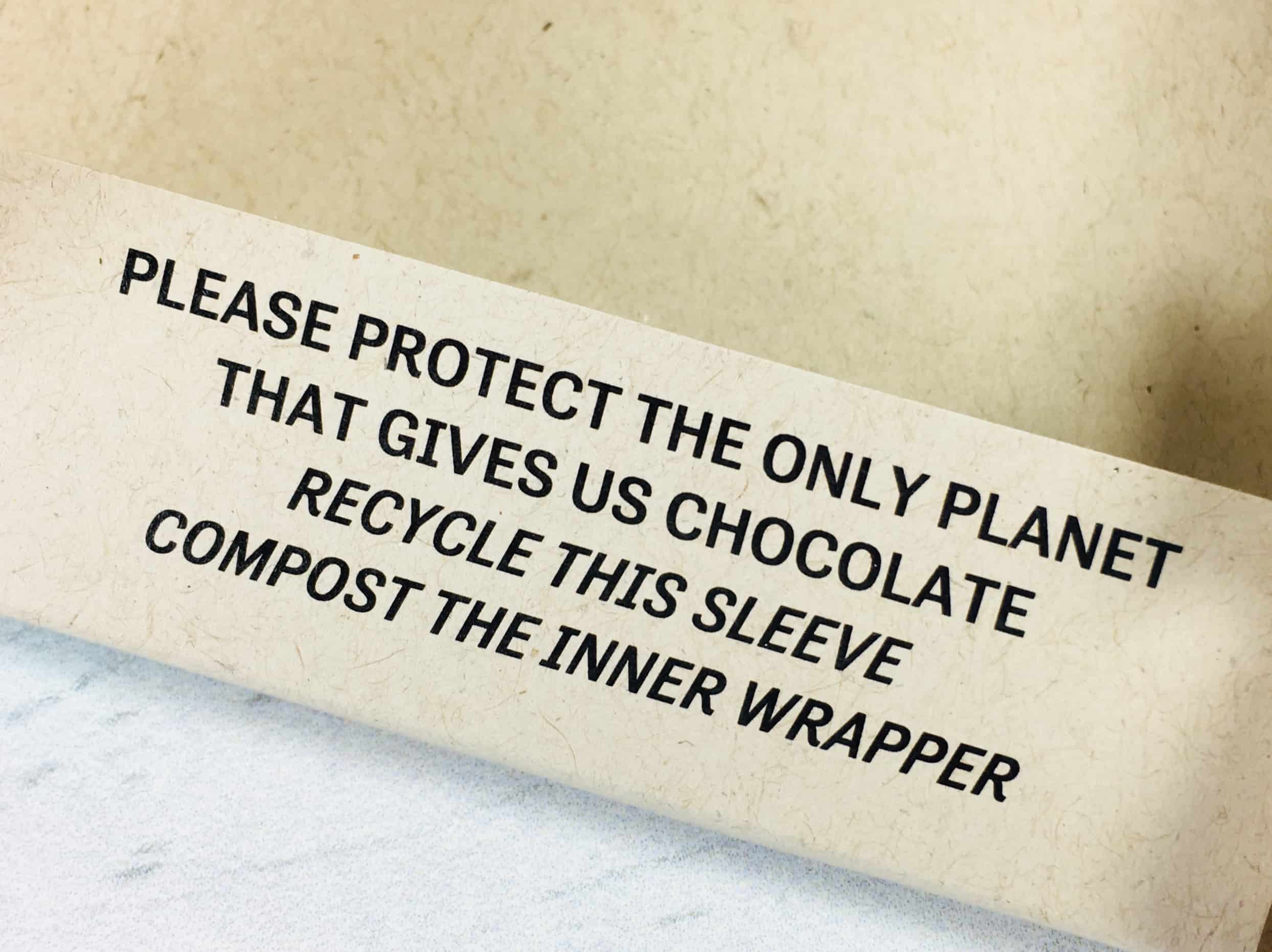 Earth is the only planet that has chocolate! We need to keep her safe!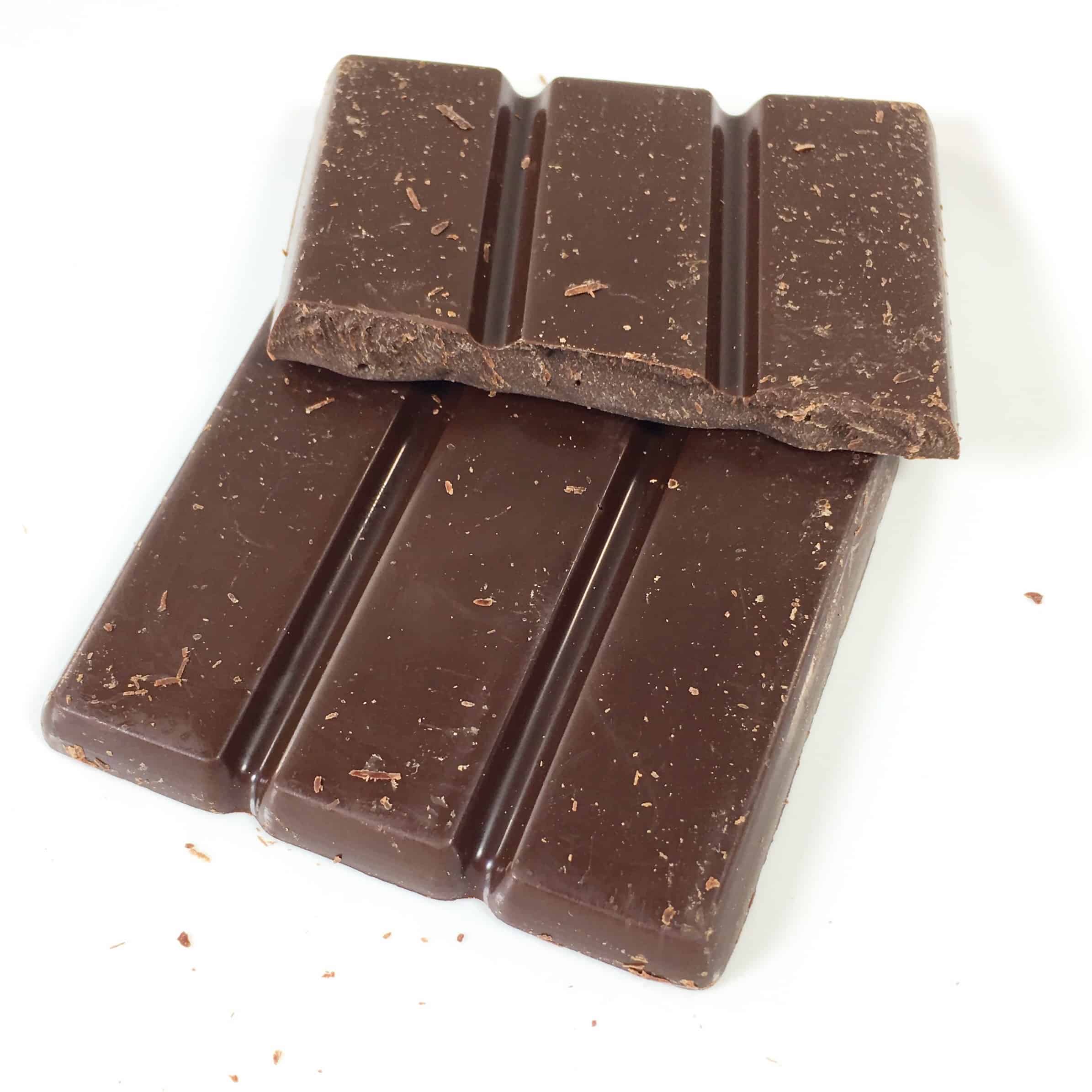 Tasting notes list chocolate pudding, peanut butter, and malt flavors for this deep, dark chocolate bar. It reminded me of when I would try to bite off a piece of unsweetened chocolate when I would make brownies, it wasn't very sweet, but I found a red berry flavor in here that I enjoyed.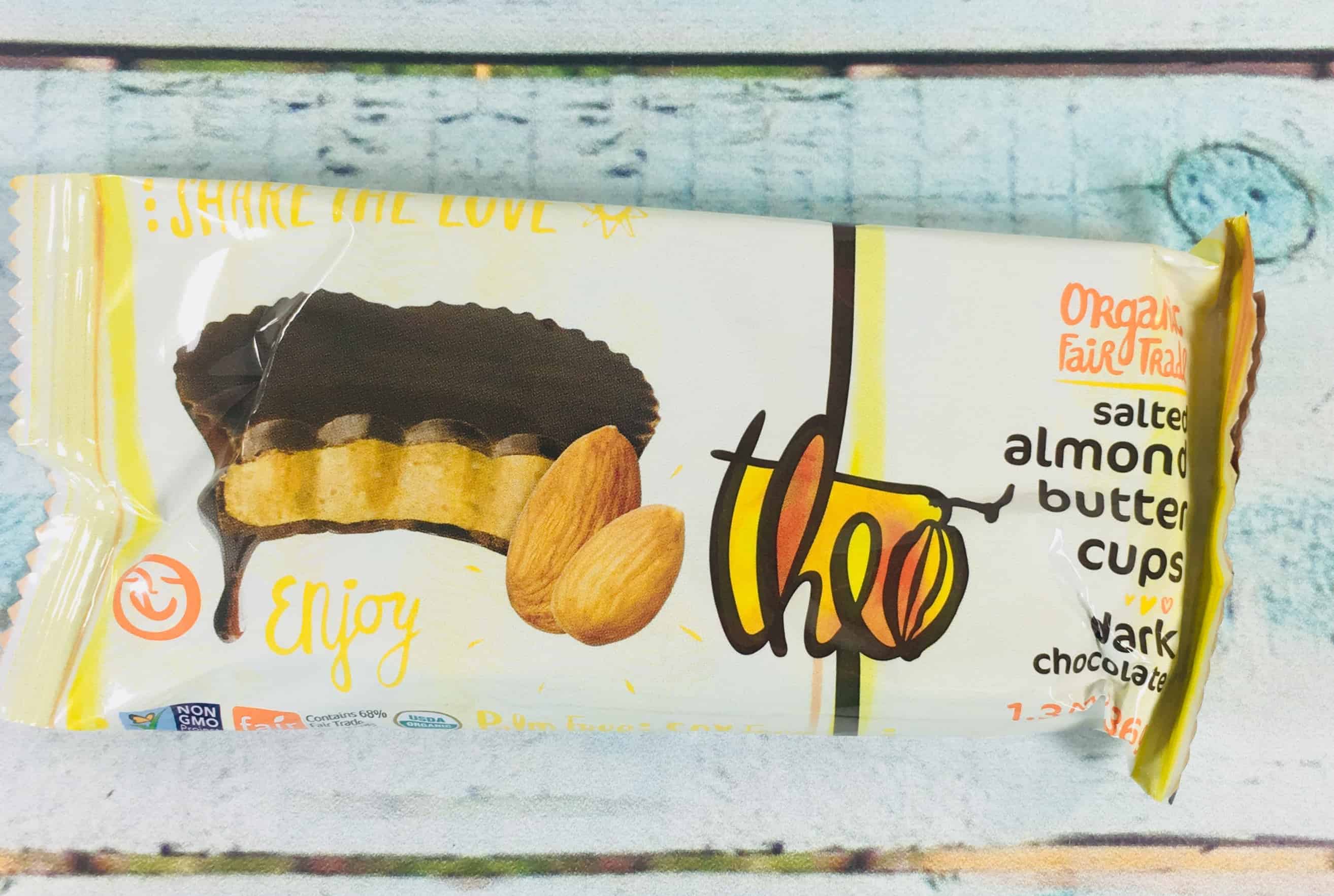 Theo Salted Almond Butter Cups Dark Chocolate ($4.82) "Our fair trade salted almond butter cups are made with amazingly delectable rich and creamy almond butter."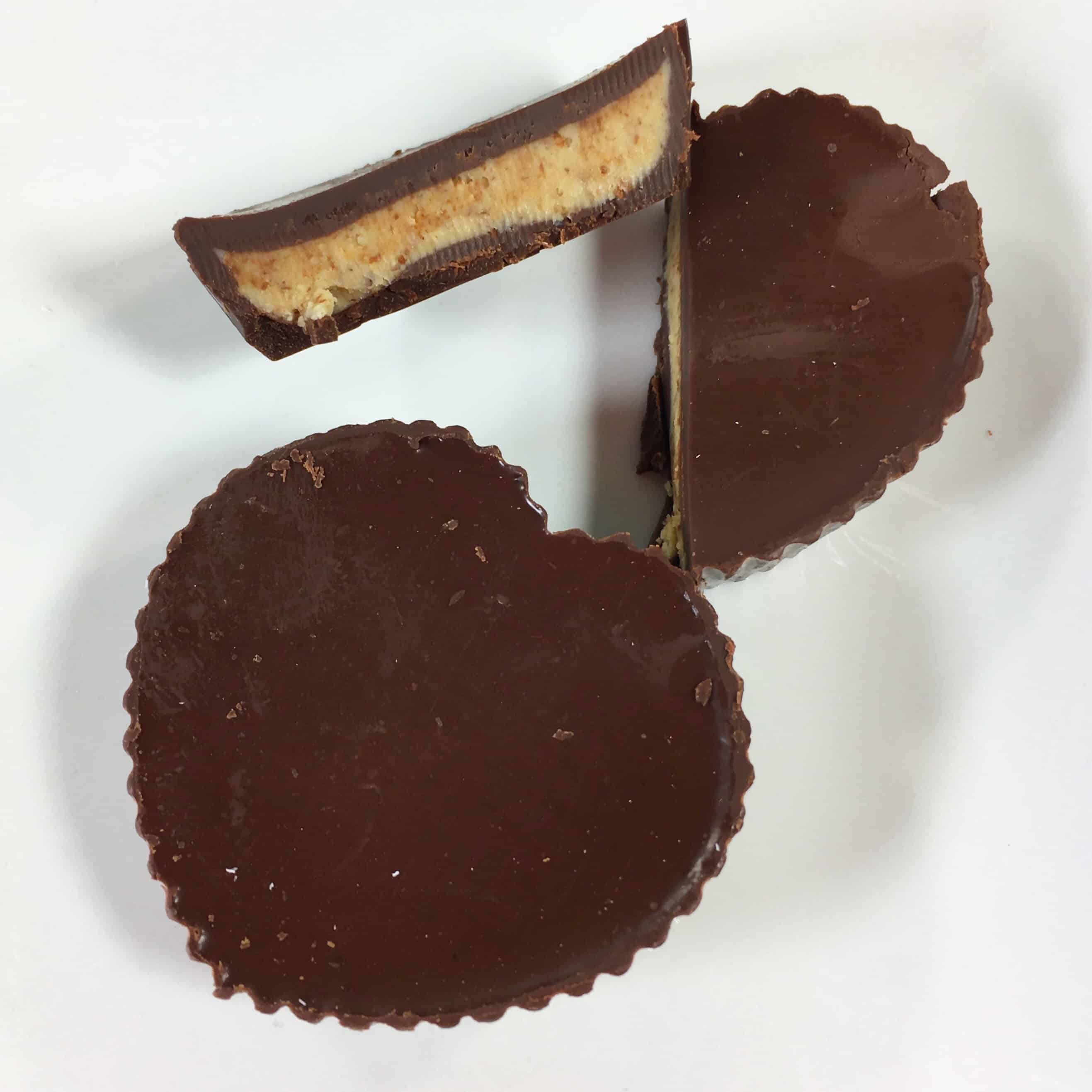 I shared this with my daughter and we both agreed this was delicious, with salty almond butter covered with dark chocolate. Makes a nice change from the usual peanut butter cup.
Seattle Chocolate Many Thanks Milk Chocolate Truffle Bar ($4.50) "This sweet and salty milk chocolate truffle bar is loaded with toffee bits, sea salt and gratitude."
The packaging of this bar is so bright and colorful, and I love that it says "May chocolate be your umbrella". I don't know what that means but I wouldn't mind finding out!
It's just so tasty. Chopped toffee pieces are mixed with smooth milk chocolate and there's a saltiness to it that brings it all together.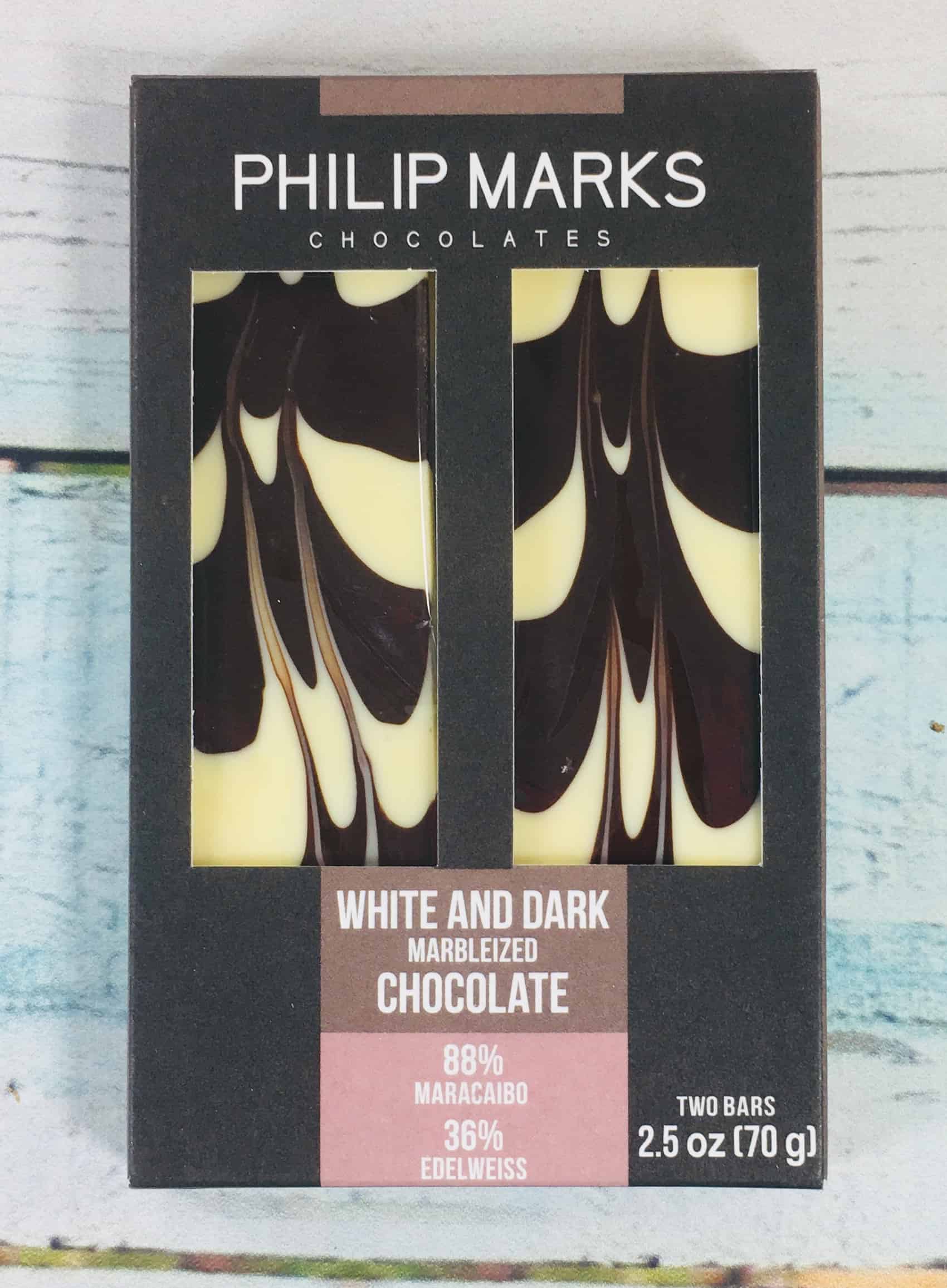 Philip Marks Chocolates White & Dark Marbelized Chocolate ($7.50 plus $8.75 for shipping) "This handmade duo of dark strong cacao taste is supplemented through a licorice note which then transfers into a subtle roasted coffee flavor."
Dark chocolate is swirled with white for a combo of sweet and not very bitter, yet definitely yummy.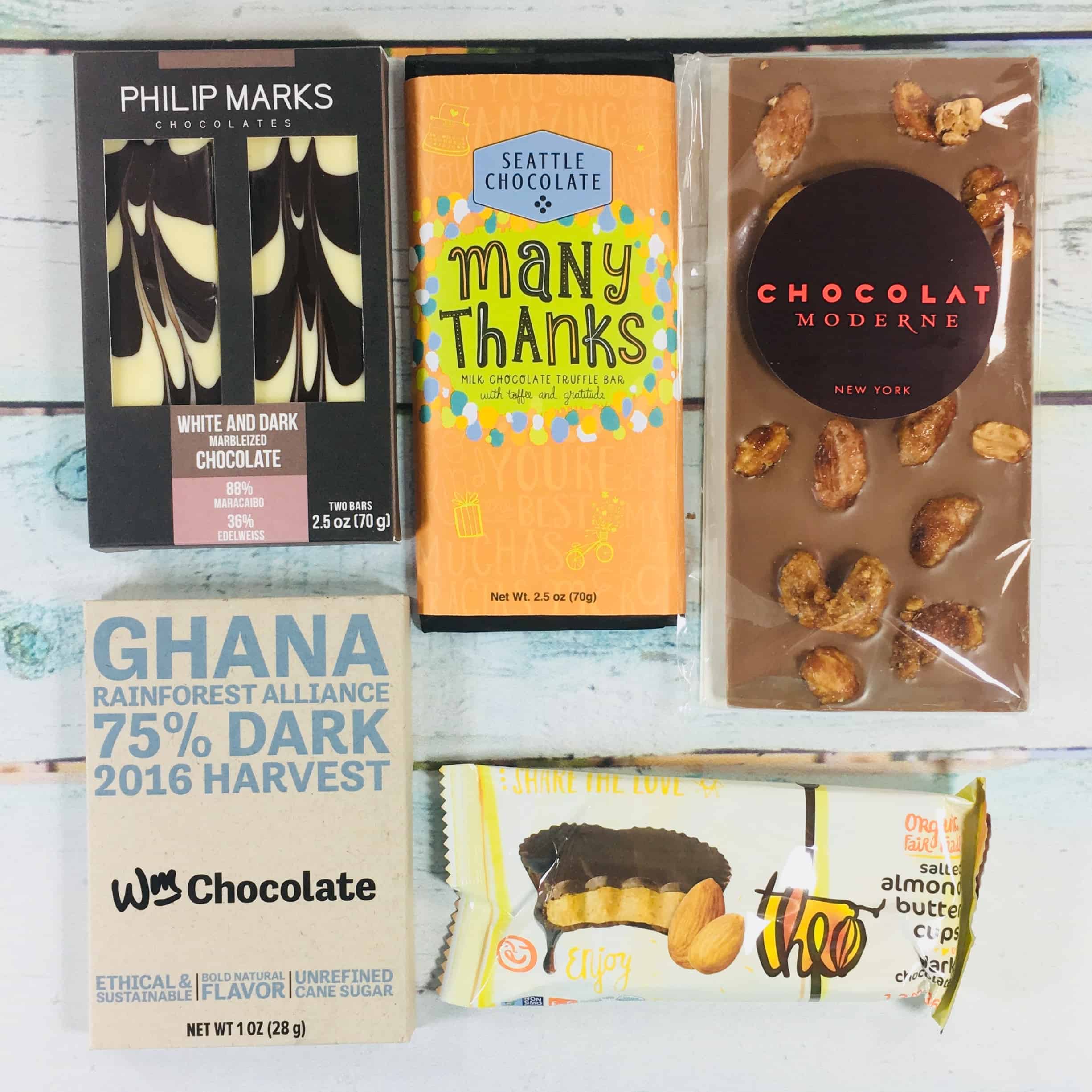 There was a nice assortment of chocolate bars this month! I found candied nuts, toffee pieces, almond butter, white chocolate, and lots of rich, silky dark and milk chocolates. I think my favorite was the almond butter cups, but then again, peanut butter cups are always a favorite and these reminded me of my go-to candy bar.
I have found my favorite monthly subscription box! Do you feel the same way too? Let me know in the comments!