Charm With Me Club is a monthly subscription box that brings the most amazing fandom charms! With your first month, you'll be sent a starter bracelet, and then you can build your own bracelet with themed fandom charms that fit on Pandora bracelets each month. The subscription costs $19.99 per month and ships in a cute little mailer box.
Note: once you're a member you'll need to watch for the theme announcements. If you don't like the theme you can switch your subscription to "surprise me!" Also note – this subscription sells out!
This month we could choose between Jurassic Park and The Incredibles! They sent an email for us to select which one we wanted however if someone signed up with your link you and your friend were both sent both collections!
DEAL: Save 10% on your subscription! Use coupon code HELLO10.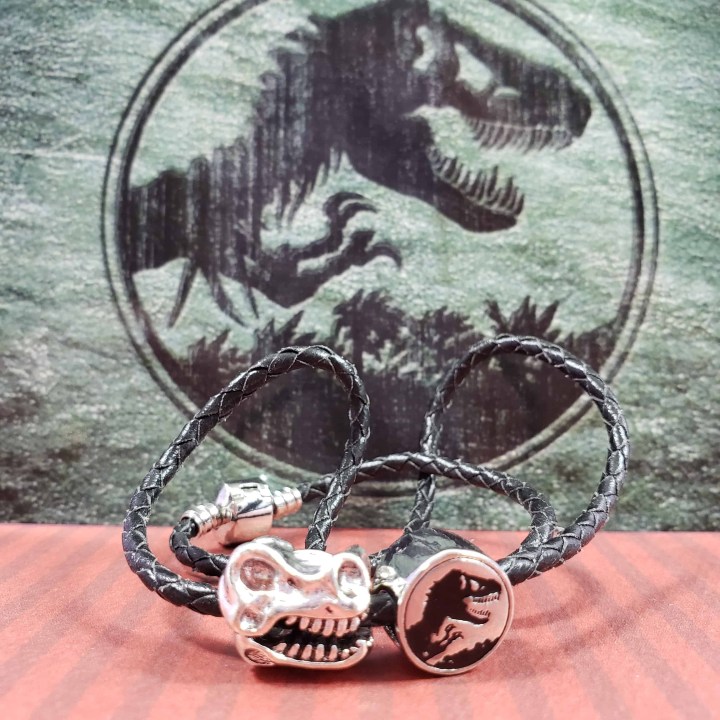 First up is Jurassic Park! I can't wait to see this movie and already have my tickets. I've watched all of the versions up to now. Funny story I saw the very first one with my little brother when he was visiting me at college and now I get to see the new one with him since he'll be in town visiting. I can't wait to take him and my boys.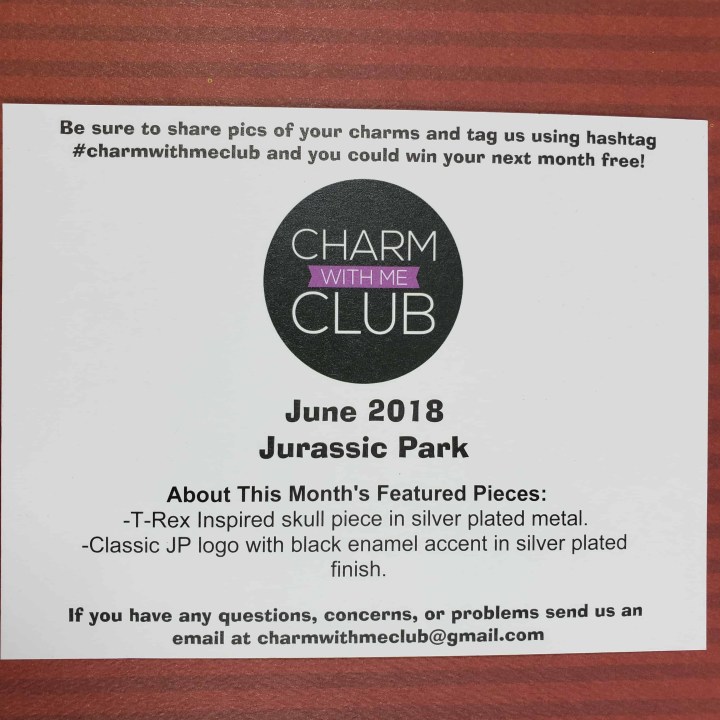 The back of the themed card has information on the included charms.
For the Jurassic Park theme, we got two charms. The first charm is a T-Rex inspired skull piece in silver plated metal. The T-Rex while not being the main focus of any of the movies is always a central part to them and plays a HUGE supporting character. The second charm is the classic Jurassic Park logo with black enamel accent in a silver plated finish. This one is so classic and so iconic.
Next up is the Incredibles. I've mentioned before that we are huge Disney nuts at my house so you know I'm all over this one. My boys already went and saw it this week with their babysitter and my 10-year-old said it was so good he would go and see it with me. He is usually a one and done with a movie so this is high praise coming from him. I can't wait to see it myself.
Again the back of the themed card has information the included charms.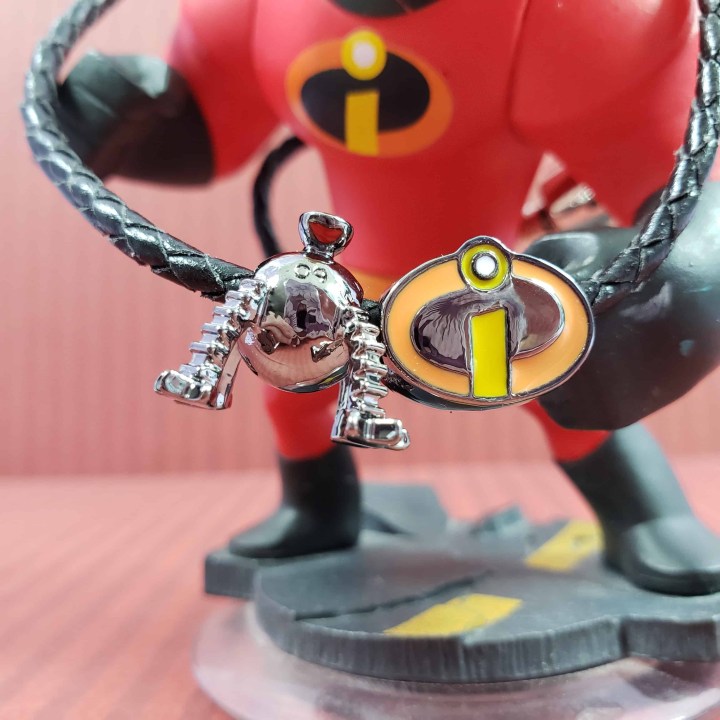 I was laughing at our first charm this month. The Omnidroid version 9 inspired piece has a gunmetal finish with red-eye enamel accent "09" engraved number.  I always liked this bad guy weapon in the first one and thought it was oddly interesting. It seemed too random but fit in so well with the superhero universe.  The second charm we got is the classic "Incredibles" logo with a gunmetal base plate finish with white, yellow, and orange enamel accents. Another super classic icon that shows my love.
I'm so glad I didn't have to choose with this months Charm With Me Club sets.  They are both fantastic and I love that they sent a classically inspired emblem with them both. All of the charms look fantastic and hang really well no matter which bracelet style you decide to use. I normally go with the black rope style for my inspired charms but I've been known to wear them with my silver bangle bracelet as well.  They make me so happy just seeing them and looking down at my wrist.
After the subscription has shipped, you can go on their site and normally order the beads themselves. However, the monthly sets go for about $29.99, so getting the subscription is the better deal. You can always go and check out the past months and see if there are any that you missed and want to add to your collection.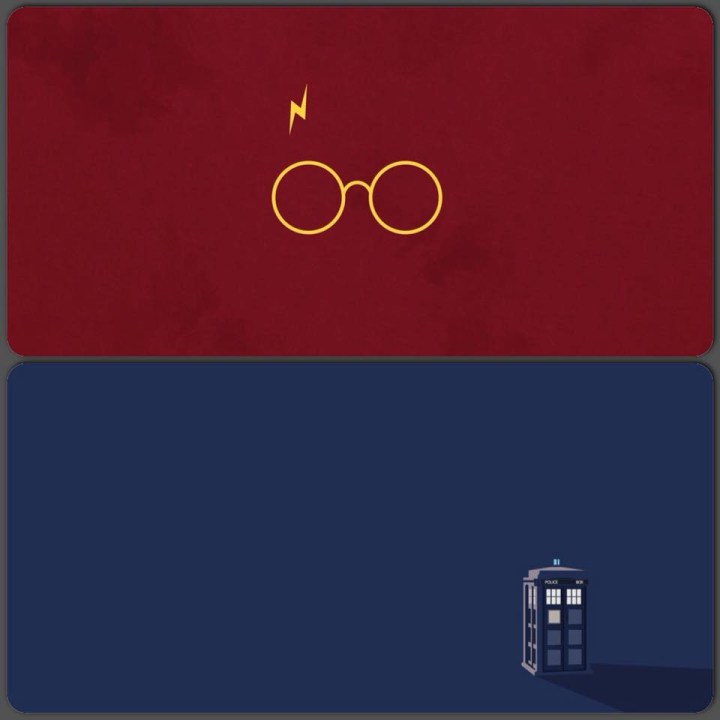 There is another double theme for July you get to choose between Harry Potter and Doctor Who! And again if you refer someone new to the subscription both of you get both themes. They make it so hard to choose between the themes!
What did you think of the Charm With Me Club charms this month? Are you a fan of the movies?