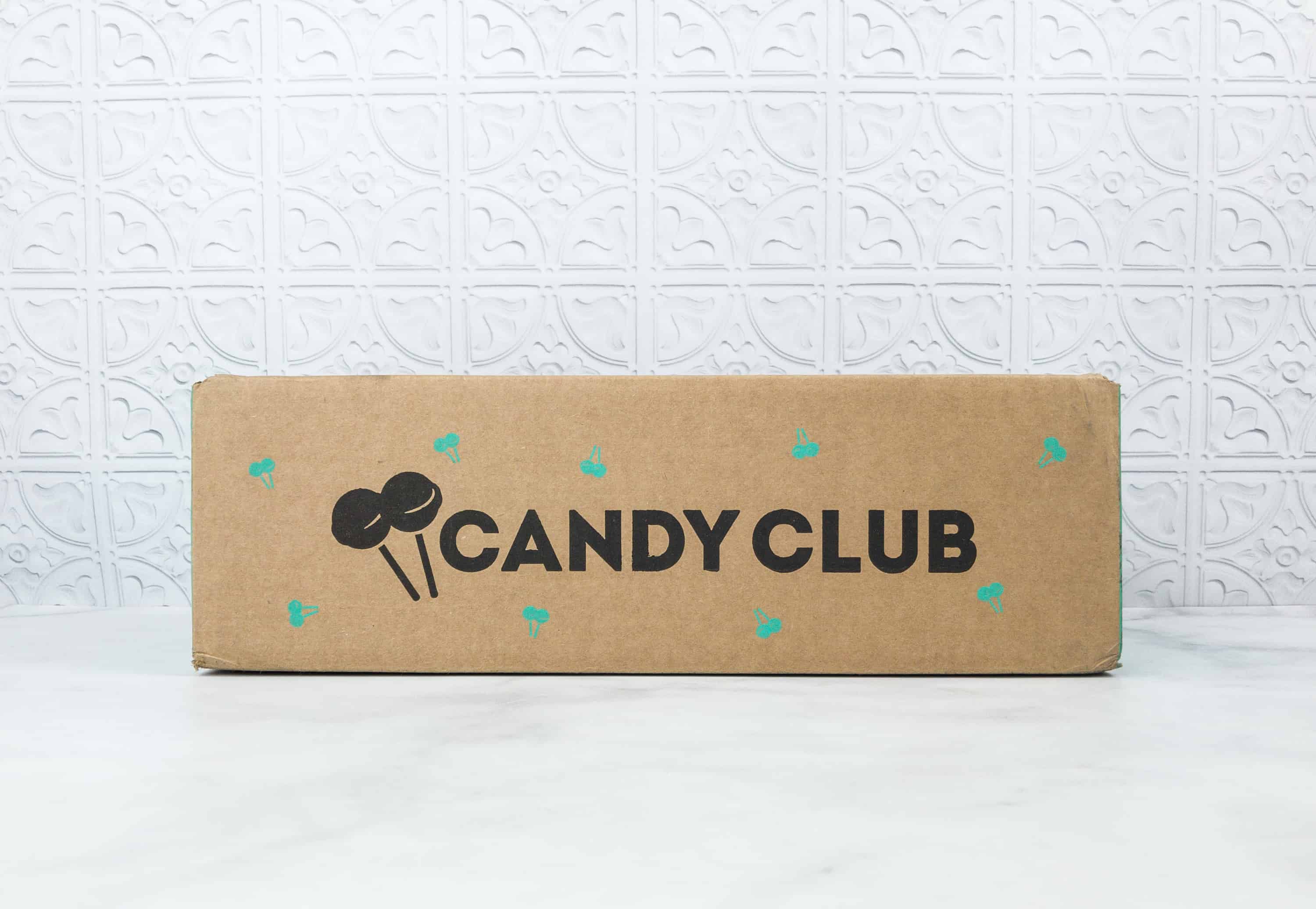 Candy Club is a premium candy subscription box. They bring the old-fashioned candy store to your front door. They promise their boxes to have an amazing variety of different candies for your snacking enjoyment.
Each Candy Club Subscription Box contains up to 3 lbs of candy to include three signature containers and a splash of wrapped candies. If you are giving a gift, the candies are curated for you. If you are subscribing, you have some choice in the candies that you get. You pick your own candies or you can take a quiz to help Candy Club decide what candy to send! As for me, I usually pick what candies I want to receive!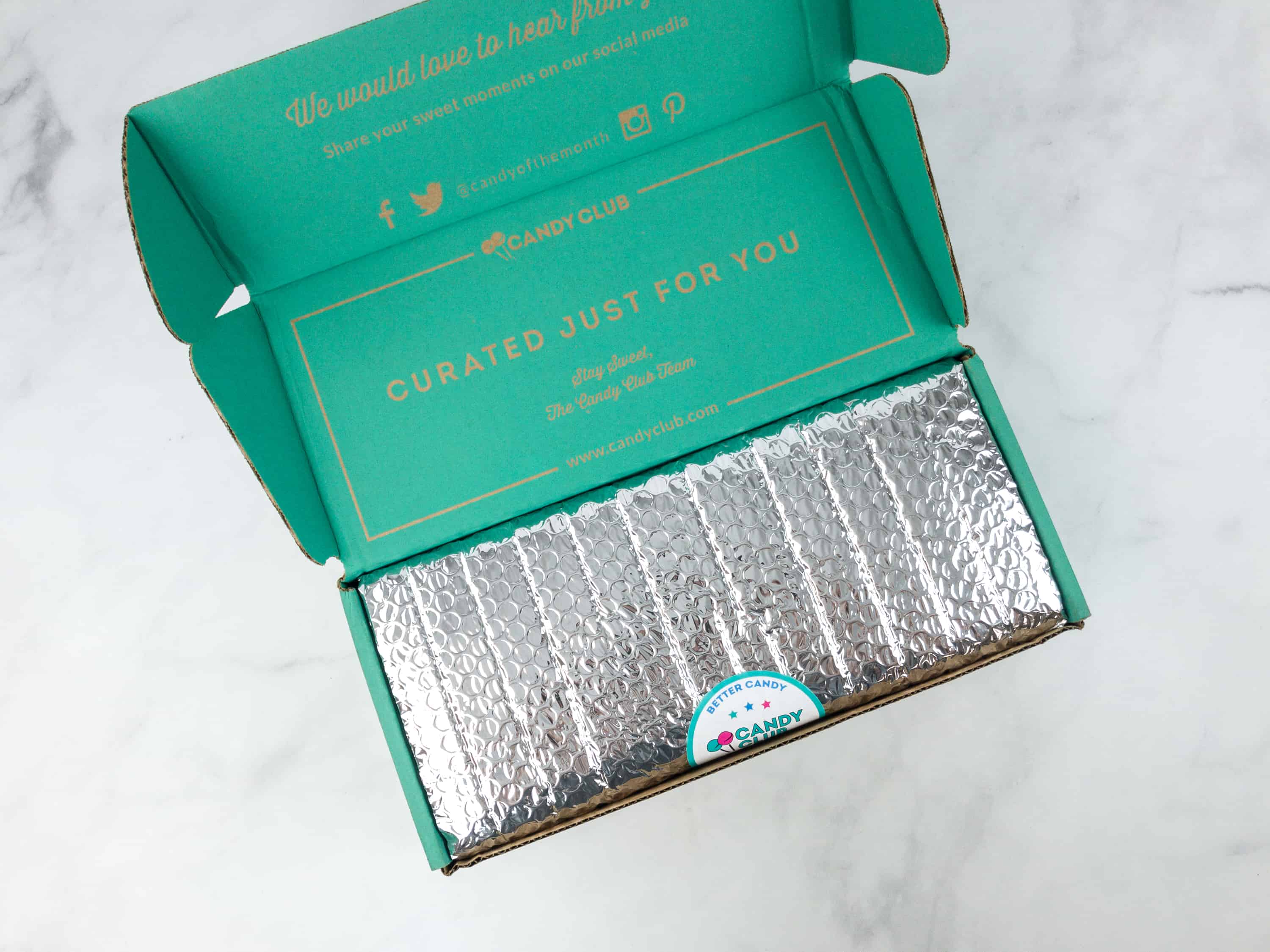 Inside the box, our yummies securely packaged in round plastic containers that sat inside a cardboard stand with holes cut out to hold them in place. It really made for a nice display when you open the box.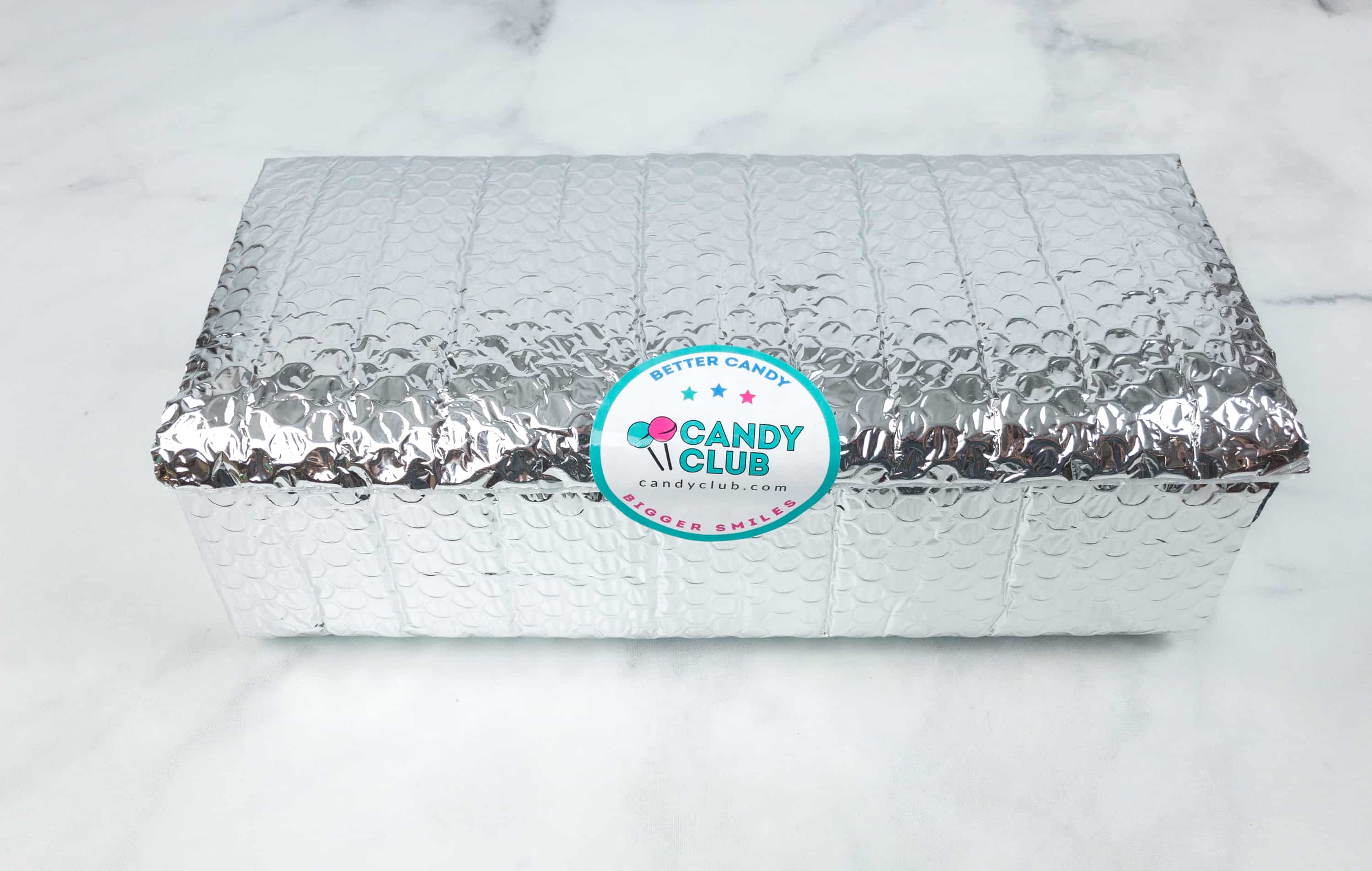 DEAL: Save $20 on your first box! Just use this link to activate the offer.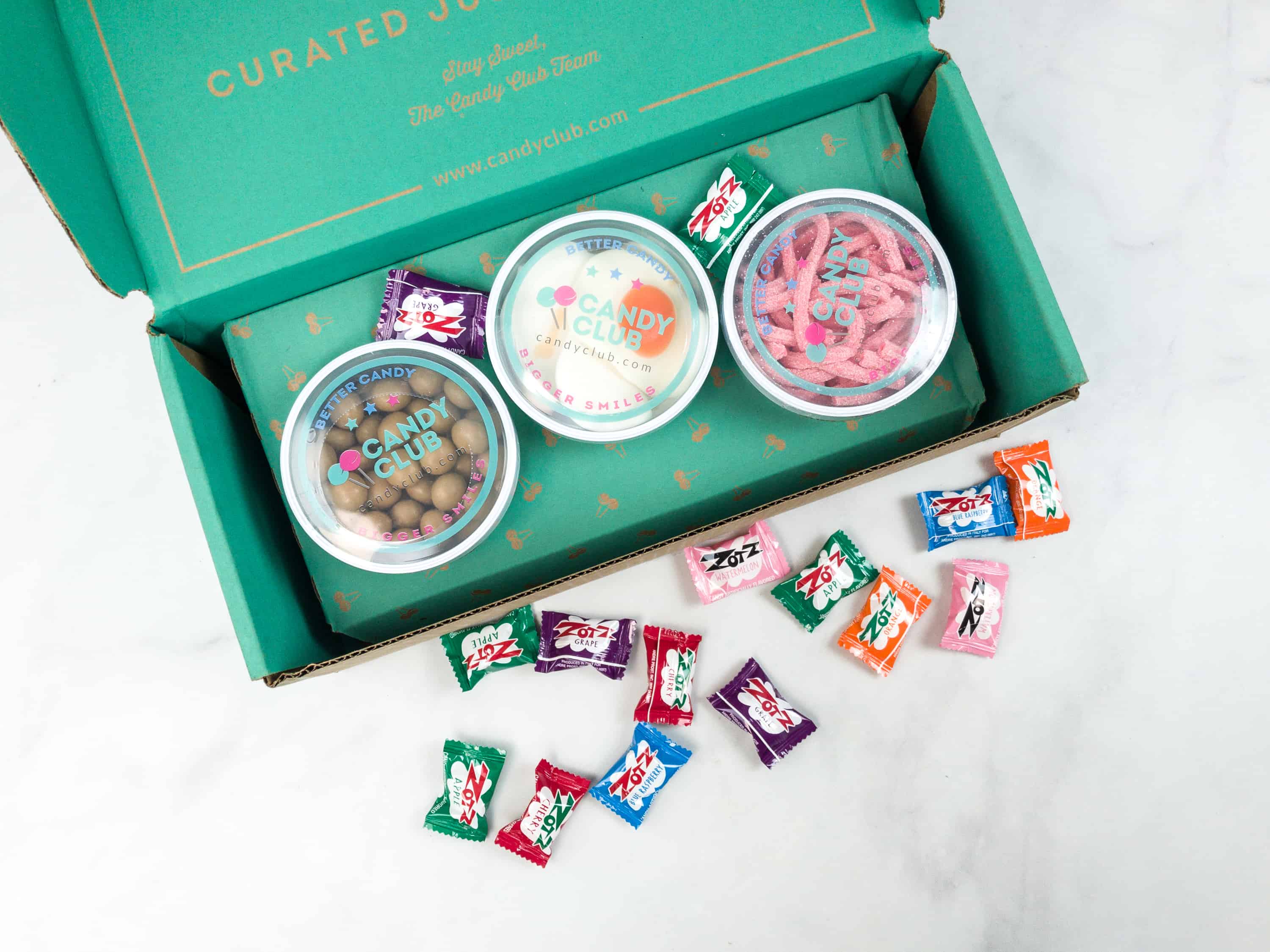 The Candy Club Subscription Box is $27.99 if you pay month to month. The price drops to $22.99 a month if you prepay for 6 months and to $19.99 a month if you prepay for a year. And, if you need more candy, you can choose to add up to three more candies to your monthly order. Shipping is $6.99 for all boxes.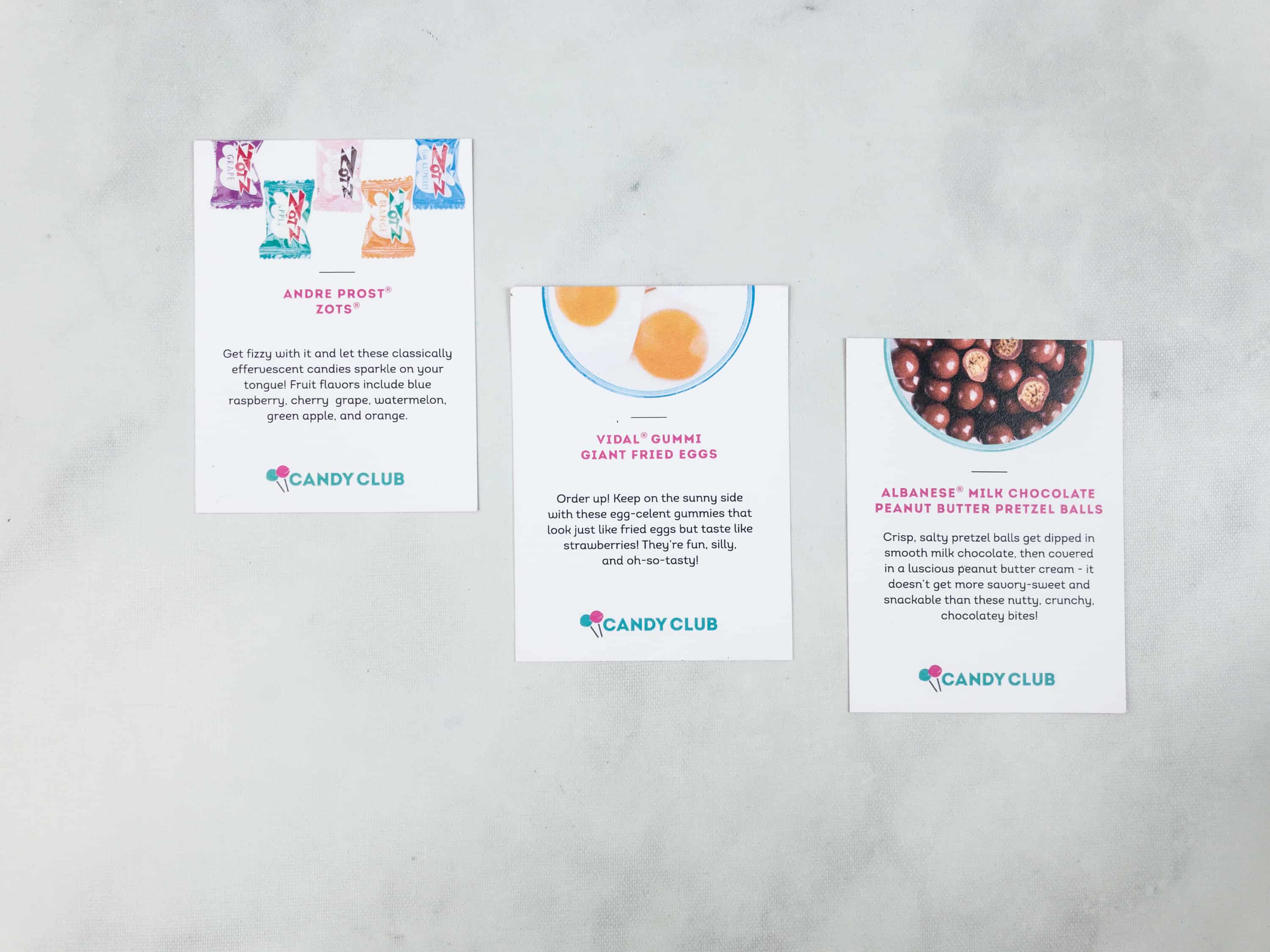 There is an information card with a short description of each candy that comes in the box.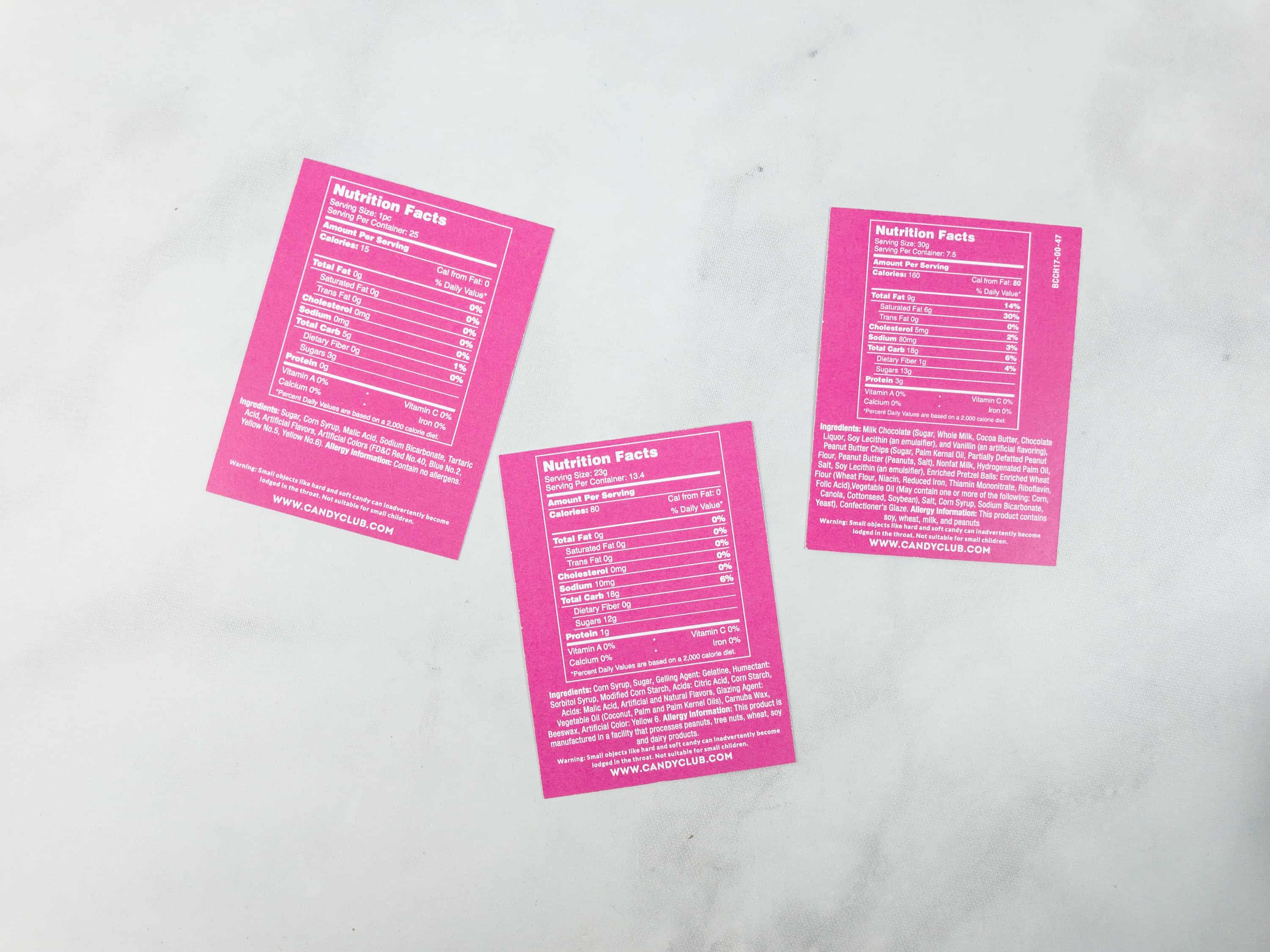 Just in case you want to know, the nutrition facts can be found at the back of each info card.
Everything in this month's box!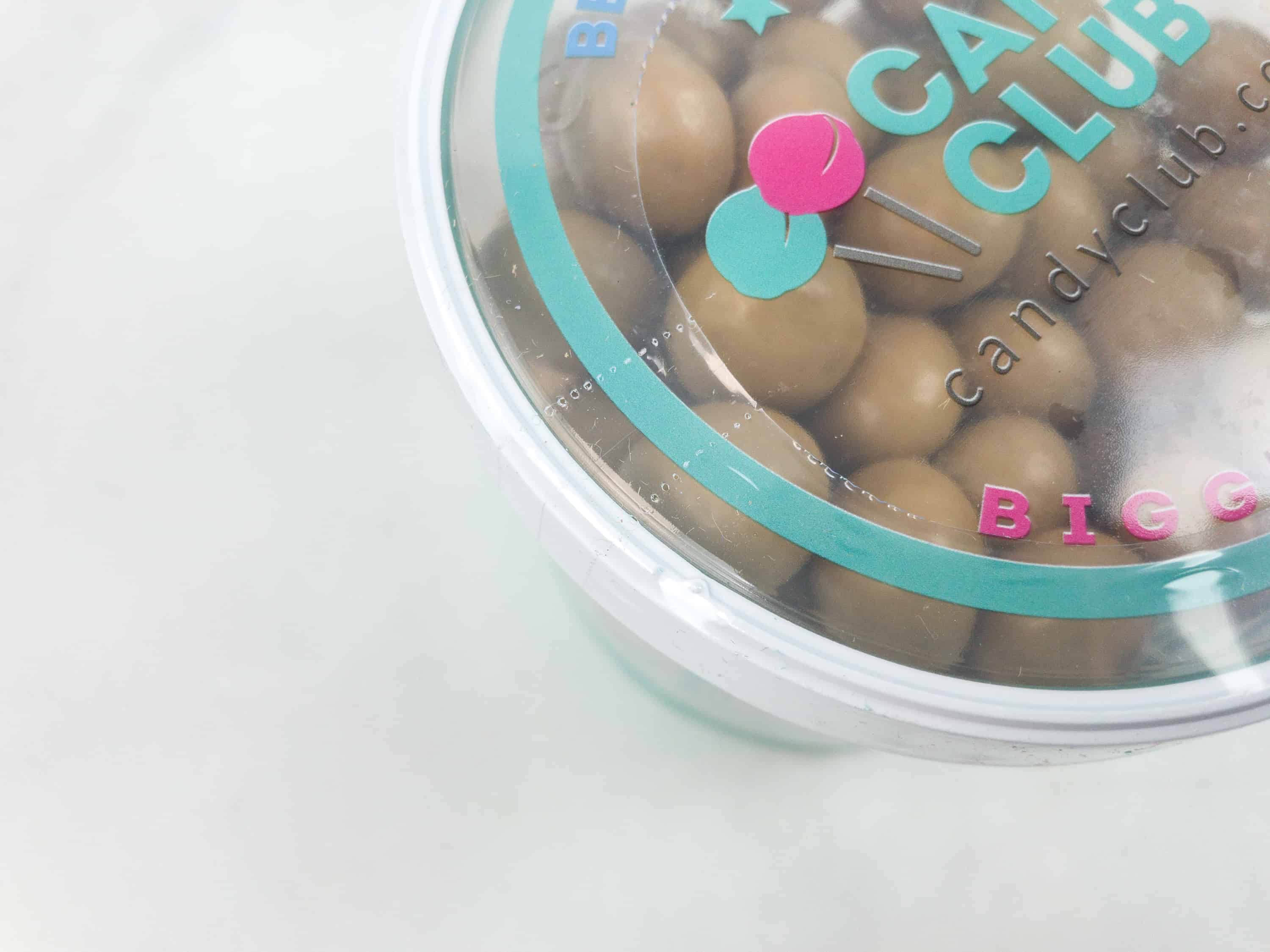 Each container is fully sealed to make sure that the quality of the candies is retained.
Andre Prost Zots. Hard candy on the outside, fizzy on the inside! These individually wrapped candies may look like ordinary hard candies on the outside, but they have a sour center that fizzes because of the powder it contains. It's actually an Italian candy that became popular in the US many, many years ago! It's a blast from the past!
Flavors include blue raspberry, cherry grape, watermelon, green apple, and orange.
All three candy containers!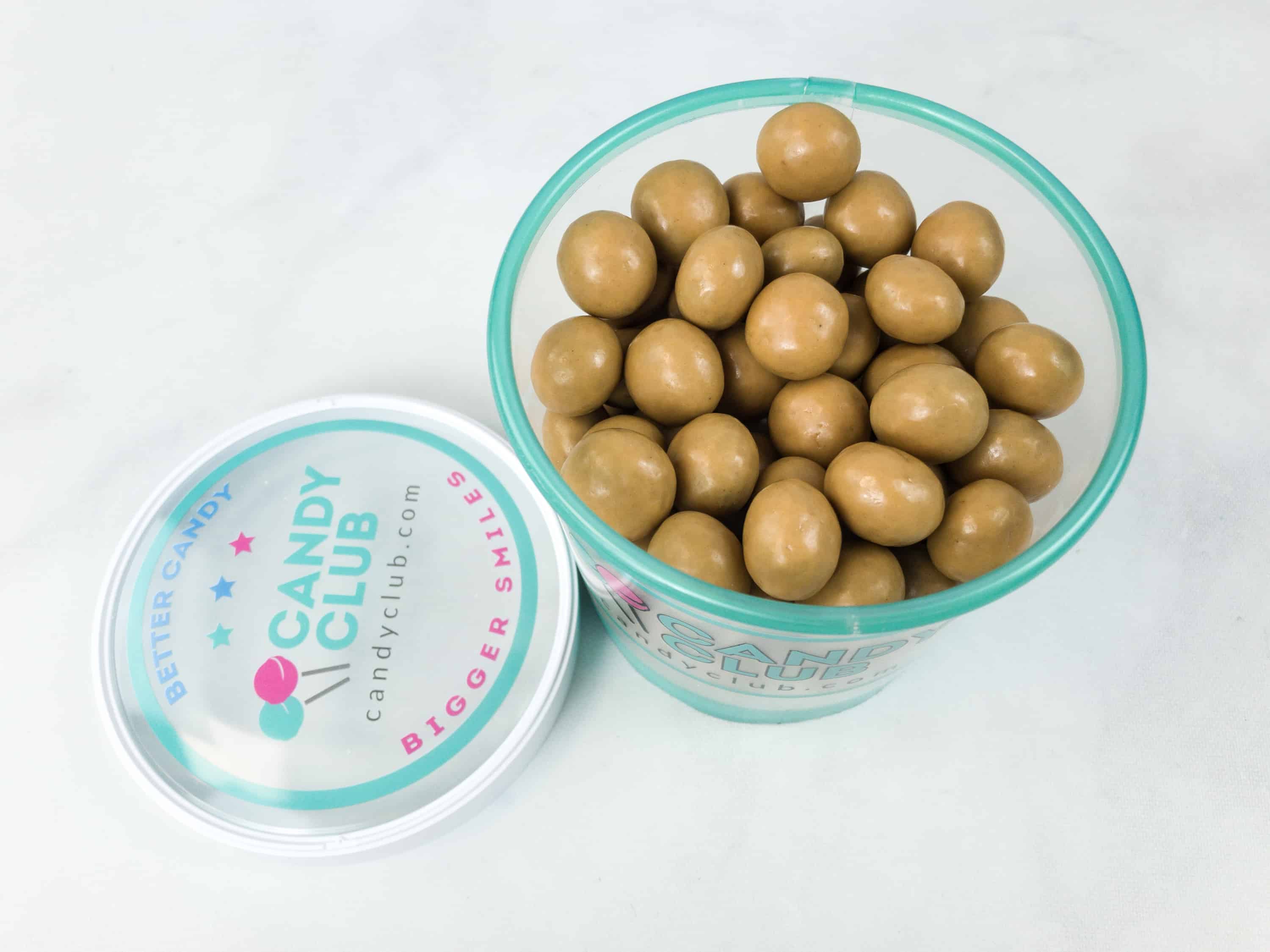 Albanese Milk Chocolate Peanut Butter Pretzel Balls. These are like desserts in the form of candy balls. The candies are made with salted pretzel balls which are then dipped in Albanese milk chocolate and peanut butter. I mean, you can't go wrong with chocolate and peanut butter, right? The pretzel ball itself is crunchy, and the chocolate and the peanut butter melt in the mouth! Yum!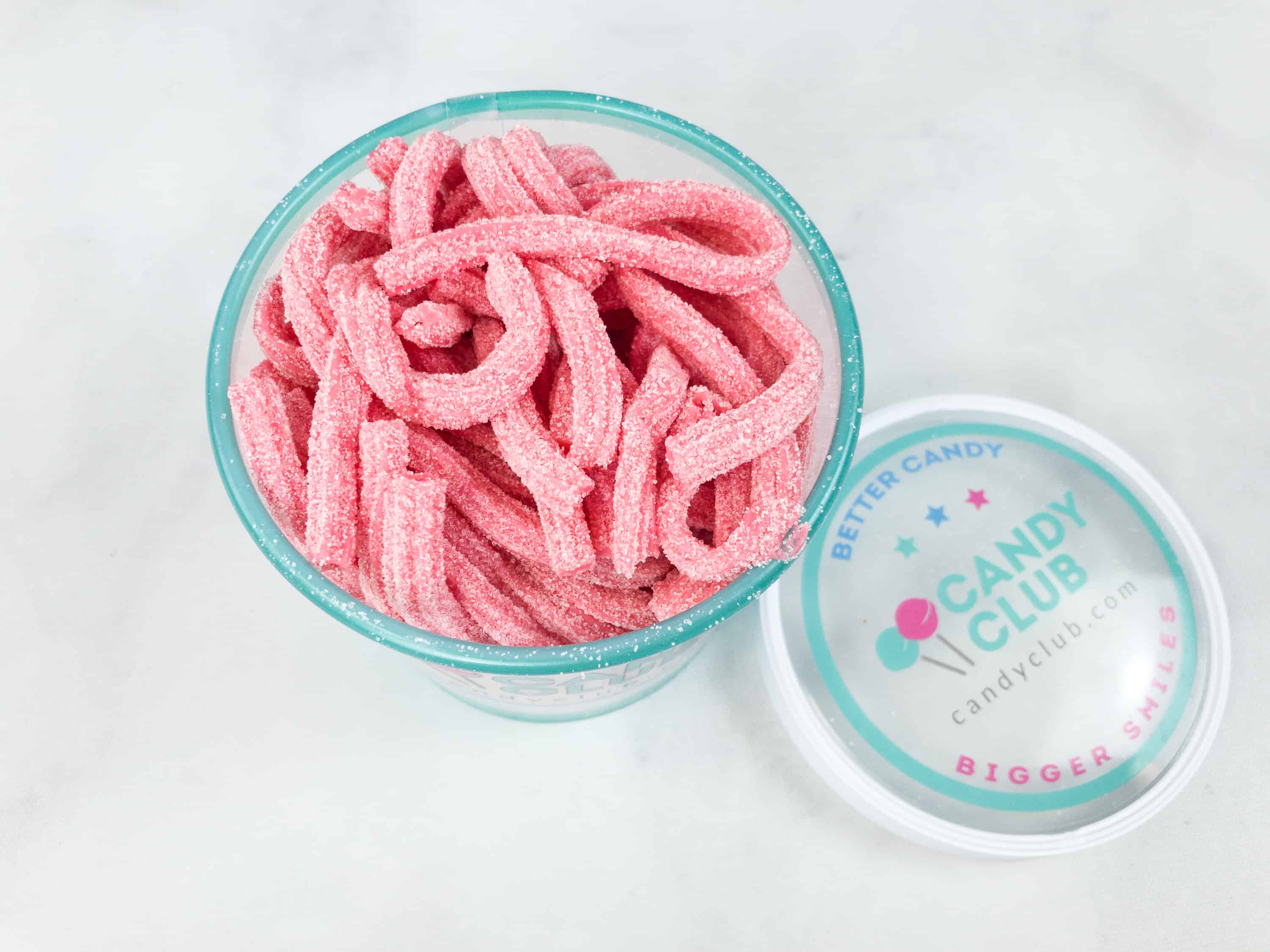 Dorval® Sour Power® Pink Lemonade Straws. The pink candy straws may look dainty and pretty, but they do pack a punch in terms of taste. You'll get a huge dose of sourness with every bite which might give you squinty eyes! It has a combination of tangy, tart, and sweet flavors erupting in your tongue!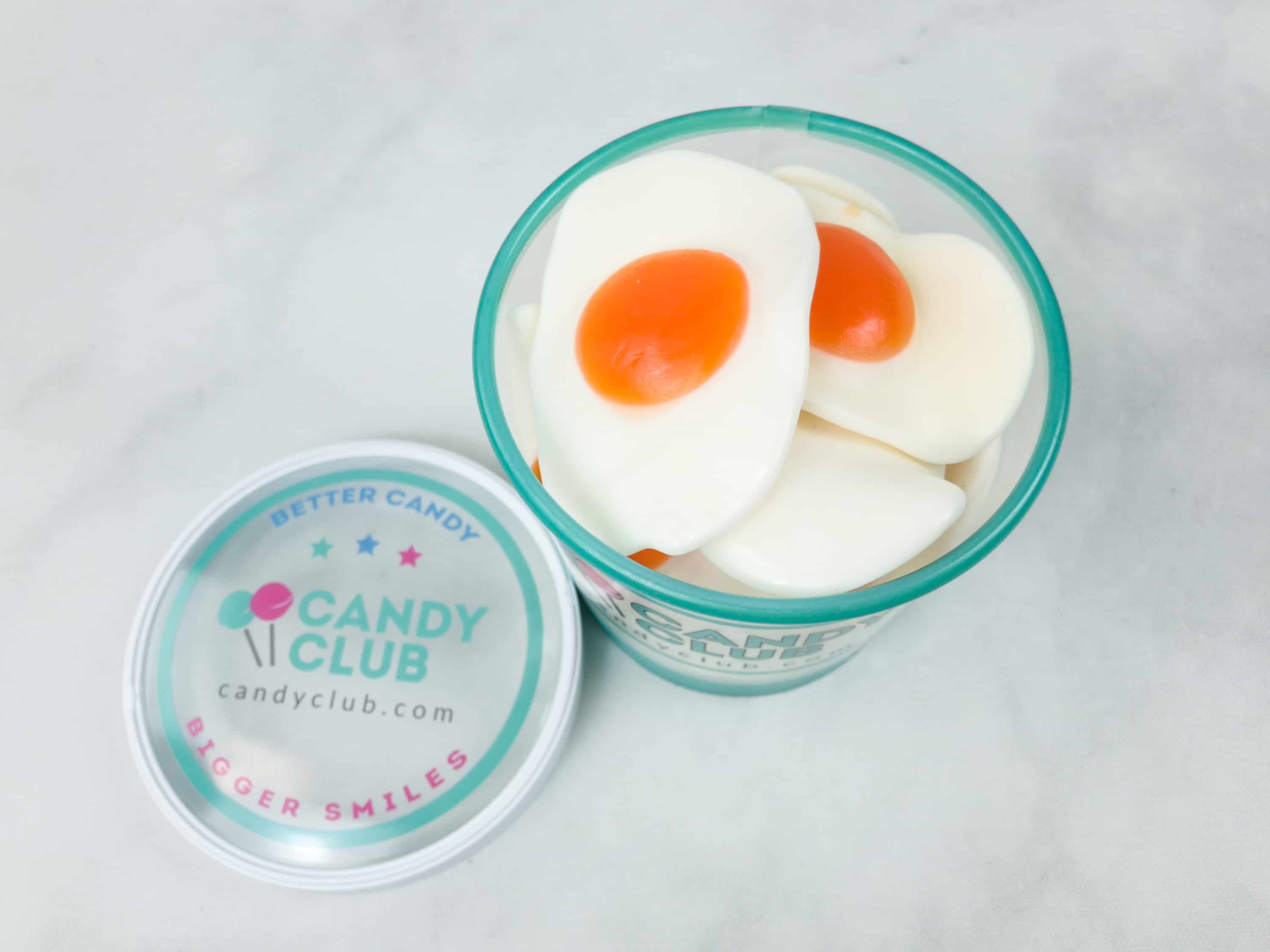 Vidal Gummy Giant Fried Eggs. Fried eggs as candies? These are actually gummy candies shaped like the breakfast staple. They're amazing because they do look like sunny-side-up eggs. The taste is sweet and fruity (strawberry!) , and the consistency was also nice. I liked that they're soft and easy to chew on! And they are HUGE!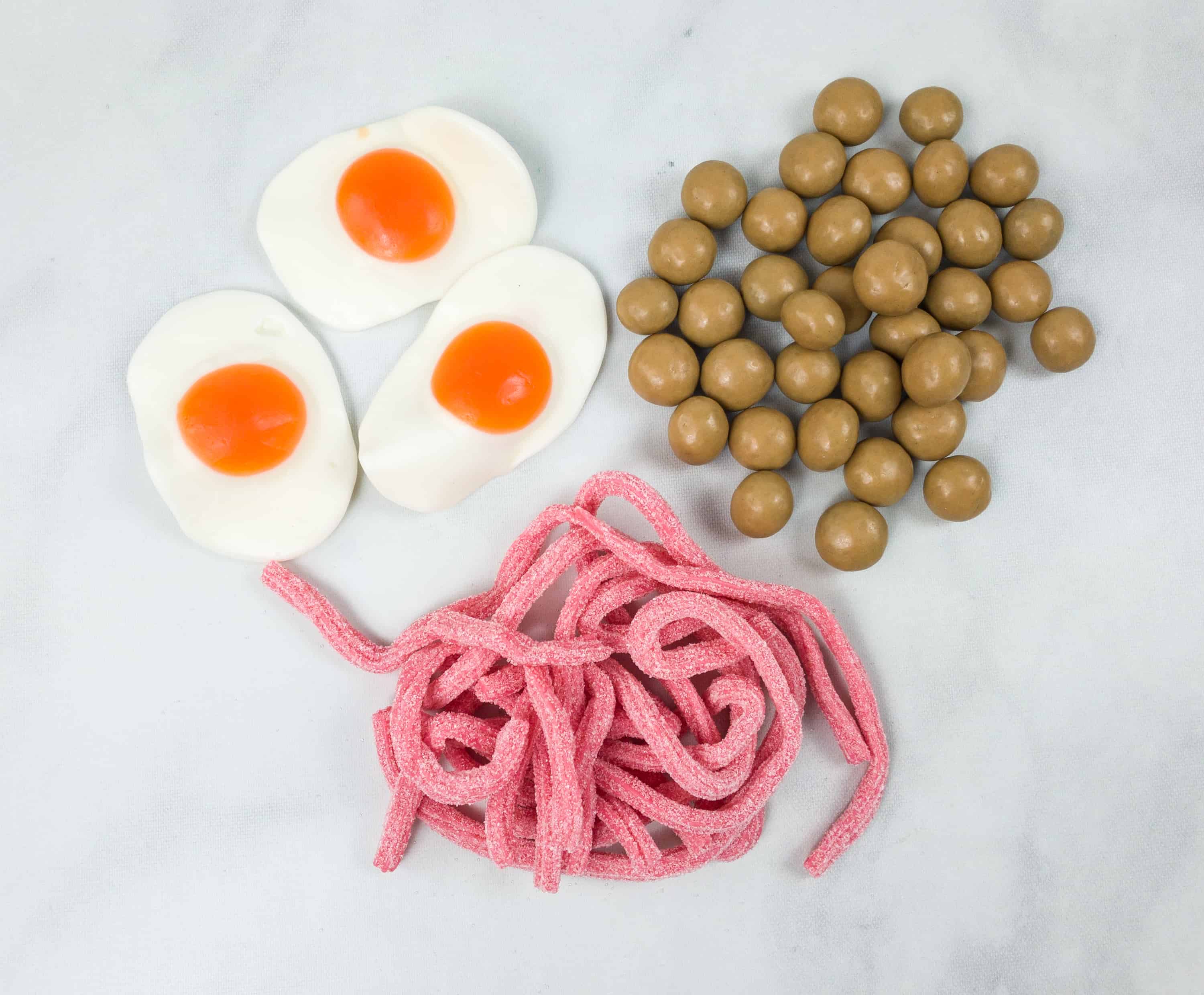 Our three candy choices this month look like a complete breakfast meal! ?
The fact that we have some choice in which candies we get from Candy Club makes us happy. Our family loves candies — both sweet and sour, and even quirky ones! We're quite satisfied with our three candies this month, everything tasted good and fresh. The fizzy candies were a great addition to the box too. I was happy to share those nostalgic candies with the kids. Overall, it's a great monthly treat for candy lovers! Or, if you know someone who loves candies too, you can gift them this subscription with the candies curated by Candy Club!
Have you tried Candy Club? What has been your favorite candy?