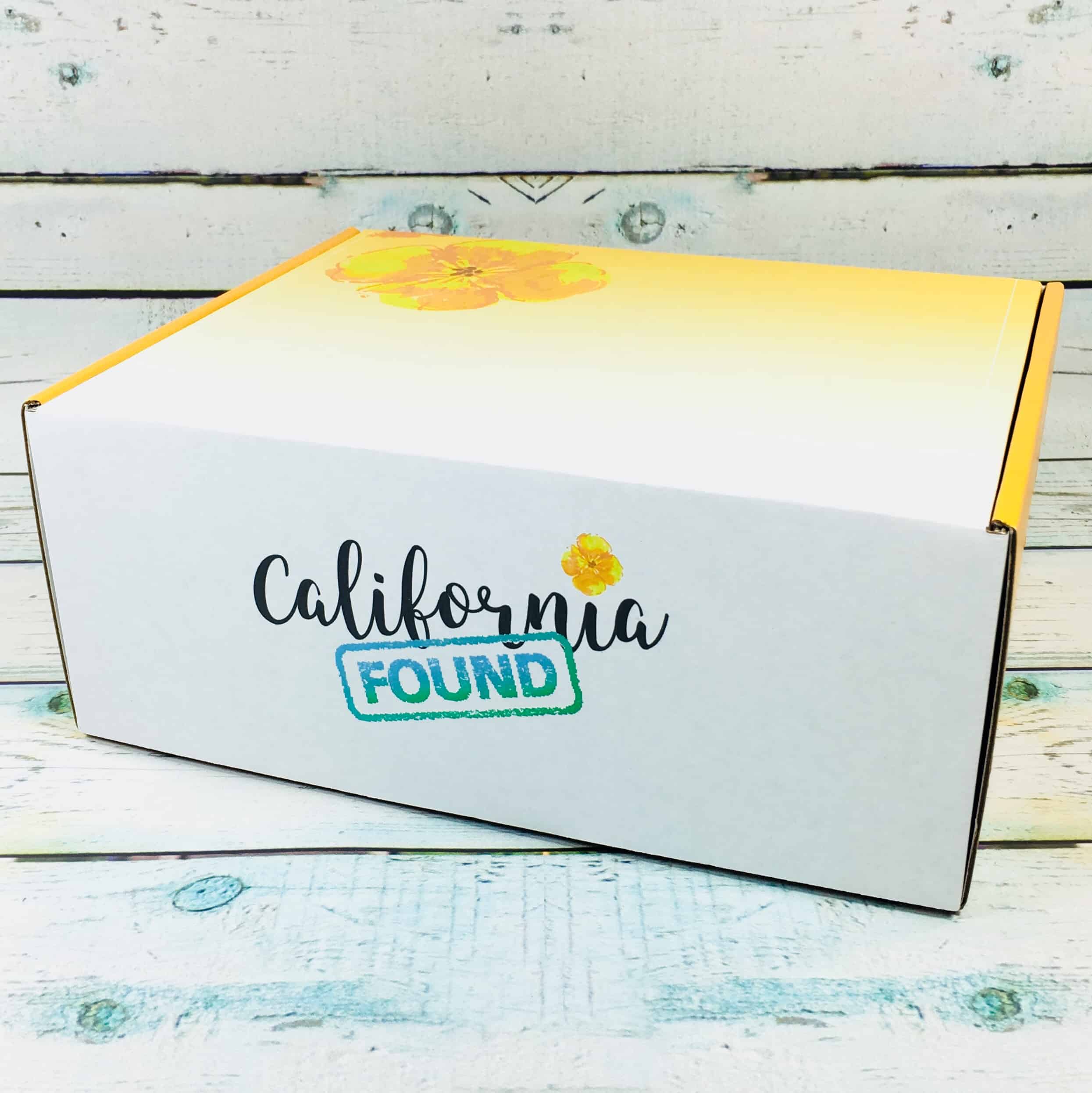 California Found is an awesome monthly subscription box that delivers the best of The Golden State, directly to your mailbox! Each box is $49, but holds a value of $90+! Shipping is free and you can save a bit of money on a 3- or 6-month subscription term. What will you find in your box?
Once a month, our subscribers experience the California lifestyle through a box filled to the brim with natural spa & beauty products, locally sourced gourmet treats, beautifully crafted home goods, and infinitely wearable jewelry. Each box tells the story of five to seven California makers through their products and an individual notecard dedicated to each one. Every beautifully packaged delivery reflects the laid back, stylish, uniquely chic attitude that is California.

"California lifestyle – delivered." Yes, please! My items were covered with beautiful seeded paper with a flower sticker closure.
DEAL:Save 20% off your first box with coupon code HSGET20.
Everything in my May 2018 California Found box! My items were tucked into white paper squiggles. I was born and raised in Southern California and get so excited when I receive this special box from my wonderful home state!

I spotted these cards as soon as I opened the box. The band that was wrapped around them was embedded with wildflower seeds.
There were 6 cards in this grouping – one about the May collection, the other 5 introducing the featured artists and their items that were sent this month. California Found donates 10% of their profits to charitable organizations.

This month's proceeds are going to Alex's Lemonade Stand, which raises money to fight childhood cancer.
If you find a product or maker that you really like, then you can use the included coupon codes featured on each card to save on a purchase on their websites.
There were two glass items in this box and they were well protected in bubble wrap.

My May California Found box!


Skin Ritual Pit Perfection Mint Mojito Deodorant ($5) In the past year I have tried several natural deodorants and this was probably the best one yet! Keep in mind before using this that it helps keep your pits from being stinky, but probably won't keep them dry since it isn't an antiperspirant.

I received the scent "Mint Mojito" (others may get "Lavender Lush") and it smells minty fresh.

I used this right after shaving and it didn't irritate my underarms. It also went on pretty smoothly without losing any big chunks. We went out walking in a tiny town midday in the 100+ degree heat and then drove home and my armpits were, shall we say, dewy as a river afterward, but they DID NOT STINK! I simply dabbed at them with some tissue, put some natural body powder on top, and again, I never smelled bad at all. This is no small feat during the summer here in Texas.
Skin Ritual Head To Toe Hard Lotion Bar In Sweet Mimosa ($6.99) Next up from the Skin Ritual brand is their Hard Lotion Bar. It's sort of like a sunscreen stick or giant lip balm but you can run it over your skin and then rub it in to moisturize.

Coconut oil, cocoa butter, beeswax, and a variety of other natural oils glide on smoothly thanks to your body heat. It is scented with essential oils and smells divine, like a chocolate orange. Both of these body products are made in San Mateo.

Simply Straws Three Straw Set ($25 on the card) What an Earth-friendly and timely product, which also happens to scare me a little!
I know there is a push to ban plastic straws in many states and countries and it is nice to know that there are several alternatives available. I just watched a heartbreaking video of someone struggling to pull a straw out of a turtle's nose. I cried.

These straws are made of borosilicate glass, which is usually used to make glass products that will come in contact with hot liquids, but these are meant to be used with cold drinks, water, milk, etc. They even came with a brush to help keep them clean, or you can stick them in the dishwasher. I'm just terrified I'm going to break one but after the turtle video, I'm willing to give them a try.


Pacific Pickle Works Brussizzle Sprouts ($9.95) Hmm, I love roasted Brussels sprouts, and I love pickles, but I have never considered pickled Brussels sprouts!

The ingredients are pretty common for pickles – vinegar, sugar, spices.

Maybe not the prettiest thing I've eaten but then again pickled cucumbers don't look all that special either. There were also pieces of garlic, chili peppers, and jalapenos too for variety. They had a kind of rubbery chewy consistency and were sweet, tangy, and spicy. I think they make a wonderful change from standard bread and butter pickles. From Santa Barbara.


Lulu Bird Sterling Silver Slim Dangle Earrings ($39) My daughters always benefit from the beautiful earrings California Found sends out since my ear holes closed up years ago.

This pair is handmade of sterling silver with rose gold accents plus two stones – apatite and moonstone.

There is also a Lulu tag.

I love the colors and the stones, such a pretty piece of jewelry! From Carlsbad.

The next item came wrapped up with a tag saying to enjoy – it was like opening a present!

Saltwater & Feathers Four Greeting Card Collection ($20) California Found sends the prettiest cards ever in their boxes! I couldn't find these four in a set, but you can purchase them on the Etsy site. (I have my eyes on the one called "California" – I'm a sucker for VW buses and surfboards!)
Sometimes the cards sent are specific to California, featuring the state shape or Venice Beach, but these cards feature things you might find all along the west coast or even the east coast for that matter. From Carpinteria.

California Found always sends amazing things from one of my favorite states and I enjoy the products every time! The cards are always so vibrant, the jewelry is very nice quality, and the food items are unusual takes on classics. The skin care items were amazing and the glass straws may help make the world better for all of its inhabitants. My box had a value of around $105.94! Imagine walking around an outdoor market and finding these wonderful items, but then paying less than half the cost! I think California Found picked the best items and then shipped them to subscribers, and I love that idea.
What do you think of California Found? Let me know in the comments!