Cairn is a monthly subscription box for those who love spending time in the outdoors. Each month, you can expect to receive 3-6 cool products that will help you enjoy your time in the outdoors even more. Subscriptions cost $29.99 each month, but the cost goes down with longer subscriptions. Shipping is free for US subscribers and $5 to Canada.
Cairn promises that the total retail value of the items in each box will exceed $50, with a mix of gear, apparel, food, skin care, and emergency tools. If you complete the subscriber profile, the box will be curated to best match your outdoor lifestyle. As such, most months will see a variation of boxes, while there may be some months when everyone will get the same thing.
DEAL: Use code HAMMOCK to get the Hammock Collection Box as your first month! See the review of the Hammock Box!
OR Use code TRAILHEAD to get the Trailhead welcome box your first month!  See the review of the Trailhead Box!
Every month, you receive a newsletter with some information and discount codes to the products included in this month's collection.
We get full information about the items included in the box. This month's box is all about food!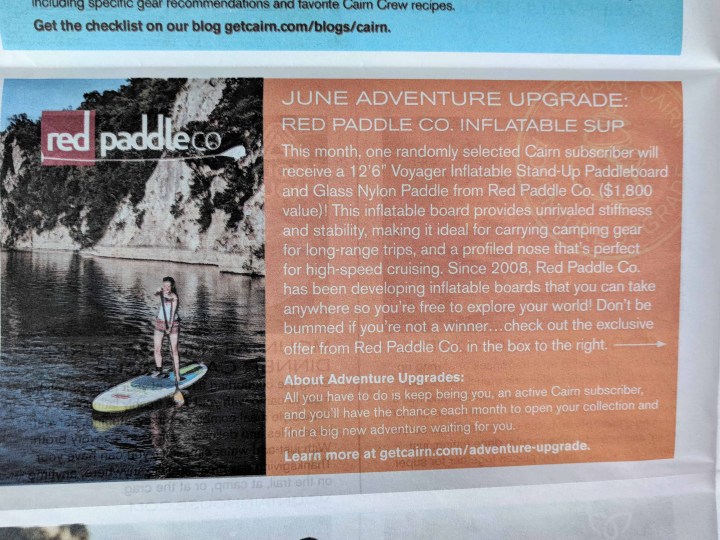 Every month, two lucky subscribers get a little something special in their box. All you need to do is to be an active subscriber to the monthly box, nothing else!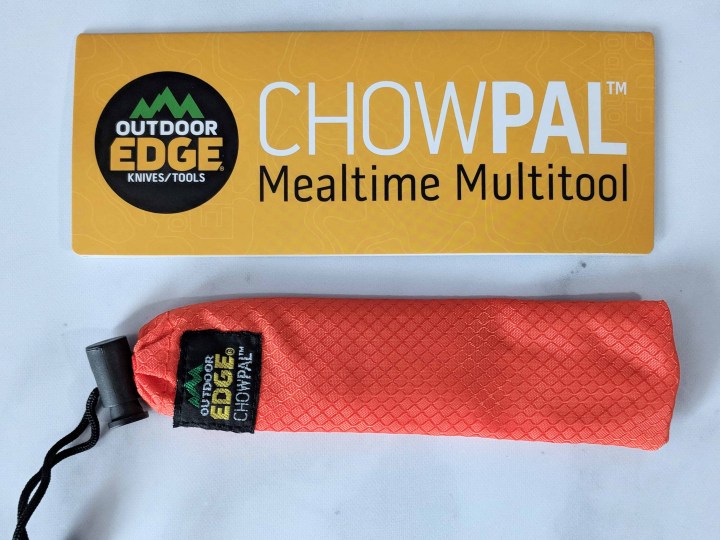 The featured item this month is the Outdoor Edge Chowpal, an all-in-one utensil set.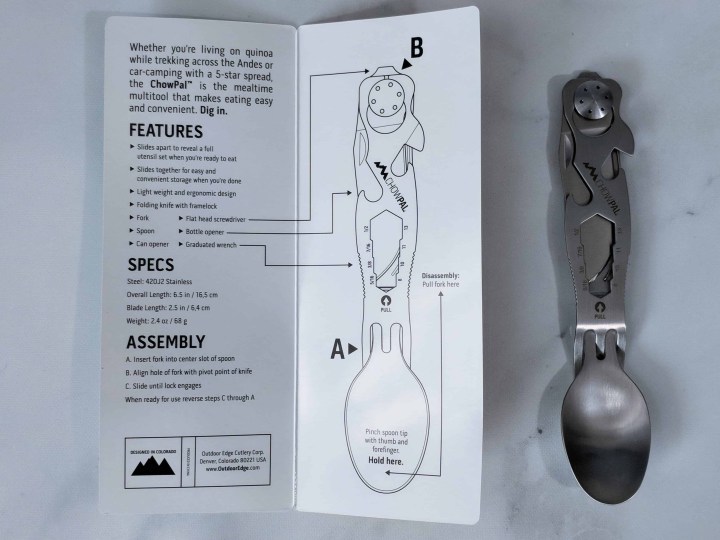 This multi-tool utensil has a spoon, a knife, a fork, a can opener and other useful things such as a graduated wrench and flat-head screwdriver.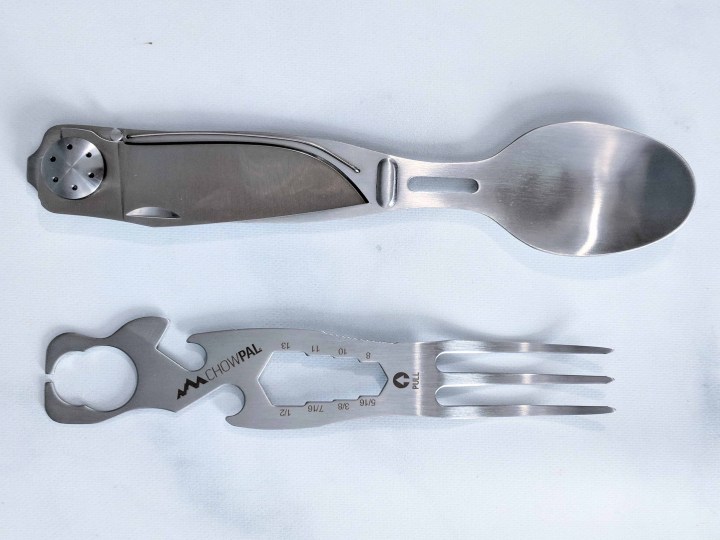 It took me a couple of seconds to understand how to pull the two pieces apart, but here they are. The feel is pretty light, and the fork is almost too flimsy to feel comfortable. It's probably due to it being carved so it feels lighter than it should be.
The knife is folded in the spoon handle.
This is a good size knife, easy to fold and unfold. Once again, I just have a problem with the weight distribution in these utensils. But they fold back together so they are easy to carry around. One thing though, the fork will get stuck in everything, so I would always carry it in the provided bag.
Mountain House Turkey Dinner Casserole. A freeze-dried Thanksgiving meal in a pouch! Each bag contains two servings and you just need to add hot water. Freeze dried meal are a good idea to have around: they are light, quick and easy to make, and they don't take that much room in your bag. You can use them for emergency or for an adventure where you don't want to carry too much weight!
I've heard good things about this, like the turkey is moist and chunky, but I'm actually allergic to most of the ingredients in this meal, so I couldn't try it out for myself. They have a Breakfast Skillet Meal that sounds delicious!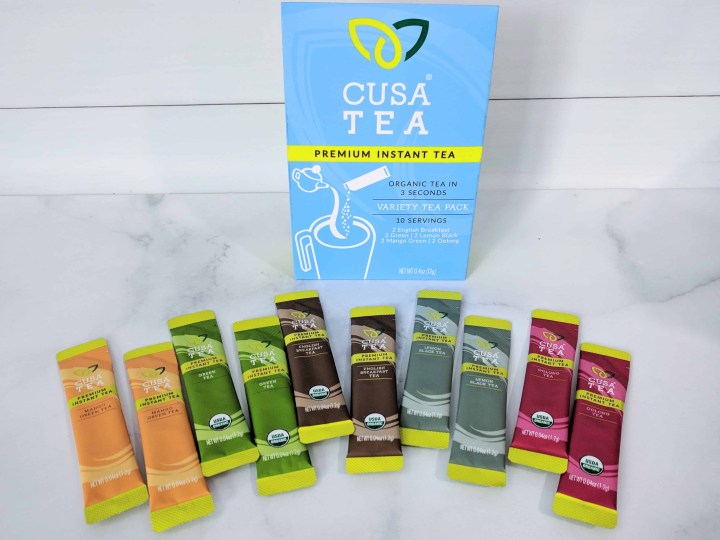 Cusa Tea Variety Pack. No sugar or additives added, these single serve instant tea are easy to pack and quick to make. Just add them to hot or cold water! We received a variety pack with two servings of 5 different flavors: Mango Green Tea, Green Tea, English Breakfast Tea, Lemon Black Tea, Oolong Tea.
Natti Bar Pure Banana Goodness. A 100% natural Non-GMO gluten free pure banana bar.
And when they say "banana bar," they mean it! The only ingredient is bananas! It's chewy, sweet, and really tasty. Yes, it tastes like a ripe banana!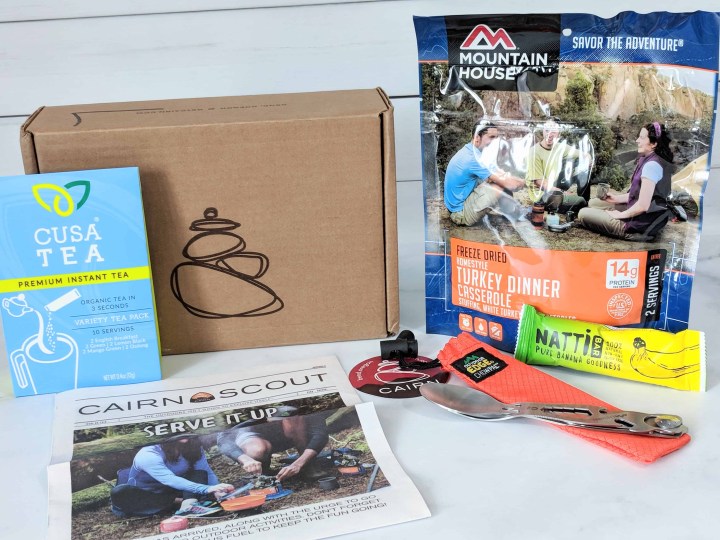 Overall, June's Cairn box was a great box focused on nutrition on the trails with a meal, something to drink and a snack. This box was more of a discovery box as everything was single serve. Personally, this box wasn't for me, due to dietary limitation, but I really liked the utensils set to keep in my bag for when I need to eat on the go to replace plastic single-use utensils.
What did you think of this month's Cairn box?