Bee Kind Subscription Box is a monthly subscription box created by twin sisters to help spread kindness. Each month five ready-to-gift items will be sent to you which may include "stationery, bath and body products, novelty items, organic coffee or tea, and other tasty treats." Spread the kindness by gifting them to your co-workers, friends, neighbors, anyone, and everyone. Each month will feature different gifts and shipping is kindly included.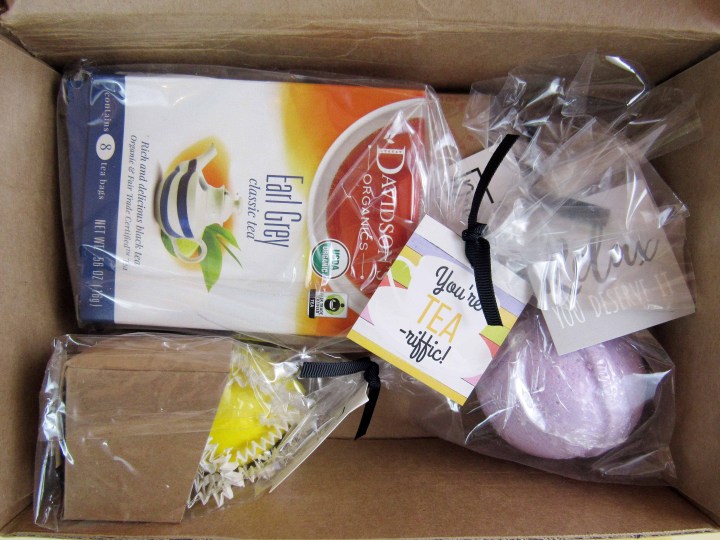 I could not wait to see what was inside the box. J, our nine-year-old son, and I were excited to bee kind!
An encouraging card was included. We were buzzing with excitement to start spreading kindness!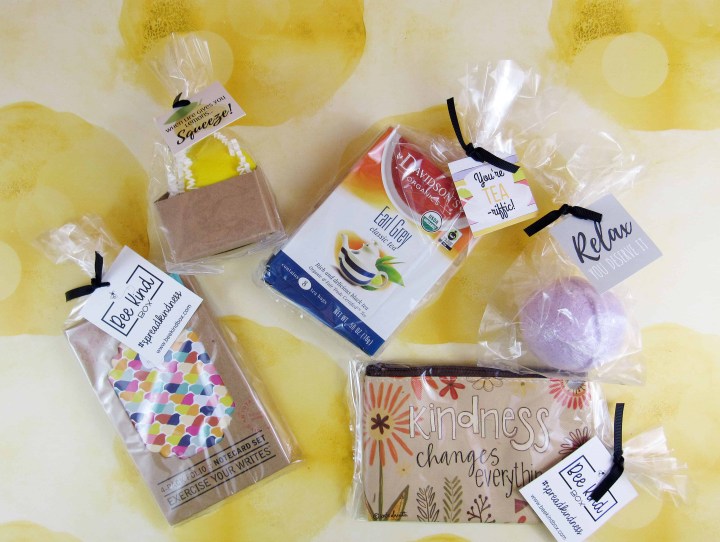 Here are the items in the April Bee Kind Box. The gifts came wrapped in a plastic bag with a black bow and a gift tag for easy gift giving. No excuses for waiting to be kind!
J, our 9-year-old, had a tea-riffic person in mind when it was time for us to give out the Davidson's Organics Earl Grey Tea ($2.99, 8 tea bags.)
The tea is certified fair trade and organic and is sourced from family farms in Darjeeling and Assam regions in India.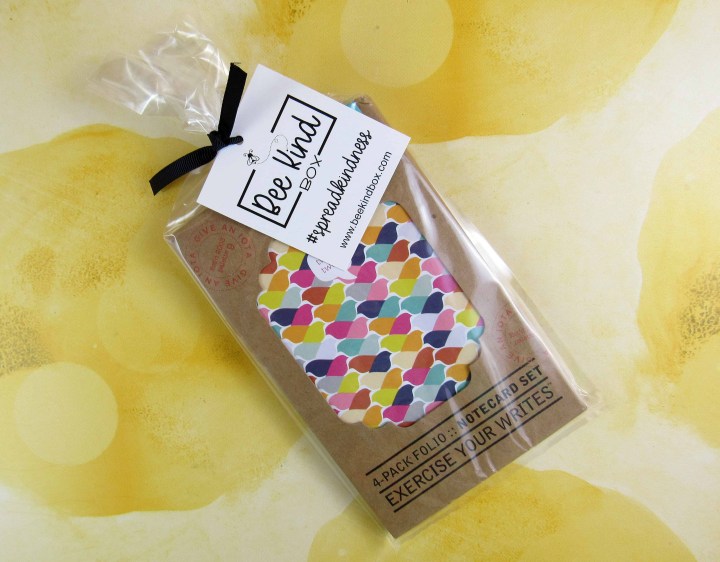 The colorful Iota 4-Pack Folio Cards – Flock of Colour ($5.00 Amazon) is ideal for a free-spirited person that wants to stay in touch.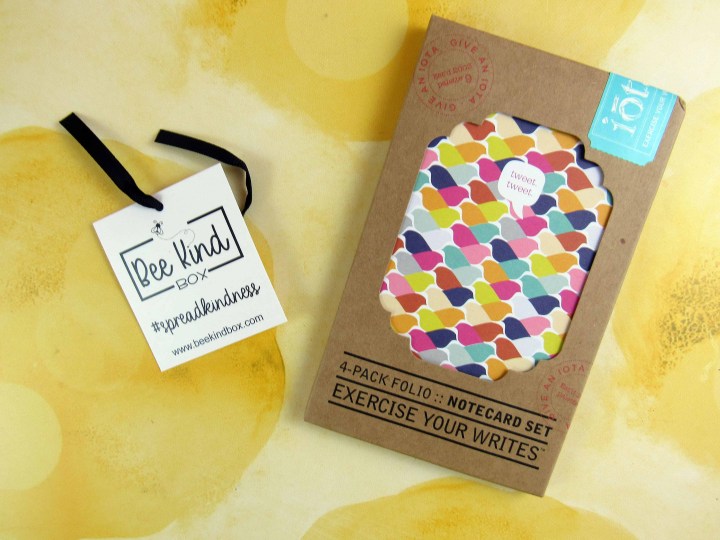 The eye-catching pattern makes anyone want to "exercise your writes."

The front of the card says Tweet Tweet and are blank inside. We gifted it to a bird lover.
I love this tag which reads, "when life gives lemon…squeeze!' It's summery, fun, and easy to gift. Everyone loves squishies.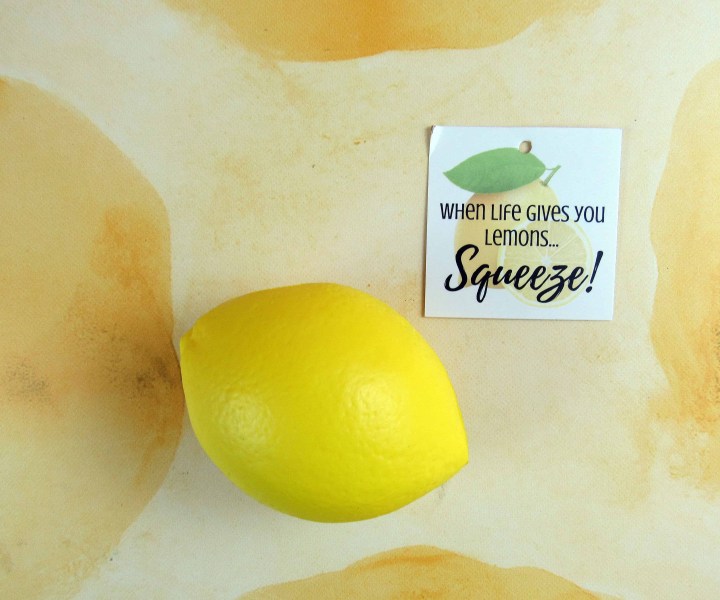 I gifted it to our younger son who has been a trooper this month.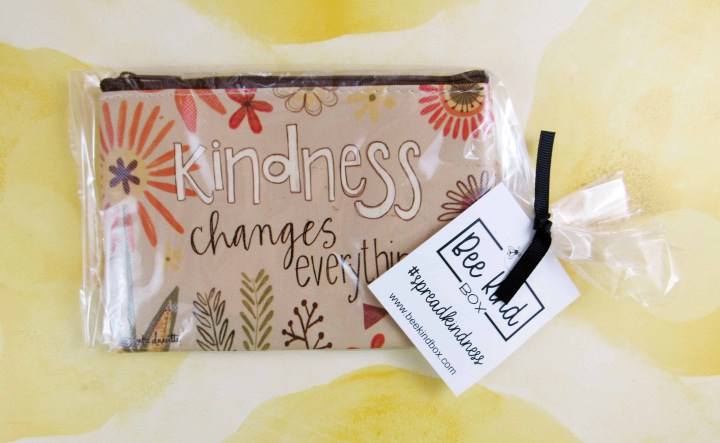 My favorite item to gift was the Kindness Changes Everything Coin Purse ($5.99, 4.99 on sale ChristianBook.)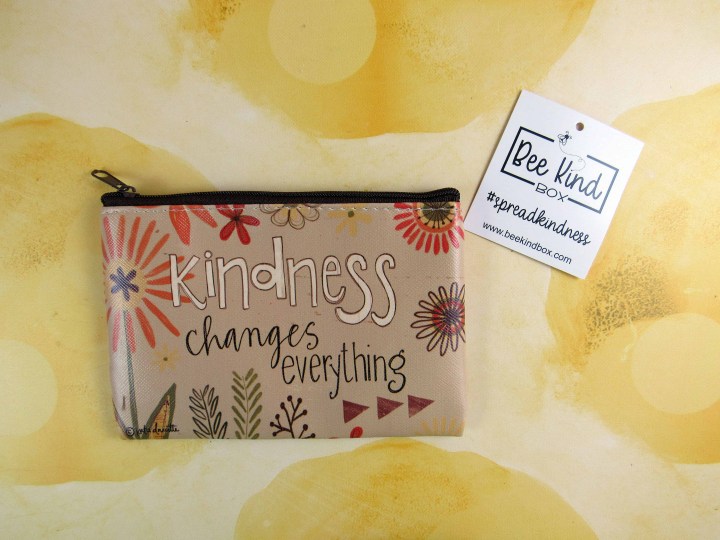 A fellow mom drove my son to an event which made a huge difference in how I was able to approach my day. I was stressing about everything I had to accomplish. I don't think she realized how much that kindness meant to me and impacted my day.

The colors and style fit her well. I think she is going to love the lined coin purse.

Relaxation is a necessity! The lavender scented bath bomb is large enough for two to three baths.
J wants to give it to his aunt because she is wonderful. I found the bath bomb the hardest to give away because I do not know who takes baths!
We had a blast deciding and gifting the inexpensive items from the April Bee Kind Box which were well-received! Having the items gift-ready relieved us from worrying about presentation. The only thing I would change is to have all the gift tags with cute sayings with smaller advertising of the box.  The value of the box is not in the retail value of the items but in the joy of spreading kindness. Bee Kind Box is an excellent box for those that want to give gifts, spread kindness, and have a little fun with it.
Are you getting the Bee Kind Box?