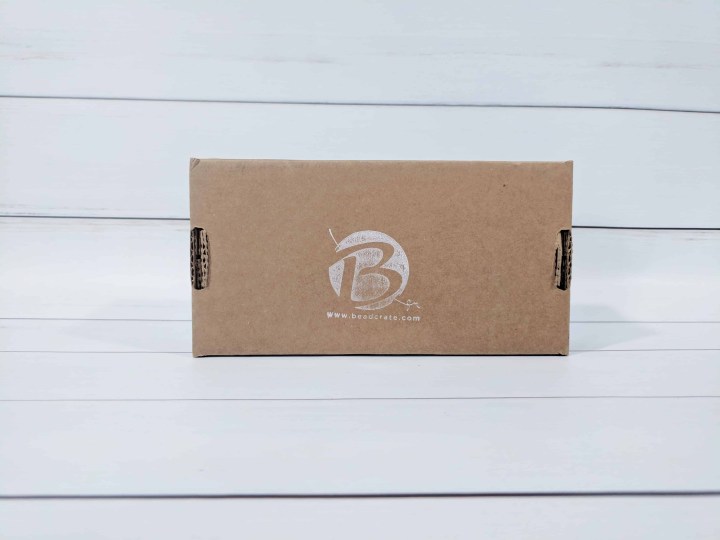 BeadCrate is a monthly subscription box for bead enthusiasts. Every month, you'll receive a curated collection of beads, findings, and other goodies to enhance your beading creations! There are two box sizes – Enthusiast ($18.99 + $5 Shipping) and Collector ($35 with free shipping) to choose from.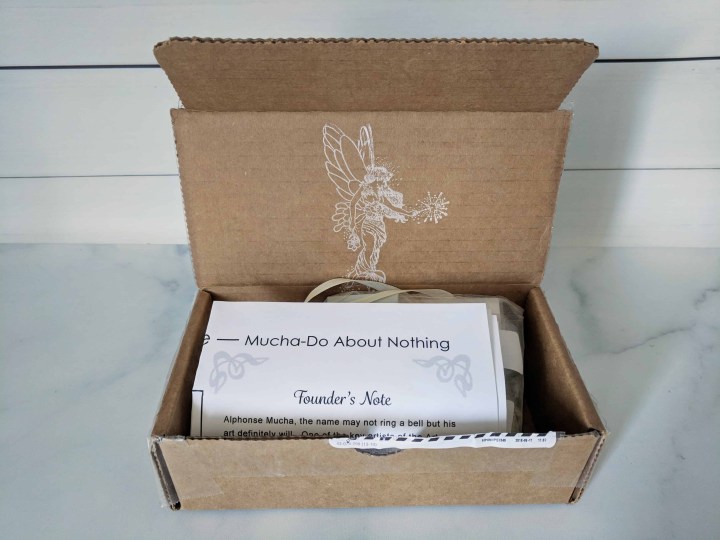 This is the Enthusiast Crate!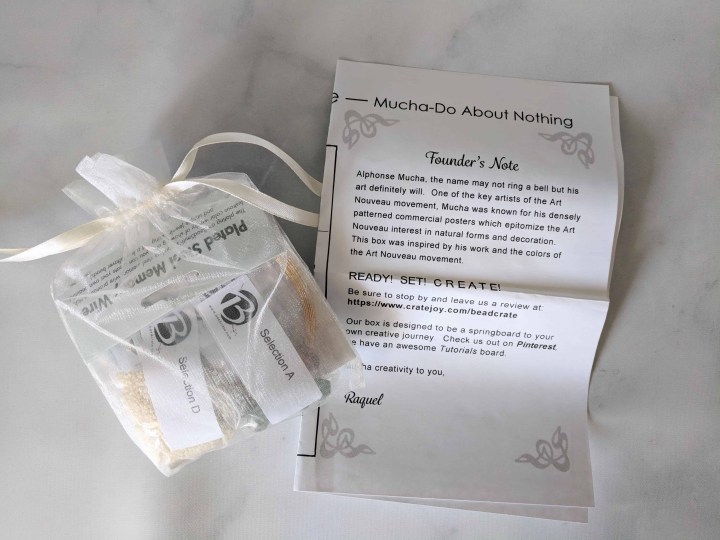 We also have a curator's note explaining the theme. This month's theme is Mucha-Do About Nothing! You can share your creation on their social media (Instagram or Facebook, don't forget to tag them!)
The crate comes with a chart that tells you exactly what you're getting.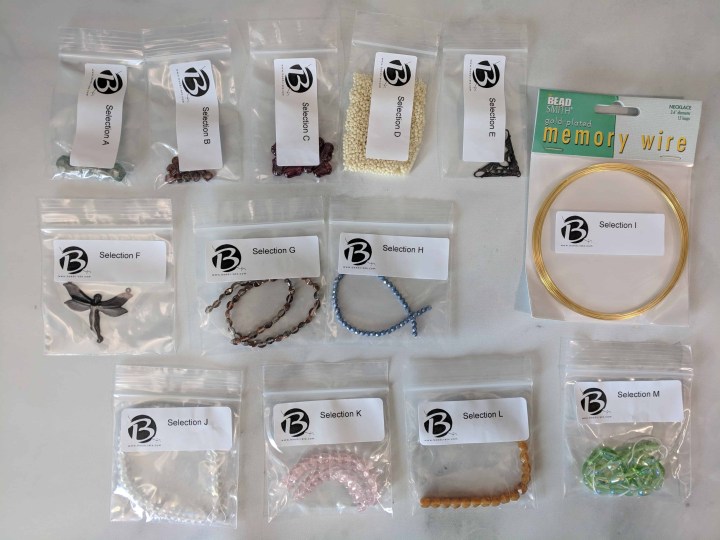 The beads always come neatly packaged inside individual well-labelled plastic bags inside a cute organza bag. The memory wire is tempting me…
6mm Amethyst Antique Style Octagons. I love both the color and the shape. They are little hexagons and both ends are beginning for some bead caps! They are quite small, so maybe small golden spacer beads would be better appropriate to make sure to showcase the bead and not to hide it! I think they were my favorite bead this month!
8x12mm Siam Ruby Vega Tulips. Another awesome colored bead! The hole goes from the top of the flower to the bottom. They would look great paired with some antique gold or antique brass findings for cute earrings.
5mm Clear Capri Gold Pinch Bead. Another favorite from this month's box! They look grey and purple, almost antique looking. I was tempted to use them in a loom project, but I decided to simply thread them on the memory wire for this month's project.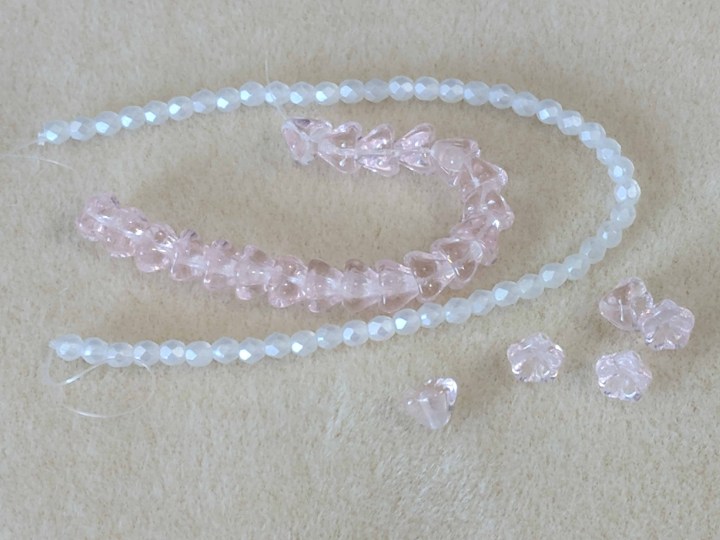 4mm Metal Luster Crystal Firepolish. The metal luster part of these beads comes from the matte look to them, while still being shiny and slightly translucent. I prefer them to pure crystal clear white beads as it gives them an opalescence that looks sophisticated. Firepolish beads are great when using thread as their edges are not too sharp so they won't cut through, while still keeping an interesting shape.
6x8mm Rosaline Bell Flowers.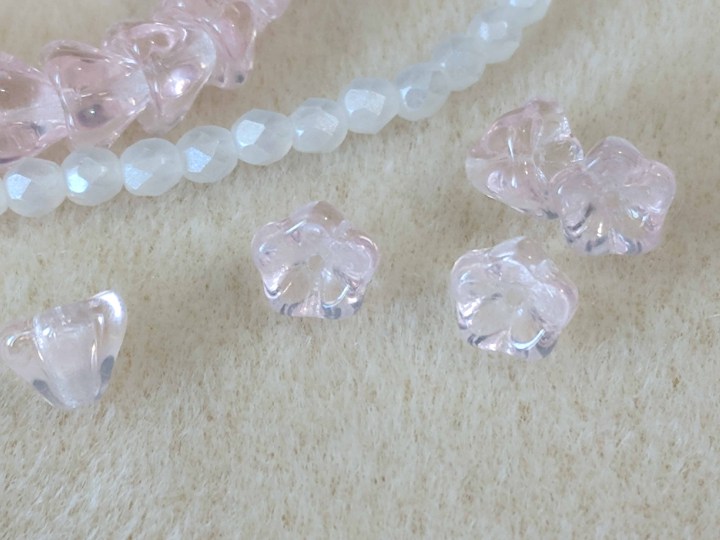 I had to do a close-up on them. The hole goes through the center of the flower. I like to use this shape in earrings with small dainty chains falling from their center. Or they are great as a "bead cap" to a simple metal bead. Paired with antique copper findings, they would make a lovely bracelet.
28x19mm Vintaj Filigree Fans. They are not as flimsy in real life as they look in the picture! They can be used as a base for chandelier earrings, for a tassel pendant, or as a 1-5 connector. I like that if used as a pendant, you can hang a bead in the middle of the bigger hole.
52x33mm Vintaj Fairy Flight Connector. A cute Fairy that can be used with a simple black chain, or leather or suede cord for a more natural and woodsy look.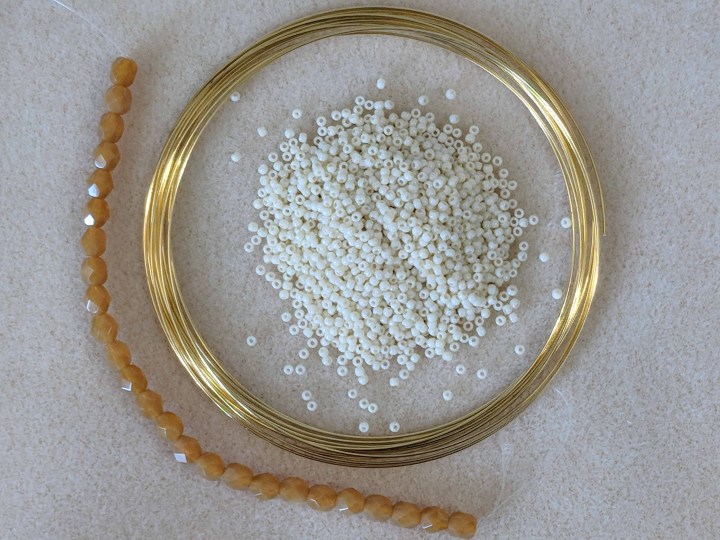 11/0 Toho Opaque Light Beige. Every month, Bead Crate will send us some type of seed beads. I'm still not quite at ease working with them, but they are great for loom projects, for hand weaving, or for embroidery. I need to try my hand at embroidery, it looks fun!
BeadSmith Necklace Memory Wire. In previous boxes, we received bracelet size and ring size memory wire, so it's no surprise to see this one pop up! I was intrigued by it, as the coil is quite tight, not something I would have thought ok for a necklace. So this month's design uses it to see how it would turn out. Note to anyone not familiar with memory wire: it's a very hard metal that will go back to its shape. Do not use your normal cutters for this! There's a special cutter for the hard wire that you need to use. Otherwise, you will nick your cutters. Pliers are fine though.
6mm Milky Topaz Firepolish. Another color of firepolish beads, I like that it also has that opalescent feel to it. It's not translucent, but they are pretty!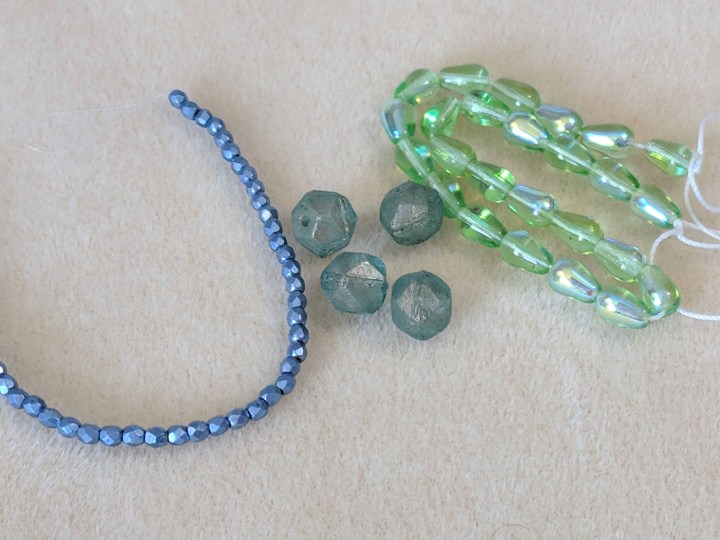 10mm Halo Sky Antique Cut Rounds. They look like little jewels!
3mm Saturated Metallic Neutral Gray Firepolish. There's nothing neutral about them! The blue color is amazing, like a pure blue summer sky! I will use them as individual links to create a lovely small chain for the summer. I just don't know yet what metal to pair them with.
6x9mm Peridot AB Tear Drops. I like teardrops beads to make tassels or chandelier earrings. The color reminds me of a forest when the first spring greens are coming out!
So I paired the Amethyst Antique Style Octagons to Clear Capri Gold Pinch Bead and the Milky Topaz Firepolish to try out the memory wire choker necklace. I like the pairing between the topaz and the amethyst.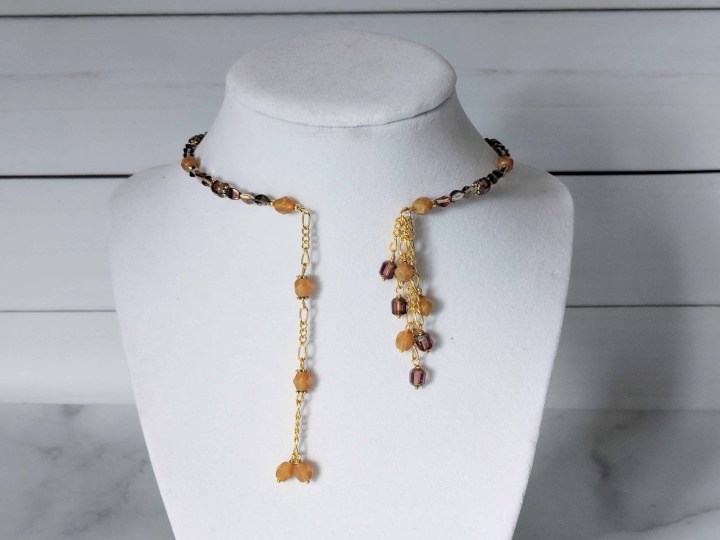 This is what it looks like on a neck. The wire is not too strong as to pinch your neck, but I still went with an open front design to make it feel less choking. I'm not sure if I would make more memory wire necklace, but I'm really happy to have tried something new and out of my comfort zone!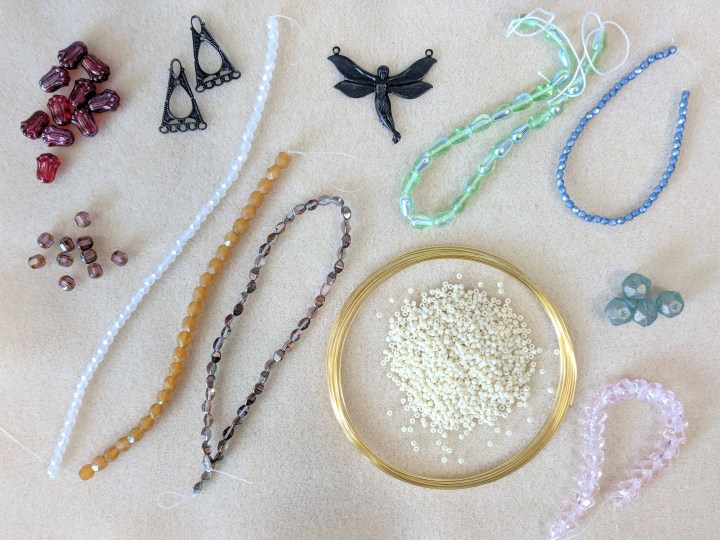 I really like when I get something different to try something I would never have attempted. I was always looking at the memory wires at the bead store but never dared to try them. Sometimes, it's fun to be pushed to try it and that's what I like with BeadCrate boxes. I like experimenting with their selection, and this month didn't disappoint!
What do you think of this month's BeadCrate box?