Yogi Surprise is a yoga-inspired monthly subscription box designed to complement your way of living. Each monthly box contains 6-8 products picked by experienced yogis to complement your yoga practice and your life! It's like getting a care package every month!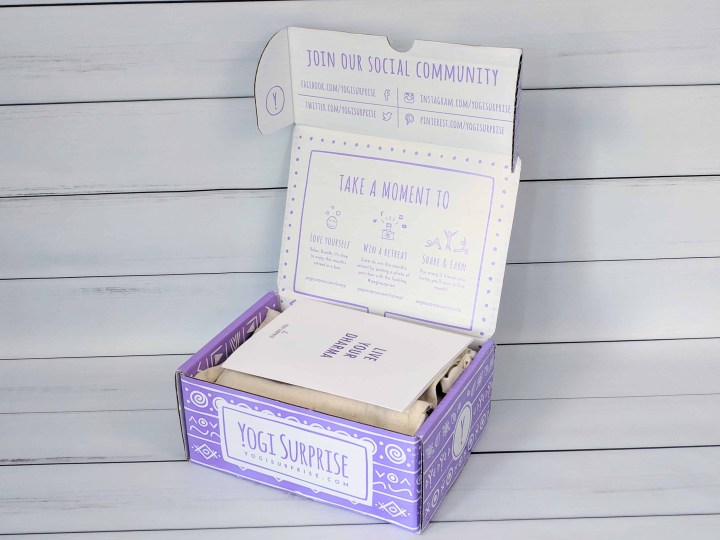 DEAL: Get 25% off your first box! Use coupon code HELLO25.
This month's theme is Live Your Dharma. Things are a bit different this month, starting with the information card. Every single box received this lovely amethyst crystal bracelet to remind us to honor our Dharma. Dharma is a difficult term to explain, but this box is helping us to honor our life's passion and be the truest self.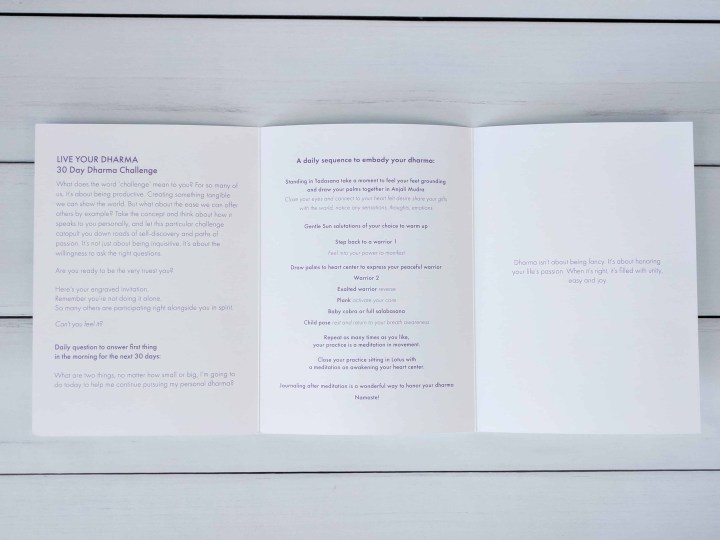 We also get a 30 Day Dharma Challenge. I like this simple little challenge that can easily become part of a morning routine. There's also a daily sequence of Sun Salutations and other lovely pose to embody our dharma. Once again, I love this! You can really develop an easy but mindful routine.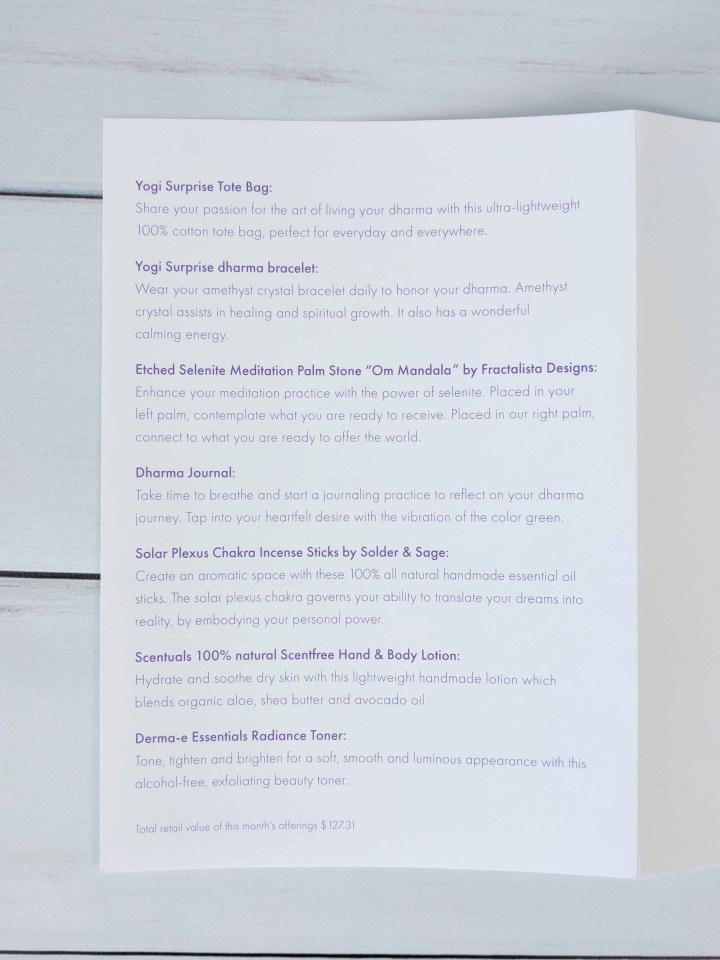 The back of the information card has a list of all the items.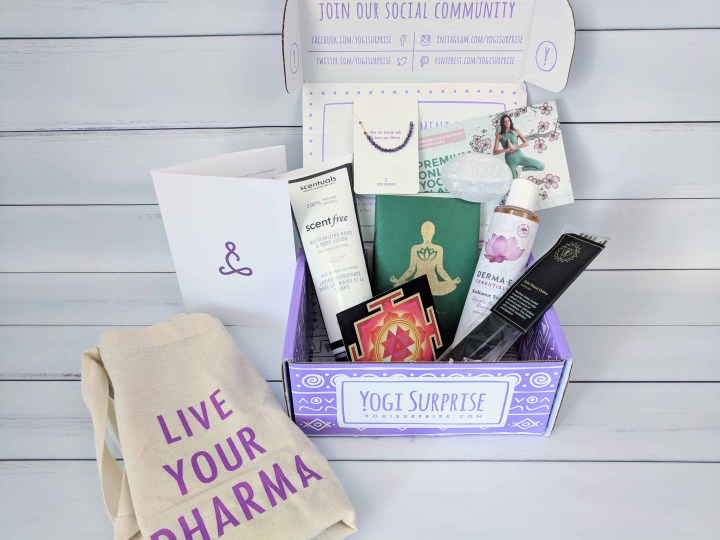 Everything in this month's box.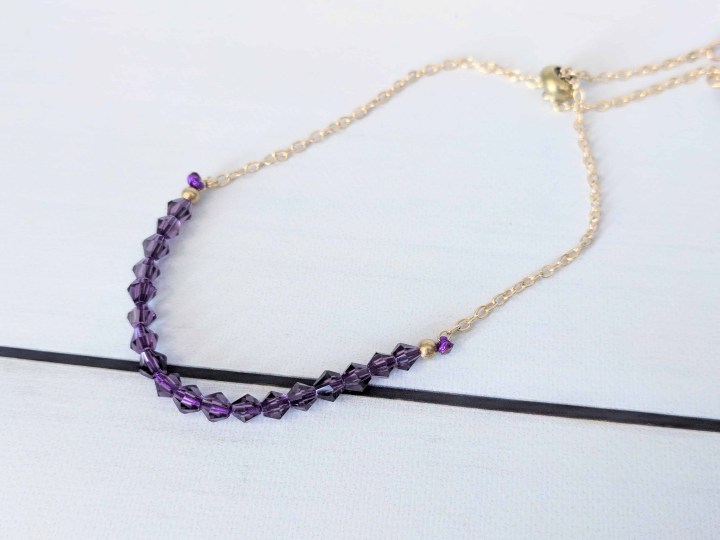 This is a lovely adjustable bracelet, thanks to the little rubber ring inside the golden rondelle.
Dharma Journal. A small little blank journal with one of my favorite mantra: "Breath in… breath out…" Sometimes I need to remind myself to slow down and take time to center myself. This is the perfect complement to the 30 Day Dharma Challenge included in the information card. The size is great to carry in a purse or your yoga bag, or to leave in your meditation corner. The color green has been chosen as it vibrates with the Heart Chakra, a reminder to Live our Dharma.
Solar Plexus Chakra Incense Sticks by Solder & Sage ($10). The Solar Plexus is the Third Chakra, the center of personal power, self-esteem and confidence. The scent is very grounding and calming. I had never heard of Vetiver essential oil before, but it's really enjoyable!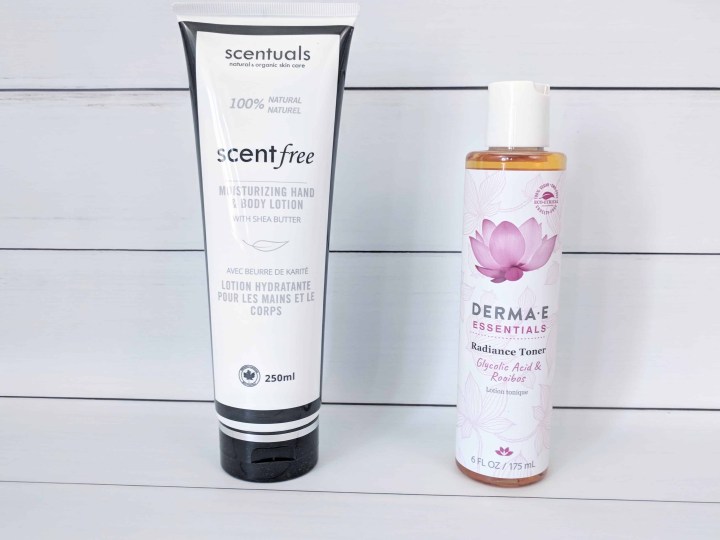 Scentuals 100% natural Scentfree Hand & Body Lotion ($13) In collaboration with the Canadian Cancer Society, 3% of each sales of this lotion goes into the fight against cancer. I really like that it is scent free, and it's easily absorbed by the skin. It contains aloe, shea butter and avocado oil.
Derma-e Essentials Radiance Toner. ($13). A glycolic acid toner, it's easy to apply with a cotton pad and my skin feels great, even though it sting a bit at first. A good moisturizer is a must after using this toner. It has a nice light floral scent that doesn't linger. It's alcohol-free and contains hyaluronic acide, rosehip oil, and rooibos. I haven't used it long enough to see difference in my skin texture or brightness, but it hasn't make me break out yet (which is a good sign, as my skin really, really likes to hate everything.)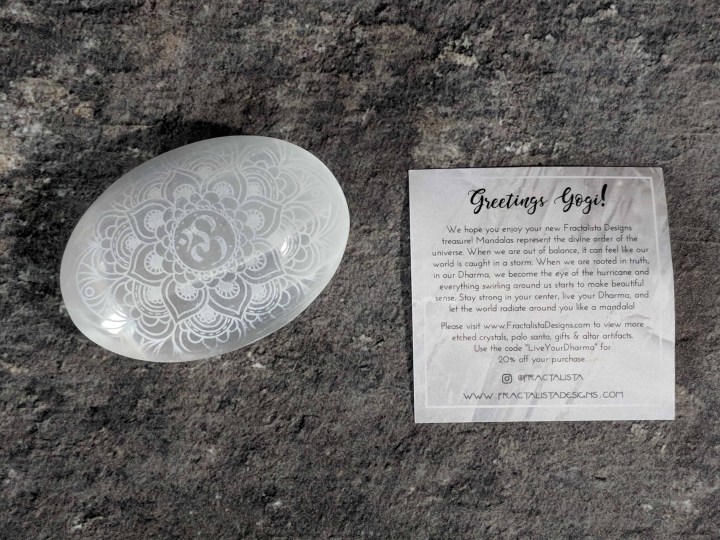 Etched Selenite Meditation Palm Stone "Om Mandala" by Fractalista Designs. This is so pretty! I love this soooooo much! It was one of the spoilers for this month and I couldn't wait to get my palm on it! Selenite is a lovely stone for Moon work or to increases to power of other stones. It's a great stone for meditation and any work related to the Third Eye and the Crown Chakra through it's purity and high frequency vibration.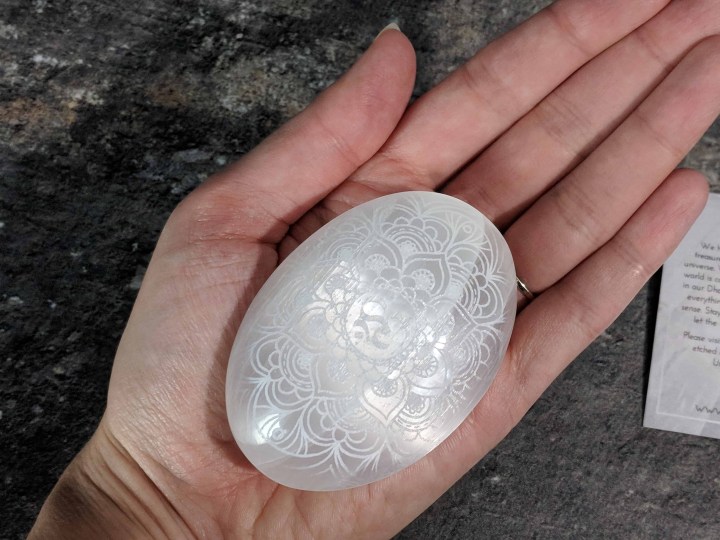 Hold it in your left palm to receive energy and positive vibes from the universe, and in your right palm to offer energy and positive vibes to the world.
I love the glow the stone seems to have under different light angle. It's soothing and calming.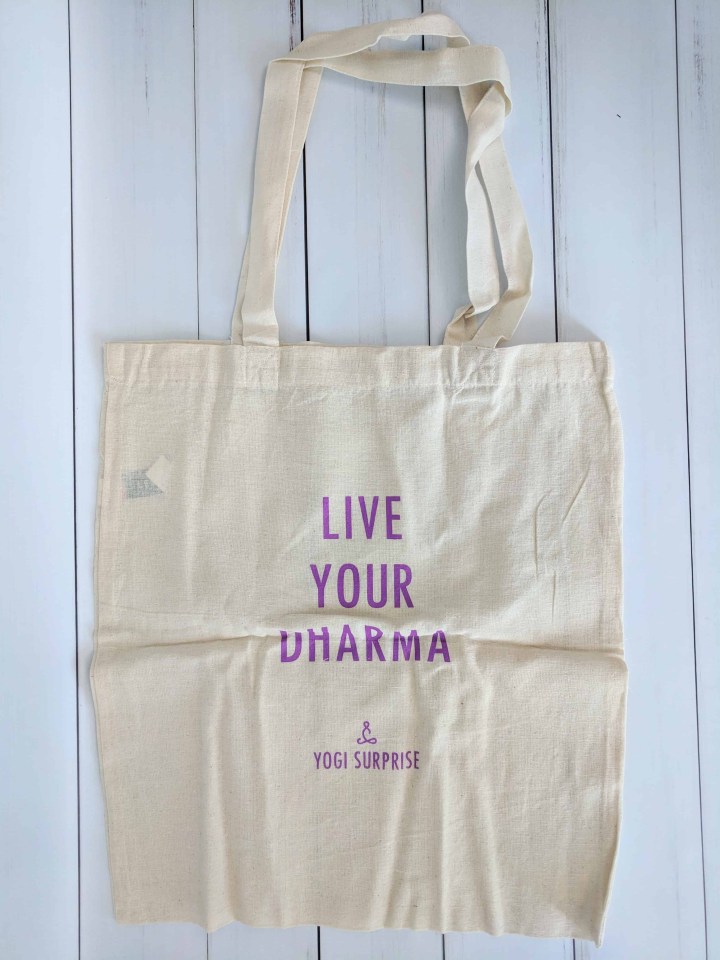 Yogi Surprise Tote Bag. A simple light cotton tote bag, almost see through, with a reminder to Live our Dharma. It's perfect to carry straps, a towel, or a yoga block to your class.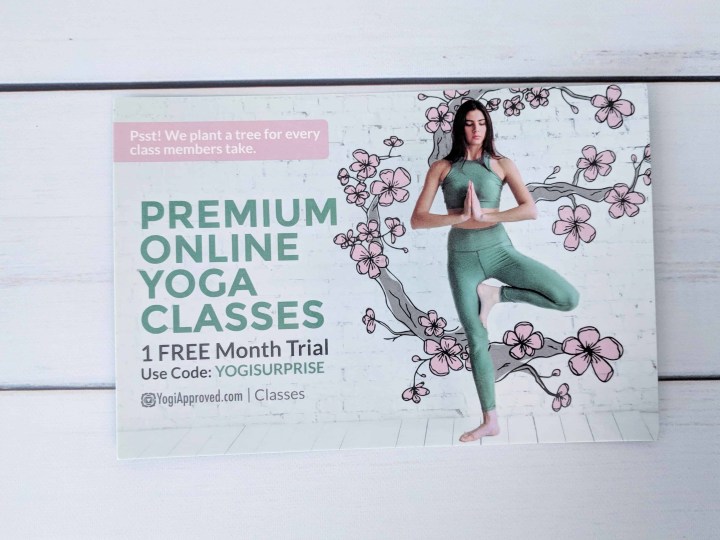 Included in the box is a code for a 1 Free Month Trial to the Yogi Approved Online Yoga Platform. I'm quite excited to try them out as I've followed a couple of their free classes available on Youtube and I've committed myself to do a daily Yoga Class for 90 days this summer, so this comes really handy.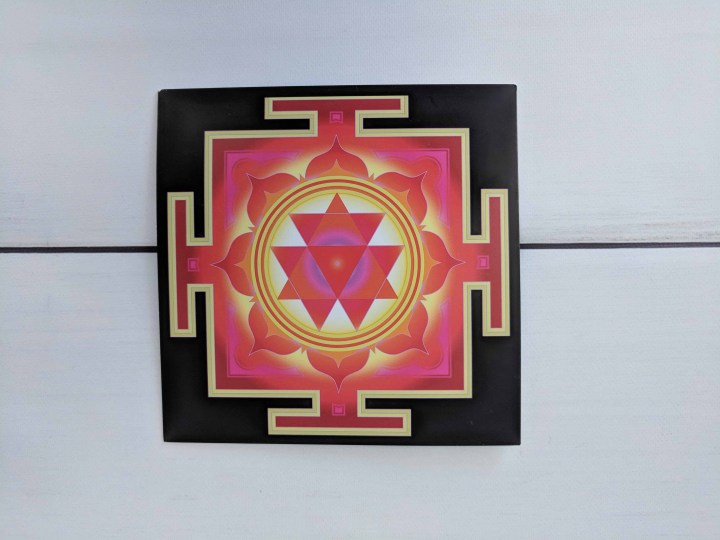 In addition to the information card and it's lovely yoga sequence and 30 day challenge, we received a little bonus.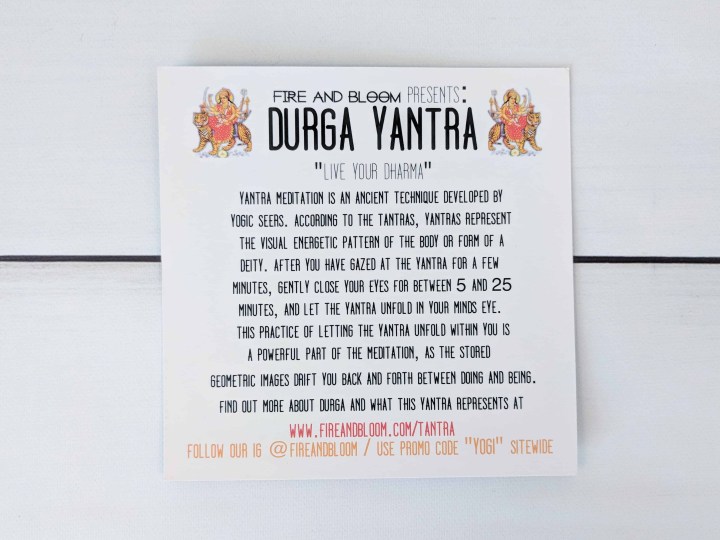 Fire and Bloom Durga Yantra. A simple yet powerful meditation technique using the image on the card. From their website :
Durga is a fierce protector and dispeller of all wickedness. Invoke her for protection. She is also the power of Kundalini Shakti and the intelligent energy of consciousness. She has the power to activate your Shakti, empowering your life force and spiritual energy.. You may also call upon her or meditate on this Yantra for clarity surrounding your life's work and purpose. She will begin to remove confusion.

Yantra meditation is a great tool for visually oriented people. Instead of meditating with eyes closed in the typical fashion, try staring at the center point (Bindi) of a Yantra. Then, once the image is embedded, you may close your eyes and see it on the back of your eyelids.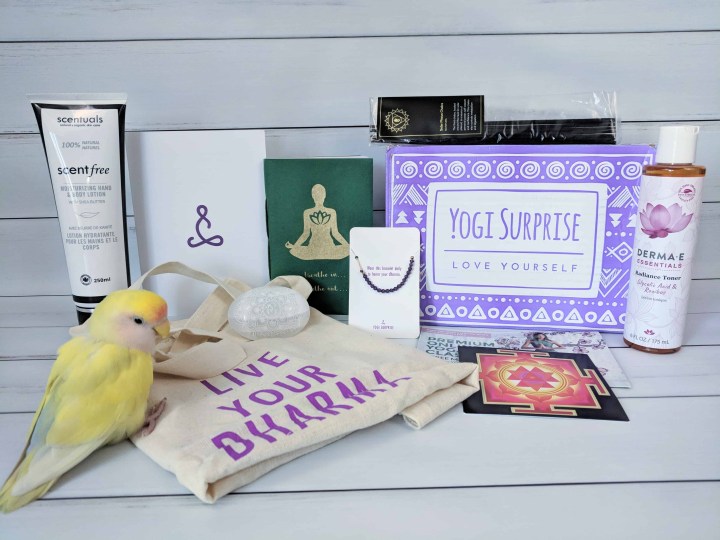 This month's box felt different from the previous boxes, but I liked it quite a lot. We didn't received snacks or any edible, which was surprising, but I didn't mind it at all. There was no high value item, but it's a box that felt right to me. It was a very nice care package for the body and mind, and nothing will go to waste! I can't say which part of this box was my favorite, but I loved the addition of the more elaborate yoga sequence than the ones we are used to have. The 30 day dharma challenge and the Durga Yantra are also fun additions that I hope will be kept in the incoming months so we can learn more about these aspect of Yoga.
Are you a Yogi Surprise subscriber? What did you think of the box?