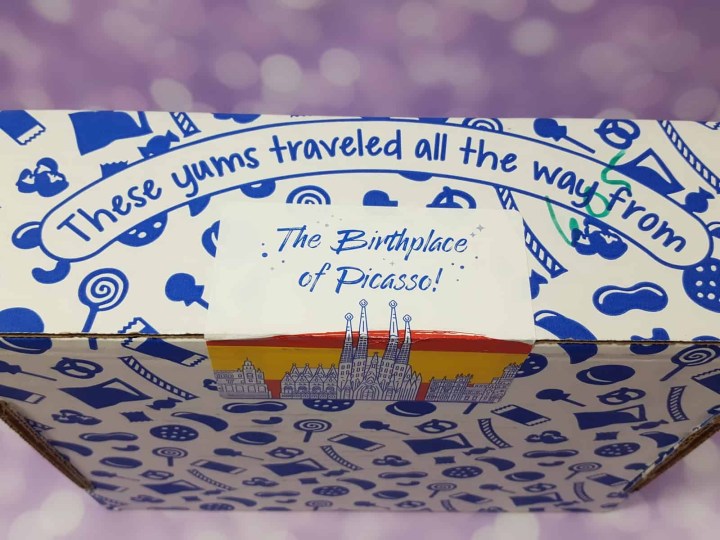 Universal Yums is a monthly international snack subscription box. Every month, you'll take a trip to a new country and munch on brand new exciting snacks. There are two sizes of box, the Yum ($13) and the Yum Yum ($25). This is the Yum Yum box, and it's a fun subscription that we get a kick out of each and every month.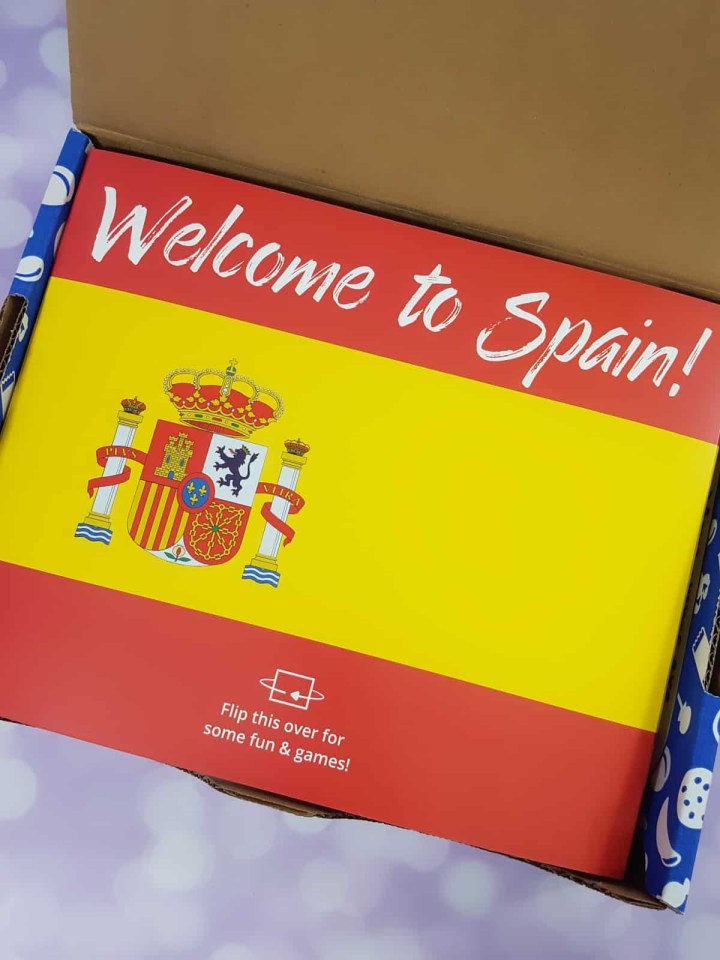 This month the treats were from Spain!
All of the items that came in my Spain Box!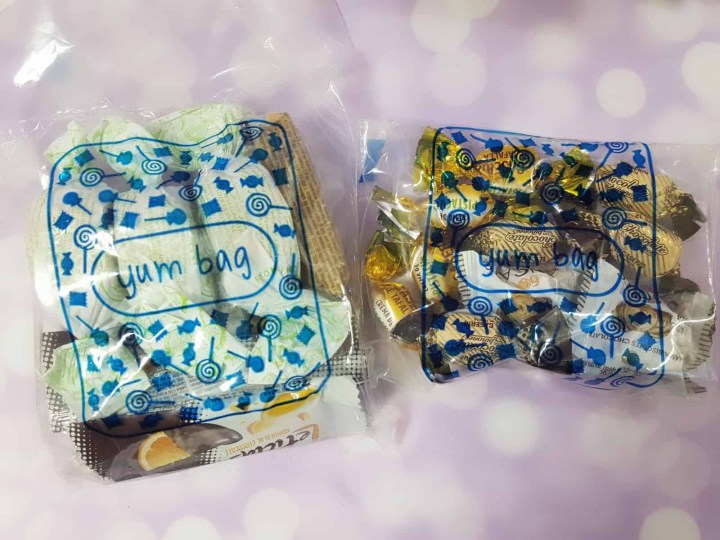 The smaller candies all come in a Yum Bag so they don't get tossed all around the box. We got two Yums bags this month!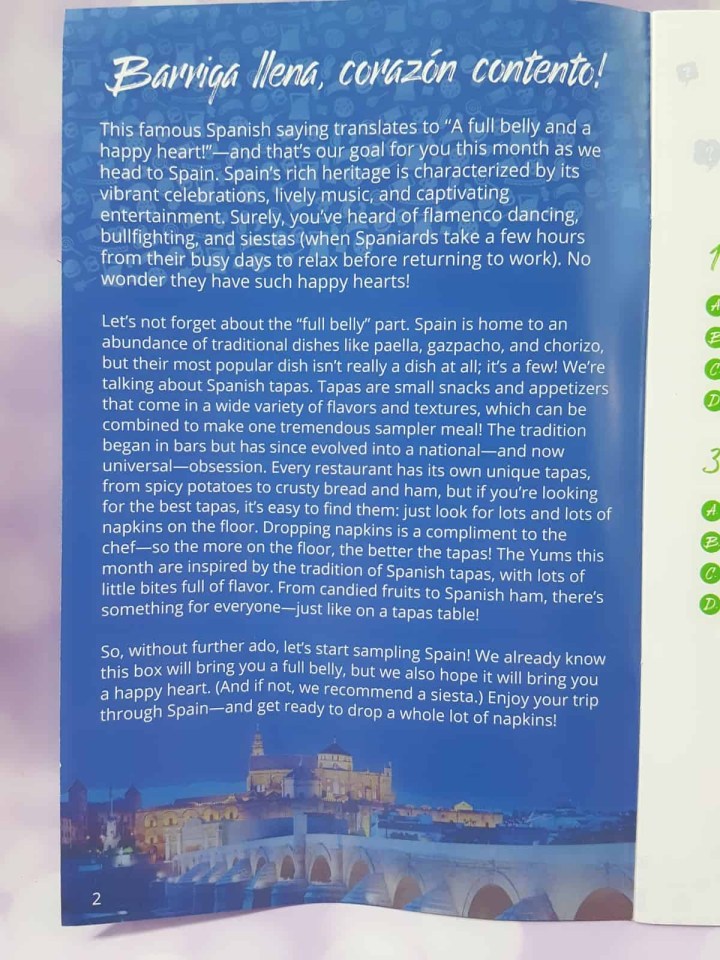 This month's introductory note shares how Spain loves a full belly and how they LOVE their food!
The information for all the yums comes in a great booklet each month.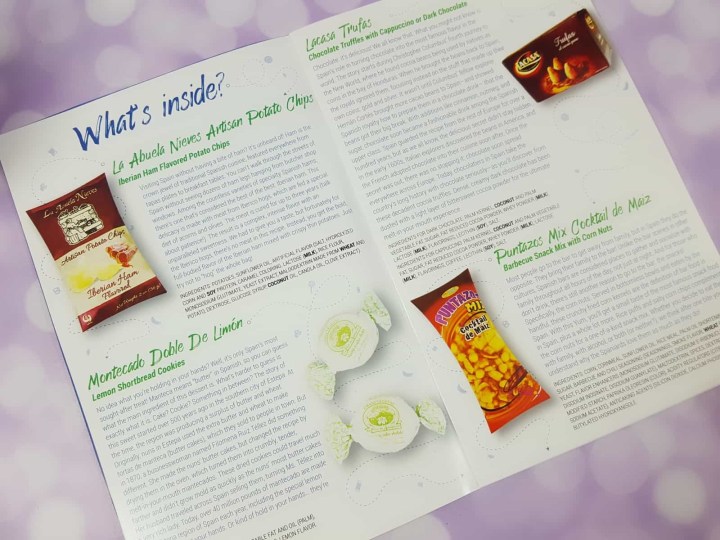 The information book has notes about all of the items and their ingredients.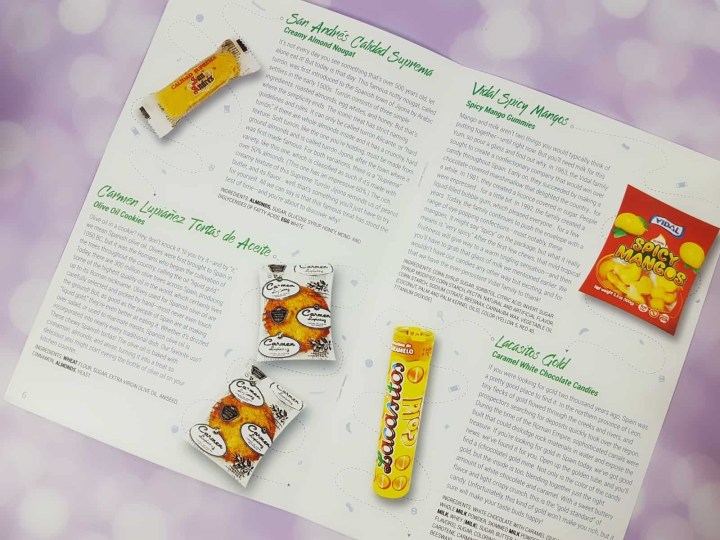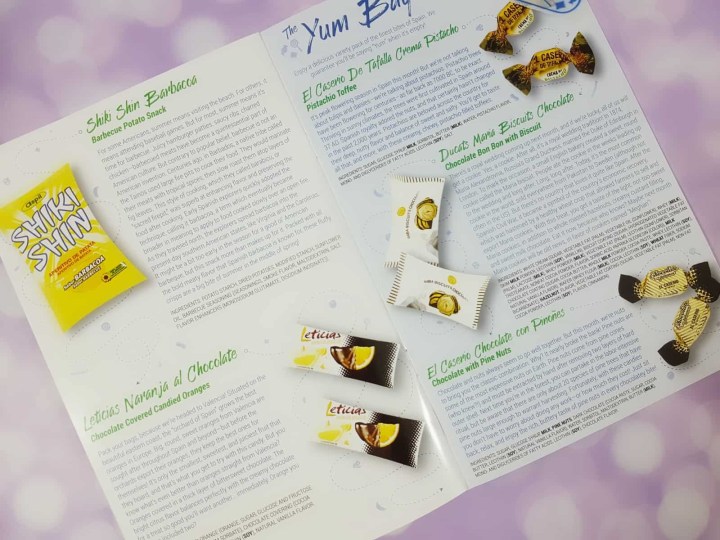 These books are so informative – it includes a bit of the snack's history and how it might taste.
La Abuela Nieves Artisan Potato Chips – Ham flavored potato chips! Well I'm not a huge ham fan so as much as I love chips and they are my downfall I just couldn't get into these. My husband on the other hand ate them no problem and thought they were good. The chip part was really crisp and good but the flavor was just off for me.
Montecado Doble De Limon – Now these are delicious. They are a Lemon Shortbread cookie with the main ingredient of butter. And really what isn't better with butter?
Lacasa Trufas – Chocolate covered truffles!  These are very rich and delicious. Spain had a big role in chocolates rise across the ages and they take it very seriously.
Puntazas Mix Cocktail de Maiz – I could get into the Spanish habit of bringing family to the bar! I"m not a huge drinker but I could get behind all the snacks.  These taste like the corn nuts we are all familiar with and I let my son try them for the first time. He agrees with the yums!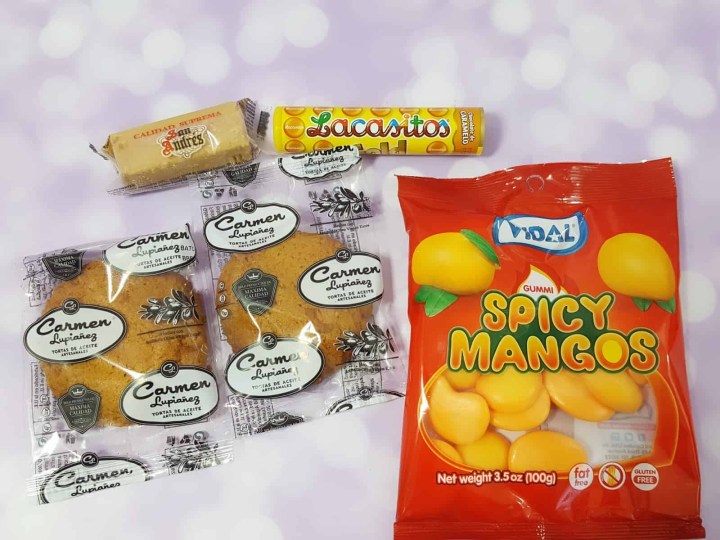 San Andres Calidad Suprema – This nouget recipe is over 500 years old and made with just almonds, egg whites and honey. It tastes a bit like peanut butter.
Carmen Lupianex Tortas de Aceite – I love olive oil and these are made from Spanish Olive oil and baked with cinnamon, almonds, and anise making a soft torte that is divine.
Vidal Spicy Mangos – These are so very Spicy and we are told to have a glass of milk ready for them. I'm not a Mango fan so I'm going to keep these for when I have some friends over so we can share in the sweet and spicy torment.
Lacasitos Gold – Candy to take on the go. A little crispy white chocolate and caramel. So yummy!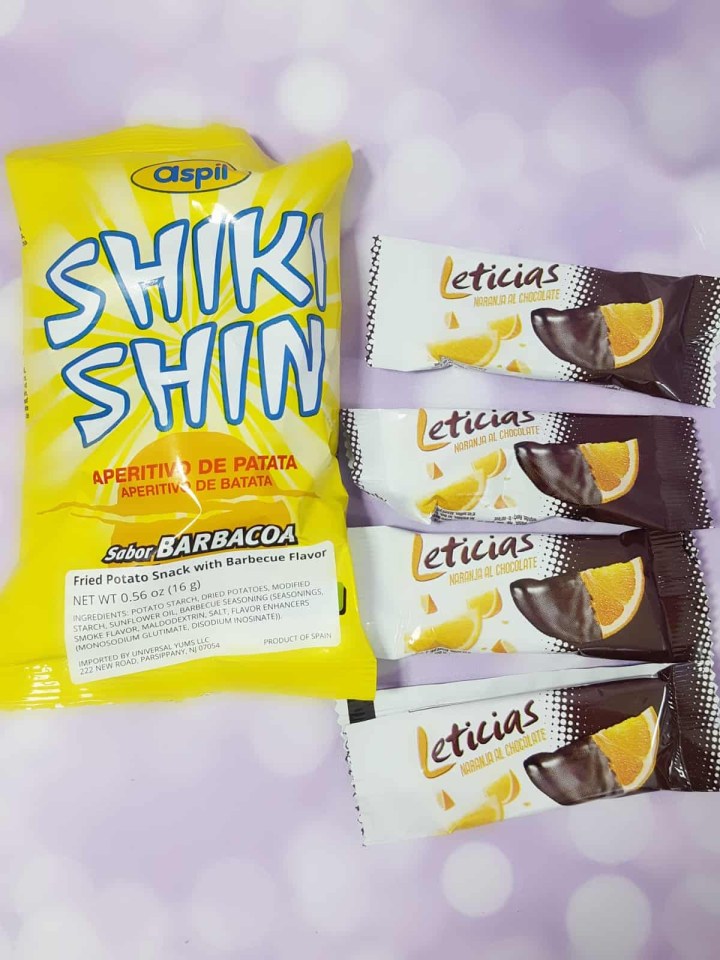 Shiki Shin Barbacoa – Potato sticks with a hint of BBQ is a summer staple. Since I'm in the Carolinas BBQ is something we don't just reserve for the summer months and this would be great all year round. I'm pretty sure I've had an american snack like these but I'm not remembering the name of it right now.
Leticias Naranja al Chocolate – Oh my gosh I could put these on top of my I always need in my house list. These are oranges covered in chocolate and while chocolate isn't my natural go to these are delicious and could make me change my mind.
El Caserio De Tafalla Crema Pistaco – It is Pistacio season in Spain right now and these are pistachio filled toffees.
Ducats Maria Biscuits Chocolate – Haha Yums tells a funny joke in the info on this one about the upcoming royal wedding and while the Maria cookie is currently the most popular cookie around it may change and me old news next month with the Meghan cookie taking over.  Doesn't matter what its called I'll take these biscuits anyday.
El Caserio Chocolate con Pincones – I had no clue that Pine Nuts are the most expensive nuts around. These are pine nuts wrapped in chocolate.
The Spanish Universal Yums is right up my alley and I wouldn't mind taking an actual visit there one day. They do like lots of chocolate and nuts in their snacks which works for me in a way I wasn't expecting. Very rich and delicious and a box I would take a second of.
The back of the information booklet has a clue for the next country and tells us about the new SUPER YUM box option. Clue:
Next Month we'll go to 7,000 places, not just one.

on't stress; we romise, it will be lots of fun!

Sweet corn, potatos… it might sound like a bore,

But this Pearl of the East has so much in store!
Where do you think we are going? 
Have you tried Universal Yums? What do you think?