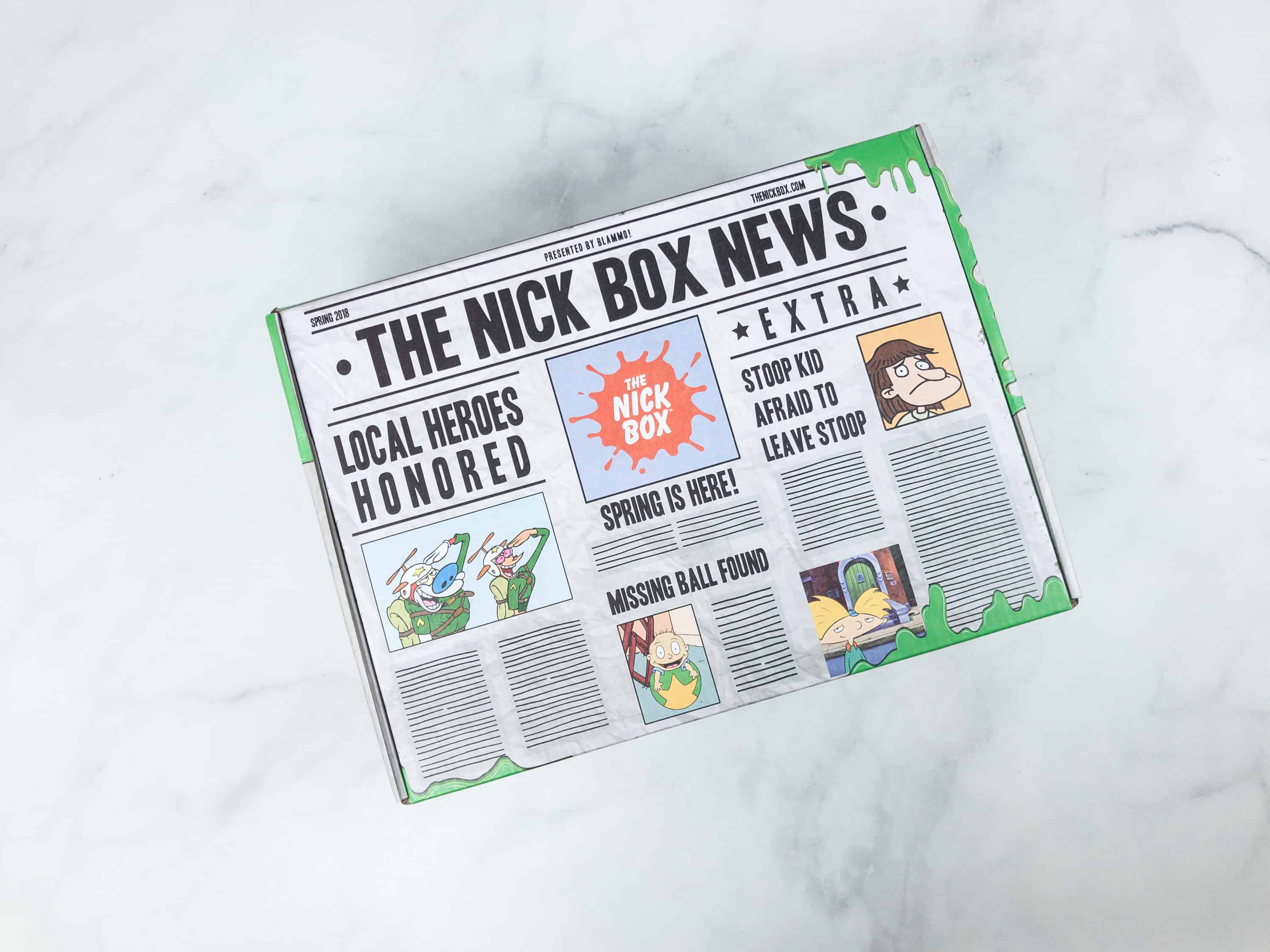 The Nick Box brings back the most memorable 90's Nickelodeon characters through a quarterly subscription box for $49.99 per box plus $7 shipping. Each box is filled with nostalgic goodies like plush, apparel, toys, and other unique items from famous Nickelodeon shows like Hey Arnold!, Rugrats, Catdog and a lot more.
We're lovin' the festive vibe of the box! Look at the Nick characters featured on the newspaper!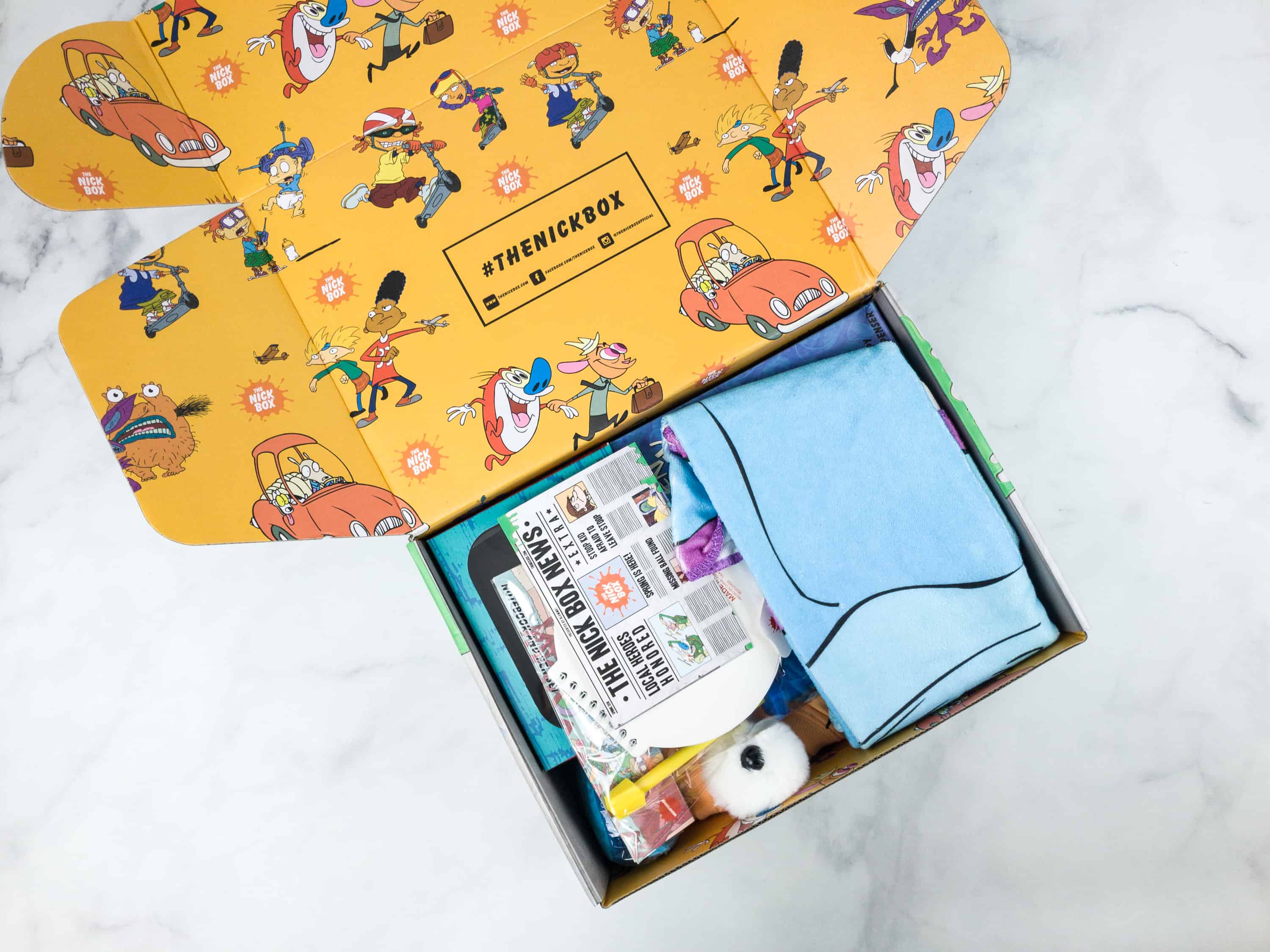 This box's theme is EXTRA! EXTRA! I'm so excited about what's in store for us! The box features all the Nick characters we grew up with like the Rugrats, Aaahh!!! Real Monsters, Rocko's Modern Life, Hey Arnold, Ren and Stimpy, and Rocket Power!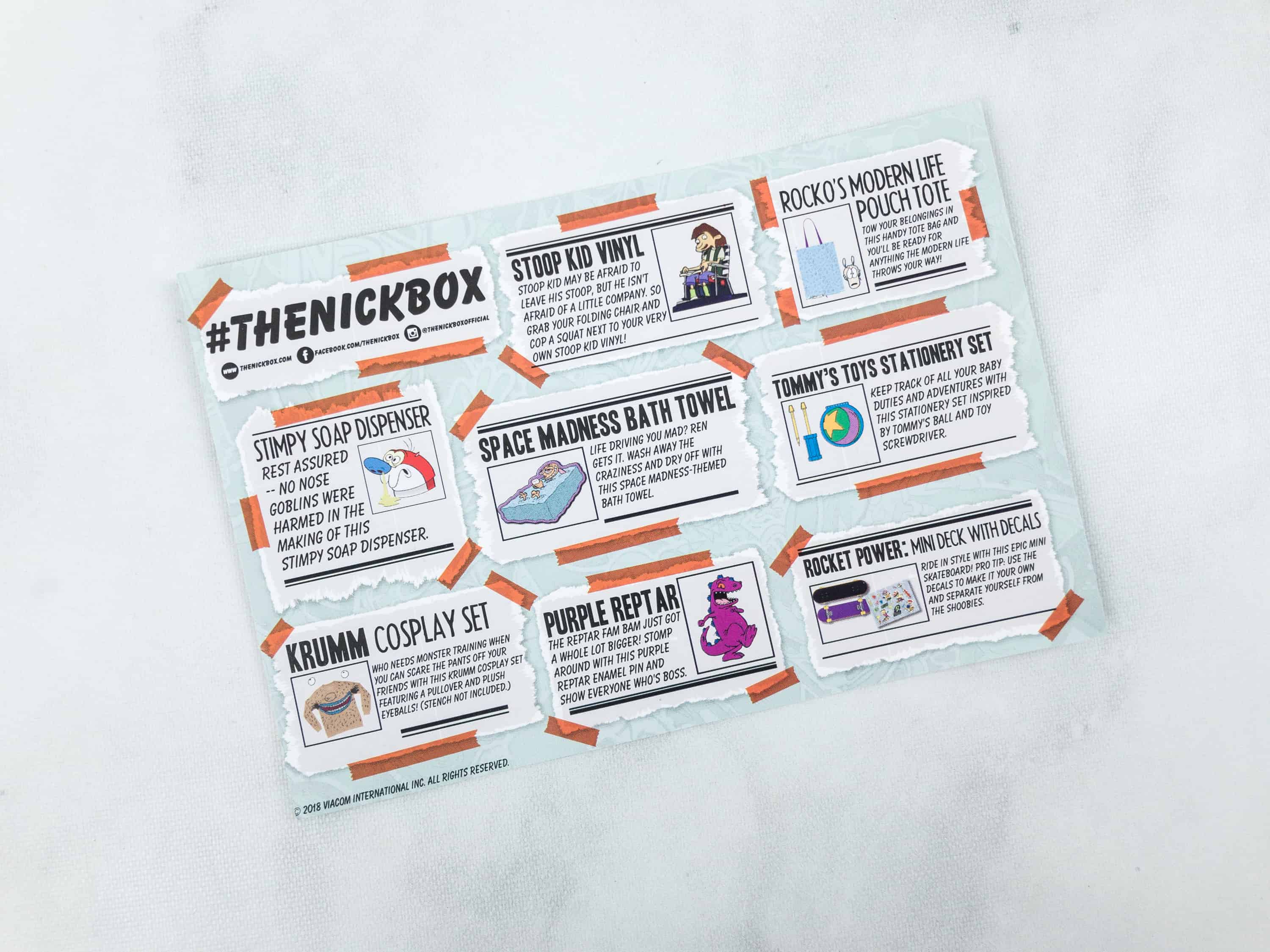 The information card contains a list of all the items included this quarter with the briefest of descriptions.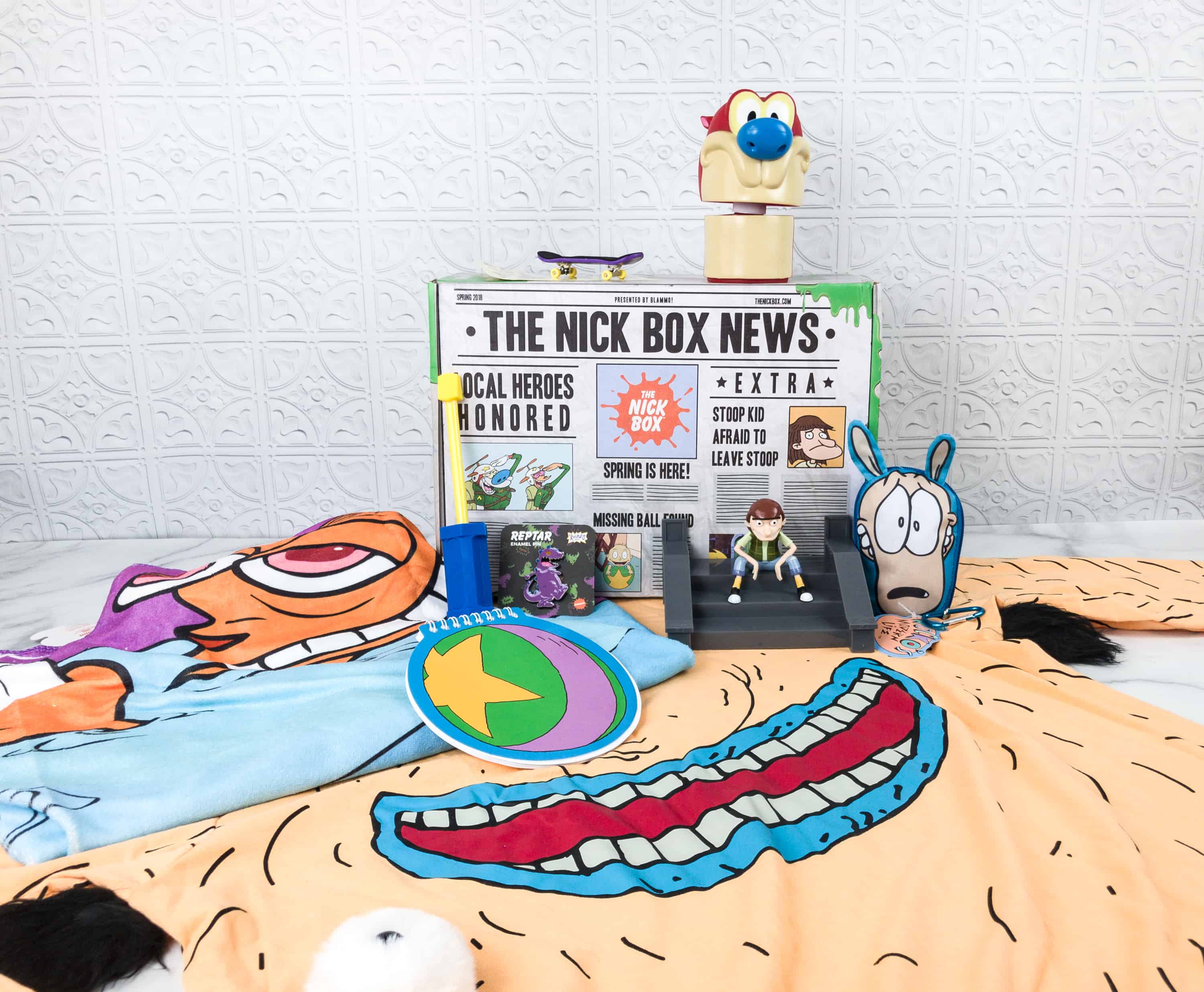 Everything in the Spring 2018 box!
Purple Reptar Enamel Pin. The pin in this season's box features Reptar, the purple dinosaur from Rugrats. He's a spoof of Godzilla!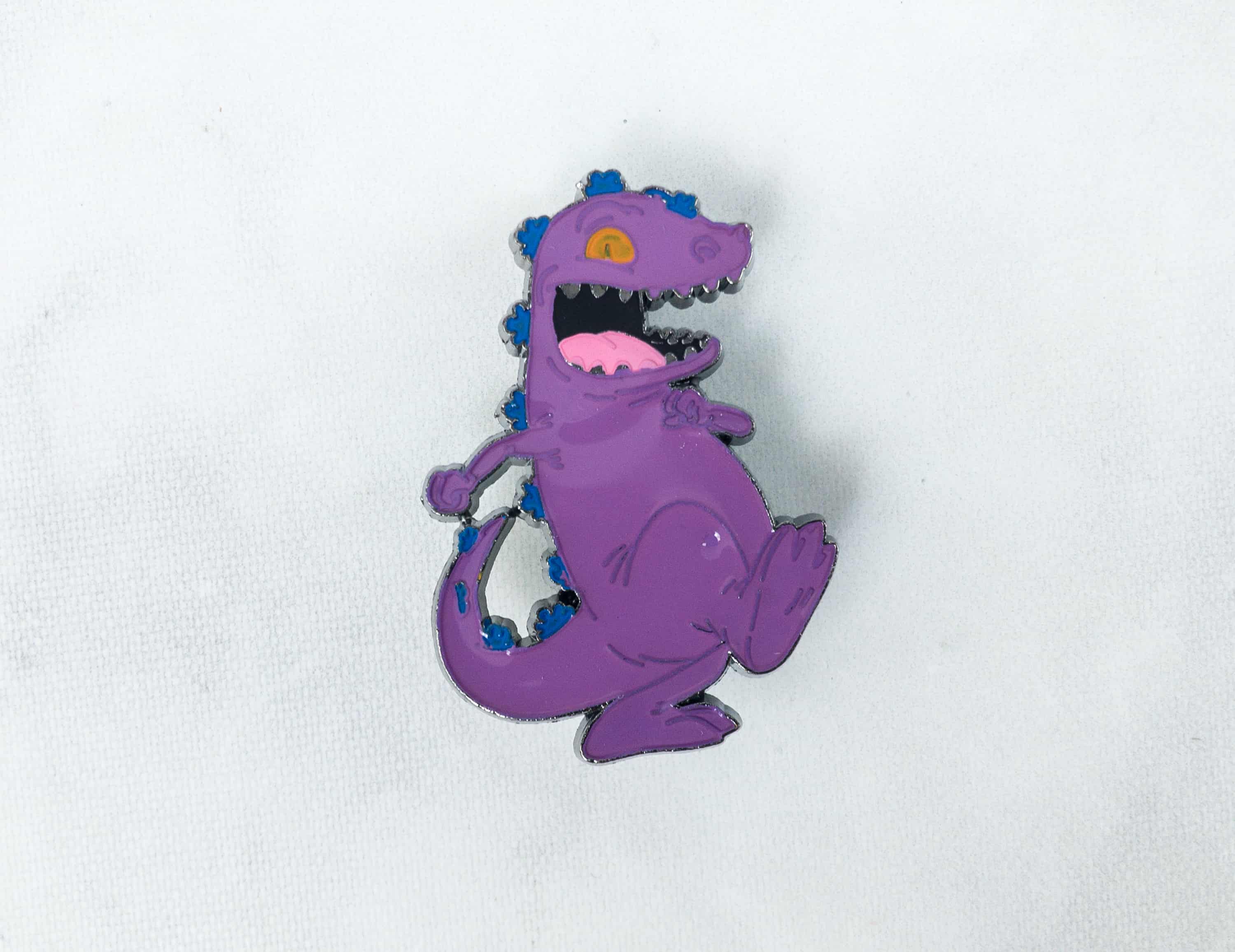 Reptar in the series was usually seen as a green monster, but this enamel pin comes in his purple version. Still, it has his signature blue spike-like appendages on his back.
Rugrats Tommy's Toys Stationery Set. The stationery set includes a pen and a notebook!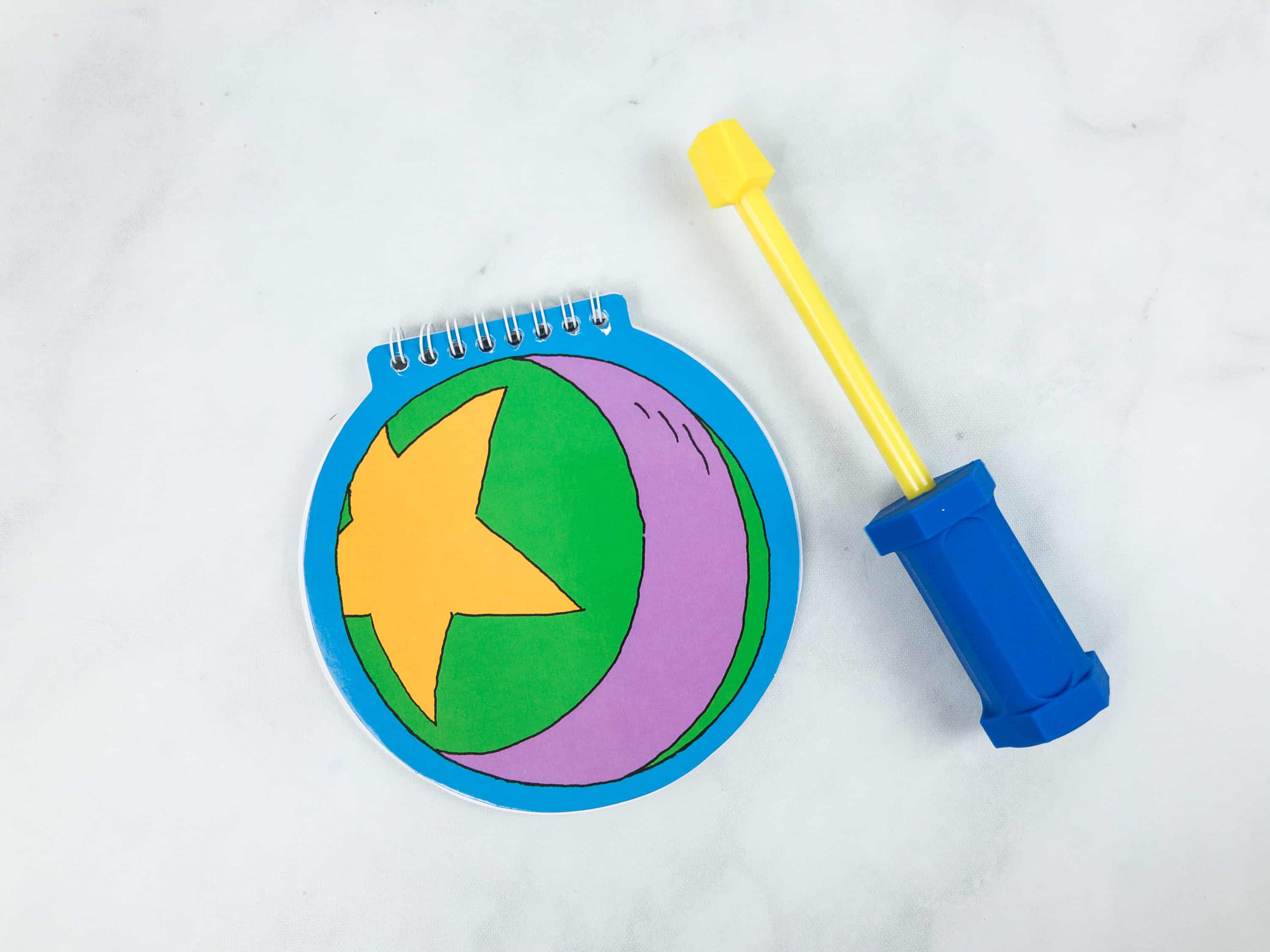 The spring-bound notebook is designed like a ball, and the pen is a cool toy screwdriver! These are Tommy's favorite toys!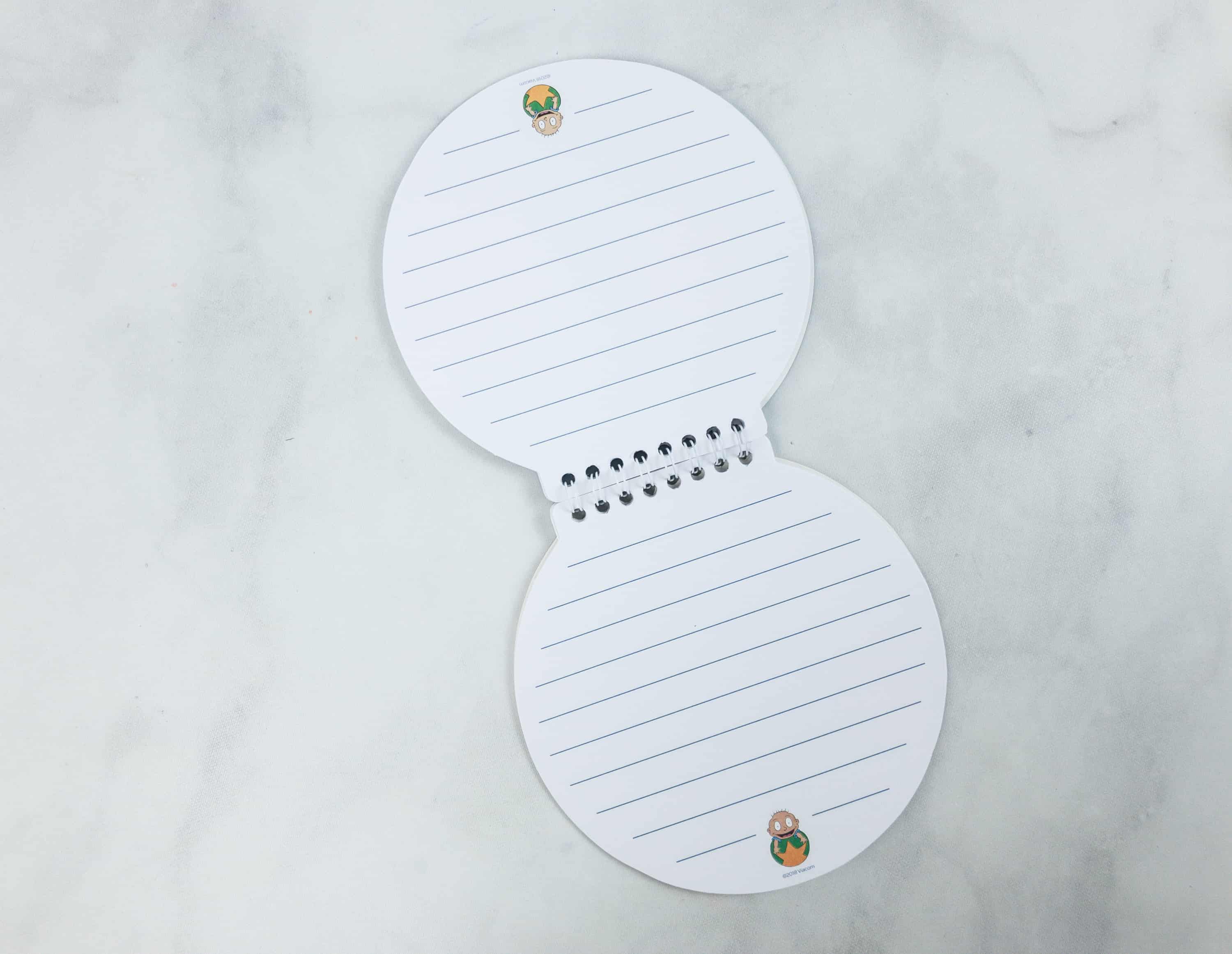 The pages of the notebook are lined. There's also a small Tommy drawing at the bottom of each page.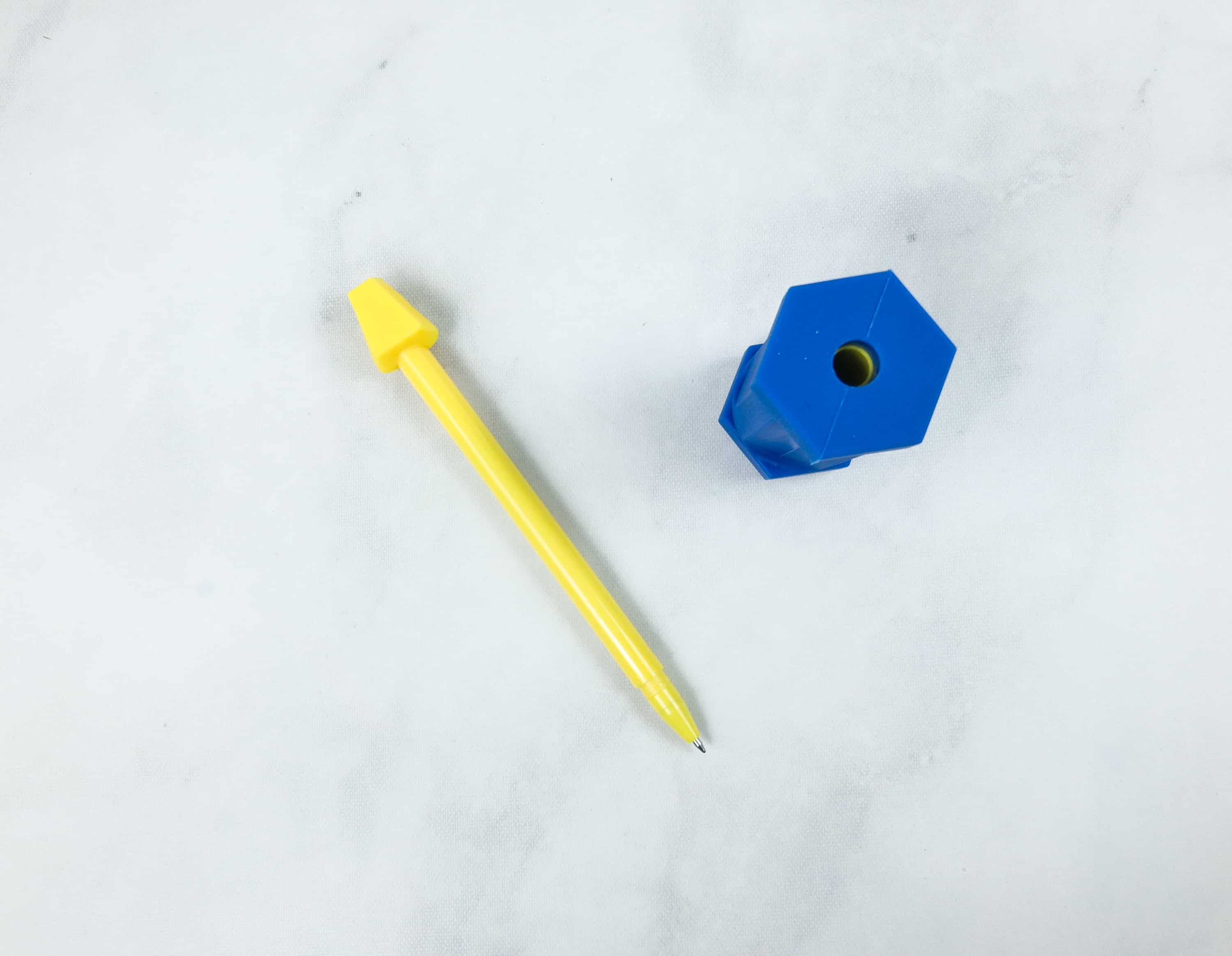 The handle of the toy screwdriver serves as the pen cap, and it can serve as the pen stand too!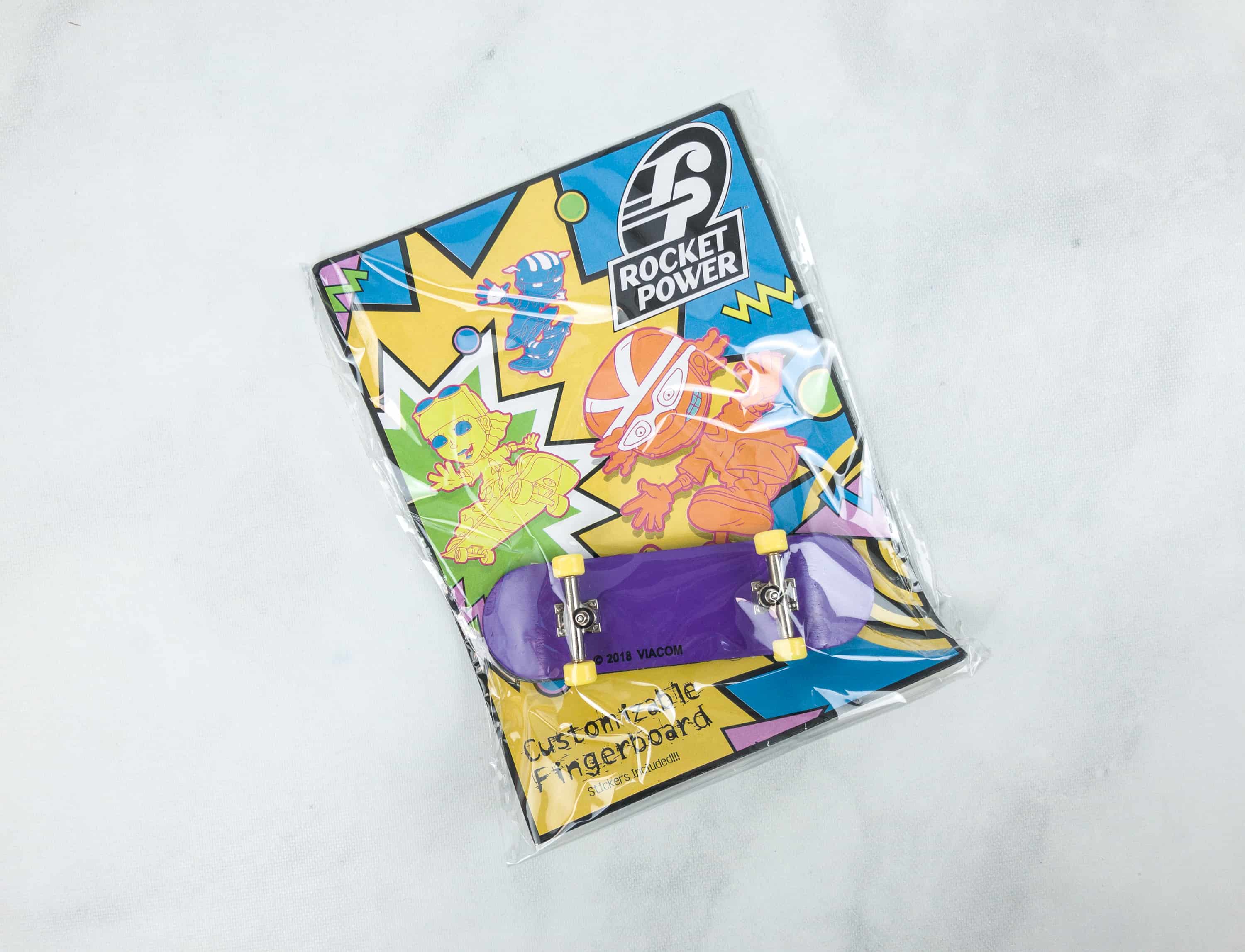 Rocket Power Mini Deck with Decals. It's a mini fingerboard! You can do lots of tricks with this mini skateboard, and it comes with decals so you can customize it and separate yourself from the shoobies!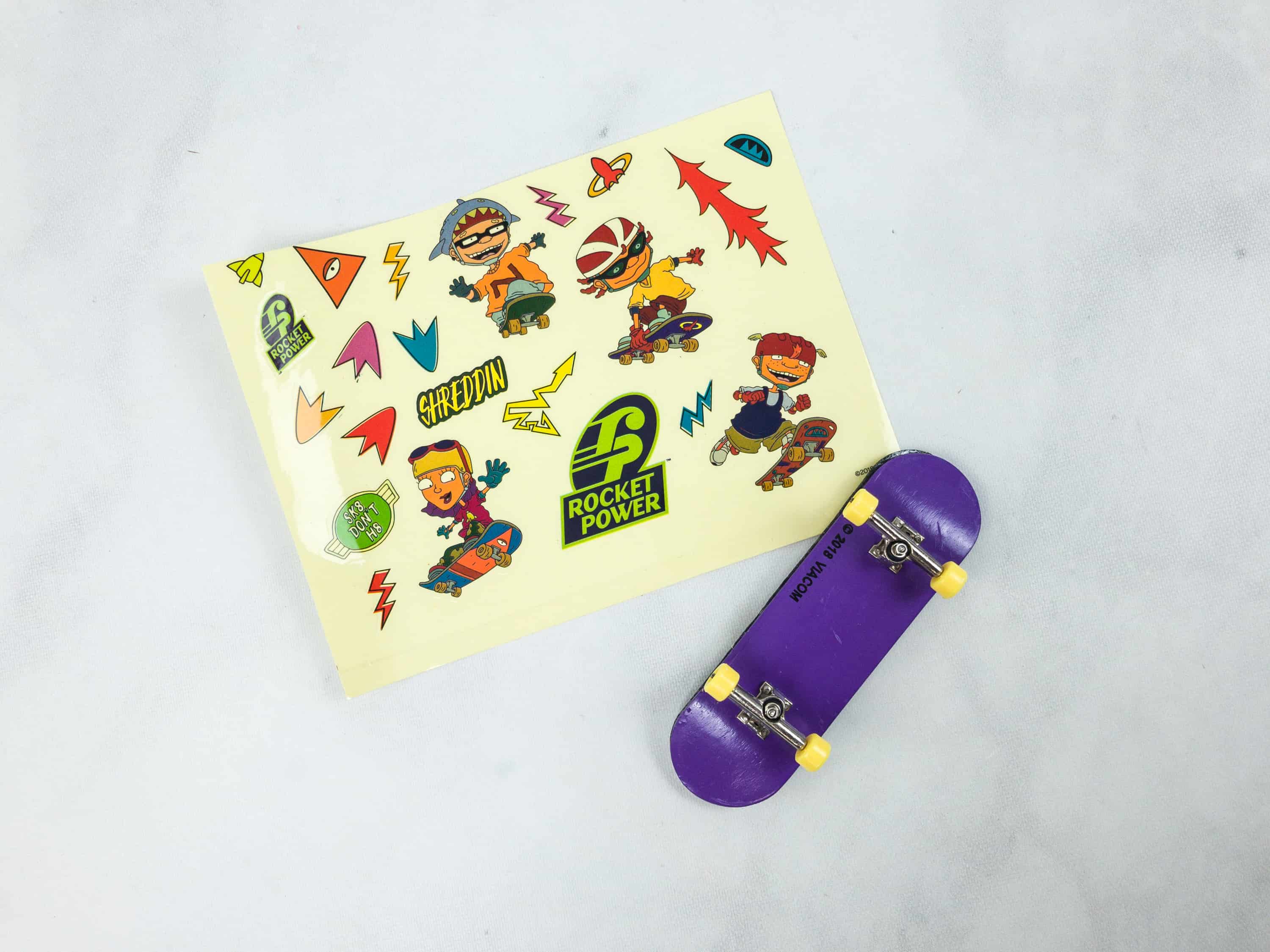 Rocket power is another animated series by the makers of Rugrats. Its story revolves around four friends and their daily lives of playing extreme sports, surfing, and getting into various situations.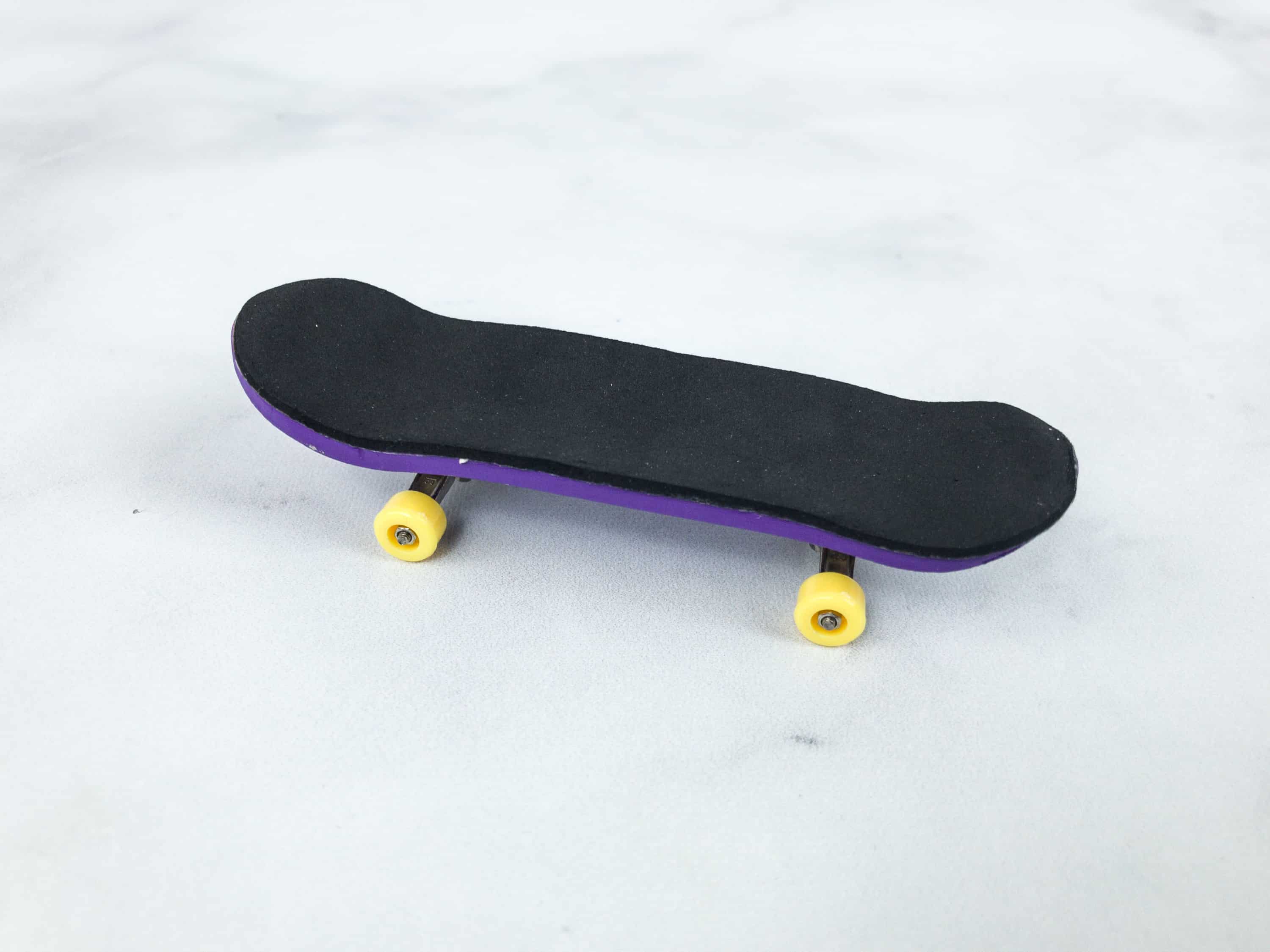 Fingerboards started as an accessory, mostly for keychains sold at skateboard shops, before turning into an "extreme" sport! The board's grip tape or surface comes in plain, this is where you can stick the cool decals.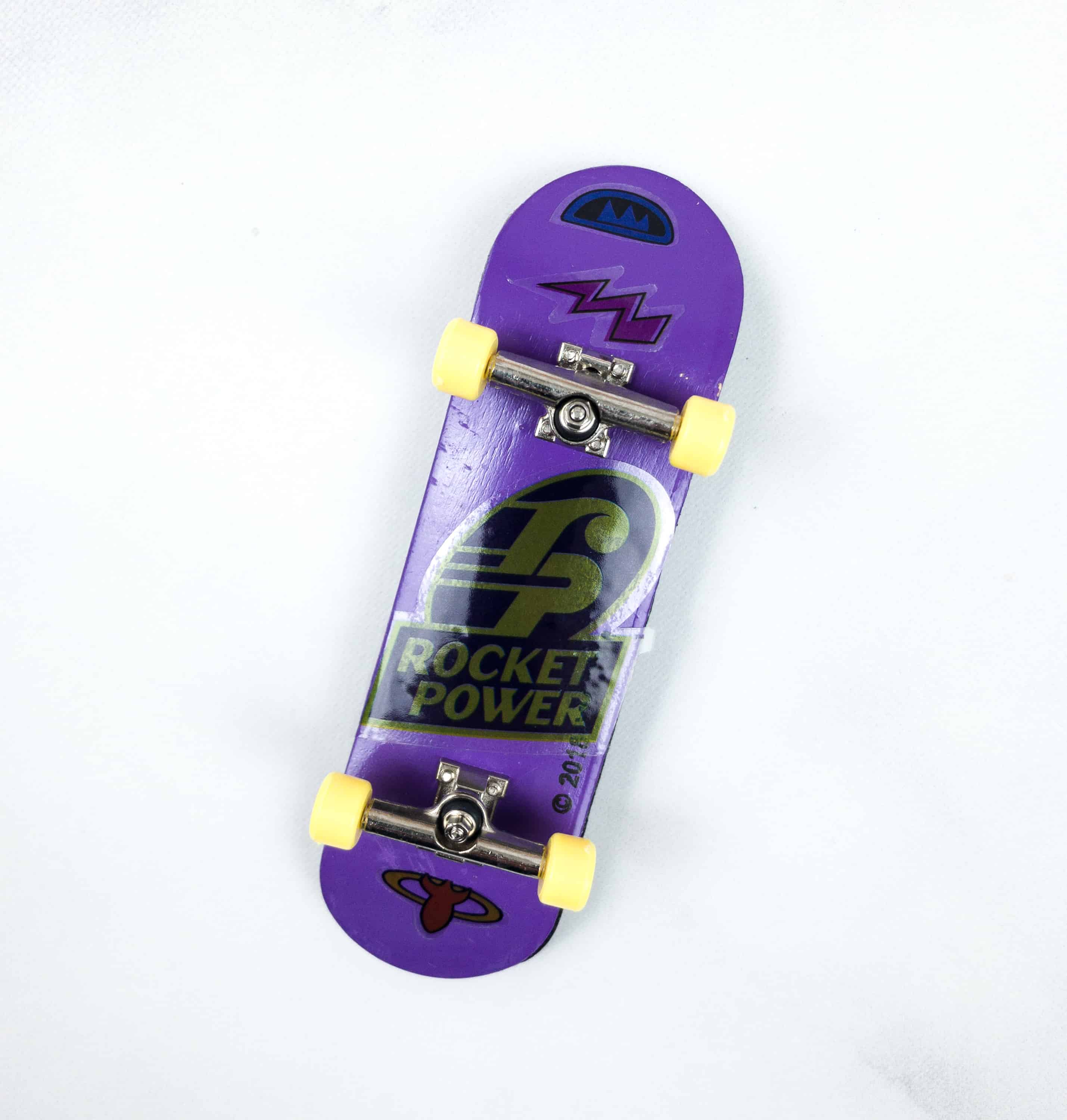 The mini board really looks like its scaled-up version, complete with all the essential parts. The bottom part of the board comes complete with the bushing, kingpins, and wheels! And there's even the show's title inscribed on the board.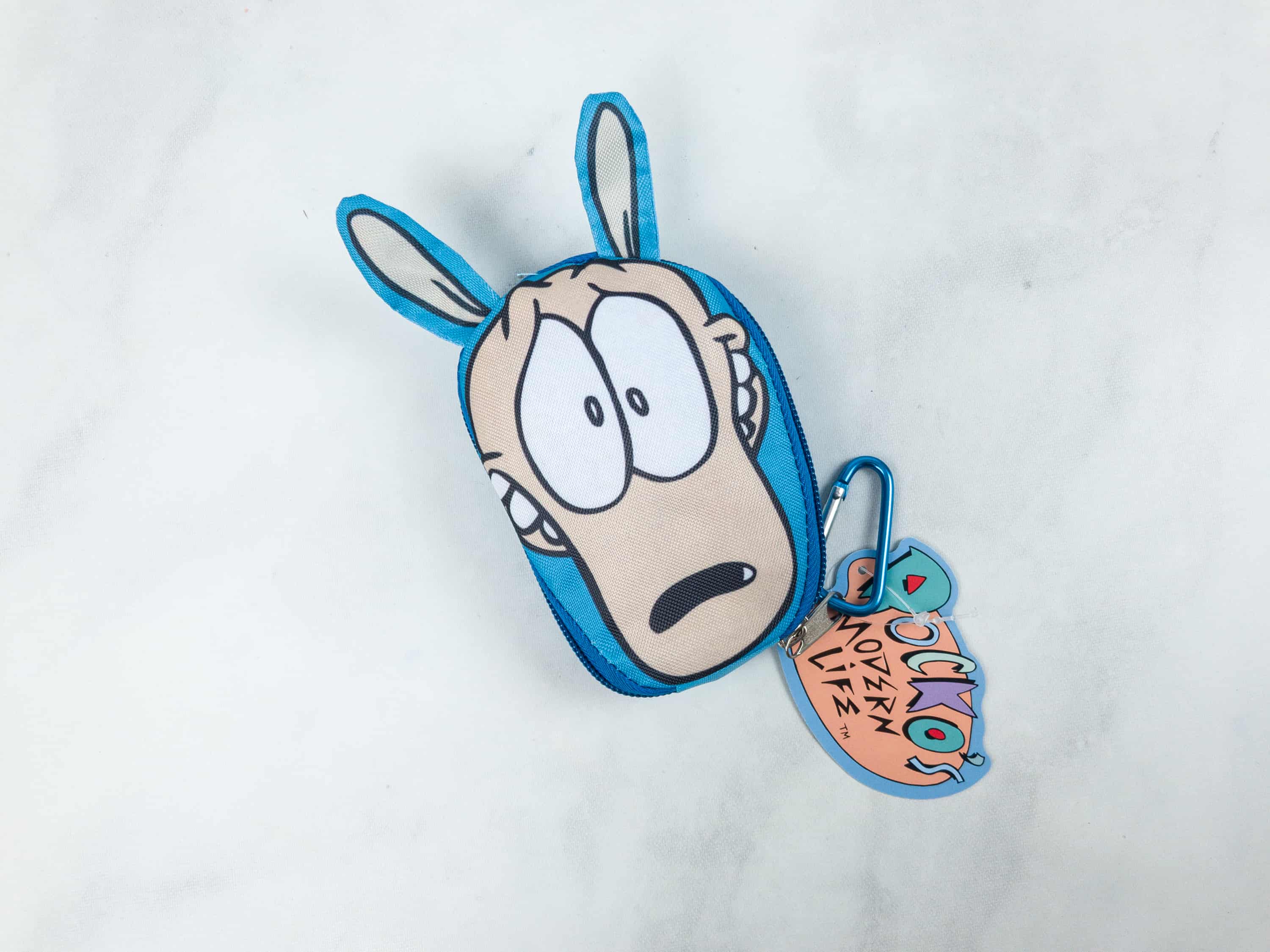 Rocko's Modern Life Pouch Tote. Upon seeing this first without reading the info card, I thought this was a digital camera pouch or a purse…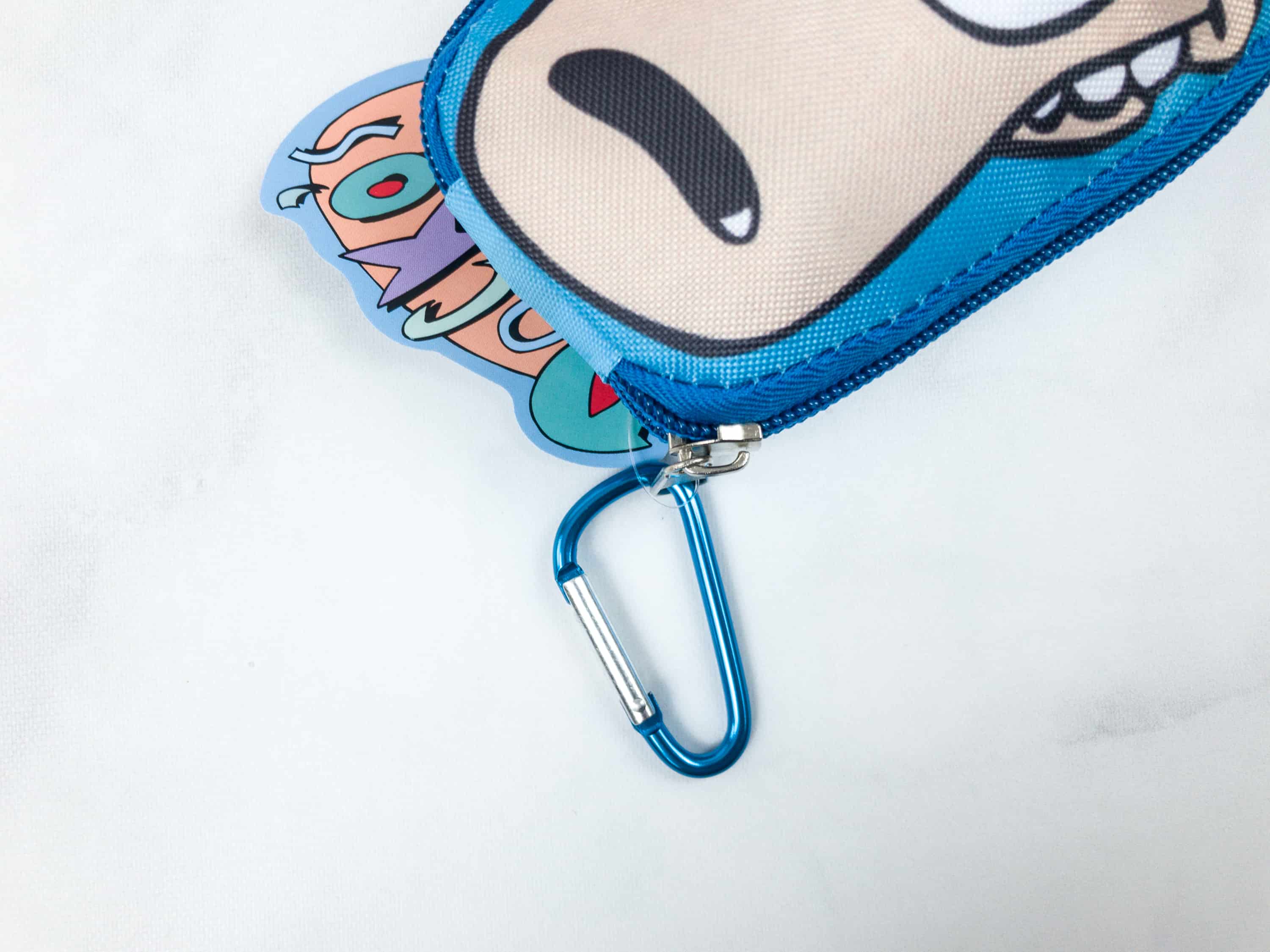 The zipper has a carabiner so you can attach this to a bigger bag and use it when needed!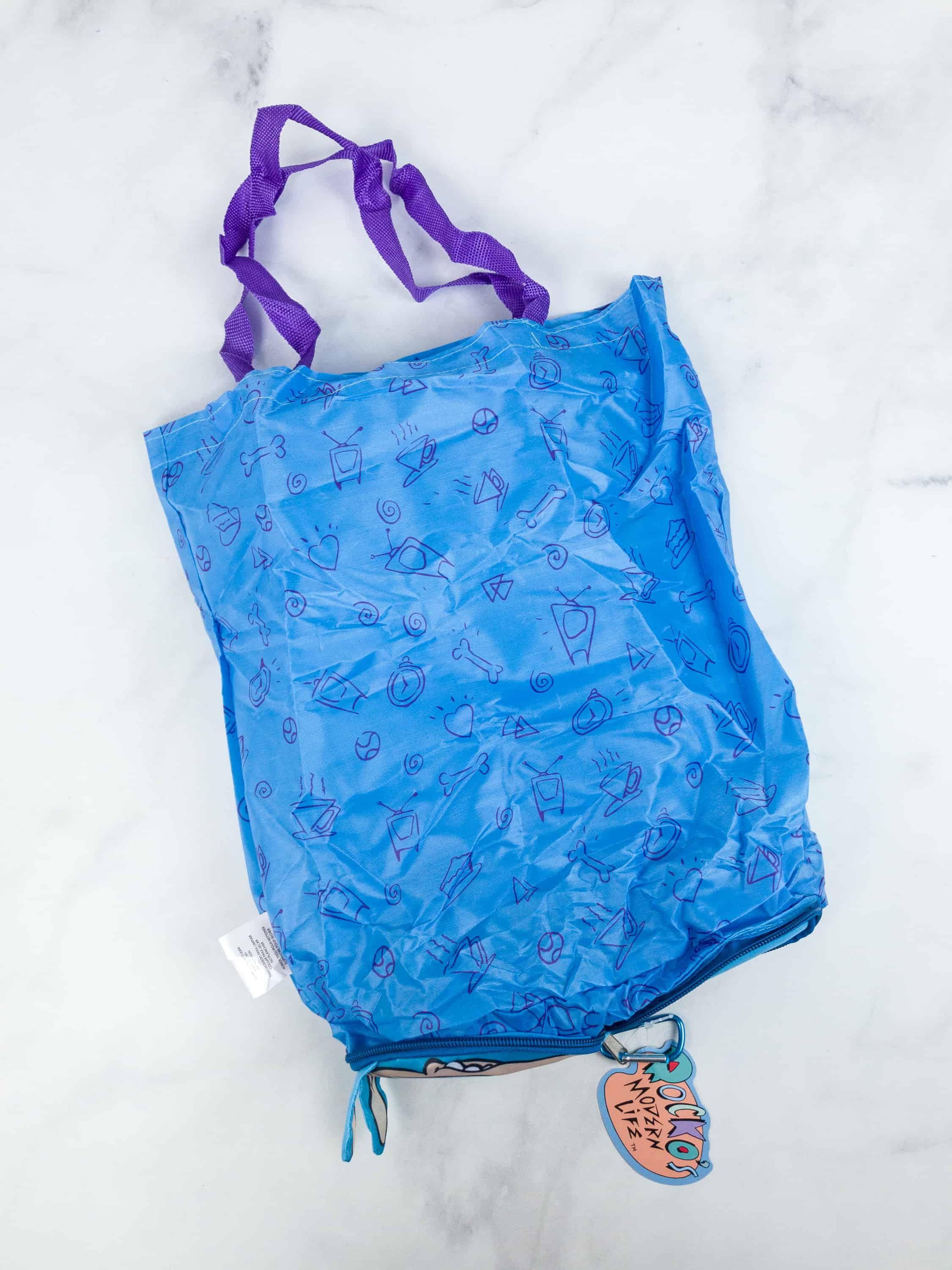 It's a trusty tote bag! This would be perfect when shopping, or just to keep your stuff corralled.
Space Madness Bath Towel. Ren is a hyperactive and "asthma-hound" chihuahua, and he's featured on this towel. Just looking at this towel makes me want to fill the tub up and take a relaxing bath, because I got a towel to dry myself up after! Think I can make that Ren face?!
Krumm Cosplay Set. Krumm is a short and hairy monster who is usually shy, unlike Ickis and Oblina. This cosplay set includes a long sleeved pull on with his nose and mouth, while the sleeves have his eyeballs dangling!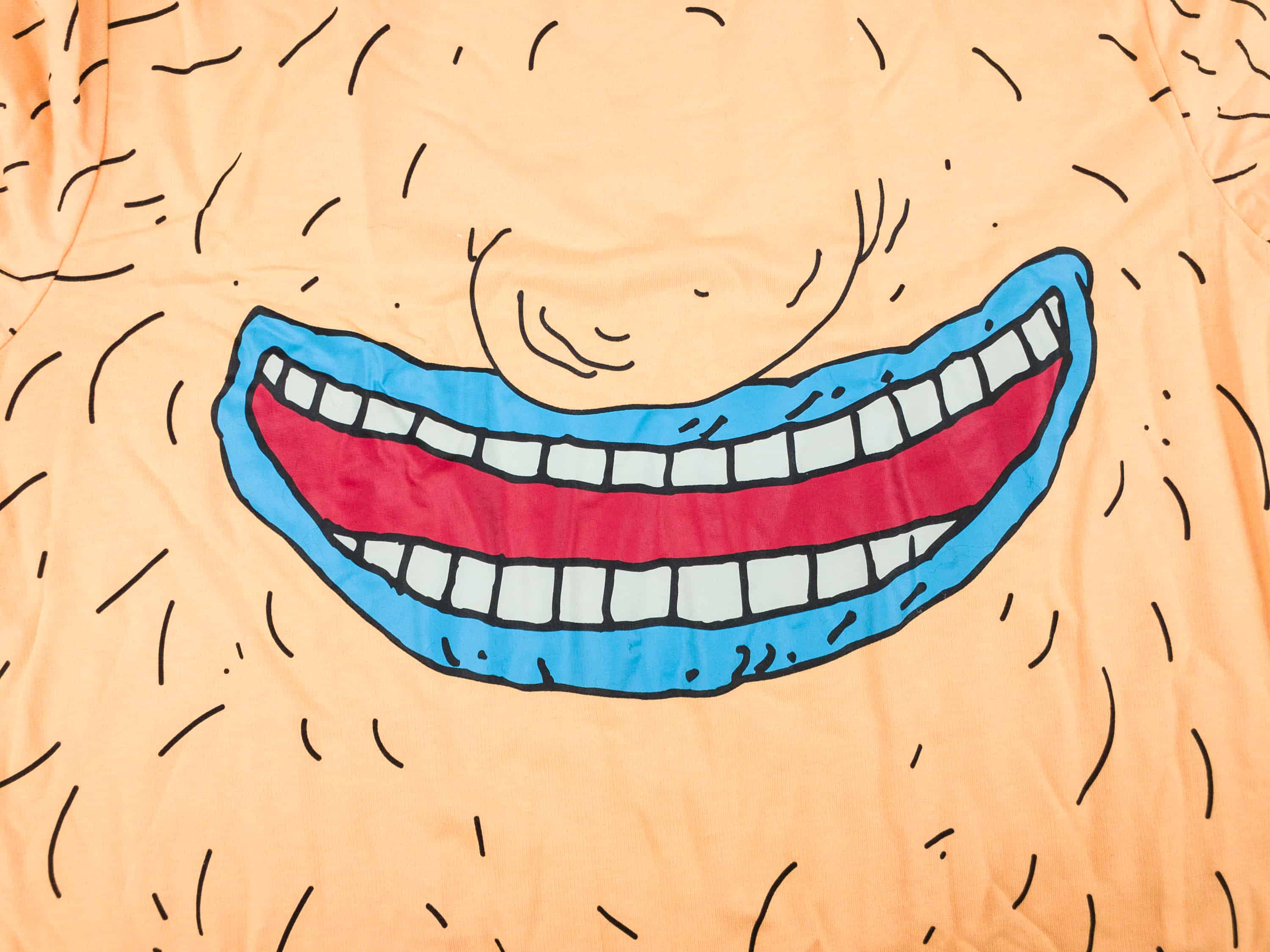 This slacker is best described as constantly filthy and outrageously smelly monster, but despite his appearance and smell, he is quite soft-spoken.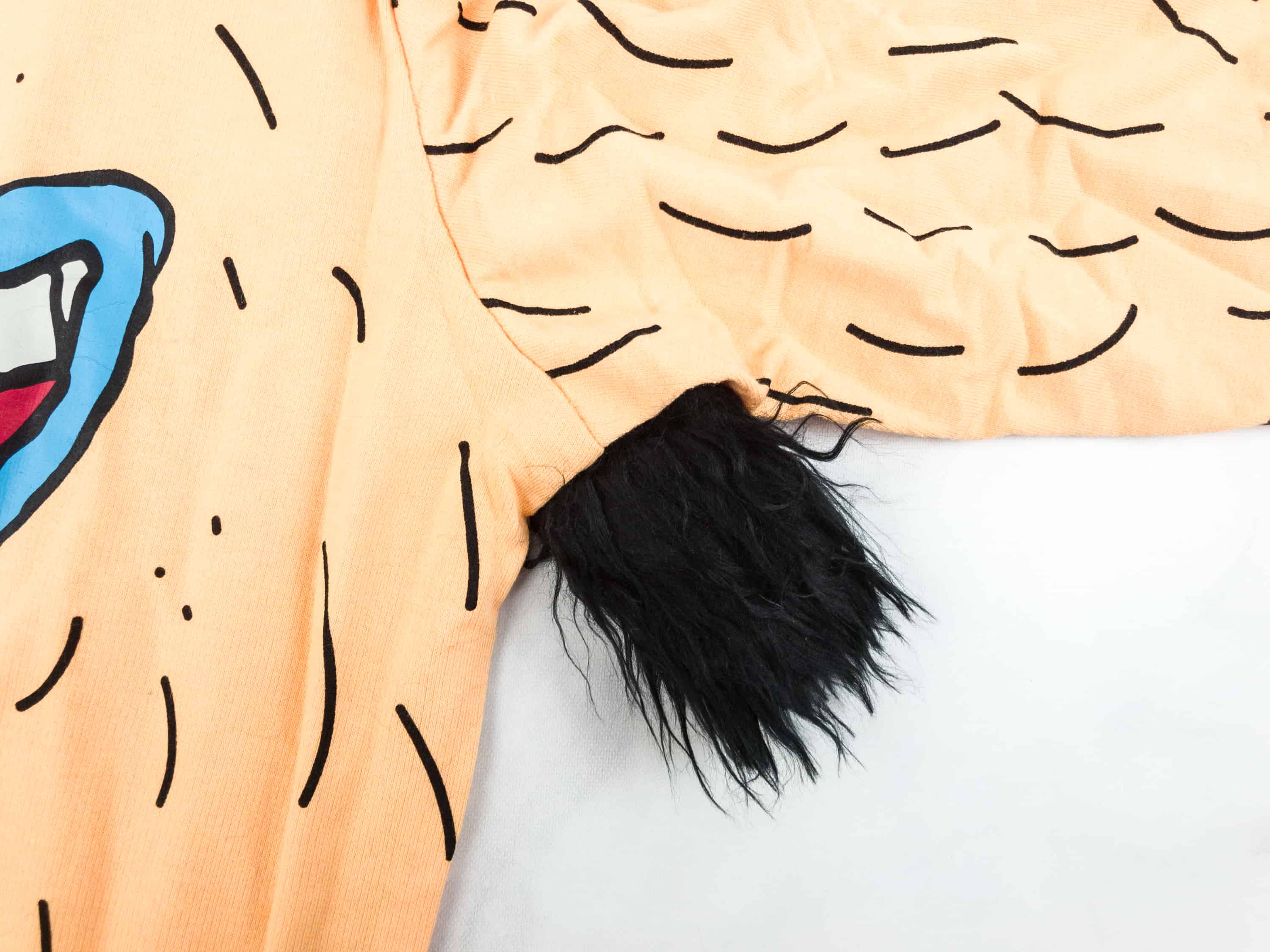 This part of the pull-over is what I find most the wackiest and funniest, there's a bunch of hair!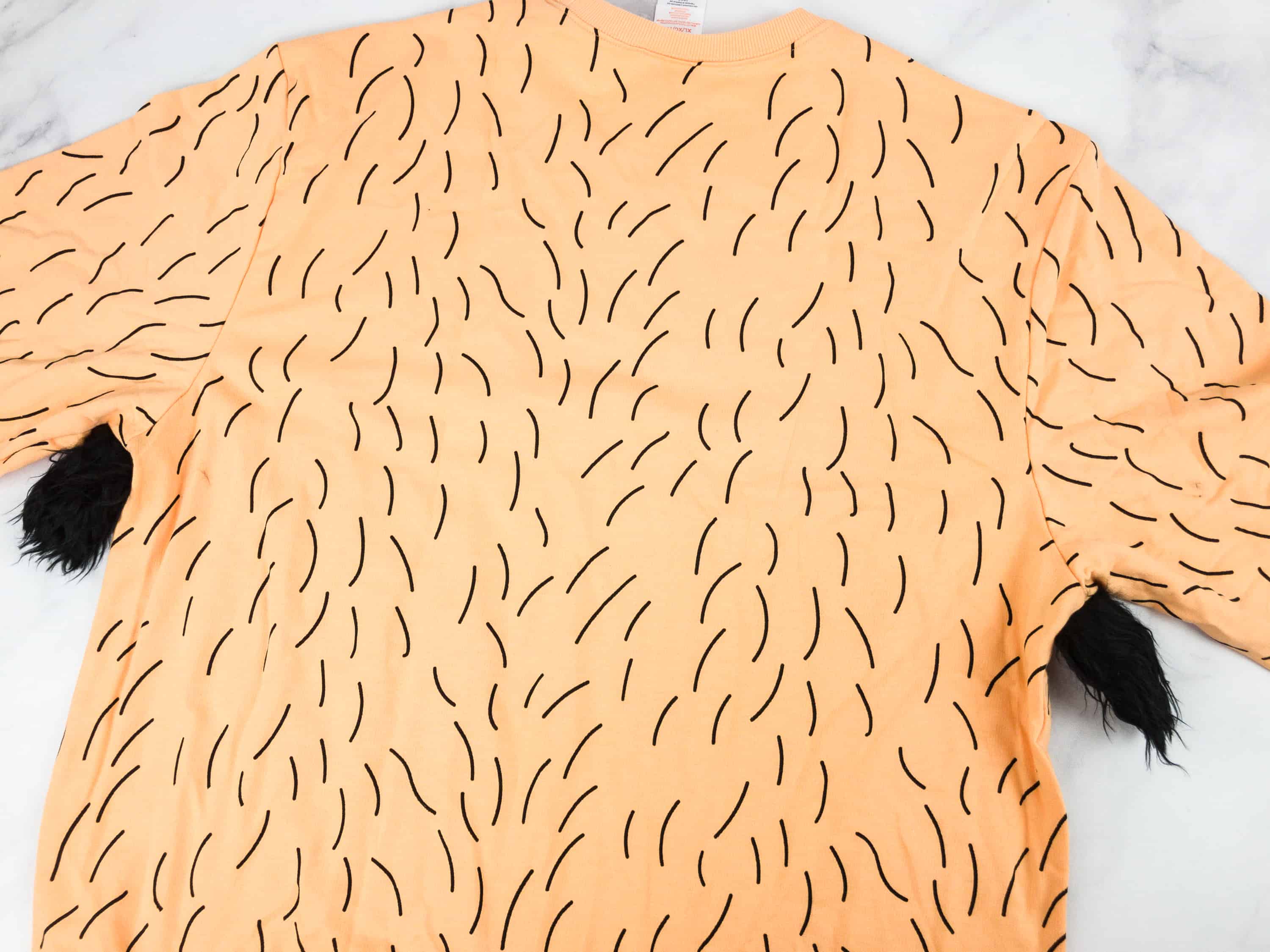 See what I mean? Krumm can juggle his eyeballs so dangling them near the cuffs will make it easier for the wearer to do it!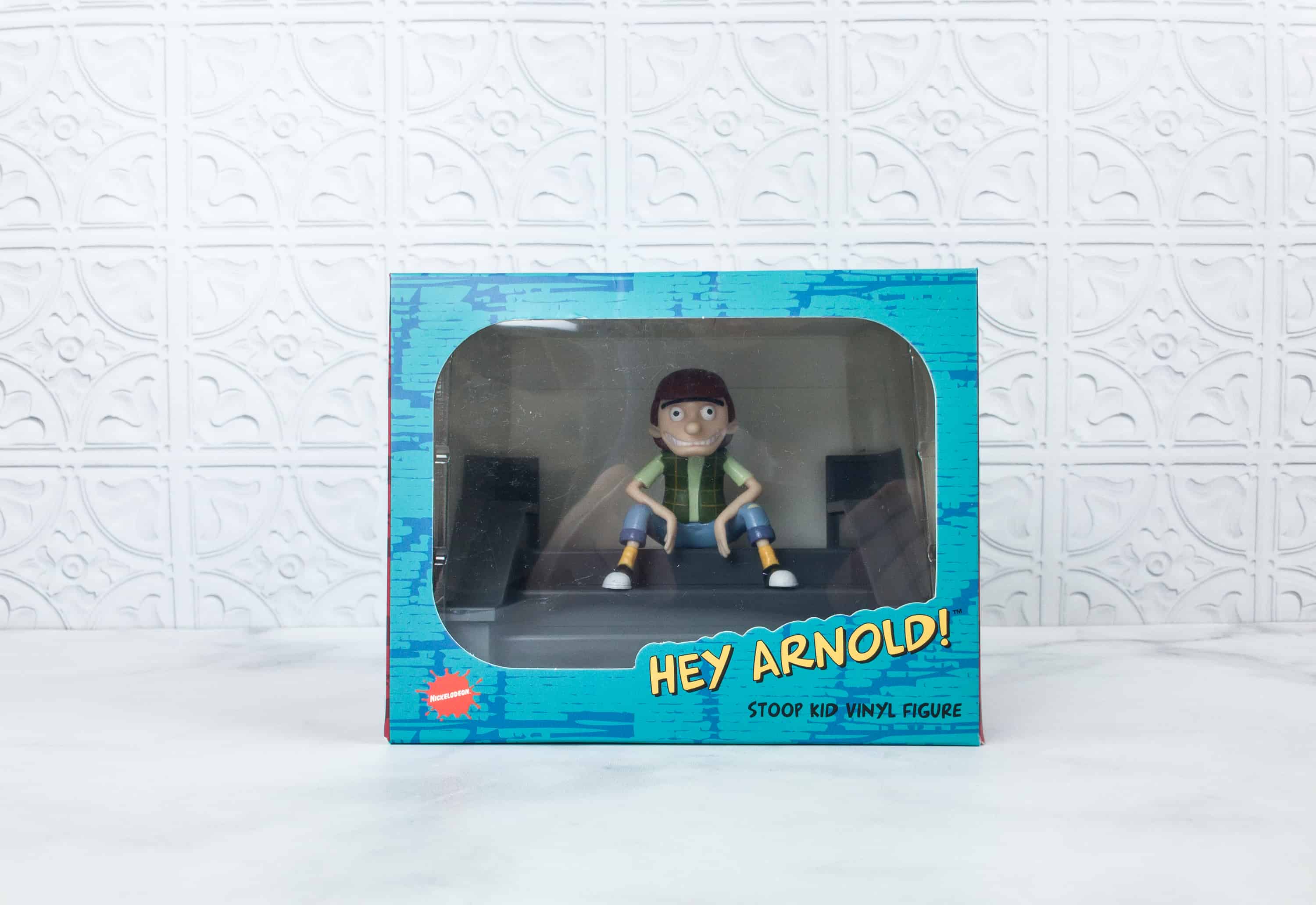 Hey Arnold Stoop Kid Vinyl Figure. We got one of Arnold's best friends, the Stoop Kid!
We can see at the back of the box that Arnold gets to hang out with him at the stoop.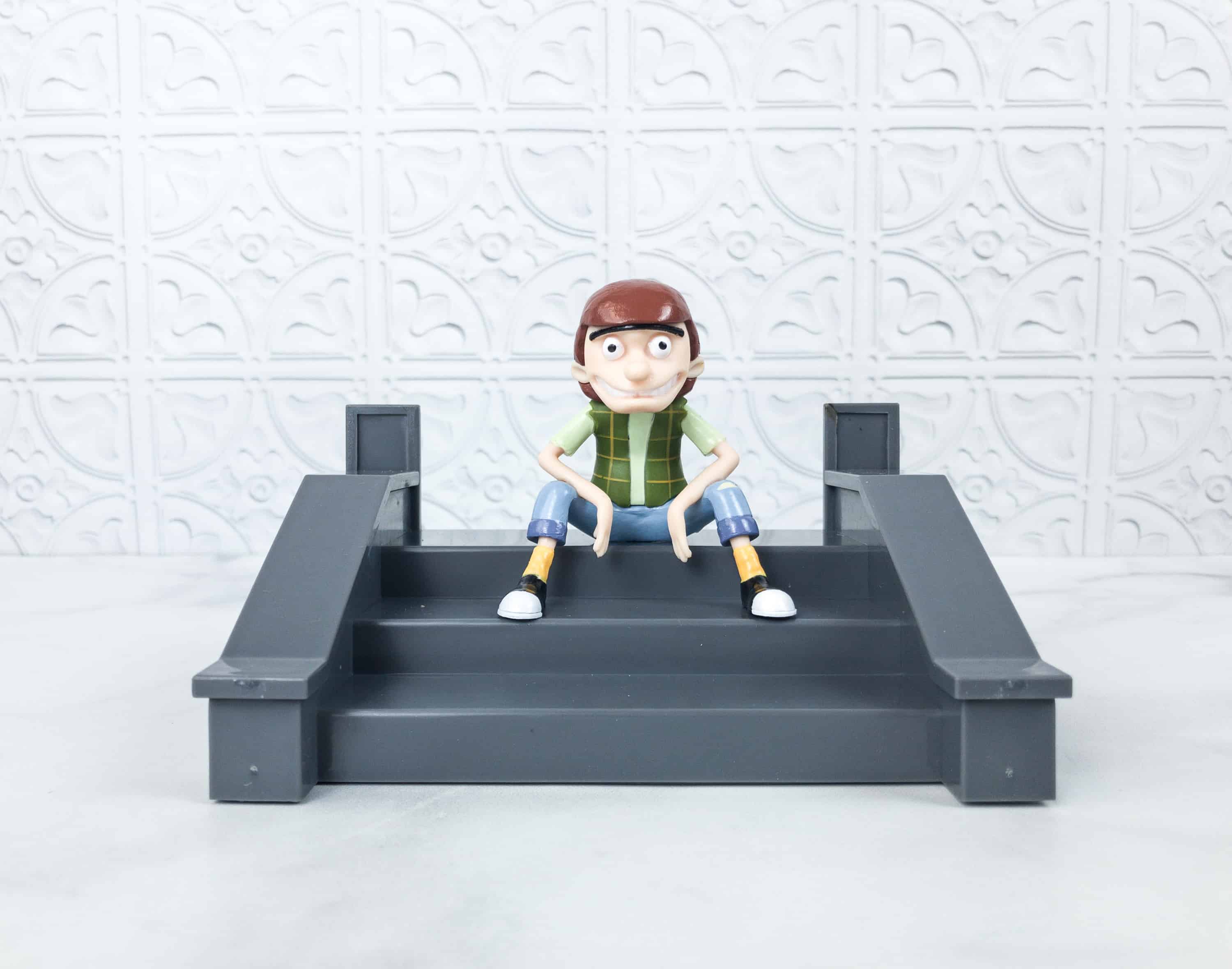 Stoop Kid, according to Gerald, was an abandoned kid who lives his whole life on his stoop and he's afraid to leave it. He is a bully and actually has no name!
It's really weird living in a stoop and never leave it, so when he did on some episodes, it was a really a big deal. It was even featured on the Hilltown news when he attacked Harold and left the stoop! When you look at him closely, he actually looks like a younger version of Grandpa Phil!
Stimpy Soap Dispenser. Another item from the series Ren and Stimpy is this cute soap dispenser. I bet this goes with the Ren bath towel!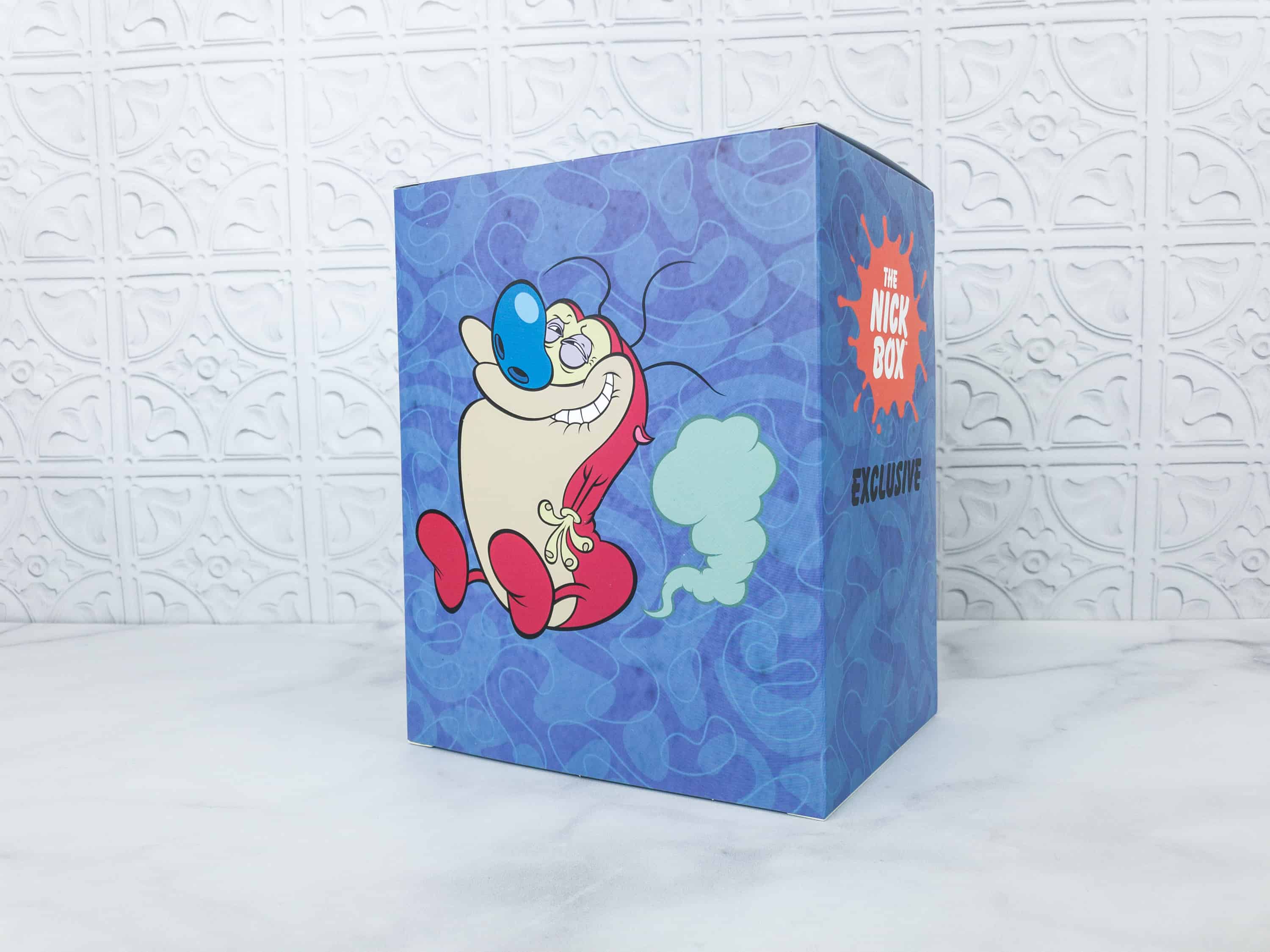 Stimpy is a chubby and silly rotund red and white Manx cat with a brain that's literally the size of a peanut.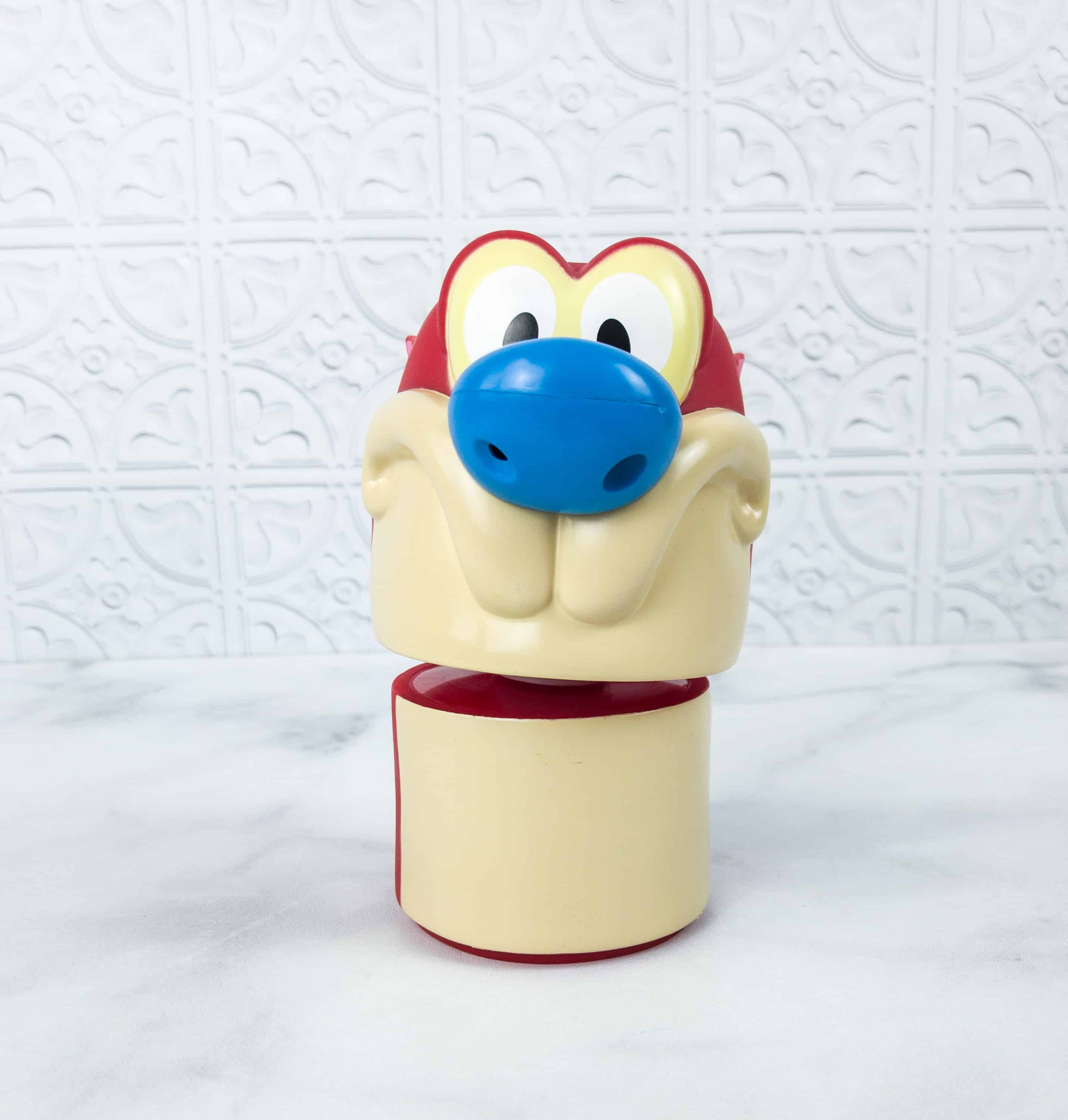 This soap dispenser really captures his look.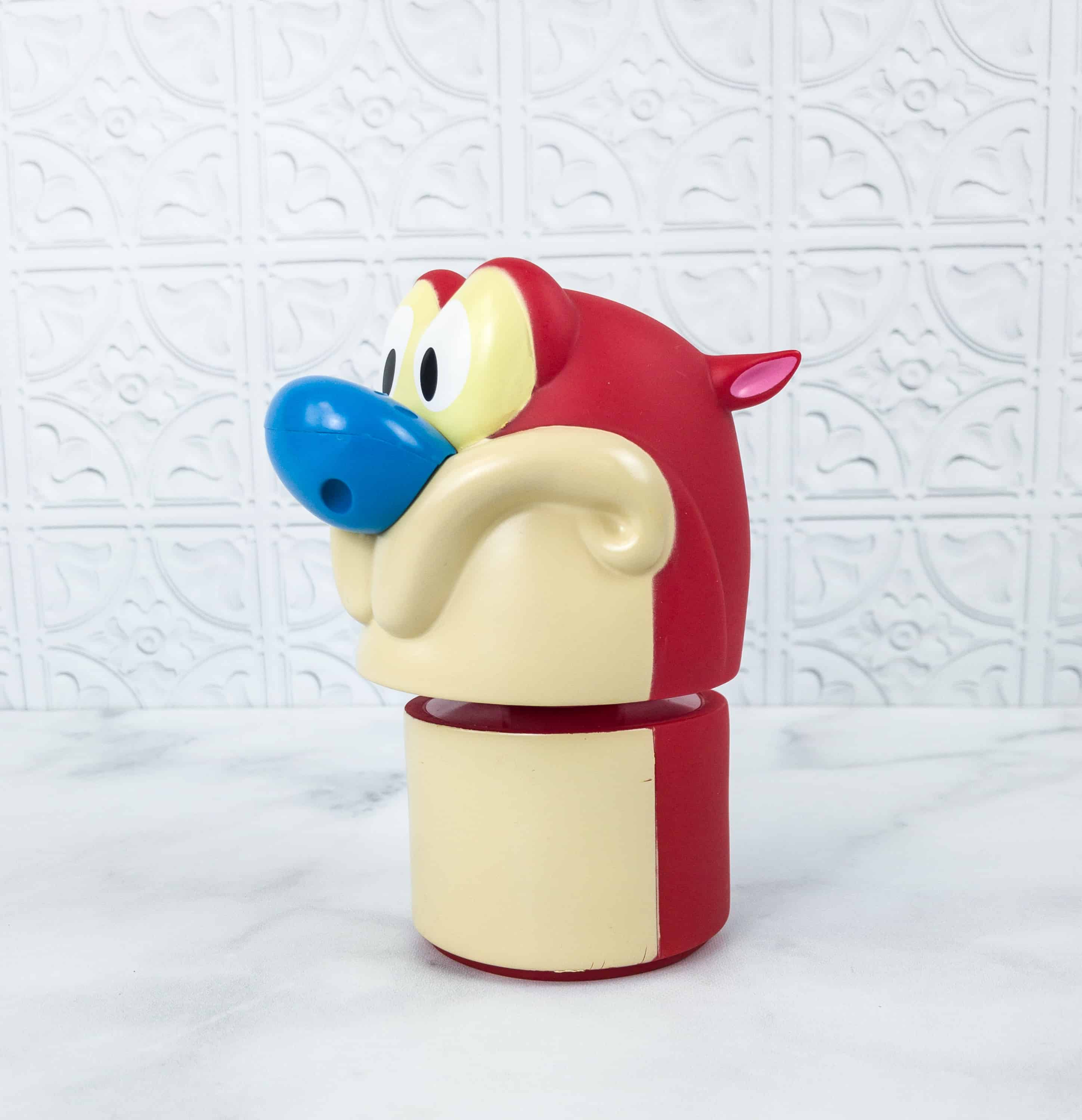 When you pump it up, the soap goes out from his nostrils!
It's as silly as the character itself!
Nick Box is one of our most awaited seasonal boxes! This subscription is ridiculously jam-packed, and they always do a great job putting the items together. Also, the featured characters and shows in this box are our long-time favorites! Everything is fun, especially the soap dispenser. I actually laughed when it spurted out the liquid soap from its nose! I'm always a fan of fun, usable items, and it seems that CultureFly really knows how to pack a box full of items we'll use, whether for play or display! This is the perfect subscription not just for kids, but also kids at heart, those who grew up in the 90s, it's a really nice way to remember your childhood!
Did you like the Spring 2018 Nick Box box?