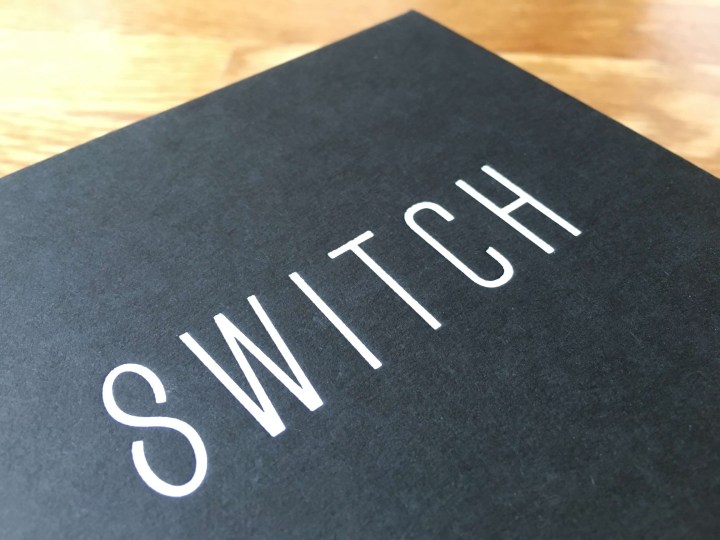 Switch is a jewelry subscription that lets you rent designer jewelry starting at $29 a month. You can wear the pieces for as long as you like, or switch them out for new piece(s) whenever you want. Shipping is always free. The jewelry, which includes pieces by Hermes, Alexander McQueen, and Celine, among others, averages $500, and includes necklaces, bracelets, earrings, and now, rings! Jewelry is cleaned between wearers.
I have always admired fun statement jewelry on other women, but I can never bring myself to commit to a piece. Who wants to spend $500 on a piece of jewelry that you may wear only a few times before it goes out of fashion? But who wouldn't like having an amazing new piece whenever you go out? Not being an heiress or a tech entrepreneur, and having a firm frugality-is-golden Midwestern upbringing, I figured that this kind of jewelry was out of reach for me. Enter Switch, which lets you have fun without the commitment. It's like internet dating for jewelry!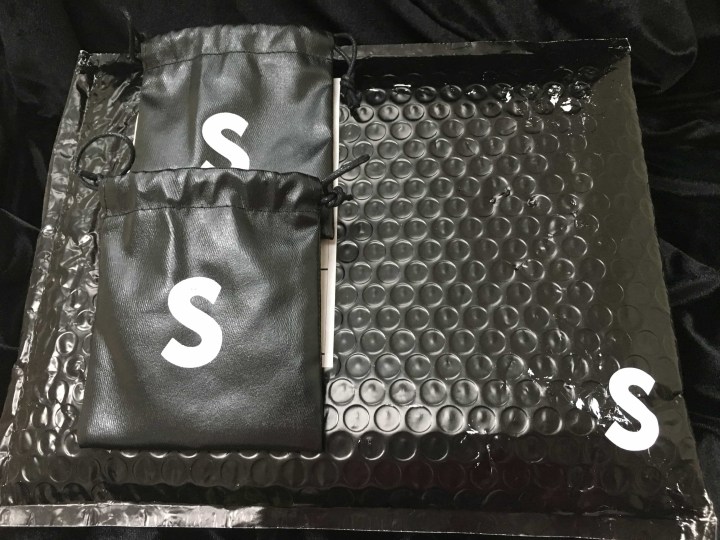 Sign-up is simple. You look through the collection and pick the pieces you like. The website makes it easy to know which pieces are available. So, just like you're shopping, you pick what you want, put them in your closet, and check out. Shipping is free both ways. Wear it as long as you like, and send it back when you're ready for something new. I have the Black plan, which allows me to have three pieces at any one time for $69 a month.
Switch recently redesigned its packaging, and it's all new and Switch-branded. Don't forget to save that black shipping envelope, though — you'll need it to send the jewelry back.
DEAL: Get half off your first month on any plan. Use coupon code HELLOHALF.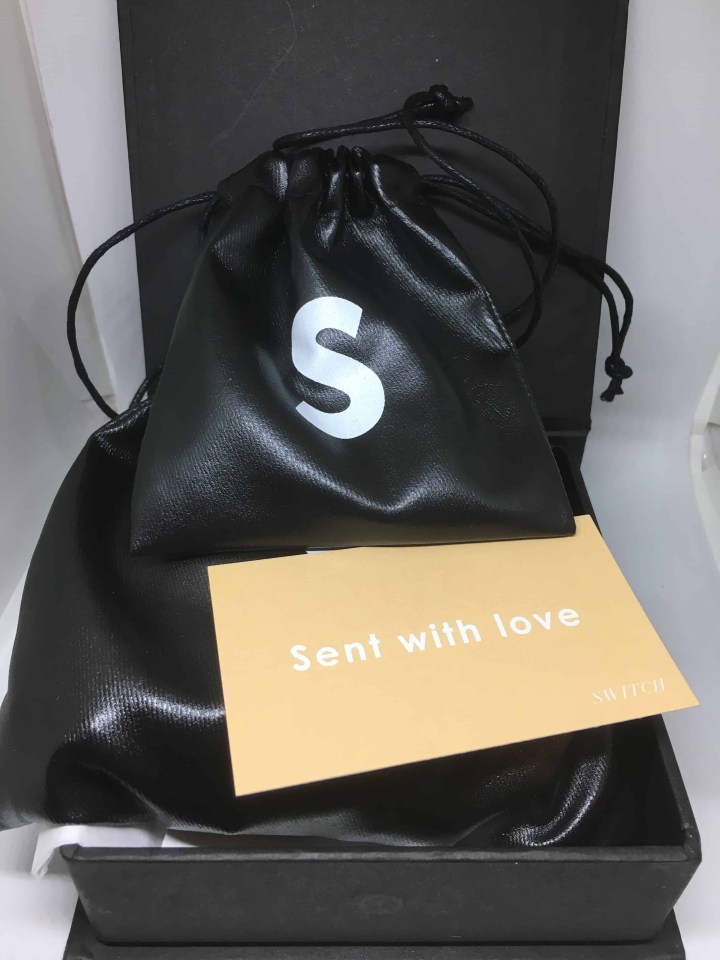 Switch is constantly changing up its inventor, so there's always something new and fun to select. This month, I knew I wanted to check out one of their new designers, Anndra Neen.  I got the Anndra Neen Carmen Earrings ($195 retail value), the Hermes Enamel Bangle in Blue/Black/White ($550 retail value), and the Anndra Neen Libertad Choker ($325 retail value).
First up were the Anndra Neen Carmen Earrings ($195 retail value).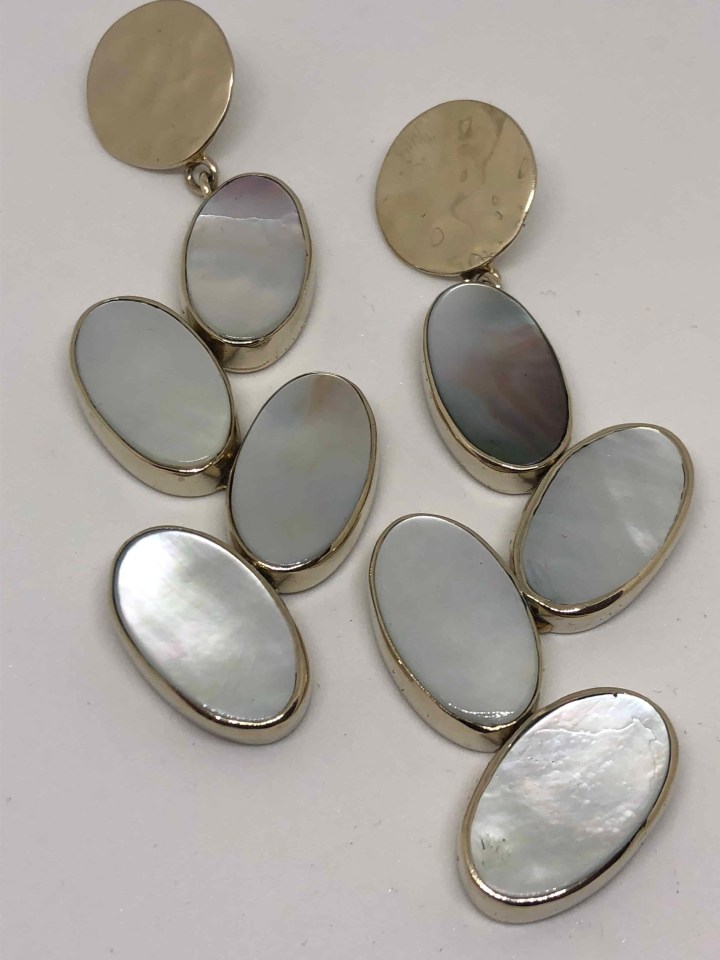 These earrings are just so pretty to look at.  I loved them as soon as I saw them on the Switch site.  They are made of "alpaca silver," which is new to me–it's a silver-tone metal alloy (colored gold in this case).  The circular top is gold-tone with a hammered look, and the four ovals (in a long 4″ drop) are gold tone with mother of pearl insets.  These are shimmery, sparkly, and so very fun.
Alas, for me, they were far too heavy to be comfortable.  You can see in the picture how they hang hard on the earlobe.  If your piercing is higher up or you have attached earlobes,these might be more comfortable for you.  They're a beautiful neutral color, so they'd work with almost any color.  They'd be a great statement piece with a black cocktail dress, or you could wear them with jeans and a white tee to brunch.  The fact that these didn't quite work for me is exactly why Switch is so great–I'm sending these back with no regrets.
Next up is the Hermes Enamel Bangle in Blue/Black/White ($550 retail value).
I selected this classic silver tone bracelet for a reason–I had a high-stakes work meeting this month, and I wanted this gorgeous piece peeking out from under my blazer.  Jewelry can have totemic properties–it can make you feel powerful, beautiful, or elegant–and I wanted all the power that Hermes could grant me.  (The meeting went great; thanks for asking).  This bracelet is about 0.5″ wide and 7 1/2″ in diameter.  It's light and easy to wear.
You could wear this bracelet alone, as I did, at work or at a girls' night, or you could stack it with other bangles for a more dramatic look.  The blue color is subtle and beautiful.  I hated to send this one back, especially since it worked so well for me.  But the nice thing about Switch is that I can order it again, or try it in a different color.
Last is the Anndra Neen Libertad Choker ($325 retail value).
Speaking of totemic properties, doesn't this necklace look fierce?  I love the combination of the curves with the vertical straight line.  Wonder Woman would definitely dig something like this.  The necklace is more gold-tone alpaca silver, and about 17″ in circumference.  I'd call this more of a collar-style necklace, and less of a choker.  It sits on your collarbones, not around your neck.  (Sorry, preteen choker-lovers!).
The light gold color would look lovely against any skin tone.  The simple lines of the necklace means that you could definitely wear this under a jacket, with a low-V dress, or even on top of a black turtleneck.  I wore it several times this month and always got complements.  A fun, versatile piece.
And that was our month!  I really enjoyed having fun with these powerful pieces of jewelry.  I sent everything back for a new shipment, but if I had fallen in love with anything, I could have purchased it at a discounted price. Also, every month, I get $10 toward a future purchase. I definitely have my eye on a few things.
Overall, Switch is a really fun experience. I really like the variety of pieces available. I love the idea that I can go "shopping" for new jewelry anytime I want. Given the retail prices of the pieces ($1000 total in this shipment!), the $29-69/month is very reasonable value. With that money, I can either buy a new piece of jewelry every 1-2 years, or I can have a new piece whenever I want. For this kind of statement jewelry that may have a shelf life of your interest or that of the fashion world's, the economics really do weigh in favor of renting. I can't wait to get my next Switch!
Have you tried Switch? Which piece is next in your queue? Let us know in the comments below!