StitchyBox is a bi-monthly subscription box for counted thread embroiderers and cross-stitchers. There are two options, the Big Picture Box and the Detail-Oriented Box. With both styles, you'll receive a variety of threads from staples like DMC to specialty threads you may not have met yet. Boxes may also include embellishments, stitching accessories and other goodies, with a total value of about $35 per box. They also have a "Just The Threads" subscription.
With the Big Picture Box, you may choose between:
2 Fat 16ths (one 14-16 count Aida, one 28-32 count linen OR evenweave – your choice) OR
1 Fat 8th (Aida, linen or evenweave).
With the Detail-Oriented Box, you may choose between:
2 Fat 16ths (one 32-36 count linen, one 40 count linen) OR
Select 1 Fat 8th (either 32-36 count linen or 40 count linen)
NOTE: StitchyBox is introducing the new Stash Box Subscription – it's the StitchyBox bi-monthly subscription version 2.0! No more 2 fabric options, plus you will be able to have no fabric if you choose.
Stitchy Box also offers add-on subscriptions (also available stand-alone): Stitch It Up (XS charts), Bling It Up (bead & crystal), Buttoned Up, and Thread It Up, as well as limited edition chart designs and series.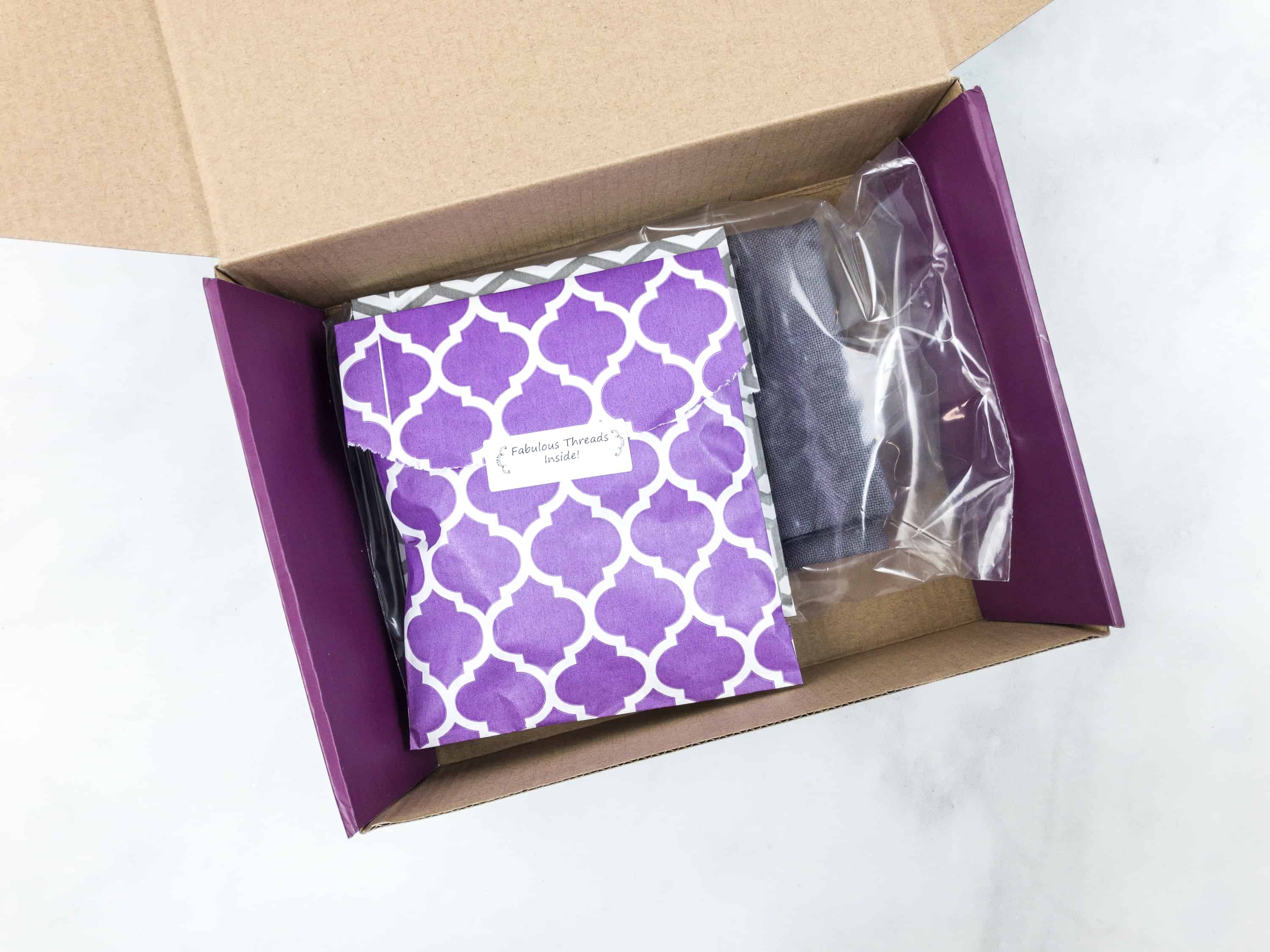 The items are individually packed inside the box.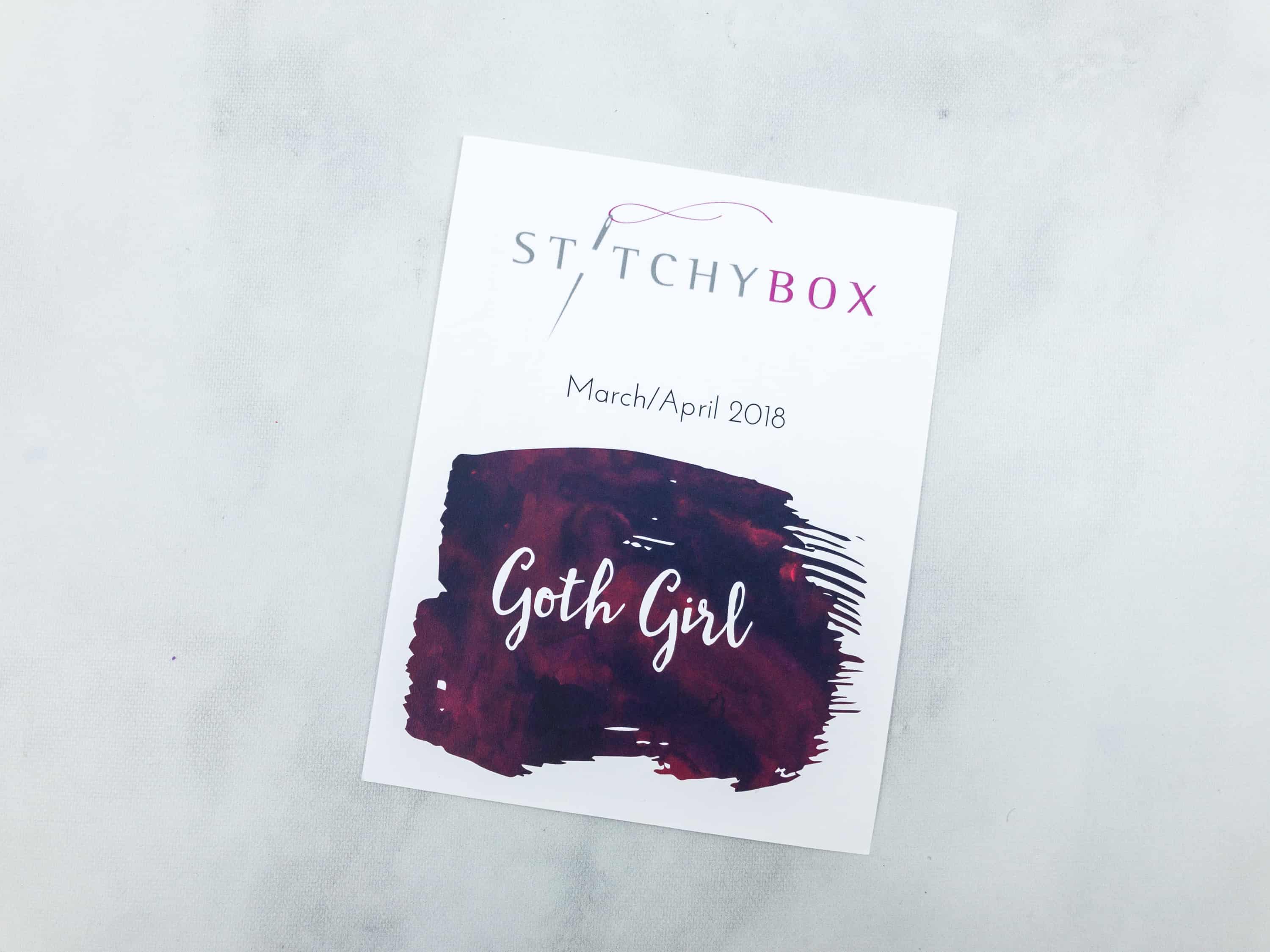 This month the inspiration was Goth Child.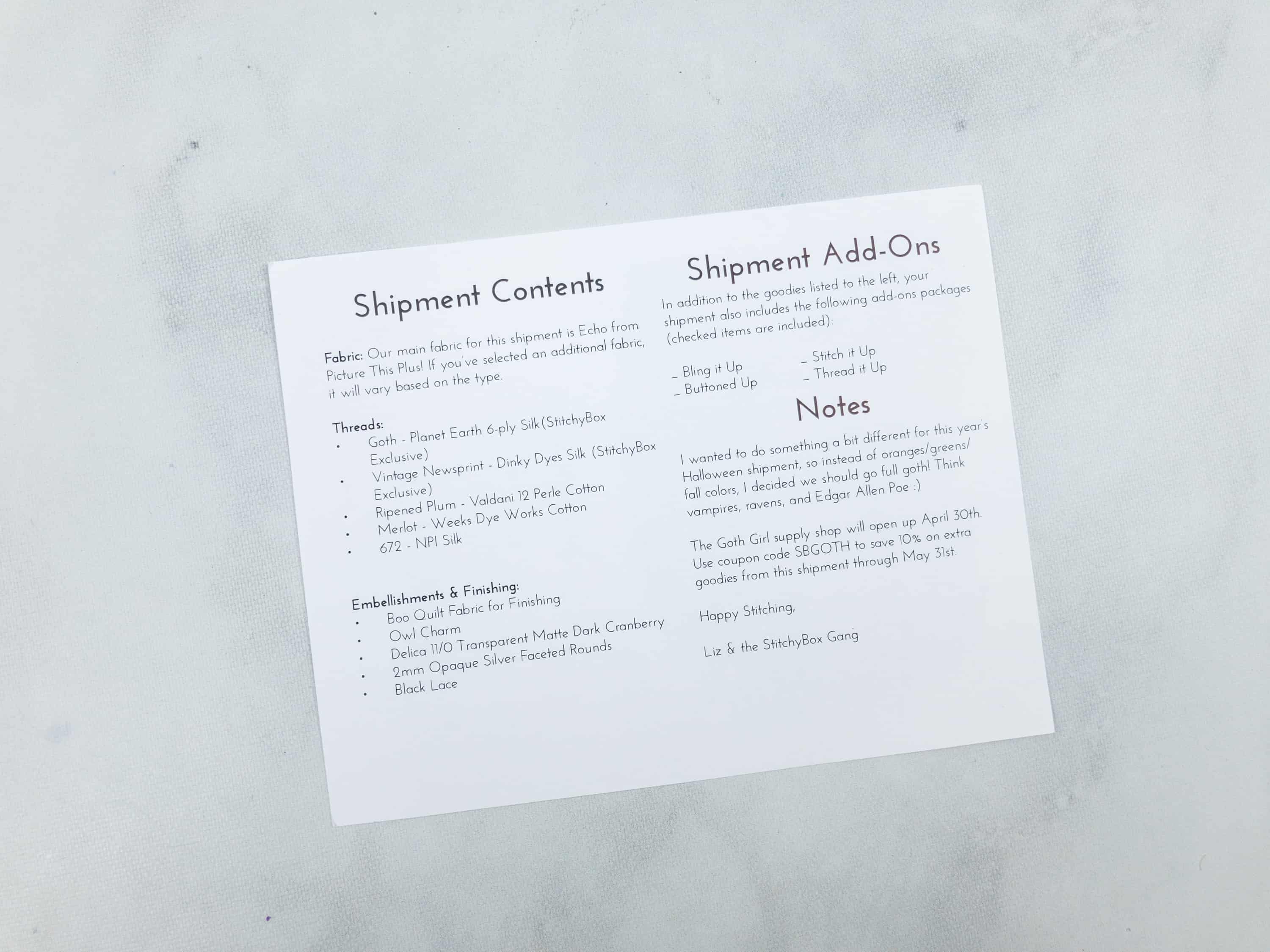 The information card gives a bit of detail about each item, plus info about the supply shop (you can buy more of what you love, but usually only for a limited time – supplies are sometimes hand-dyed just for this box).
There are two paper envelopes containing the items, secured with a sticker, plus the bagged fabric.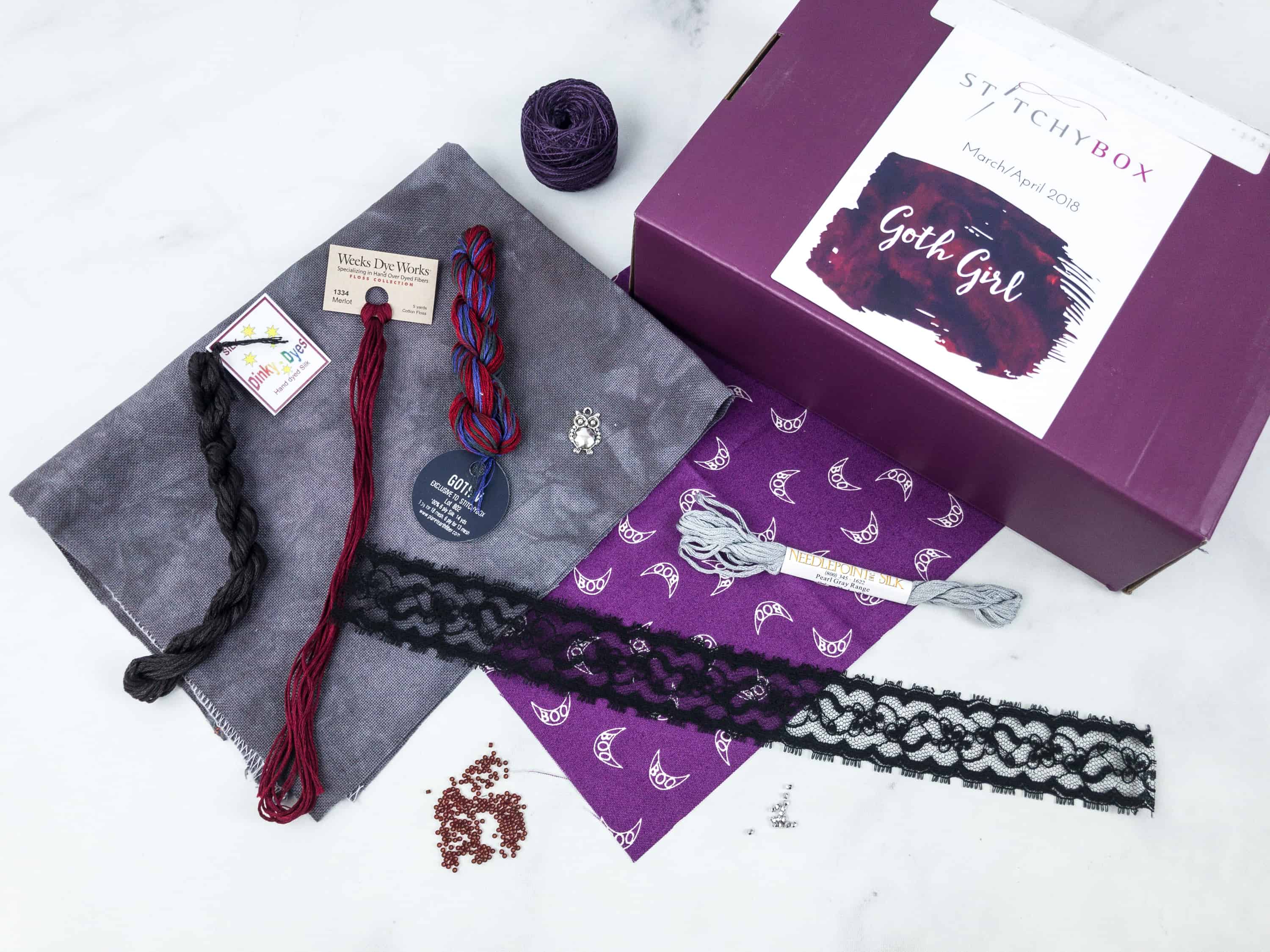 All the goodies this month!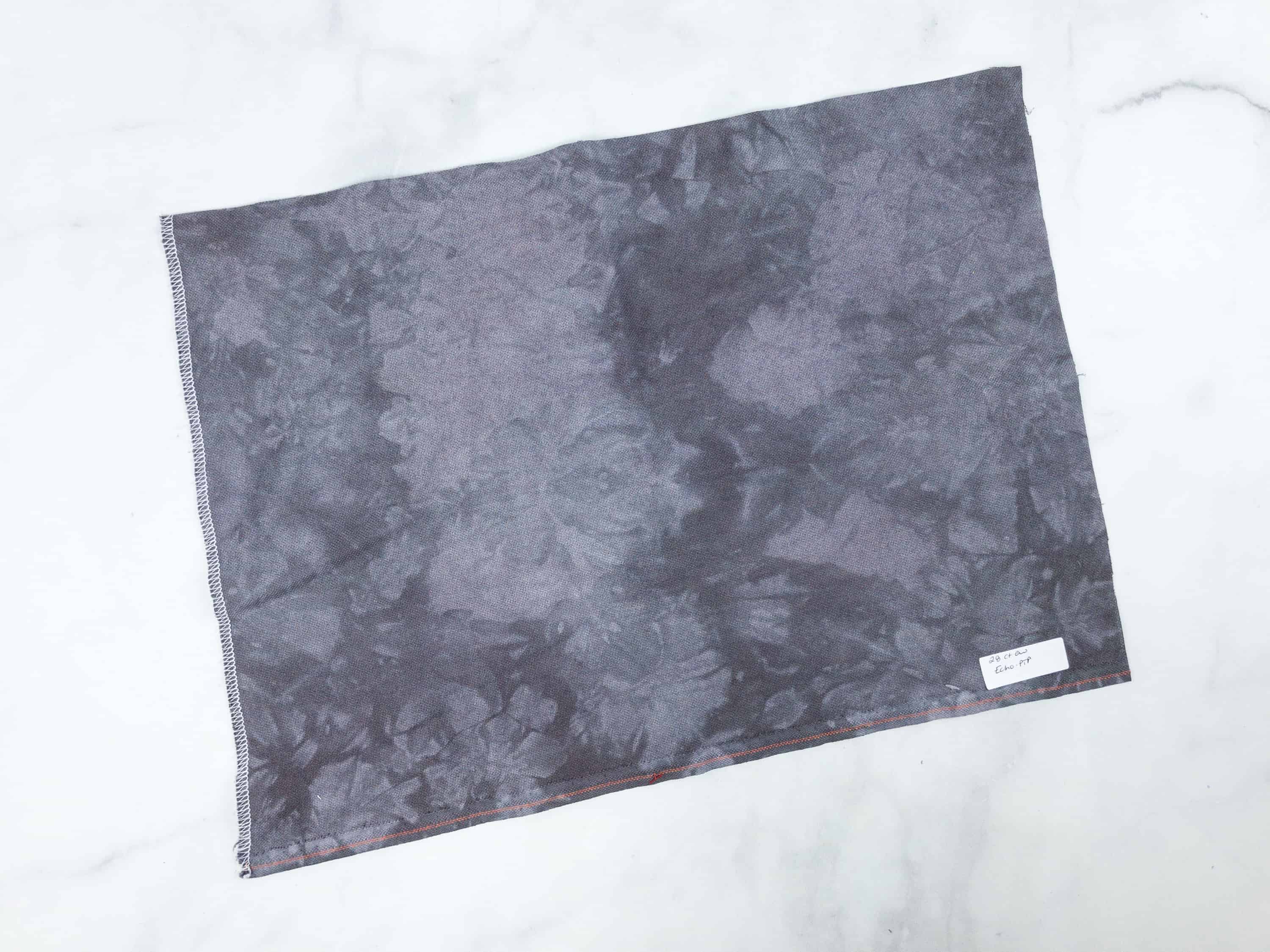 Fabric – Echo from Picture This Plus – Lugana. It's a 28-count hand dyed fabric in medium gray with purplish undertones. And it's ohmygosh PERFECT for Halloween stitches (my favorite kind!).
NPI Silk 672 ($4.99) This needlepoint silk is actually reeled and not the usual spun thread. This means that the filaments of the thread are long and made from higher quality materials too. It is an 8 ply thread at 5 meters for each skein. This is perfect for adding highlights or points of interest in your stitching project.
Valdani 12 Perle Cotton ($5.25) You can use this cotton thread for your embroidery, applique, rug-hooking, quilting, punch needle, or thread embellishment. The color is deep and will work with the rest of the threads in this box. It's my favorite purple, too.
Dinky Dyes Silk – Vintage Newsprint ($4.50) I like its antique black color. Each skein in this batch has a 6-ply silk thread and is 8 meters in length. One of my favorite fibers, and I wouldn't have found it without this subscription.
Planet Earth 6-Ply Silk – Goth ($4.80) This is a combination of red, black, and purple threads. Each skein has a 6-ply silk floss in 14 yards. Stitchybox exclusive!
Week Dye Works Cotton – Merlot ($2.40) What's great about this merlot-colored thread is that it is hand dyed with super subtle variegations. It comes in 6 strands with 5 yards per skein.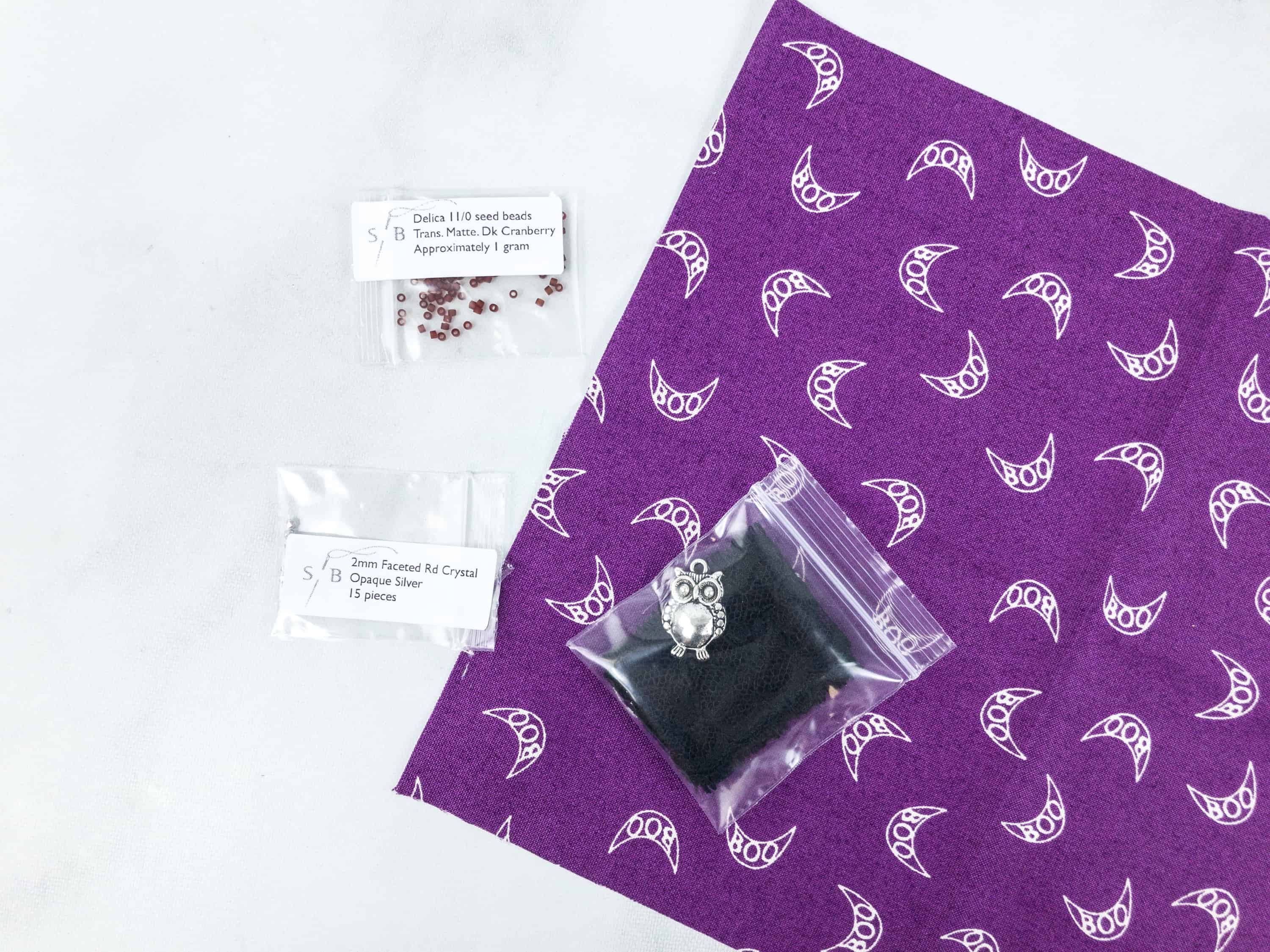 Boo Quilt Fabric For Finishing. Halloween is still so far away, but this dark purple fabric is already making me excited to make cute Halloween-themed projects. It has the word "boo" printed all over it!
Owl Charm. It's a silver-colored owl charm that makes a perfect Goth-inspired embellishment.
Delica 11/10 Trasparent Matte Dark Cranberry. These beads are quite small, but they do add charm and sparkle to stitching projects.
2mm Opaque Silver Faceted Rounds. These silver faceted rounds can make any fabric stand out especially when the light hits the beads. Each packet contains 15 pieces of these faceted rounds which can give some depth to your stitching project. Black, white, and red definitely work well with one another.
Black Lace. You can use this black lace for borders or ribbons!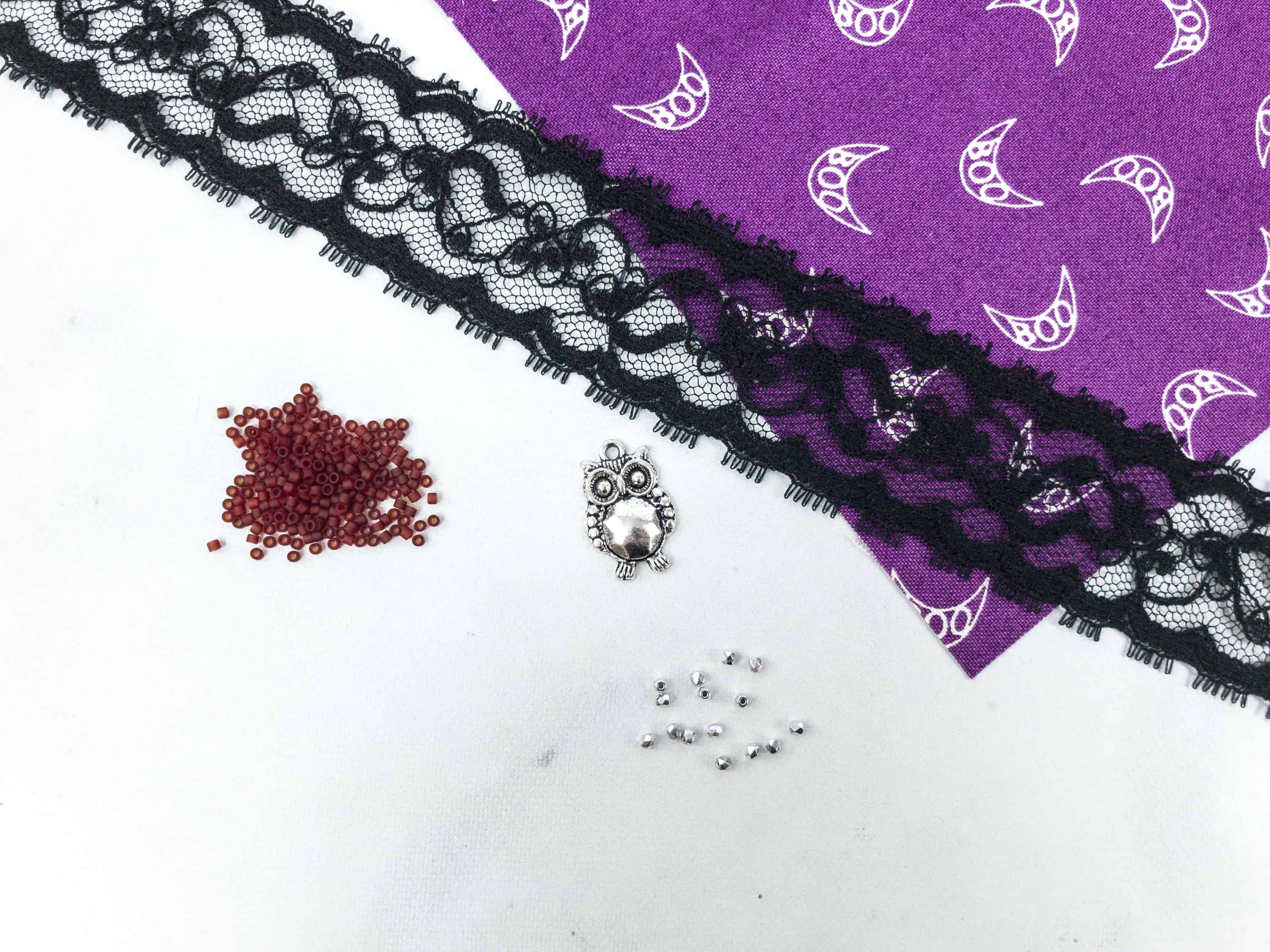 These items are great add-ons for this month's package. Can't wait to use them all in my stitching projects!
This month's Goth-inspired stitching essentials is a TOTAL win for me! The deep and dark colors of the threads plus the add-ons complement each other well.  I'm actually currently hemming & hawing over which options to pick for the version two subscription – I think I'm going to go with a fat eighth of evenweave, because I tend to think it looks better and is more fun to stitch on than linen, but I'm going to miss any surprises.
What do you think of this month's box?