Stars Hollow Monthly features 3-5 products which are inspired by the Gilmore Girls and the fictional town of Stars Hollow. (Inspired by, meaning items that relate to, are inspired by, or are artistic renderings of the show and its inhabitants/characters.) For $34.90, you can expect anything from tee shirts (on occasion), home decor, fashion accessories, bath & body items, and much much more.
The goal for the Stars Hollow Monthly Box is to send subscribers items they will adore as fellow Gilmore enthusiasts, but also items anyone would enjoy – high-quality items that won't gather dust in a drawer somewhere.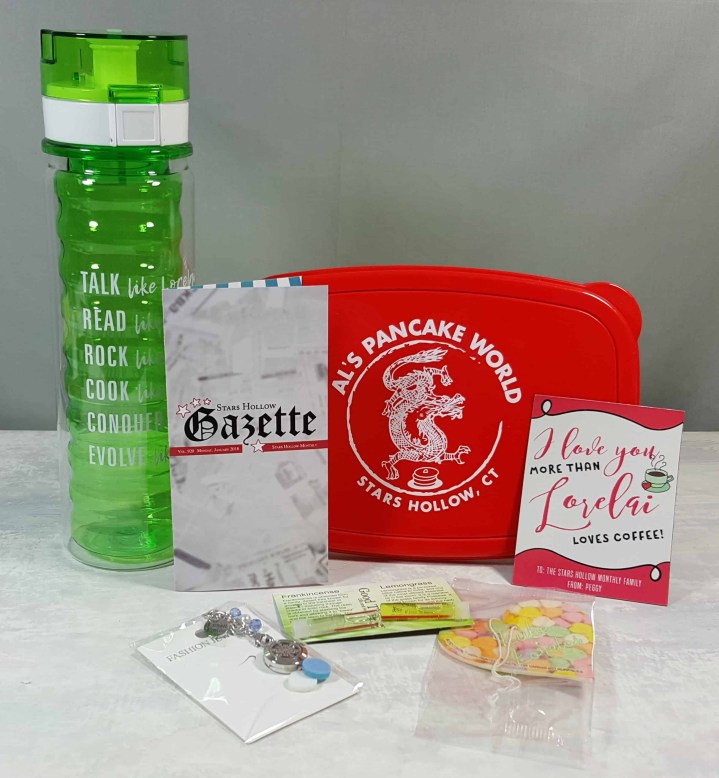 Here is our February Stars Hollow Monthly Box.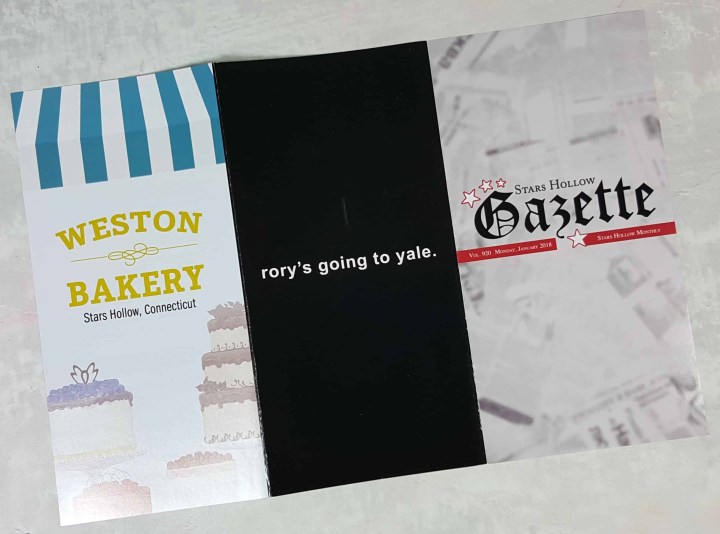 ICYMI, the information brochure received a facelift. We've swapped from the iconic Luke's menu to the Stars Hollow Gazette. Like every good newspaper, there is a classified section. This one features an ad for Weston Bakery and a Kirk shirt notice that "rory's going to yale."
The inside of the Gazette contains a list of the box contents with pricing, as well as details related to the subscription. Starting in March, there's also a new book club that uses Rory's reading list as the guide and subscription – Stars Hollow Book Club. The inaugural reading selection will be Pride and Predjudice by Jane Austen.
Be sure to check the new website, www.shopsophistigeek.com, for more Gilmore Girls related merchandise and items from other Nerddoms. Note: The website shown in the Gazette is not correct. Please use the link in the review to visit the correct page.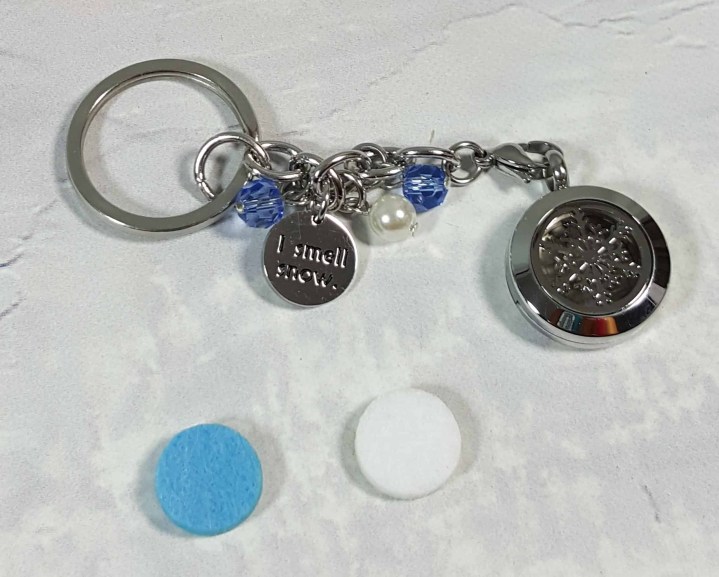 *Exclusive* Stainless Steel "I smell snow." Aromatherapy Keychain ($19.99): This keychain has a pretty snowflake detail and "I Smell Snow" charm. Use the included felt pads to add your favorite scented oils to the keychain so that you can have a positive scent boost whenever you need it.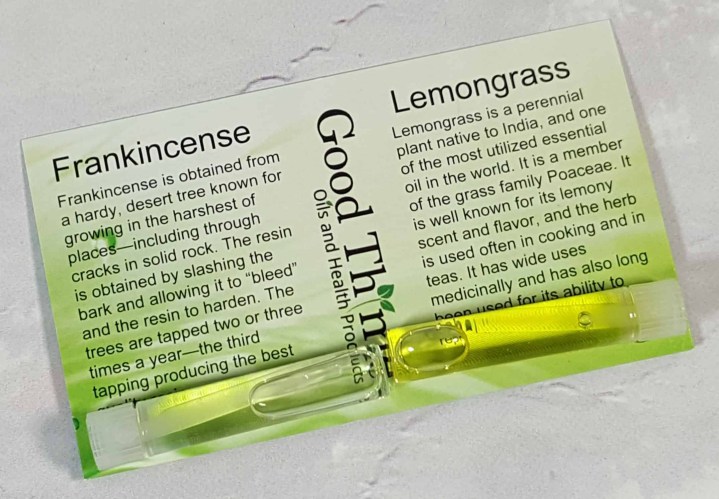 Aromatherapy Sampler Pack ($4.99): To get your keychain started, 2 samples of Good Thyme Oils brand aromatherapy oils have been included. Scents are Frankincense (deepen breathing, aid relaxation, and uplift spirits) and Lemongrass (reduce headaches & irritability and prevent drowsiness). The back of the card has a discount code for 40% off an online purchase from Good Thyme Oils.
*Exclusive* "Like Lorelai" Water Bottle ($19.99): I am so happy with this double walled water bottle. The bottle also has a small carrier handle that you can connect a carabiner to and attach to your bag or belt. The lid is released with a button lock and has a water-tight silicone seal. BUT the quote on the front is my favorite part because it calls out some strengths of each of the female leads:
TALK Like Lorelai

READ Like Rory

ROCK Like Lane

COOK Like Sookie

CONQUER Like Paris

EVOLVE Like Emily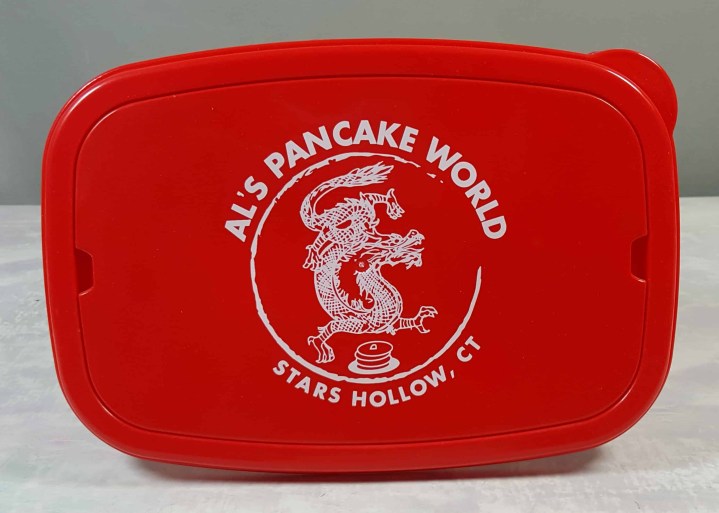 Top View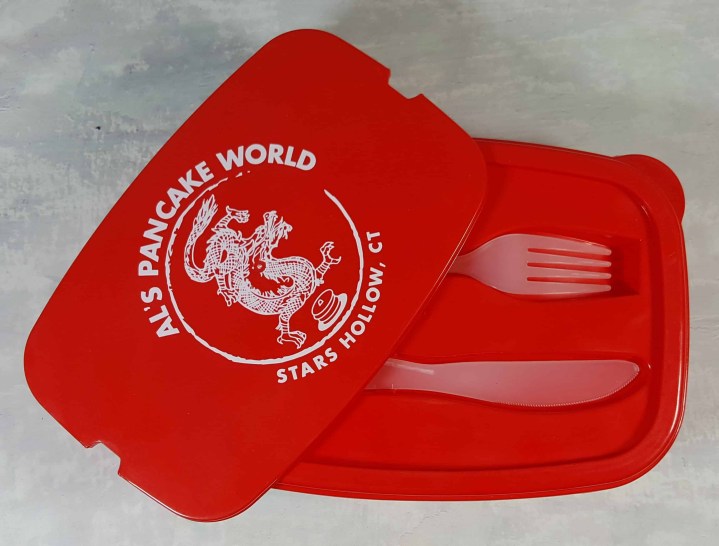 Level 1 – Utensils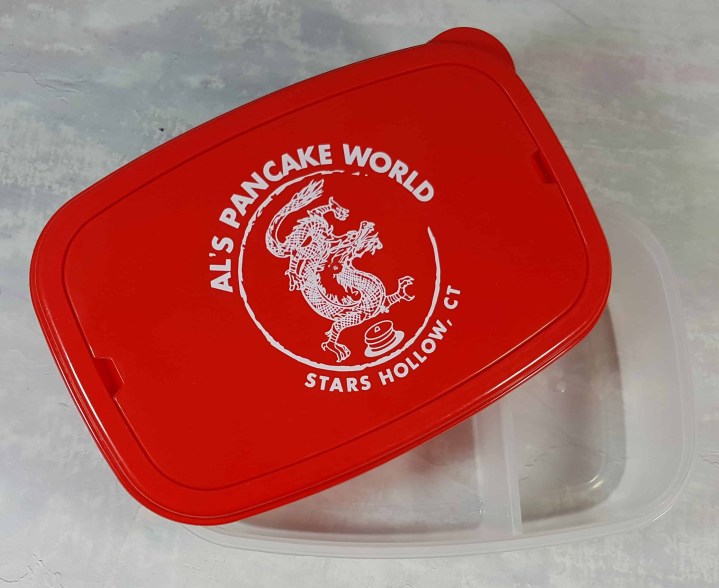 Level 2 – Compartments
*Exclusive* Al's Pancake House "To Go" Container ($14.99): In Gilmore world, Al's Pancake House equals lots of good food. As someone who takes my lunch to work, I totally appreciate the functionality of this fun container. It comes with utensils!!! I hate when I forget to pack a fork or knife and have to search the breakroom for them. The 2 compartments mean that I don't have to worry about taking multiple containers if I don't want certain foods to touch. Plus, this is microwave safe.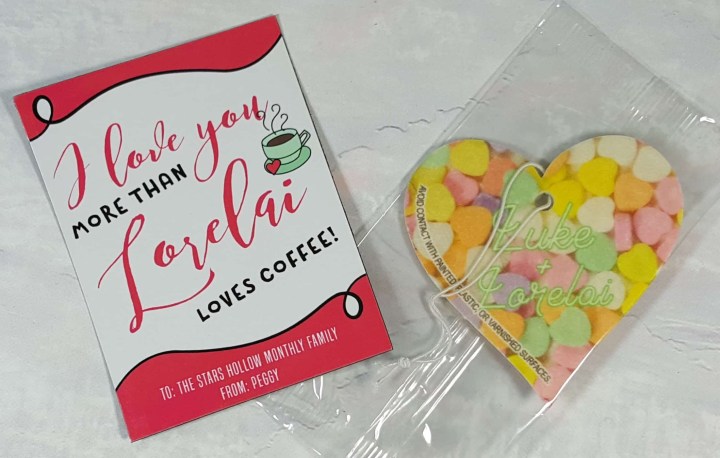 *Exclusive* Valentine Magnet: I love you more than Lorelai loves coffee… That is a strong statement. If I utter those words, then the recipient is stuck with me for life. LOL
*Exclusive* Stawberry Scented Luke and Lorelai Car Freshener: Luke + Lorelai, conversation hearts… all within a strawberry scented heart!?! Perfect for February and the coming Valentine's Day holiday.
February's Stars Hollow Monthly Box had a listed value of $60, excluding the magnet and car freshener. The listed prices for the aromatherapy keychain and water bottle seem a little high to me (about $5-$10 on each item), but my comparison pieces are not Gilmore themed. Regardless, I loved this month's box and can't wait to pack my lunch bag with the a box from Al's Pancake House and girl-powered water bottle. I have to say that the boxes this year seem to present a more cohesive product statement and items work well together. I hope this continues as we move through the year.
What was your favorite item this month? Leave a comment below and share your thoughts.