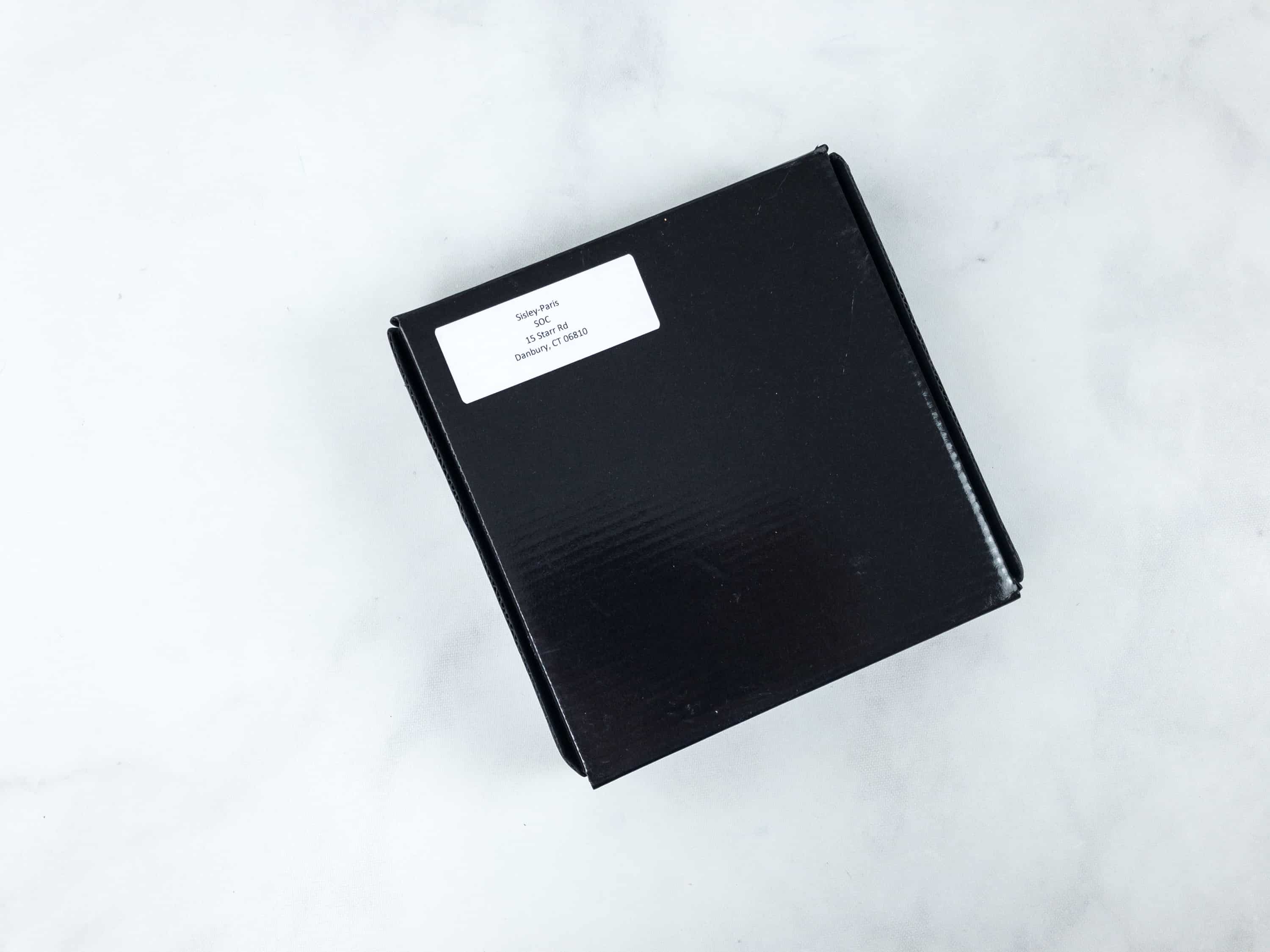 Sisley Paris Beauty Subscription is a monthly beauty subscription service starring 5 luxurious, expensive samples of products that would normally be found at upscale department stores such as Saks, Bergdorf Goodman, Neiman Marcus, Bloomingdales, or Nordstrom. It is $10 a month, however, you must sign up for a 6 or 12-month term. The 6-month term is $60, and the 12-month term is $100 ($20 savings). When the term expires, it will not automatically renew. Members of the My Sisley Club with either Gold or Platinum status should automatically receive the box as long as they maintain their status.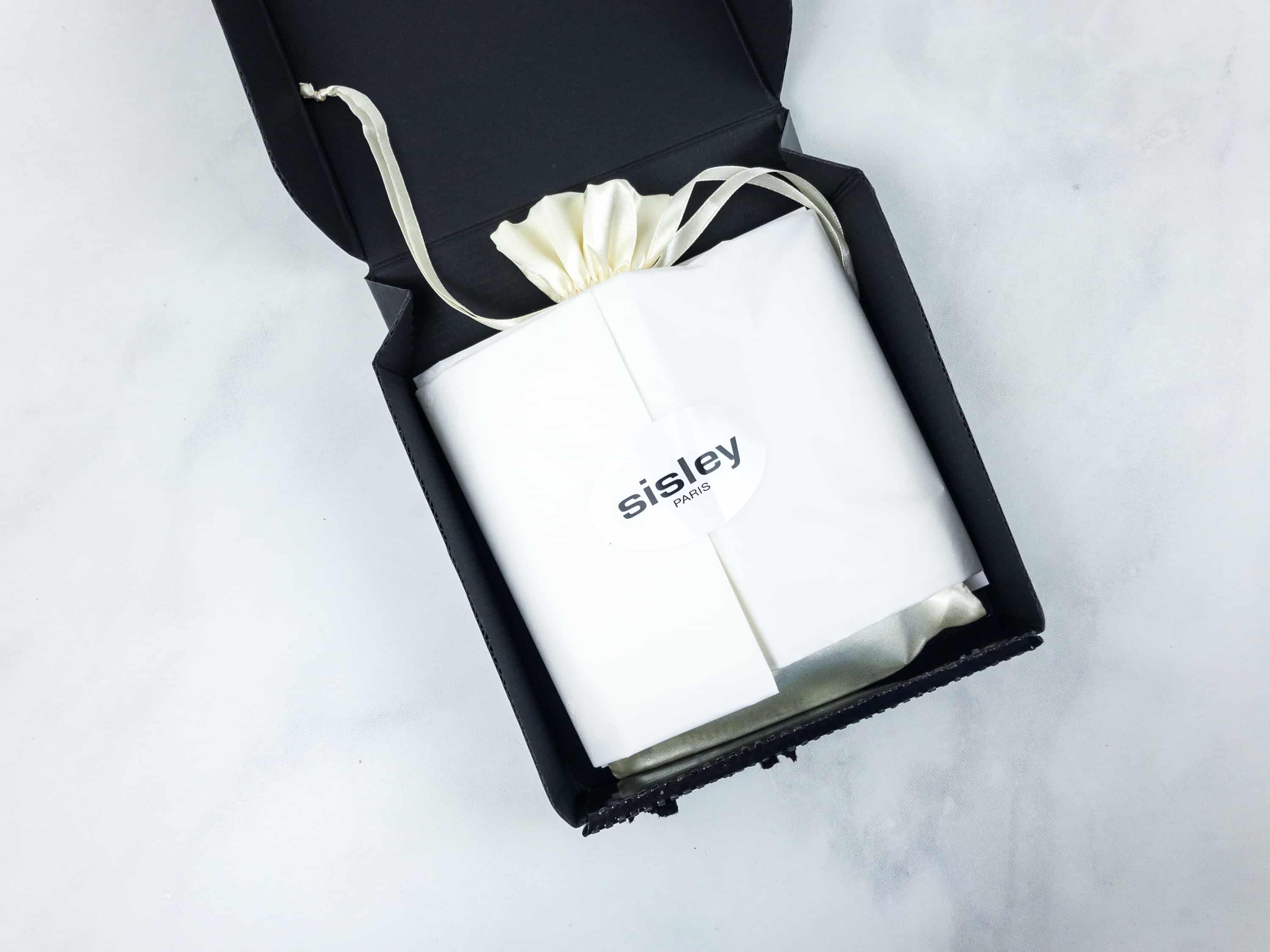 My products arrived in an unmarked black box. The items were wrapped in white paper and sealed with a sticker.
All the samples are inside a silky drawstring bag.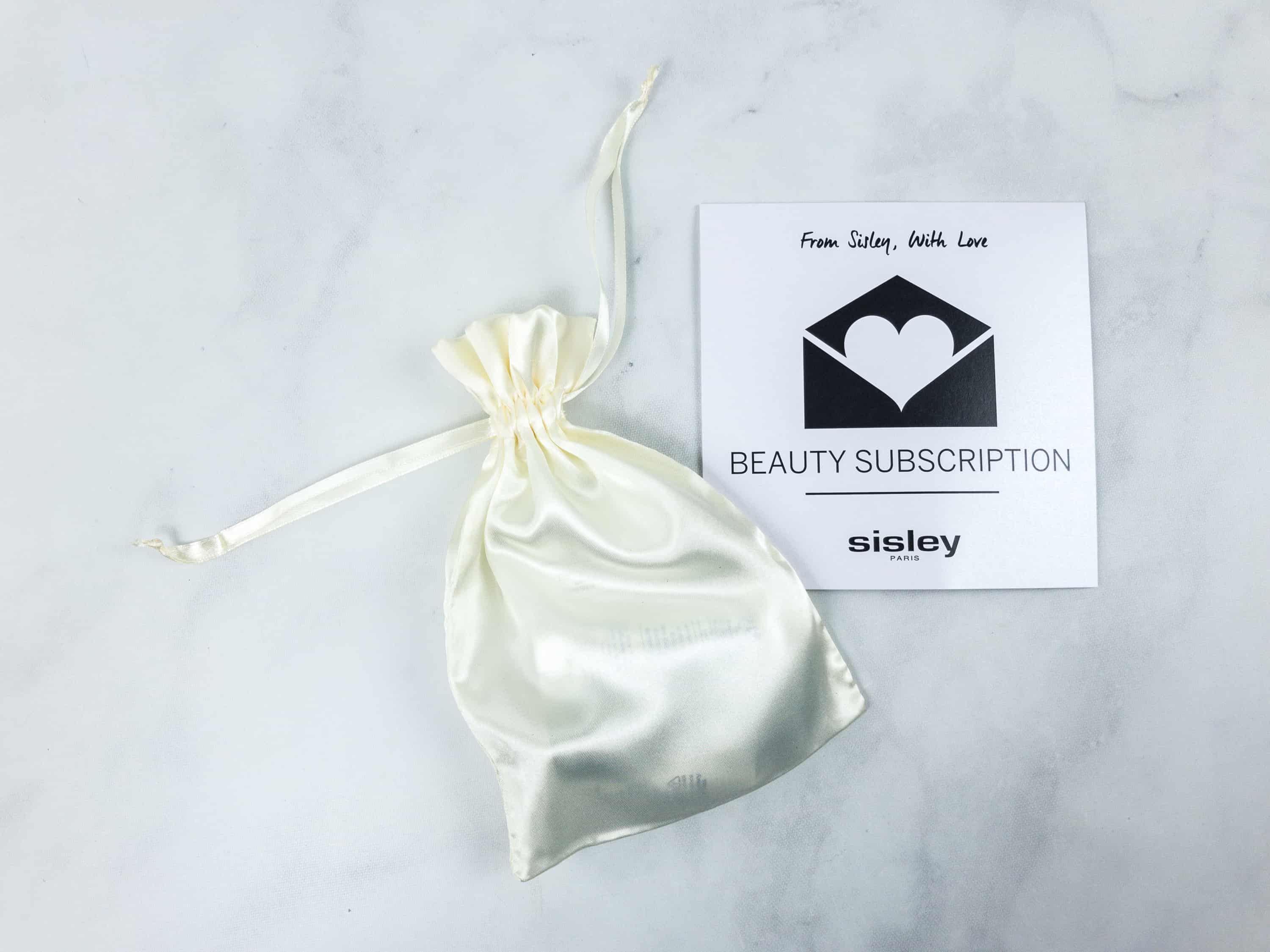 Sisley Paris claims to harness the power of plants to create the best cosmetics for your skin.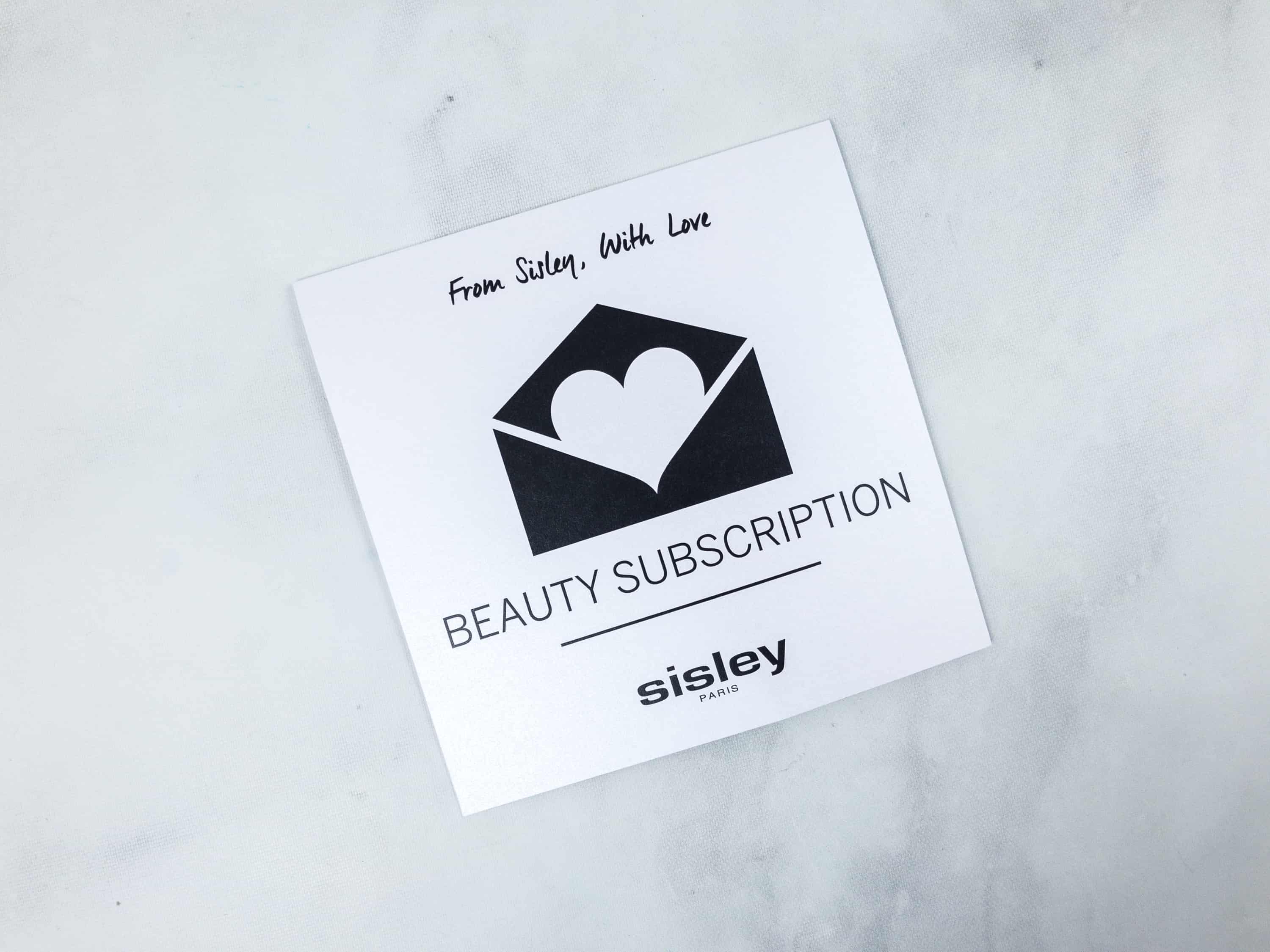 There was a welcome card that introduced the theme for May box, which is SISLEY FROM HEAD TO TOE!
The theme and this box aim to motivate us not to focus skin care on our face only. We should be taking care of the other delicate areas as well from head to toe and Sisley knows just the right products!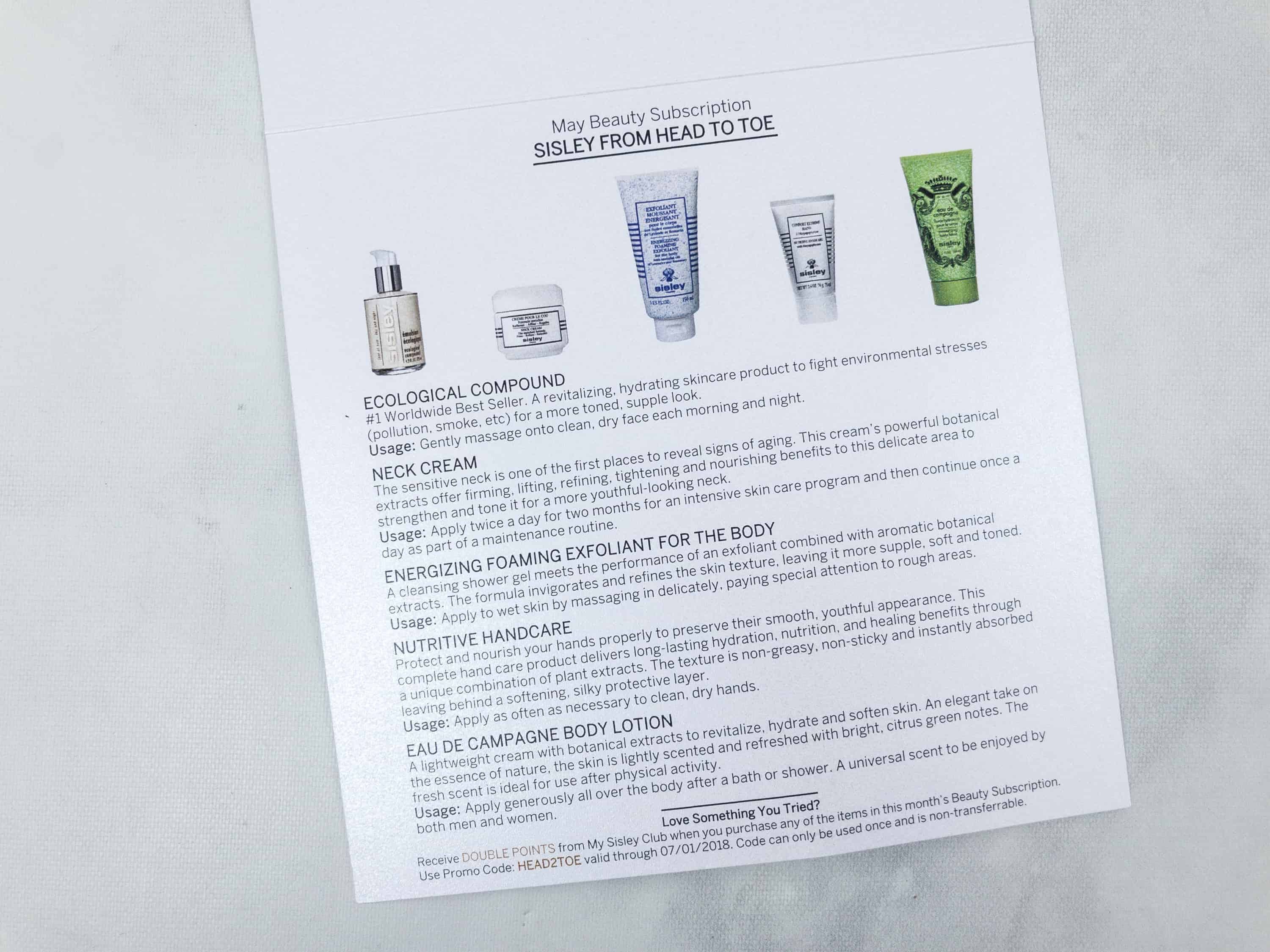 Here's the list of all the items, with tips on when or how to use them.
Everything in my box!
Sisley Neck Cream ($13.76) This is made just for the neck to prevent it from showing signs of aging. It treats the delicate neck area from sagging and leaves it firmed and refined. Fit for all skin types, it has a powerful concoction of active ingredients that redefine the neck and also includes shea butter to provide extra hydration and nutrition for a more supple skin.
Long lasting redefining doesn't happen overnight even if it tightens skin immediately. So you should apply twice a day for 2 months for an intensive skin care program or once a day as part of skincare routine. It has a lot of applying techniques that you should learn to maximize its full effect. This is just a small sample so it's only good enough to see if you like the formula, really, but every bit helps?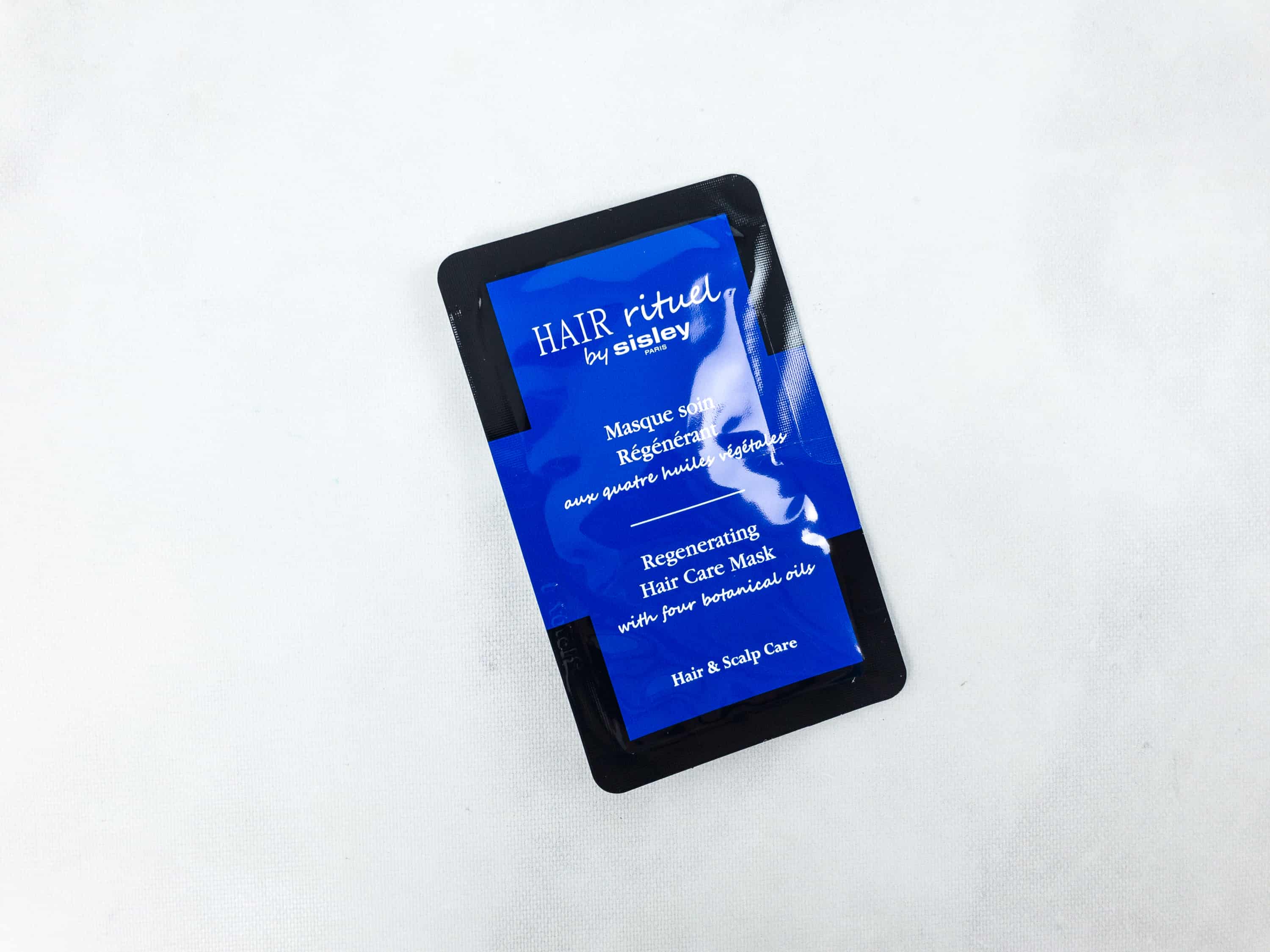 Sisley Hair Rituel Regenerating Hair Care Mask ($3.98) I love the hazelnut scent! This hair mask has 4 botanical oils that allow overall nourishment of scalp and hair. The formula is highly concentrated with plant-based extracts, proteins, vitamins, and minerals that energize the scalp and to strengthen from roots to tip. It also has fortifying revitalizing complex and arginine that improves hair vitality.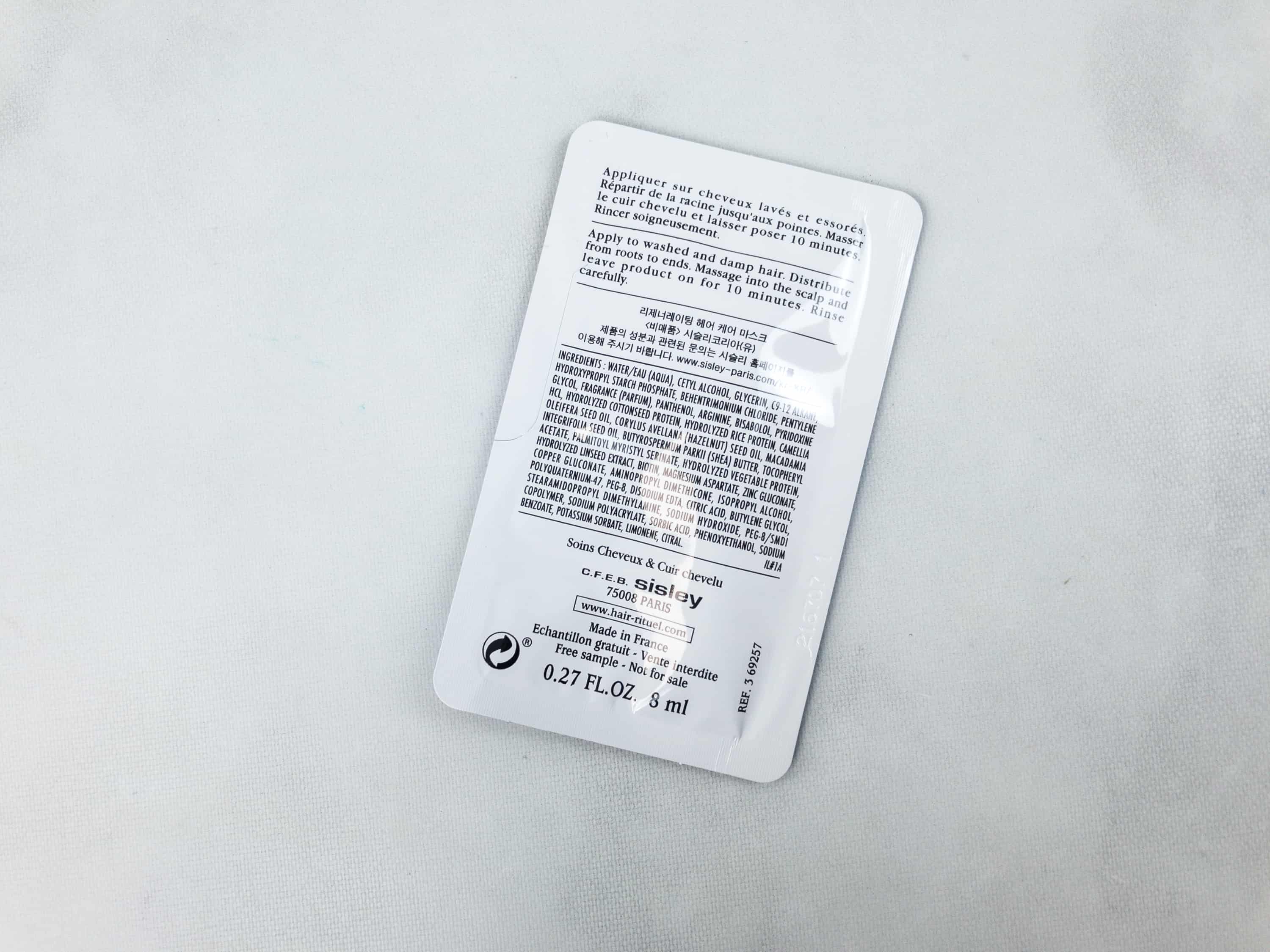 Just apply to washed damp hair, distribute it from roots to tips and massage into scalp and leave the product for 10 minutes. Rinse it carefully and hair is promised to be stronger, softer, and shinier.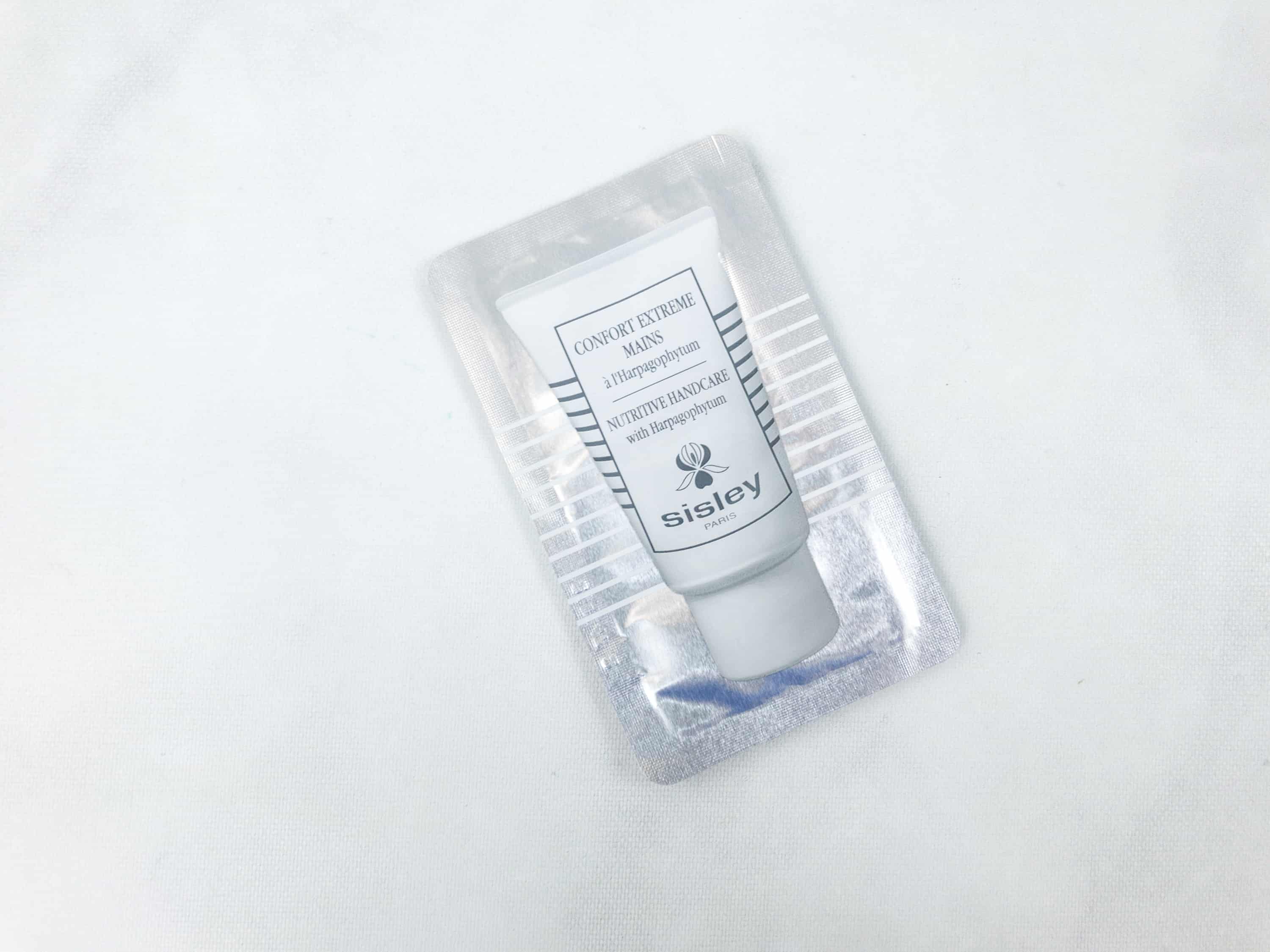 Sisley Nutritive Handcare ($5.60) This must be my favorite out of the bunch. It's a complete hand care treatment that combines hydration, nutrition, repairing, and protection. It has a nice floral scent and has a rich consistency but gets absorbed by the skin easily.
Ingredients include plant extracts like harpagophytum – a moisture retaining plant which is known for its soothing and softening properties. Natural ingredients also offer a long-lasting protection and then finishes with a silky feel on your hands.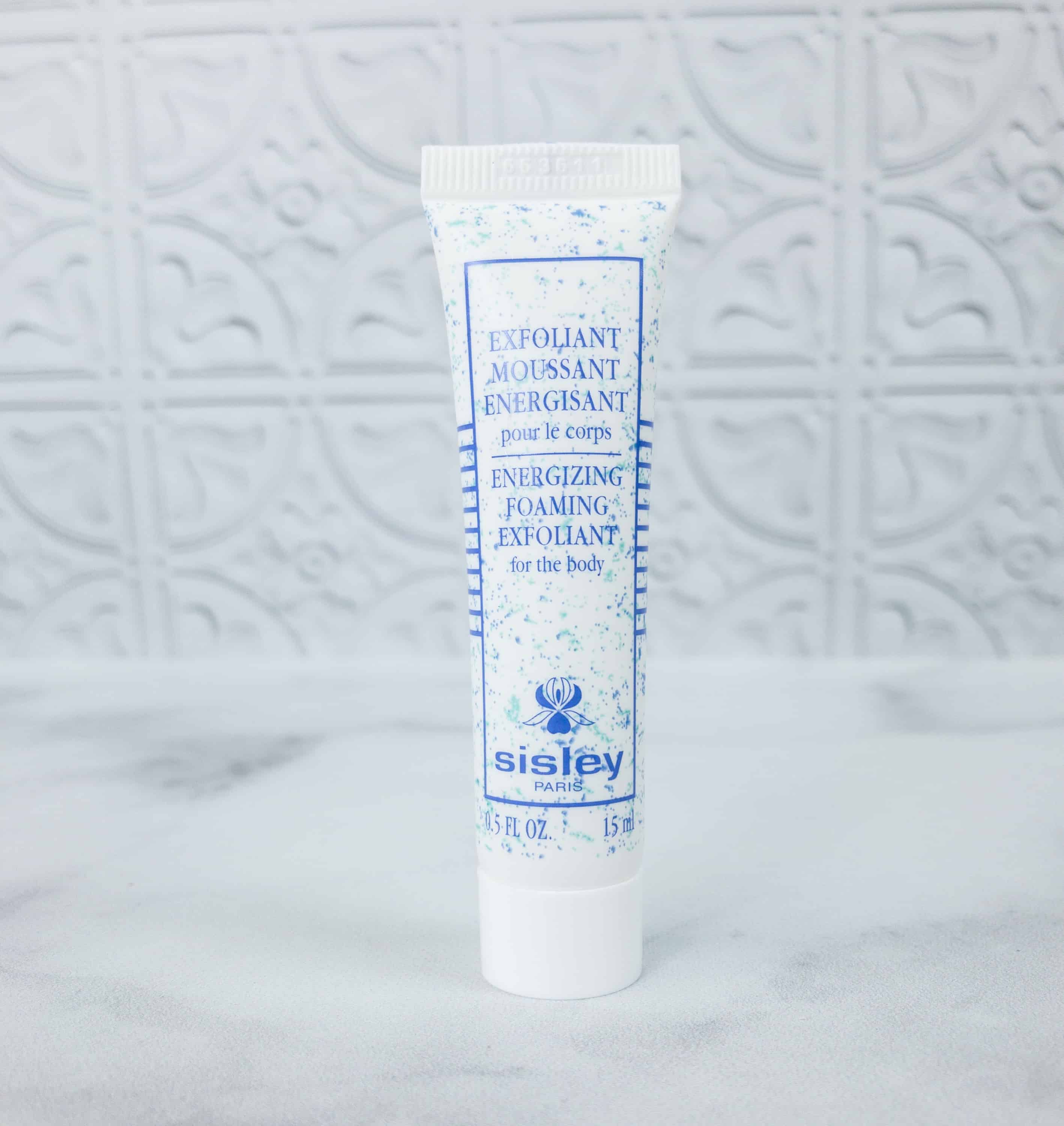 Sisley Energizing Foaming Exfoliant For The Body ($9.90) Combining the benefits of essential oils (lavender and rosemary), plant extracts, and microbeads (eeek! read on), this exfoliant aims to cleanse and eliminate dead skin cells, while toning and refining skin. The consistency is like a shower gel.
The only place I could find ingredient info on this product is Amazon.  Not only did I find plastic microbeads (polyethylene) I also found parabens. Sad. Tossing. (Remember don't release it into to the water system, just toss it out.).
Sisley Eau De Campagne Body Lotion ($9.20) I'm loving the light feel and scent of this body lotion! It has a fluid invigorating emulsion consistency that provides long-lasting hydration for the skin.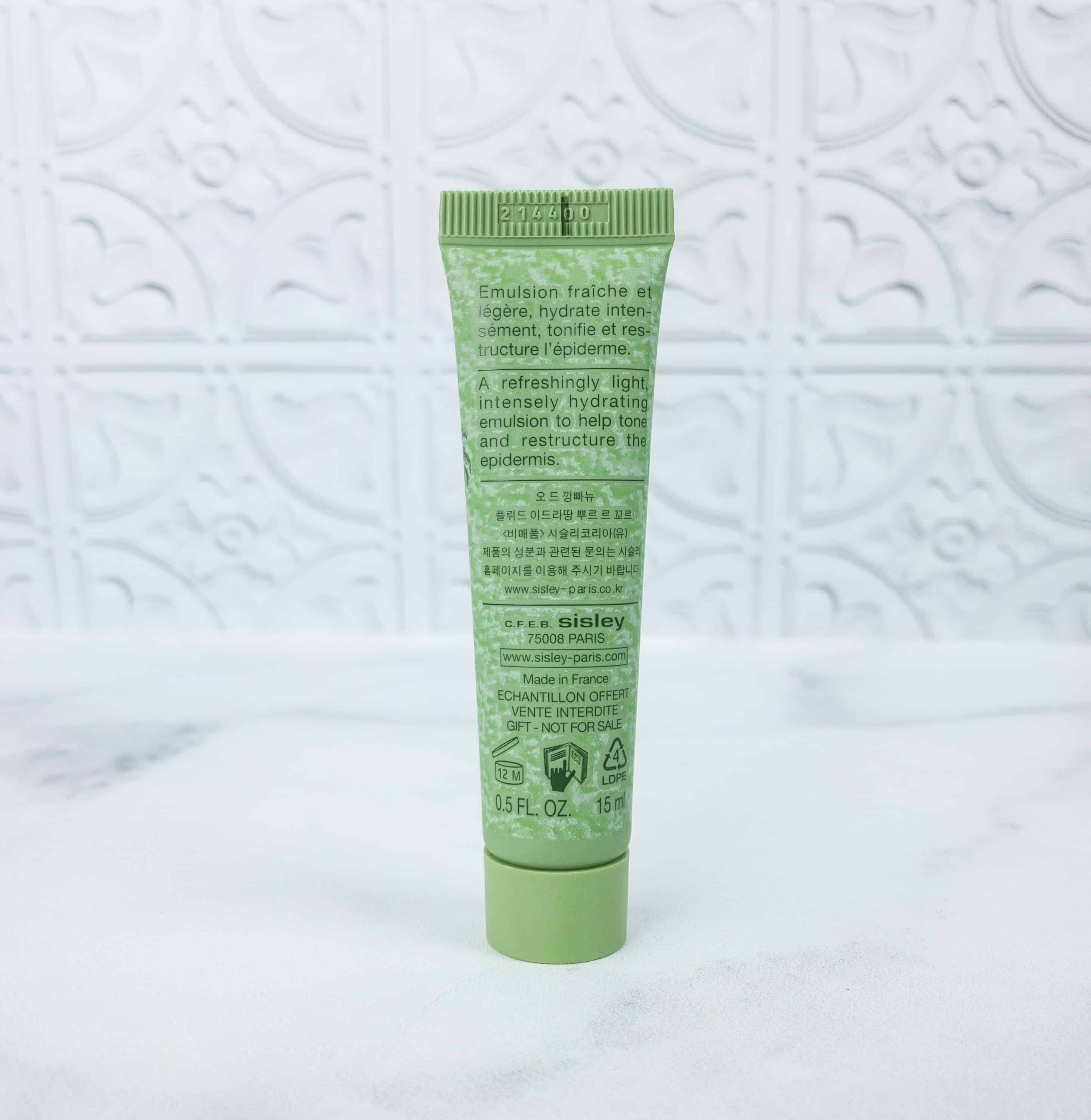 It has a subtle fragrance of chypre, grassy, and citrus notes of Eau de Champagne. There are oils like Butcher's Broom, sesame, and olive oil that allows it to be easily absorbed by the skin. I found a foil packet ingredients photo that shows that this product contains parabens – I'm starting to get a bad feeling about this box!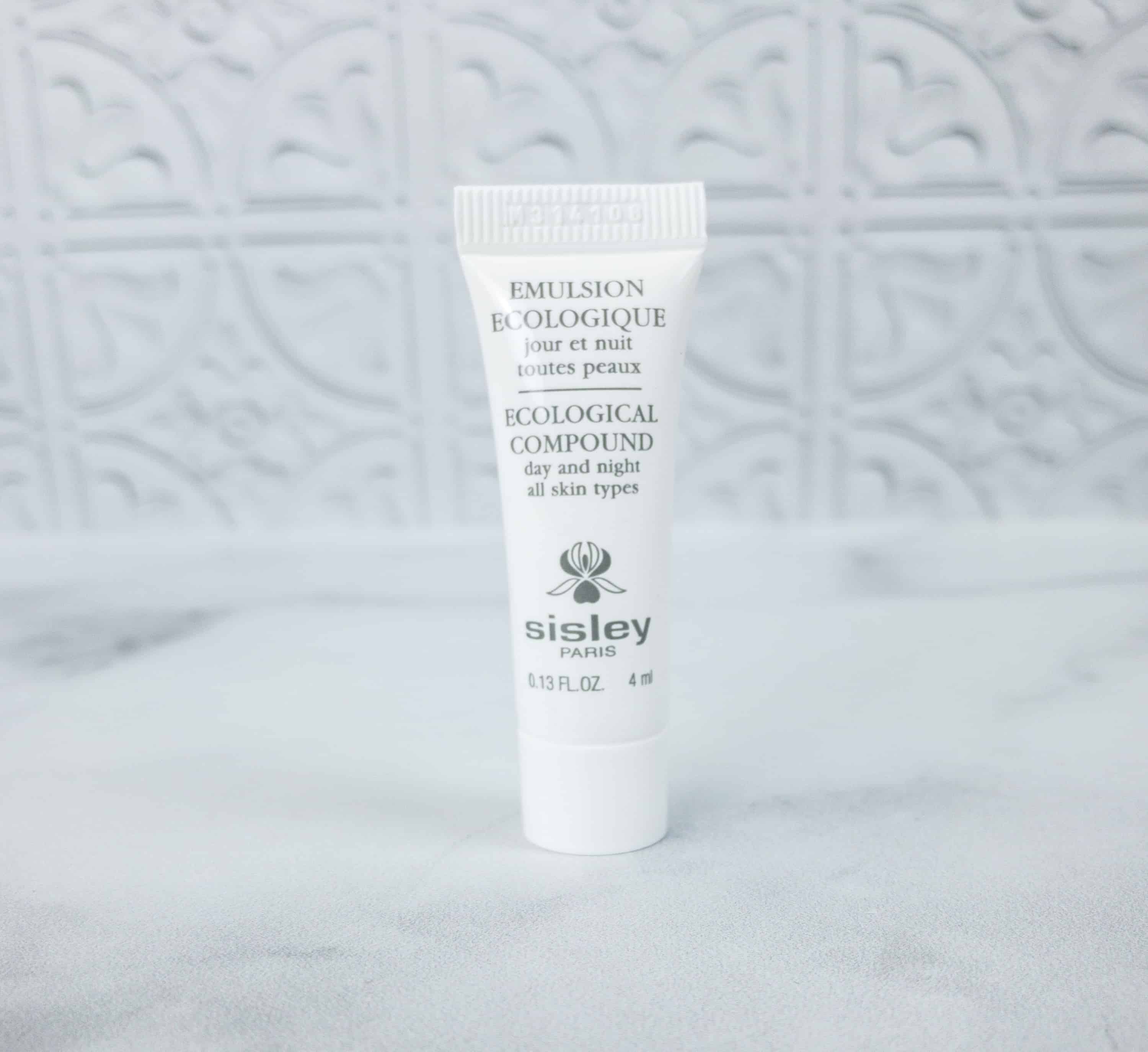 Sisley Ecological Compound ($8) It's an essence emulsion formulated with a selected synergistic compound of plants for their stimulated and revitalizing actions. The formula hydrates your skin, restores comfort, and radiance while helping fight off environmental stress to restore skin's nourished state.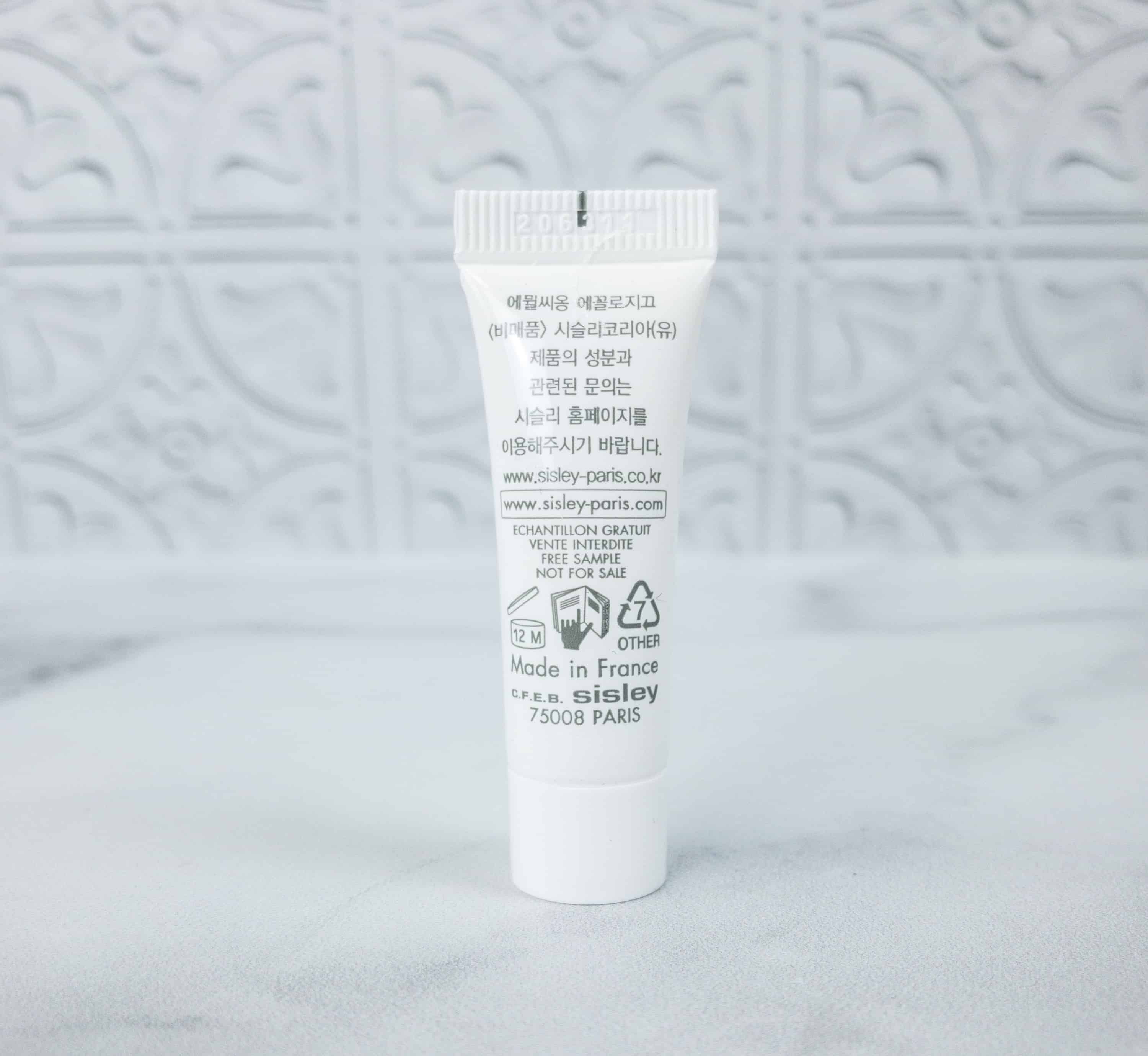 It can be applied whether in the morning or at night. Its fluid and non-greasy texture leave skin with a matte appearance too. Unfortunately, after some searching I discovered more parabens.
I was mostly disappointed in this box – 3 products with parabens, and one that also uses deadly microbeads? It's a hard pass from me!
What do you think of the Sisley Paris subscription? Have you tried any products from this company before?
Visit Sisley Paris Beauty Box to subscribe or find out more!