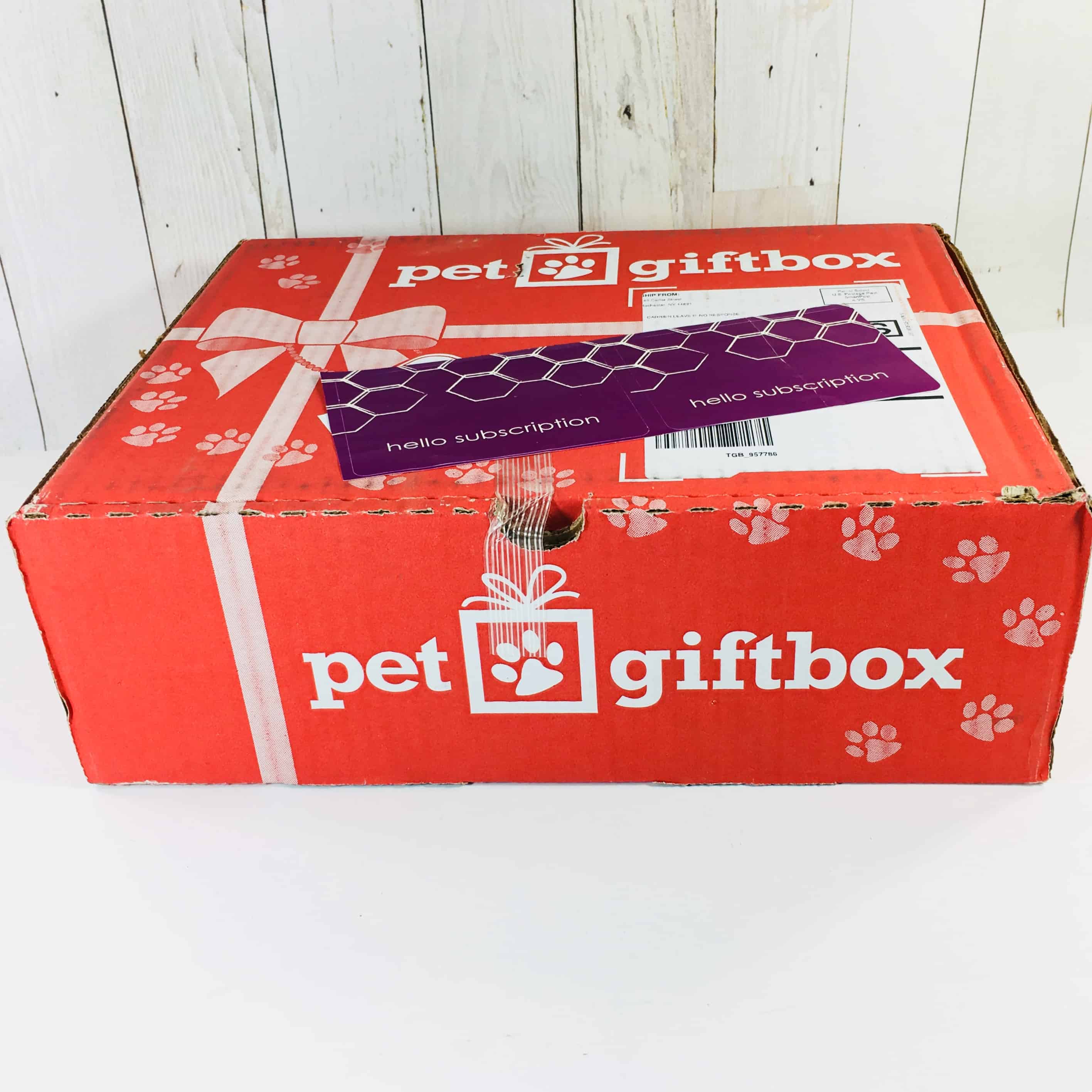 PetGiftBox is a monthly subscription box for dogs or cats. A selection of toys, treats, chews and accessories are included based on your pet's size. With each purchase you can earn points to redeem for free boxes and other great goodies. Plus, each purchase helps feed 10 rescue pets! PetGiftBox costs $25 for a monthly subscription, and you can also sign up for a full year or just buy a one-time box.
DEAL: Save 50% on your first box! Use coupon code HELLOSUB50.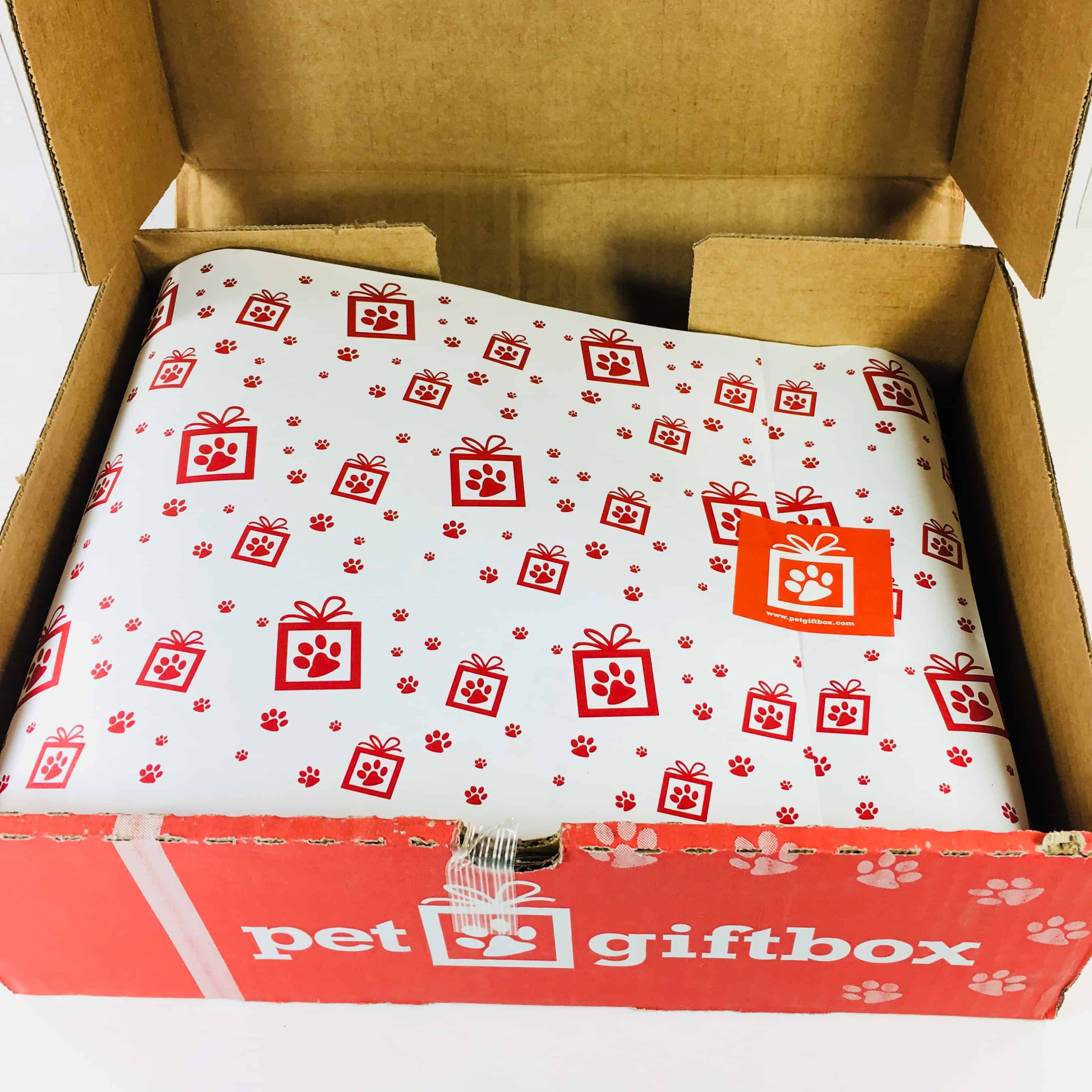 Look at the cute paw print paper and sticker!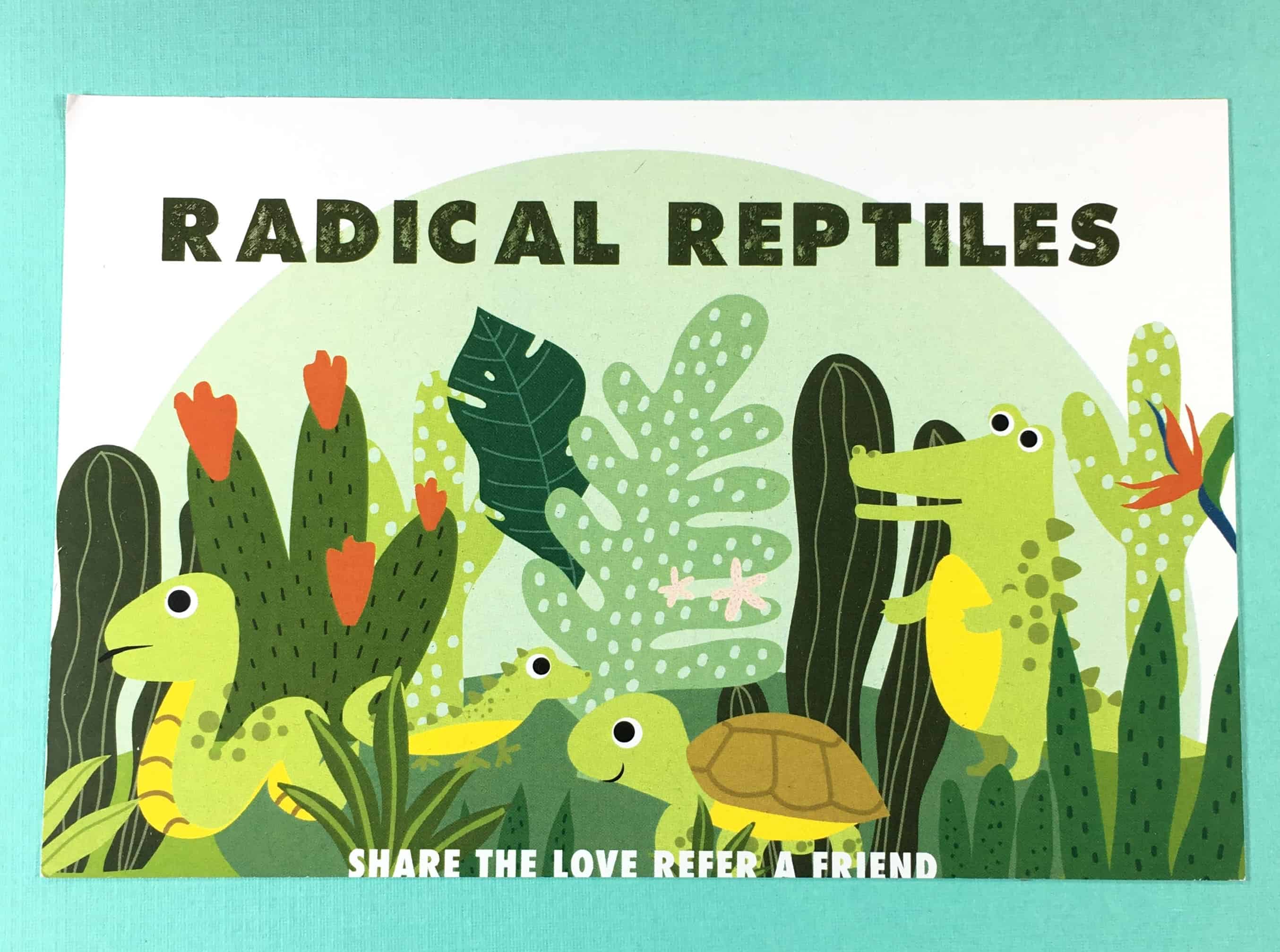 April's box theme was Radical Reptiles!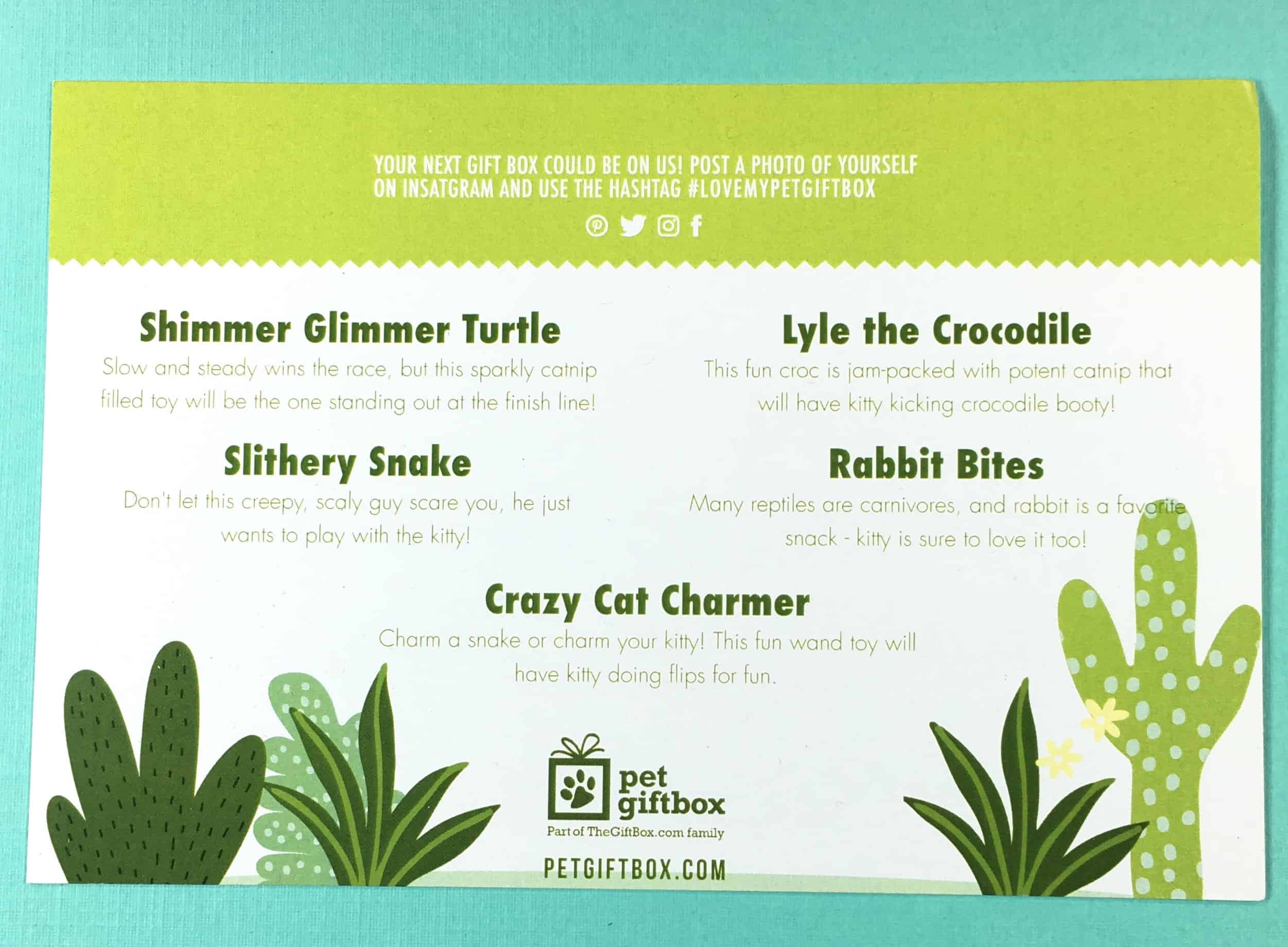 There was some brief info on each item at the back of the card.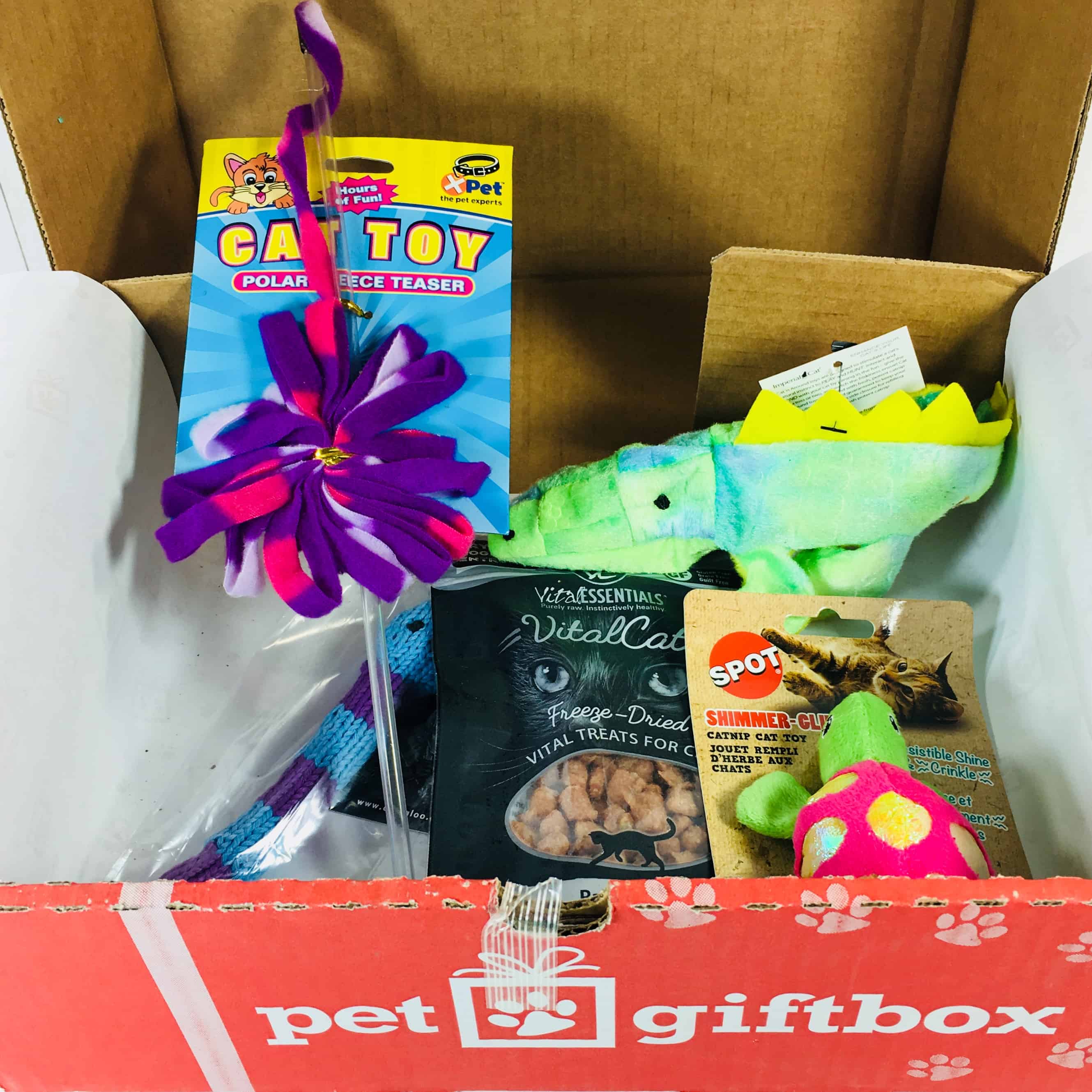 All the items in my April PetGiftBox!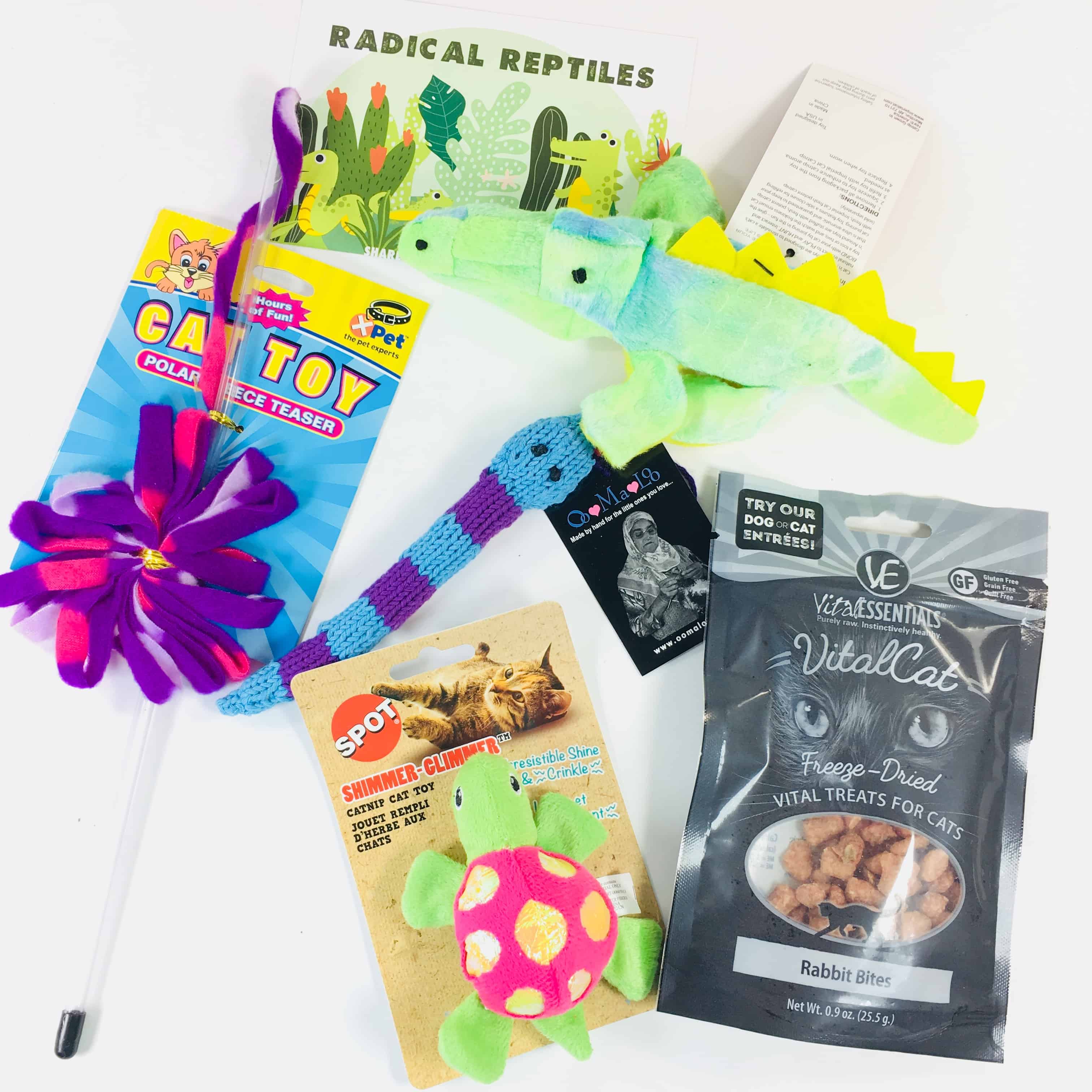 I love this theme!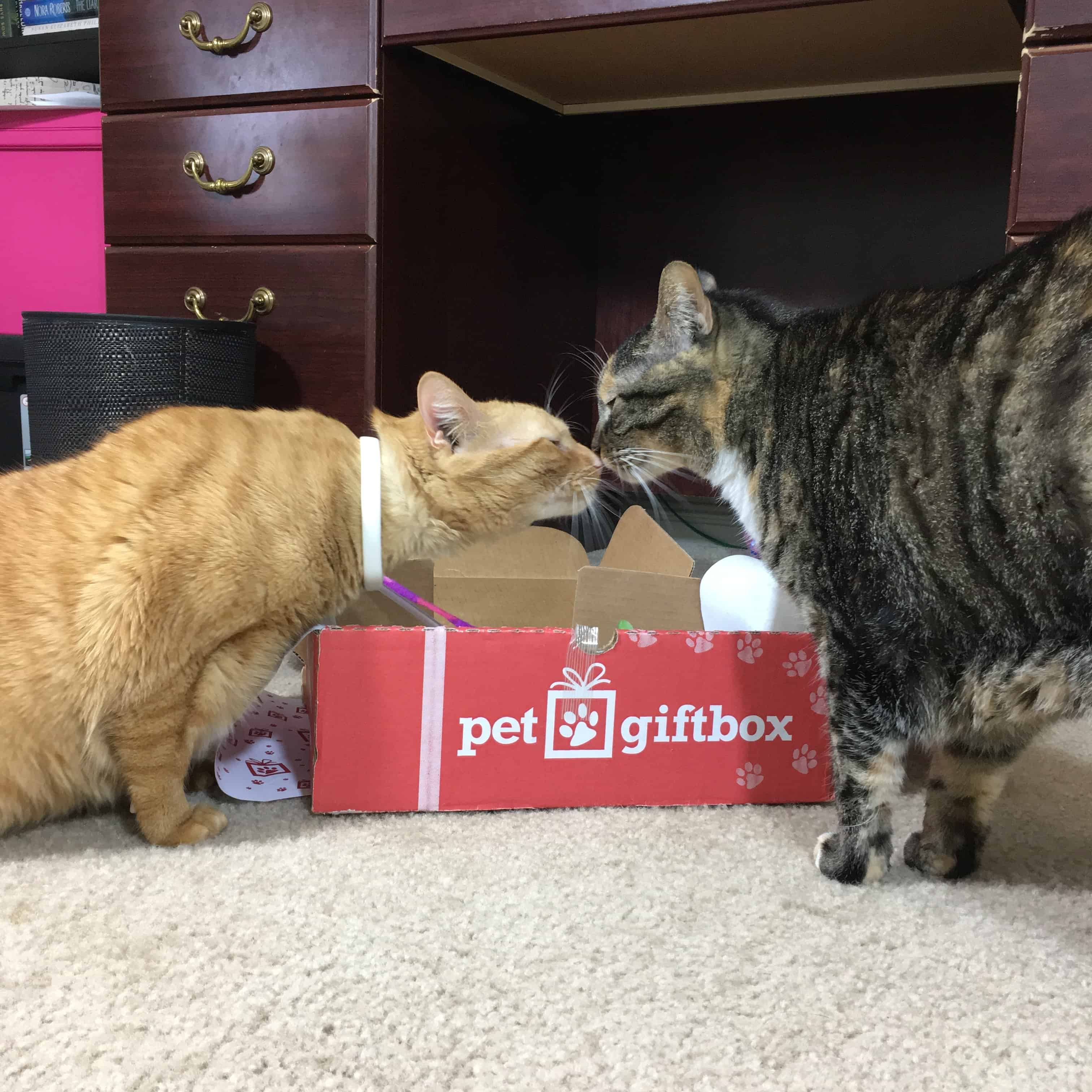 Aww, my sweet kitties are Sunny and Zoey. Sunny is much more playful than Zoey, who is also a lot older.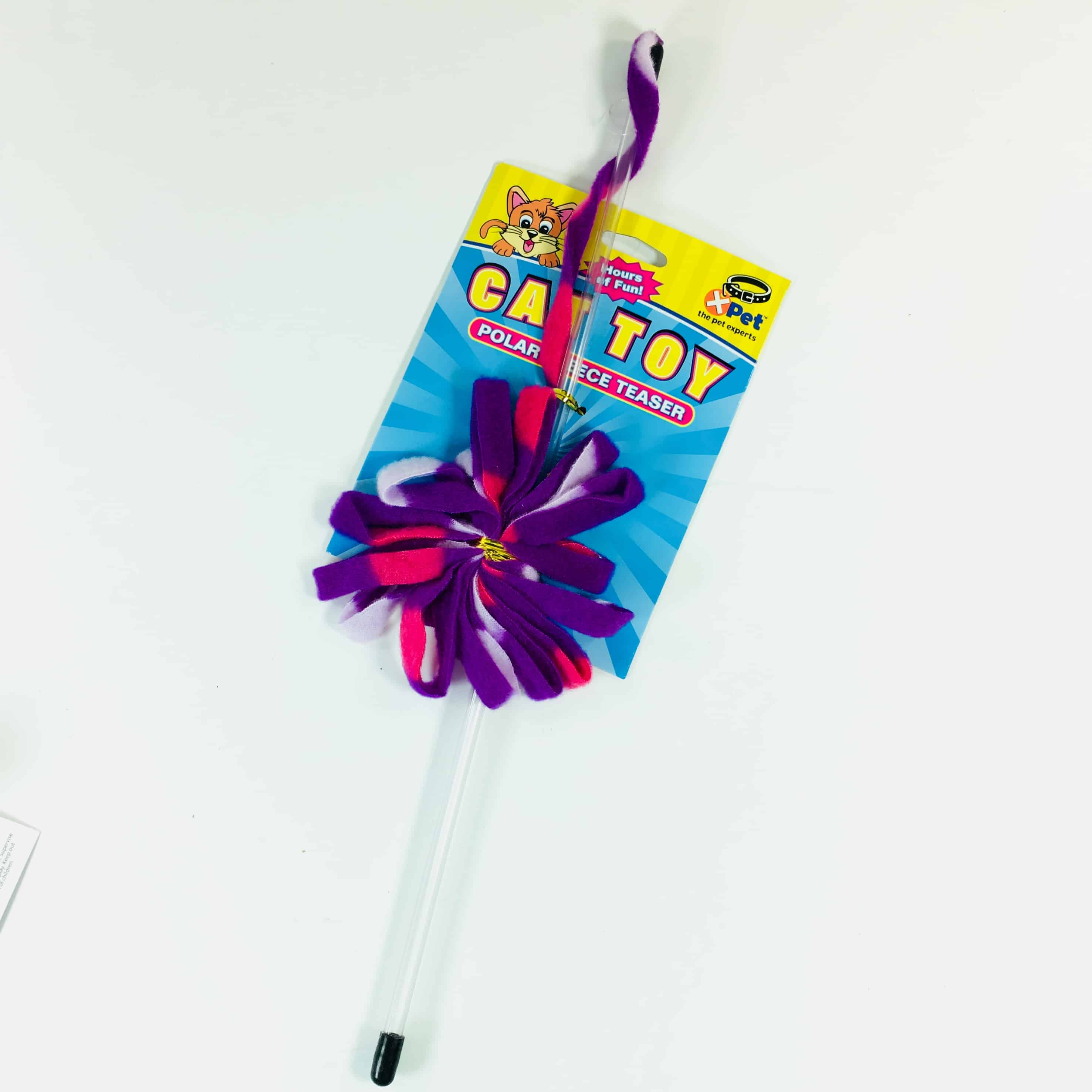 XPet Polar Fleece Teaser Cat Toy was the clear winner in this box!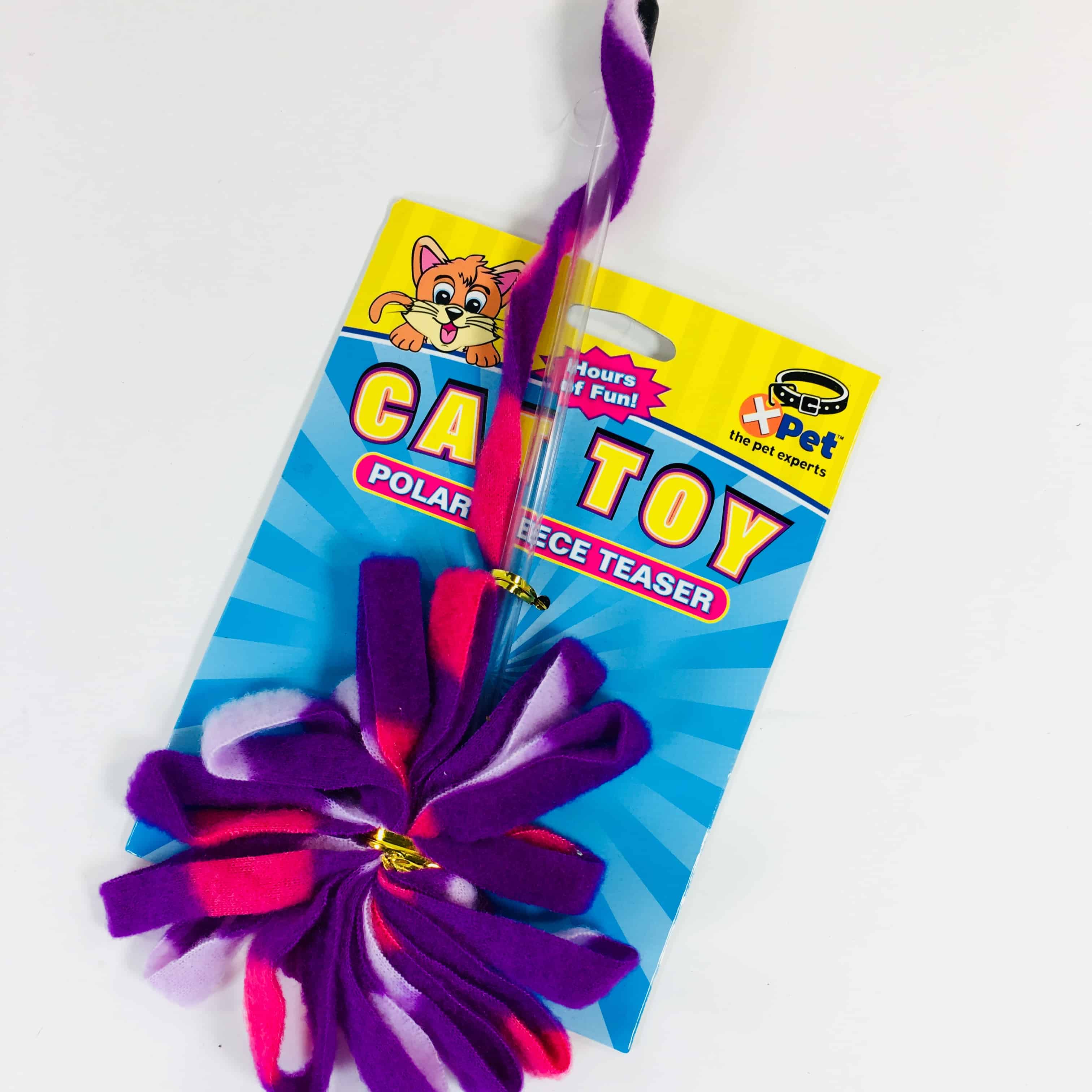 It's basically polar fleece attached to a wand.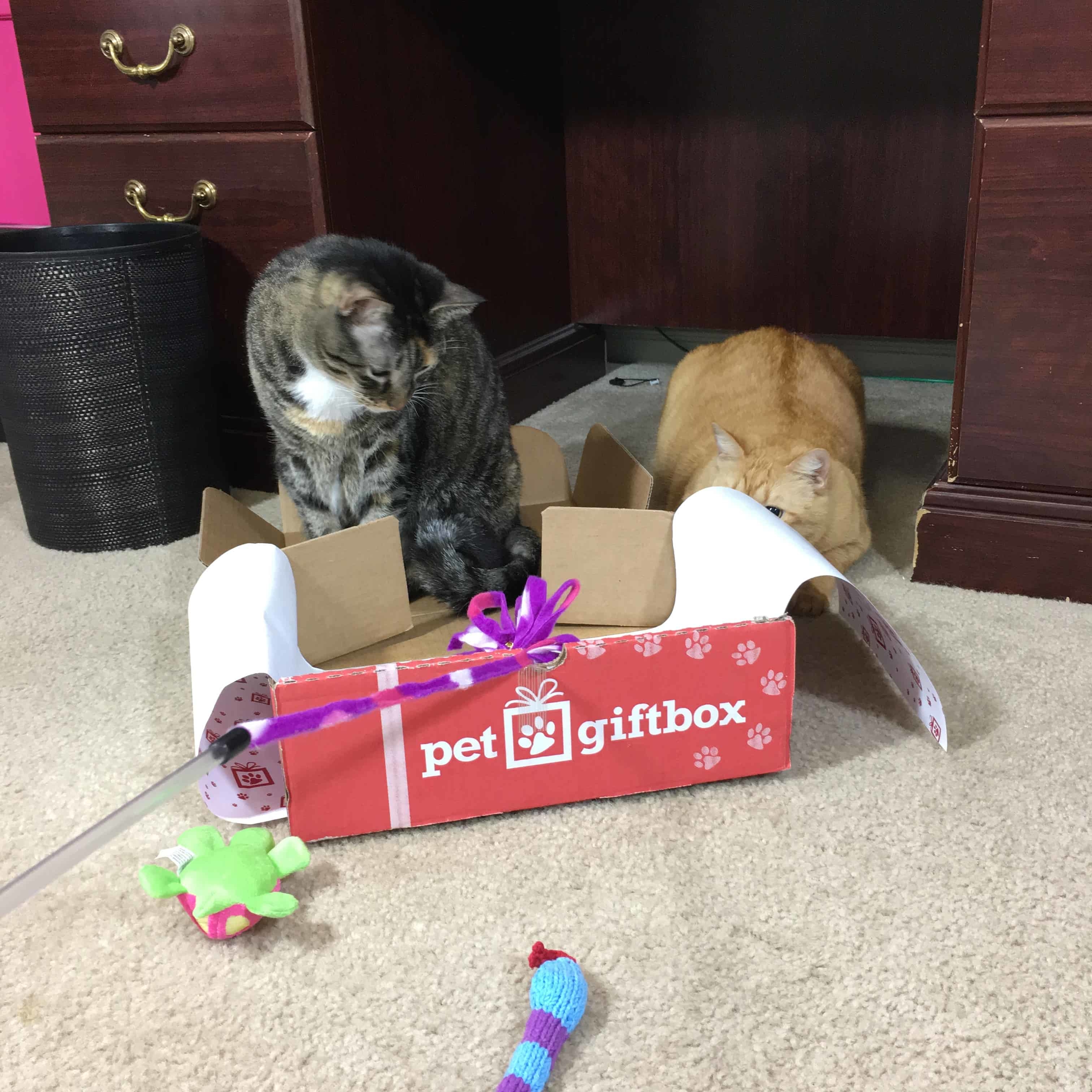 Sunny gets ready to pounce.
Gotcha!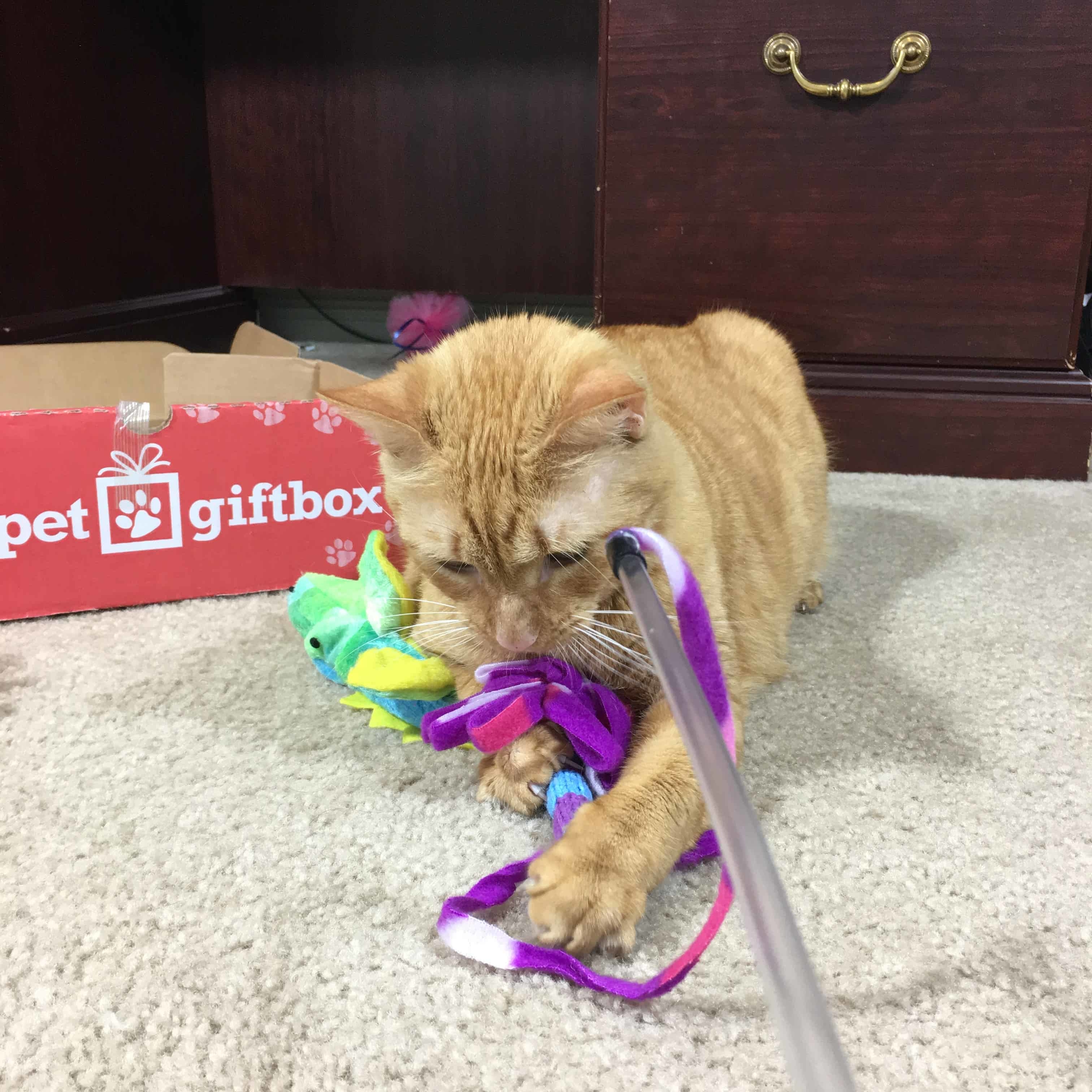 She was so into this toy!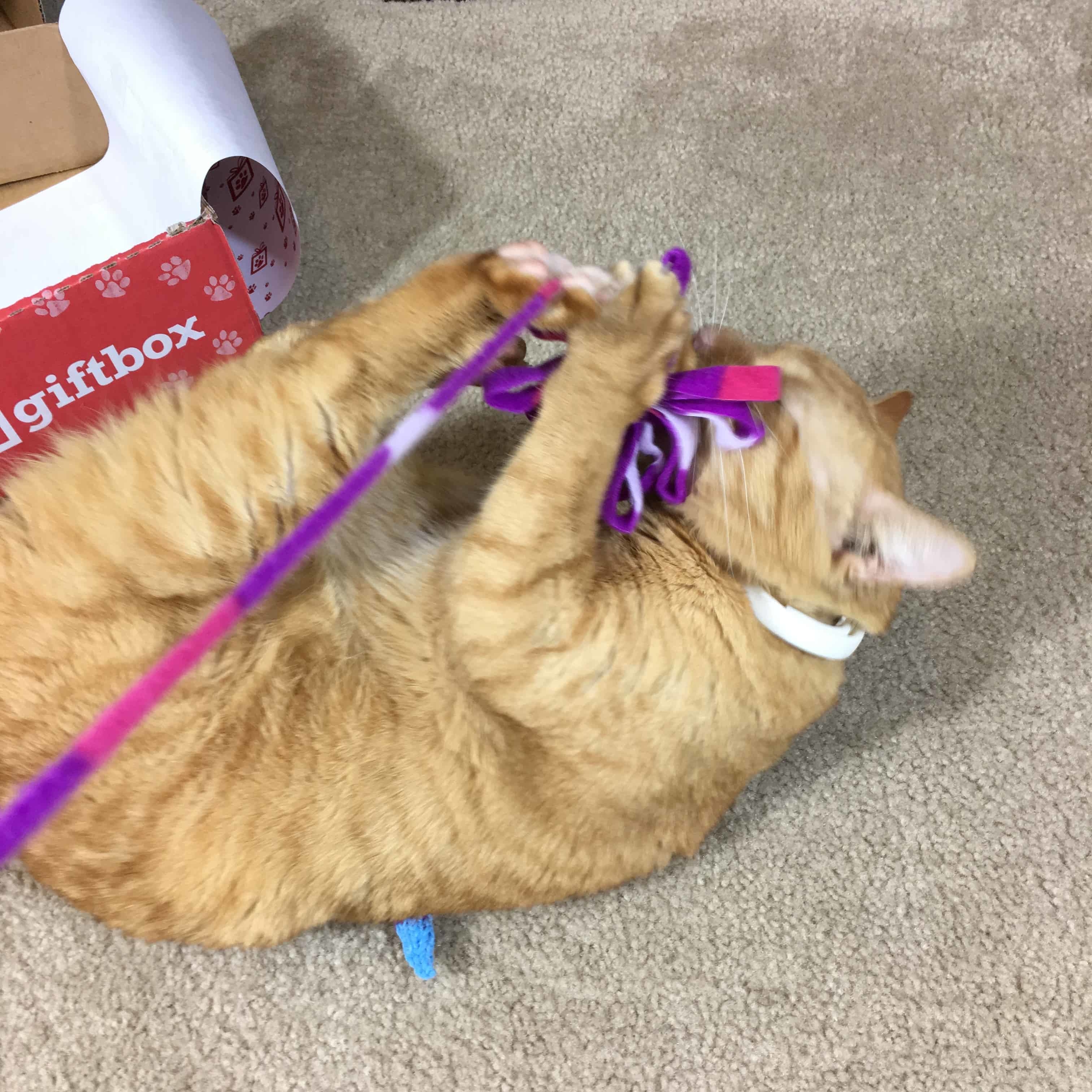 She rolled around with it…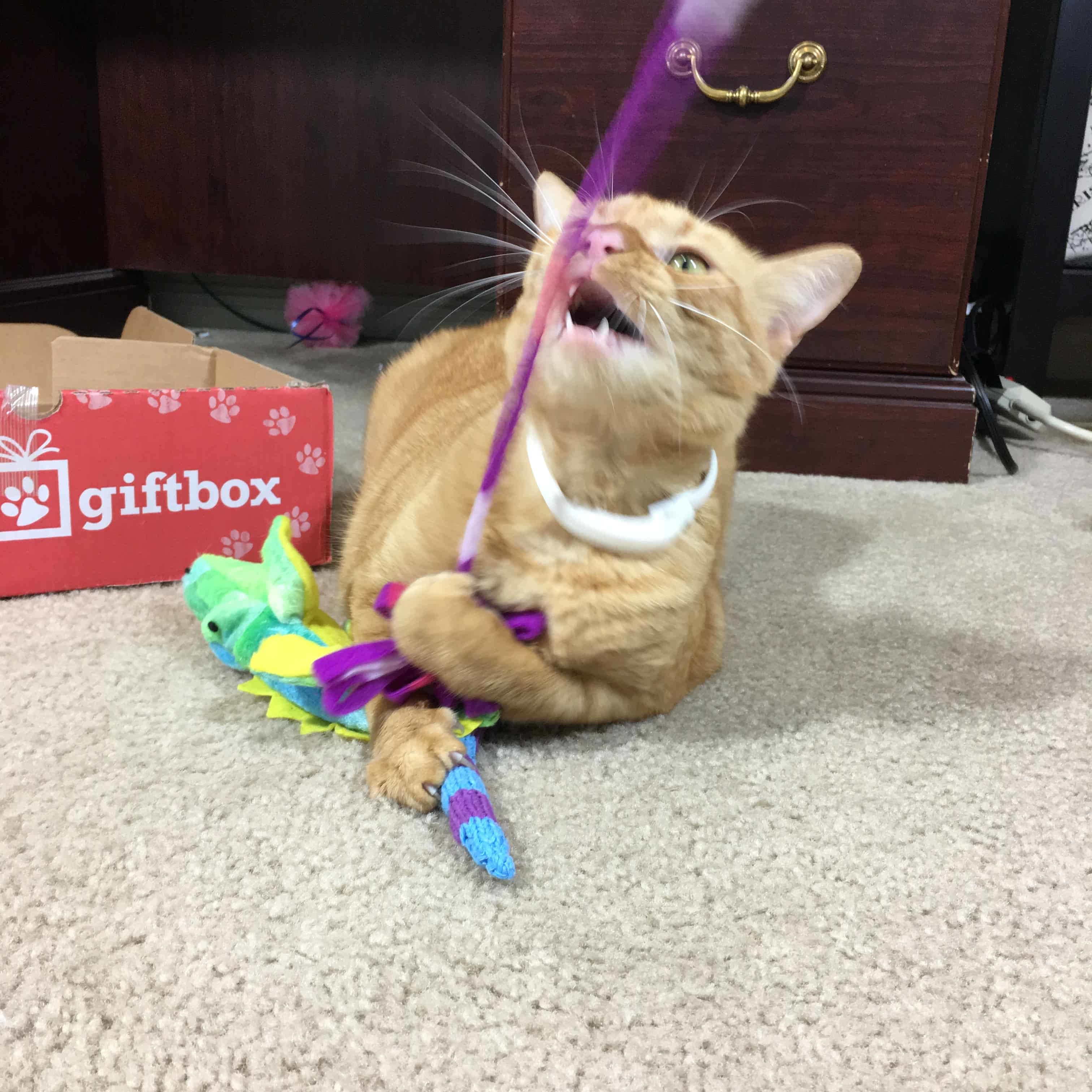 …bit it…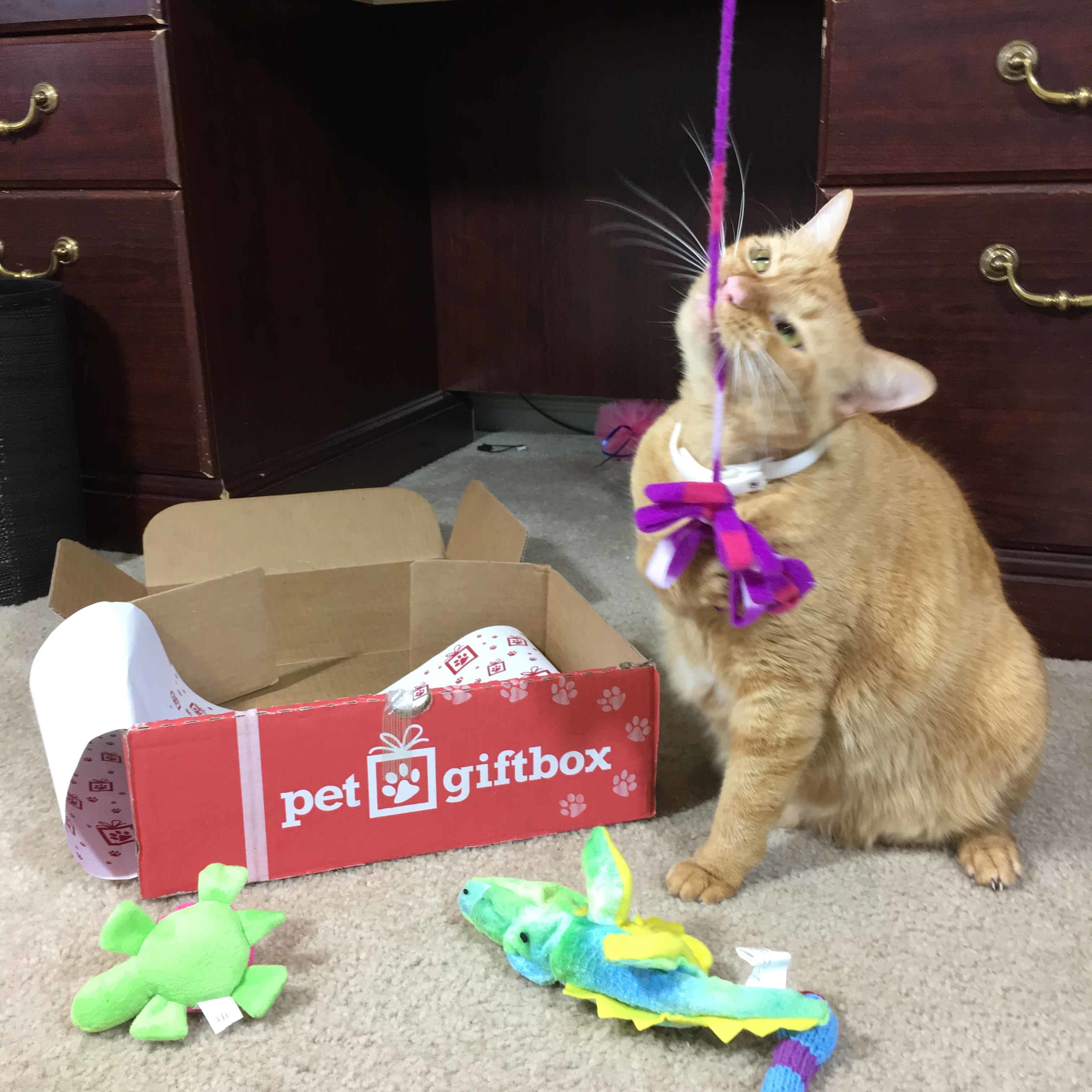 …pulled it…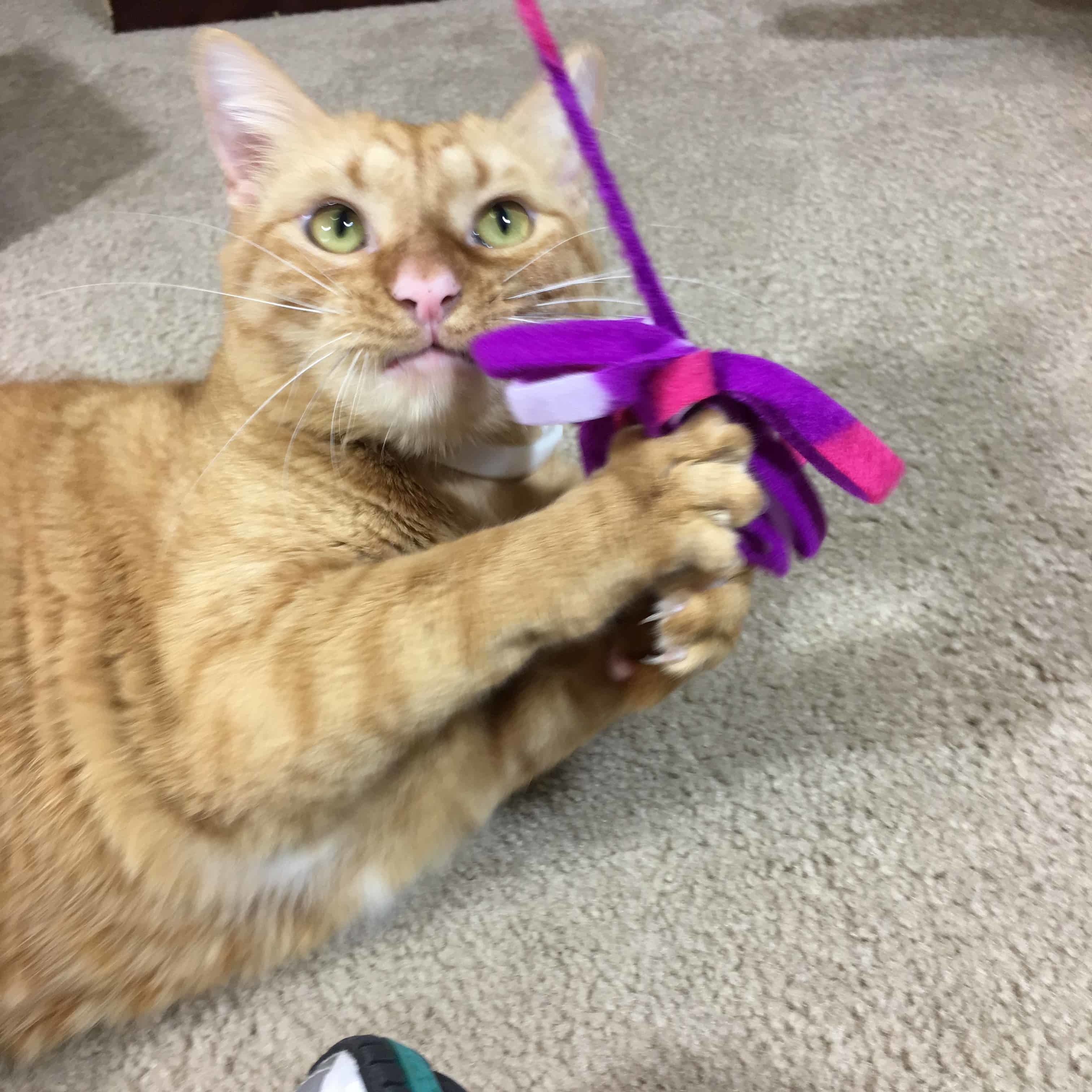 …and just had a rollicking good time!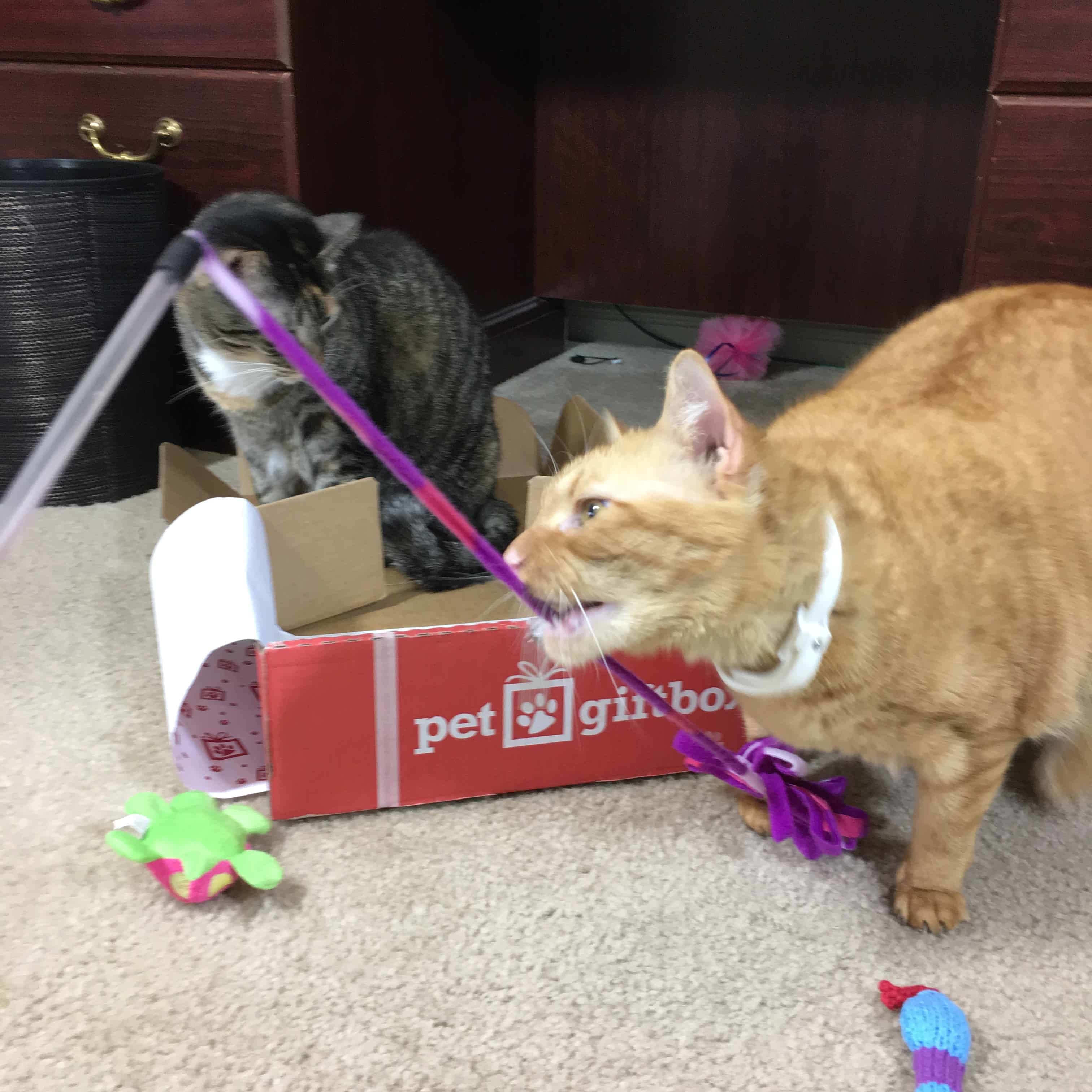 Fun!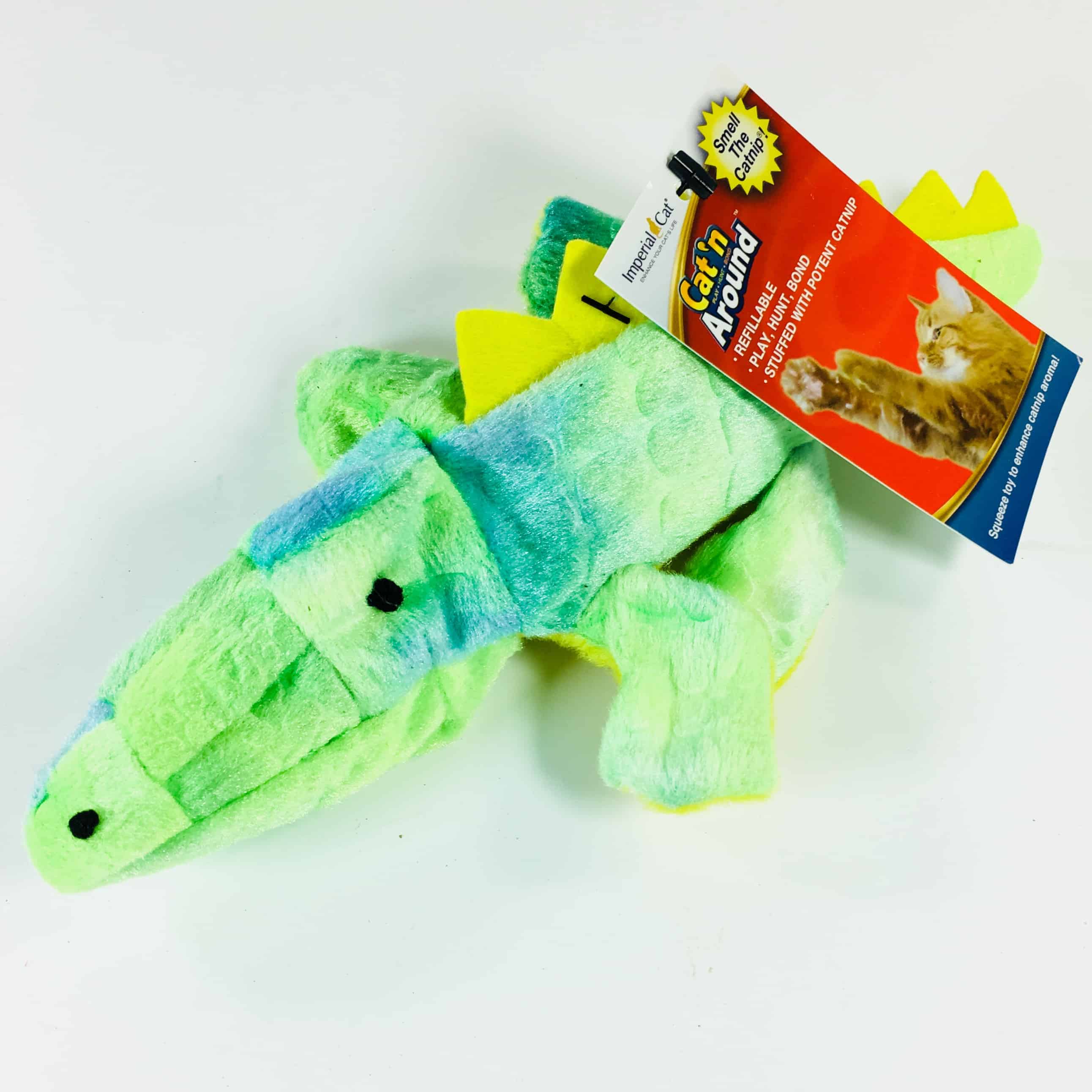 Imperial Cat Cat 'N Around Lyle Catnip Toy ($7.99) reminded me of a Beanie Baby, but with catnip. It is refillable so you can just open up his tummy and shove more catnip inside.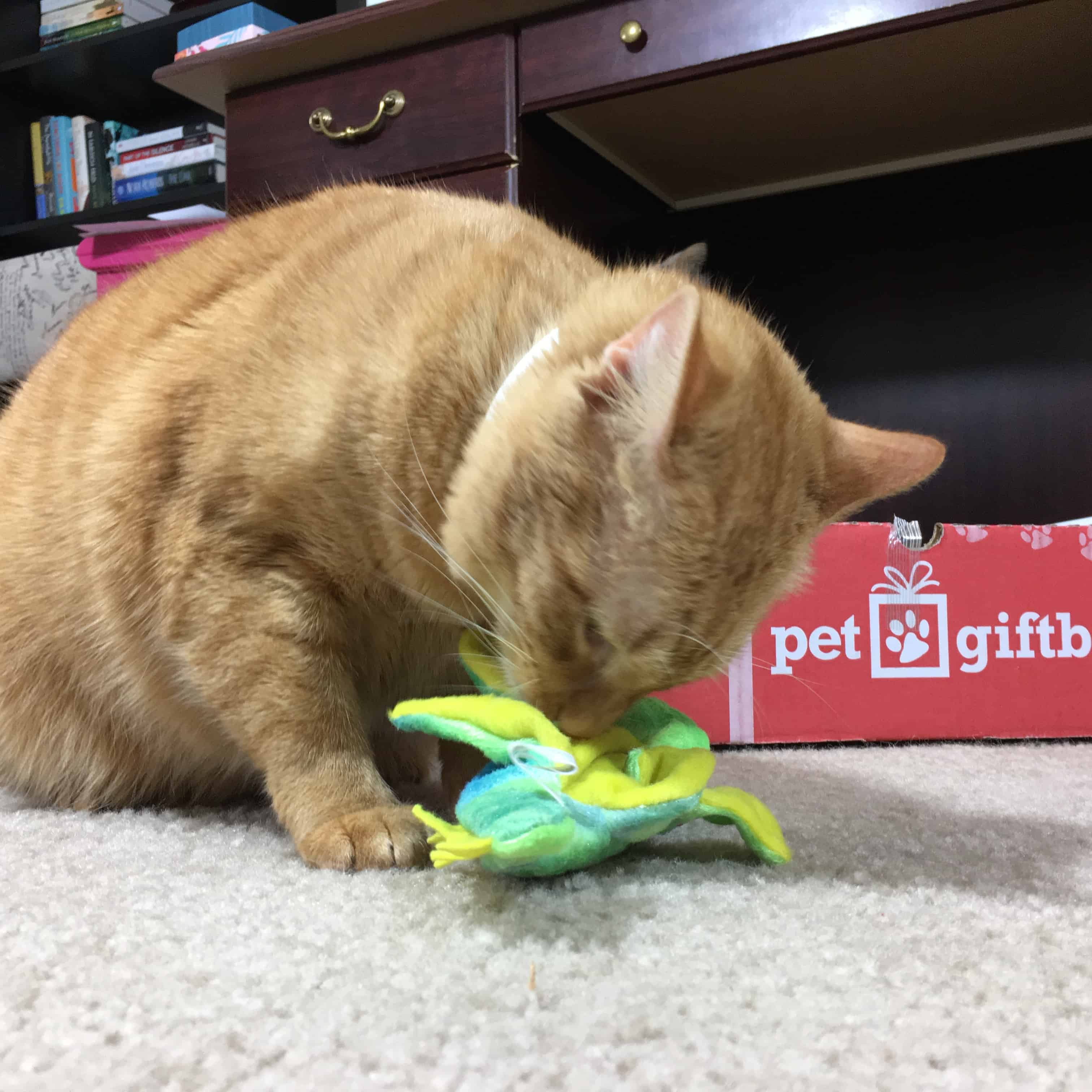 Smells pretty good to Sunny.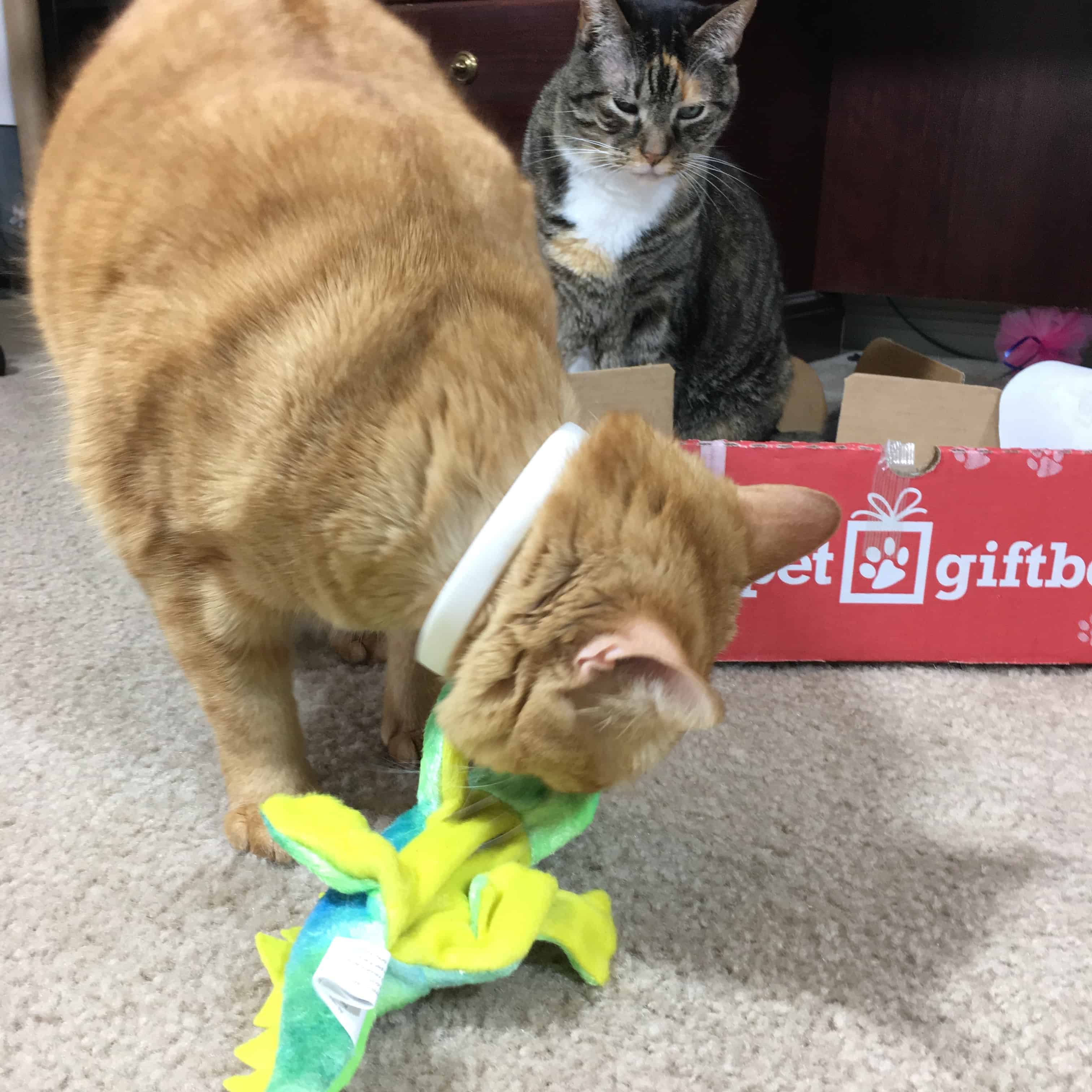 It was a winner! I think Sunny tried to open that tummy so she could eat the catnip but luckily she was no match for the velcro.
Spot Shimmer-Glimmer Catnip Cat Toy ($8.50) is a soft plush type of toy with crinkly bits. I didn't get a picture of my cat playing with it. I think it was overlooked during the fleece toy frenzy.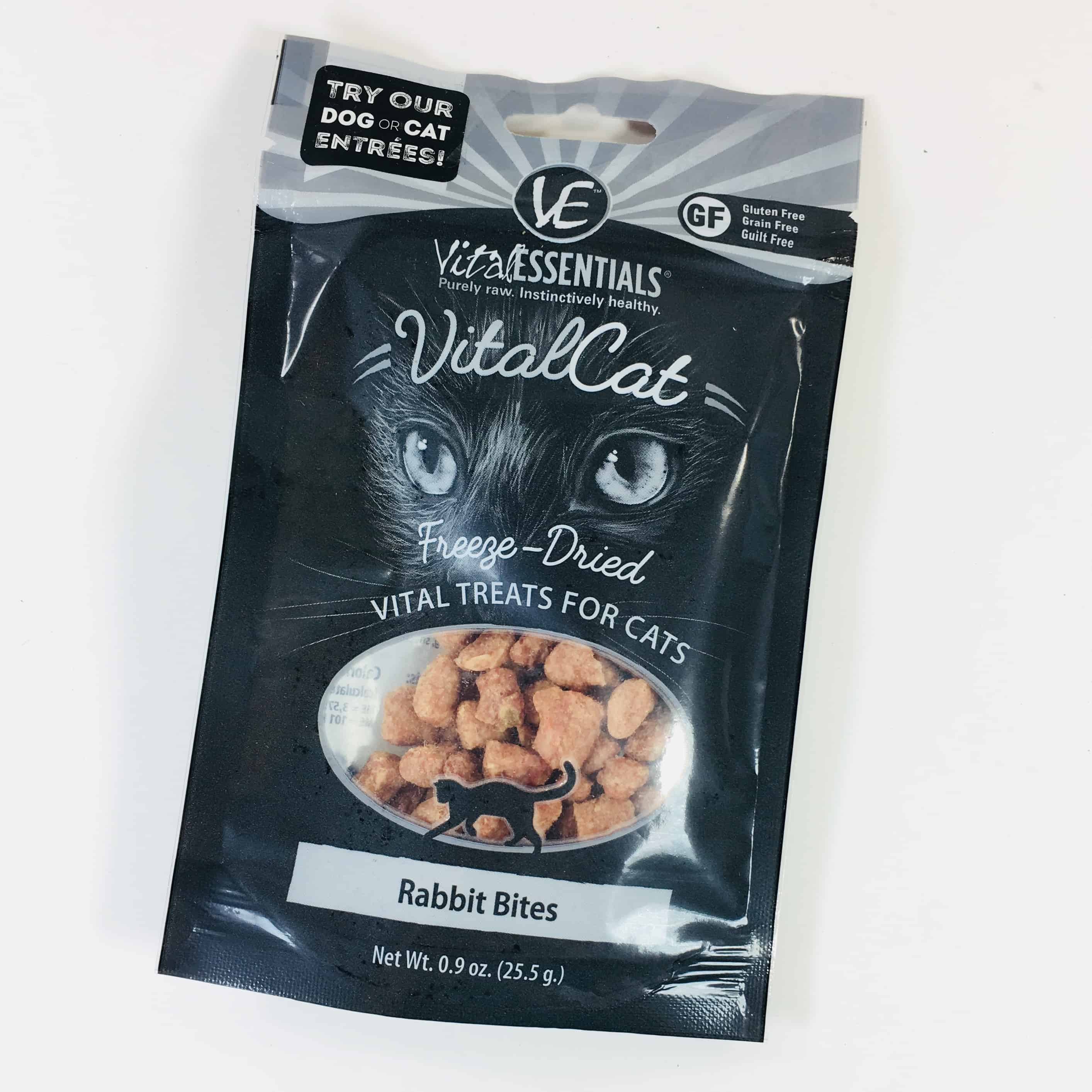 Vita Essentials Cat Freeze-Dried Vital Treats in Rabbit Bites ($8.75) are made of just freeze-dried rabbit. Or as the ingredients list says, "rabbit, rabbit liver, rabbit kidney, rabbit heart."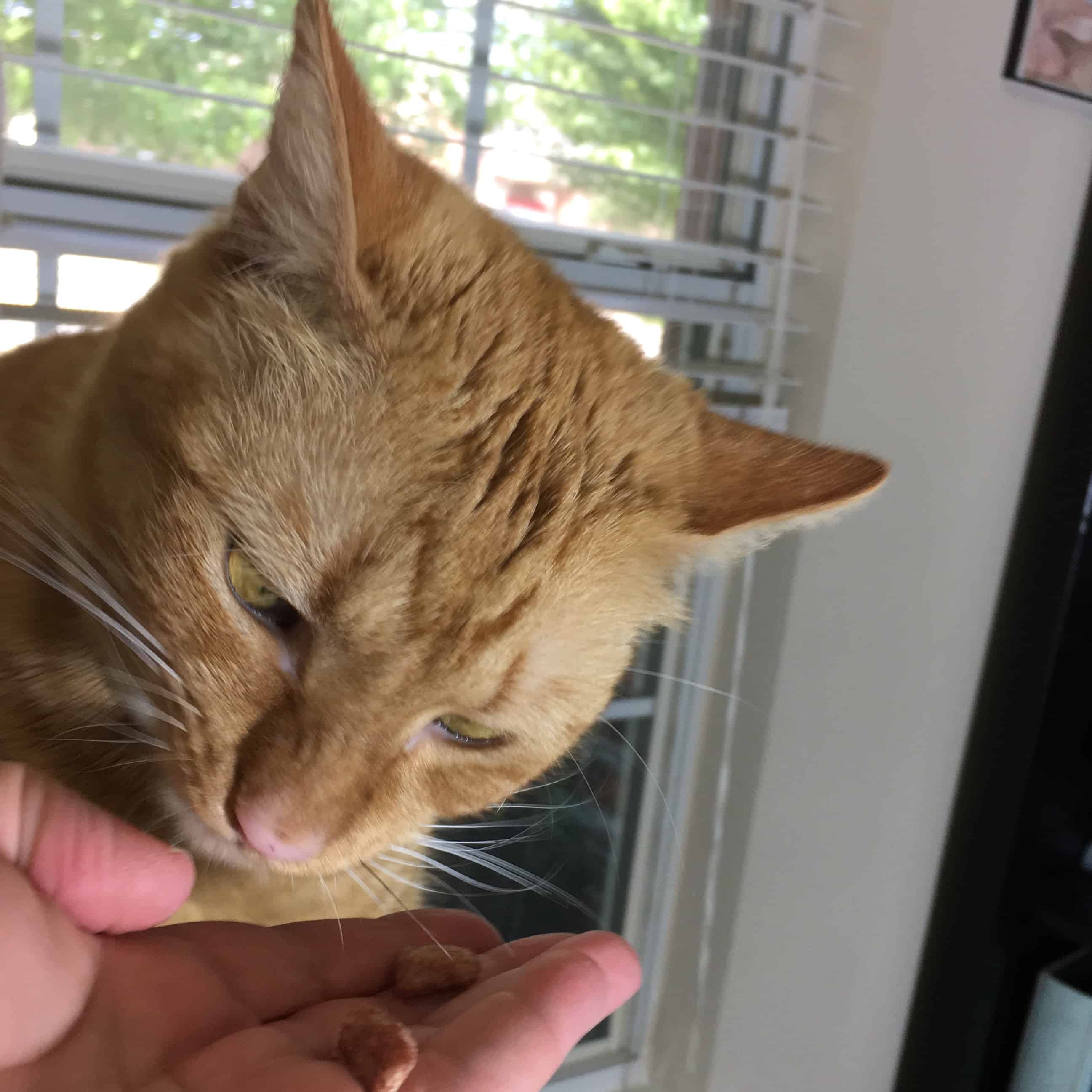 Sunny liked the smell of these treats.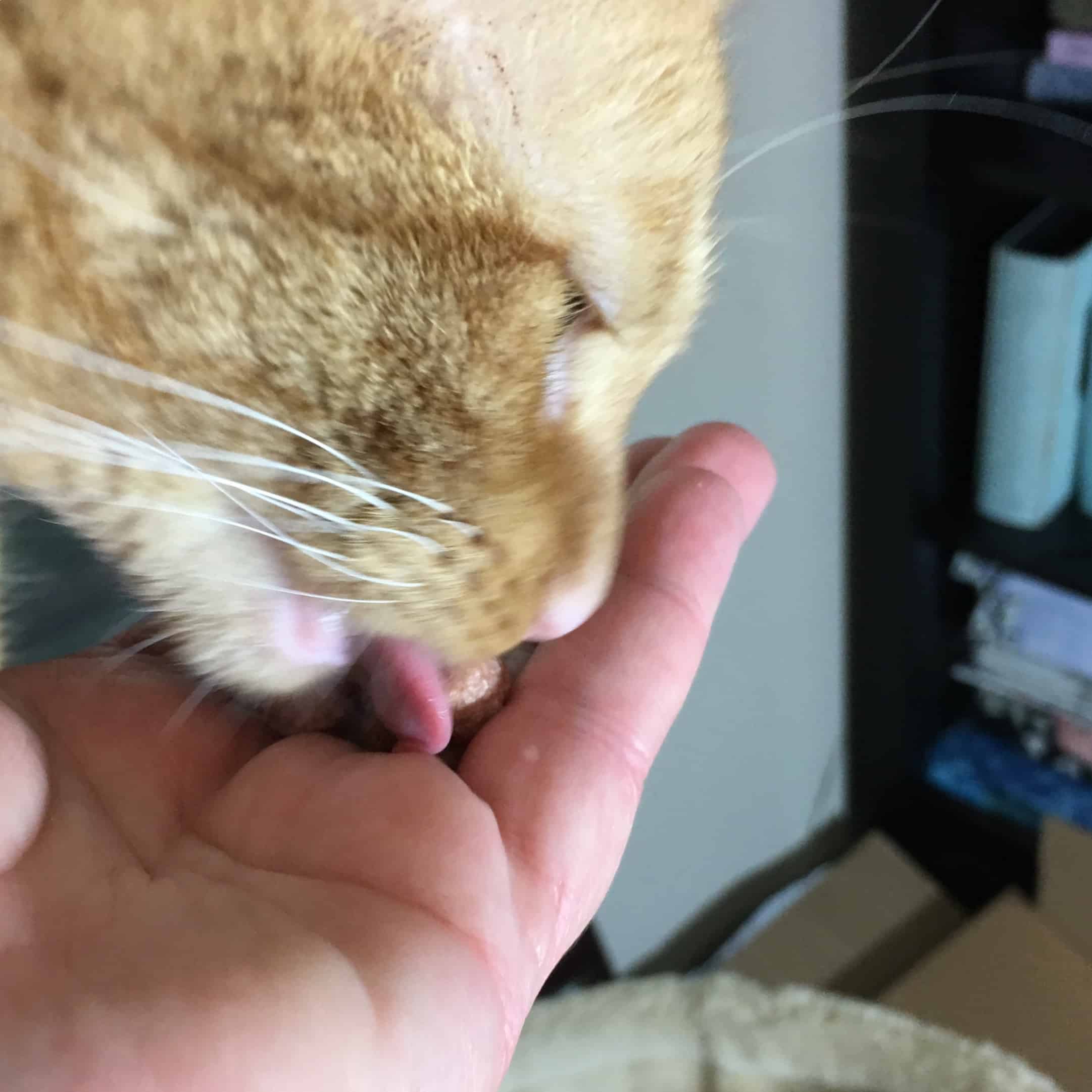 She even licked them, but wouldn't eat them. I tried again and she knocked them out of my hand. Neither one of my cats will eat treats from this brand.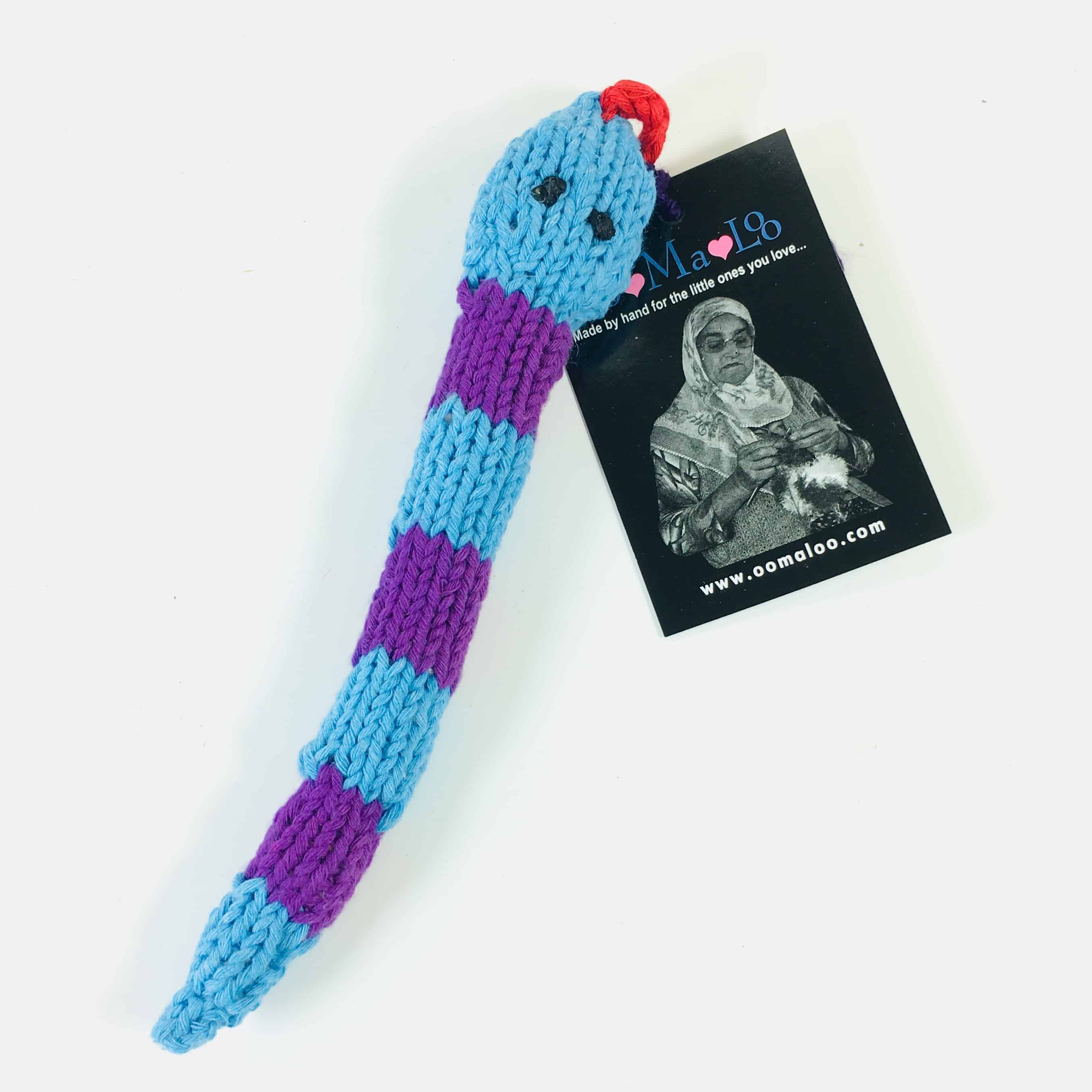 OoMaLoo Snake Cat Toy I couldn't find this item listed on the OoMaLoo website but the items are hand knit by woman who live in poor communities so they can provide for their families. It says on the card that it has catnip inside.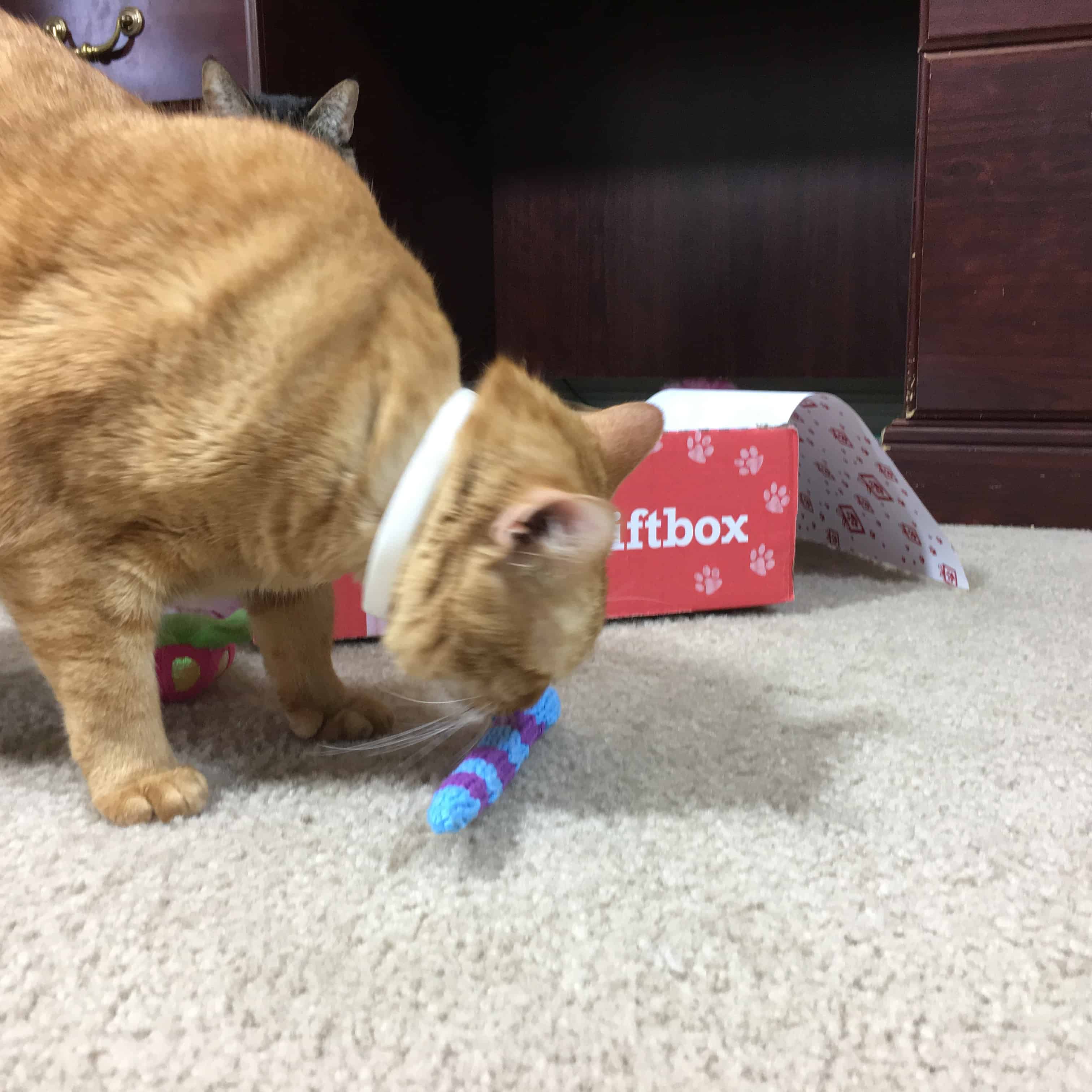 Sunny gave it a polite sniff but never played with the toy.
PetGiftBox sent a variety of playthings and I thought the theme was very cute! I loved teasing Sunny with the polar fleece wand, it was an all-time hit with her! The other items rounded out the box nicely. I leave the new toys strewn around the house so the cats can choose what they like and it's always fun to see which ones hold their attention in the long run.
Let me know what you think of this box in the comments!