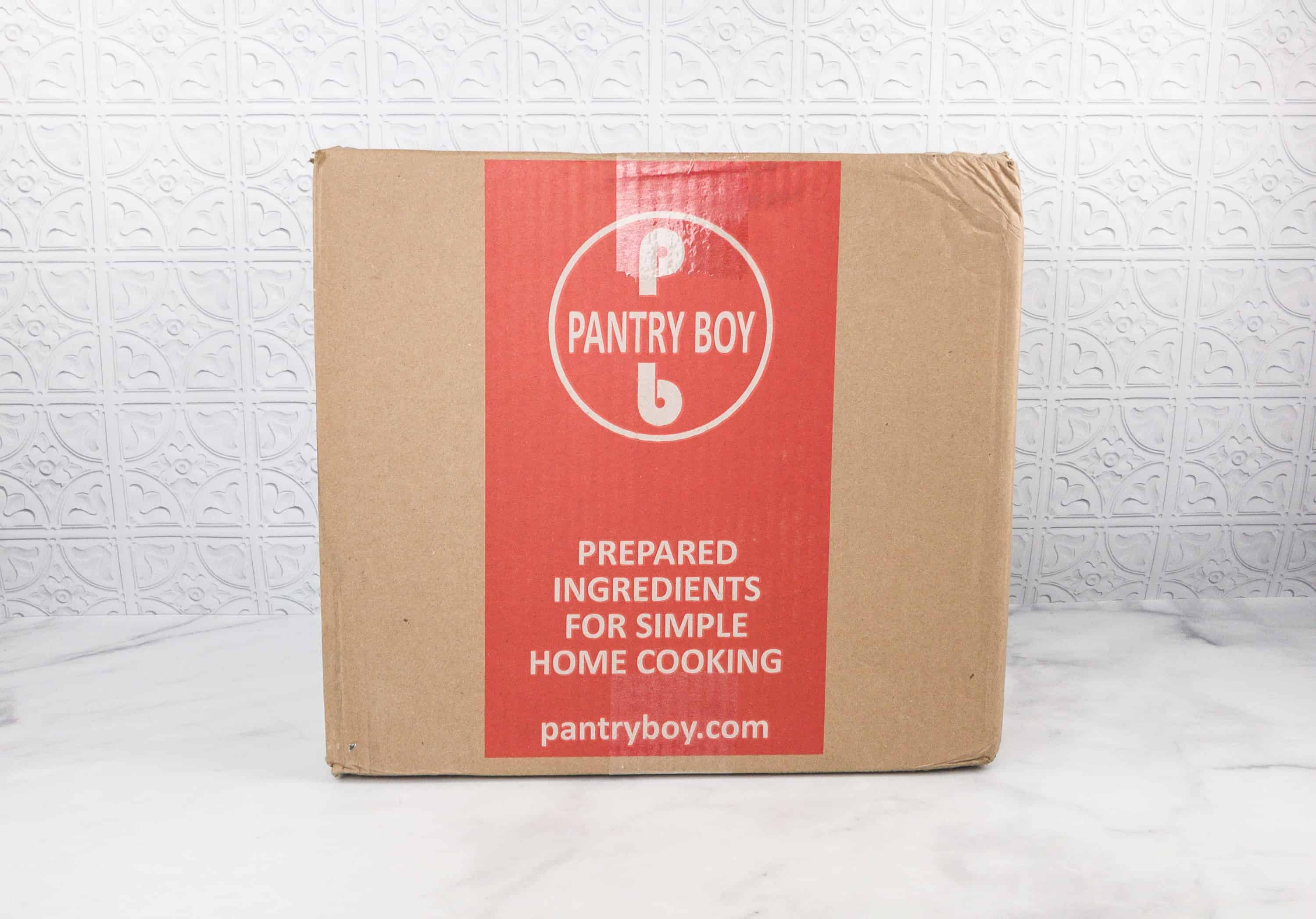 Each Pantry Boy box contains three delicious dinners for two or four people. Everything is chopped, measured, and marinated — in short, ready to cook when delivered. Their recipes are designed according to what's in season, while the ingredients are locally sourced.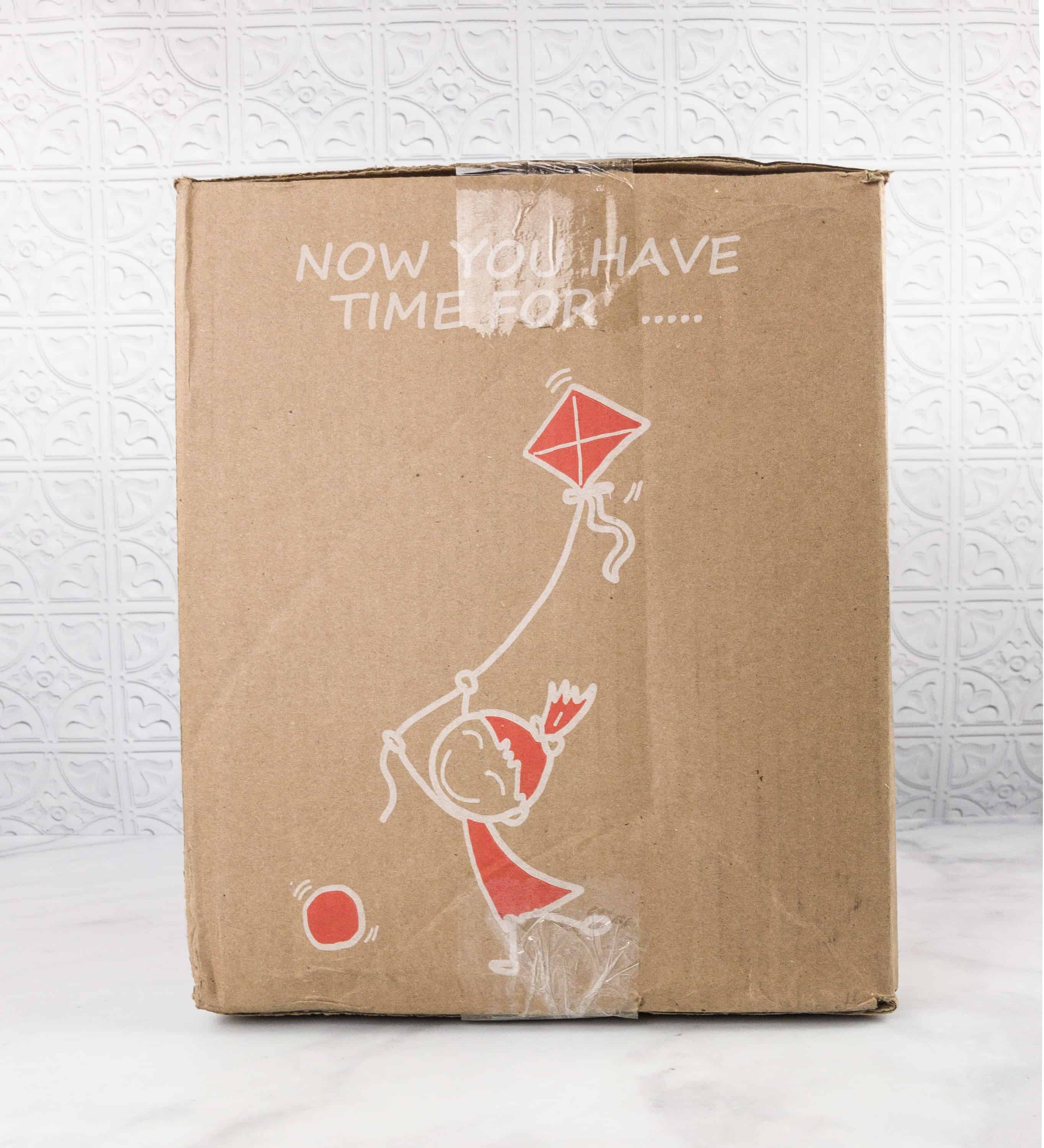 DEAL:  Save 80% off your first box! Use coupon code EAT80.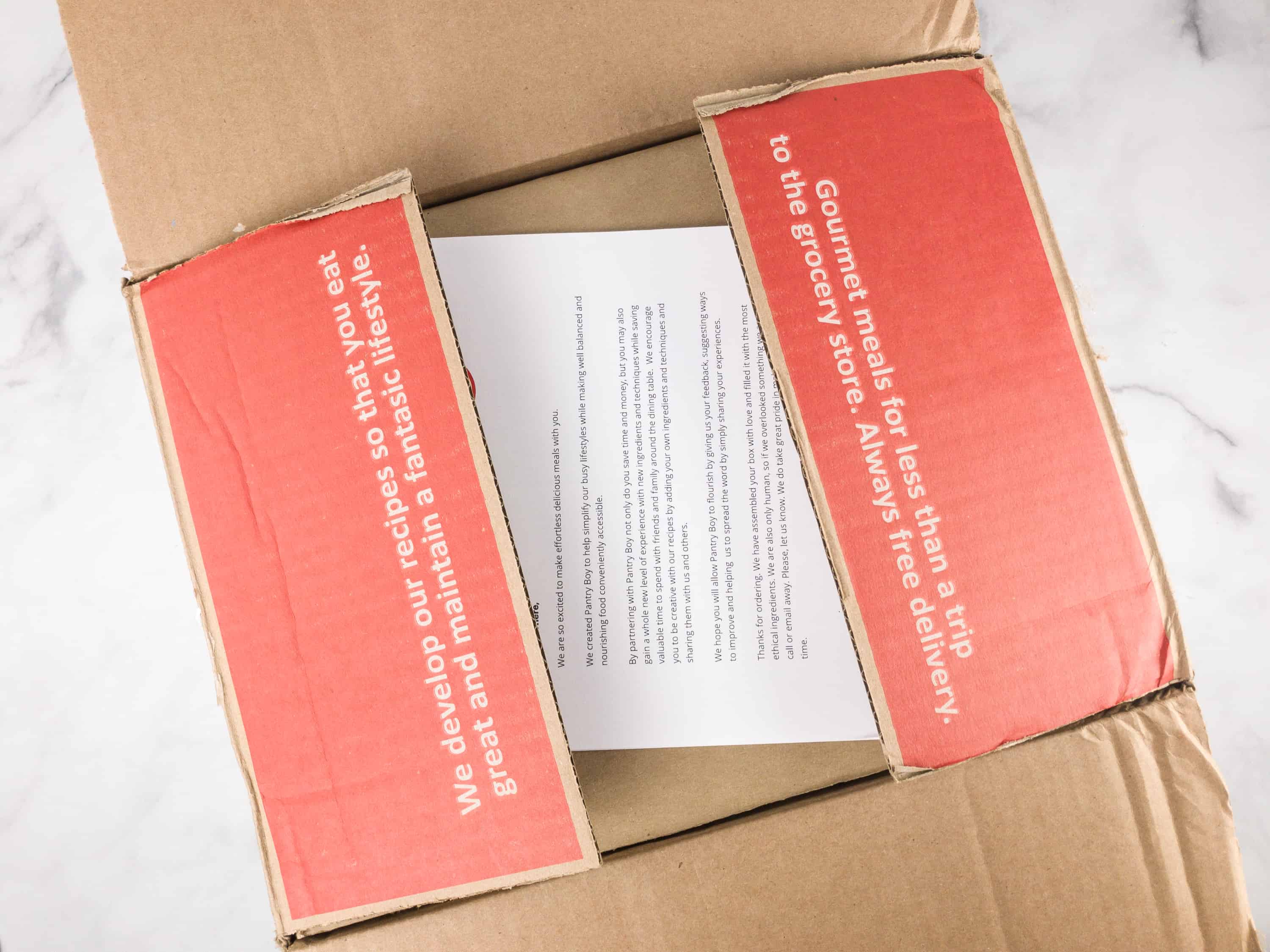 What sets Pantry Boy apart from most of the other meal kit subscription boxes is the focus on slow-cooker preparation. Nearly every ingredient is pre-cut and ready to toss into a cooker for 4-6 hours. It is extremely hands-off relative to other kits.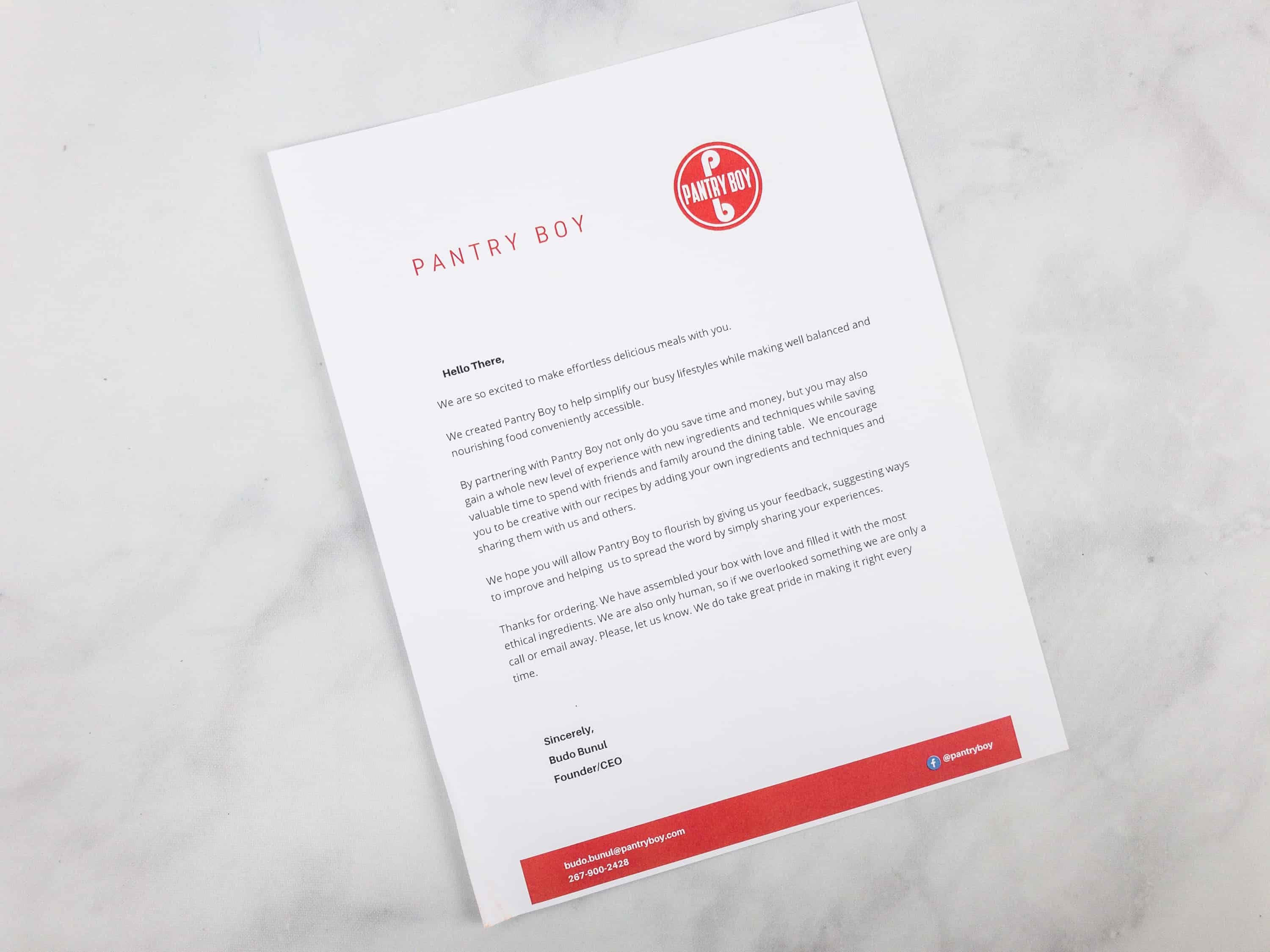 Here's a letter from Budo Bunul, the founder and CEO of Pantry Boy.
Also included in the box is an information sheet that explains why getting a weekly Pantry Boy Box is an efficient choice. Pre-measured ingredients mean you pay for only what you eat, and you waste nothing.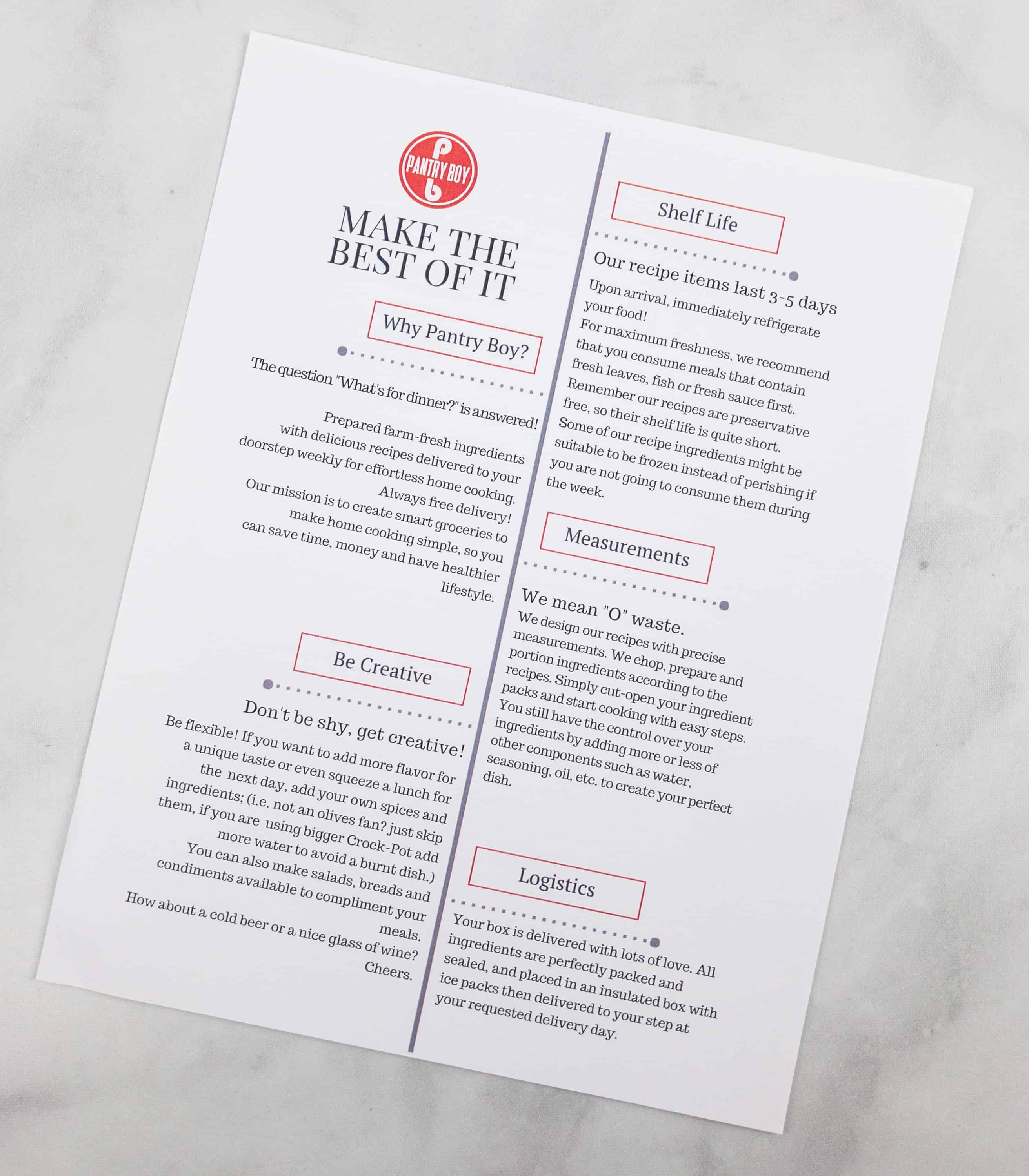 They also encourage the subscribers to be creative with their cooking, suggesting alternate preparation methods, add-ins, and little tweaks that you can do to customize your meals.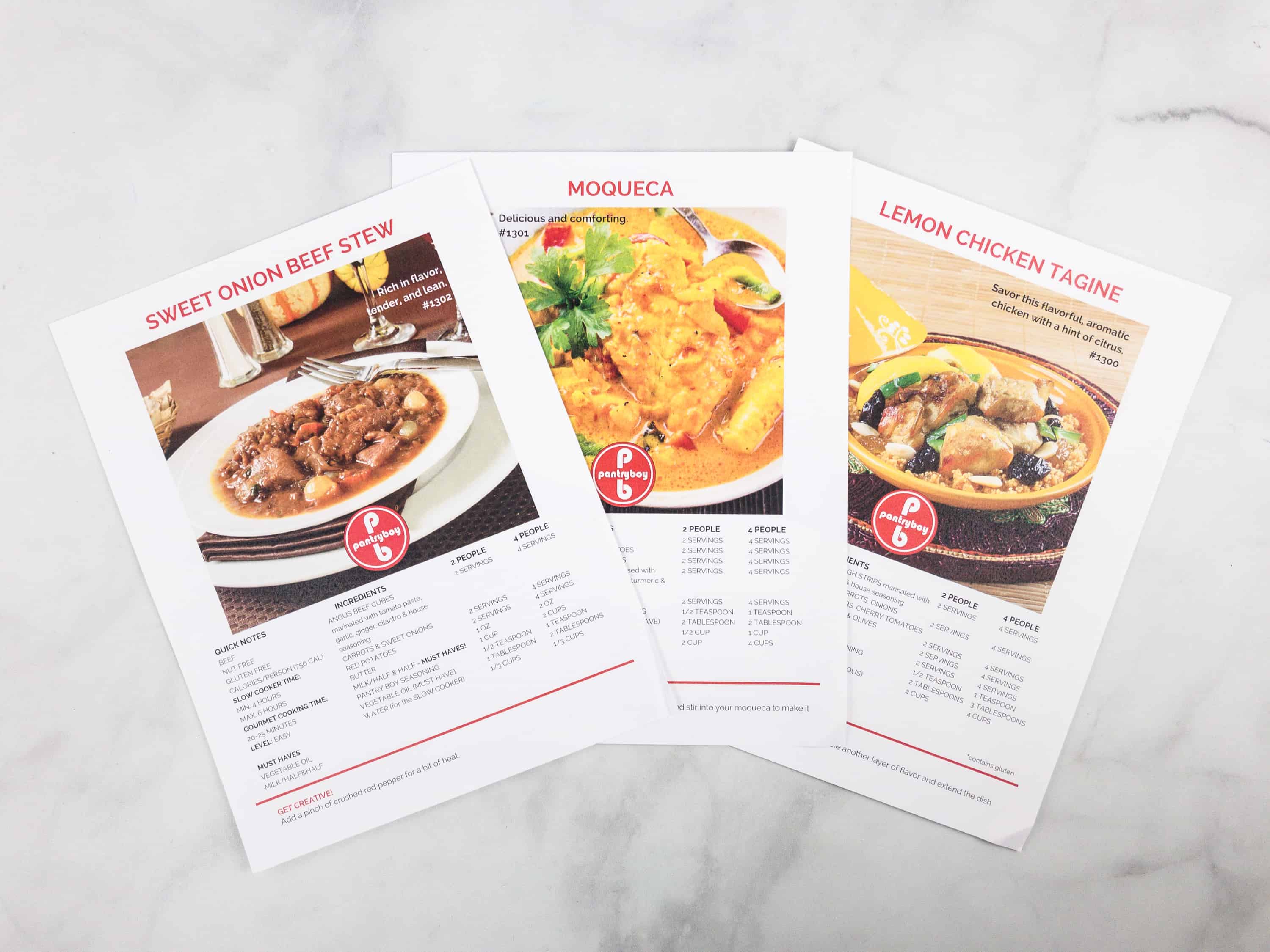 There are three recipes for this week: Sweet Onion Beef Stew, Moqueca, and Lemon Chicken Tagine. They all look good!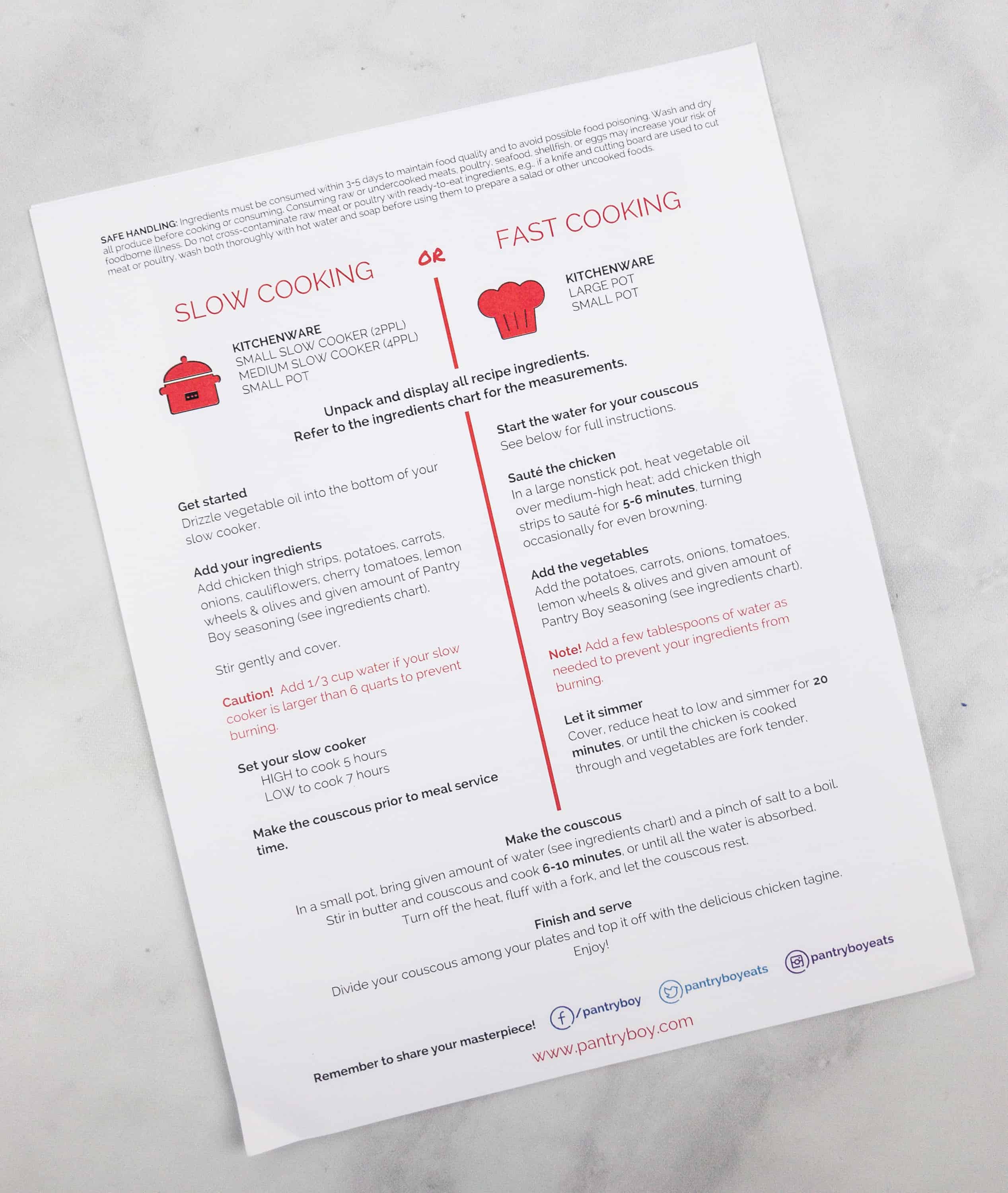 The recipe card lists instructions on how to cook the dishes, and most recipes even let you choose between slow cooking or fast cooking methods. Even the slow-cooker method gives you some flexibility on temperature and timing of cooking — this is a kit that tries to be very convenient and flexible.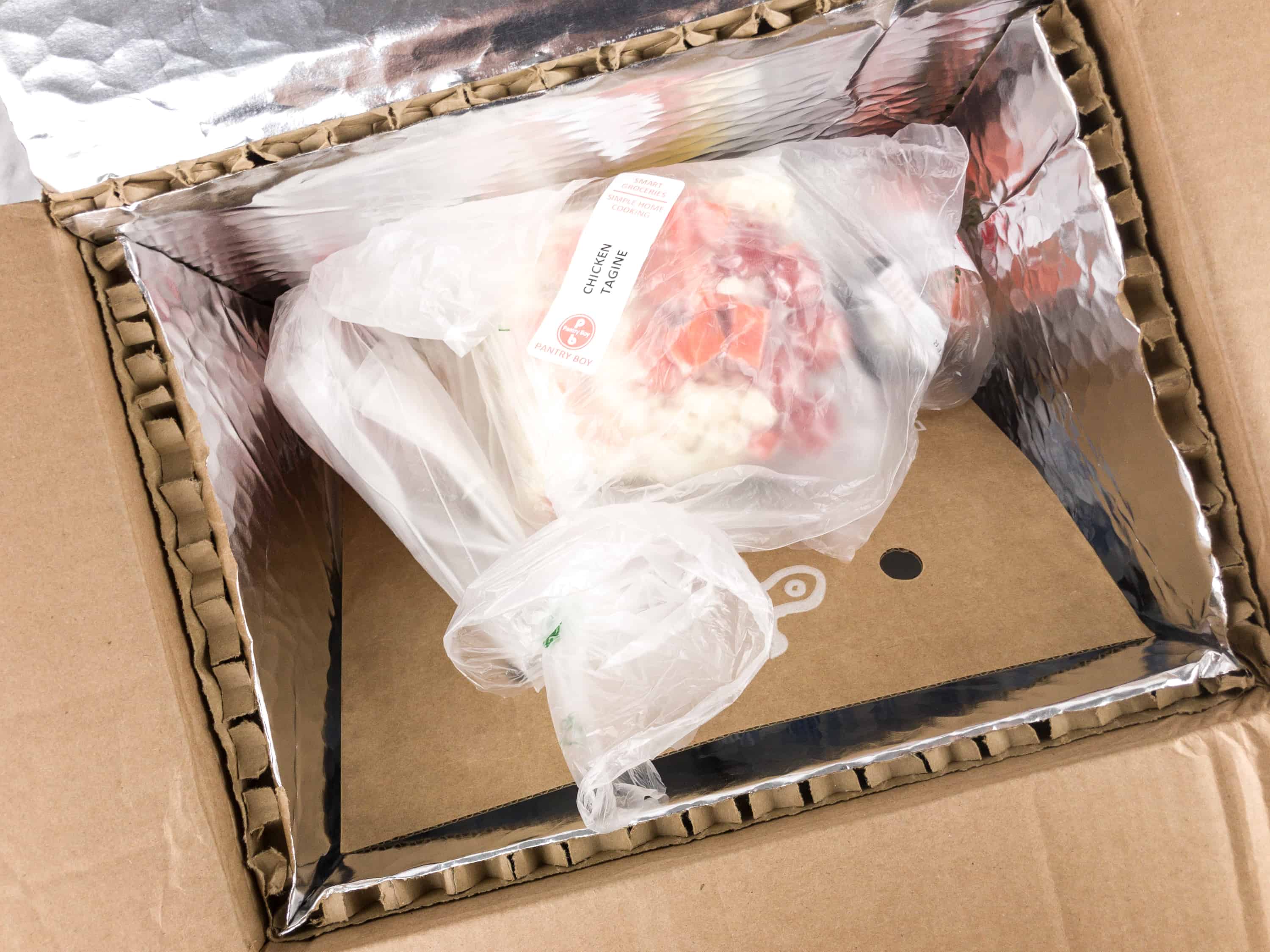 The fresh, prepared ingredients don't contain preservatives, so the insulated shipping container is very important. Everything arrives bagged by recipe.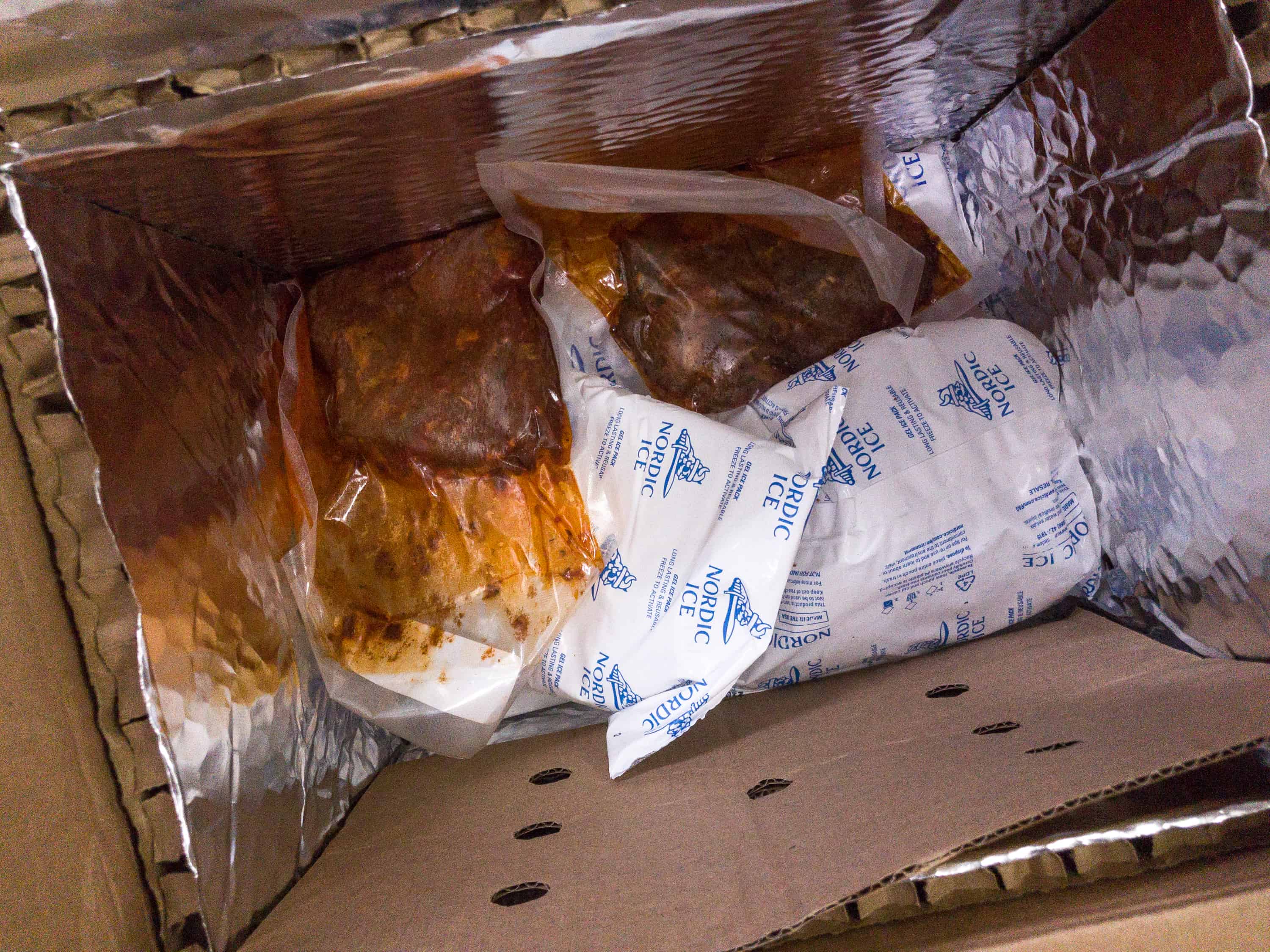 They included a bunch of ice packs in the box as well to keep the ingredients cold, with the meat kept right in with the ice packs. Many of the recipes rely on ingredients that can be frozen for later use if you don't want to make them within the week. Most veggies freeze pretty well (but not potatoes and onions).
Everything in my box!
All of the pre-prep, like marinating, chopping, and slicing, is already done for you. Ingredients are pre-portioned, so you can't really go wrong. You just have to open the neat packaging and cook. The only things you need to measure are water, oil, salt and pepper, and Pantry Boy Seasoning – a bottle of which comes in your first box!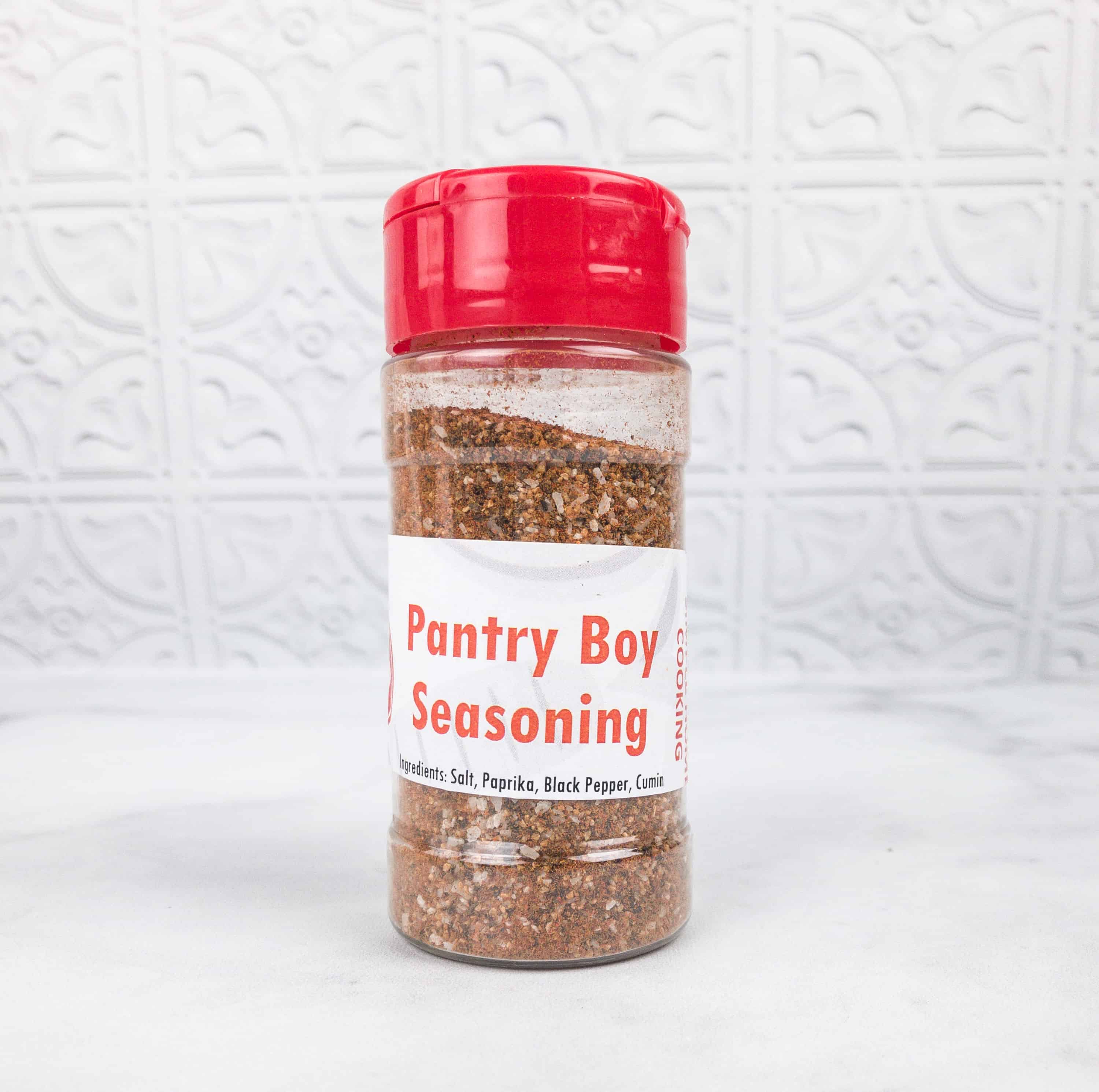 Pantry Boy Seasoning is an all-purpose blend that works really well with meat, fish, and veggies. The paprika and cumin combination adds both depth and brightness, bringing together all the flavors of the dish in harmony.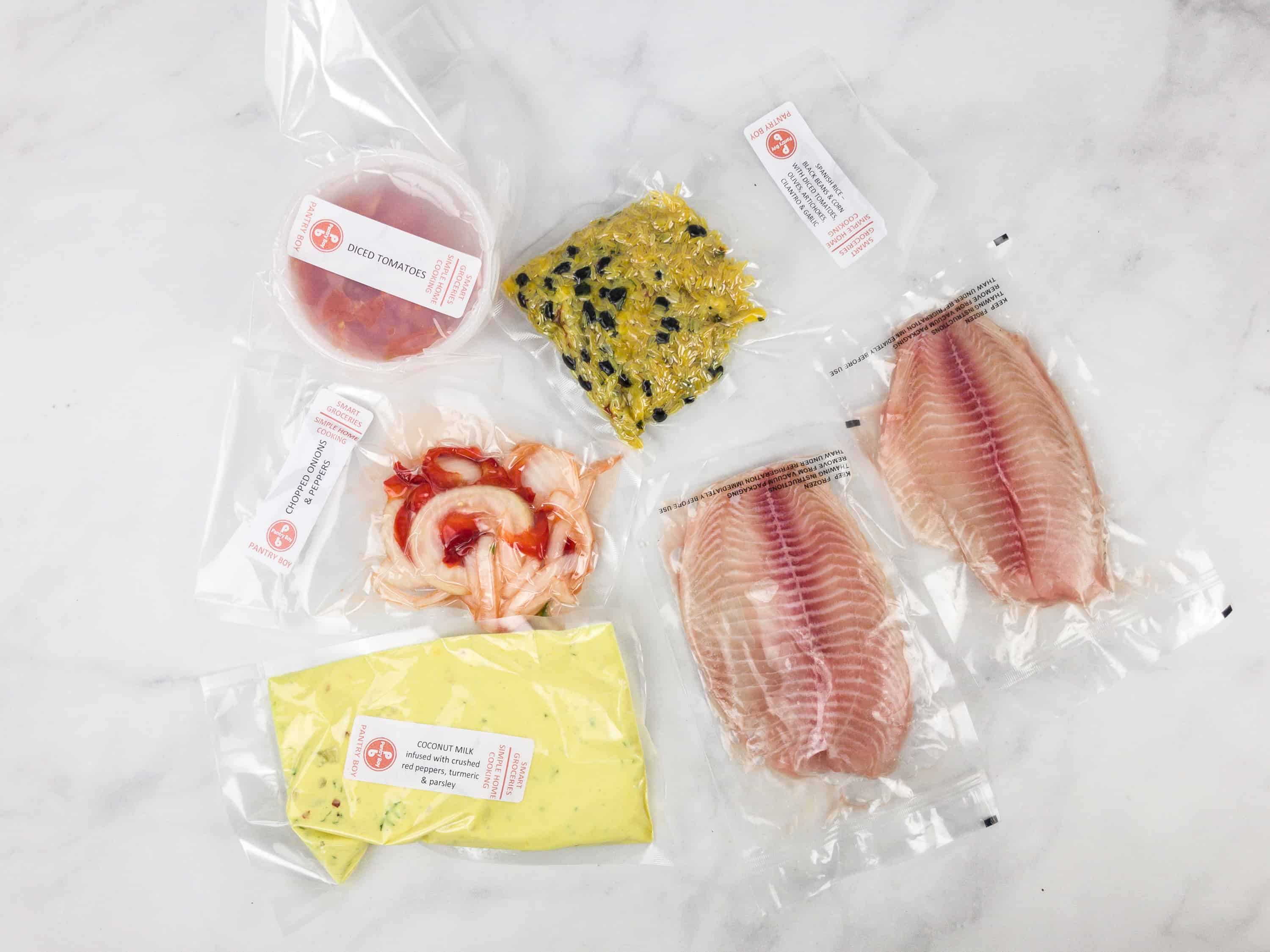 Moqueca 4-6 hours, Easy, 750 Calories per serving
Moqueca is a Brazilian fish stew with tomatoes, onions, and garlic. It's new to us so we did not know what to expect. Coconut milk pre-mixed with red peppers, turmeric, and parsley added lots of flavor, and the sauce has the feel of a South Asian curry. Since it contains Spanish rice, it was more than satisfying for two people. Cooked in the slow-cooker, this dish is a bit sloppy looking, but the taste more than made up for the presentation!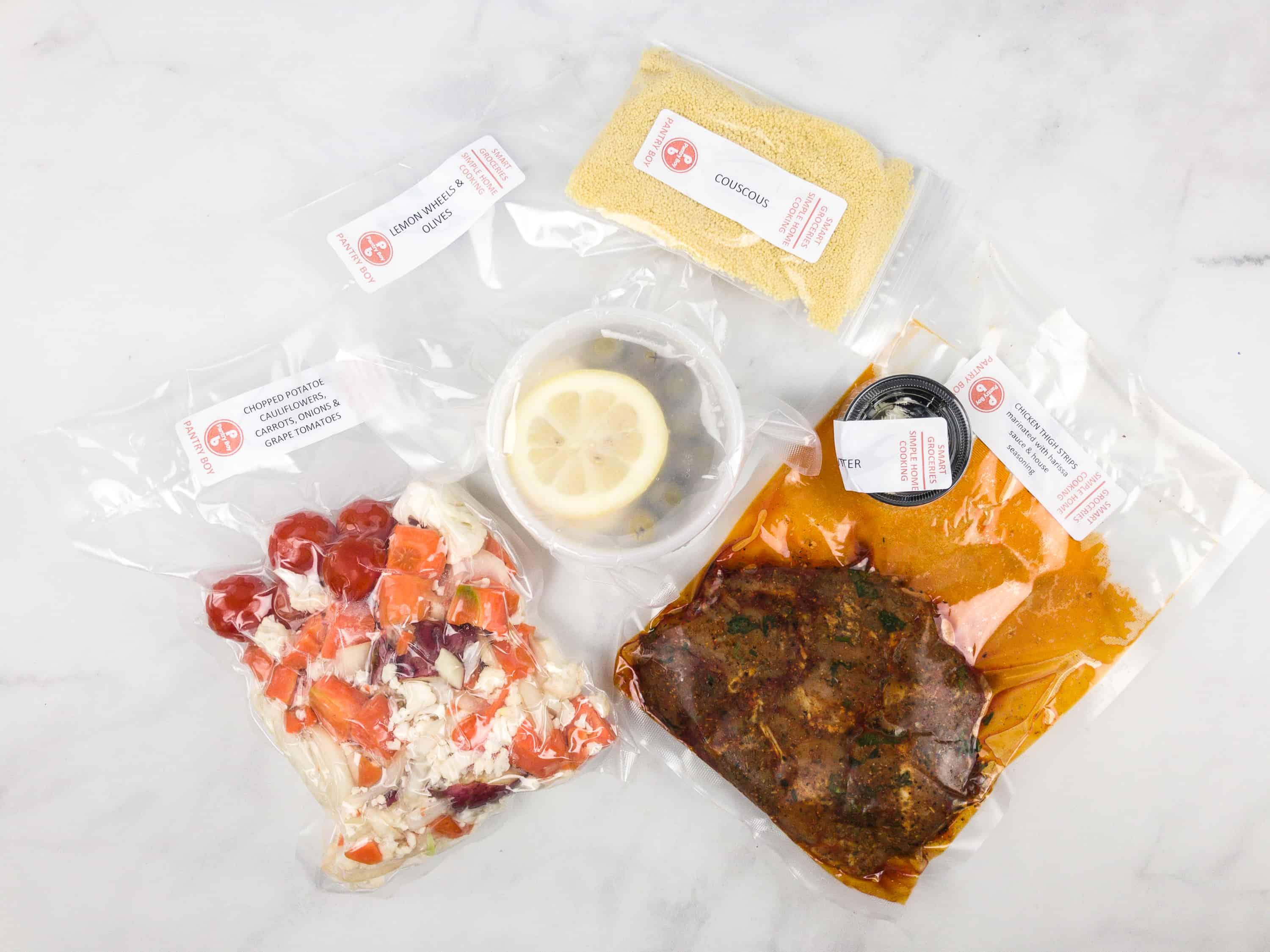 Lemon Chicken Tagine 5-7 hours, Easy, 750 calories per serving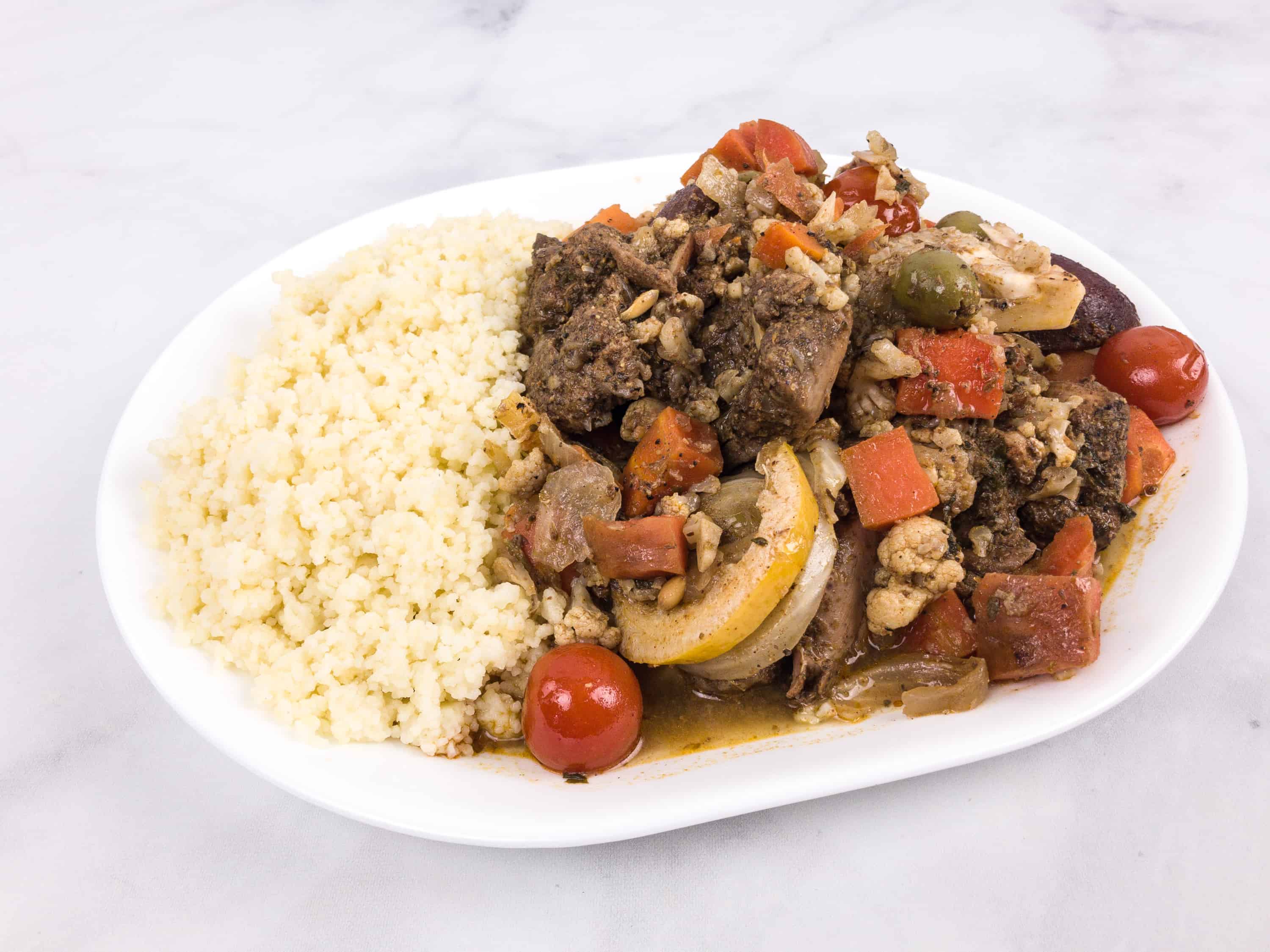 From a Brazilian dish, we move on to a Moroccan dish! Tagine is a tall terra-cotta pot used in Morocco for cooking stews. The shape of the tagine lets the juices drip back to the food while cooking, keeping it moist, so it makes sense that a tagine dish would translate well to a slow-cooker. The dish contains potatoes, cauliflowers, onions, and grape tomatoes. The chicken was pre-marinated with harissa sauce and house seasoning. The dish was very flavorful, and I loved the green olives. The lemon was very intense, though, as the lemon wheels mostly disintegrate during cooking, allowing pieces of peel to find their way into your forkful. A big side of couscous was perfect for sopping up the flavorful juices.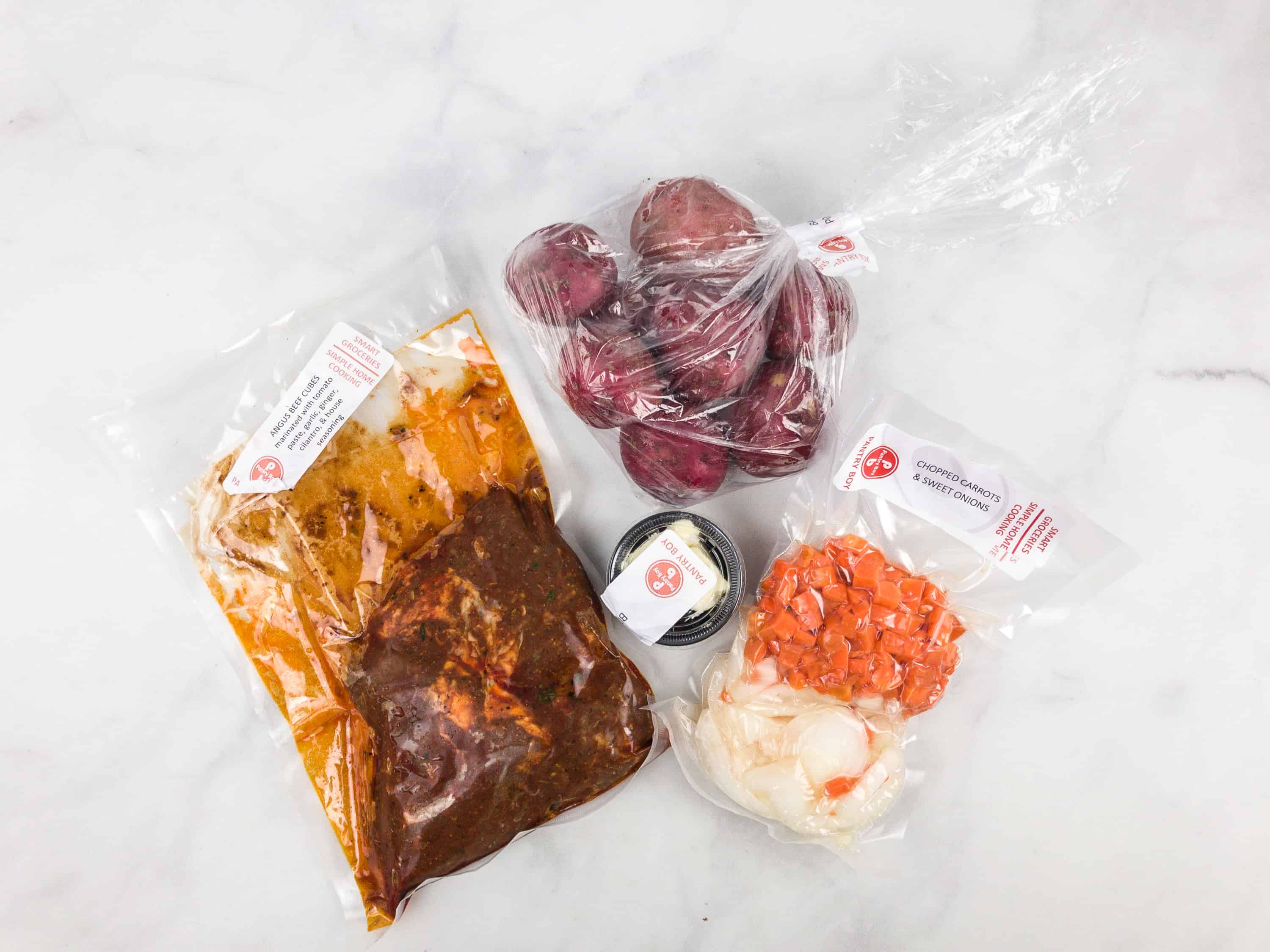 Sweet Onion Beef Stew 4-6 hours, Easy, 750 calories per serving.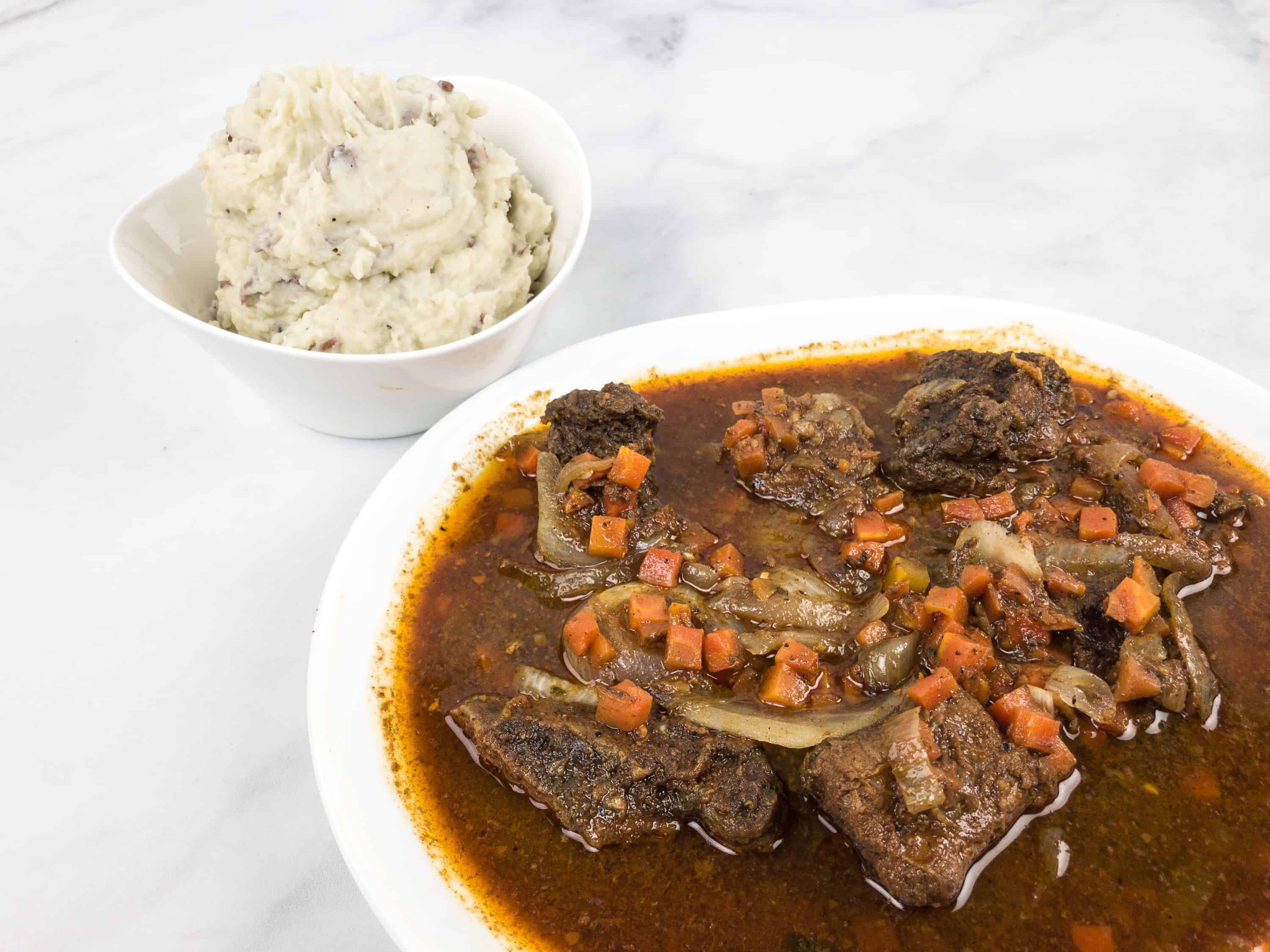 A classic beef stew best paired with seasoned mashed potato. The angus beef cubes were tender and pre-marinated with tomato paste, garlic, ginger, cilantro, and house seasoning. Ingredients also include carrots, sweet onions, and potatoes, which all tasted yummy!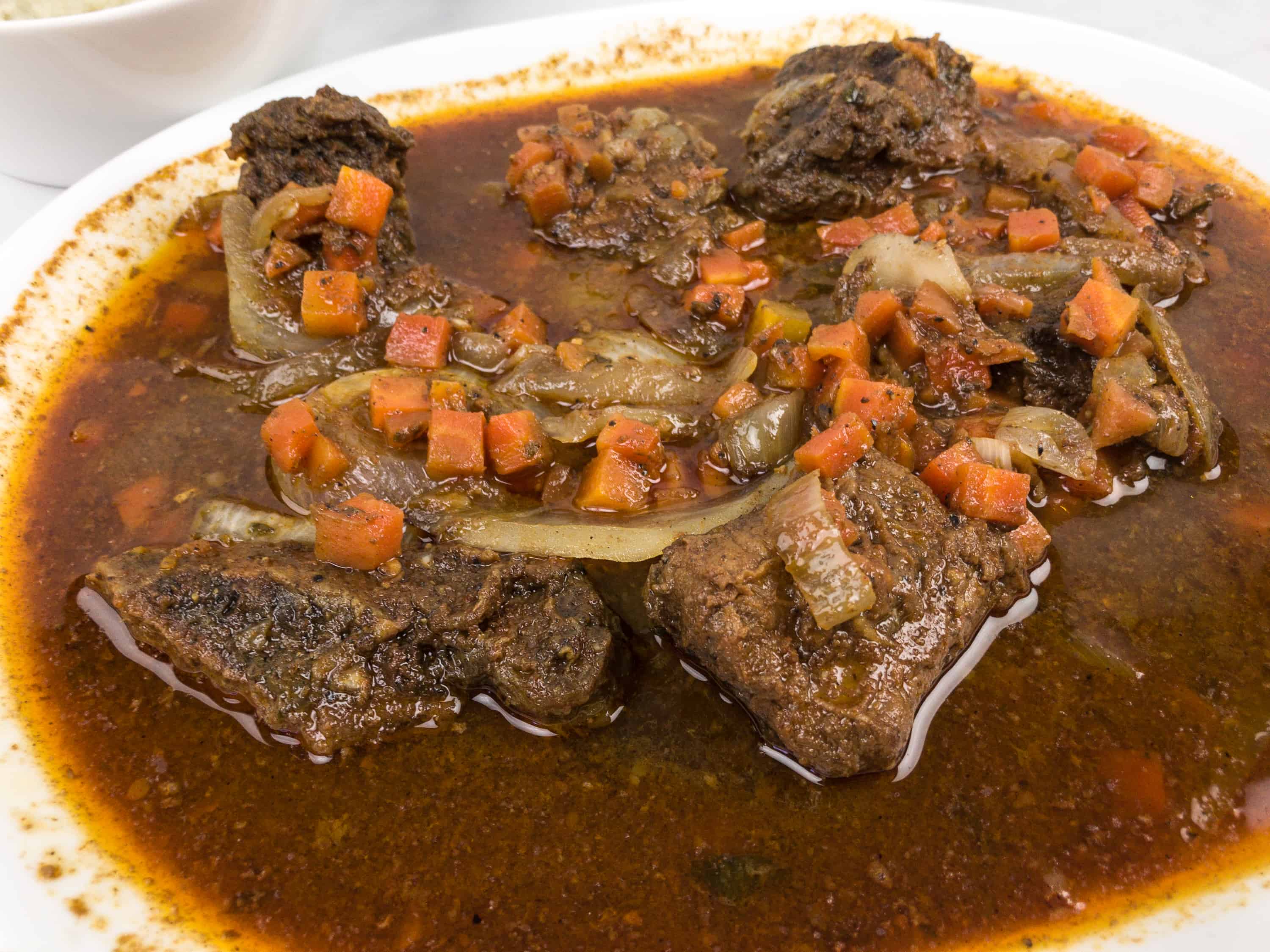 If you prefer it spicy, you can add crushed red pepper. We liked it this way though, even the kids! There was tons of juice to spoon over the potatoes. Though the meat preparation was expectedly easy, the addition of a potato side meant that there was a little work to be done just before mealtime.
From the packaging to the quality of the ingredients, Pantry Boy was a hit.
This set of meals was very easy to make — I love the pre-measured ingredients and simple recipes! The flavors were very nice, though I will definitely use caution when adding lemons to slow-cooker meals in the future, as they become more intense over time, not less. The ingredients are chosen well for this style of preparation, with firm fish and root vegetables standing up to the long cooking time. Pantry Boy is very convenient, and the slow-cooker paradigm is a huge help in fitting a family meal in to a busy evening.
What do you think of the recipes from Pantry Boy?