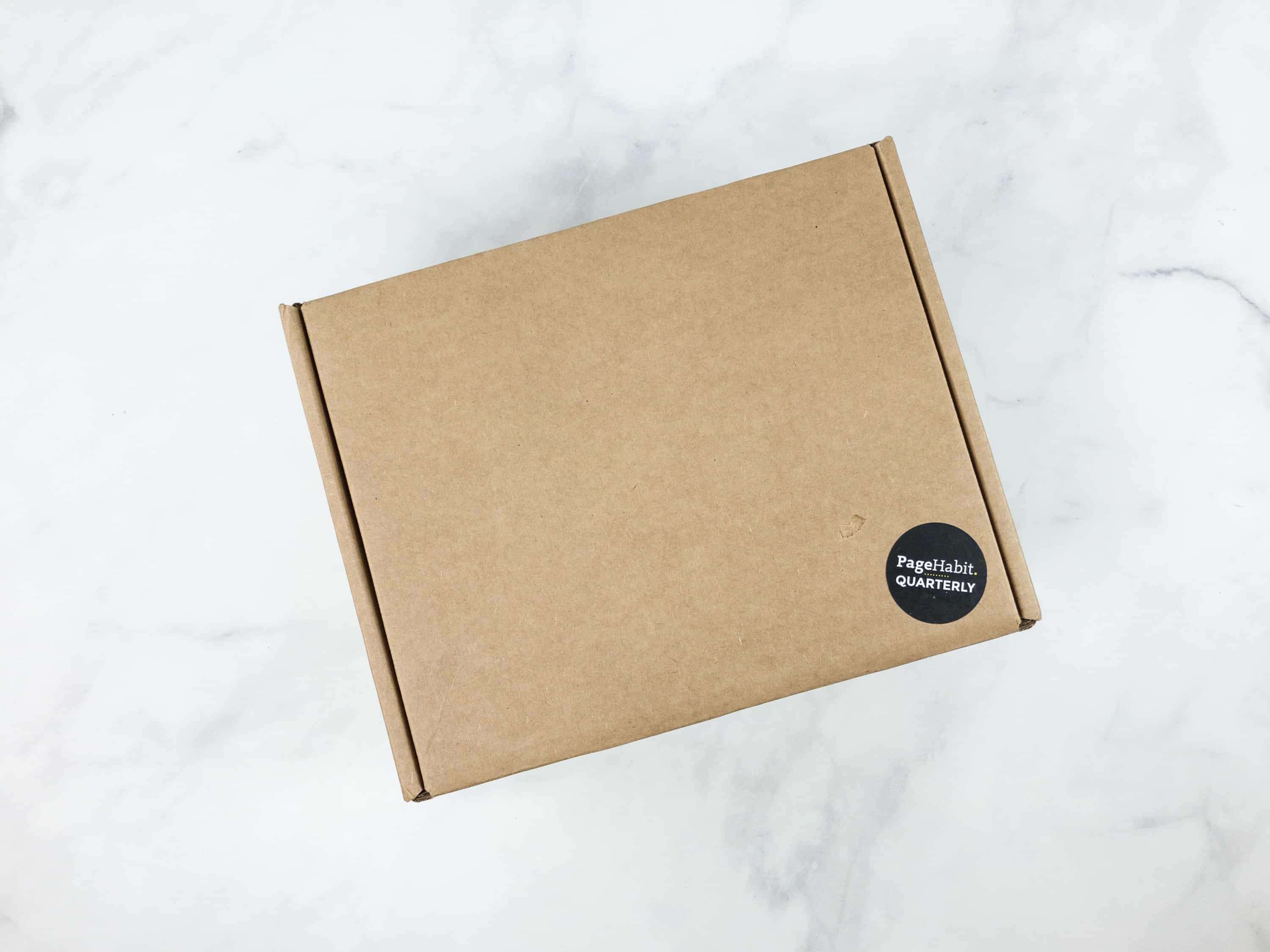 PageHabit YA Literary Fiction Box is a quarterly subscription that features one brand new release book annotated by the author, plus two additional books handpicked by the featured author and bookish goods. These boxes ship out every three months based on the calendar year: January, April, July and October. Each box is $49.99 plus shipping.

DEAL: Save $10 off your subscription! Use this link to get the deal.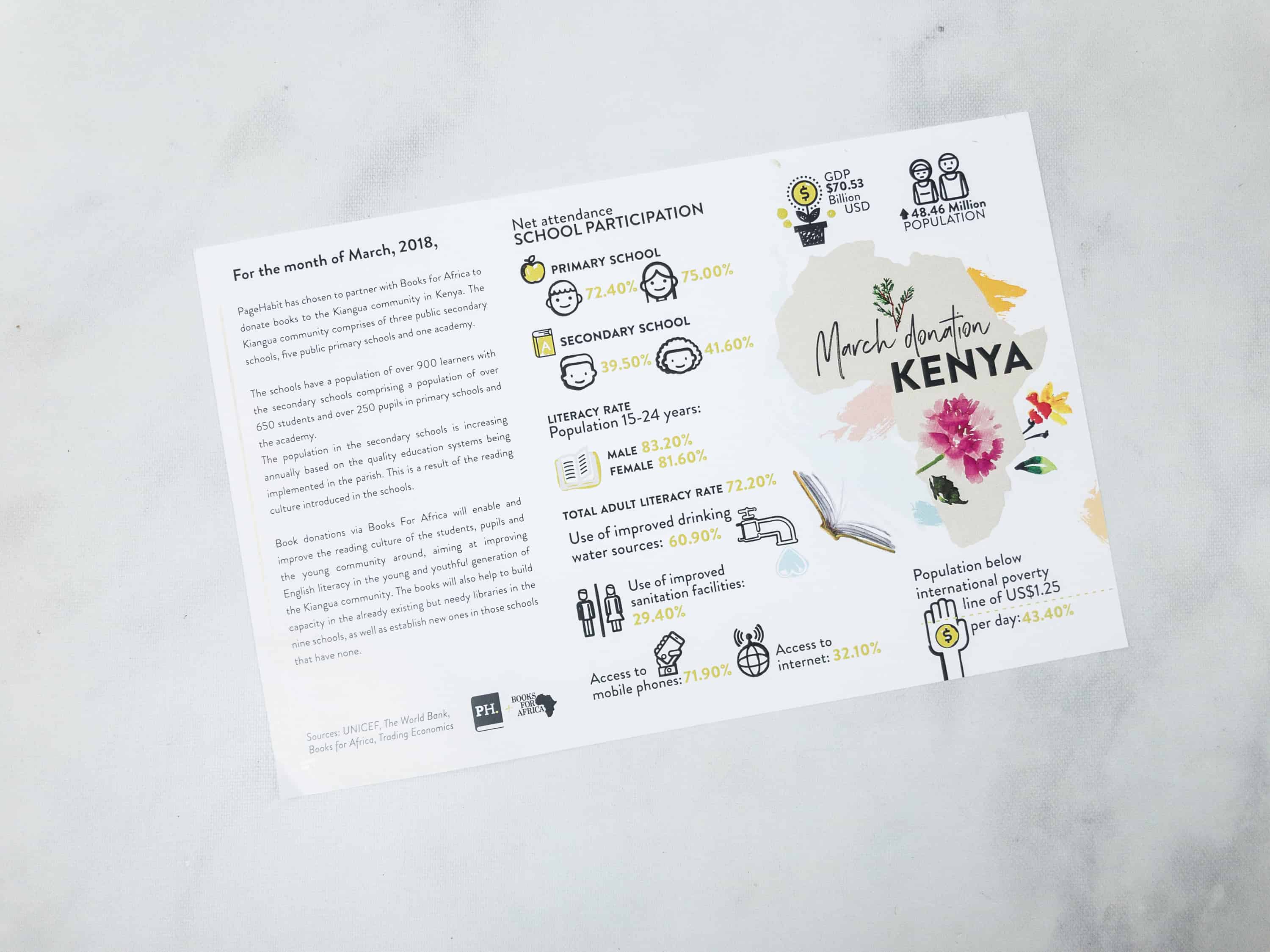 For every box, you give a donation towards children's literacy. For March, the donations are bound to the children of Kenya.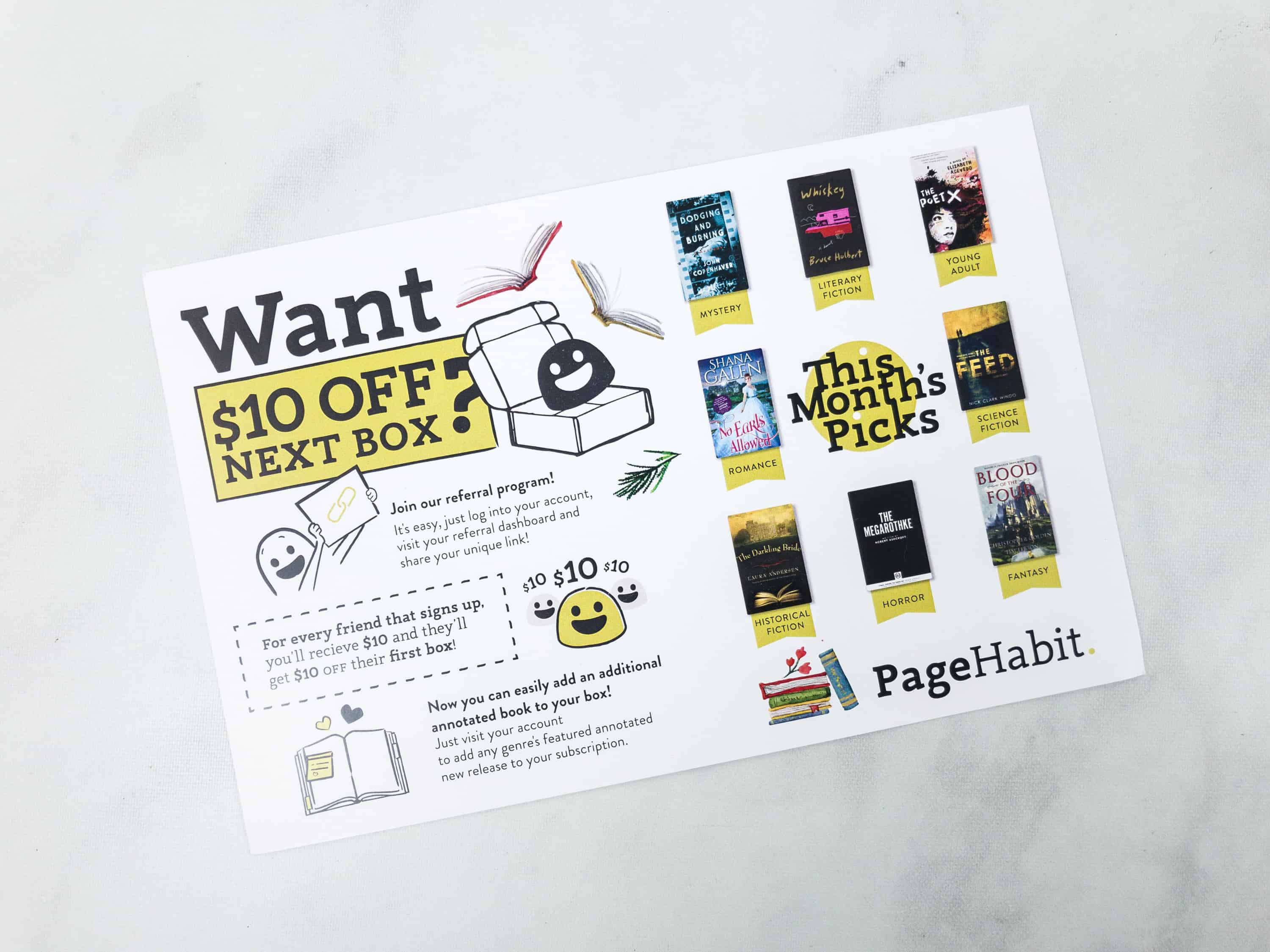 You can now add selections!
Here are the books in the other subscriptions:
This card was a bit out of place in the Quarterly box, but it's nice to see the work they're doing if you don't know about the monthly boxes.
Everything in my Spring 2018 box!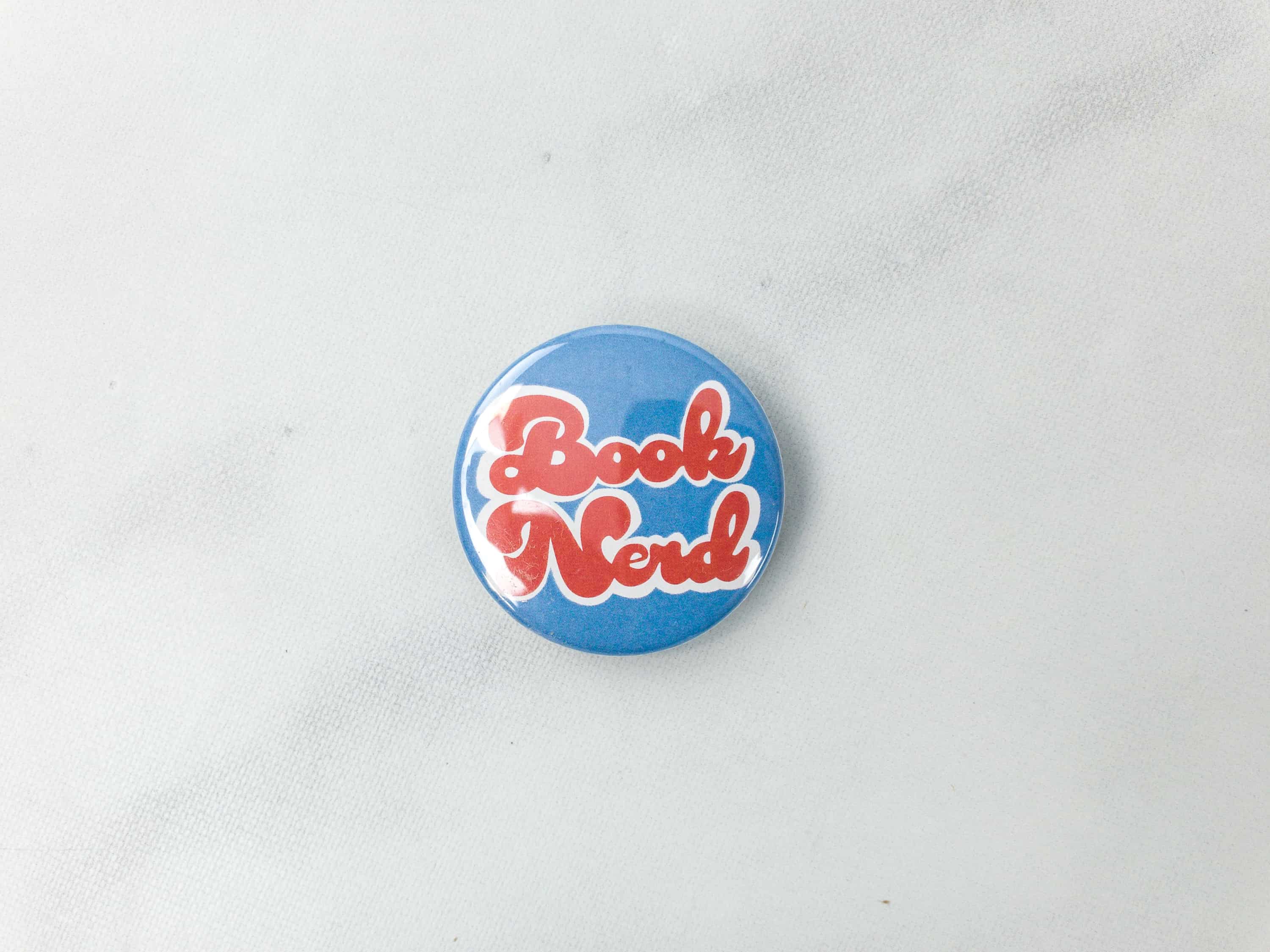 Book Nerd Button Pin. It's a retro-looking button pin in red and blue that you can wear around to show that you're a nerd for books. Loveeee it!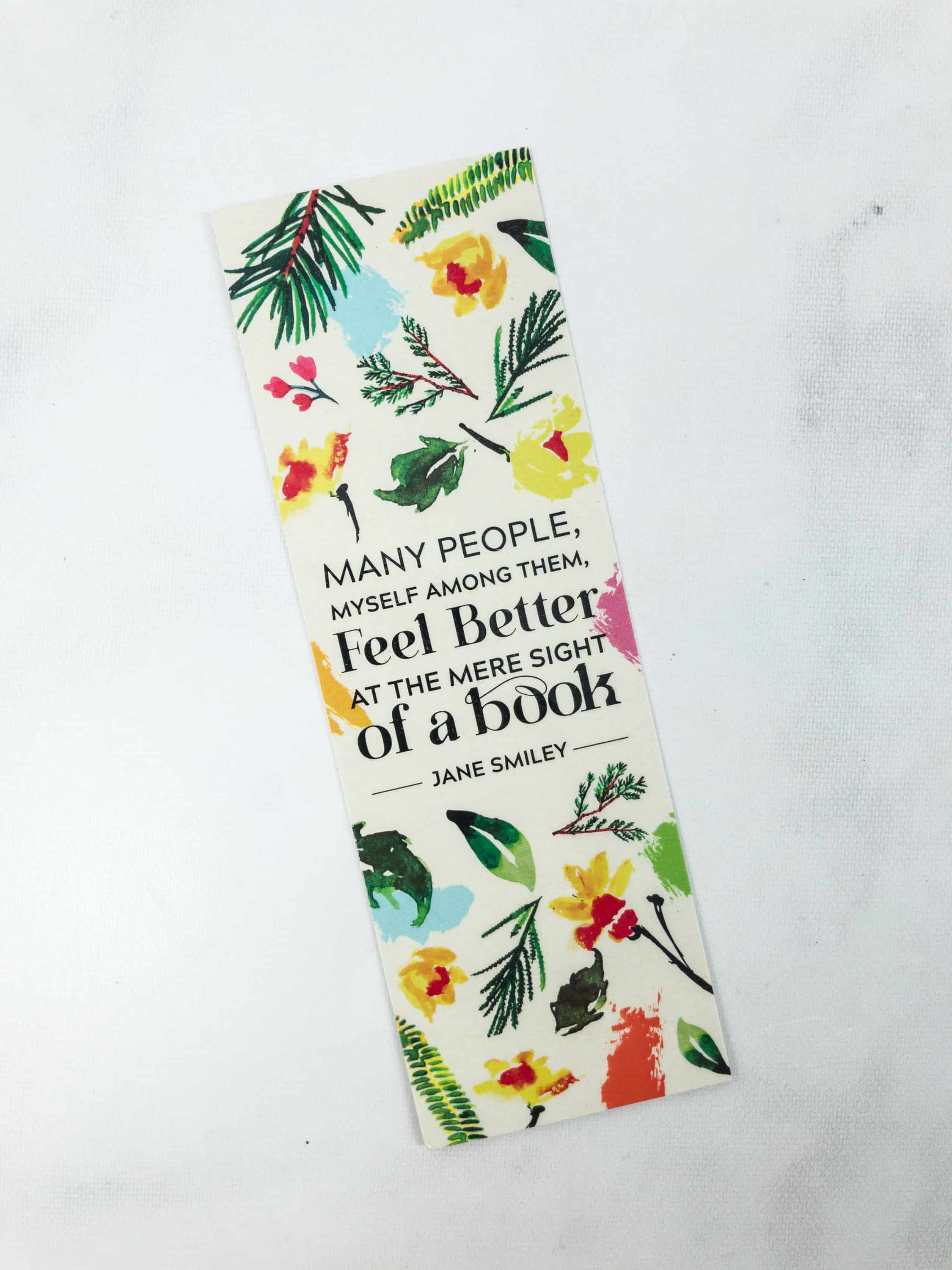 Bookmark. This colorful floral bookmark features a quote from Jane Smiley, an American novelist.
Many people, myself among them, feel better at the mere sight of a book.
Truth!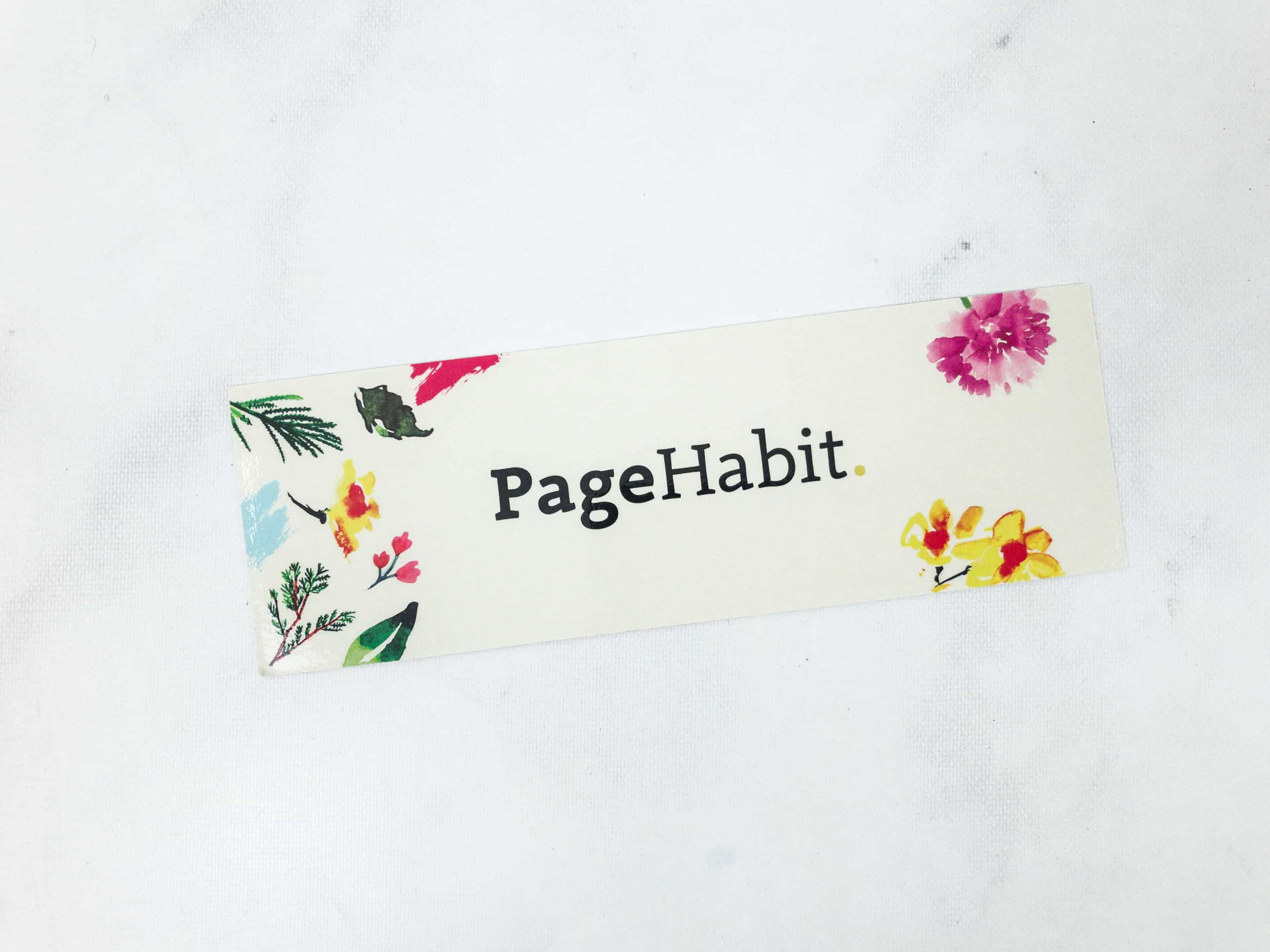 The back of the bookmark has the PageHabit logo.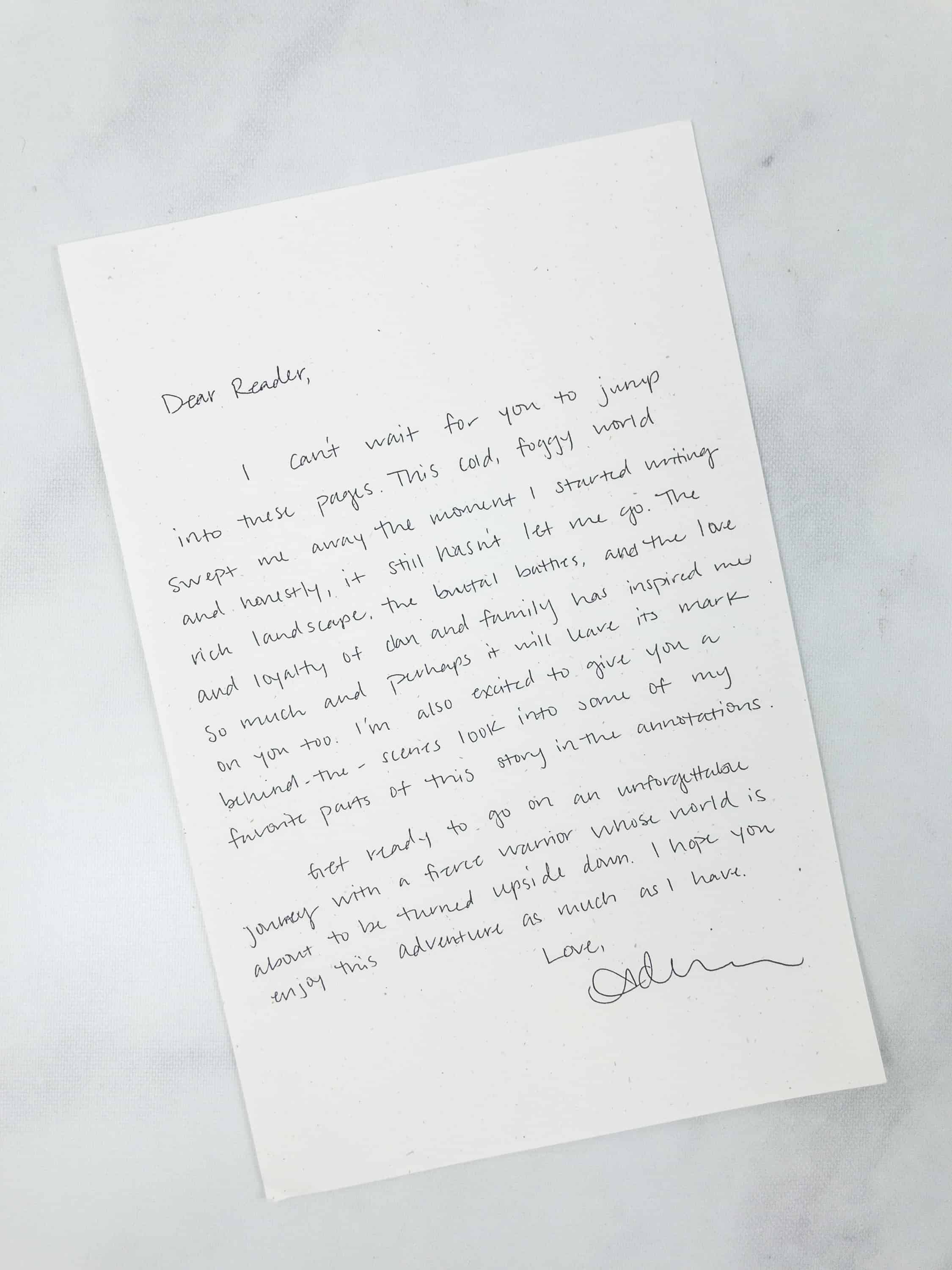 Here's a note from this quarter's featured author, Adrienne Young. She wishes the readers to enjoy this adventure as much as she enjoyed writing it.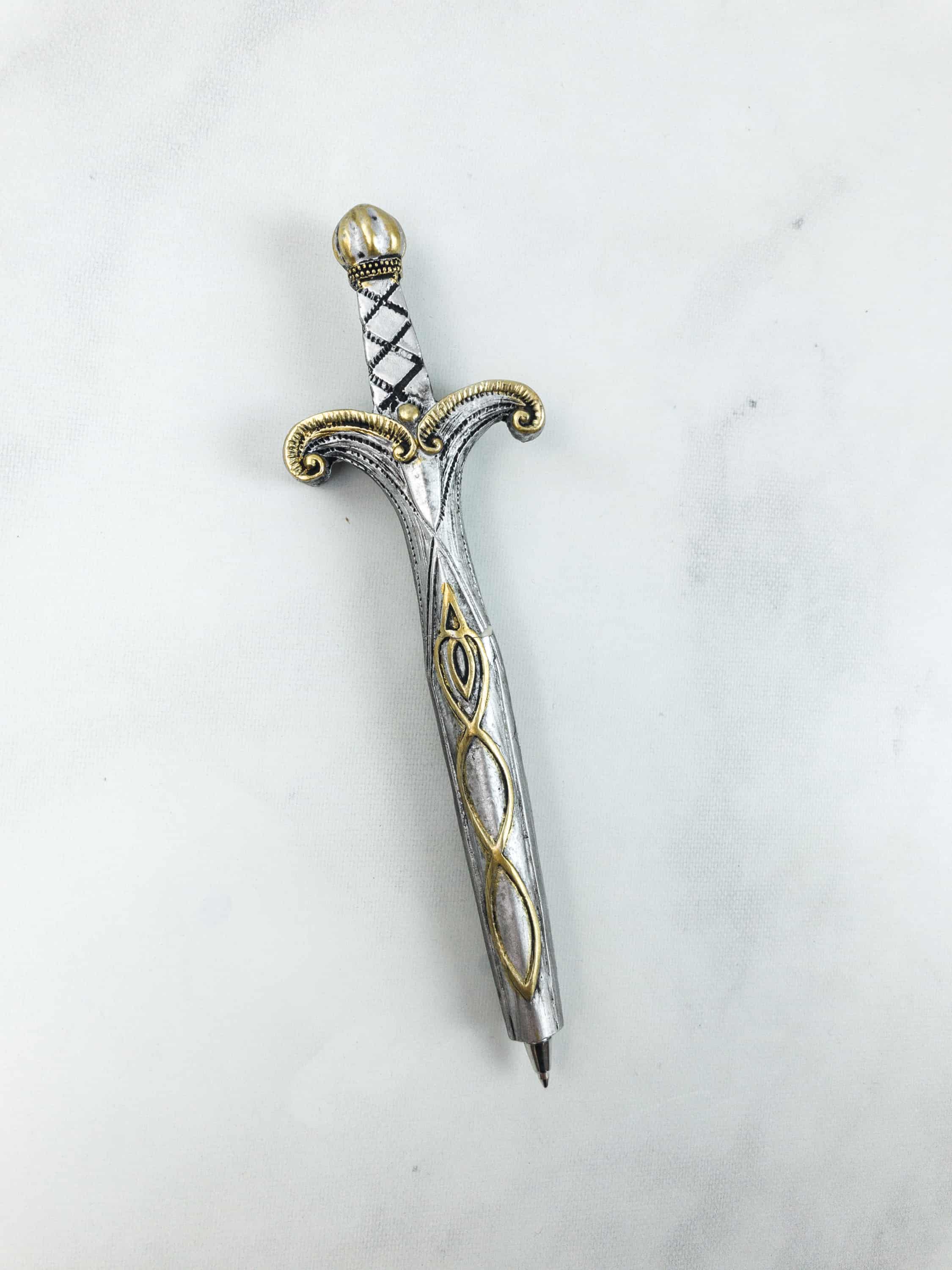 Sword Pen. This is well-designed pen with fantastic details. However, all it can do is serve as a decoration because it's broken! I actually love the design as it goes well with the story, but it saddens me that I can't use it to scribble. Bummer. Good news though – PageHabit sent out a replacement before this review was even written!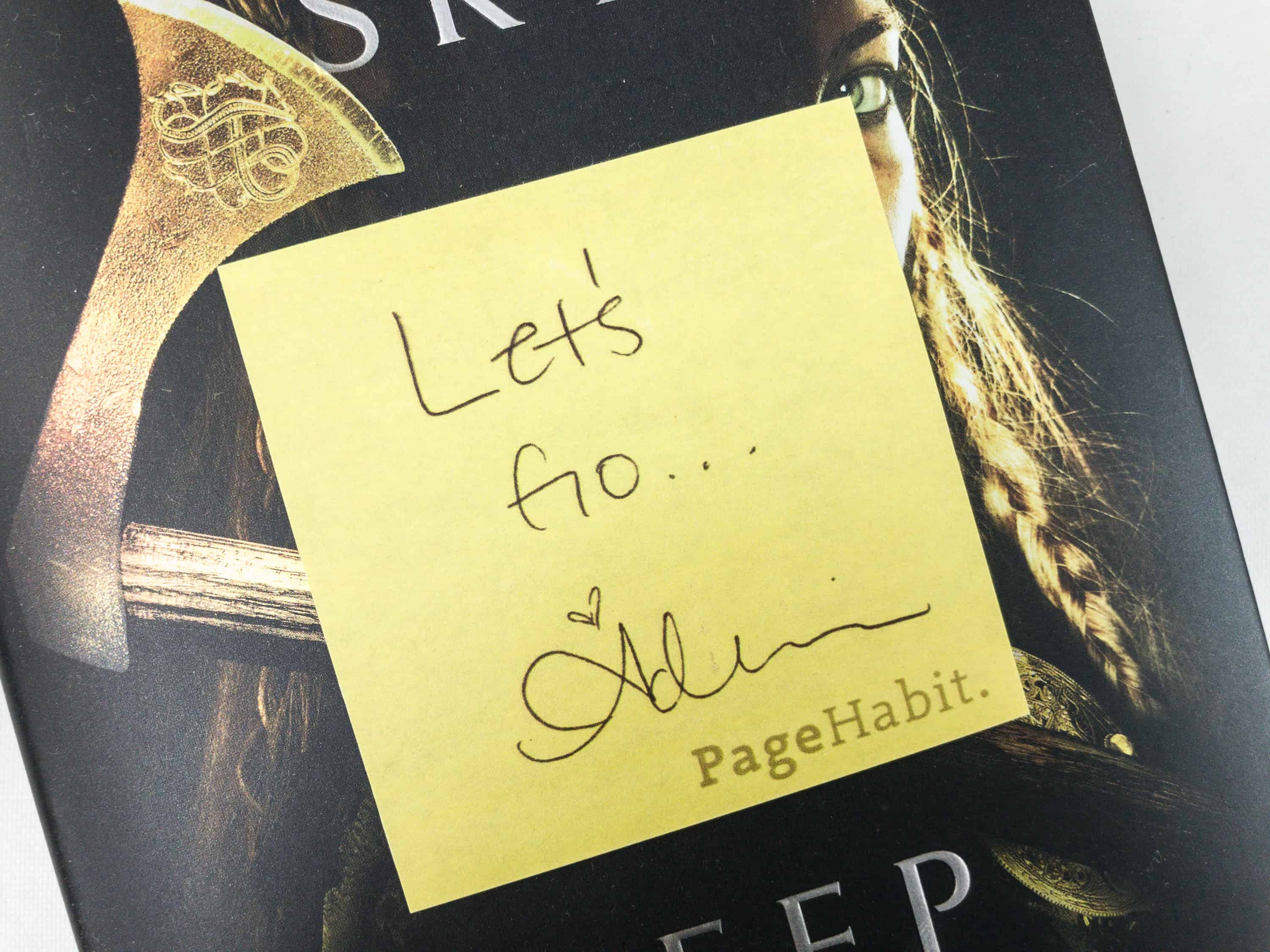 Let's go!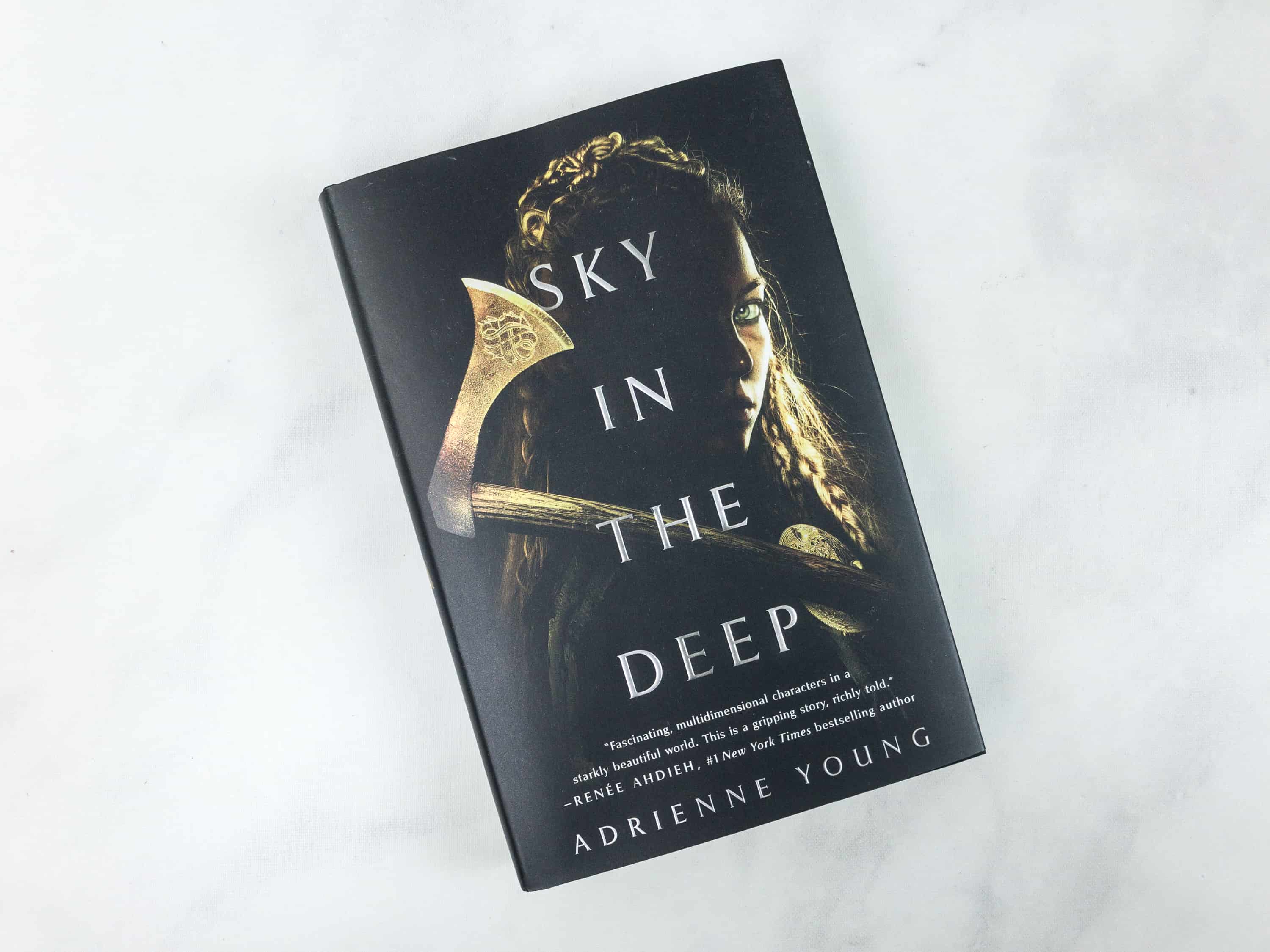 Sky In The Deep By Adrienne Young ($9)
OND ELDR. BREATHE FIRE.

Raised to be a warrior, seventeen-year-old Eelyn fights alongside her Aska clansmen in an ancient rivalry against the Riki clan. Her life is brutal but simple: fight and survive. Until the day she sees the impossible on the battlefield — her brother, fighting with the enemy — the brother she watched die five years ago.

Faced with her brother's betrayal, she must survive the winter in the mountains with the Riki, in a village where every neighbor is an enemy, every battle scar possibly one she delivered. But when the Riki village is raided by a ruthless clan thought to be a legend, Eelyn is even more desperate to get back to her beloved family.

She is given no choice but to trust Fiske, her brother's friend, who sees her as a threat. They must do the impossible: unite the clans to fight together, or risk being slaughtered one by one. Driven by a love for her clan and her growing love for Fiske, Eelyn must confront her own definition of loyalty and family while daring to put her faith in the people she's spent her life hating.
Aren't you just gripped already?
Like most hardbound books, the inside flaps of its cover contains some sneak peek on what the book is all about. It's all about a fierce warrior who goes on an adventure that will turn her world upside down.
We can feel from the author's annotations how excited and delighted she is in sharing her masterpiece!
In this note she talks about Halvard, a character in the story whom she never planned to include but fell in love with when she did.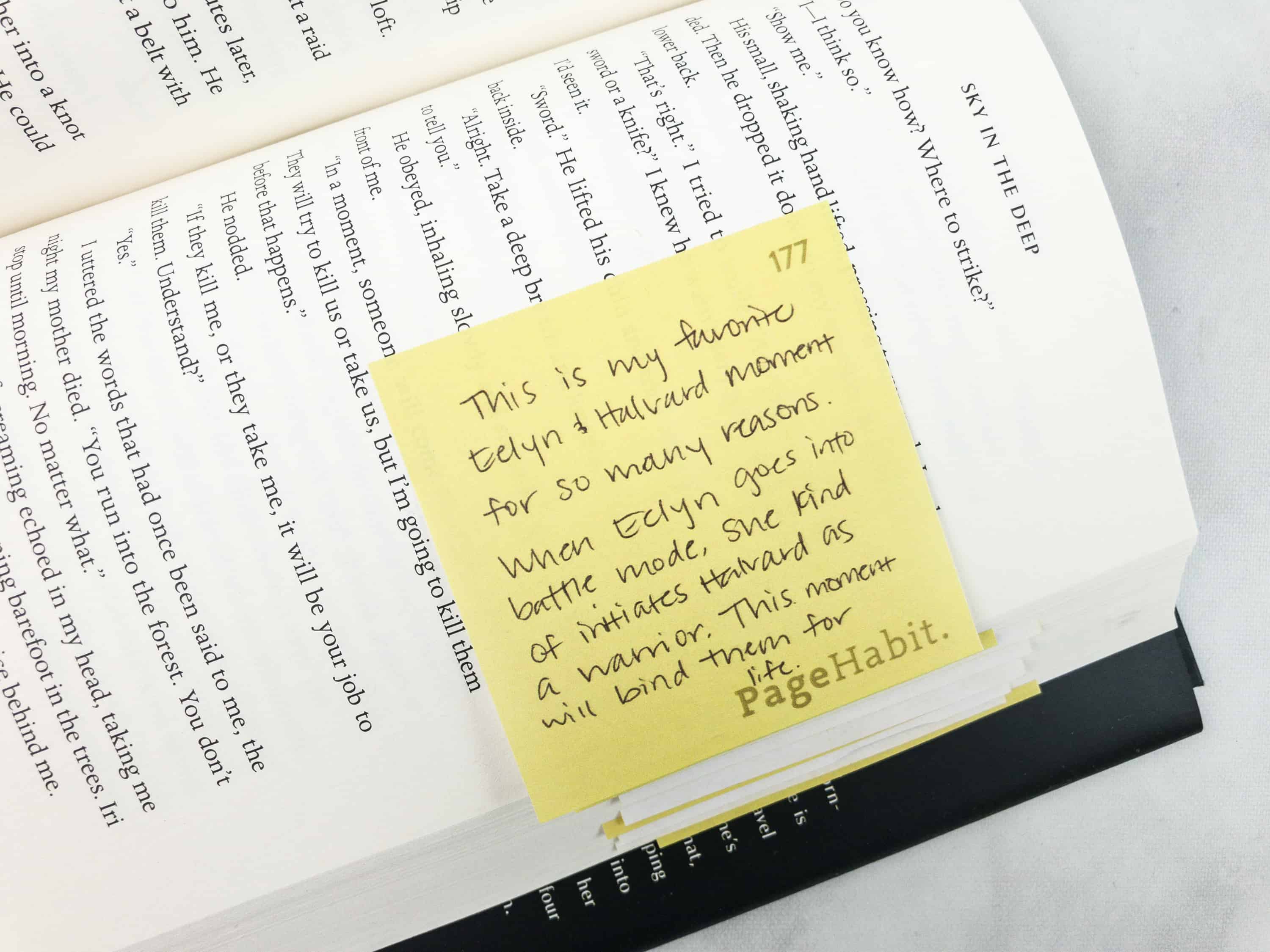 Another note is giving us a hint on her favorite Eelyn and Halvard scene.
Sky In The Deep is a fast paced read, and ideal for those who are into action-filled fantasy stories.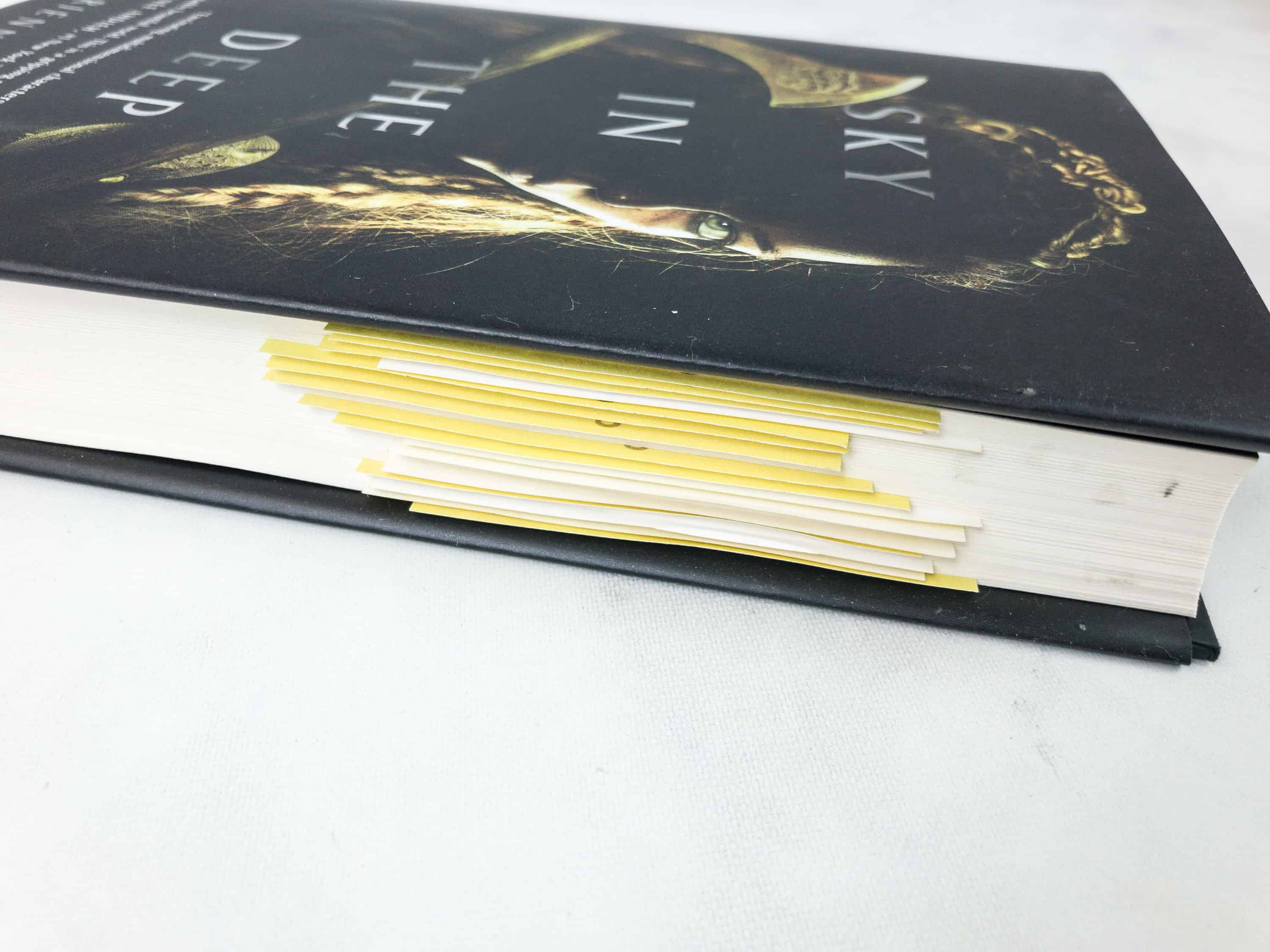 From the side, you'll see how much notes and annotations the author included. There's a lot and we're not complaining because they make the book even more interesting!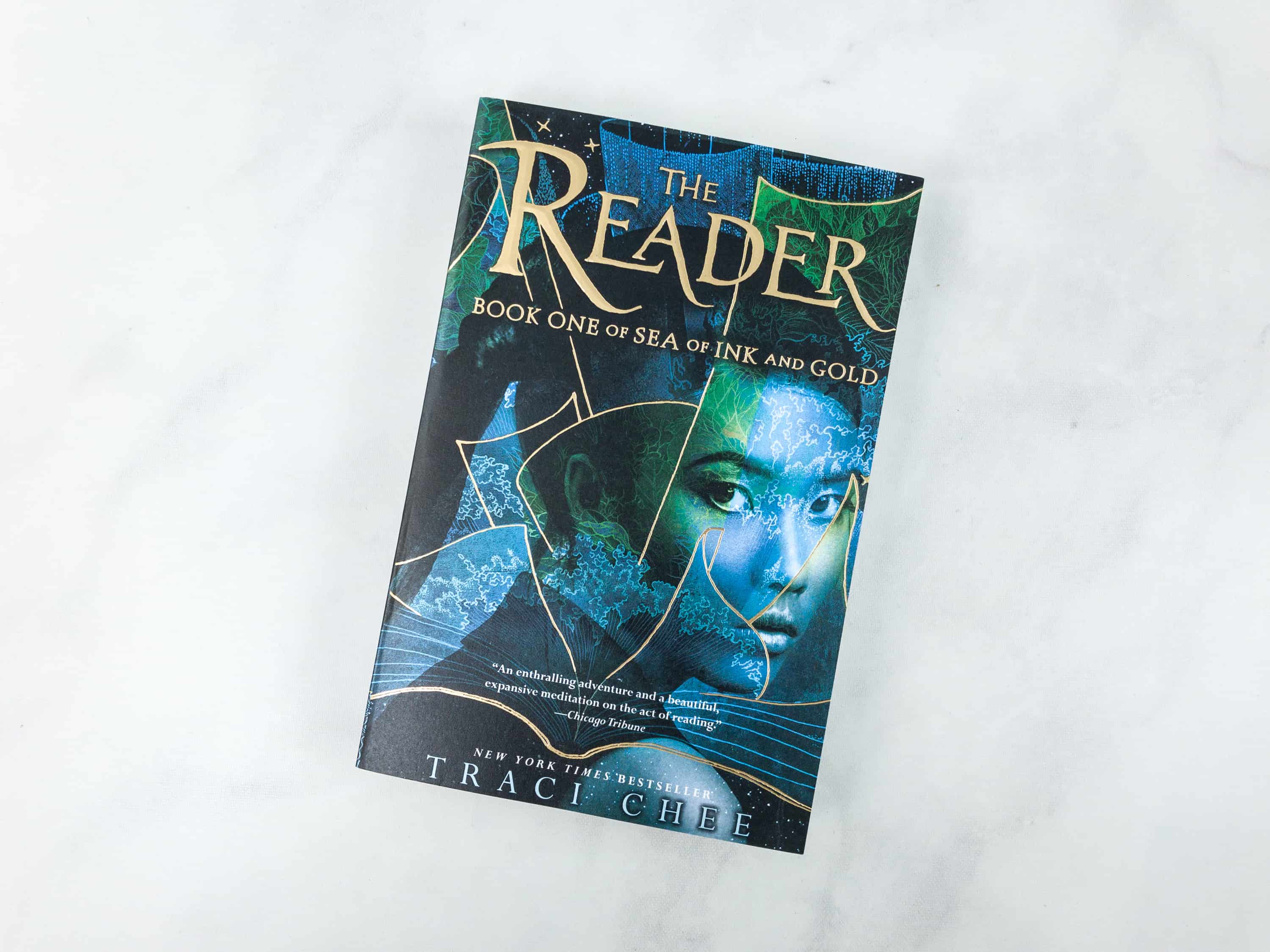 The Reader By Traci Chee ($13.63)
Sefia knows what it means to survive. After her father is brutally murdered, she flees into the wilderness with her aunt Nin, who teaches her to hunt, track, and steal. But when Nin is kidnapped, leaving Sefia completely alone, none of her survival skills can help her discover where Nin's been taken, or if she's even alive. The only clue to both her aunt's disappearance and her father's murder is the odd rectangular object her father left behind, an object she comes to realize is a book—a marvelous item unheard of in her otherwise illiterate society. With the help of this book, and the aid of a mysterious stranger with dark secrets of his own, Sefia sets out to rescue her aunt and find out what really happened the day her father was killed—and punish the people responsible.

With overlapping stories of swashbuckling pirates and merciless assassins, The Reader is a brilliantly told adventure from an extraordinary new talent.
A book about books!
The story has strong female characters, which are well fleshed out in the story. The main character, Sefia, is admirable as she learns to read while saving her family.
The book also features the whole map of Kelanna, the place where the story is set. If it's extremely detailed in the map, you'll be more amazed by how the author built the world through words in her story.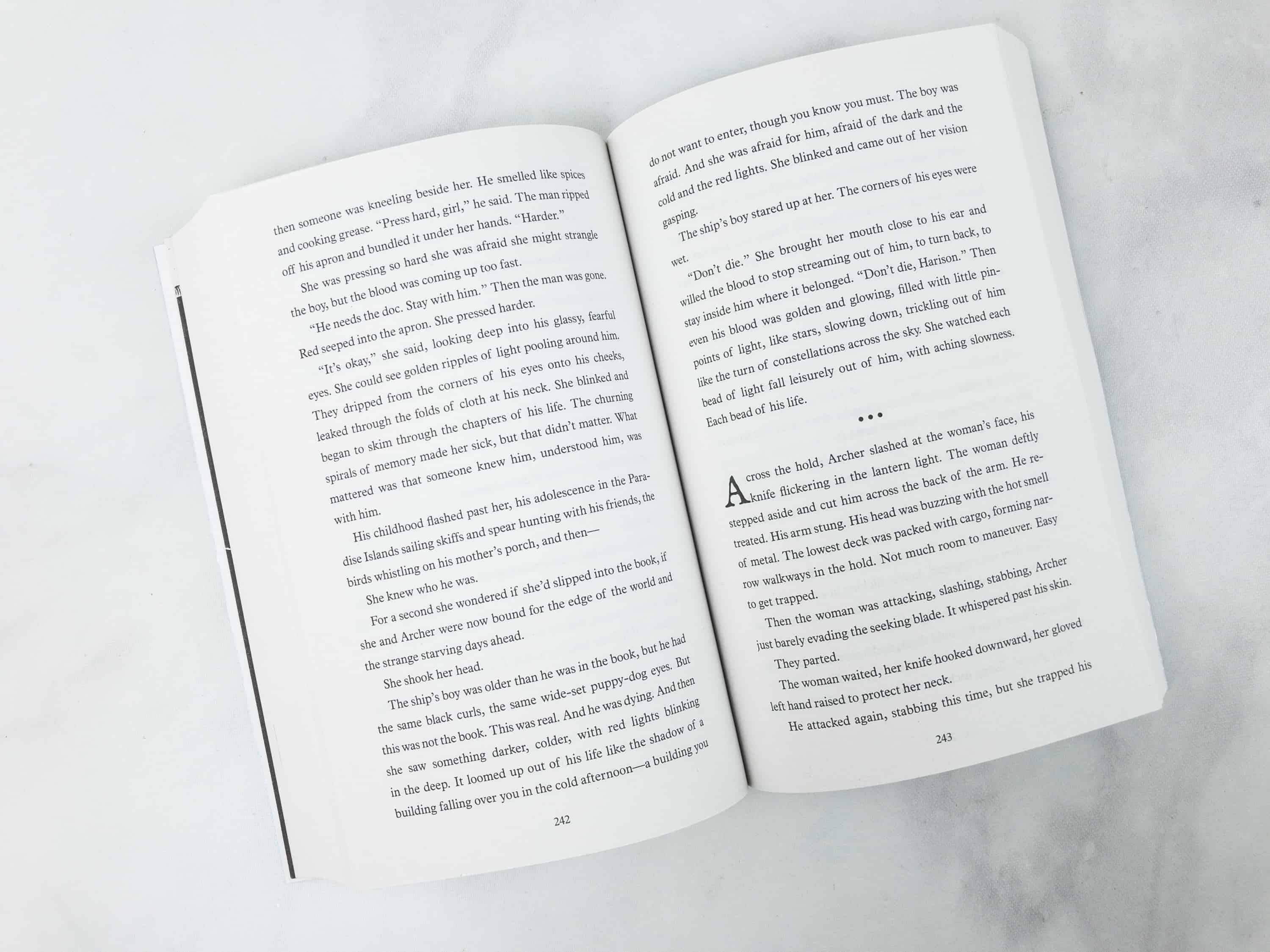 There's also a bit of romance, the kind that is subtle yet endearing. There are weak spots but the premise is interesting.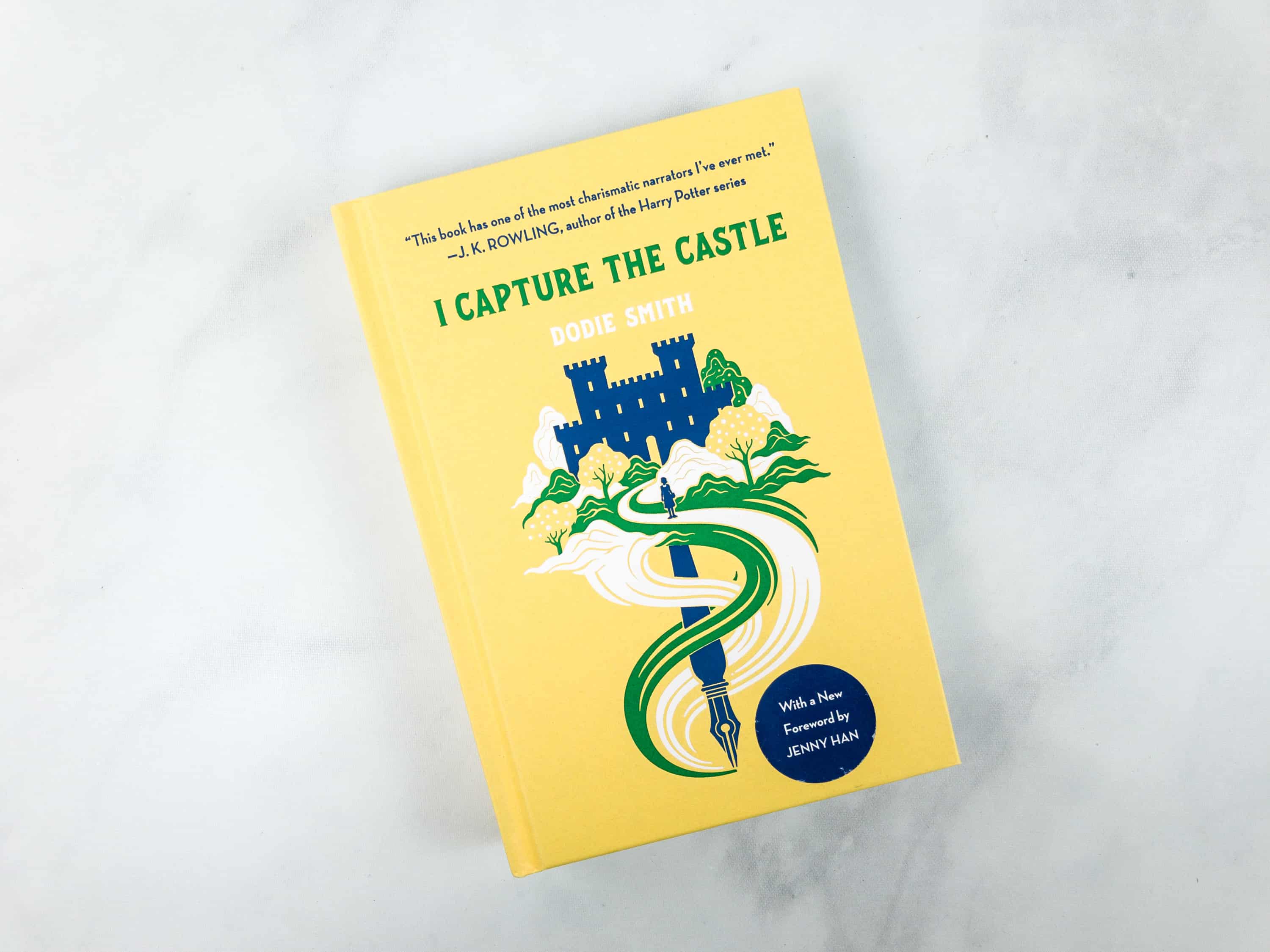 I Capture The Castle By Dodie Smith ($11.01)
Seventeen-year-old Cassandra Mortmain and her family live in not-so-genteel poverty in a ramshackle old English castle. Here she strives, over six turbulent months, to hone her writing skills. She fills three notebooks with sharply funny yet poignant entries. Her journals candidly chronicle the great changes that take place within the castle's walls, and her own first descent into love. By the time she pens her final entry, she has "captured the castle" –and the heart of the reader- in one of literature's most enchanting entertainments.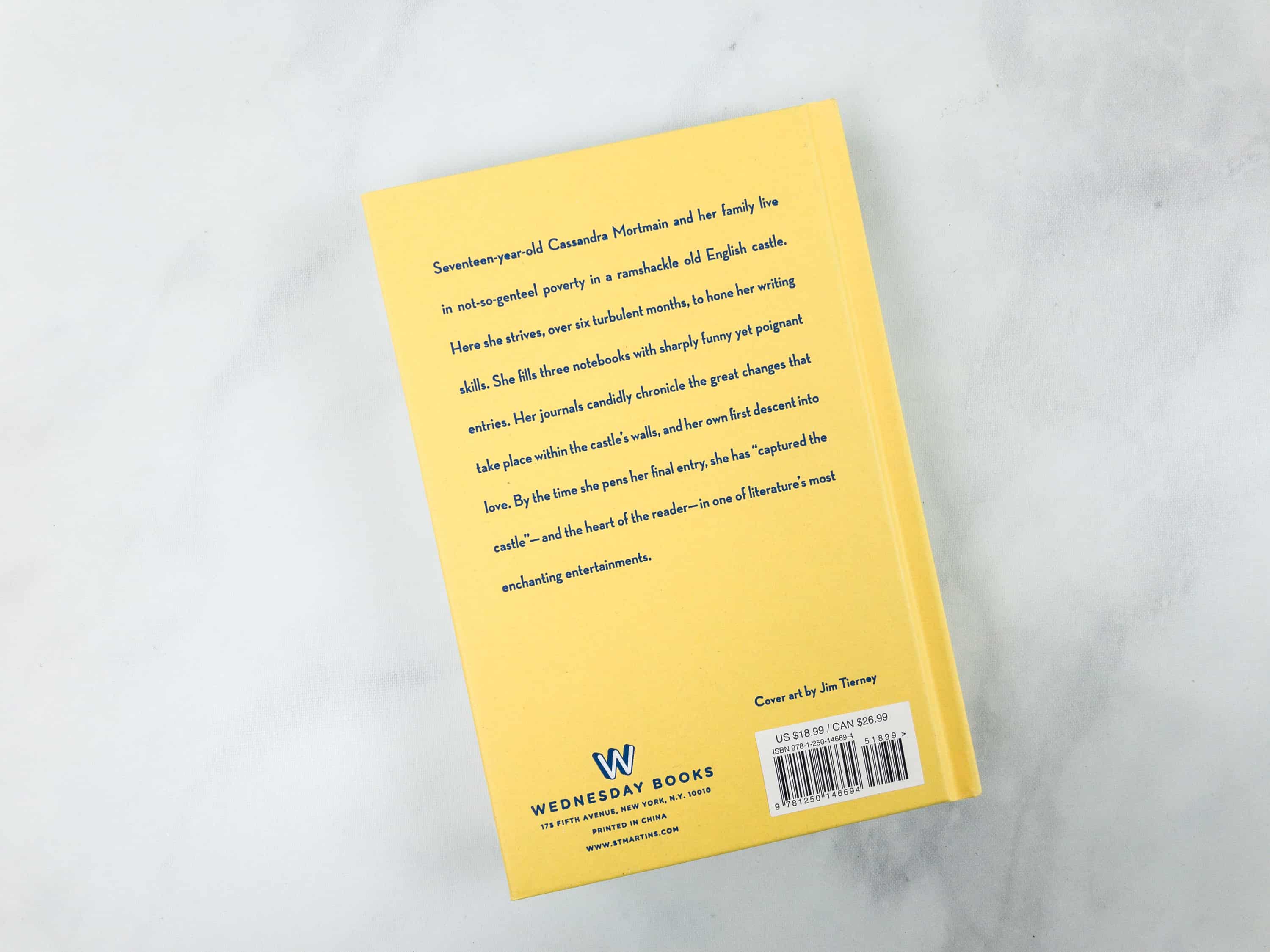 From a girl who loves to read to a girl who writes! The last book for this box has complex but loveable characters, especially the protagonist named Cassandra.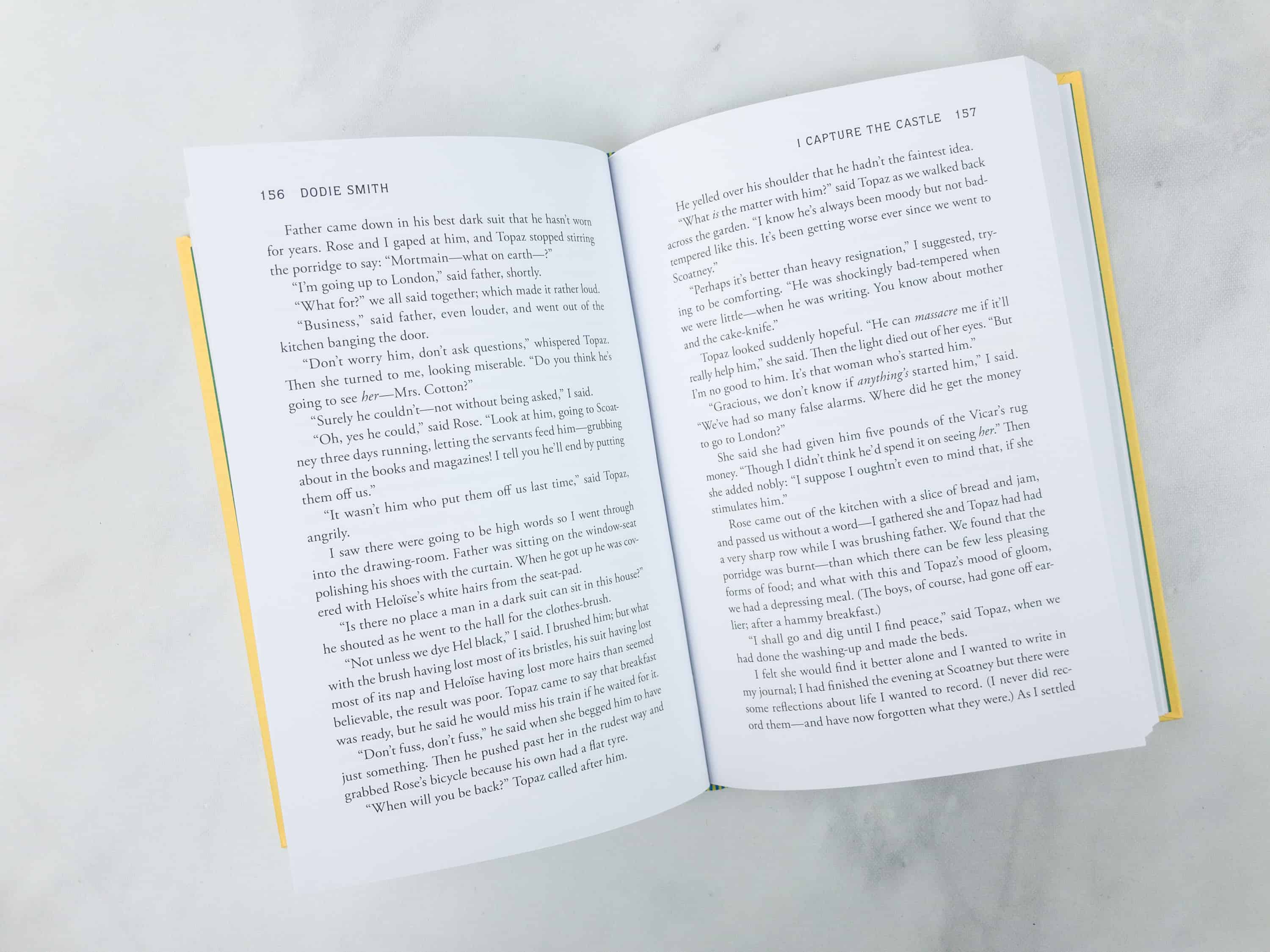 Cassandra is a girl who lives in a castle and hones her writing skills by writing about the changes that occurred inside her "home." The story is written like diary entries, in first person point of view. It's like seeing the world through Cassandra's eyes and it was nothing short of beautiful. Anyone who is an aspiring writer would get inspired by this book. Definitely some age showing with the ending (this is a 1930s novel), but great nonetheless.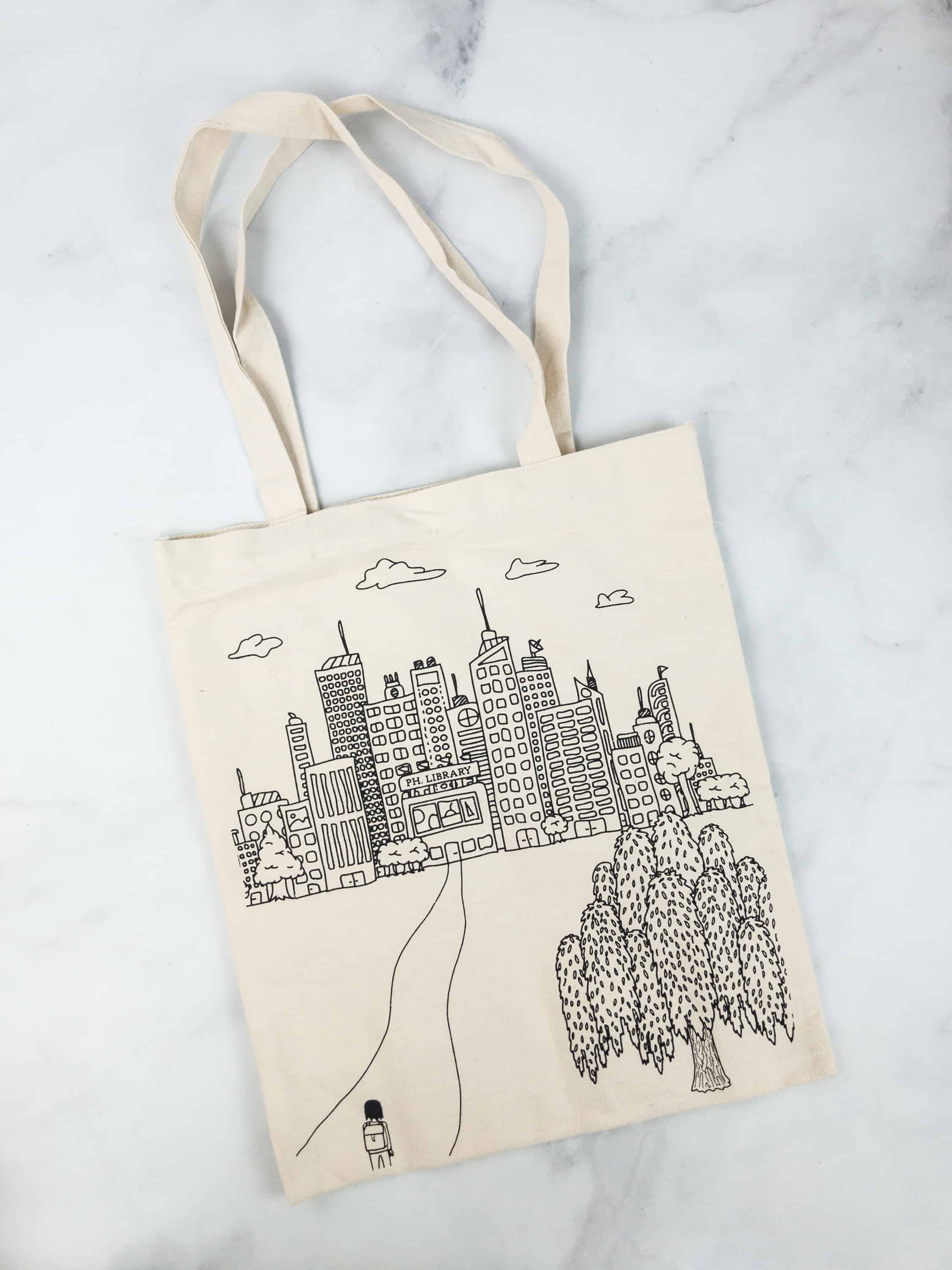 Canvas Bag. It's the same bag I got from my PageHabit November 2017 box. It's pretty lightweight and it can hold lots of books too.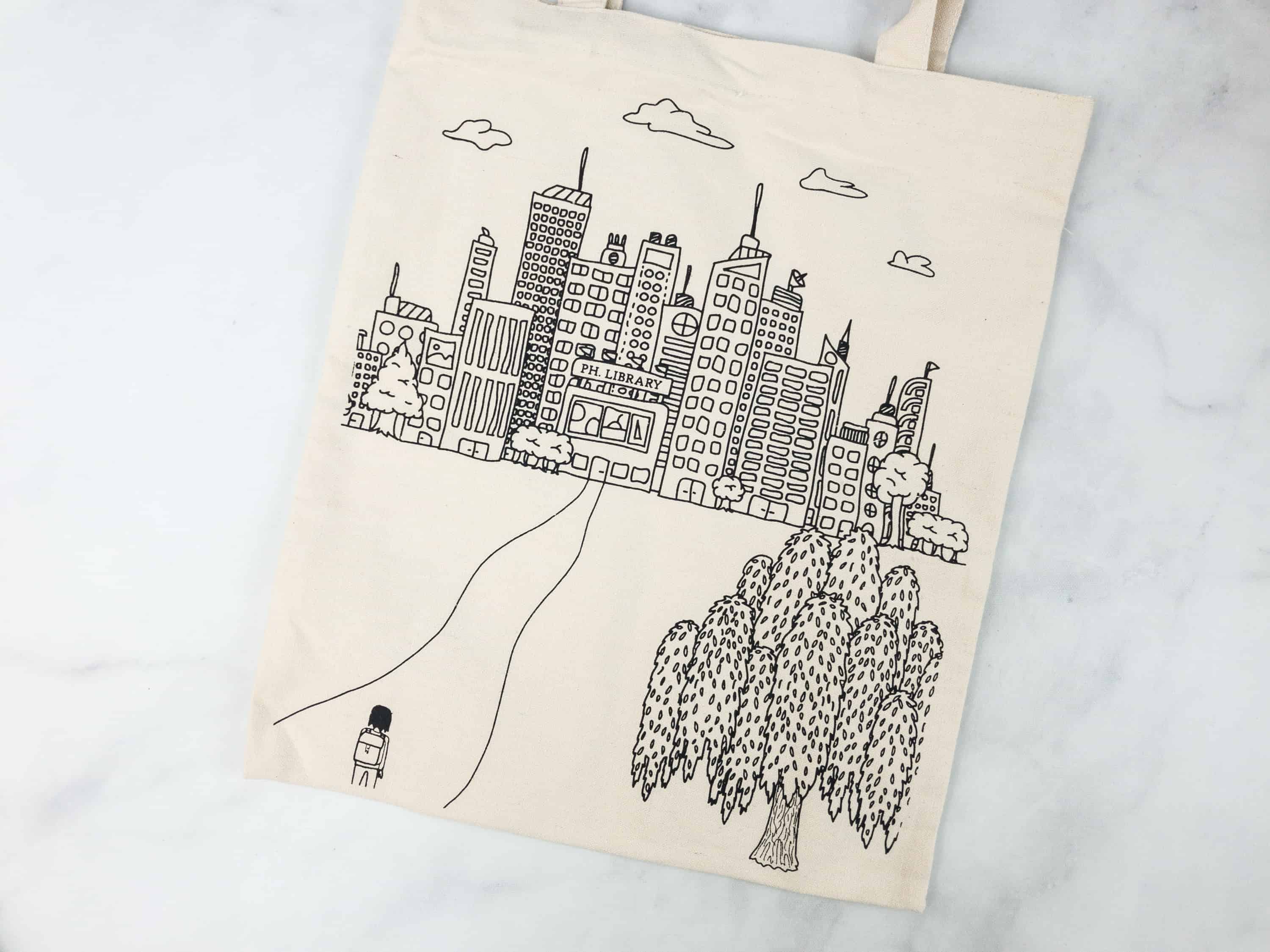 The illustration still looks awesome to me, because the only road leads to the library!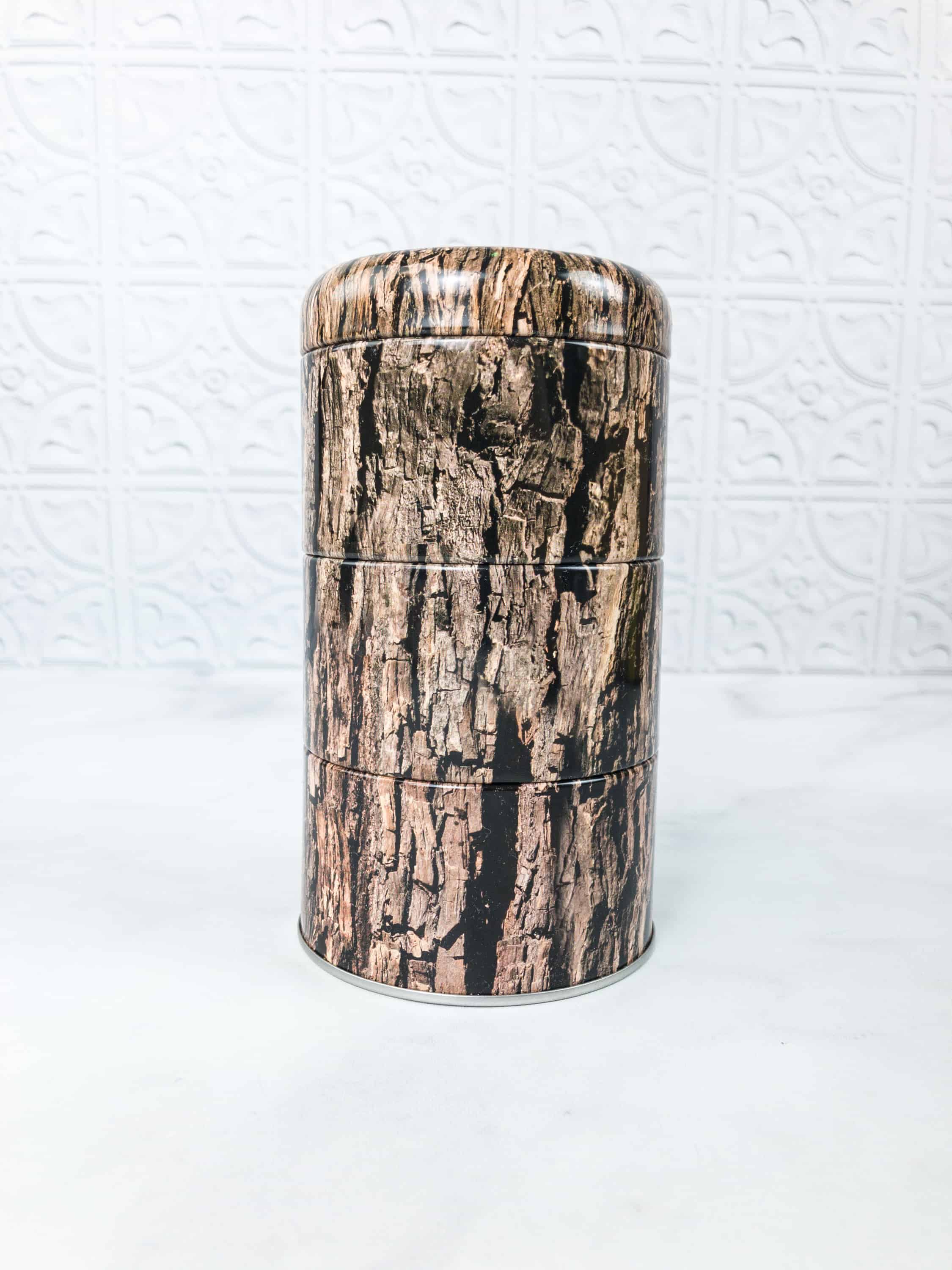 Tin Containers. I also got these stackable tin containers that looked like a tree trunk!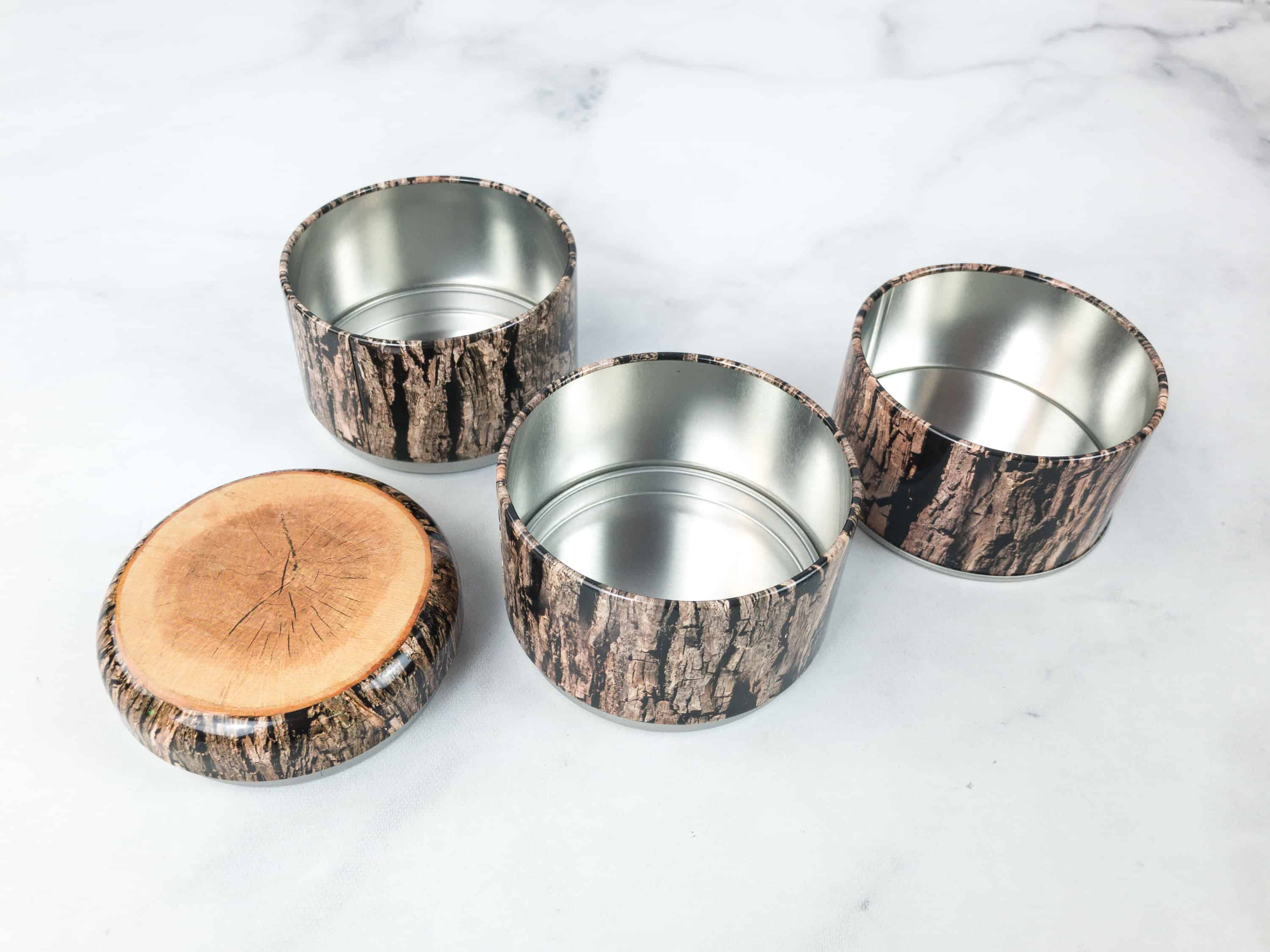 These can be used for keeping small items such as pins, paperclips, jewelry pieces, or even candies! A little odd because it seems on the camo gear side of realism, but I'm sure it can find a home with our collectibles somewhere.
We're so excited about PageHabit's quarterly box, because it's the perfect excuse for us to get more books to enjoy and to add to our YA collection at home! All three books are fantastic – each of them had an admirable female protagonist and most of them were really relatable too. Of course, the bookish goodies are all wonderful. It would have been perfect if the sword pen wasn't broken, but all in all, I appreciate the effort they put into this curation and appreciated the great customer service.
What do you think about the PageHabit YA Quarterly Box?