Owl Crate is a monthly subscription of books and bookish items. Each OwlCrate contains one new Young Adult novel, as well as 3-5 other bookish items all matched to the monthly theme. OwlCrate always sends the best items to go along with their theme with the hottest new books out there.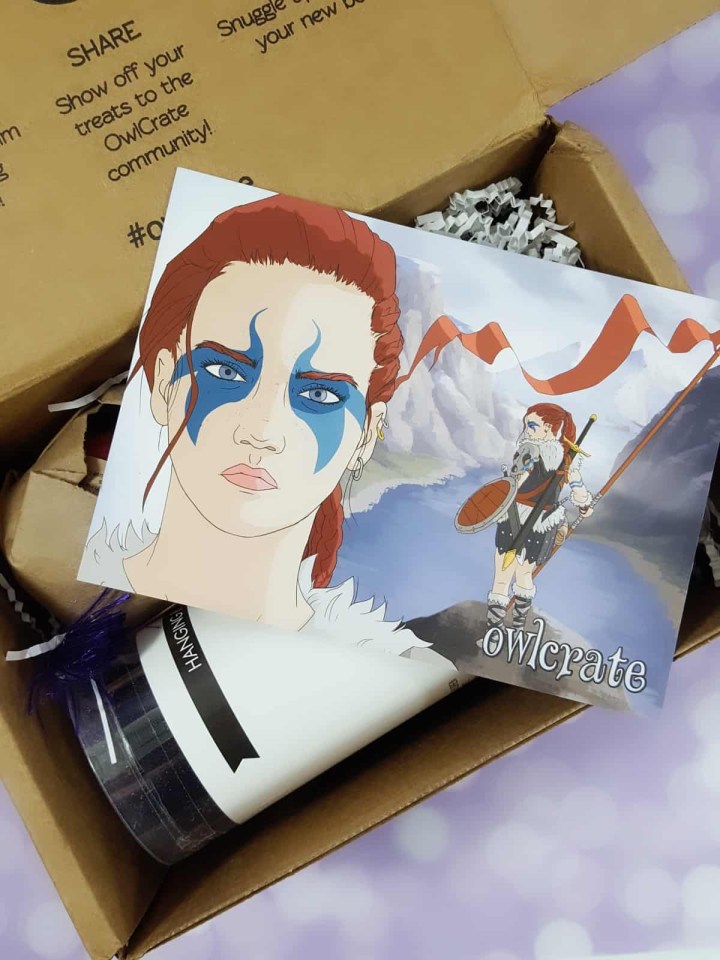 May's OwlCrate theme is Fight Like a Girl. OwlCrate always has the best info card prints. One side is a print representing the theme and the other side is the information for the box contents.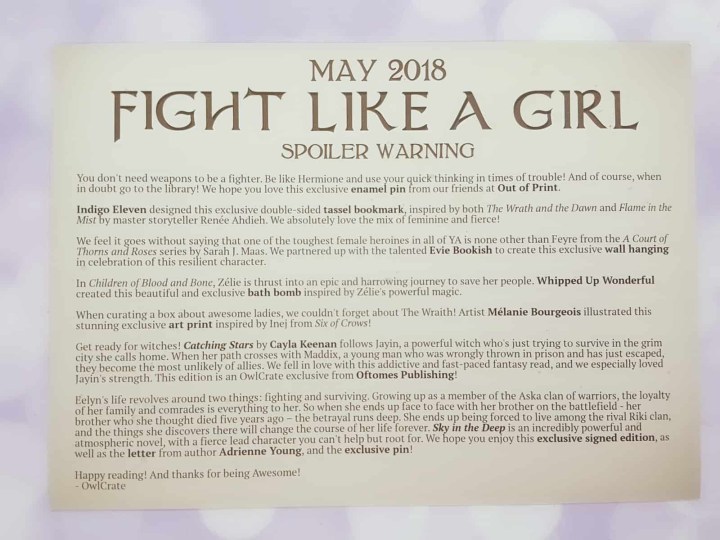 The information card tells a little bit about all the items in this month's box along with little comments on why they were selected or other fun tidbits. The theme follows through even with the info. It is always decorated to go along with that month.

DEAL: Use coupon code INSTAWISH to save 10% on your entire subscription.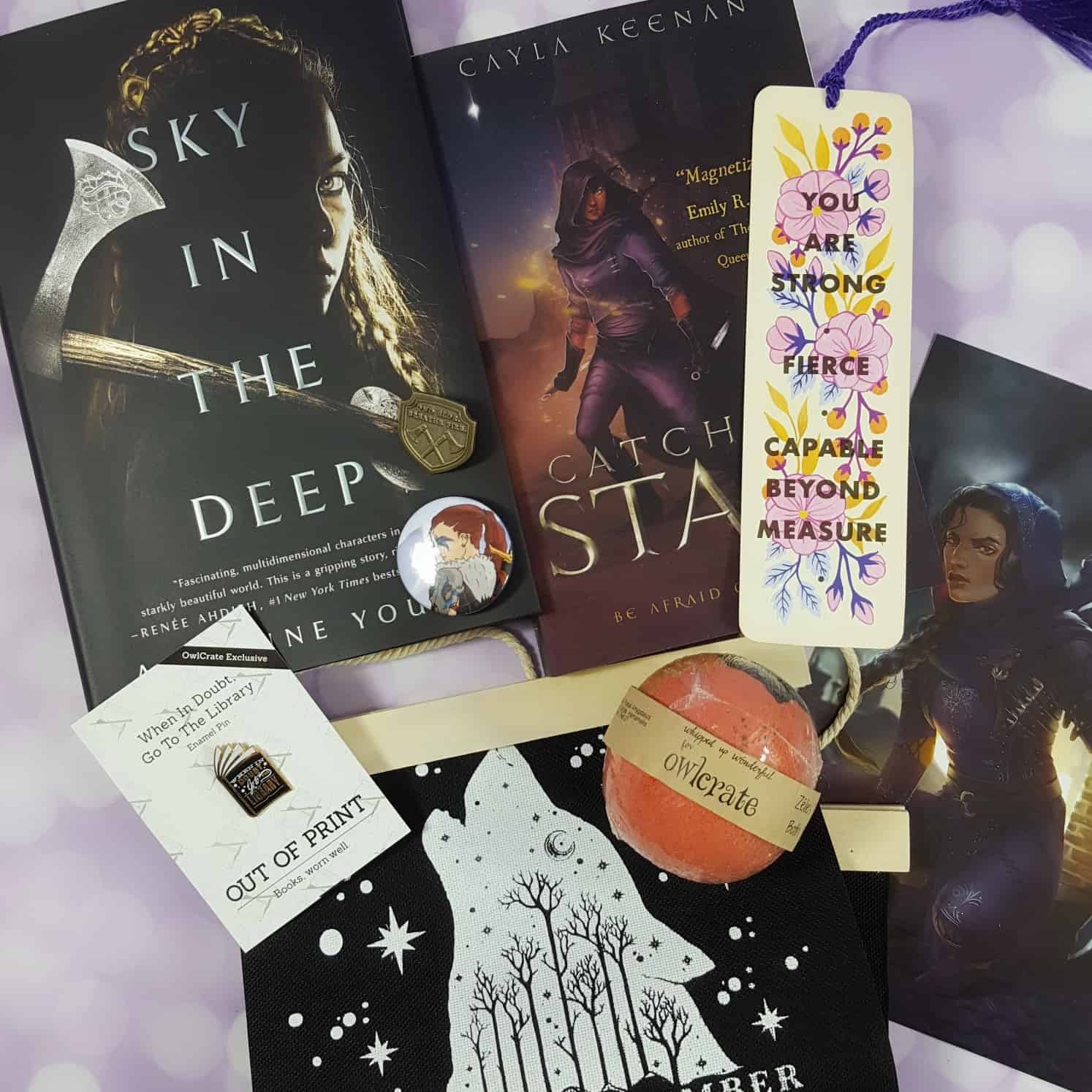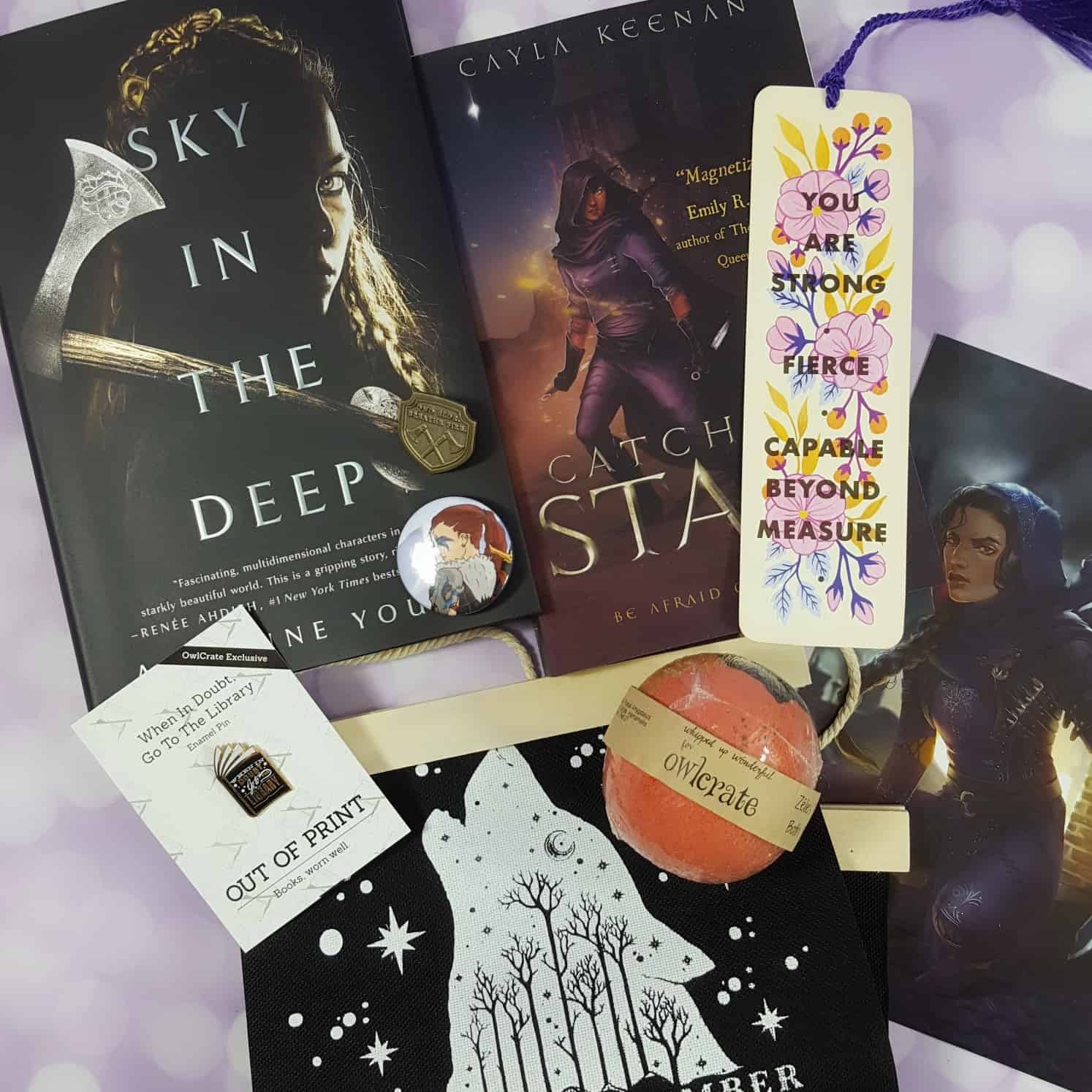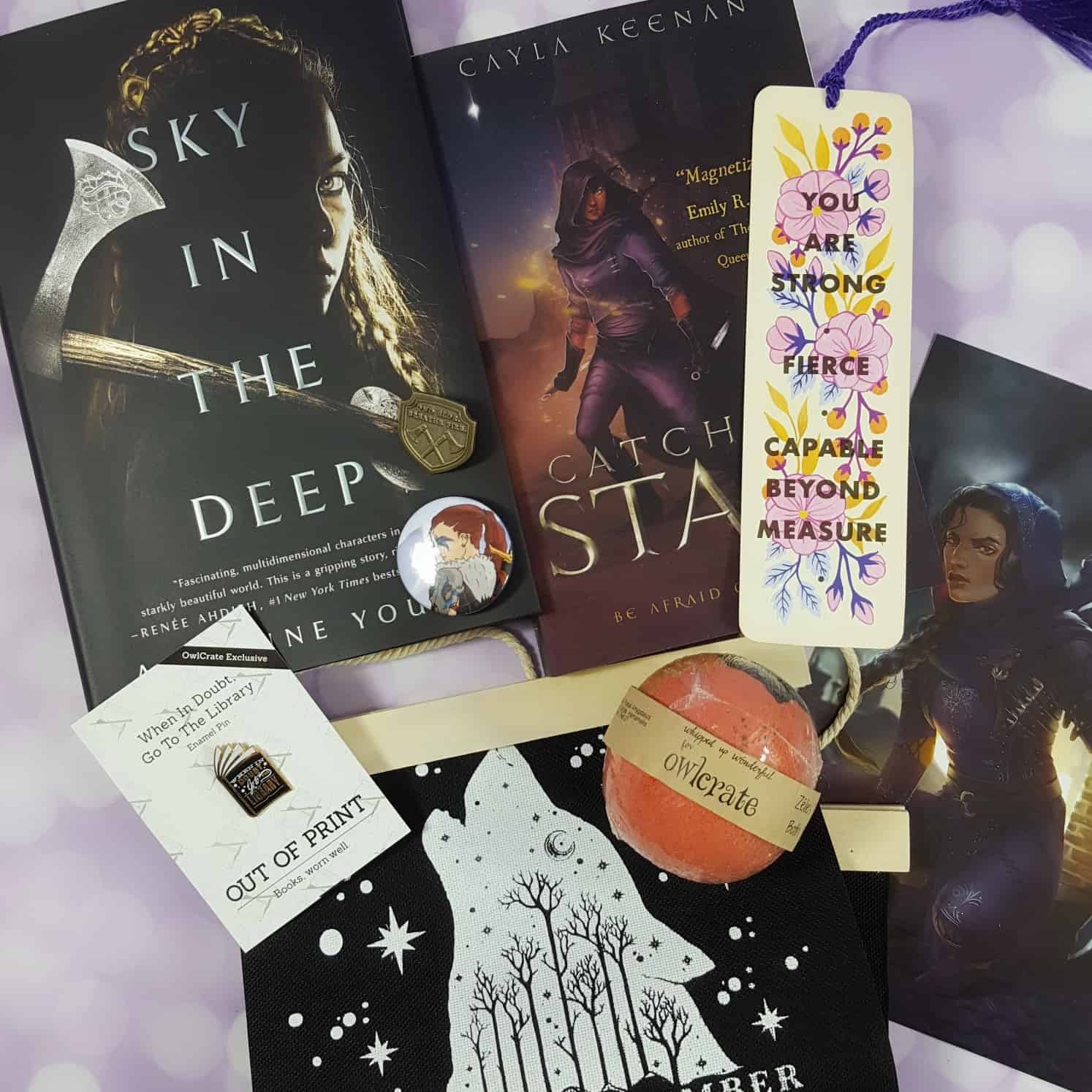 Everything in my May OwlCrate box.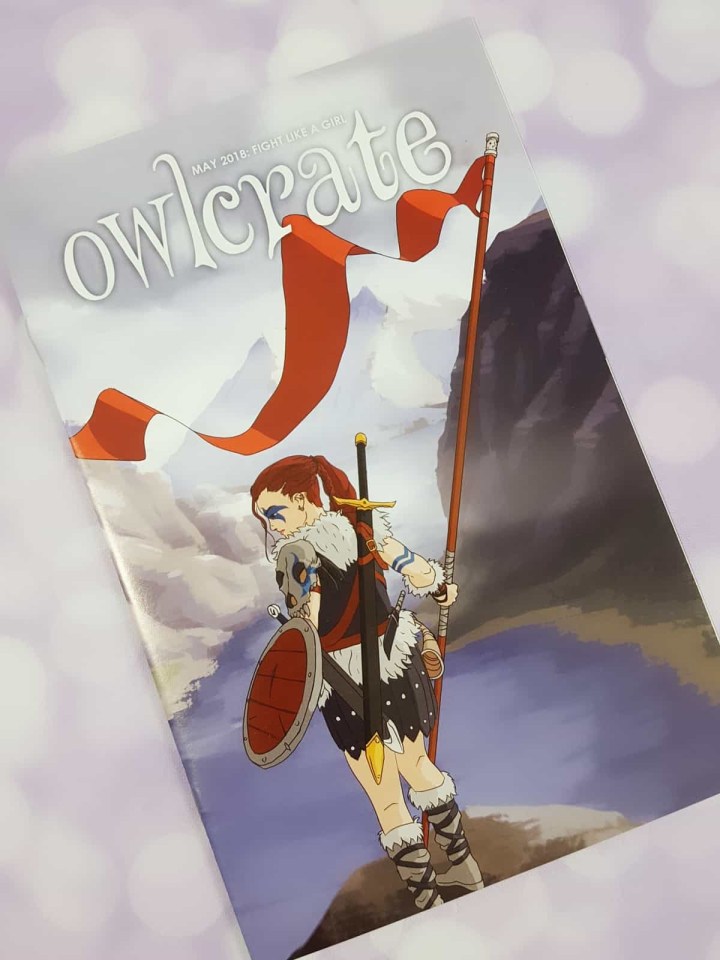 The Informational booklet has become a staple in the boxes.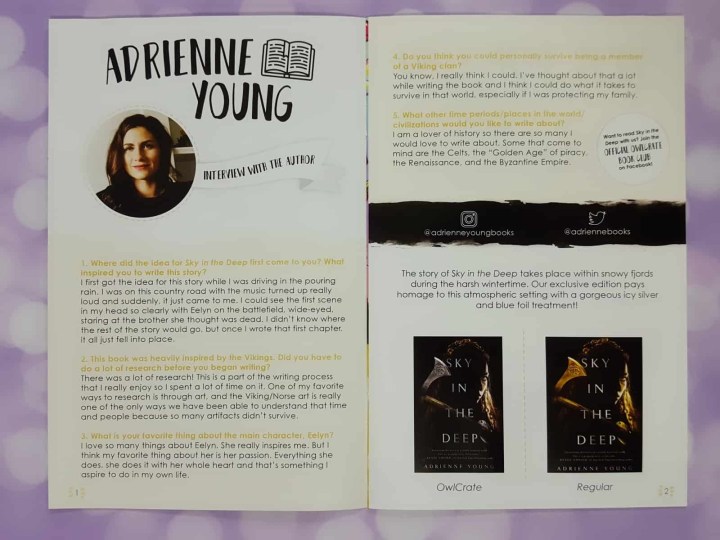 We get interviews with the author and some of the suppliers of the extra items, a sneak peek of the next OwlCrate and a comparison of the exclusive cover versus the regular cover.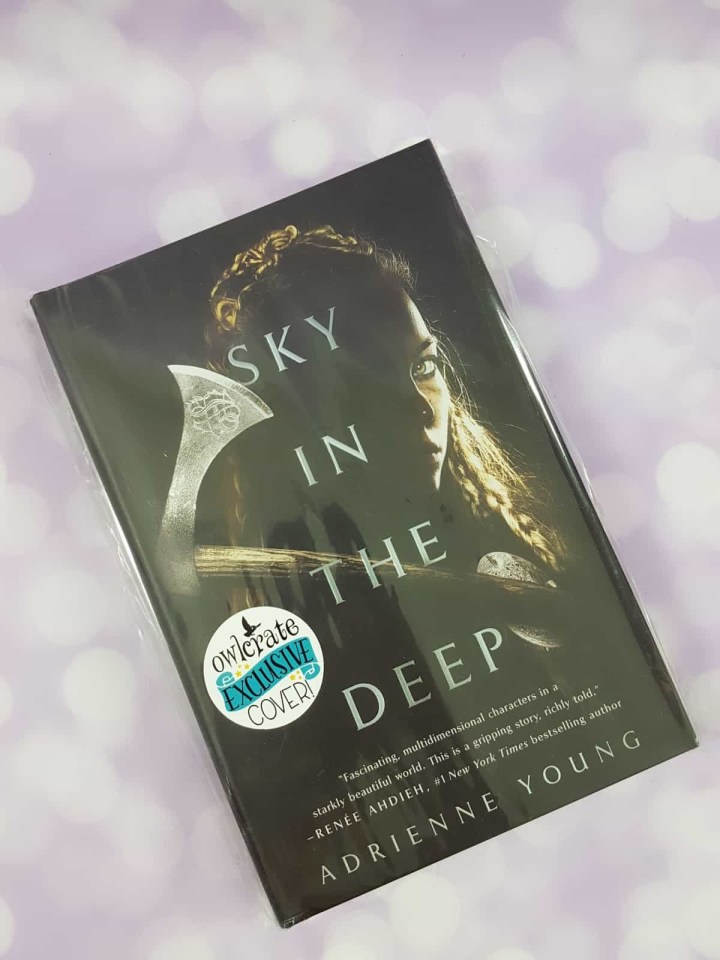 The book comes in a plastic bag each month and the exclusive cover sticker is on the outside of the bag.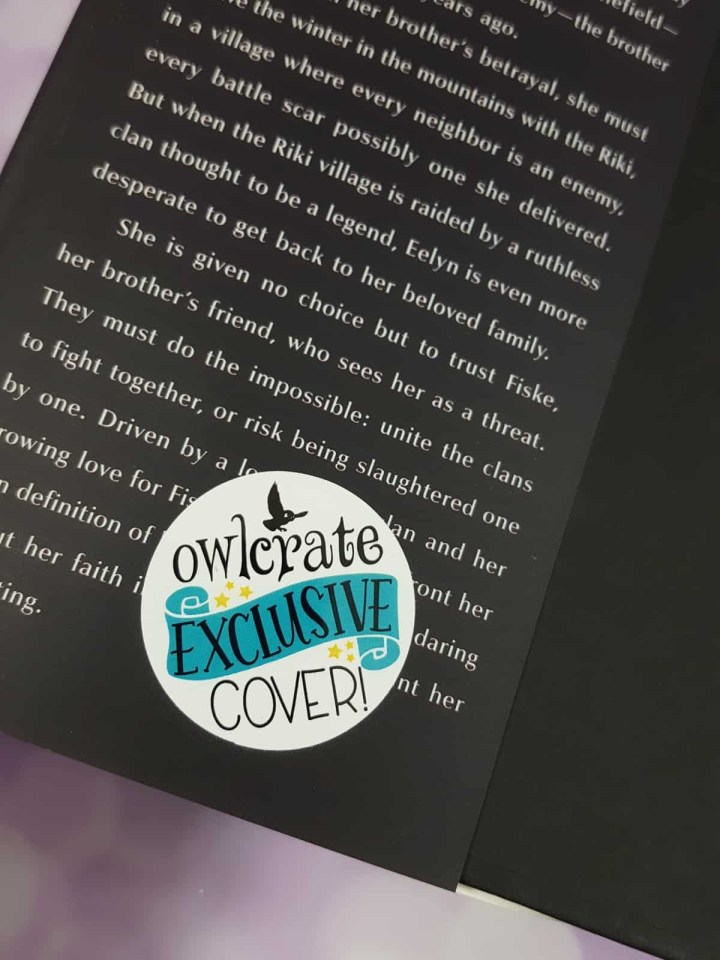 I take the sticker off the bag and place it on the inside sleeve of the jacket. This way I will always know why the book looks different then what I can see online if I was to go to look.
Sky in the Deep by Adreinne Young($12.17) – This sounds like a kick ass female right here. A Part Wonder Woman and a part clan. Having battles to survive in the climates is always intriguing to me and sounds like a great summer read.
OND ELDR. BREATHE FIRE.

Raised to be a warrior, seventeen-year-old Eelyn fights alongside her Aska clansmen in an ancient, rivalry against the Riki clan. Her life is brutal but simple: fight and survive. Until the day she sees the impossible on the battlefield―her brother, fighting with the enemy―the brother she watched die five years ago.

Faced with her brother's betrayal, she must survive the winter in the mountains with the Riki, in a village where every neighbor is an enemy, every battle scar possibly one she delivered. But when the Riki village is raided by a ruthless clan thought to be a legend, Eelyn is even more desperate to get back to her beloved family.

She is given no choice but to trust Fiske, her brother's friend, who sees her as a threat. They must do the impossible: unite the clans to fight together, or risk being slaughtered one by one. Driven by a love for her clan and her growing love for Fiske, Eelyn must confront her own definition of loyalty and family while daring to put her faith in the people she's spent her life hating.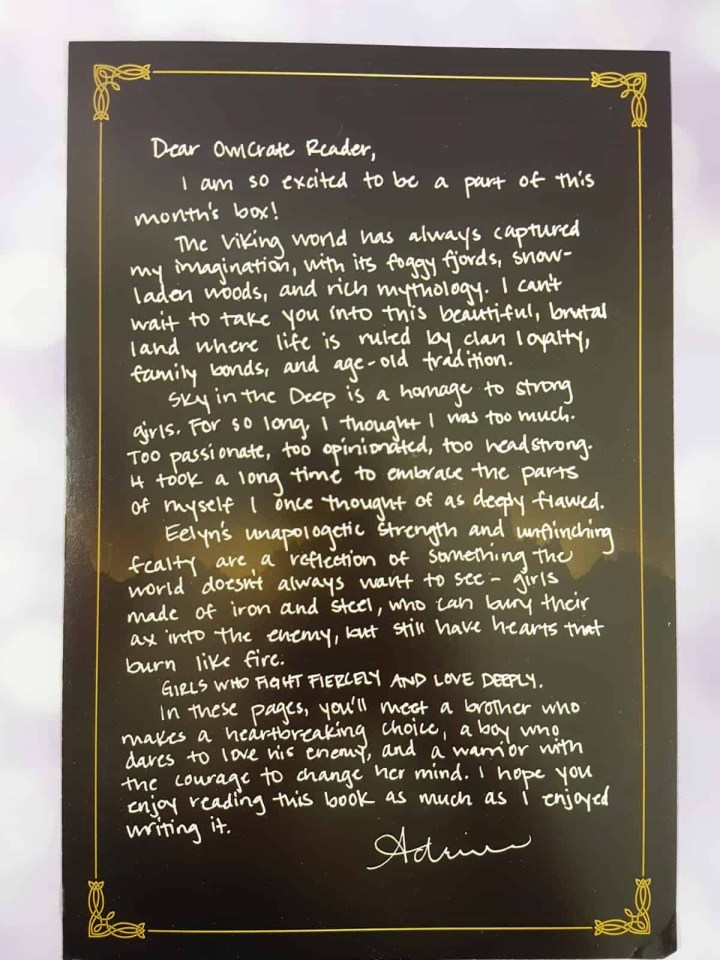 The book also came with a note from the author.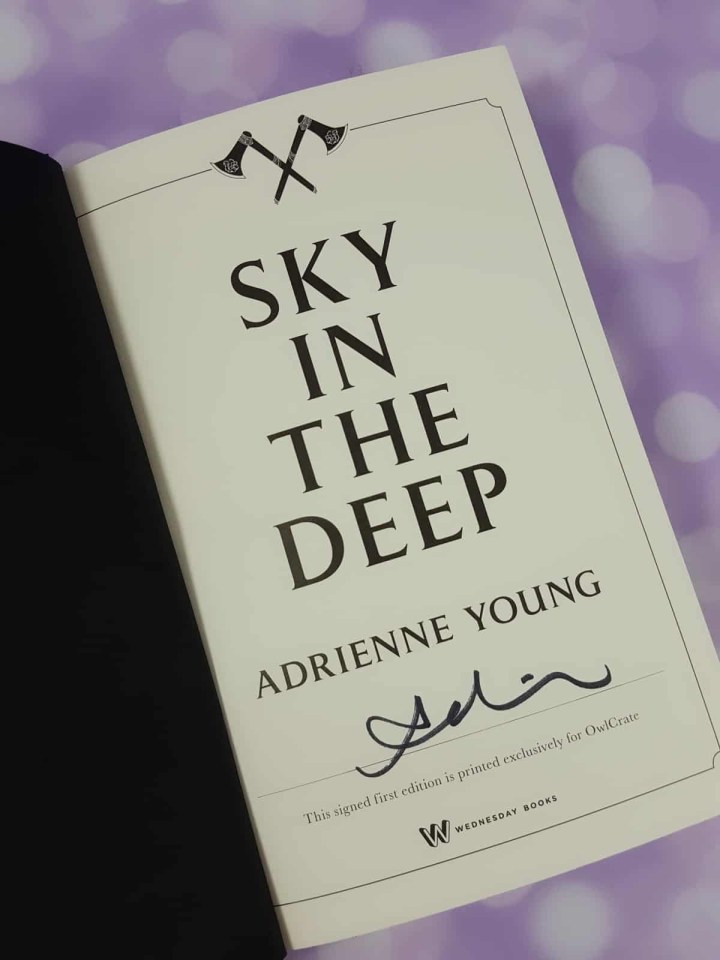 Did you notice I again didn't include a signed bookplate in my extras this month? That is because OwlCrate is now sending autographed books! While they aren't saying it will be this way every month we have gotten them the last couple of months.
Three pins in my box this month. One from Out of Print which shows how Hermione  handles a problem by going to the library. I'm still a huge lover of the library and I love going to mine and taking my boys with me to explore and find all new worlds to fall into. The monthly themed pin and exclusive pin for this month's book selection.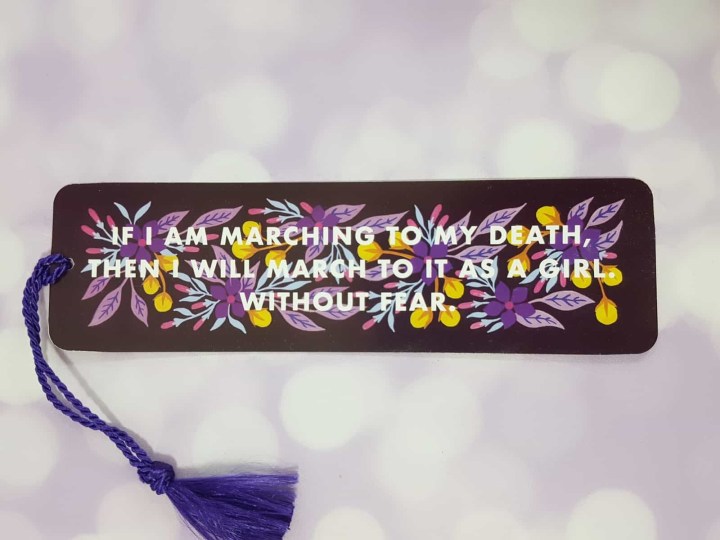 I love getting bookmarks in my book boxes. This one by Indigo Eleven is inspired by The Wrath and the Dawn on one side and Flame in the Mist on the other side. Both sides are superb and I love the purple tassle. Should I admit that I still have an Edward Cullen bookmark I use when reading some books? Guess I just did but I really do need to give it an update and this one fits the bill.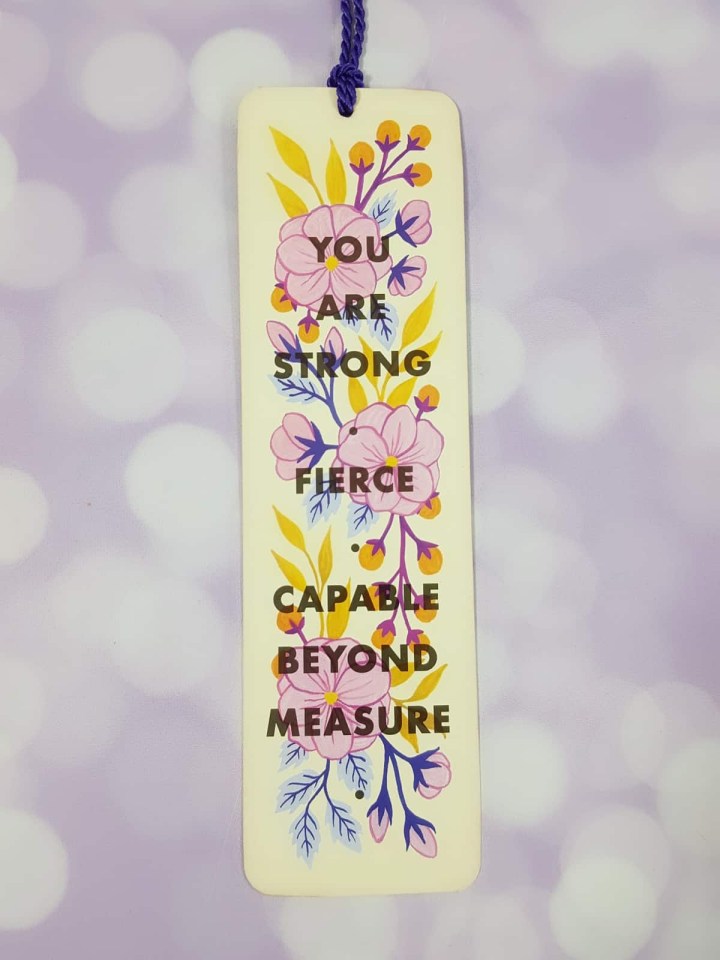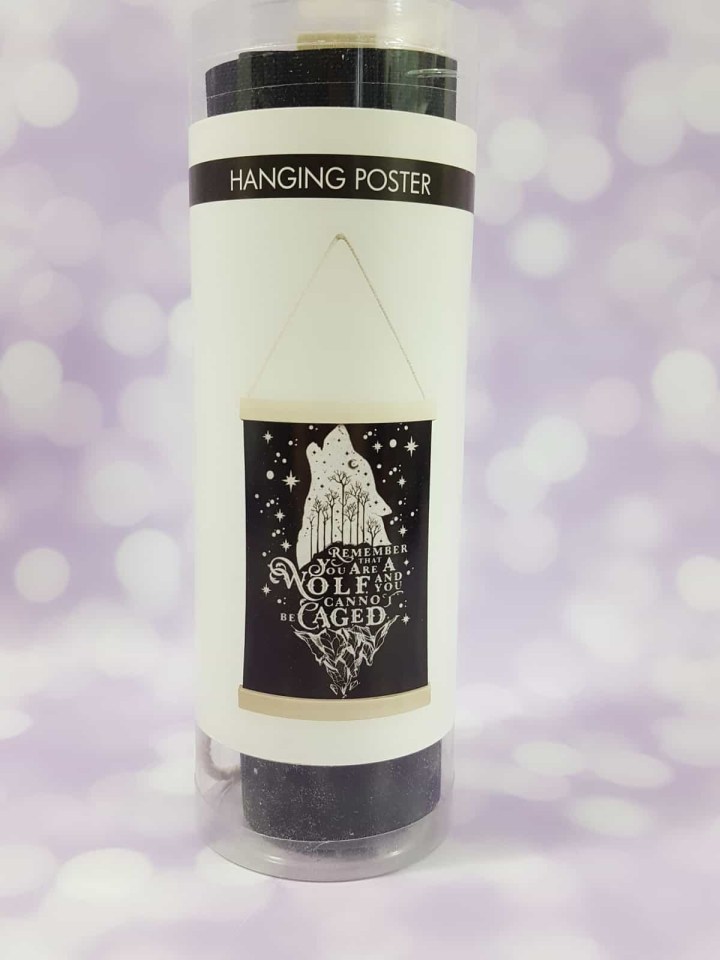 I was very intrigued by this tube in our box. I've not gotten a tube in here before and when they said it was from Evie Bookish I couldn't wait. I love everything we've gotten from her.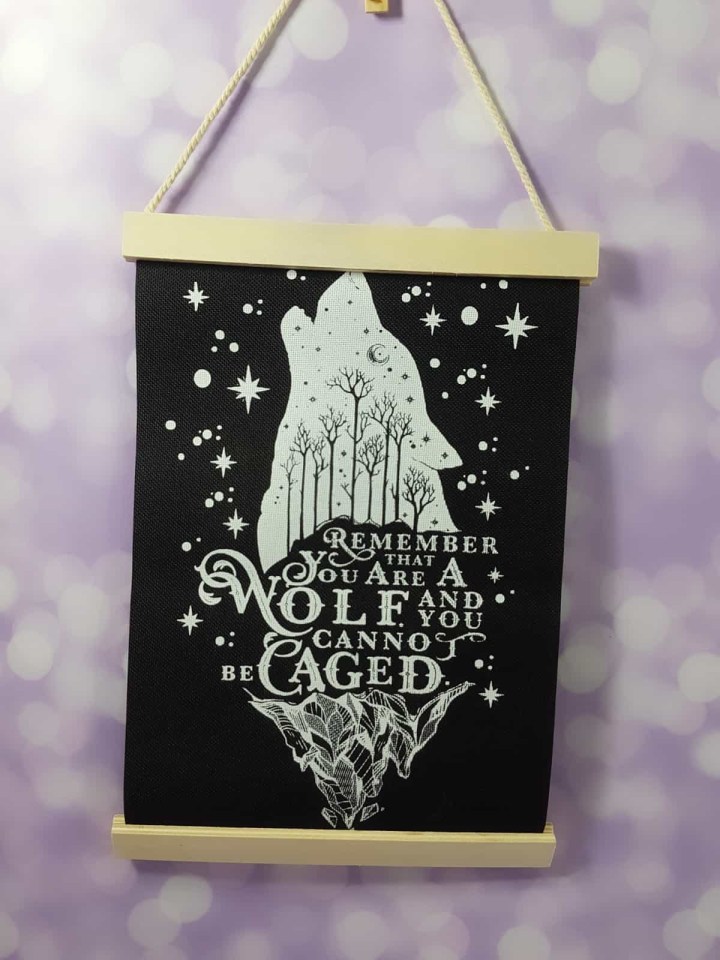 The wall hanging was inspired by A Court of Thornes and Roses. I love the size of this one and how it's made. My college team mascot is also a wolf so this is a doubly great quote and print.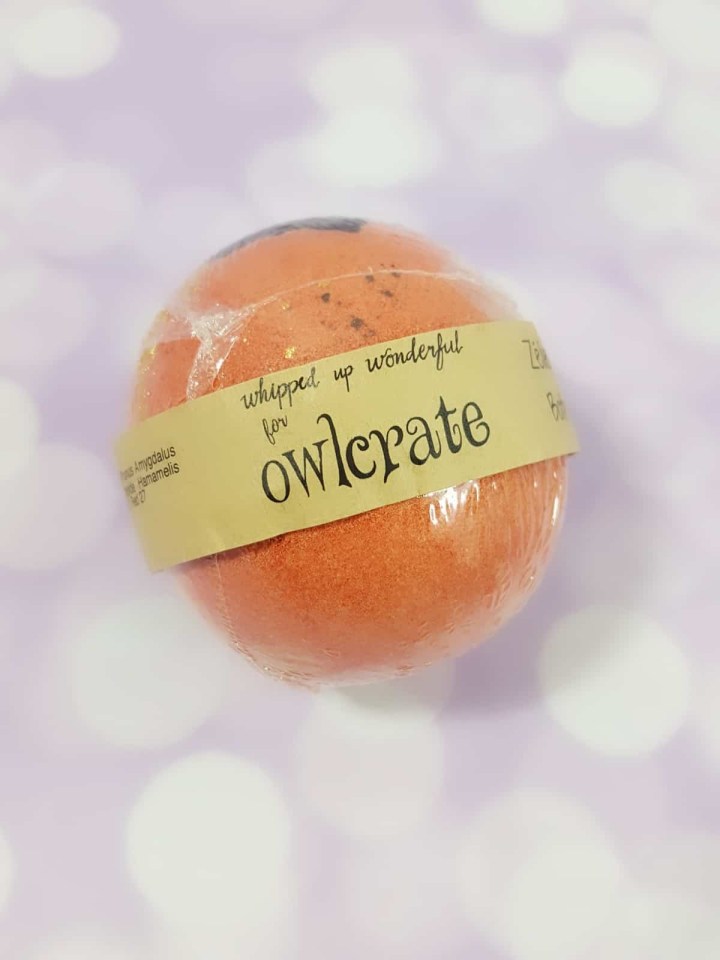 I've told you guys before but I'm a bath girl. Making a nice hot bubble bath and staying in it with a good book is my perfect slice of heaven. This bath bomb by Whipped Up Wonderful was inspired by Children of Blood and Bone.
While the orange on the front of the bath bomb is spectacular the back with the gold and black swatches is awesome. It is almost to great to use but I'll get over that quickly.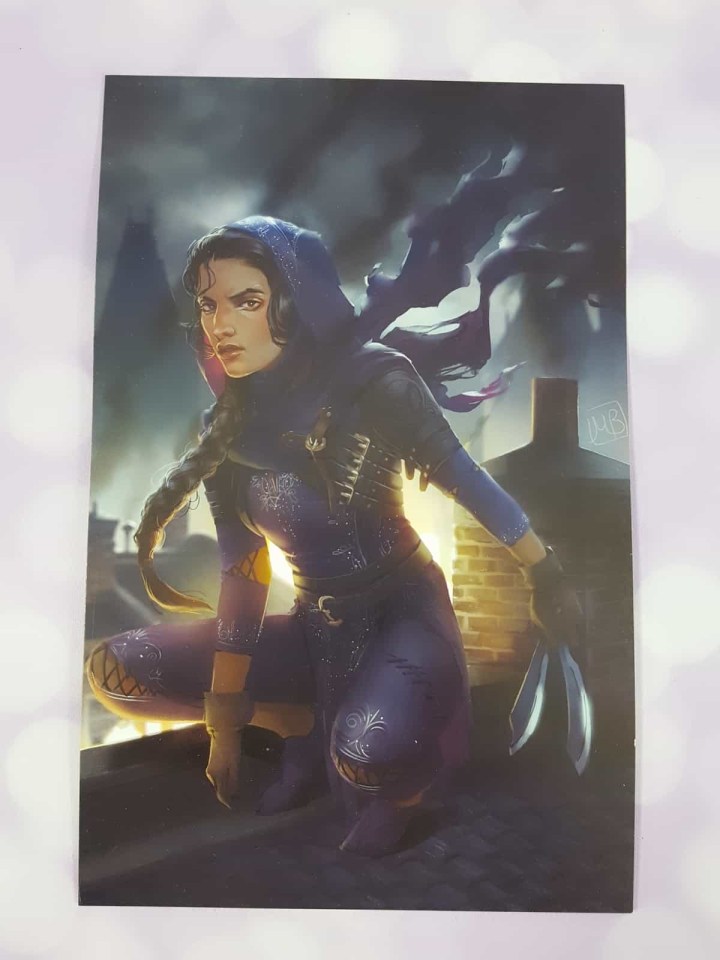 Look at the detail in the art print from Melanie Bourgeois inspired by The Wraith! from Six of Crows.
Catching Stars by Cayla Keenam ($10.99) – How exciting a second book this month! This is an OwlCrate Exclusive version from Oftomes Publishing and is a about a fierce witch. I'm all about a good witch story!
Jayin Ijaad is in hiding. A witch with powerful abilities, she carves out a life for herself in the slums of Pavaal, a city rotting from the inside out. When an old acquaintance tracks her down, Jayin is dragged back into a world she tried to escape — and is determined to escape again.
Maddix Kell is on the run. After two years in prison for crimes he did not commit, Maddix escapes and seeks out a legendary order of witchhunters who are his only chance to find justice.
But all is not as it seems and Maddix soon finds himself on the run from the people he sought as allies. When their paths collide, Jayin and Maddix must put aside their prejudices and forge an uneasy alliance that could crumble at any moment. But if they want to survive in Aestos — a brutal kingdom where magic and corruption lie hand in hand and enemies lurk around every corner — they must first survive each other.
Owl Crate sent another awesome box this month. I was very excited for a Fight Like A Girl theme and this box was spot on. Lots of fantastic items inspired by great literary women. I can't wait to pour a hot bath, add my bath bomb, and soak it up while reading both of the books this month. With OwlCrate sending more exclusive covers and signed copies the books are getting just better and better each month!
The June 2018 theme is Summer Lovin'! This month's box will include an exclusive edition AND the book will be signed by the author!
You guys have been asking for a contemporary box and we heard your calls!
 Our book pick is a super fun story about a girl who dreams of being a groundbreaking filmmaker. She gets into all sorts of shenanigans when creating a short film for a summer film festival! The book is full of laughs, friendship, and adorable romance.
 The book will be a special exclusive edition that is SIGNED by the author. We had a lot of fun with this edition…the entire dust jacket is special (not just the cover)!
 June's box will feature some of the most exciting goodies we've ever included (in our humble opinion)! Two items are things we've never sent out before and we're so proud of how they turned out! They're perfect for any bookworm! This box is so packed, we almost couldn't close it!
 Items will be inspired by Since You've Been Gone, Aristotle and Dante Discover the Secrets of the Universe, and much more. We've also partnered up with some of the most beloved bookish shops out there. We can't wait to share sneak peeks!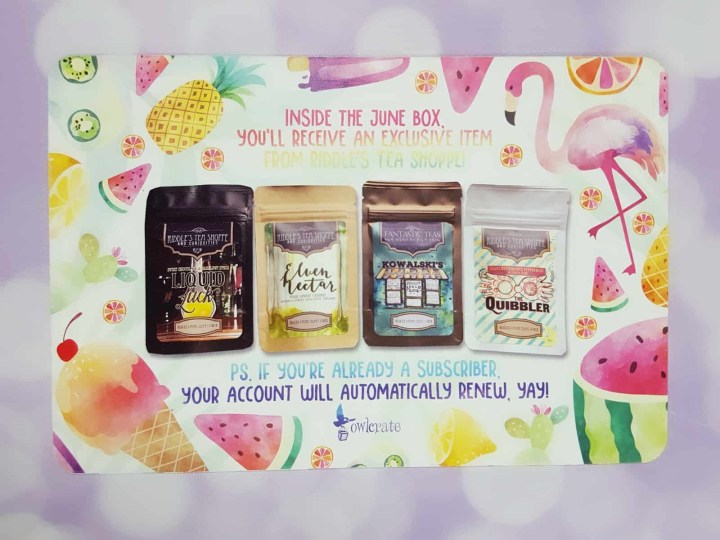 Each box will also include an exclusive item from Riddles Tea Shoppe!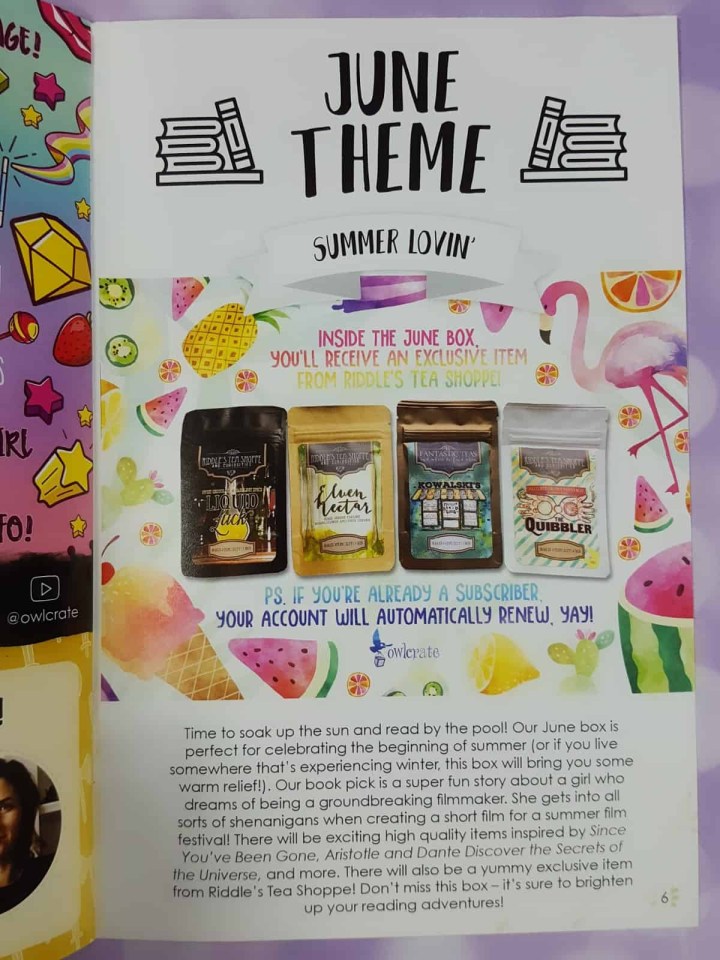 The back of the information booklet also tells us a bit more about the May box.
Time to soak up the sun and read by the pool! Our June box is perfect for celebrating the beginning of summer (or if you live somewhere that's experiencing winter, this box will bring you some warm relief!) Our book pick is a super fun story about a girl who dreams of being a groundbreaking filmmaker. She gets into all sorts of shenanigans when creating a short film for a summer film festival! There will be exciting high quality items inspired by Since You've Been Gone, Aristotle and Dante Discover the Secrets of the Universe, and more. There will also be a yummy exclusive item from Riddle's Tea Shoppe! Don't miss this box – it's sure to brighten up your reading adventures!
What did you think of this month's Owl Crate theme? Are you ready for next month's?