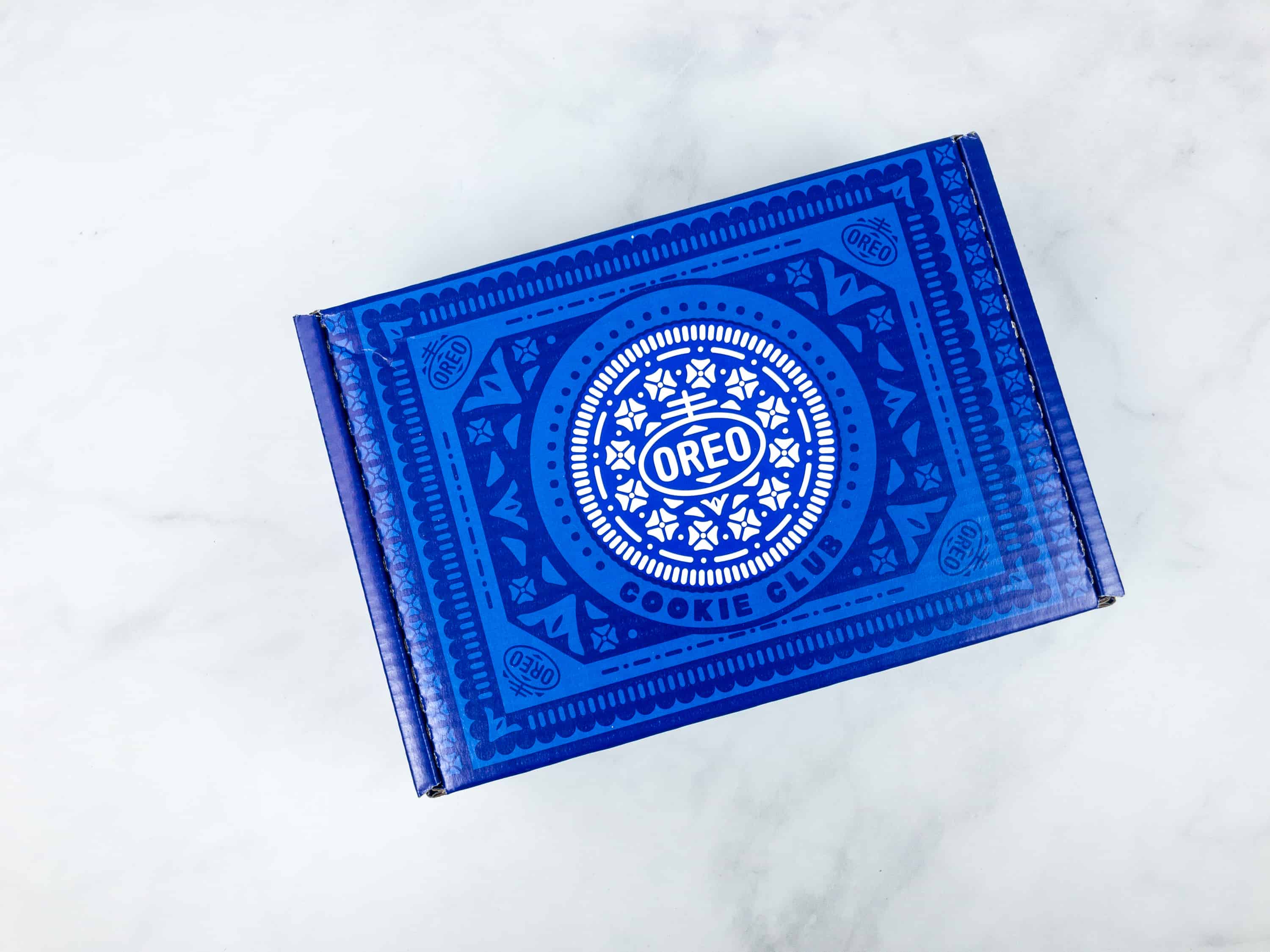 Oreo lovers, the OREO Cookie Club is here! Inside every box are two deliciously different OREO experiences (a new flavor, or a familiar favorite) with fun OREO swag and a delicious recipe. It's $59.97 per quarter and ships monthly for free. Every box comes with two OREO flavors, a one-of-a-kind OREO inspired gift and a recipe card.
This all-too-familiar blue color covers the entire box with the logo of our favorite OREO right smack in the middle in white letters. This box is unmistakable even at first glance!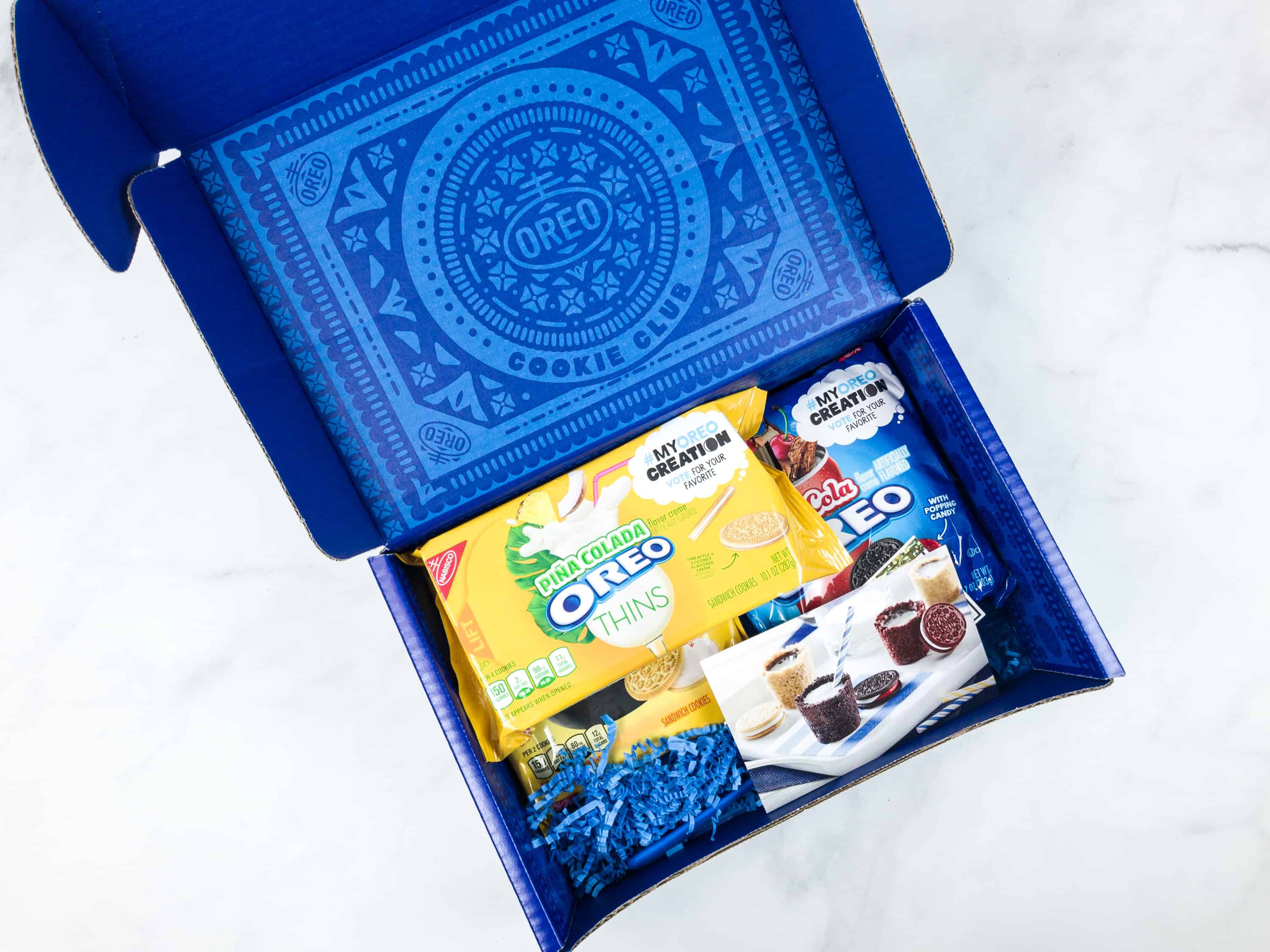 It's OREO time! 
Upon opening the box, I already saw an interesting OREO flavor. There are two more packs of cookies inside the box, as well as an information card which we'll get to in a bit.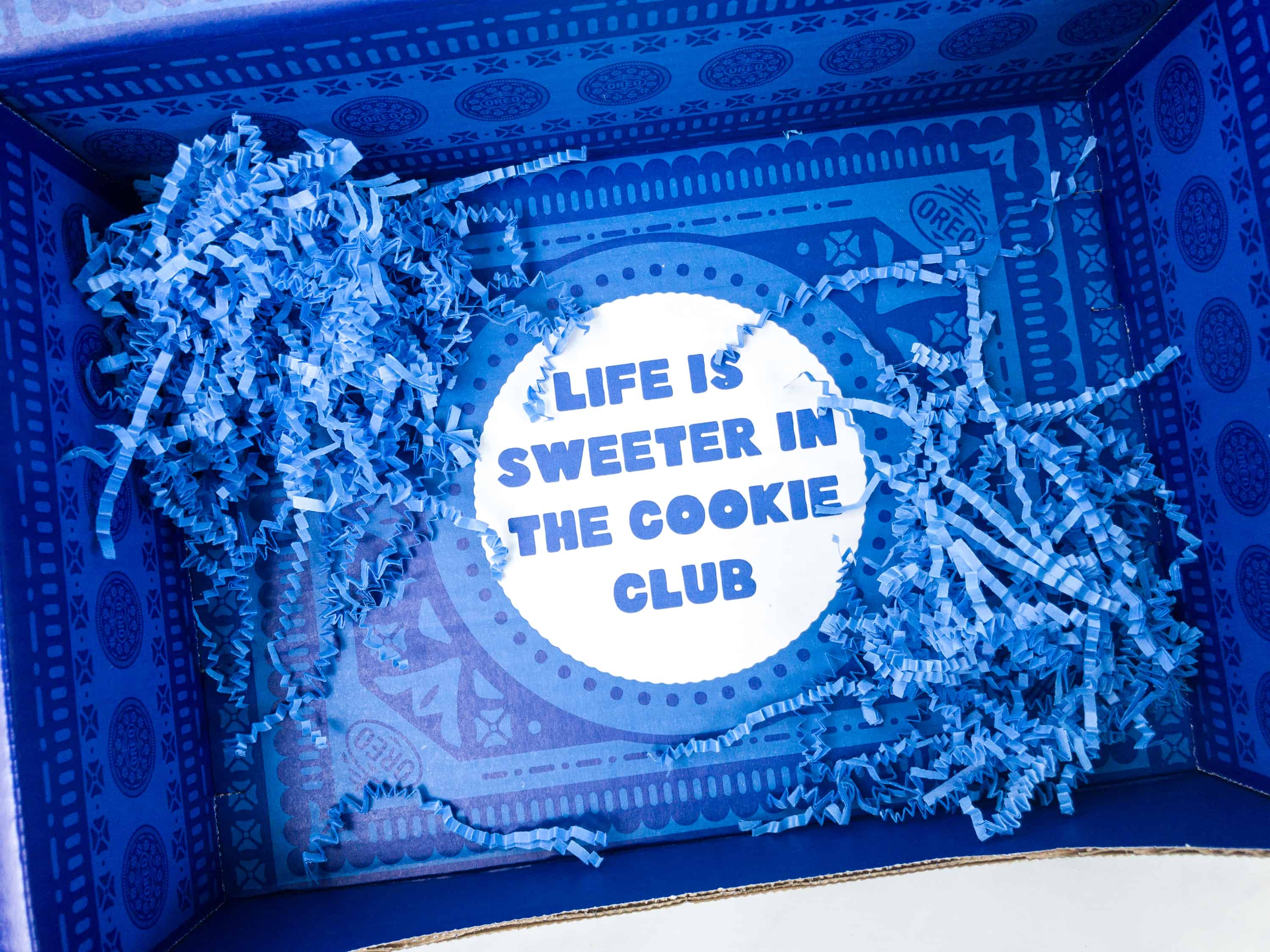 There is a sweet note from the Oreo Cookie Club on the bottom of the box. Do we think life is sweeter in the club? Let's find out.
This recipe card comes with a photo of cookies that were transformed into milk cups! How cool is that?
Flip the card and you will get the recipe on how to make your very own Oreo Cookie Dunk Cups! This looks a little fussy and requires most of a pack of Oreos, so I'll pass.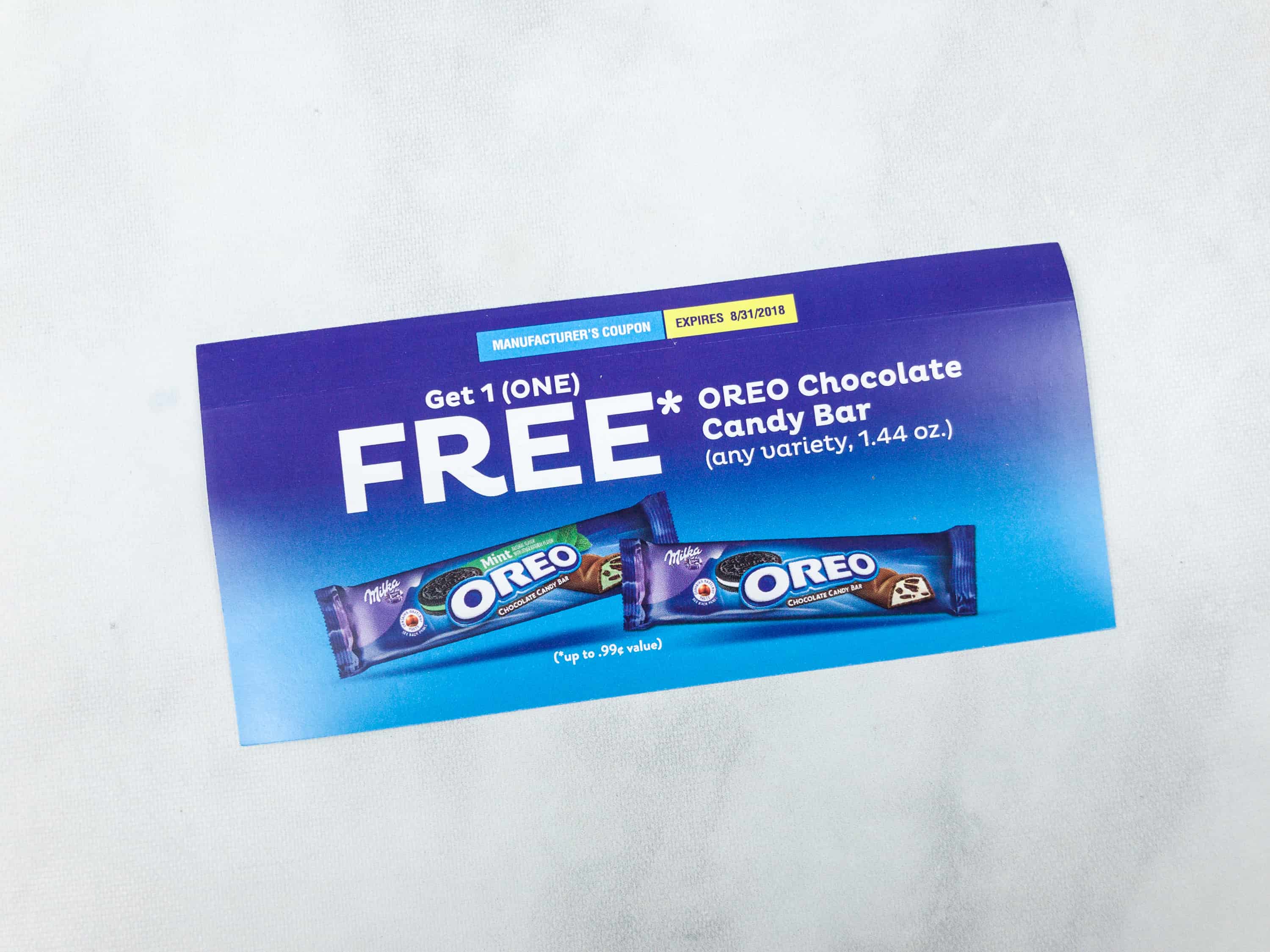 Included in this box is a coupon that allows you to get one free Oreo chocolate candy bar (the regular size).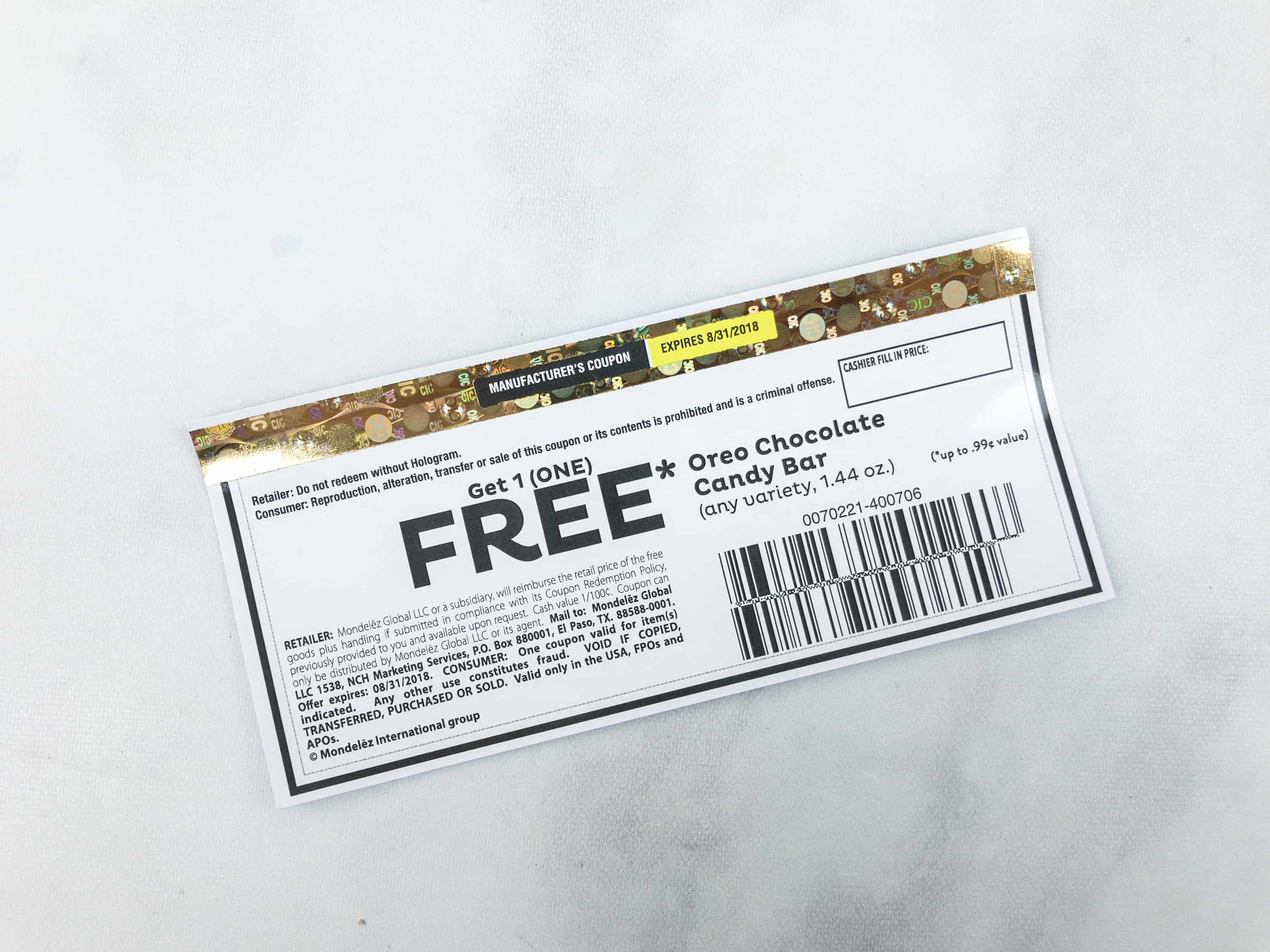 You will find all the details on how to redeem the coupon at the back. This is a sweet treat from the makers of Oreo.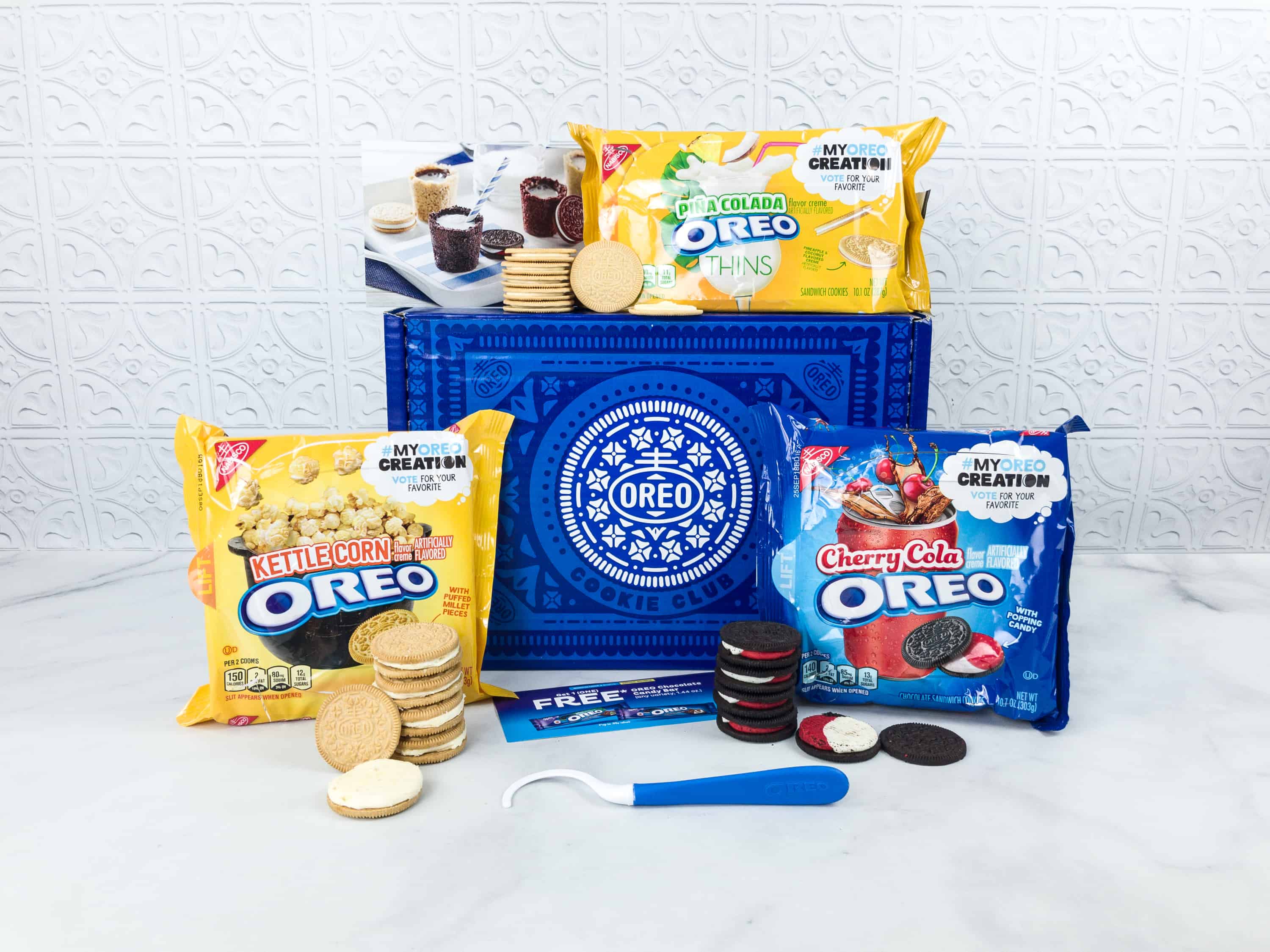 Everything inside the May 2018 box!
The Dipr The Ultimate Cookie Spoon ($3.06) Our cookie spoon is in blue and white. This looks like it was made to scoop up some delicious goodness in between the cookies!  FYI the spoon we received was Oreo branded but we linked to a 5 pack of identical unbranded spoons.
The end of this spoon looks like a hook. An interesting tool for all Oreo cookie lovers, I am sure.
To use this spoon, you should place the hooked spoon in the center of the cookie. It does fit perfectly!
You can use this to keep the cookie in place as you take a bite of it or dunking it!
Here's how this spoon will look like when you use it.  Finally an Oreo specific item!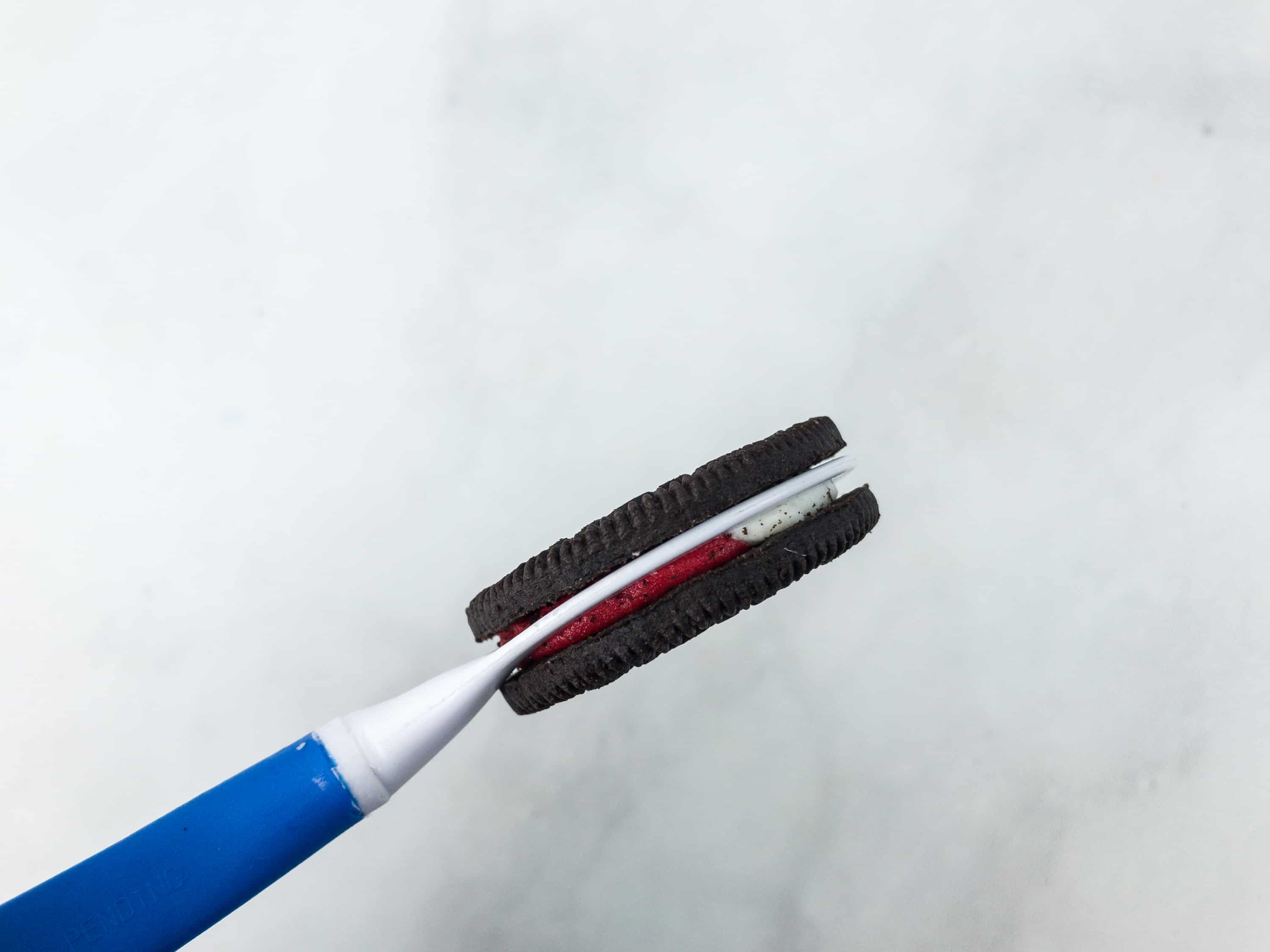 You can see how it fits perfectly in the middle of the cookie which won't slip even when you use it to dunk it in a glass of milk.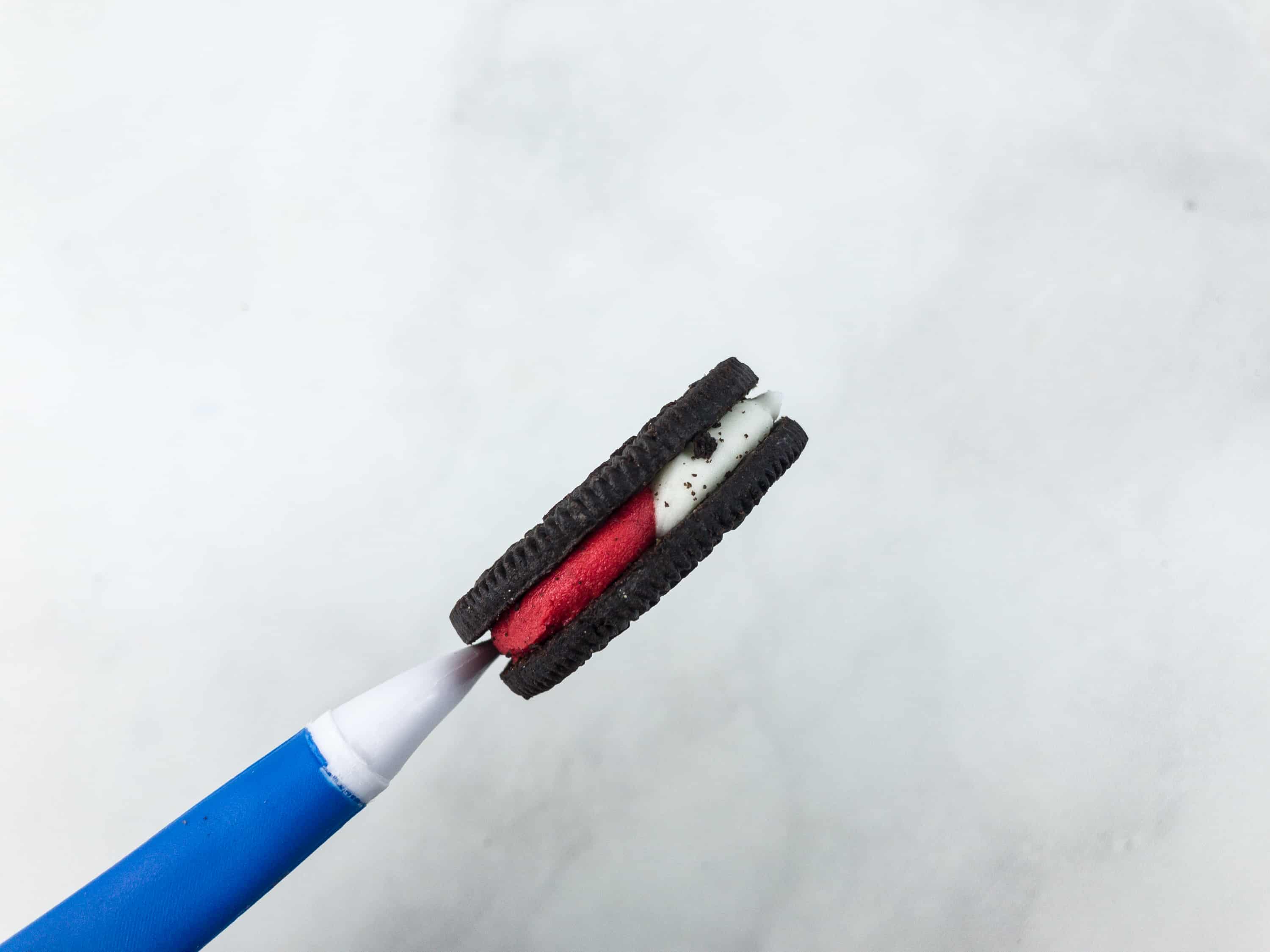 What a fun way to enjoy Oreo cookies!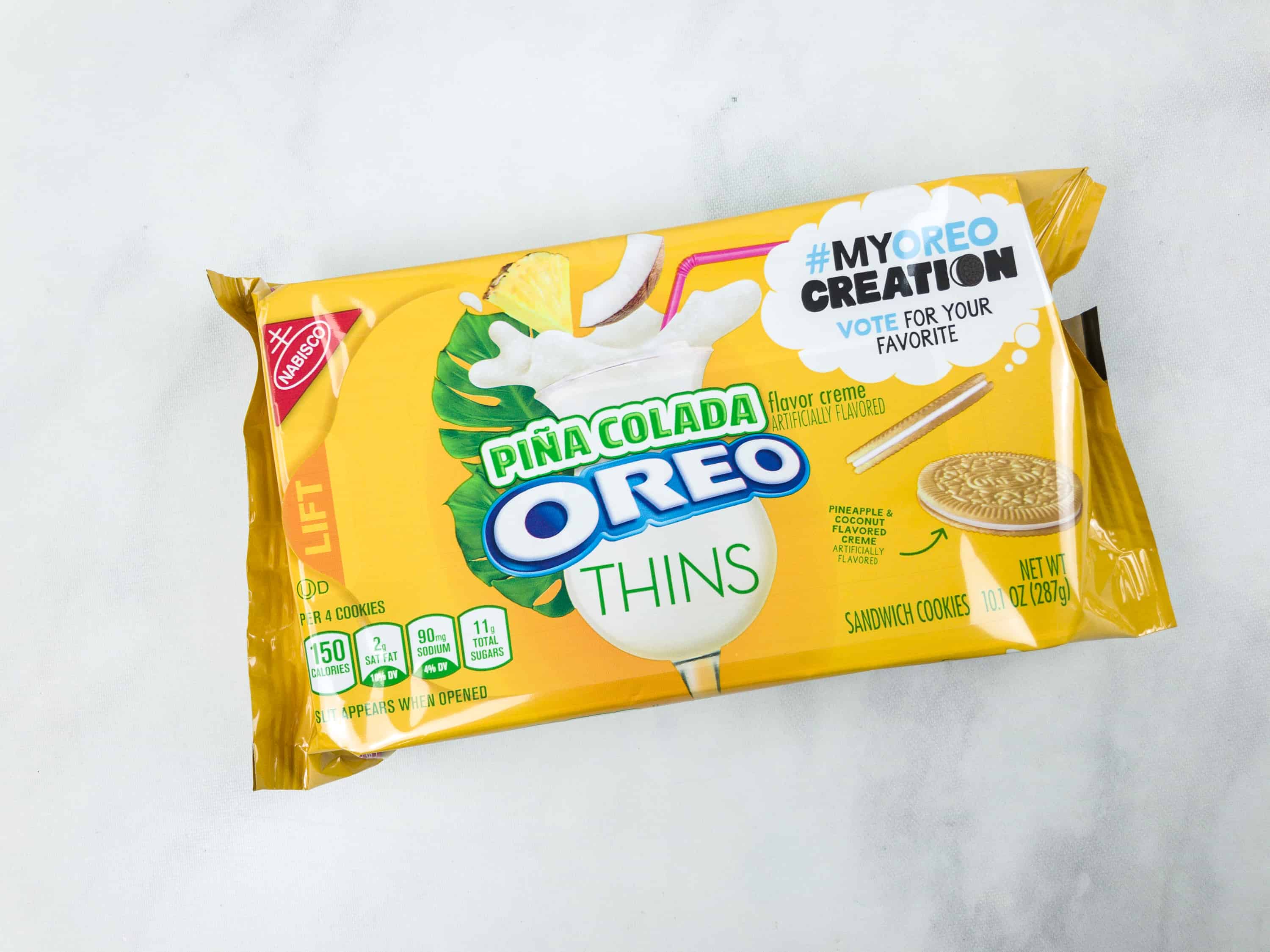 Oreo Piña Colada Thins ($2.99) Piña Colada is one out of three flavors that Oreo chose among the numerous entries submitted by their fans when they asked for ideas for new flavors.
Since this is a test run, you can vote for your favorite flavor. The steps are indicated at the back of the wrapper. There is also a chance for you to win some exciting prizes! You'll see shortly that we received all 3 new flavors to sample.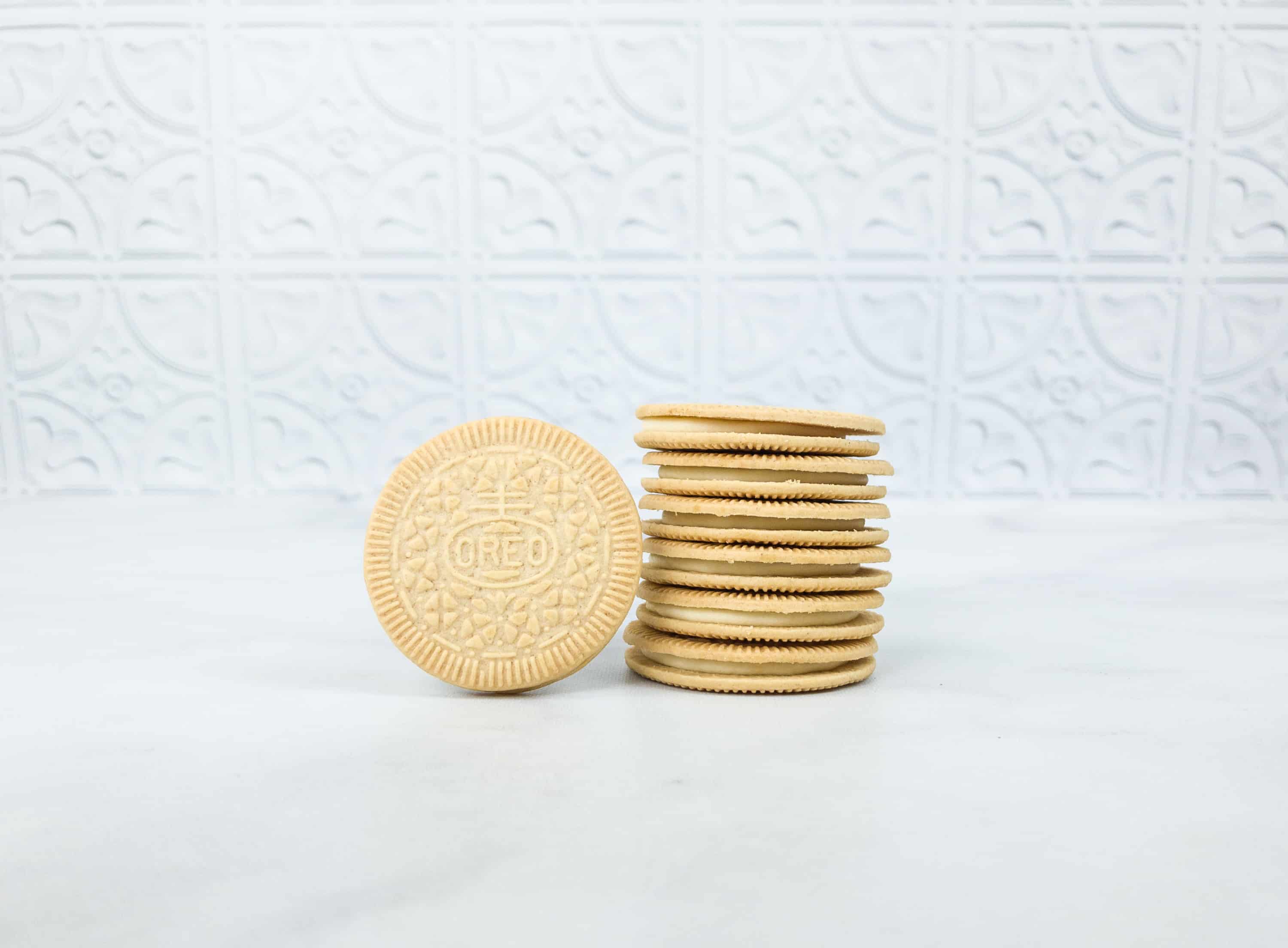 These are definitely thinner than your regular Oreo cookies, which makes it easier for you to enjoy the cream inside.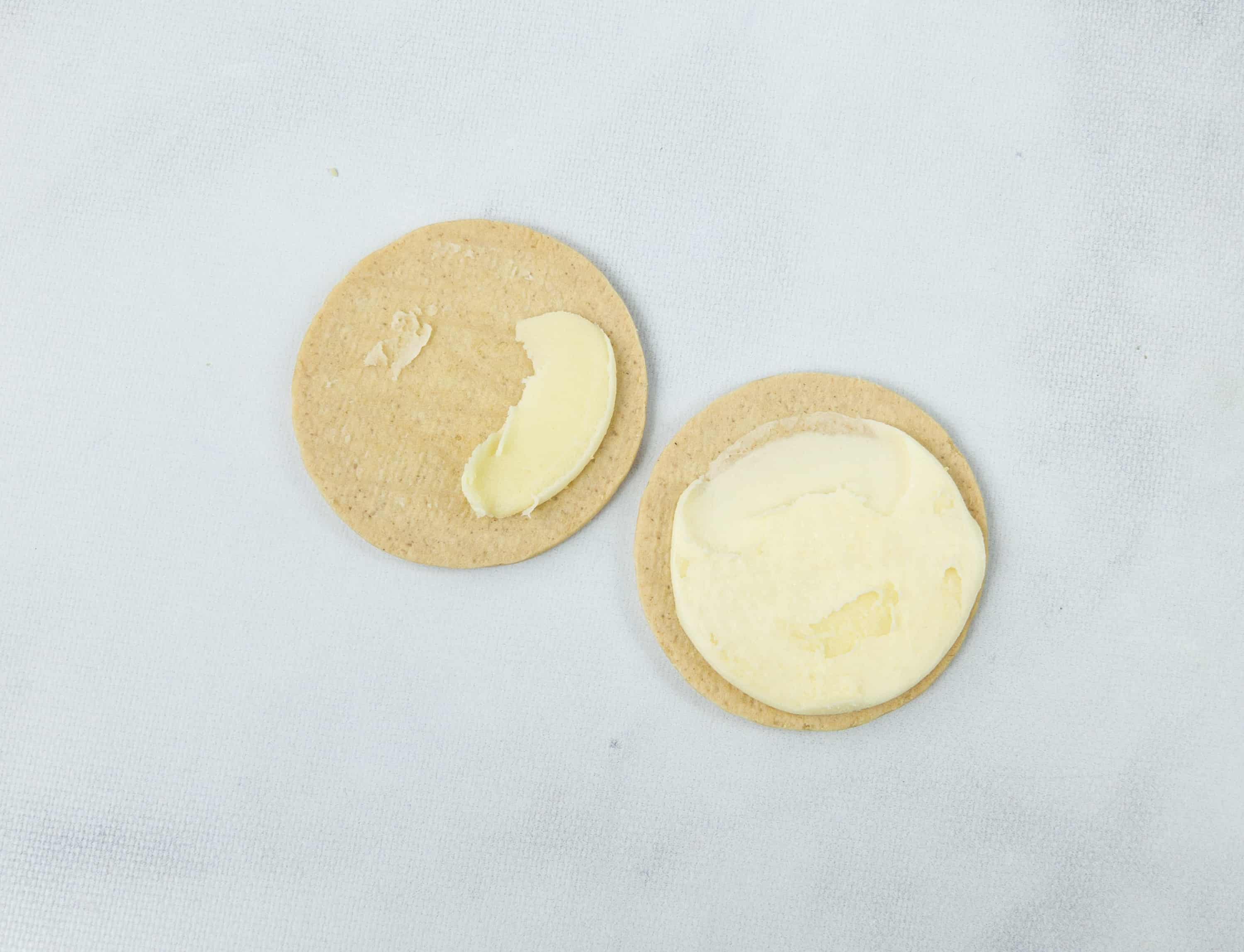 Open the cookie and you will get a nice layer of the Piña Colada cream in the middle. This tastes a bit like pineapple with a hint of coconut! It was really creamy too! Tied for my favorite!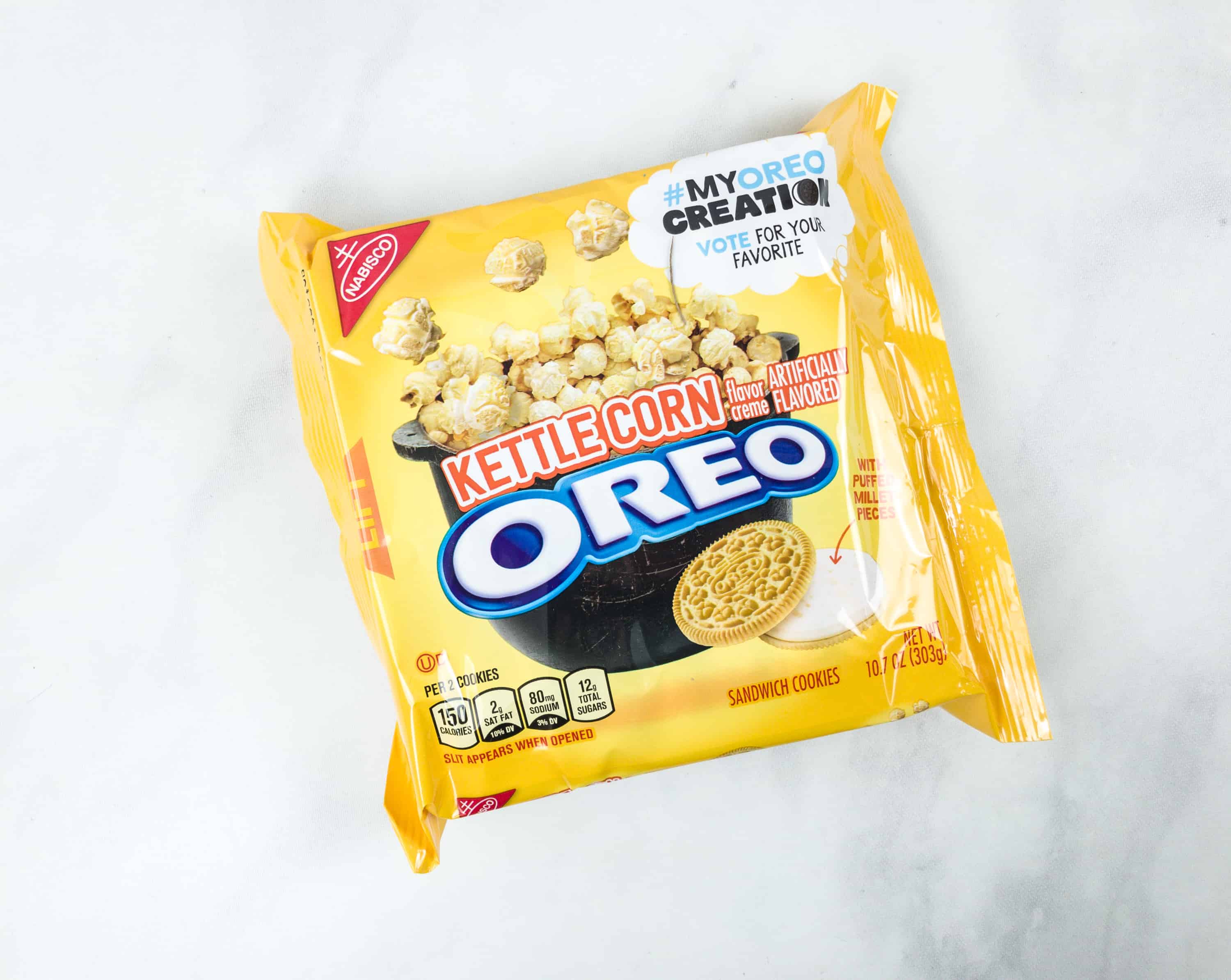 Oreo Kettle Corn ($2.99) A popcorn-flavored Oreo cookie? Now this is getting more interesting. It's another one of those new flavors that were shortlisted by Oreo among the thousands of entries in their contest. We love popcorn, so this was an instant hit in our family!
This cookie is thick and the cream is almost spilling on the sides, which means that there's a lot!
It looks amazing! It has a slightly yellow hue to it which I think is because of the kettle corn flavor. It was buttery and satisfying. I don't like kettle corn but I thought these were tasty, so I'm not sure if they did a good job or not, to be honest. There are puffed millet pieces in the cream, resulting in the thicker filling, but I have to be honest, I didn't notice any sort of textural difference whatsoever. I didn't even know it was there until looking at the photos.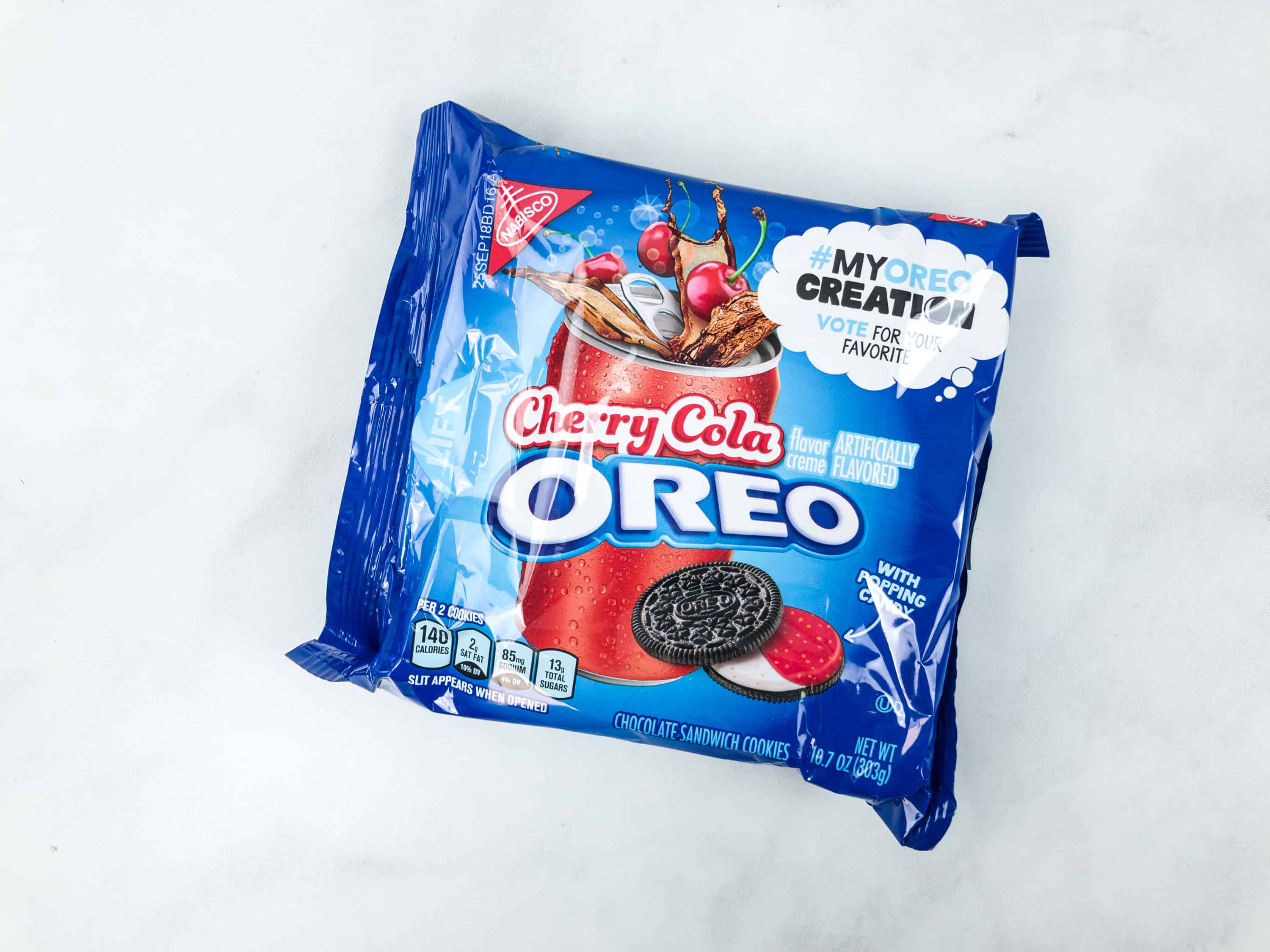 Oreo Cherry Cola Chocolate Sandwich Cookies ($2.99) Cherry Cola is a popular drink but incorporating it into your Oreo cookie? This one I had to taste. And you know what the real kicker is? The cherry cola-flavored popping candy inside the cream!
The cookies are in chocolate flavor. The two-colored cream matches the thickness of the cookie!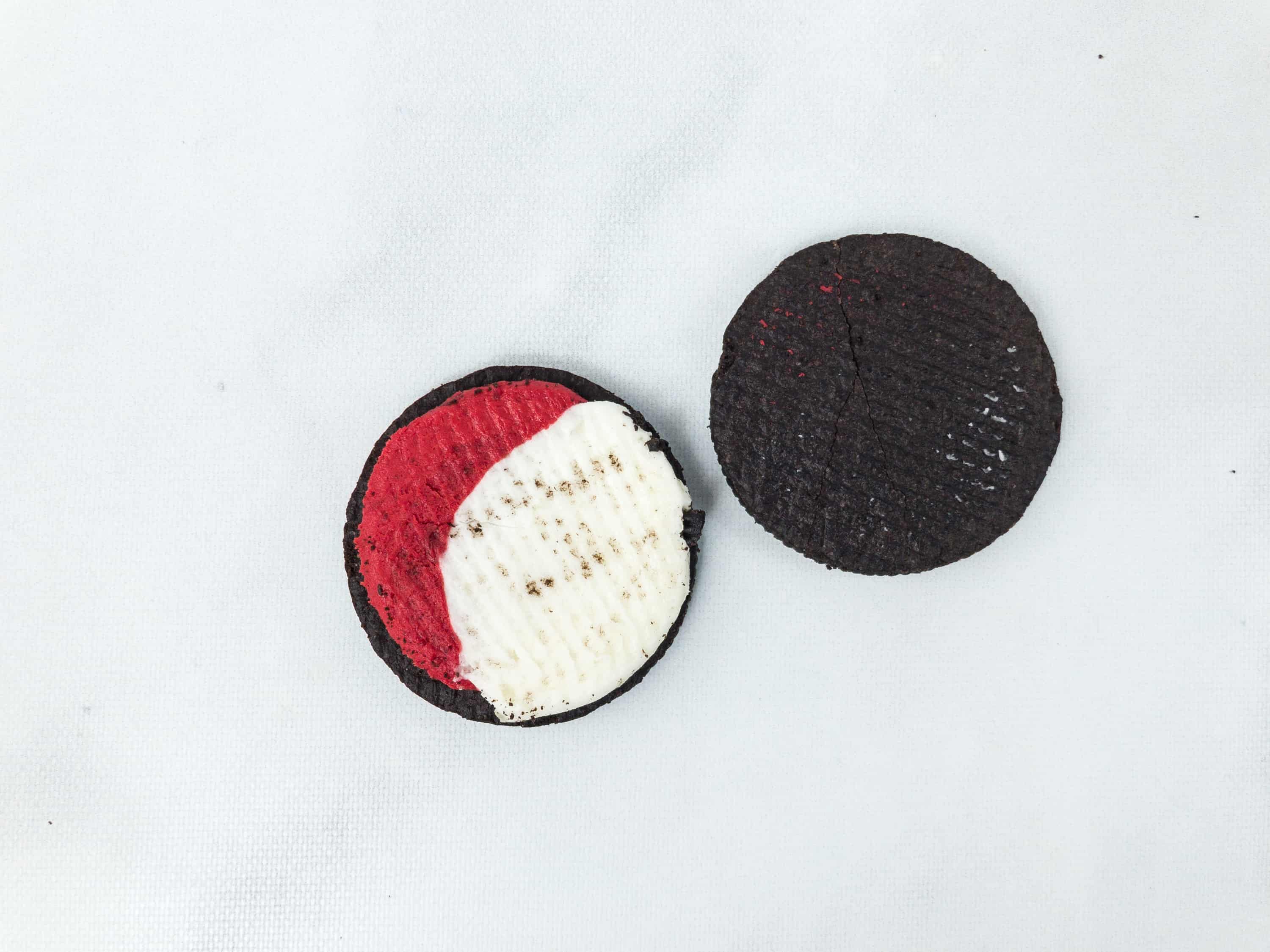 It's not just eye-catching, it's really yummy too. The candy bits make it pop, which I loved!
These new flavors might seem like a crazy, but they're all good! I miss the Oreo-themed merchandise they usually send, like the tumblers and sunglasses in the past boxes, but at least we get to try three packs of new Oreo flavors. It was an adventure for our taste buds. Unfortunately the value of this box is sitting around $13. I was happy that they included an Oreo specific item (as opposed to just screenprinting Oreo art onto a generic blank item) but it still needs to be higher value. Oreo isn't doing itself any favors with a completely mockable subscription experience and this box has gone on way too long to chalk it up to first few box jitters. Fill that box up with Oreos or go home!
Are you getting the OREO Cookie Club Subscription Box?