Nom Nom is a healthy dog food subscription that ships on a weekly or monthly schedule (you choose which) so you always have fresh, human-grade food for your best friend. The dog food they send is formulated by a leader in veterinary nutrition and cooked by a professional chef. Upon signing up, you create a profile for your pet to personalize your plan.
DEAL: Get 20% off your first order! USE THIS LINK to get the deal.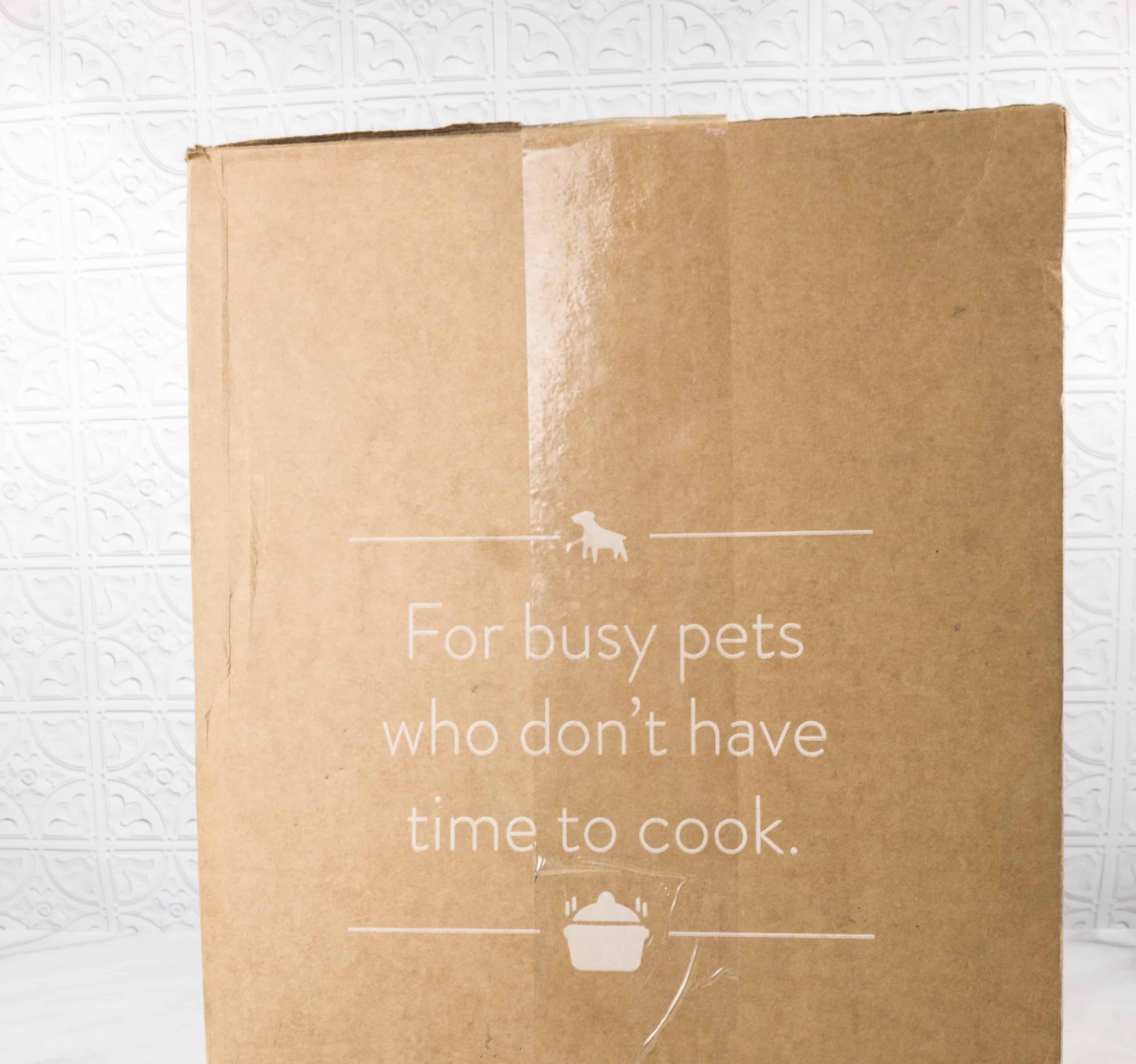 DEAL: Get 50% off your first order when you use this link to subscribe! Price starts at around $16-17 per week.
The Nom Nom's box is pretty big — it has a month's worth of food portioned for our two little dogs.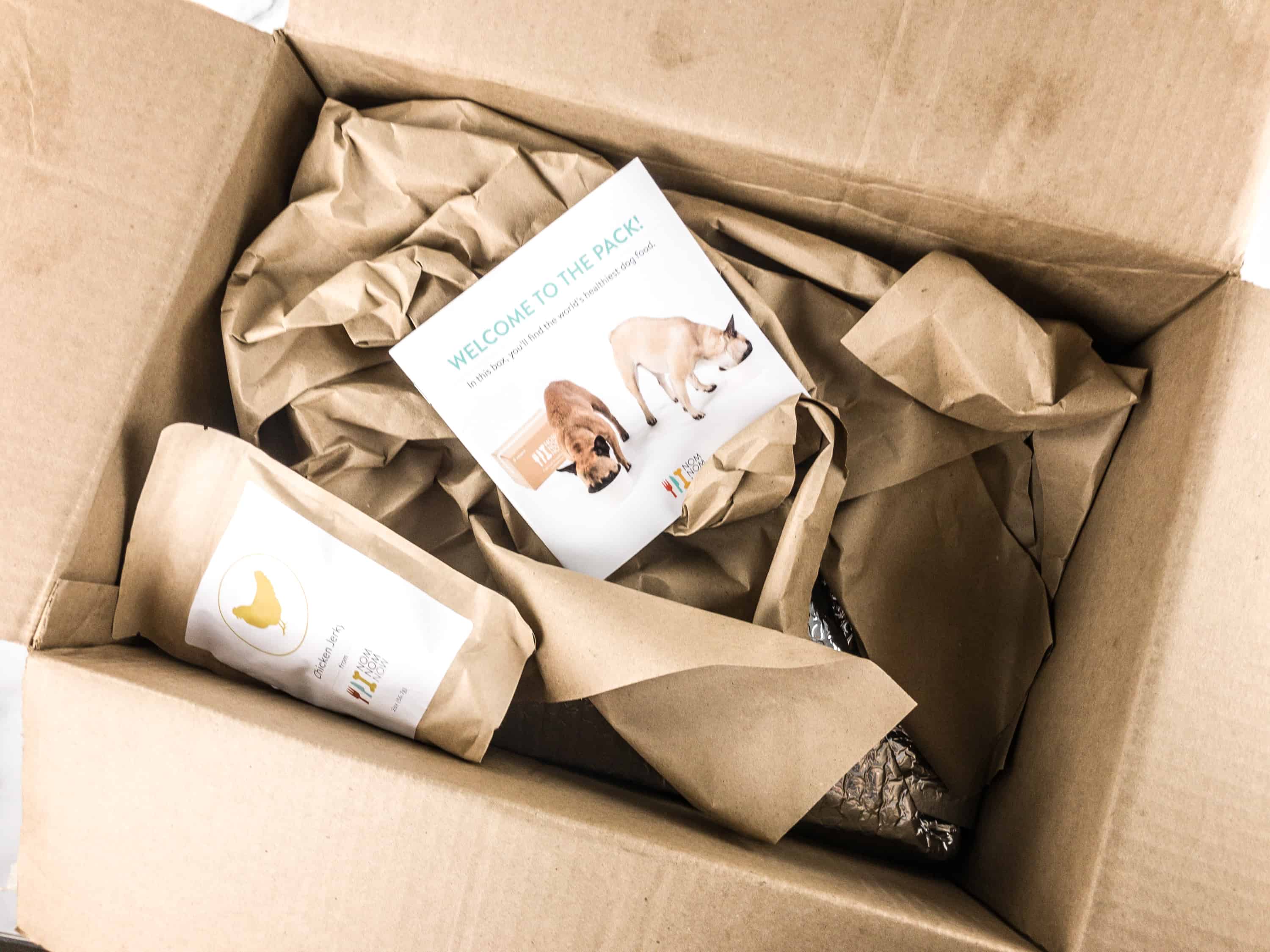 They sent a bag of treats with our order! The frozen food is at the bottom of the box.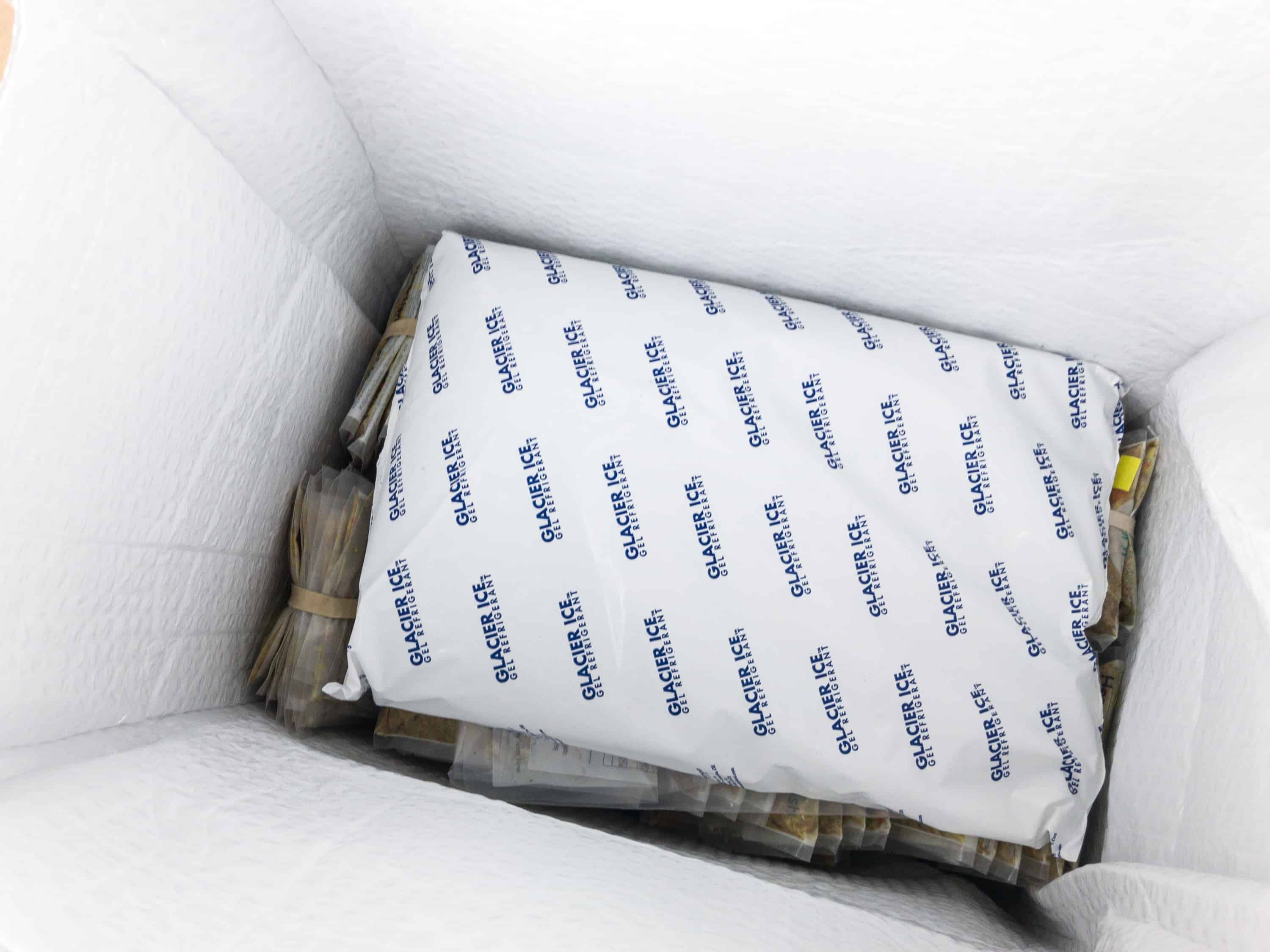 It's neatly covered with a gigantic ice pack and wrapped inside an insulated bag. The sheer volume of food also helps keep in chilly in transit.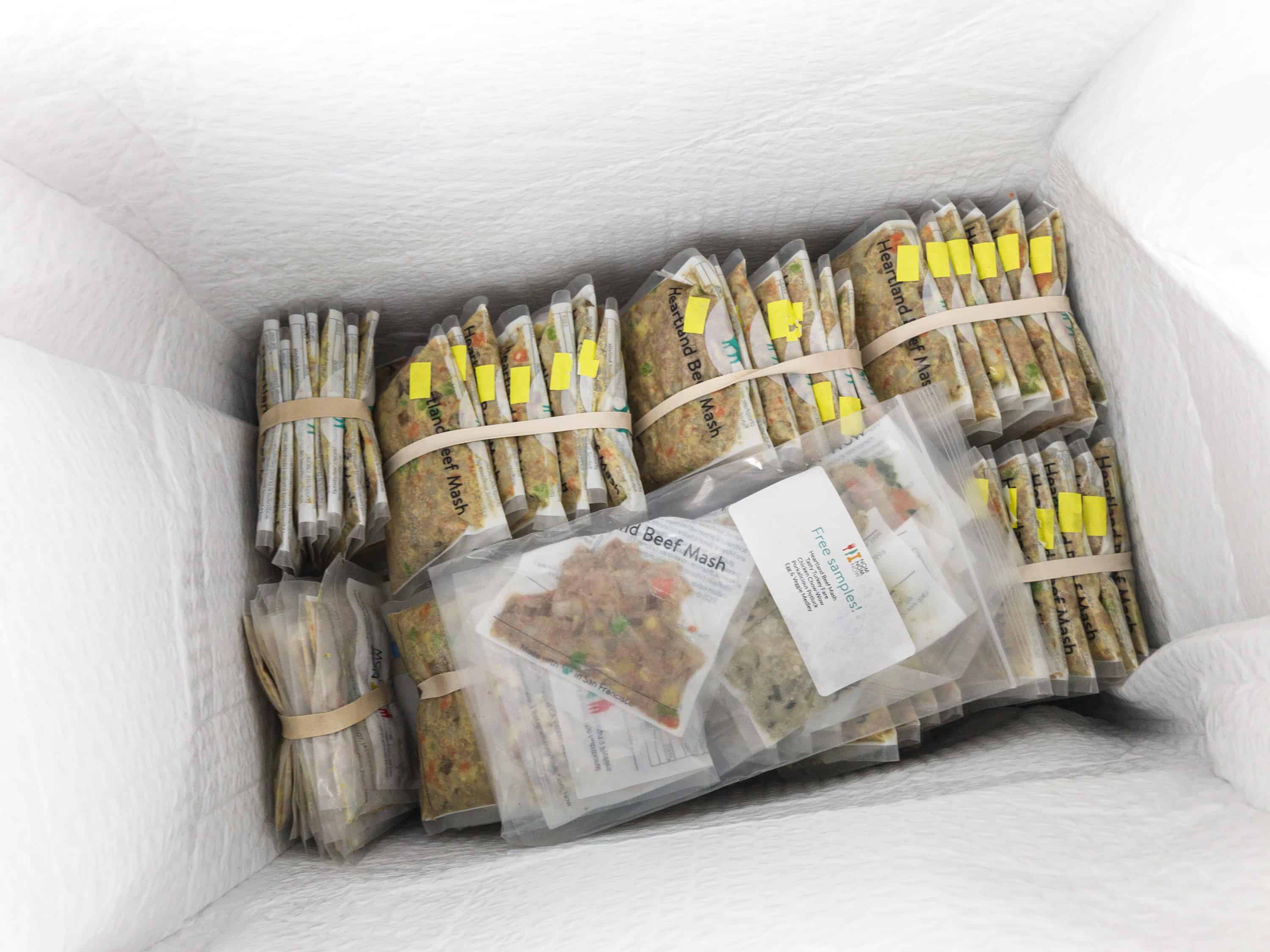 Our kit includes the following for each dog:  a week of transition meals, three weeks of regular two-a-day portions, plus a sample size of all their different recipes!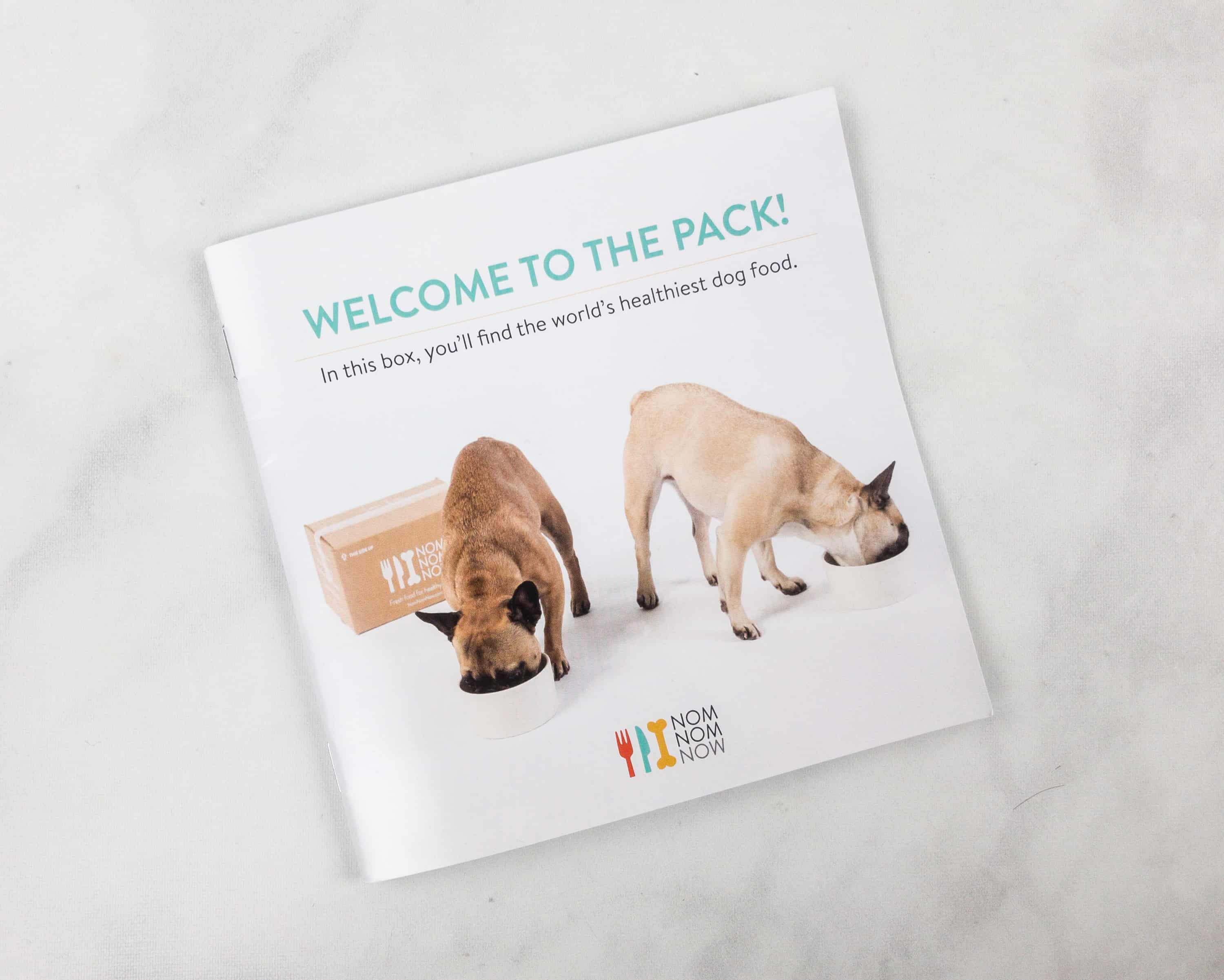 The box comes with a welcome booklet explaining how to get started.
We believe dogs deserve to live healthier, happier, and longer lives. That's why we created Nom Nom to be the healthiest dog food available.

Each recipe is expertly formulated and freshly prepared each week, just days before it reaches your dog's bowl. We only use human-grade ingredients with no artificial preservatives and no fillers, to provide your pup with food good enough for you to eat (and ideally balanced for them). At Nom Nom, every meal is cooked fresh, delivered fresh, and served fresh.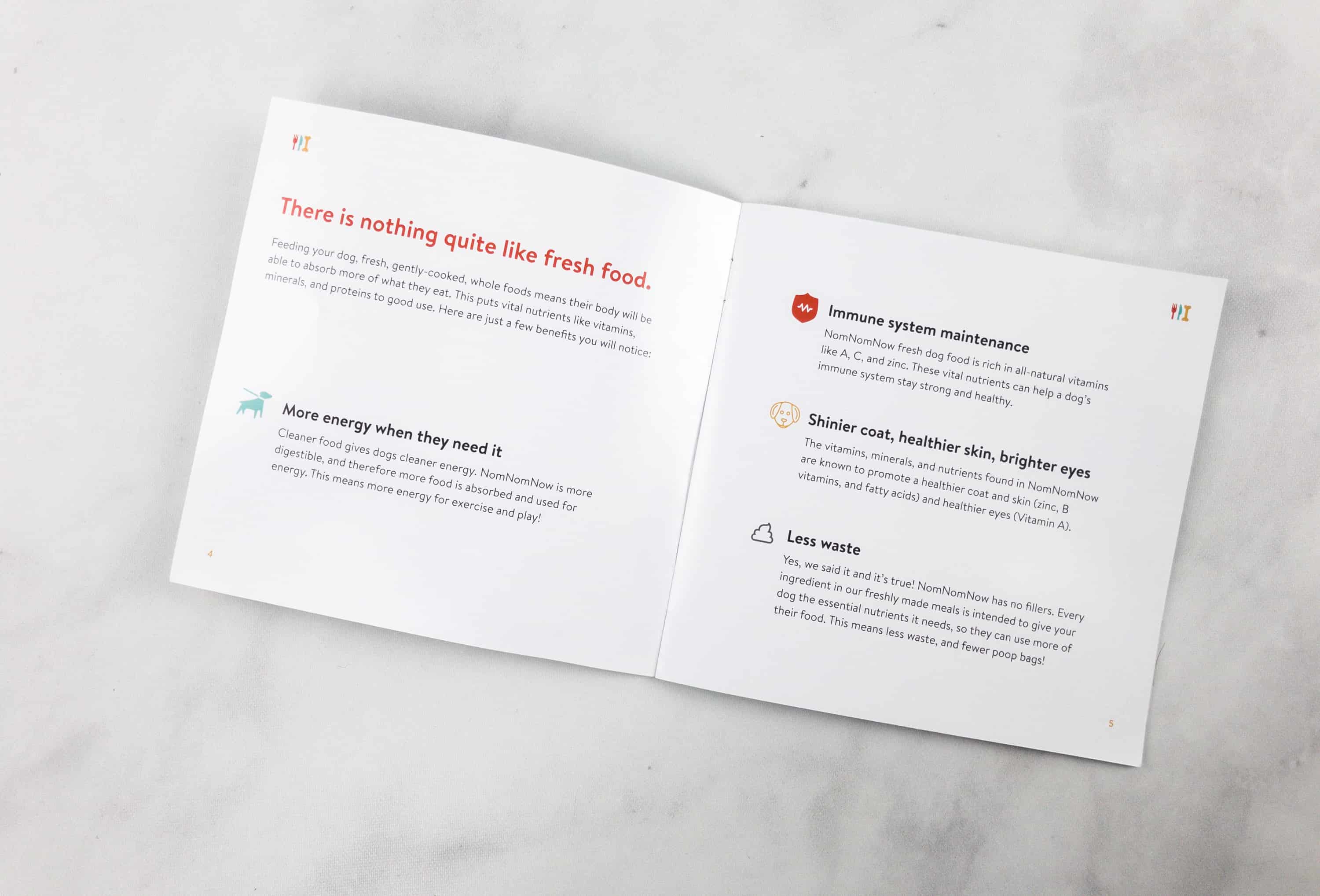 The booklet also lists the benefits of giving your dogs fresh food: more energy, immune system maintenance, shinier coat, healthier skin, brighter eyes, and less waste.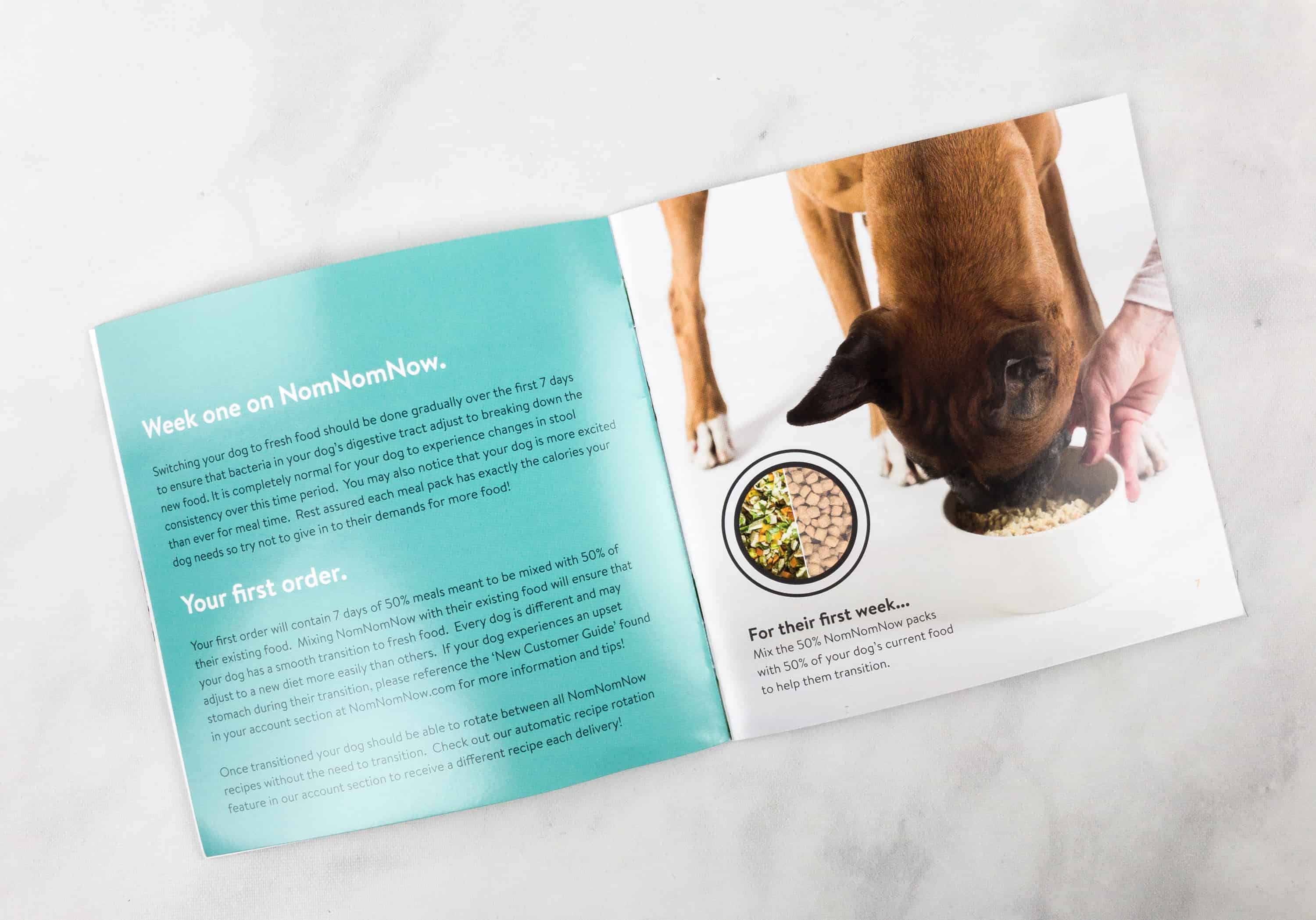 Your dog's first week on the plan, you should mix the provided half-size portions with a half-portion your dog's current food. This helps your dog transition to the better food smoothly.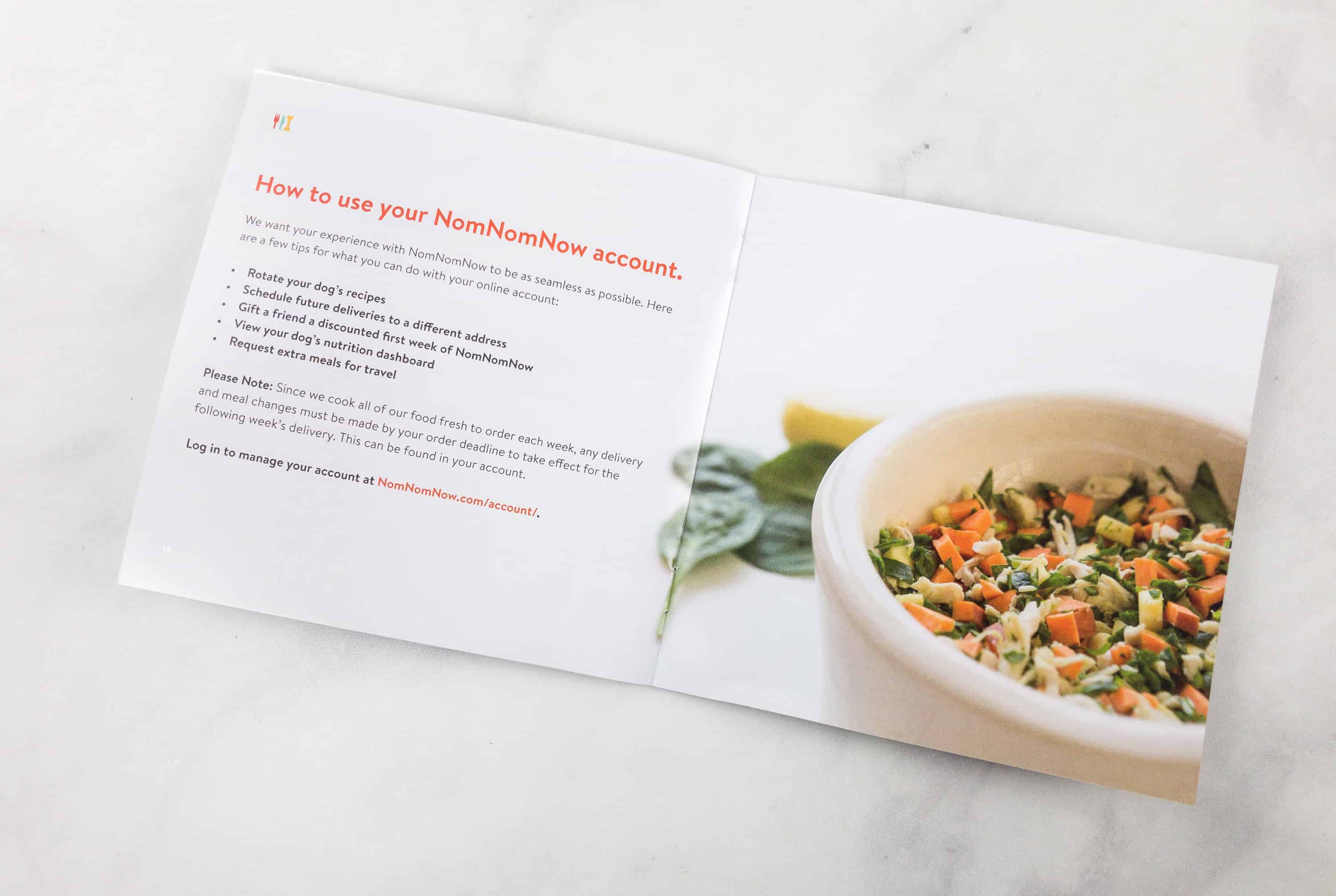 You can manage your delivery schedule and food selection on your Nom Nom account!
All of the Nom Nom recipes are formulated by Dr. Justin Shmalberg, a certified veterinary nutritionist. When your food arrives, you just store a week's worth in the refrigerator until needed. If you choose to have monthly deliveries, you simply rotate a single pack from the freezer to the fridge every time you feed one to your dog. This ensures that you always have a week of thawed meals queued up.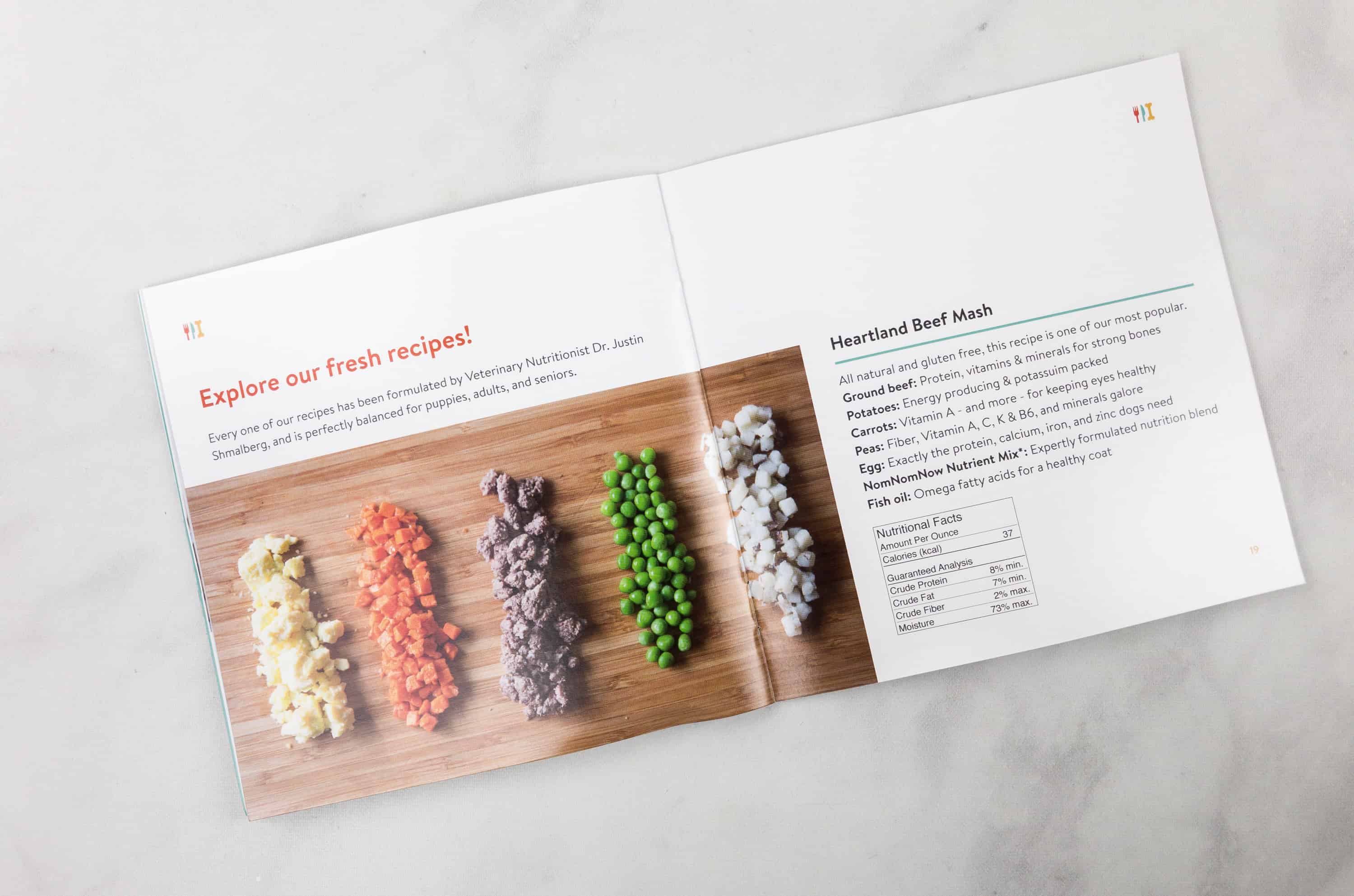 Recipe pages are quite detailed.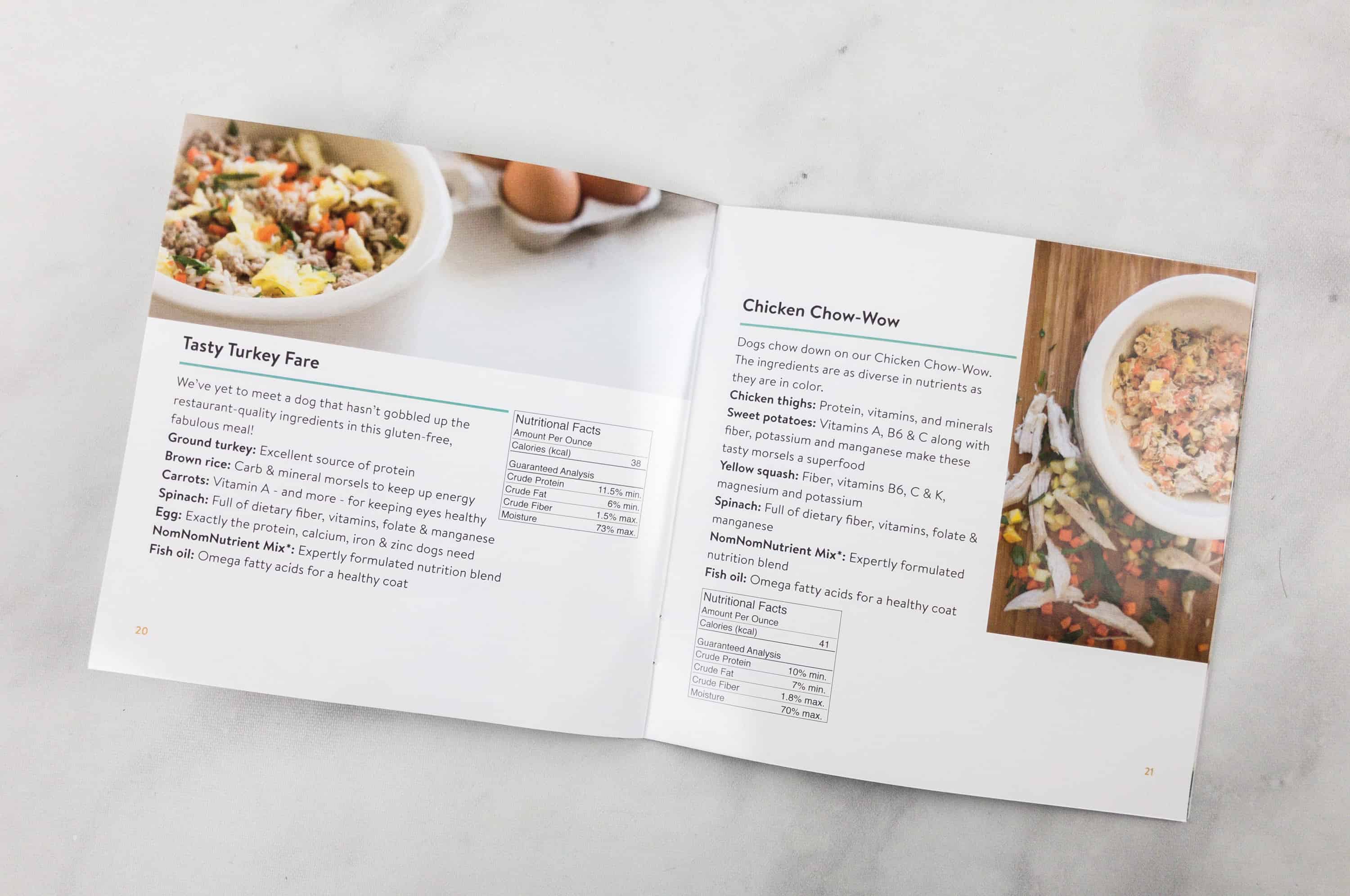 They provide a breakdown of the ingredients, plus the vitamins and minerals that dogs will get from each.
Beef, chicken, pork, they all have it here.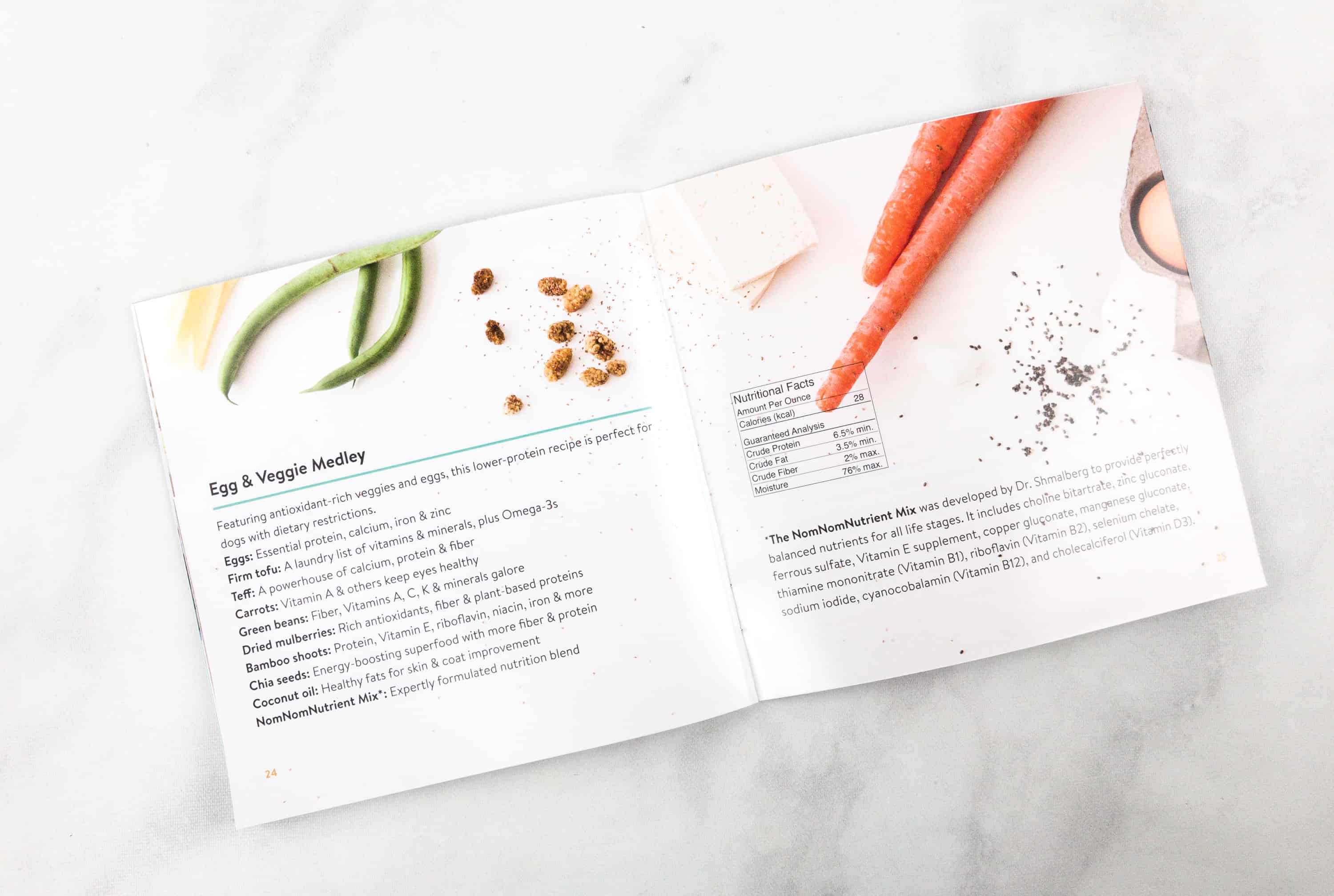 And they even have a meatless dish that gets its protein from eggs and veggies!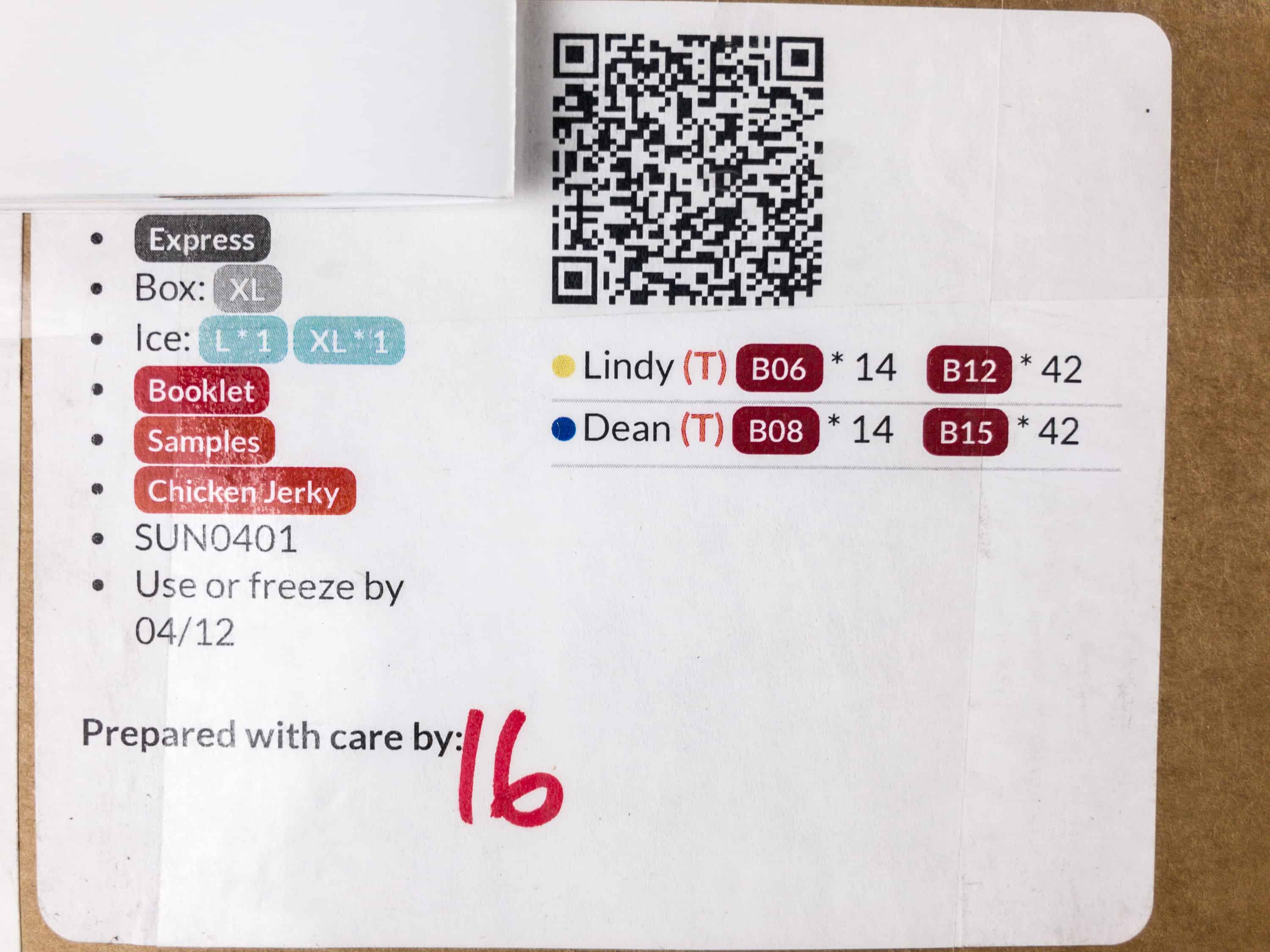 Get ready, Dean and Lindy!
All of our pups' glorious meals!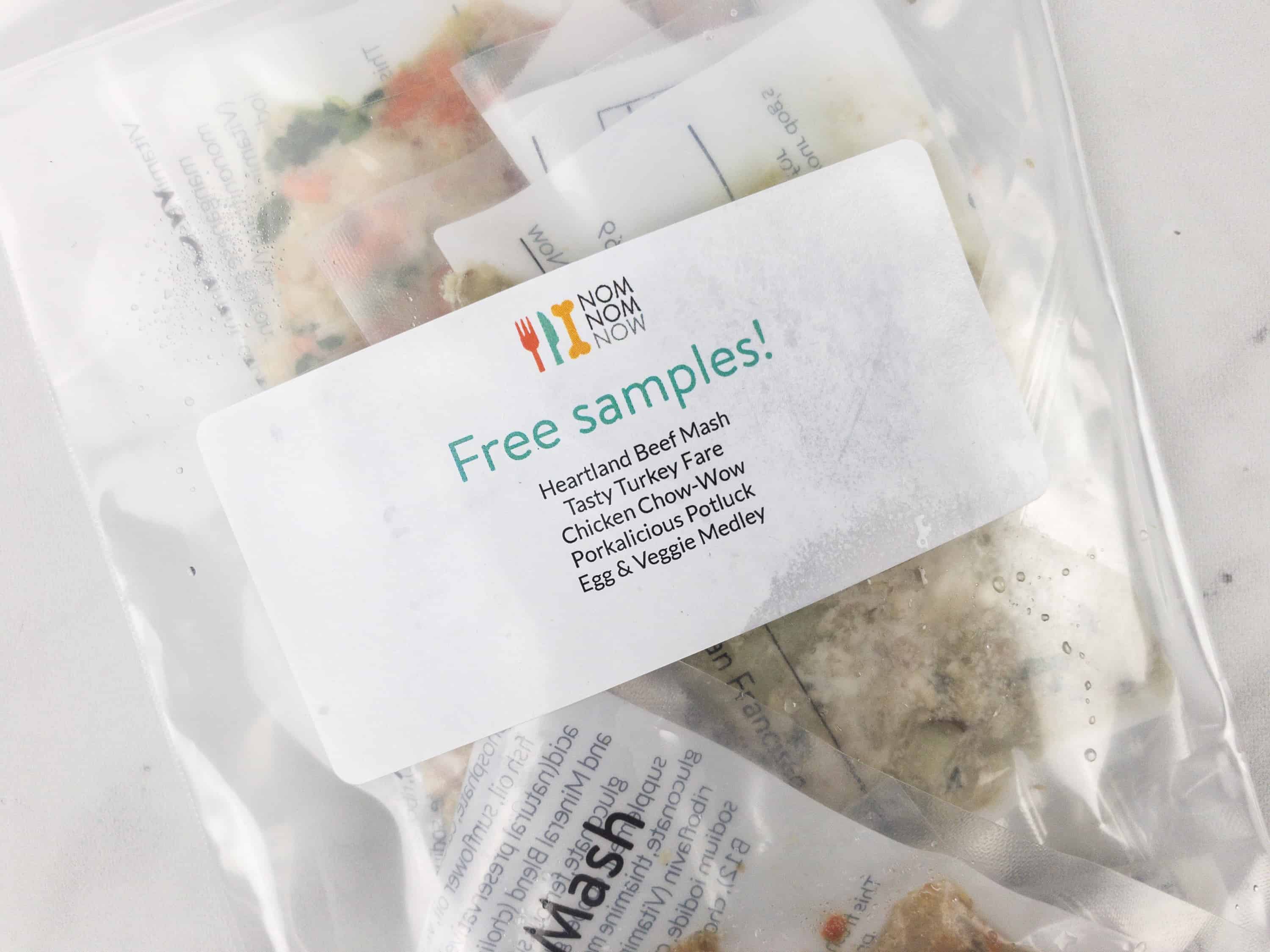 Free samples! I love freebies and neither Dean nor Lindy complained about, either!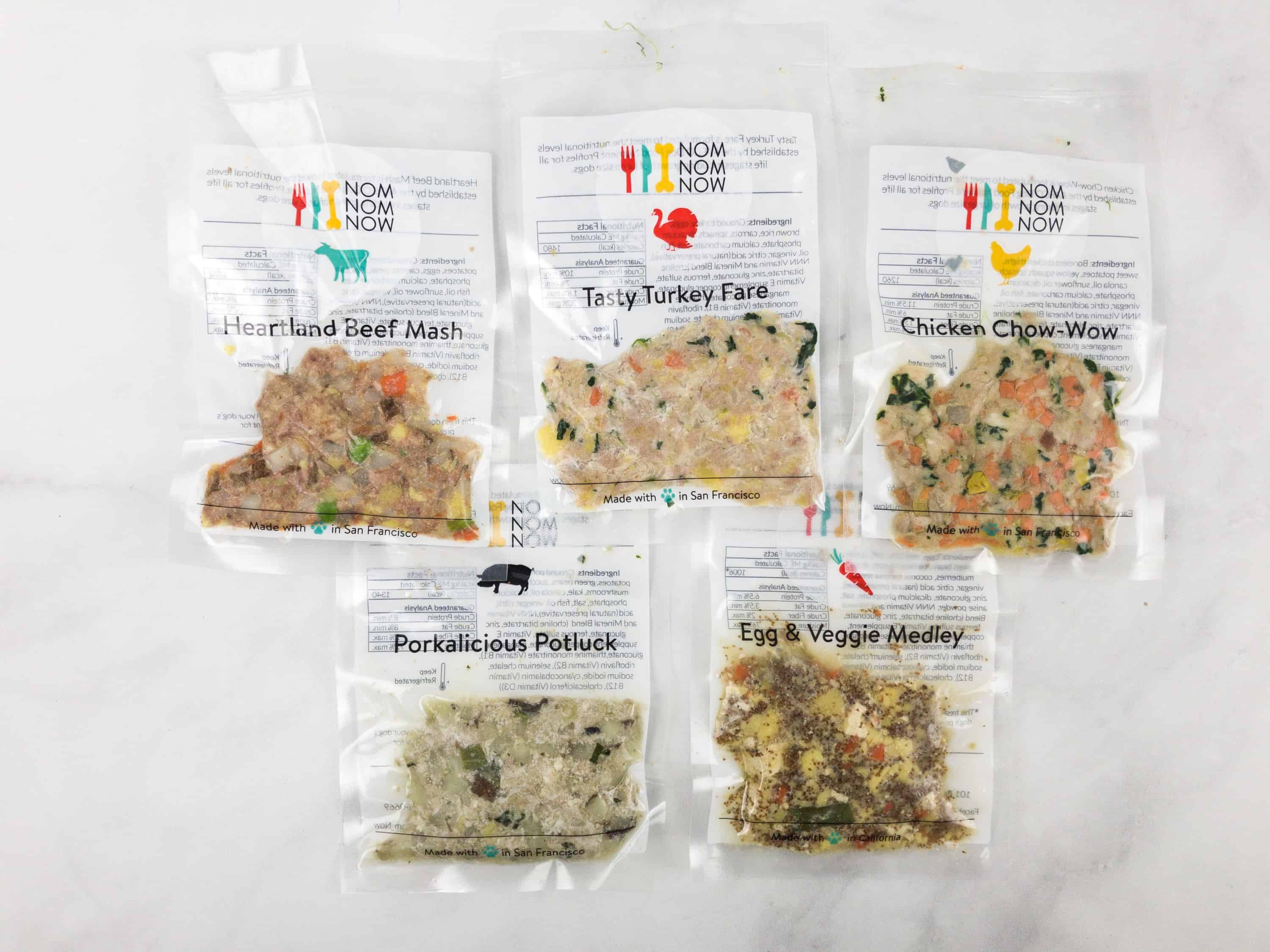 We received a total of five dog food samplers including Heartland Beef Mash, Tasty Turkey Fare, Chicken Cuisine-Wow, Porkalicious Potluck, and Egg & Veggie Medley.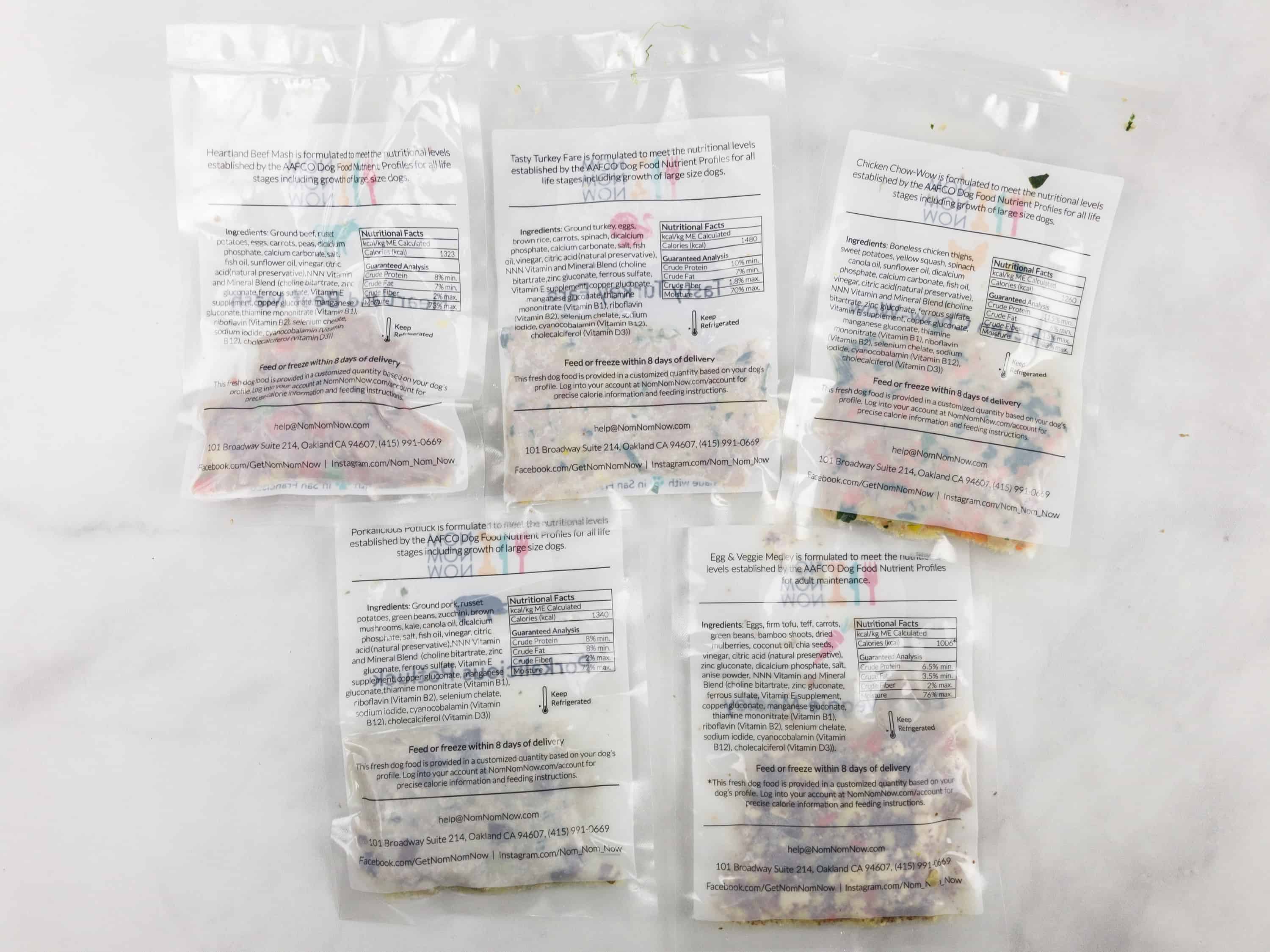 These treats are great to use for testing what flavors your dog prefers. It didn't help us much, since both dogs completely devoured every sample! Literally — they ate every speck and cleaned the floor, too!

Chicken Jerky Snack. Aside from the dog meals in a pouch, we also received a bonus jerky snack!

These chicken jerky treats from Nom Nom is made from fresh, human-grade chicken breast. Each piece is sliced thinly and dehydrated.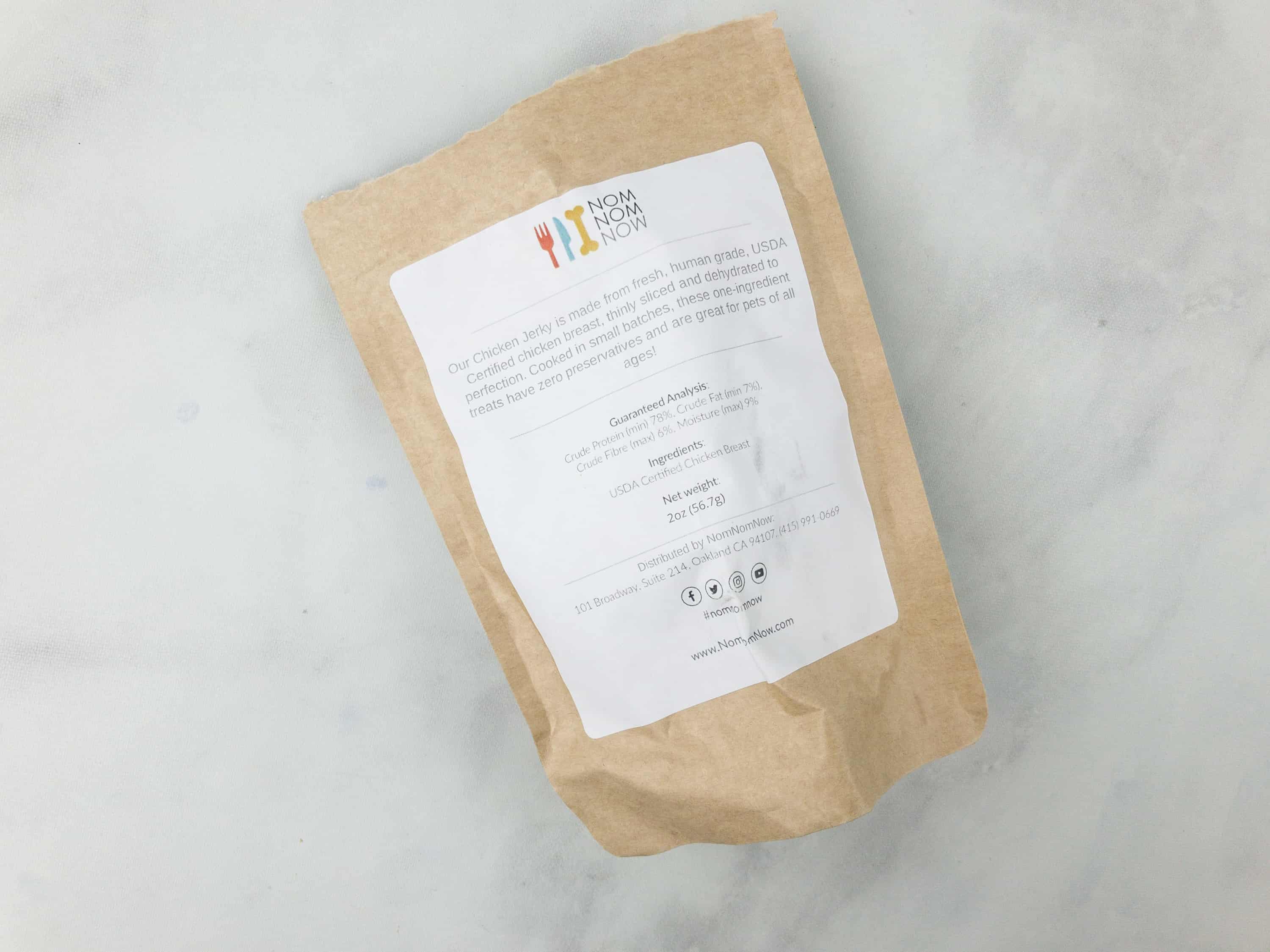 It has zero preservatives!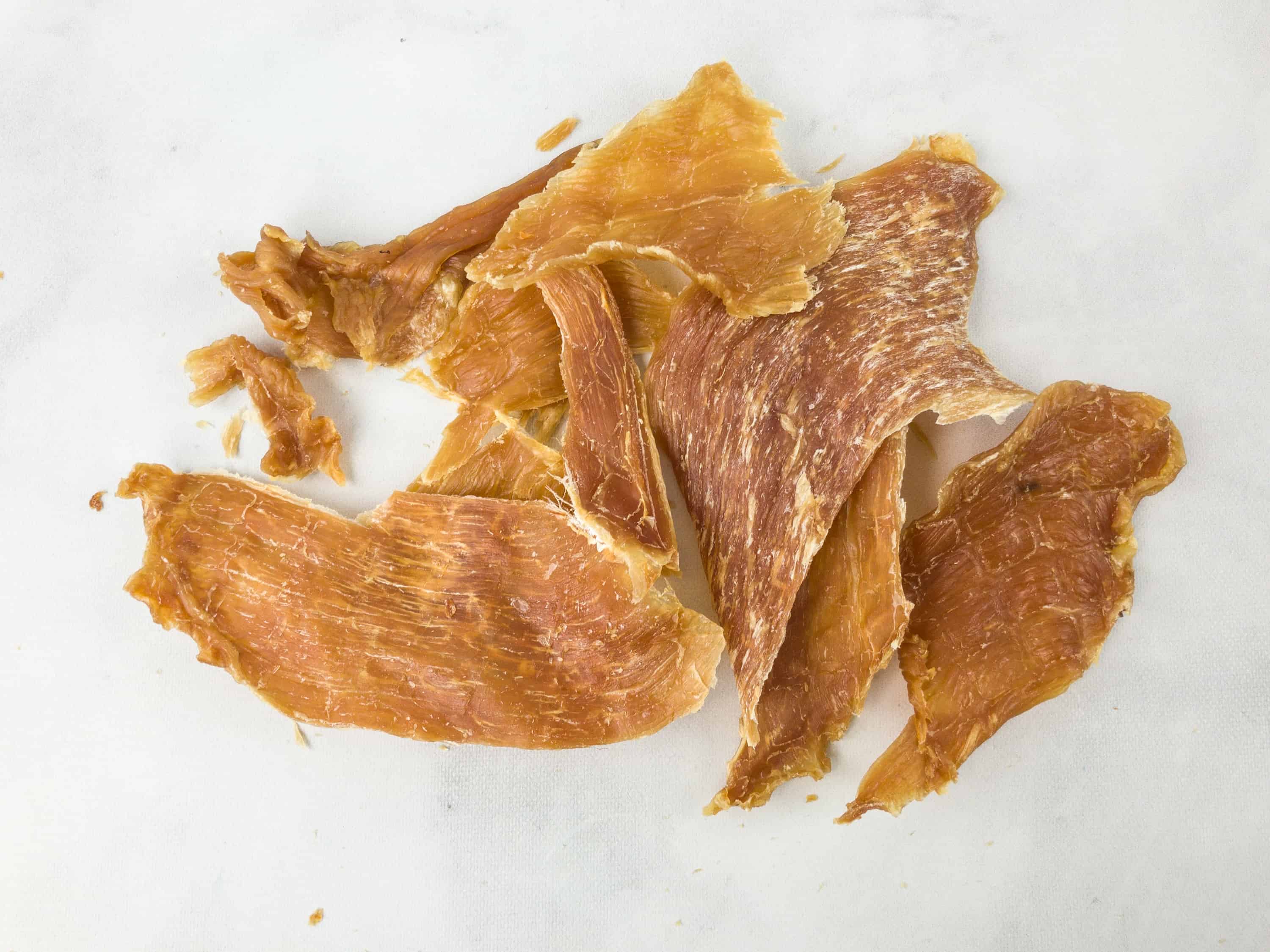 I need to cut it to smaller pieces so that my pups can enjoy it, as they (I'm looking at you, Lindy) have a tendency to try to wolf it down whole. Because it's just meat, this snack is ideal for dogs of all ages.
Heartland Beef Mash Protein 90 grams, Fat 52 grams, Carbs 69 grams.  This meal is made of ground beef, potatoes, carrots, peas, egg, fish oil, and a special mix from Nom Nom Nutrient.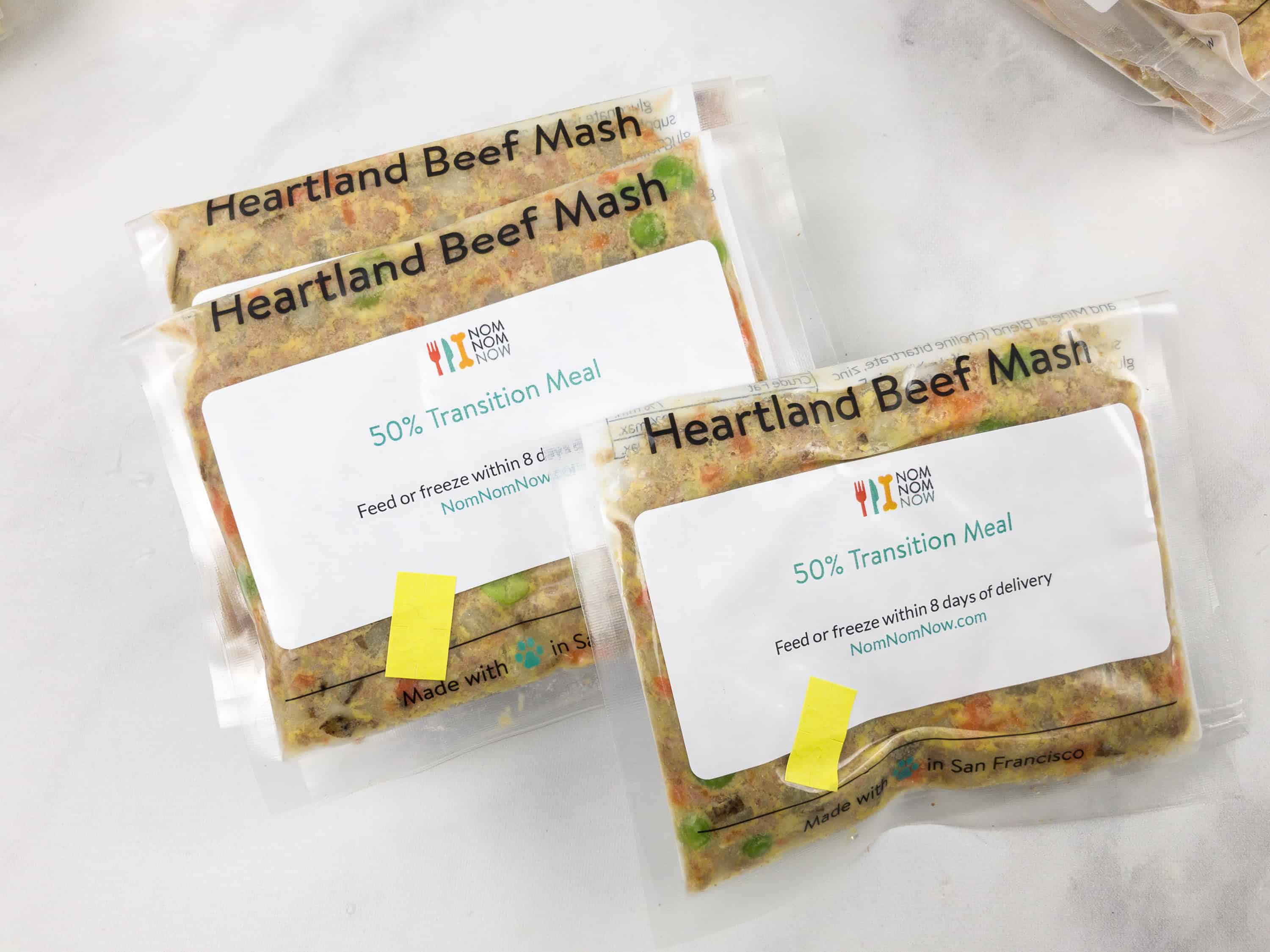 We got a stack of transition meals for each dog. They are the same food as the regular food, just half the size so you can mix the first week's meals. Lindy's are marked with yellow tags.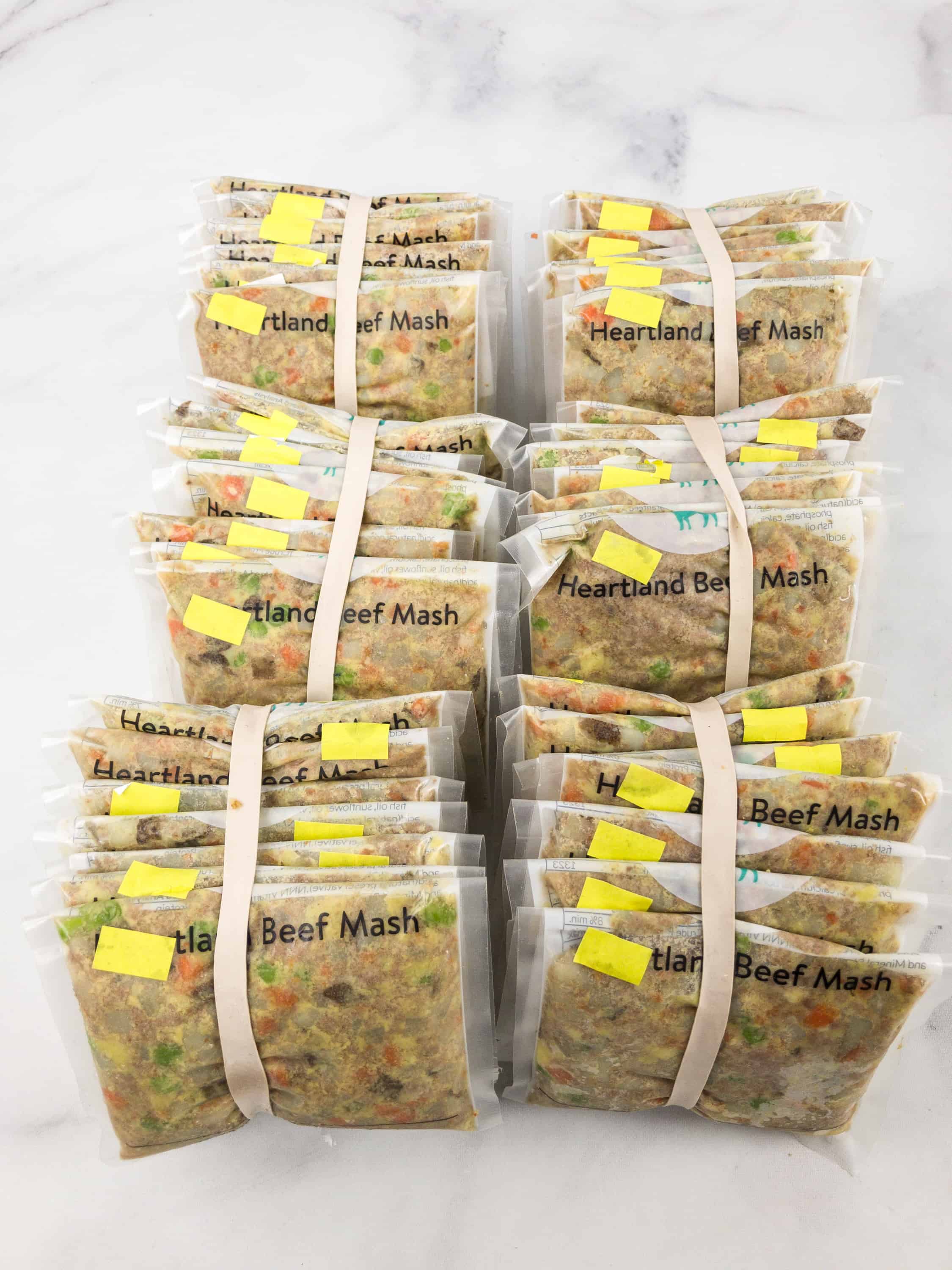 We receive a total of 42 regular meal packs for Lindy, as well.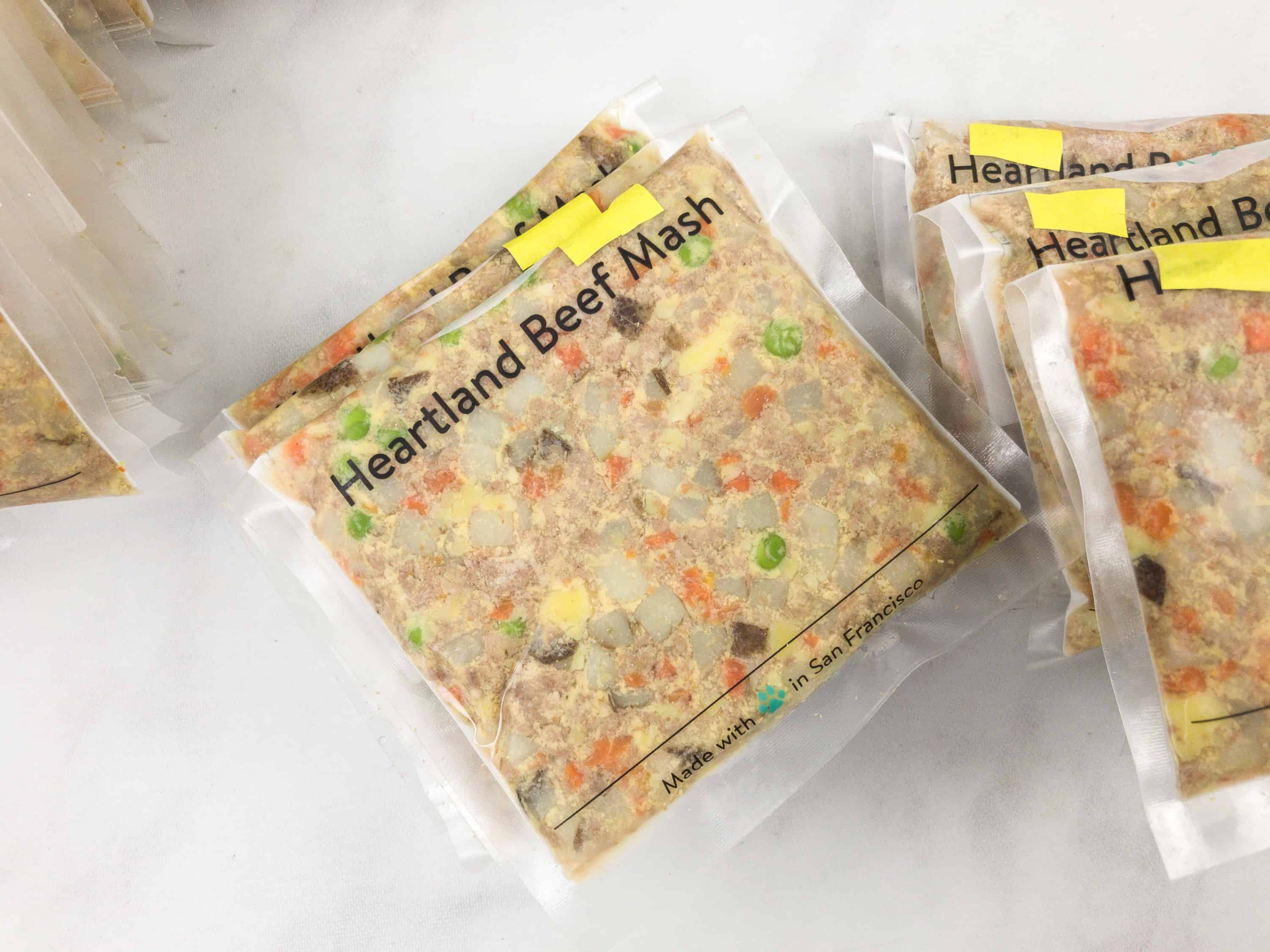 All of our meals were the Heartland Beef recipe. The ingredients used are all natural and gluten-free, and it is made in the USA.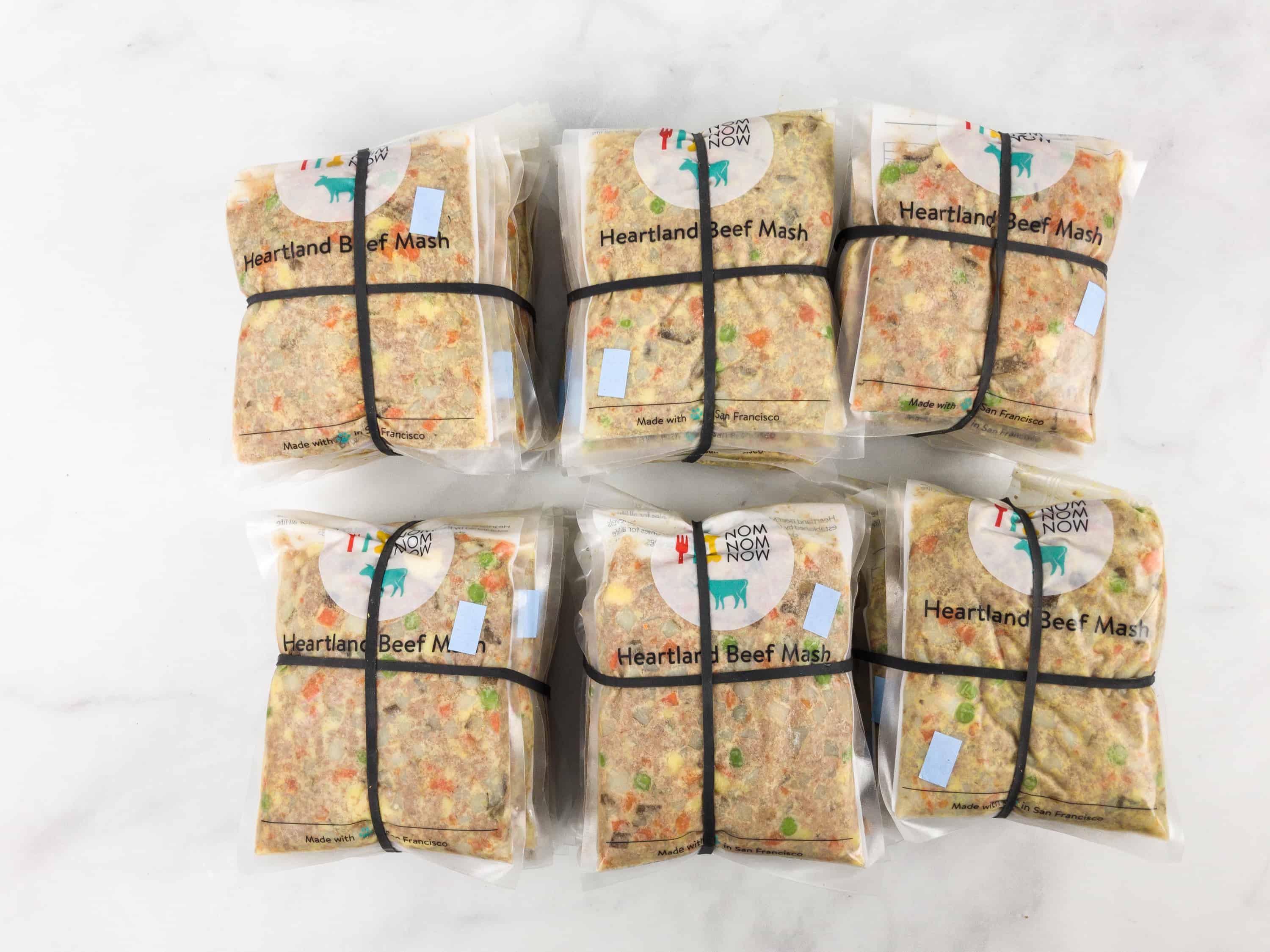 The packs tagged with blue are a much bigger. These are the 42 regular meals for Dean, and they are larger to meet his larger, fierce boy puppy appetite.
These are his regular packs, but he also has transition meals. 
Time to test them out!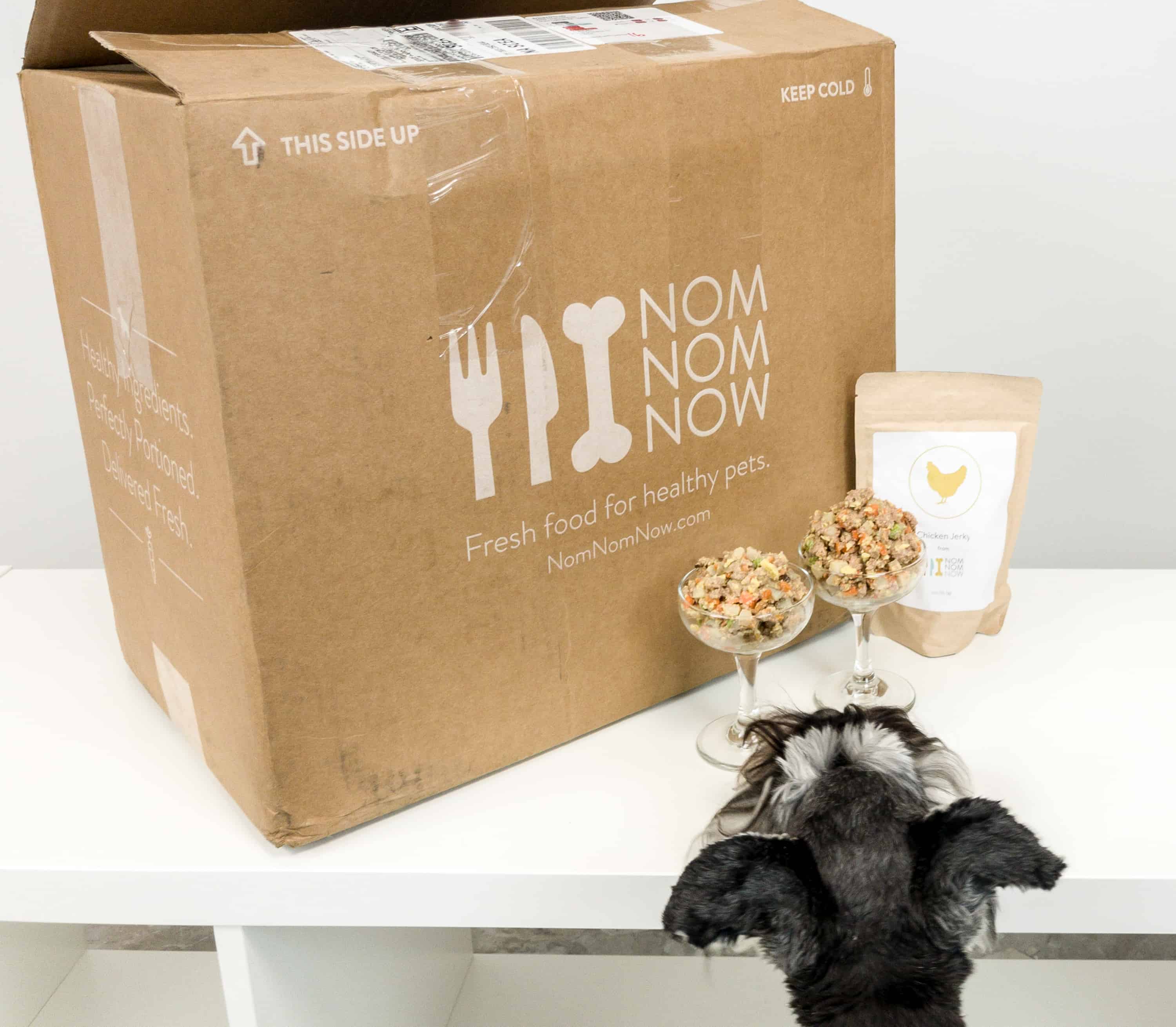 Oops, I think Dean have already found out about his meal.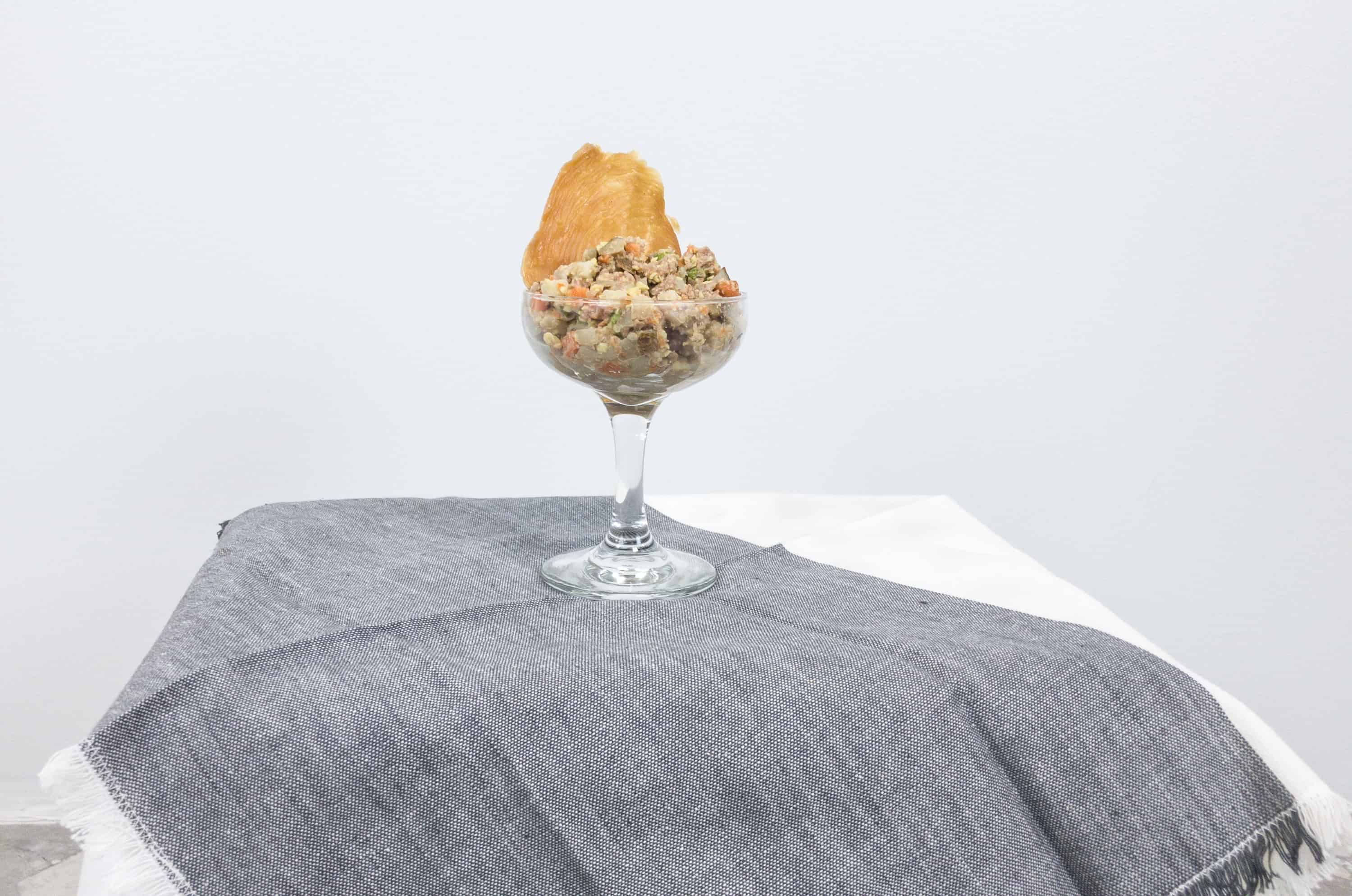 We served the beef mash together with a piece of chicken jerky.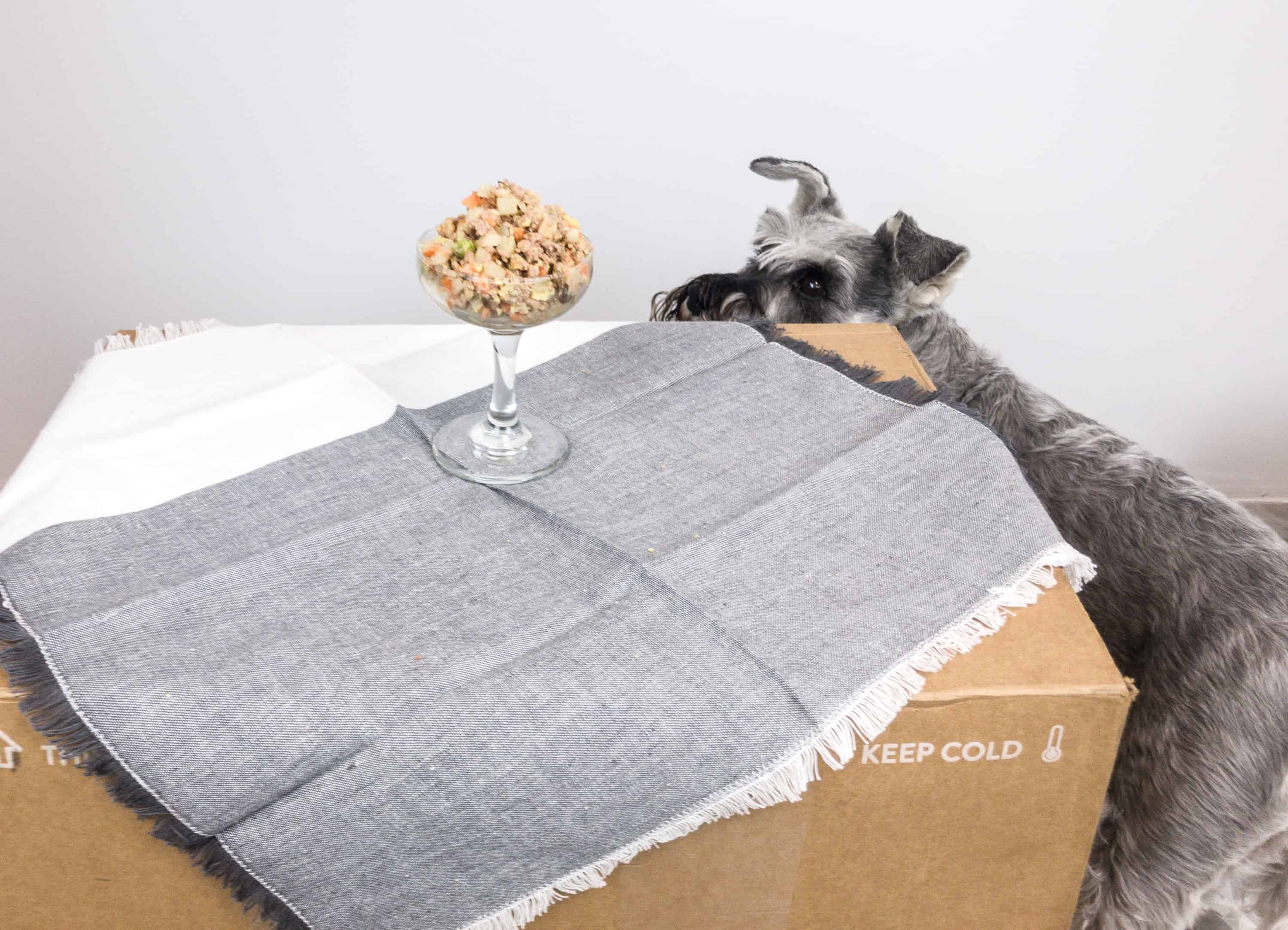 Hmmmm… Someone is getting excited, like a predator looking to attack her prey.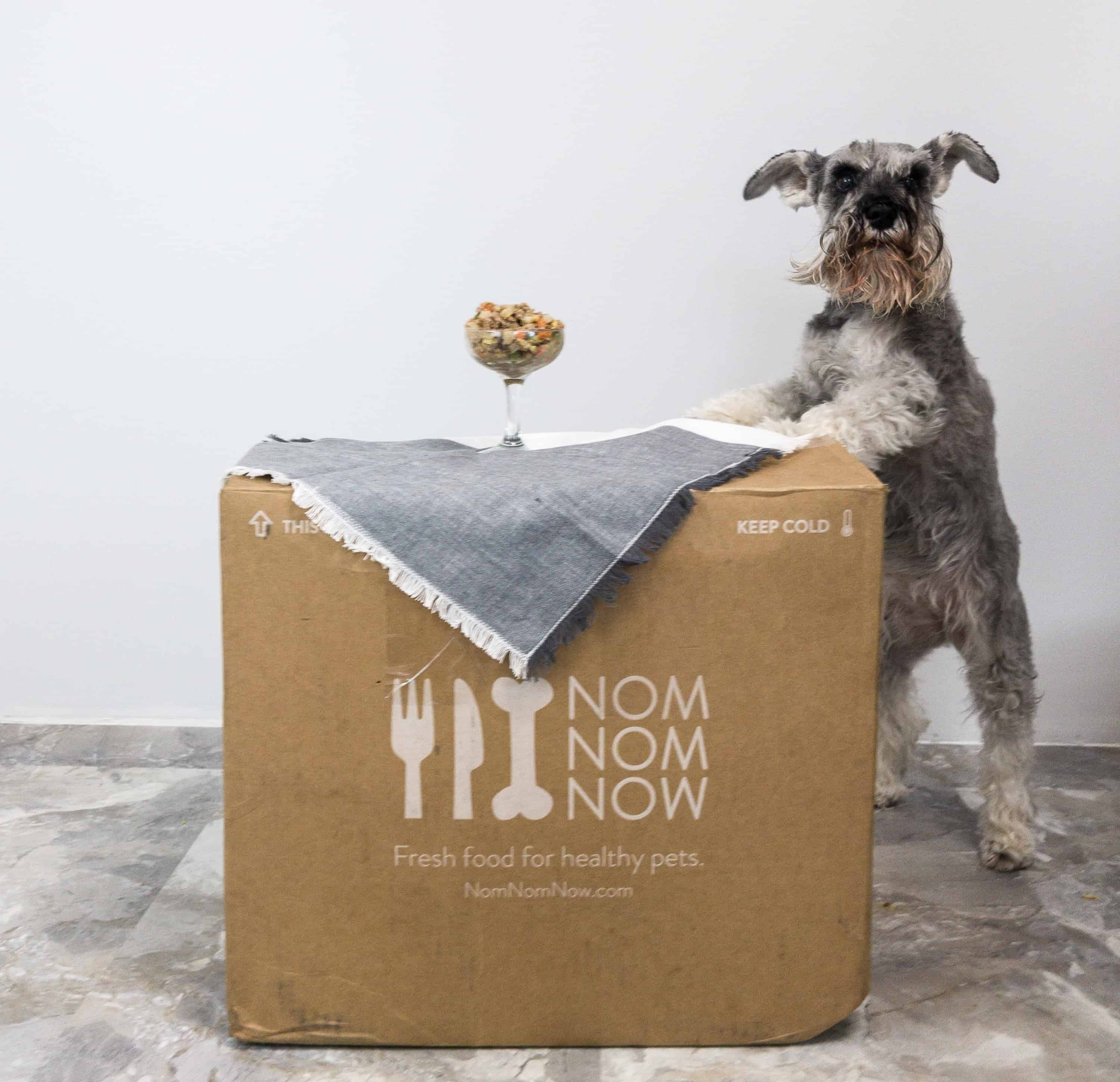 Wait a minute Lindy, I'm still taking a picture of that!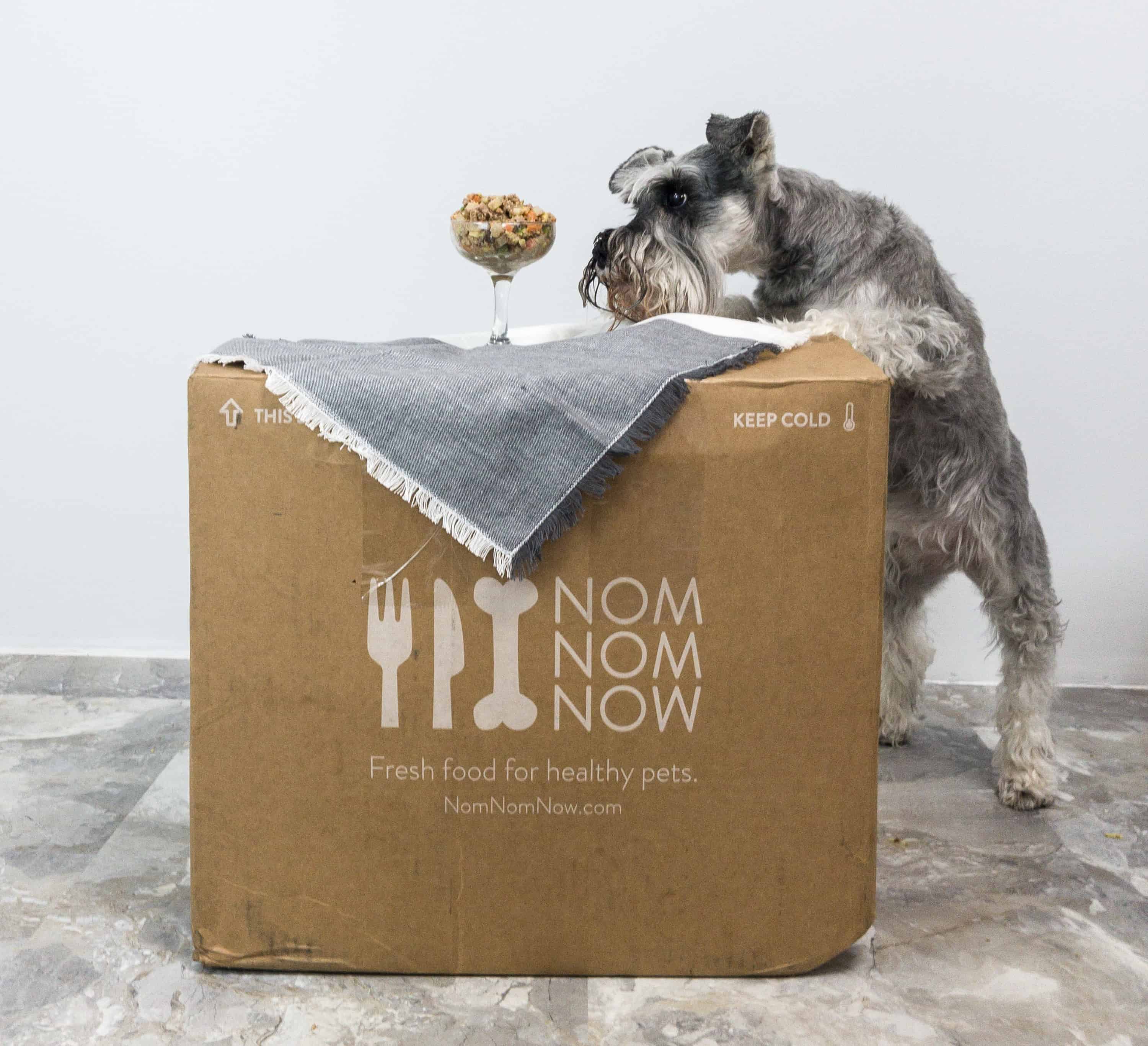 Lindy really can't take it anymore.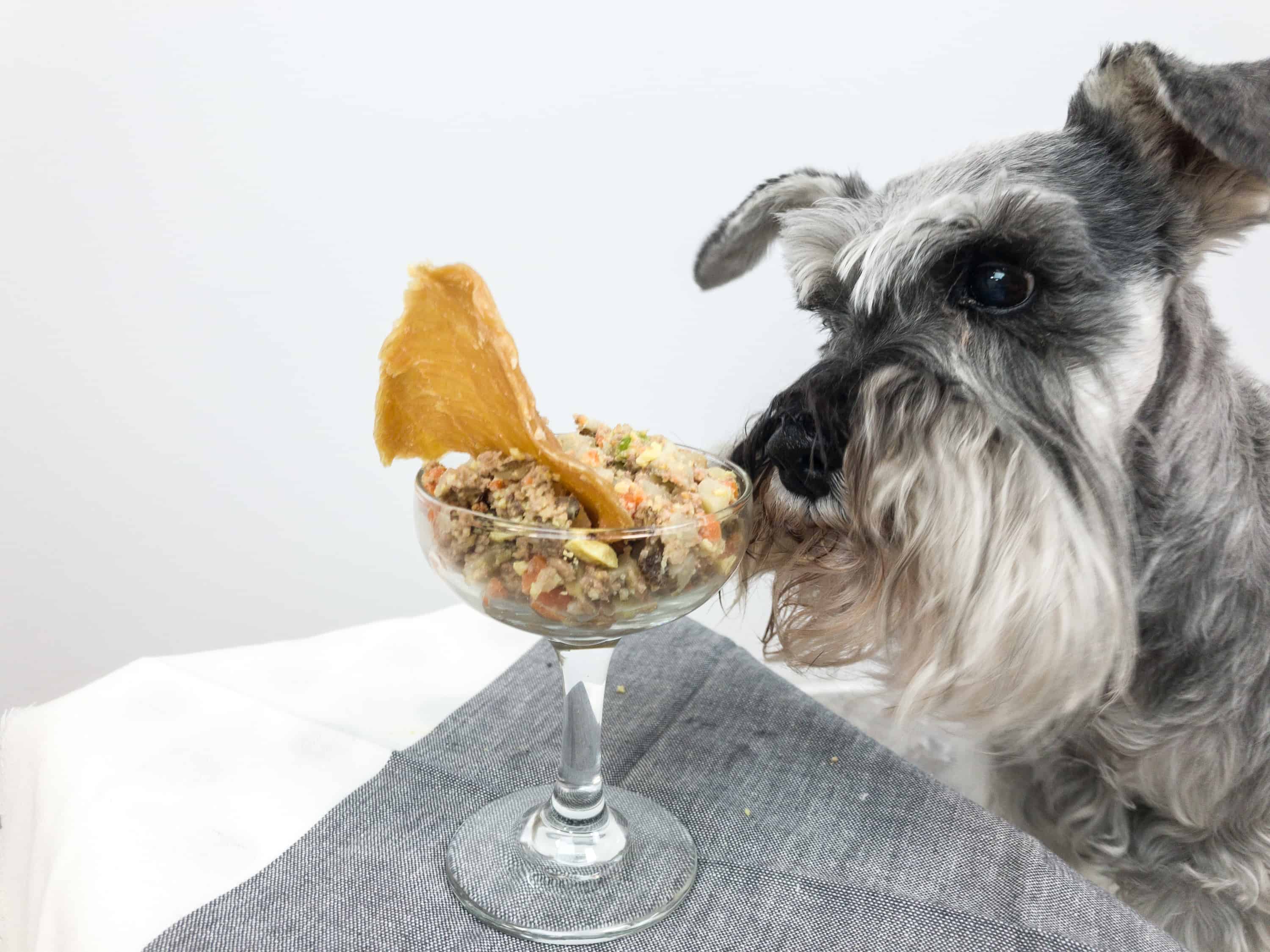 Like every other dog, they are sniffing it first before eating.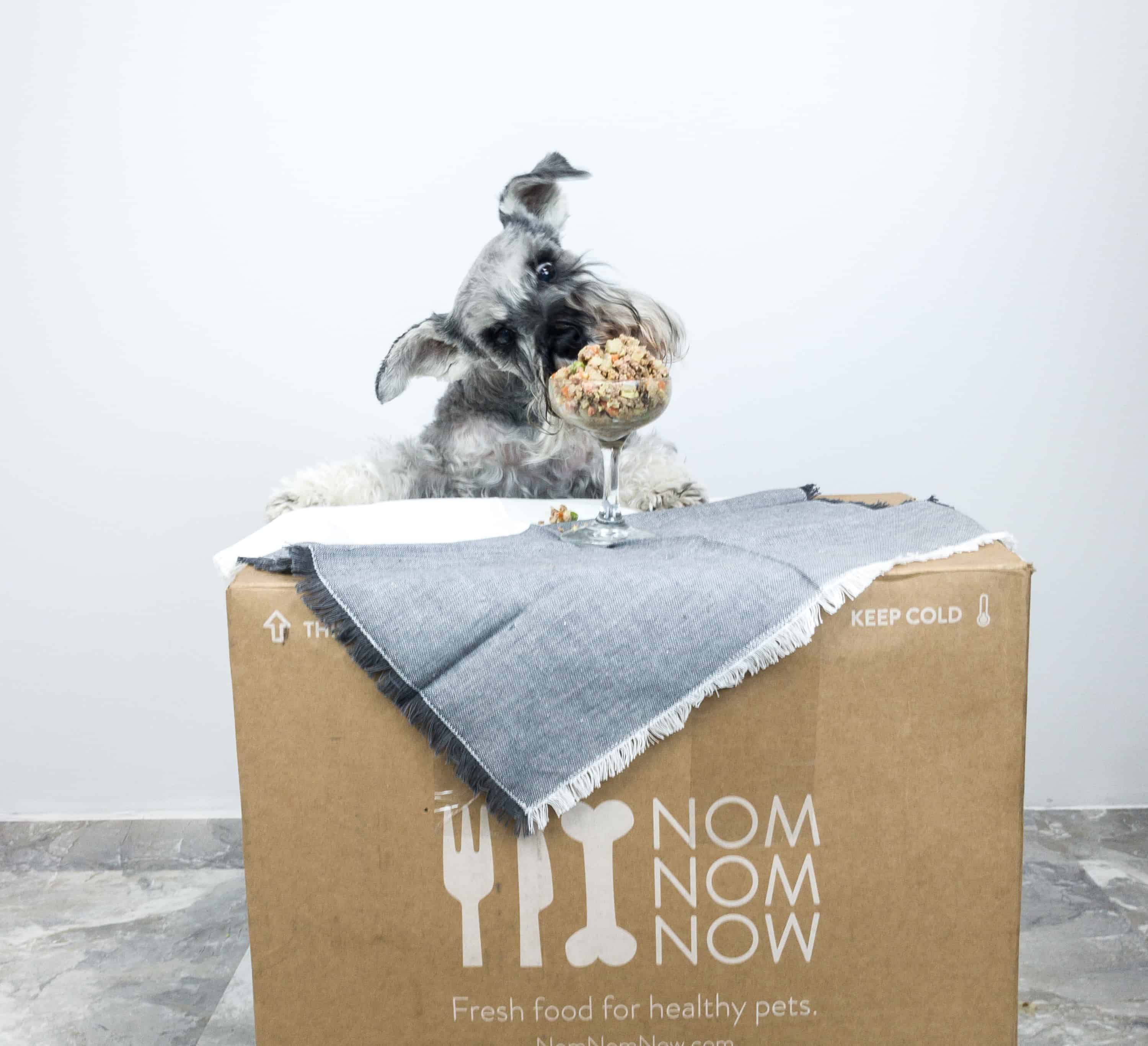 It looks like Lindy really likes it.
We let the dogs try a full portion. It's a nice hearty meal, and Lindy seems to agree!
We're impressed with everything about Nom Nom Fresh Dog Food Box. The pre-portioned servings are generous, and the recipes are all packed with healthy ingredients. The Heartland Beef Mash and the chicken jerky were both a hit! I also appreciate that they sent sample packs of other flavors, so I can test if my dogs will also like it (they did). Seeing my dogs enjoy their food, and knowing that it is truly healthy for them, is a great feeling!
Are you getting Nom Nom?