Nerdy Post is a subscription that sends original, hand-lettered stationery, posters, prints, stickers, and other paper ephemera around a different theme each month! Not into that month's fandom? You can easily skip your shipment. While most items are created by Alexis Lampley, the owner of Nerdy Post, they've been including items from other artists and shops, too!
Nerdy Post has a variety of box options:
Nerdy Post – streamlined a smidge but otherwise, nothing changes – $13.95 + shipping
Nerdy Tees: just the matching tee – $15.95 + shipping
Nerdy Combo – Nerdy Post + Matching Tee – this combo saves $5 in shipping.
Ultimate Nerdy Post: all that is included with Nerdy Post, plus two more-substantial items such as a mini candle, a tote, etc + a bonus item –  $22.95 + shipping
Ultimate Nerdy Post Combo: Ultimate Nerdy Post + Nerdy Tee
Nerdy Post Lite: featuring 5 core items from the Nerdy Post box. A great option if you are low on cash but still want to get it, or want to just try one out -$9.95 + shipping
This is the review of the Ultimate Nerdy Post Combo.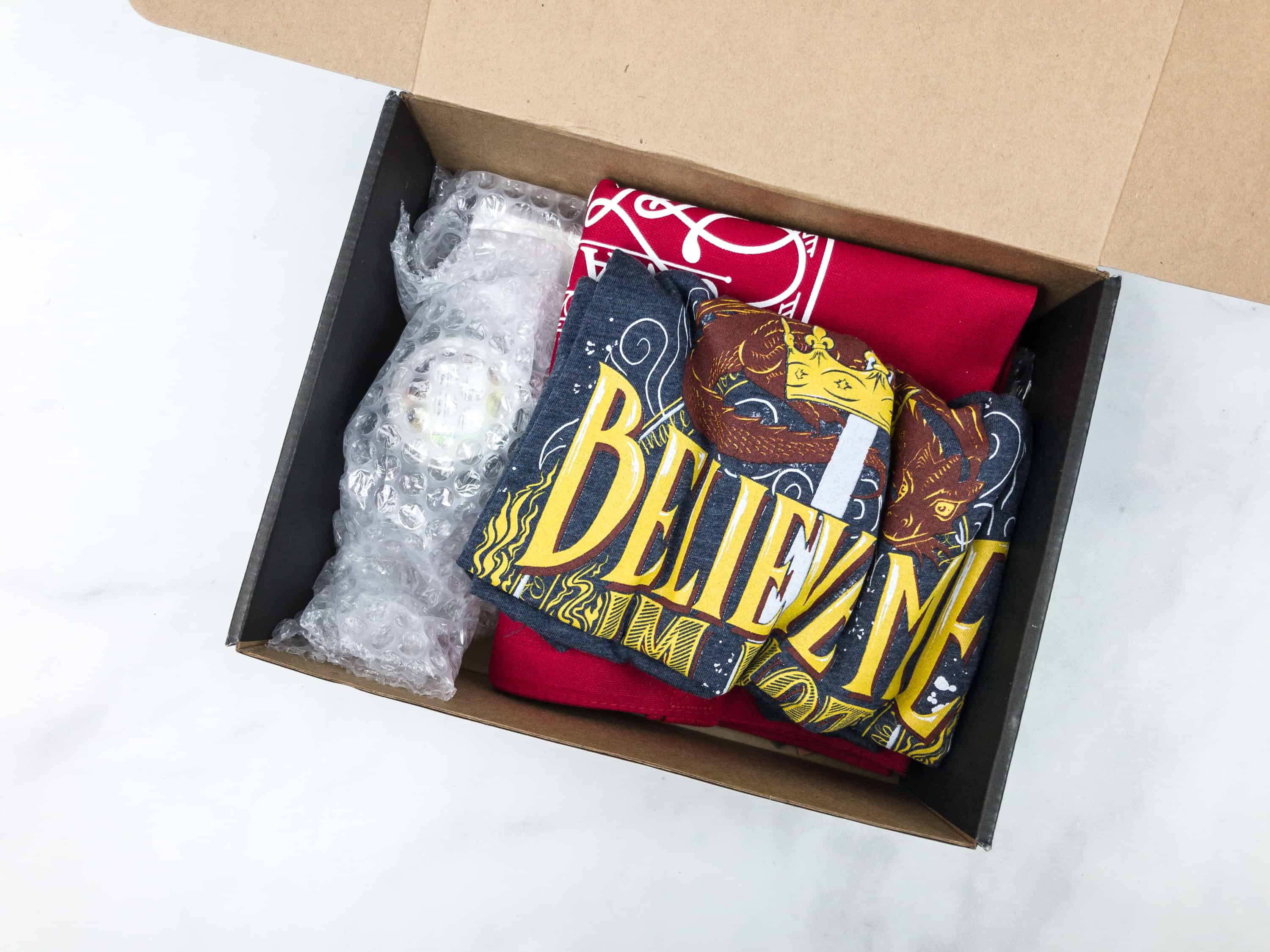 Everything is packed nicely into a box to protect all the contents.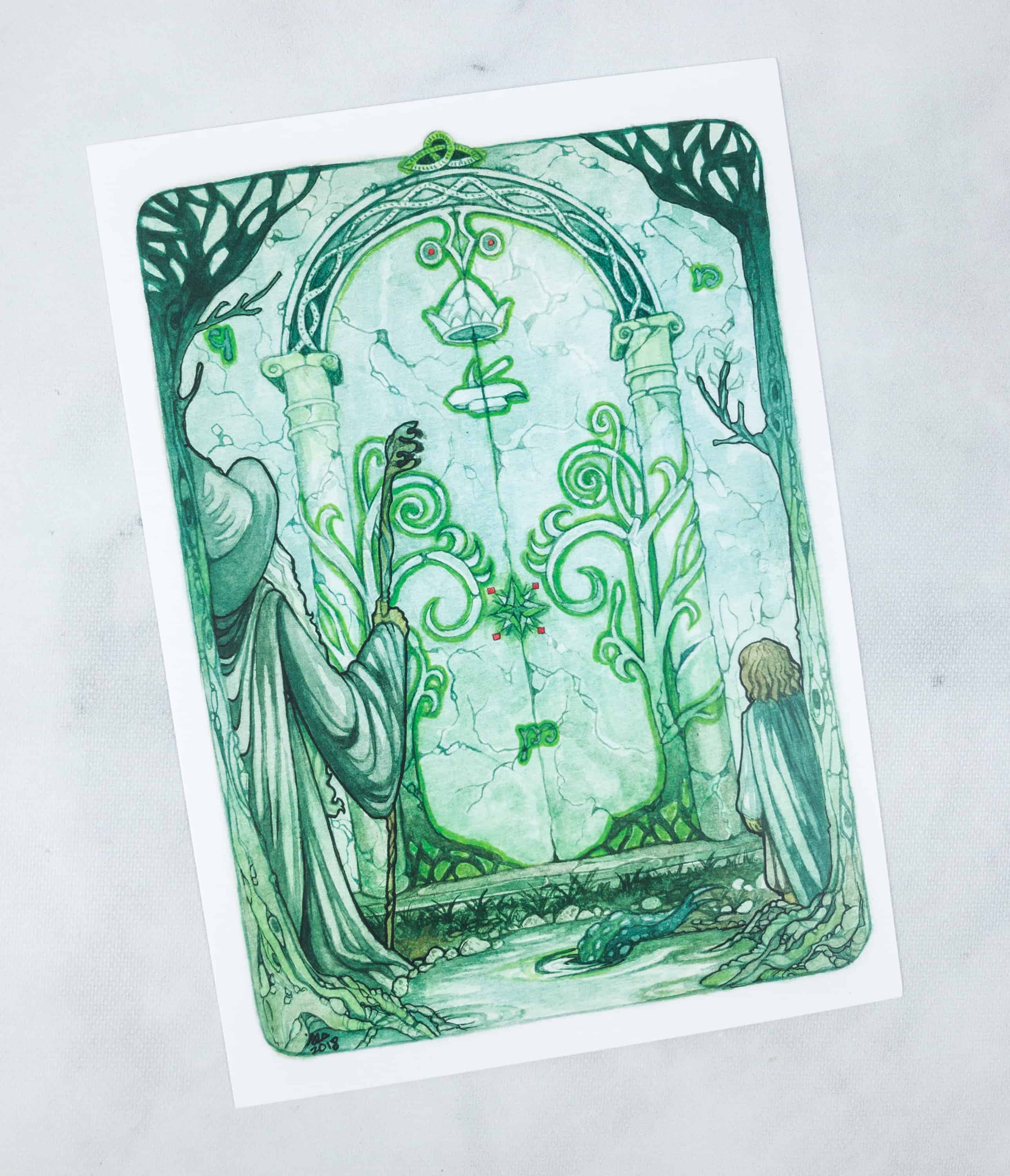 DEAL: Save 10% on your first month of Nerdy Post! Use coupon code NERDYNEWBIE. Does not apply to Nerdy Tees box or combo.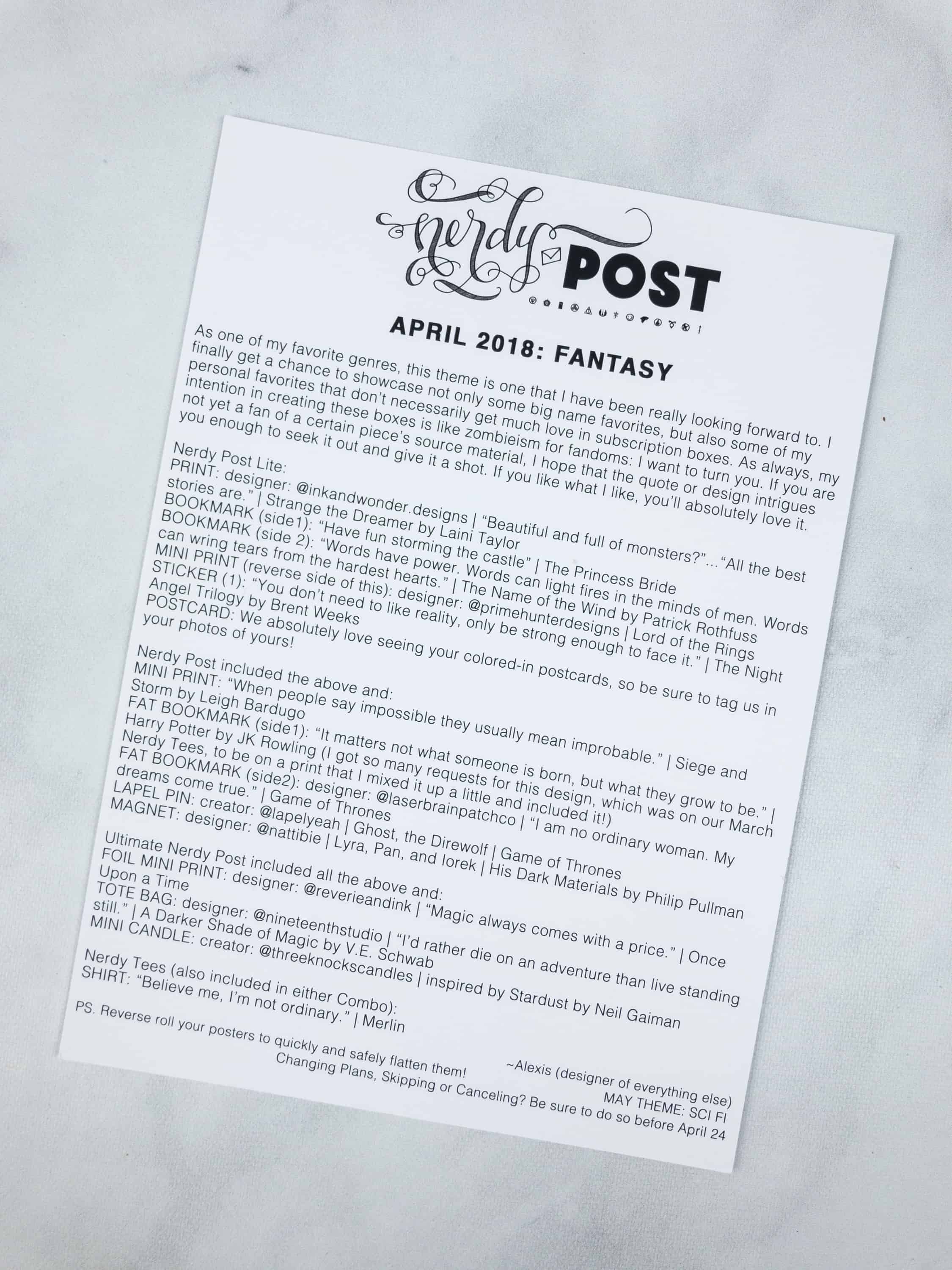 The theme for April is FANTASY! The information card gives you a list of all the items in the box and a bit of an idea of the creation process.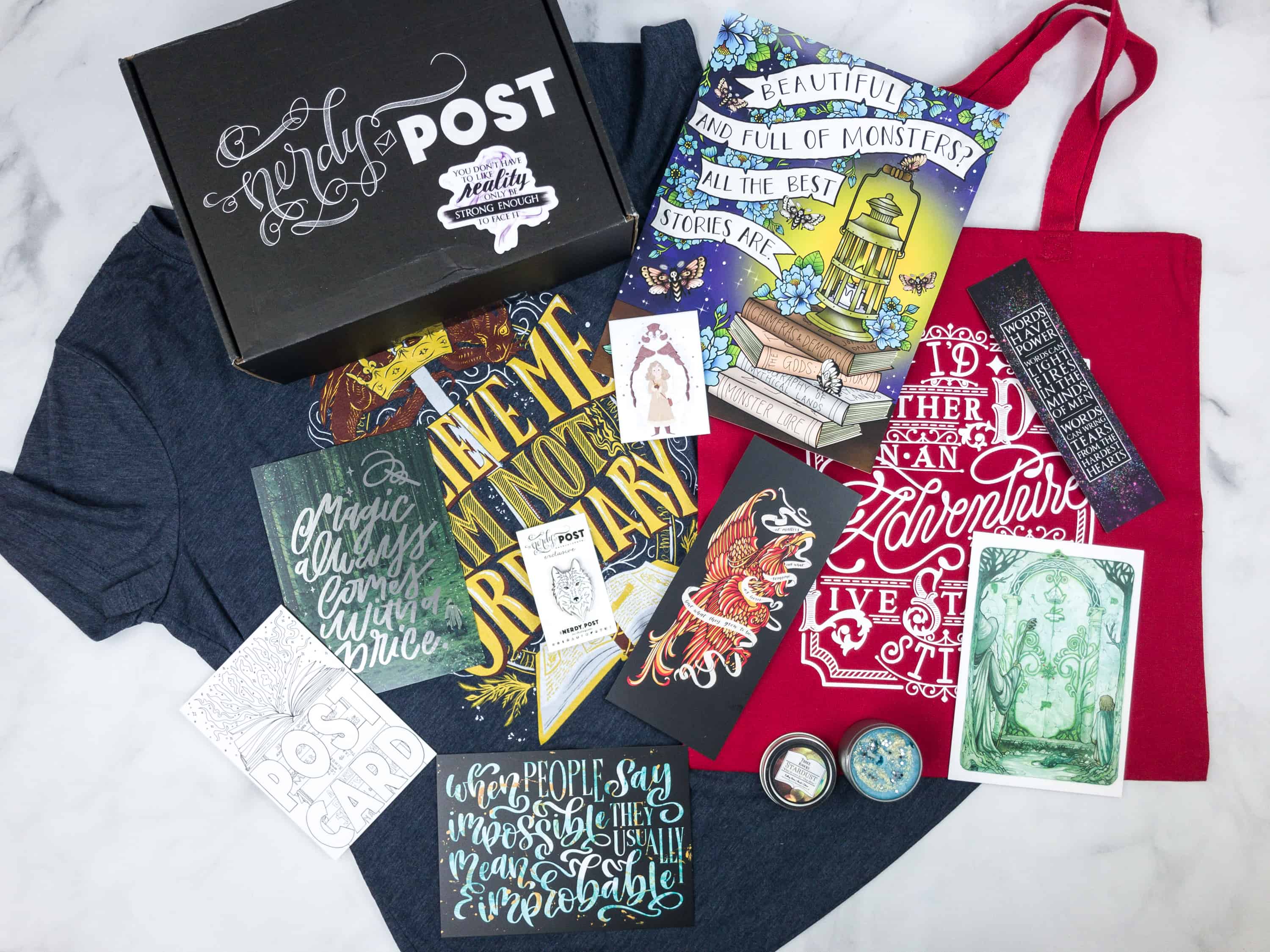 Everything in the April 2018 box!
Nerdy Post Lite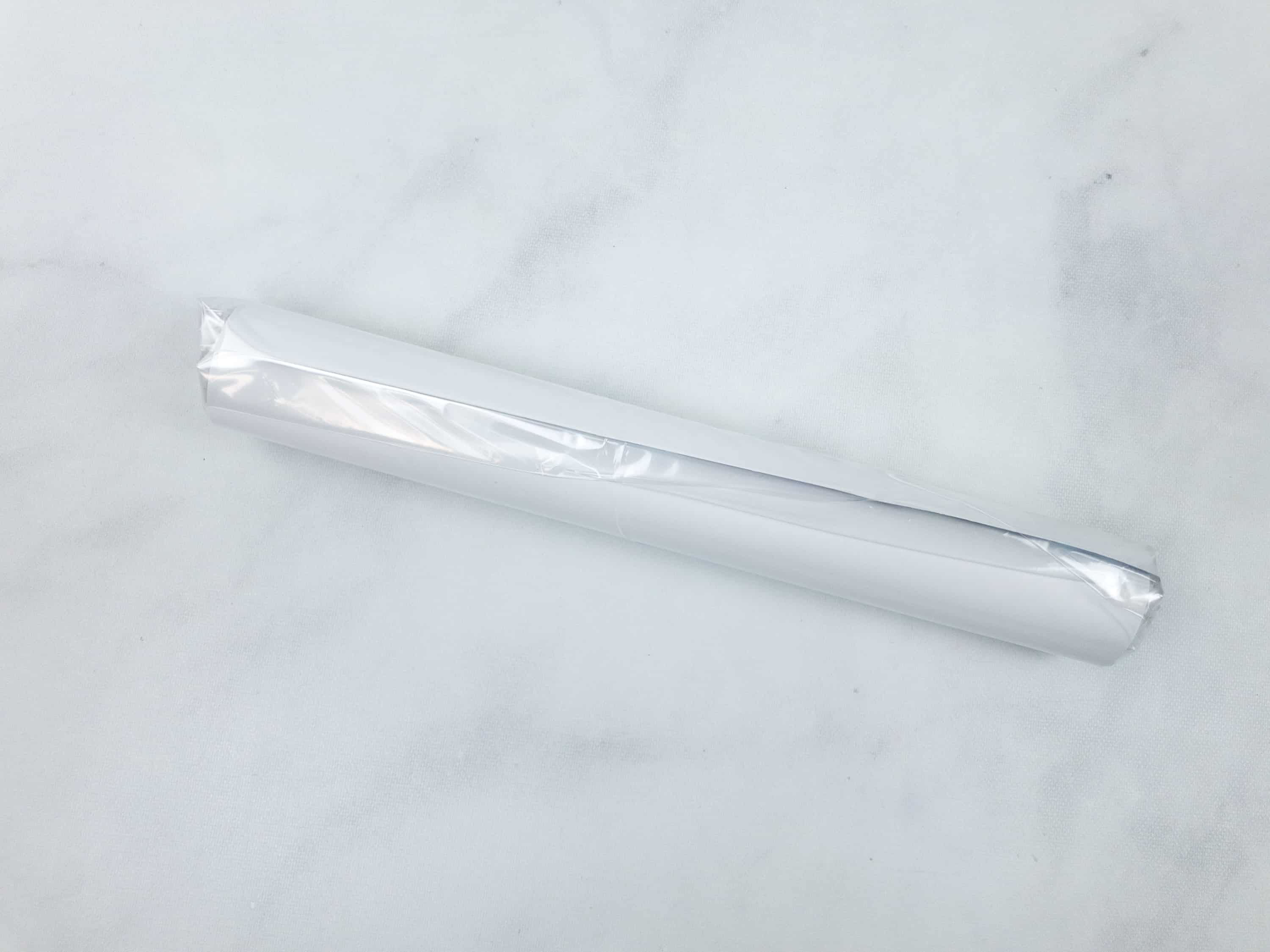 Posters from Nerdy Post always come well-wrapped.
Art Print. This art print is perfect for my reading corner. I like its vivid colors and the intricacy of the illustration. It features a quote from Strange the Dreamer, a sci-fi young adult novel by Laini Taylor:
Beautiful and full of monsters?

All the best stories are.
The Princess Bride Bookmark (Side 1) Who would ever forget this famous line from one of the best 80s movies, The Princess Bride? It was said by Miracle Max, a character played by Billy Crystal:
Have fun storming the castle!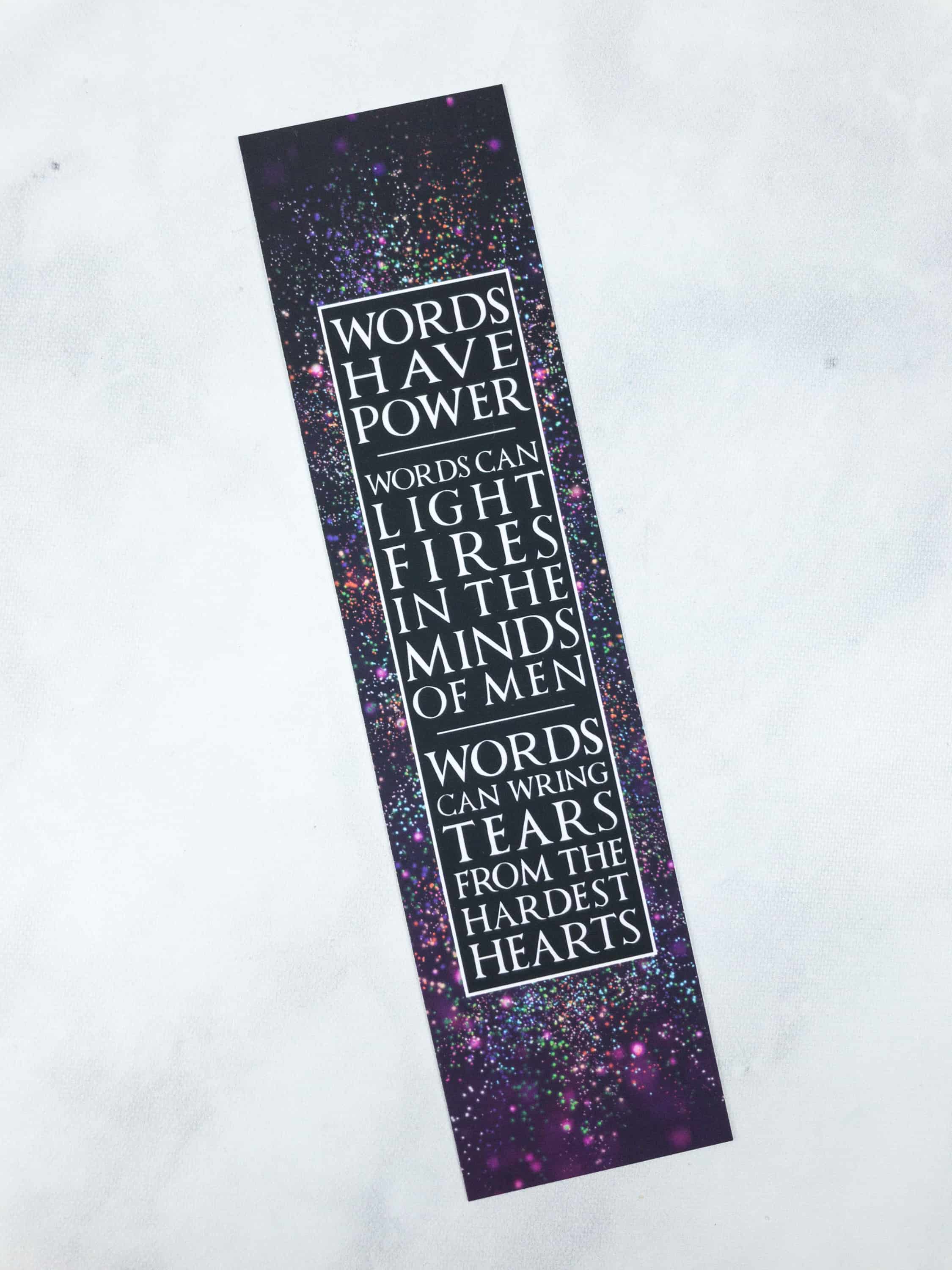 The Name Of The Wind By Patrick Rothfuss Bookmark (Side 2) The other side of the bookmark features a quote that reminds us to be responsible for our words. It's from The Name of the Wind, a heroic fiction novel by Patrick Rothfuss:
Words are pale shadows of forgotten names. As names have power, words have power. Words can light fires in the minds of men. Words can wring tears from the hardest hearts.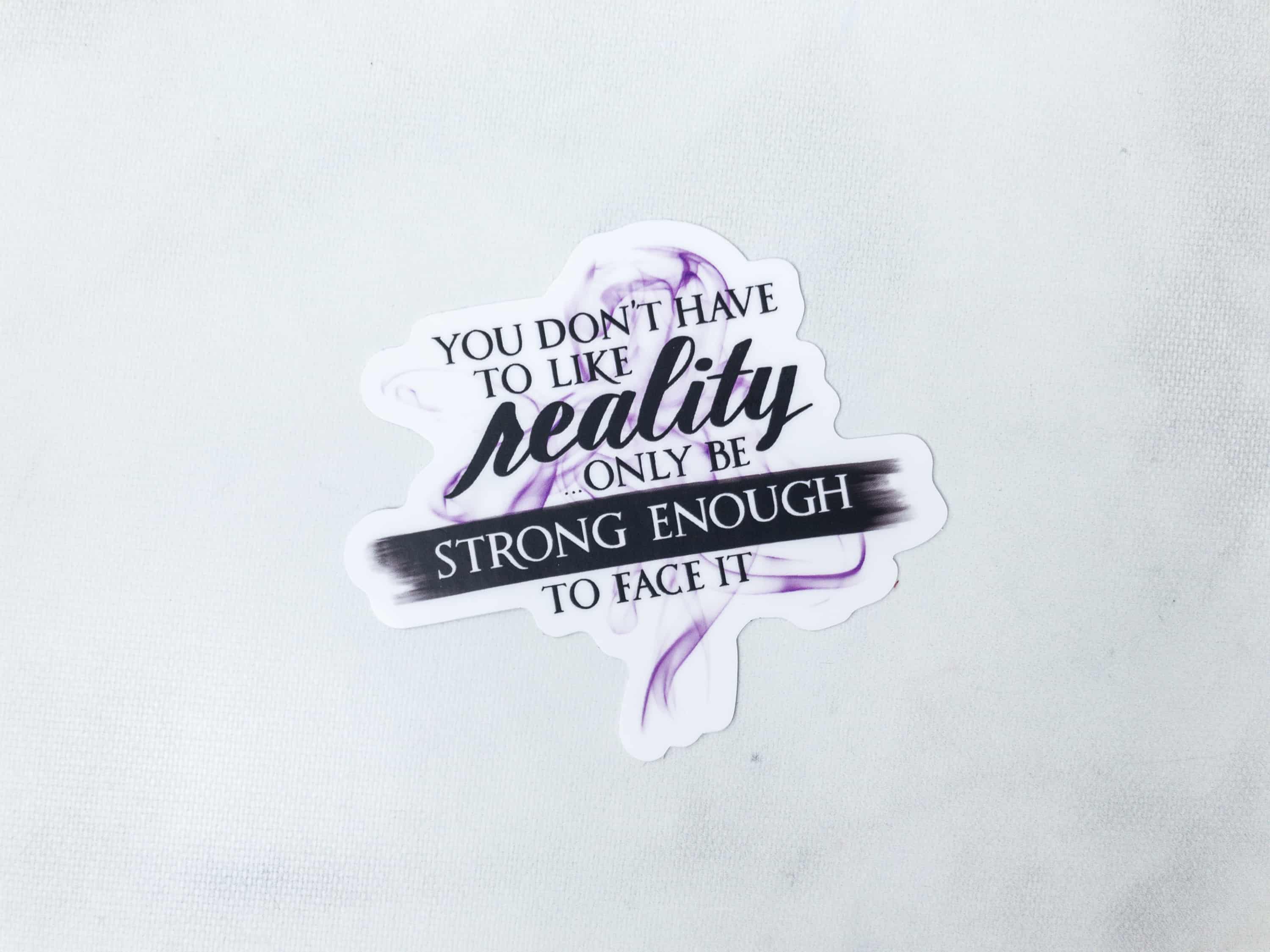 The Night Angel Trilogy By Brent Weeks Sticker. Reality can be tough at times and this sticker puts it in perspective.
You don't have to like reality, only be strong enough to face it.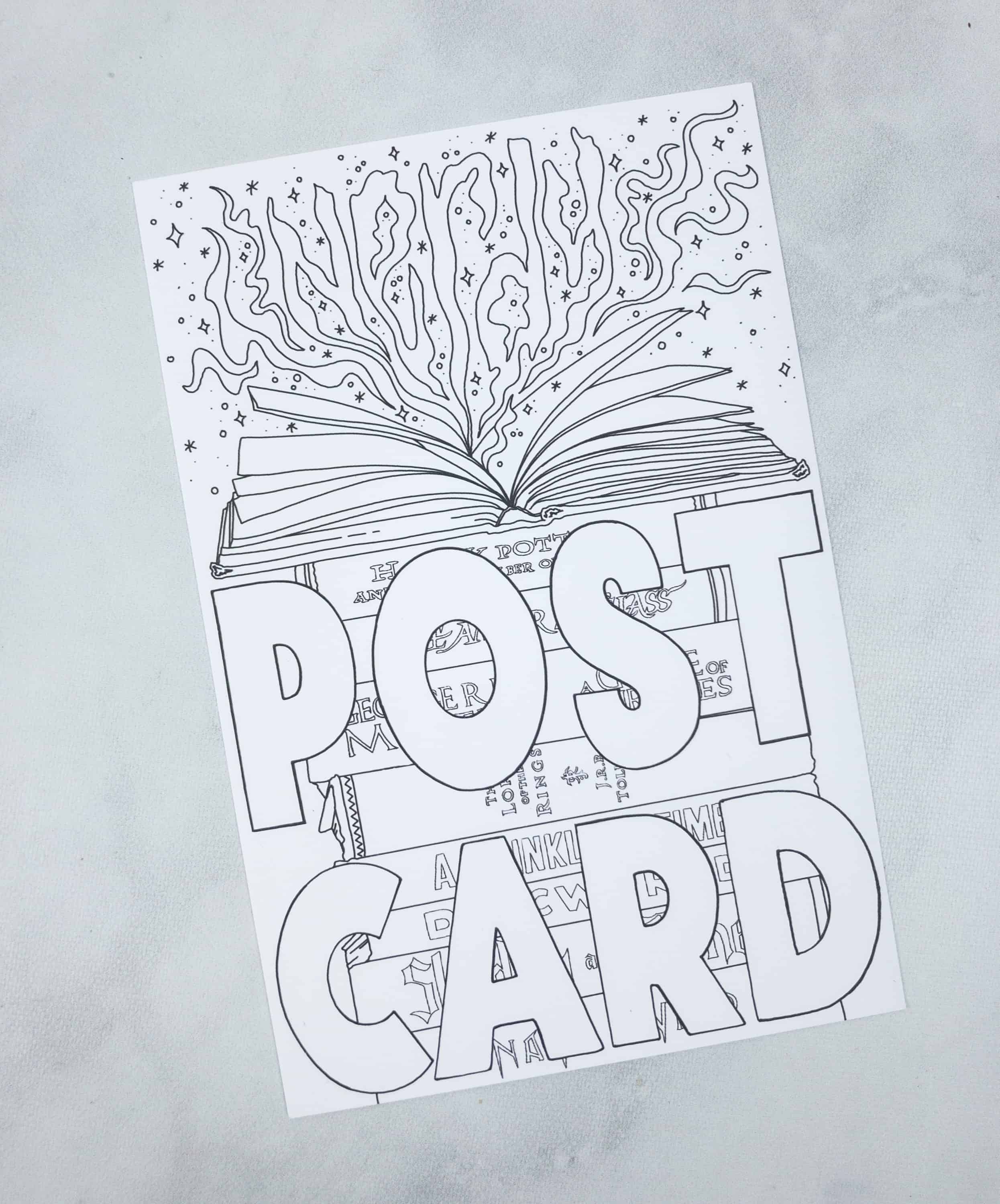 Postcard. A staple in every Nerdy Post package is a coloring postcard. This month, it features — you guessed it — books!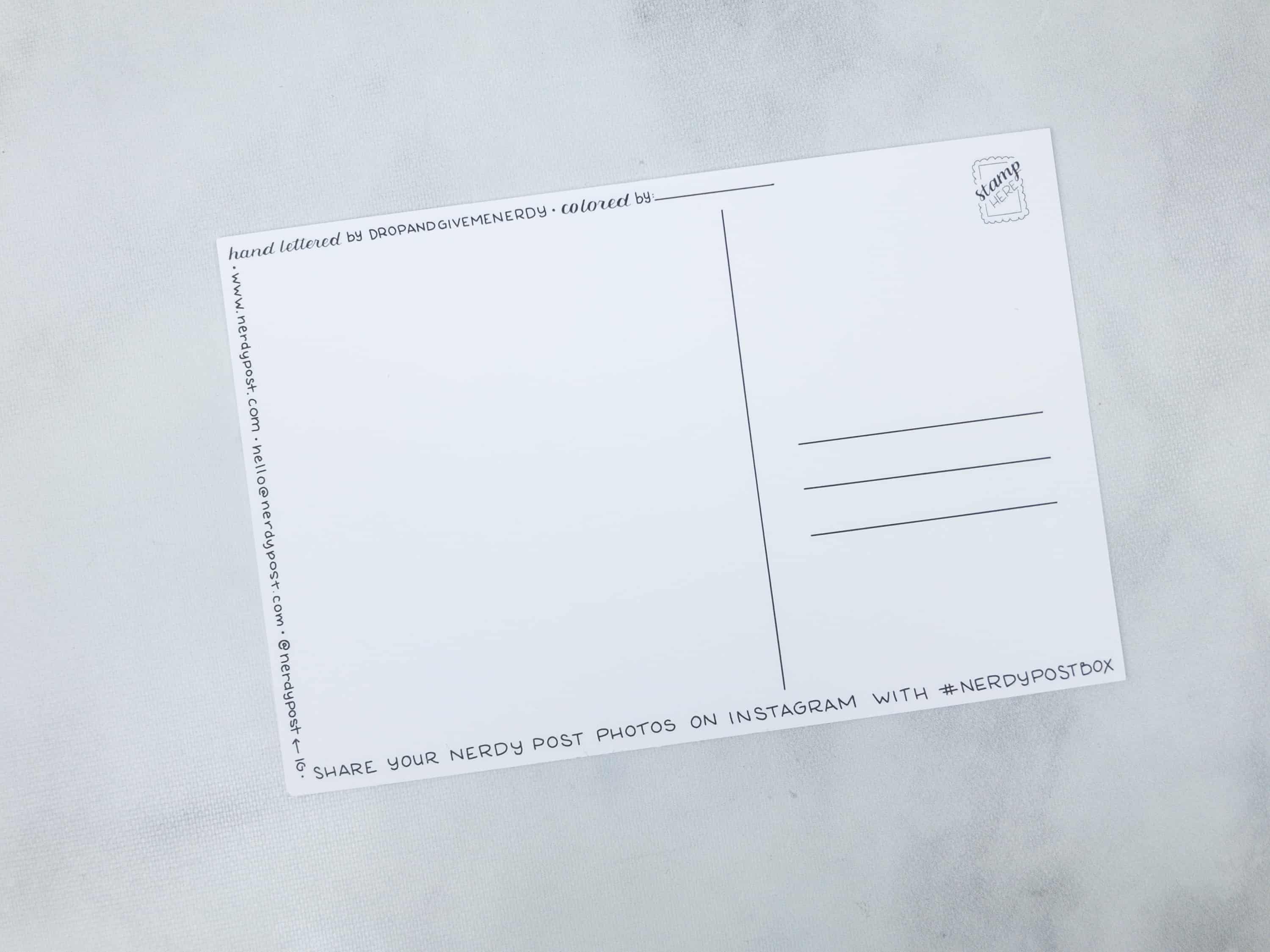 You can write a message on the back and give it to someone, or just keep the sweet postcard for yourself!
Nerdy Post Contains Everything From Lite Plus: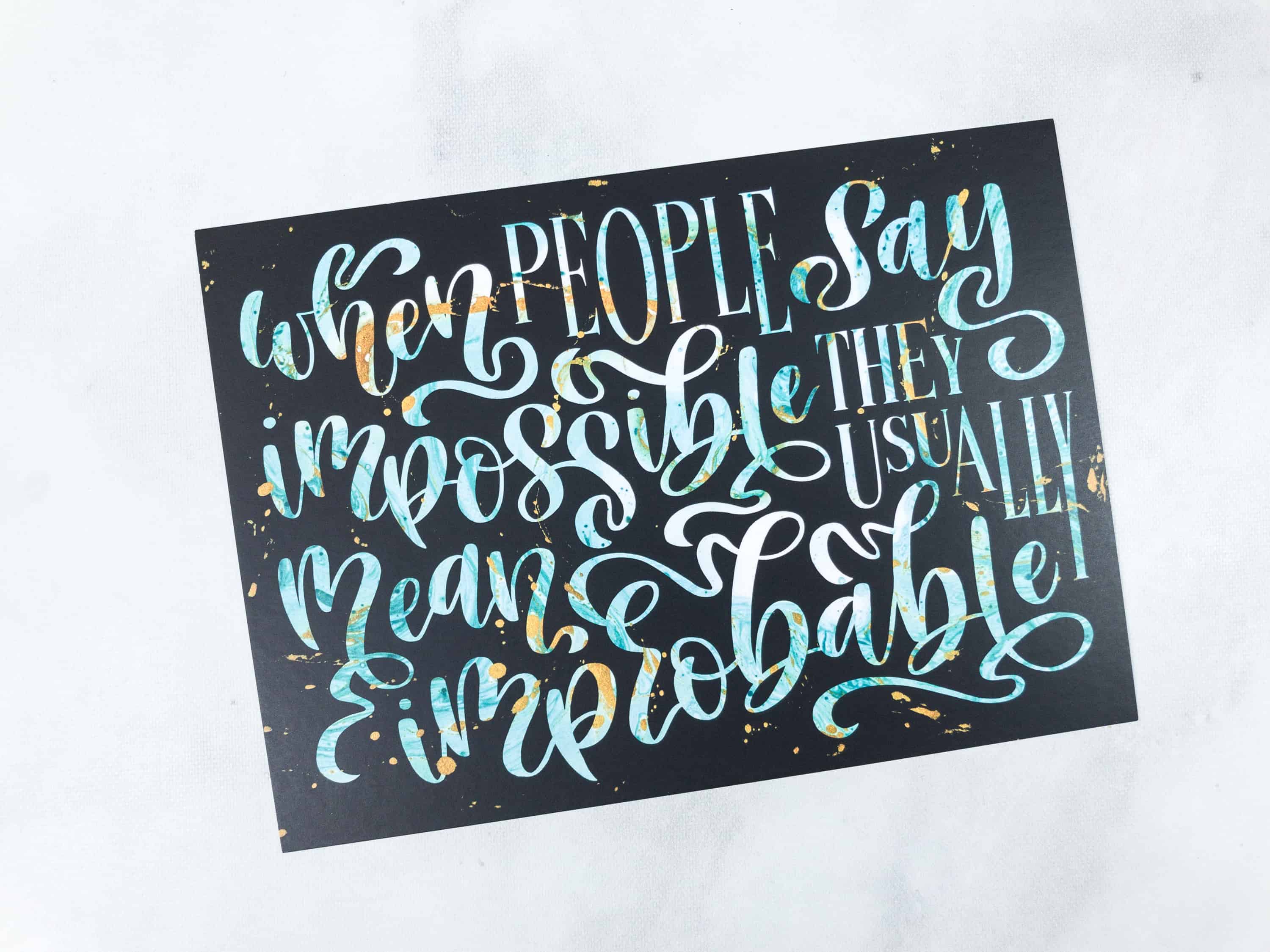 Siege And Storm By Leigh Bardugo Mini Print. Featuring a motivational quote, I think this mini print is a great confidence booster so I'm going to keep it for my work desk!
When people say impossible, they usually mean improbable.
Harry Potter JK Rowling Fat Bookmark (Side 1) Fawkes is looking majestic in this Harry Potter bookmark. I'm into anything Harry Potter, but all biases aside, this one's really well illustrated. I love the quote too:
It matters not what someone is born, but what they grow to be.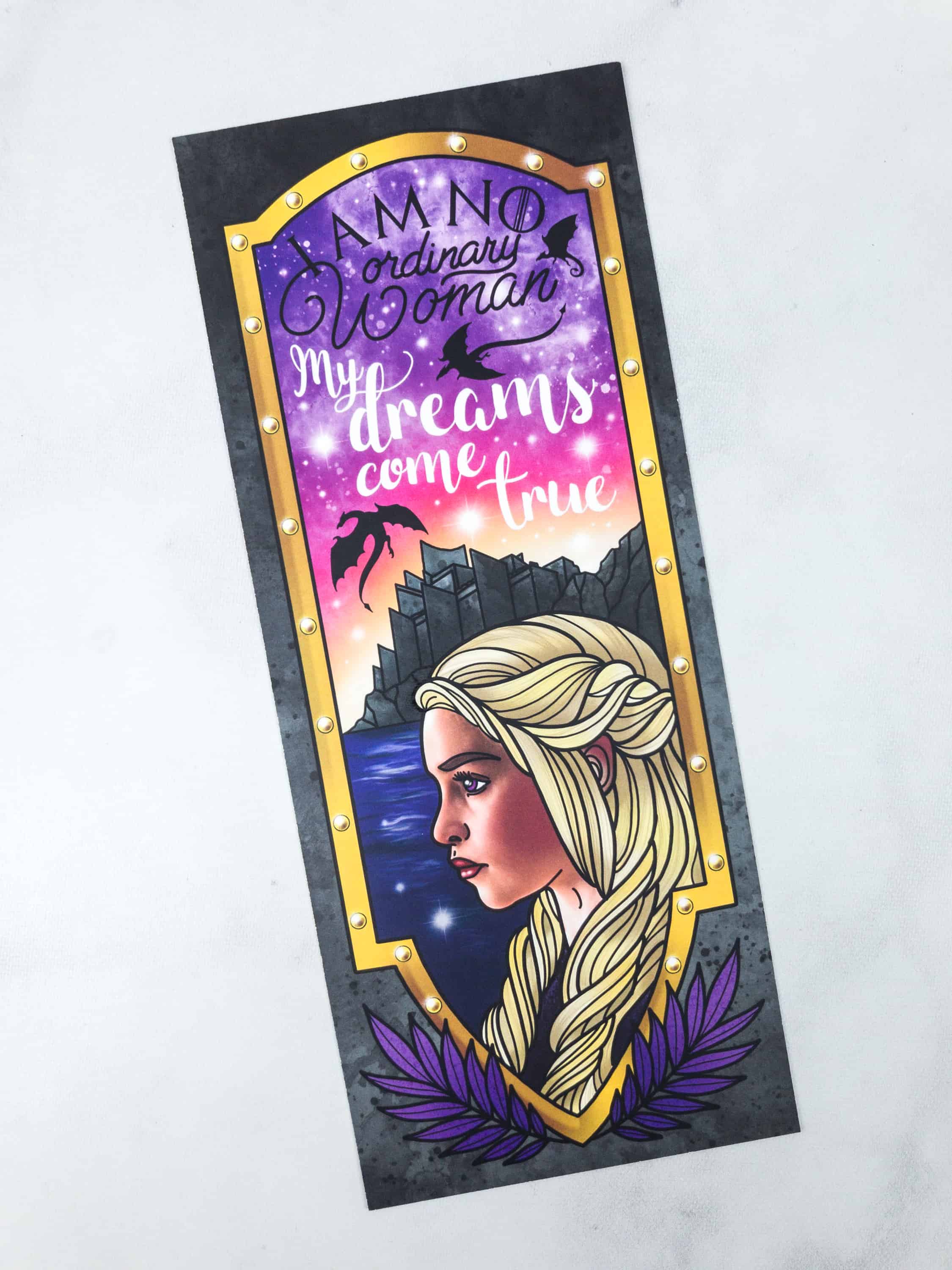 Game Of Thrones Fat Bookmark (Side 2) By @laserbrainpatchco. The artist chose the perfect colors for this illustration, and I especially like the purplish-pink sky! Of course, this feminist quote from Daenerys Targaryen is also a win for me:
I am no ordinary woman. My dreams come true.
Game Of Thrones Dire Wolf Lapel Pin By @lapelyeah. The pin features a dire wolf, the symbol of the House of Stark!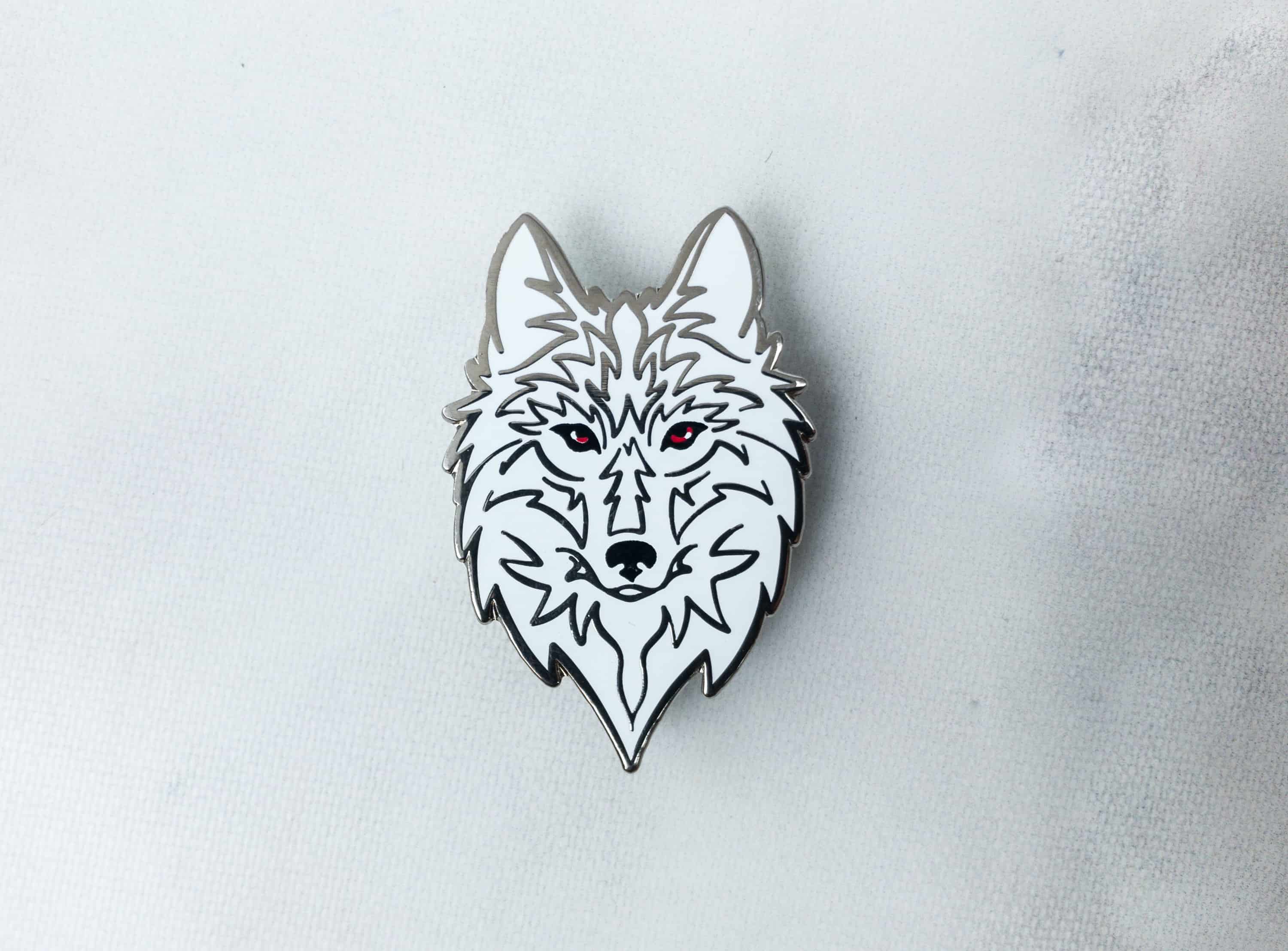 The artist has certainly captured the demeanor of the dire wolf in this pin. I think another round of binge-watching Game of Thrones is in order.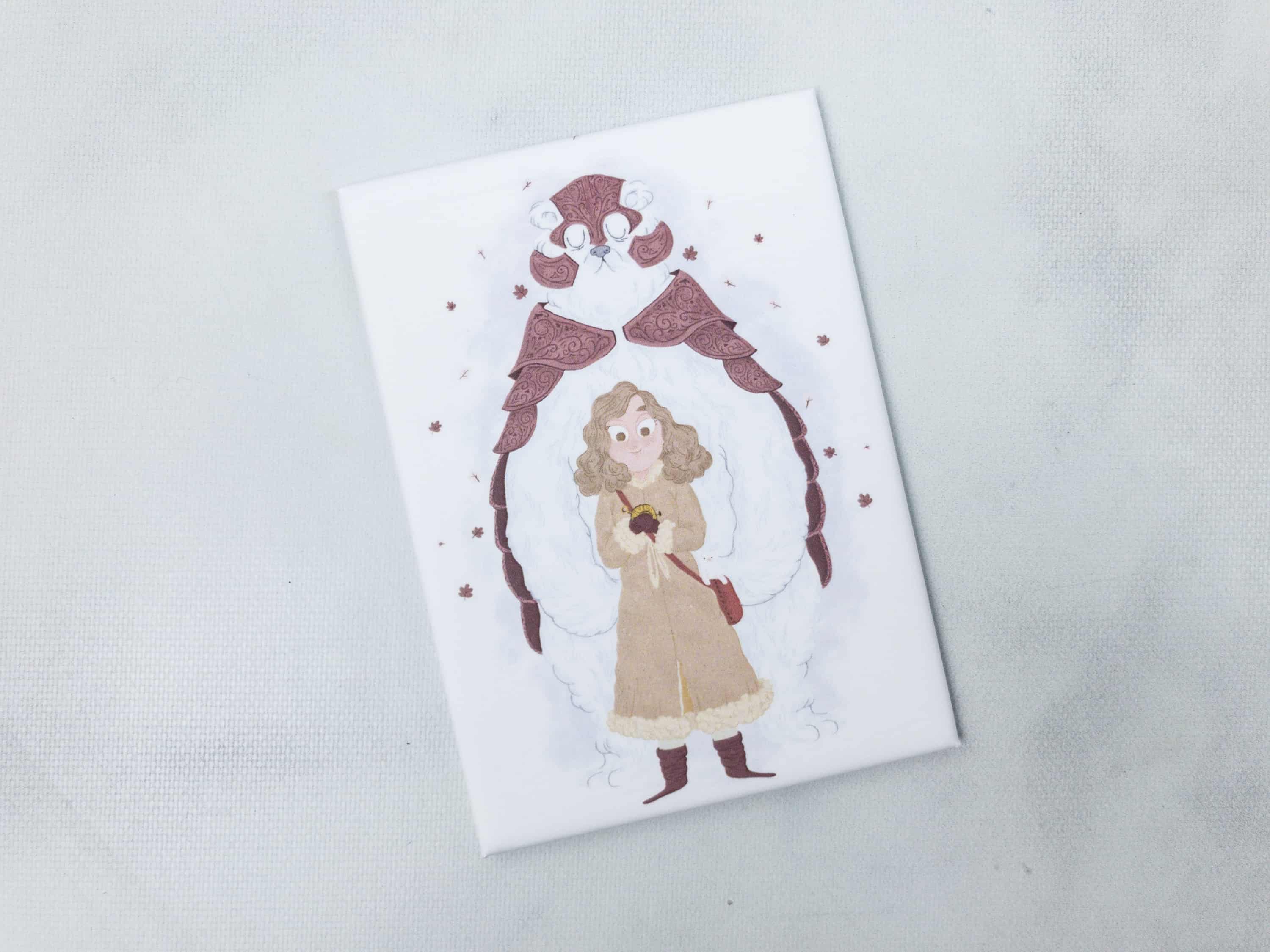 His Dark Materials By Philip Pullman By @nattibie. It's a rectangular magnet featuring the main character of His Dark Materials, Lyra Belacqua, with a shape-shifting daemon named Pan and an armored bear named Iorek.
You can put it just about anywhere as long as the surface is made of steel. It can be a great work area decor, or even as a fridge magnet!
Ultimate Nerdy Post Contains All of the above Plus: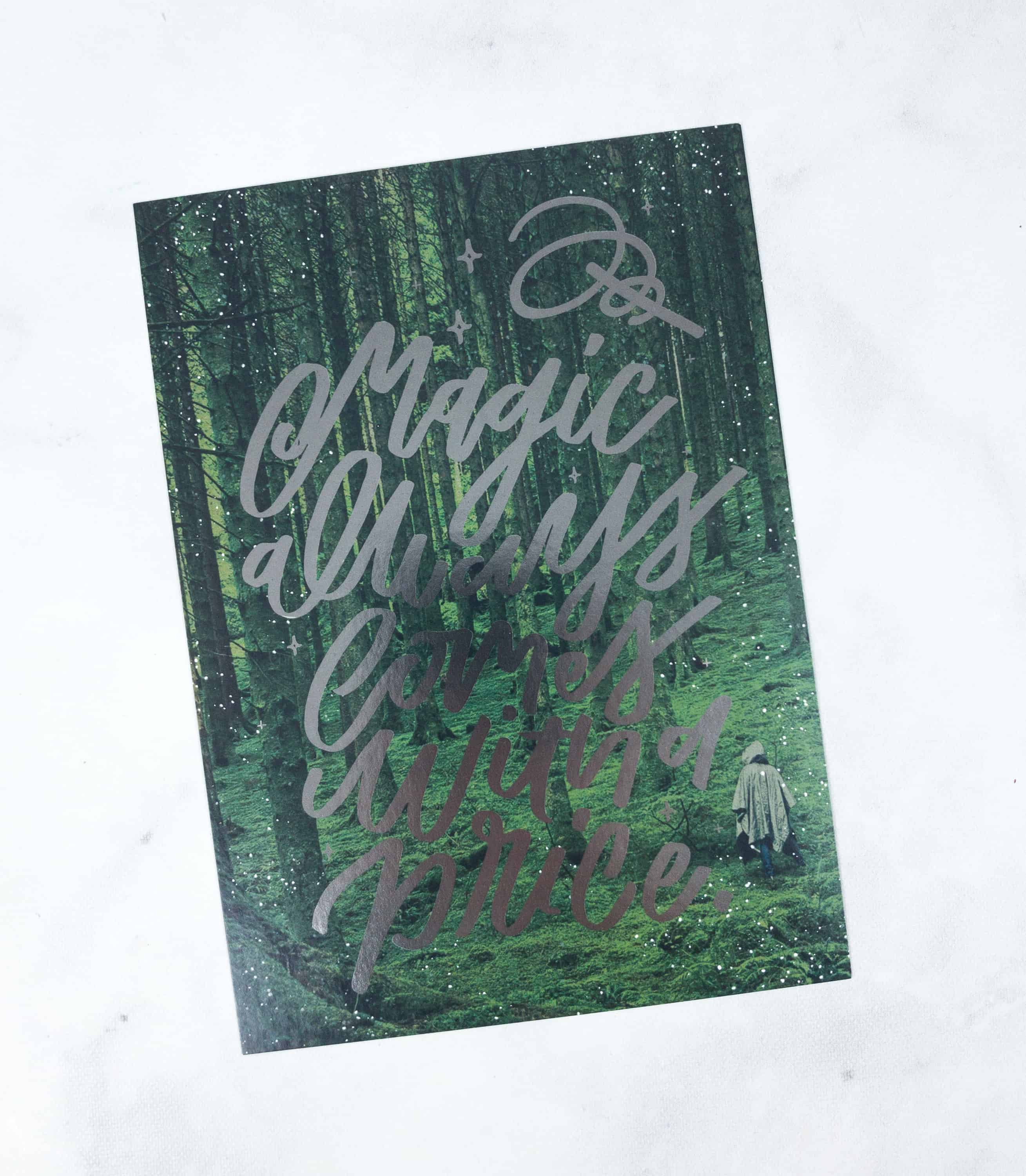 Once Upon A Time Foil Mini Print By @reverieandink. Once Upon a Time has certainly caught a lot of attention with its magic and mysteries. This foil mini print is a nice reminder that magic often comes at a price. The foil design and the calligraphy work well together.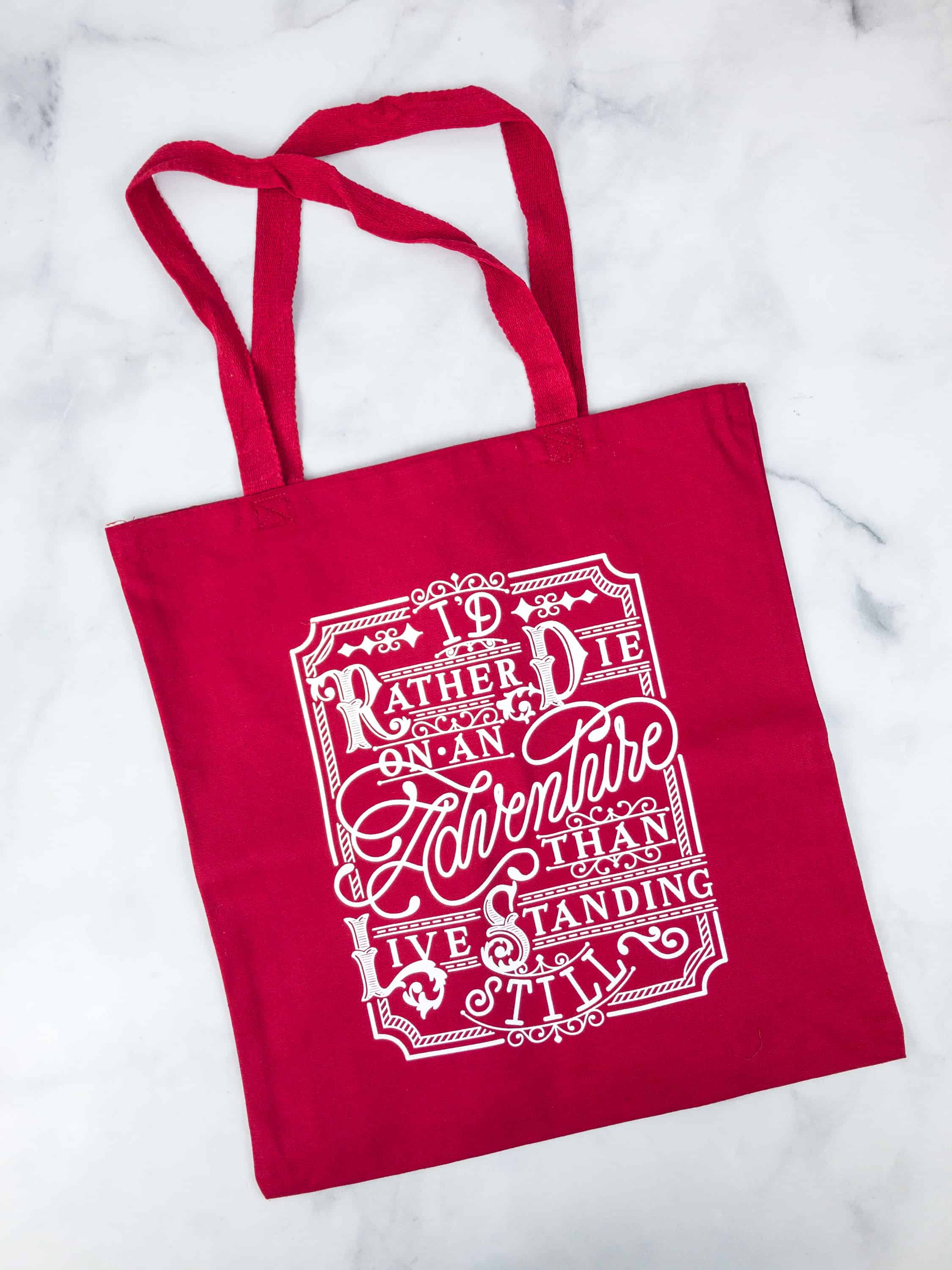 A Darker Shade Of Magic Tote Bag By @nineteenthstudio. This red tote bag is totally a standout!
I'd rather die on an adventure, than live standing still.
The quote is a nice reminder to enjoy life and get out of your comfort zone. I'm definitely bringing this tote bag in one of my adventures to remind me of that!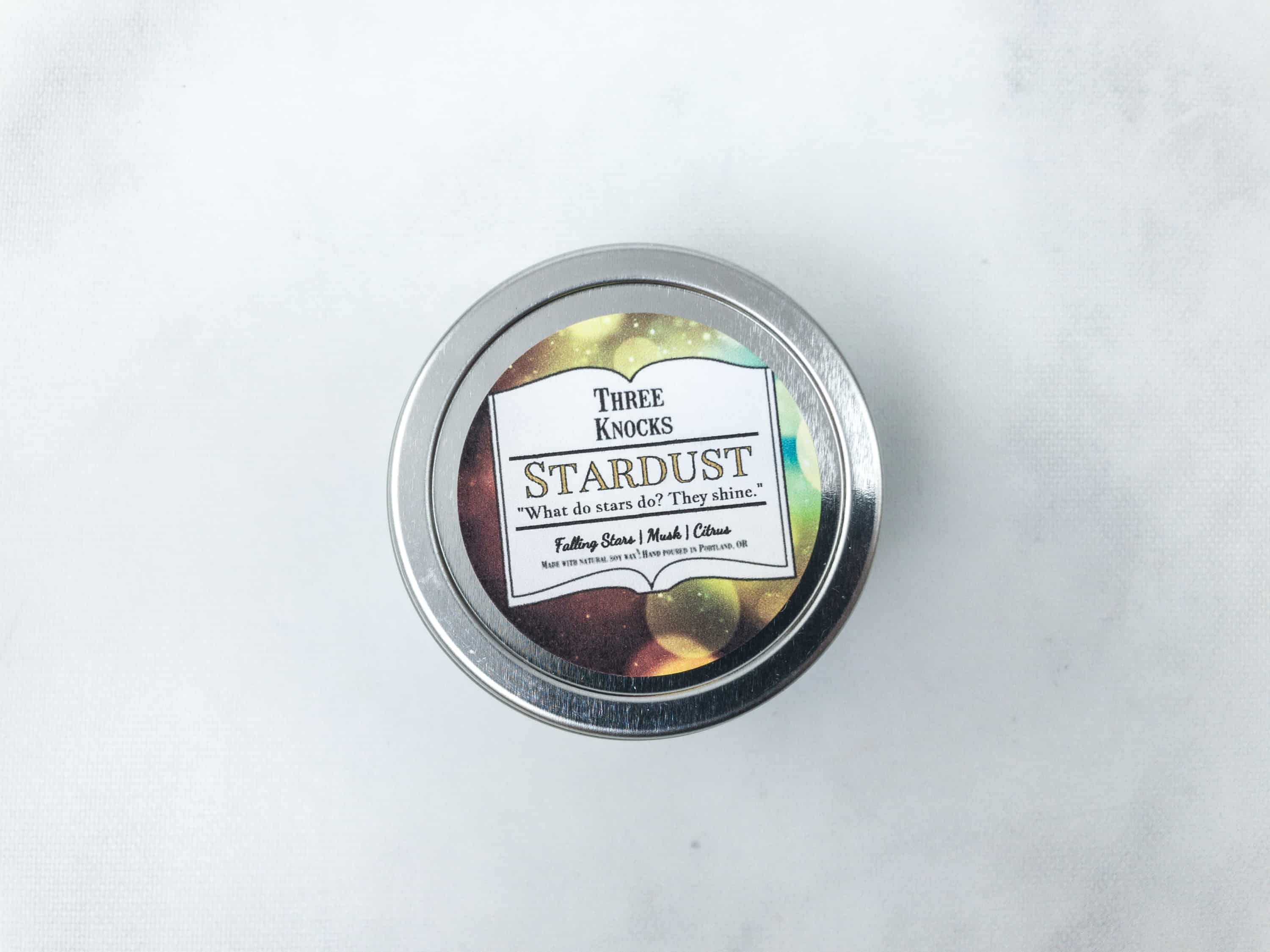 Three Knocks Stardust. With notes of musk and citrus, this mini candle is ideal for relaxing and even for setting the mood when reading.
The candle is in light blue, and it's also sparkly so it reminds me of stardust. On the lid is a quote from Neil Gaiman:
What do stars do? They shine.
Nerdy Tees (also included in combo):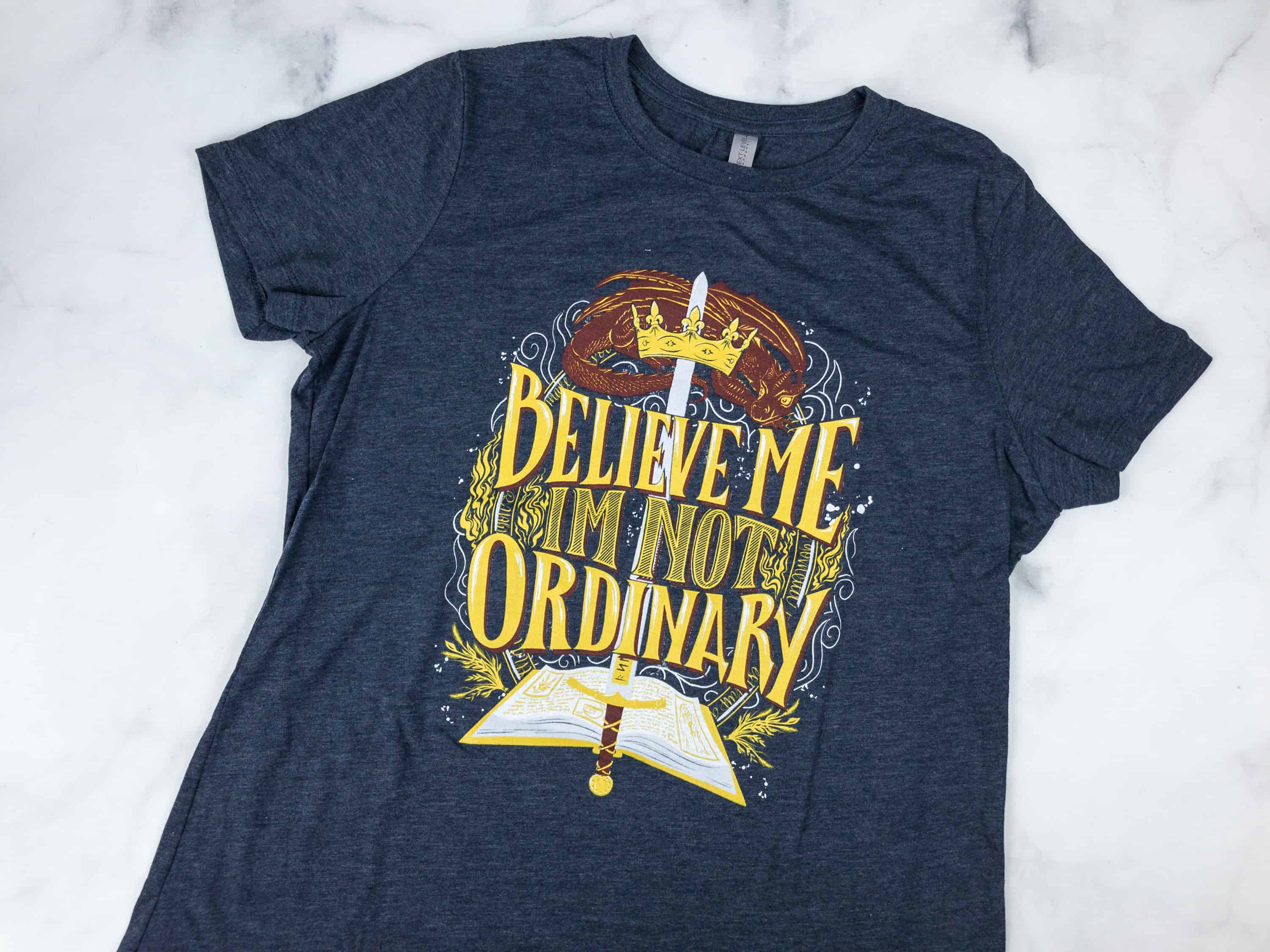 Merlin Nerdy Tee. Fans of the Merlin series will surely love this tee, which shows off a quote from Merlin himself:
Believe me, I'm not ordinary.
The print also features the Excalibur, a sword with the power to slay anything!
It's quite hard to top last month's Harry Potter themed box, but Nerdy Post certainly did a great job again this month. I'm still not regretting that I got the Ultimate Nerdy Post Combo because I love everything – from the bookmarks down to the tee. The chosen quotes are definitely inspirational, plus the designs are all high-quality. I just love how this subscription keeps on getting better every month. If you are a true blue nerd and you don't mind showing it off, this would be a great subscription to try out!
Are you getting the box too? Let us know your thoughts!