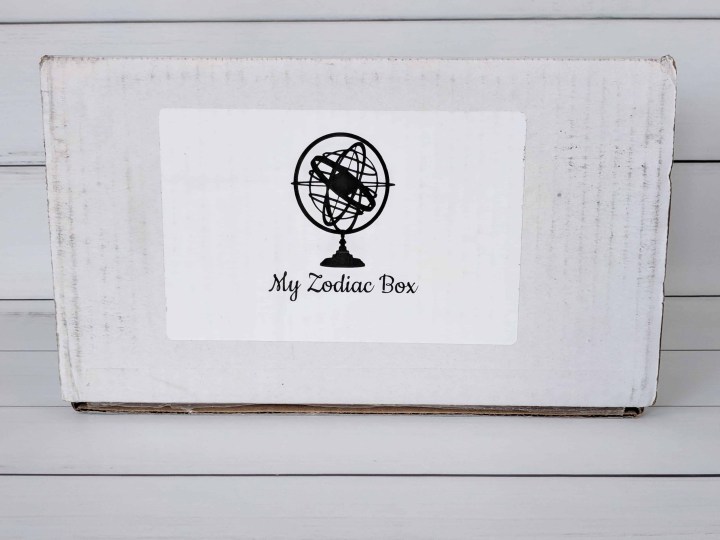 My Zodiac Box is a new personalized monthly subscription box where every items is tailored to your own zodiac. for $39.95 a month, you'll received 4-6 items, including jewelry, crystals, candles, home decor, stationery, beauty and wellness items centered around your astrological sign and birthday. When you first subscribe, you'll fill out a survey to know more about your zodiac and your personal preferences. This review was curated for a Pisces.
DEAL: Save $5 on your first month with coupon code HELLO5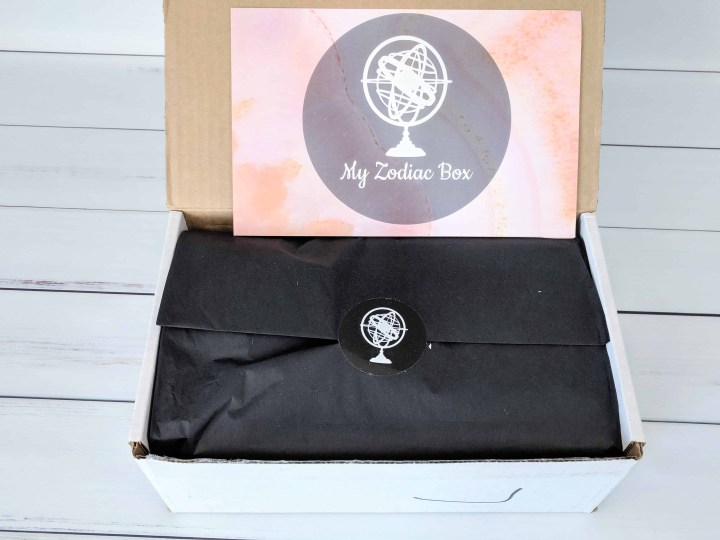 As this was their first box, there was some problem with shipping where some subscribers received a box that was met for someone else, so they had to delay a bit to make sure that every thing would be as they should.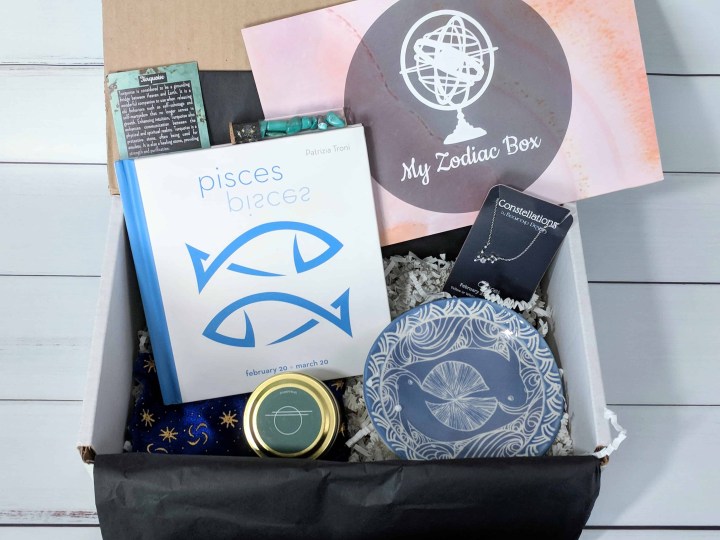 Everything in the box!
The information card is good for every box as everyone will receive the same items, but designed for their sign. The survey is very thorough with questions about your favorite metal (silver, gold, rose gold), if your ears are pierced, ring size, if you have a bathtub, your shirt size, and so on.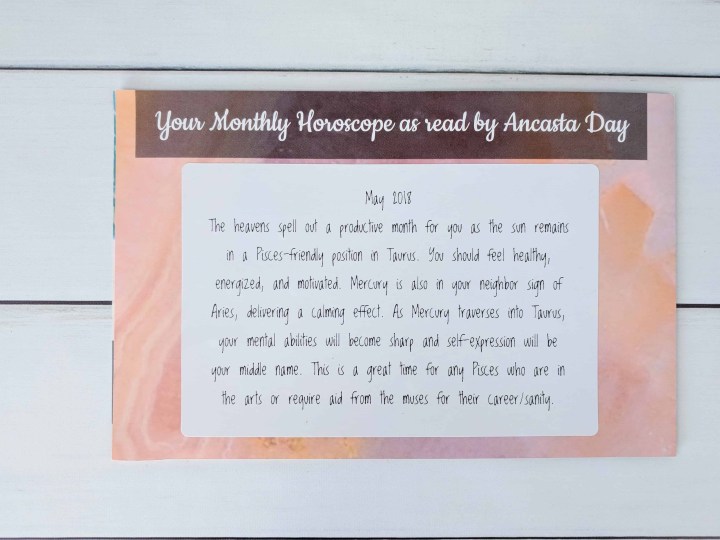 At the back of the card, the monthly horoscope is glued on. A nice month for my career, my health and my sanity!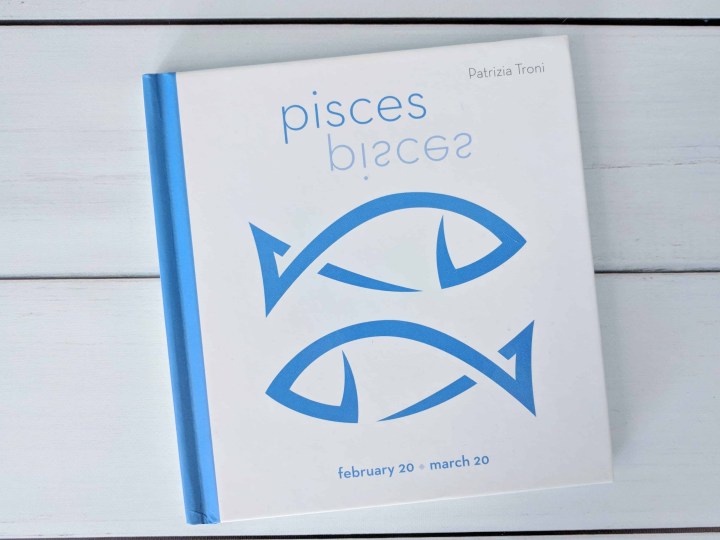 Pisces by Patrizia Troni. From Amazon:
Find out all about your sign! How will you react to difficulties? Which other signs are more compatible with yours? How do you behave in love? And what myths and fables are related to your sign? These and many other questions are answered in this stunningly illustrated book. Compiled by an expert astrologer, it reveals everything you need to know about your characteristics and temperament, work and romance, and personal tastes.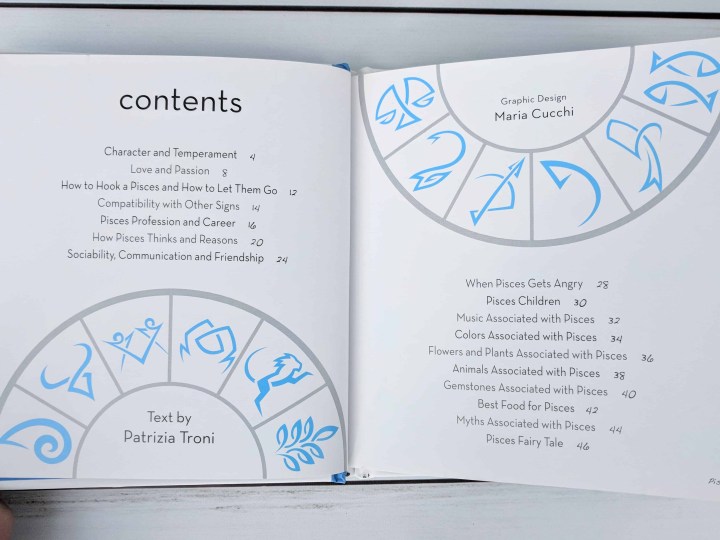 A quick read that tells you a bit more about what a Pisces is like! Right away, I saw something quite interesting…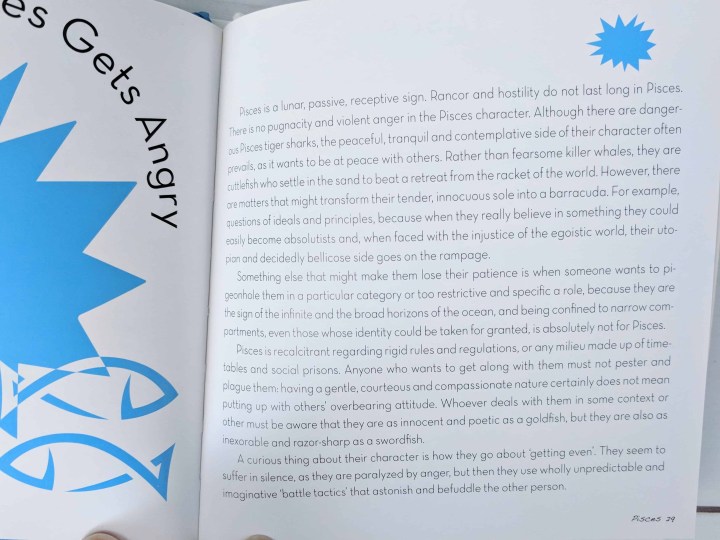 Excuse me? Rancor doesn't last long? Oh, you've never met me! In all seriousness, yes I'll hide instead of fighting when it's not worth it. So yes, a fun read!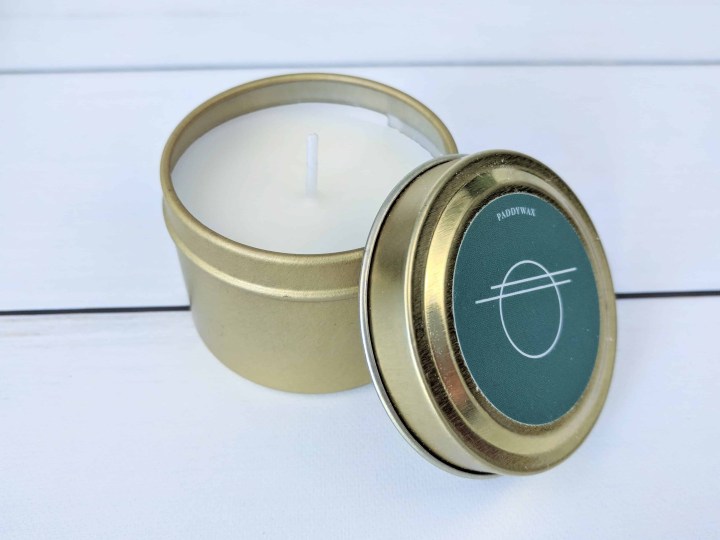 Water Candle by Paddywax. A small soy tin candle with a very fresh, ocean like scent. It's supposed to be saltwater and suede, but I don't know what suede should smell like. I really like it!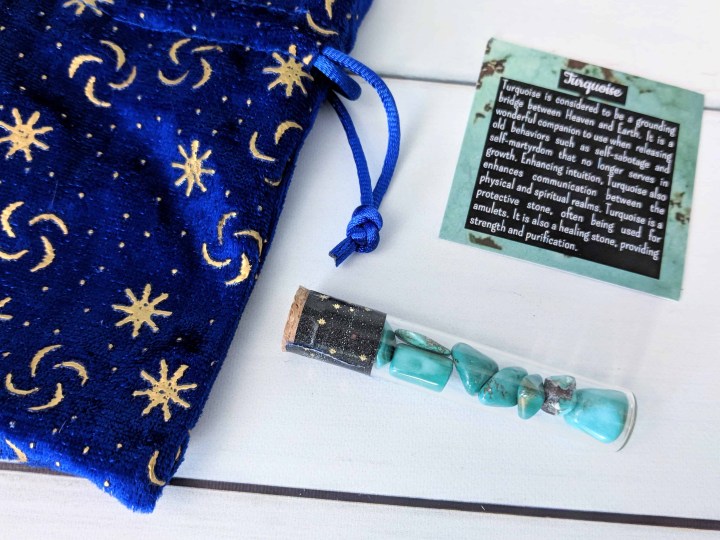 Turquoise. You can't go wrong with associating gemstones to a zodiac sign. Pisces have an affinity with blue stones, but I'm usually more attune with aquamarine, sapphire and amethyst. Turquoise is not my go-to stone, but it's a lovely grounding stone and I like that it came into a little tube inside a cute blue velvet pouch.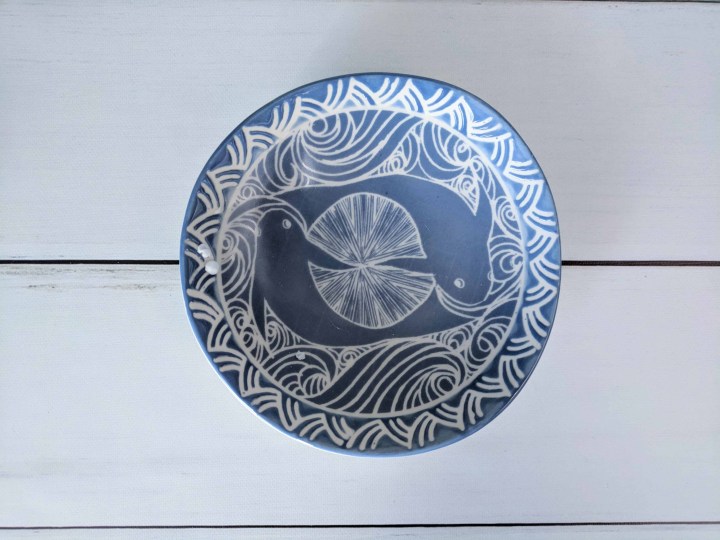 Pisces Trinket Dish by Demetria Chappo. A lovely light navy blue dish with the cute pisces! The white is etched into the blue enameled ceramic and it's the perfect size for the many bracelets that find their home on my desk.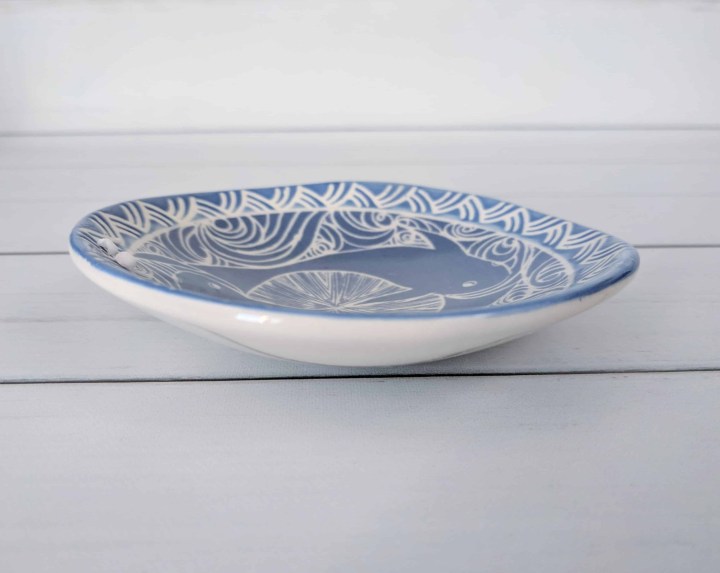 It's shallow, but at the moment I have about 10 stretch bracelets in it and they stay put.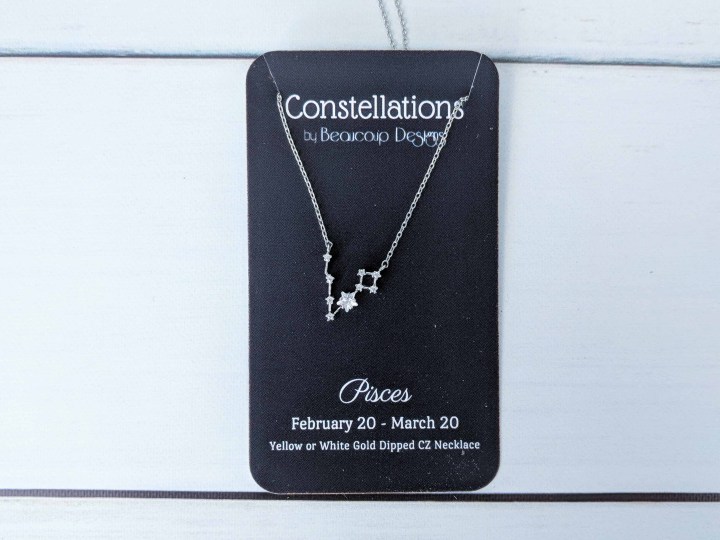 Pisces Constellations necklace by Beaucoup Designs. (I can't find it online). A cute, dainty constellation necklace dipped in White Gold (I mentioned in the survey that I prefer silver color metal), with white cubic zirconia. I like that it has a bigger zirconia, even though the constellation itself has no super bright star. This is the perfect kind of necklace that you can wear in any circumstance, without it screaming I'M A PISCES!!!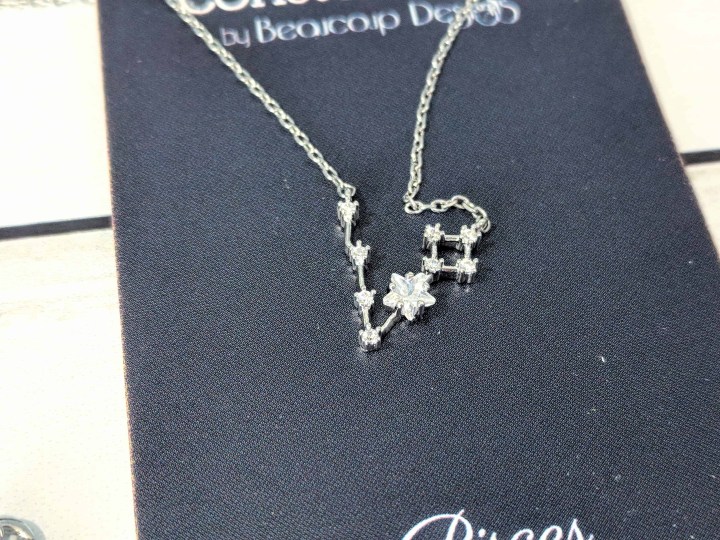 It's delicate and elegant.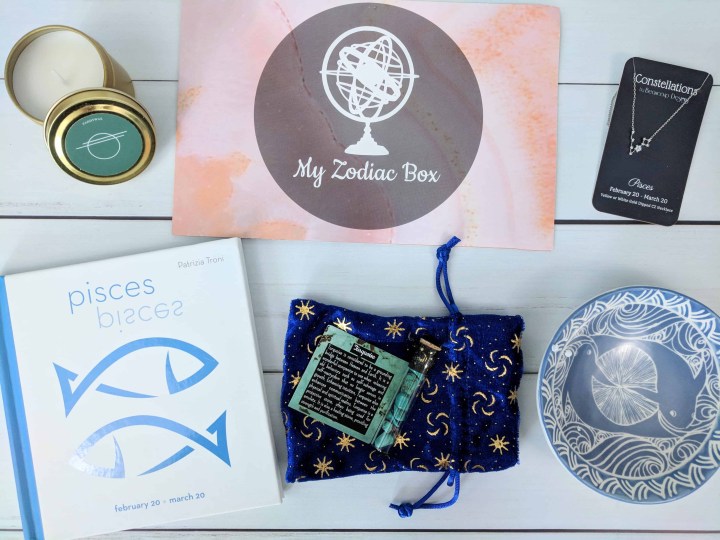 I really liked my first Zodiac Box! Everything was beautiful, especially the dish and the necklace (both are worth the box!) I was worried that the items would be gimmicky, but they are good quality items that I will wear or showcase without hesitation! I hope that the quality stays the same in the incoming box and that it'll still be elegant, fun, simple and cute!
Are you getting this subscription? Share your zodiac sign on the comments below!