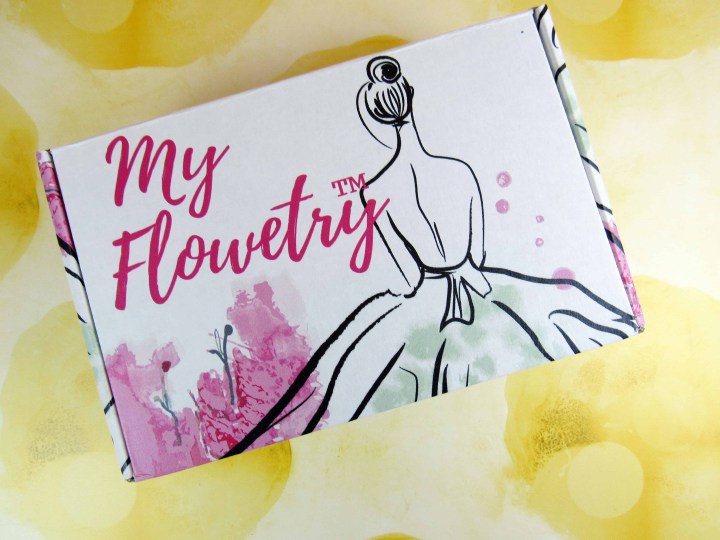 My Flowetry Box is a luxurious monthly Time of the Month box that offers feminine care and wellness items. Expect each month to receive sanitary napkins with negative ion strips, period panties, toilet drops, and one bottle of My Flowetry Signature Fragrance Oil. There will also be an additional three to four comfort items that can be gifts, pamper products, tasty treats, teas and other wonderful items. The customized curated box addresses healthy and safe solutions to period pain, anxiety, PMS, mood swings, cravings and more. Fill out the survey to select the type of pads, panty size, fragrance, feminine concerns, and the standard Time of the Month questions and begin indulging yourself! Check out the "Do you have another other Feminine Concerns" section of the survey! It's great to see a box tackle the more difficult issues that surround our time of the month and the health issues that are affected by it.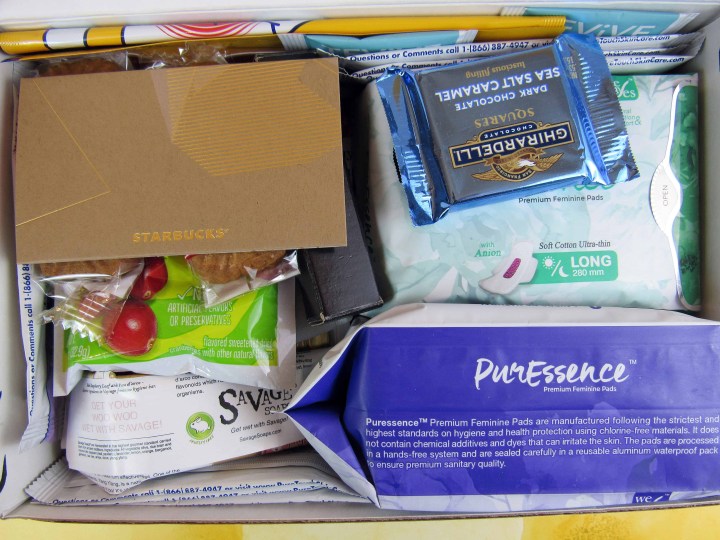 Here's the first look of the box. It was packed with items including chocolate!
DEAL: Get 10% off your first box! Use coupon code FALLINLOVE.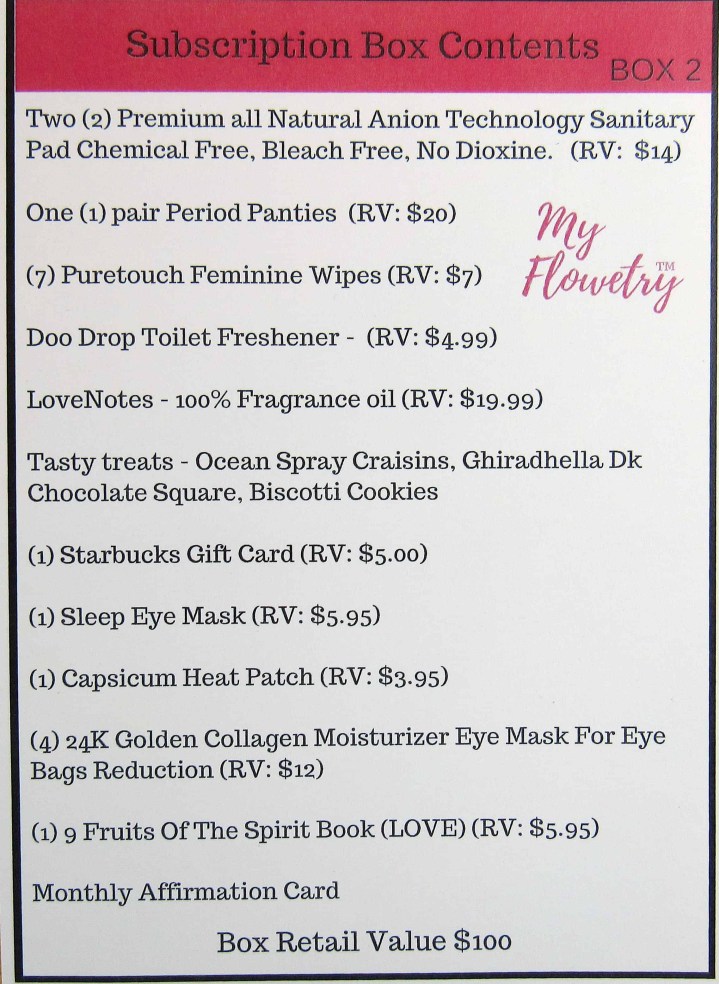 The information card lists the items, the amount, and the retail value.
Here are the items in the April My Flowetry Box. I received Box 2 which is customized based on my answers to the survey. My box may look different than others.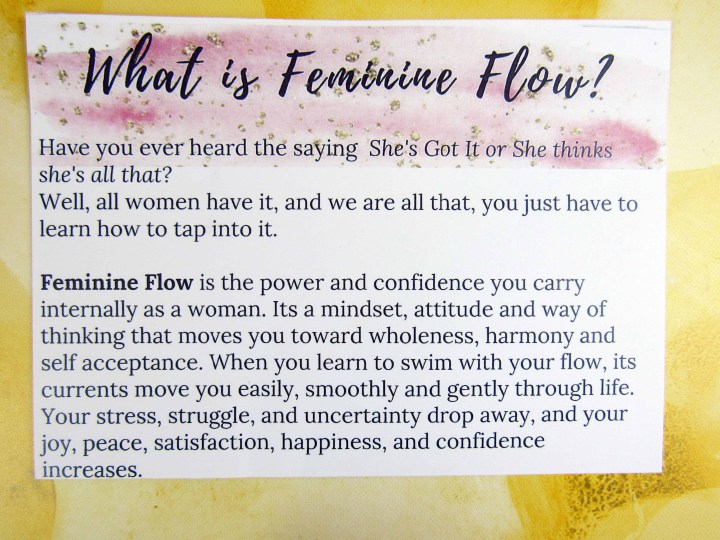 I received an information card explaining "feminine flow." I do try to go with the flow of life which I find to be less stressful most of the time.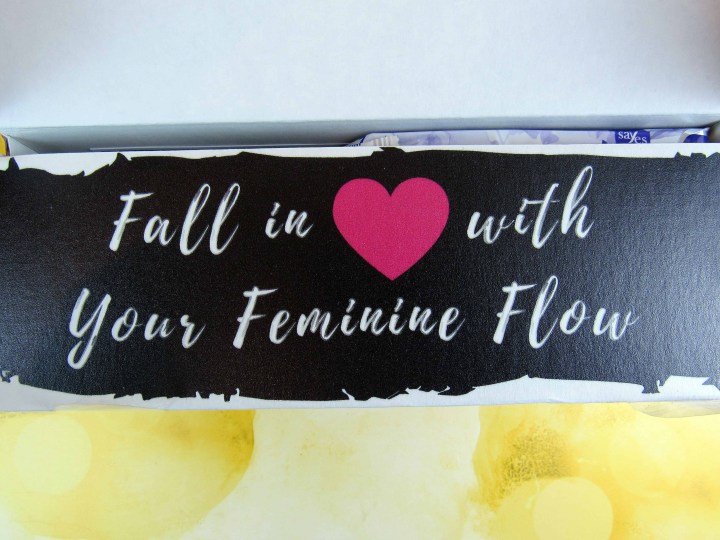 It also explains why I saw this on the box!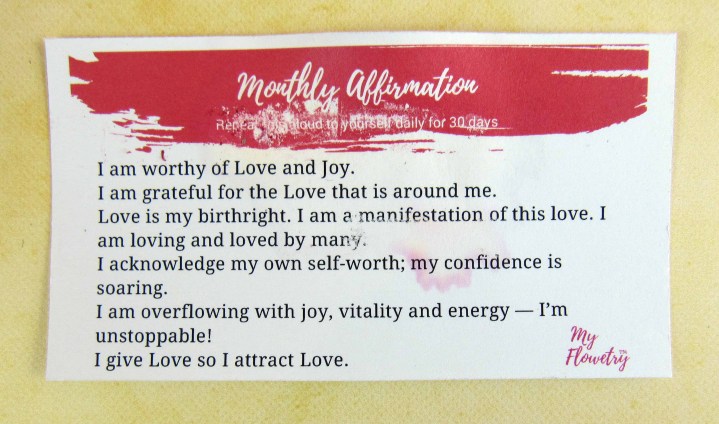 The monthly affirmation is about love. Unfortunately, the red ink rubbed off onto a couple of other items. It is recommended to read the affirmation every day for thirty days to receive the full effect.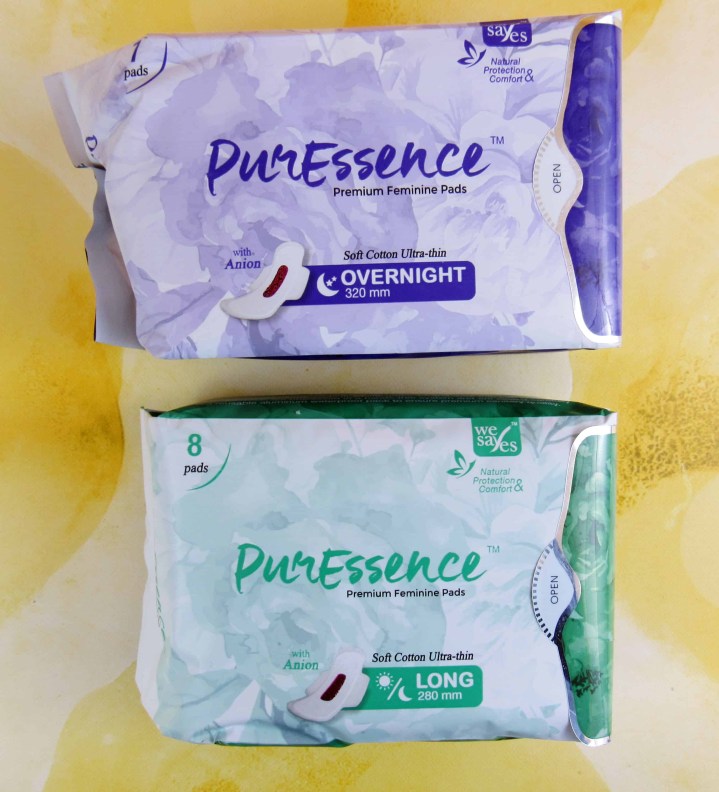 When filling out the survey, you can choose if you want to receive pantyliners, regular, long with wings, or overnight with wings. I selected the PureEssence Overnight (7 pads, $7.99) and the PureEssence Long (8 pads, $7.99).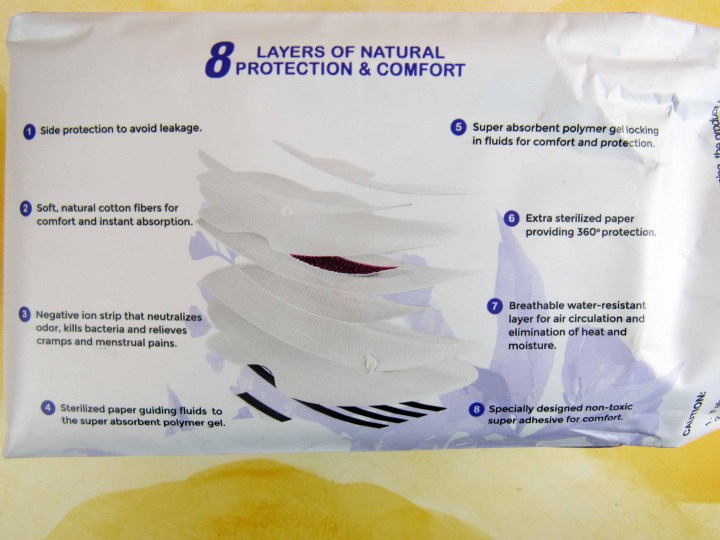 The chlorine-free pads have negative ion strips which help reduce menstrual cramps and pain.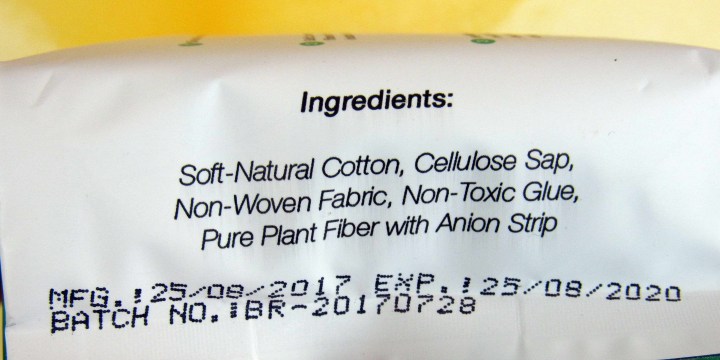 The cotton pads also have an expiration date.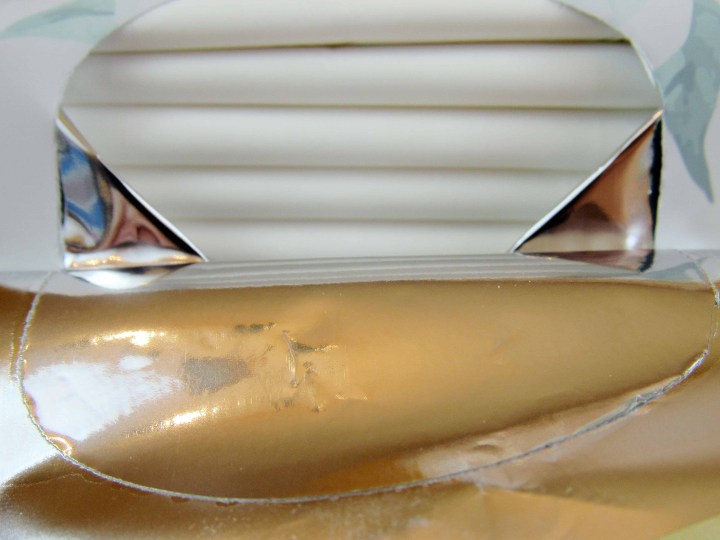 They are packaged in a reusable waterproof aluminum packaging.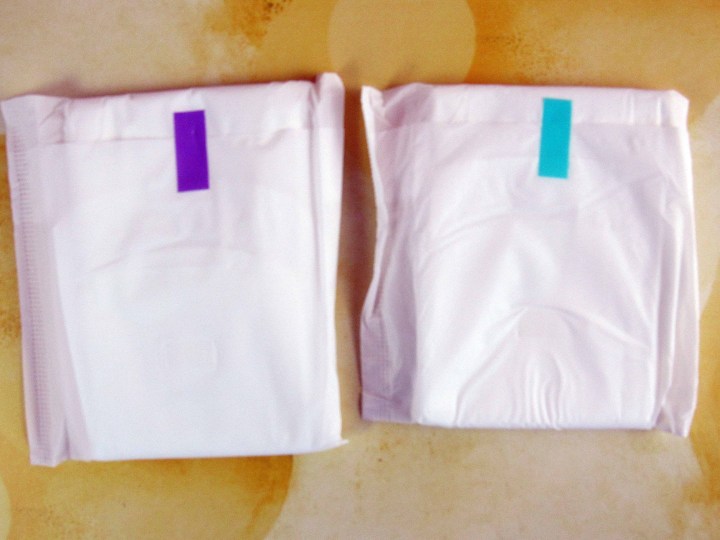 I found them to be comfortable, and they did their job well.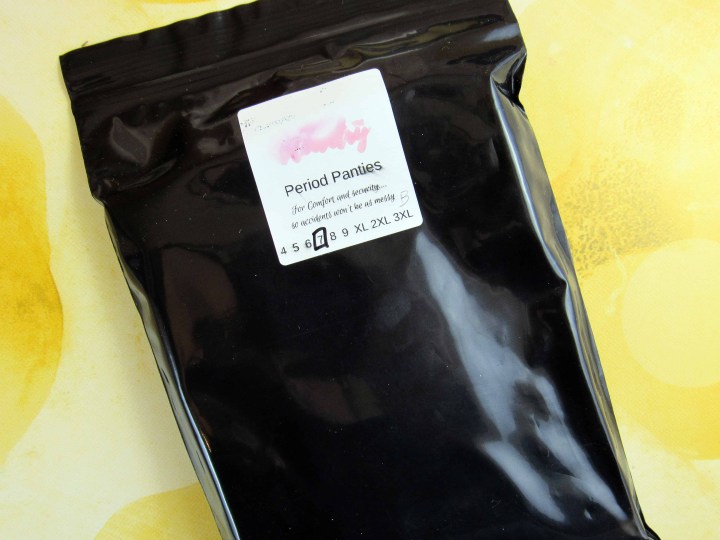 My Flowetry sends a period panty ($20.00) every month. The sizes run from size 4 to size 3XL. I selected a size seven and should have sized down to a size six.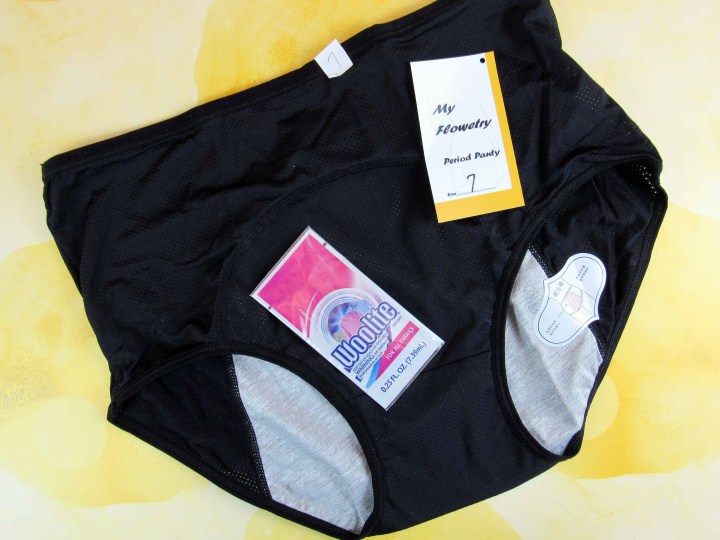 The full coverage panty came with a Woolite sample which was a nice touch. The breathable panty has mesh panels on the sides and was quite comfy.
The period panty is designed to hold a full regular pad of fluid. I did not put it to the test, but I do like the idea of wearing it on days when I need the extra protection.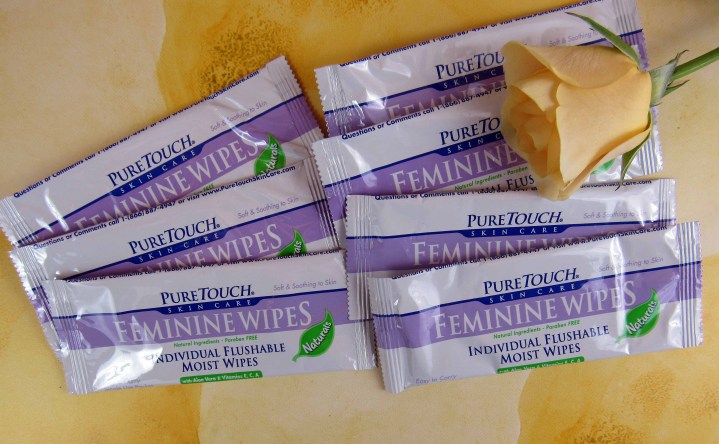 The Pure Touch Feminine Wipes  (7 ct, $7.00 Information Card, appx $0.55 total on Vitacost) is a discreet way to freshen up things down there. The Made in the USA wipes are flushable, paraben free, and contain aloe vera. They were useful while I was traveling!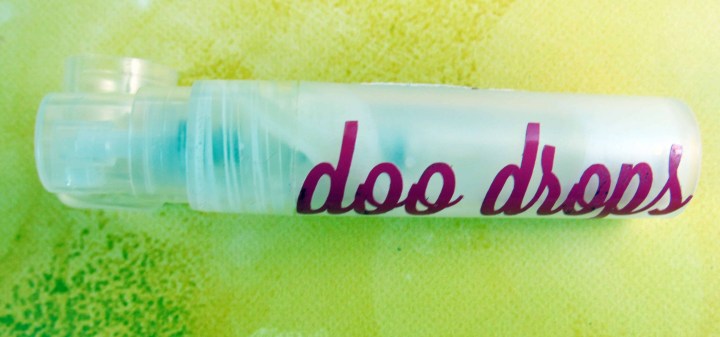 Another item that I have grown to appreciate is toilet fresheners. The Doo Drops Spray ($4.99) has a wonderful lemon scent that can cover up a multitude of unwanted scents. No need for anyone to know what is going on between you and the toilet. 🙂 I was able to choose a fragrance scent and selected the Dolce & Gabanna Light Blue.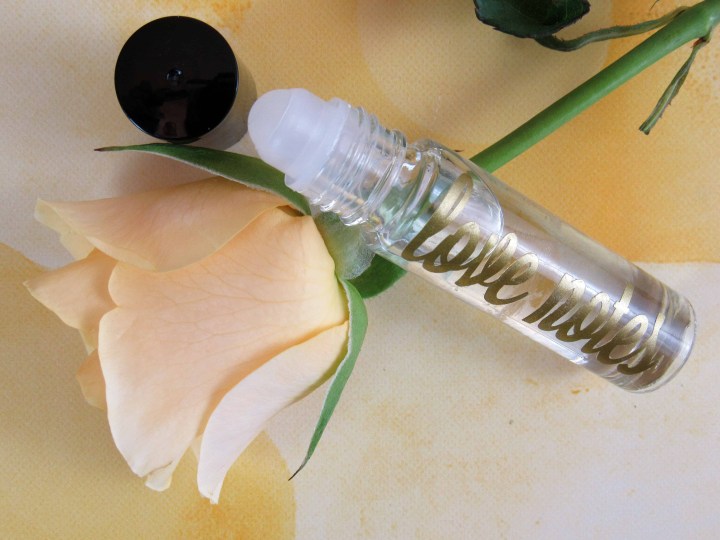 The Love Notes 100% Fragrance Oil roller captured the notes that led me to select the Dolce & Gabbana Light Blue.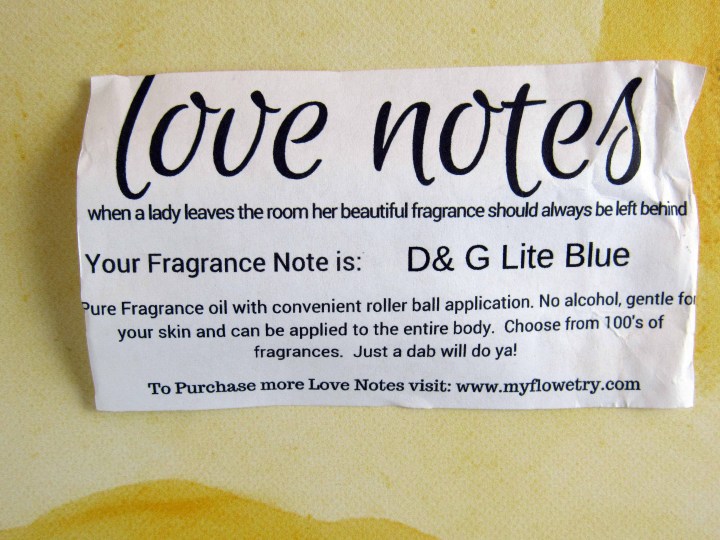 I love the blended scent of cedar, jasmine, and amber. It uplifts my mood.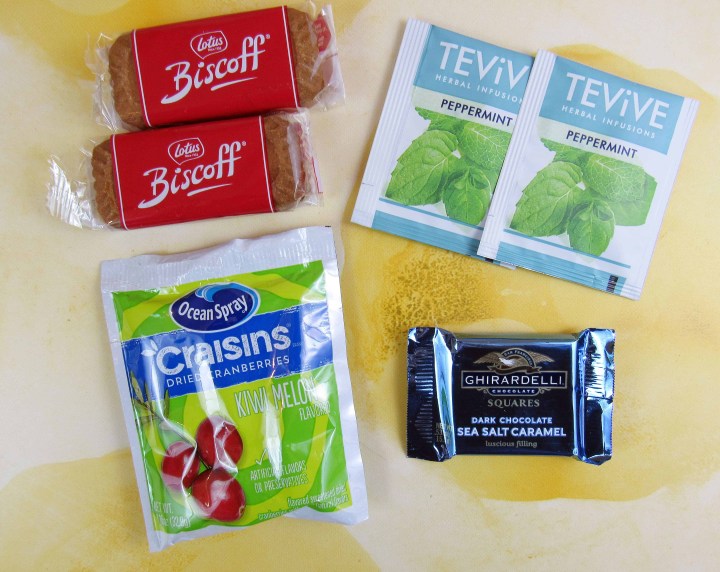 Tasty treats and small indulgences are part of my RX for that time of the month.
It's fun to receive gift cards in subscription boxes that are easy to spend! Now I can take the $5.00 Starbucks gift card and have a legitimate reason to visit our older son while he is at work at the local Starbucks. I love the unexpectedness of receiving a fun gift card and will be saving it for when I need a pick-me-up.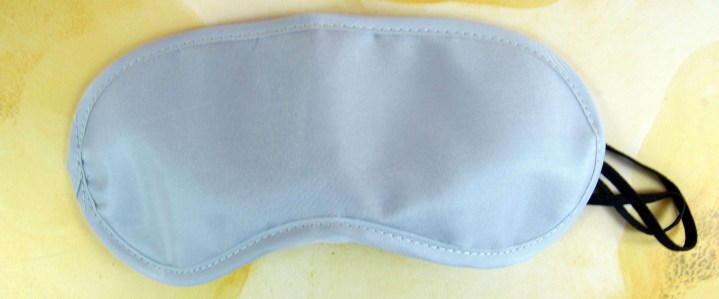 A cozy sleep mask ($5.95) was included to help me sleep at night.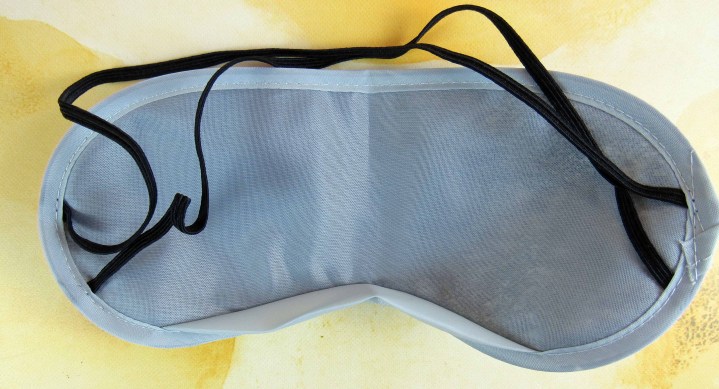 It felt comfortable and did not bother me.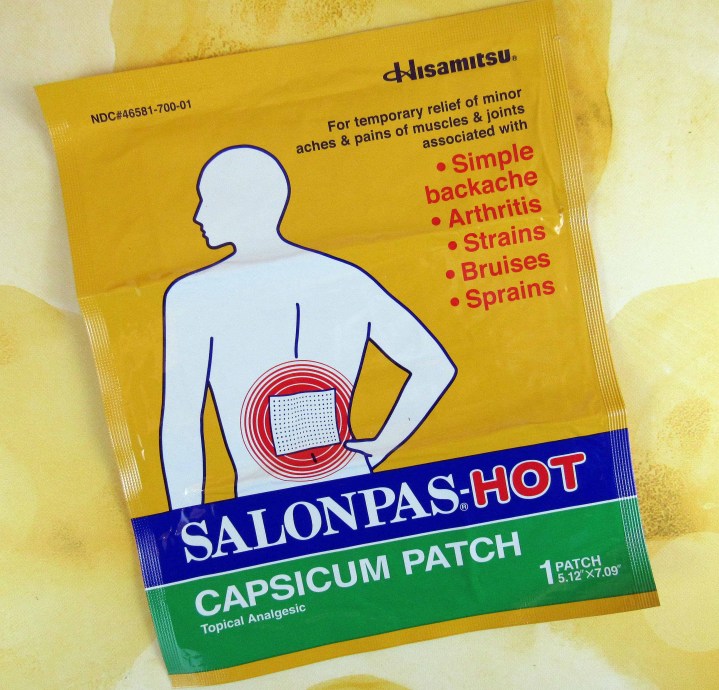 I cannot believe that I placed a heat patch whose active ingredient is found in chili, cayenne, and jalapeno peppers on my back, but it worked. The Made in Japan Salonpas Hot Capsicum Patch  (1 patch, $3.95) eased the soreness/osteoarthritis in my back for almost seven hours. It felt wonderful.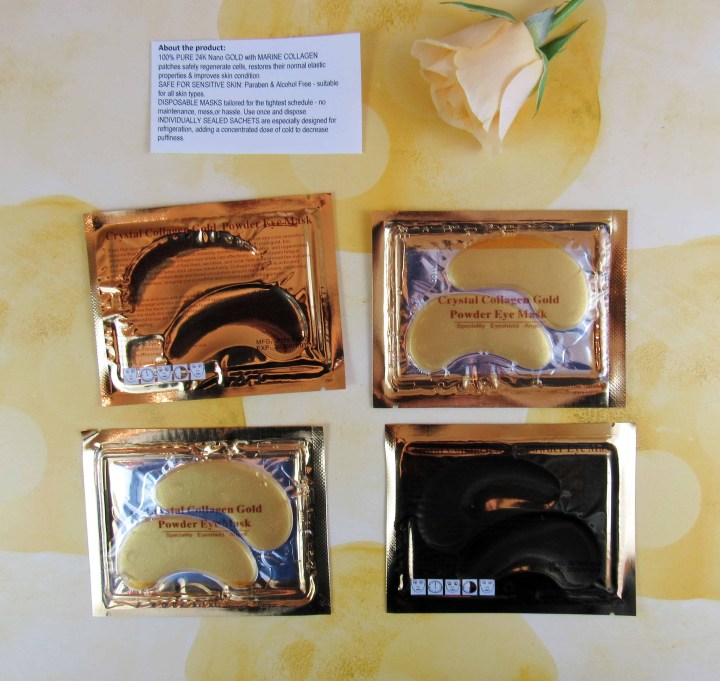 I like that My Flowetry Box focuses on the whole body. The Crystal Collagen Gold Powder Eye Masks will give your eyes a refreshed look after a restless night by increasing elasticity and firmness.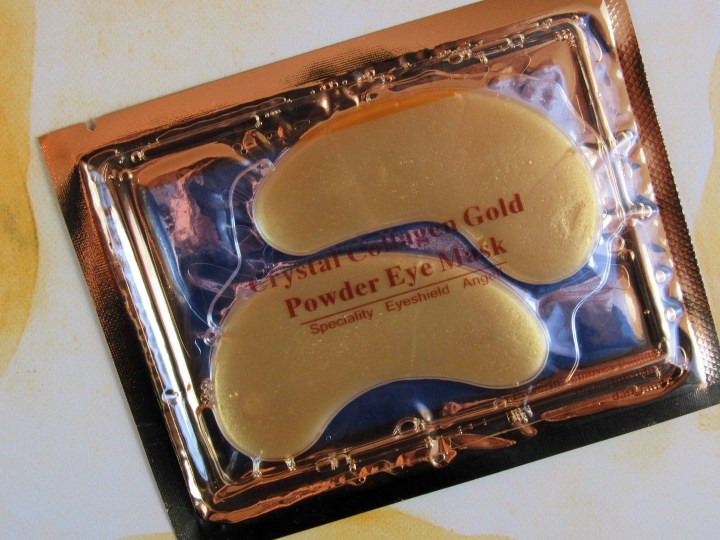 I also liked that four sets were included.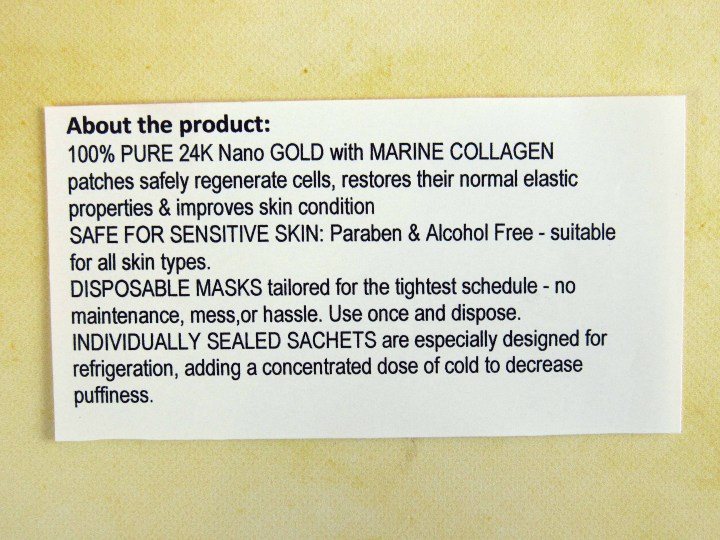 The information card provided a couple of helpful tips. The eye masks need only 15-20 minutes to work its magic.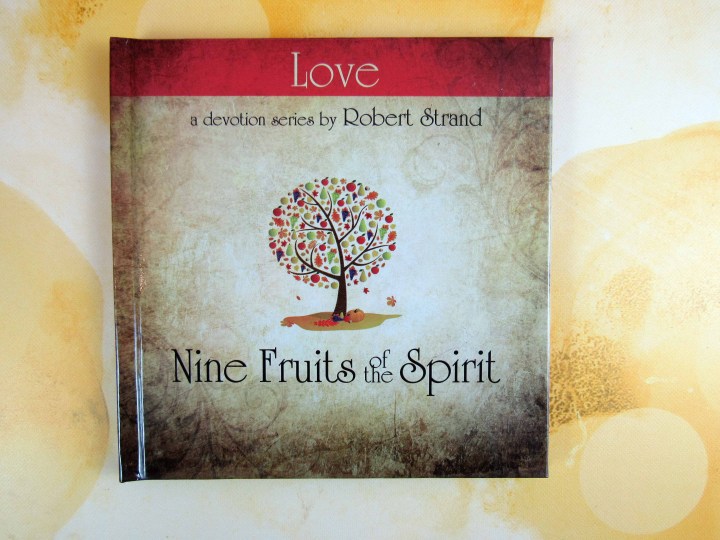 The Love: A Devotion Series by Robert Strand ($4.50 paperback Amazon, hardcover $5.95 information card) is a short Bible Study on Love.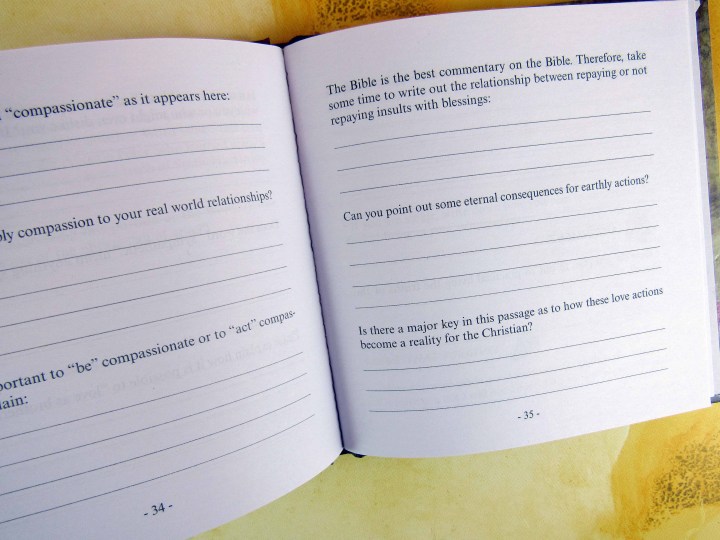 I've always enjoyed Bible Studies on the Fruits of the Spirit. The book has me thinking about how I am applying love in my life and to those around me.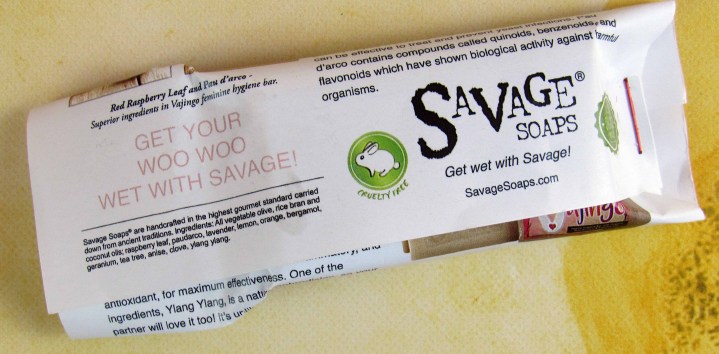 I also received a sample for my woo woo given it an aphrodisiac scent while keeping it clean and healthy.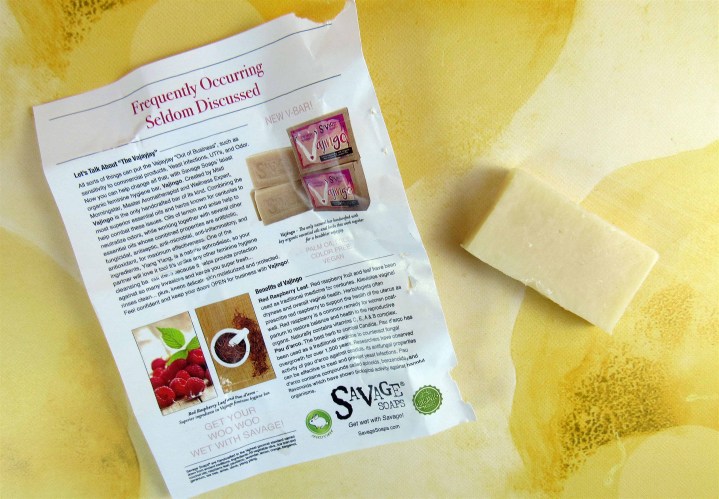 The Vajingo Vajayjay Soap addresses other issues too that women don't discuss often. The formula is designed to help keep those pesky UTIs away. The vegan soap is free of dyes and palm oil. It really does have an aromatic scent to it!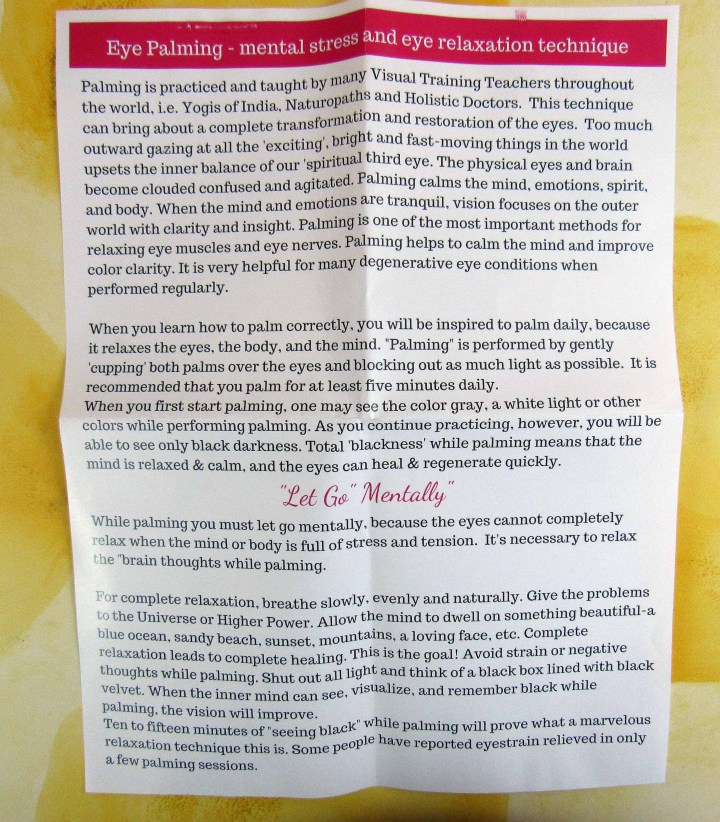 I was excited to see a letter describing eye palming because it helps my eyes a lot. I never knew there was a name for it, but it helps calms my eyes when they are inflamed.
I'm impressed with the April My Flowetry Box. The holistic approach to my Time of the Month left me feeling loved and comforted. The thoughtful and unique curation is reflected in the high quality and luxurious products. The value is almost double the cost of the box. My Flowetry Box is an excellent feminine care/time of the month curated box for those that are seeking a holistic approach to life and want to be pampered.
What do you think of this time of the month subscription?