Magnolia Crate is all about the feeling you get when you send and receive mail. There's something about a hand addressed letter, a beautifully colored envelope, or a unique card that you've never seen before. Not only are you provided with gorgeous stationery and cards to send to others, but you also get to be giddy with excitement each month when your new box arrives! Each signature box comes with of 4-6 paper goods, including greeting cards. Additional items may include stickers, gift tags, magnets, and more.
DEAL: Get 1 month free off a 3, 6, or 12 month subscription with coupon code HELLOSUBS OR Get free shipping on the first subscription and not pay for shipping again until your subscription renews (if you get a monthly sub you'll get one month free shipping, but free shipping on all 6 boxes in your first 6 month subscription, etc.). Use coupon code HELLOSUBSFREESHIP.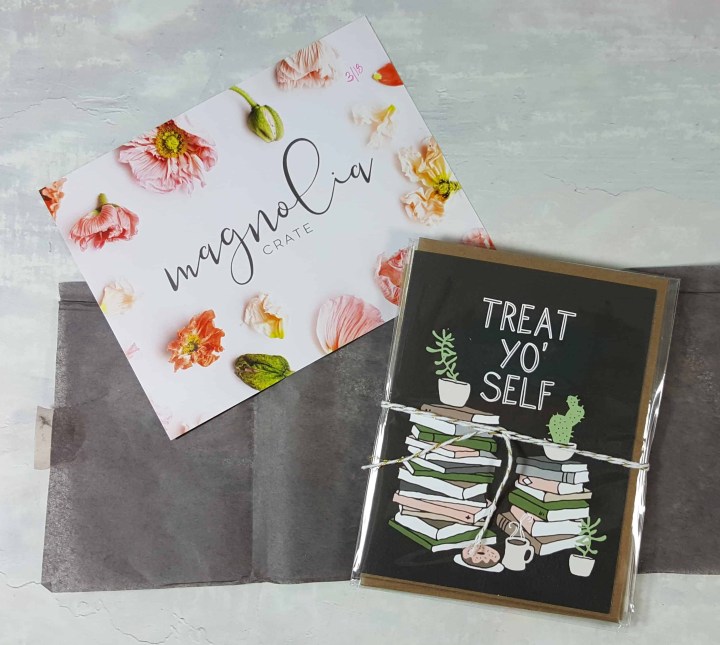 Magnolia Crate always makes me smile when I open the box. Everything is packed so prettily and themed for the major holidays or seasons each month.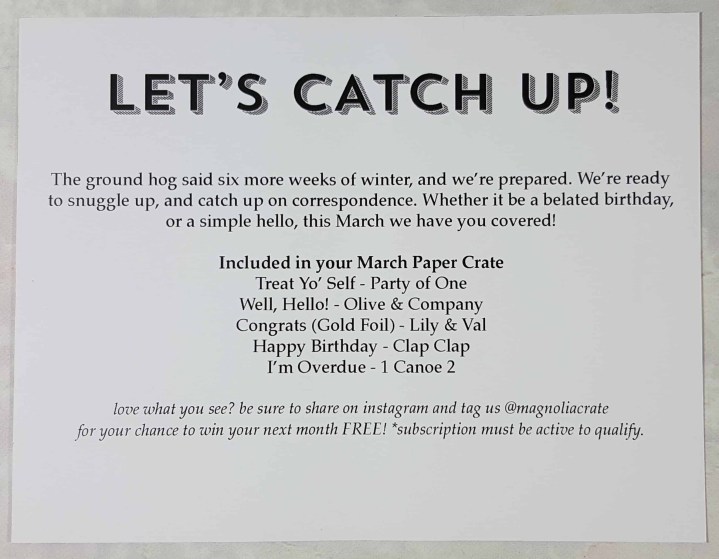 The information card not only lists the cards in the box, but it also provides insight on the inspiration behind the items. This month, we're taking advantage of the extra snow days to get some writing in. If you loved your order, tag @MagnoliaCrate on instagram (or use #magnoliacrate) for a chance to win a free box. Entries must be made before the 20th of each month for a chance to win.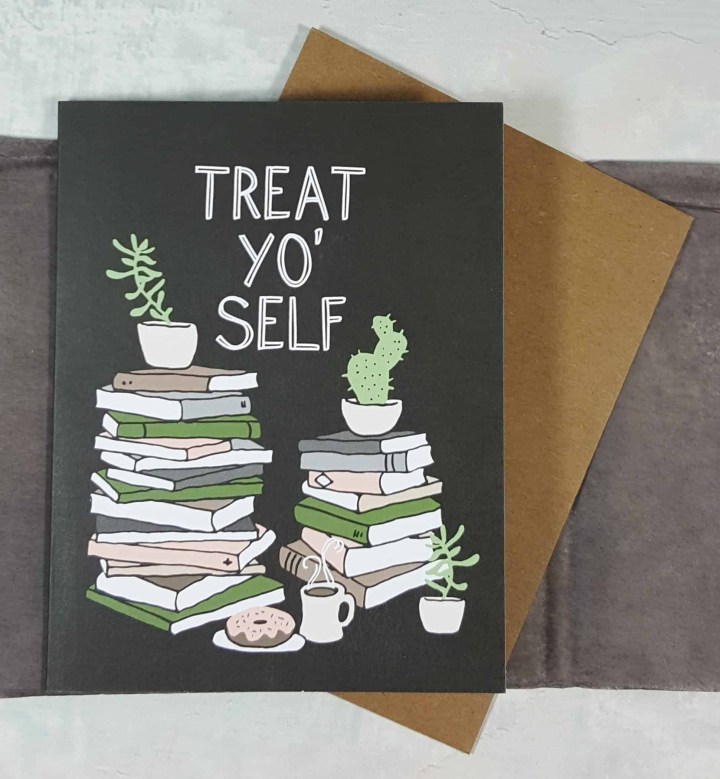 Party of One | Treat Yo' Self ($4.50):  What better way is there to spend a cold day than inside with a hot cup of tea or coffee and a some good books?!? Send this A2 card (4.25″ x 5.5″) to a loved one to let them know you're thinking of them and that they should take some time to relax. Maybe you could use the blank inside to give them a few title suggestions. This comes with a matching kraft envelope.
Olive & Company | Well Hello! ($4.00): I adore the retro vibe on the front of this card. Can't say that I miss the rotary phone though. ? This A2 card features a blank inside and matching kraft envelope. Use this card when you have more to say than can fit in a text or tweet to let someone know you miss talking to them.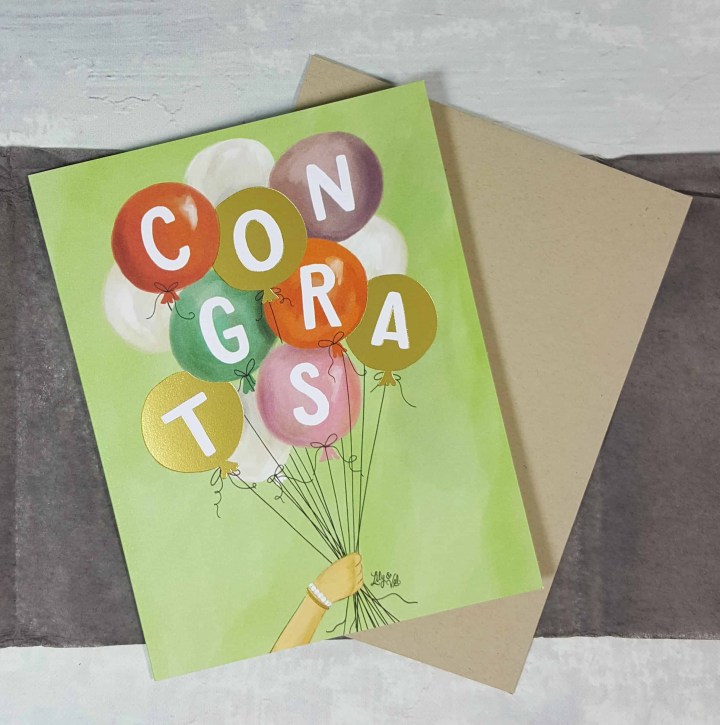 Lily & Val | Congrats (Gold Foil) ($4.50): It's hard to catch on camera, but the gold on the card is a foil treatment. This colorful, hand-drawn image captures the fun of a good celebration. Graduation season is just around the corner and this would be a nice card to include with a gift and personalized "go get 'em" message. Comes with matching kraft envelope.
Clap Clap | Happy Birthday ($5.00): This A2 card serves up a guilt-free slice of chocolate cake in honor of your loved one's birthday. This is perfect for me since I'm not much of a chocolate cake fan (I can hear you gasping). Use the blank inside to send them a special birthday wish. The card comes with a matching ivory envelope.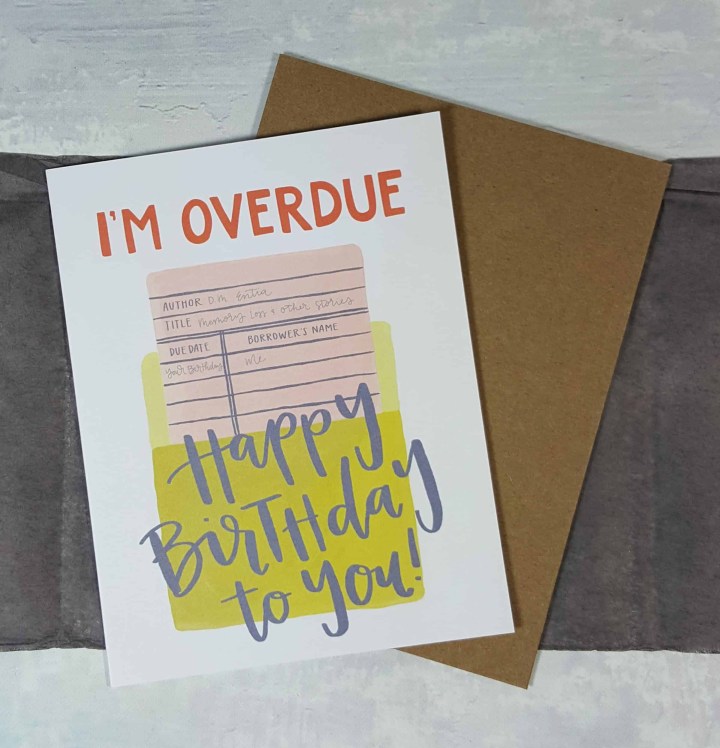 1 Canoe 2 | I'm Overdue ($4.50): OMG, does this card bring back some memories! Way back when card catalogs were still in use, I used to work in my school's library as a check out clerk stamping the return card that is pictured. Enough about me showing my age. Anyway, I am always forgetting birthdays, so this belated birthday card is perfect. Not only does the blank inside give me a chance to come up with a funny excuse, but the image is completely something that is associated with me too.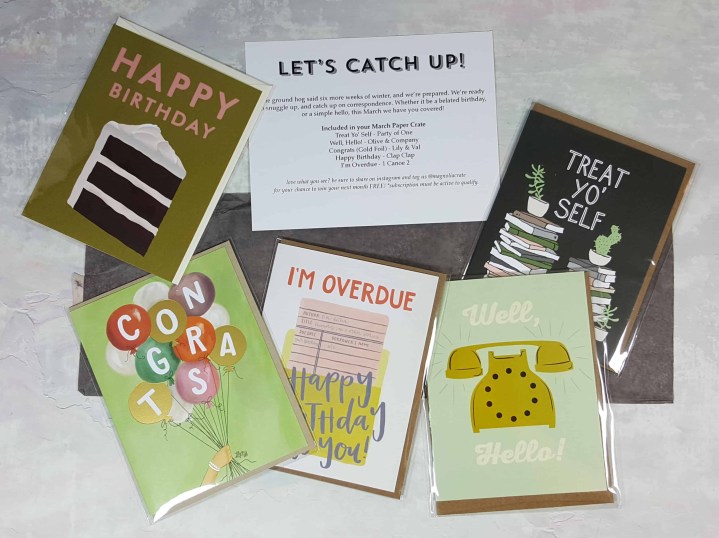 I still love seeing a card come through in the mail or end up on my desk. I think it has to do with knowing that someone took time out of their busy schedule to remember you. With Magnolia Crate, I get to give that same feeling to my friends and family. Plus, Magnolia Crate sources some really pretty cards. Save yourself a trip to the store and let Magnolia Crate help you deliver a little joy to someone's door!
What do you think of this month's cards?