Loot Socks is one of the Loot Wear collections of monthly subscriptions from Loot Crate with exclusive geek and gamer premium wearable accessories with a monthly theme. Every month you'll get 2 pairs of epic geeky socks for $9.99 per month (or less with a longer subscription)!
You can also bundle the wearable and the socks for $20.99 or the new Risky Business (tee + undies + socks) bundle for $16.99! See our Loot Wear reviews for photos of the other subscriptions!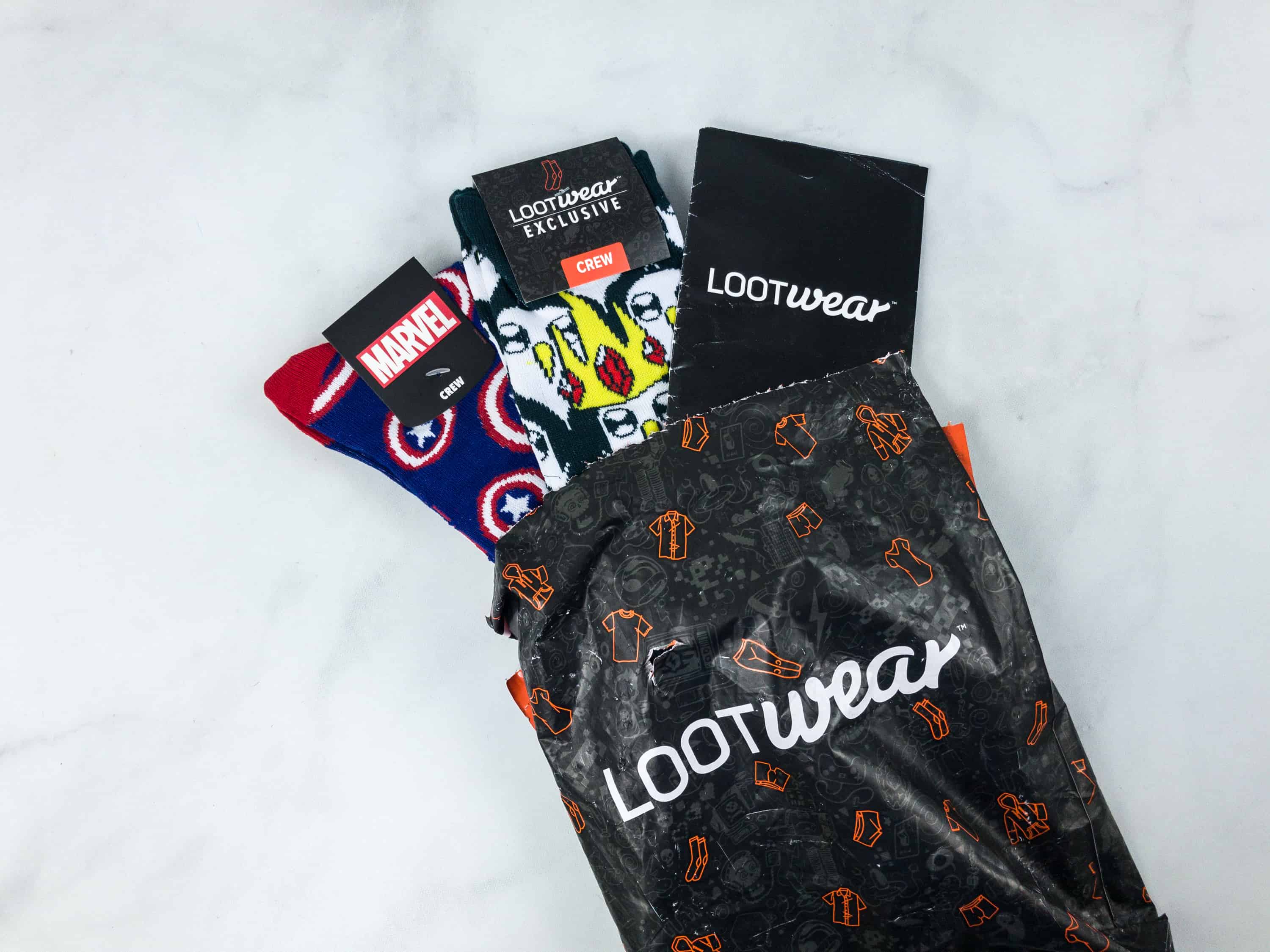 DEAL: Save 15% on Loot Wear subscriptions when you use this link and coupon code HELLOSUBSCRIPTION15. [Does not apply to Wizardry Wear] Get $3 off your first month with coupon code SAVE3. [Not valid on Undies]
TIP – check the theme monthly and skip for the month if you're not interested!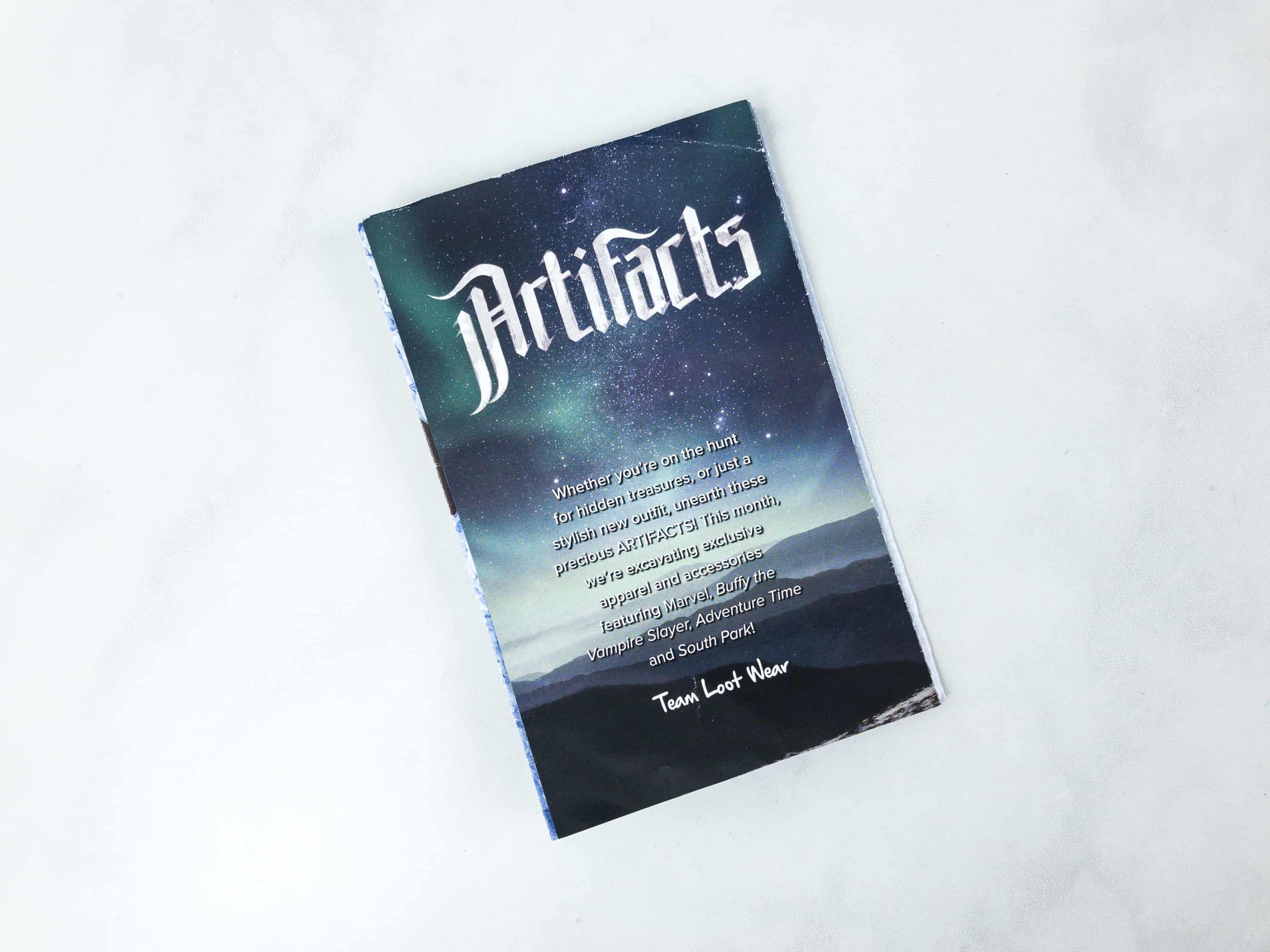 The April 2018 Loot Socks theme is ARTIFACTS!
Your Loot arrives in a poly envelope, and it includes a peek at all the Wearables available for the month. Usually, they have a group photo too.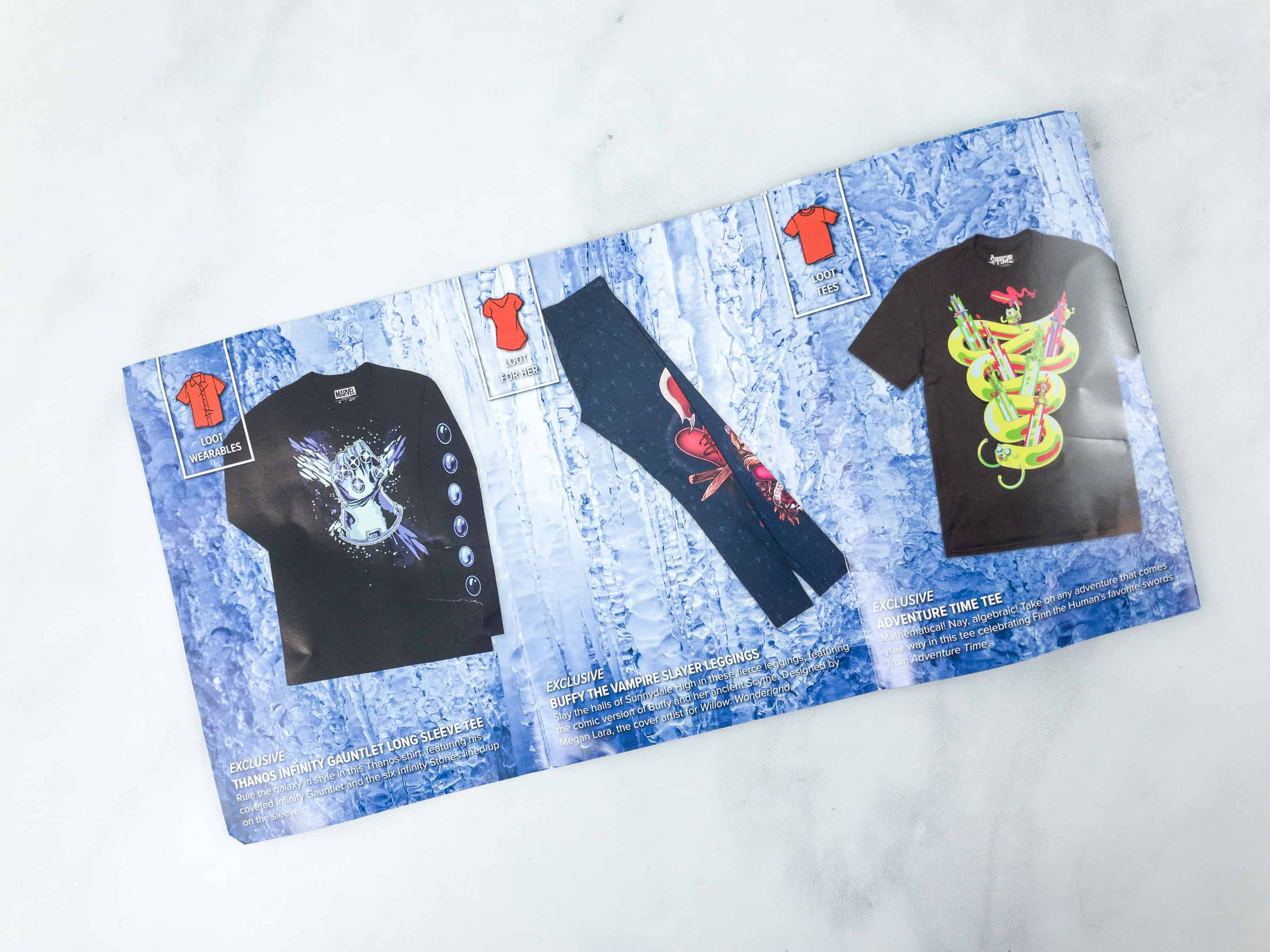 This accordion pamphlet describes all the Wearables available this month.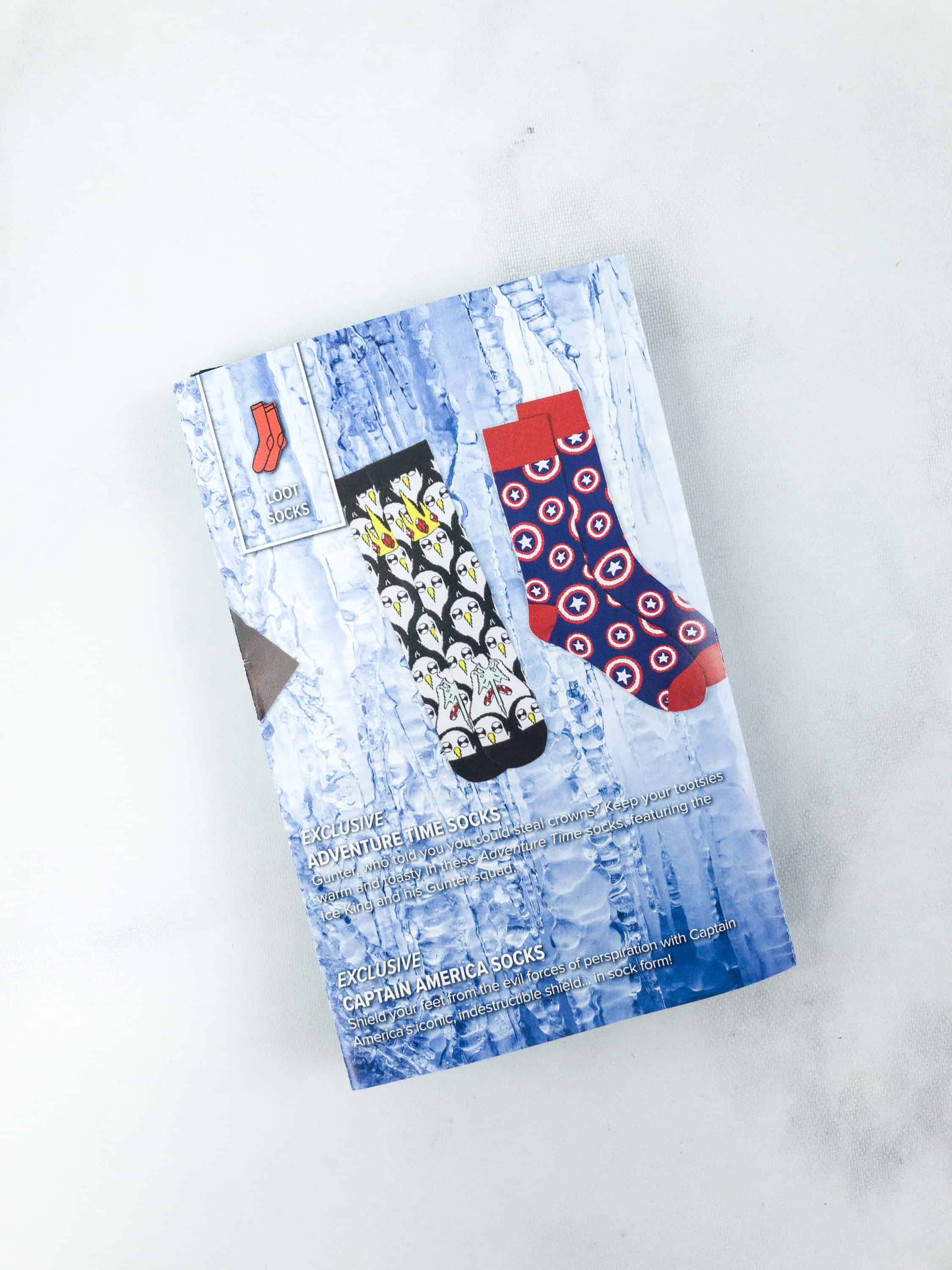 Month to month, the $9.99 price is great for 2 pairs of socks. It drops to $8.49 for both on a one year plan – and you can now skip months you're not interested in!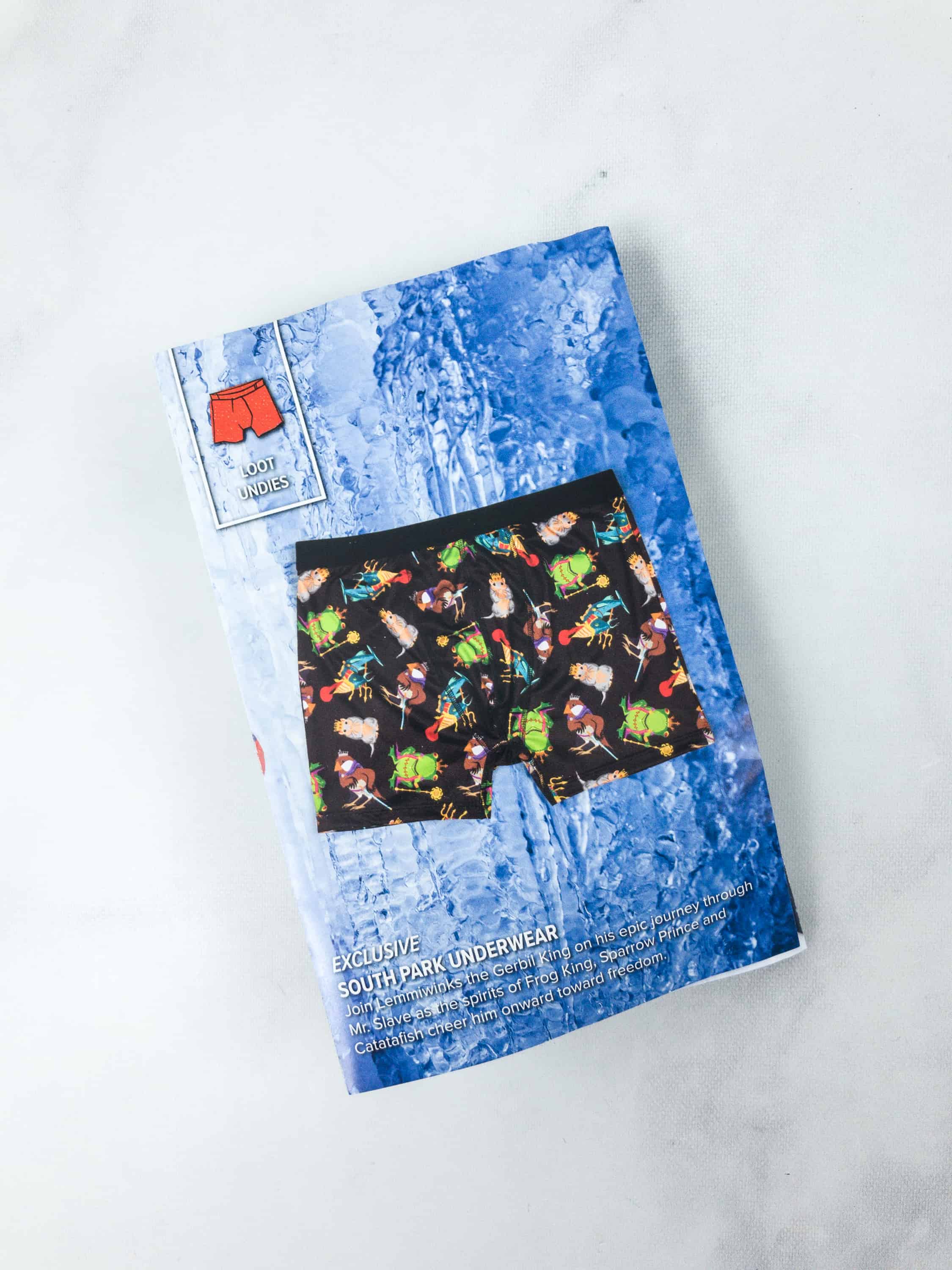 But what's more exciting about this crate is that most, if not all of the items are Loot Wear exclusives!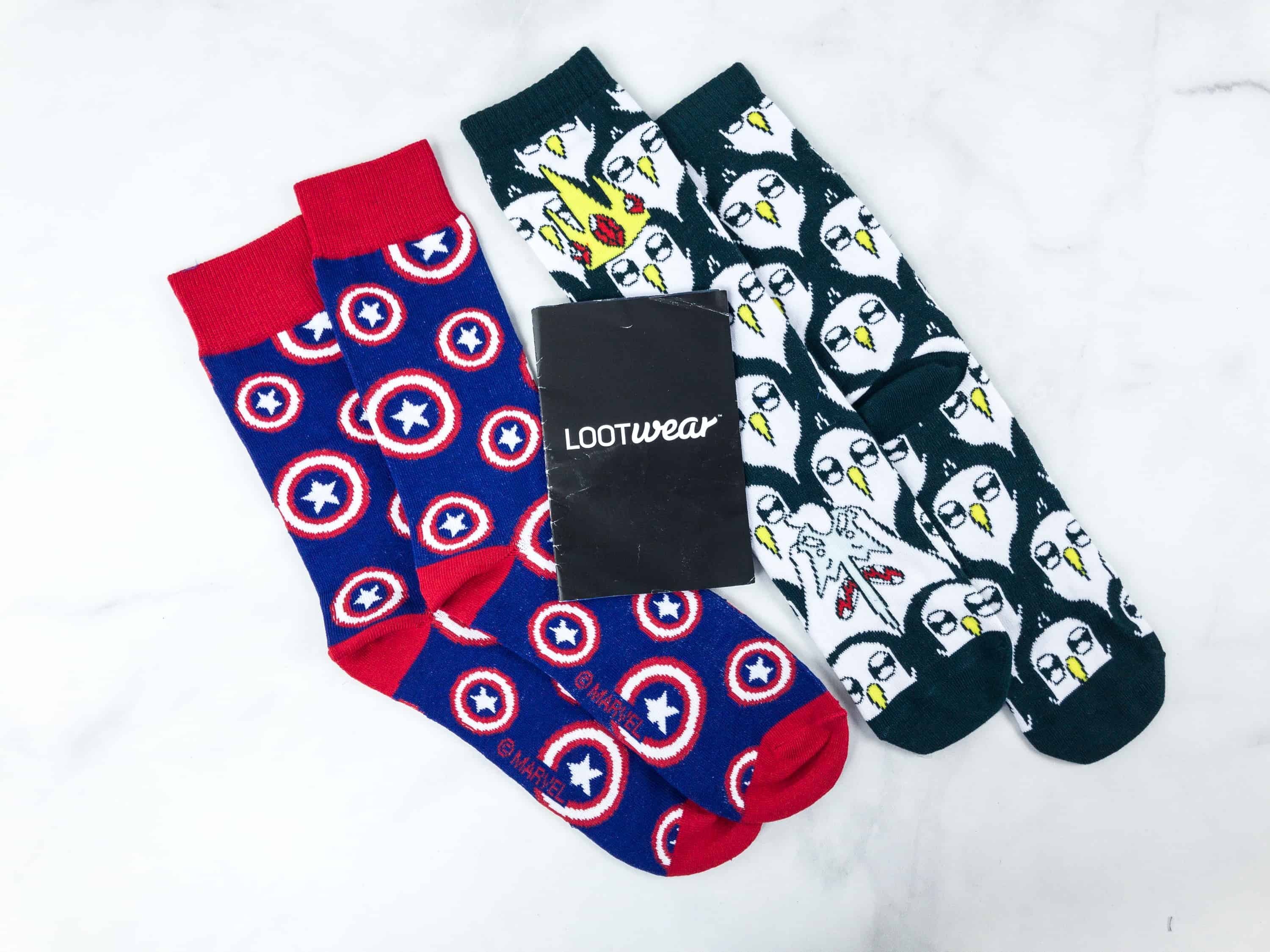 All the goodies for this month!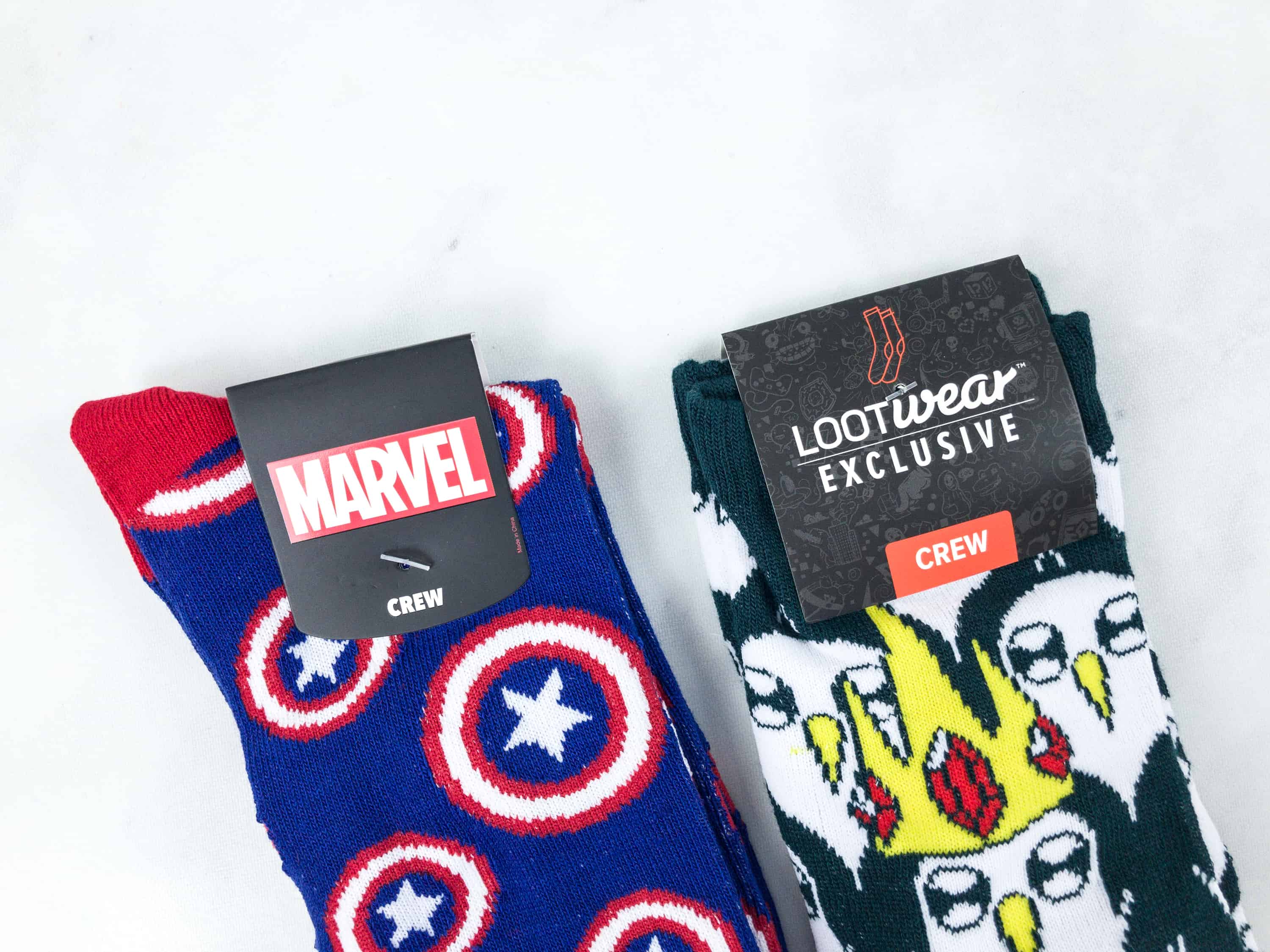 We got 2 pairs of exclusively designed socks from Marvel and Adventure Time!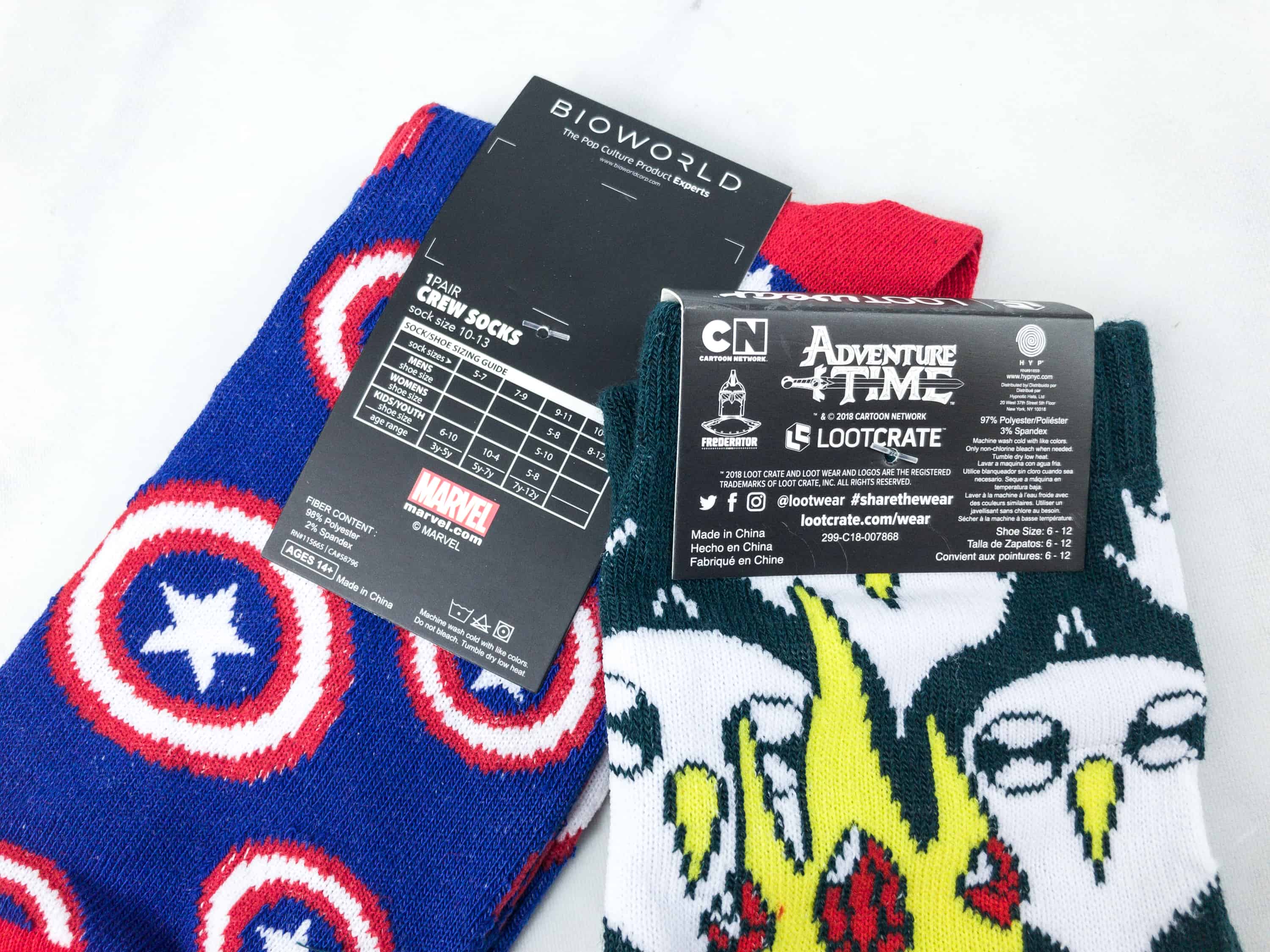 These are crew style socks which are about 9-11 inches long from the heel to the cuff, meaning it can cover up to mid-calf.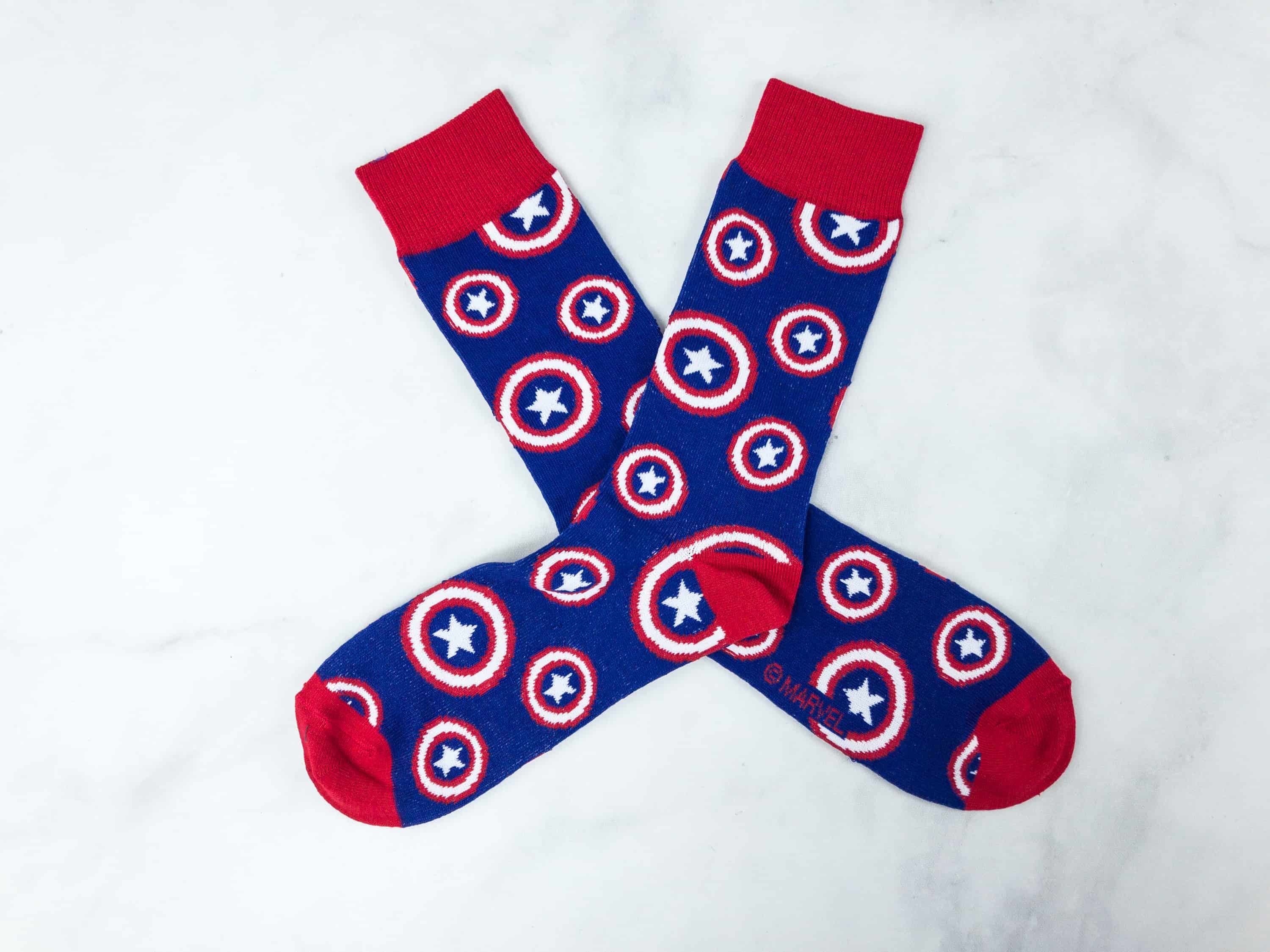 Captain America Socks. We still can't get over the Infinity Wars movie, so we're so thrilled to receive these Captain America socks. This pair is composed of 98% polyester and 2% spandex. The socks have a blue body, red cuff, heel and toe, and Captain America shields all over it! They fit me well too!
Adventure Time Socks. Penguins are regular cast members of Adventure Time! They live in the Ice Kingdom and they're also known as "Smoking People" because of Dr. Princess. The cute penguins are all over these socks, which is an exclusive design from the Loot Wear family. It is made of 97% polyester and 3% spandex, giving it flexibility and enough elasticity when worn.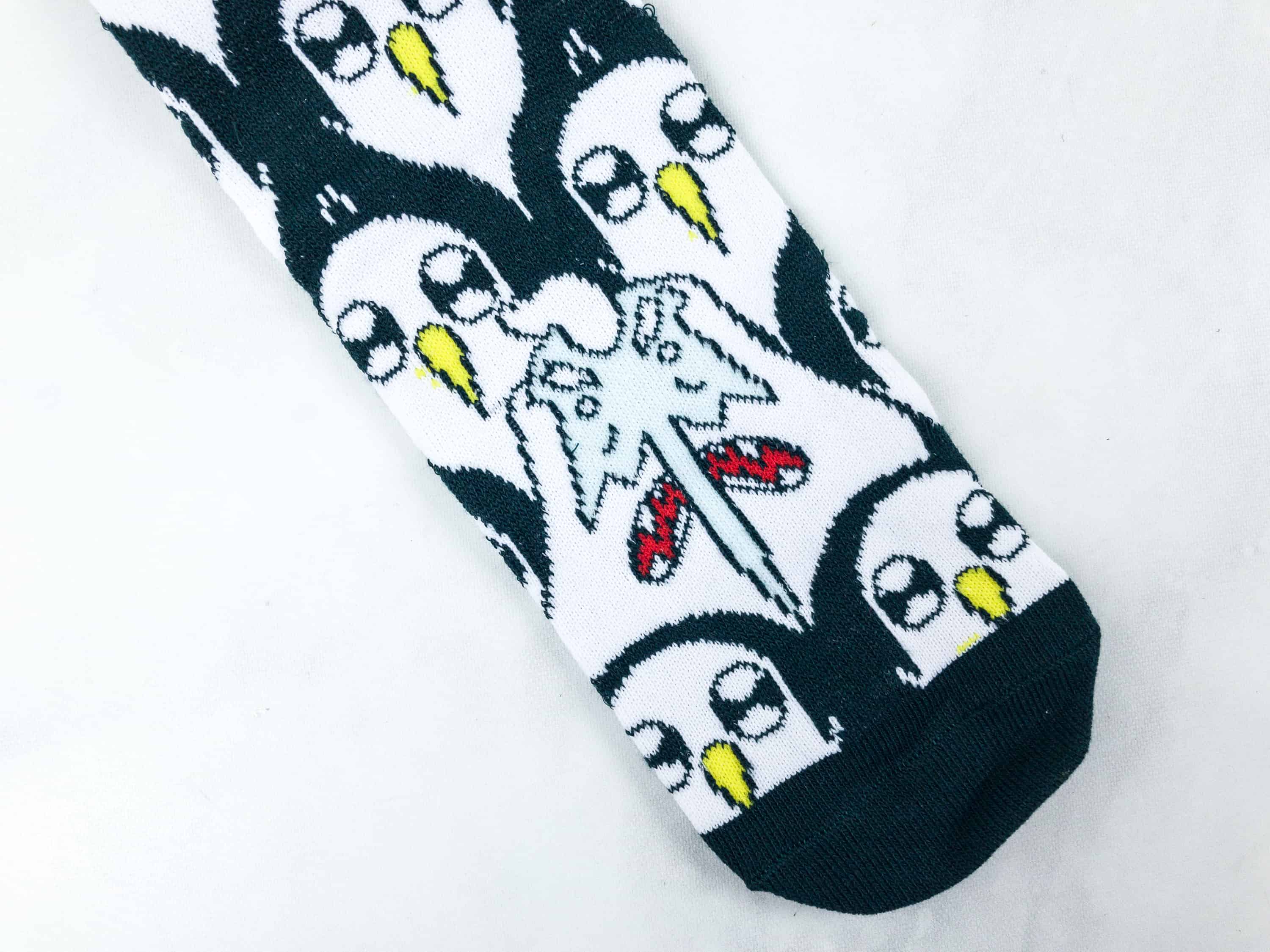 Aside from the cute penguins, these socks also feature Ice King, an evil wizard that can create and manipulate ice. He is also the self-proclaimed king of the Ice Kingdom.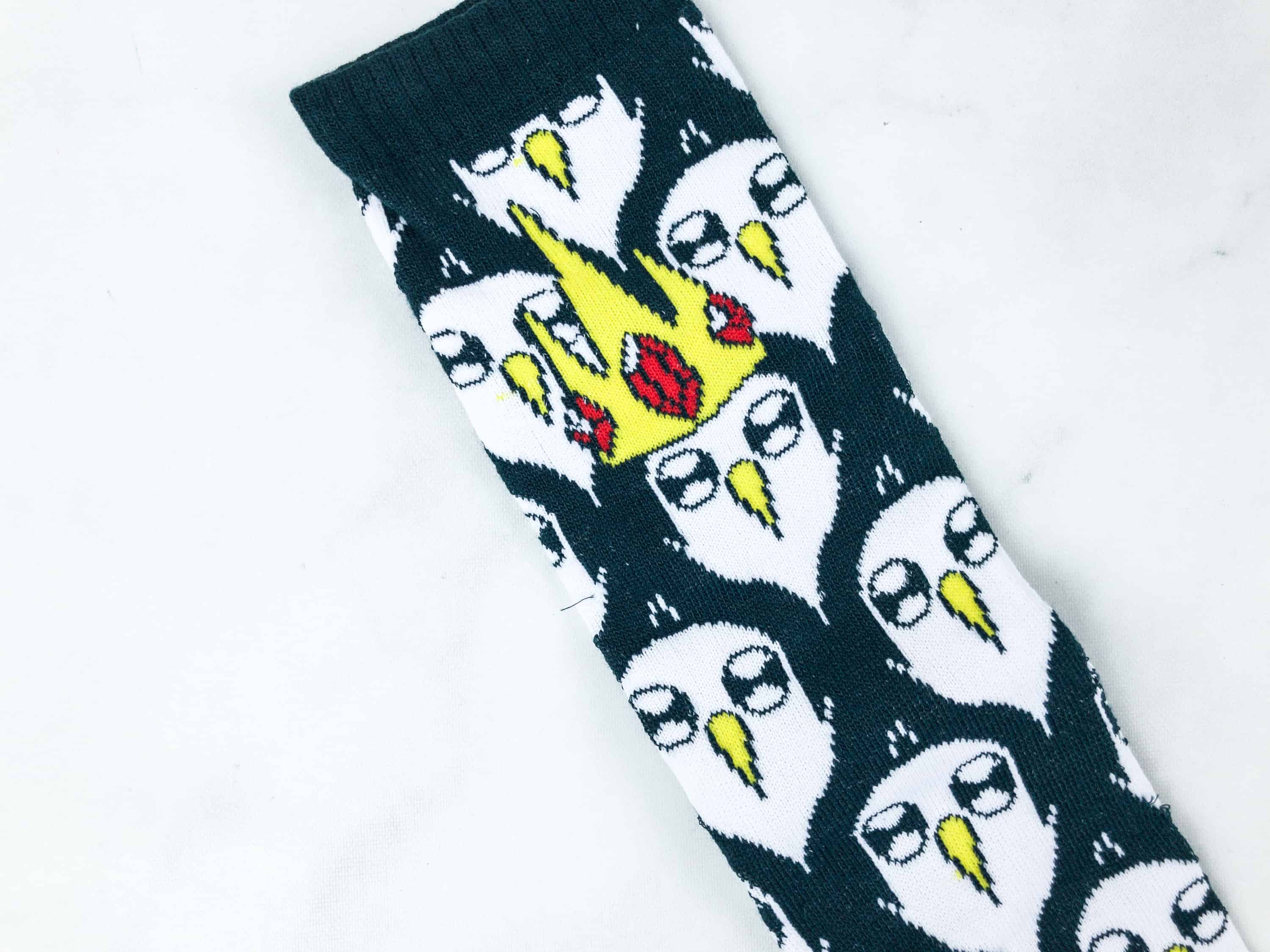 One penguin stands out because it seems that it stole the Ice King's crown! I think it's Gunter, the penguin who is always with the King.
I love both pairs from this month's Loot Socks! One was the perfect cure for my Infinity Wars hangover, while the other pair looked really fun and cute. The socks aren't just well-designed, they fit comfortably and they don't slide down. This subscription is a fun and easy way of collecting geeky socks for all ages and adding a little flair to your daily footwear. The fact that we get two exclusive pairs for less than $10 makes it even more wonderful!
What did you think of Loot Socks this month?