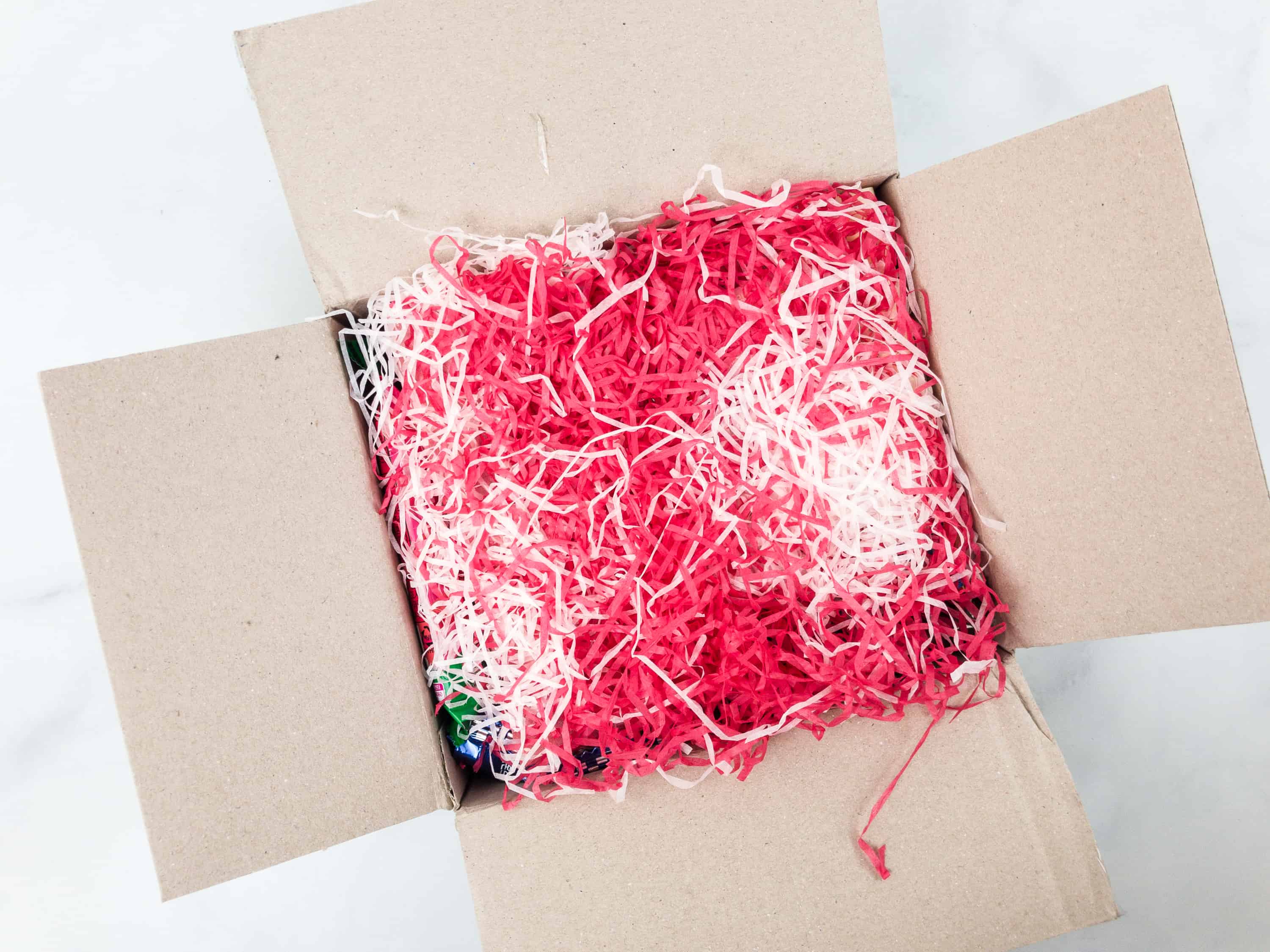 The Korean Snacks Box is monthly subscription box dedicated to premium Korean snacks. The subscription starts at $14.95 each month (Medium and Large boxes available), with free worldwide shipping. Each box comes in a beautiful Bokjumeoni (traditional Korean silk bag) with 5-10 or 10-15 items and tasters. You can now find the previous month box and earlier month's boxes in the Korean Snack box shop.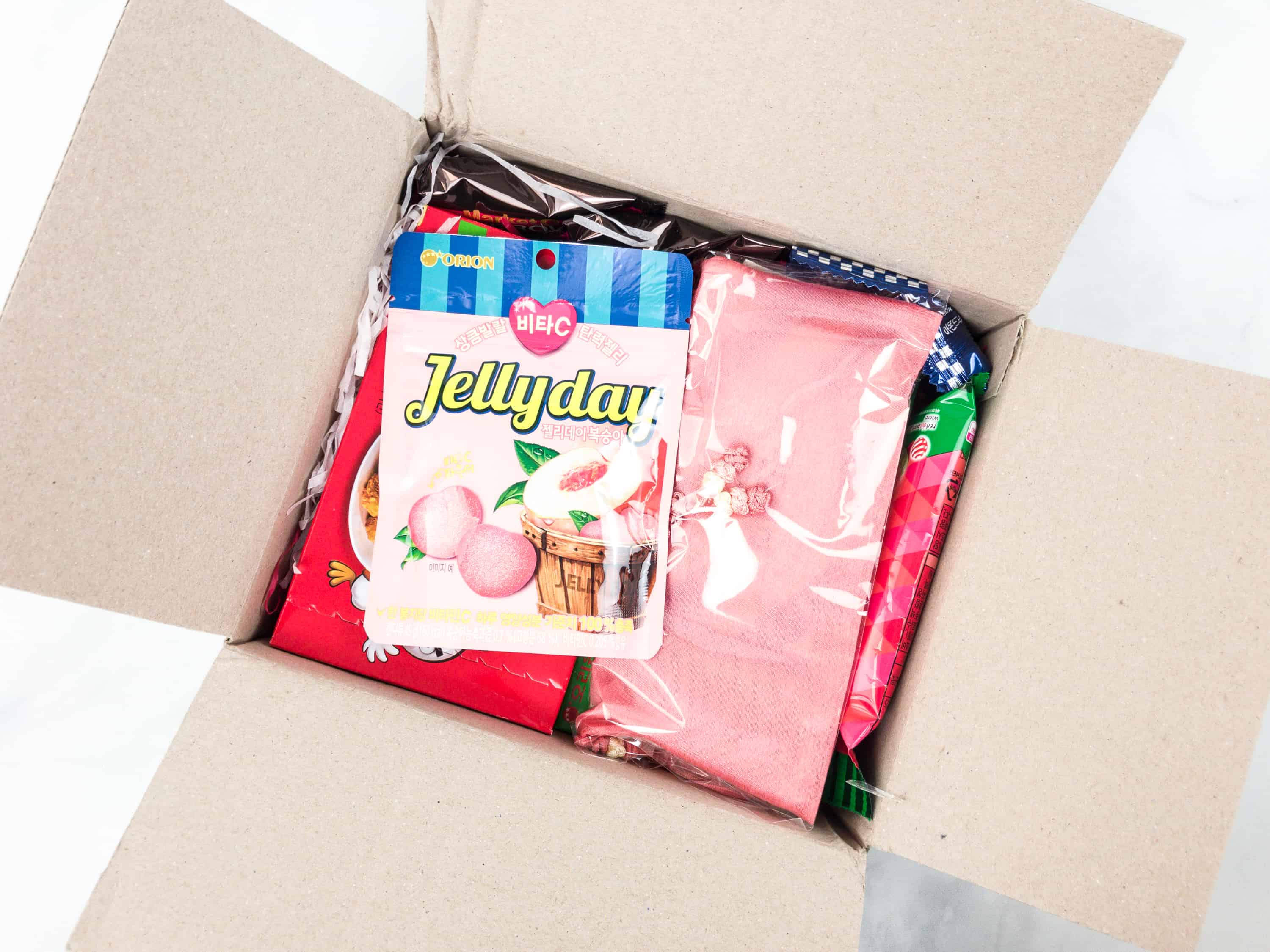 This is a review of the large $24.95 per month Korean Snacks Box.
This month has a pink-colored Bokjumeoni. It is also reusable as a purse, pouch, or even as a makeup bag!
DEAL: Get $2 off your first subscription box with coupon code HELLOKOREA.
A note from the curators is included in the box.
Everything in my box!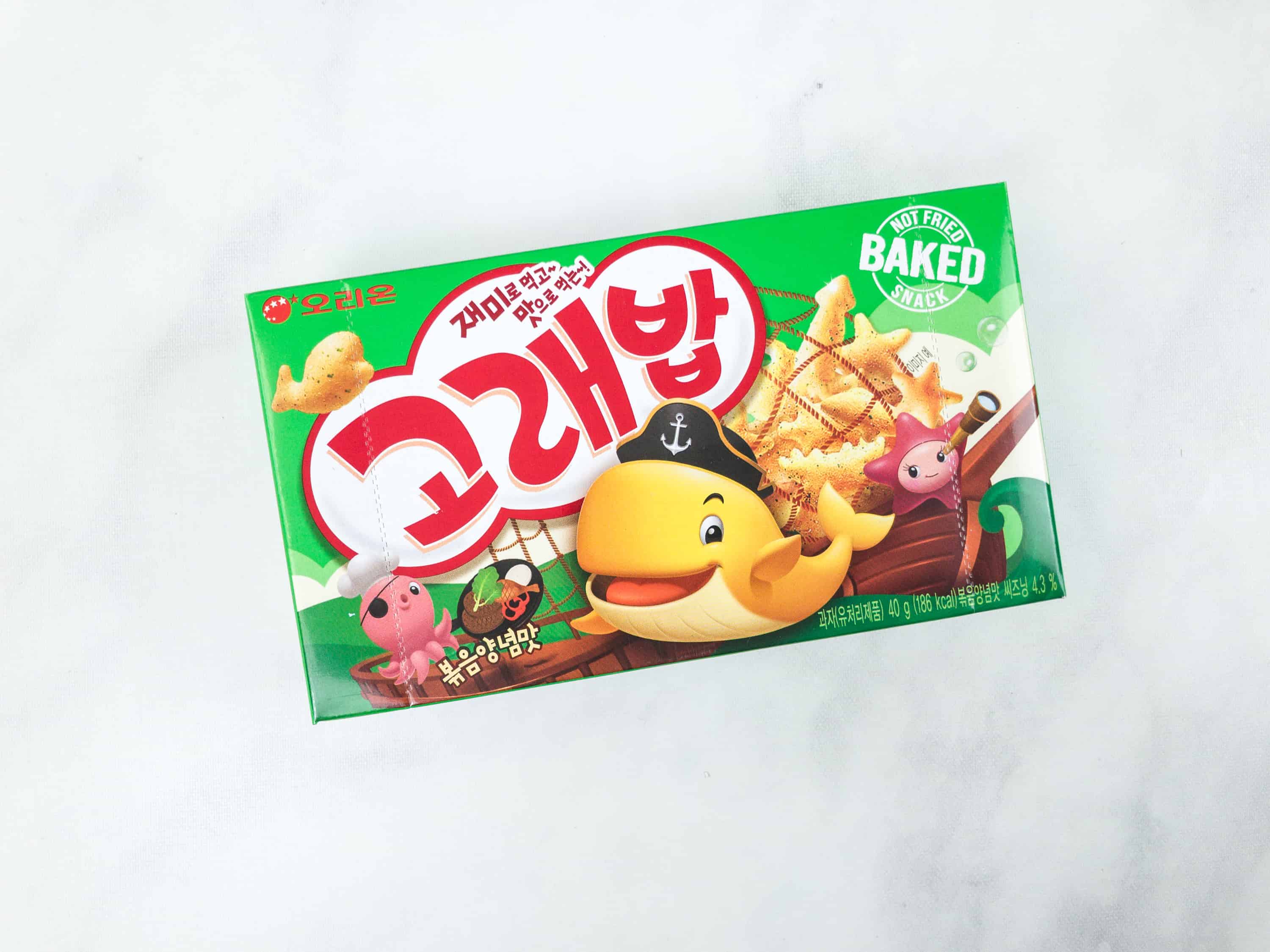 Goraebap. We've already tried this snack before and we loved it so we're happy to see it in the box. Goraebap literally translates to "whale food" in Korean!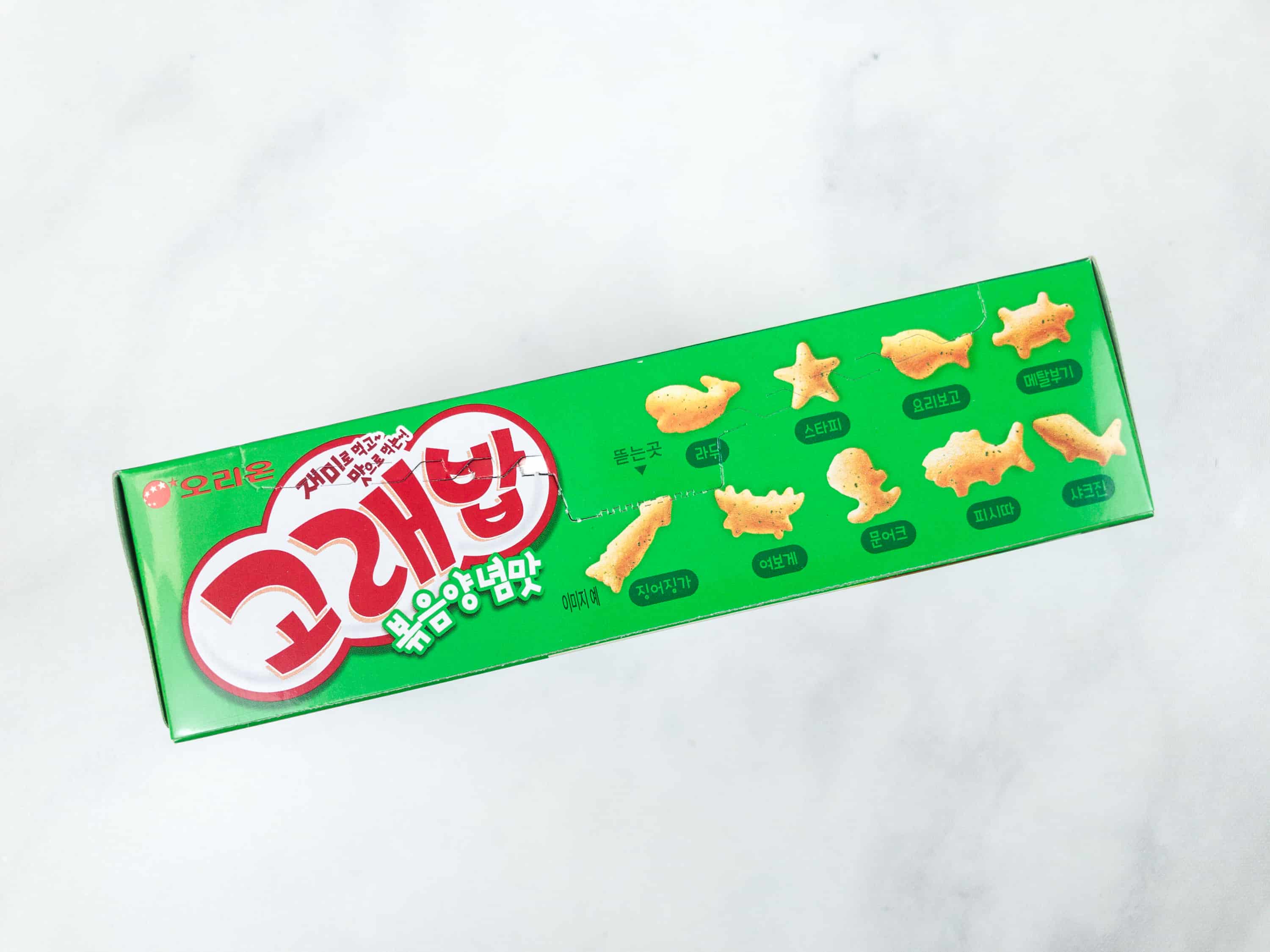 The snack comes in different seafood-themed shapes, like sharks, whales, crabs, turtles, starfish and squid.
You can probably tell from the box that this is a kid's snack. Inside the carton awaits a connect-the-dots activity.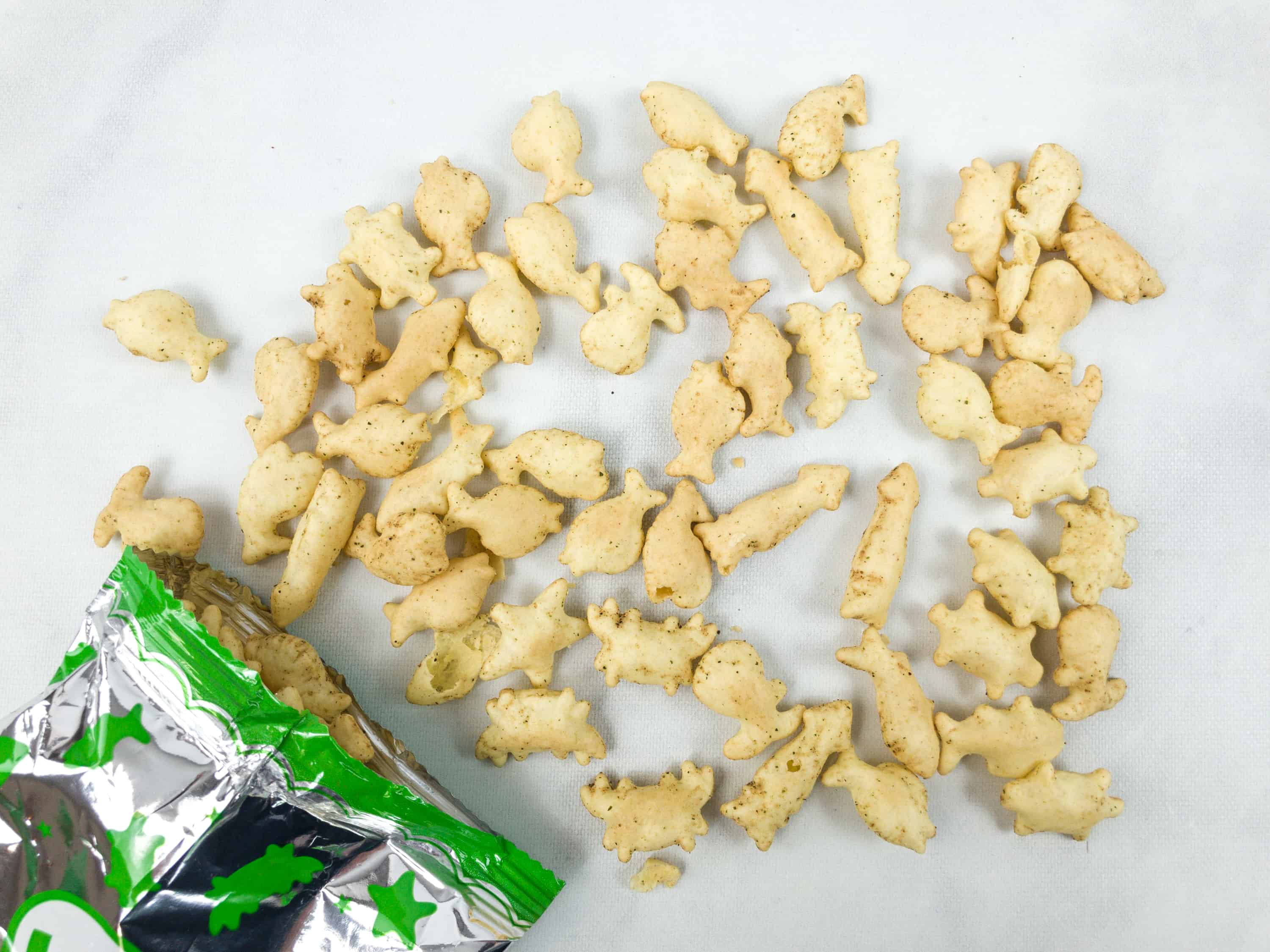 Each piece was crunchy and had a savory seaweed flavor!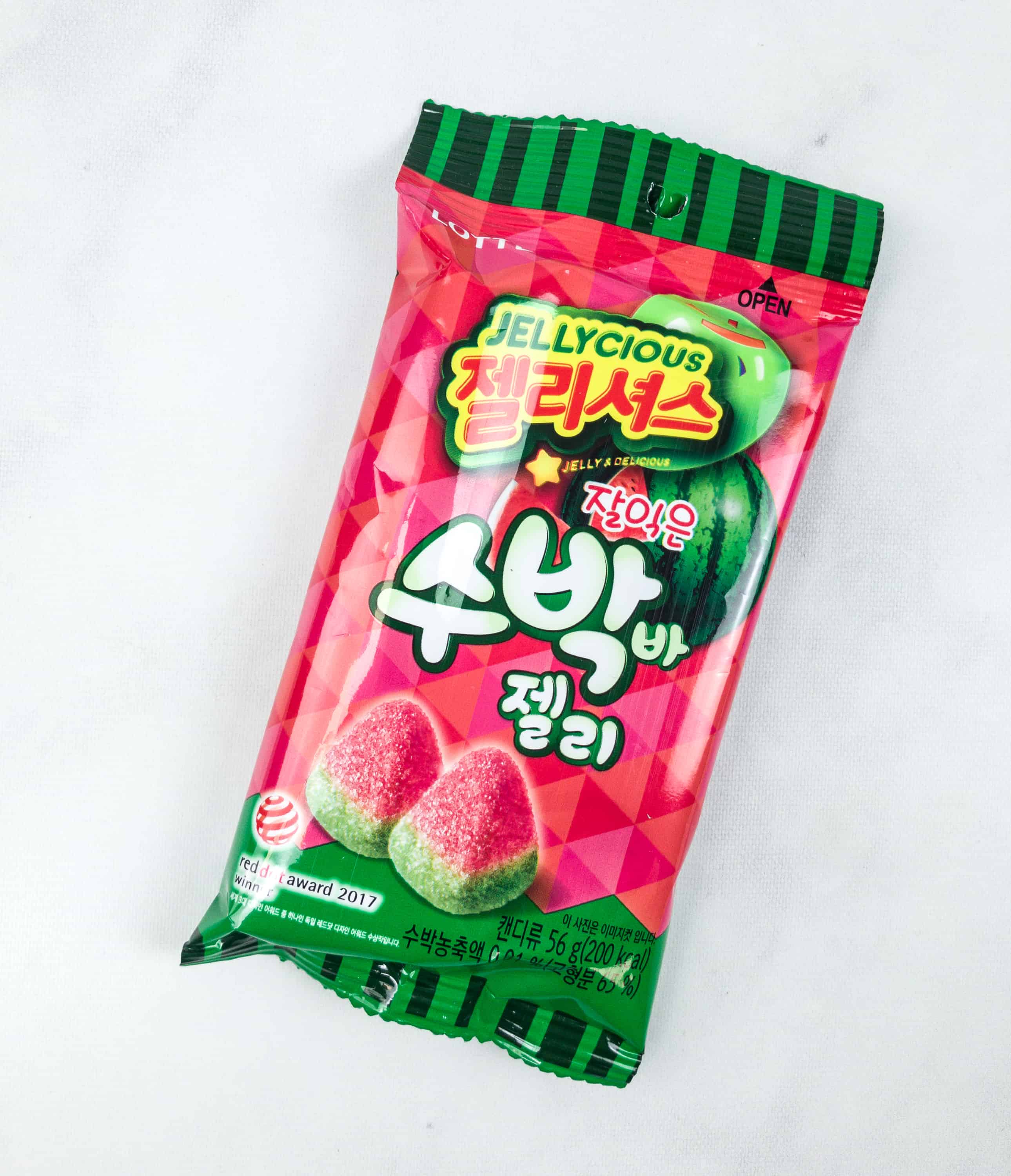 Subakba Jelly. Koreans love watermelon ice cream and this is its jelly candy version!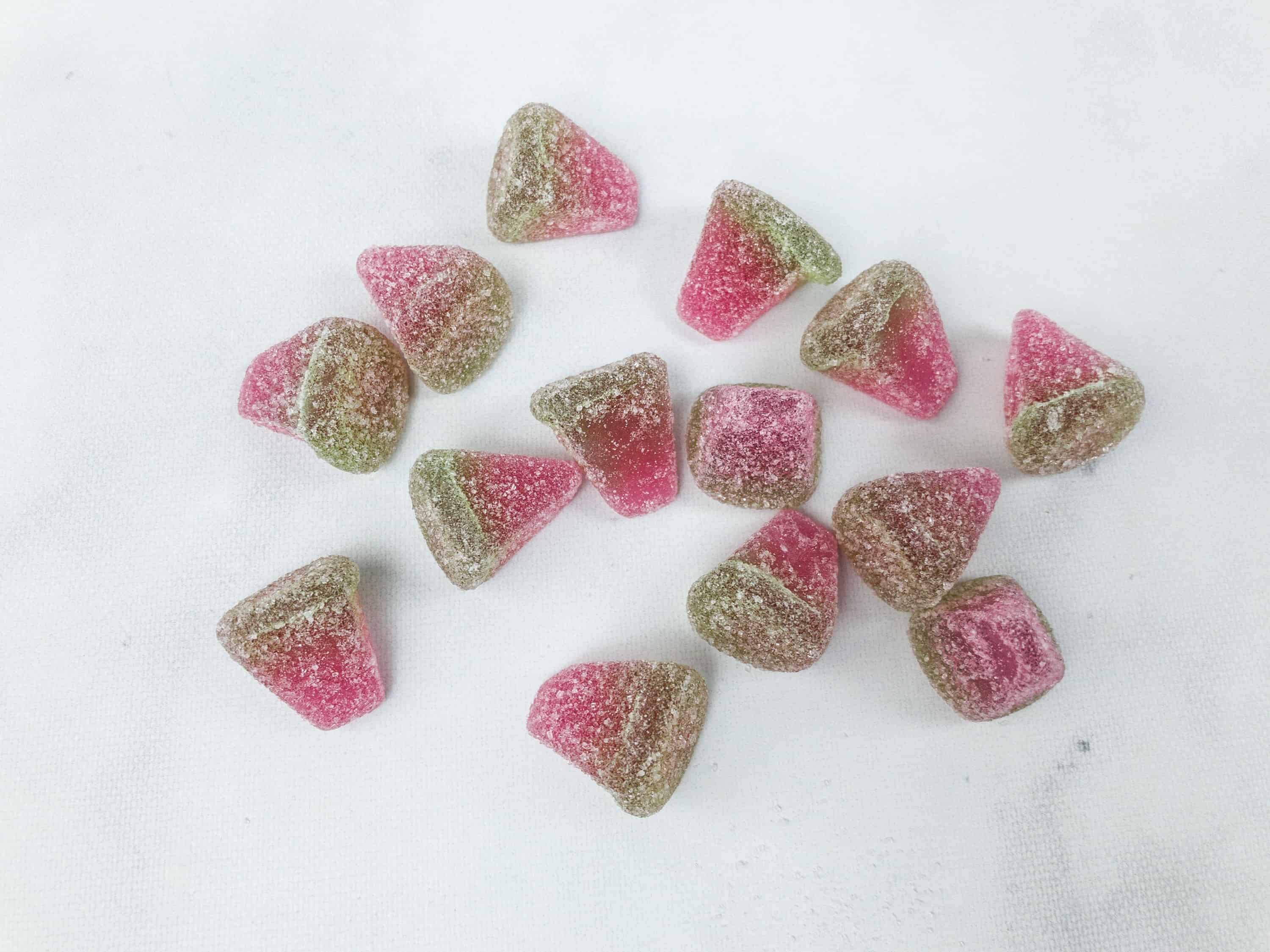 All the gummies are covered with sour sugar. They're quite small, but so soft and yummy!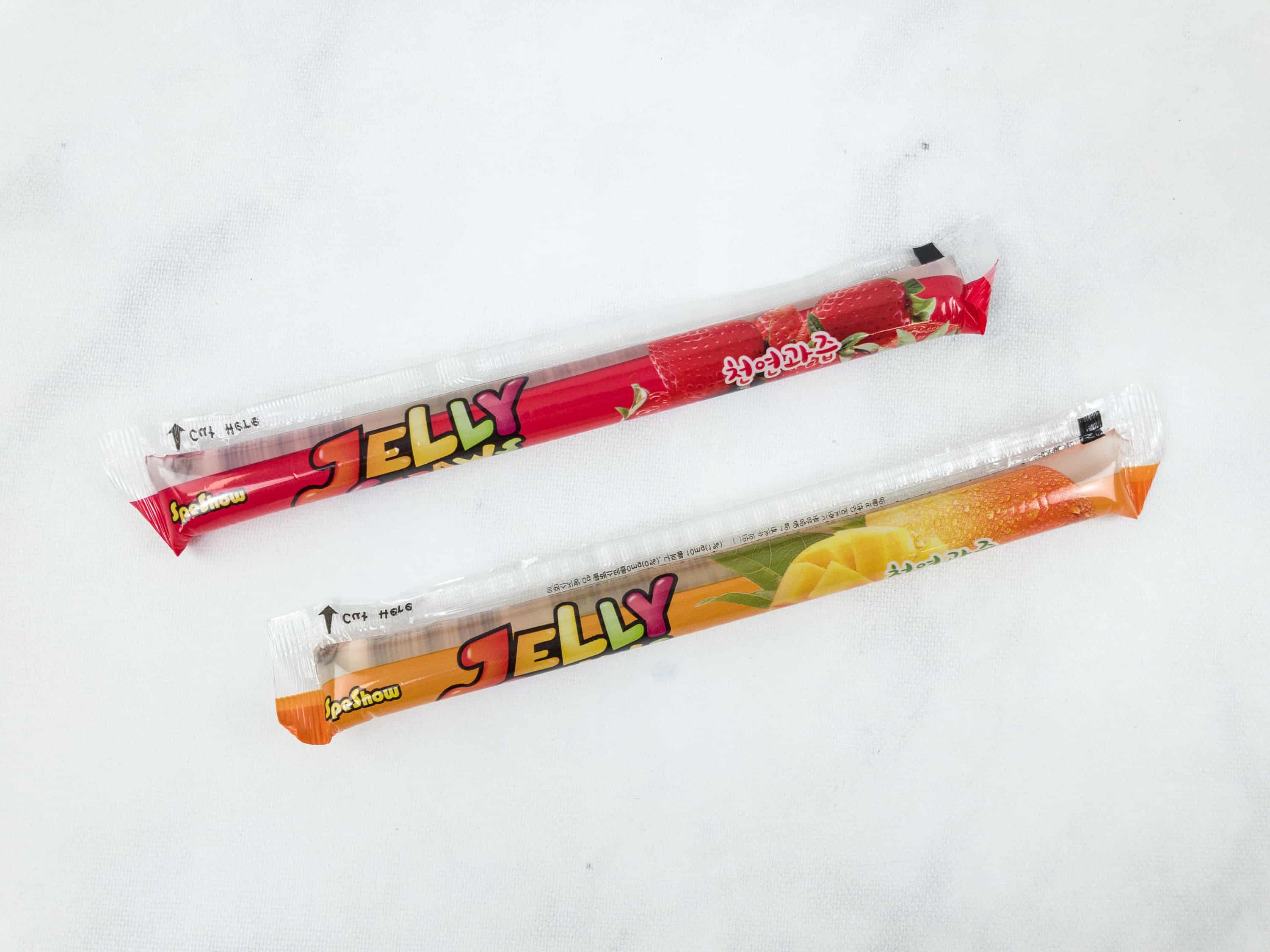 Jelly Straws. We got two jelly sticks in different flavors: mango and strawberry! They're easy to eat and enjoy, and the taste was really fruity too.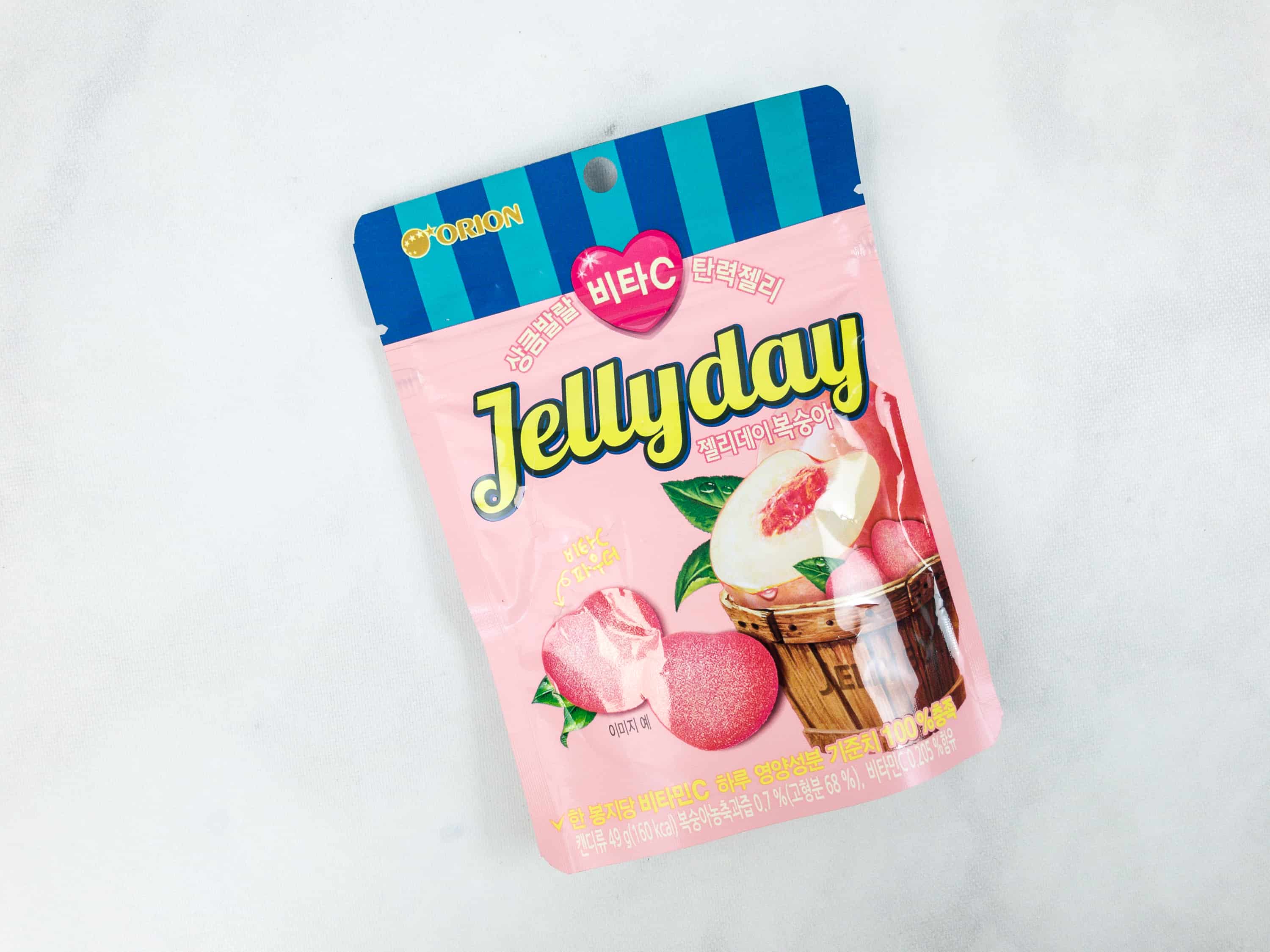 Jellyday. Yay for more gummy candies! These are made with concentrated peach juice and rich in vitamin C.
The pink gummies are heart-shaped and dusted with sour sugar. They were really juicy and tasty too.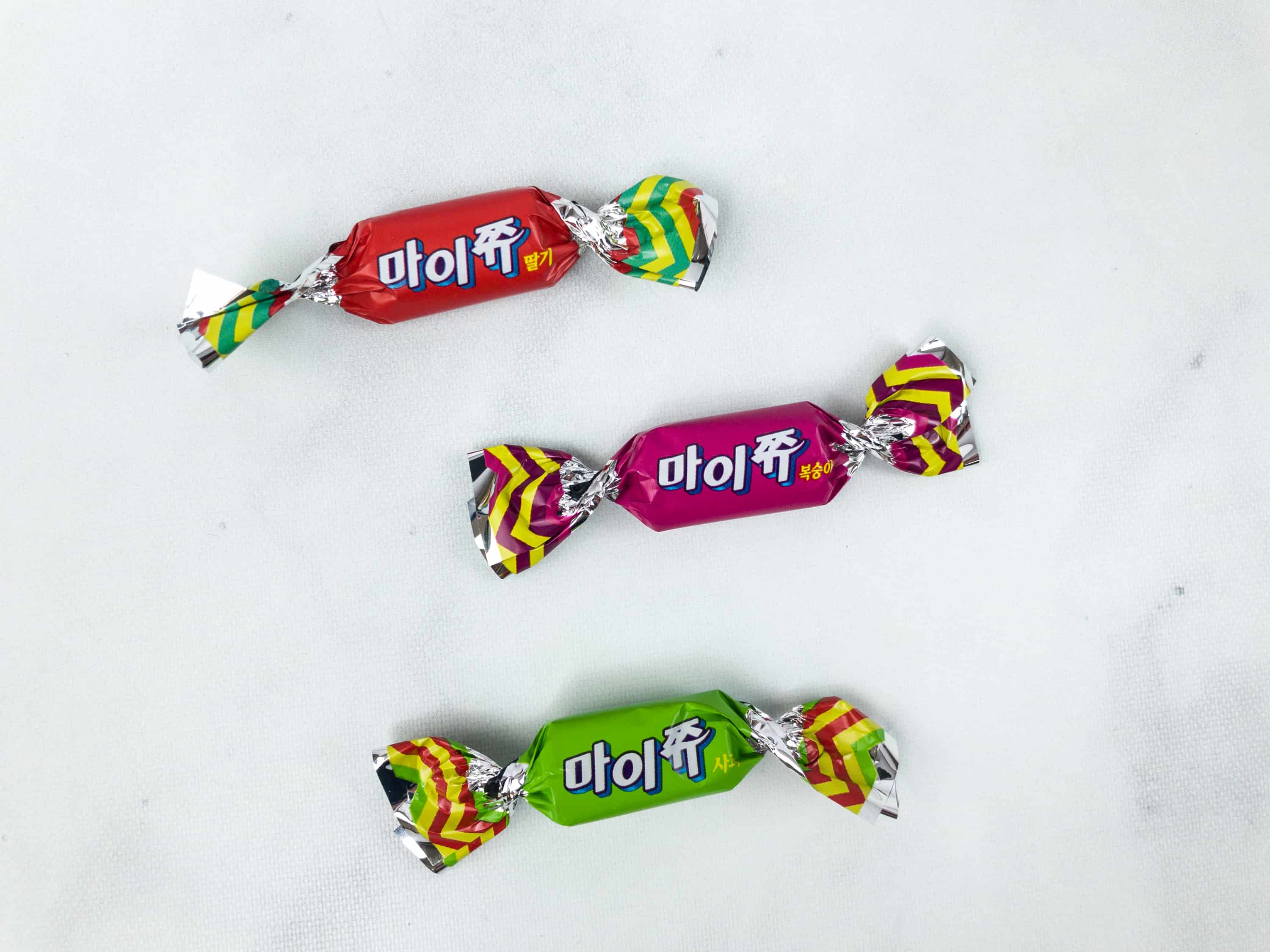 Mychew. There are three individually wrapped Mychews in our box. These are soft, chewy candies packed with fruity flavors.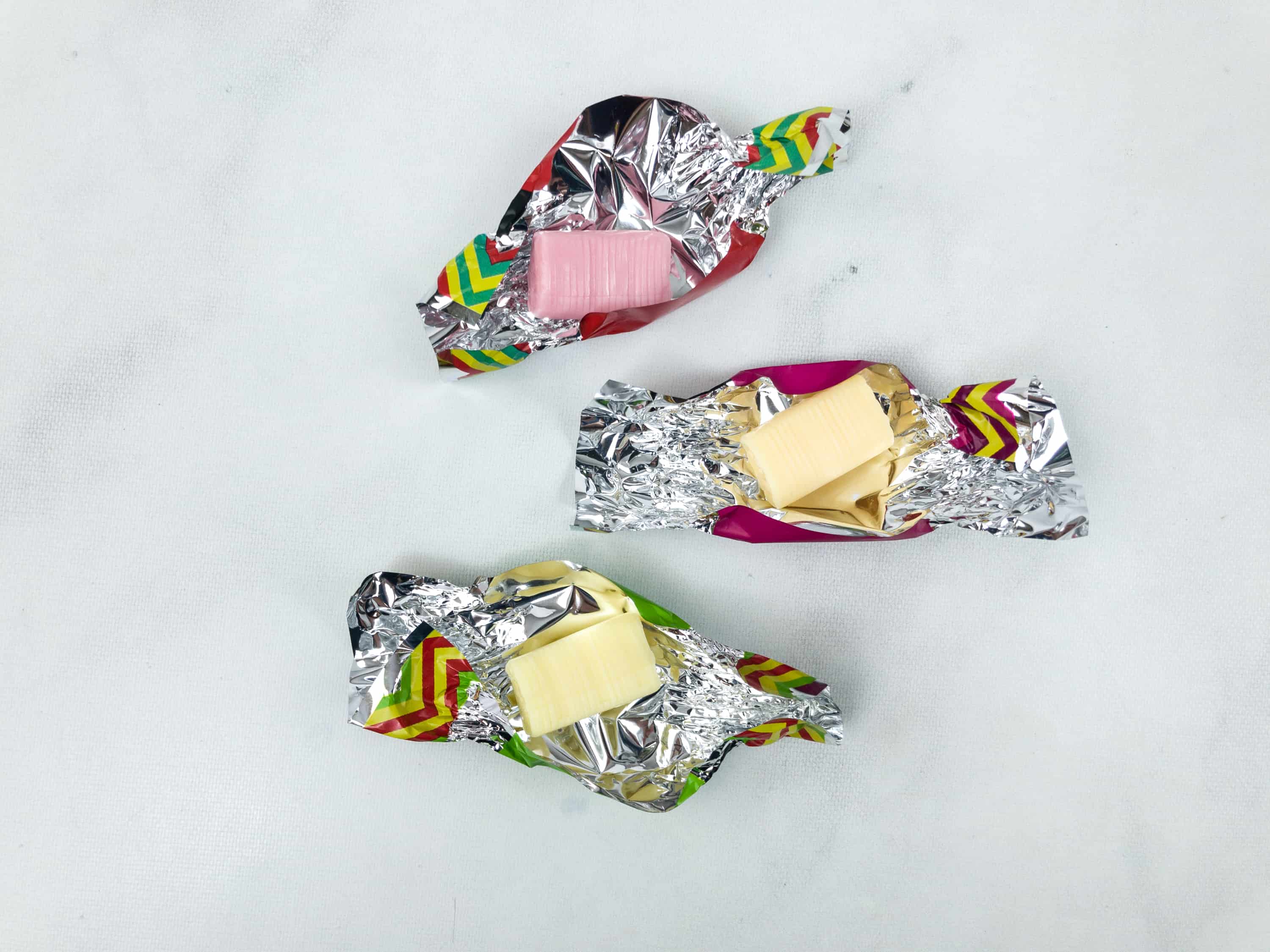 I love that they're soft and chewy without sticking to my teeth!
Real Brownie. These brownies have a rich chocolate taste! There were two of them in the box, and I wish we had more because they're really good.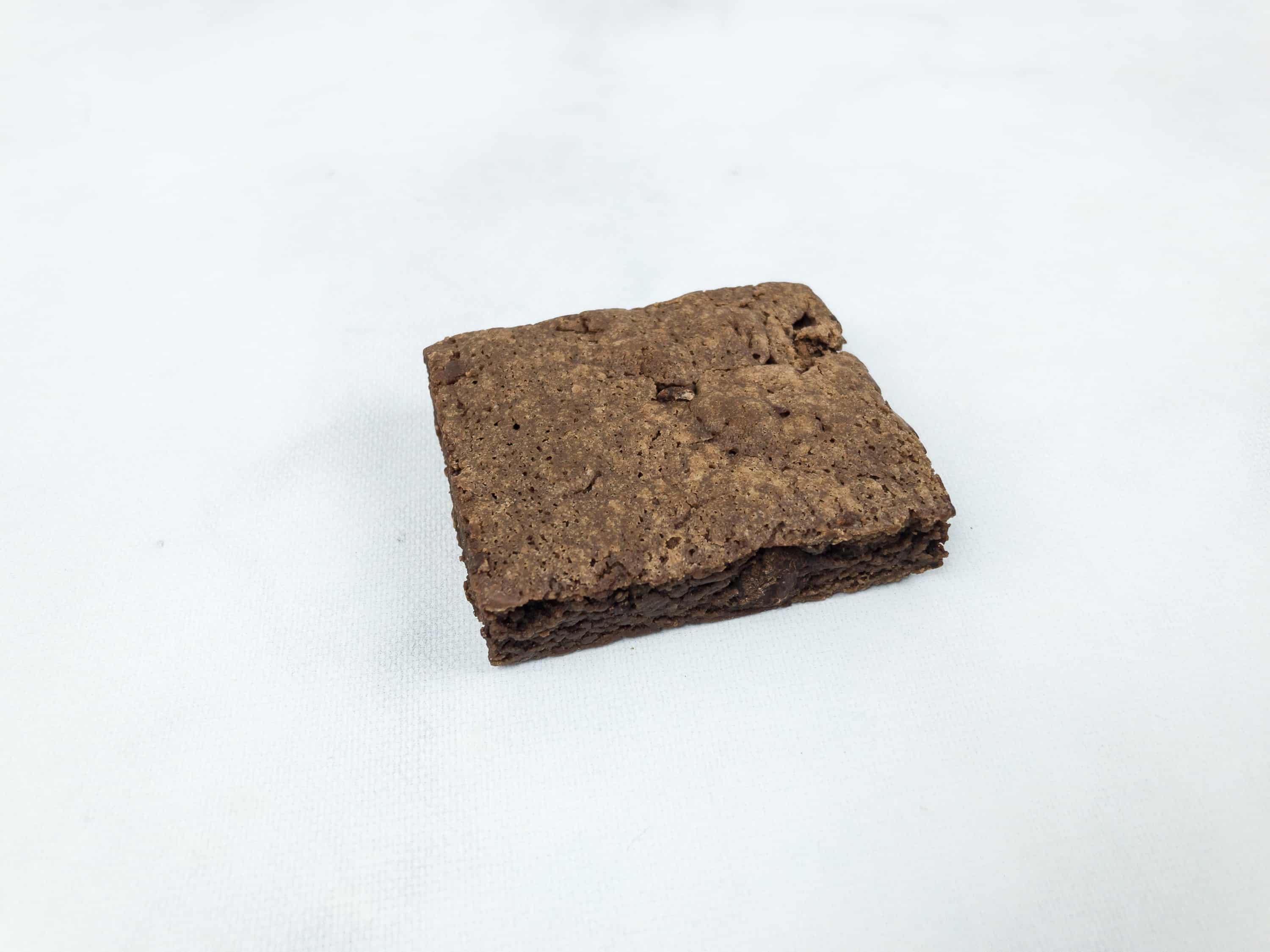 It's made using 52% real chocolate, 10% butter, and 13% eggs.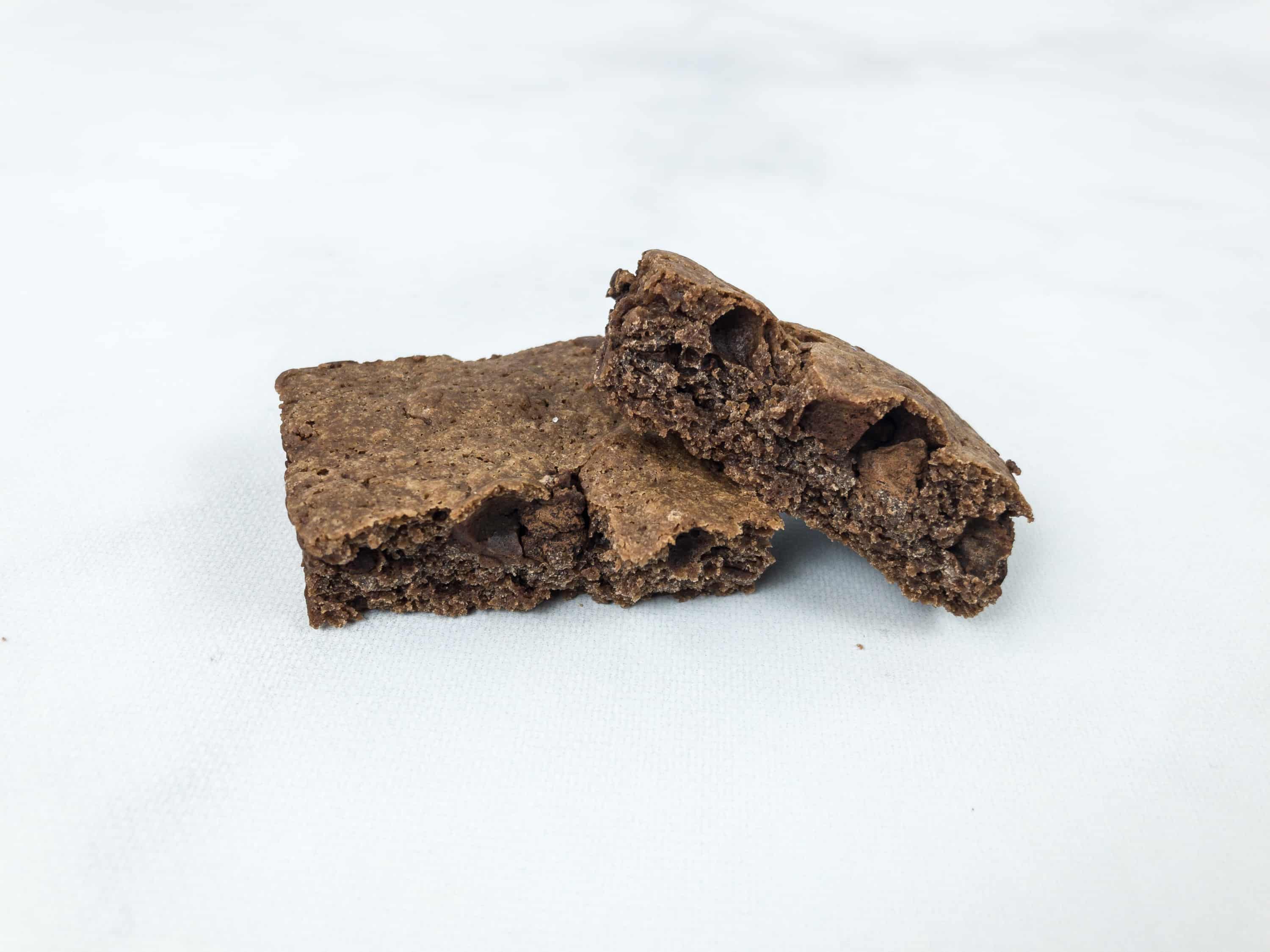 It was sweet and filling, great for an afternoon snack paired with a hot beverage.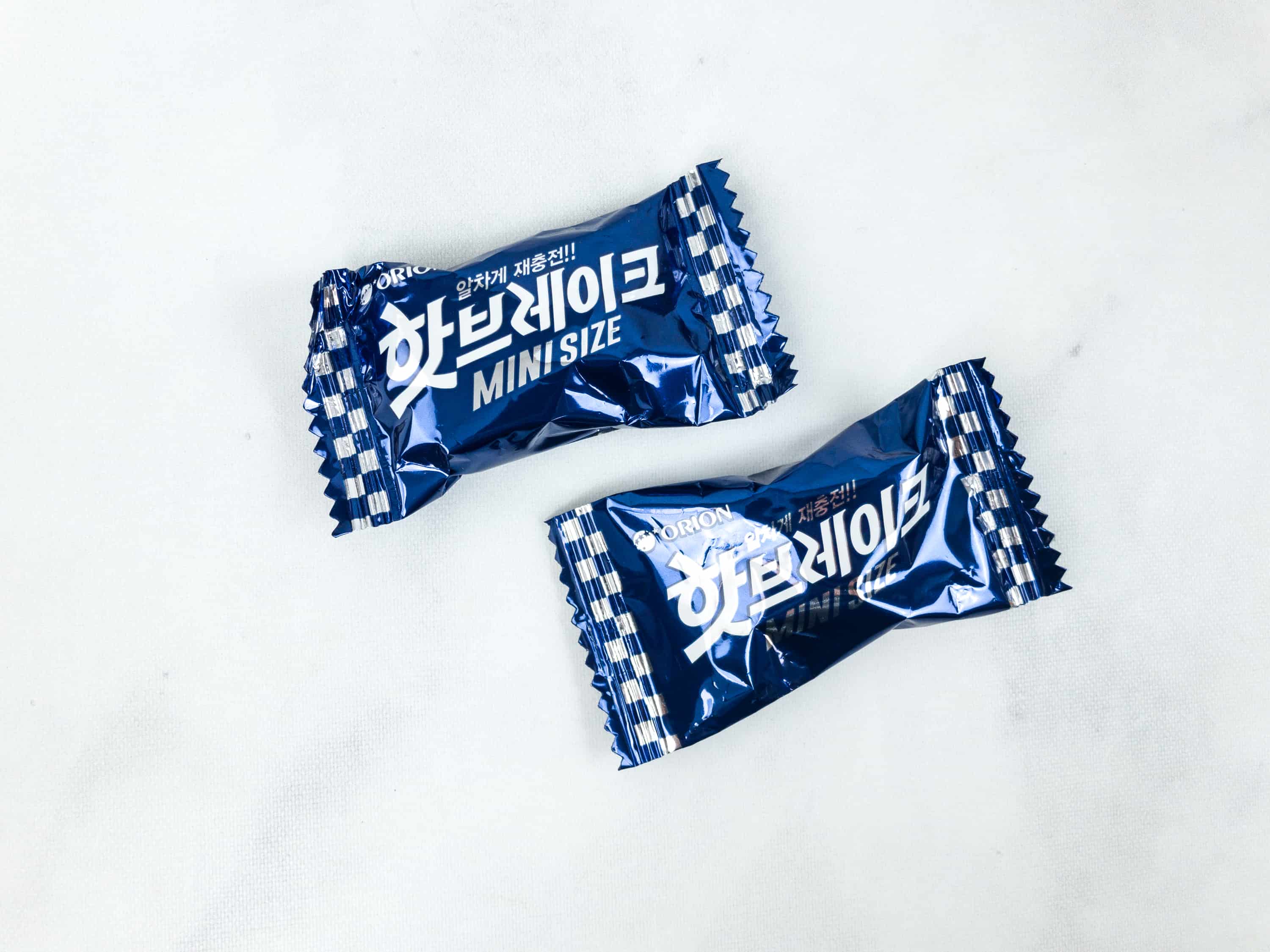 Hotbreak. We got two of these individually wrapped bite sized chocolate bars with almonds. Warning: they're quite addictive.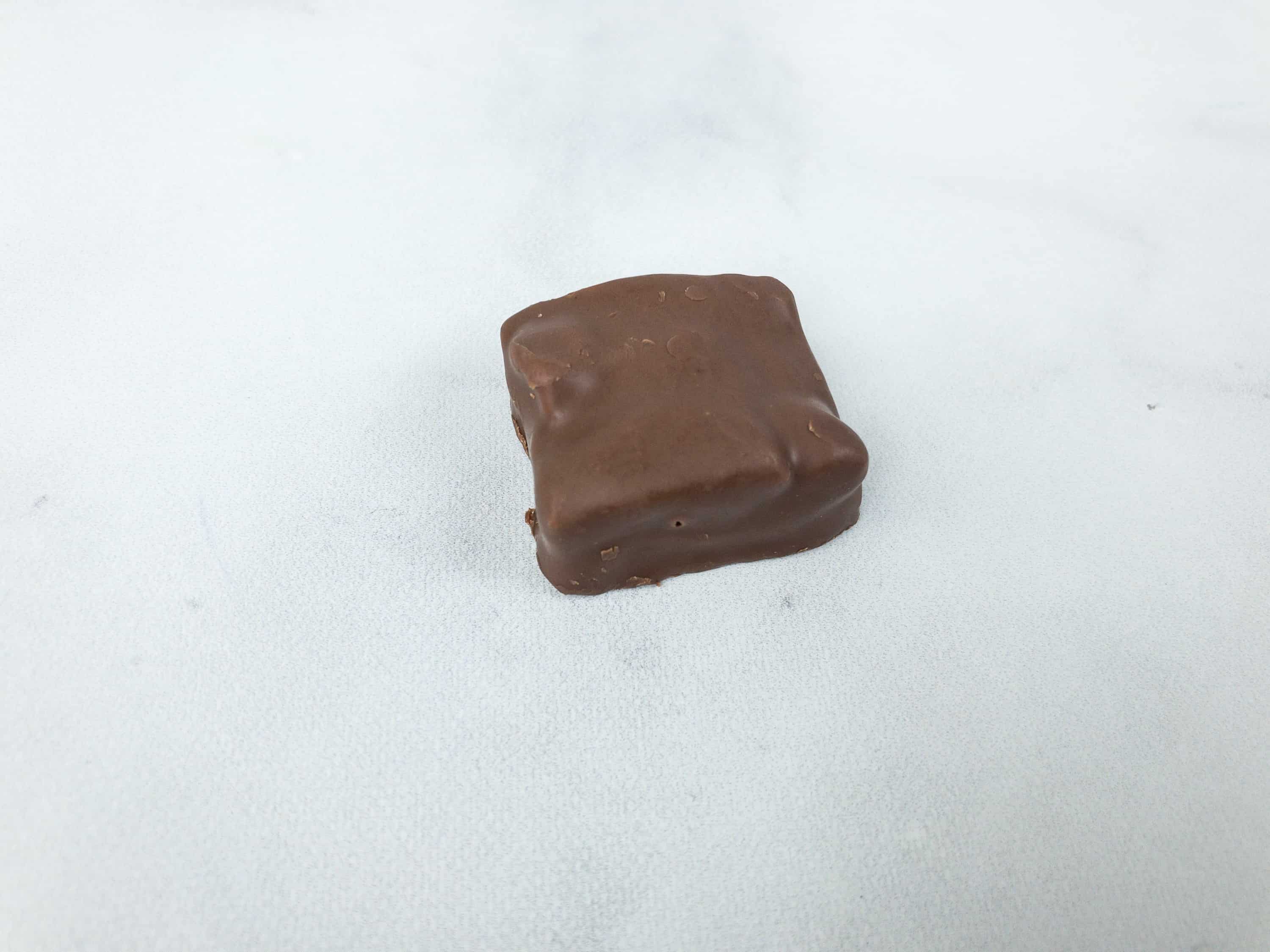 It reminds me of a bite-sized Snickers bar (K-Snickers?). The coating is a rich and luscious chocolate cream!
It was creamy and nutty inside. The bar is really small, but still bursting with sweetness.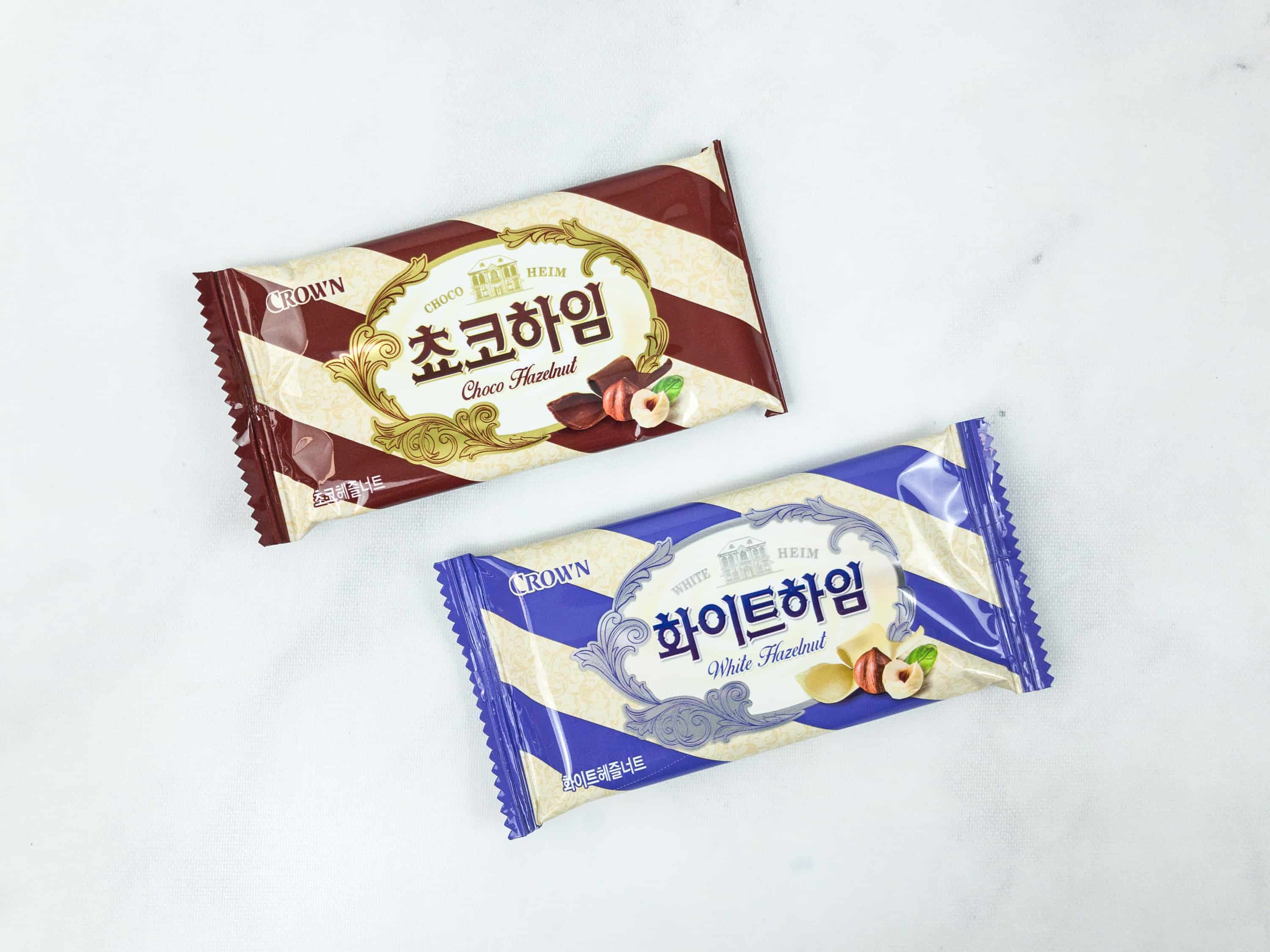 Chocoheim. Perfect as a desk snack, these wafers sticks were crunchy and rich in hazelnut filling. There were two packs in the box: one in chocolate hazelnut and the other in white hazelnut.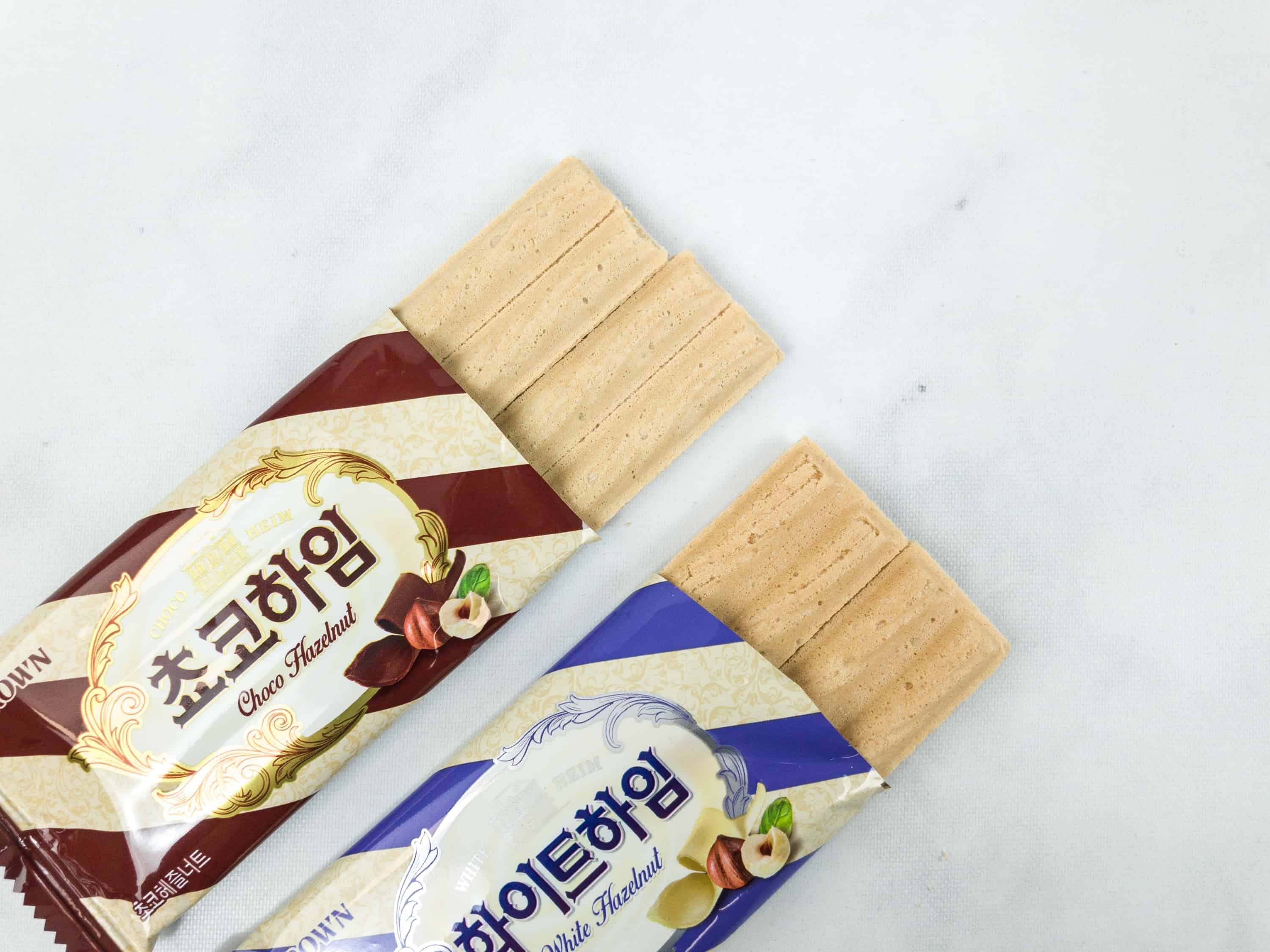 I'm happy that I get to taste both flavors. These were really sweet and delicious!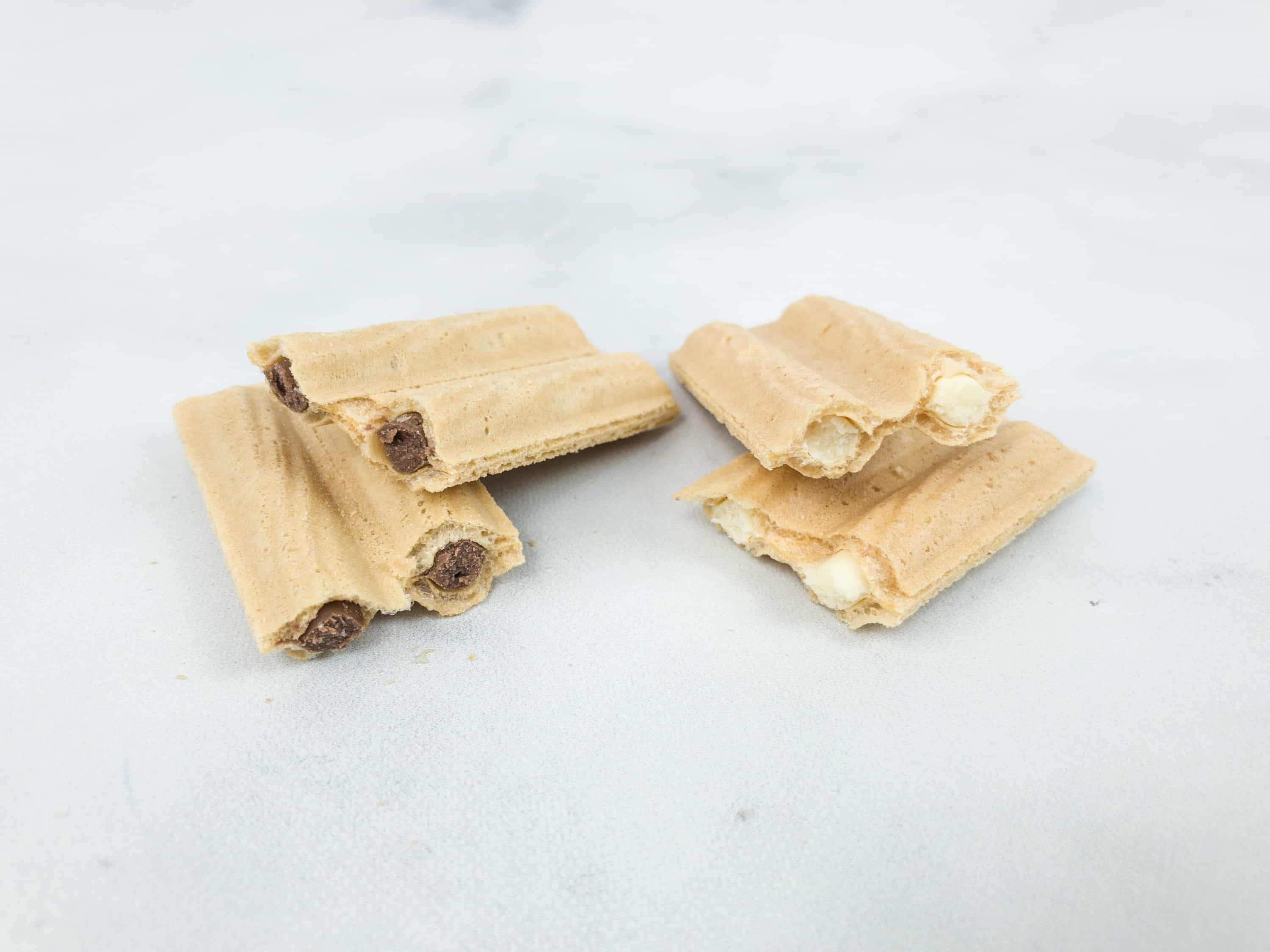 The wafer itself is light, and the fillings melt in my mouth!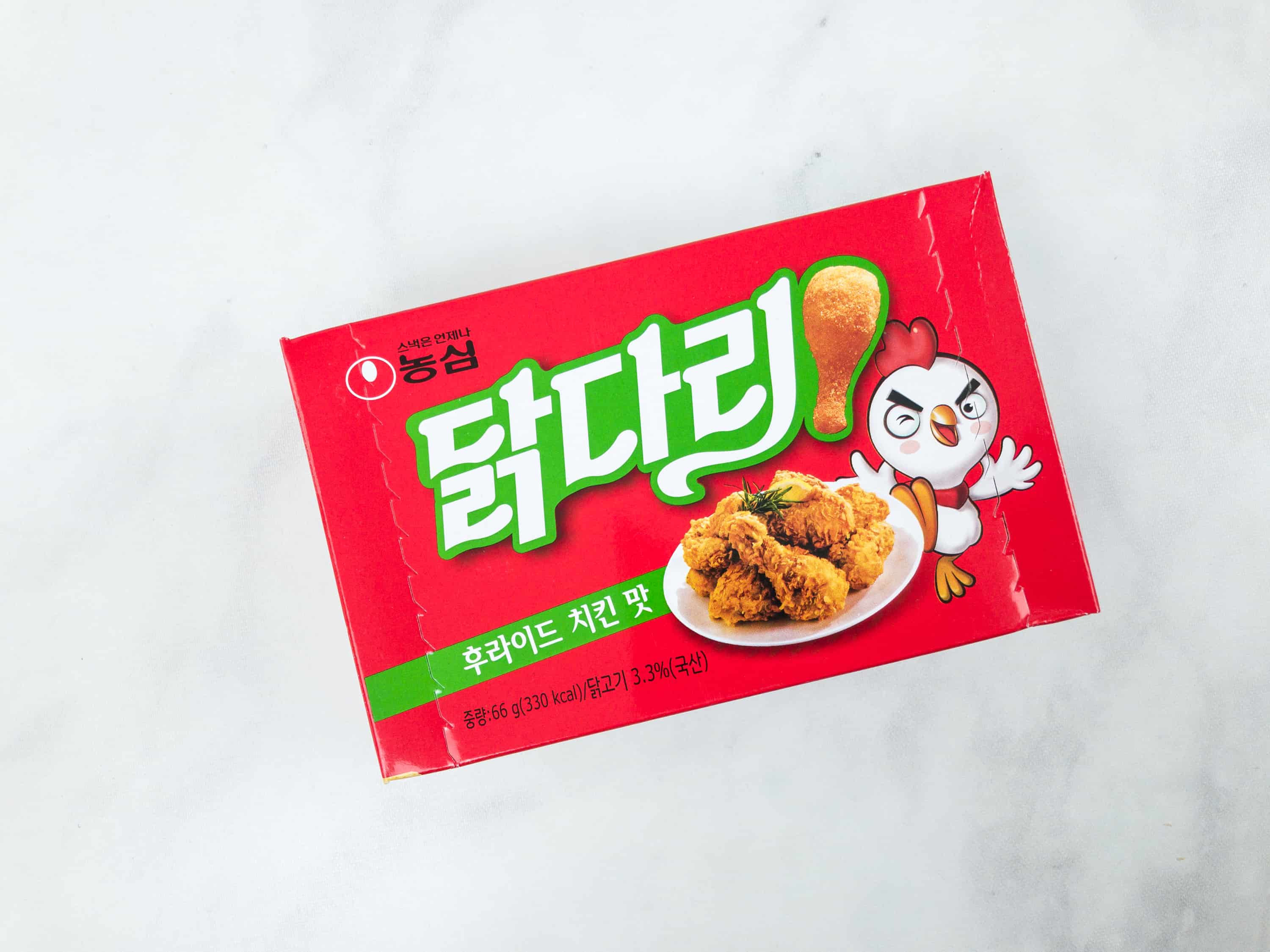 Chicken Drumsticks. These crunchy little snacks are shaped like chicken drumsticks.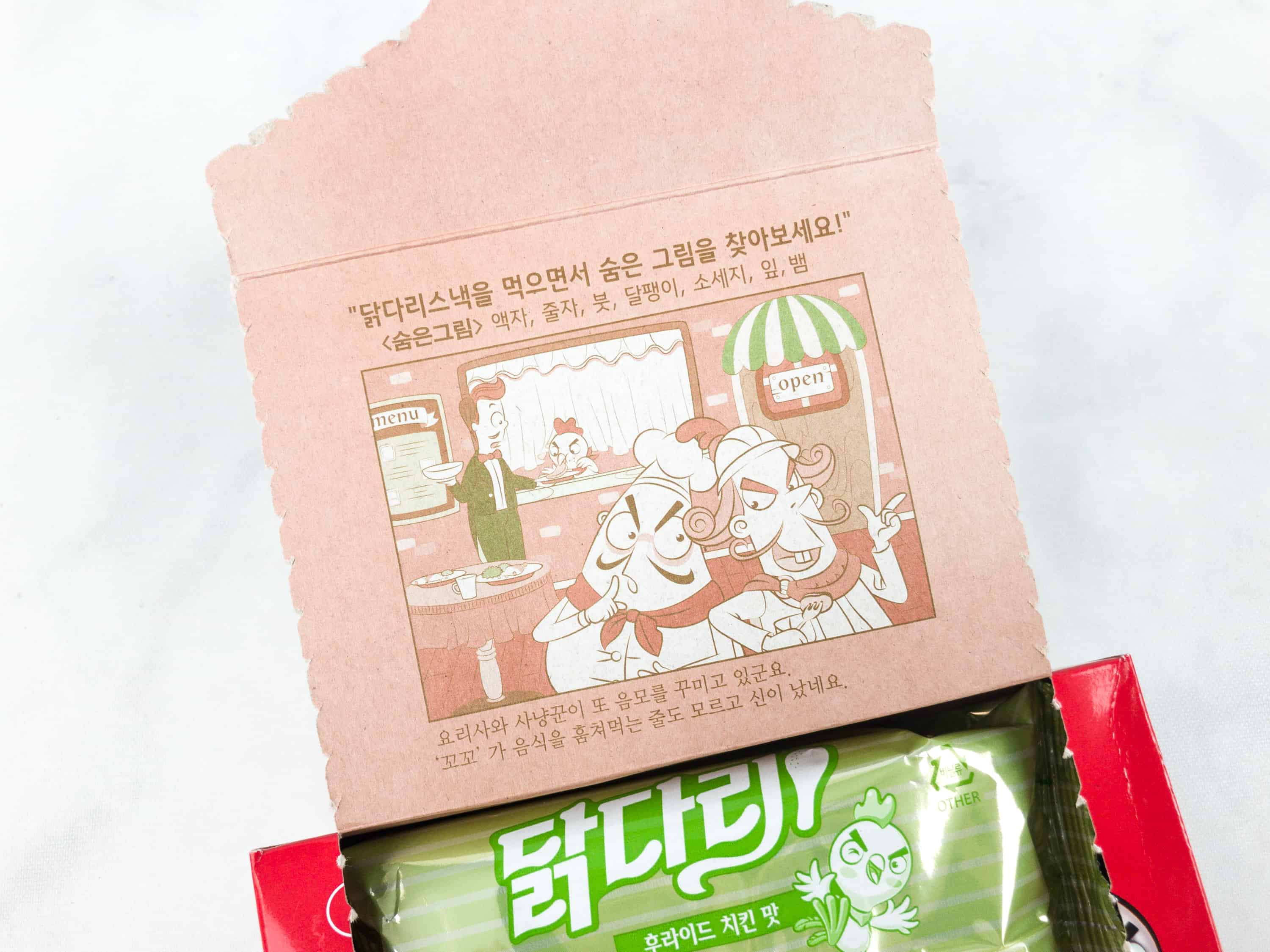 Inside the box packaging is a little activity to work on. It asks you to find several items in the illustration, which includes a photo frame, a tape measure, a brush, a snail, a sausage, a leaf, and a snake.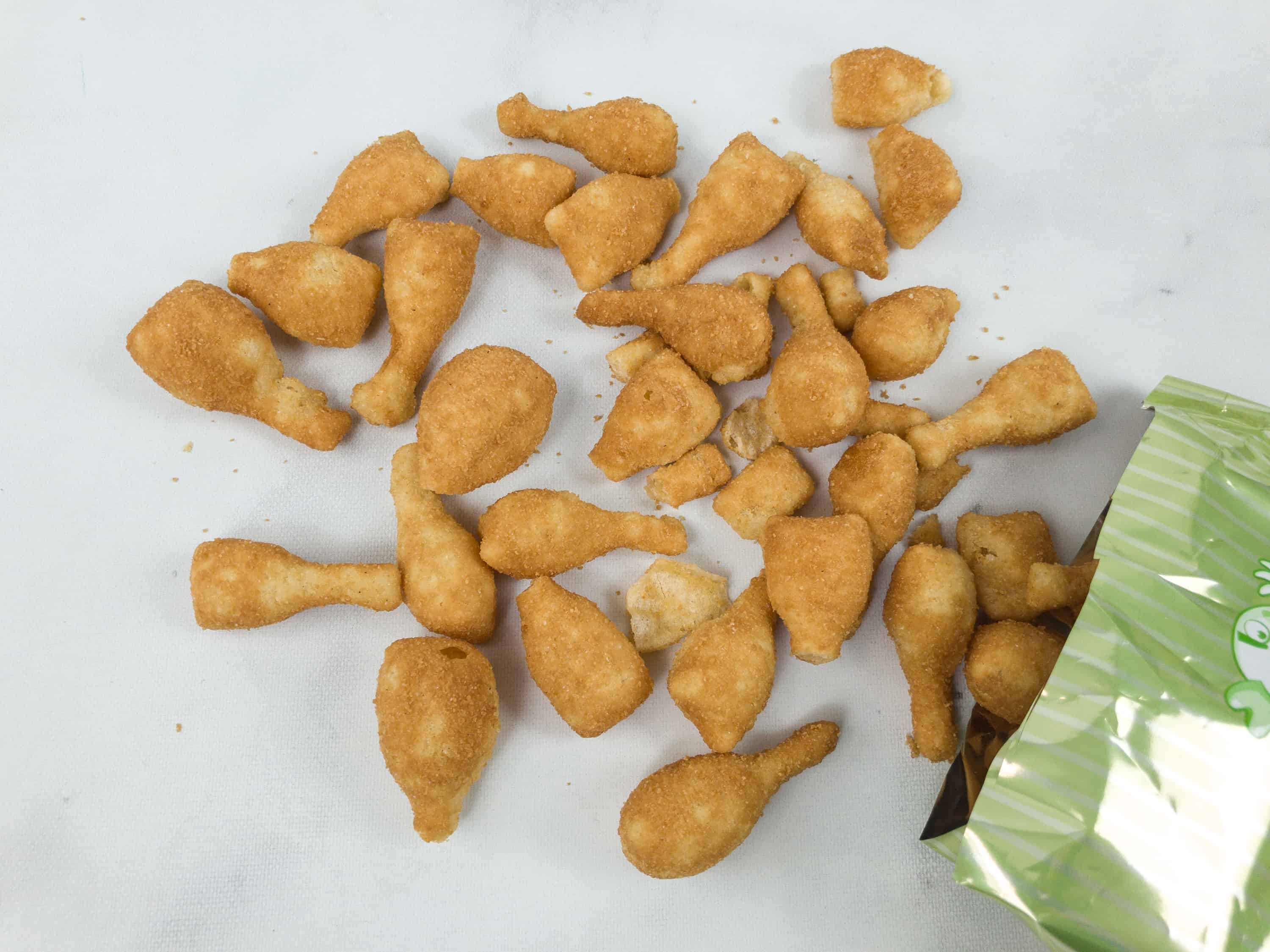 Each piece has a nice golden brown color, making the bite-sized goodies look like real chicken. It is also crunchy, just like how fried chicken coatings are supposed to be. The taste was savory and a bit salty!
The gummy candies and chocolates were our favorite items from this month's Korean Snack Box, but everything tasted really great! We love getting this box every month because there's always a wide selection of Korean snacks we don't usually see in US stores. Also, they send more than one serving of some of the snacks, making it great for sharing with family and friends!
What do you think of Korean Snack Box?