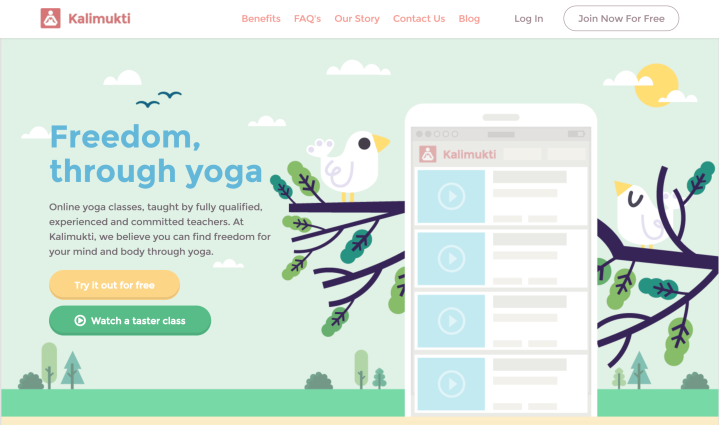 Kalimukti is an online yoga platform designed specifically for beginners. With hundreds of unique online yoga classes guided by friendly, down-to-earth teachers, this is your perfect gateway to yoga. Classes and courses focus on specific health goals, whether you're looking to sleep better, fix your back, lose weight or just feel great there's something for everyone. The subscription is $12 USD monthly, but with discount for 3 or 12-months subscription.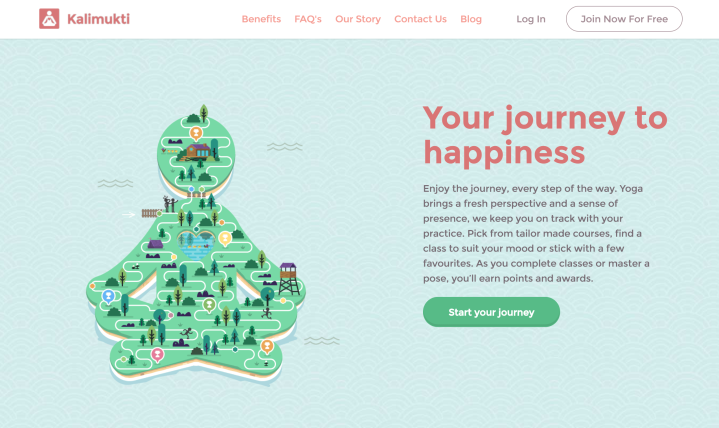 The Platform
This platform is mostly for beginners and is designed to make you feel good about yourself through courses and classes based on a pose, mood, or a theme. All the screenshots in this review are from a desktop, but it was as easy to browse from my phone. It is an online platform with no option to download a class if you want to practice offline.
Getting Started – Free Trial
Getting started is really easy. All you need is a name, an email address and a password! You can try a lot of classes during your 2-weeks trial to get you acquainted with the teachers, the platform and the class's format. Not having to provide your credit card information is a plus in my book : If I forget to stop my free-trial, I can't be charged.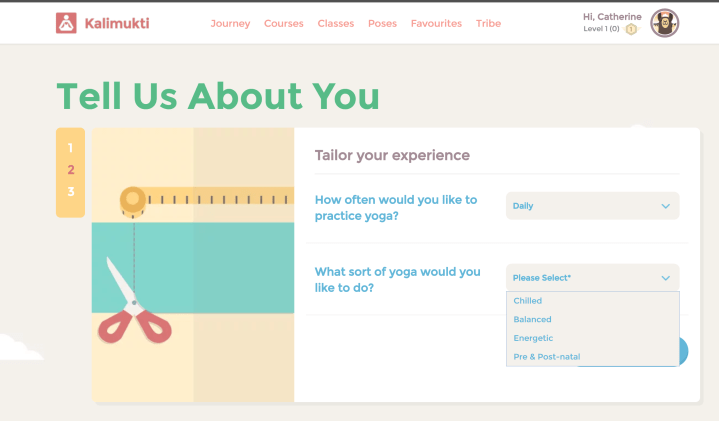 Your experience is based on how frequent you want to practice (daily, twice a week, once a week or once a month). You can also choose the sort of yoga you want to practice. This will help the platform to suggest classes or courses, but all the classes are easily accessible through the classes or courses tabs. You can always come back here to change your preferences.
The Classes
The classes can be access through a course or individually. Each courses has around 7 classes, so it's not overwhelming and it's easy to commit to a series. The classes are between 10 and 45 minutes, but most of them are around 30 minutes.  You can choose a class based on the length, on the mood or by keyword. The Introduction to Yoga is about 4-5 poses a class (and has 6 classes), with no real flow in between, perfect to understand and take time with each poses individually. I didn't feel I had to rush through any poses. The warm-up were a quick seated twist followed by a two simple sun salutations. There's hundred of classes but because of the way they are showed on the website, it looks like there's less than that. I hope that with time they'll be even more classes!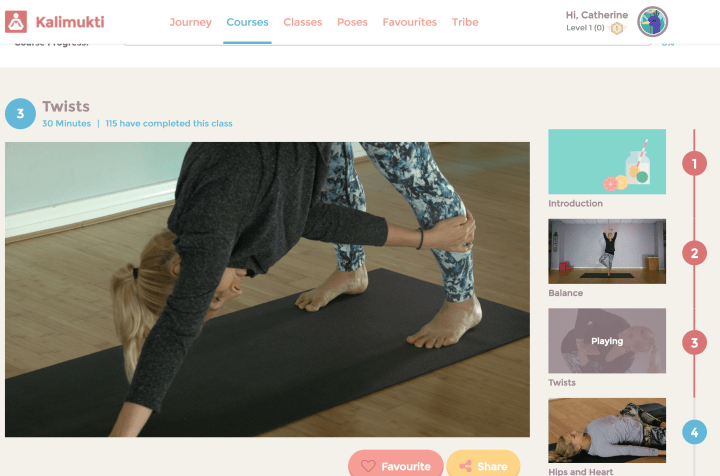 The classes themselves are quite interesting. All the cues are clear, and there's no special background or music to distract you from your practice. I took a lot of classes and the camera work is quite good. I could see what was going on from different angle, without getting dizzy by too much changes. There's also pre-natal and post-natal classes.
As far as I've seen, there is not a lot of use of tools and props. I love using them as even though I've been doing Yoga for a while, I am not flexible at all and rely on straps, blocks, blankets and so on. It would have been great to see some classes more focused on them.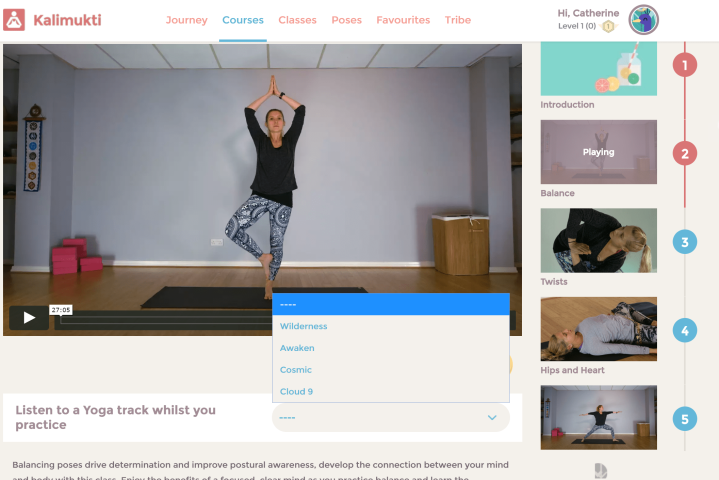 Bonus: You can choose to listen to a yoga track, and they are very nice and soothing. You can adjust the volume for both your class and your track individually, so it doesn't get in the way.
Classes/courses tried: Intro to Yoga (6 classes), Introduction to Vinyasa Flow (6 classes), Understanding Pranayama (7 classes), Flow and Glow (6 classes), and a couple of classes a-la-carte.
Personal experience: My only downside to the courses vs classes is that once I took a class, I felt like I had to do the whole courses. (which you don't have to do!)  I got frustrated at times because I felt I couldn't really choose my morning class based on how I felt. I'm an achiever, so once I was committed to a course, I had to see it to the end even though I didn't really enjoy it. I loved loved loved that I could listen to one of their music track while practicing.
The Teachers
The teachers I've had so far are really good with cues on alignment, what to check for in your pose, how to breath and how many breaths, and they are very calm and peaceful. My favorite was Calli De La Haye, an ex-gymnastic with her RYT 500, registered in 2010, specialized in Hatha Yoga. I like how softly spoken she is, her breathing classes were awesome and really relaxing. A lot of the classes I tried were taught by Natalie Fox (YTT 200 with SUP) who had a stronger presence and cues, with an athletic vibe.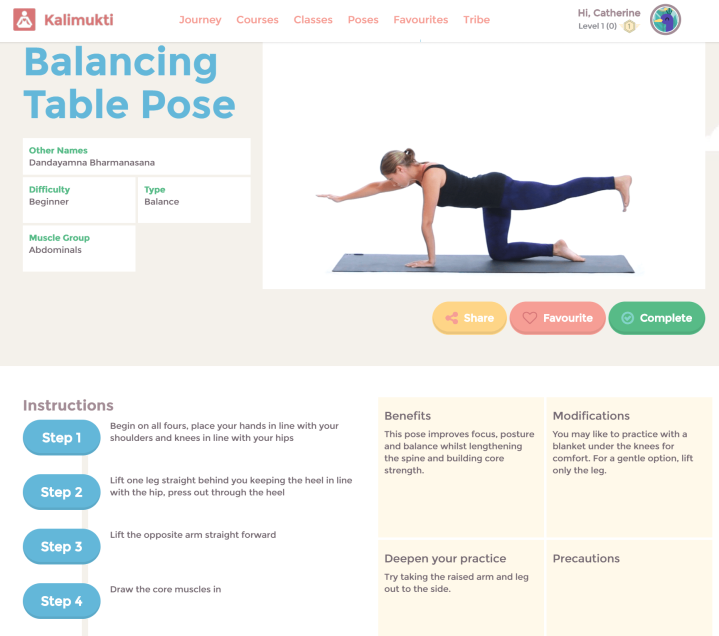 Extras
You also get access to a Pose Library with a lot of information on each pose.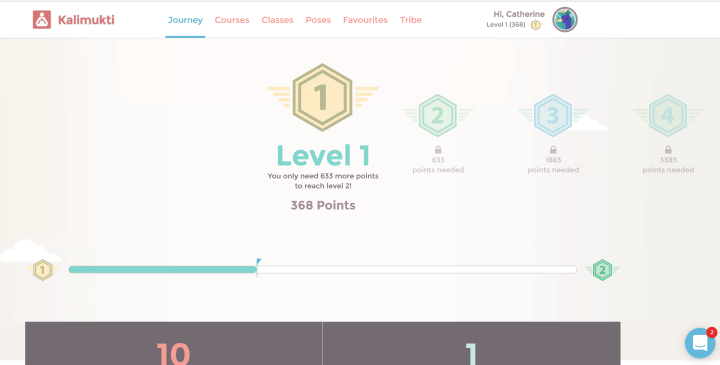 For each class and courses you complete, you get points and awards as a way to acknowledge your personal journey. I'm not sure if it adds anything to the experience down the road, but it's a fun way to see how much you've done.
Blog
There's also a blog on the platform, accessible even without an account.
Overall, I really enjoyed my time on Kalimukti. I really liked that everything was easy to access from my computer and from my phone, my account was always up to date white the next class in a course ready to play. Even though some of the poses are quite challenging for beginners, there's plenty of room for modifications and props. Even in the inversion class, I felt at ease to not go into the full pose if I wasn't comfortable or strong enough, while still benefiting from learning about it and making steps towards getting better. And the joy of doing yoga through online classes is that you are never forced to perform or do something you don't want to as you are the only one present.
Have you tried Kalimukti?