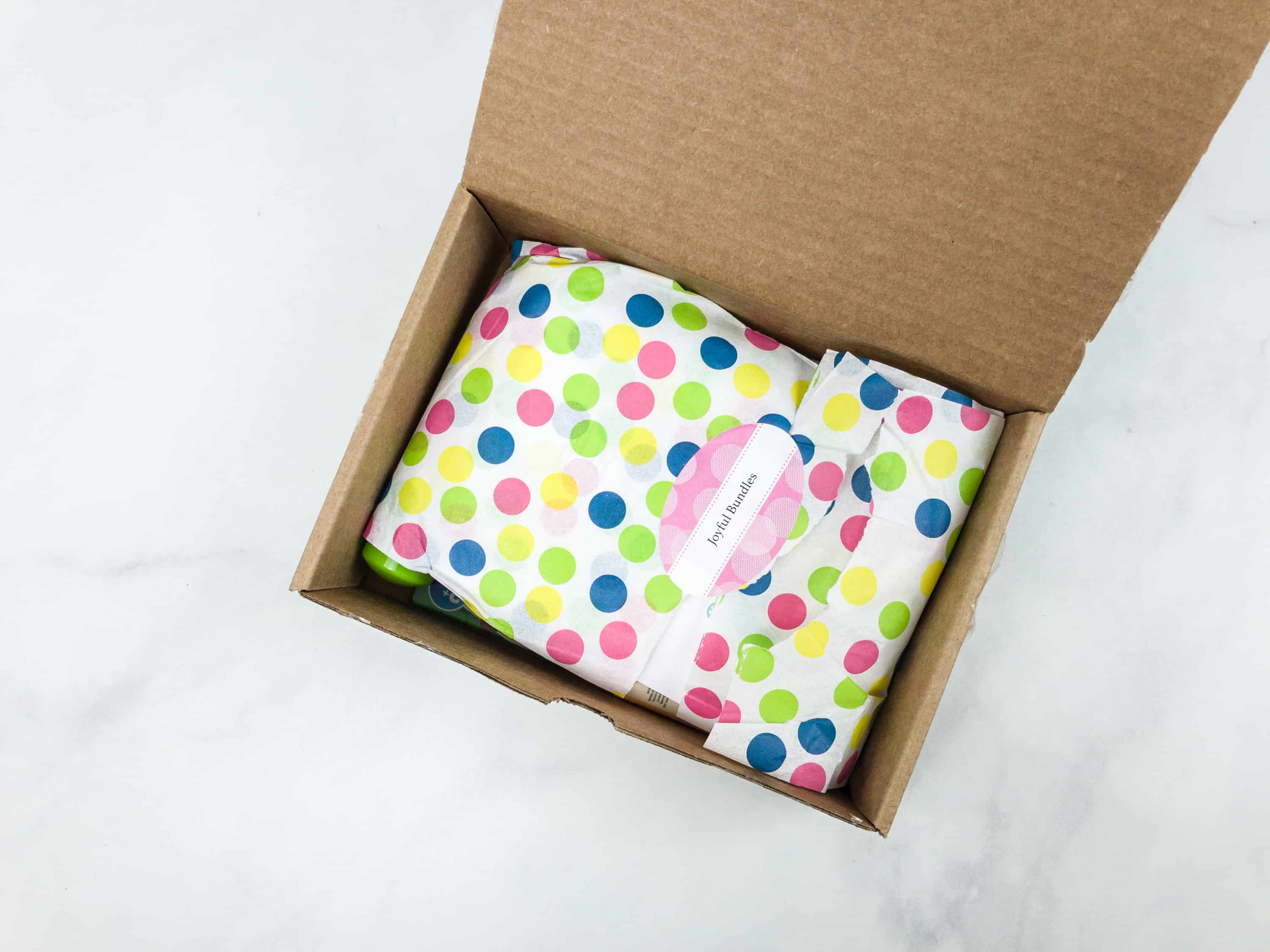 Joyful Bundles is a monthly subscription of baby products that are sent directly to parents who want to try samples first before purchasing them. You will get 5 samples of baby products each month for only $15 based on your preferences. This subscription box is perfect for parents who are looking for baby items that are carefully crafted for the little ones. The premium subscription is $20 per month and includes basic bundle items as well as items like sippy cups, bottles, pacifiers and bibs.
This is a review of the $20 premium box.
The items are wrapped in bubblegum inspired wrapper .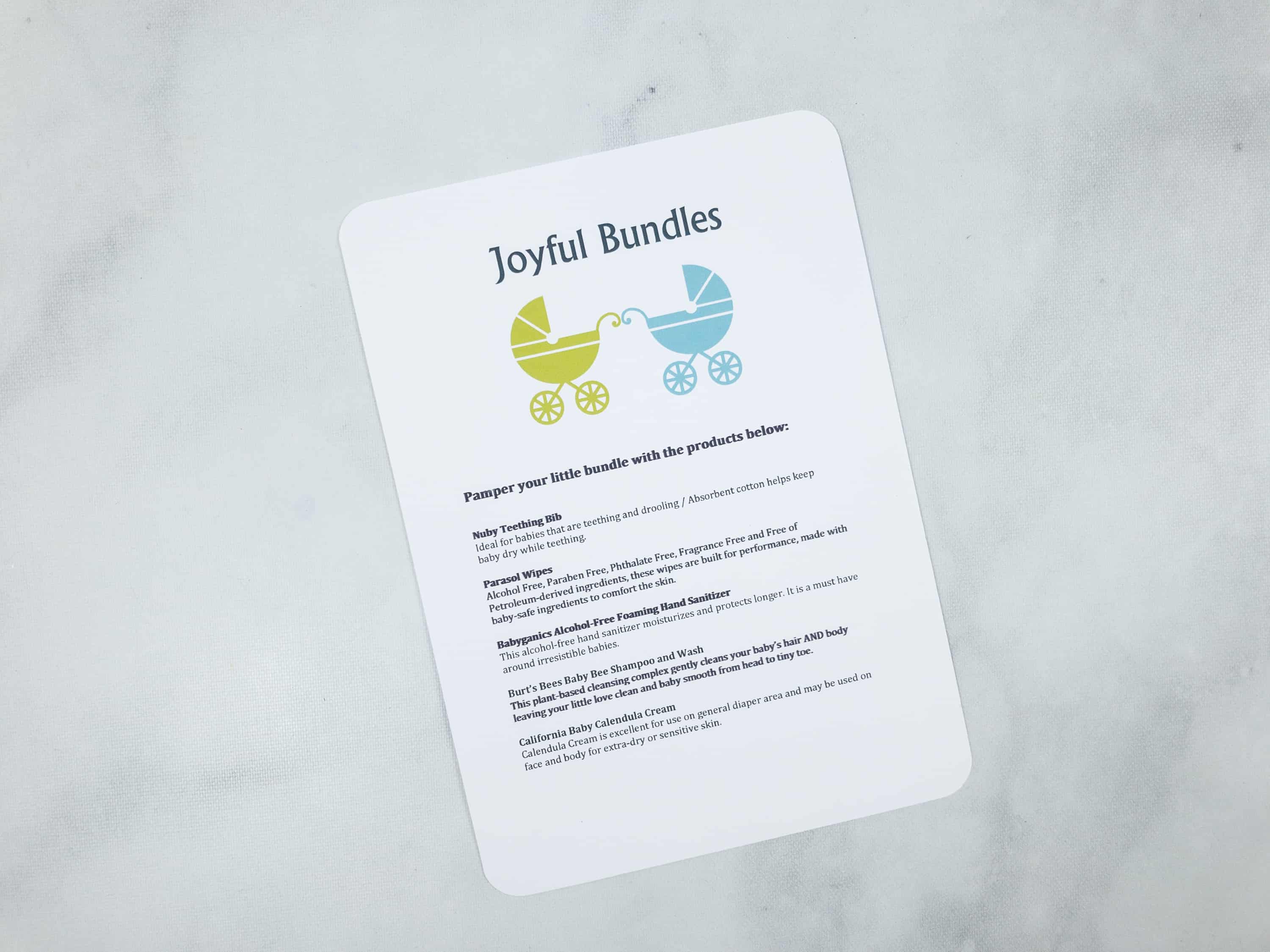 Included in the box is a note from Joyful Bundles that lists all the contents in this month's box. It appears that this box is all about pampering your new bundle of joy! Each item comes with an explanation of why it was chosen for this box and more details about it. This will certainly help parents figure out what to do with them. Time to test each one out!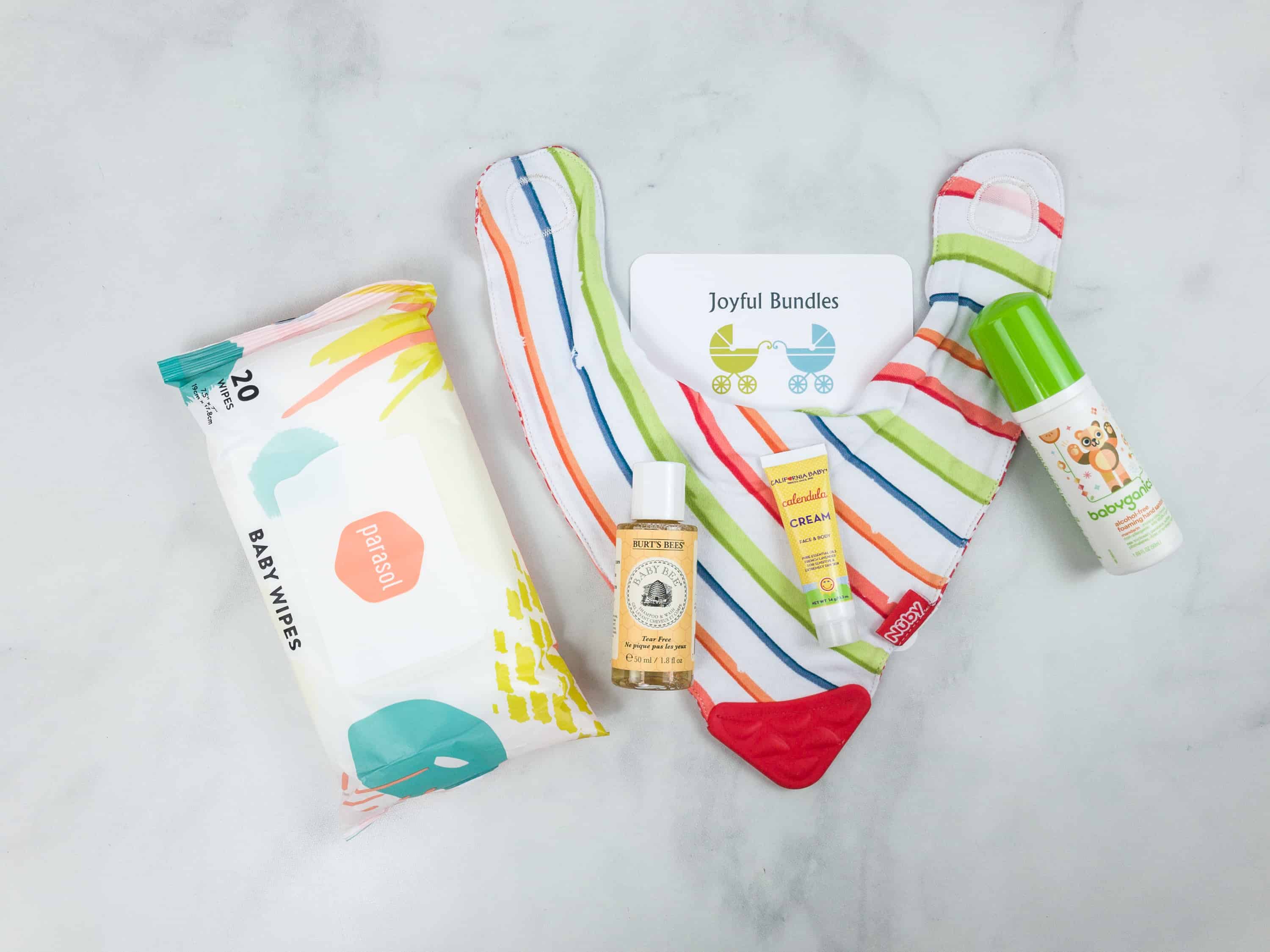 Everything in my box!
Nuby Teething Bib ($4.29) The teething bib looks groovy with its rainbow-colored stripes lining the entire bib. It is a dribble catcher with a teething corner. The design is really cute and colorful!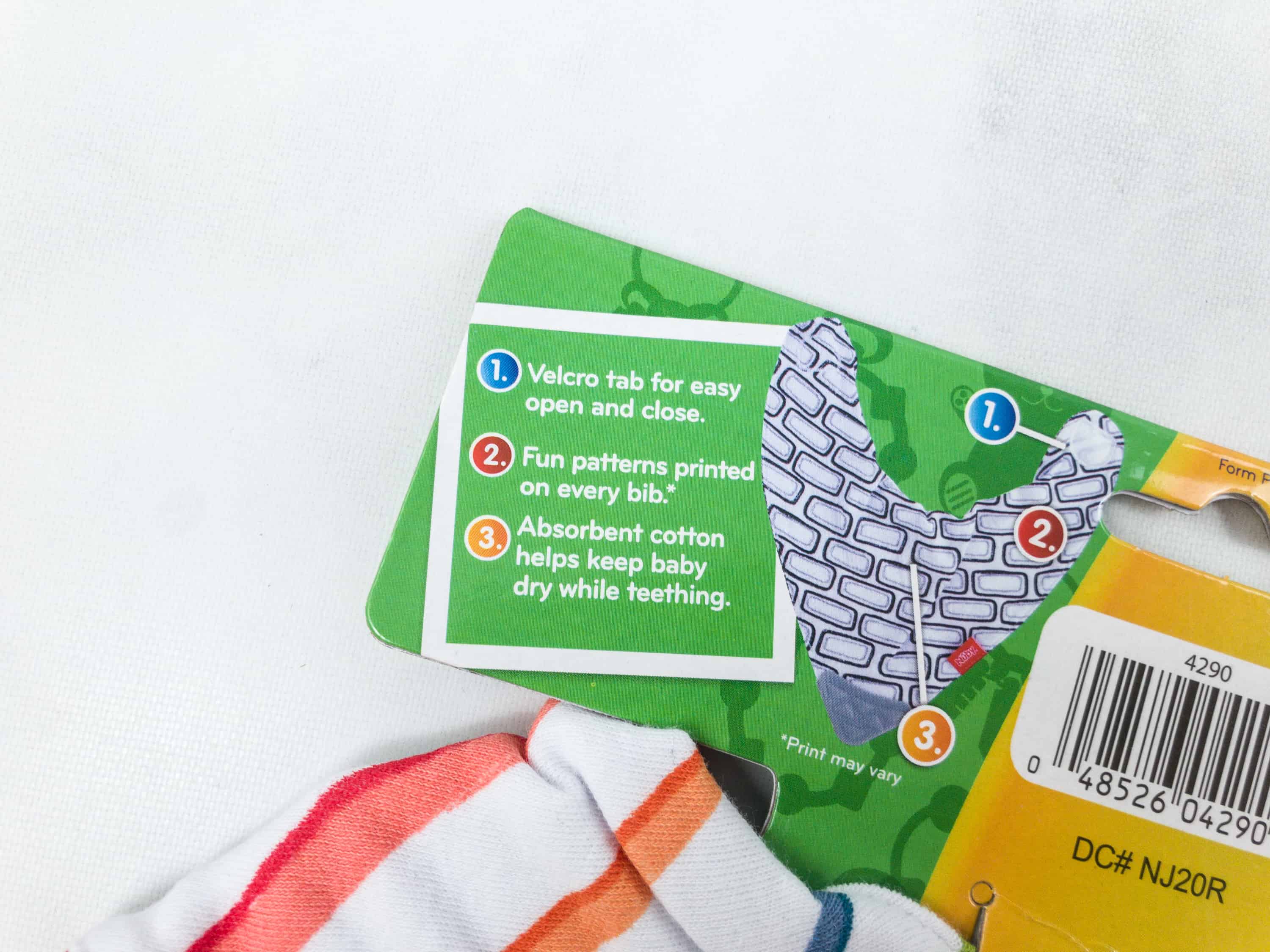 The tag that comes with the bib has a list of the features of this product. It is good to know it has a velcro tab so that it will be easy to open and close around your baby's neck. It is made from absorbent cotton so that any drool or dribble will be quickly absorbed.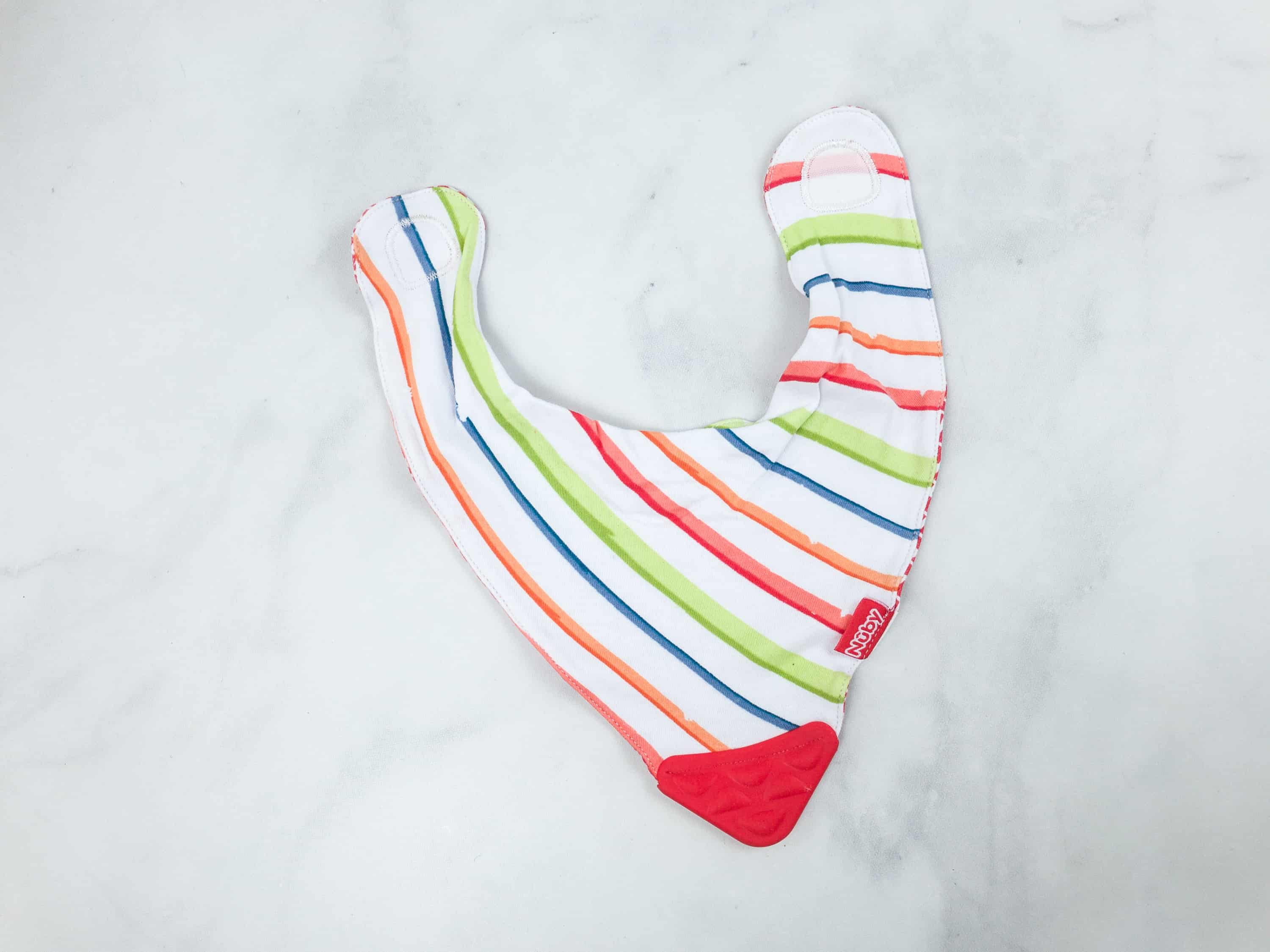 What a pretty functional bib! Every parent should have this. It is BPA free and ideal for babies who are 3 months and up.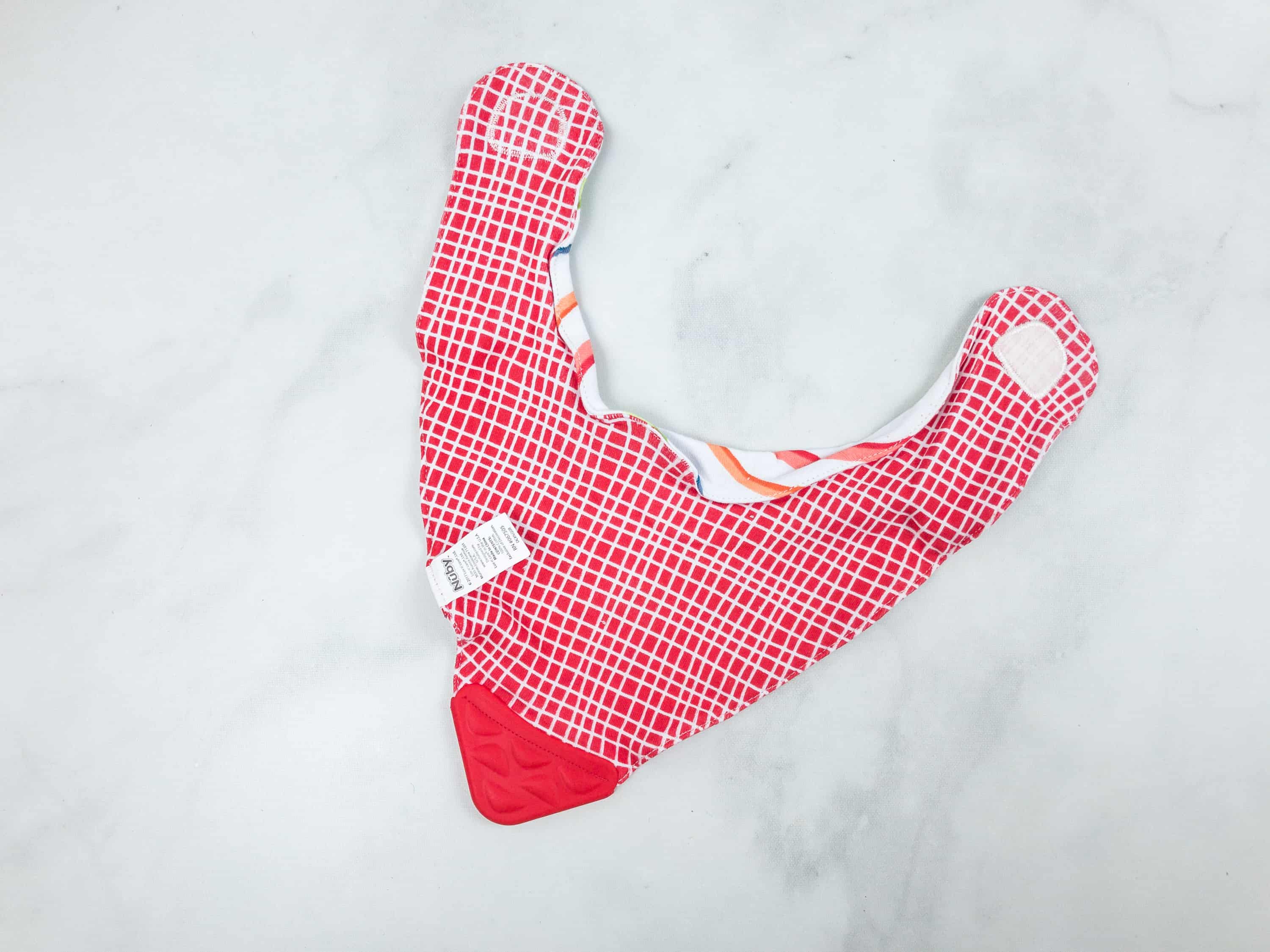 The bib is reversible and can be used on both sides. The other side has a red checkered design.
You can see the ridges of the teether at one end of the bib. It can help ease the pain in your baby's mouth. While it is chewed by the baby, any drool will be easily absorbed by the cloth which is great. Less mess while keeping your baby entertained.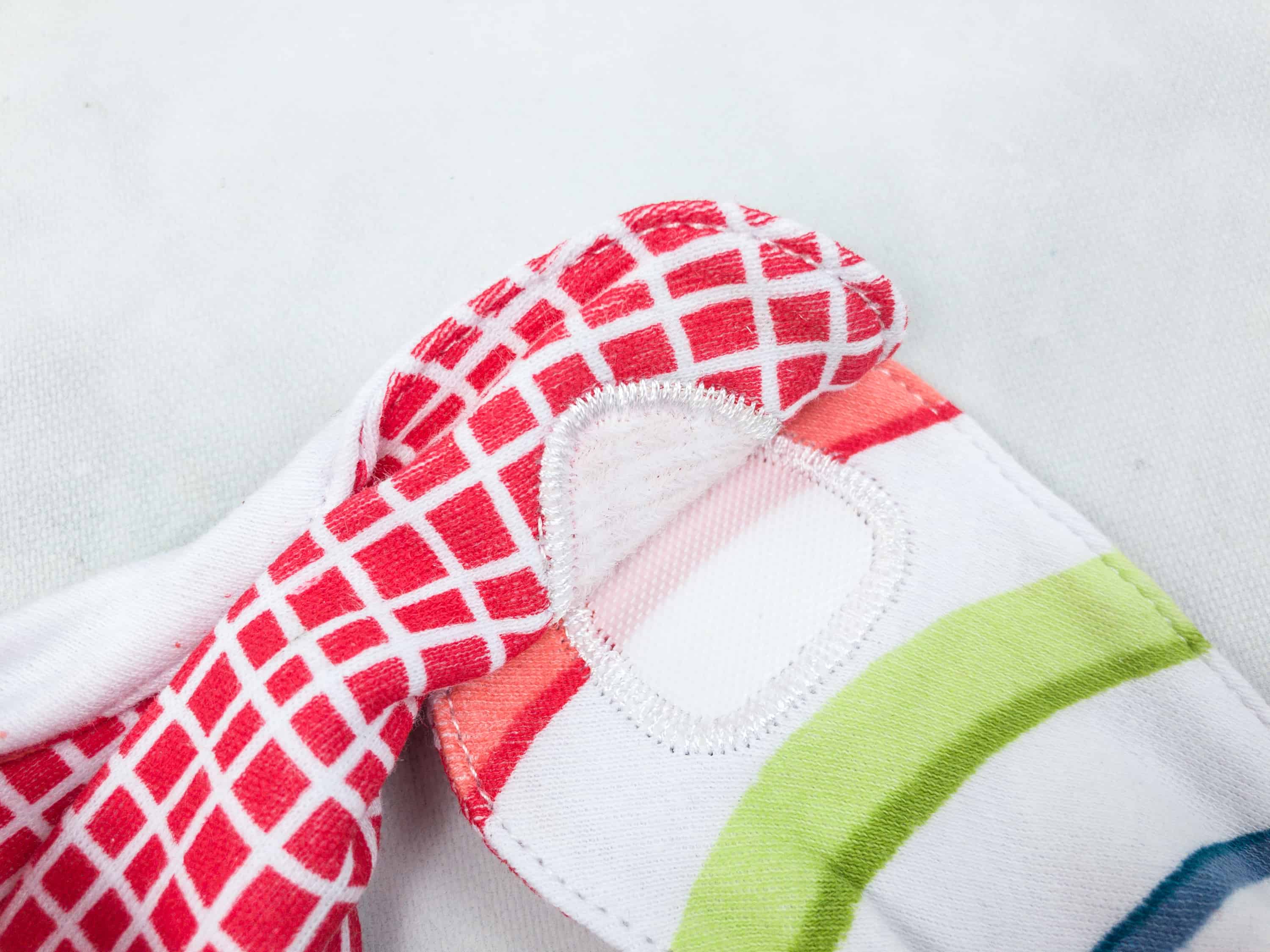 This is the velcro patch up close. Both sides have them in case you want to reverse it. It is flat and not irritating to the skin. This is convenient for parents when it comes to feeding their babies.
My drool monster LOVES this bib!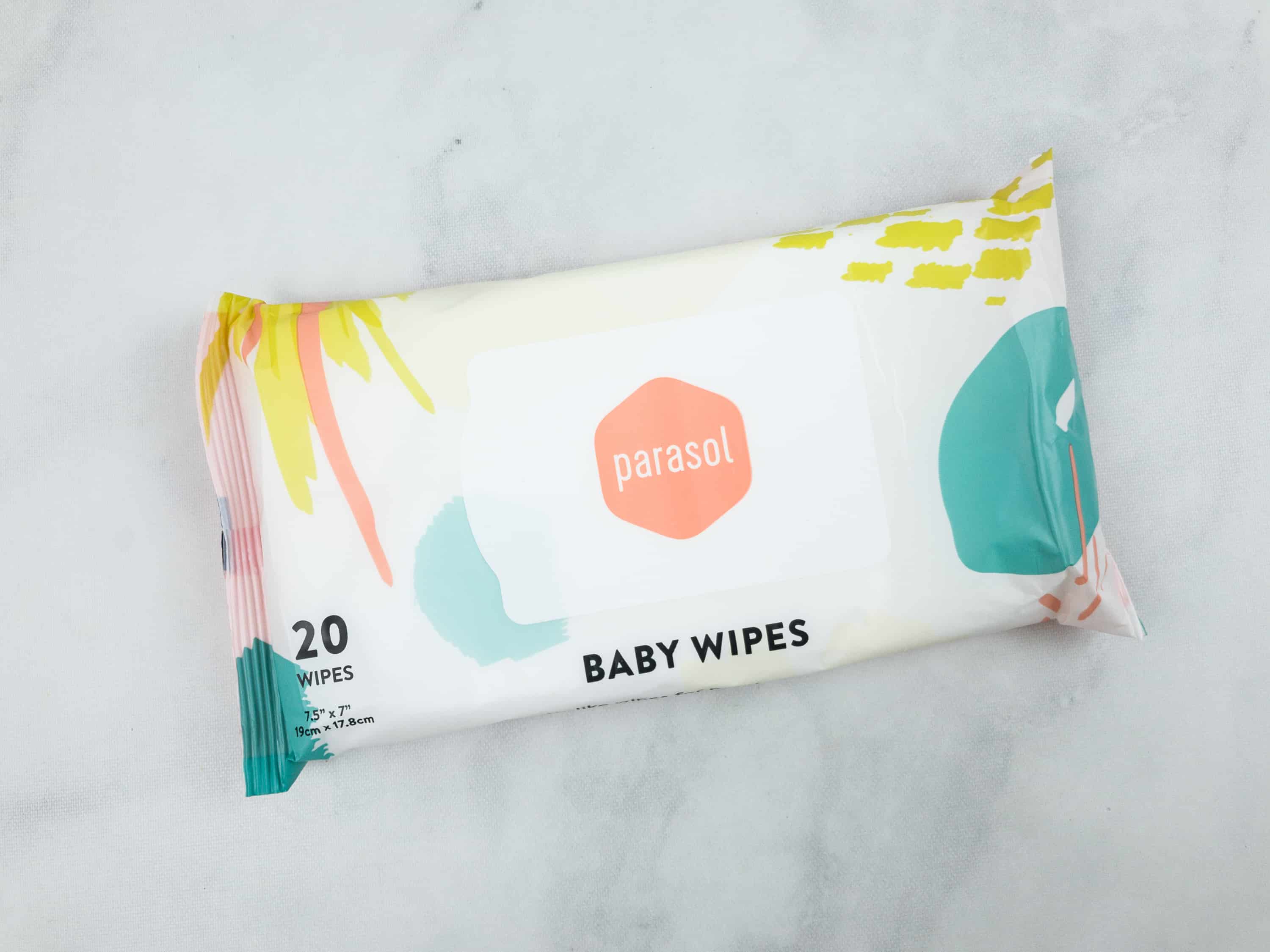 Parasol Baby Wipes ($1.63) Our baby bag wouldn't be complete without some baby wipes on hand. This one has a hygienic peel and reseal cover and has 20 sheets of textured cloth-like wipes in a pack so you won't run out of it easily.
Parasol baby wipes are hypoallergenic and chlorine-free. They can be used on babies' sensitive skin and they have a natural refreshing scent too! The wipes doesn't have synthetic fragrances so there's no residue and lingering smell.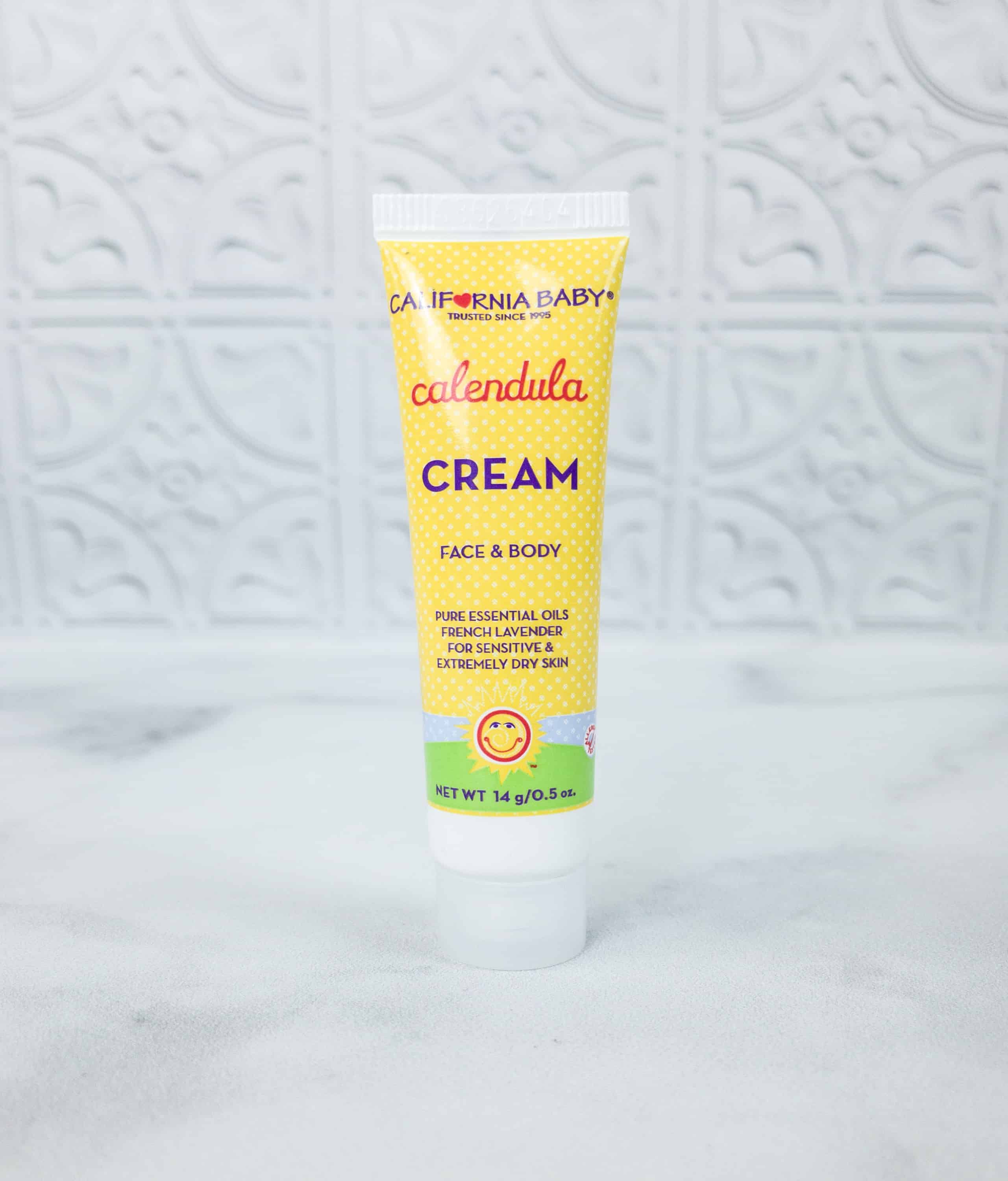 California Baby Calendula Cream ($4.25) It's a vegan face and body cream, made up mostly of essential oils with little to no chemicals present. I like its relaxing light scent, which is a combination of clary sage and lavender.
It's helpful especially when your baby's skin is prone to rashes. The cream is soothing and not greasy at all. I love products that contain calendula – they really improve skin-healing time in my experience.
Babyganics Foaming Hand Sanitizer ($2.05) Hand sanitizers are also a must in every baby bag to prevent germs and bacteria from spreading. What I like about this product is that it can remove at least 99% of germs without the presence of alcohol. It is mostly plant-based so it is completely safe to use. Even better is that there are no phthalates, parabens, triclosan, sulfates, artificial dyes or even fragrances. This is a great addition to my baby kit!
Burt's Bees Baby Bee Tear Free Shampoo & Wash ($1.63) Burt's Bees are well known for their organic products and this one is just perfect for babies. It's a tear-free shampoo and body wash which is suitable for baby's sensitive skin. It is a plant-based shampoo and wash product that comes with soy protein that cleanses your baby safely.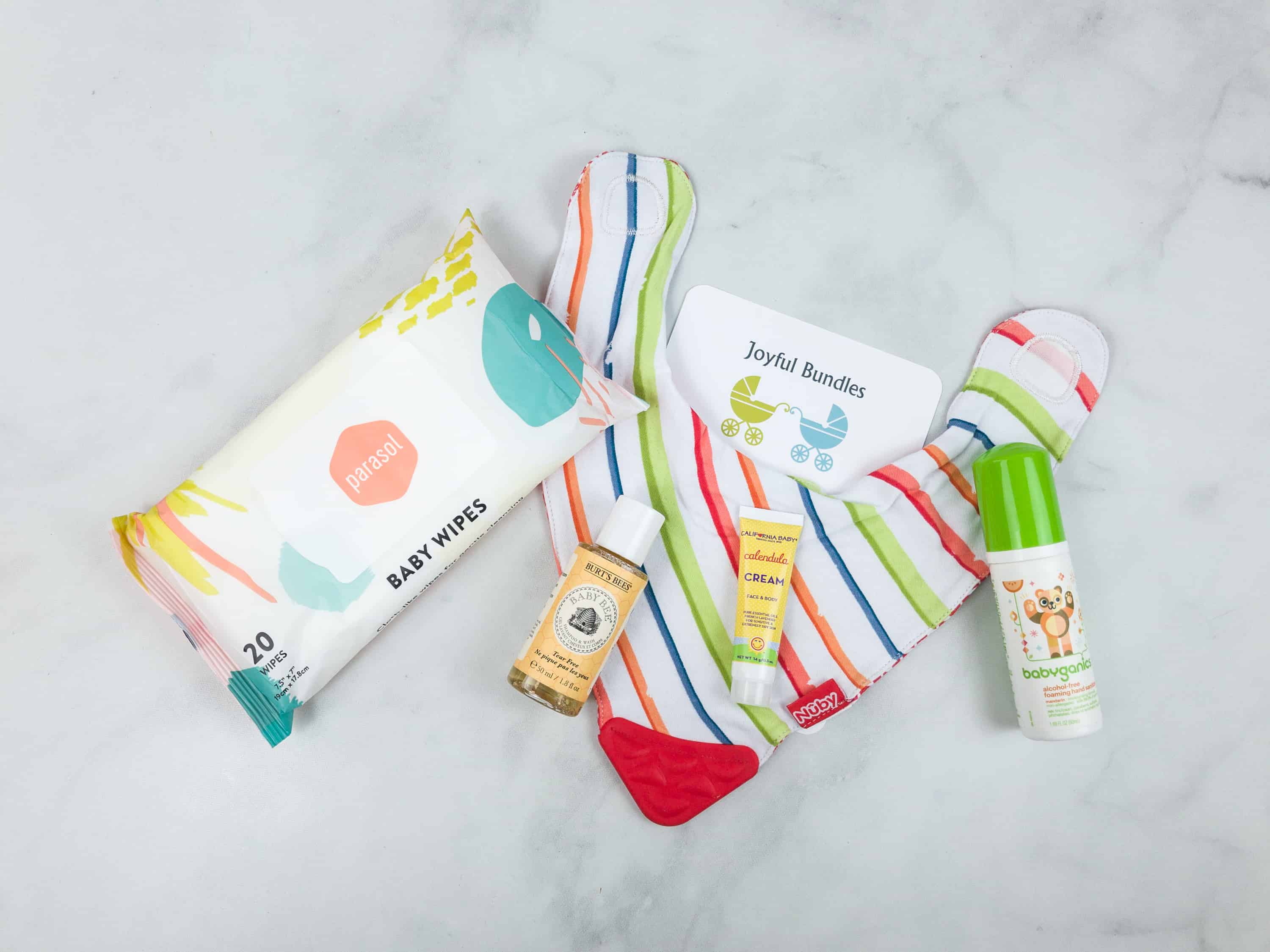 So far, all these items fit my baby's needs. This is a new box for us and I didn't know what to expect but now I have good first impressions! The variety is really nice and I enjoyed the focus on ingredients – it's comforting to know the products in this box are baby skin friendly and derived from natural ingredients.  Plus, my baby loves her new teething bib.  I will definitely add them to my list of products for my baby's pampering session! I can't wait for the next batch!
Are you getting the Joyful Bundle Box?