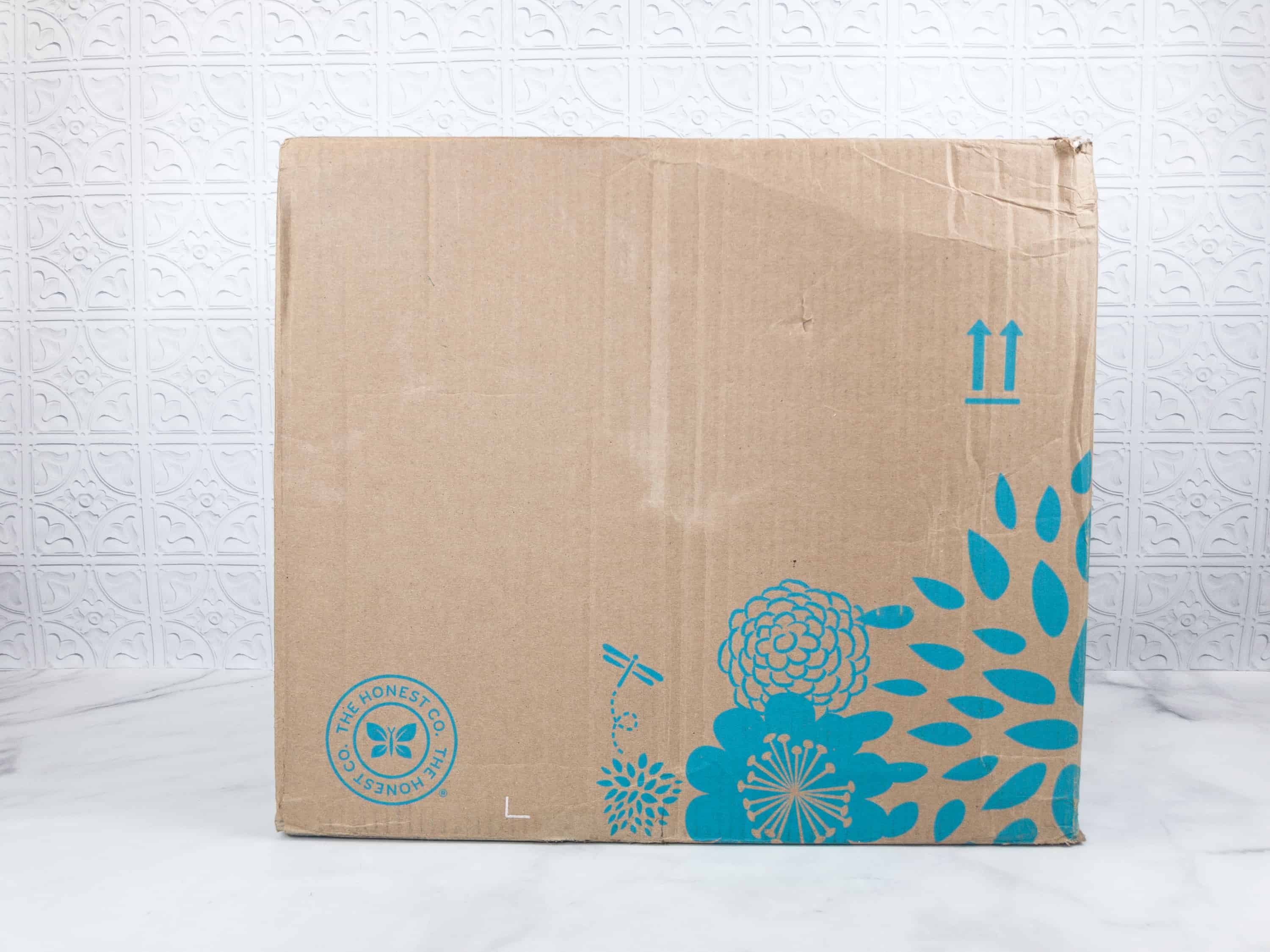 Honest Company Diaper Bundle is a monthly diaper subscription service from the Honest Company for only $35.95 per month. You'll get cute diaper designs in every bundle, plus wipes. You can also include training pants and overnights in your diaper bundle.
Note that you can get a free trial bundle with 7 Honest Company Diapers & travel sized wipes for $5.95 shipping.
I've been subscribing to the Honest Company Diaper Bundle for years – plus made it as a gift multiple times (it makes an amazing baby shower gift!).
The Diapers & Wipes bundle is $79.95 per month (you can adjust the exact frequency and change the date). You will get 6 bags of diapers and you can adjust how many diapers vs. training pants you get, if you're into those already, and select your patterns. Plus you will also get 4 packages of wipes.
DEAL: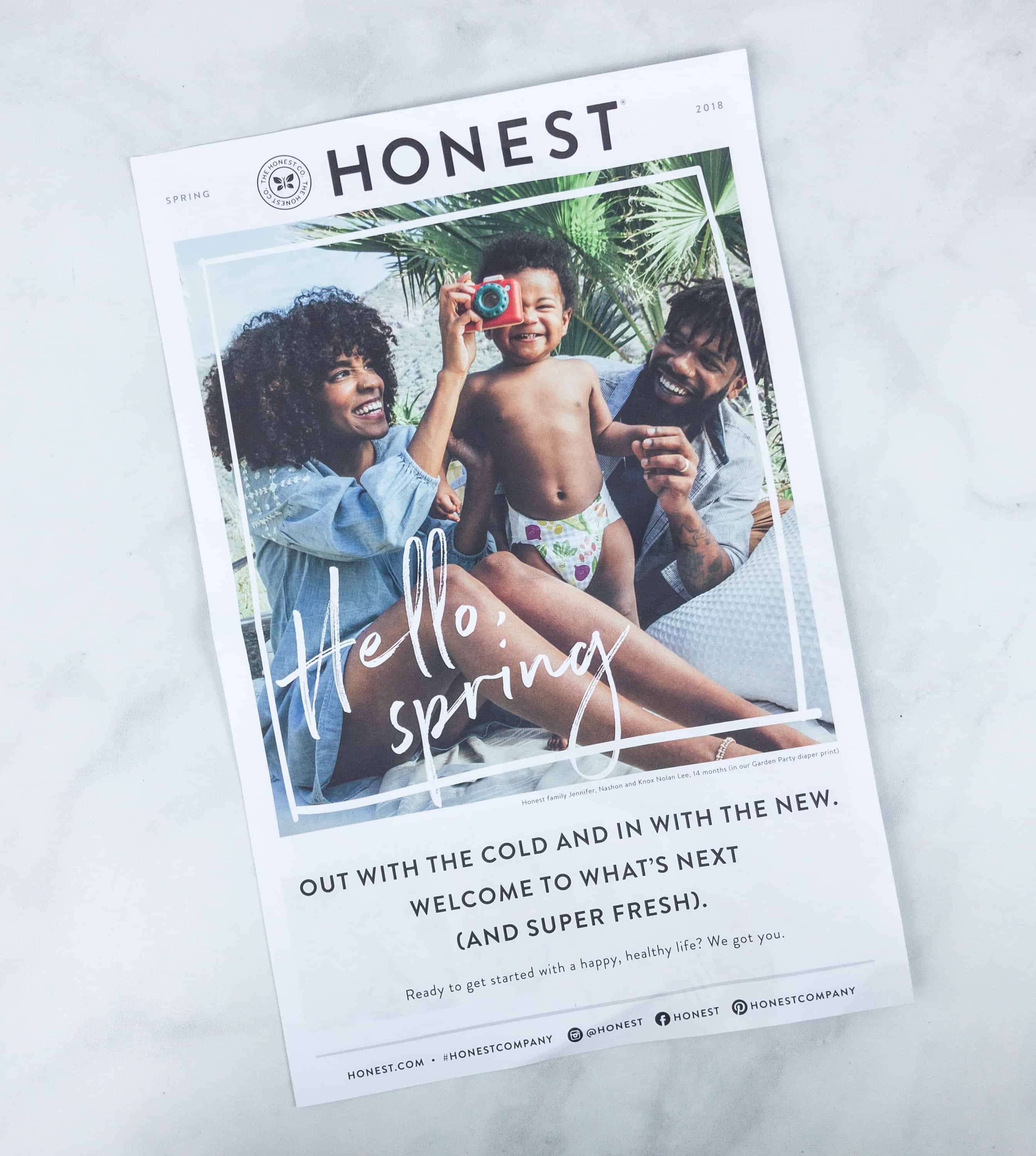 They included a pamphlet for this Hello Spring box.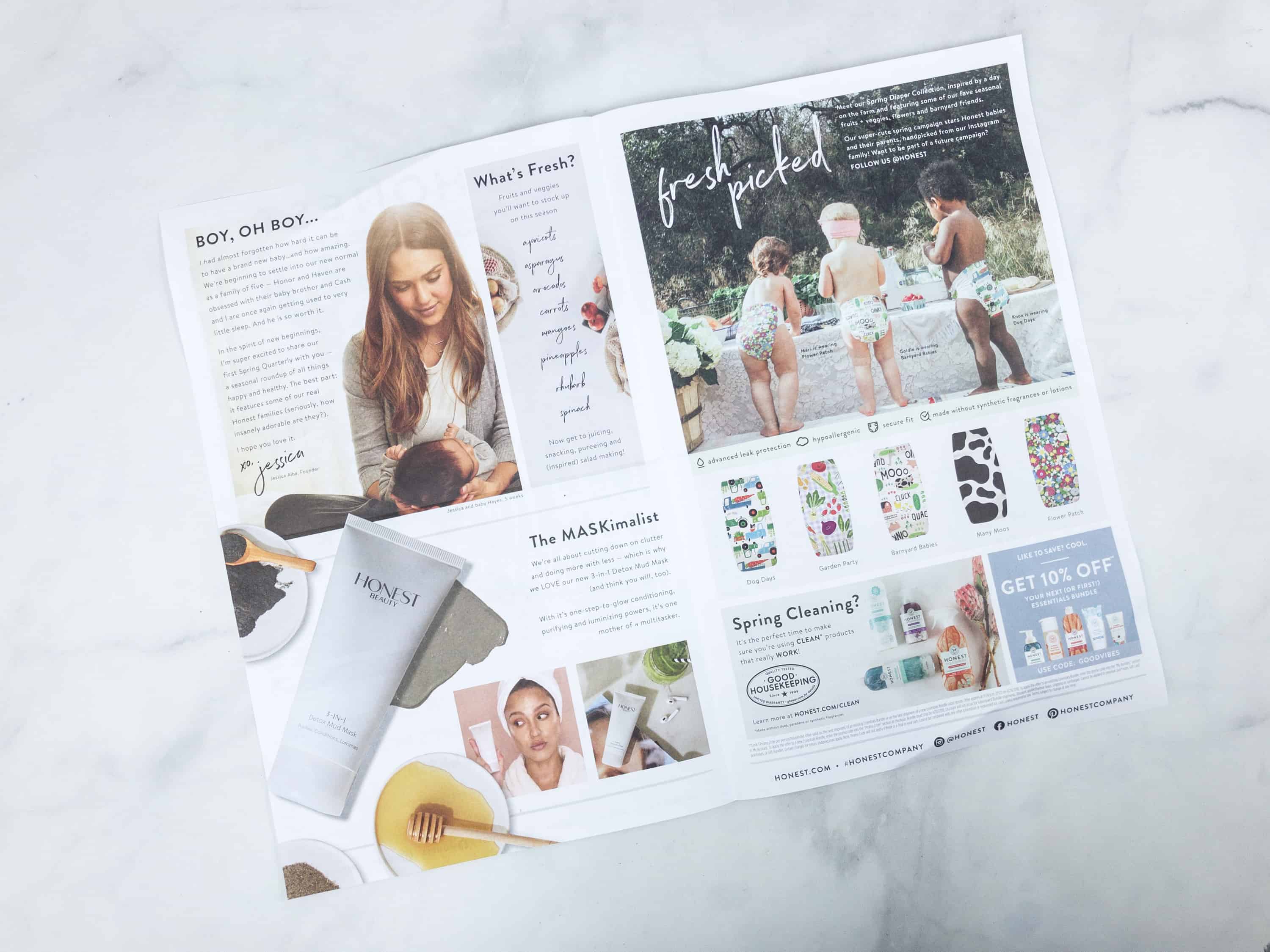 It contains information about the diapers and other products that the company offers.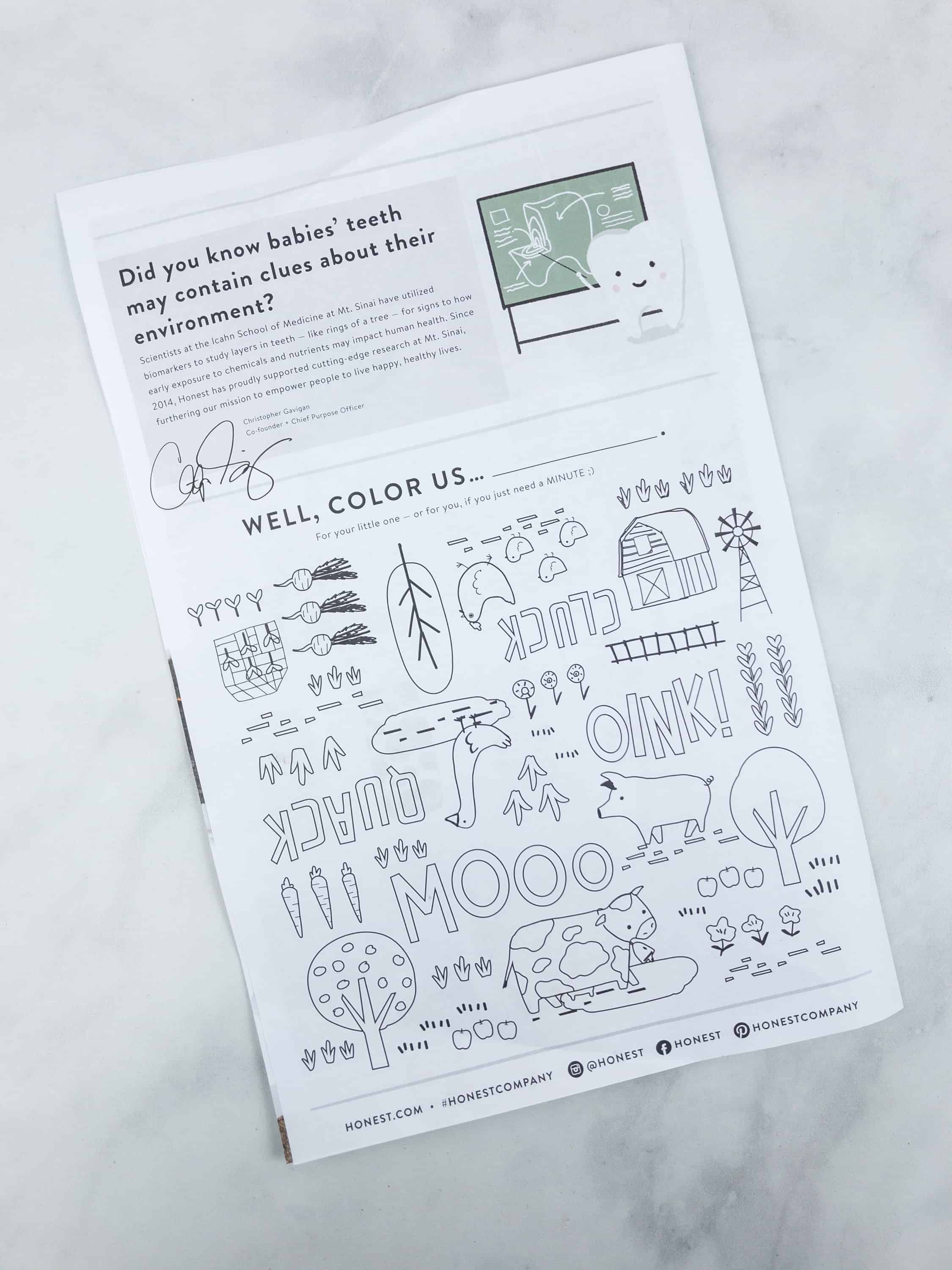 They also included baby facts and even cute activities that will keep you and the babies occupied for some time.
They have lots of cute and cool designs for their diapers!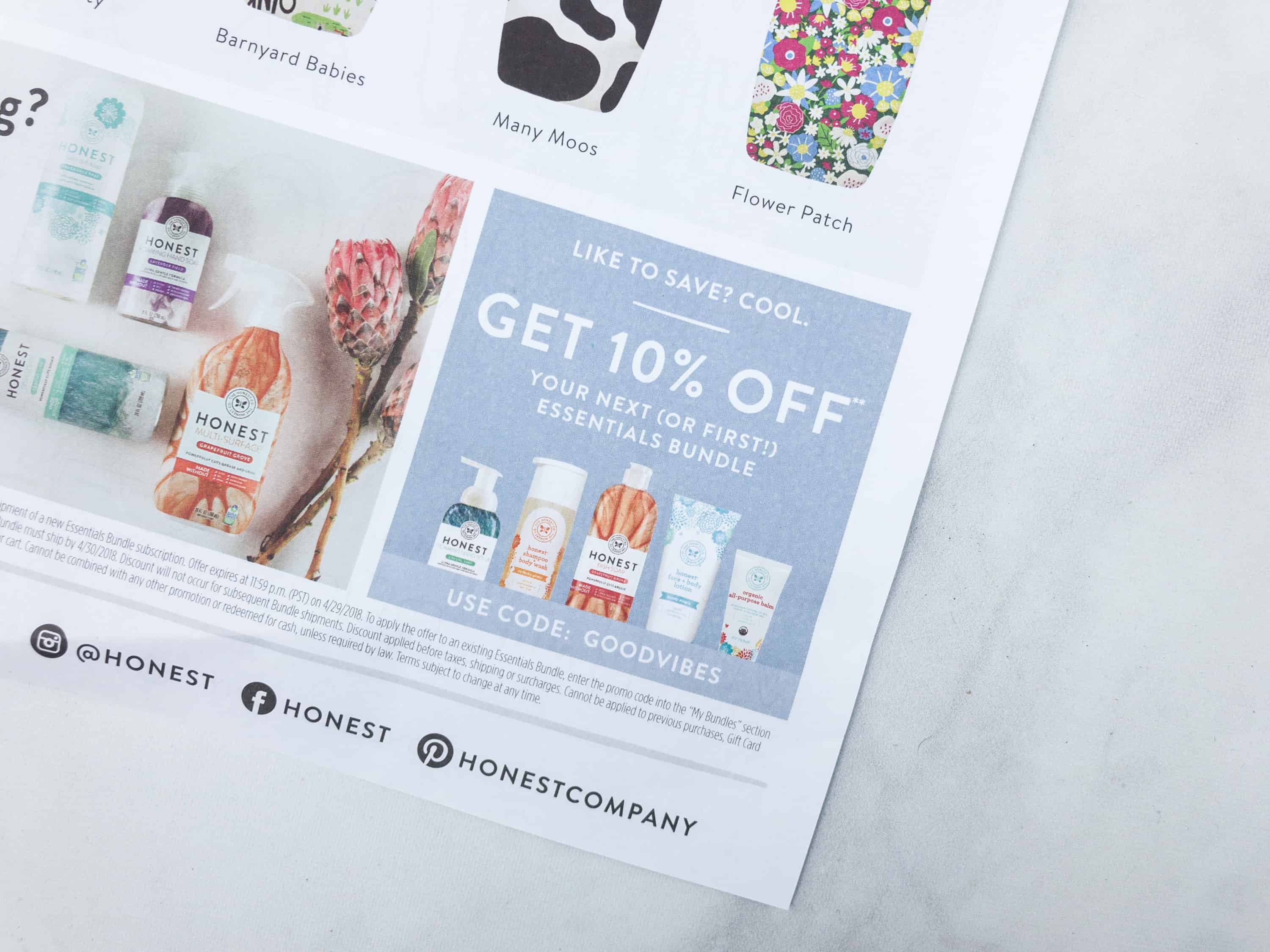 Honest Company also offers 10% off your next (or first) essentials bundle, just use the code GOODVIBES.
Everything in my box this month!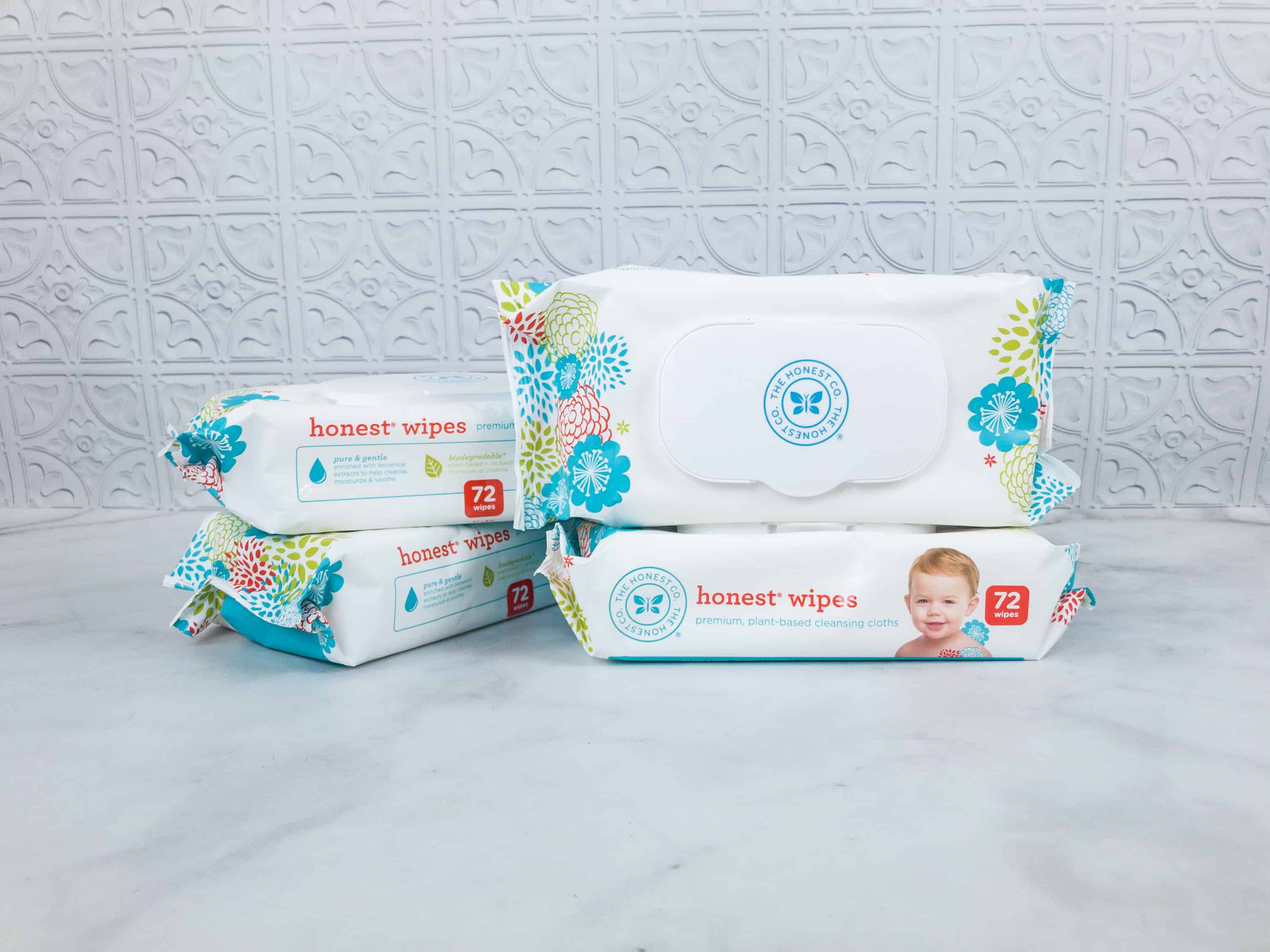 The Honest Co Baby Wipes – 4 Packs ($19.90) I never get tired of these wipes! These can be used for just about anything and everything. They're made of hygiene-grade cloth made from plant-based material, and they're ultra-thick & durable.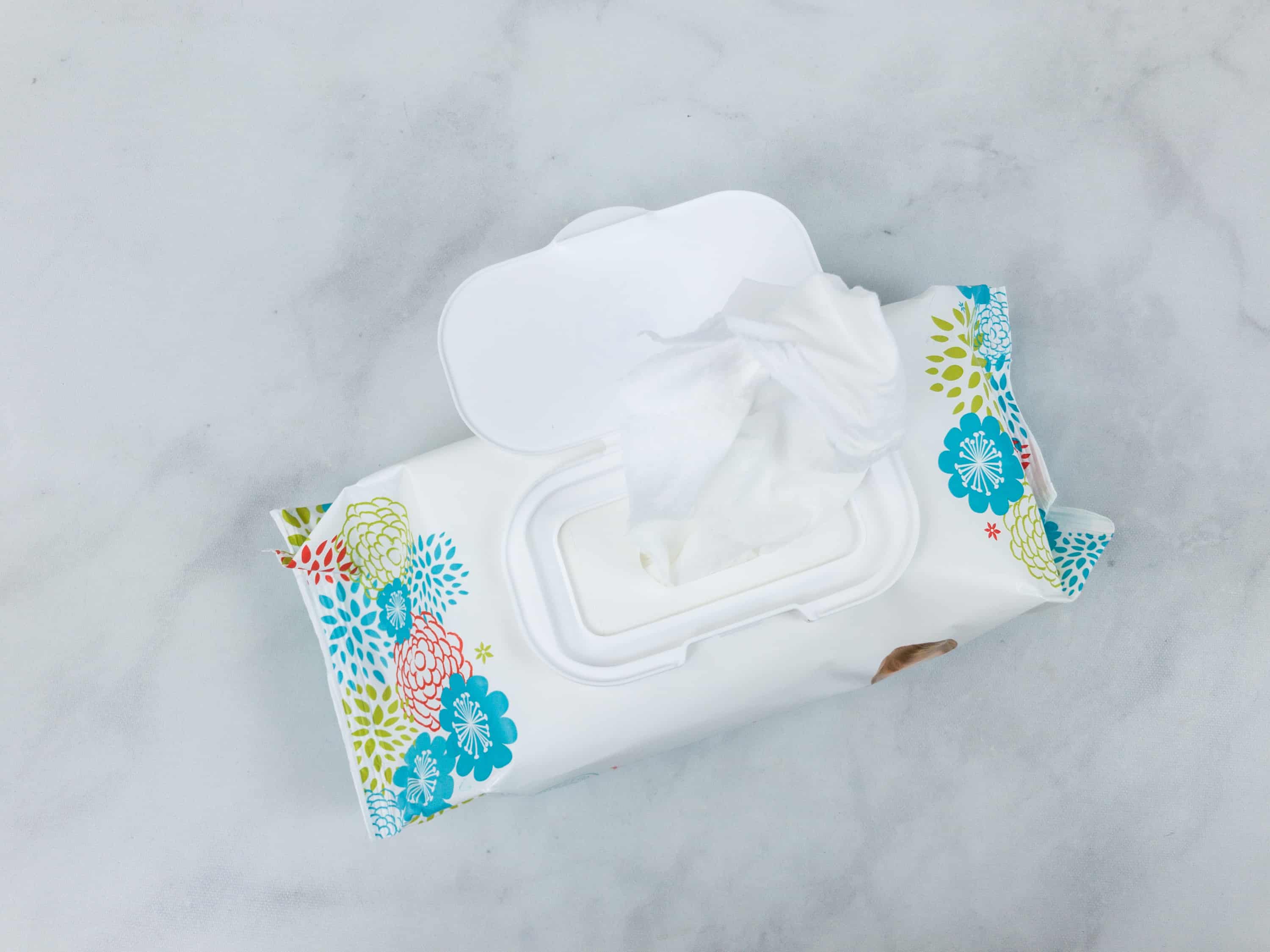 They don't have any alcohol or chlorine, not even fragrances. The pure and gentle formula supports healthy skin.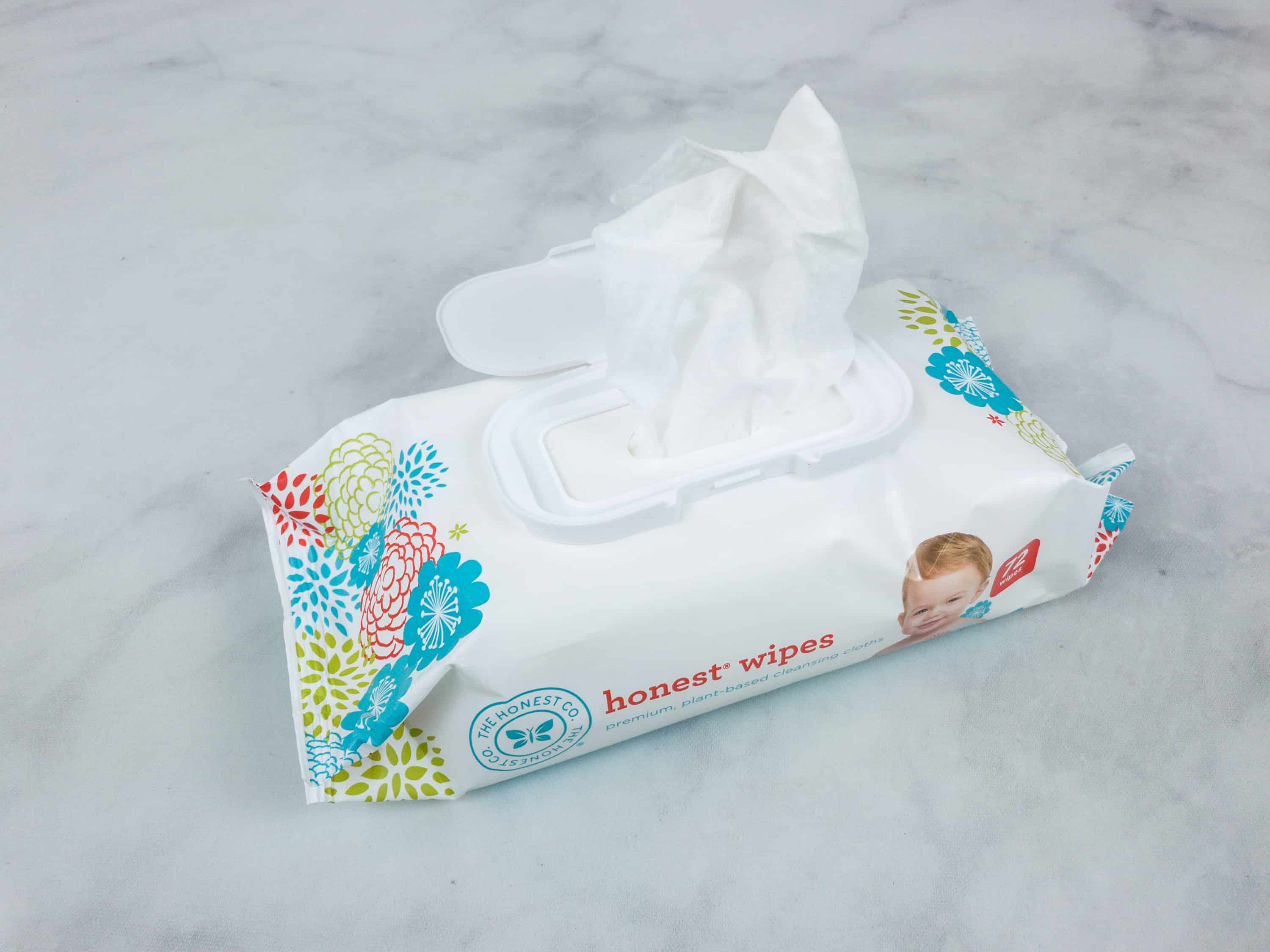 I love the closable wipes package too – no more silly wipes containers or anything like that – they dispense right out of the package.
TIP: Instead of purchasing the travel wipes we usually just stop when we have about 20 or so wipes left and then they go into the diaper bag.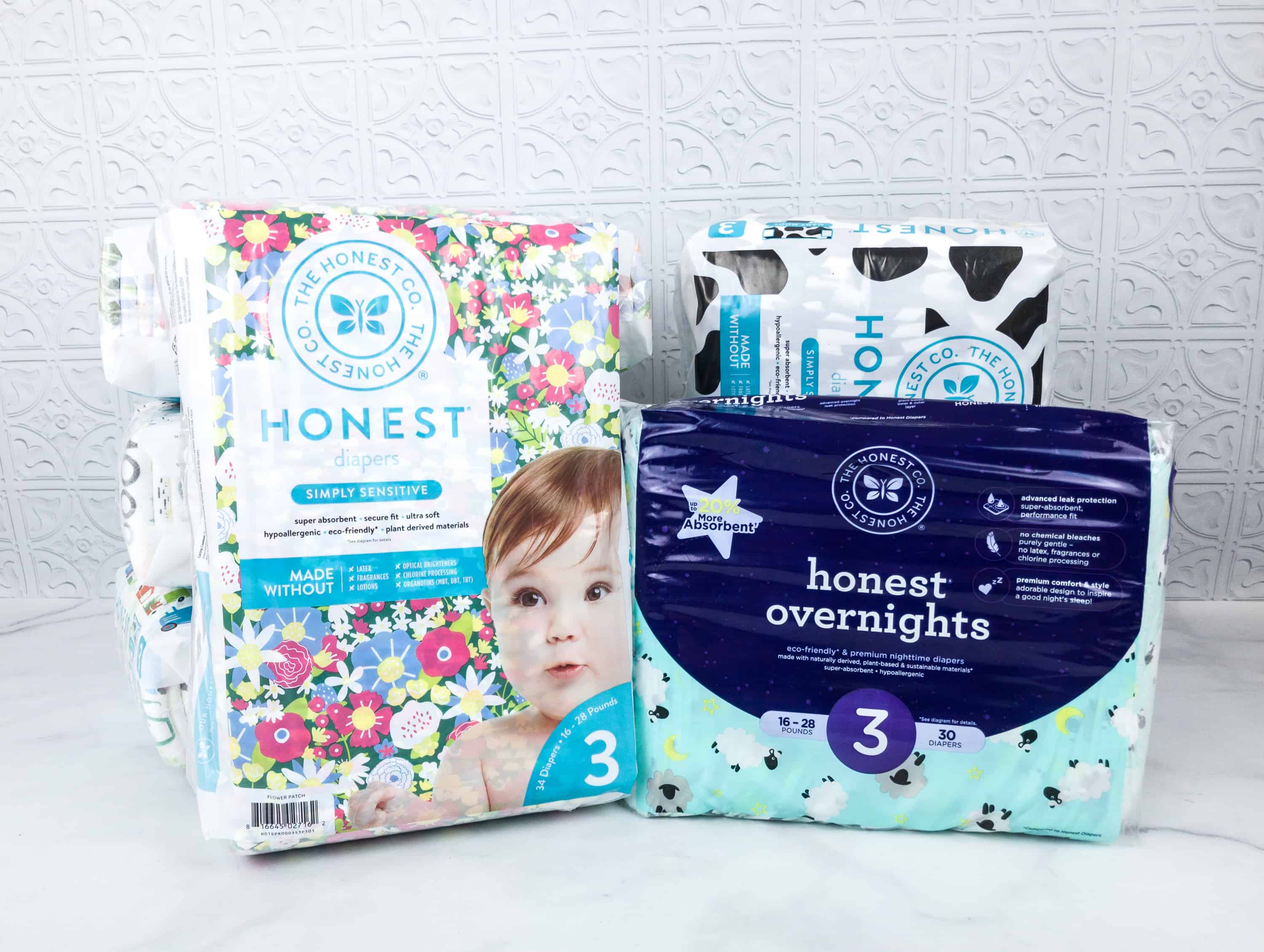 This month, we got cute packs of diapers from this subscription.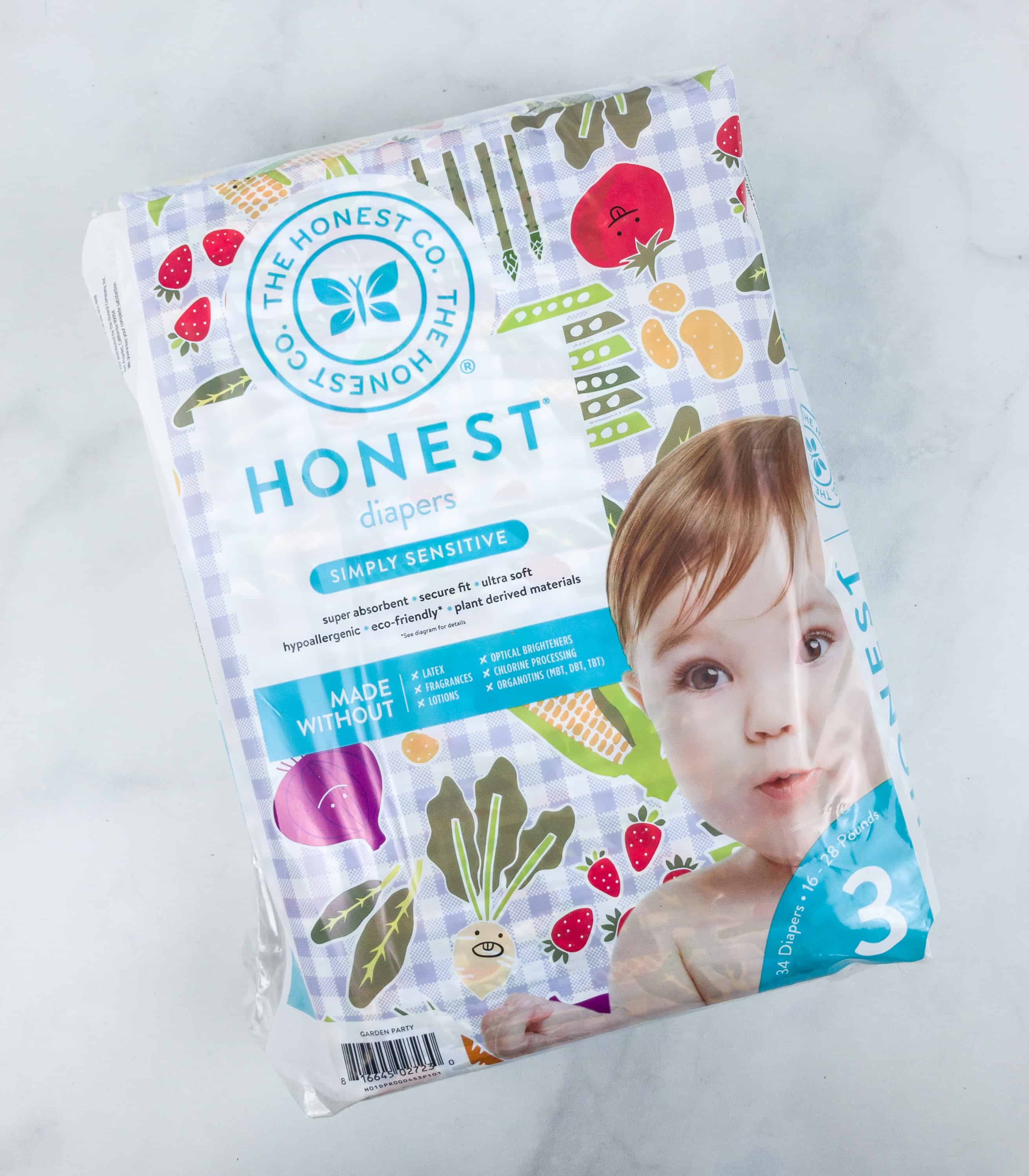 Honest Diapers Simply Sensitive ($13.95) These diapers are made without latex, fragrances, lotions, optical brighteners, and they're not chlorine processed and contains no organotins. I got this pack in size 3 which is suitable for babies weighing 16-28 lbs. The pack contains 34 diapers.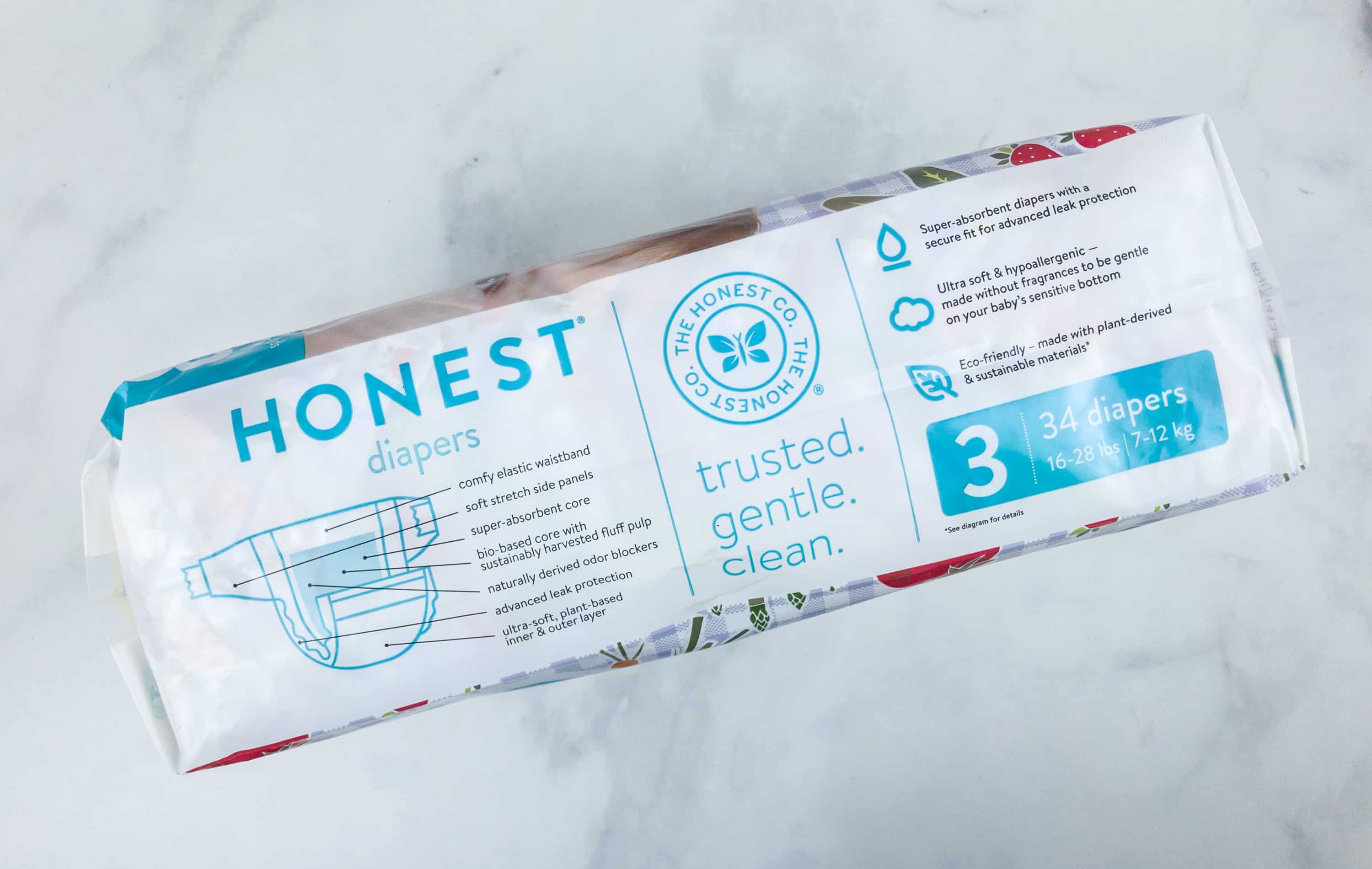 It's ultra-soft and hypoallergenic, and when it comes to absorption, Honest Company really did a great job as the diapers can hold an entire pee.
It comes with five different prints. They all look fun and colorful.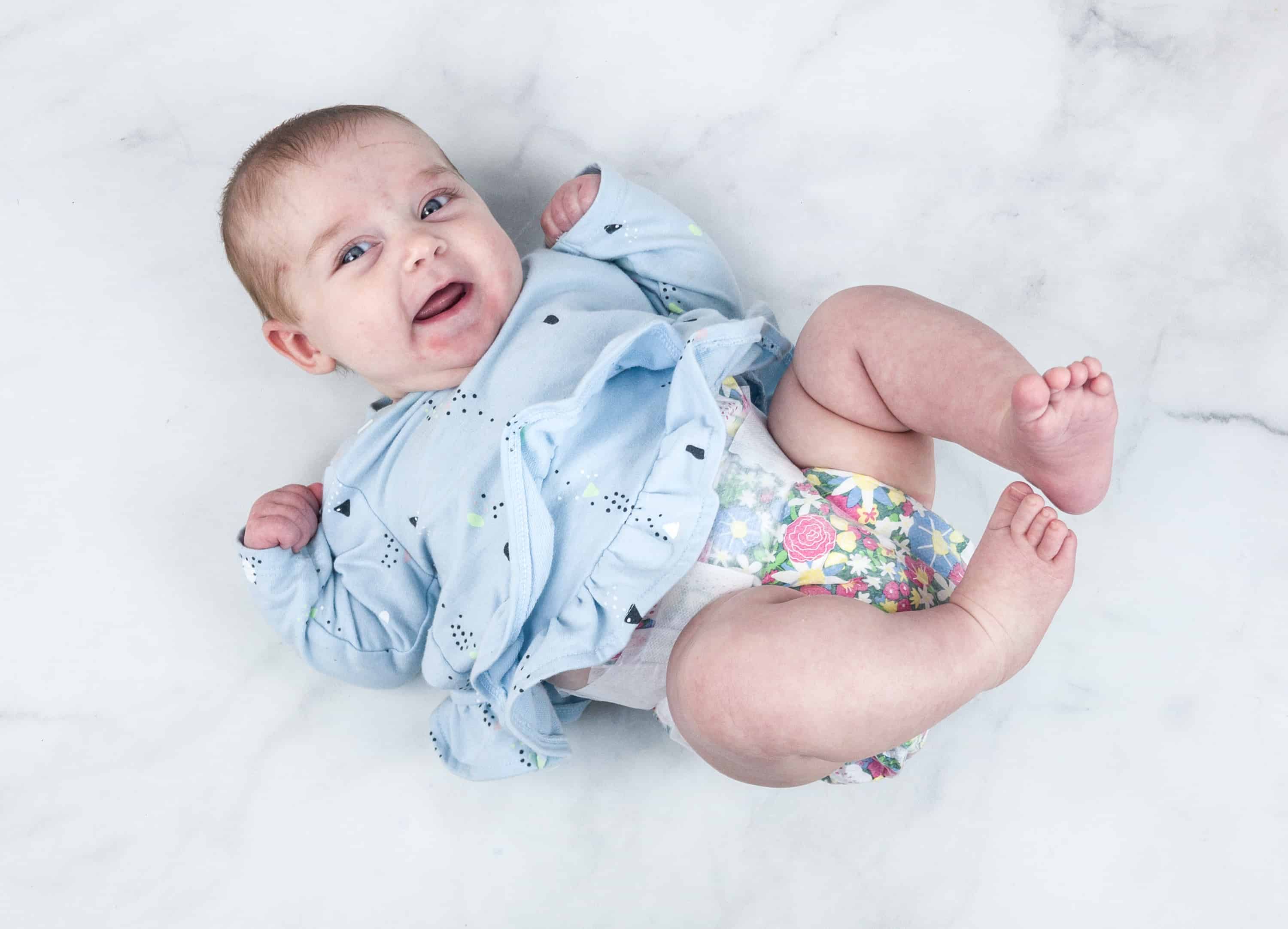 Here's my baby sporting the size 3 diaper. She's my fourth baby and the third to use Honest Company's diapers. They've worked for all of them, chunks and rolls and all!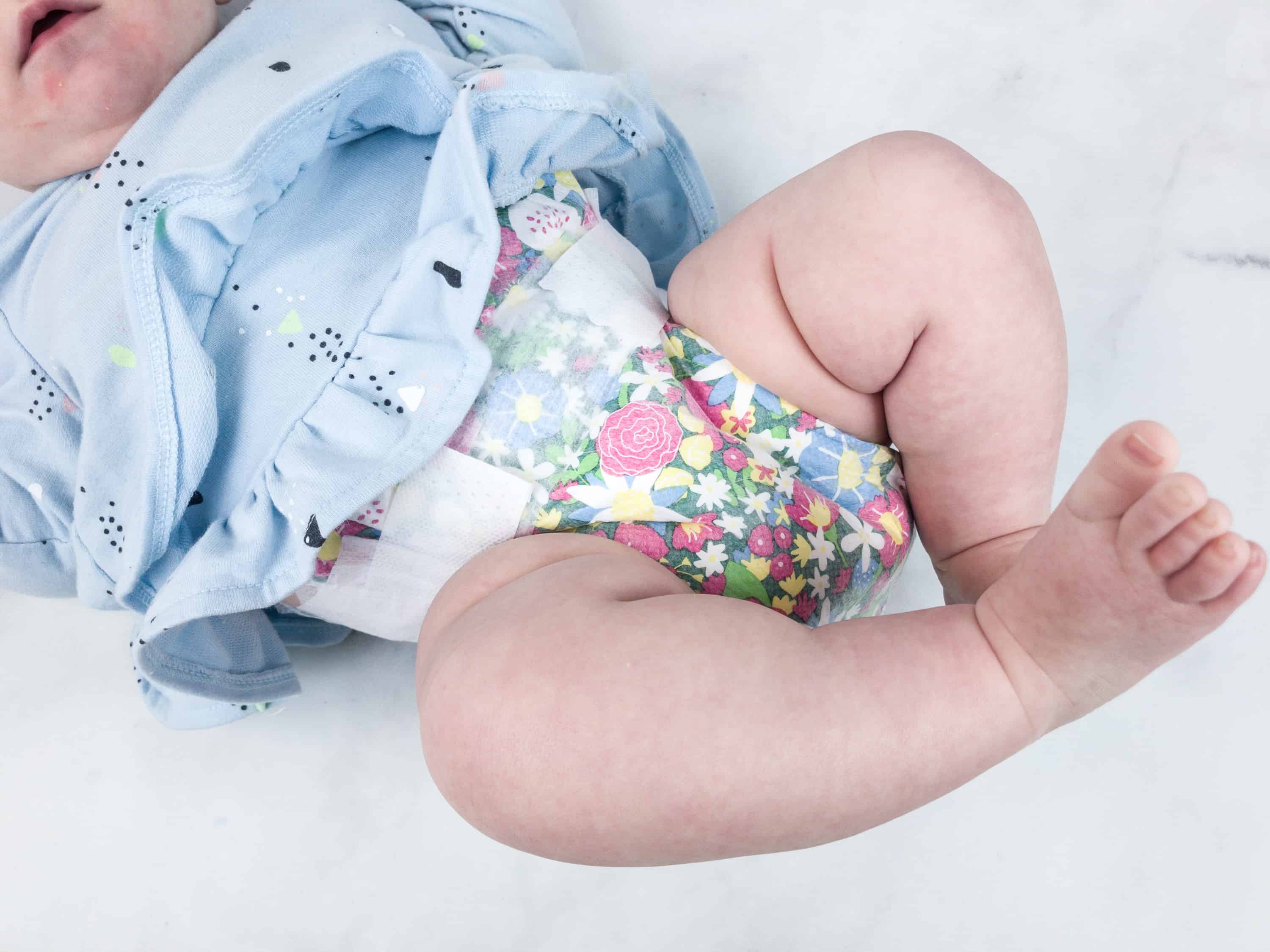 Size 3 fits her perfectly and the print looks cute on her too.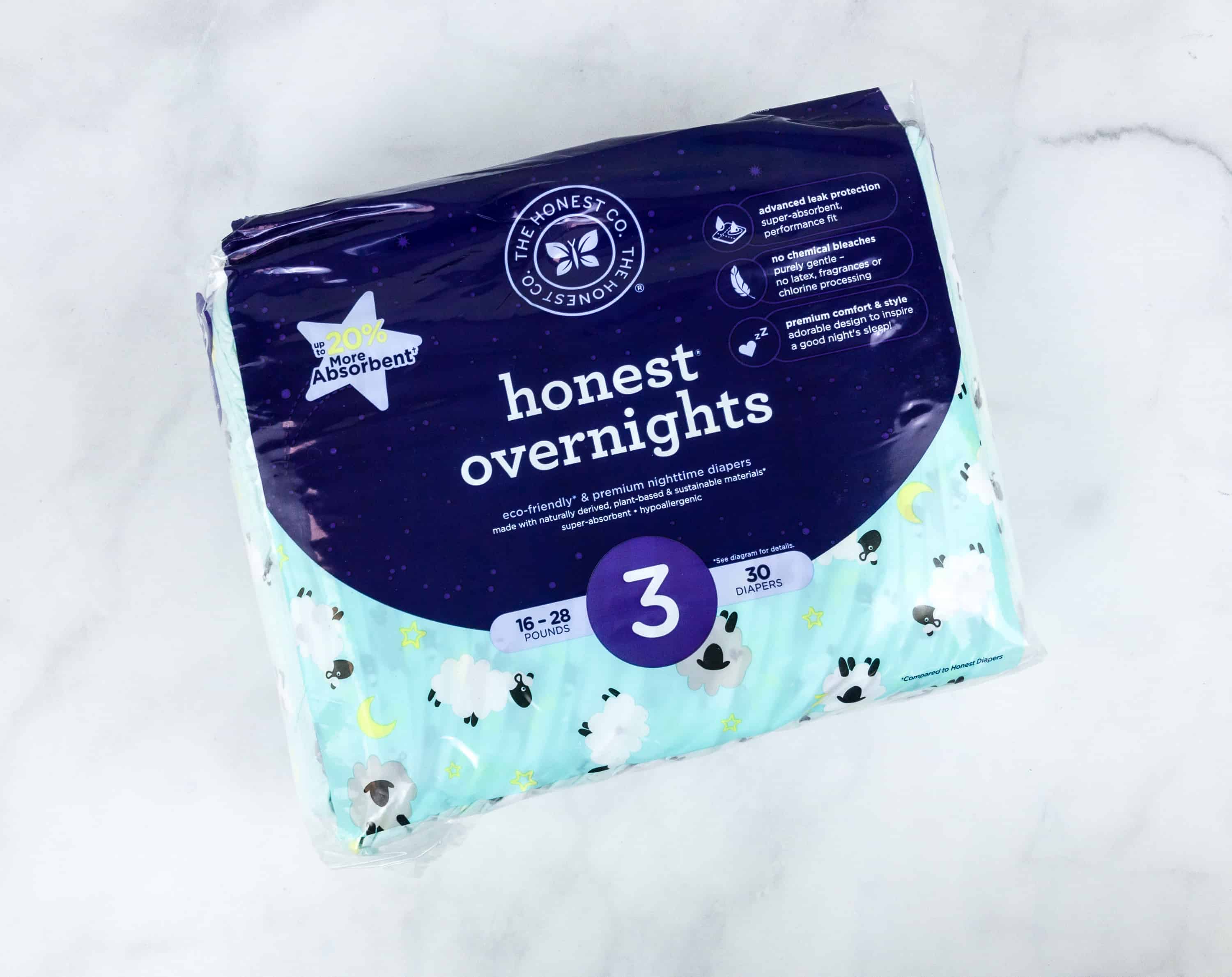 The Honest Co Overnights Size 3 – 30 Count ($13.95) For longer nights when I just a peaceful and undisturbed sleep, these diapers are really a big help. My baby cries if she feels wet at all!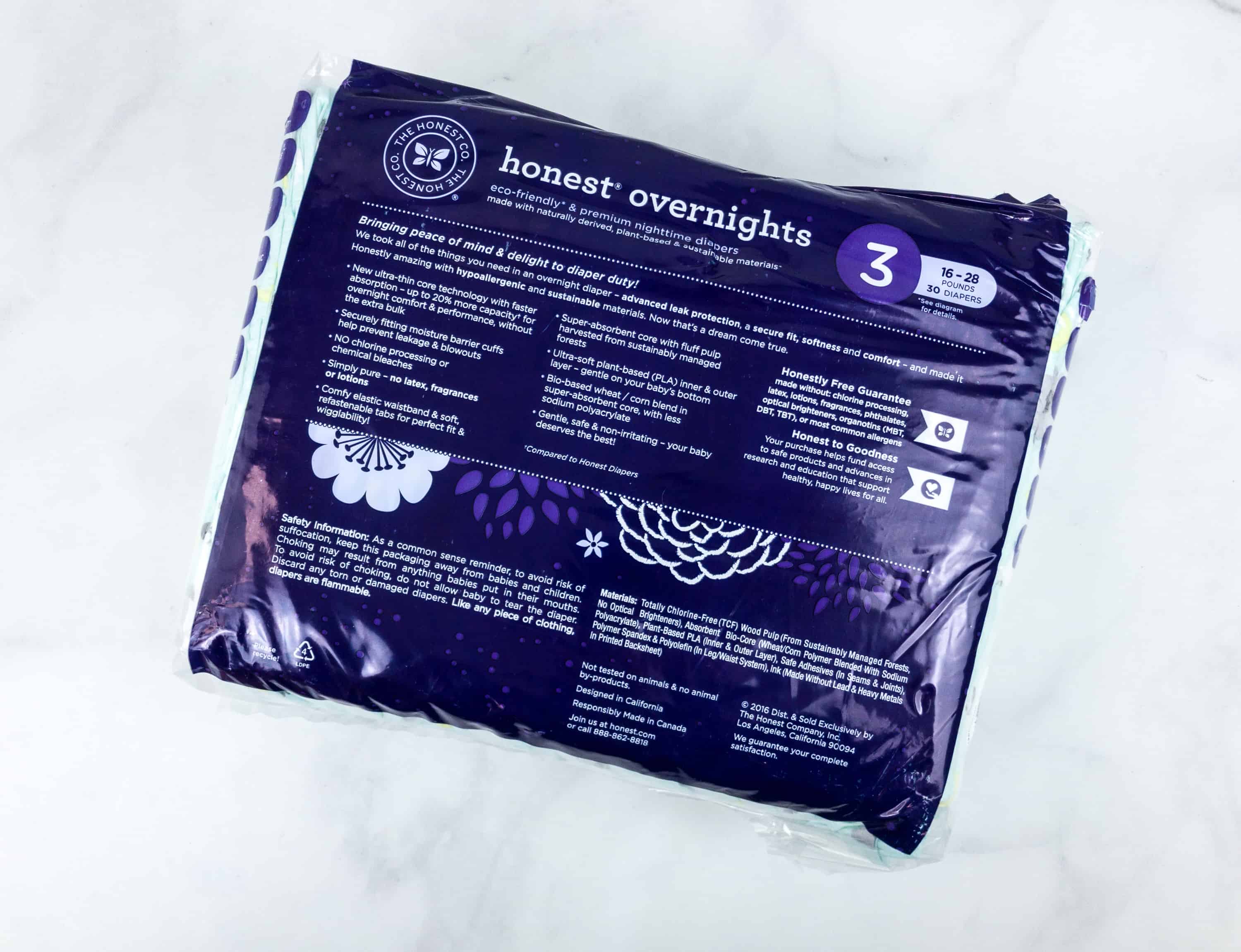 I also got the overnight diapers in size 3 for my baby. Diaper duties are made easier at night because unlike the regular ones, it has 20% more capacity without the extra bulk and leaks!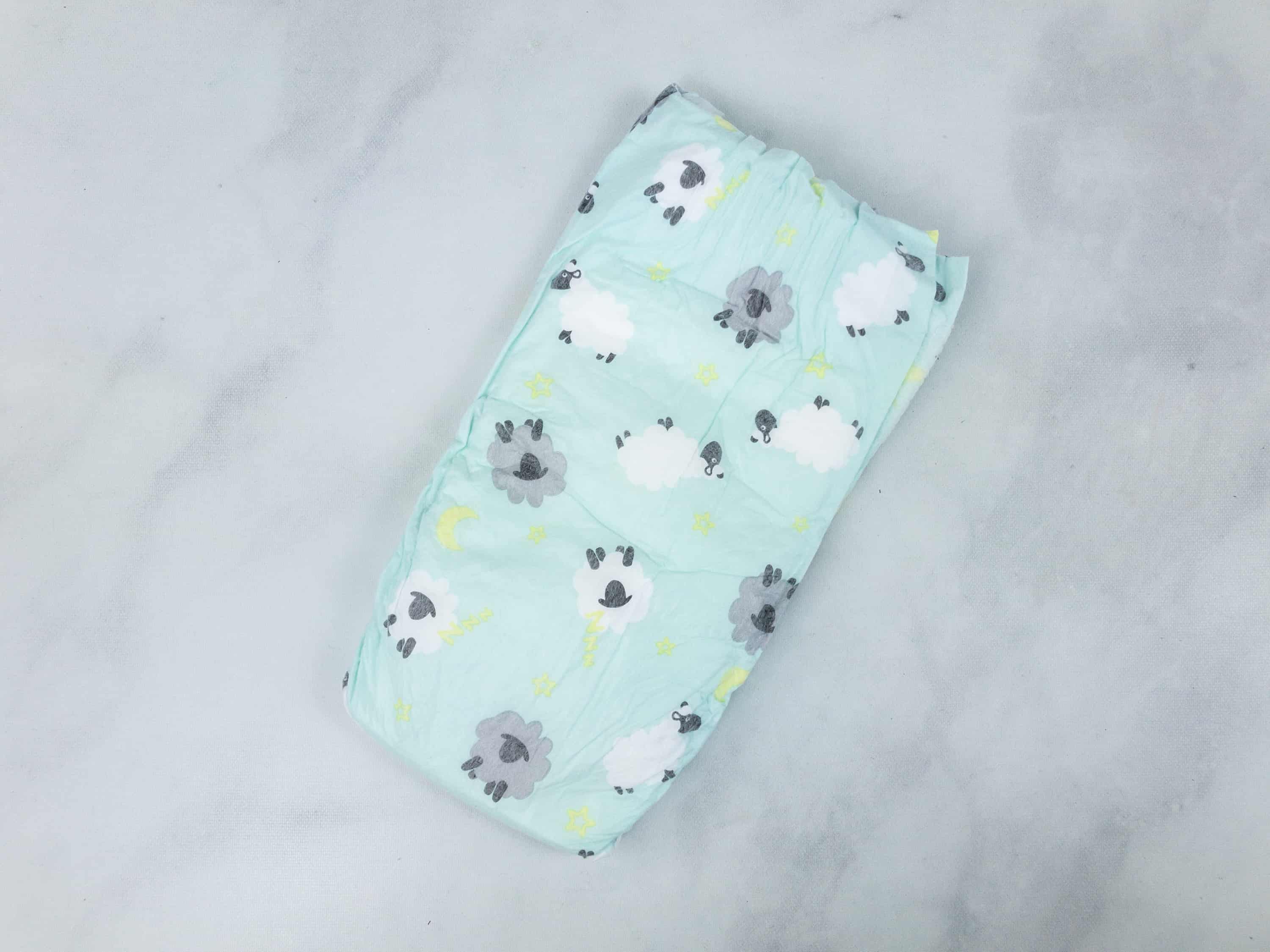 The design is fit for night use as well. Remember counting sheep to fall asleep? I guess that's where they got the idea for this overnight diaper's design.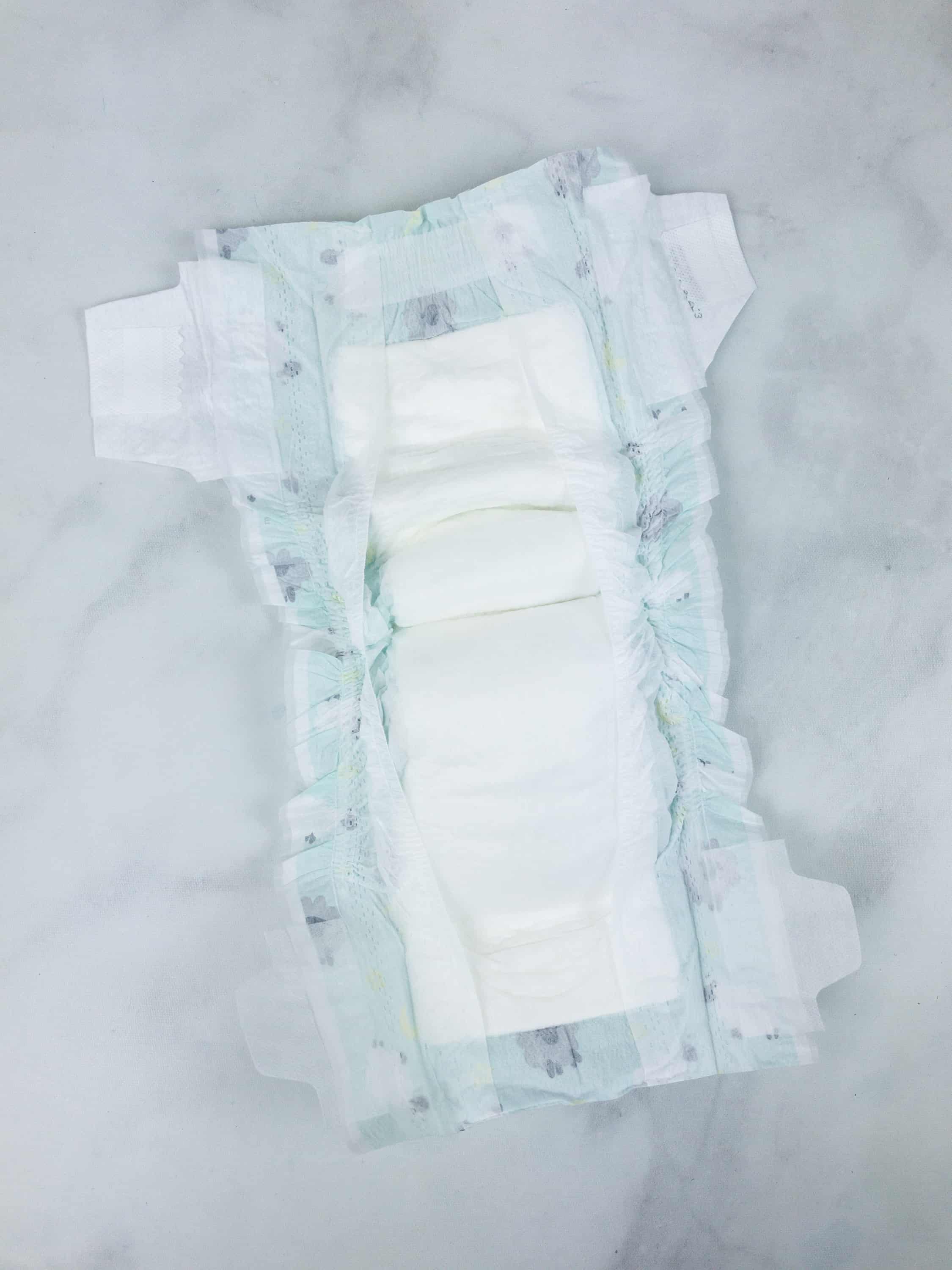 The diaper has secured fitting moisture barrier cuffs to help prevent leakage and blowouts.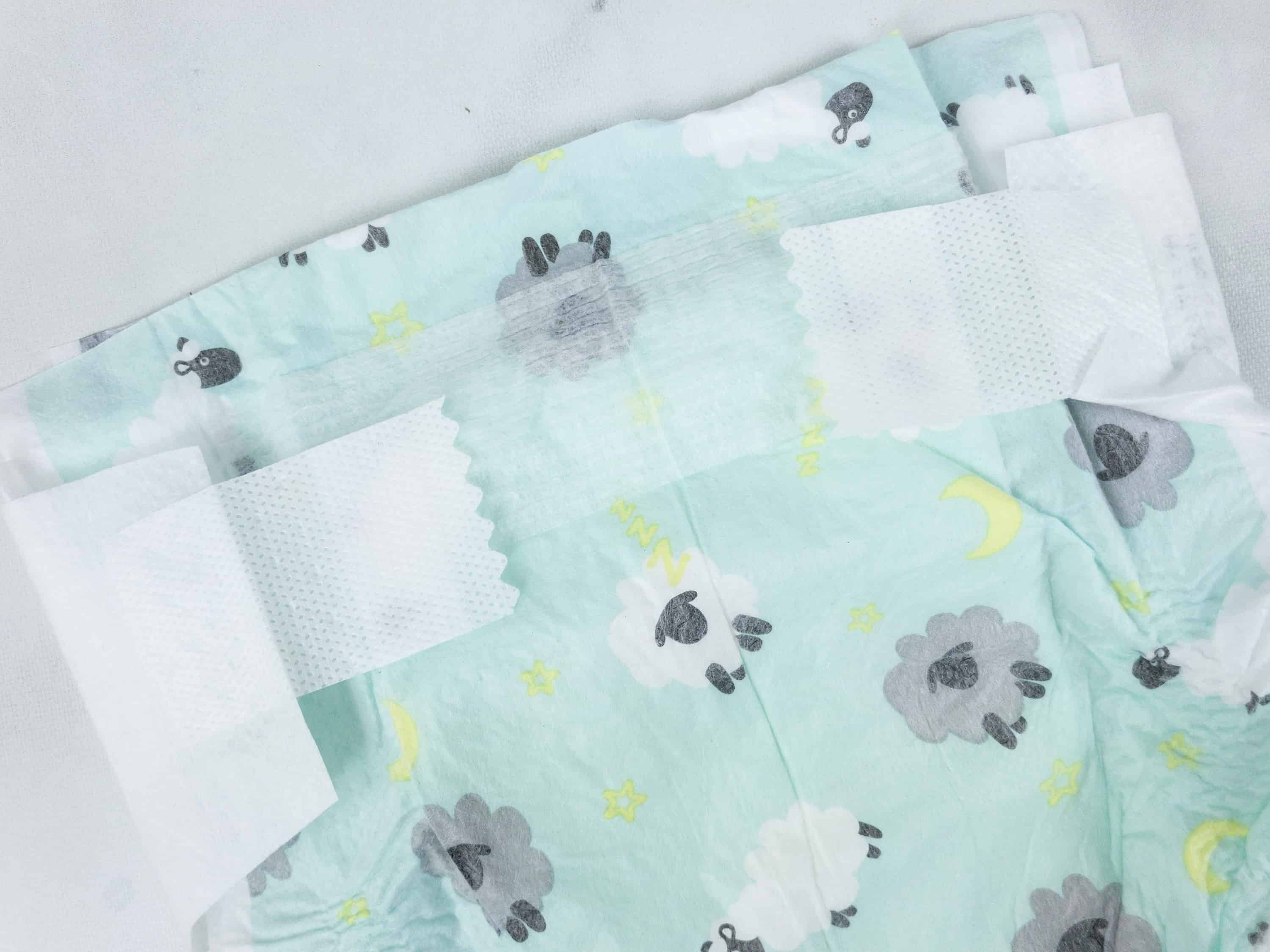 It has a comfortable elastic waistband and soft, refastenable tabs for wigglability.
Honest Company Diaper Bundle Add-Ons
You have the option to add-on to your bundle at 25% off the cost of the non-bundle items!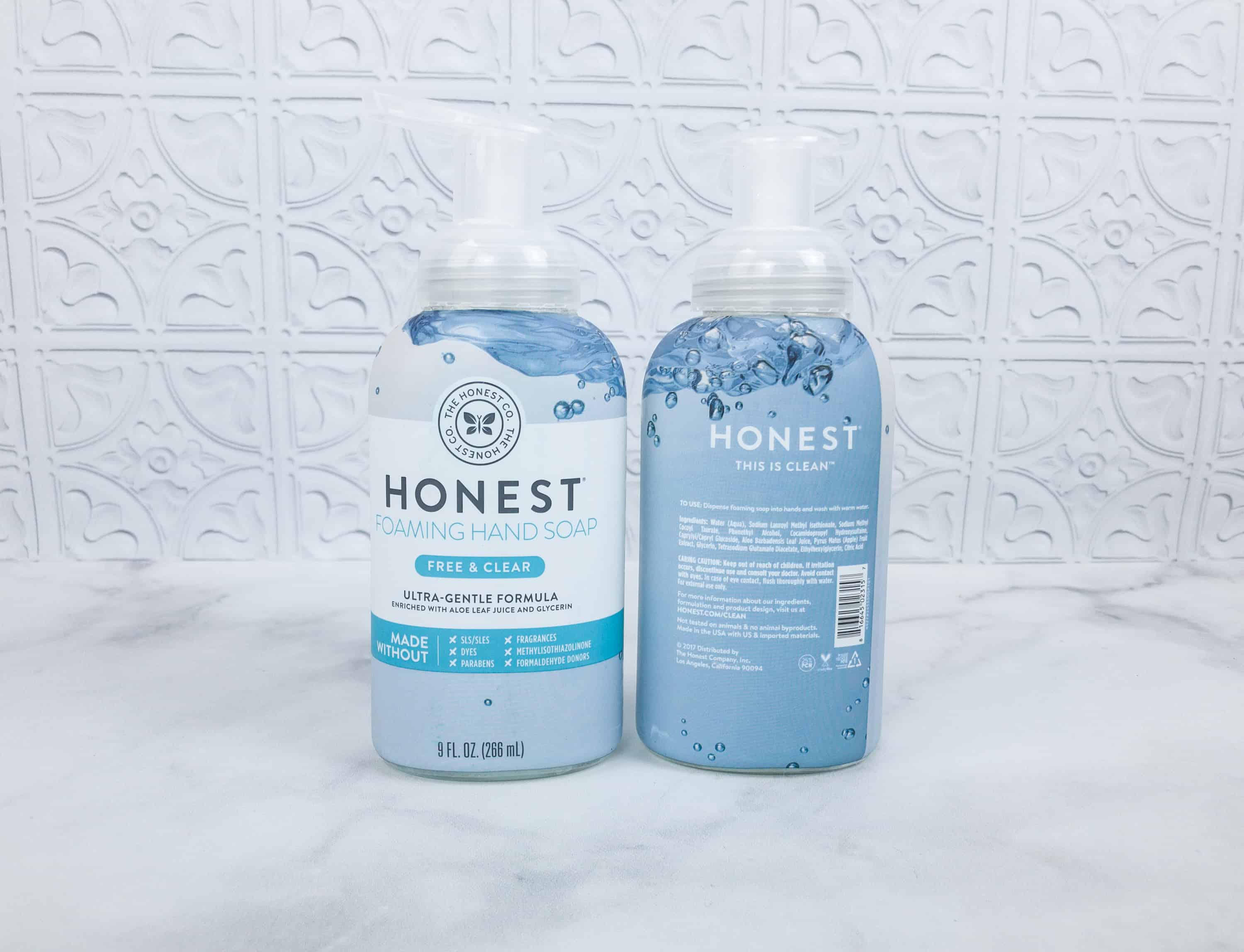 Honest Foaming Hand Soap ($7.95) I have a child who is extremely sensitive to hand soaps and these are perfect for him, and also for washing up before picking up baby! This hand soap doesn't dry the skin. We got it in Free & Clear variant which is unscented yet refreshing. You can also get them in Grapefruit Grove, Coastal Surf, and Lavender Field. Plus, it's foaming which everyone seems to love – a little hand-washing incentive!
The Honest Co Laundry Softener In Lavender Field ($4.99) Also included in my bundle as an add-on is a laundry softener. It's made with plant-derived ingredients, making clothes soft and fresh. You can also get it in Free & Clear and Coastal Surf.
Another thing we love about this fabric softener is that it's hypoallergenic and biodegradable. However, the formula is really thick and almost goopy if it's too cold, so it's better for warmer months. I ended up adding water to the bottle because it was just too thick. I've also had this problem with Mrs. Meyer's, so it's not all together unexpected.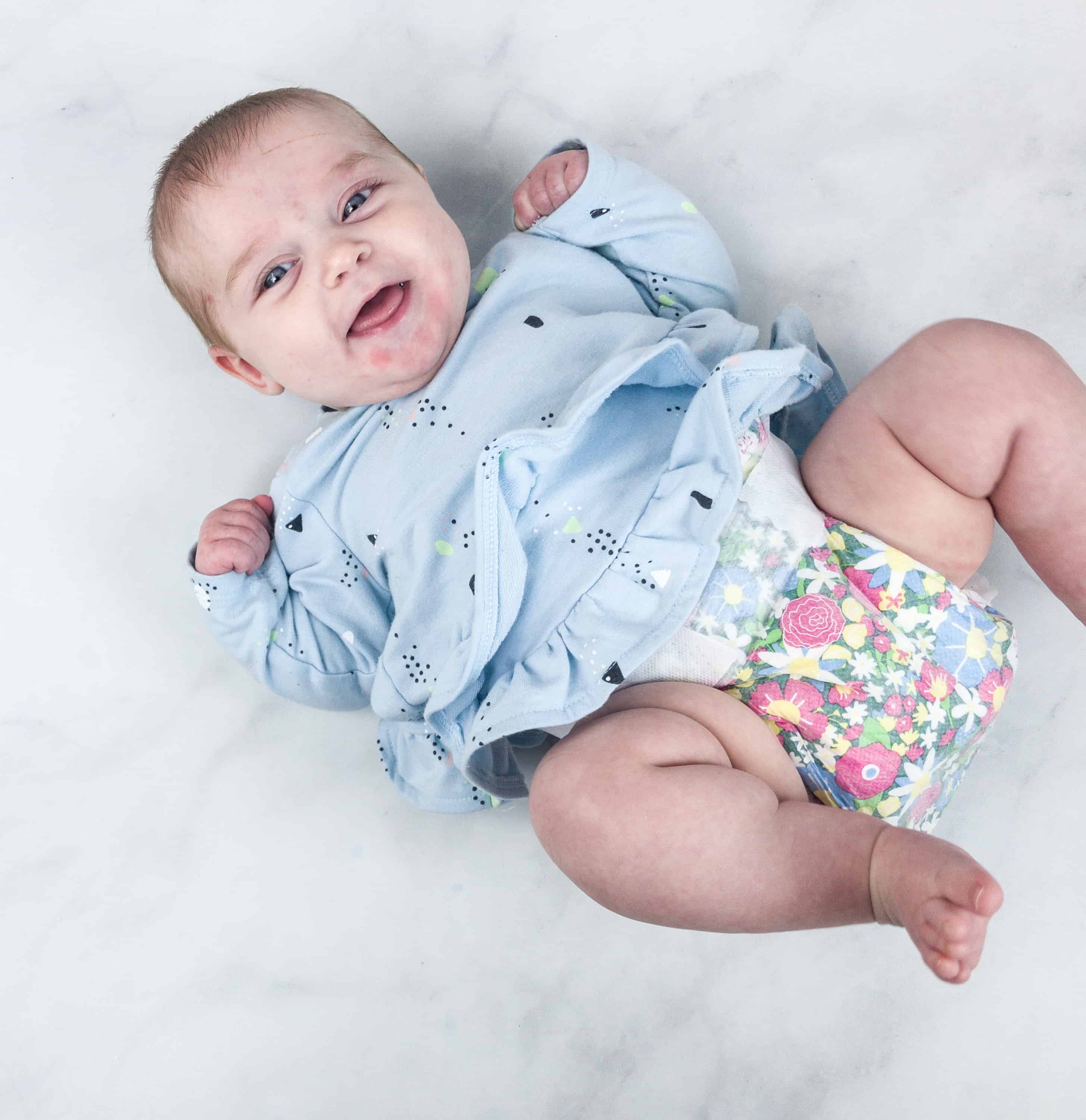 My baby really looks happy and contented with the ultra-absorbent and comfy diaper that Honest Company provides! Or at least with our photographer!
Honest Company's products are all high-quality and effective. I'm happy with all the great variety of items from baby care to personal care to house care that they offer, and all of them are made with safe materials and ingredients. It's really a great value for money coupled with high-quality products, which is totally fantastic! It's hard to give a better recommendation than that I have personally used these on 3 babies and have really truly always been happy with them! The convenience of adding on great products for my whole family is a bonus!
Have you tried this subscription? What did you think of the items in my bundle?
Visit Honest Company Diapers Bundle to subscribe or find out more!