Home Chef is a meal in a box subscription – every week, you choose from a variety of recipes and have all the ingredients and preparation instructions delivered to your door. The basic concept is the same as other weekly meal delivery services, but it has its own unique features and recipes. Their meal options include many great Asian, Indian, African, and South American inspired dishes, along with more traditional American home-style and steakhouse fare.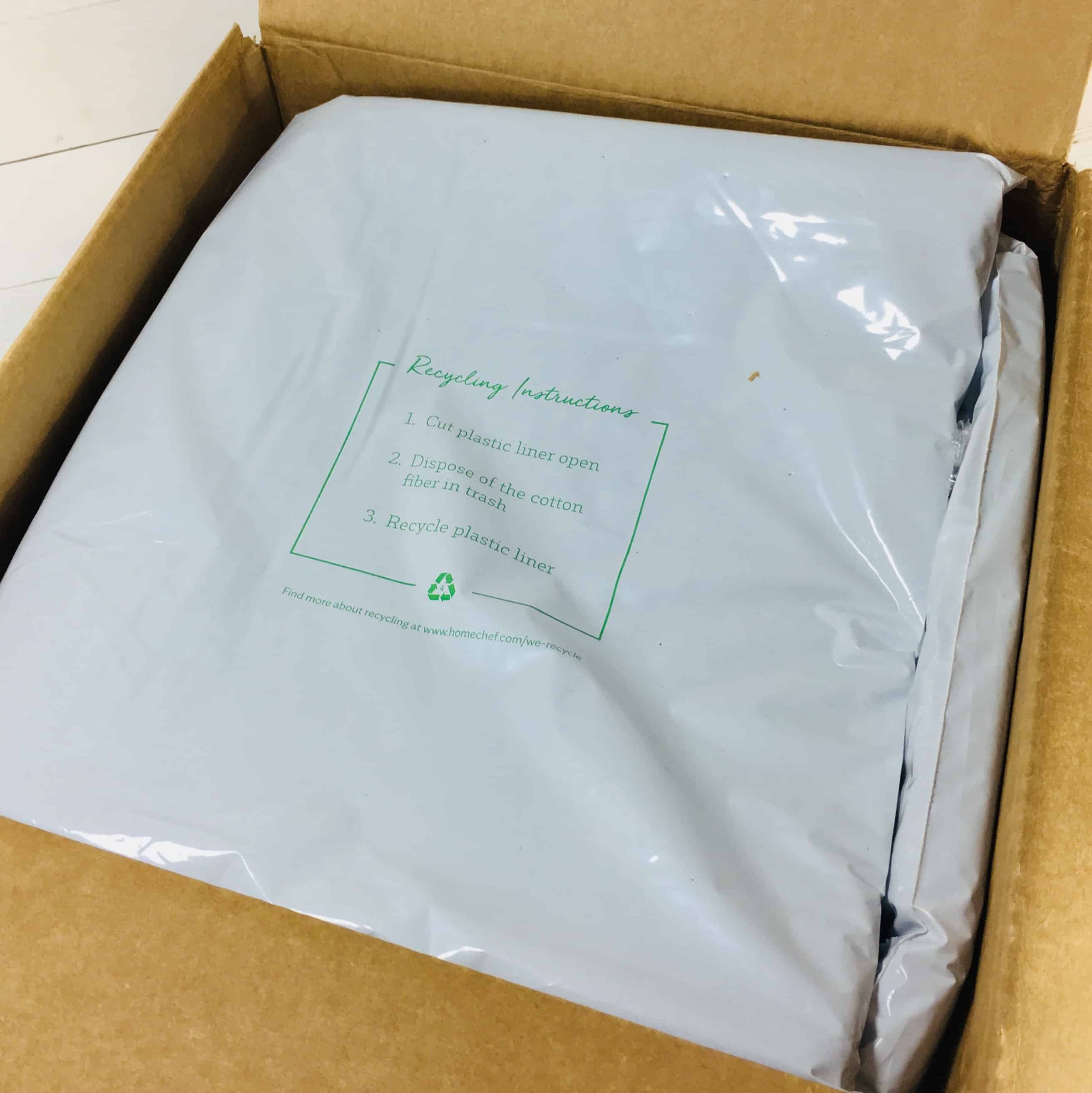 It is already hot here in Austin and luckily my daughter was able to pull this box inside as soon as FedEx delivered it to my door. It had to wait for me to get home to unbox it but it was in great condition, with lots of still-frozen ice packs and a specially designed liner made of recycled cotton.
Home Chef offers an incredible 10 selections available for 2, 4, or 6 people, a breakfast choice, a smoothie choice, and a fruit basket selection. Meals for your box are suggested based on your preferences, but you can change the selections any time. The portions are large, and this is currently the least expensive and has the most choice out of any similar major subscriptions (for 2 people) – $9.95 per person per selection (they typically have one meal option a week that's a premium meal and costs a little more, though).
DEAL: Get $30 of free food when you sign up – just use this link to get the deal!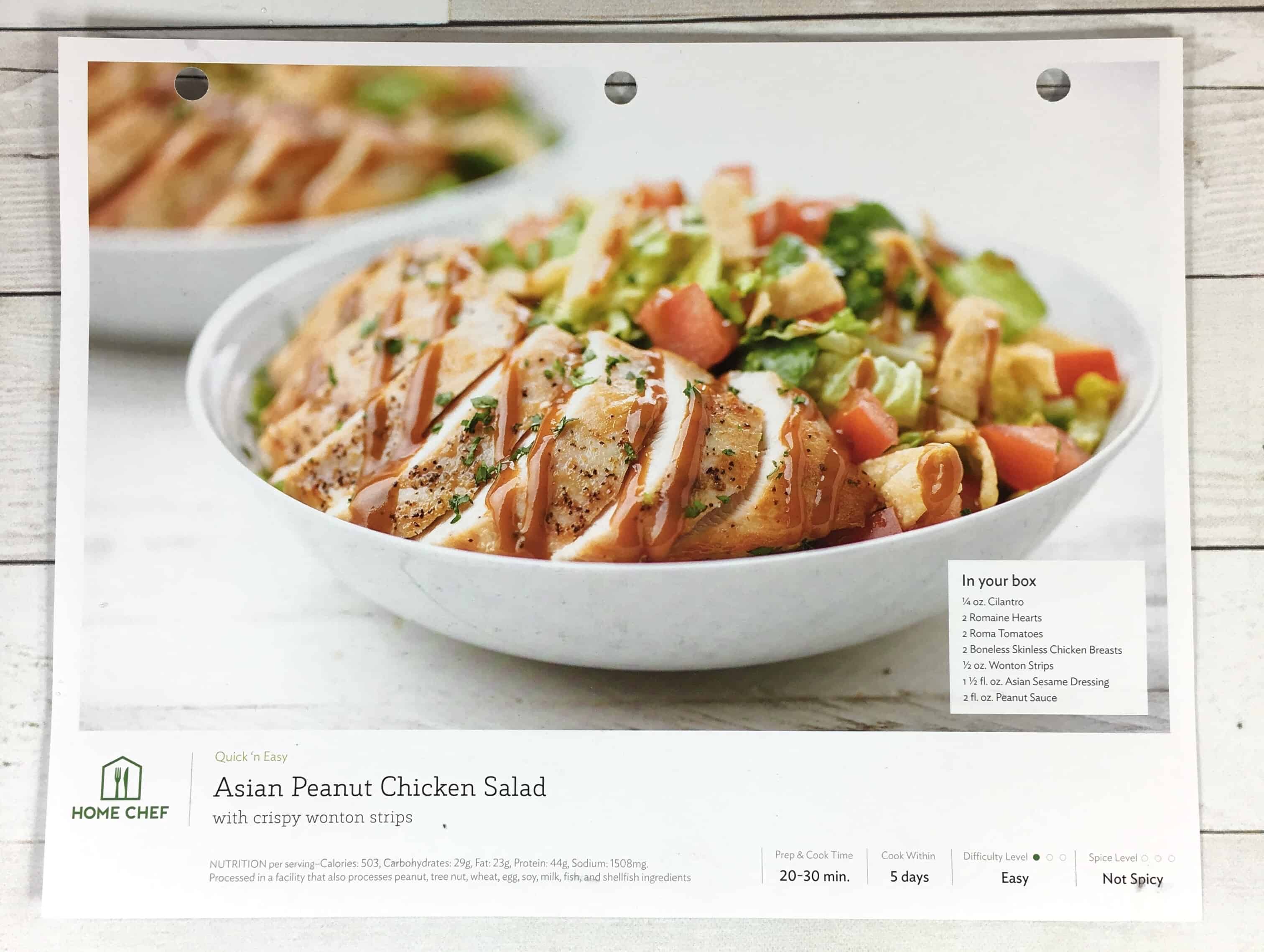 The recipe cards display prep time, difficulty, a "best cooked by" time frame, and even a spice level. There is also a list of stuff you may need from your own kitchens such as cookware and salt and pepper. You have to have a basic kitchen set-up (stove/oven, cookware, etc.), but a couple of tablespoons of cooking oil and salt and pepper are usually the only ingredients you must have at home – they even include liquid egg (instead of expecting you to have eggs on hand), and oil for shallow-frying when a recipe calls for more than a few tablespoons worth.
It spelled out exactly what I would find in my box.
I glanced at the instructions to see what I would need to do – you can see all of this info online ahead of time too, so if it's too hot to bake or you don't feel like cooking at all you can choose accordingly. I found at least two no-cook meals available for each week.
The back of the card has the actual recipe guidance, complete with pictures and bold-facing of ingredients. The recipes are accompanied by pro-tips and explanations of cooking terminology and techniques. The prep is done in a sensible order – items with long lead times are started first. The recipe cards have pre-punched holes so you can store them in a recipe binder, so you can make it yourself if you want, or just wait until it's offered again if you loved it.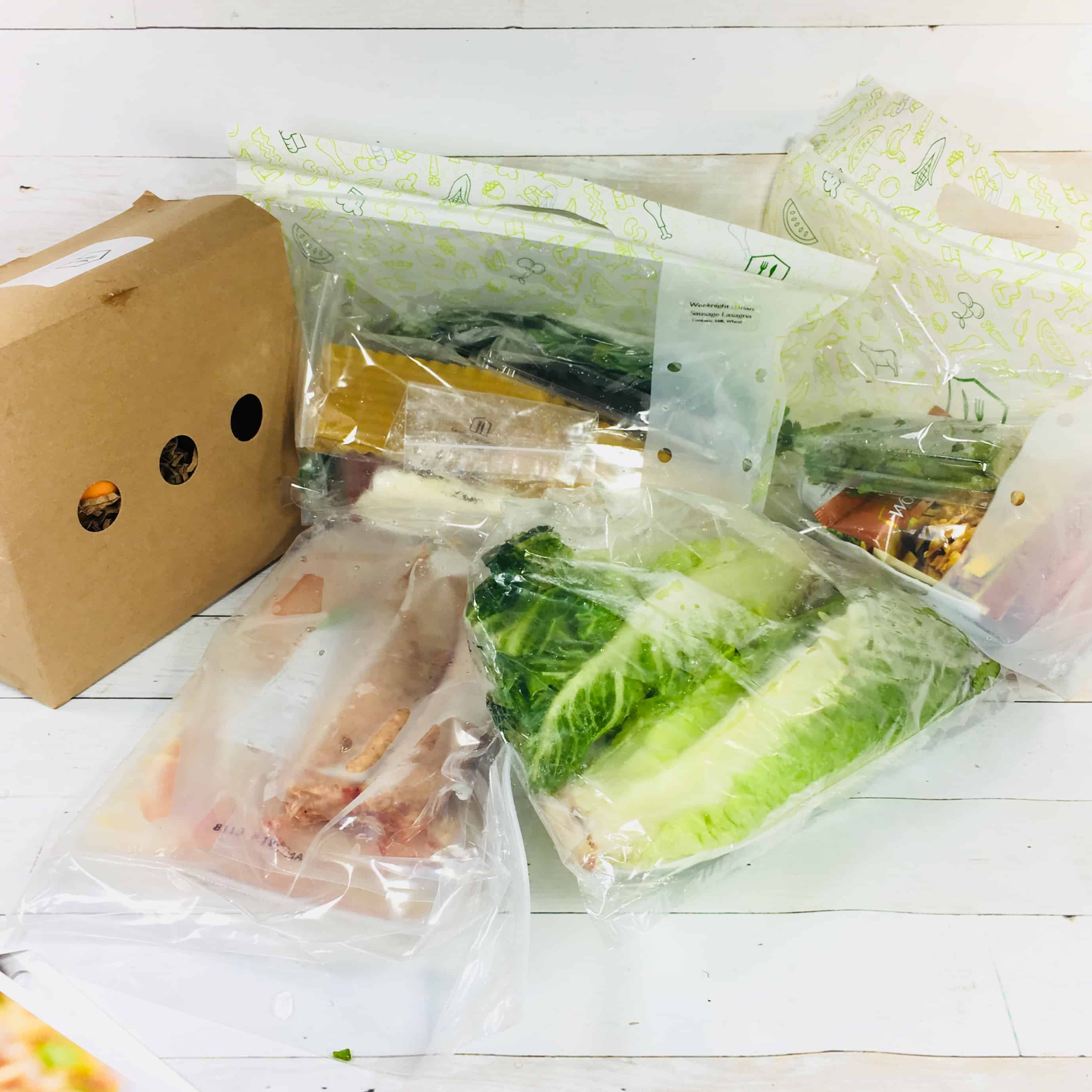 The ingredients are separated by meal into individual bags, all packed into a big, padded box with several ice packs. The bags used to bundle the food are recyclable but they also have a handy resealable zip closure. They stand up in the fridge, keeping everything together, and the clear side and labelling make it easy to identify which meal is which. One of the ice packs had busted and there was a non-toxic gel in the box, but luckily everything was well wrapped.
With two regular meals for two people and a seasonal fruit assortment for two, the price of the box shown was $49.70.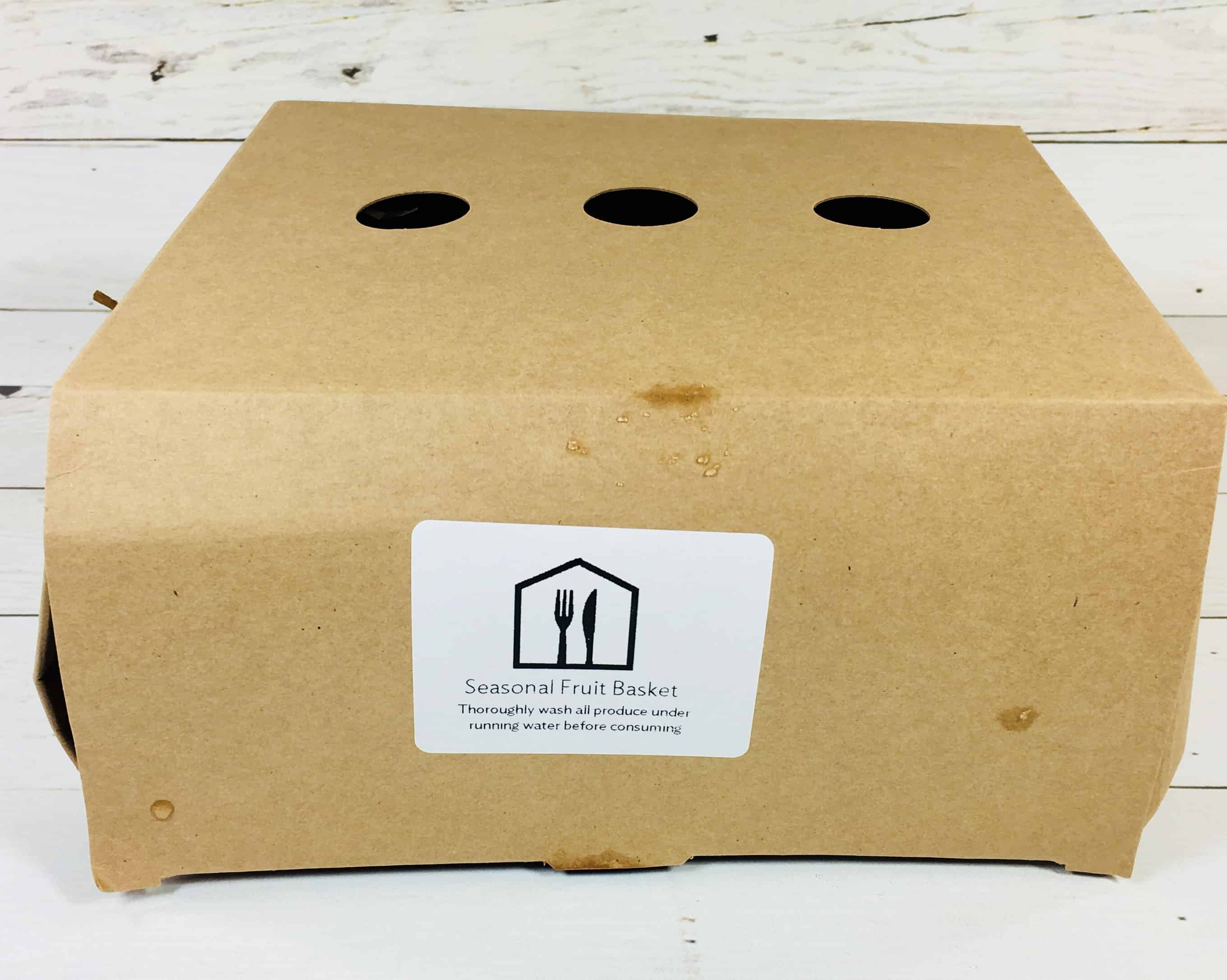 My fruit basket was in its own box.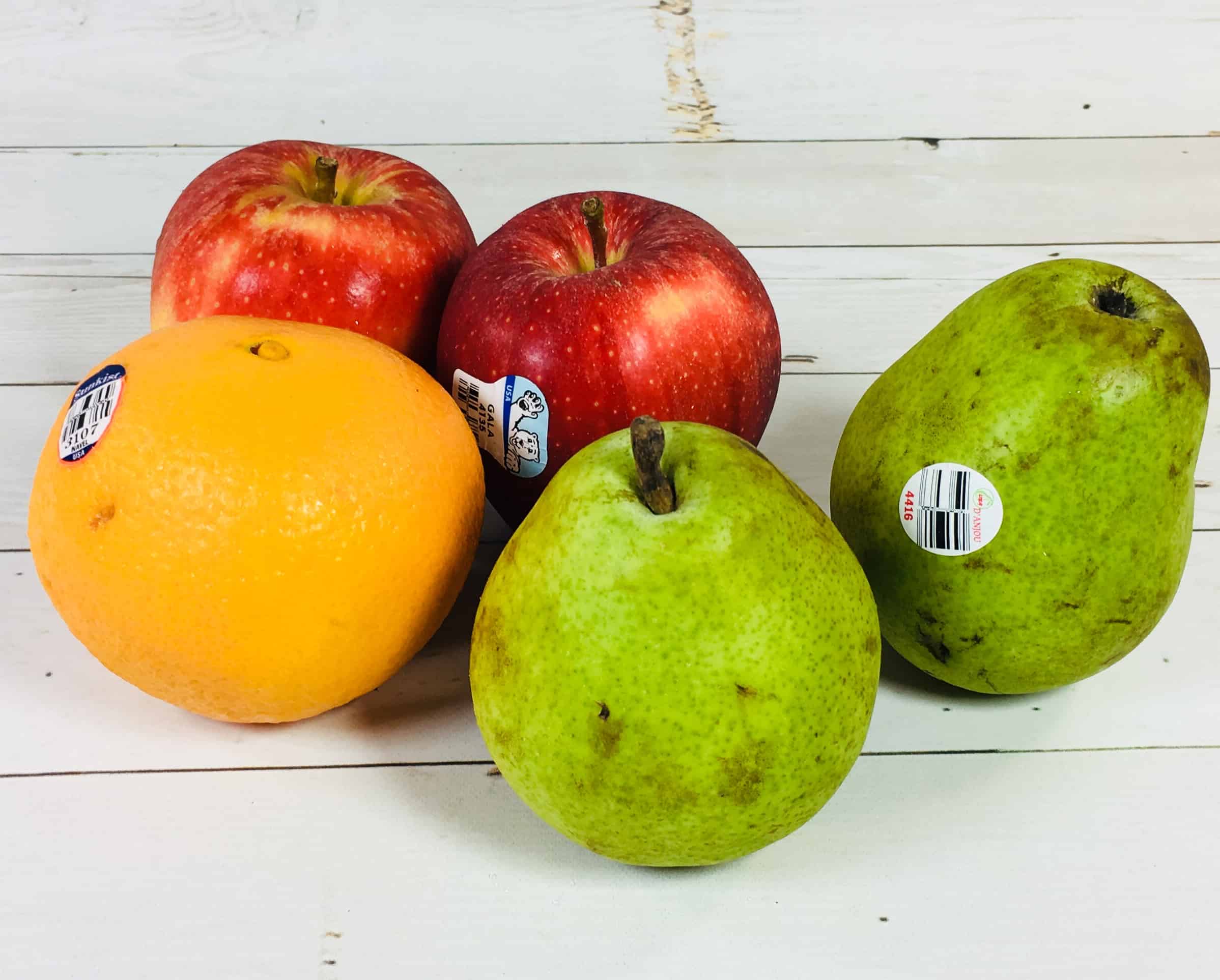 Inside I found two pears, two apples, and an orange. The pears were still firm so they will sit on my counter until they are ready to eat. The apples and orange were ready to eat.
My lettuce suffered some damage so I had to throw some of the outer leaves away.
The meat was well wrapped and didn't leak.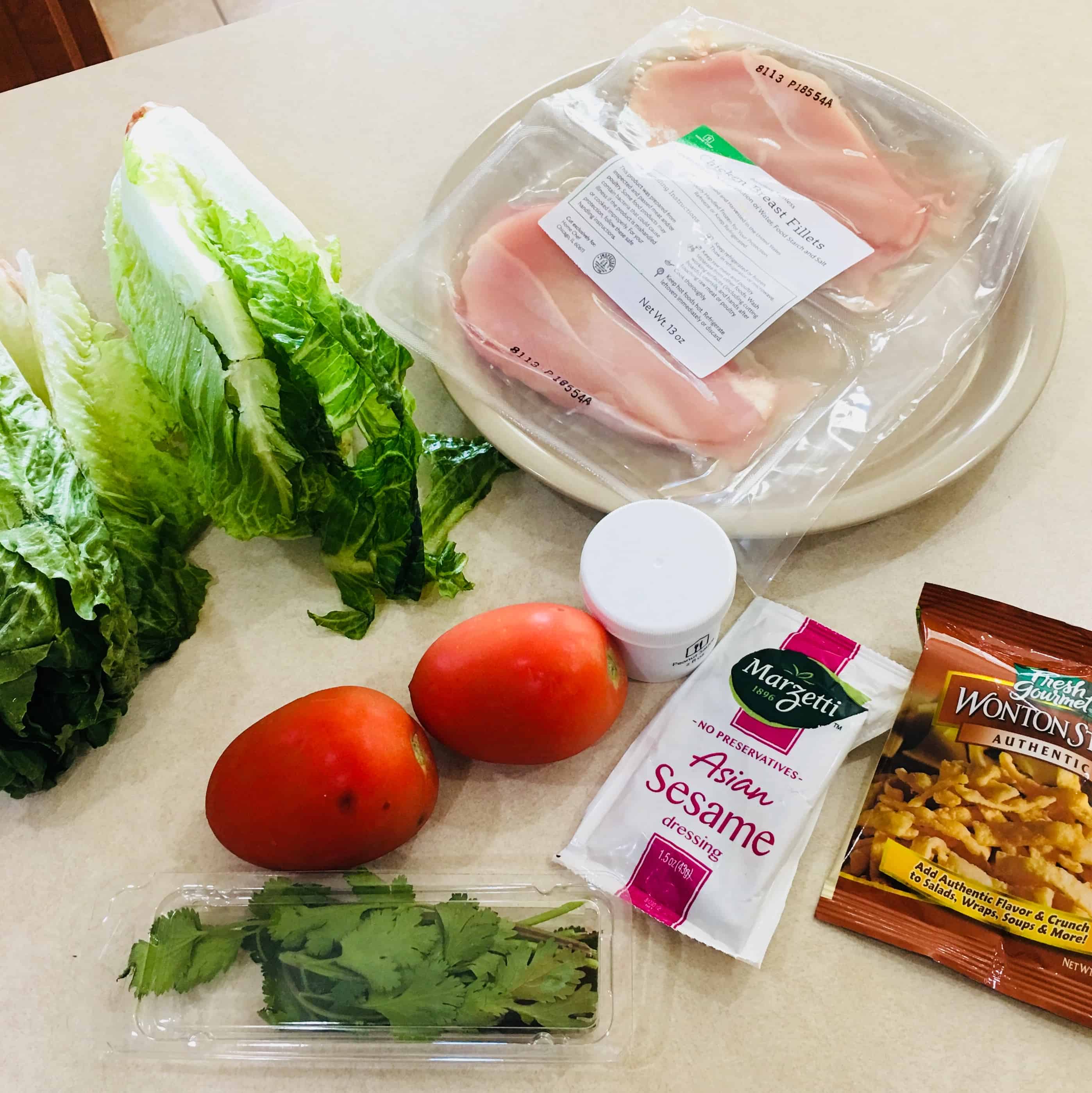 Here are the items for my Asian Peanut Chicken Salad with Crispy Wonton Strips, which said it would take 20-30 minutes to prepare and was labeled as easy, with 503 calories per serving.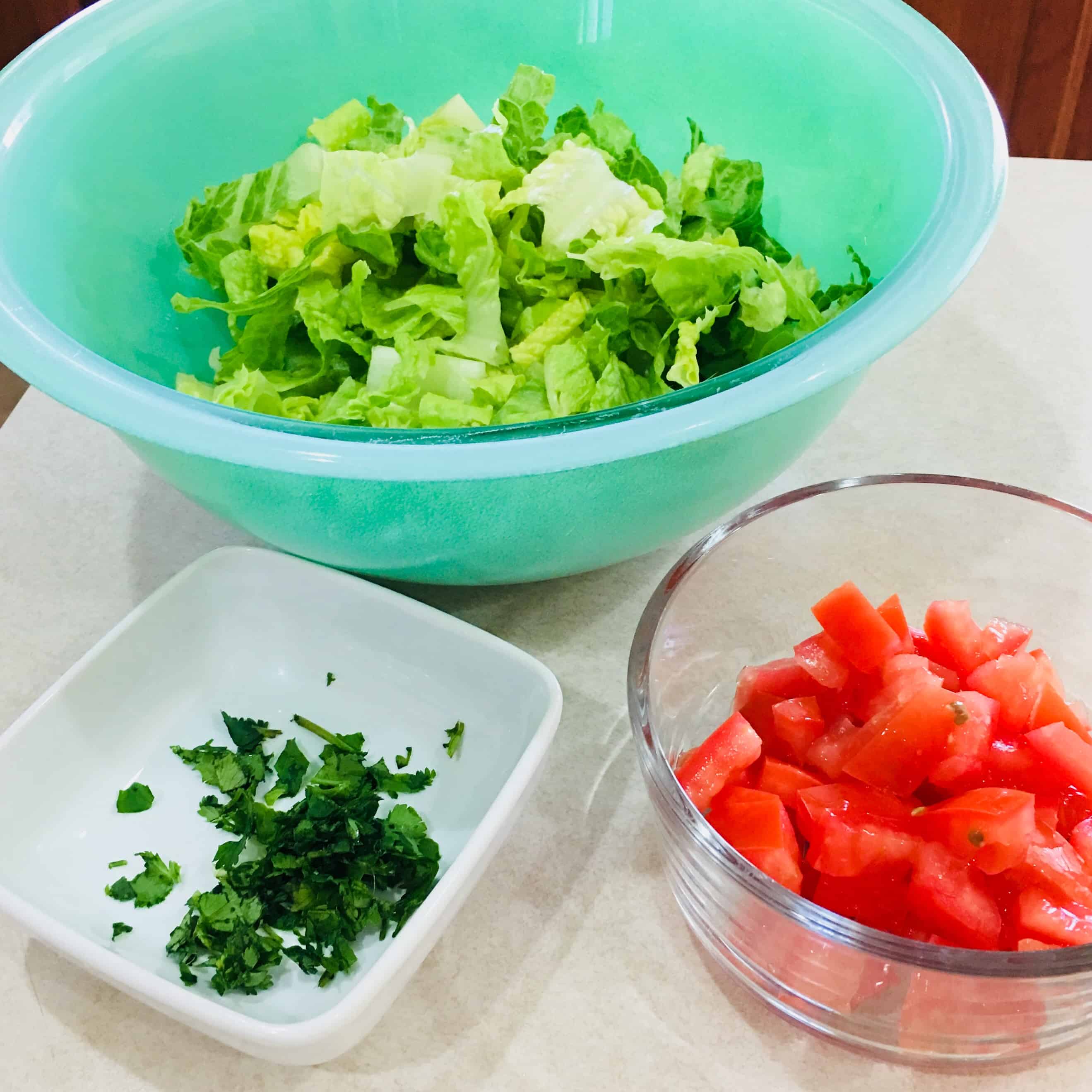 I prepped my veggies as directed.
A skillet and oil was all that I needed to provide.
It took a little longer to cook my chicken until my thermometer said it was done but it came out really tender.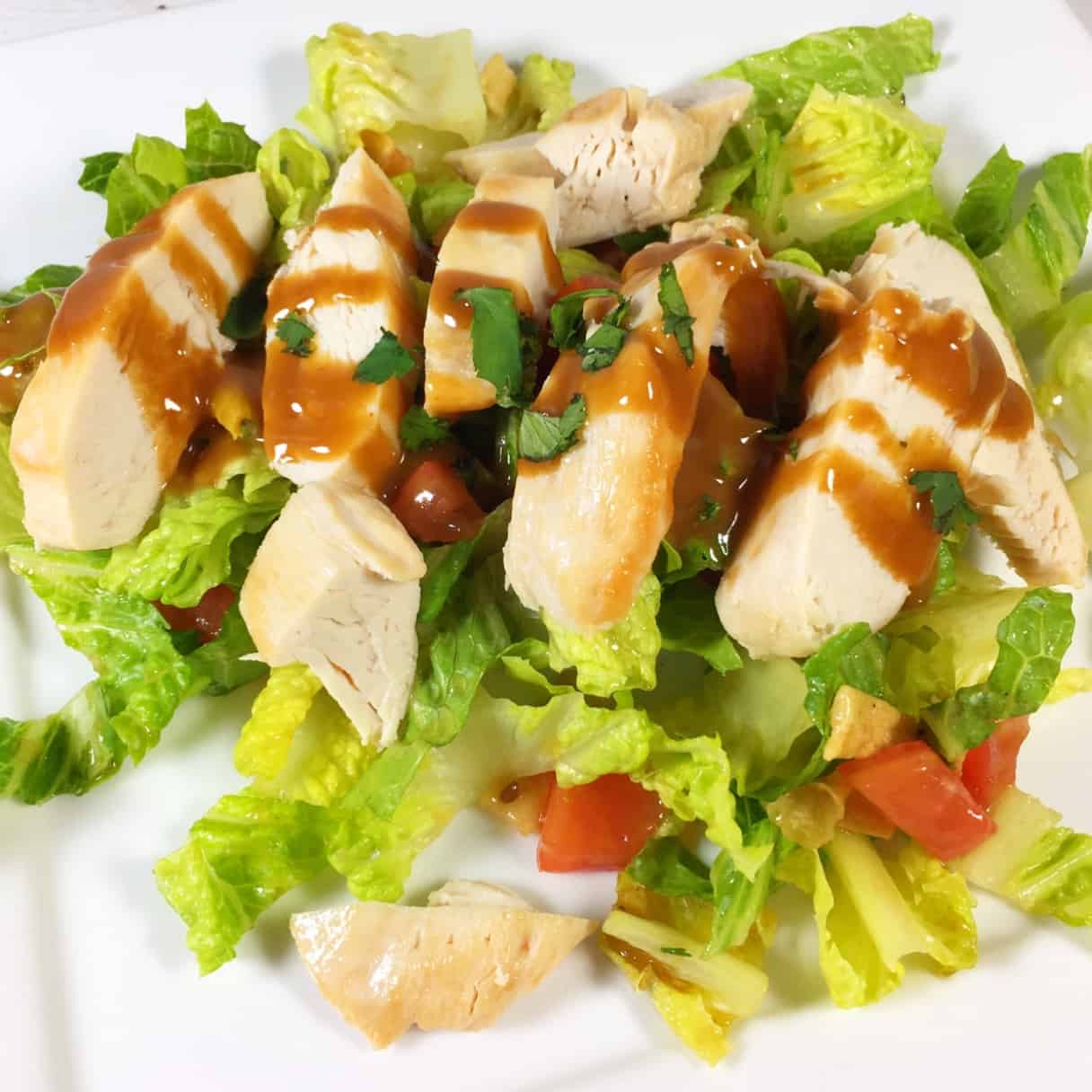 This was so delicious, like something I might order at a restaurant. It was also high in sodium so I planned to eat less salt for the rest of the day.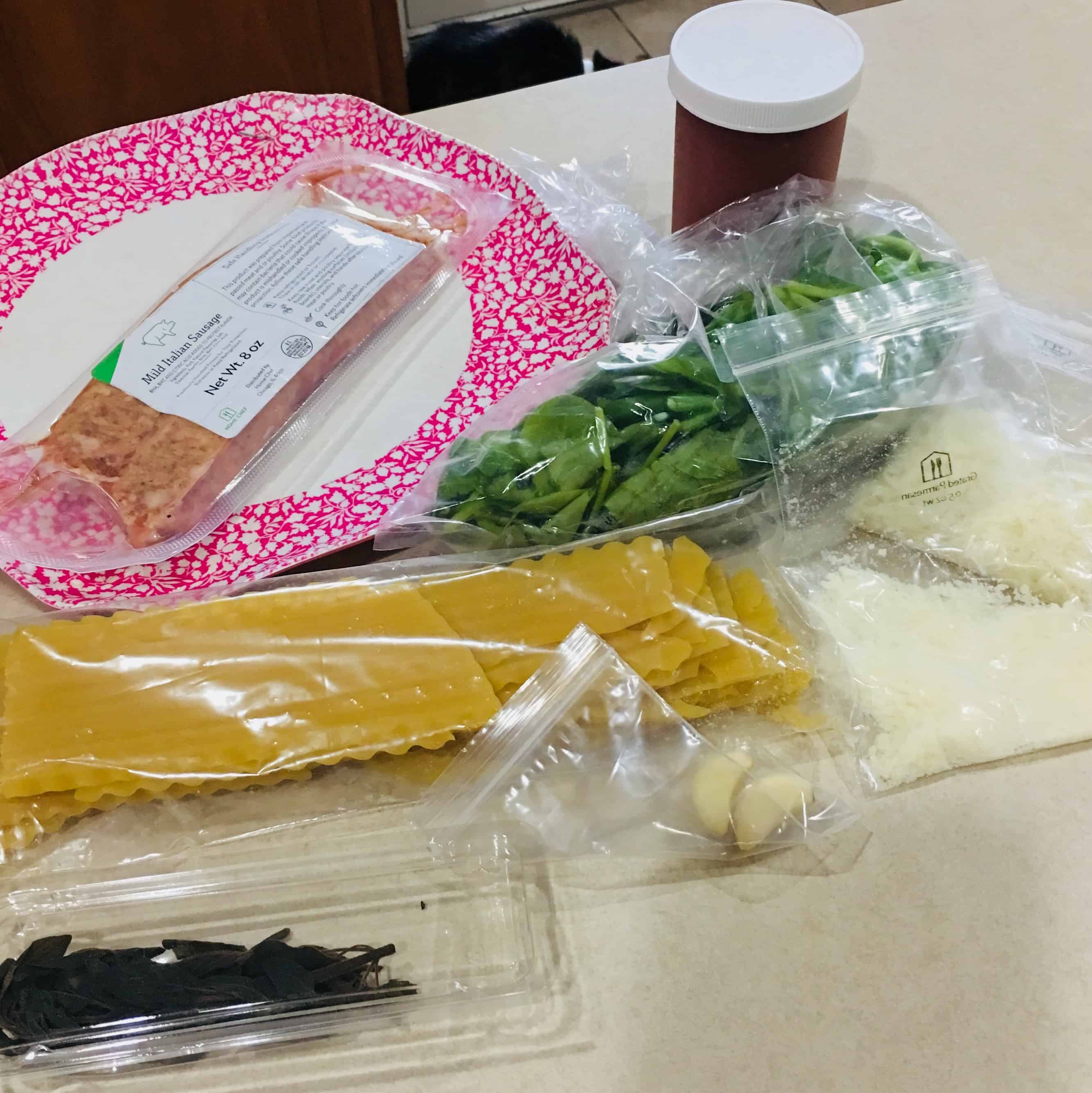 For a quick dinner I made Weeknight Italian Sausage Lasagna which is supposed to take 20-30 minutes, is considered easy, and has 713 calories per serving.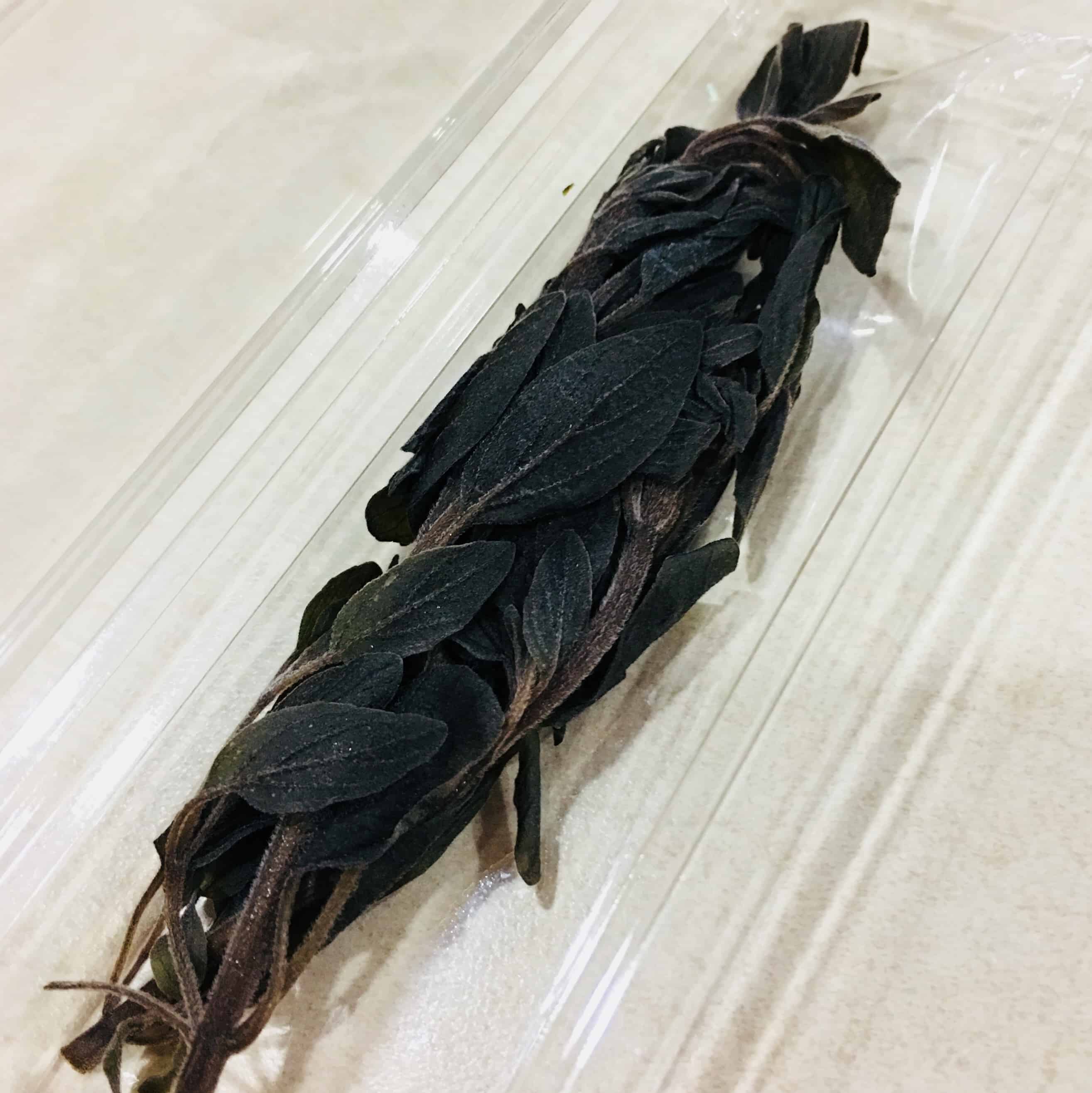 It looks like my fresh oregano was bad so I discarded it and used dried oregano in the recipe and fresh basil from my garden as a garnish.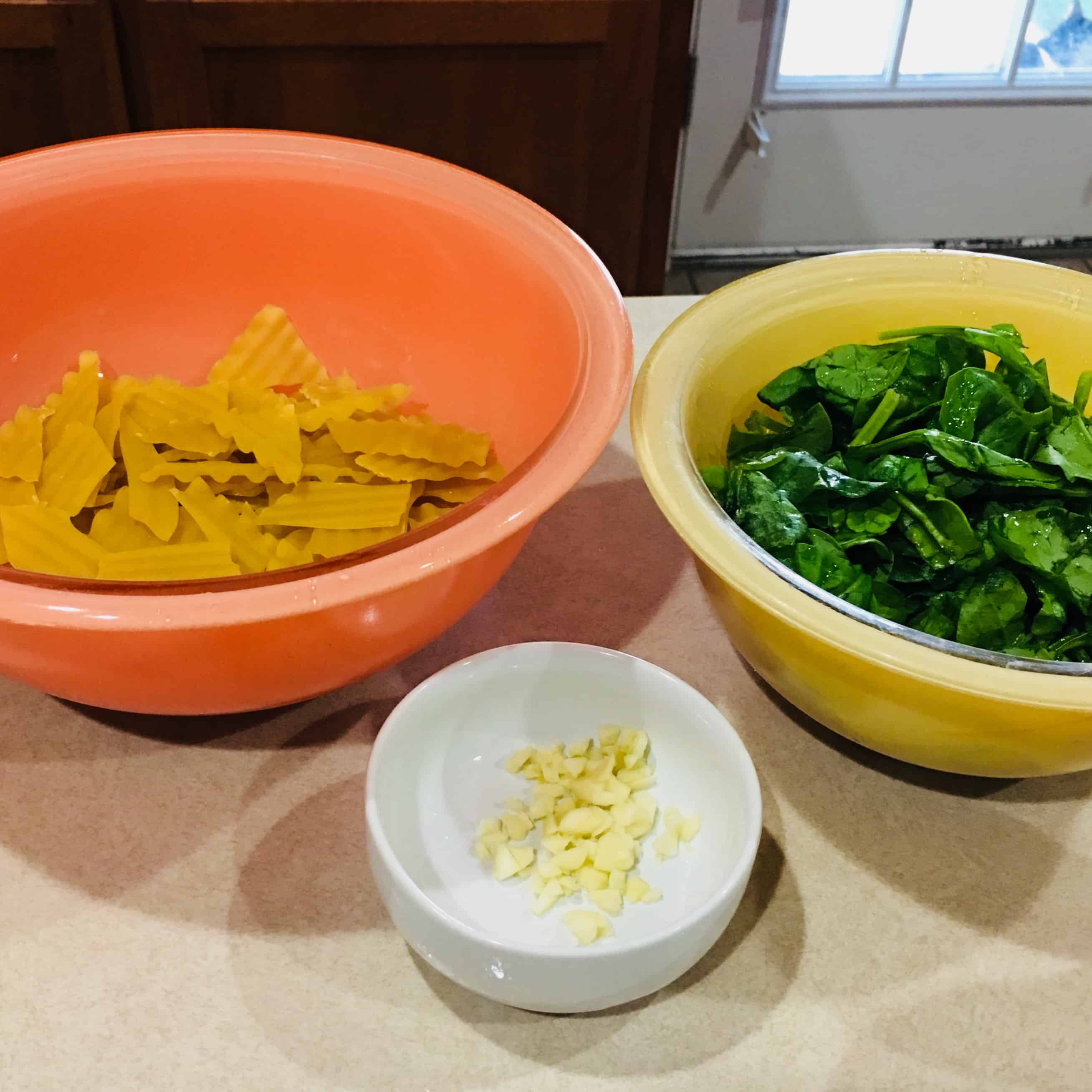 I prepped by breaking the noodles and chopping the garlic and spinach.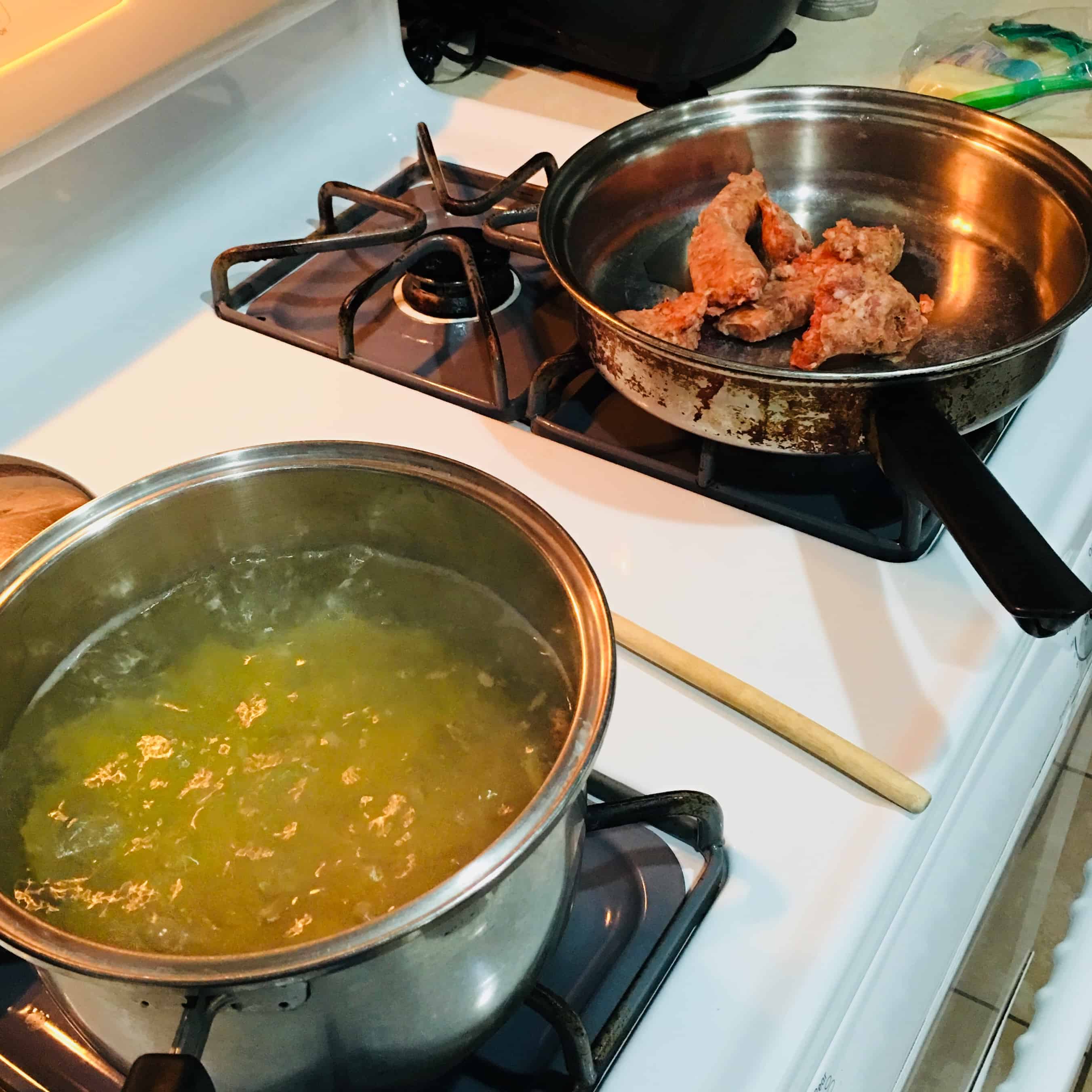 I boiled the noodles (which took longer than the directions said it would to become al dente) and browned the sausage in oil.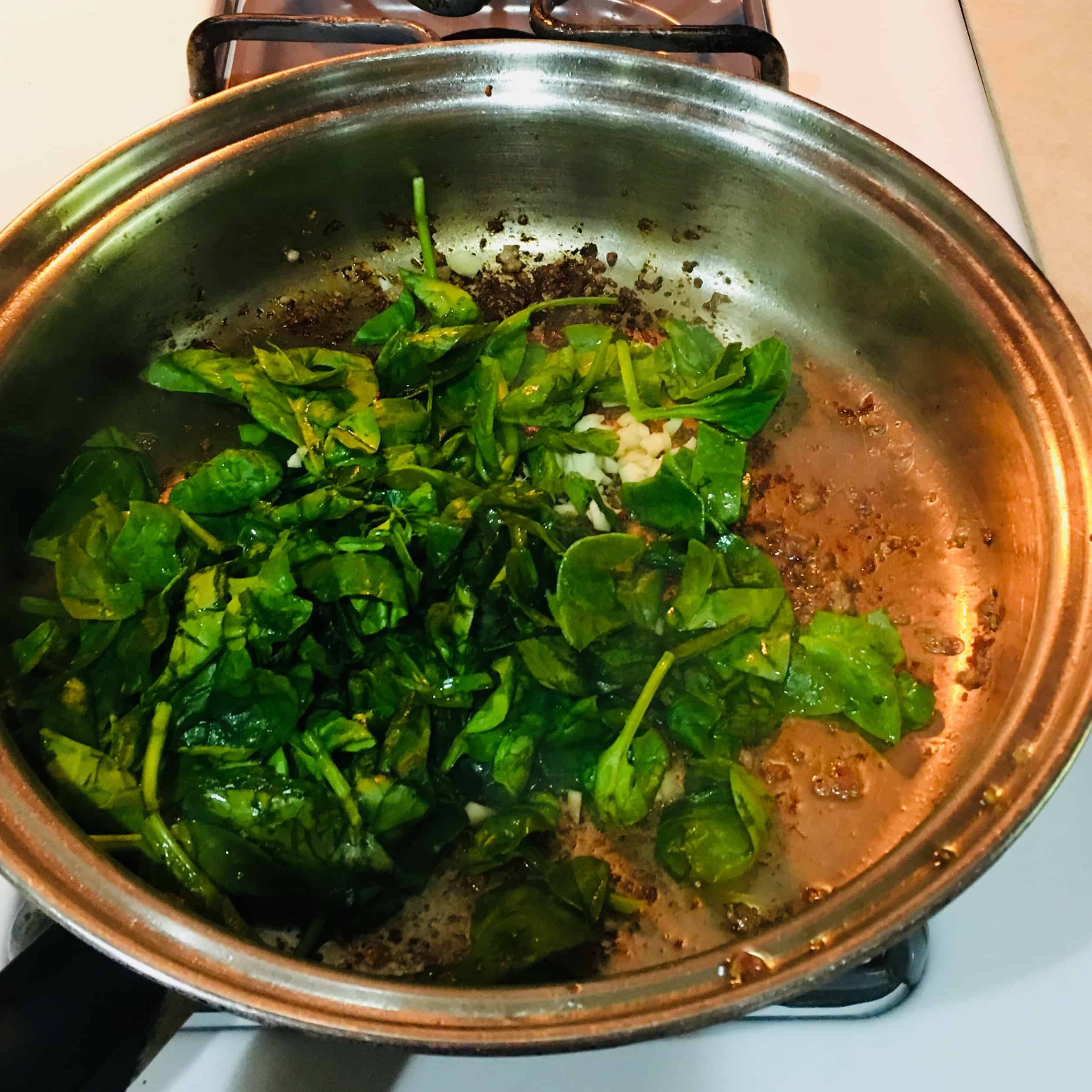 After removing the sausage I dumped the garlic and spinach into the pan to saute for a minute.
Next I poured in the marinara sauce and dried oregano.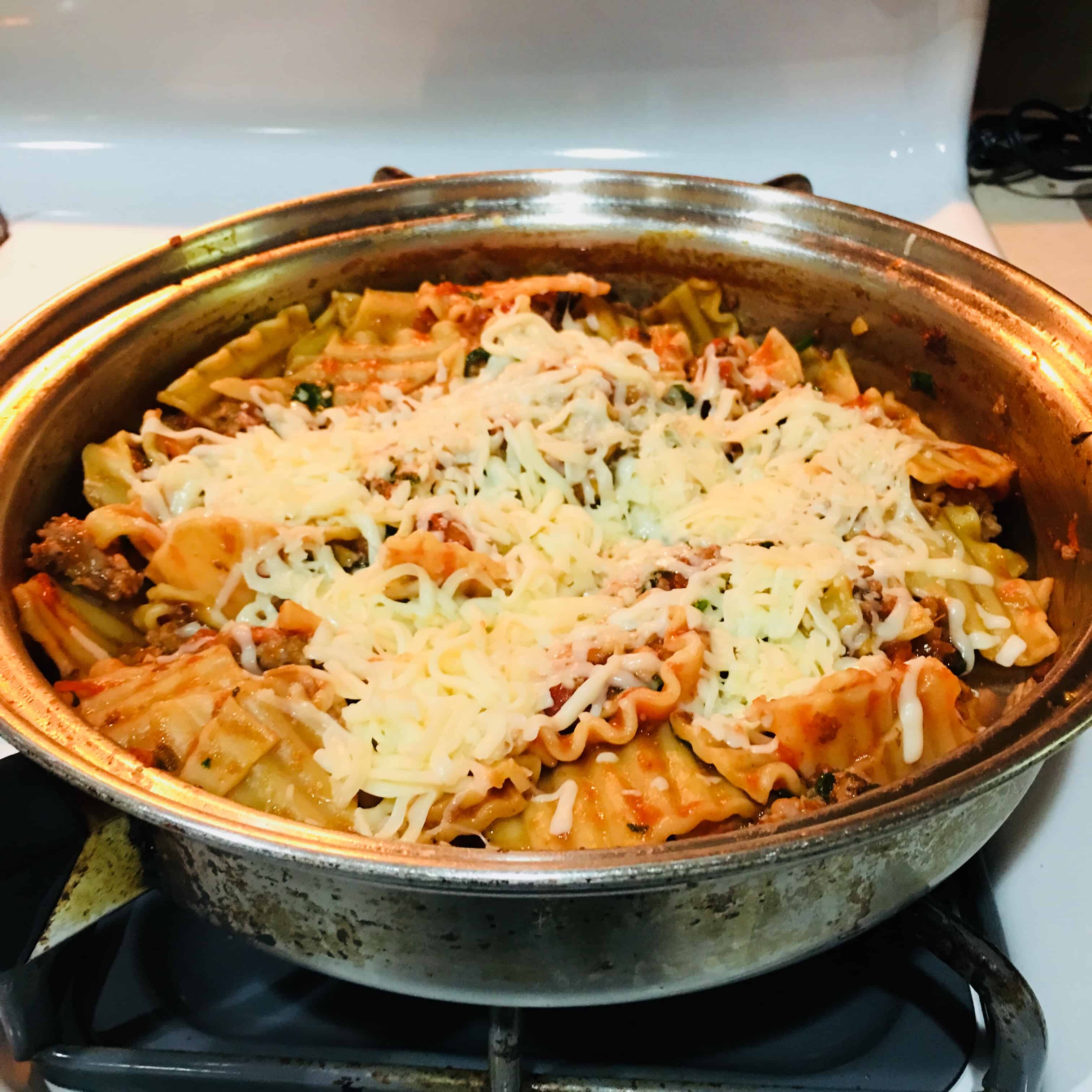 I drained the noodles and added it to the pan along with the browned sausage and then gave it all a good stir. I topped it with the cheese and even though it said to broil in the oven to melt the cheese, I just placed a lid on top and let it melt that way.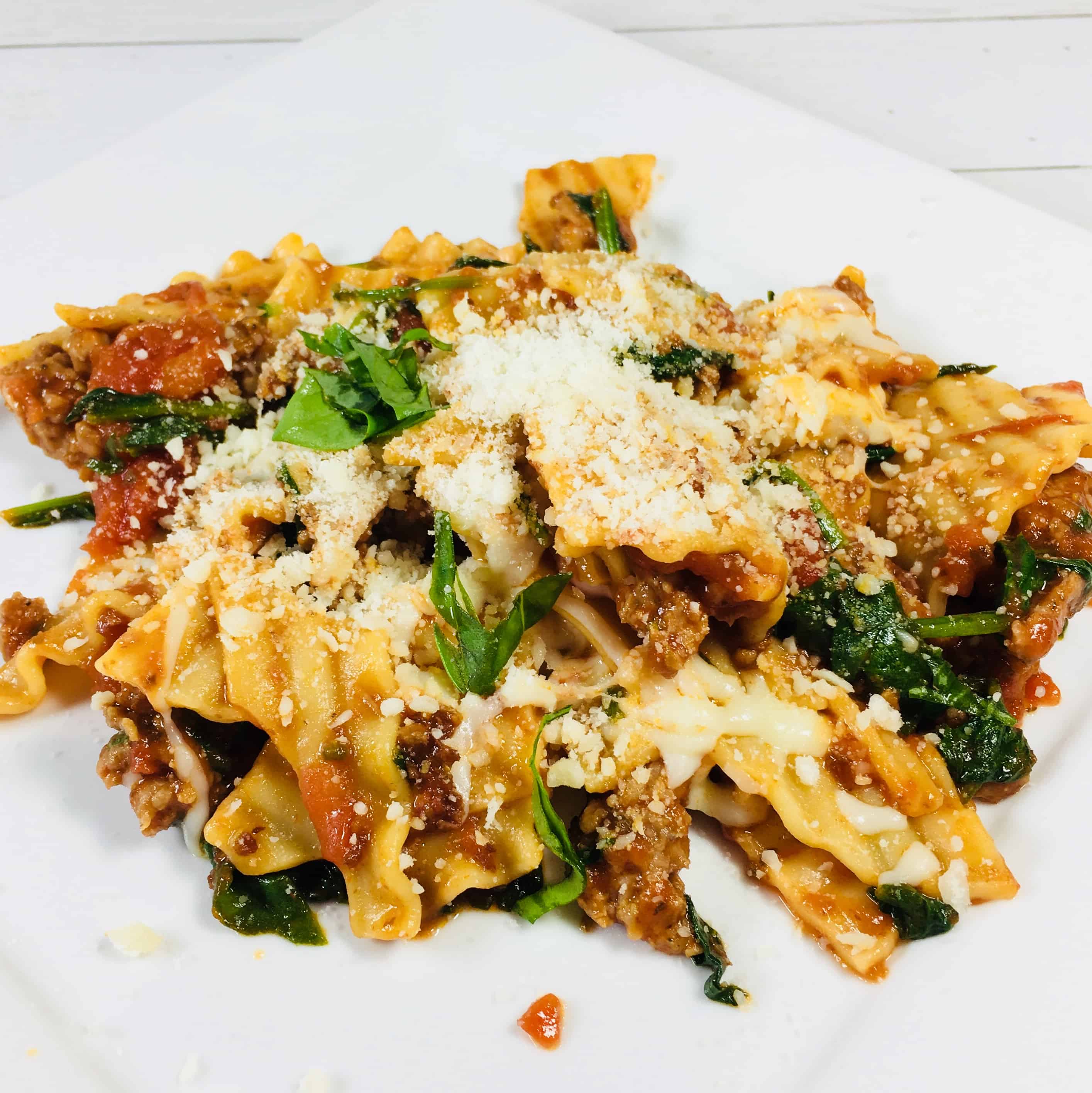 I sprinkled it with the included parmesan and threw some basil on top and voila! There was enough for at least 3-4 people, and if you served it with a salad or garlic bread it would make for a very filling and special meal. It was very tasty and looked so pretty!
I was so pleased with my very first Home Chef delivery! I was extremely happy to find that everything was kept cold and I am willing to sacrifice some lettuce and oregano to know that the meat and other items were still refrigerated. Everything was easy to prepare and the flavor was delicious. I thought Home Chef had a nice variety of dishes to choose from and I appreciate that they include calorie conscious and vegetarian options.
Have you tried Home Chef? What did you think of your meals?