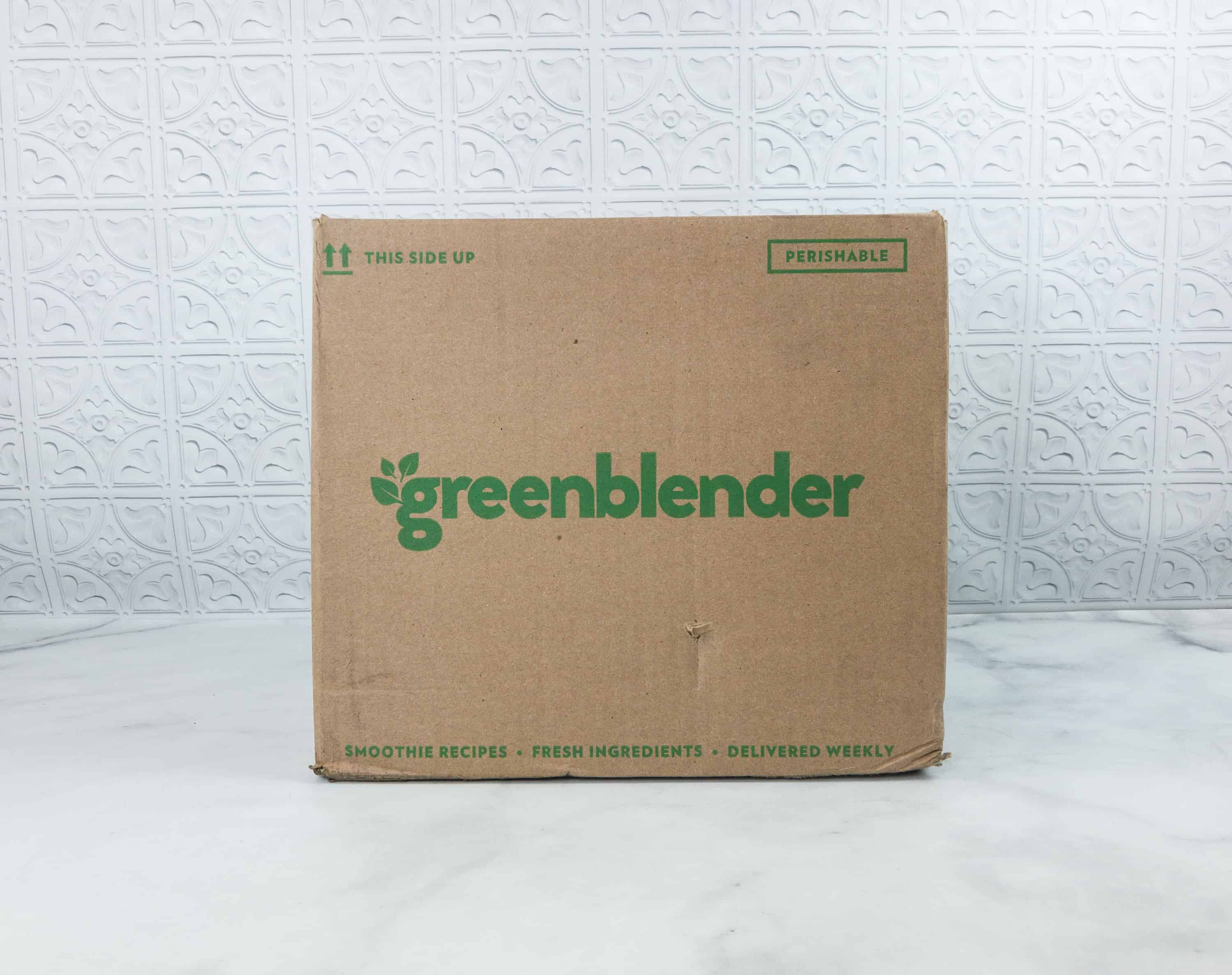 Green Blender is subscription that sends smoothie recipes and fresh ingredients right to your door. Subscribers can choose from their weekly selection of plant-powered smoothies based on their preferences or health goals. Ingredients are all organic and farm fresh, and they send even those hard-to-find superfoods too. Subscriptions start at $49 per week.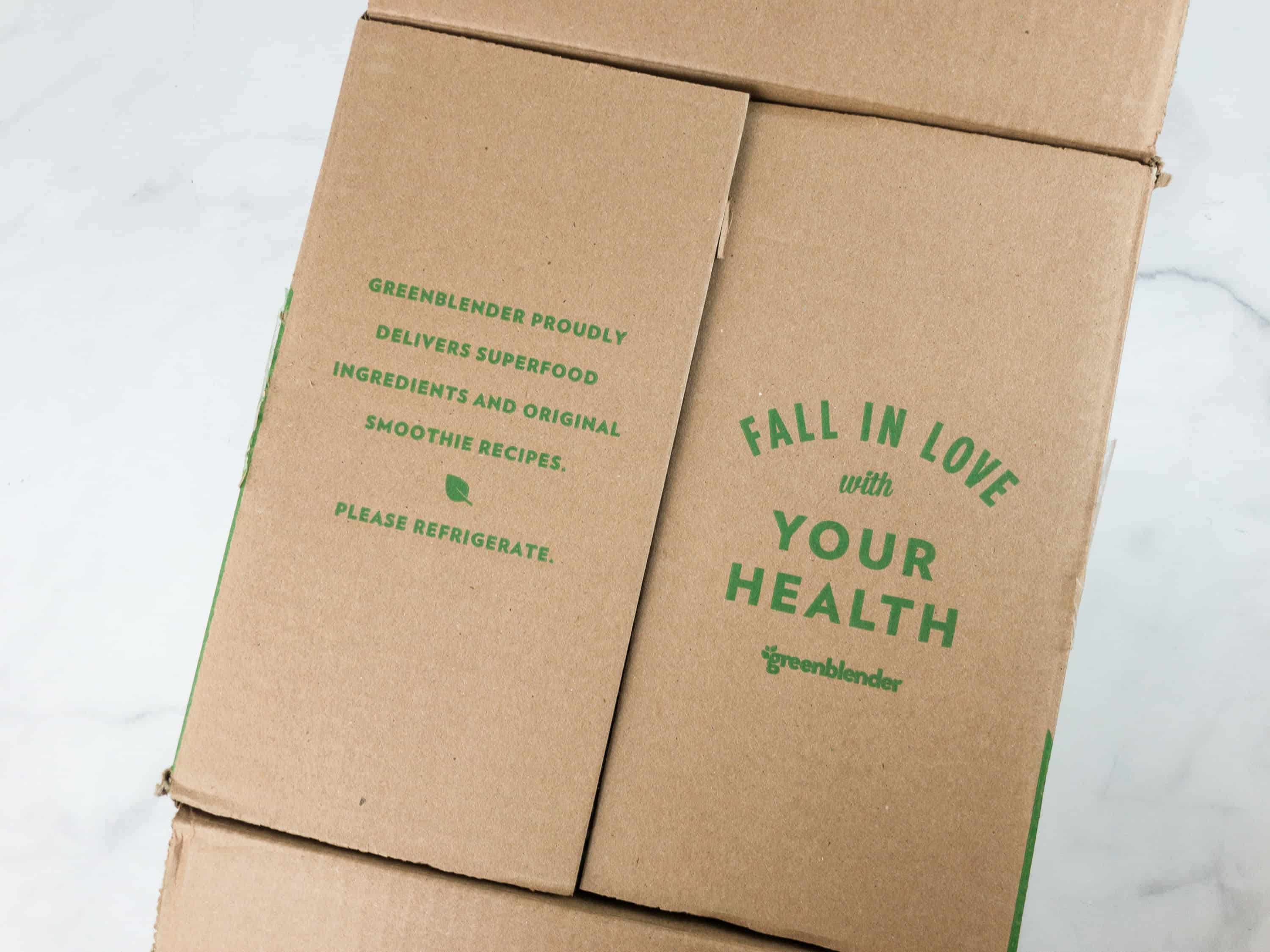 DEAL: Save 20% on your first order with coupon code HELLOSUBSCRIPTION.
Hello!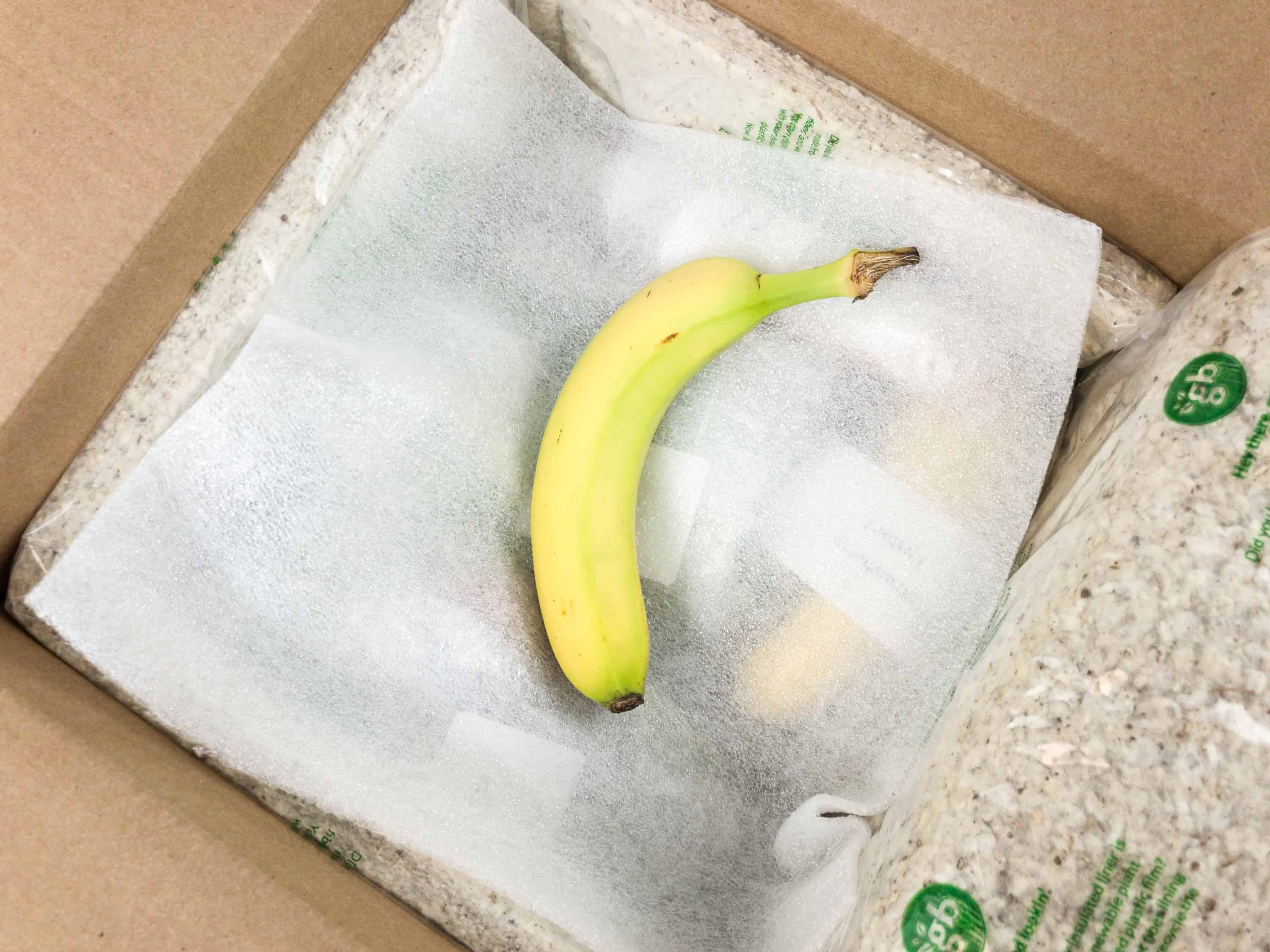 A weekly Green Blender box includes the fresh ingredients packaged with gel ice packs, a recipe sheet, and information explaining the basics of Green Blender and how to layer ingredients. And the banana is on the top!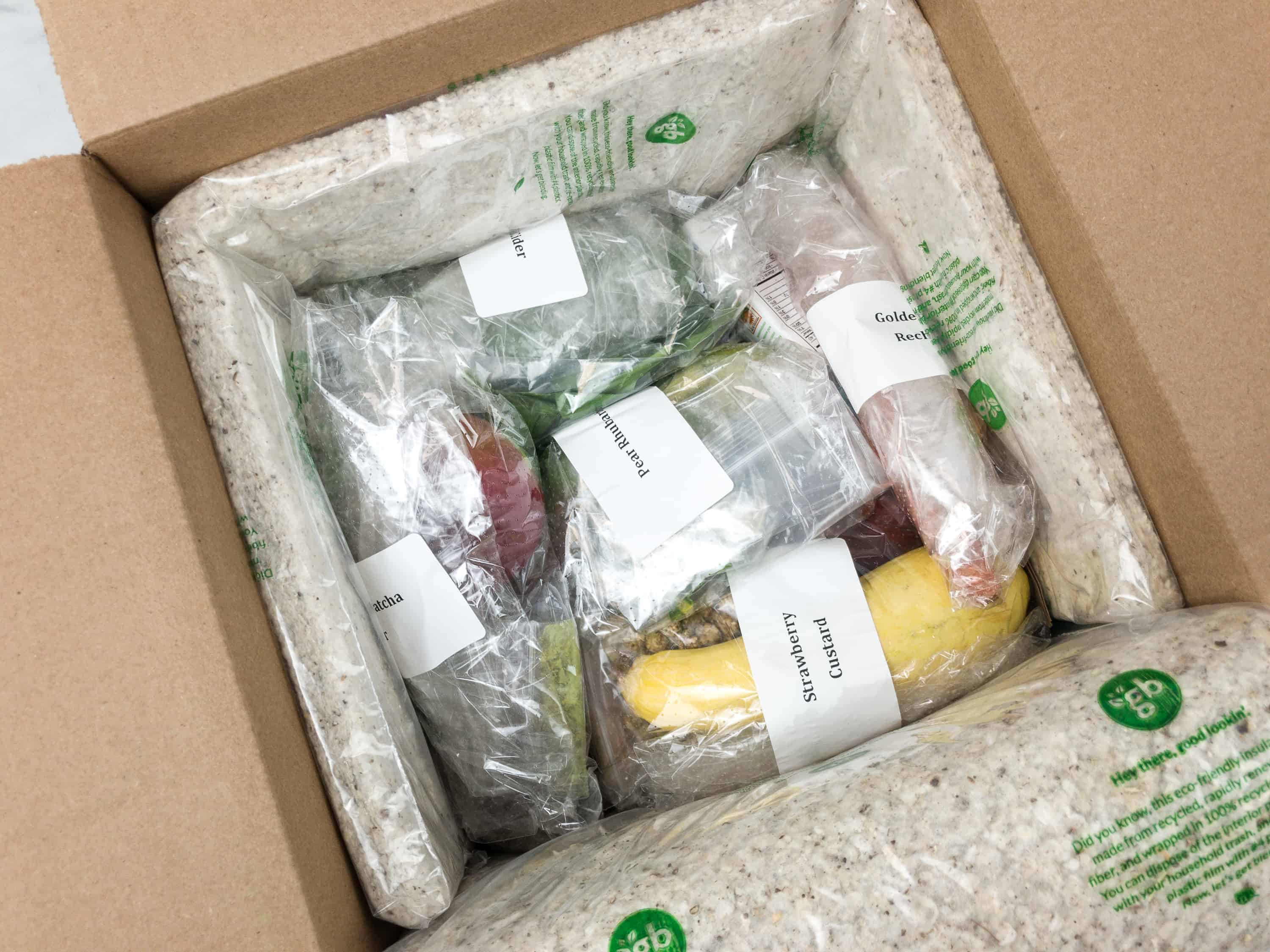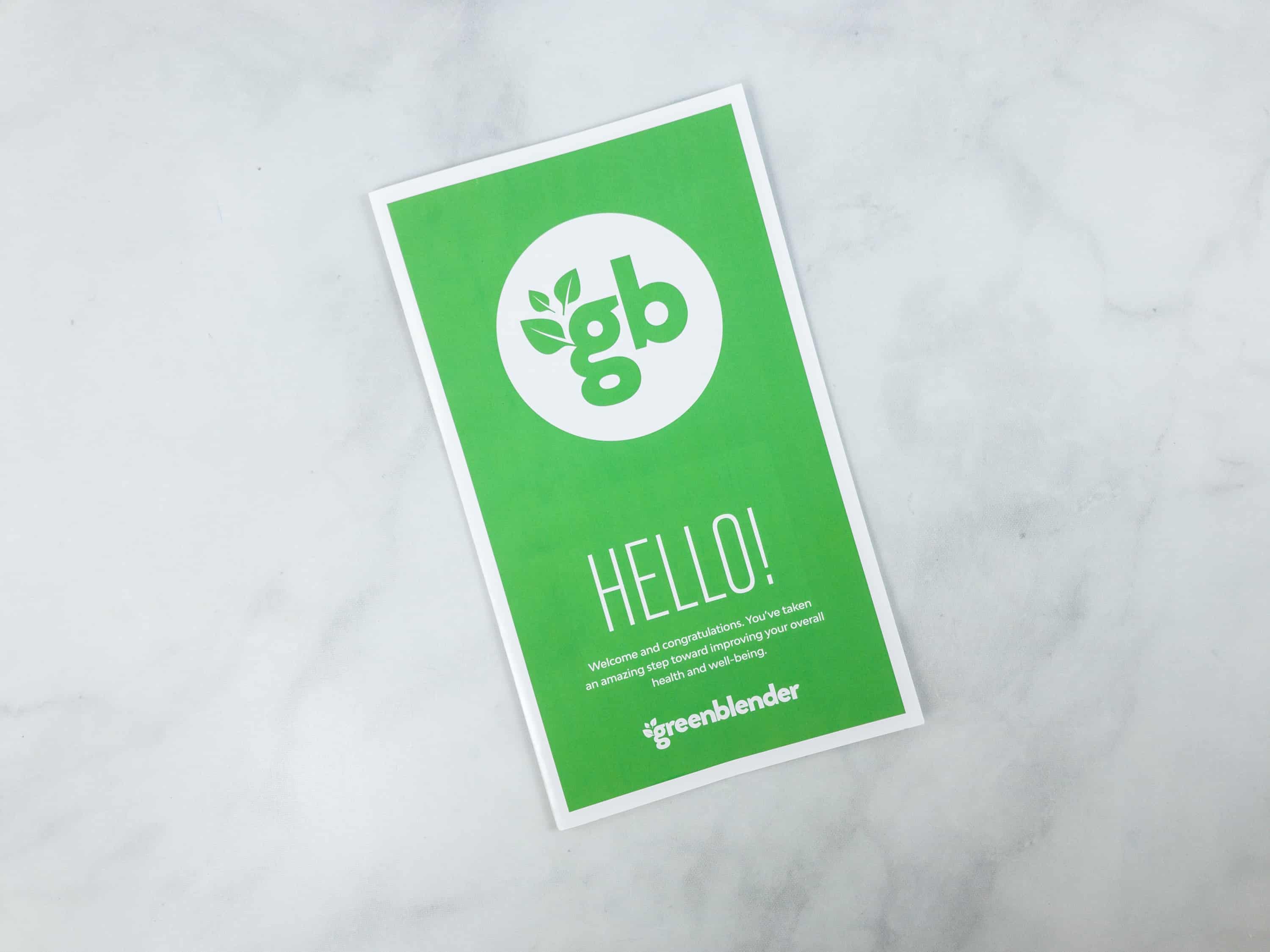 There's an information booklet included in the box.
Each recipe yields two 12 oz servings. Inside the booklet, there are tips on how to make the perfect smoothie. Apparently, there is an order that should be followed. The bottom layer is for the liquid base, the next layer will be for the leafy greens, followed by fruits and vegetables. The fourth layer is for the powders, nuts and the like, while the top layer is for ice.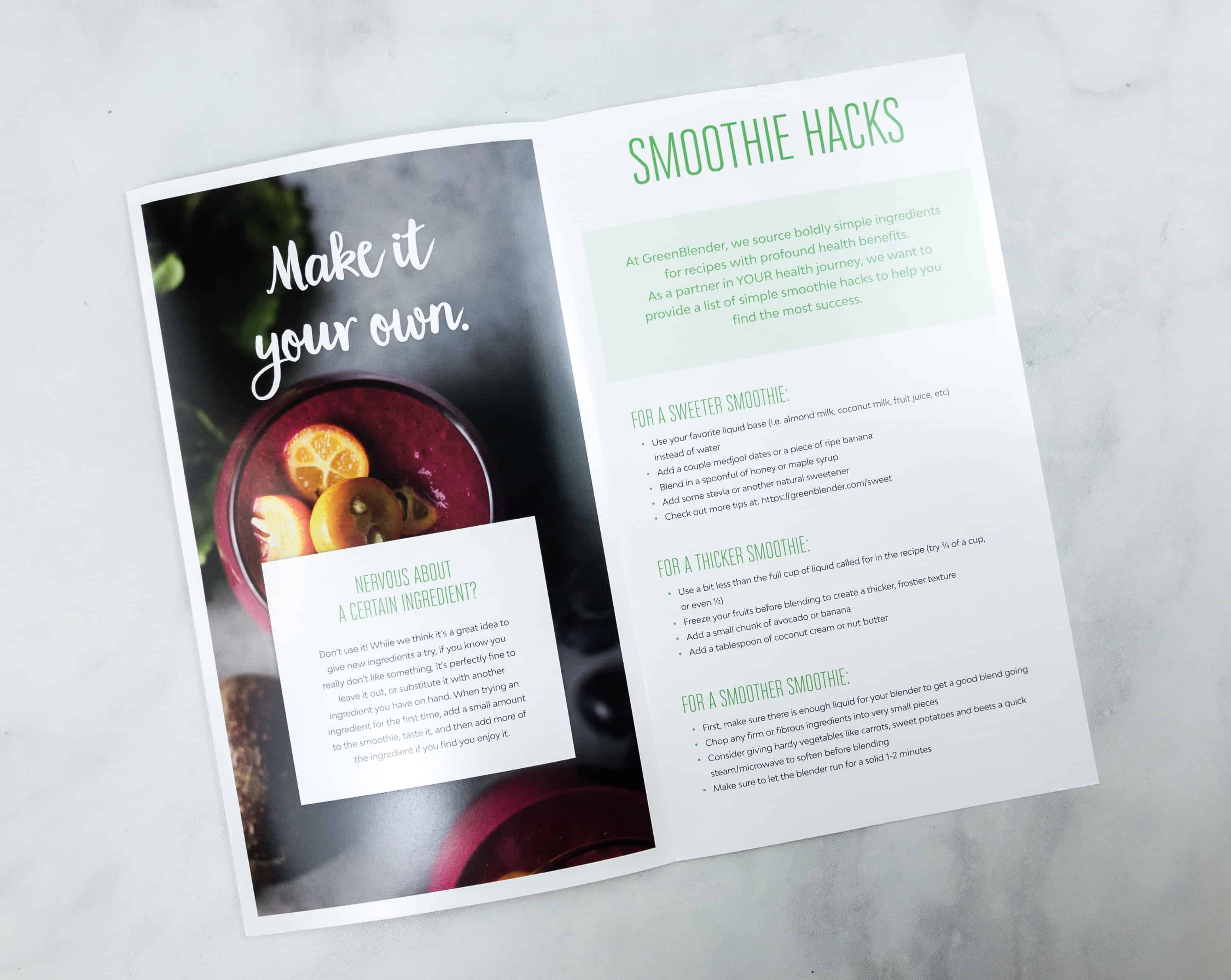 You will also get some smoothie hacks to make your Green Blender experience more enjoyable. Since smoothies depend on your preferences, you will need to know how to make your smoothie thicker, sweeter, or smoother. These hacks are printed out for you so you will know what to do.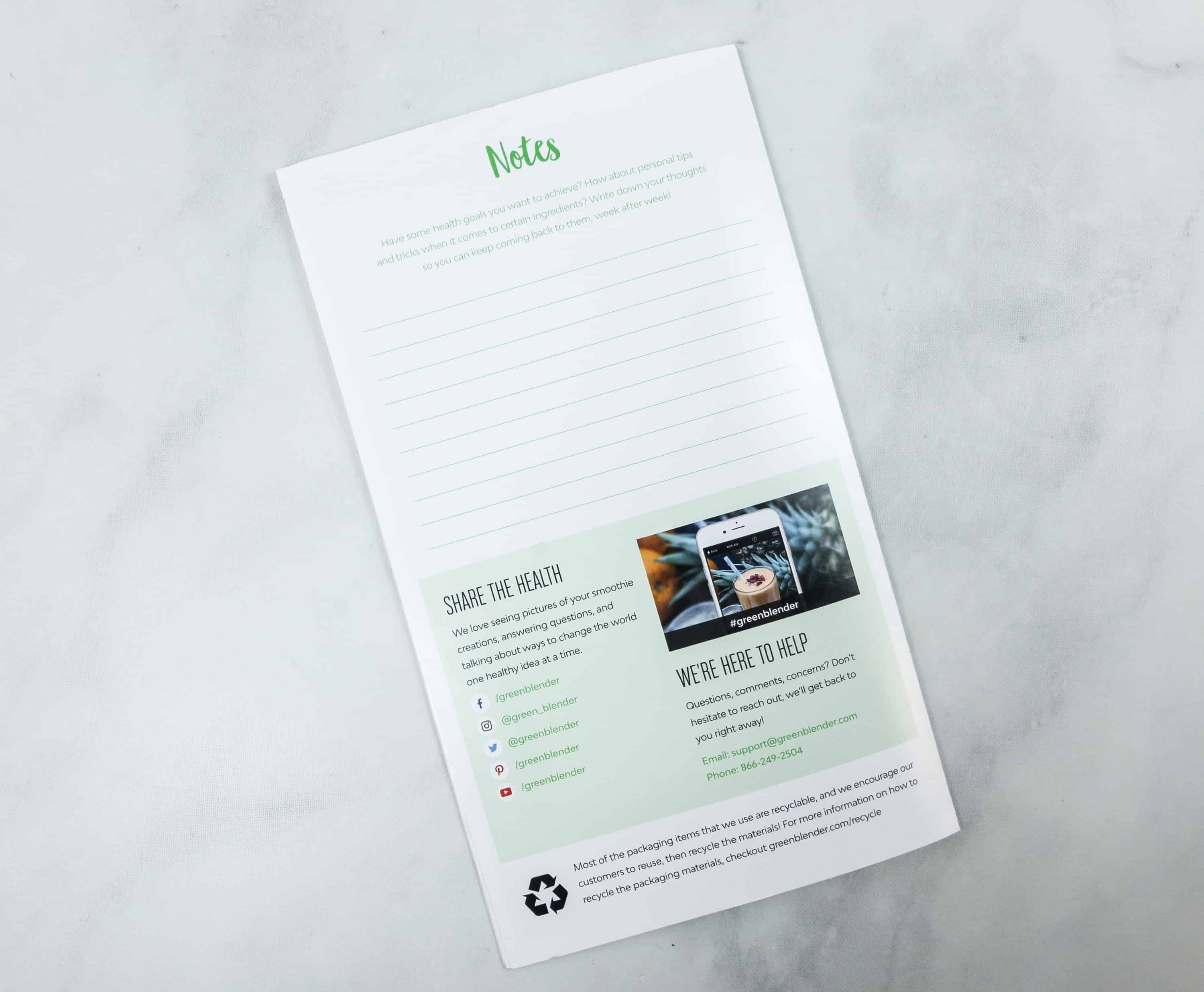 At the back of the booklet are some notes to help you with the Green Blender plus where you can reach them and how to share your own experience with this month's box!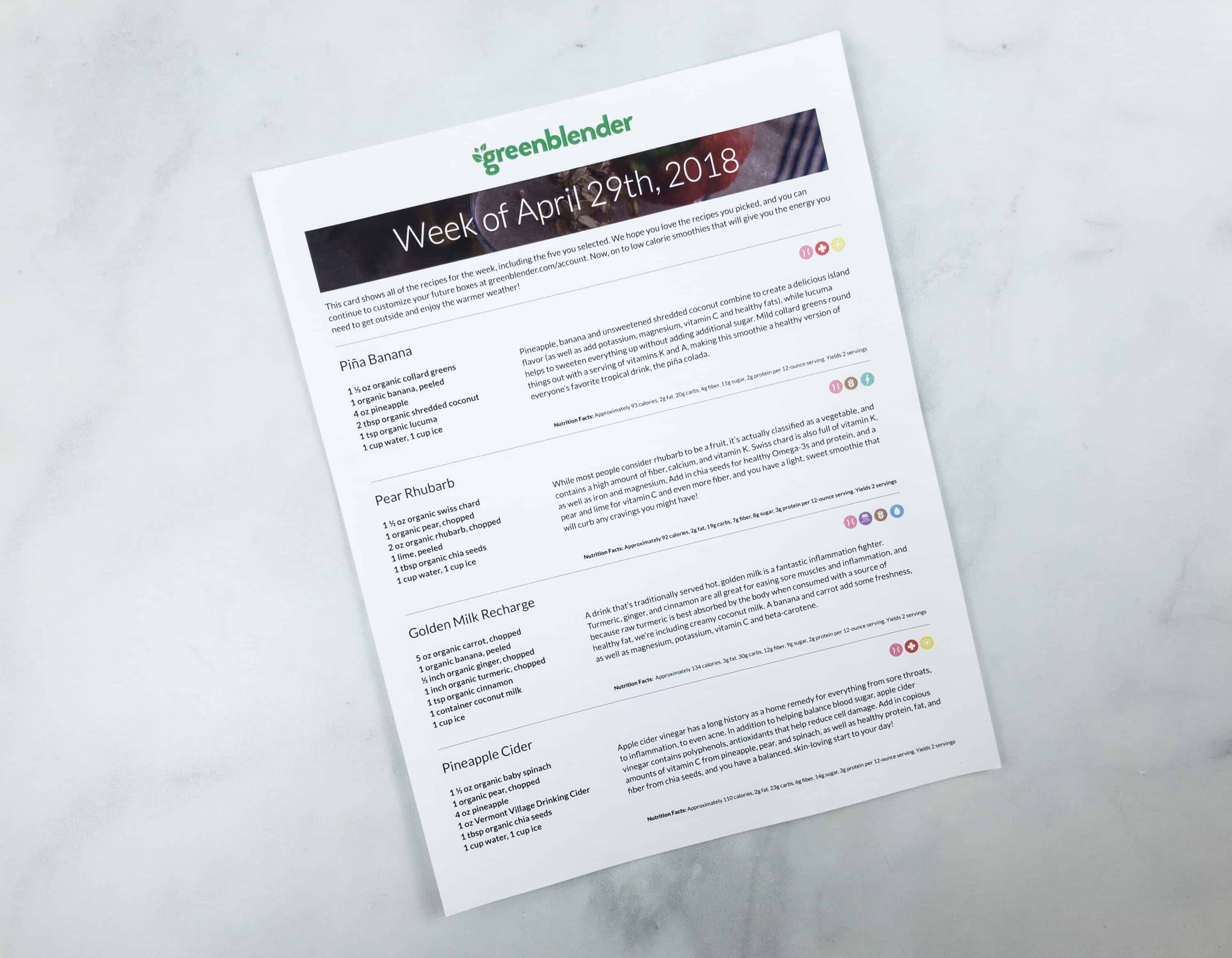 Since this box is on per week basis, you will get smoothie recipes for the entire week. I am seeing some interesting combinations here such as Pina Banana, Pear Rhubarb, Golden Milk Recharge, and Pineapple Cider.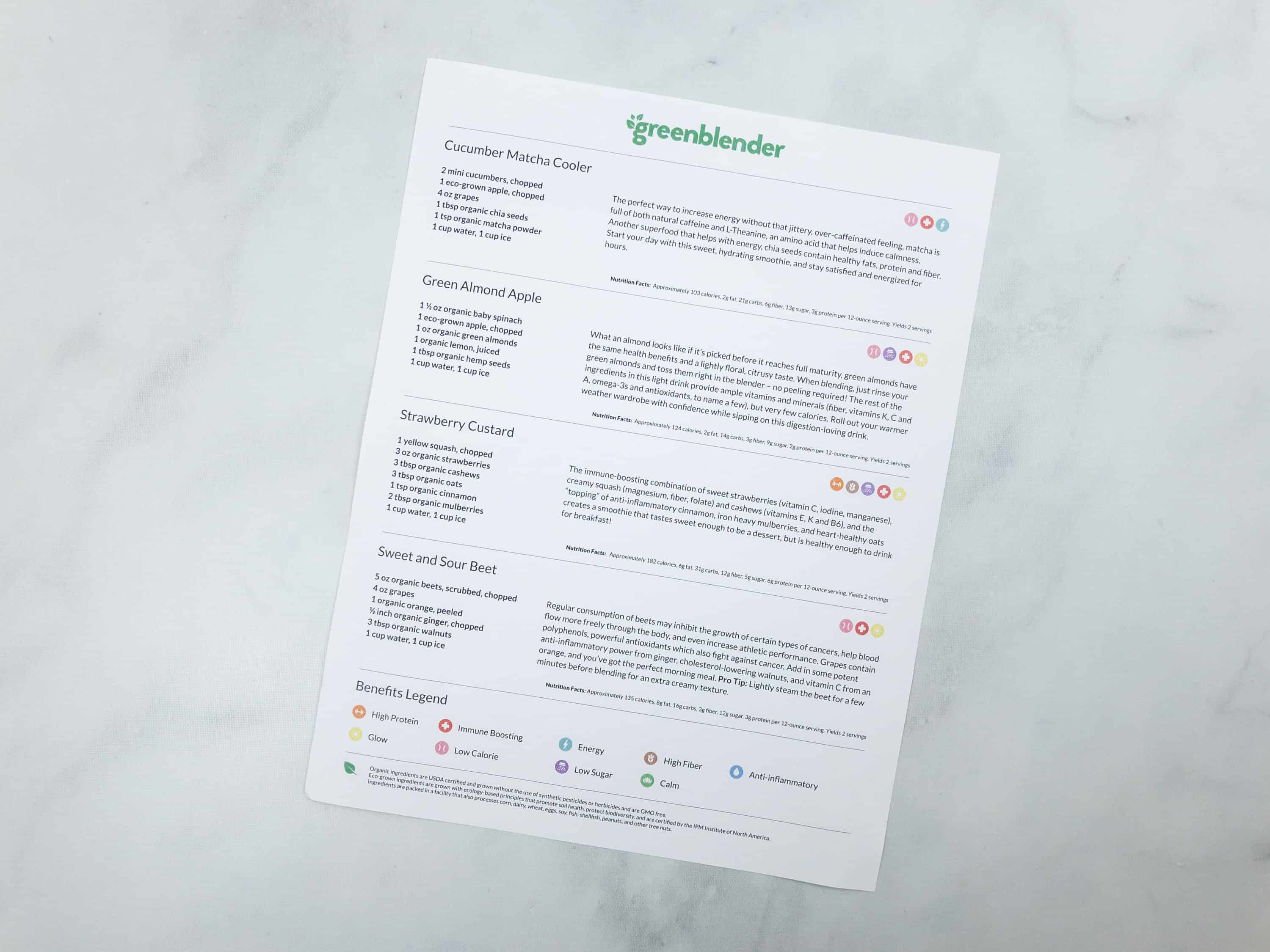 At the back, you will find recipes for Cucumber Matcha Cooler, Green Almond Apple, Strawberry Custard, as well as Sweet and Sour Beet. The list of ingredients is included as well as how to prepare each smoothie and the benefits that you can get from them.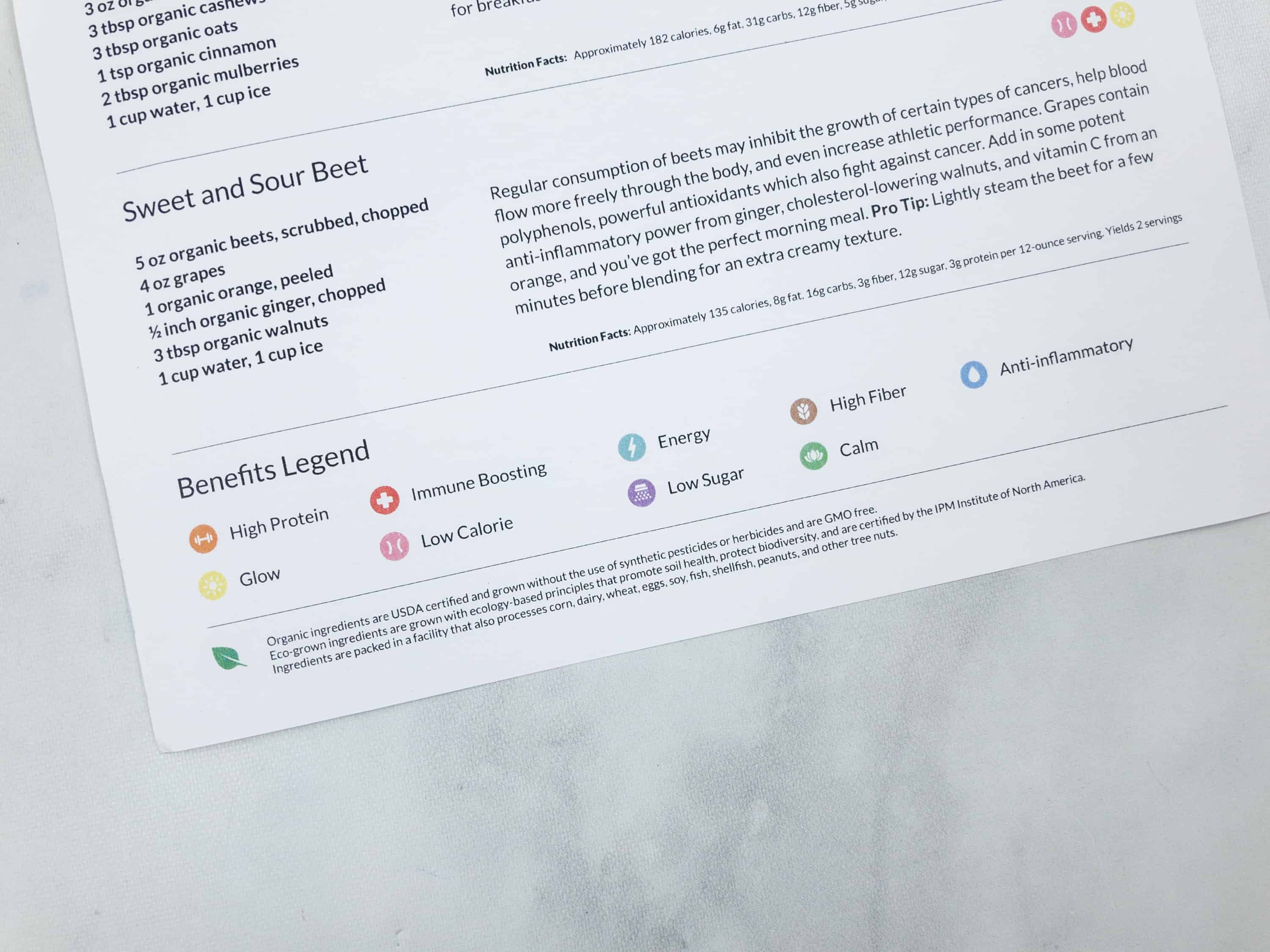 At the bottom, you will see an icon legend for each recipe so you will know which benefits each of them provides. I love how detailed this instruction sheet is – and that it's compact too!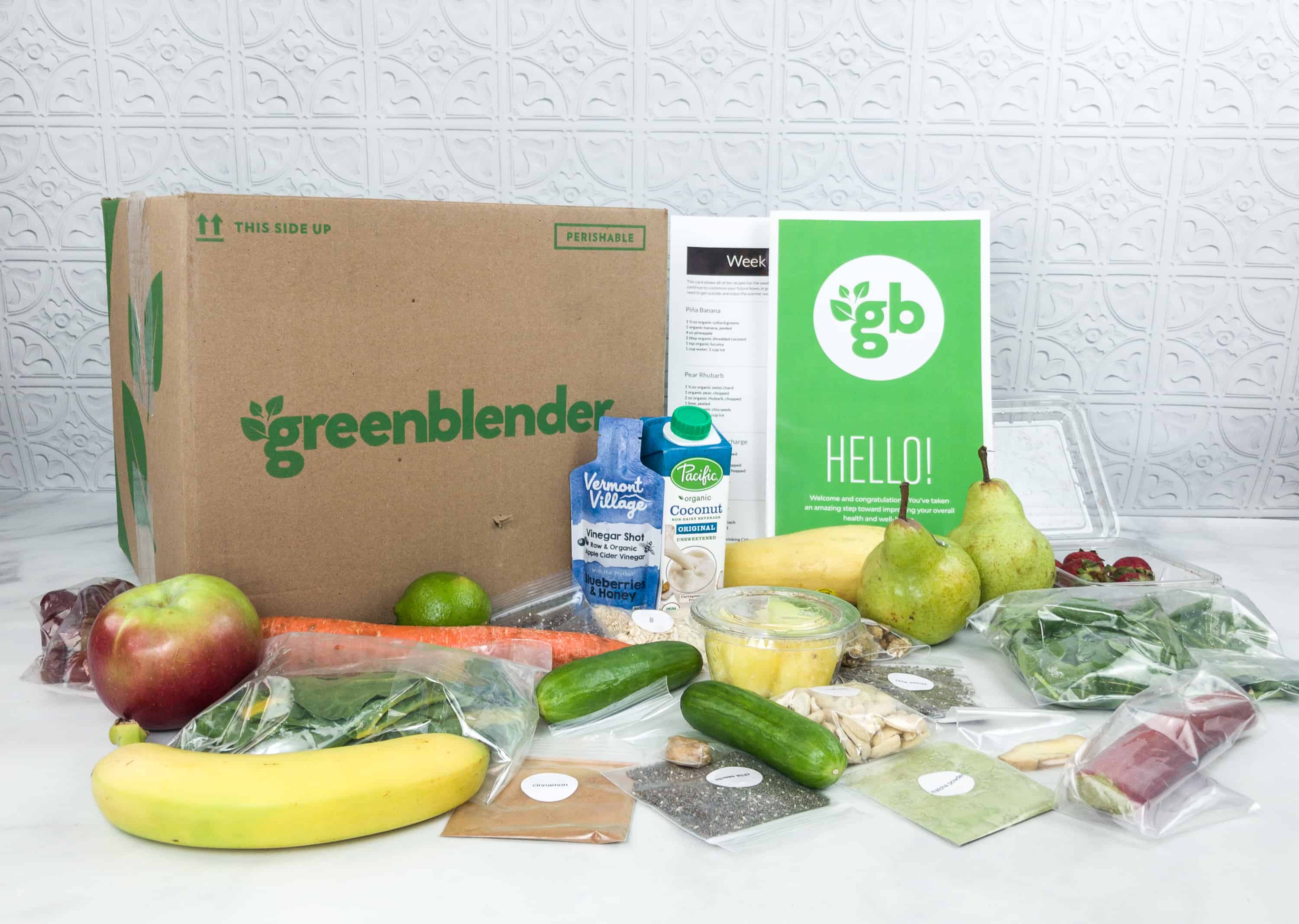 Everything in my box!
All the ingredients are segregated based on the recipe. This way, it will be easier for you to bring them out and prepare them for the day's smoothie recipe.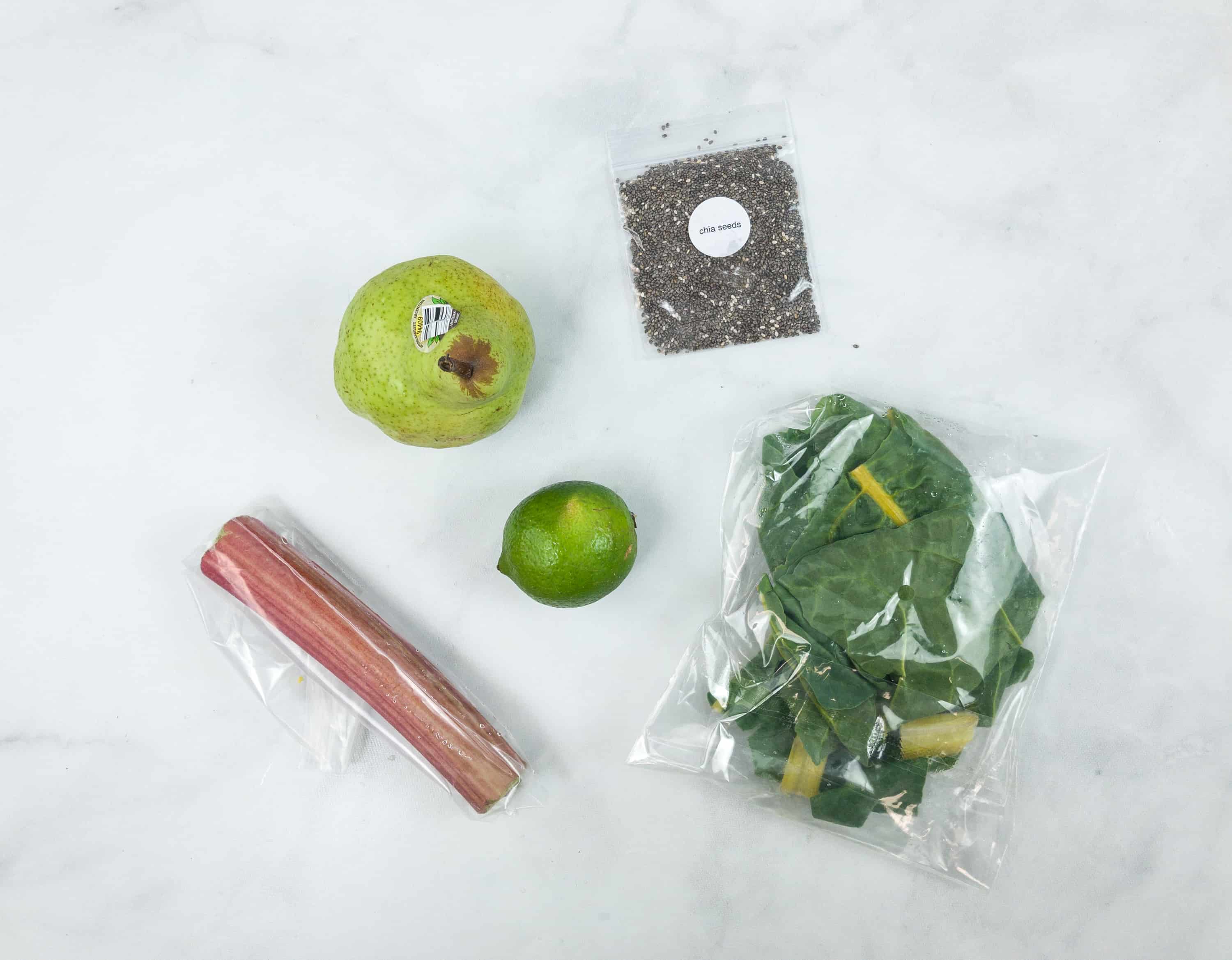 Pear Rhubarb. For this smoothie recipe, we need rhubarb stalks, chia seeds, pears, lime, and some leafy rhubarb greens.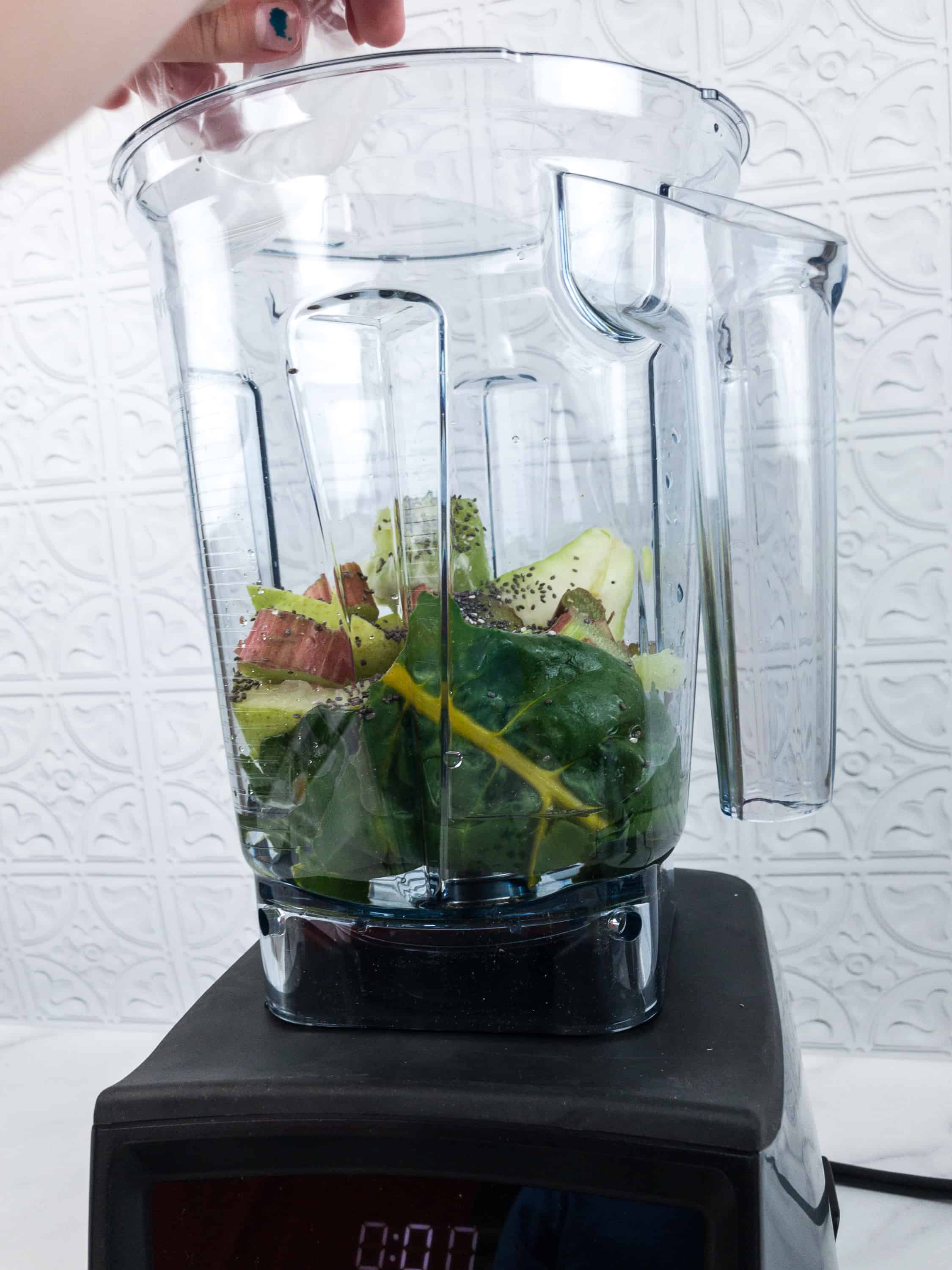 We are using a Vitamix A2300 Ascent Series Smart Blender and we put all the ingredients in it in the order that is suggested by the booklet. The recipe said to "chop" so I did a super rough chop of my ingredients.  Will it blend? Blendtec blenders are also an awesome choice for grinding up a great smoothie.
We blended it until we got our desired consistency, which is a bit velvety, then transferred the smoothie in a tall glass. I love the vibrant green color!
It tastes amazing! This smoothie blend is packed with fiber, vitamin K, and calcium because of rhubarb, plus Omega 3 from chia seeds and vitamin C from pear and lime.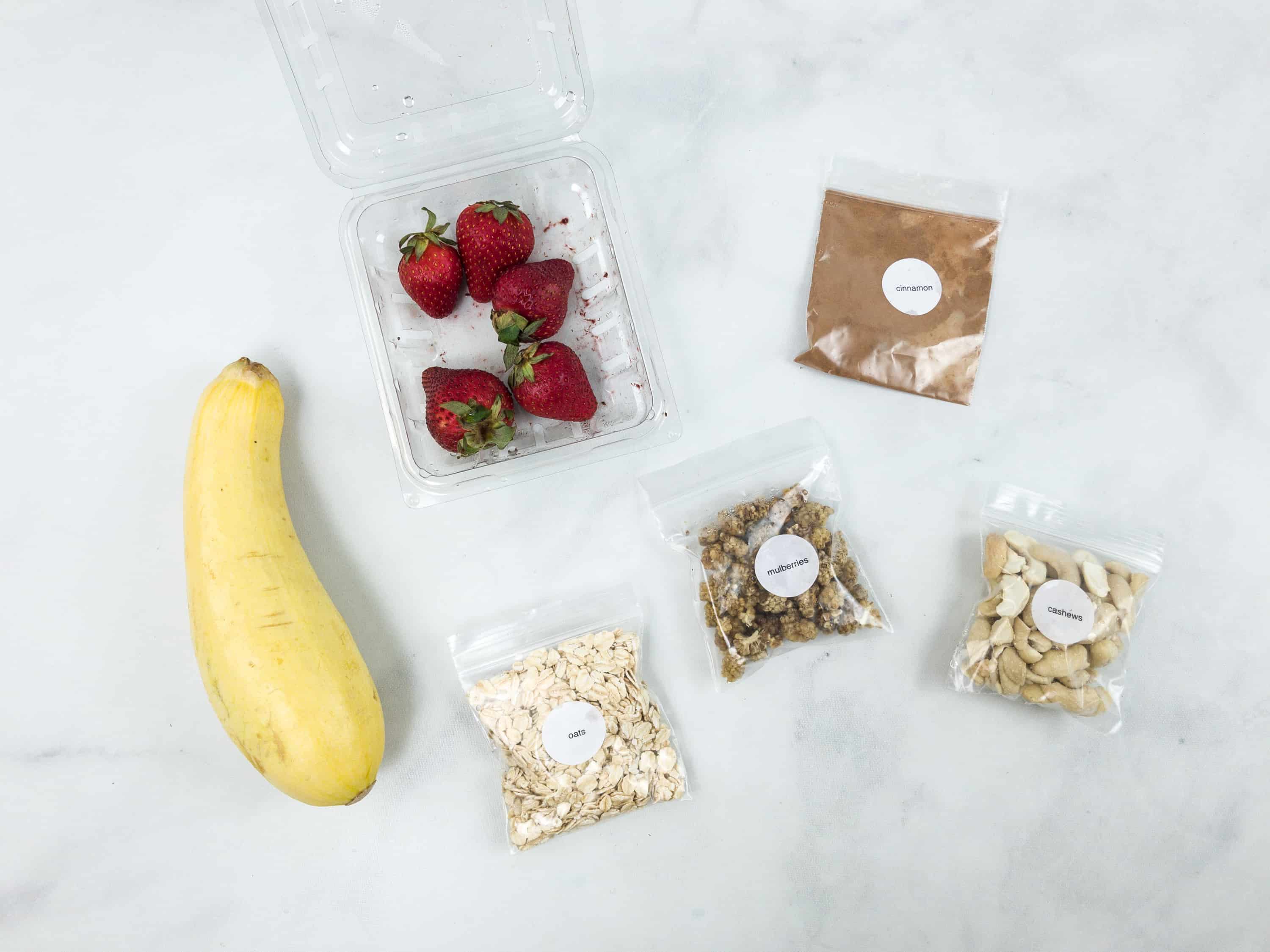 Strawberry Custard. The next recipe got us really excited because we all love strawberries! Aside from the strawberries, it also contains yellow squash, cashews, mulberries, oats, and cinnamon.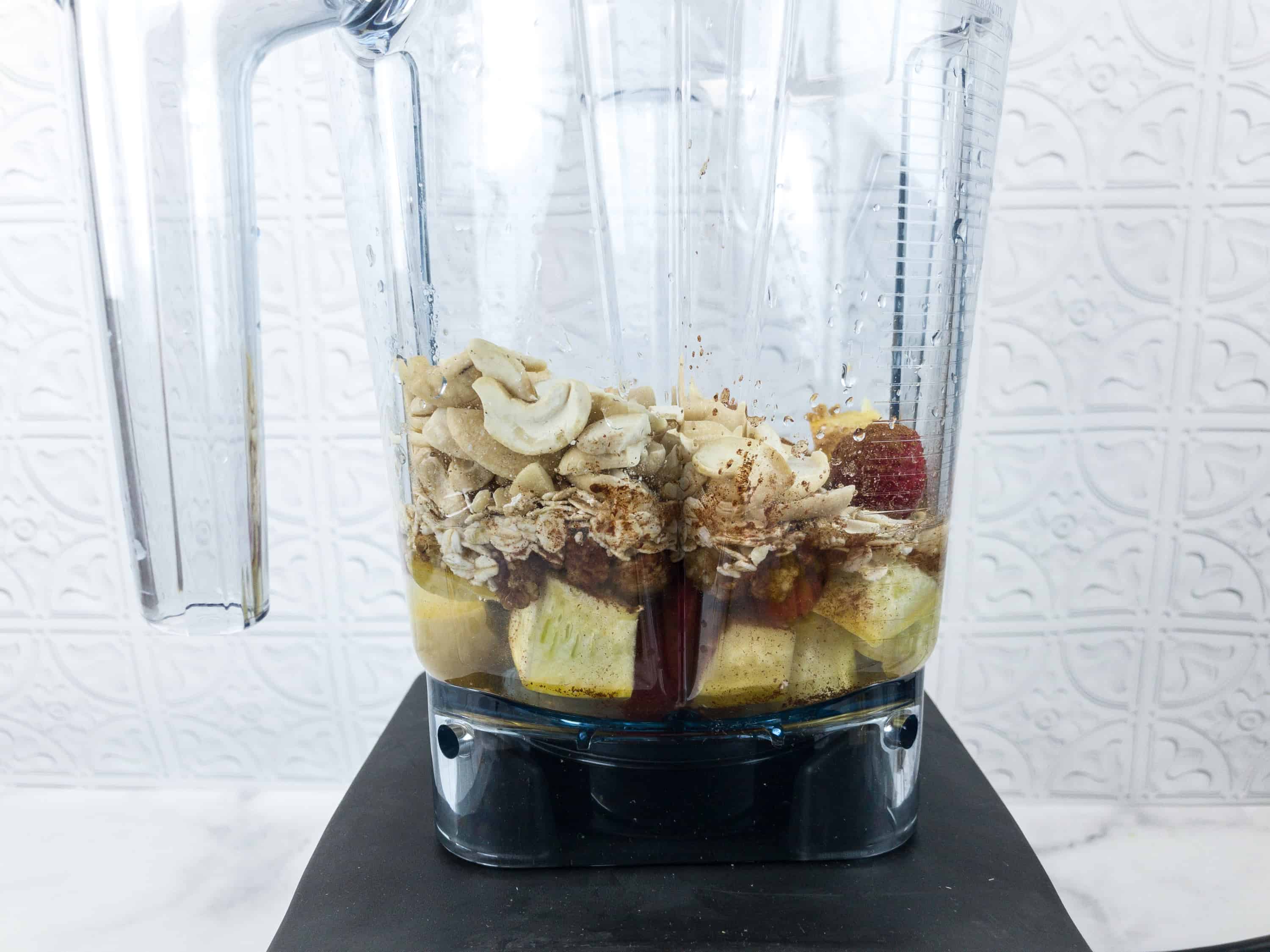 Before it was blended, it looked like a deconstructed version of fruity breakfast oats!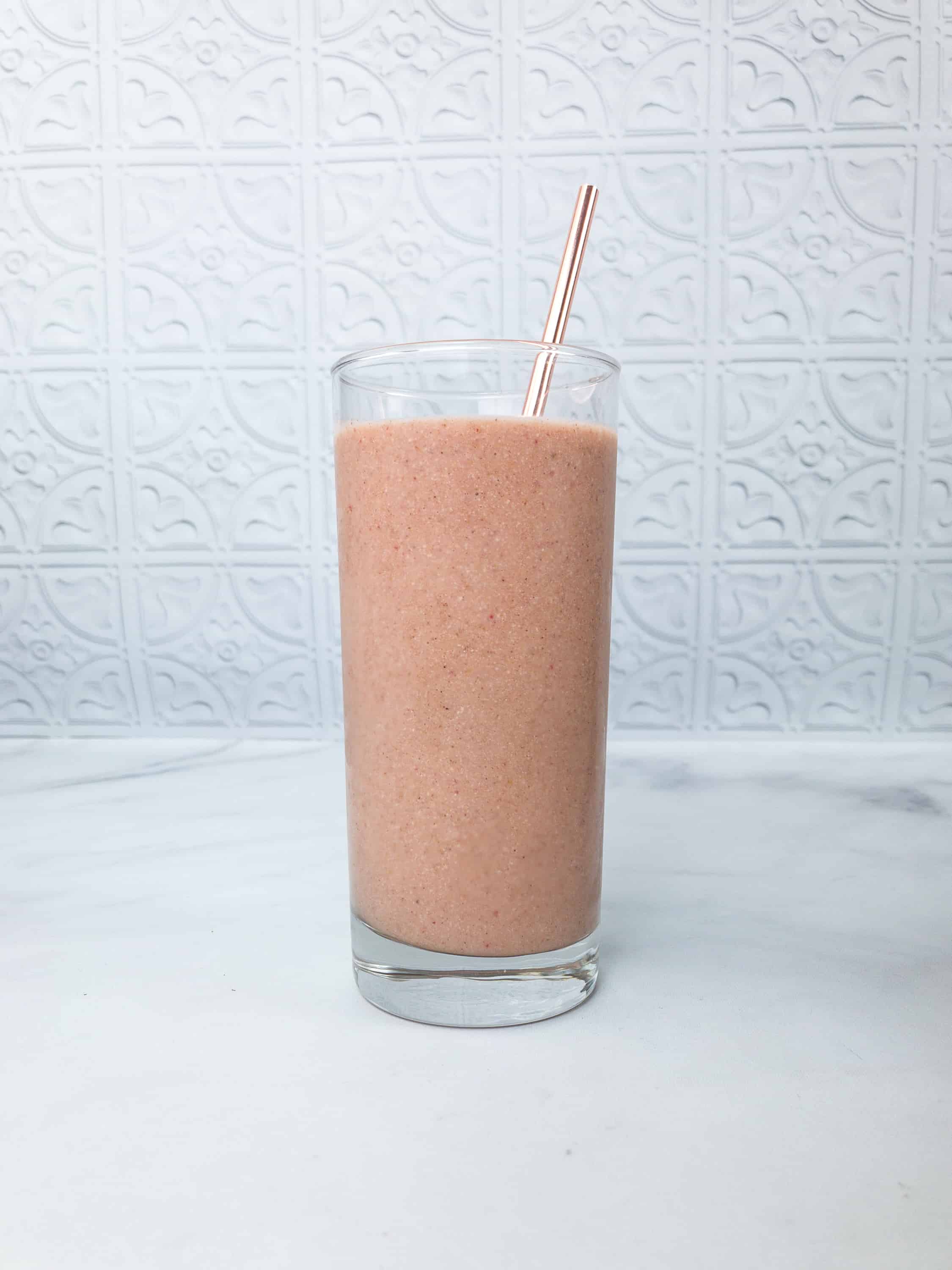 Afterwards, it looked even more appetizing with its pale pink color and smooth texture.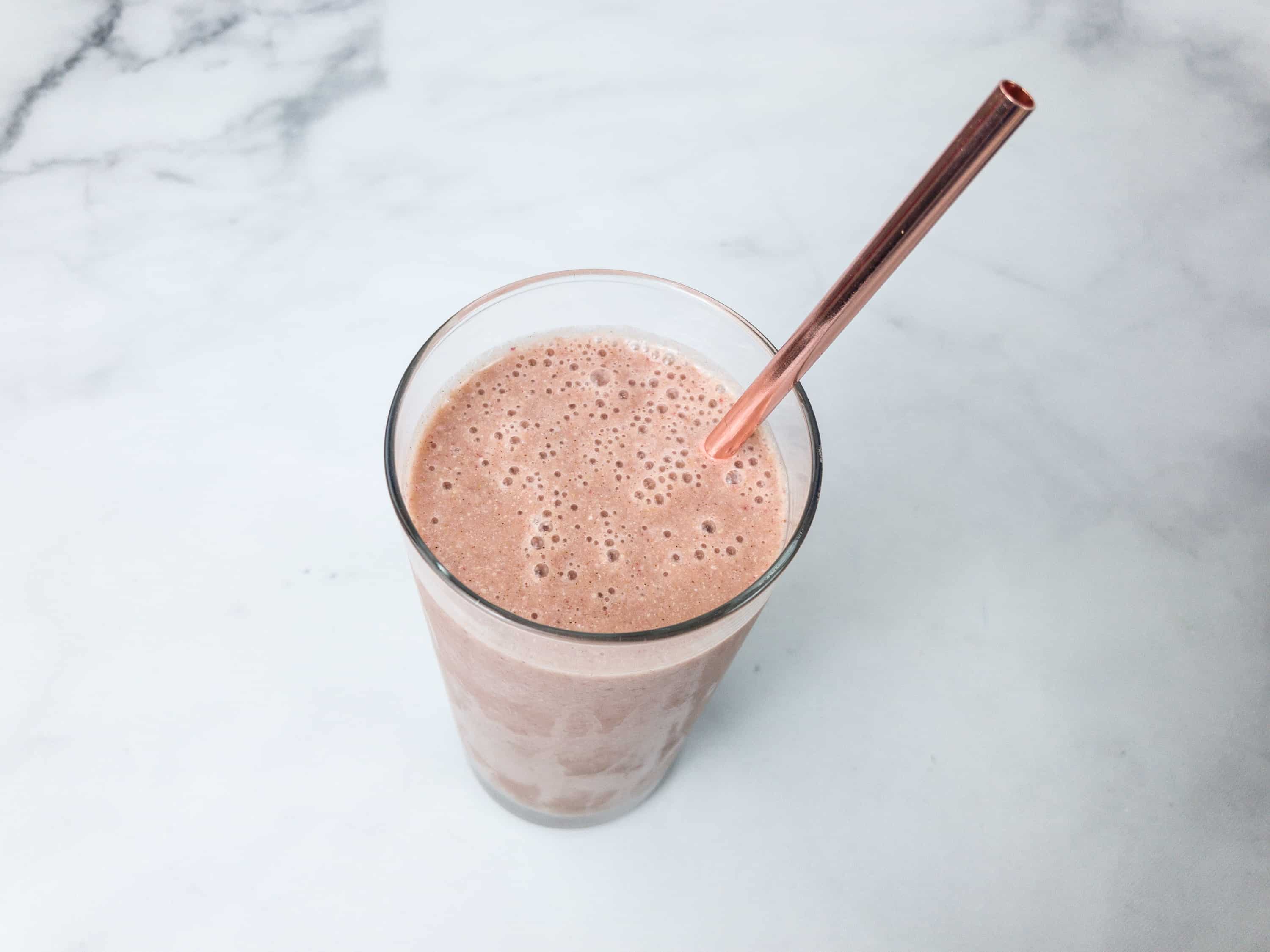 Strawberries, mulberries, and squash made such a nice combination! It was such a sweet smoothie that the kids loved! With oats and nuts, it's also a great smoothie to have for breakfast. It's rich in vitamin C, iodine, and manganese because of the strawberries, as well as magnesium, fiber, and folate from the squash.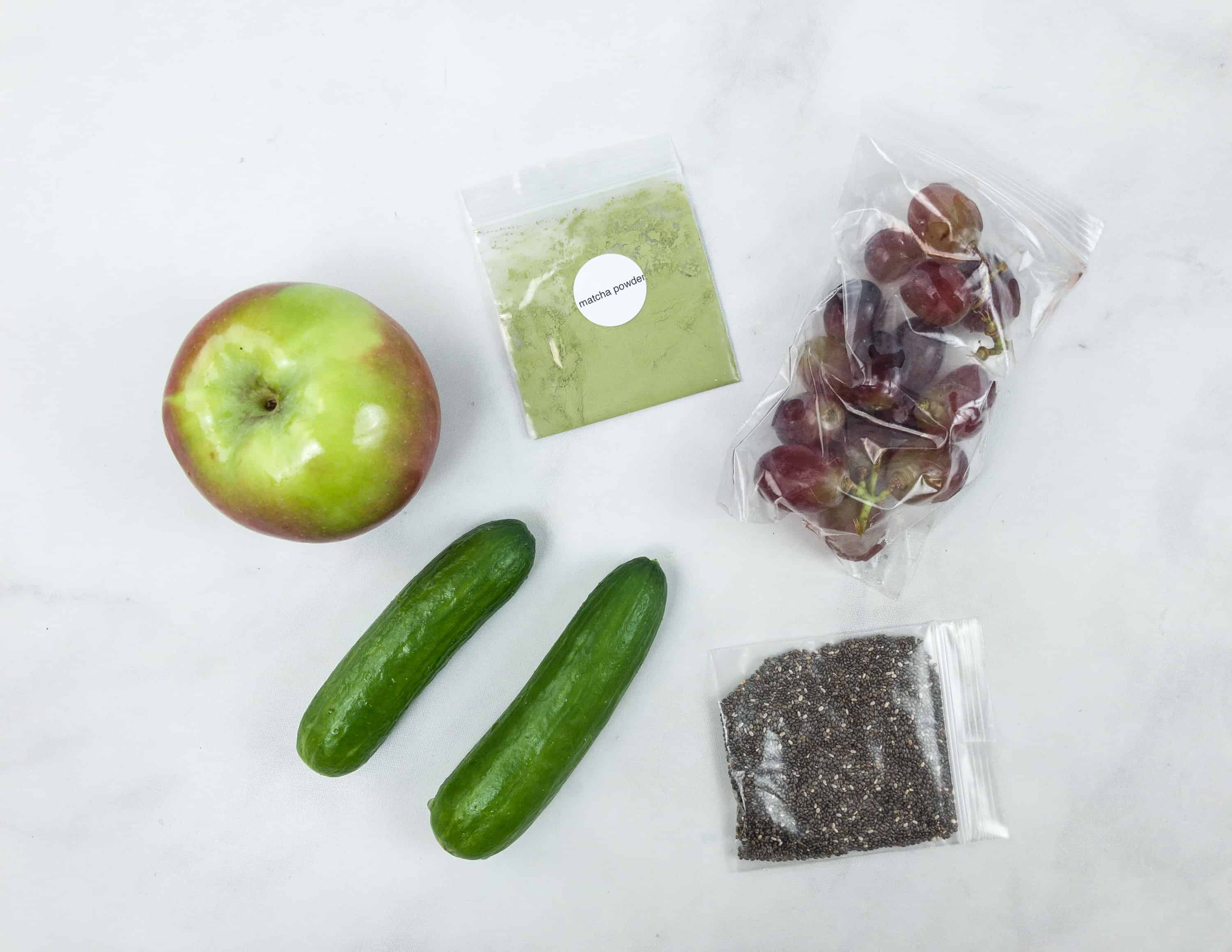 Cucumber Matcha Cooler. It's an anti-oxidant rich smoothie with cucumbers, apple, chia seeds, and grapes. But what makes it really special is the matcha powder!
Layering is everything when it comes to smoothies. We've also chopped the ingredients according to the recipe so that they will be easier to blend. We're getting the hang of making the best smoothies – so easy when all the ingredients are there for you!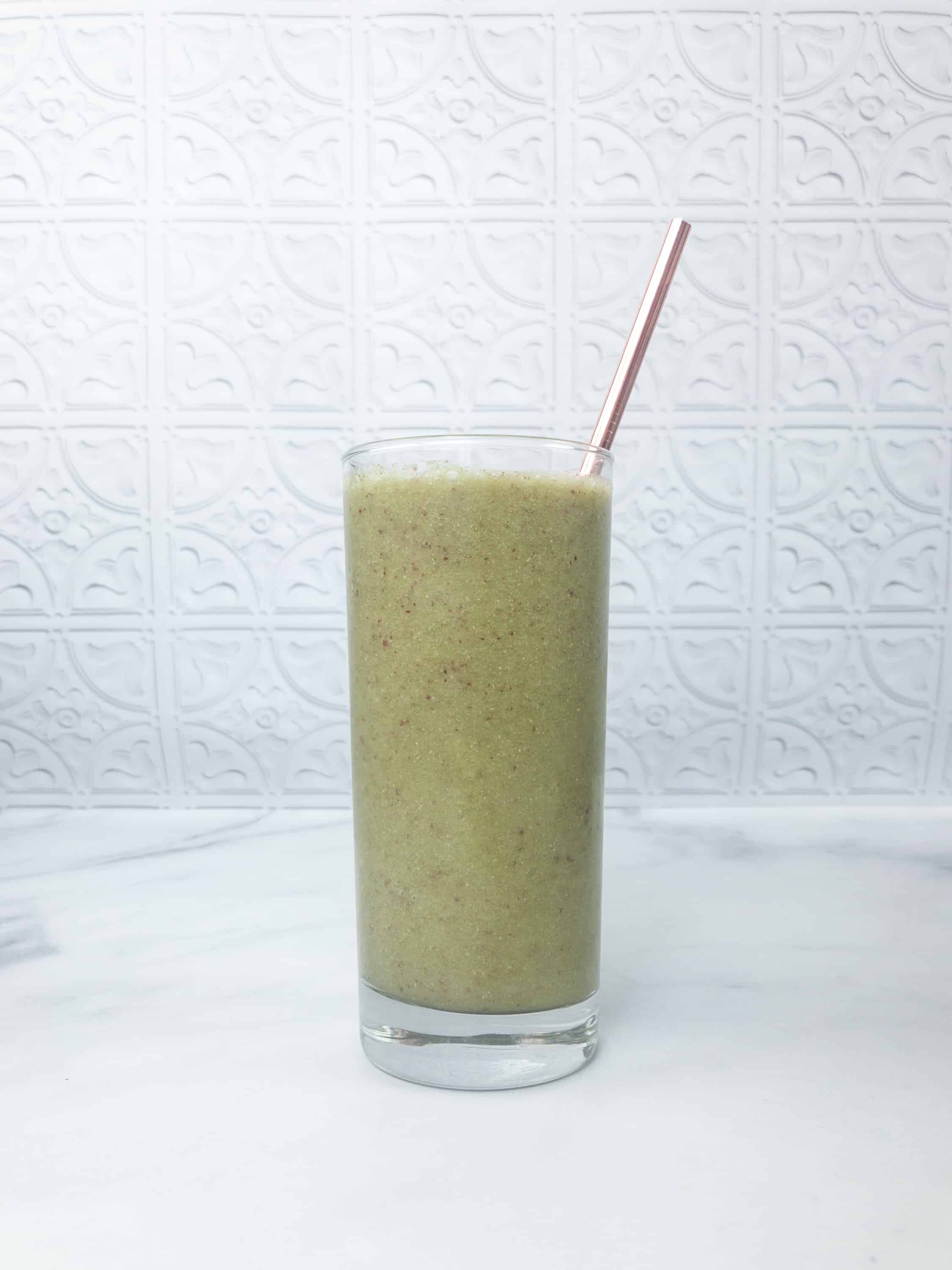 If you are a fan of matcha green tea, this smoothie is a must-try. We liked it so matcha! ?
It's jampacked with natural caffeine, which can make you energized minus the jittery feeling. It's also hydrating and filling, perfect for snack time!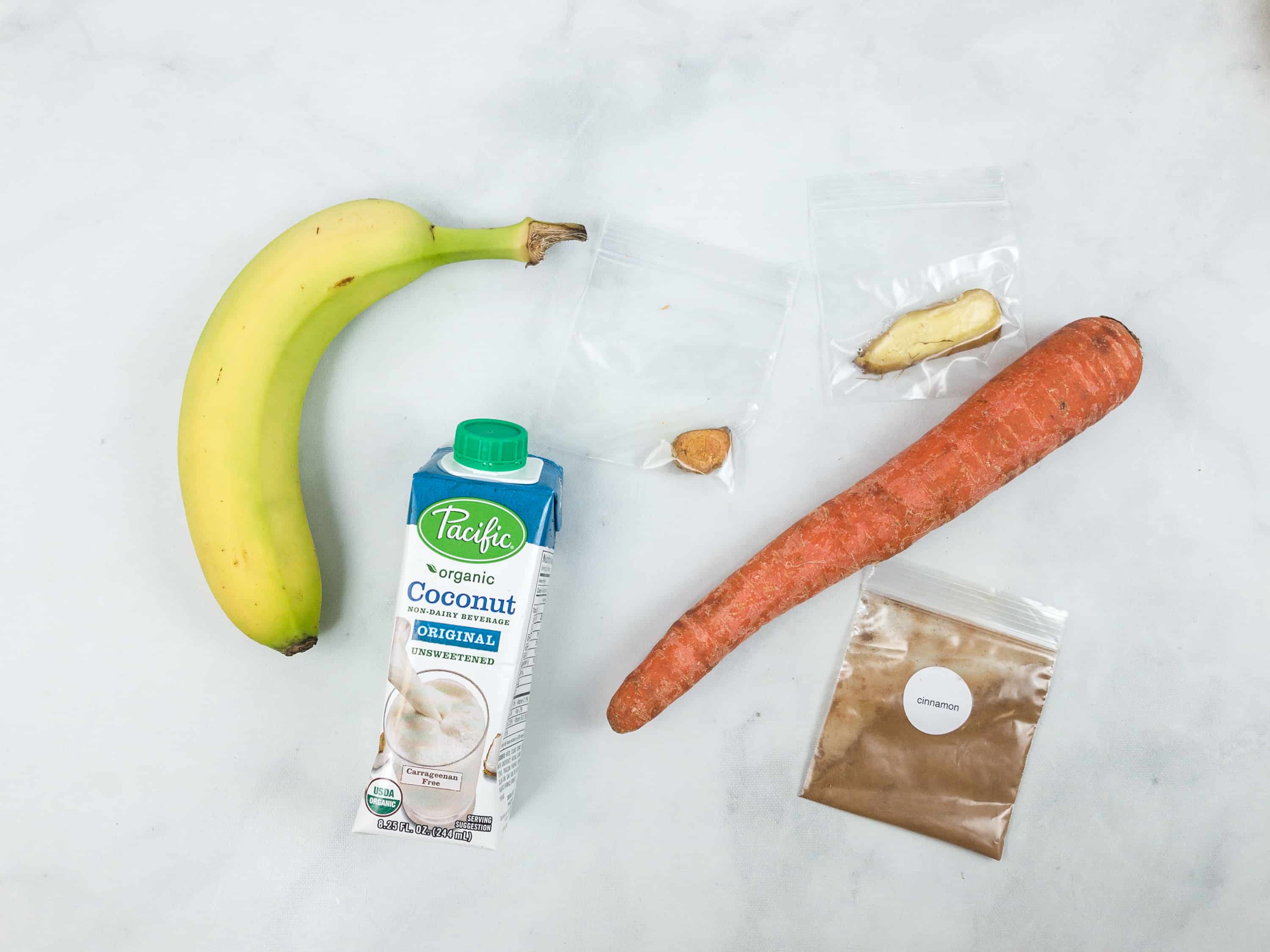 Golden Milk Recharge. The combination of carrot, banana, turmeric, ginger, cinnamon, and coconut milk is yummy and flavorful!
According to the booklet, this drink is usually served hot and is a great inflammation fighter too.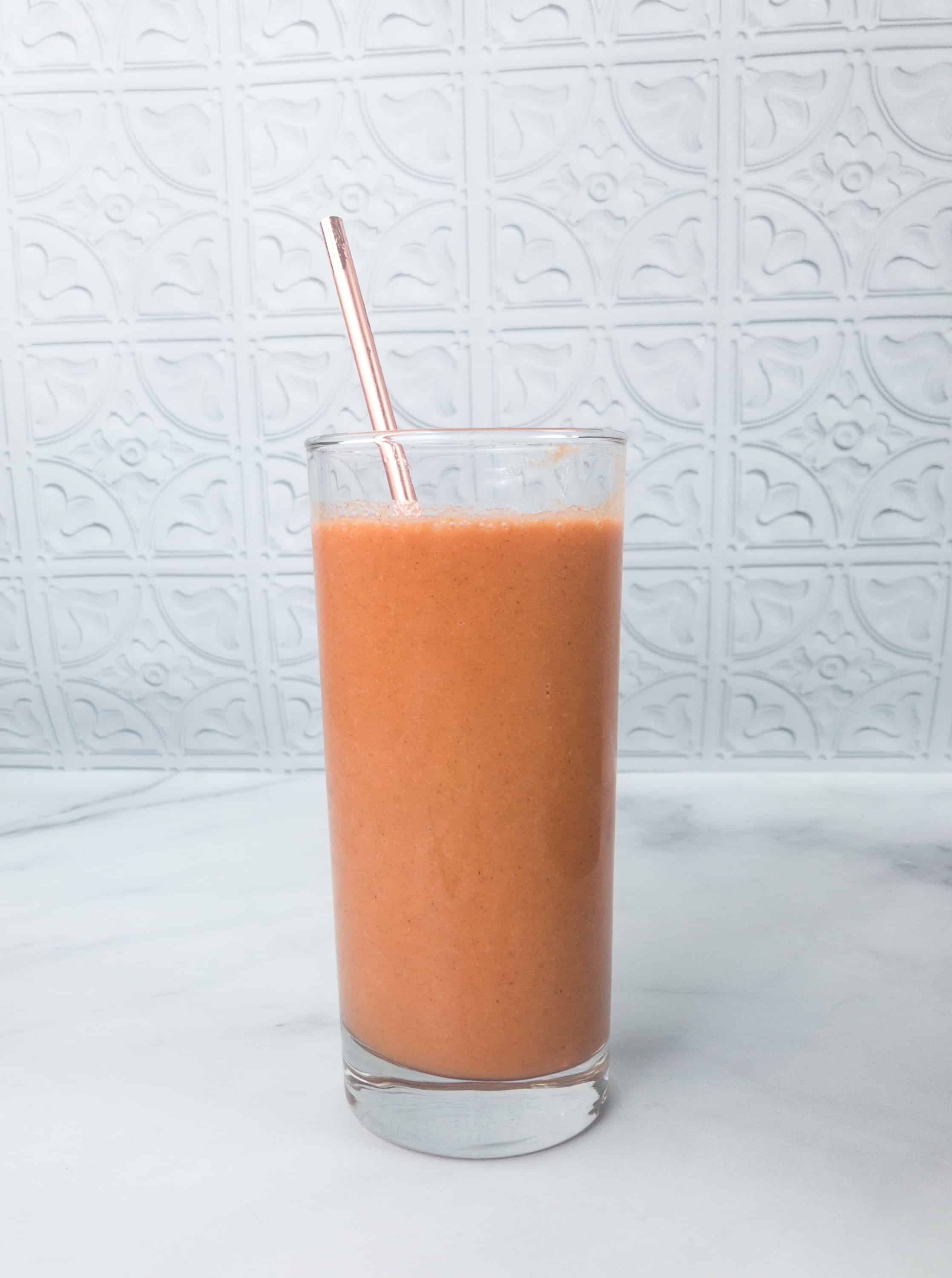 Its bright orange color is a hit with the kids!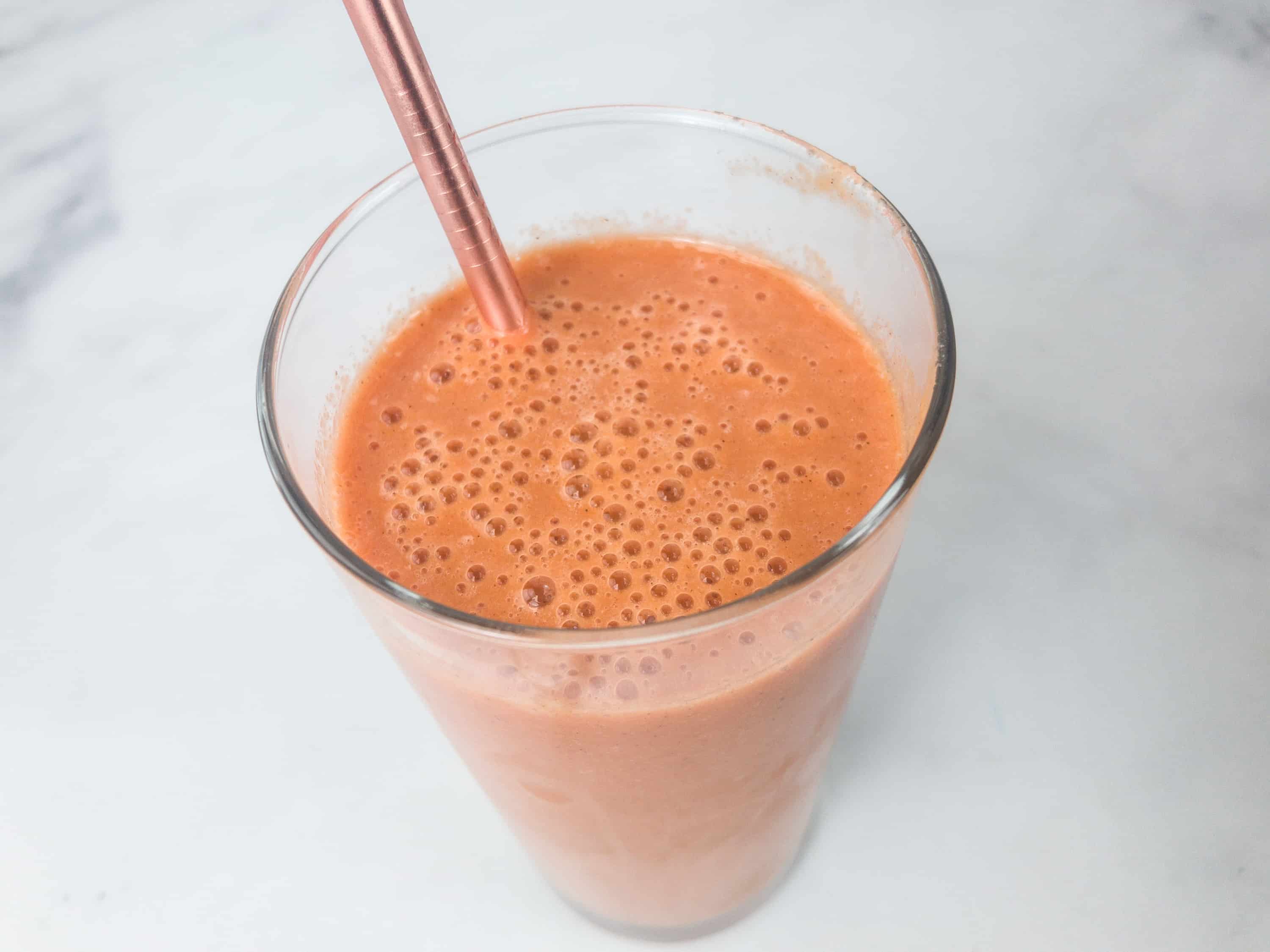 This blend is also quite creamy because of the coconut milk. It was stunningly delicious.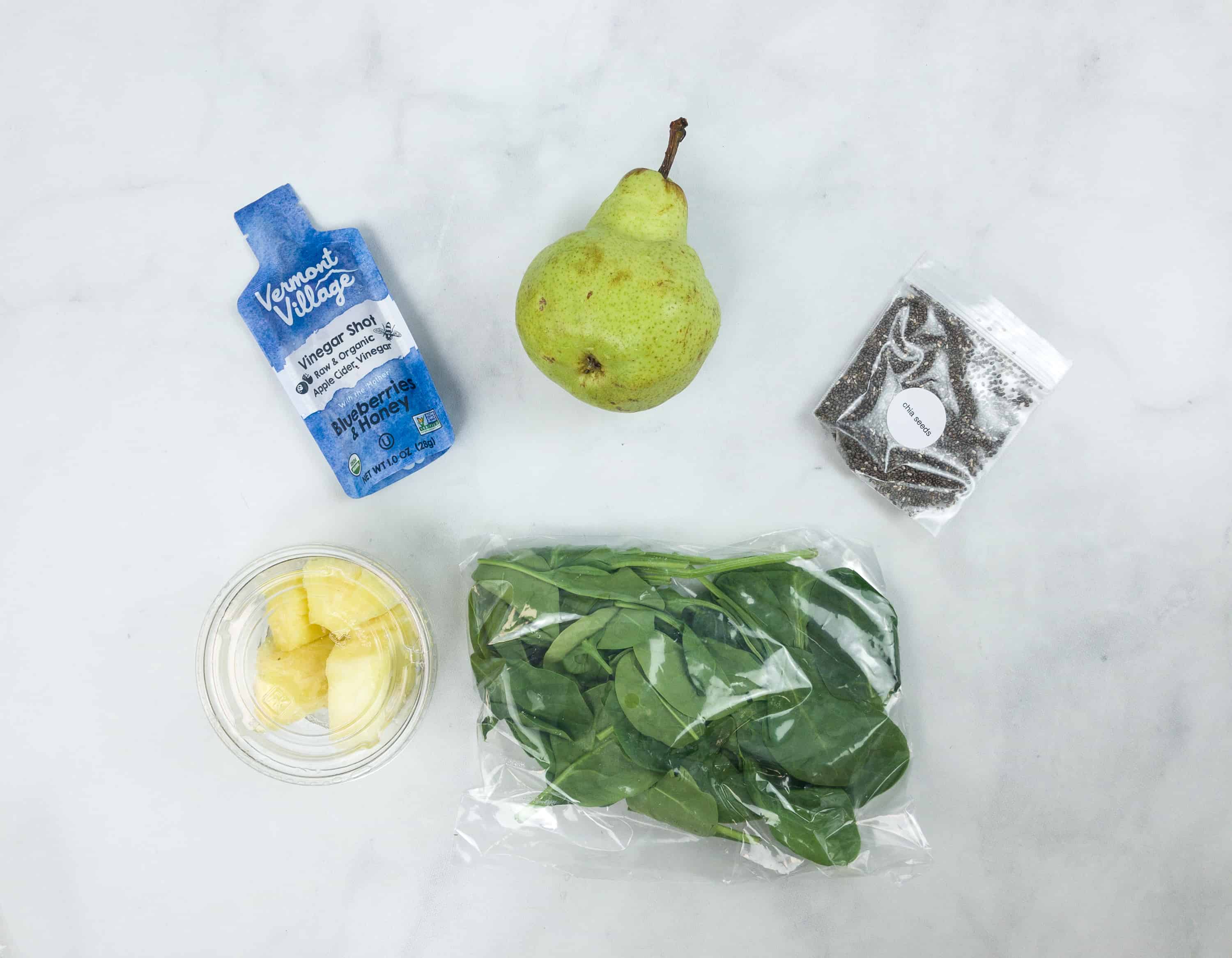 Pineapple Cider. This smoothie is inspired by apple cider vinegar. It contains pear, chia seeds, Vermont Village drinking cider, baby spinach, and ice.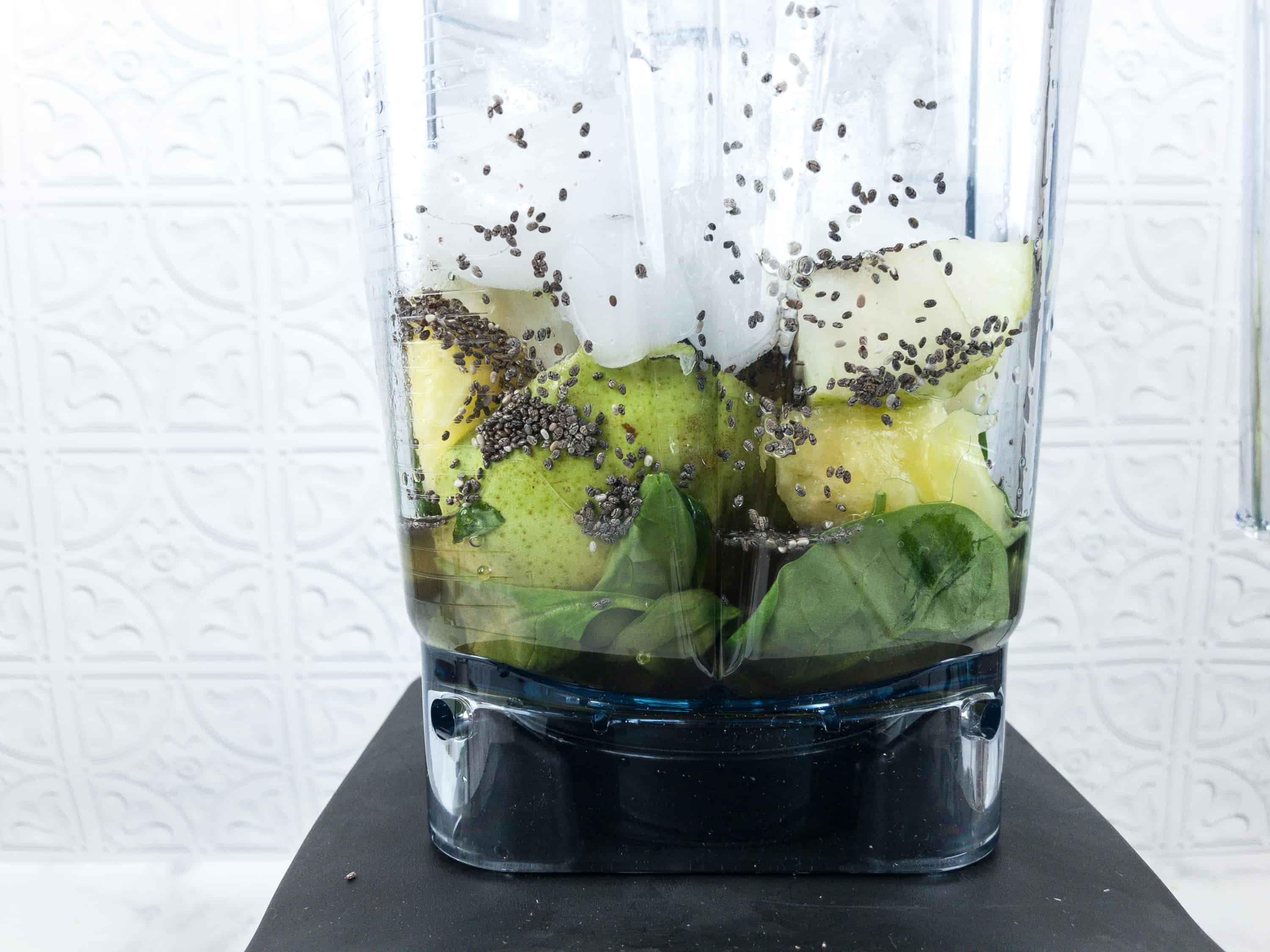 The combination of green and yellow plus the seeds look great!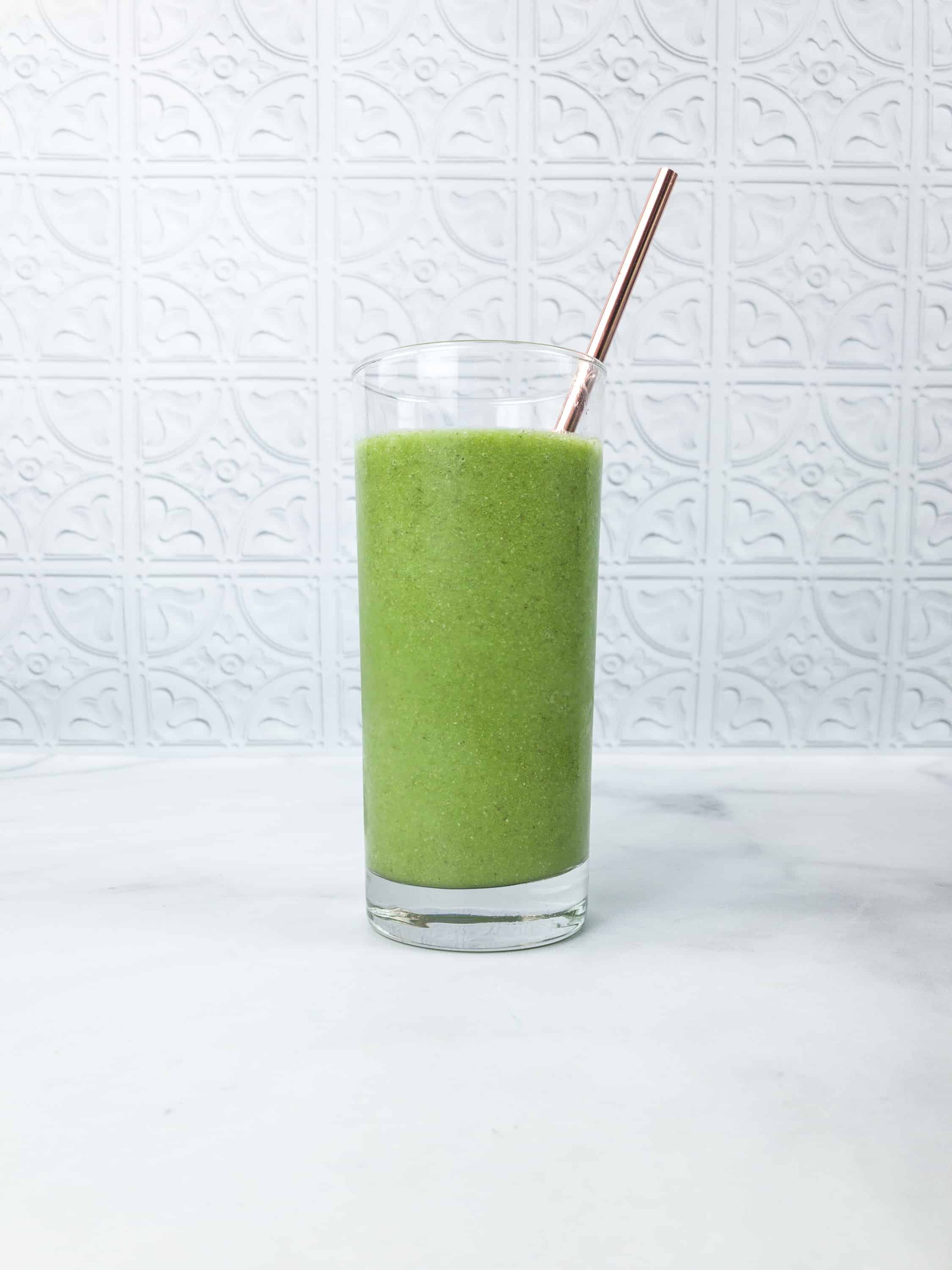 This one is definitely refreshing. It's packed with anti-oxidants and it also helps balance blood sugar levels, thanks to apple cider.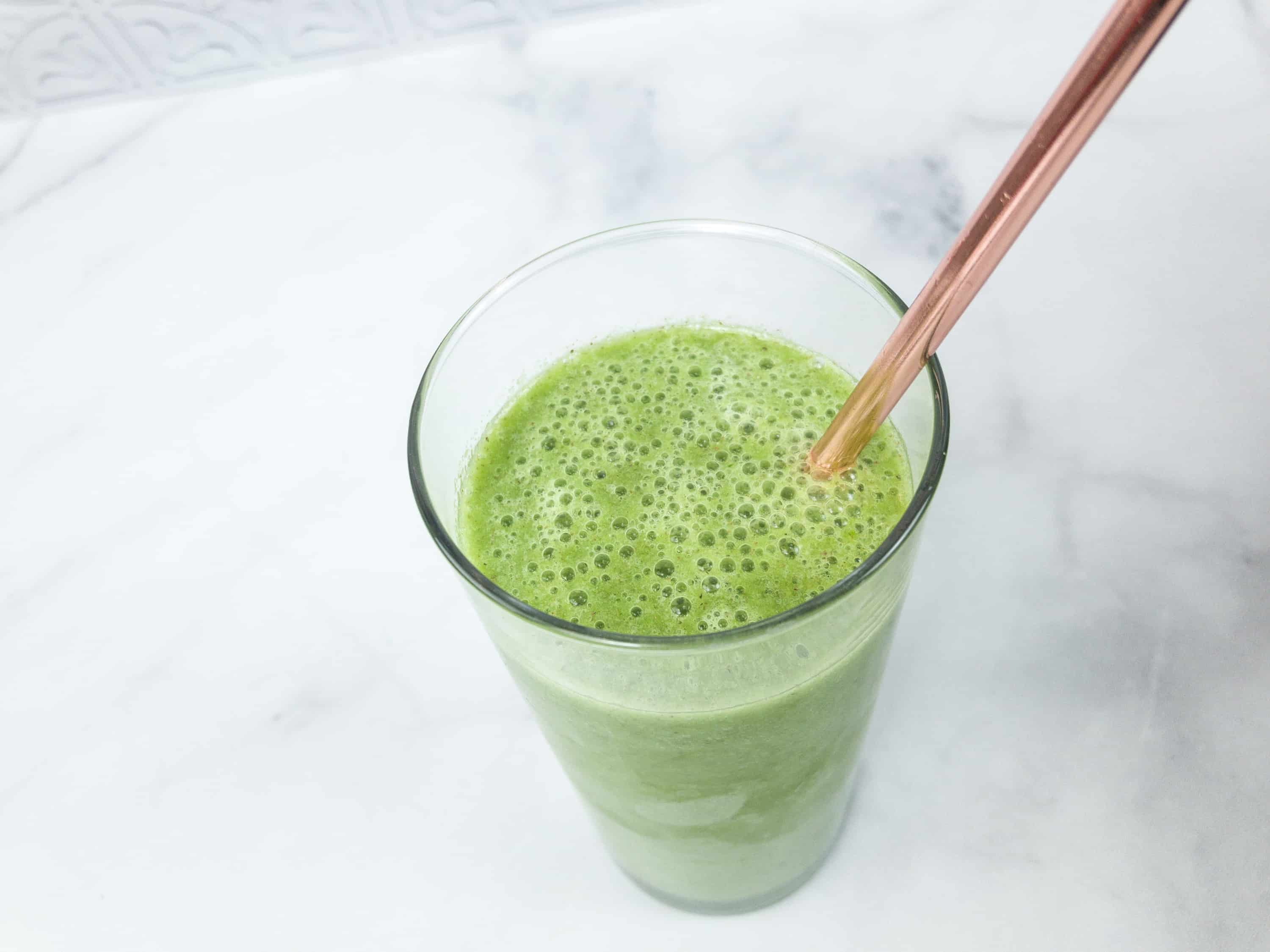 According to the booklet, this is the ideal smoothie blend for those who want to keep a smooth and clear skin. Again, it's all thanks to apple cider's anti-inflammatory properties. The recipe is also rich in vitamin C from pineapple, pear, and spinach.
Every smoothie recipe made two very large and filling smoothies.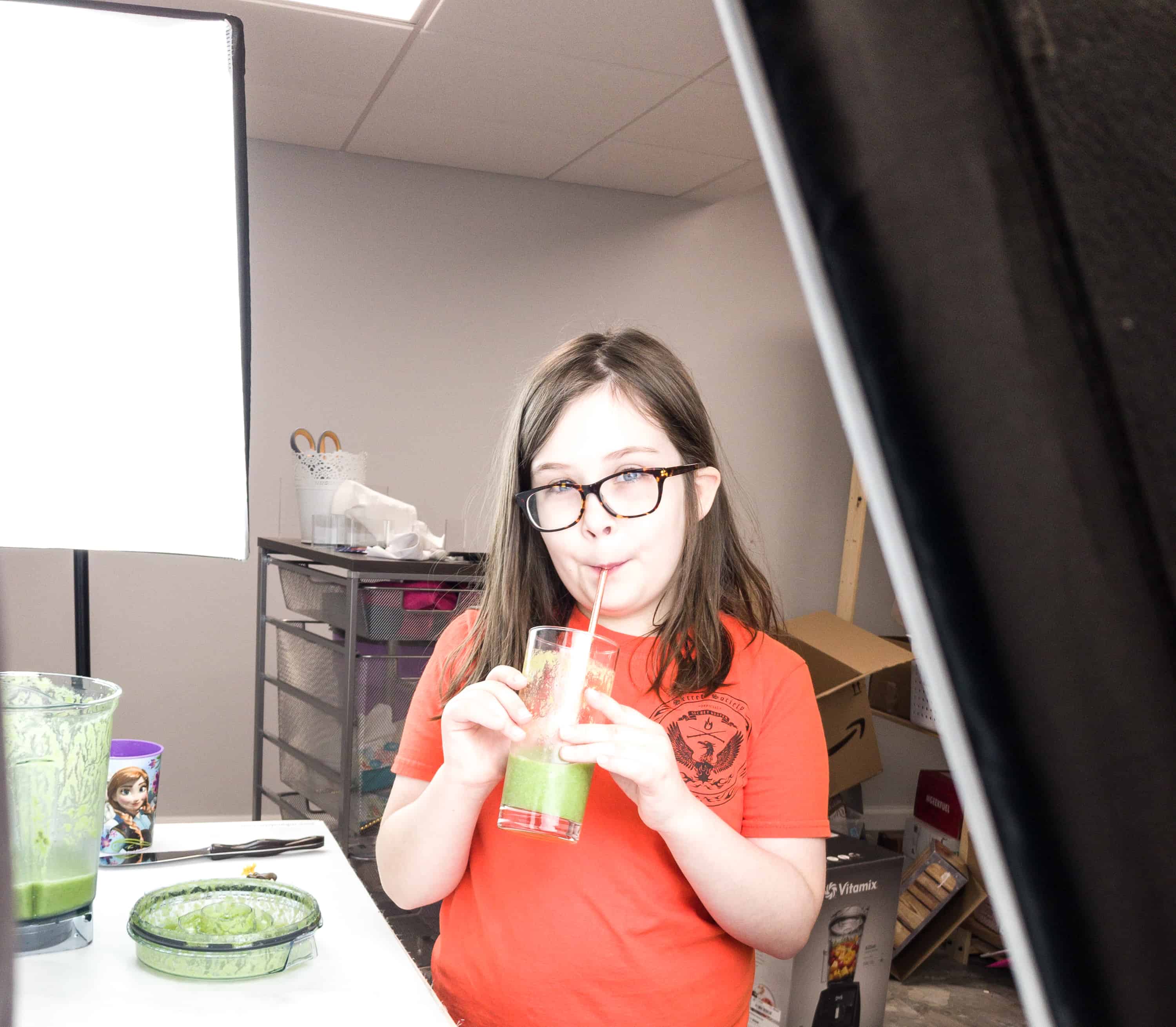 Even the kids loved the smoothies we made. Start them young!
This week's smoothie recipes are all satisfying and delicious! If you're just getting started with this style of smoothie, you may want to have some extra bananas on hand until you get used to a lower-sugar flavor (this is one of the hacks in the booklet). We drank them just as they came, and they were wonderful. One of the things we loved is that we could have a different smoothie every day, no finding all the ingredients at the store, and no waste.
If you're wondering if the smoothies are filling – absolutely! Even though many of the smoothies are on the lower calorie side you will be full and satieted by the fiber in every smoothie. It's a perfect accompaniment on a healthy journey towards improving the foods you eat or just making it easier to enjoy a daily smoothie habit. To sum it all up, our family enjoyed the whole experience, from preparing the ingredients to sipping each glass of smoothie.
What do you think of Green Blender?