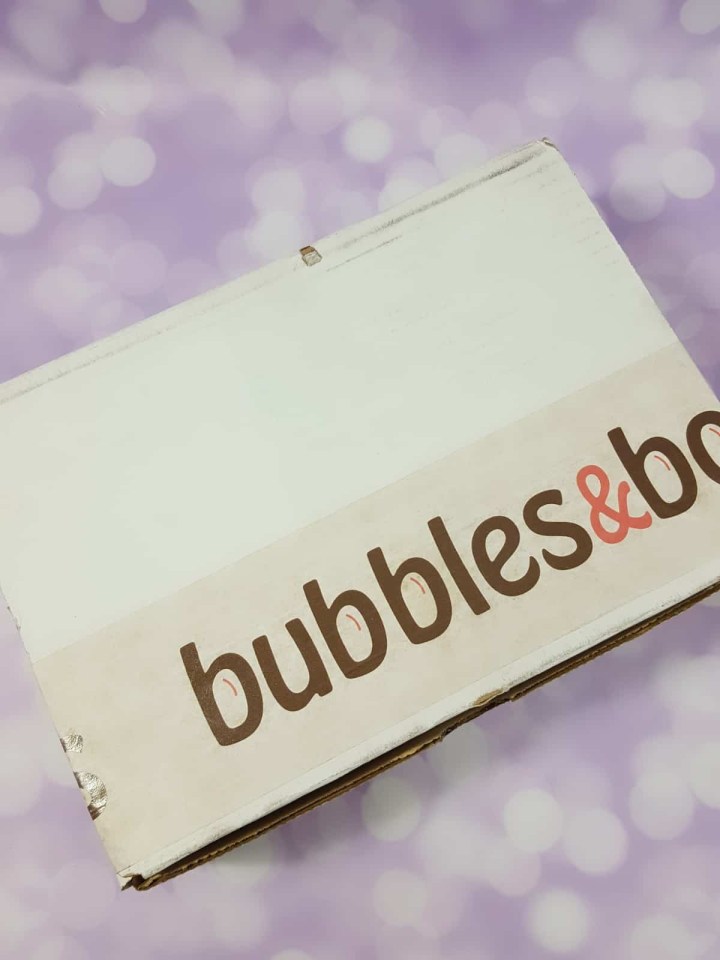 Bubbles & Books is a monthly subscription that sends a romance book and items to help you relax in your tub after a long day doing whatever you do. Need a break from the hectic work day? Step inside your bath/spa. Wrangling little ones under your feet? Time for a bit of me-time in the tub. What can you expect from this subscription?
Every box contains at least one romance novel, one artisan-crafted soap, and one other book- or bath-related goody. However, the majority of our boxes contain more than this!
Bubbles & Books is $24 a month plus shipping. My items this month were wrapped in pink tissue paper that was sealed with a Bubbles & Books sticker. Pink paper squiggles kept everything safe on the journey to my mailbox. Bubbles & Books has 3 options to choose from: The Bad Boy Box, The Luxe Paranormal Box, and The Swept Away Box.
DEAL: Get 10% off on your first box! Use coupon code SOAKME.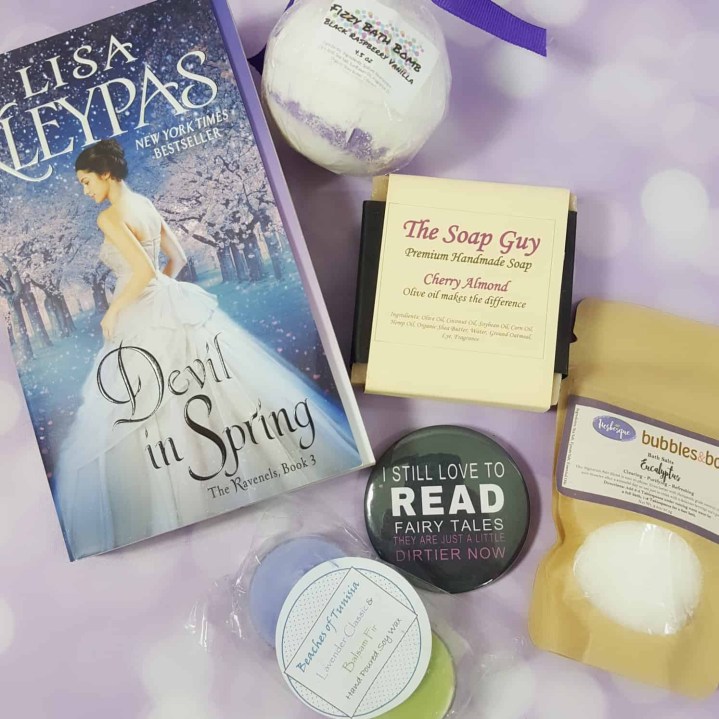 Everything in my March Bubbles & Books box!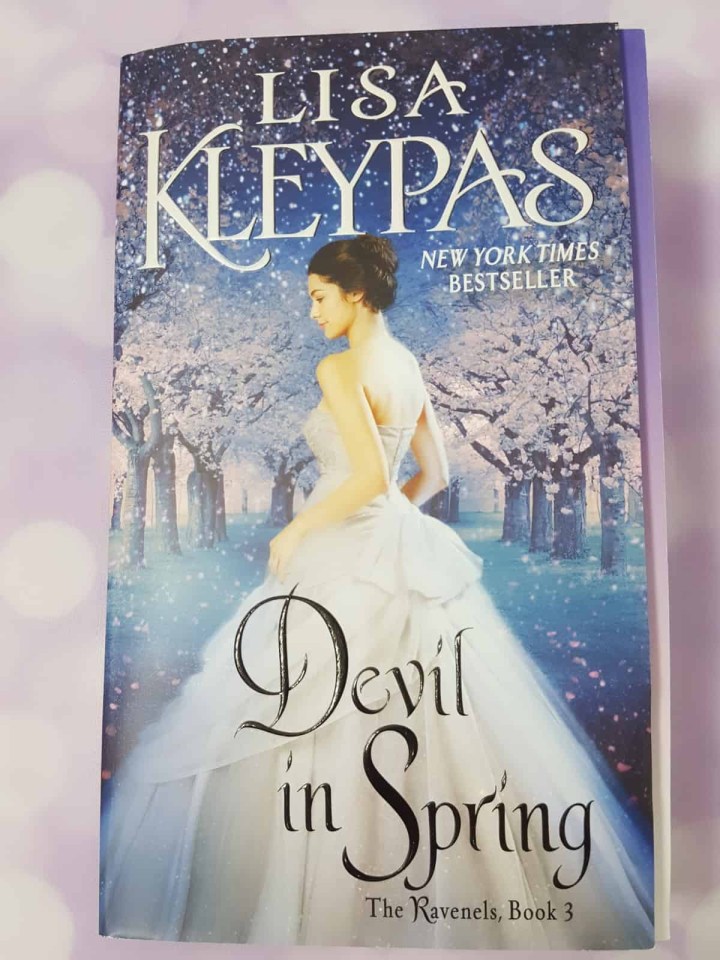 The Devil in Spring by Lisa Kleypas ( $5.75) I'm mesmerized with London society and the season as they call it over there. I love when it is on a TV show or in a book or movie and this one takes place during the season. A tantalizing thriller with love, conspiracy and marriage. I can't wait to dive in.
New York Times bestselling author LISA KLEYPAS delivers the unforgettable tale of a strong-willed beauty who encounters her match in one of London's most notorious—yet irresistible—rakes . . .

An eccentric wallflower  . . .

Most debutantes dream of finding a husband. Lady Pandora Ravenel has different plans. The ambitious young beauty would much rather stay at home and plot out her new board game business than take part in the London Season. But one night at a glittering society ball, she's ensnared in a scandal with a wickedly handsome stranger.

A cynical rake  . . .

After years of evading marital traps with ease, Gabriel, Lord St. Vincent, has finally been caught by a rebellious girl who couldn't be less suitable. In fact, she wants nothing to do with him. But Gabriel finds the high-spirited Pandora irresistible. He'll do whatever it takes to possess her, even if their marriage of convenience turns out to be the devil's own bargain.

A perilous plot  . . .

After succumbing to Gabriel's skilled and sensuous persuasion, Pandora agrees to become his bride. But soon she discovers that her entrepreneurial endeavors have accidentally involved her in a dangerous conspiracy—and only her husband can keep her safe. As Gabriel protects her from their unknown adversaries, they realize their devil's bargain may just turn out to be a match made in heaven . . .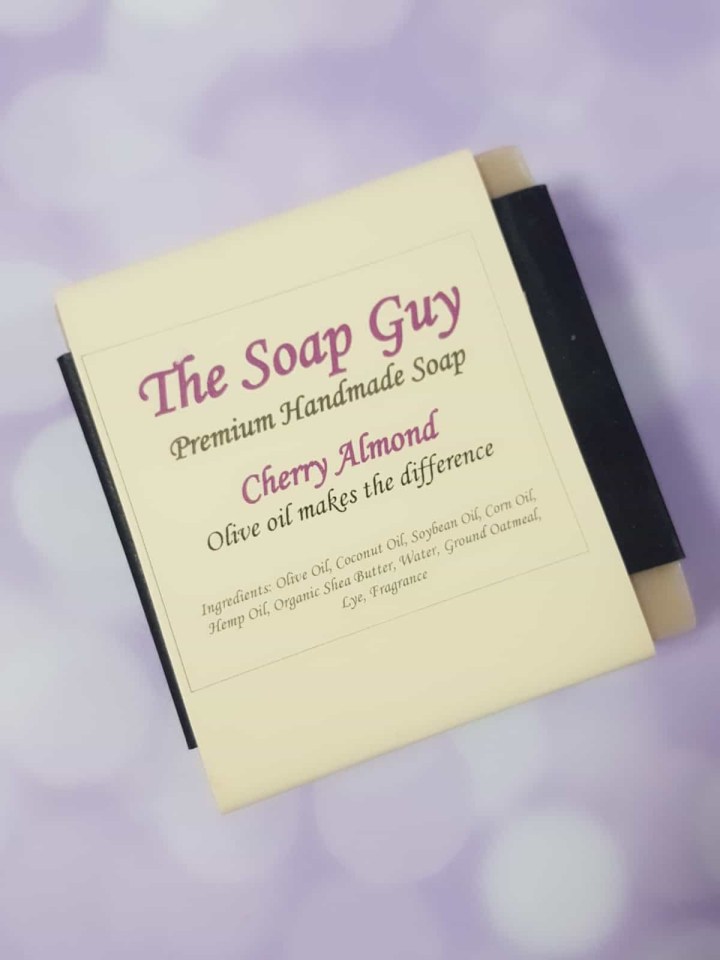 Cherry Almond Soap Bar from The Soap Guy – This months artisan soap with the fragrance of roasted almonds and wild cherries and containing ground oatmeal as an exfoliant. It smells really good and I'm loving the whole wrapping and packaging of it.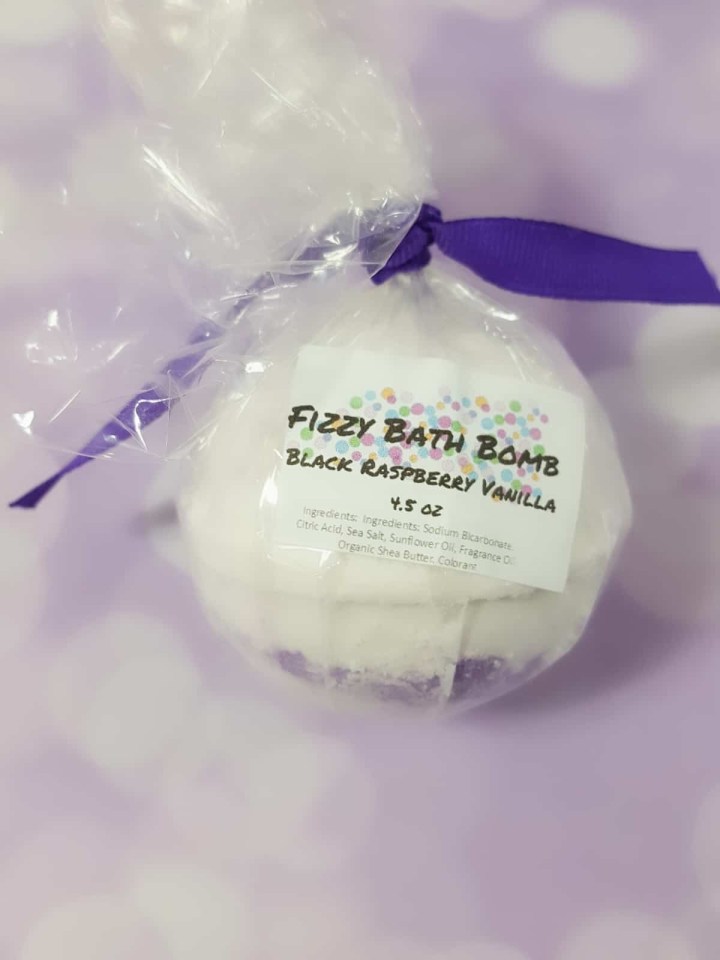 Black Raspberry Vanilla Fizzy Bath Bomb – Oh my, I can't wait for a bath. It's been a long couple of weeks and I need a night of candles and relaxation. This one is going to be so fun while I read for awhile.
Hand Poured Soy Wax tealights – A great addition to my relaxation night. These are such great colors and will be a fantastic added bonus to my night of pampering.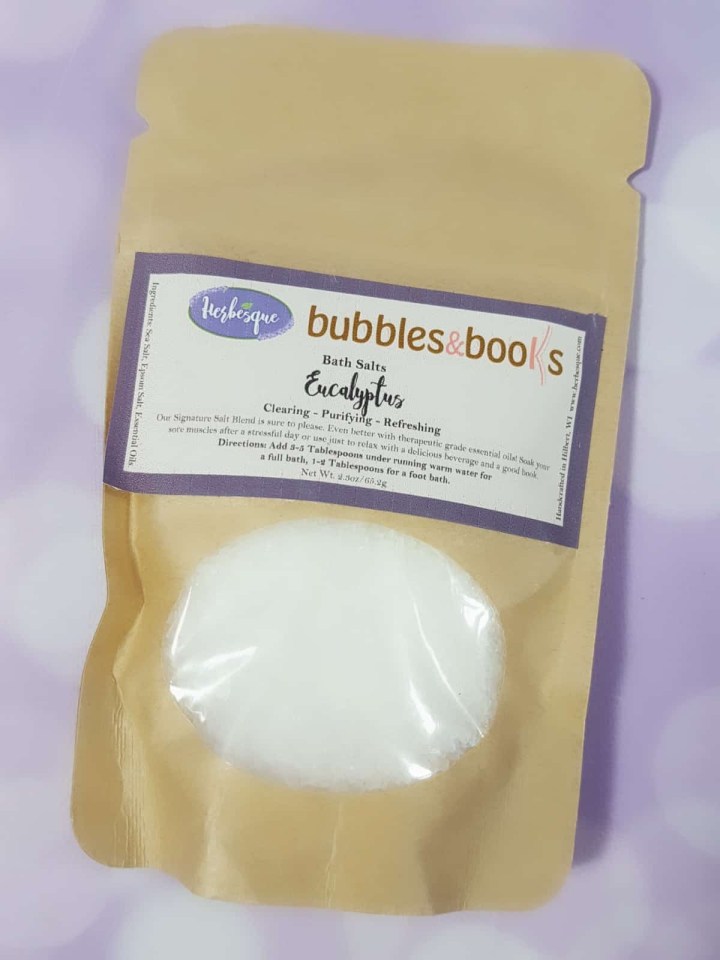 Eucalyptus Bath Salts – I'm a big fan of the eucalyptus scent and there are so many benefits of it. I'm keeping this for another night to soak when I need a get away from all the boy drama in my house.
Pin – Oh My Gosh!!! This is my new favorite pin. It is perfect and oh so true. I love to read and as I'm getting older my books are getting dirtier and dirtier and dirtier. I just can't help myself.
Bubbles & Books sent a relaxing box for March. A romance set during the London season with an intriguing couple and bath supplies for a night in.  I'm very happy with two different bath options so I can finish the book over a couple nights. It gives me a great thrill to know I can finish the book and that I have a good excuse to run away and hide from life if even for just a little while. A perfect box for my upcoming night in of relaxation and just a bit of a dirtier book.
What do you think of this month's box? Let me know in the comments!