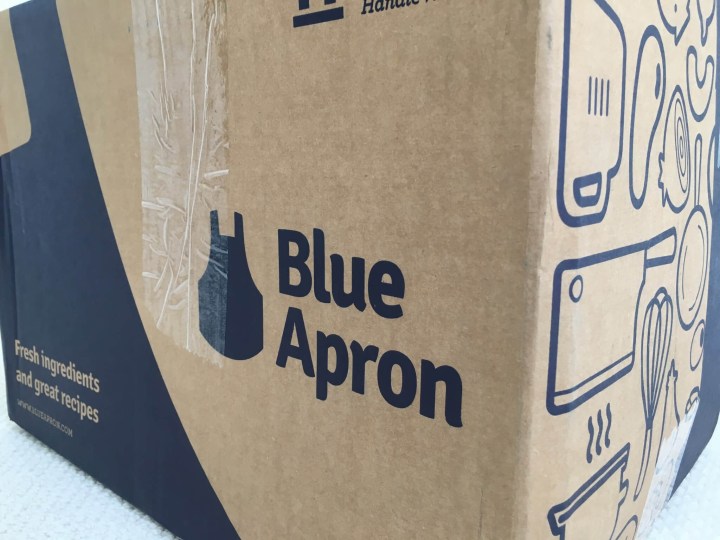 Blue Apron is a subscription box for making great meals at home. If you're like me, you periodically find yourself in a serious cooking rut. You make the same things every week, but the thought of researching a recipe and acquiring all of the ingredients is just too much work. Blue Apron is the solution! Each week, Blue Apron sends you a refrigerated box with all the fresh ingredients you need to make the included recipes. You can select the 2-person plan – 3 meals a week of 2 portions each – or the family plan – 2 to 4 meals a week of 4 portions each. The menus are set, but you can ask Blue Apron to avoid ingredients you don't eat – shellfish and lamb, in my case.
We got the Family Plan for 2 meals. I set the delivery date and it arrived right on time, securely packaged in a heavy-duty box. All of the ingredients are wrapped in an adorable insulated blanket and cooled with ice packs. Mine took a day to arrive and sat on my porch for 3 hours, and everything was perfectly cool inside.
Pricing: 2-Person Plan – $59.94 for 3 recipes. Family Plan (serves 4) – $69.92 for 2 recipes, $139.84 for 4 recipes.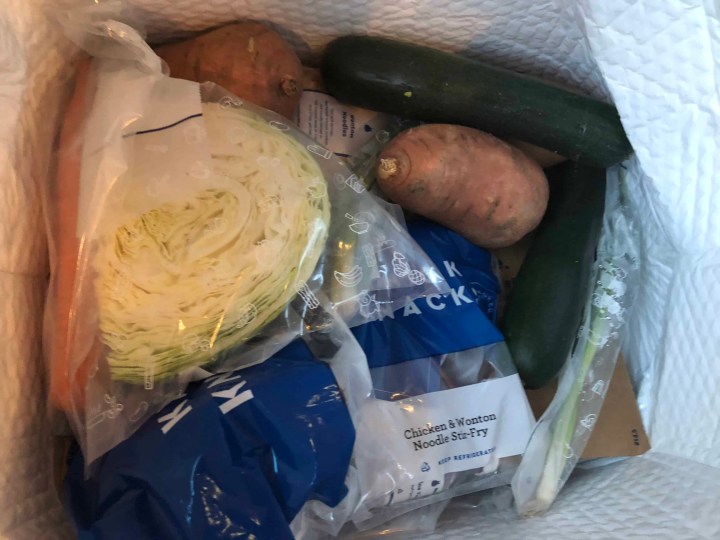 This month, Blue Apron is teaming up with AirBnB to bring you meals inspired by home cooking around this world.  We got to try beef empanadas from Buenos Aires, which was fun.
DEAL: Save $30 on your first order! Use this link – no coupon code required!
The meat is at the bottom, surrounded by still-frozen gel ice packs. I'm happy to say that all the meat was double-bagged in zip-top baggies. Because no one likes leaking meat juice.
Our first meal was the AirBnB collaboration, the Buenos Aires Beef Empanadas with Sweet Potato Wedges and Creamy Zucchini. Our family is always happy for a reason to eat pie of any kind.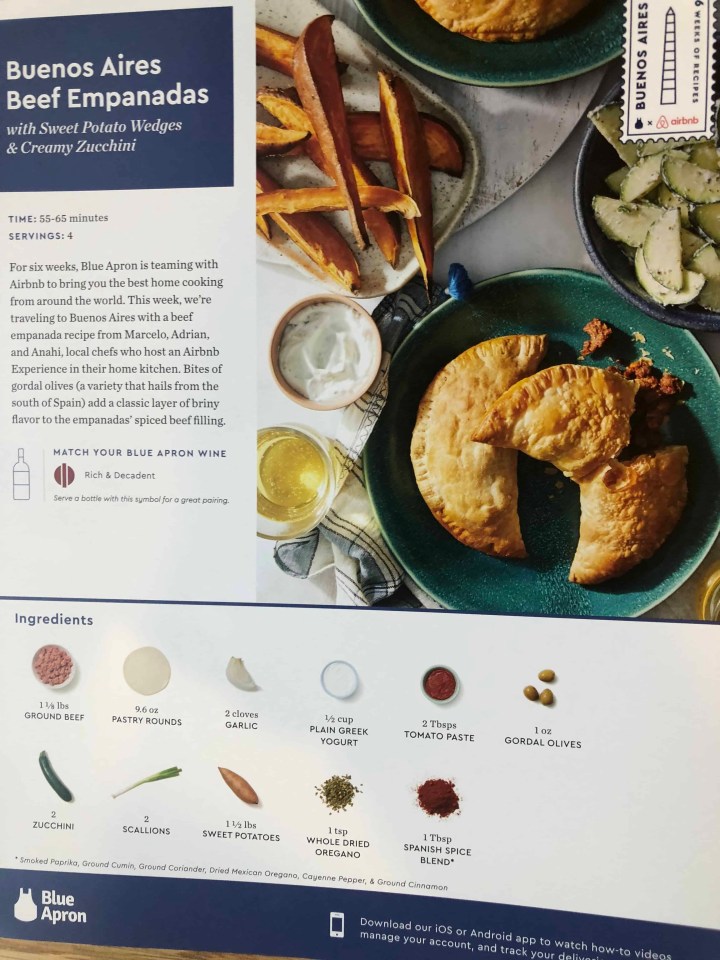 As usual, all of the ingredients were included. I've eaten street-cart empanadas, but it would never occur to me to make them myself, so I was excited to give this a try. It was super handy to have the pastry rounds already prepared.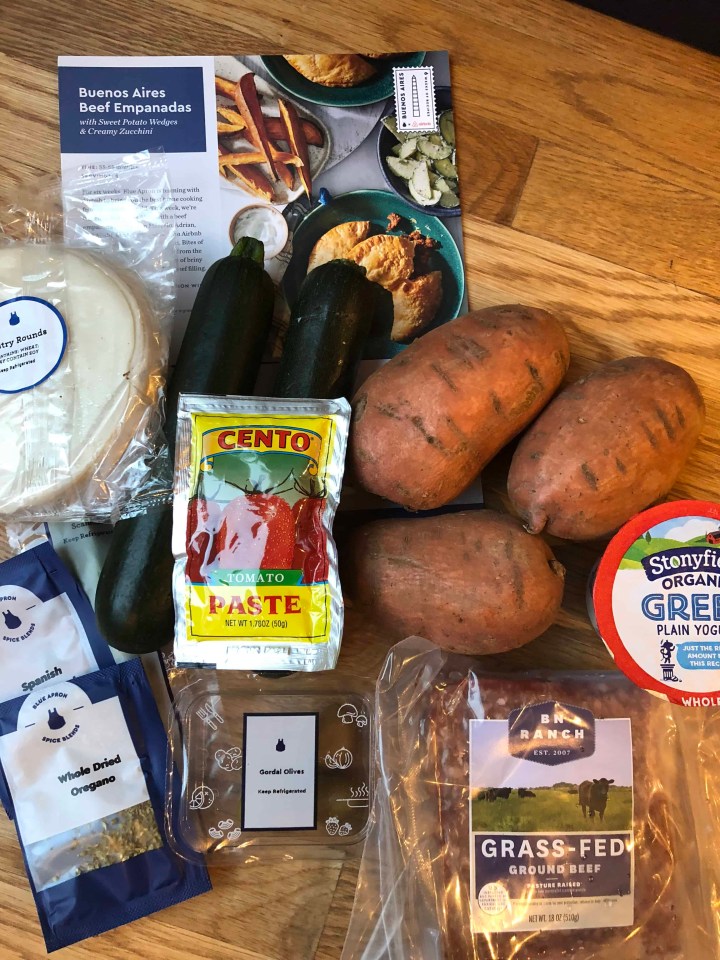 The meals come with nutrition info and ingredients. Know what you're eating!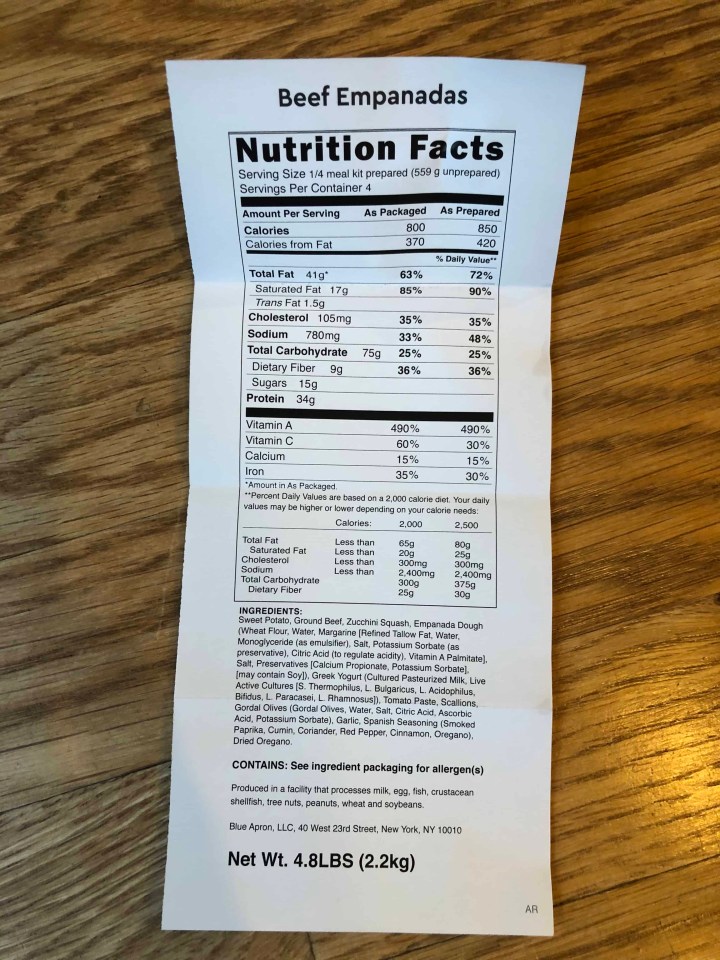 This prep was easy and straightforward. We had enough filling and rounds for many more empanadas than the recipe called for. I bet they would freeze well. The produce was all in good shape this month, though the yogurt (as usual) was room temperature–this happens every box, so I assume it's intentional, not a packing problem. Nevertheless, I still prefer my dairy to arrive cold, so I tossed it and used my own.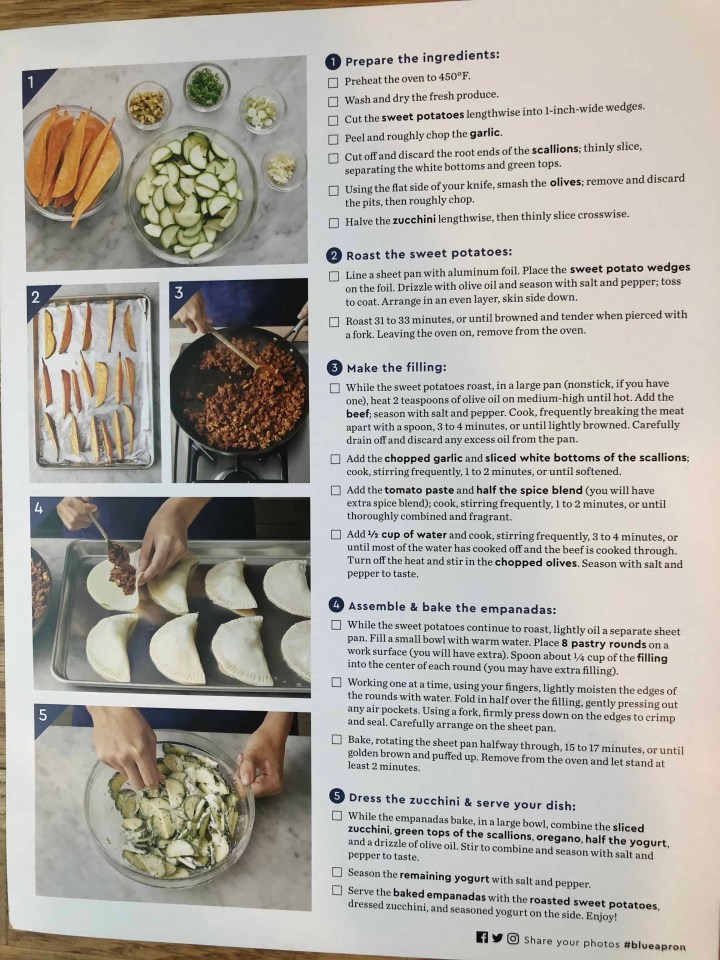 Make sure you start the oven in advance and give your sweet potatoes all the cooktime called for. I tossed some of the spice blend over the sweet potatoes to kick up the flavor. And, yes, that's a Blue Apron wine subscription bottle over there.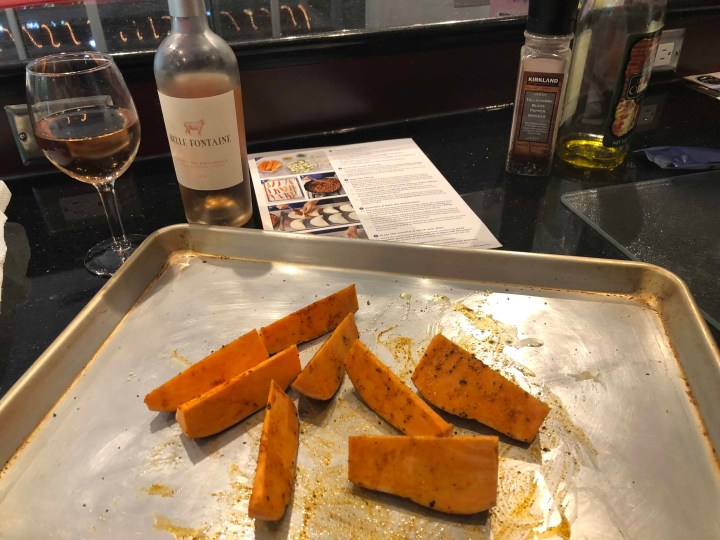 The meat mixture was tasty, with a nice fine grind on the beef. I'm not sure how much flavor the three olives really contributed, but they're in there! An onion would have been a nice addition to the mix, though perhaps not as authentic.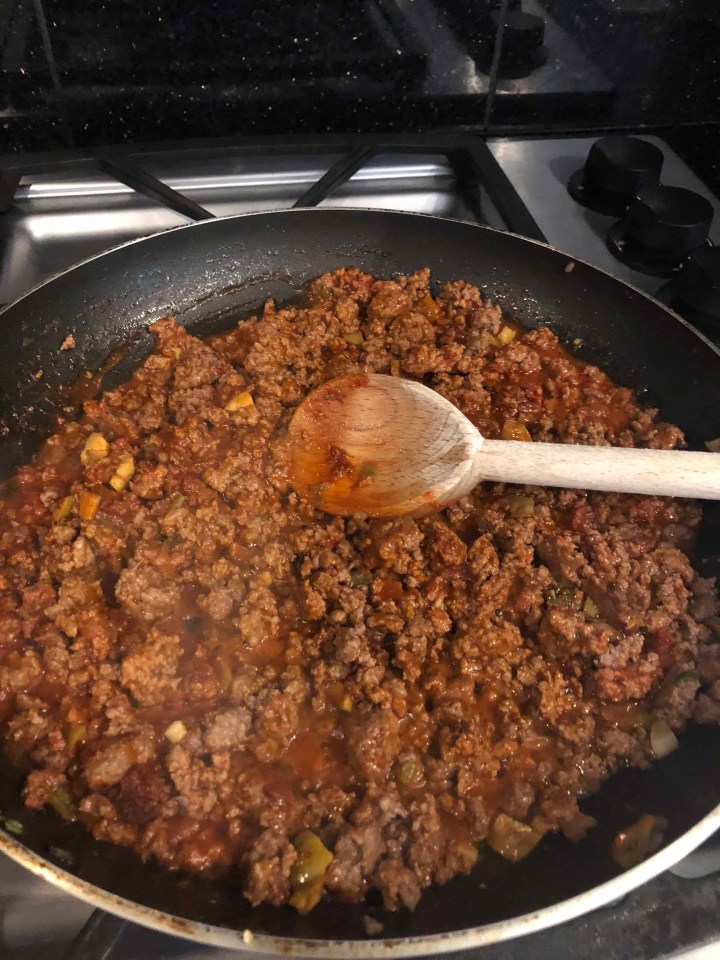 Make sure you brush some egg wash (an egg plus a dash of water or milk, beaten very well) on the pastry before you put them in the oven.
These were pretty good, though you can see that the actual result is not the deep-fried golden deliciousness that was advertised on the recipe. (The egg wash helps but isn't a sub for a deep fry). The sides seemed a bit random and didn't really go with the dish (adding spice blend to everything helped tie it together) but I am always in favor of more veg with Blue Apron meals, so it's not a real complaint. My kids are now asking to go to Argentina for the real thing.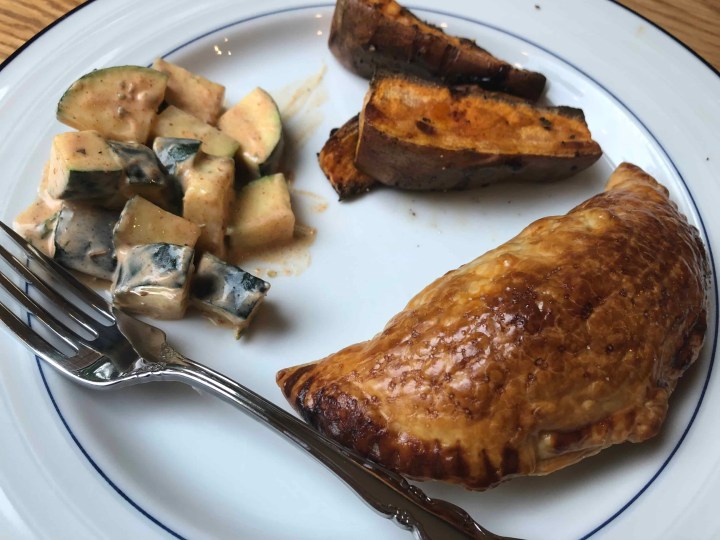 Our second meal was the Chicken and Wonton Noodle Stir Fry with Spring Peas, Carrots, and Cabbage. Pie and noodles this month–doesn't get much better, as far as my kids are concerned.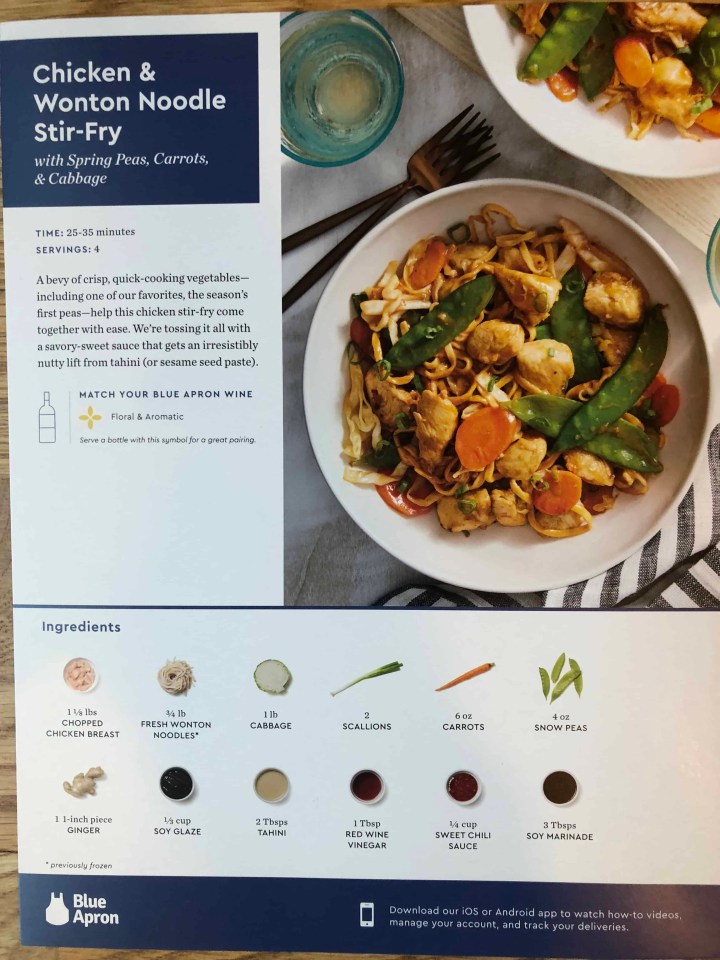 I loved having some spring produce in the mix this month. We grow snap peas in our garden, which are a little thinner than the snow peas, but a similar flavor. Make sure you pull those strings (this isn't included in the listed prep time, alas).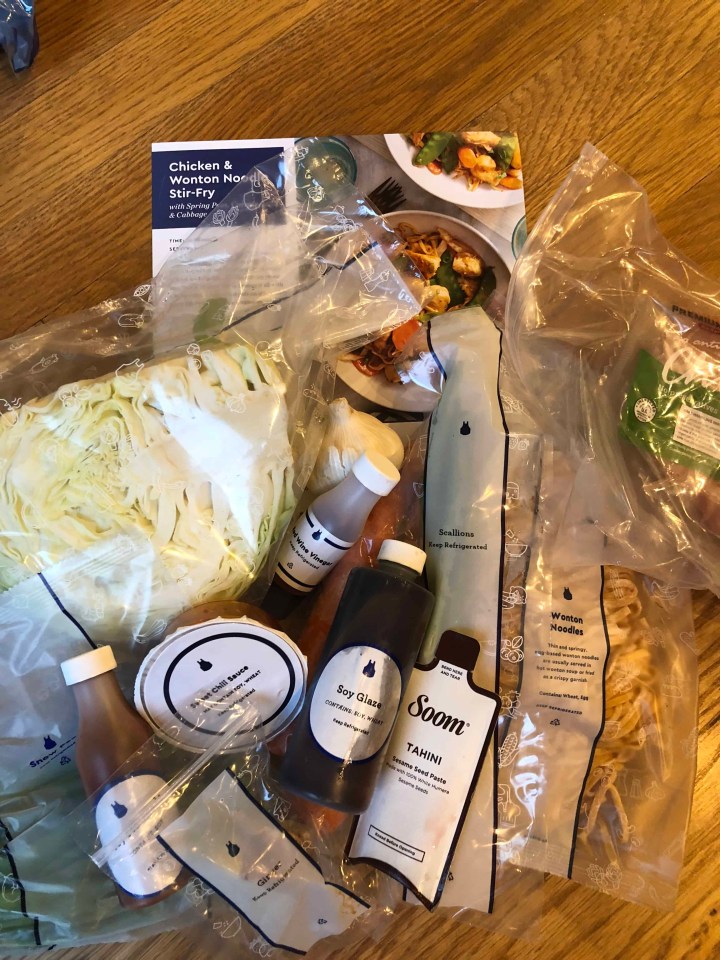 Blue Apron does a great job of sending you just the amount you need for the recipe, so you don't waste anything; nor do you have to think about how much to add to the recipe. This month, with the sauce being featured, I appreciated being able to throw all of the ingredients together and be done.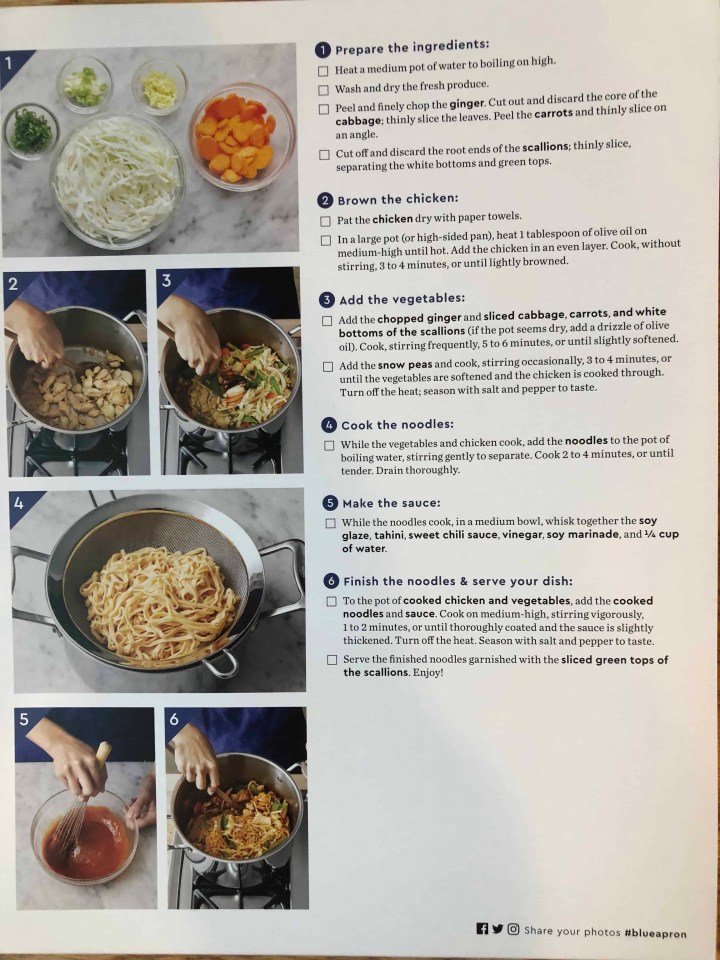 Each recipe comes with these easy-to-follow instructions. Even if you are new to knife skills, you will be able to do everything on this list. Make sure you start the water boiling right away so you can finish everything efficiently.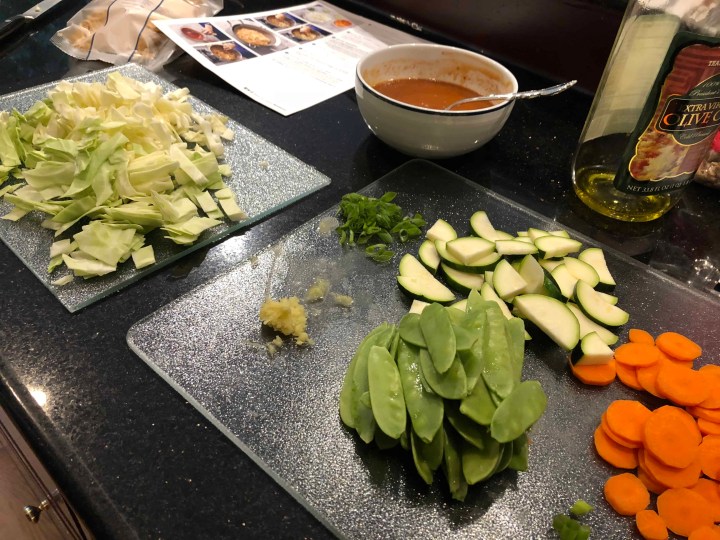 The chicken was in good shape and I love that it was already in small pieces for me–this was a very easy recipe to throw together on a weeknight.
Nutrition facts are good for you. Holy moly, that is a LOT of sodium. As you can see from the ingredients, however, most of it comes from the sauce–the prepared ingredients you throw together are all individually salty (it's soy sauce, after all), and together it is a sodium bomb. But here's the thing–it's the sauce! If sodium is a concern for some of your family just hold the sauce out on the side instead of tossing it with the whole recipe. Then everyone can add it as they like.  You're the boss of your kitchen.
The end result was tasty. And, yes, the tahini-based sauce was delicious. Another benefit to us of holding the sauce out to mix separately was that the 8-year-old could try it (and reject it, natch) without rejecting the entire dish. The veg-forward dish was an easy meal for post-baseball weeknight.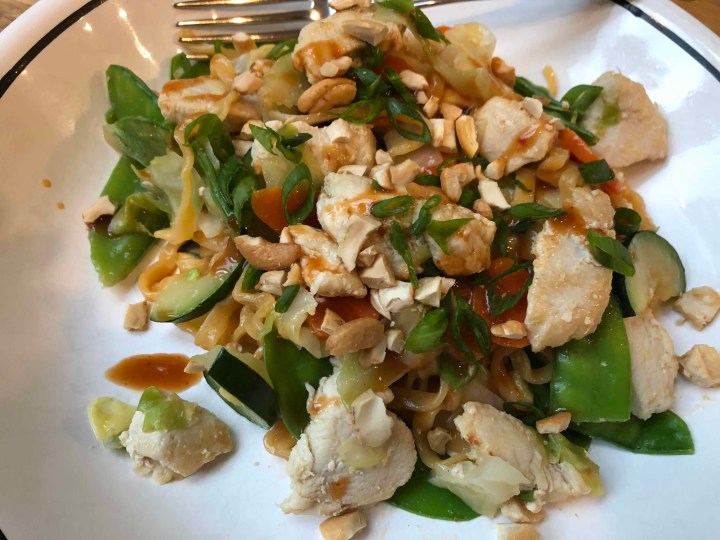 That was our month! Two good dishes this time and the AirBnB collaboration was fun and different.
Hey, did you know that Blue Apron has a wine program now? It's super easy to match your wine to your meal, like the tasty Provence rosé we had with the empanadas.
It's nice to not have to decide "what's for dinner" all the time. Overall, Blue Apron has been enjoyable and gets us out of our boring dinner routine. Honestly, you can forget how fun cooking can be. Interesting ingredients, easy recipes, and delicious food. We can't wait to see what we get next time!
What's your favorite street-food item to make at home? Let us know in the comments below!