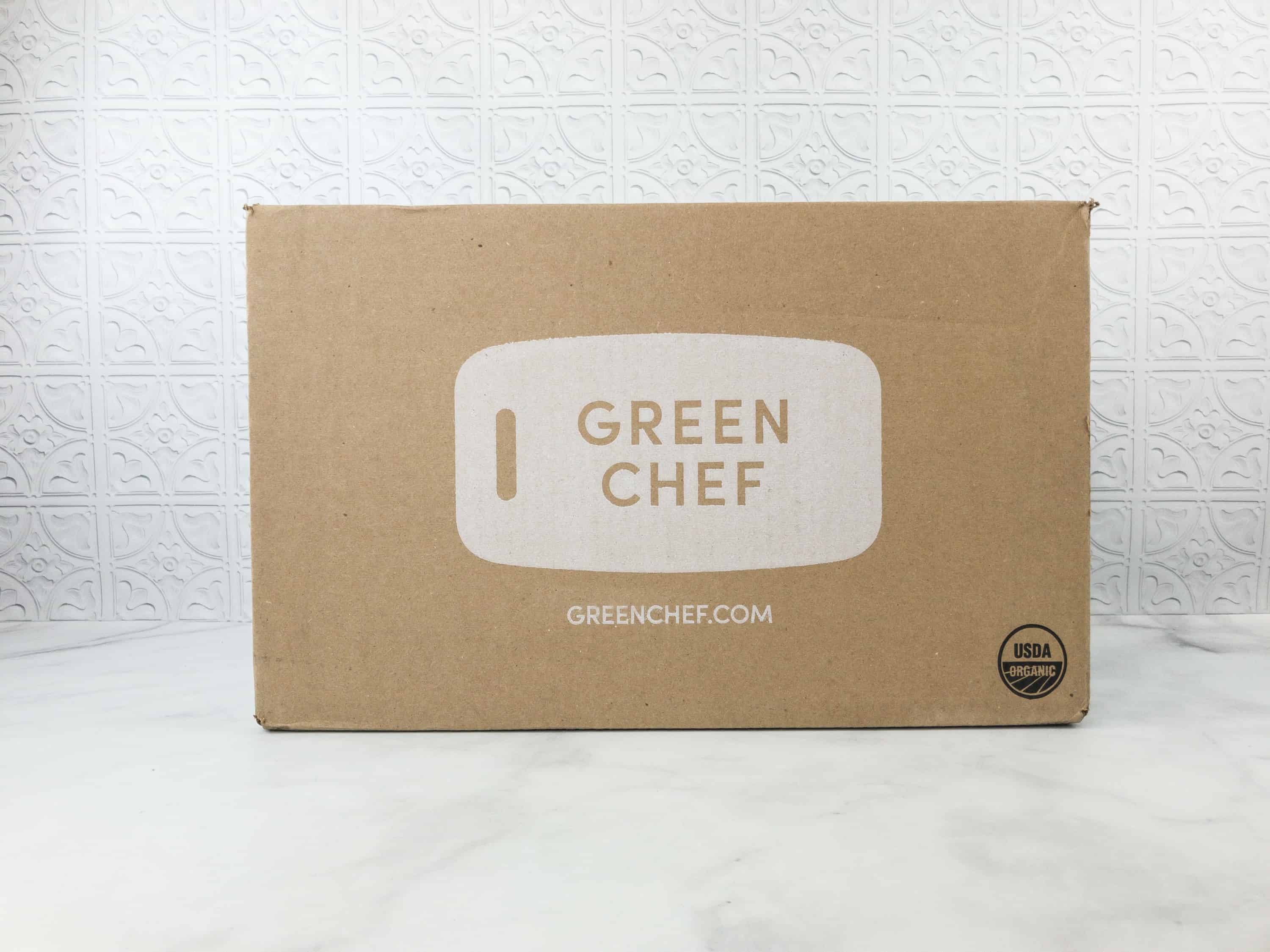 Green Chef is a meal kit subscription focusing on healthy meals for a variety of eaters and diet preferences. Each delivery comes with the recipes and ingredients for three well-balanced meals. Some of the ingredients are pre-prepared, so that you can cook dinner in 20 – 30 minutes using the easy-to-follow directions. There are vegetarian, omnivore, carnivore, gluten-free and paleo meal options. All ingredients are fresh and sustainably sourced. The only things you need at home are olive oil, salt, and pepper.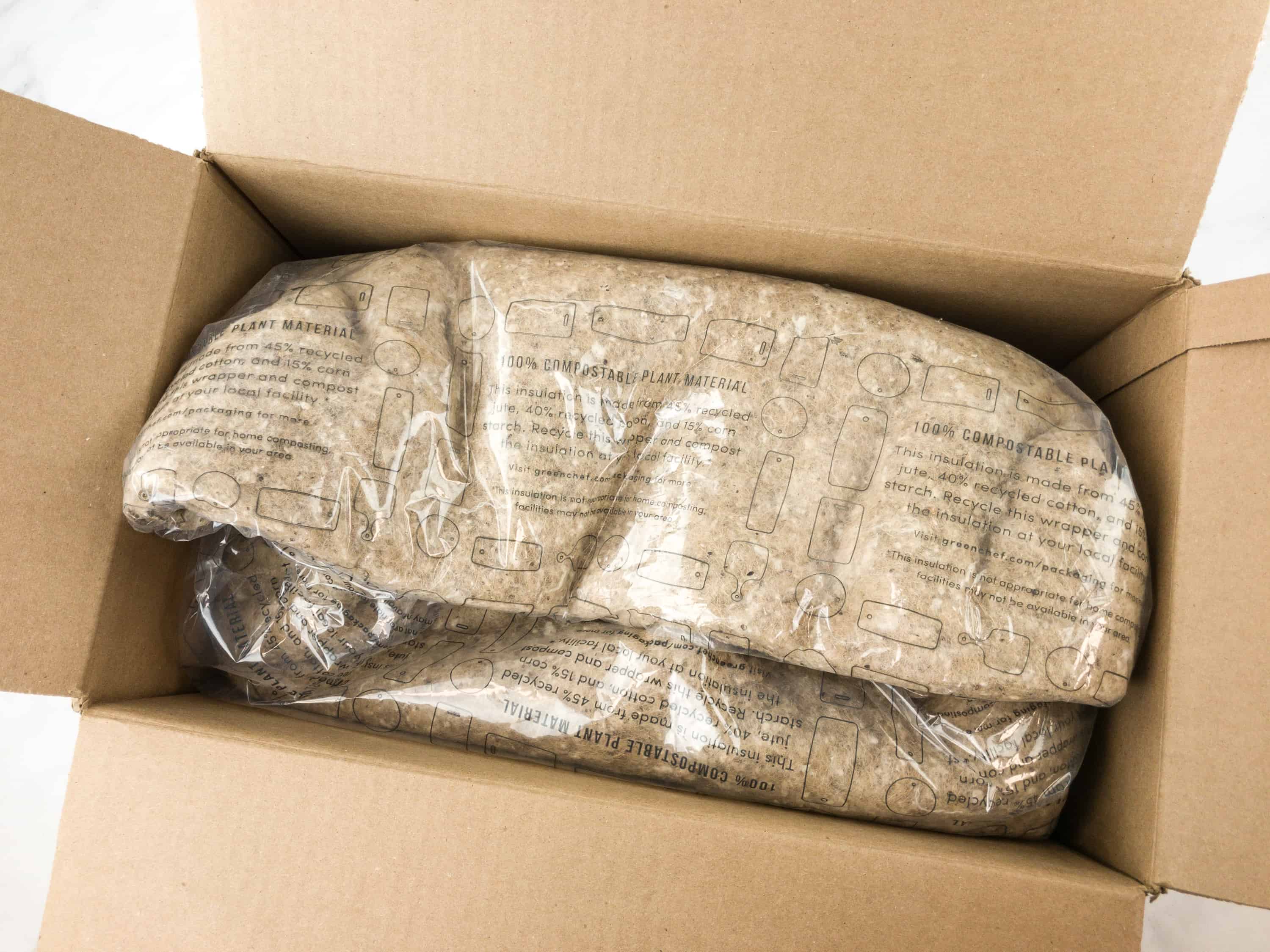 DEAL: 4 free meals on your first order (about $56) USE THIS LINK to get the deal.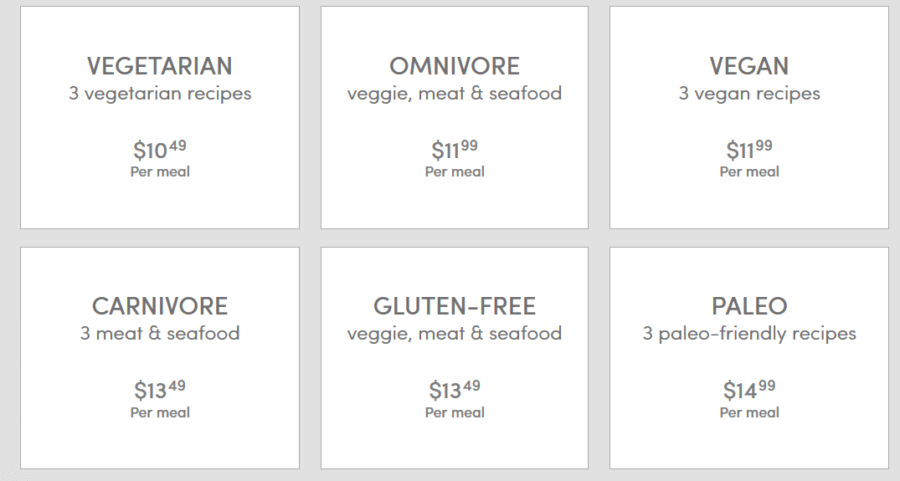 Green Chef has new recipes each week, so there is some variety in what you receive. You may choose either the vegetarian, vegan, carnivore, omnivore, gluten-free or paleo box, each with a fixed set of 3 meals. There is some overlap between the menus, but, unlike services like Home Chef, you can't mix and match at will. Each two-serving box of three entrees ships for $9 in addition to the costs per serving listed above, bringing the total box costs to $71.94 (vegetarian), $80.94 (omnivore or vegan), $89.94 (carnivore or gluten-free) and $98.94 (paleo).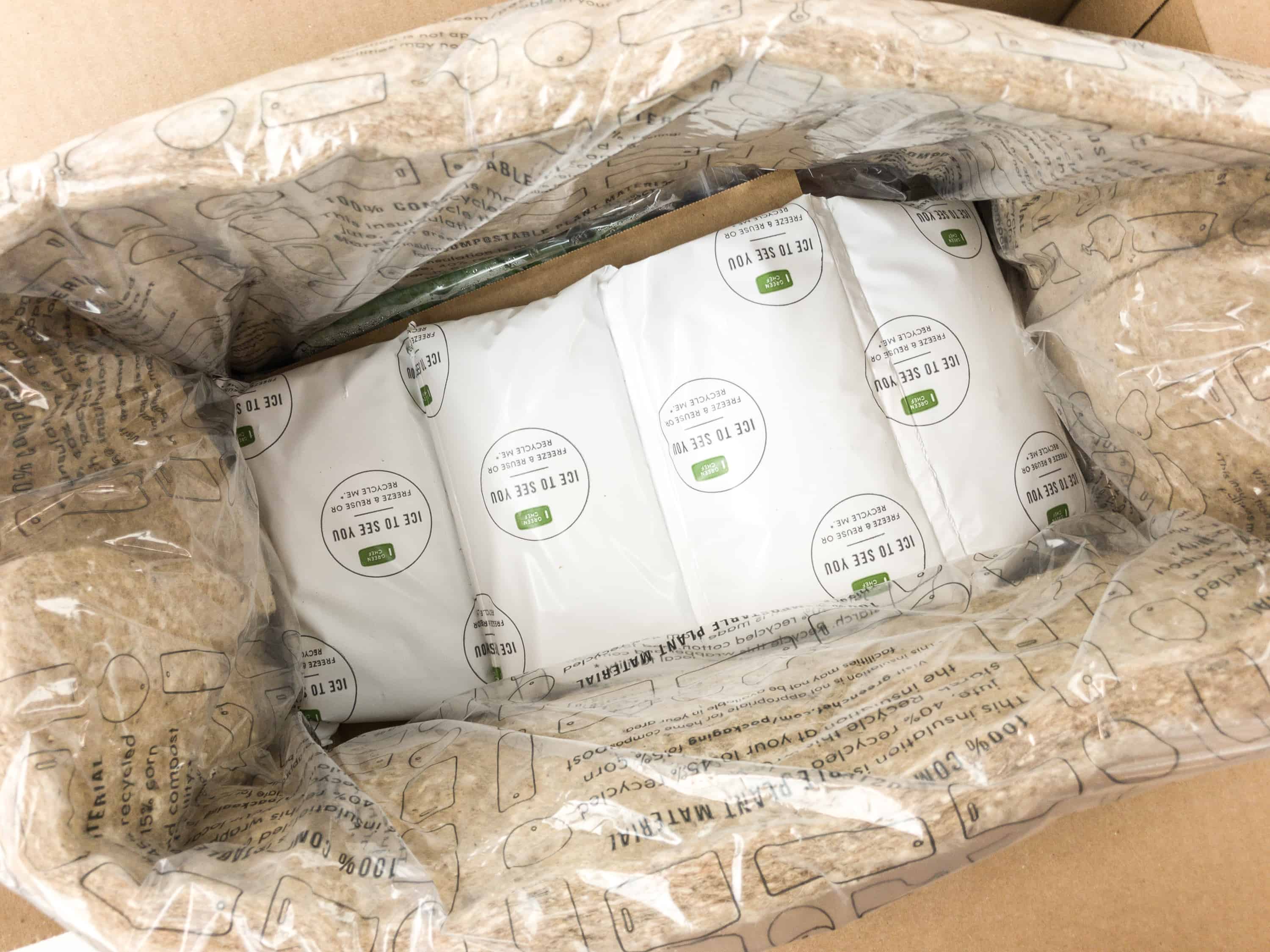 This month, we received an omnivore box. Green Chef typically includes roughly twice as many veggies, legumes and/or grains as some of their competitors. And they're all organic! This makes for delicious, healthy, well-balanced meals.
Each week's package arrives well-insulated. The meat is at the bottom of the insulated compartment with the ice packs, but the remaining ingredients are all piled in together. Each recipe is color-coded for easy sorting.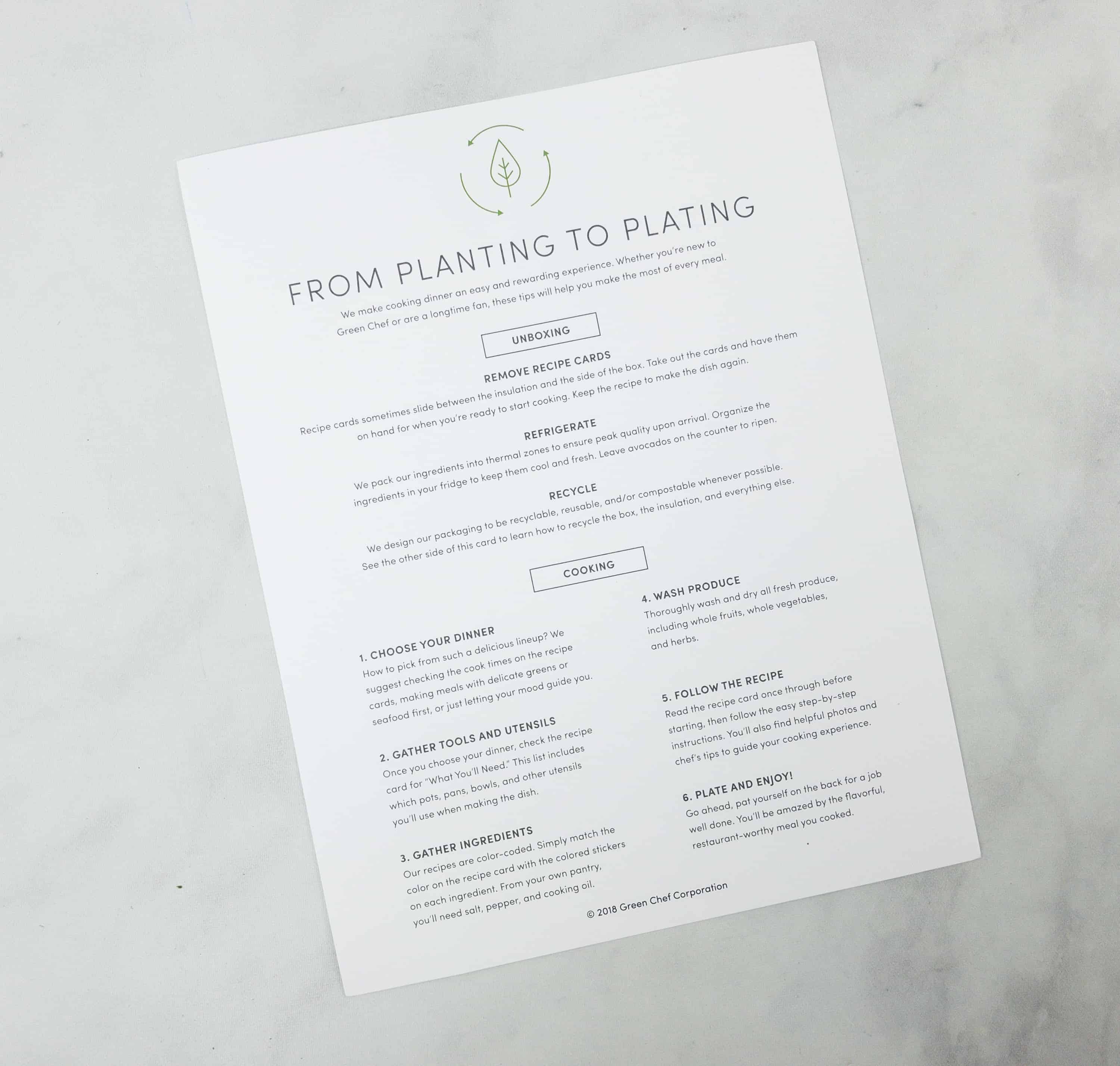 Green Chef offers guidance from start to finish with their Planting to Plating tips. It is unusual to see such a detailed best practices guide to handling your meals, but it is a handy resource for meal kit newbies.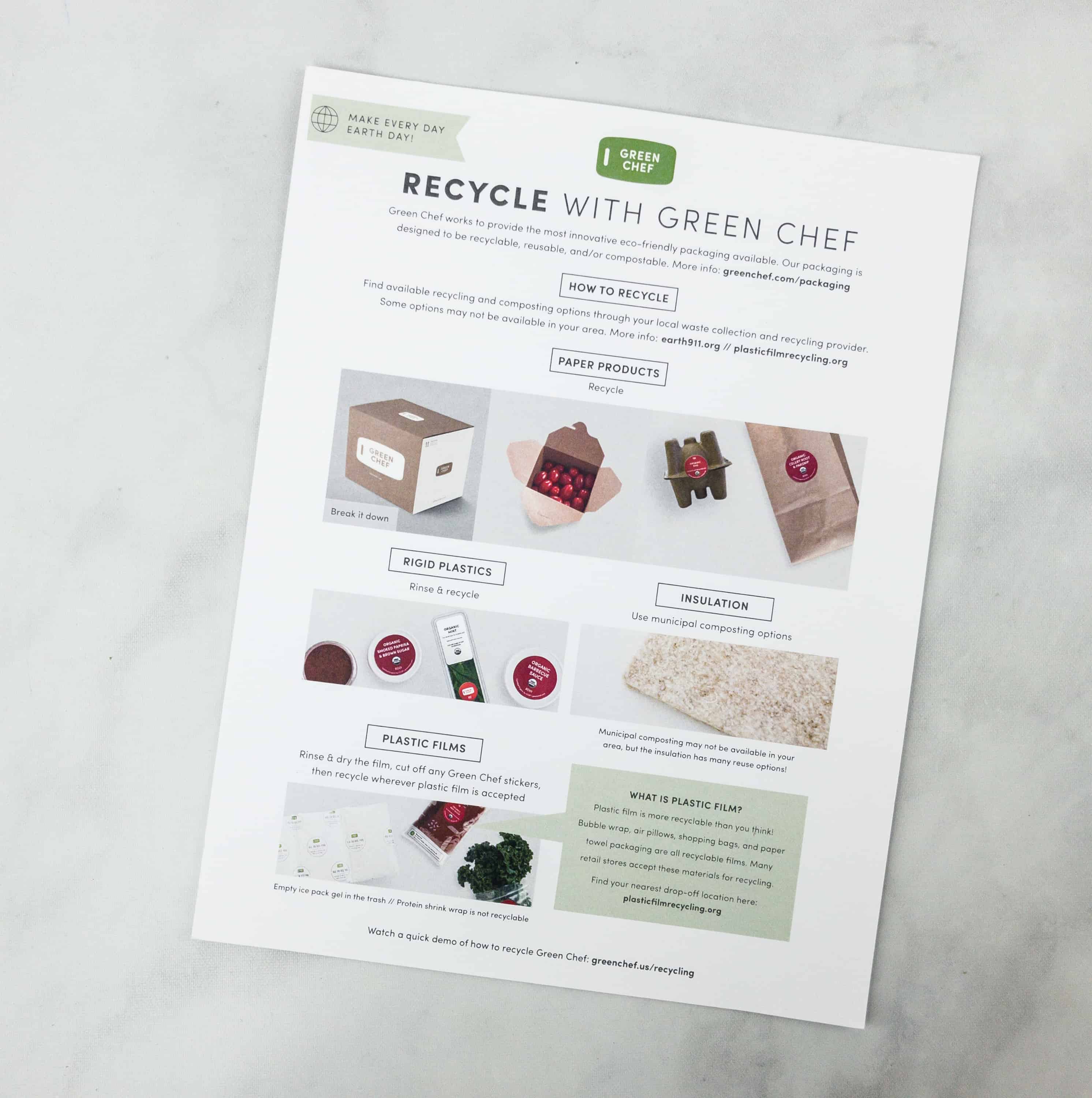 They also provide tips on recycling their paper products and plastic films.
The recipe cards show all the necessary ingredients needed and a brief description of the meal.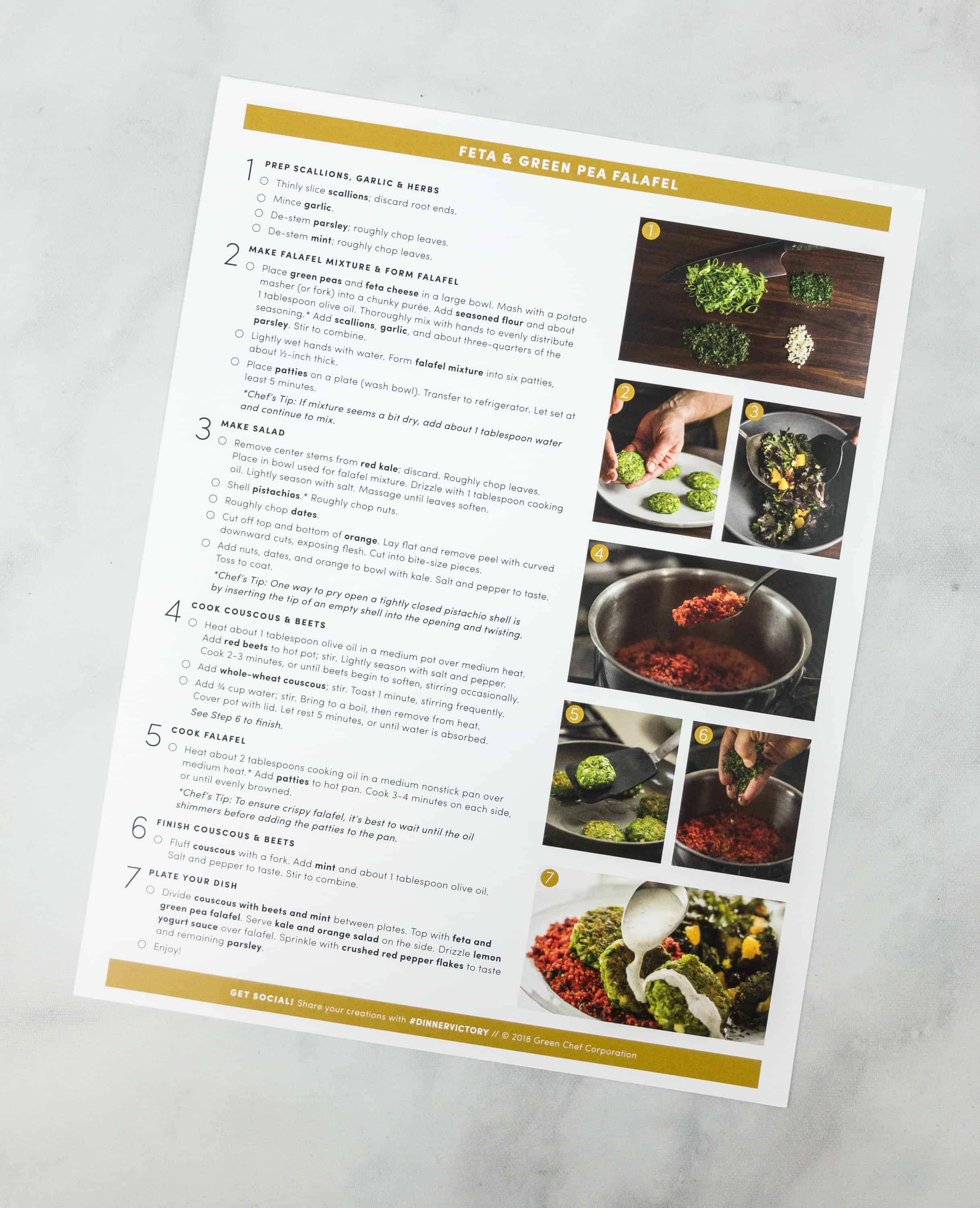 The back of the card shows a step-by-step procedure with amazing illustrations to keep you on track.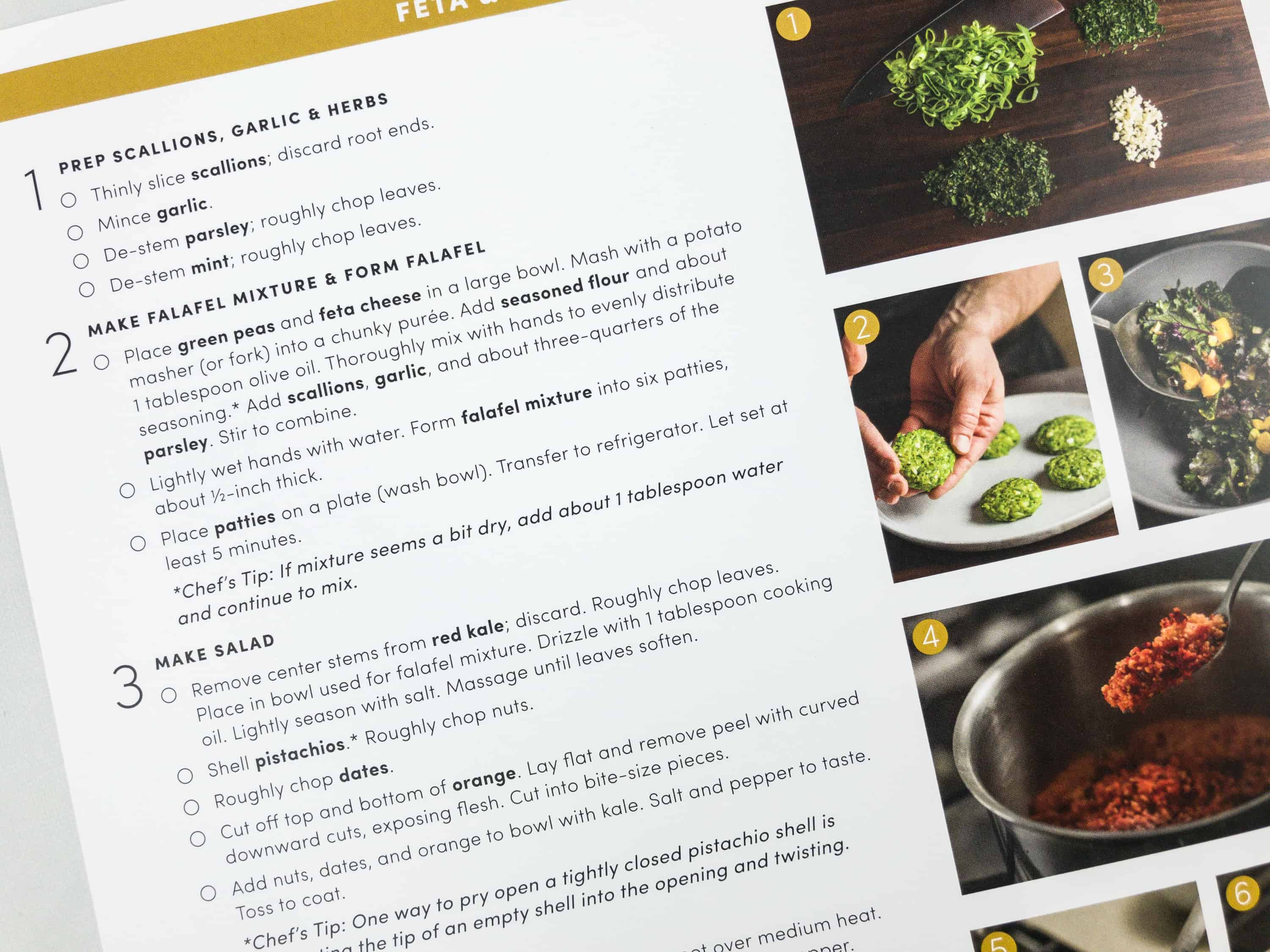 The format is quite lovely. Steps are bulleted for ease of reading, and ingredients are bolded to stand out.

Aside from the ingredients, the card also notes the cooking time, servings, and calories per serving. They give you a heads up as to any supplies from home you will need, and they even give you the measurements of each ingredient and allergen info, just in case you need to keep track or swap anything out.
The instructions are very easy to follow, and it's very handy the way they break everything down into smaller steps. They even include some great chef's tips to help you develop your technique and culinary knowledge!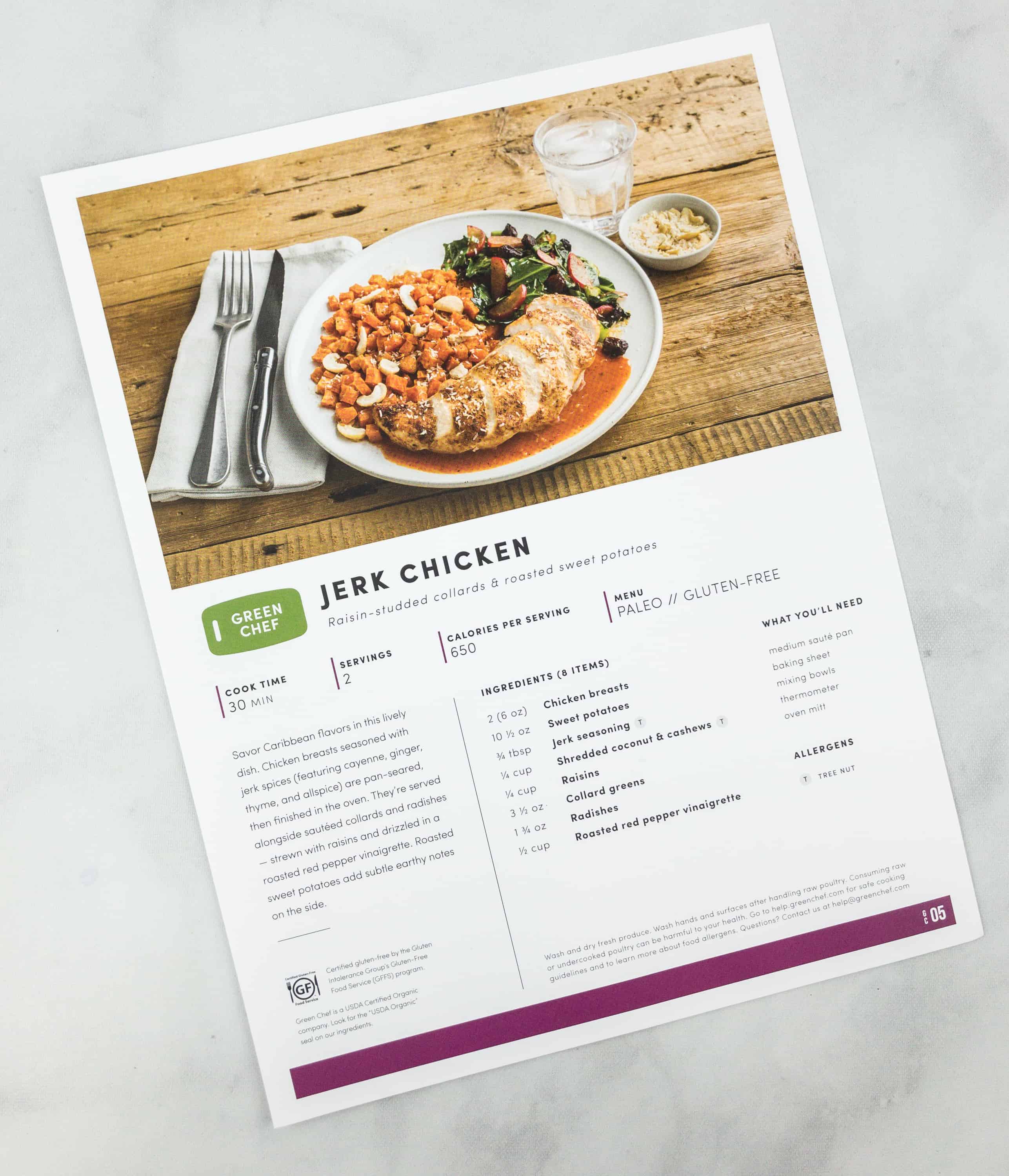 A plated picture of the meal is featured on the card, providing some quick inspiration on plating your own meals. As an aside, note the menu designations in the upper right section of the text — this particular recipe appears in both the paleo and gluten-free menus (as well as the omnivore).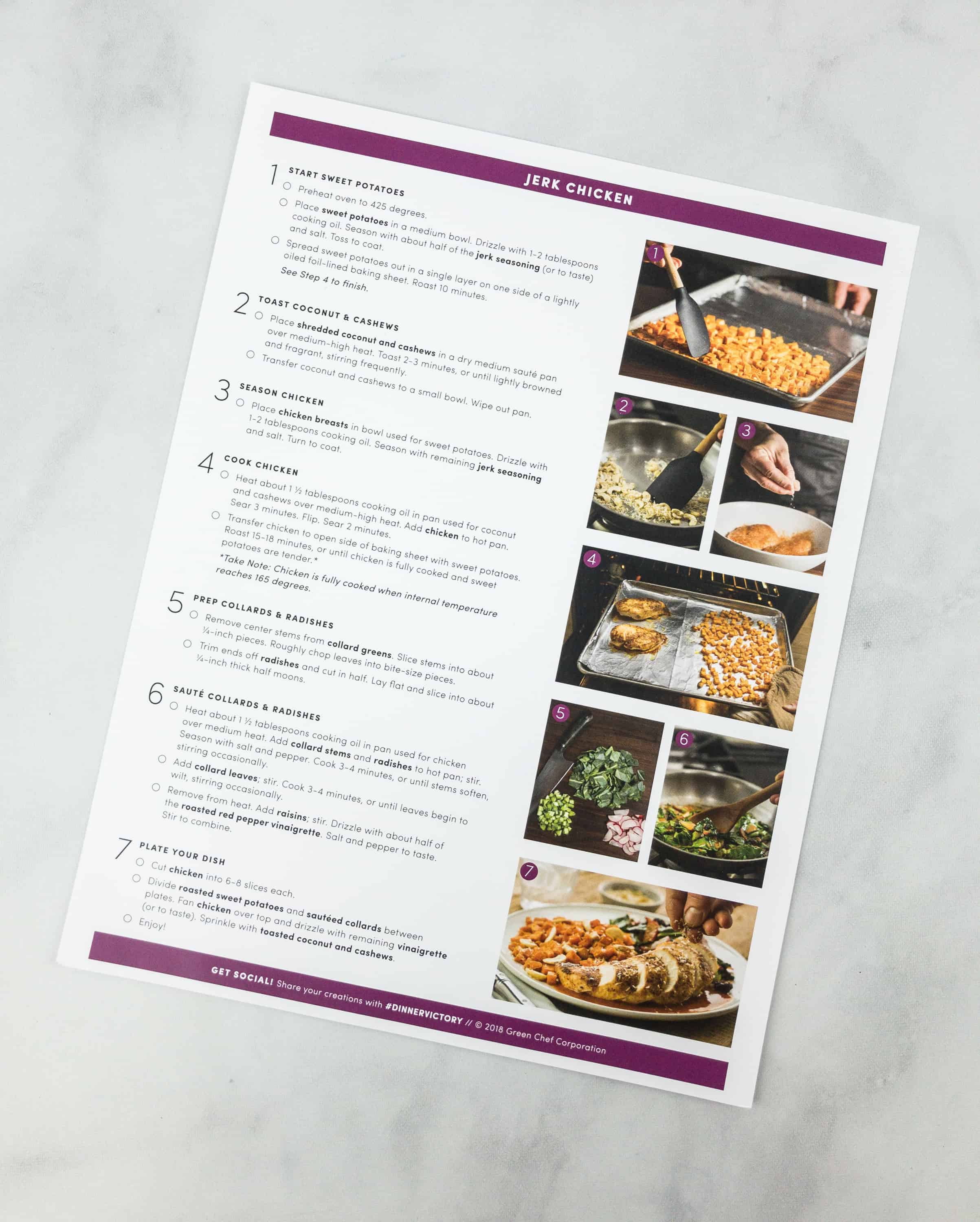 It's amazing how helpful the cards are — they provide all the details needed to expertly prepare the featured meals. Having clear instructions is definitely a confidence booster.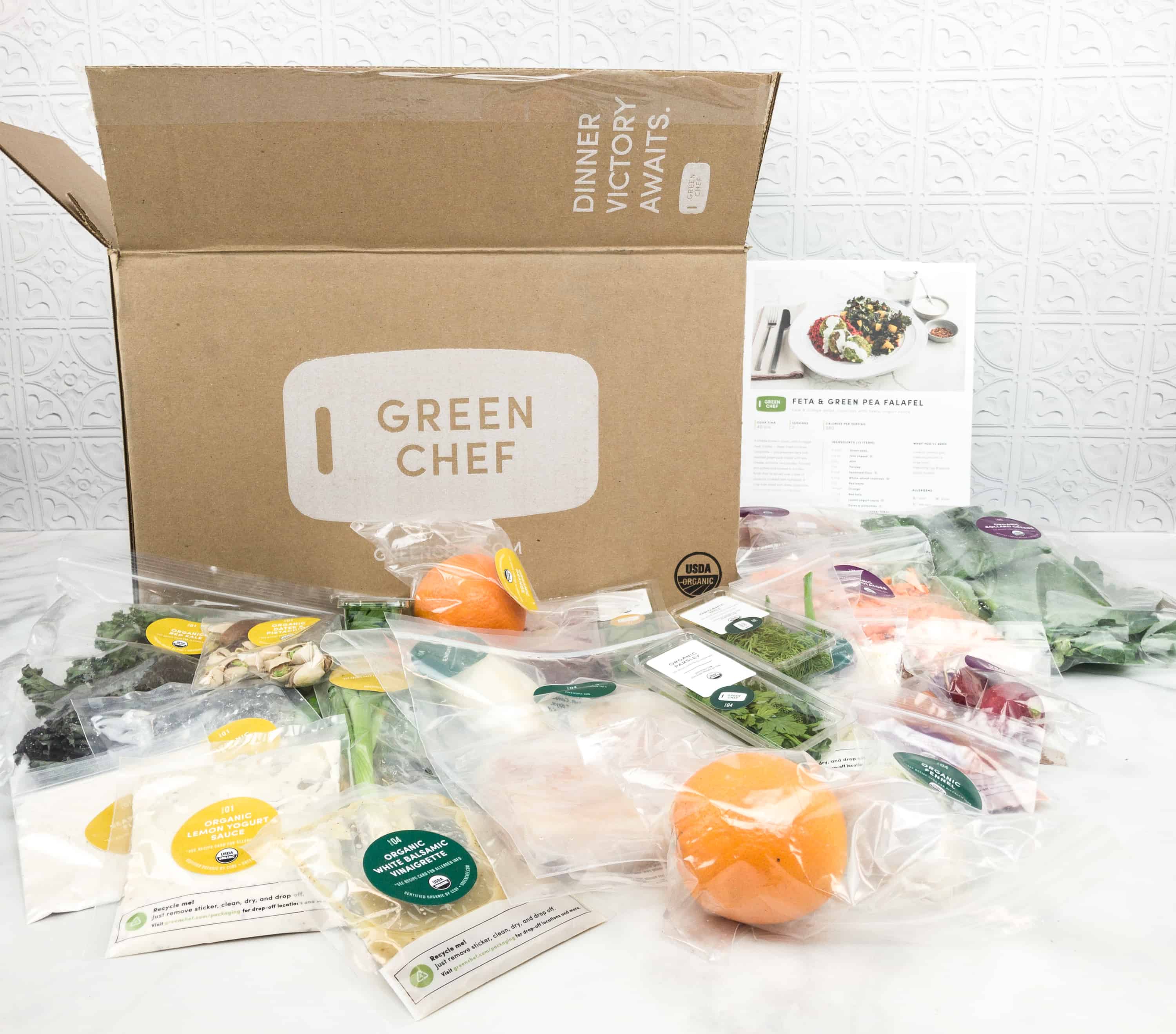 Everything in my April 2018 box!
All items are packed separately using either resealable plastic bags or tubs (except for the meat, which isn't resealable). The only frustrating part of the subscription is the loose packing of the ingredients, as everything arrives mixed together in a big jumble. The color-coded labels are super-helpful for collating everything, but you'll have to either pre-sort by meal or stand at the fridge for awhile to make sure you grab everything you need for your current recipe. The quality and freshness of the ingredients is exceptional — everything was pristine, and Green Chef is definitely top tier in this respect.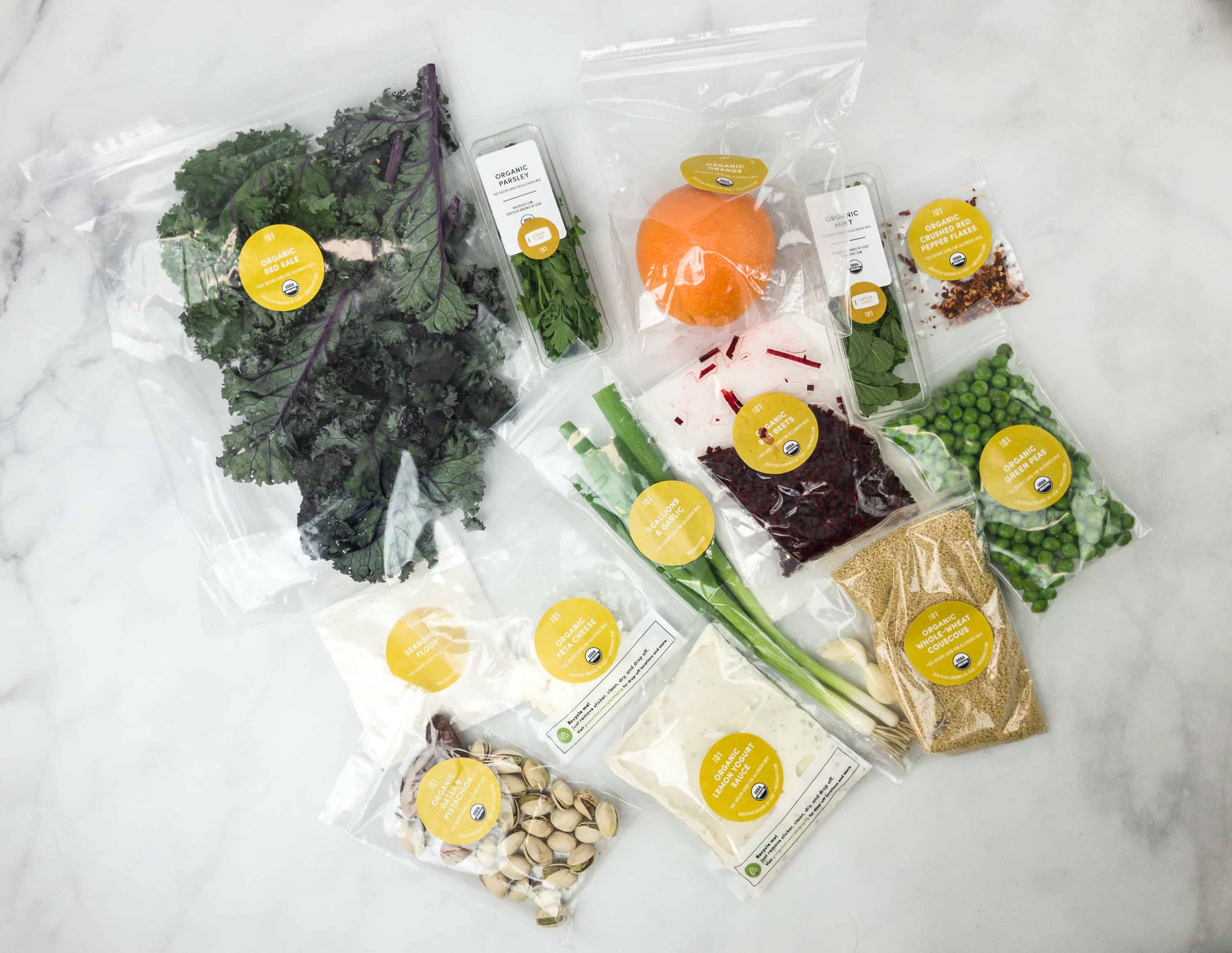 Feta & Green Pea Falafel 40 minutes, 580 calories per serving

Falafel is a classic Middle Eastern dish. In this version, Green Chef put a healthier twist by adding veggies, and they really put a unique spin on it by swapping green peas for the usual chick peas. The flavorful patties contain smashed green peas mixed with feta cheese, scallions, and parsley, all cooked until crispy. Beet-infused whole wheat couscous and a citrus kale salad made this a very filling and texturally diverse meal. The green pea falafel was surprisingly forgiving, and having popped the patties in the freezer helped keep them intact during frying. My favorite new technique learned was the kneading of the kale — it gave this notoriously tough veggie a more salad-like softness. I loved this dish, and I felt very full, but not weighed down or sleepy after chowing.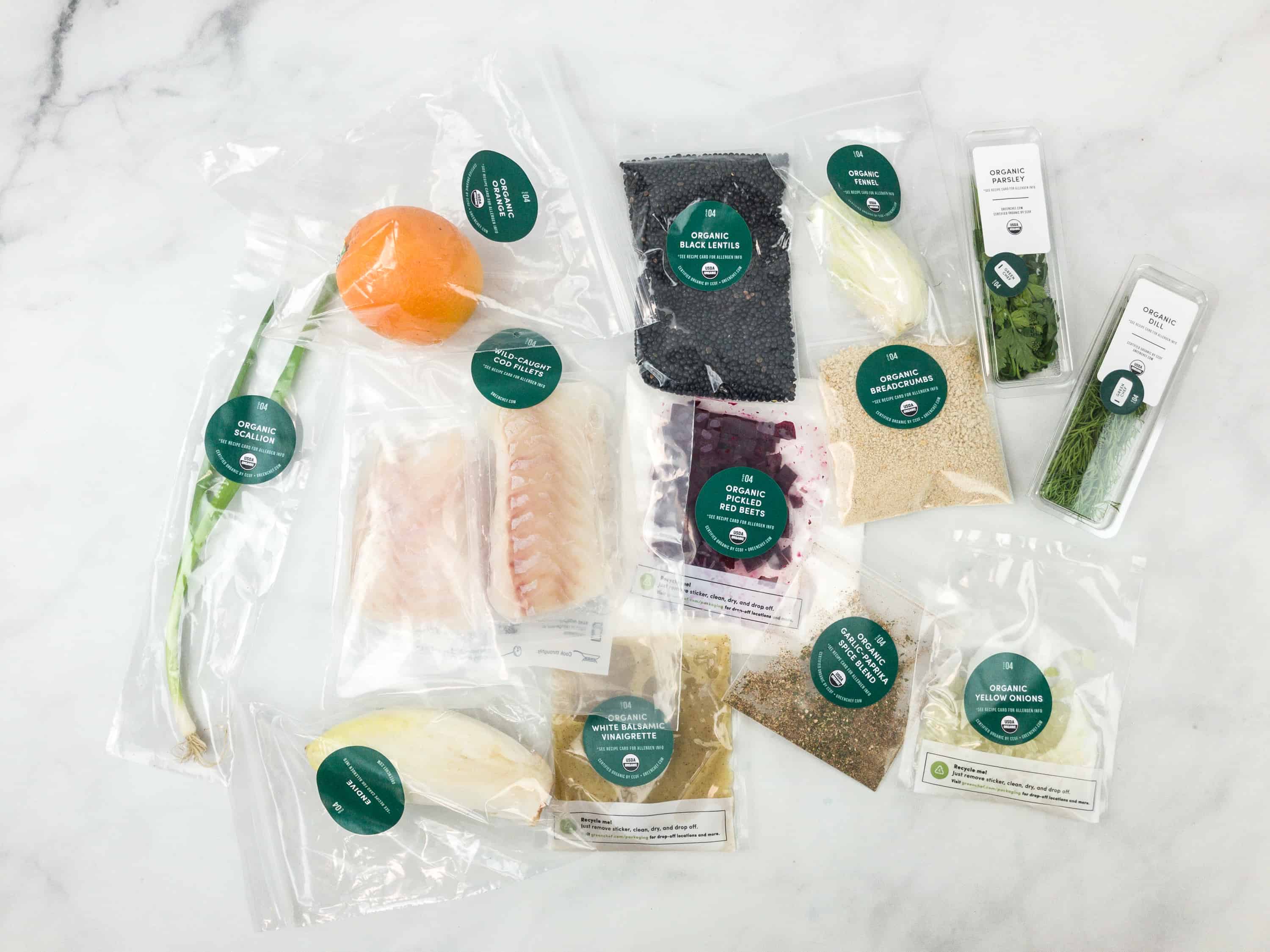 Herb Crusted Cod 40 minutes, 560 calories per serving
This Mediterranean-inspired dish combined flaky cod with hearty lentils and crisp fennel. I loved the combination of spices on the seasoned breadcrumbs which included basil, oregano, paprika, and rosemary with a splash of lemon. We baked the cod to a flaky finish and served alongside a crisp endive, fennel, and orange salad. The paprika-spiced black lentils added some heft to the otherwise very light dish. This was a moderately complex dish to prepare, but the instructions gave some great tips on how to supreme the orange.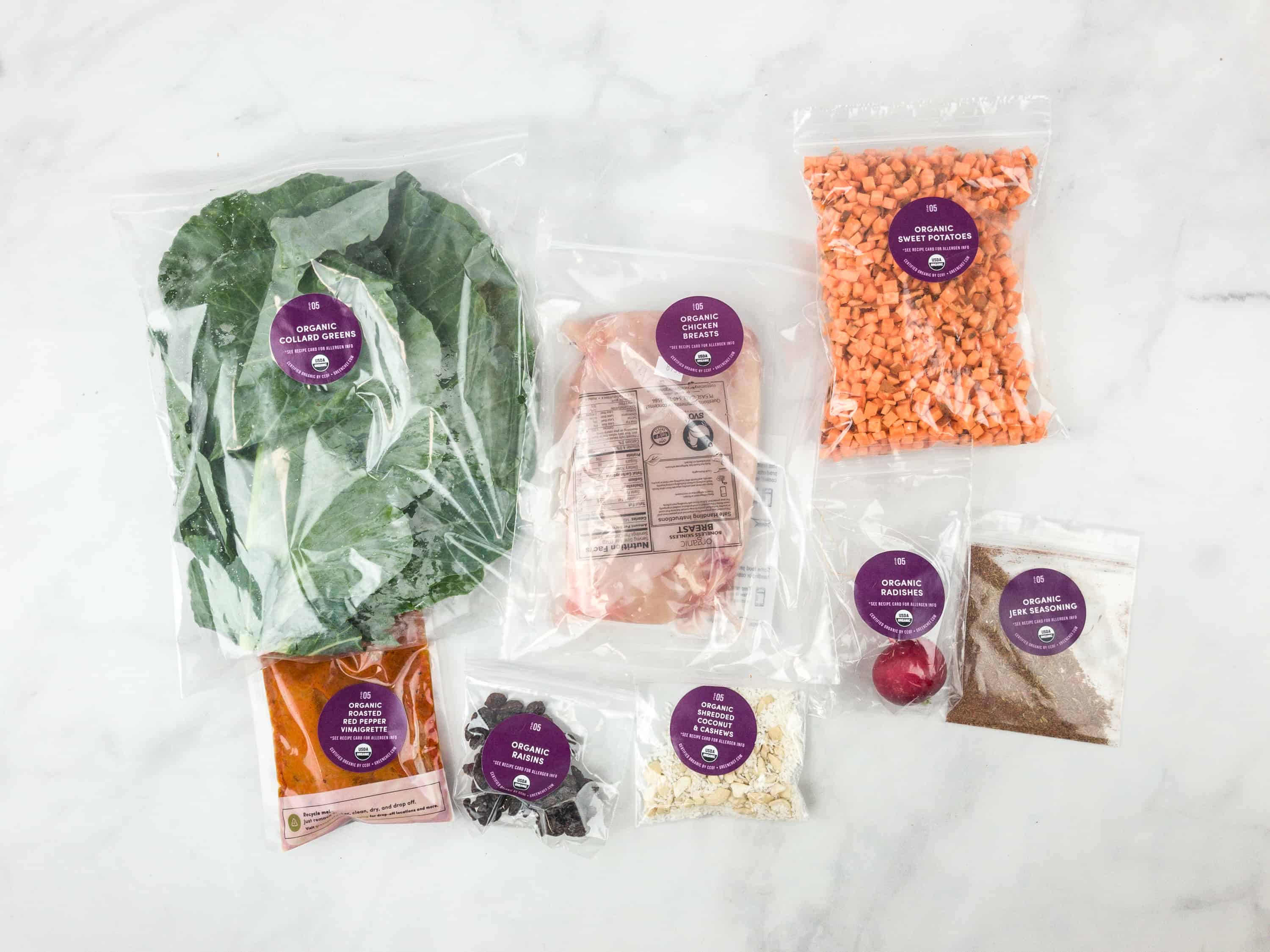 Jerk Chicken 30 minutes, 650 calories per serving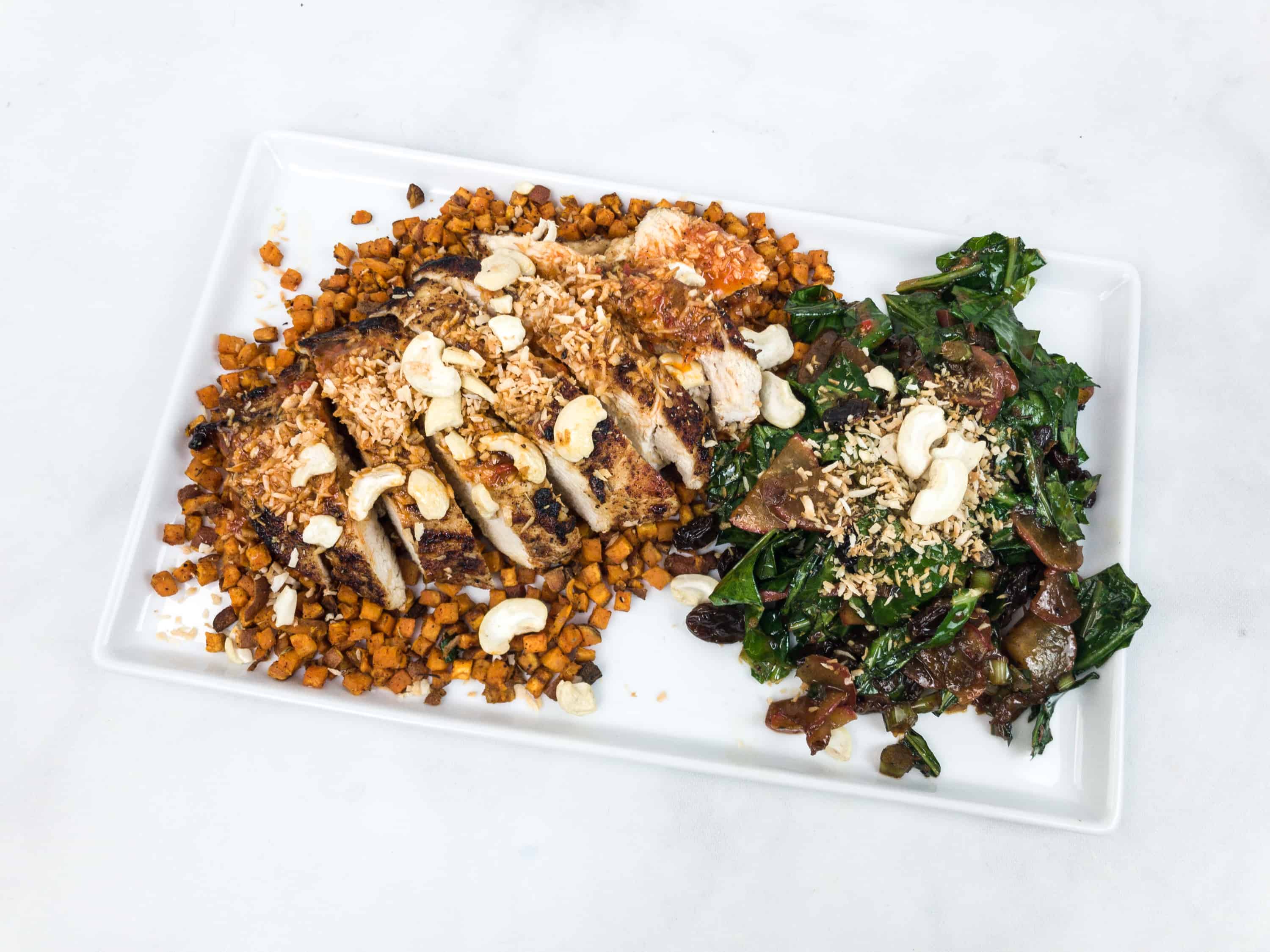 Highlighting the Caribbean flavors, these chicken breasts were seasoned with cayenne, ginger, thyme, and allspice and then pan-seared and finished in the oven. It is served together with the sautéed collards and radishes strewn with raisins sprinkled in a roasted red pepper vinaigrette. Collards are very intense in flavor, and we liked the addition of raisins to balance the bitterness. This was a fun dish and was easy to prepare. The only issue we had with it was the roasted red pepper vinaigrette — we didn't care much for the taste of it, but the dish incorporated it in the greens, and it had us pour some over the chicken for plating. We thought the flavors of the dish were great without the sauce, and adding it didn't improve it.
Nothing beats seeing your family enjoy the meals you prepared! Whether you're just a newbie cook or you're just looking for variety for your meals at home, Green Chef is a great subscription to try. They provide generous serving sizes, plus all the ingredients are organic and from sustainable sources. I was very impressed with the high quality and great condition of the ingredients. I'm also impressed with the variety of dishes included in our box, it's like we went on a culinary tour as each of them featured different flavors: the falafel from the Middle East, the baked cod from the Mediterranean, and the jerk chicken from the Caribbean. Of course, the meals were easier to cook because of the detailed cooking instructions provided on the card, though with a high veggie content, you should expect a fair amount of knife work. Overall, they made meal preparation easier without sacrificing the taste so it's a big win! Looking forward to many more weeks of cooking with Green Chef!
Are you getting the GreenChef Box?