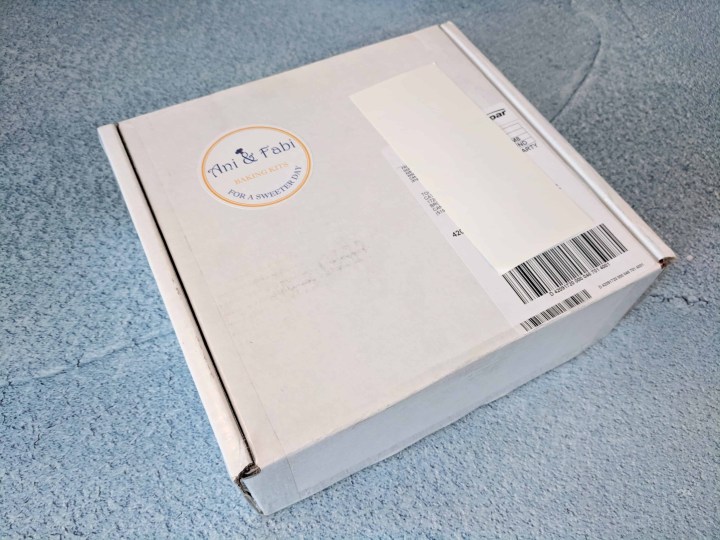 Ani & Fabi Baking Kit is a Canadian monthly baking subscription box that makes your kitchen a sweeter place for you to spend fun quality time with the ones you love! For $44 a month, you will get two newly designed baking kits, both gluten-friendly and gluten-free, and deliver directly to your door. The box contains high-quality pre-measured dry ingredients, a detailed and simple baking guide, and any decorating tools you need.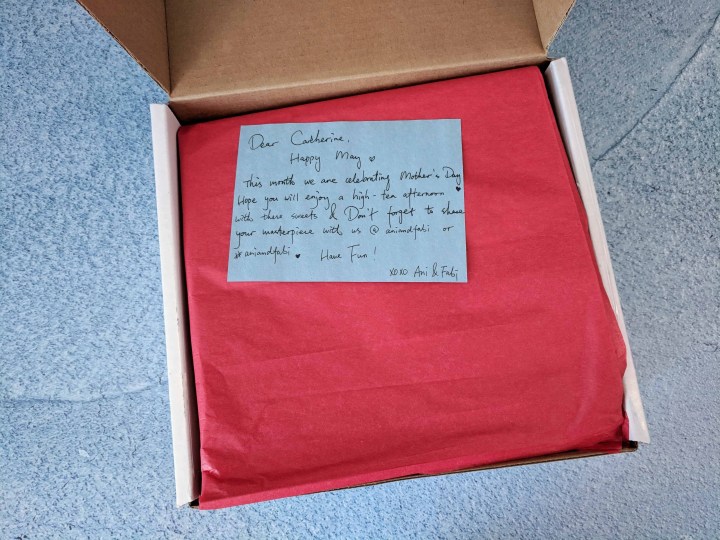 I was fortunate enough to get to try their Mother's Day High Tea Afternoon Kit! Ok, that might not be the theme, but it fits the goodies. This review is for the gluten-friendly version.
DEAL: Get 15% off your first box! Use coupon code LETSBAKE.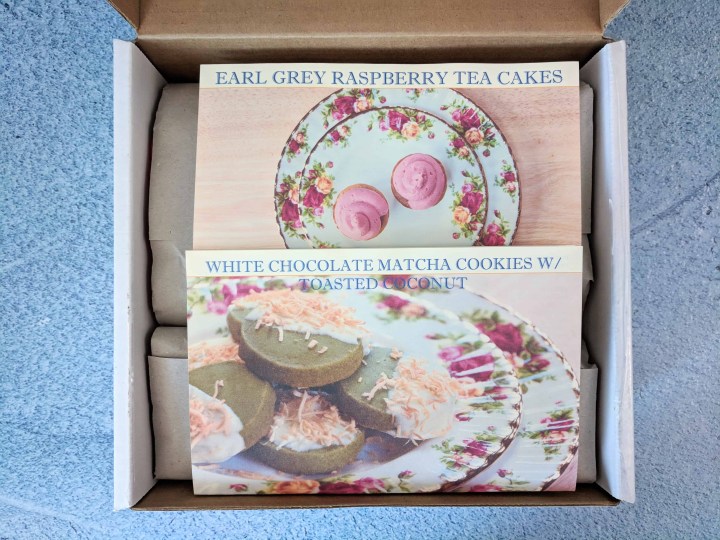 For May, we get to try our hand at White Chocolate Matcha Cookies with toasted coconut and Earl Grey Raspberry Tea Cakes.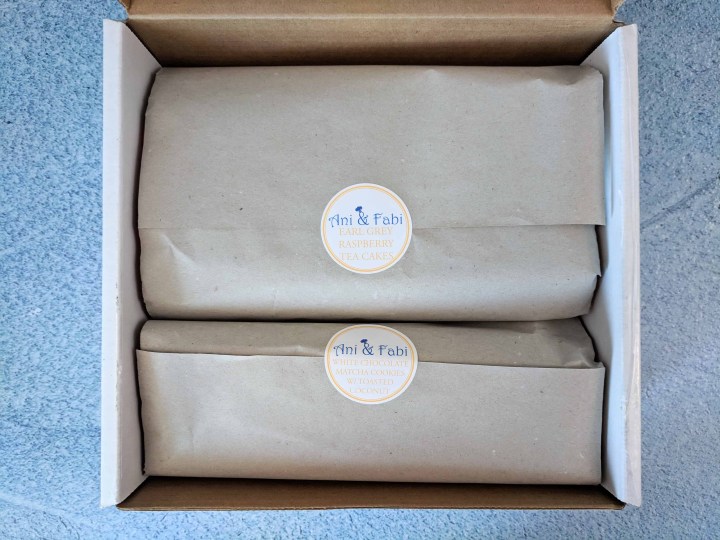 Each kit is wrapped in grey paper with a cute sticker. When you unpack your kits, make sure to keep the ingredients with their kit as the individual items are not labelled by kits, so you could end up with two sugar bags of different size.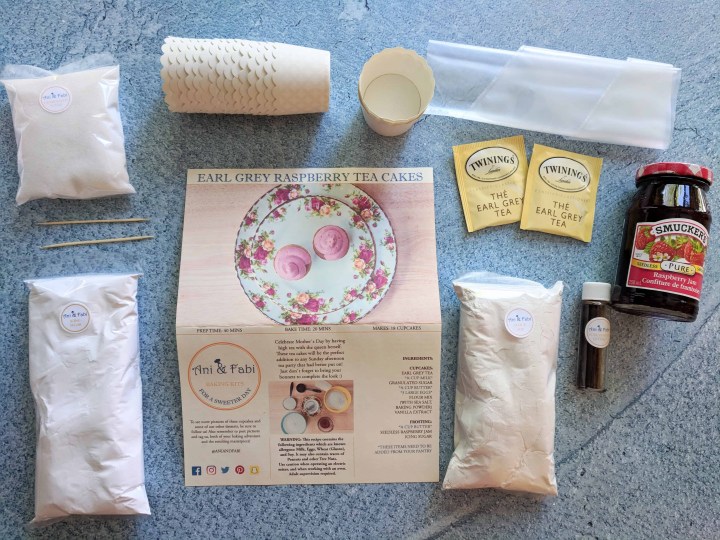 We started with the Earl Grey Raspberry Tea Cakes. Here's everything included in this kit. Even the toothpicks to check on the doneness of the cakes. On the first page there's a list of the ingredients you need and which one you need to provide (such as eggs, milk and butter).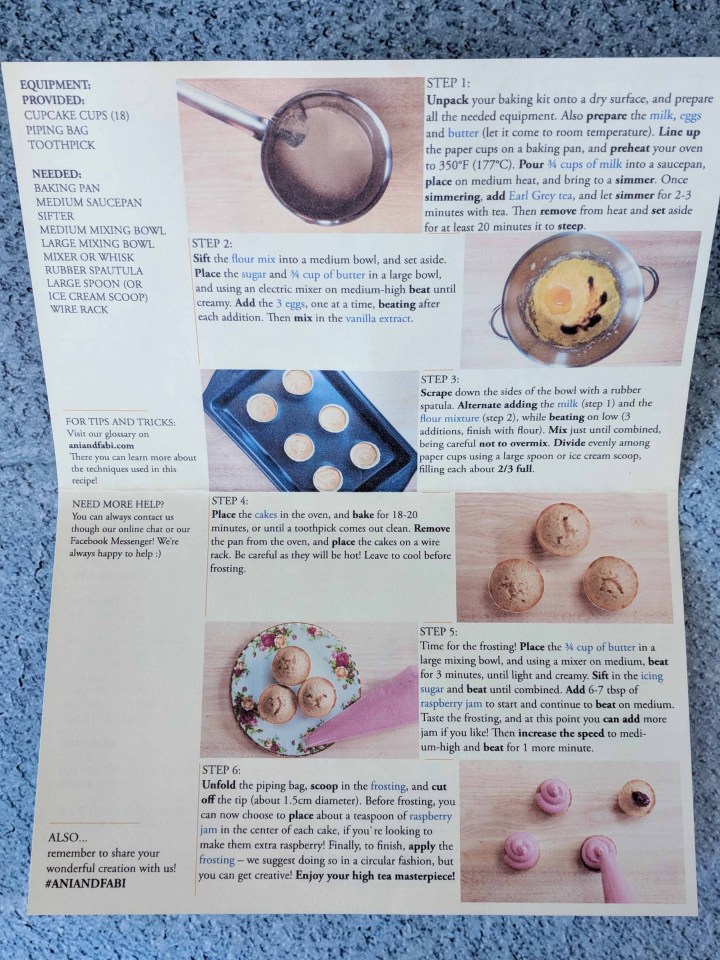 The steps were easy to follow and well presented with pictures to guide us along the way.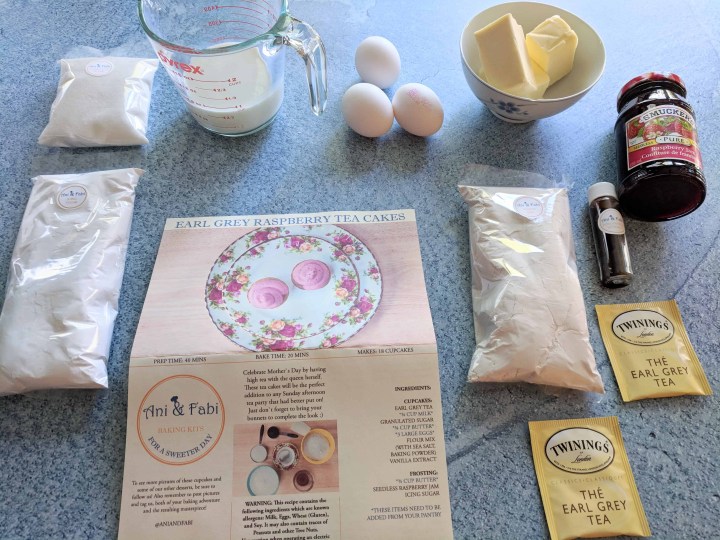 All that we needed to make the cakes. Of course, I had forgotten about the butter for the frosting so I quickly got some out of the fridge, hoping it would soften by the time I needed it.
The three bags were sugar, icing sugar and flour. The flour had the salt and other dry ingredients already mixed in.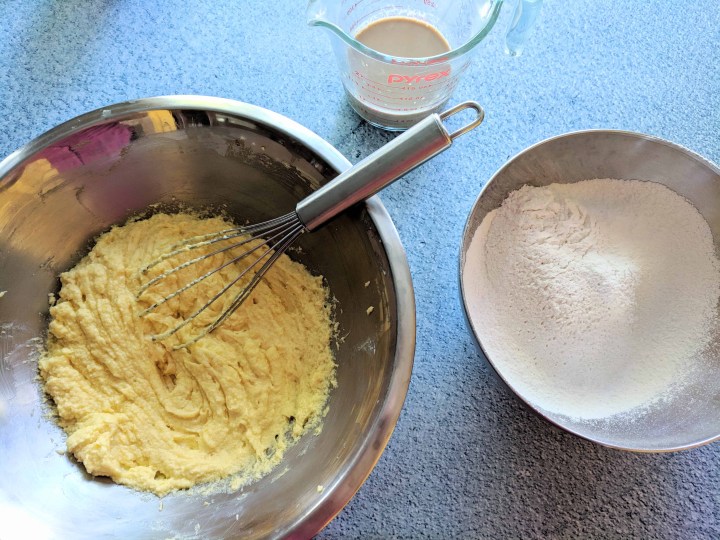 I don't have a stand up mixer. Well, I do, but it's only usable for bread making due to an incident. So, I did everything by hand. Got some muscles going on! Basically, you don't need a stand up mixer to make sweet goodies!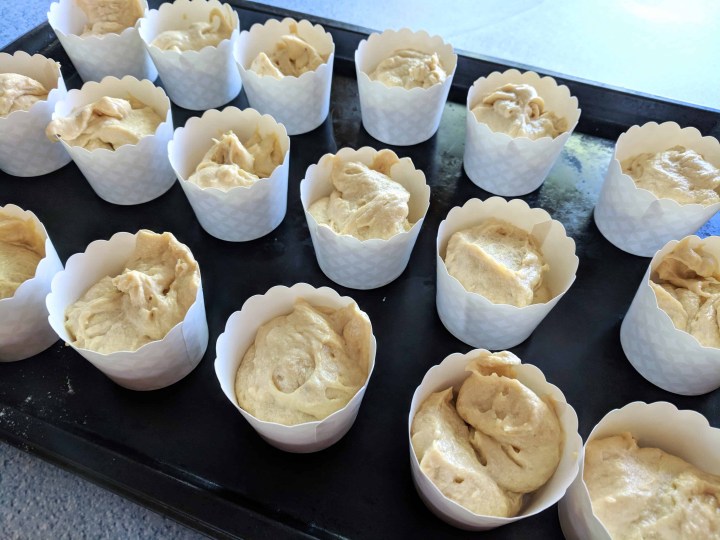 Ready to go in the oven!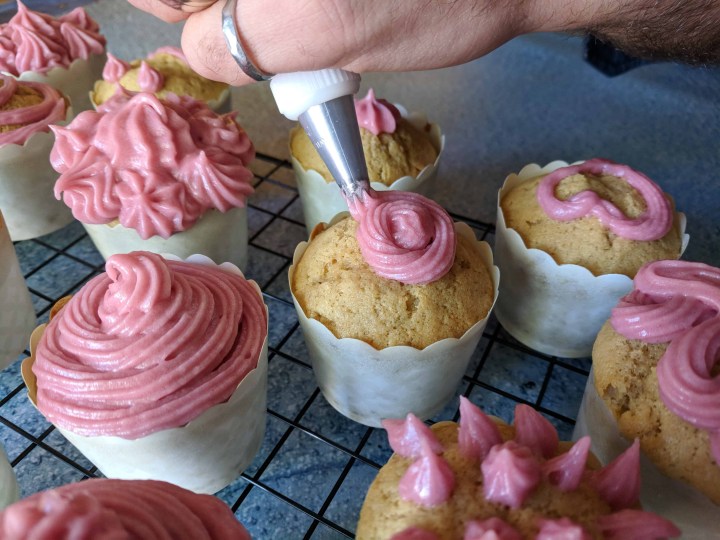 Here's my husband doing the finishing touch on the cakes. Two frosting bags were included and could be filled and cut open for an easy way to frost the cakes, but I got fancy with my pipping bag tips. And the cakes were DELICIOUS! I may have added quite a lot of the raspberry jelly in the frosting, being one of my favorite flavor in cakes. The raspberry was nice in contrast with the earl tea flavor of the cakes, but we thought we could have let the milk steep with the tea longer for a stronger taste.
So on with the White Chocolate Matcha Cookies with toasted coconut. The parchment paper to bake the cookies were also provided. Sweet!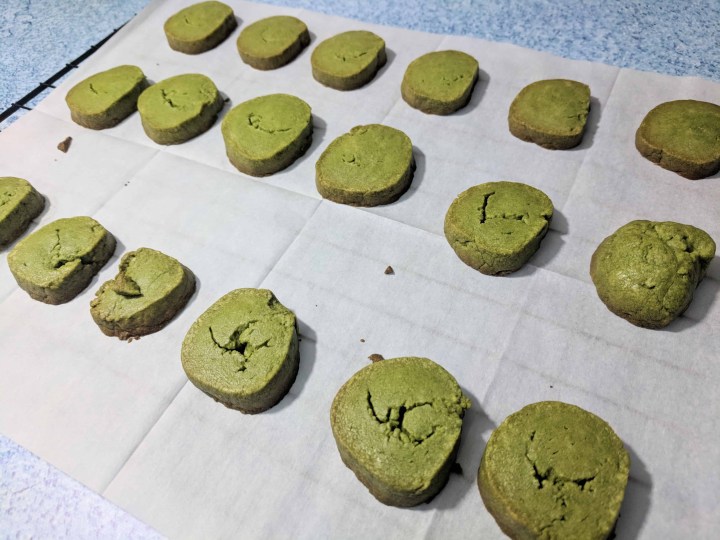 I forgot to take pictures of the process, but it was so easy: open the packages, dump them in a bowl, mix, roll, freeze and cut. Seriously, I did them while my husband was cooking something delicious.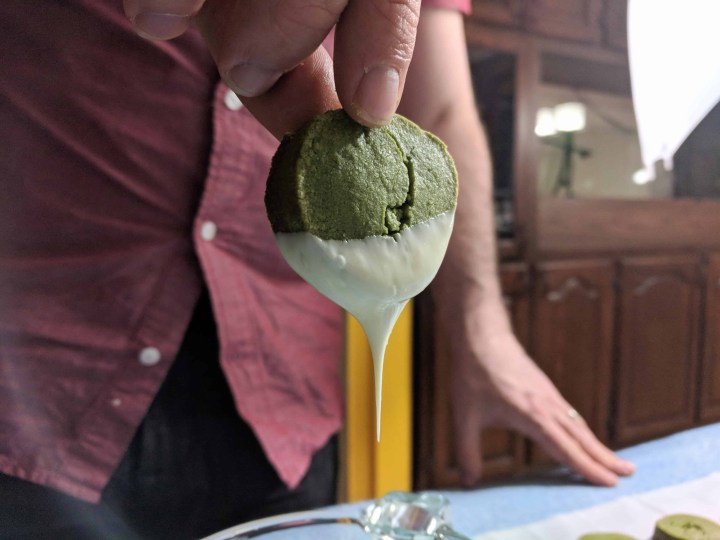 Once they were cool, it was time to have fun! Here's the chocolate.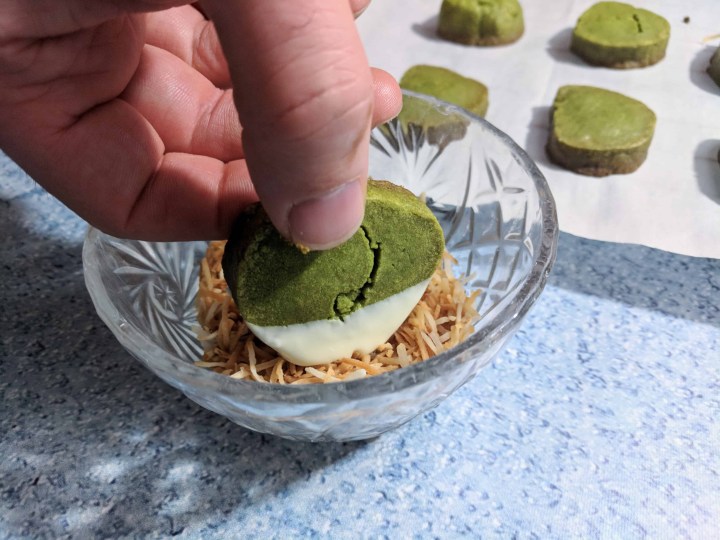 In the toasted coconut flakes!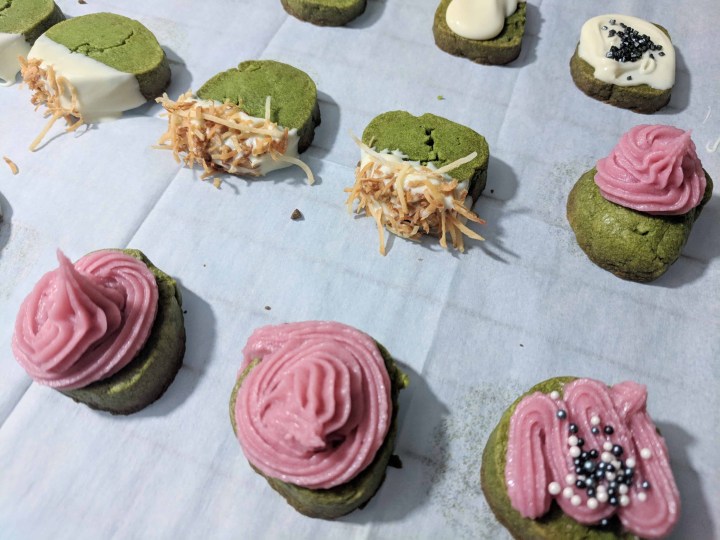 I'm not a big fan of toasted coconut (I seriously don't like it), so I decorate the cookies with some of the raspberry frosting leftover from the cakes, and some plain white chocolate with sprinkles for fun.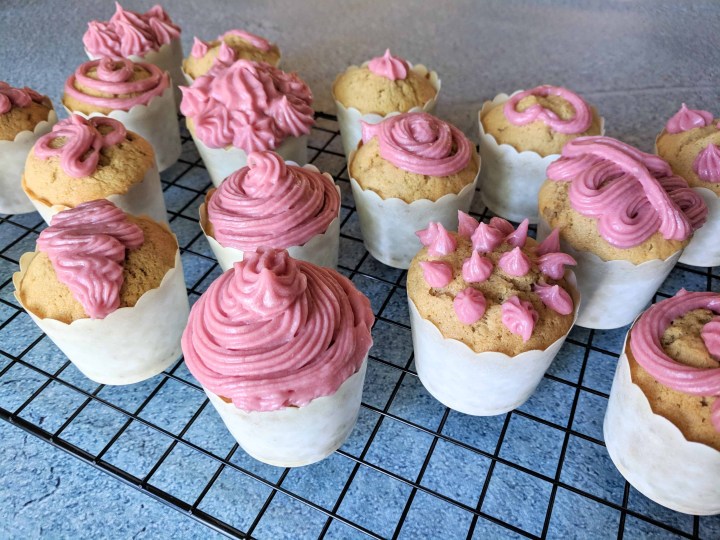 This was such a fun box! It's the perfect kit for people who likes to cook, but might be too busy (or tired) to bake. Also, being a person who cooks without measuring anything and fixing things after tasting, baking is harder to get into. A kit like this is fun because you still bake your own cake and cookies, and you can adjust the flavoring to your taste, without having to get the measuring cup, the kitchen scale and turning the whole kitchen in a mess. Just dump the ingredients in a bowl, mix, bake, decorate and enjoy! And it's tasty!
Do you like baking? What do you think of this baking kit?