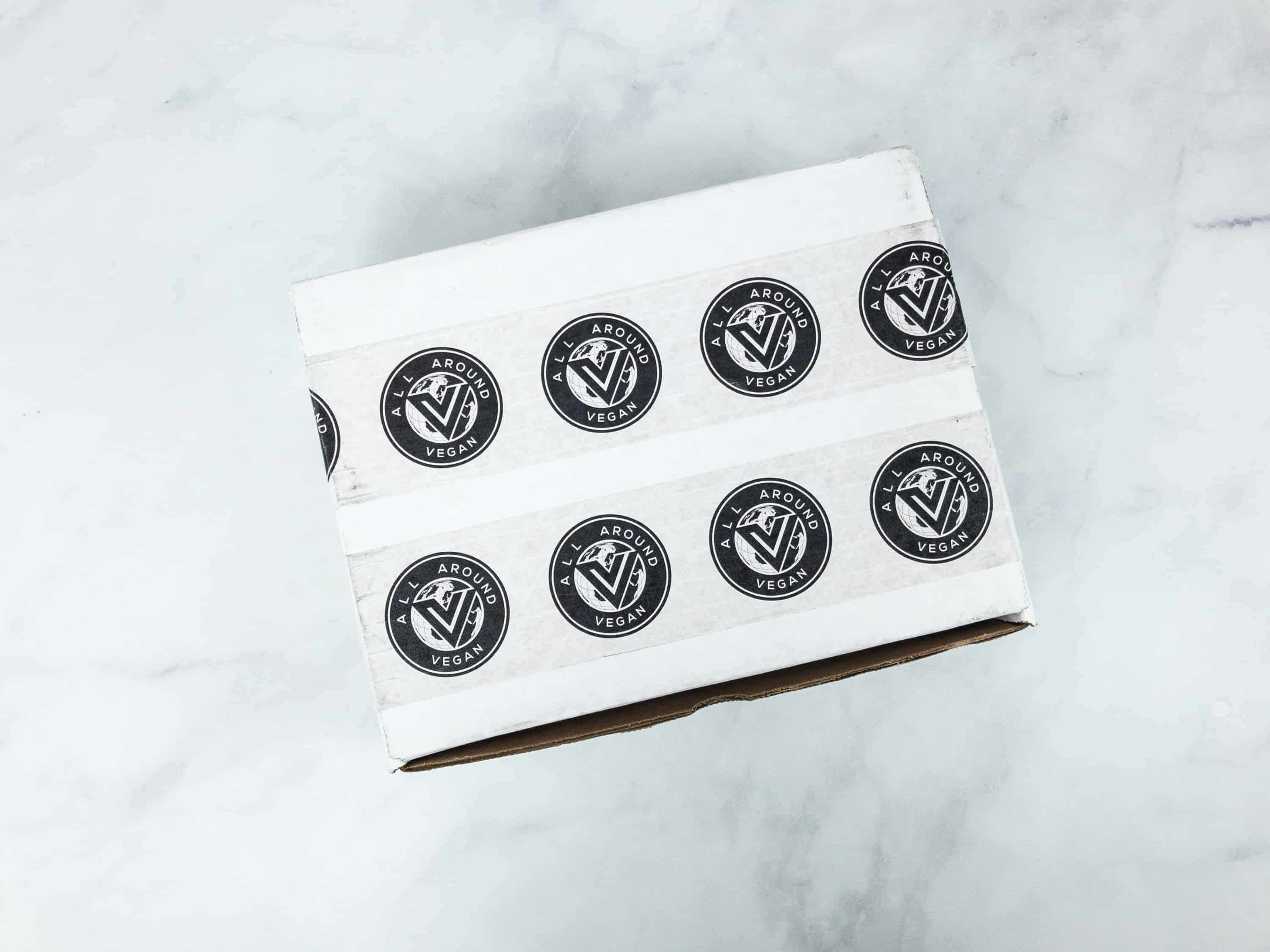 All Around Vegan Box is a subscription that caters to vegans and those interested in veganism. Each box includes items from 4 categories – a food item, a lifestyle item, a bath and body item, and an activism item. All products are cruelty-free and are curated to further support, promote, and enhance the vegan lifestyle.
DEAL:  Get 15% off your first subscription box! Use coupon code HELLO15.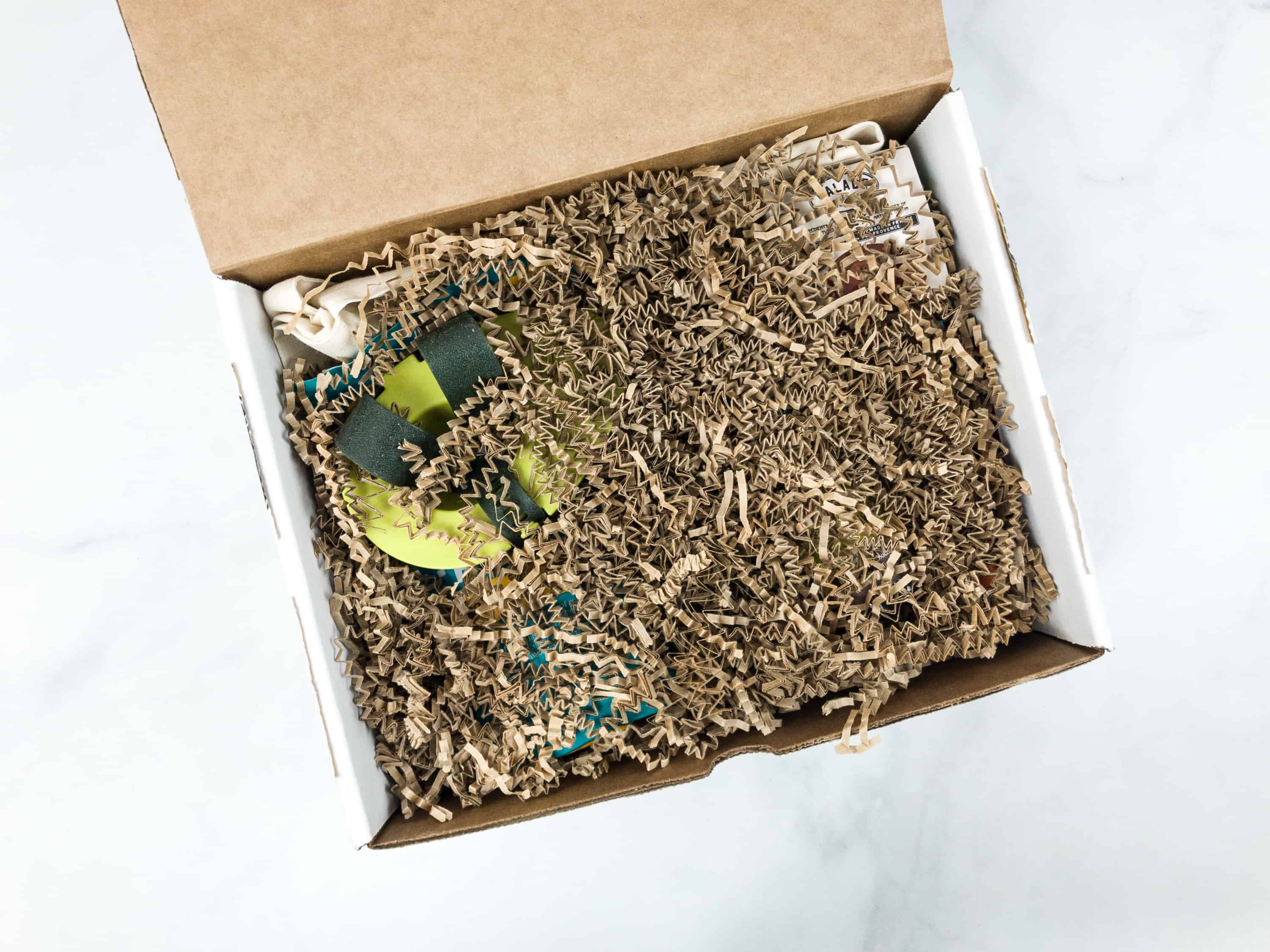 This is what it looks like upon opening. Lots of brown squiggles!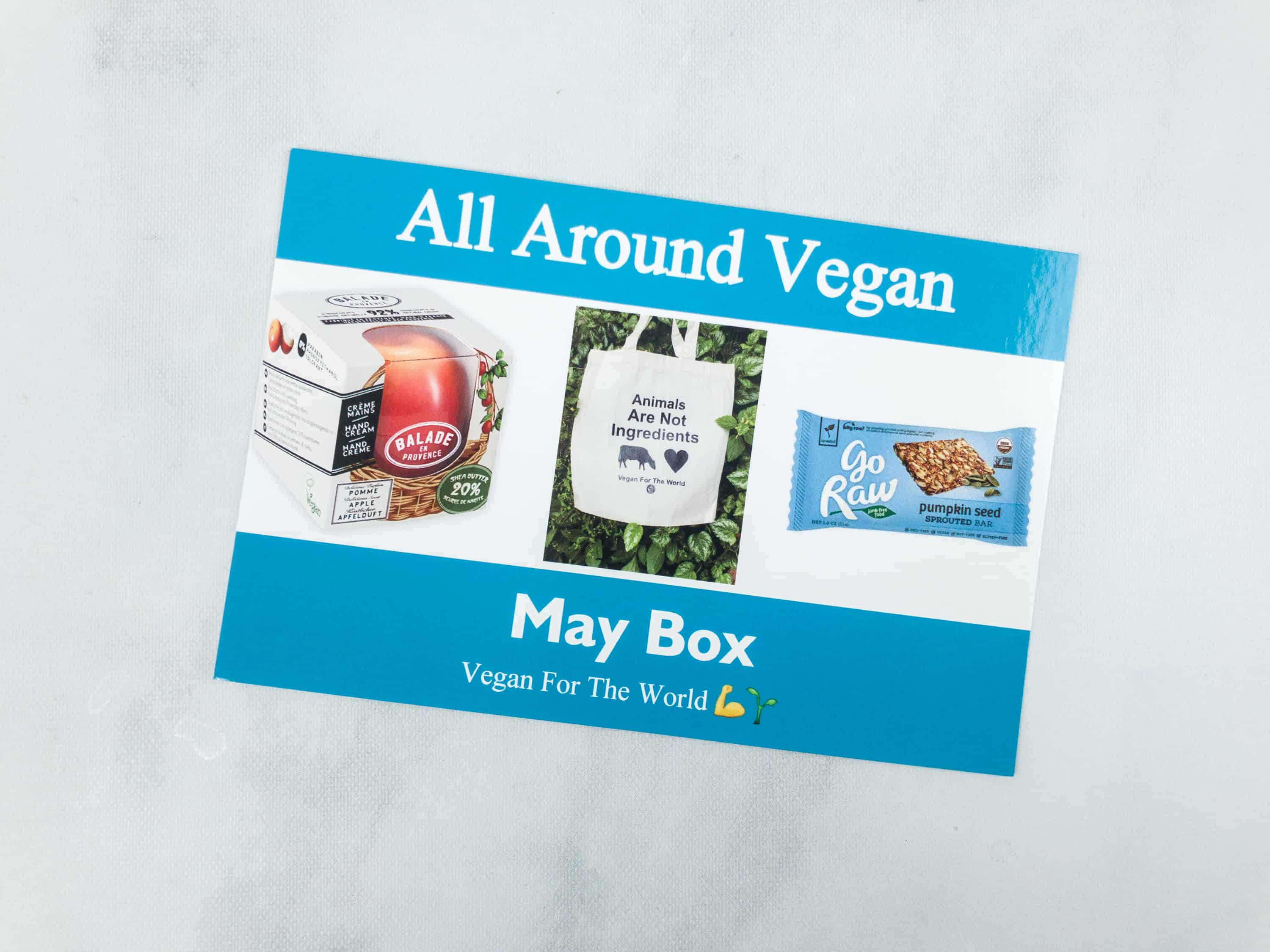 There's a card that encourages people to go vegan.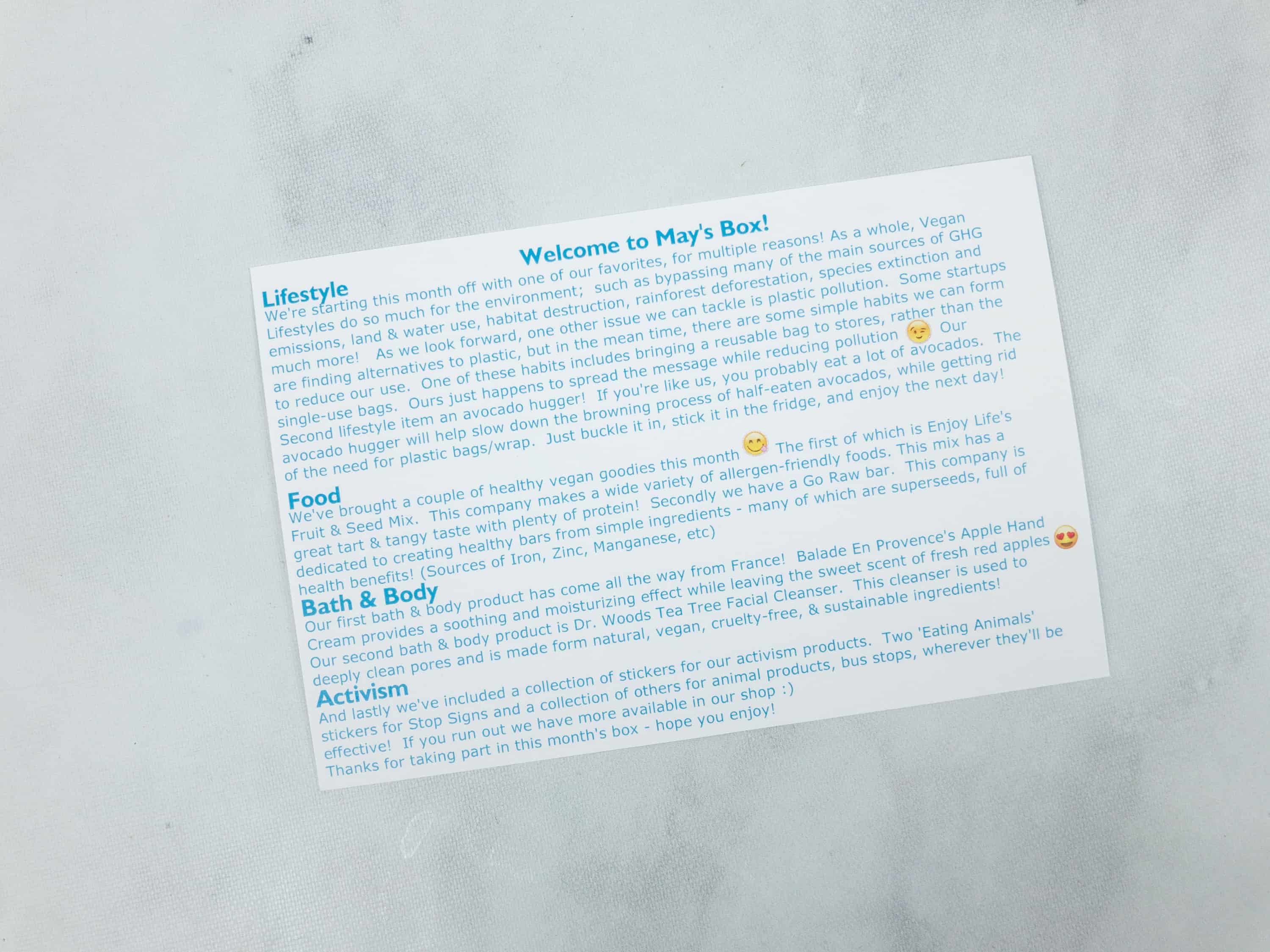 The back of the card has all the information about the contents of the box and their ingredients.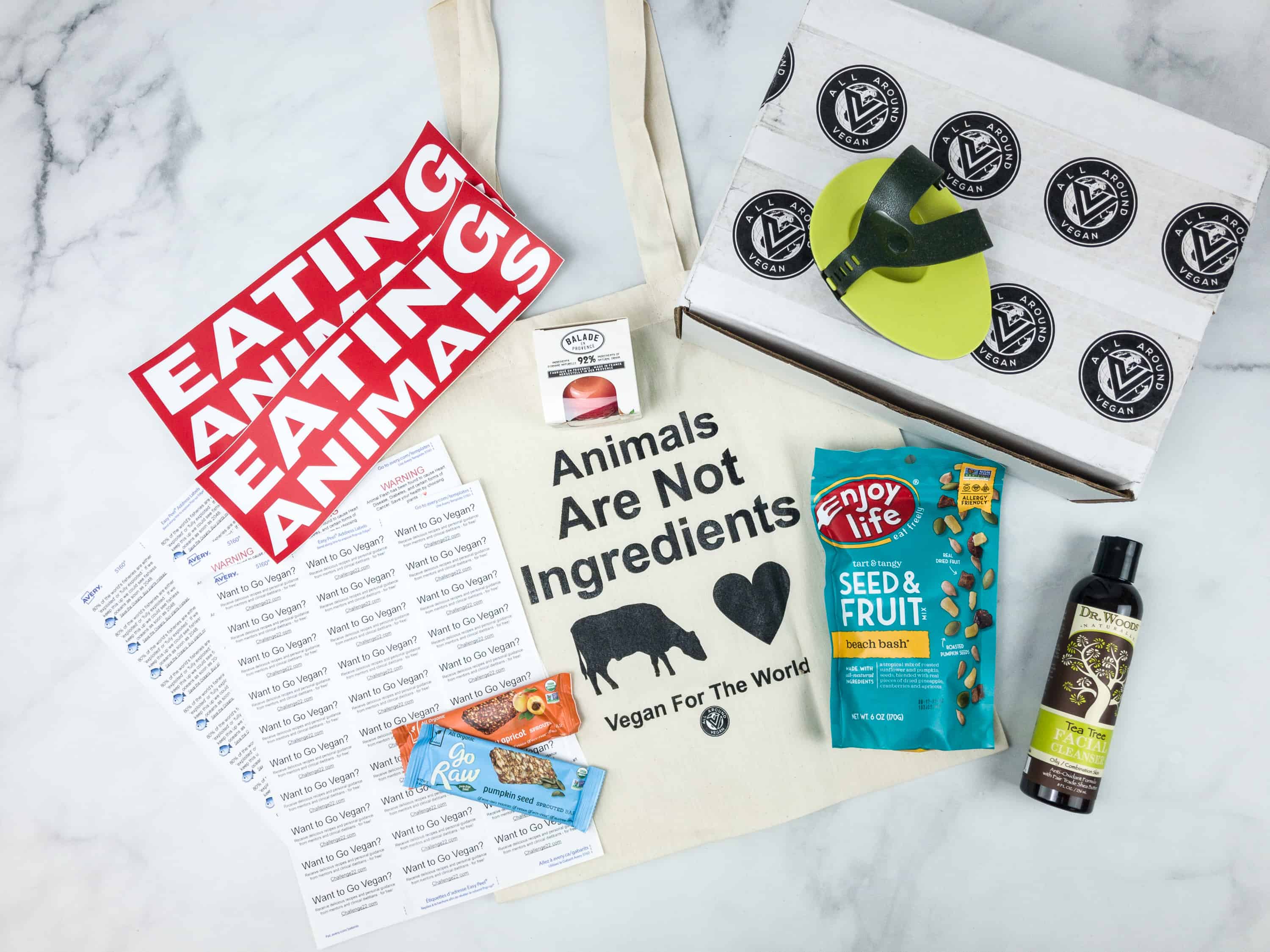 Everything in my box!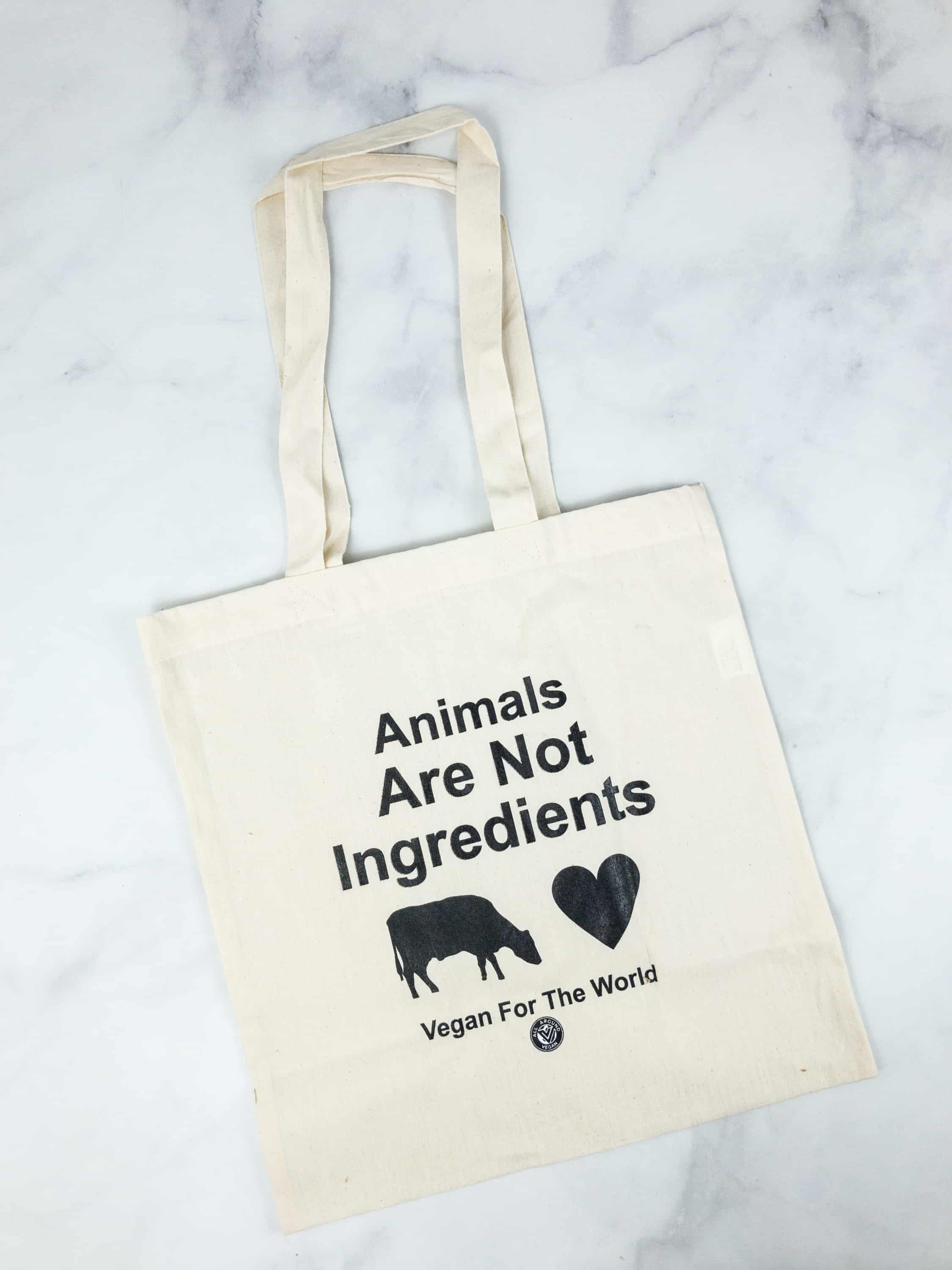 Reusable Canvas Tote Bag. It is a very simple tote bag with a no-nonsense message.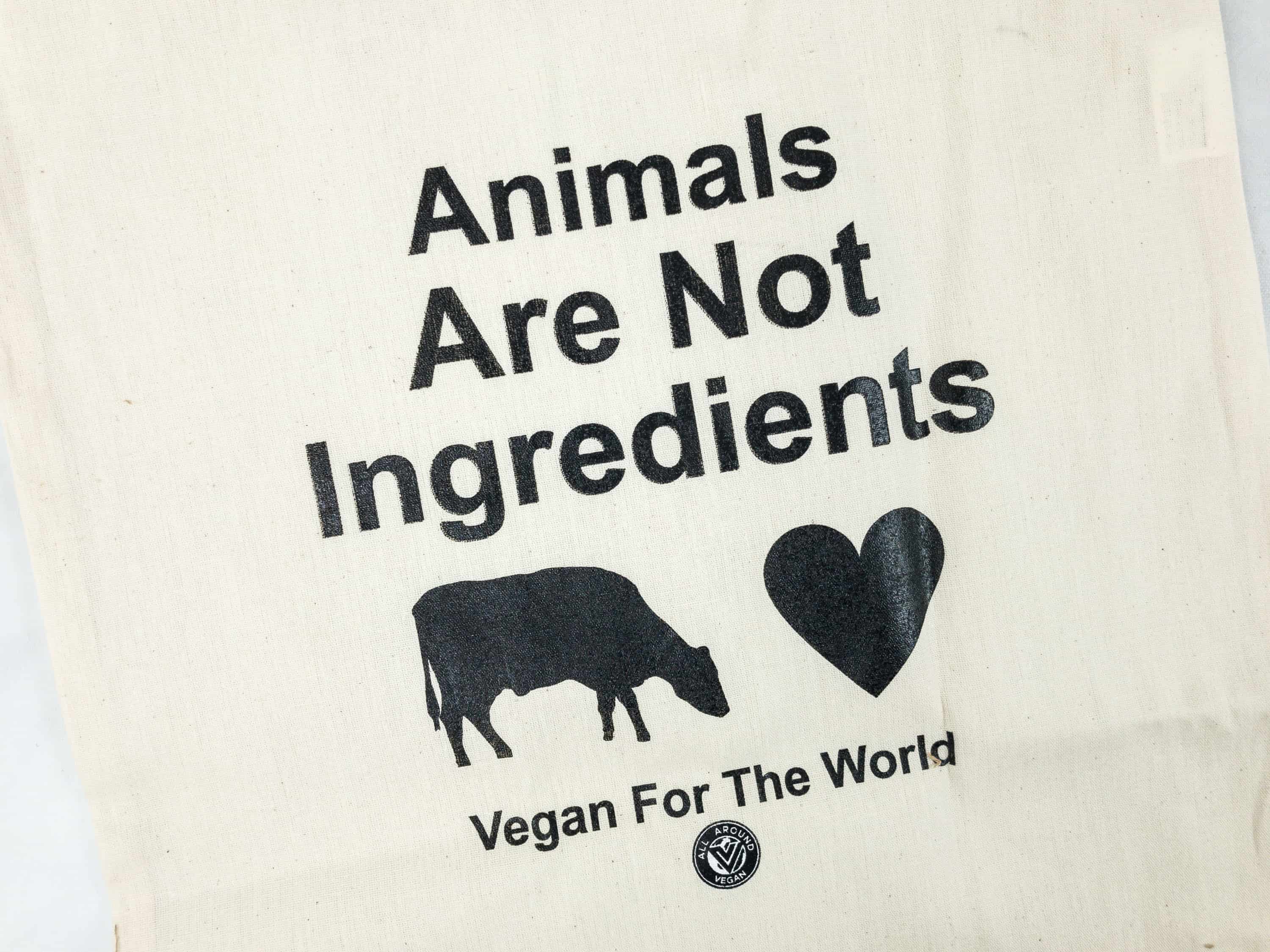 The message is the main design and the other elements in this tote bag did not upstage and rather flaunted it.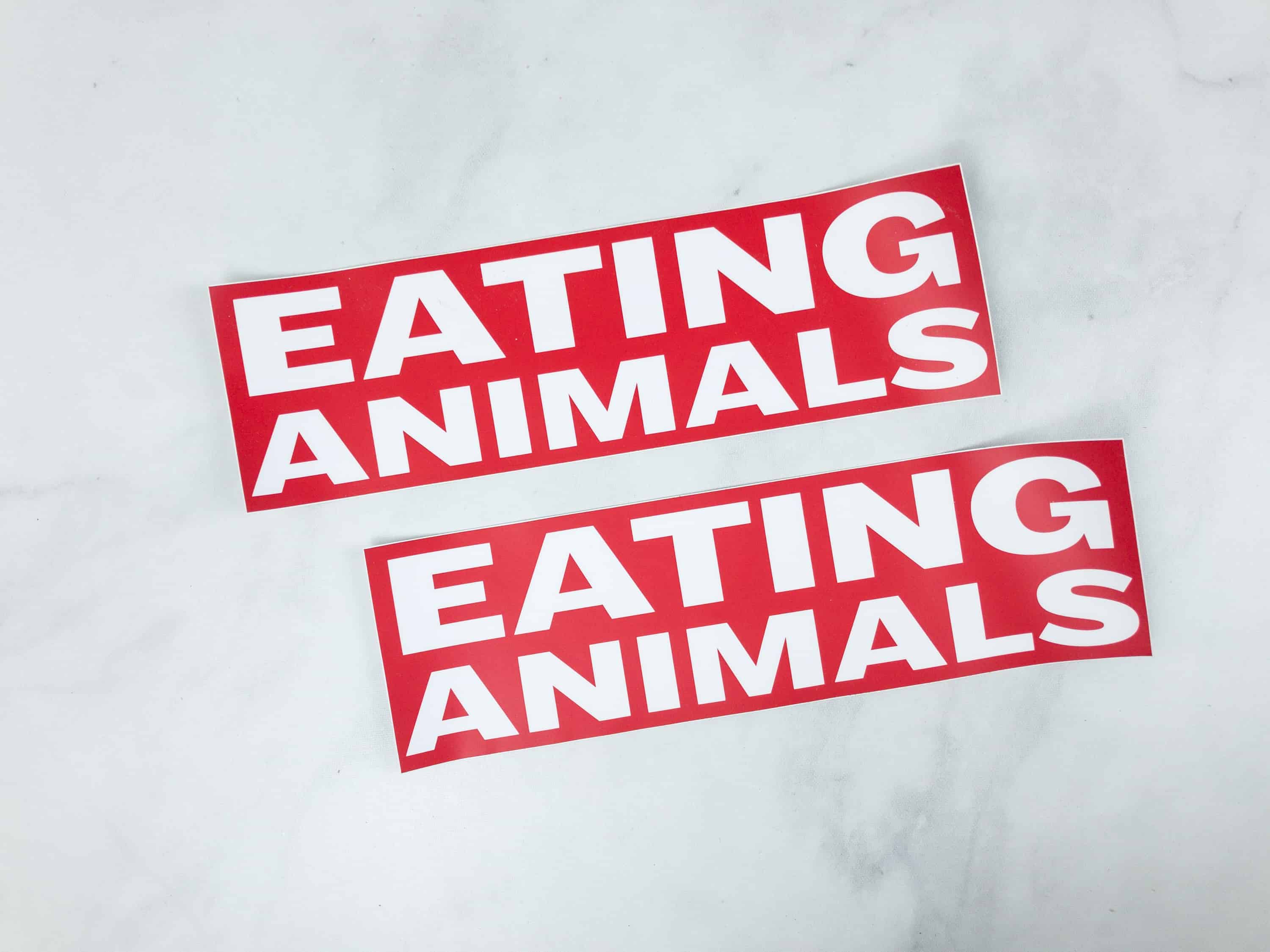 Eating Animals Stickers. We got two big stickers that says "eating animals." They're in red so we assume it means stop.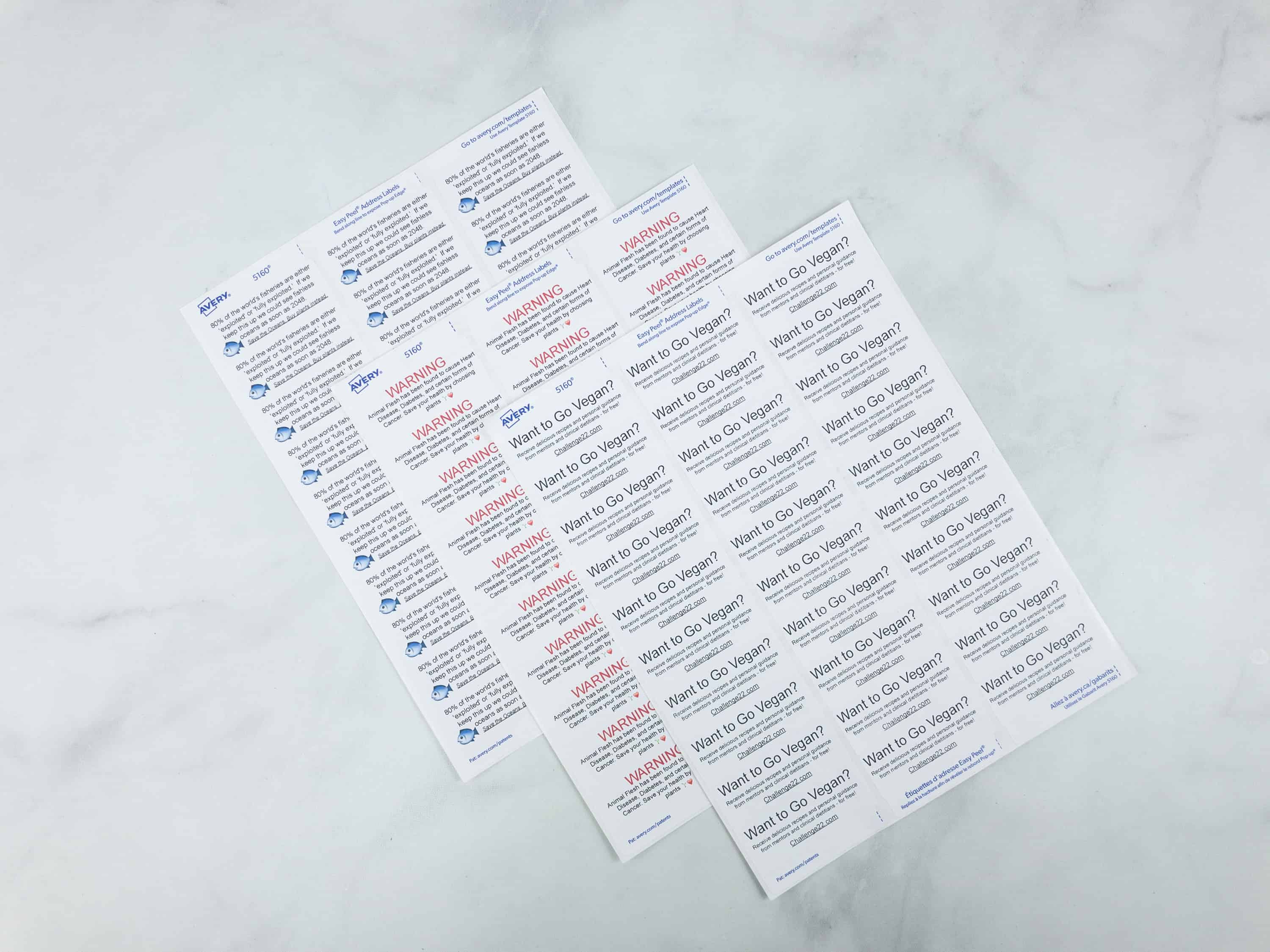 There are a lot of activism stickers. 3 pages of them with different statements and design.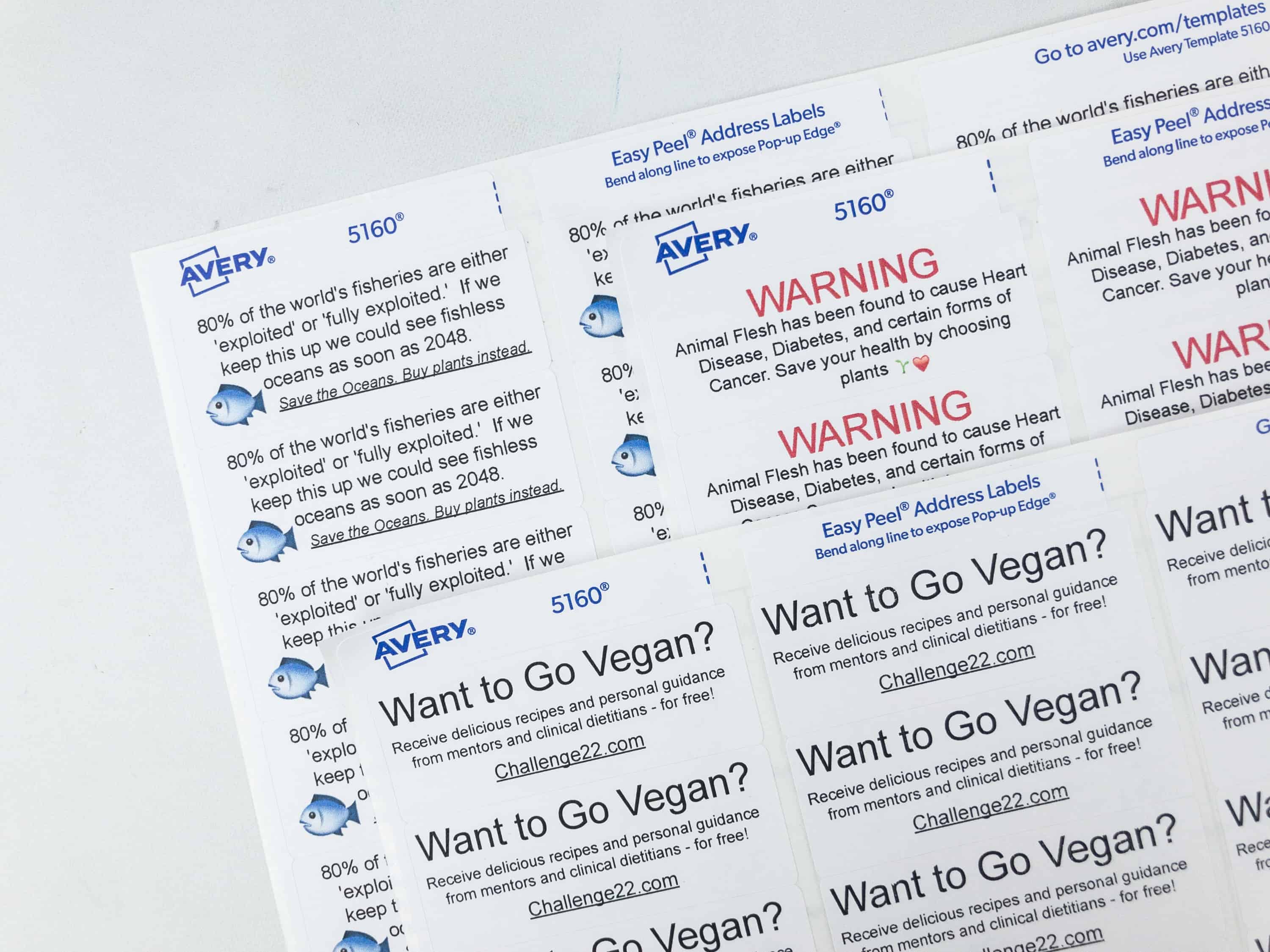 The first one is urging us to go to the website indicated for tips and guidance in being vegan. The second one is a warning that eating animal flesh can cause diseases and veganism is the healthier way to go. The last sticker page is about taking care of our oceans before it's too late and run out of fish.
My assumption is that these are intended to be placed on non-vegan items at the grocery store.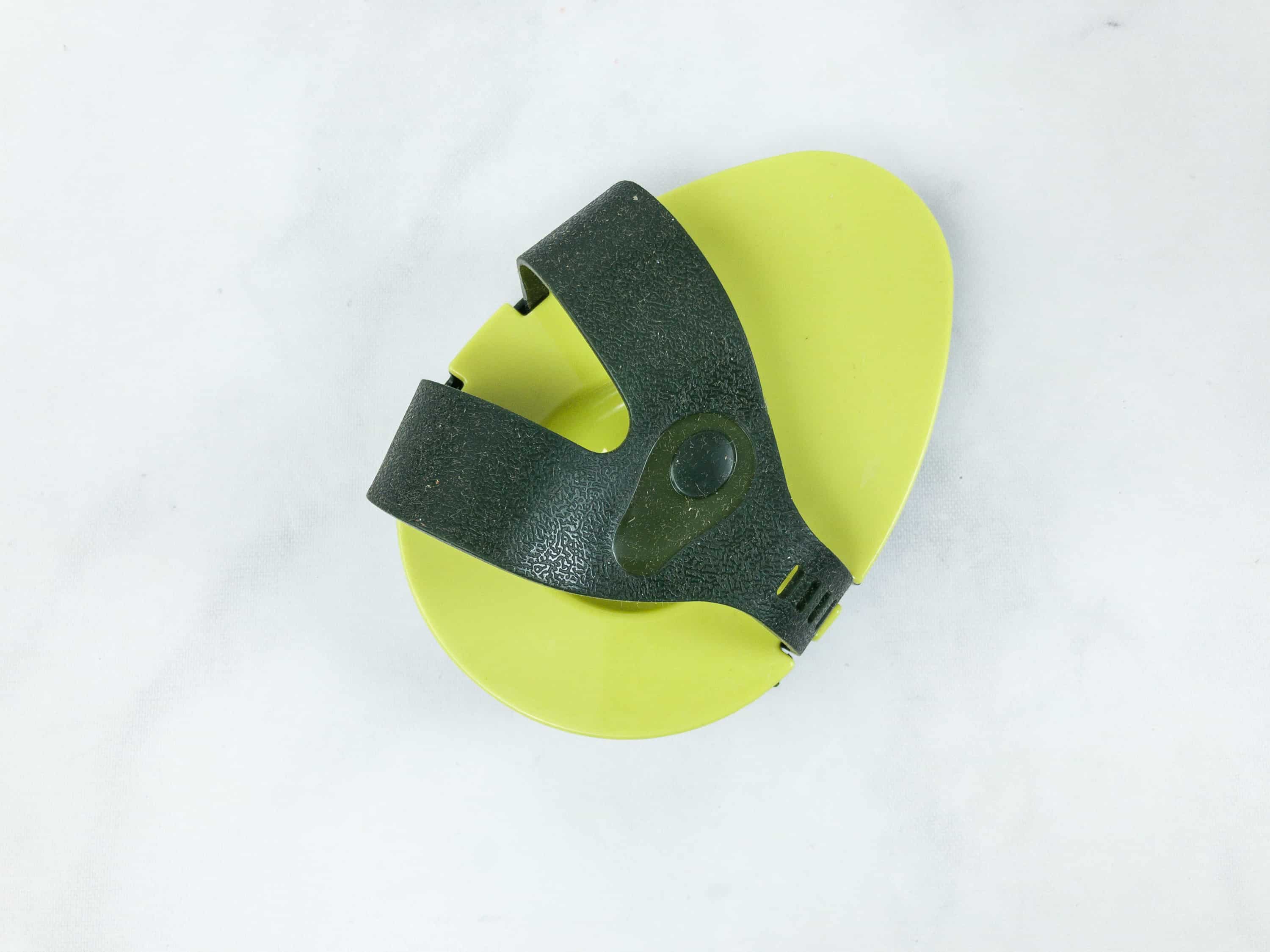 Avocado Hugger. We like avocados and can eat them all in one sitting. But if we are not in the mood to eat the other half, it will be a waste to place it in the fridge and then it will turn brown quickly.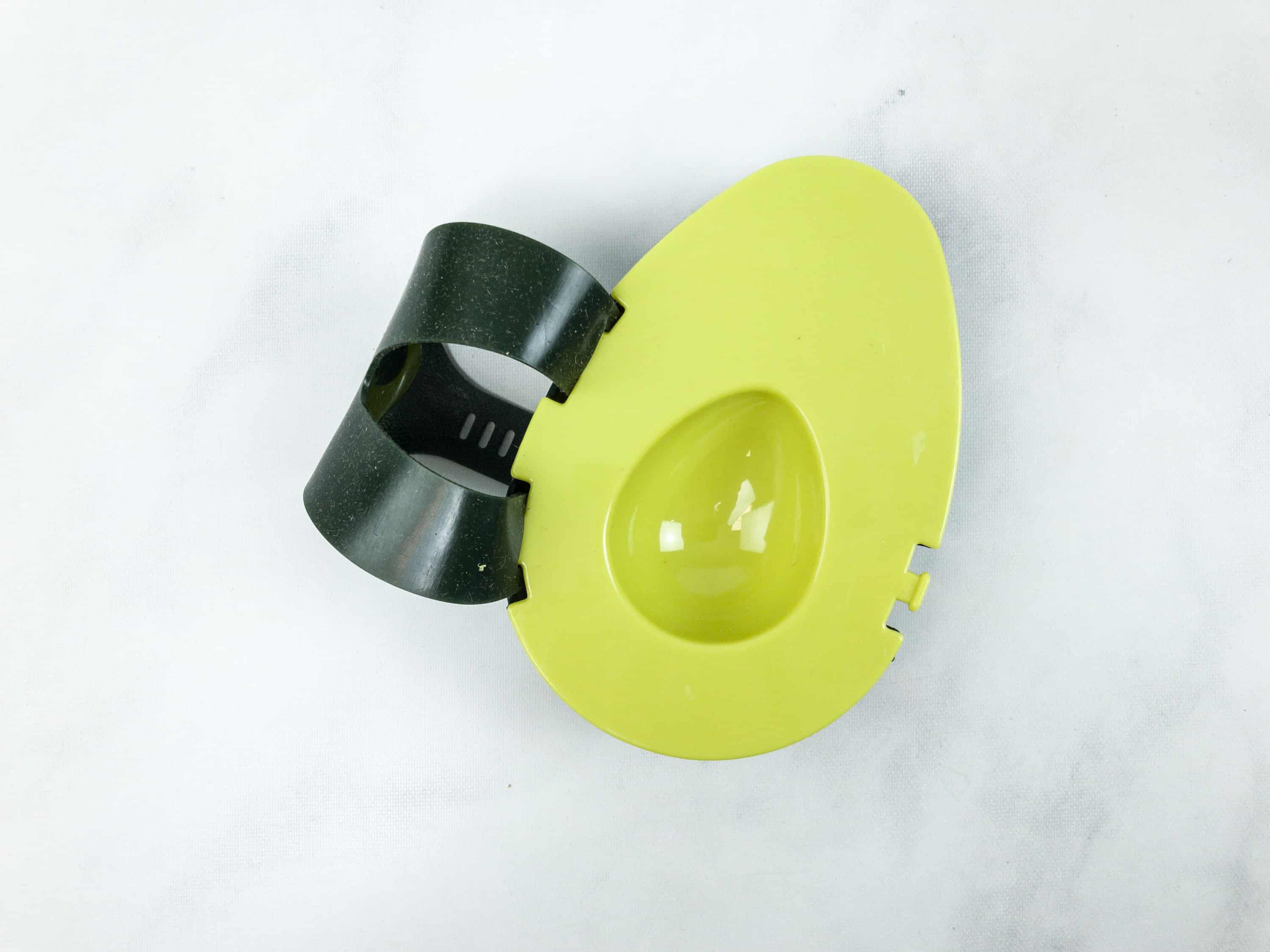 This item is a genius way to preserve the avocado. You won't waste another one anymore! Just place the half of the avocado on there and strap it into place. It will prevent the fruit from turning brown and from oxidizing. It will also keep the moisture in. The only con that I see is that it has a limited and specific size of avocado that can fit in.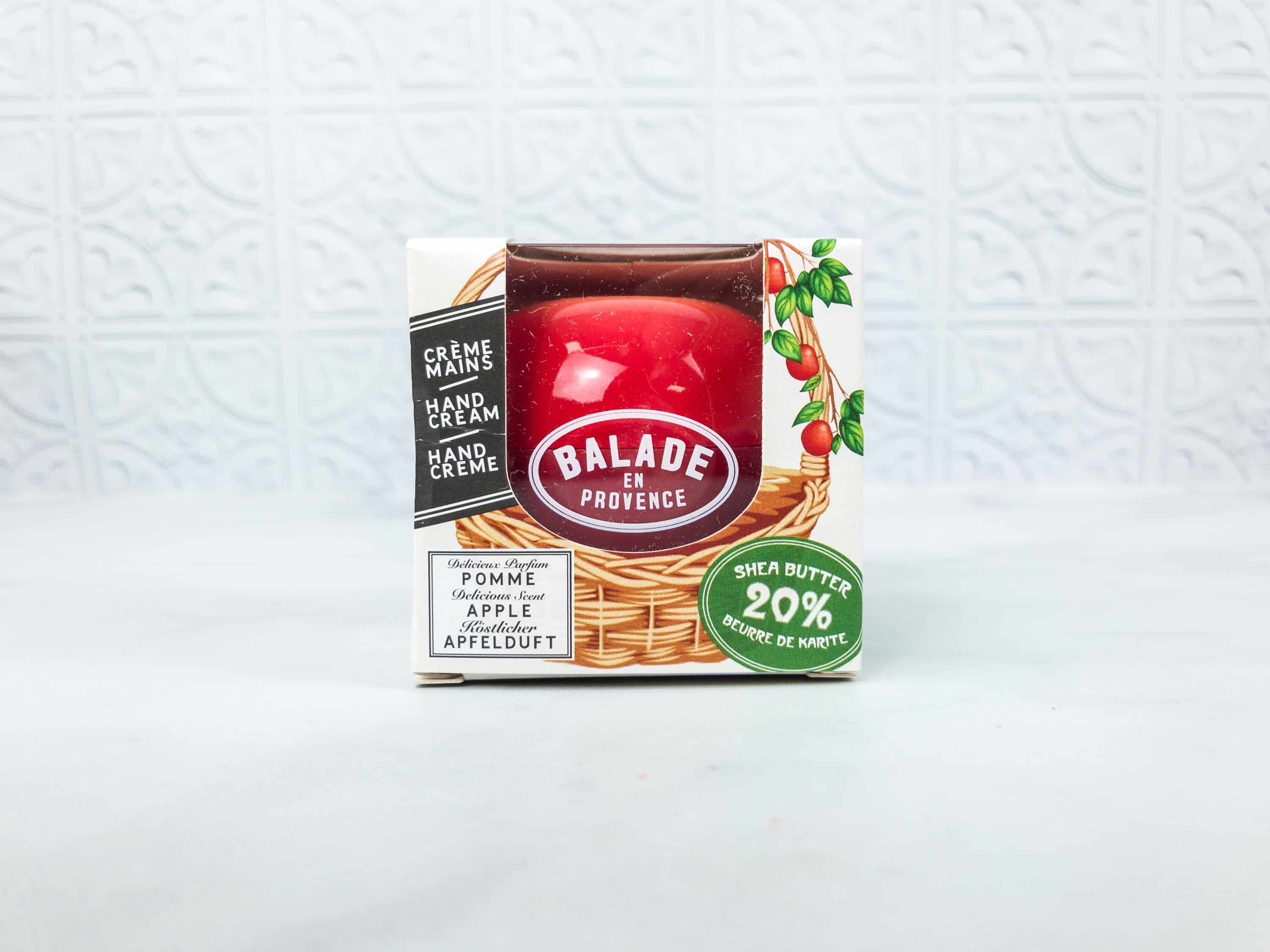 Balade En Provence Apple Hand Creme ($12) A Pure Beauty Global Awards 2018 Finalist, this hand cream contains 92% ingredients of natural origin.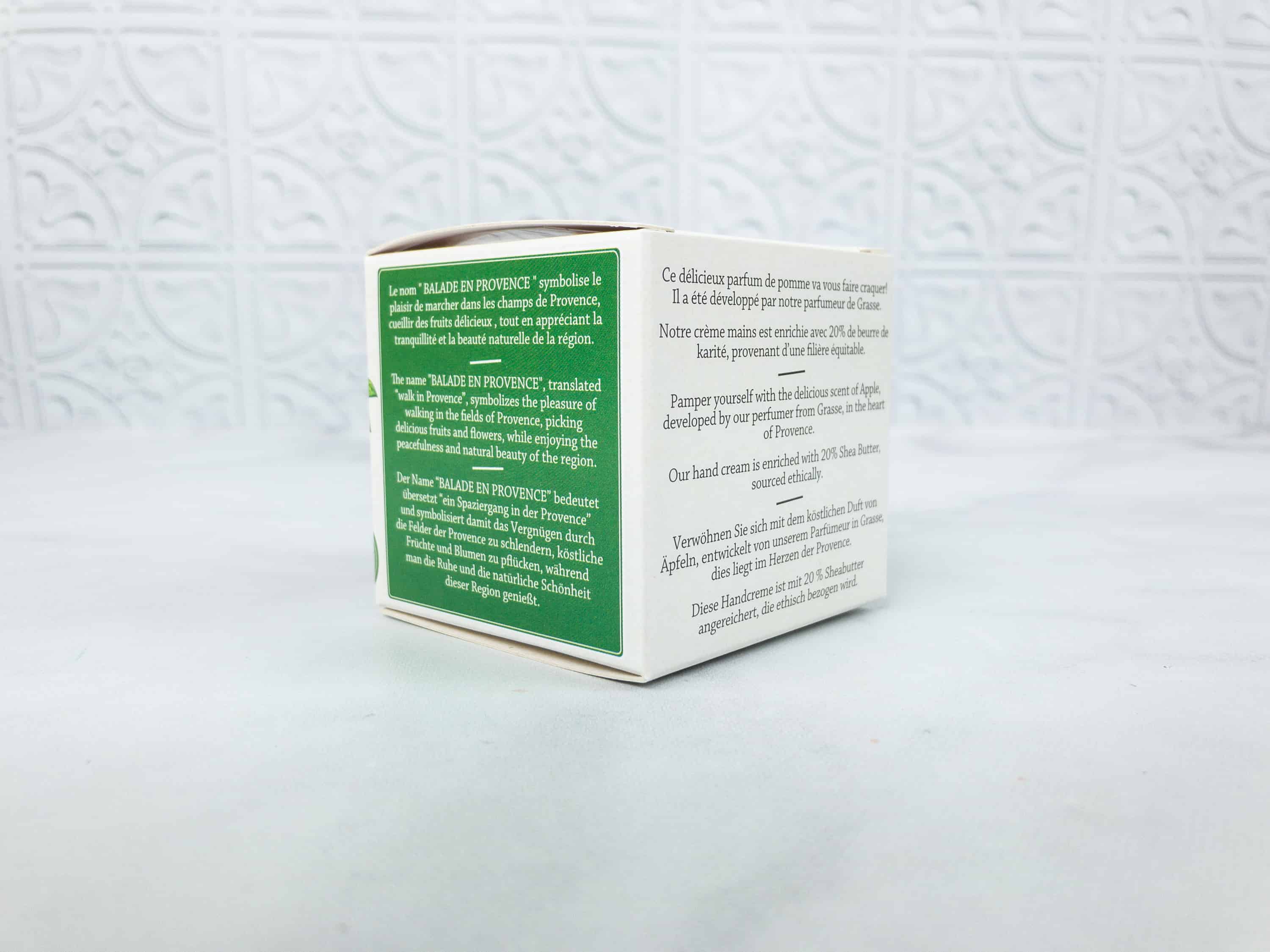 This product also says no to the skin nasties like parabens, allergens, and sulfates.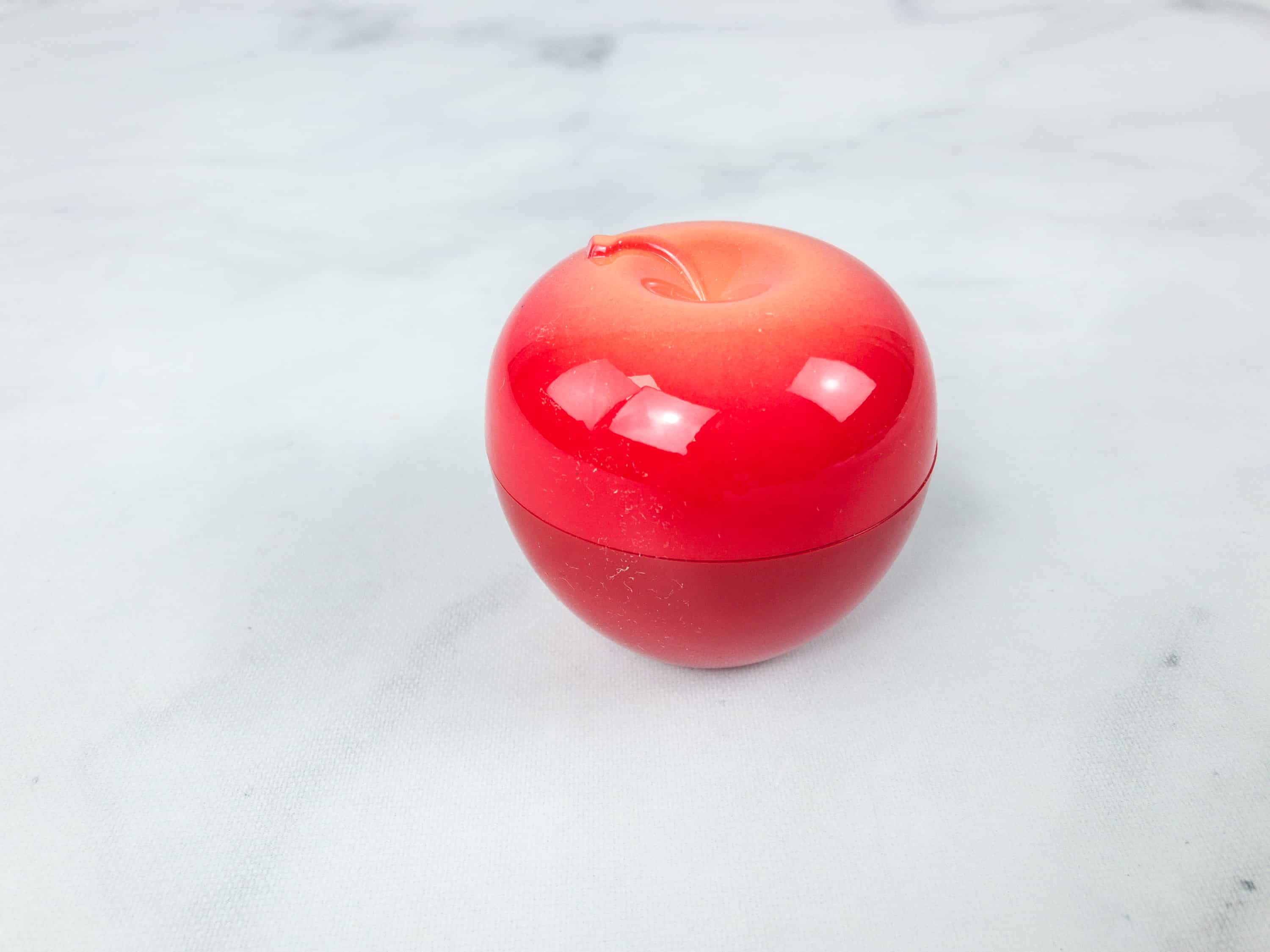 The hand cream is packaged in a shiny red apple container that reminds me of Snow White.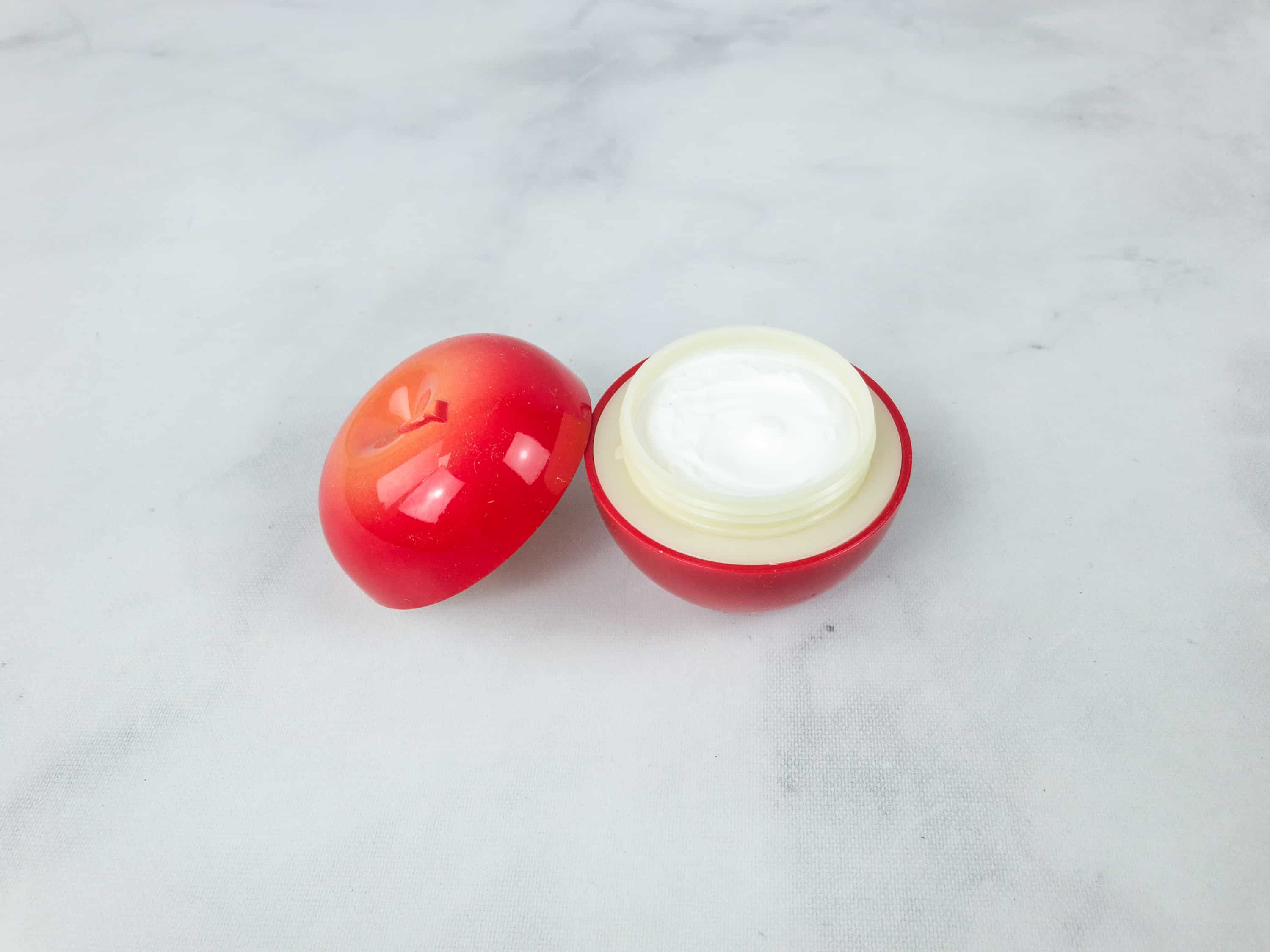 It smells delicious! The cream has a thick consistency but it doesn't leave your hands greasy. It leaves no residue. You can lather a thick layer on your hands and put on gloves to leave overnight. It does wonders and maybe my fave hand cream of the year so far.
Dr Woods Tea Tree Facial Cleanser ($7.59) The main ingredient of this facial cleanser is the tea tree extract that can help acne prone skin. Also suited for oily and combination skin, it has an exfoliating effect that is safe for daily use. The formula is also rich in shea butter and non-comedogenic so your pores are safe. Soothing irritation and softening dry skin are just some of its benefits. It also has powerful antioxidants that protect our skin from damage.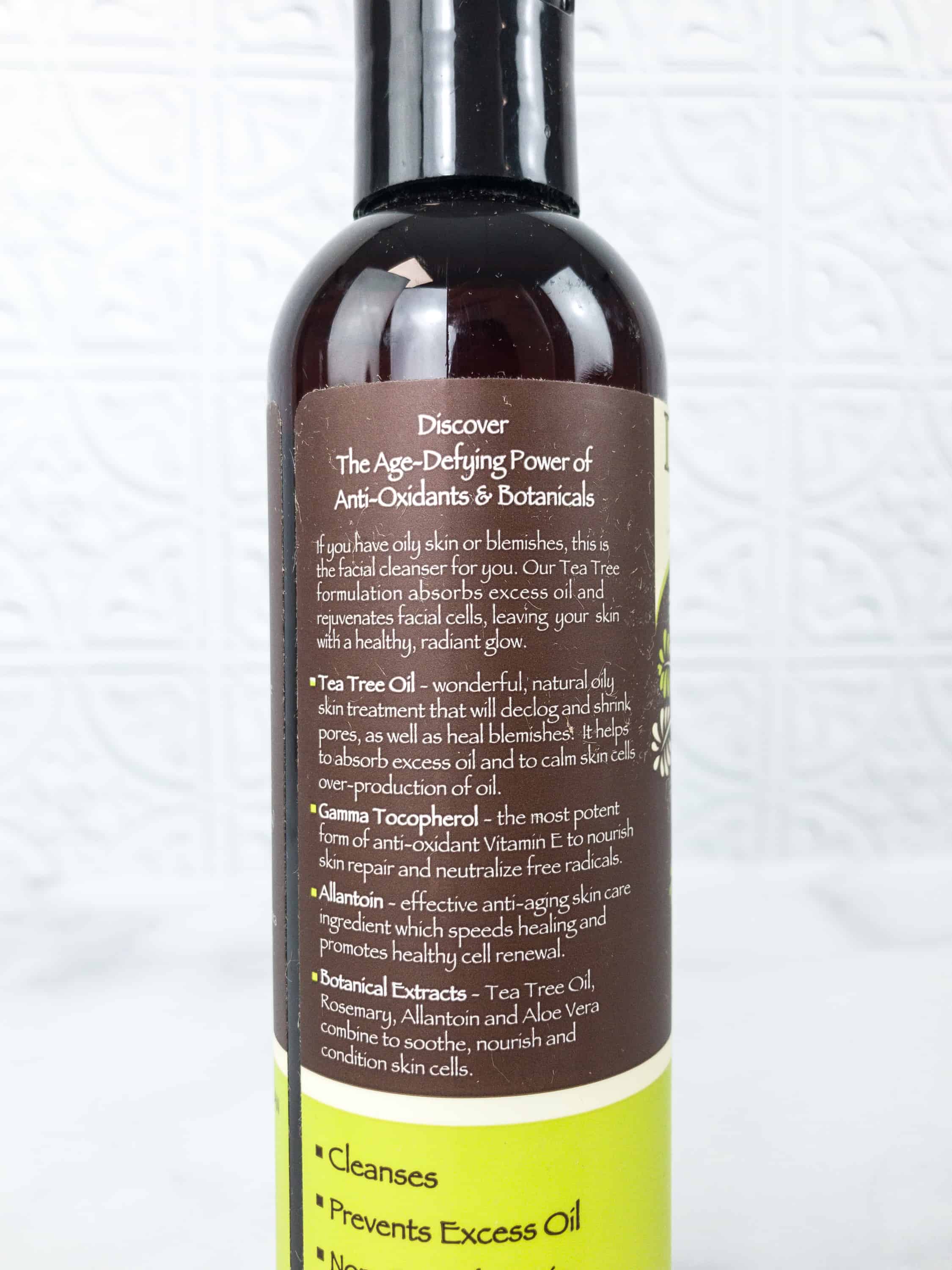 It is a non-detergent cleanser but has a nice lather and doesn't leave residue on my face. It's cruelty-free and gluten-free too.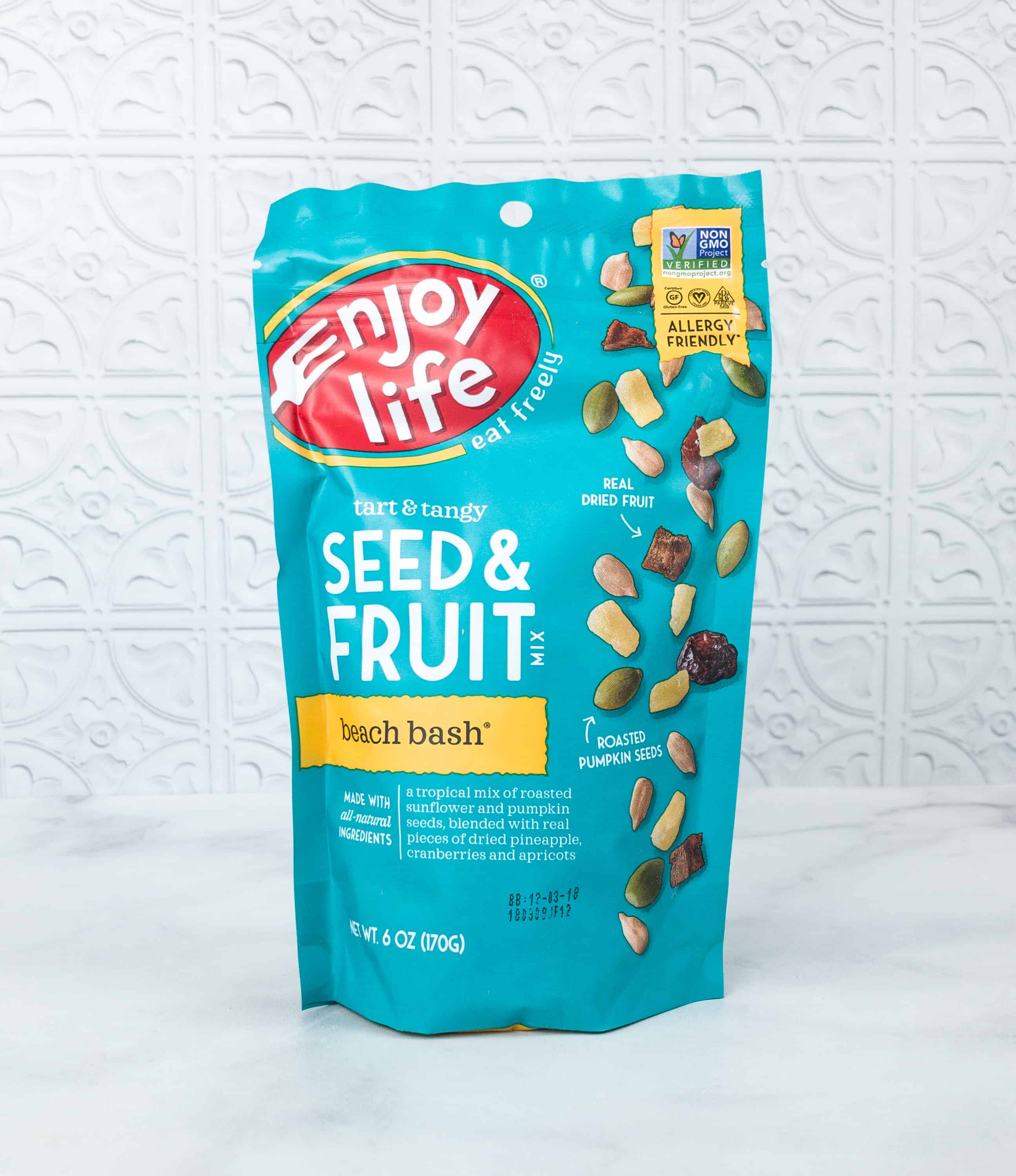 Enjoy Life Seed & Fruit Mix Beach Bash ($6.77) This bag is filled with the tropical flavors of roasted sunflowers, pumpkin seeds, real pieces of dried pineapples, cranberries, and apricots.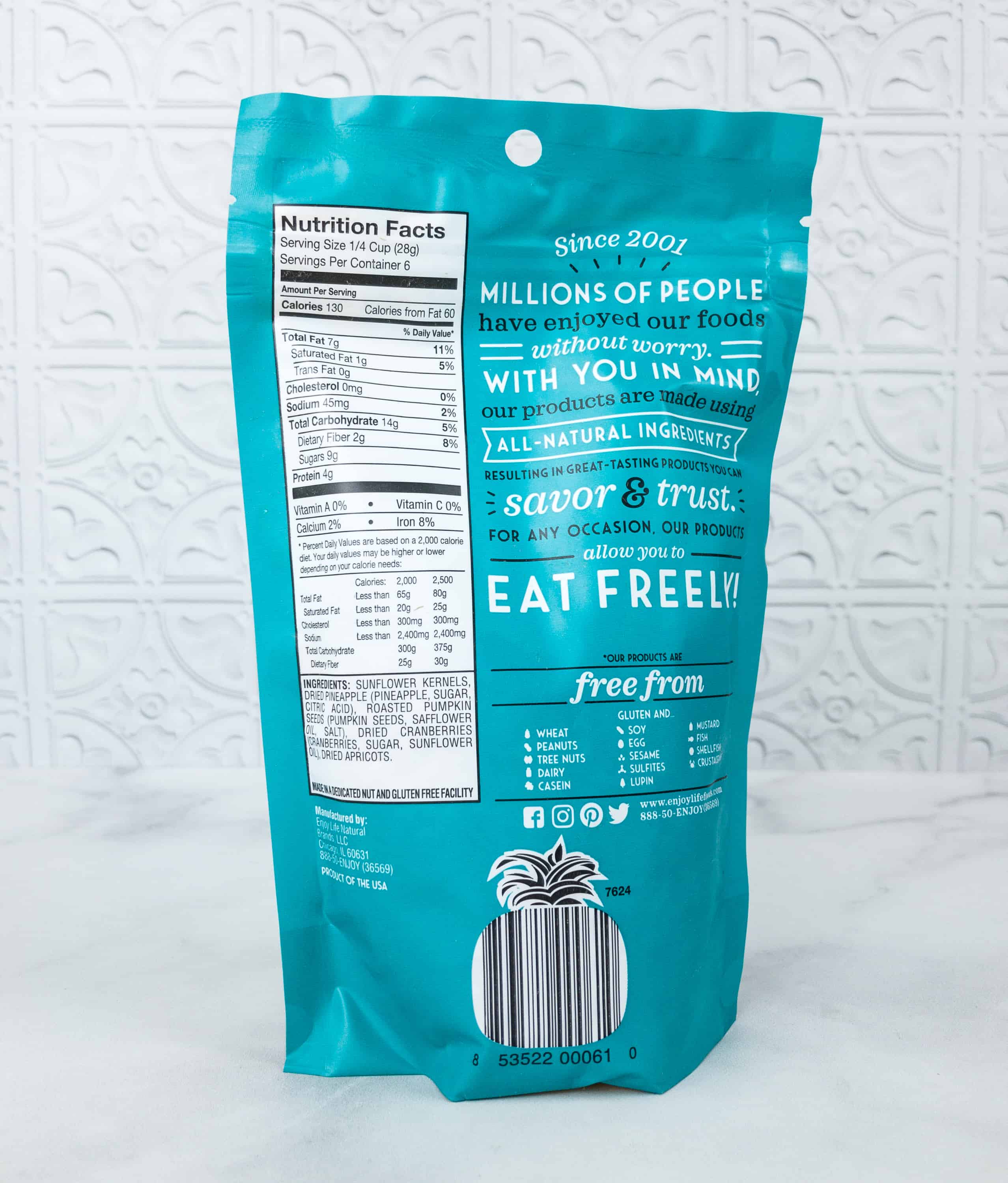 They're yummy and filling, but the best thing is that I don't feel guilty about munching on them because they're vegan, non-GMO, kosher, halal, and free from allergens.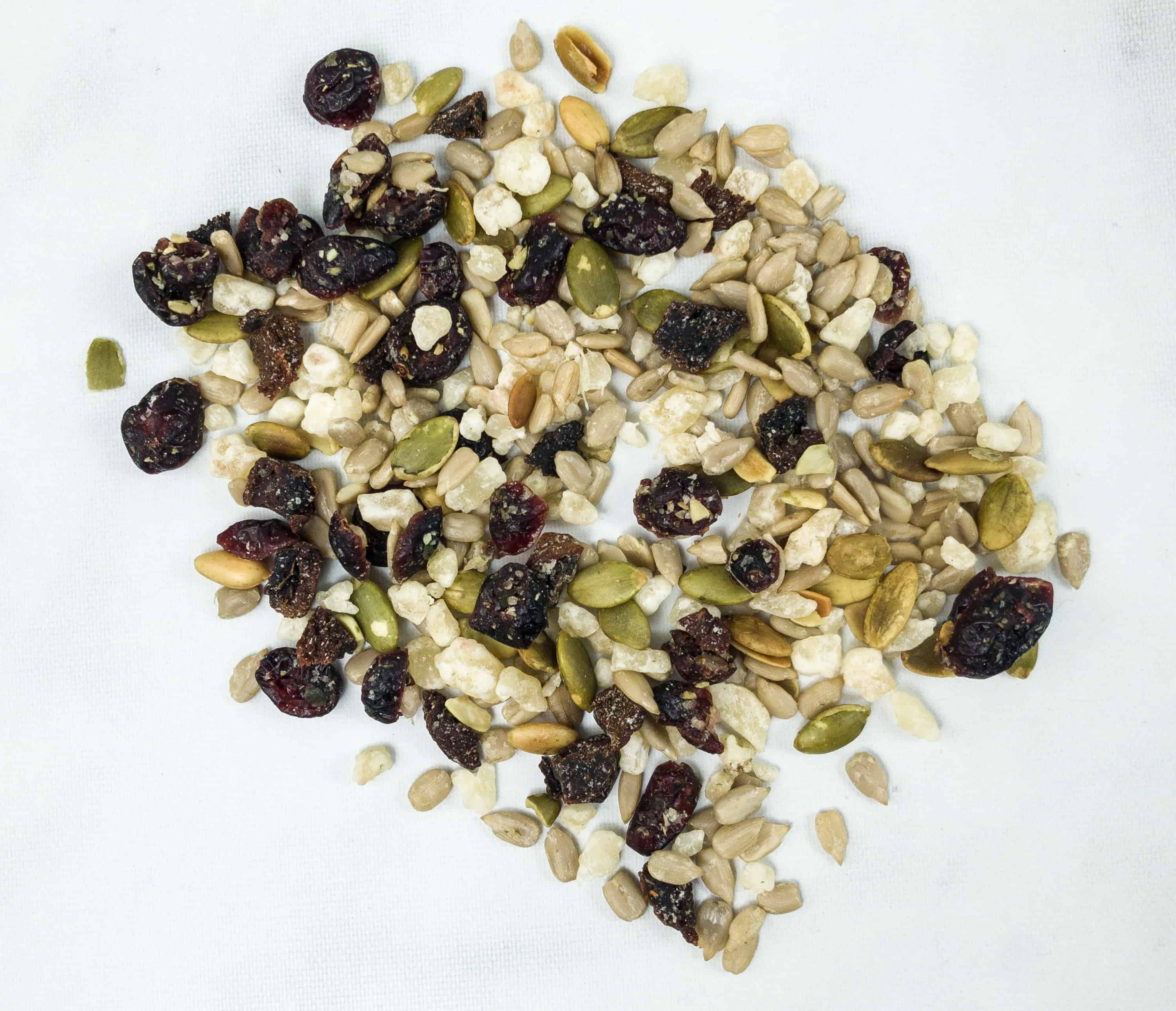 Oh, they are so yummy! These are great as outdoor snacks too!
Go Raw Chewy Apricot Sprouted Bar ($2.83) Go Raw's energy bars are quite small, but they're packed with lots of healthy ingredients. This particular bar contains sprouted flaxseed, apricot, raisins, dates, and lime juice. Rather than nuts, it's filled with seeds! Yum!
Go Raw Pumpkin Seed Sprouted Bar ($2.83) From the same maker, this energy bar is packed with sprouted pumpkin seeds, sprouted flaxseed, dates, raw agave nectar, and celtic sea salt. It's certified vegan and gluten-free too.
This will be a good emergency food when you're on the go.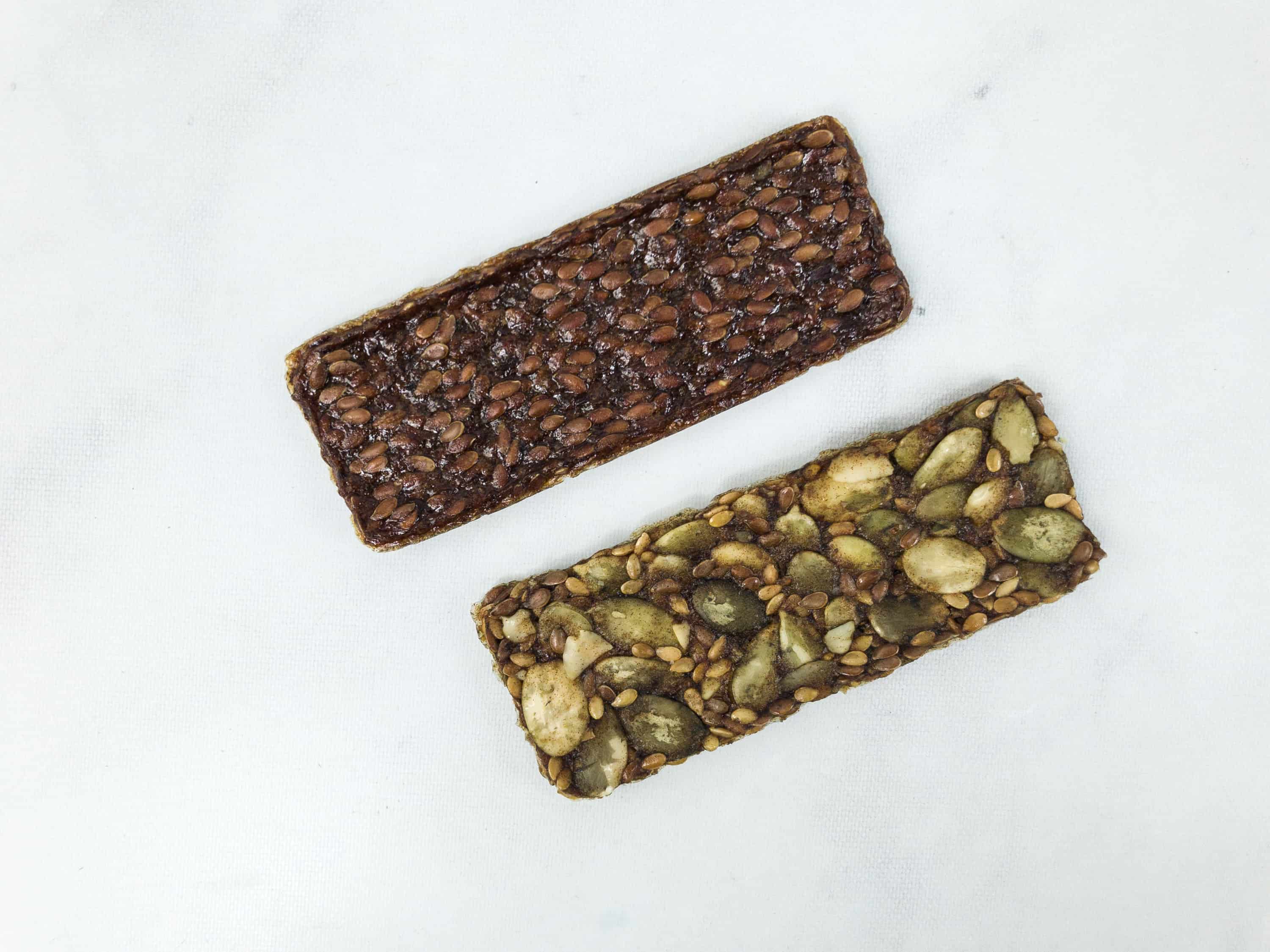 They're very crunchy and satisfying. They are kind of pricey per piece considering that it's really thin. But I'd rather savor the benefits of it being healthy and junk free.
This is a well-rounded box for a very specific vegan niche that espouses activism alongside a plant-based diet. It can also be for a recently initiated vegan who wants to know more options for brands to use because this All Around Vegan Box has a product for every category. We were given activism stickers, healthy snacks, facial cleanser, hand cream, and a tote and it's a nice care package for the vegan activist.
What do you think of this month's box?