VINEBOX is a monthly wine-by-the-glass subscription box that provides its subscribers with three wines to taste for $29 a month, or save on a longer subscription. The wines sent are very nice wines that are usually at least $30 a bottle so this is the ideal wine club for people who enjoy high-end boutique wines but want to try them before committing to purchasing an entire bottle. You can choose from reds, whites, or a mix, plus you can choose Adventurous, Classic, or Newcomer to get the best experience for your comfort level. Because the wine has been repackaged from its original bottles, the shipped tastings will only last for about 3 years from date of receipt. I usually drink mine within just a couple of days!
DEAL: Save 5% on all products including memberships, additional glasses purchases and limited edition boxes! Use coupon code HELLO5.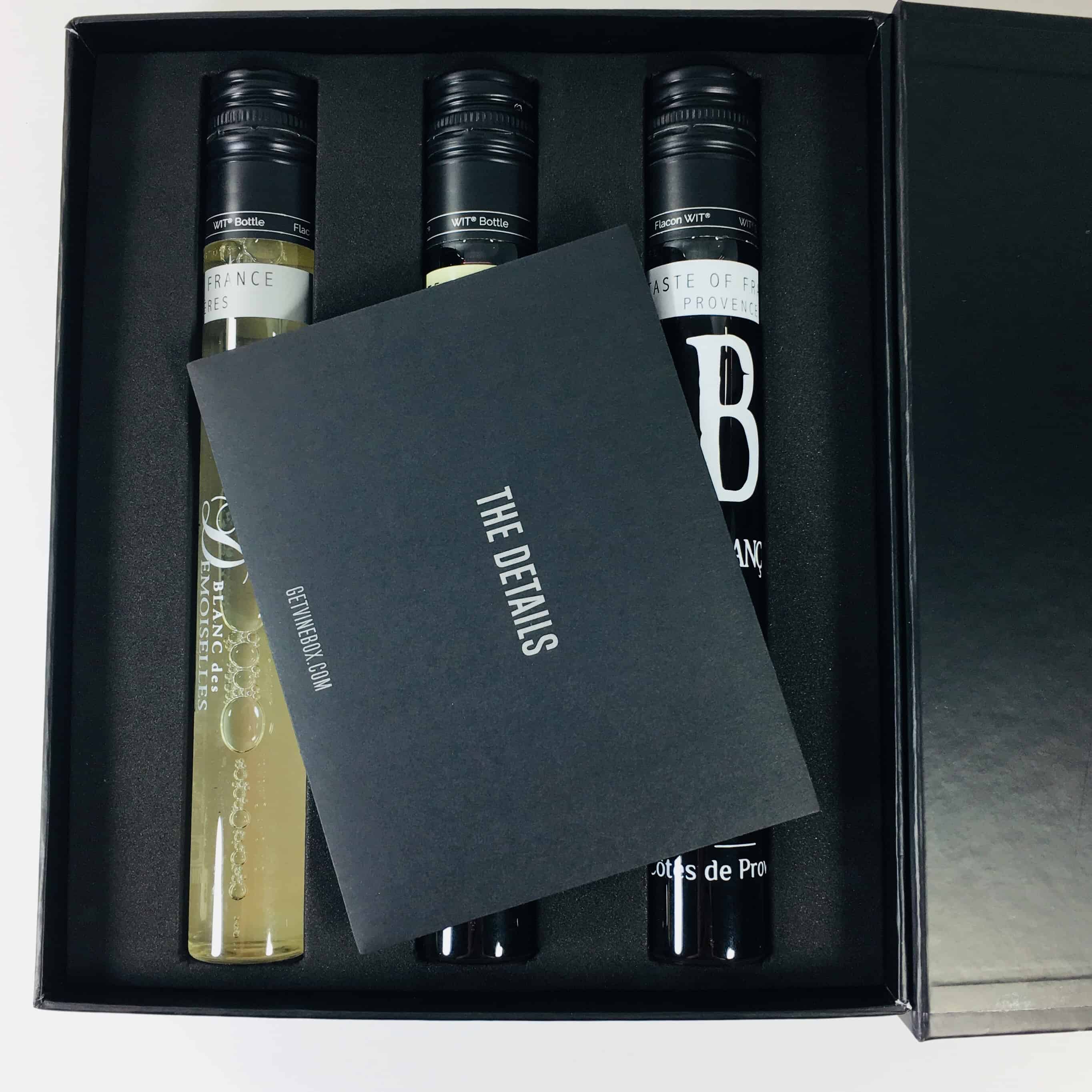 The three glasses of wine arrived packaged inside of a sleek black box with cushioning to keep them safe. Mine were delivered by FedEx and keep in mind that an adult 21 or older must sign for the package, or you can arrange to have it delivered to a FedEx site for pickup (Walgreens is one of the options!).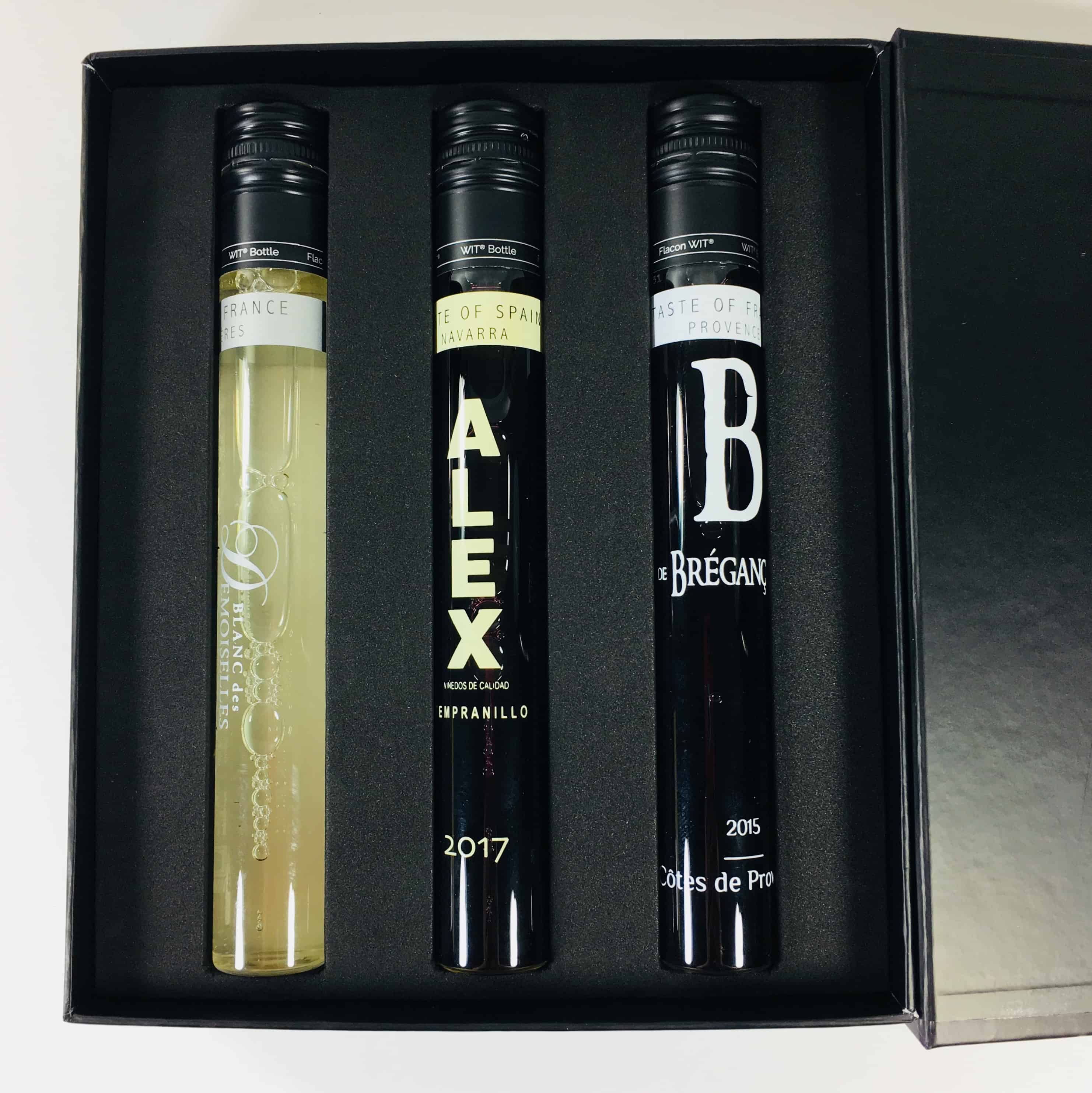 You can find information on each wine under "Wines" on the VINEBOX website.
I received two reds and a white this month!
I love the classy envelope!
I found a card to go with each of the wines. Each card has a quote on the front and tasting notes, food pairings, and other info on the wine.
Everything in my box!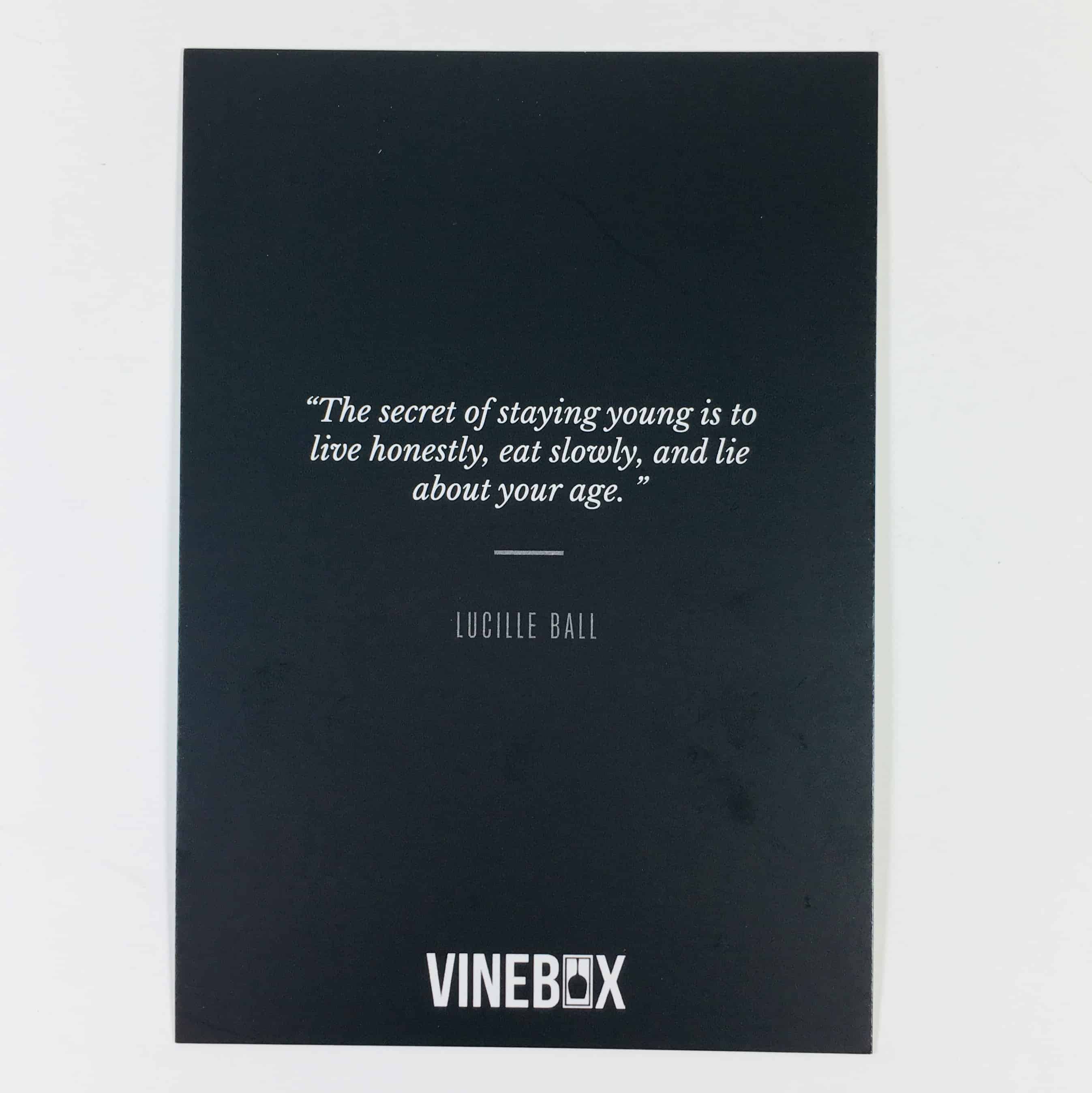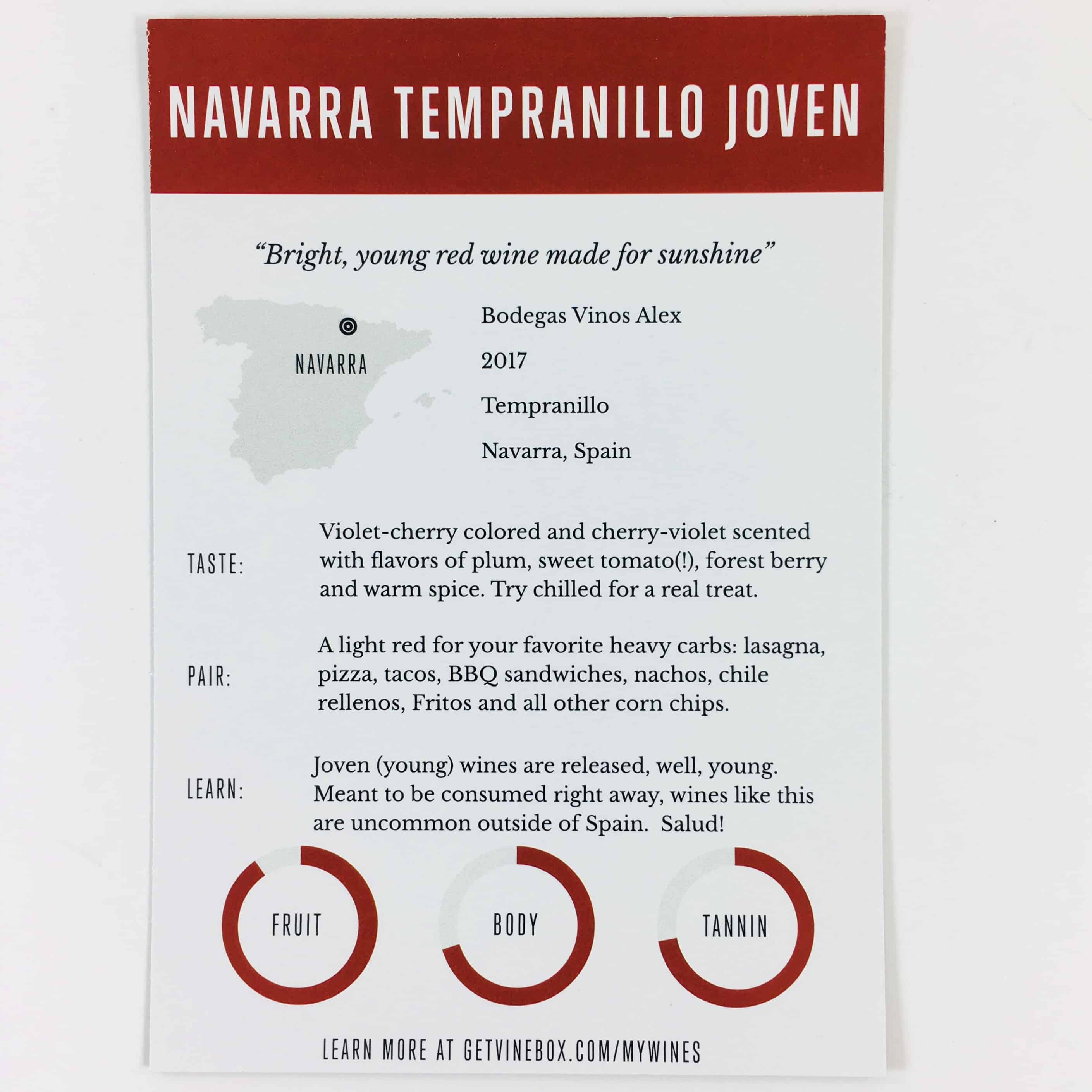 2017 Alex Navarra Tempranillo Joven ($8) is a young red wine from Spain made with Tempranillo grapes.
This is a light bodied red and the listed notes are "cherries, violets, forest berry, and warm spice". I gave it to my husband and he said it was like a buttery chocolate covered cherry. It's light enough to go well with heavy carb dishes such as red sauced pasta or pizza.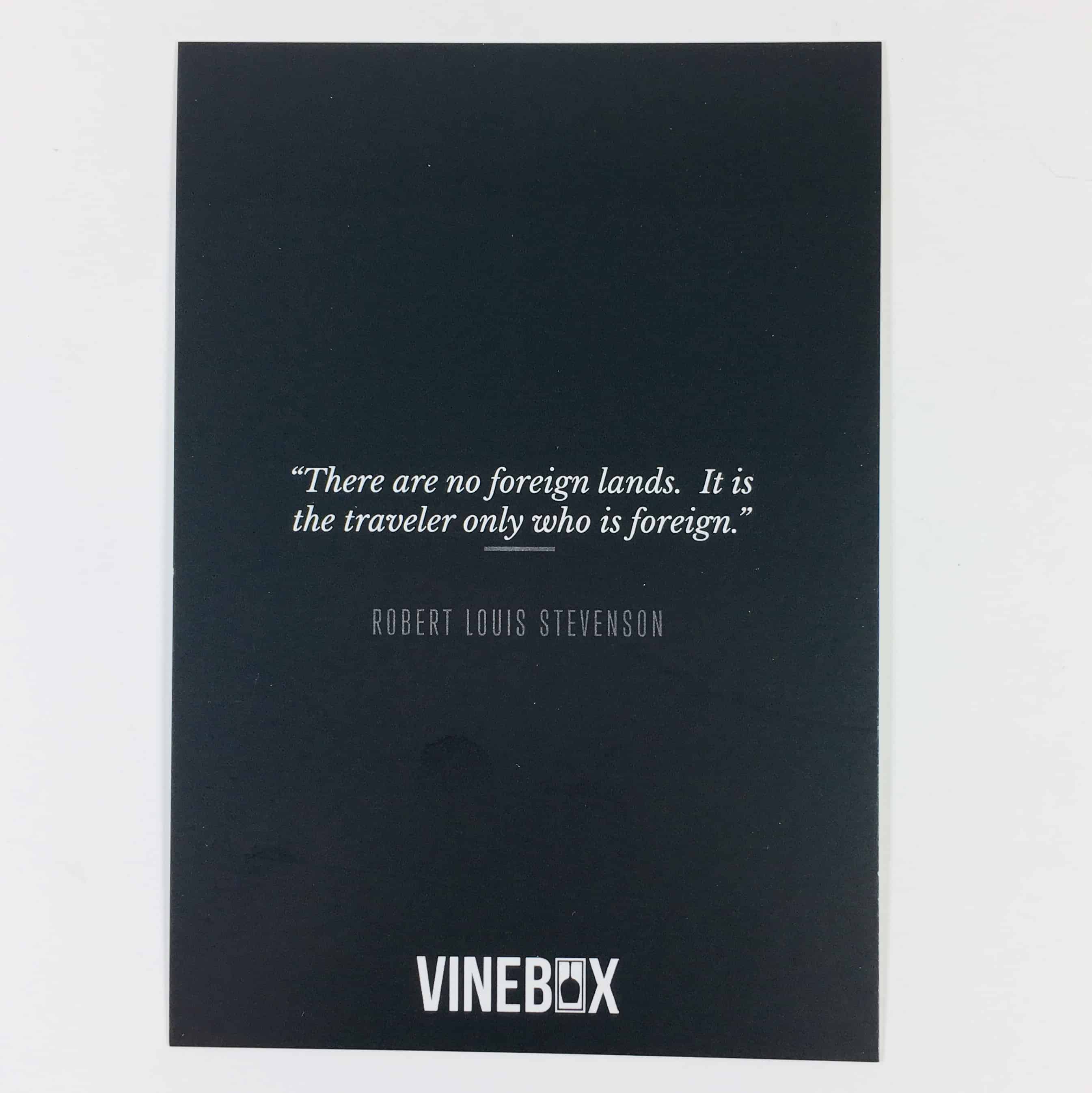 2015 Brégançon Provence Rouge ($8) is a blend of grapes from France – Syrah, Grenache, and Cabernet Sauvignon. The notes include "blackberry liqueur, blueberry, currant, and vanilla-dusted tannins".
Hubby said it tasted of cherries, plums, and roses and had a perfumey nose. He also detected a hint of pear. Serve with grilled meats.
2016 Demoiselles Corbieres Blanc ($8) I love a good white wine and this one was perfect. It is made with Grenache Blanc, Marsanne, and Macabeo grapes in France and I have never heard of any of those grape varieties! Tasting notes mention "mango, tropical fruits, floral aromas, and a crisp finish".

Oh man, this stuff is smoooooooth. It is light bodied and completely devoid of that tongue-burning acidity. It isn't dry and is an easy sipper – perfect for a hot summer day or basically anytime you want. I thought I only liked sweet wines but this isn't really sweet and yet I loved it!
VINEBOX is a great way to try wines by the glass before purchasing bottles of something you may not like. I like the smaller bottles since I am new to wine drinking and I can explore different types of wine in a laid-back way. I enjoy learning about the different varieties of grapes and regions and suggested food pairings.
Have you tried VINEBOX?