Plated is a weekly dinner kit subscription box with high-quality ingredients and chef-created recipes. Each week you'll choose from a variety of quick gourmet meals that range from meats, chicken, seafood, and purely vegetarian options. There's enough selection to please all palates, and the recipes are seasonally focused. You can choose any lineup of recipes from the available options and skip any week you don't want.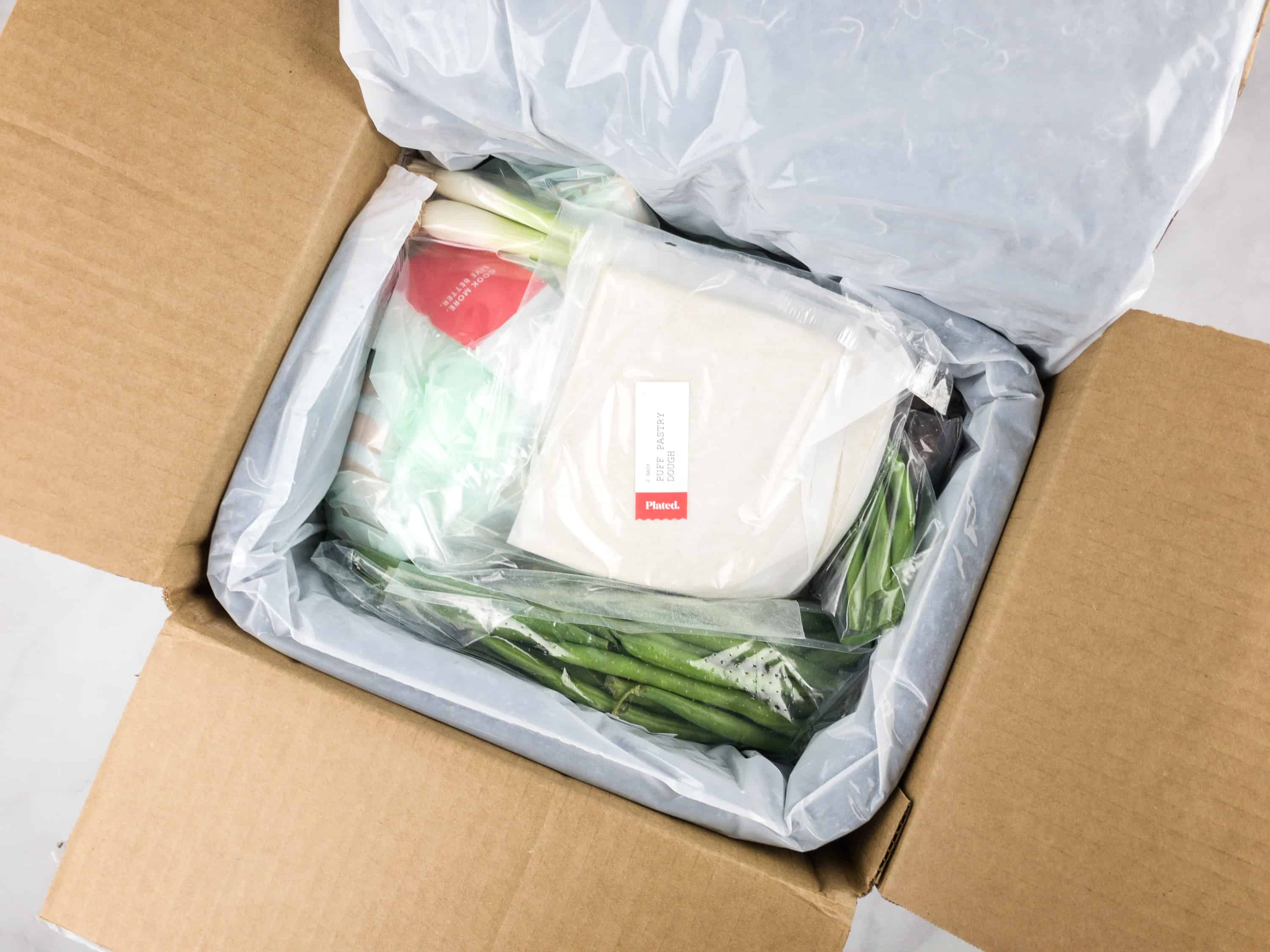 The food is set on top with a cardboard barrier, putting all of the ice in the lower compartment prevents frost damage to the more delicate veggies.
DEALS:
Get 25% off your first four orders, up to a $159 value! USE THIS LINK to get the deal.
Save $25 off your first two orders! USE THIS LINK to get the deal.
On-card information is streamlined and includes only prep-time, number of servings and calorie count. Most of Plated's meals serve two people. Unless stated otherwise, our pics of finished dishes show a single serving.
Plated's recipes rely on mise en place, prepping everything before cooking. This works well, but we always read ahead – you can save time and cutting board space by shifting some steps around, like prepping garnish later while something bakes, instead of at the beginning. The recipes are easy to follow, with ingredients printed in bold and tips to avoid common pitfalls.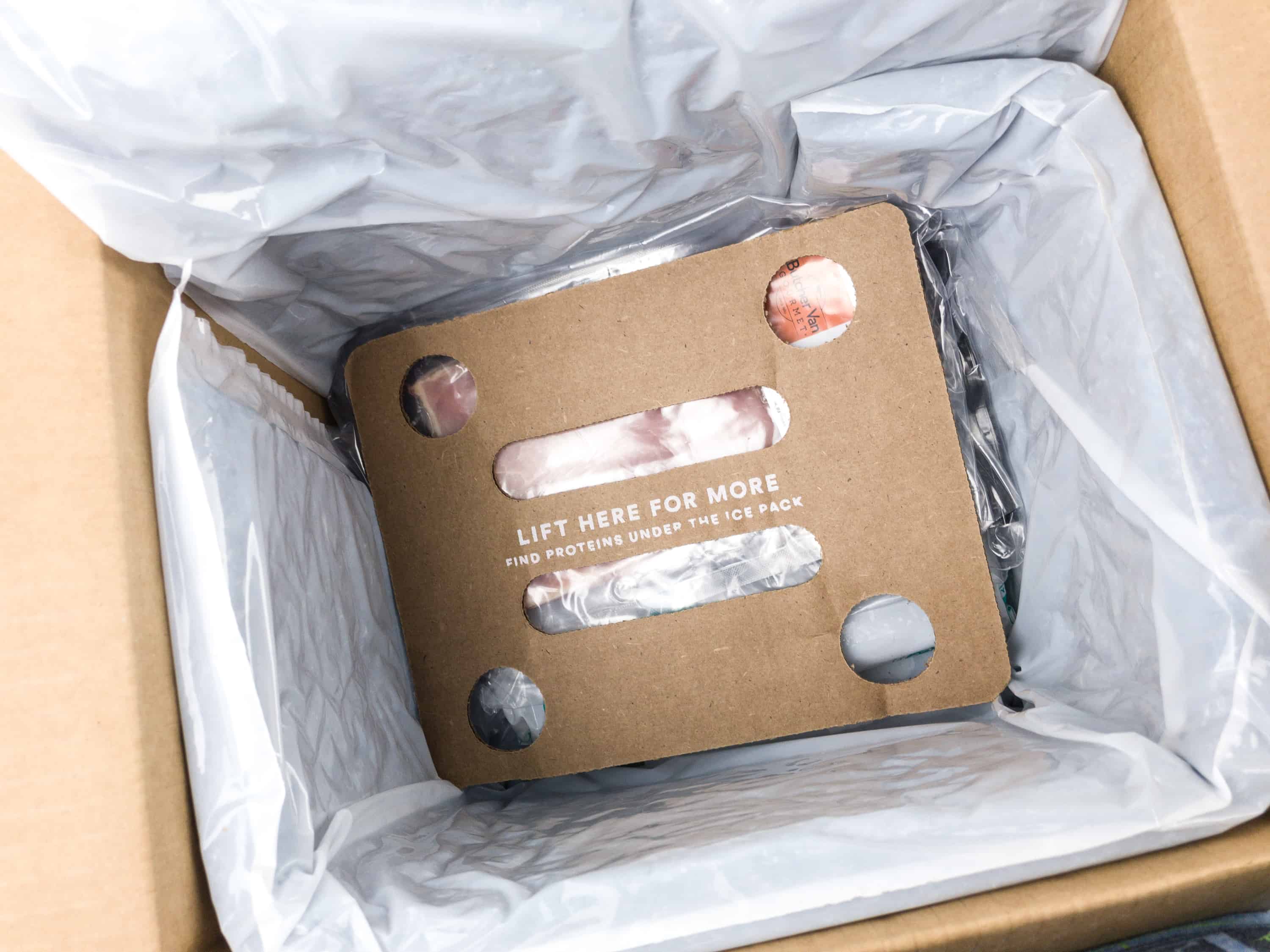 All the meats are packed on the bottom of the box with several big ice packs to ensure its freshness.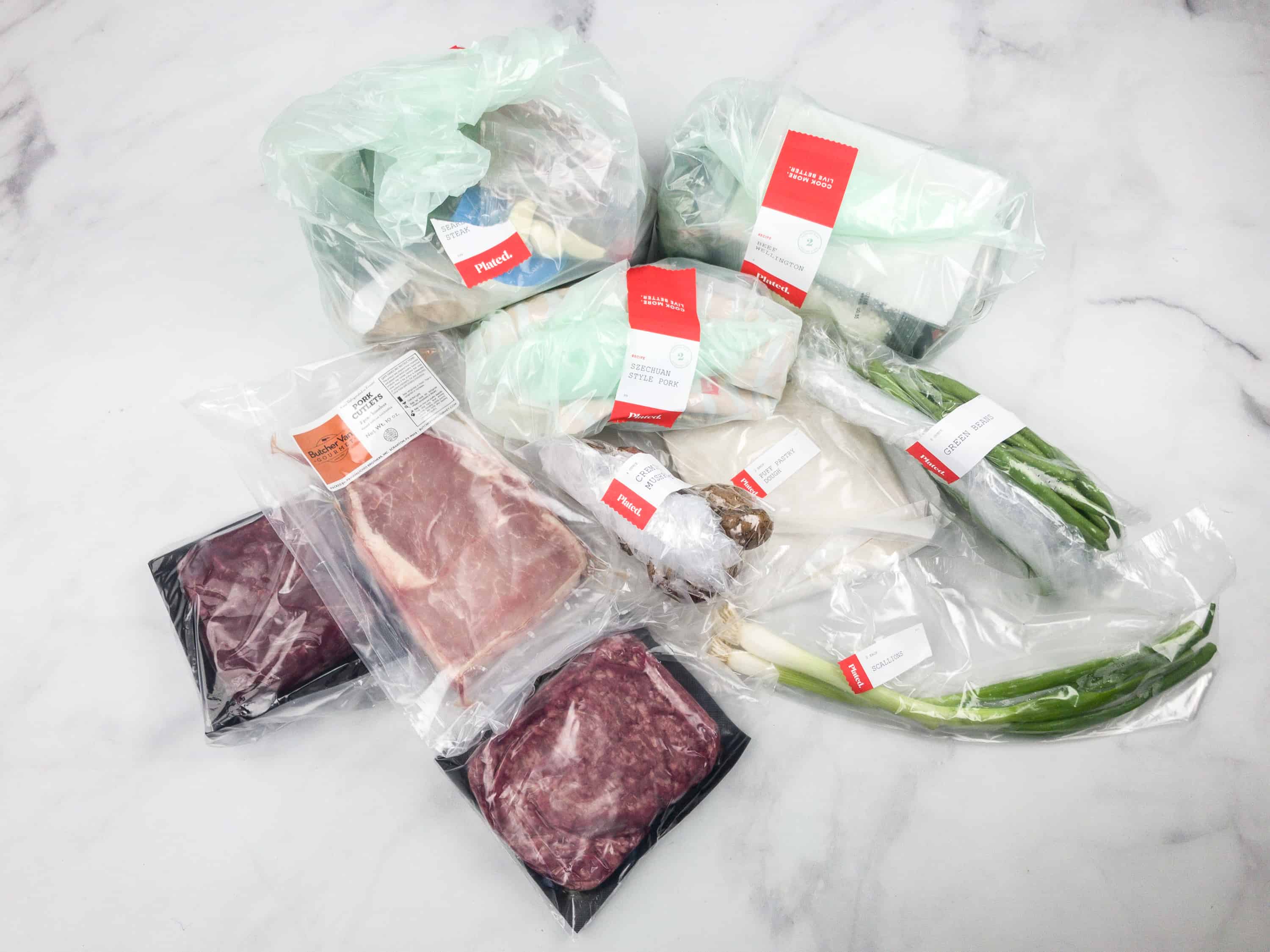 All the food comes bagged up and separated (mostly) into the recipes – meat and some large or delicate items are bagged separately. The recipe cards tell you anything you need from home – usually just cookware, salt and pepper, and some olive oil – occasionally you'll need an egg.
Seared Steak With Rosemary Papas Bravas and Paprika Aioli 35-45 minutes, Medium, 650 Calories Per Serving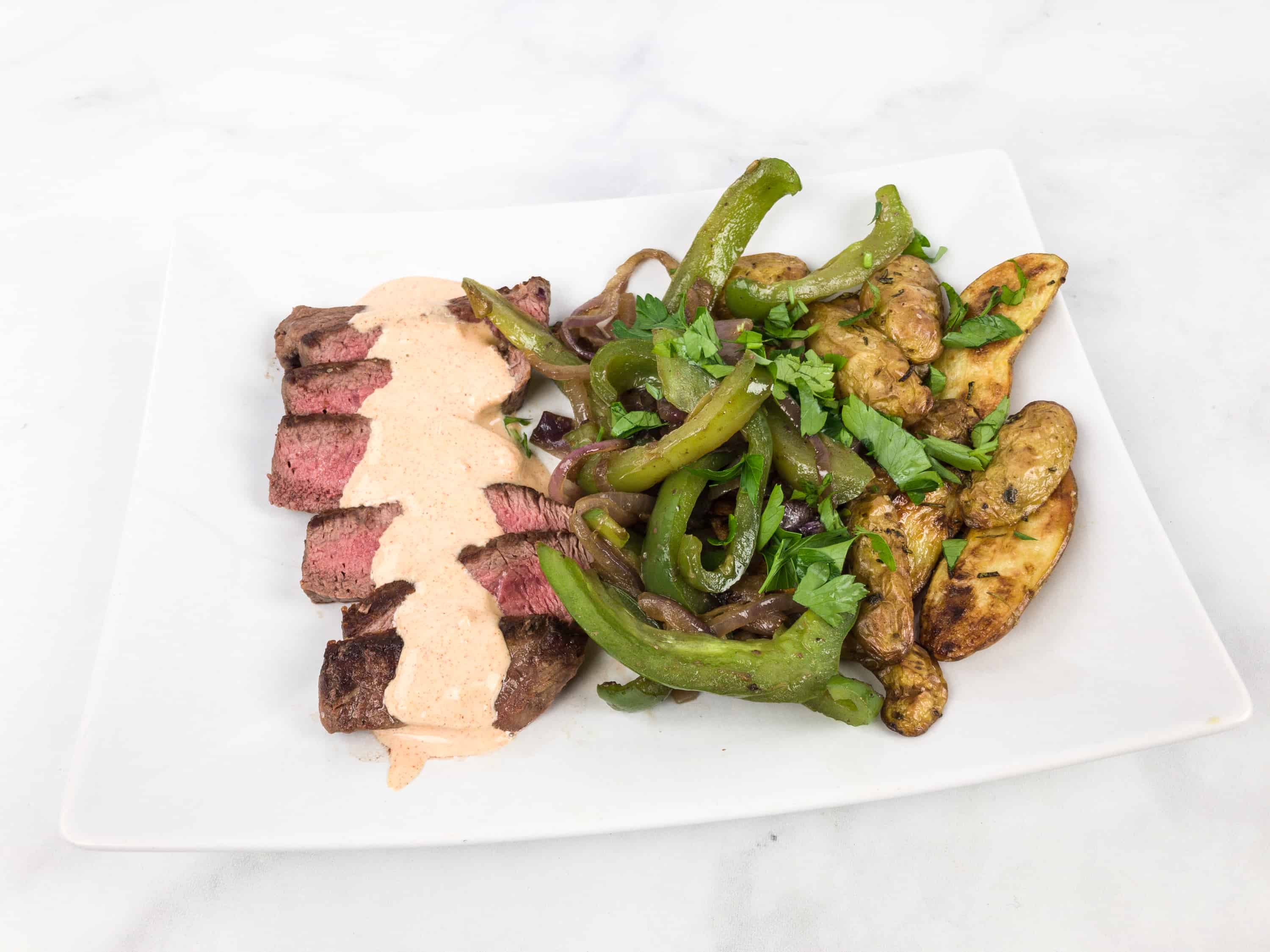 This dish was like having a plate of fajita fillings served bowl style instead of wrapped, with beautifully-crisped potatoes as the base. It was a perfect hybrid of fajita platter and a steak-and-potato dinner (but sans fajita). It was really easy to make, and the smoked paprika and rosemary served up big, bold flavor.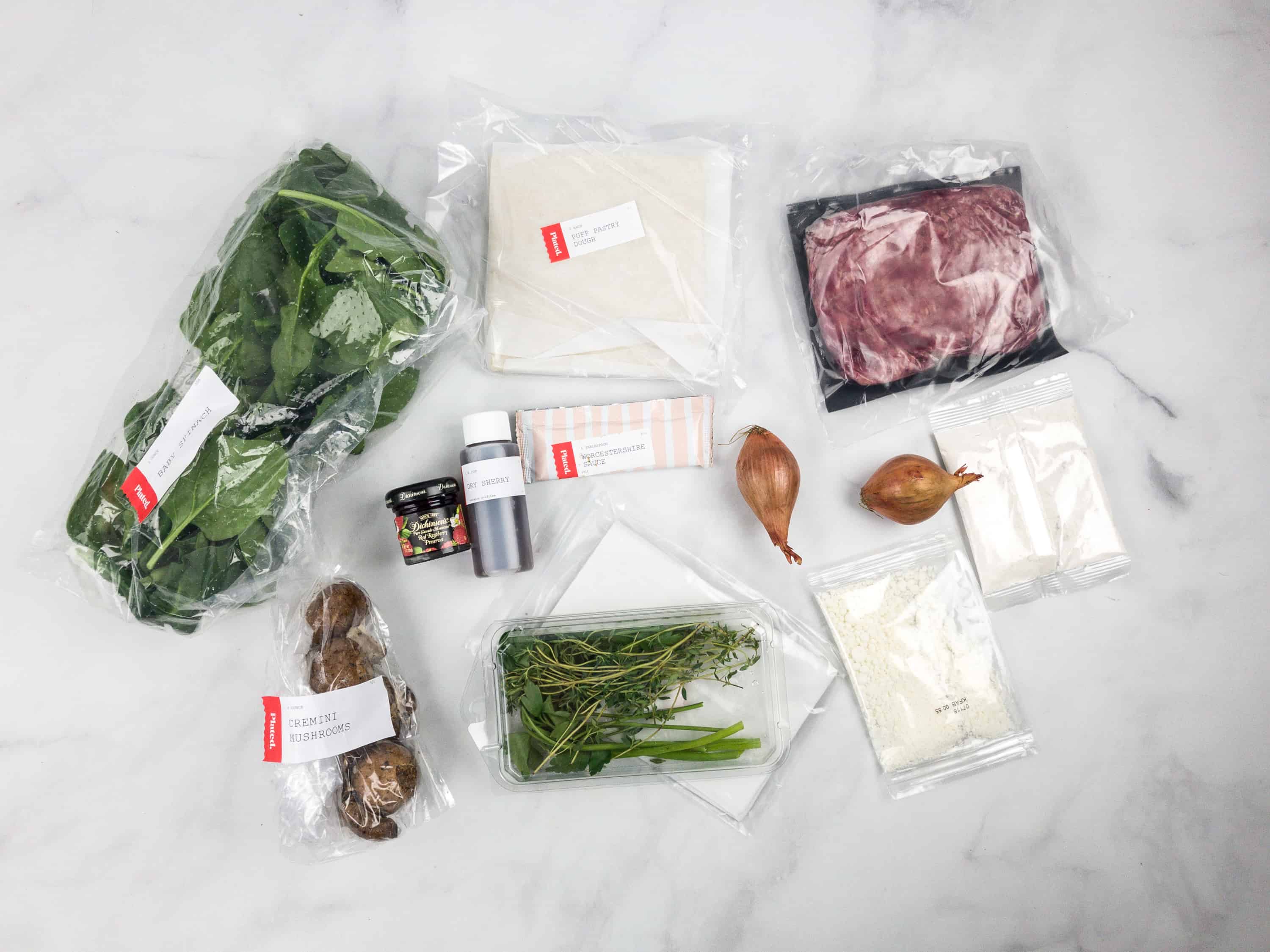 Beef Wellington With Sherry-Thyme Mushrooms And Goat Cheese 45-55 minutes, Medium, 440 Calories Per Serving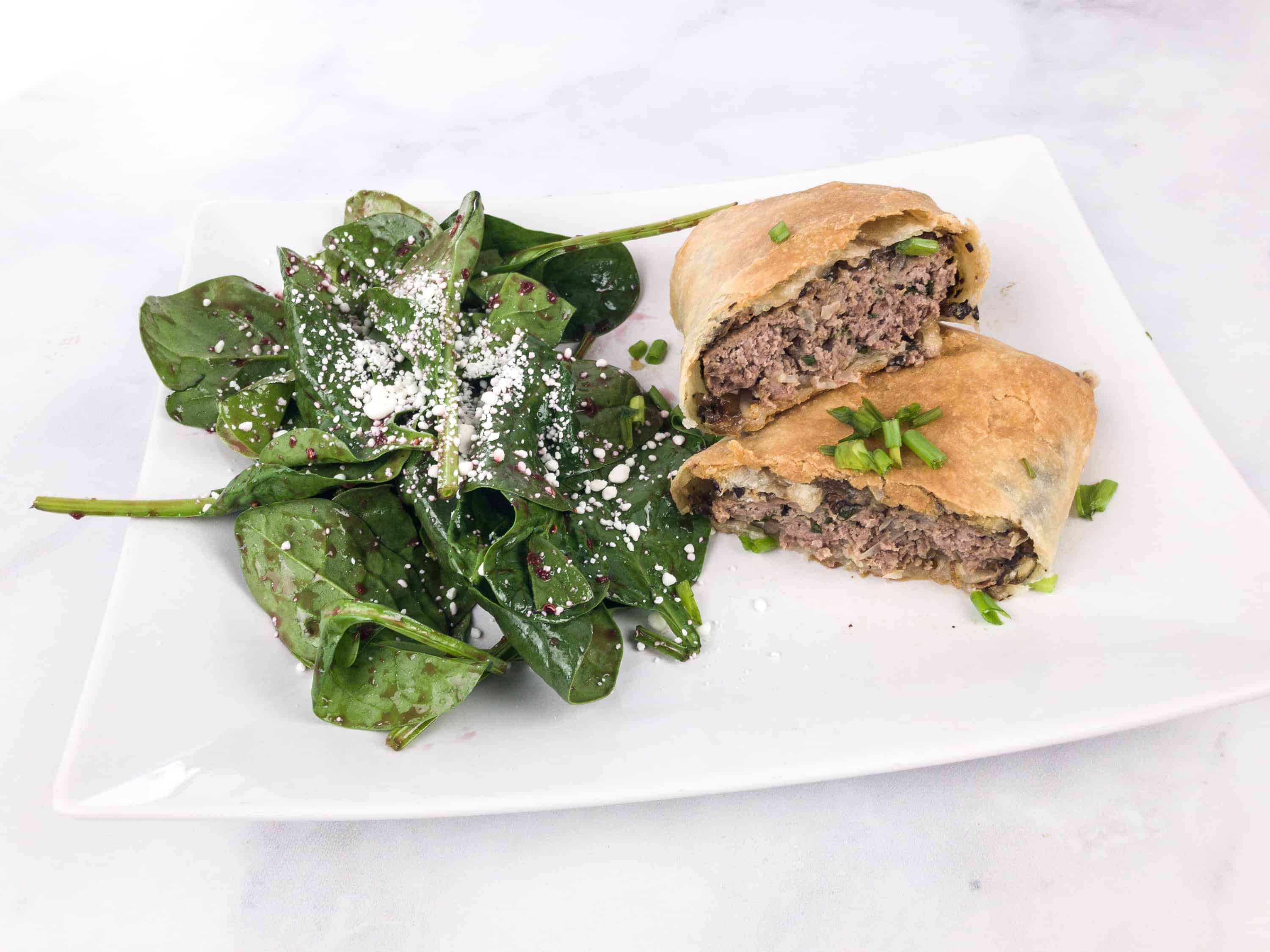 This version of the English classic uses hamburger in place of steak. The most difficult part about preparing a traditional Wellington is timing the doneness of the meat through the two cooking phases — the hamburger was much for forgiving than a steak in this regard, making the overall prep easier to manage. We loved the creaminess of the sautéed cremini mushrooms, and the bit of goat cheese in the Duxelles transformed a humble patty into a glorious Edwardian hot-pocket. The spinach salad on the side offered a nice sweet and tart contrasted to the luscious savoriness of the main dish. This English-inspired meal was absolutely scrummy, and we want more!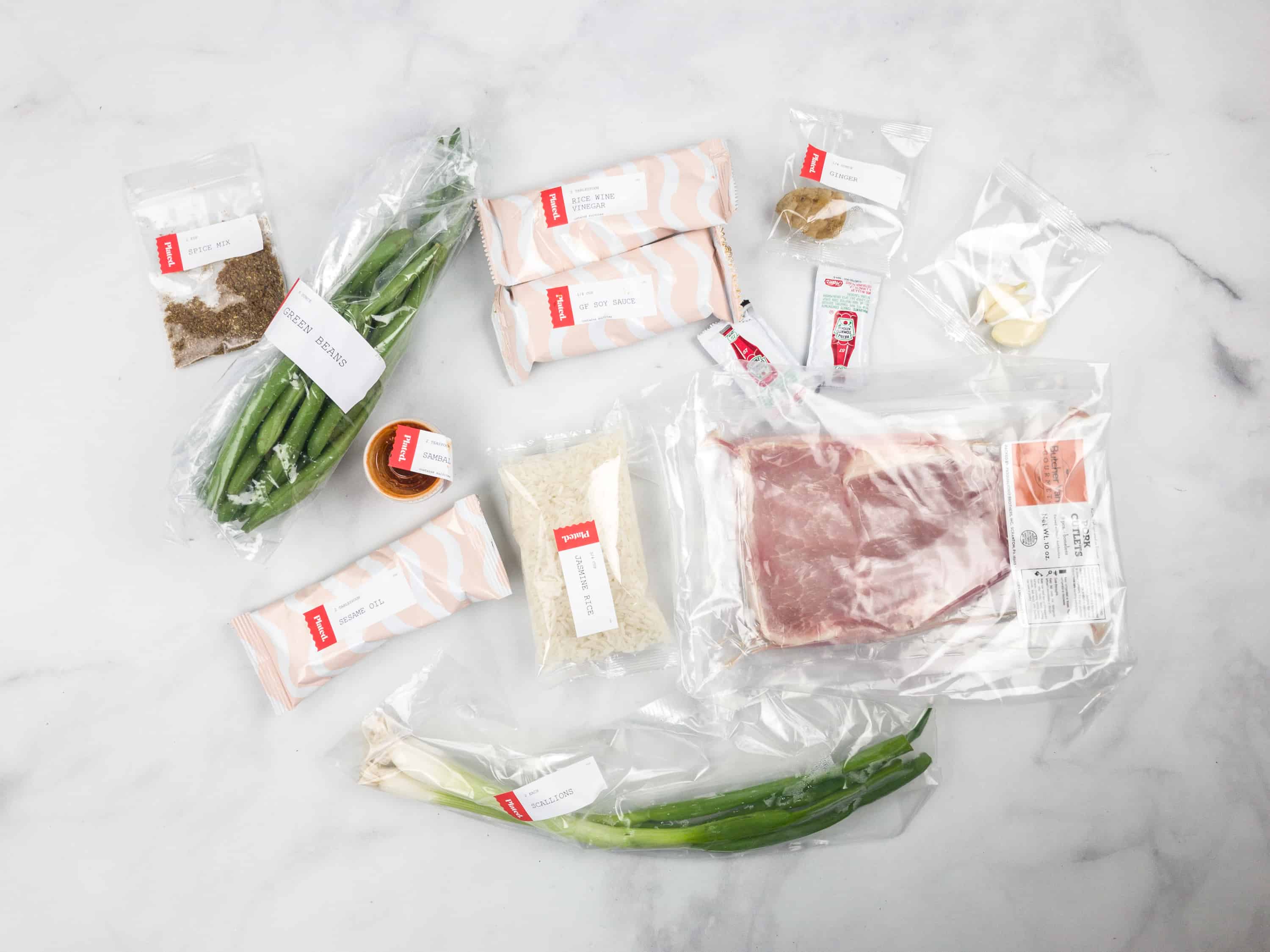 Szechuan Style Pork With Spicy Garlic Sauce And Blistered Green Beans 25-35 minutes, Easy, 335 Calories per serving
Szechuan-style pork in garlic sauce is a popular Chinese takeout meal. The chefs at Plated decided to recreate it by pairing pork chops with a sauce of soy, sambal oelek, garlic, ginger, and Szechuan peppercorns. I thank them for the idea, but the salt balance in the dish was way off. I think this is a result of using soy sauce and sambal oelek (a salty hot condiment popular in Malaysia and throughout Oceana) instead of a straight chili-garlic paste. The ingredient was to be added according to heat preference, so the use of a salt-laden source of heat was problematic for folks that like their food spicy. It was particularly unfortunate, because it ruined an otherwise perfect dish — the pork was supremely tender, and the jasmine rice and charred beans were great, too. The dish would have been a stand-out (in a good way) had the salt level been calibrated better.
I appreciate the variety of meals that Plated offers. In this box, there was a Chinese meal complete with fragrant rice, an English-inspired dish that tickled our taste buds, and a seared steak recipe featuring a unique sauce. Each of them highlighted different flavors, and we really love that we get a hearty serving of everything! Another thing we like about this subscription is that they provide a detailed recipe guide. It's easy to understand and to follow, making the whole cooking experience uncomplicated and enjoyable! This was a good week of recipes, but it was also a reminder to use your own judgment in the customizable portions of the recipes.
What meals are you getting this week from Plated?