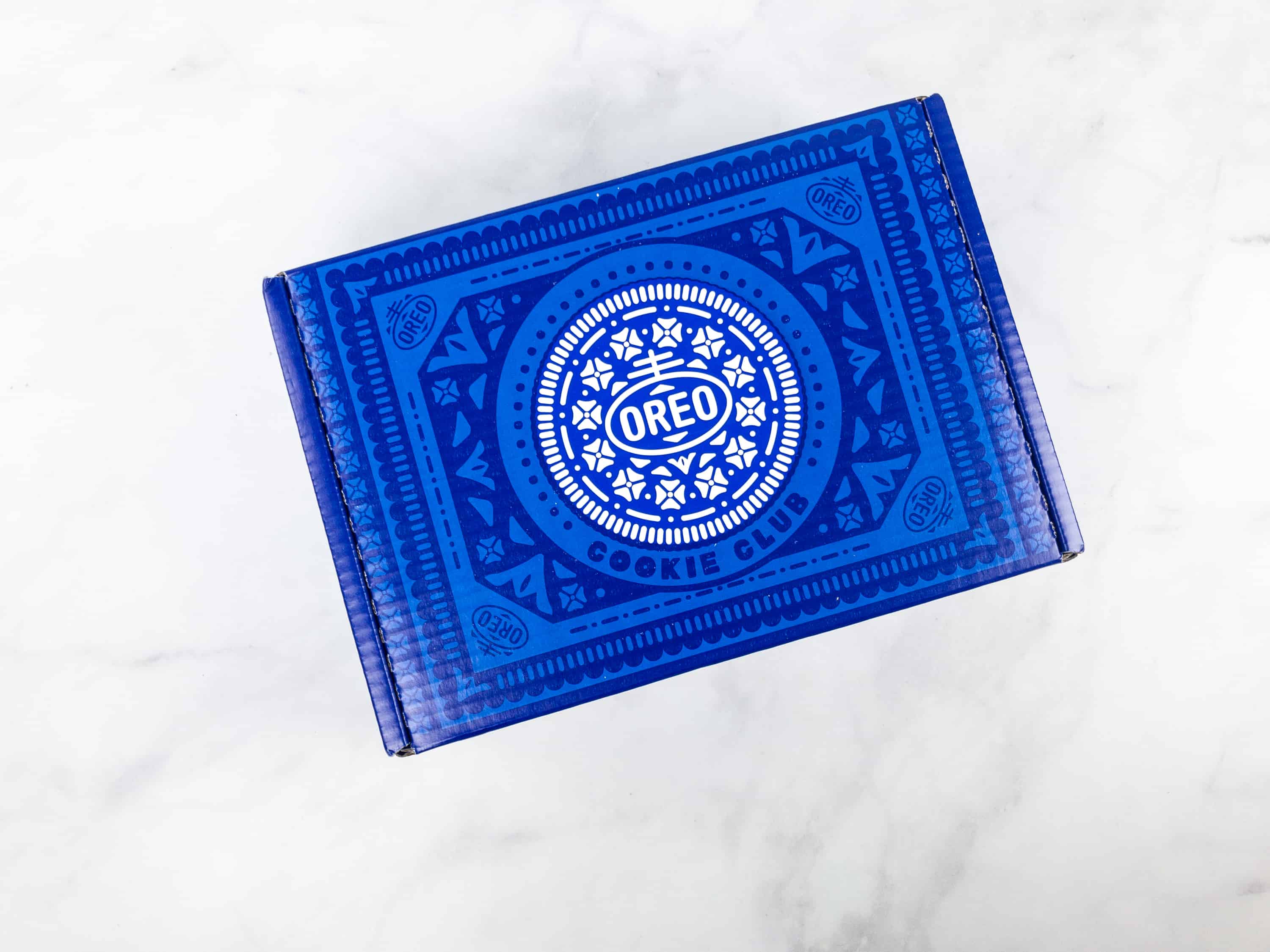 Oreo lovers, the OREO Cookie Club has just launched! Inside every box are two deliciously different OREO experiences (a new flavor, or a familiar favorite) with fun OREO swag and a delicious recipe. It's $59.97 per quarter and ships monthly for free! Every box comes with two OREO flavors, a one-of-a-kind OREO inspired gift, and a recipe card.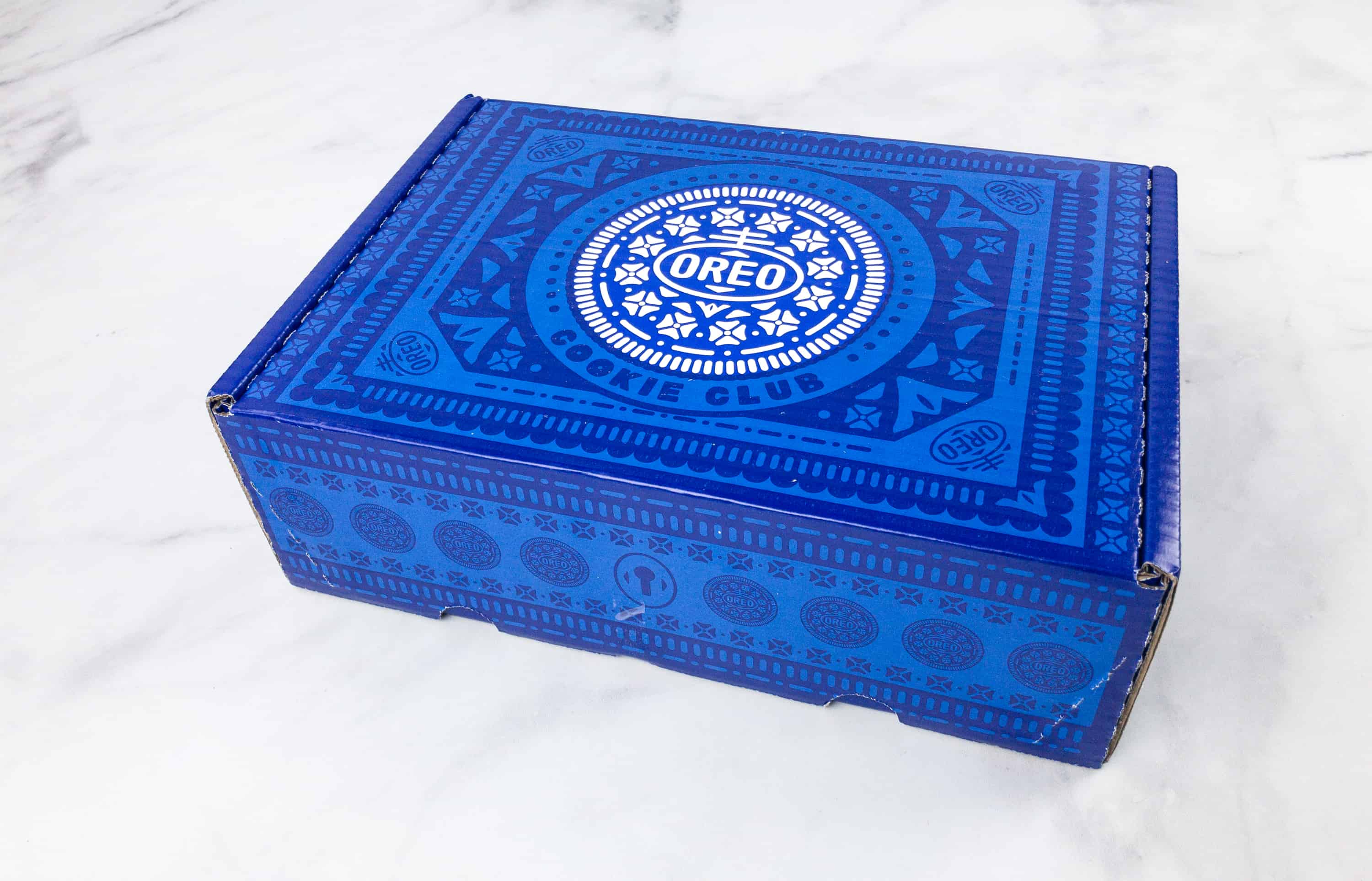 It's OREO time!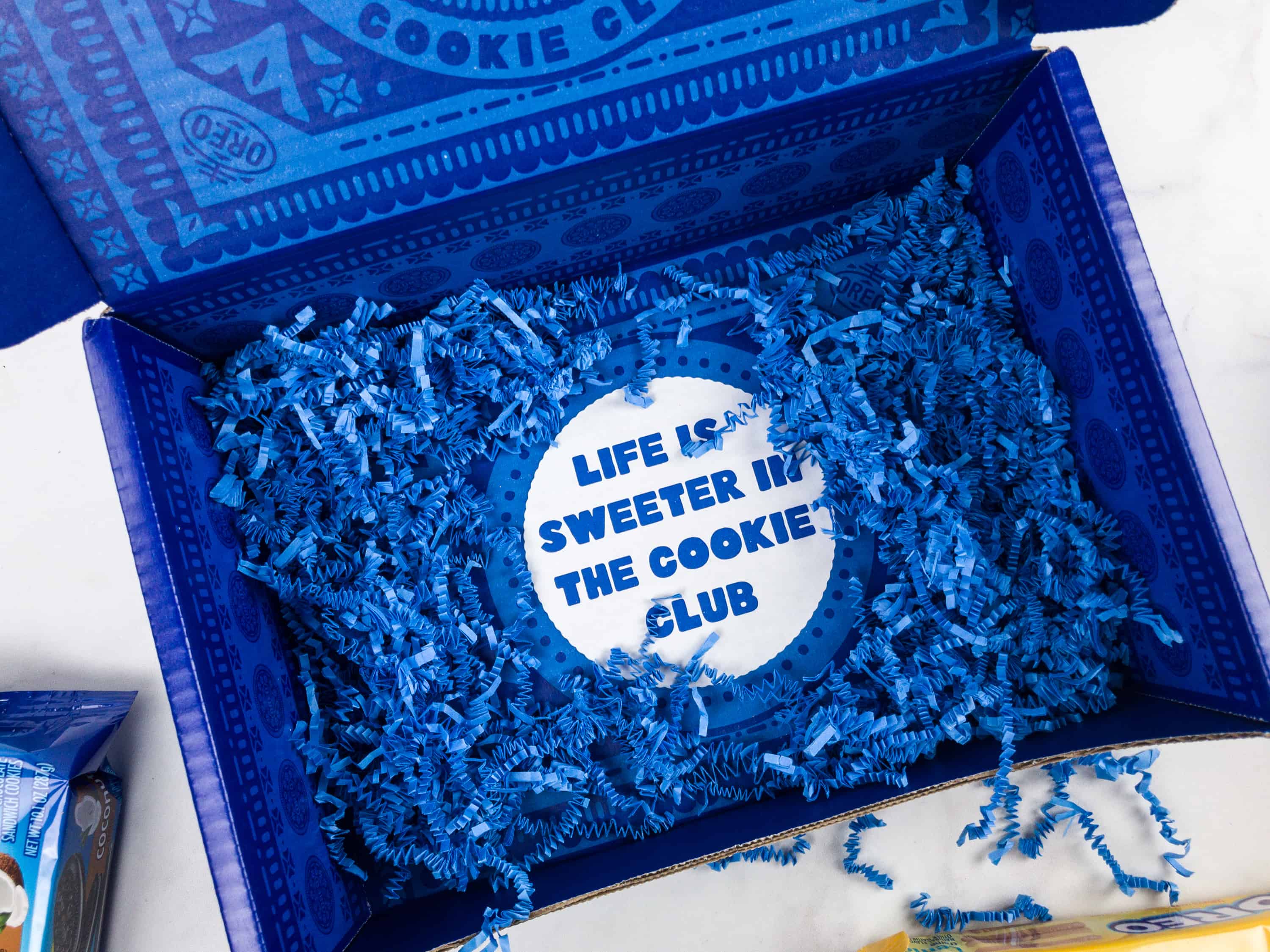 There is a sweet note from the Oreo Cookie Club on the bottom of the box. Do we think life is sweeter in the club? Let's find out.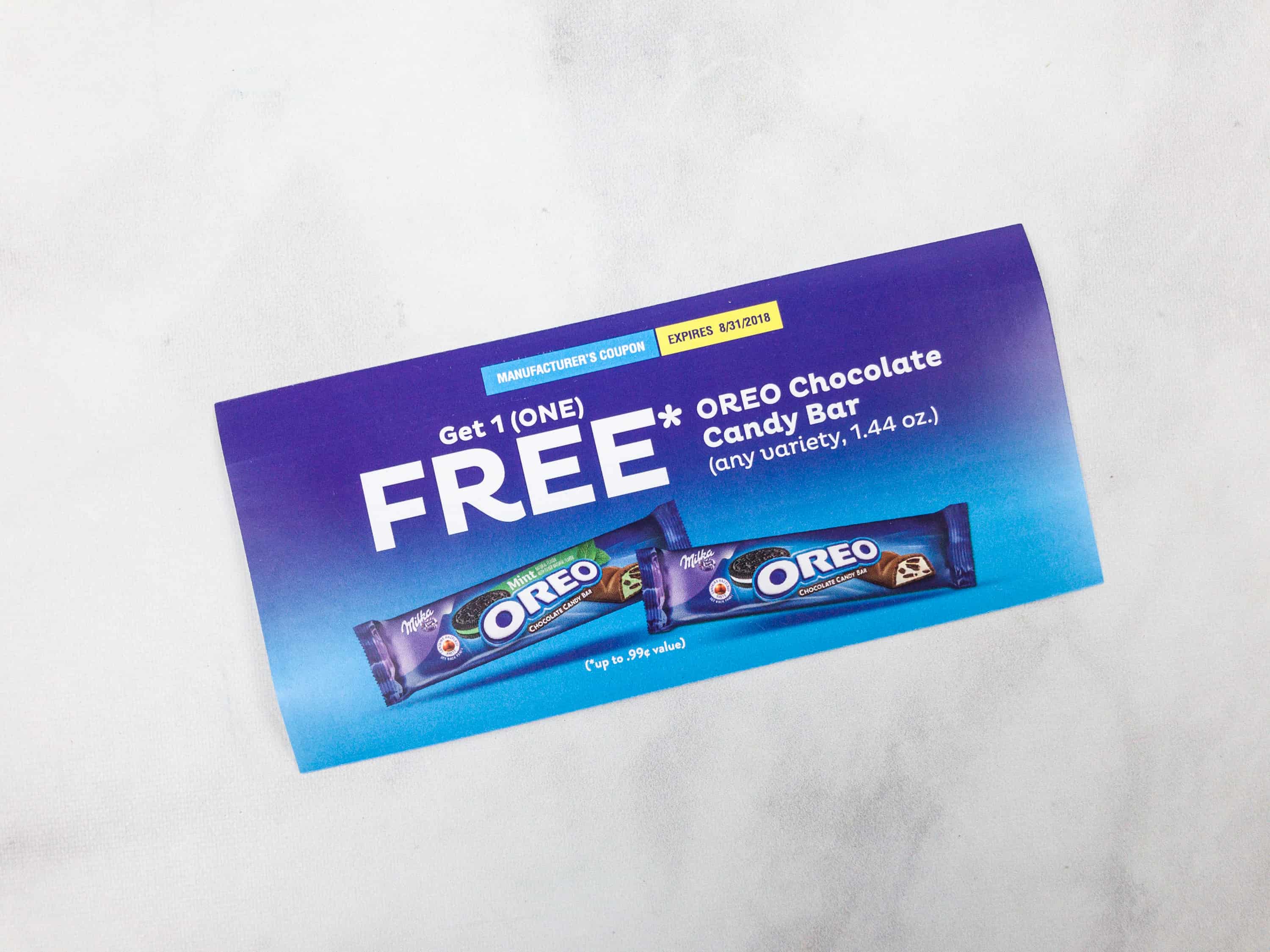 Included in this box is a coupon that allows you to get one free Oreo chocolate candy bar (the regular size).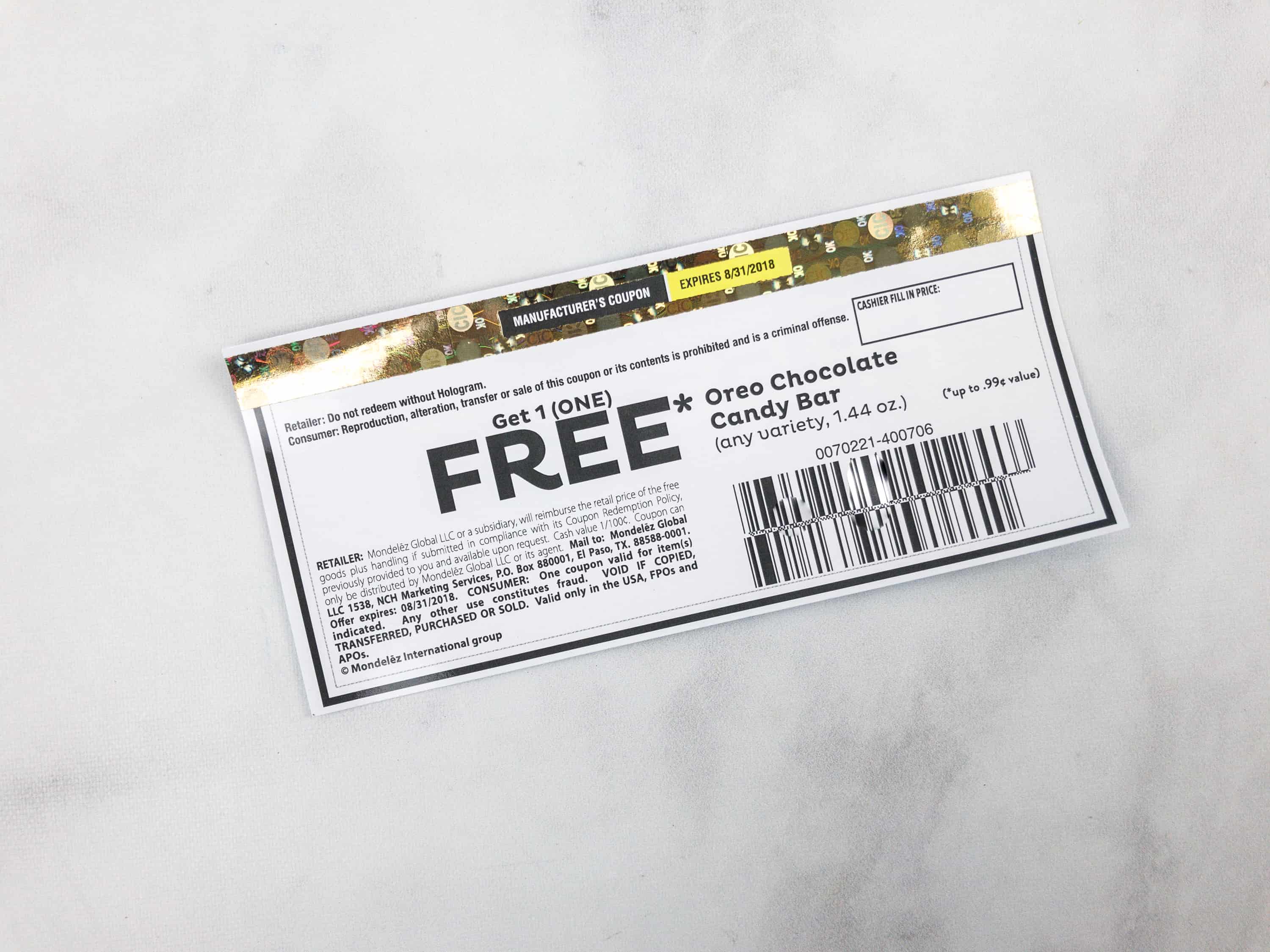 The coupon is valid until 8/31/2018.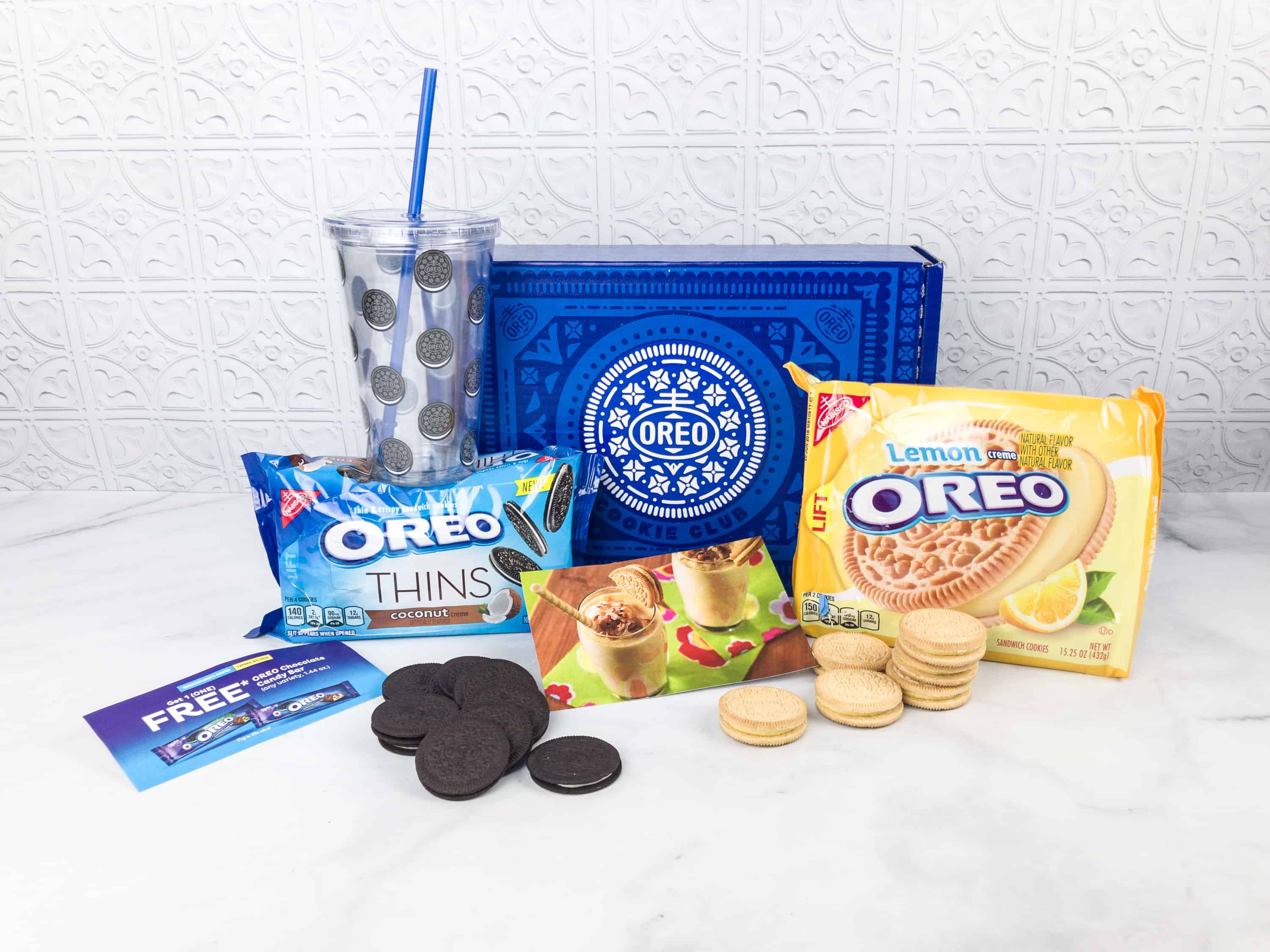 Everything inside the April 2018 box!
Oreo Thins In Coconut Creme ($2.99) If you're a coconut fan, this will make it to your favorites list.  The well-loved cookie comes thinner and crunchier, and that means fewer crumbs! Easy to store as well, as it comes in a resealable package (like all OREO cookies!).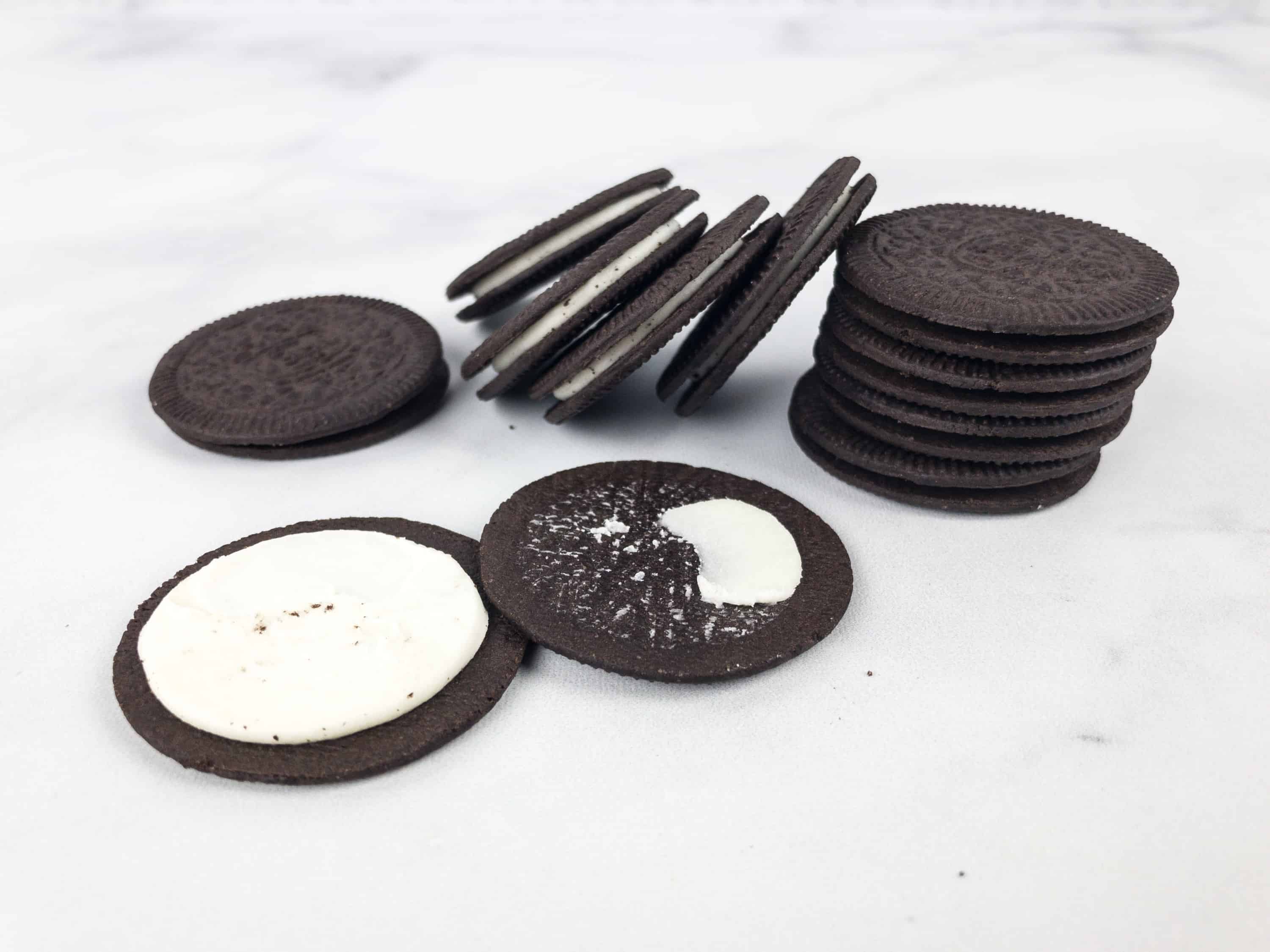 When you open the package, you can smell more of the coconut, rather than the classic original oreo smell. It's delicious though – the light portion of cream is less sweet, plus it's coconutty, and sandwiched between crispy crunchy Oreo outsides. Loved these.
Oreo In Lemon Creme ($2.99) Two vanilla cookies sandwich a rich, lemony cream. Not overly sweet, and if you love a little tang on your cookie snacking experience, this is it.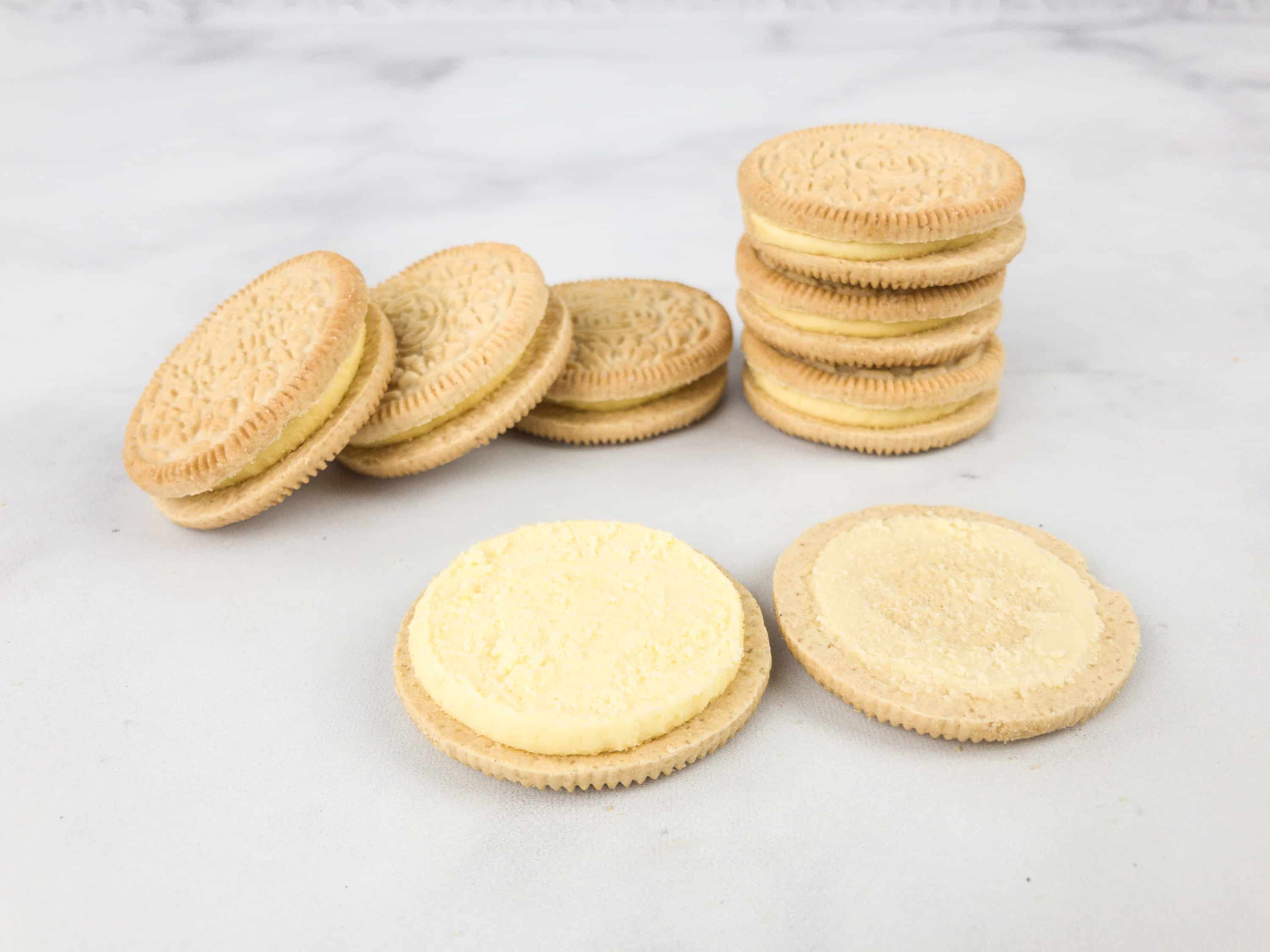 Oreo have came up with lots of different flavors that were truly far from what they've known for, the choco-cream sandwich, and this is no different, but it's a refreshing take from the chocolate ones. I don't think I'll dunk these ones in milk, though. The cookies are almost similar to the originals when it comes to texture and thickness, but truly different in flavor.
Both sets of cookies were great, and I hadn't had a chance to sample either flavor before, so they were new to me.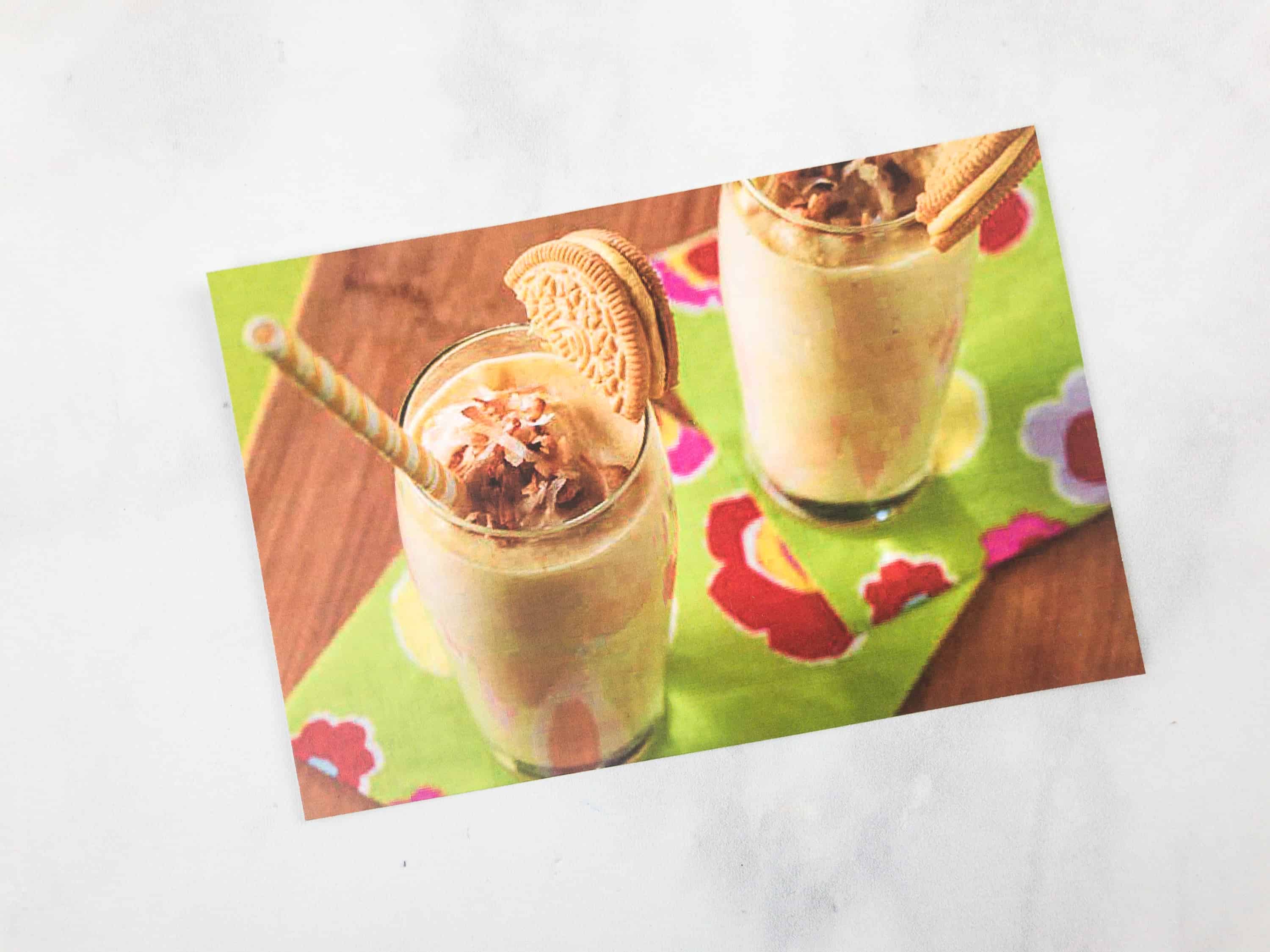 The card features a high-quality photo of the month's featured recipe on one side…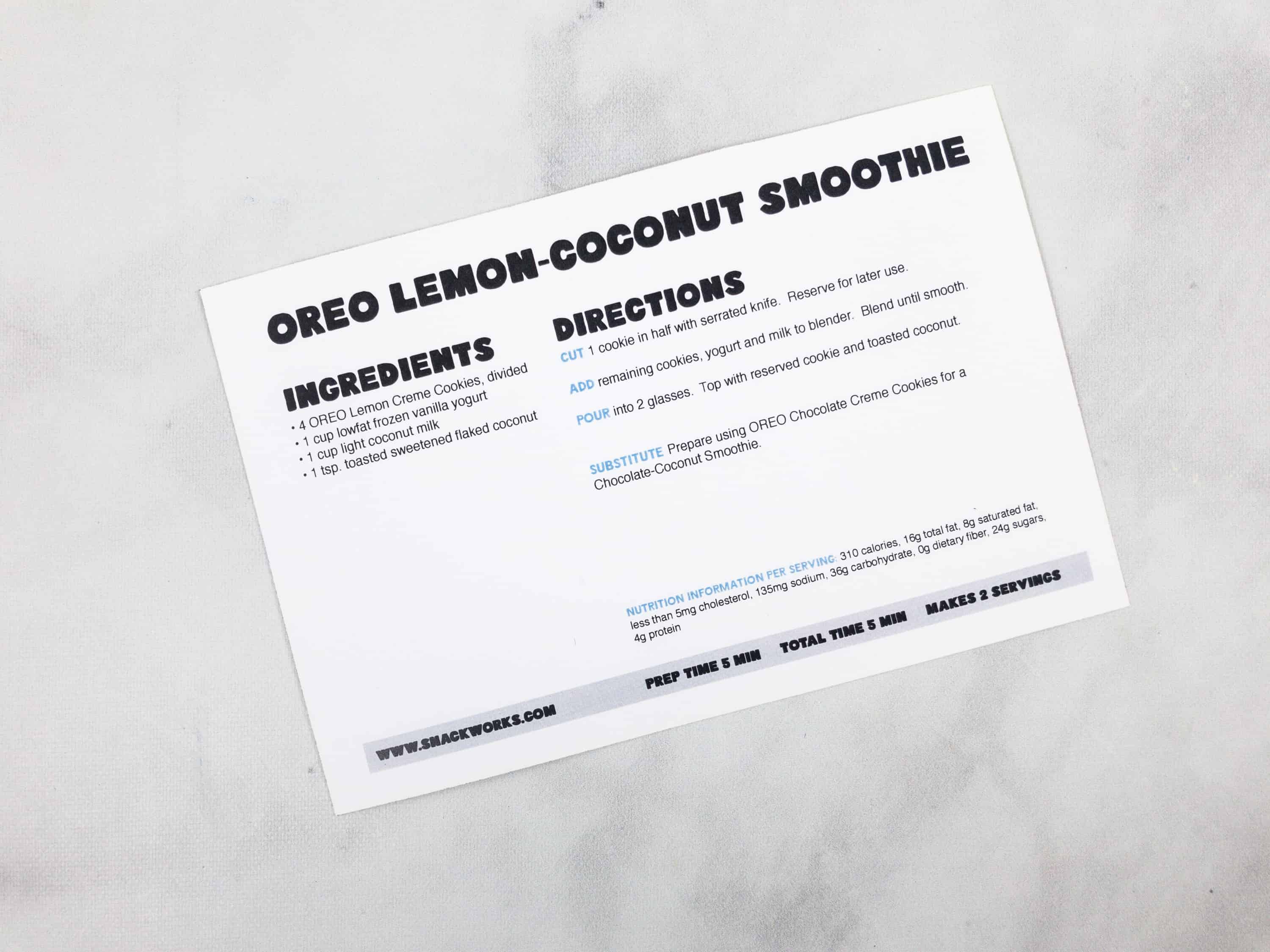 …and complete ingredients plus prep instructions on the other side. Unlike last month it only required 4 cookies!
Oreo Tumbler With Straw This would be great placed on top of any desktop, with favorite drinks on it – maybe milk?! Also, how cool would it be if this subscription actually custom-made products – like an OREO plate & drink holder? Alas, they seem to be devoted to the "screenprint our stuff on it" school of customization thought. I think they need Culture Fly to run this subscription box.
Anyhoo, this tumbler neither overwhelms nor underwhelms – I like it! Would it be better with a custom OREO cutter to make holes in my cookies to stack on my straw? Yes. I can think of a million ideas (custom shock-proof OREO transport device for my lunch sack) that would really make exclusive and unique goodies, but OREO isn't sending anything like that.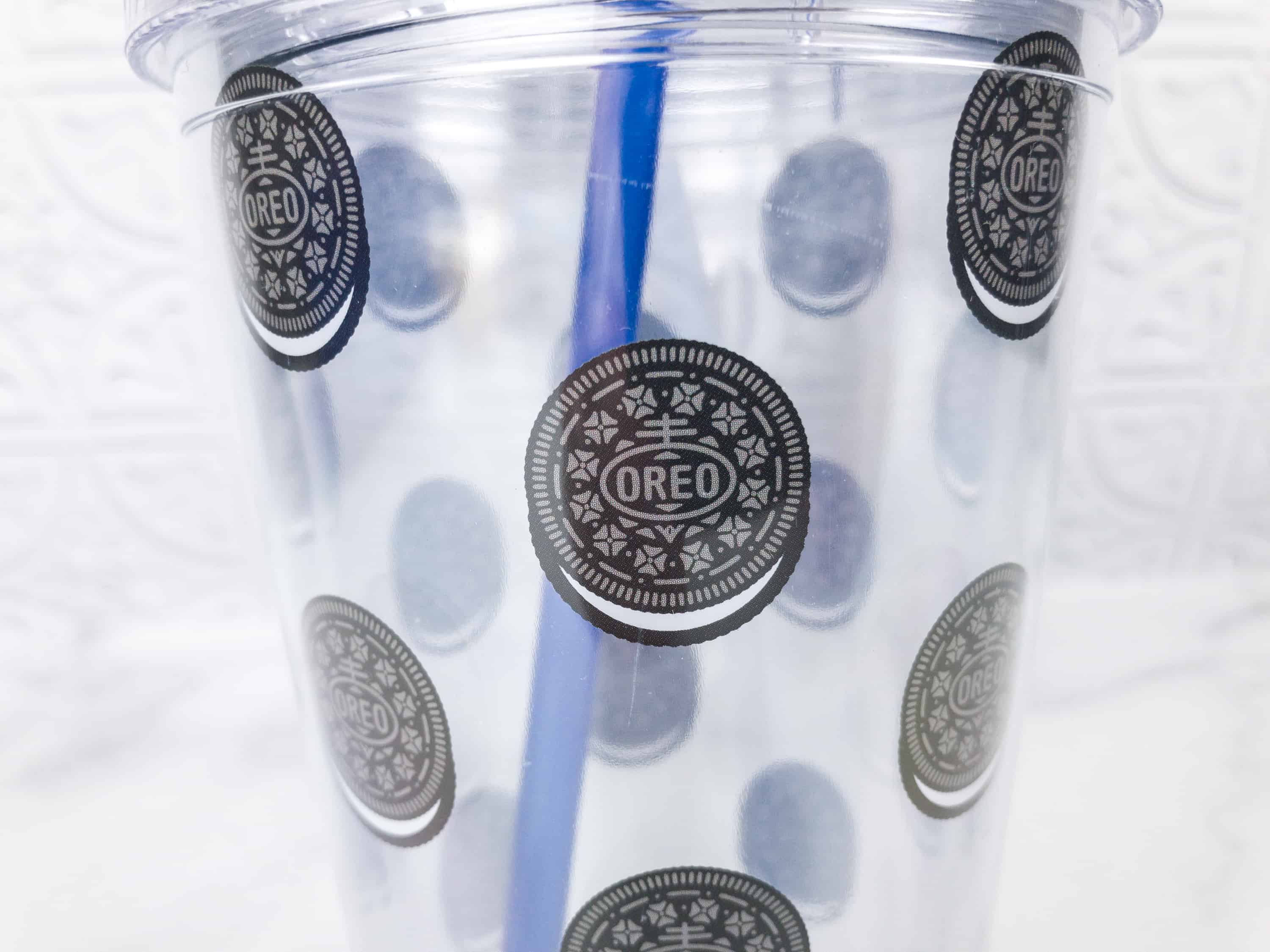 The glass has cookie prints, like most of the other items that they've sent. Now I'll match my sunglasses with my drink and everyone will look at my round belly knowingly.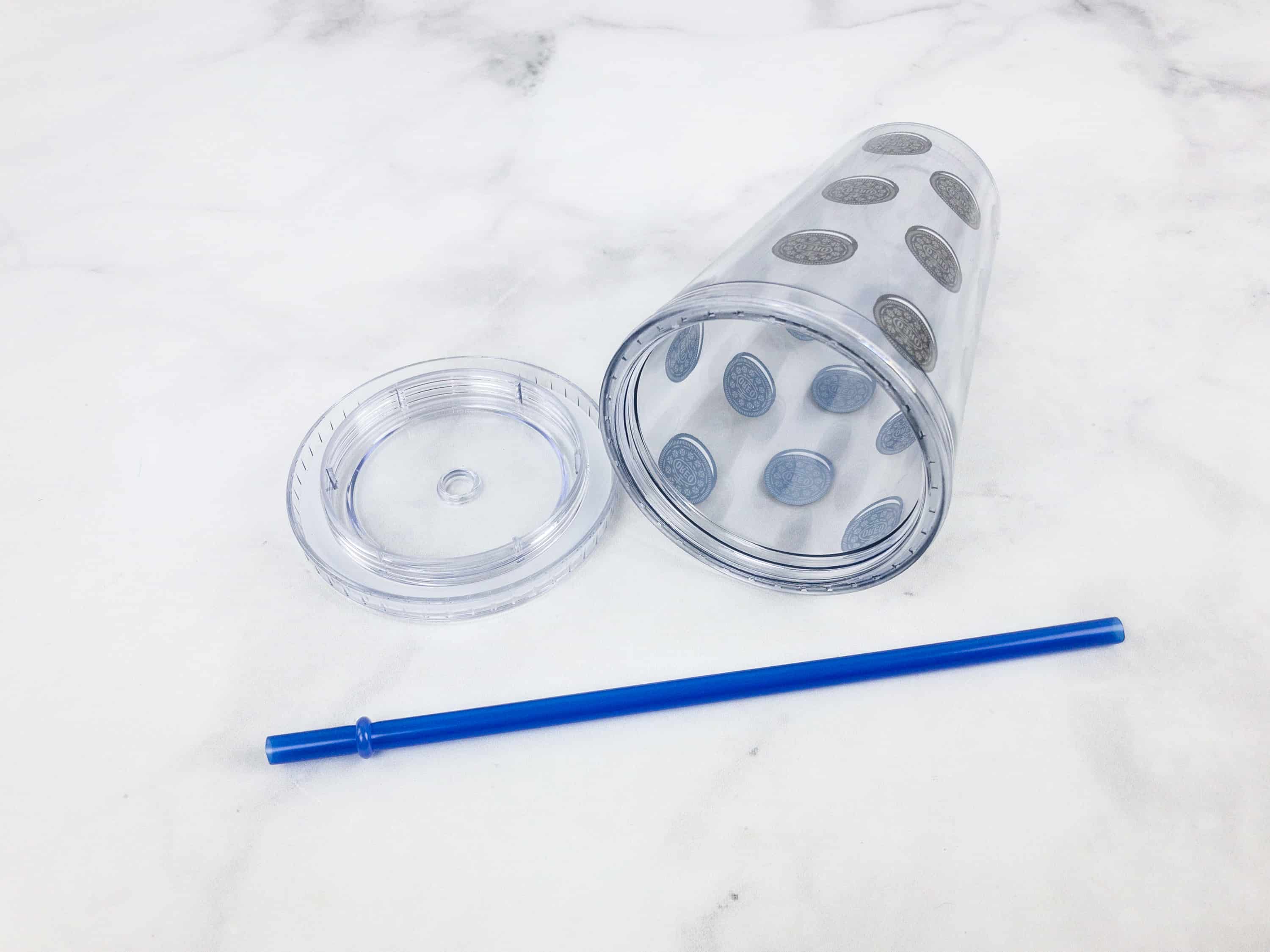 It also comes with a screw-on lid that will keep whatever liquid's inside from spilling, and a blue straw to easily drink from it. The plastic material is insulated so it will keep beverages cool, but I don't think it's shock-proof. I'm going to value this around $8.
The cookies are great, no doubt about it, but they still send 2 edible items and a single promotional item (plus the newly ever present candy bar coupon)! This subscription really needs to step up, I've received several boxes but still haven't really seen any improvements.  This box had $6 worth of cookies, $1 worth of coupon, and $8 of tumbler for a grand total of $15 in retail value. Since the box costs $20 with a 3 month minimum purchase, this is disappointing, unless as I mentioned last month, you're in it purely for the pleasant unboxing experience, which this does bring.
And as for the coupon – is there a reason they can't send one to me in the box? It must be their way of making the value appear larger, but it's doing nothing to fill out the lack of value in this subscription box.
Are you getting the OREO Cookie Club Subscription Box?