Love with Food is a popular snack subscription that also carries a gluten-free option! It is a fun snack discovery subscription available in three versions: classic tasting box, deluxe/family size, and gluten-free. This version is the gluten-free box, but you can see our reviews of the other versions too.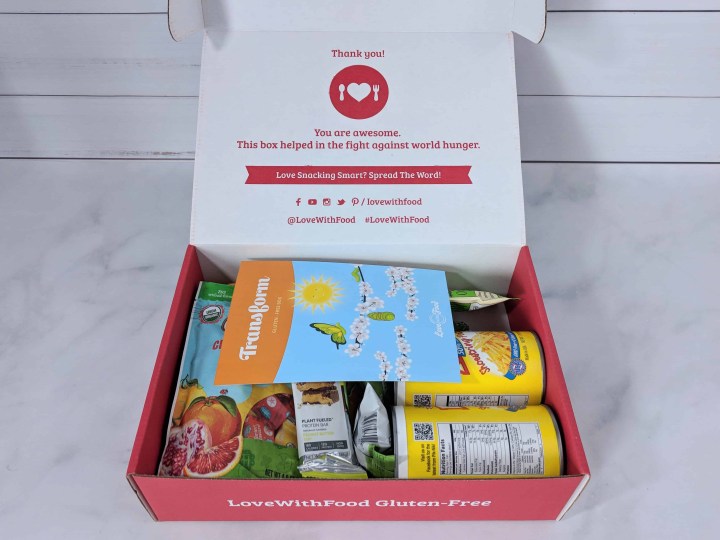 DEAL: You can save 25% on your first Gluten-Free box by using this link, no coupon code required!
FLASH DEAL: Get any 6+ month plan and save $10 with coupon code SPRINGBREAK18!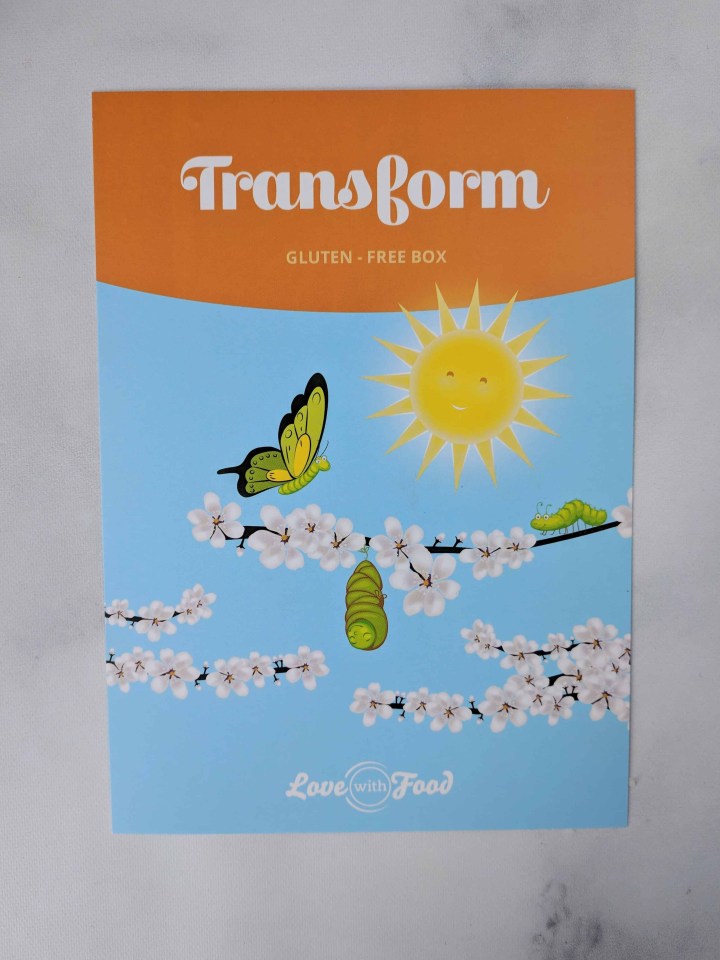 This month's theme is Transform.
They don't include details on the product card, but the info is available on their website.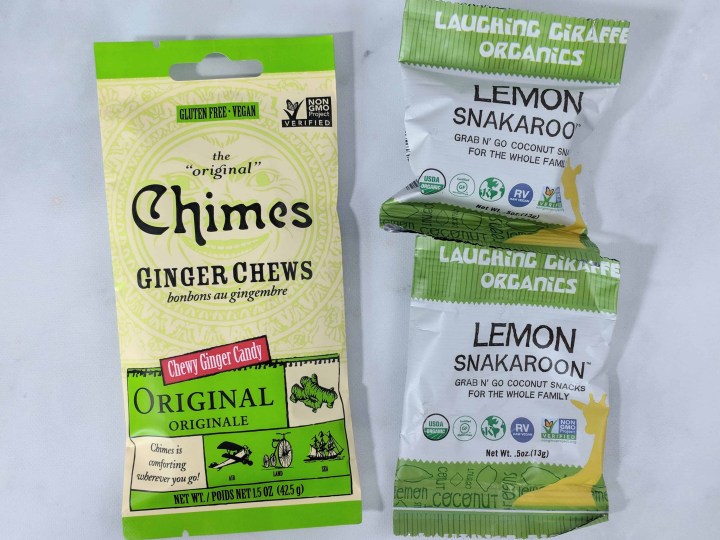 Ginger Chews. These are so good! We love ginger in this house, I have candied ginger hidden in pretty much every room, so these little guys are welcome with open arms! I know, I said the exact same thing last month when we also received ginger chews, by a different company, with a hint of lemon. But I love ginger chews, ok?
Lemon Snakaroon. I use to not like anything with coconut. So did my husband. Now, we are warming up to these little guys. The texture is not fibrous, the coconut pieces are properly cut, if it makes sense? So they are slightly crumbly with a nice hint of lemon.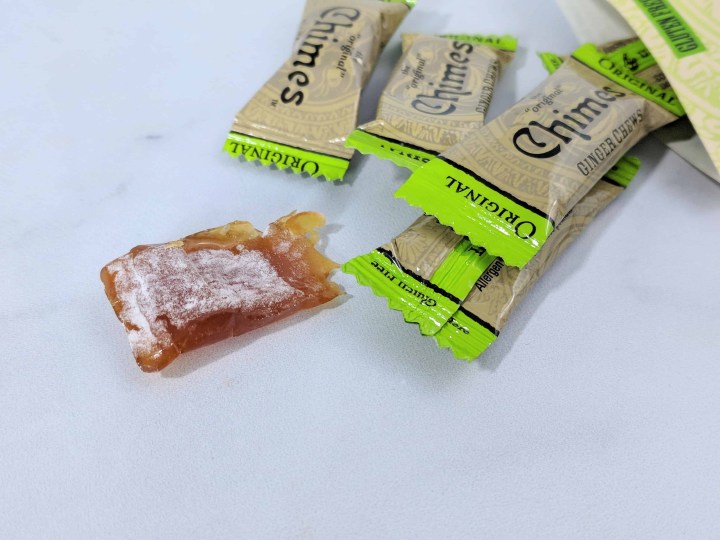 Look at these pure delight of ginger! I'll be honest, I saw them at my health store and I might have bought the 2lbs bag. I might.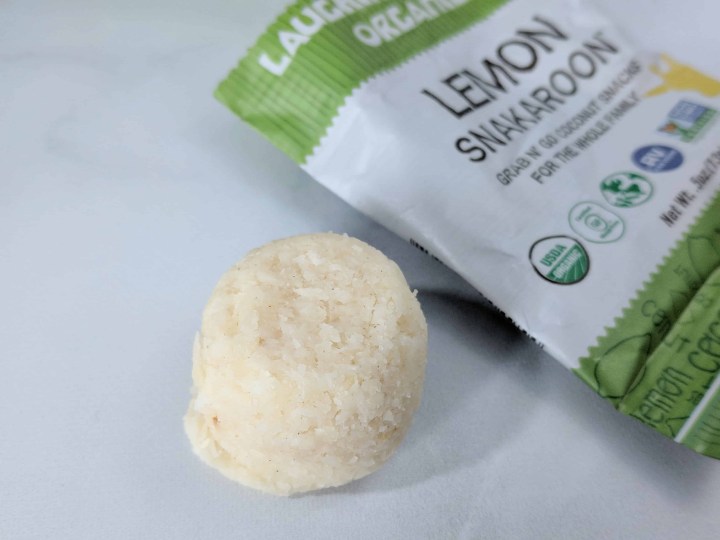 The snakaroons are the perfect little bite of deliciousness. I might try the salted caramel one at some point so I can alternate.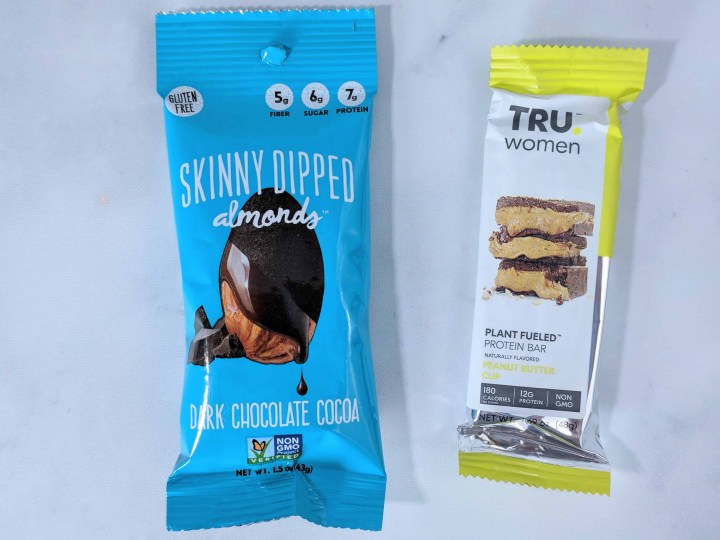 Tru Women – Peanut Butter.  I loved the lemon one we received last month, and I was excited to try a different flavor. I usually don't eat anything with peanuts (my husband is allergic), I ate this one anyway because I loved the previous one so much, I wanted to see if different flavors were good too. They are! They don't taste like protein bar, they are sweet and satisfying and I'm not hungry for more after one. They are perfect. I wish they would sell them in Canada… I want to try the Donut one next month, please?
Skinny Dipped Almonds – Dark Chocolate Cocoa. Roasted almond, lightly salted with a hint of maple syrup, and covered with chocolate. My husband really liked them, although he complained that they are quite powdery (thanks to the finishing sprinkle of cocoa).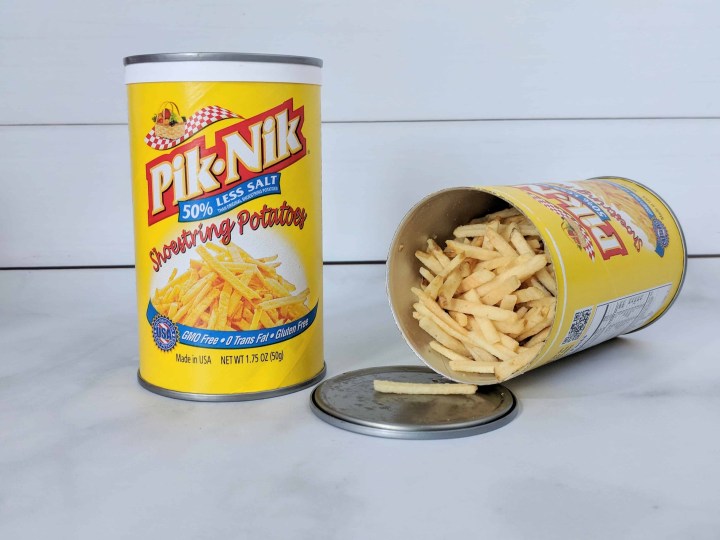 Pik-Nik Shoestring Potatoes 50% less Salt. They are crispy, although greasy to the touch, and it's nice that we received a less salted version as these still contains a lot of salt.
Cassava Pops – Volcano. They reminded me of rice crackers. They have a very nice crisps and texture, and the taste was quite spicy! We loved it!
Chewie Fruities. There are three flavors in the bag : Pomegranate-Nectarine (that tasted more like nectarine than pomegranate), Raspberry-Lemon (which tasted like a nice mix of the two, my favorite of the lot by fare), and Blood Orange- Honey.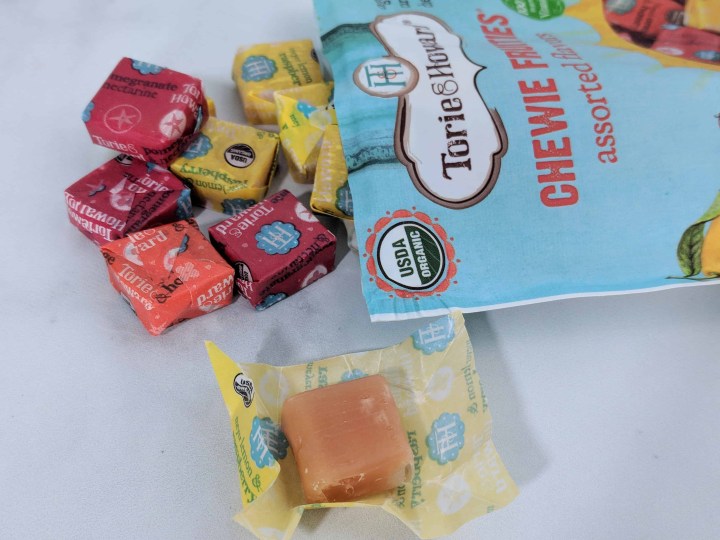 Nice bite size little caramels. I couldn't stop at one. I may have stopped at half a bag (the other half disappeared in my husband's office). They were tasty.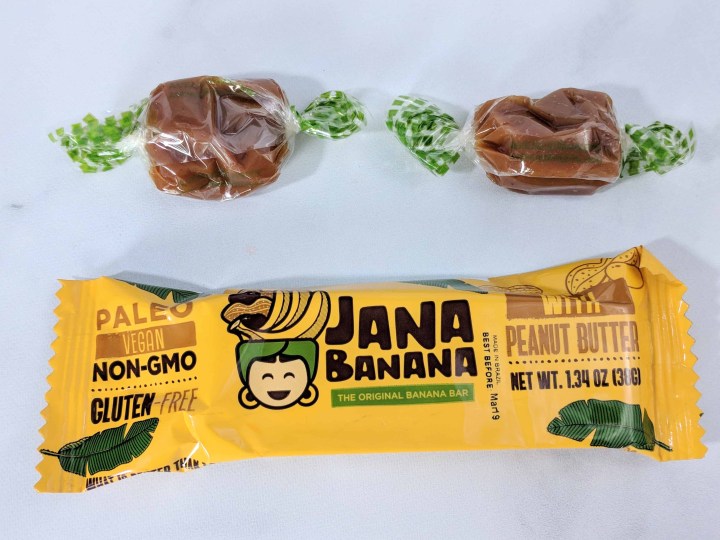 Avenue Sweets Caramel. I've linked them to the salted caramel version, but I think it was plain caramel. Super nice, my favorite candy of all time! They were soft, didn't stick too long on my teeth, and were divine!
Jana Banana with peanut butter. If it weren't for the peanut butter, I would go nuts for these bars. Each bar contains two bananas for a potassium booster. It's very soft, so don't throw it in your gym bag if you don't want a very flat bar!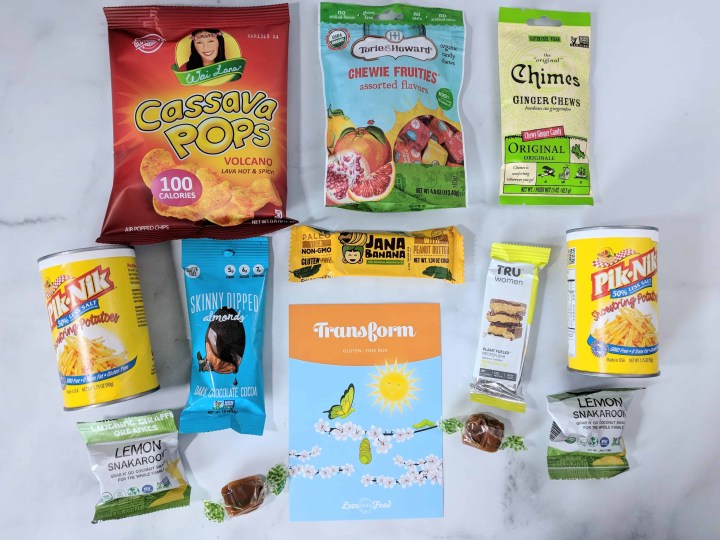 April's box was an other hit. I like the mix of sweet and salty treats, and the variety between candies and healthier alternatives. I really enjoyed the ginger chews, and the Tru Women Peanut Butter protein bar (can I have the donut flavored one or more of the lemon, please?) I'm always happy with my Love with Food Gluten-Free box as it helps me discover new gluten-free products that taste good, and I'm happy when I see them at the store because I already know about them and I can buy them without worrying!
What is your favorite Love with Food item from this month's box? Share below and let us know!

Visit Love with Food Gluten-Free to subscribe or find out more!