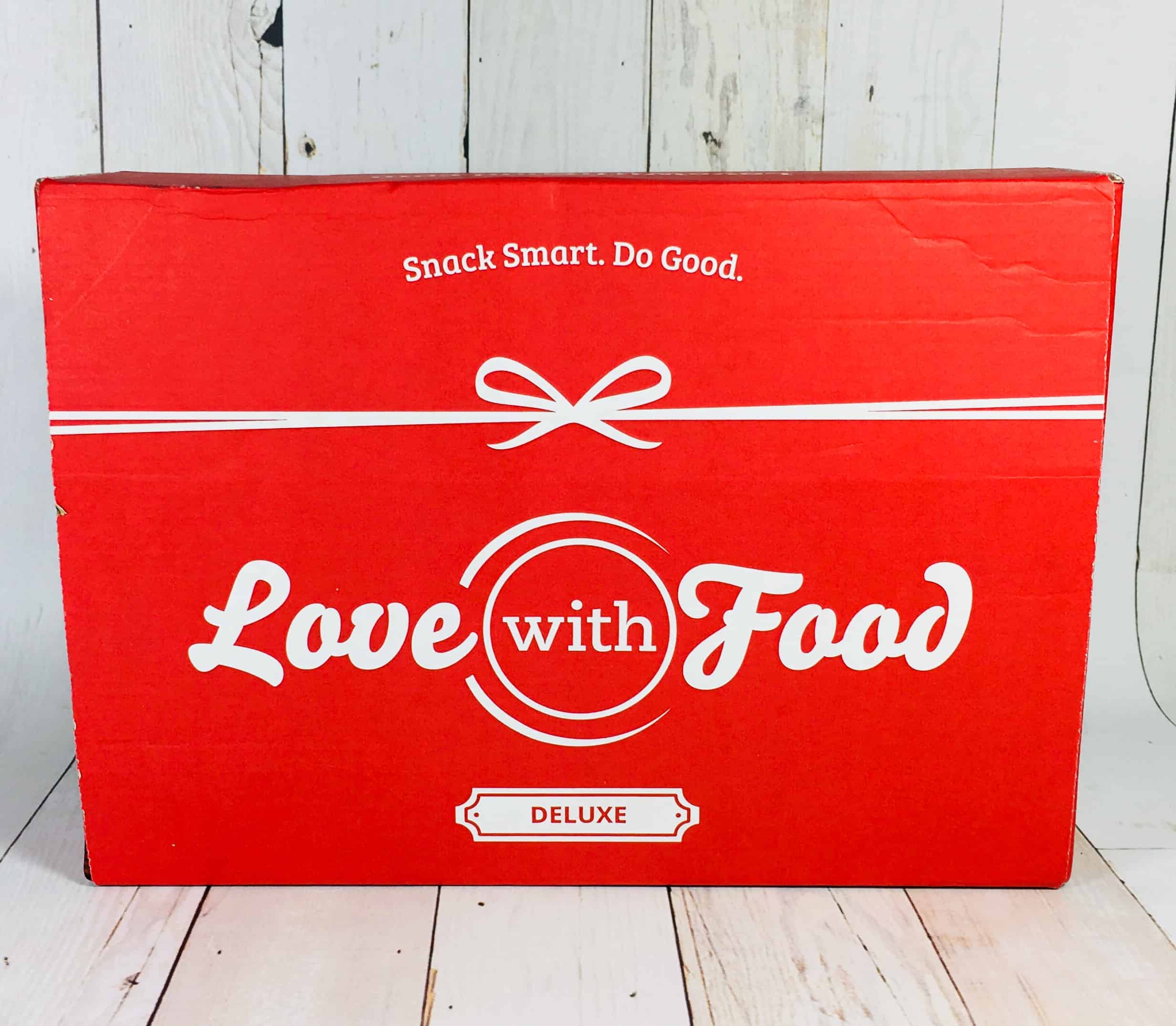 Love with Food is a fun snack discovery subscription available in three versions: Tasting Box, Deluxe (family size), and Gluten-Free. They also offer an Office Plan for sharing with your co-workers. I shared these snacks with my family of 3 (sometimes 4 when my daughter is home from college.) What sets this subscription apart?
No artificial flavoring, coloring, or MSG
No trans fats and hydrogenated oils
No high fructose corn syrup
Snacks are natural, organic or gluten-free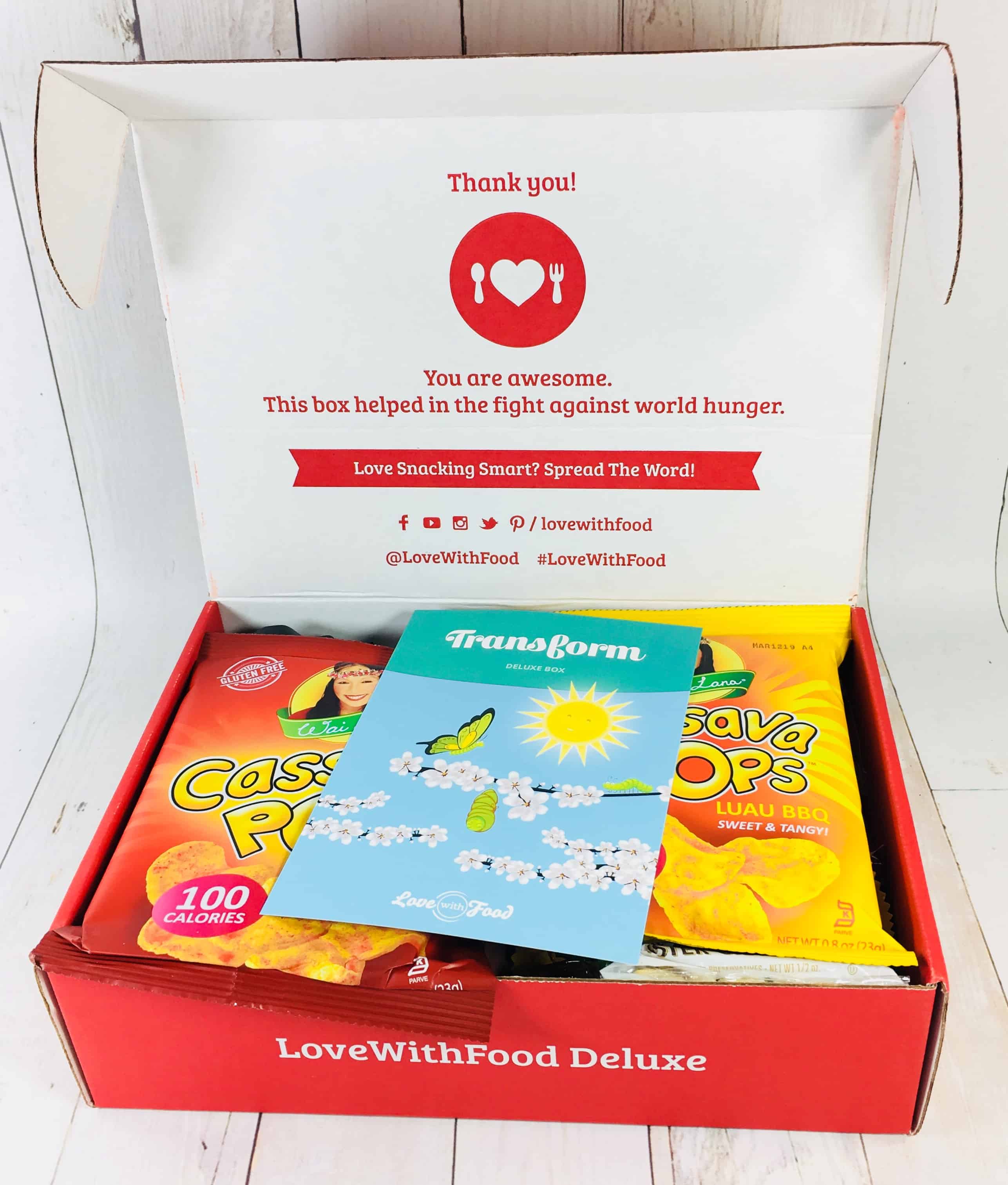 FYI, you can see our reviews of all 3 varieties of Love With Food boxes here.
DEAL: You can try Love With Food by using this link to get your first Deluxe Box for $5 off or get your first Classic Size Box for $7.99. You can also save 25% on your first Gluten-Free box by using this link. As always, Love With Food donates meals to charity with each box purchased.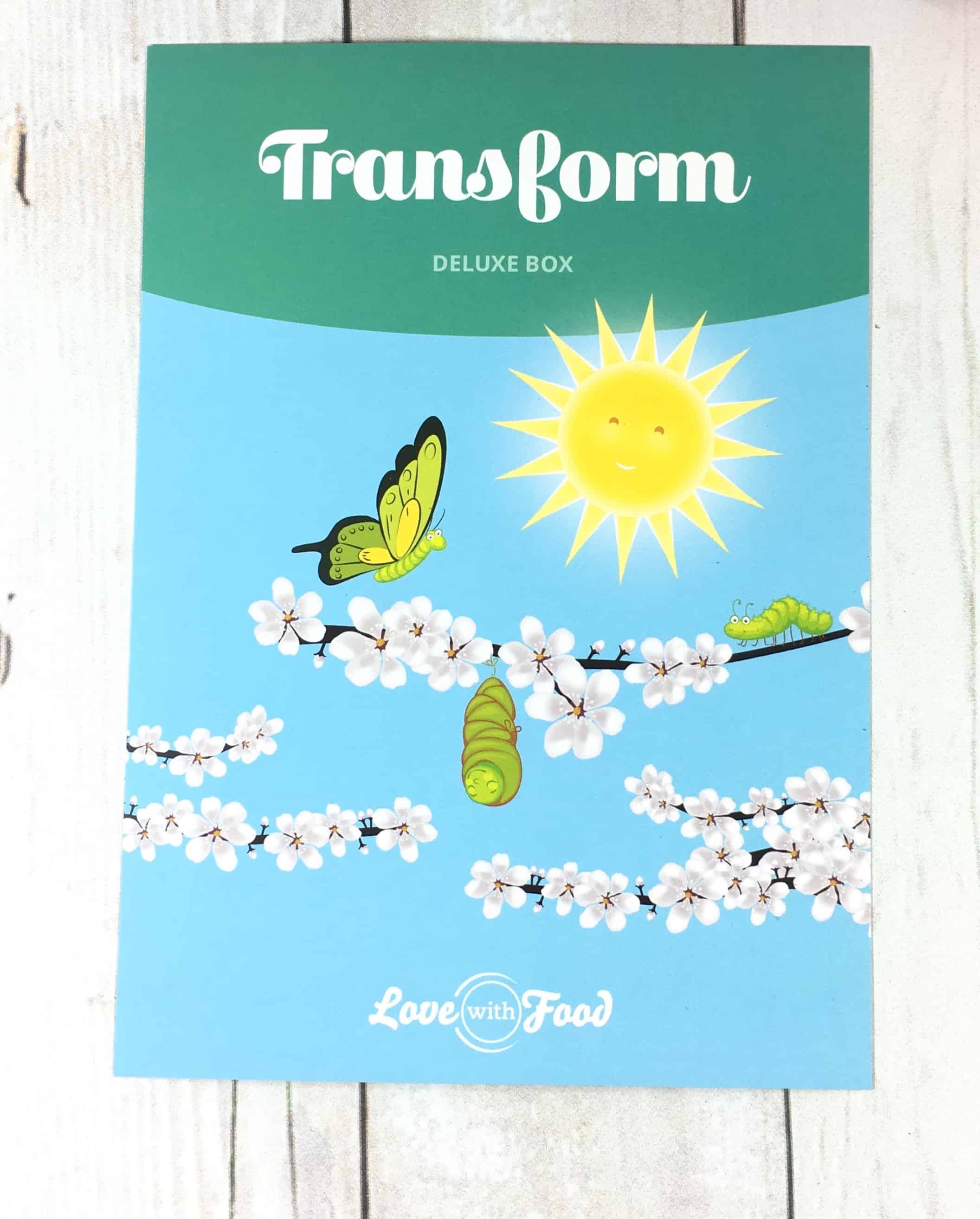 Love with Food's theme for April was Transform.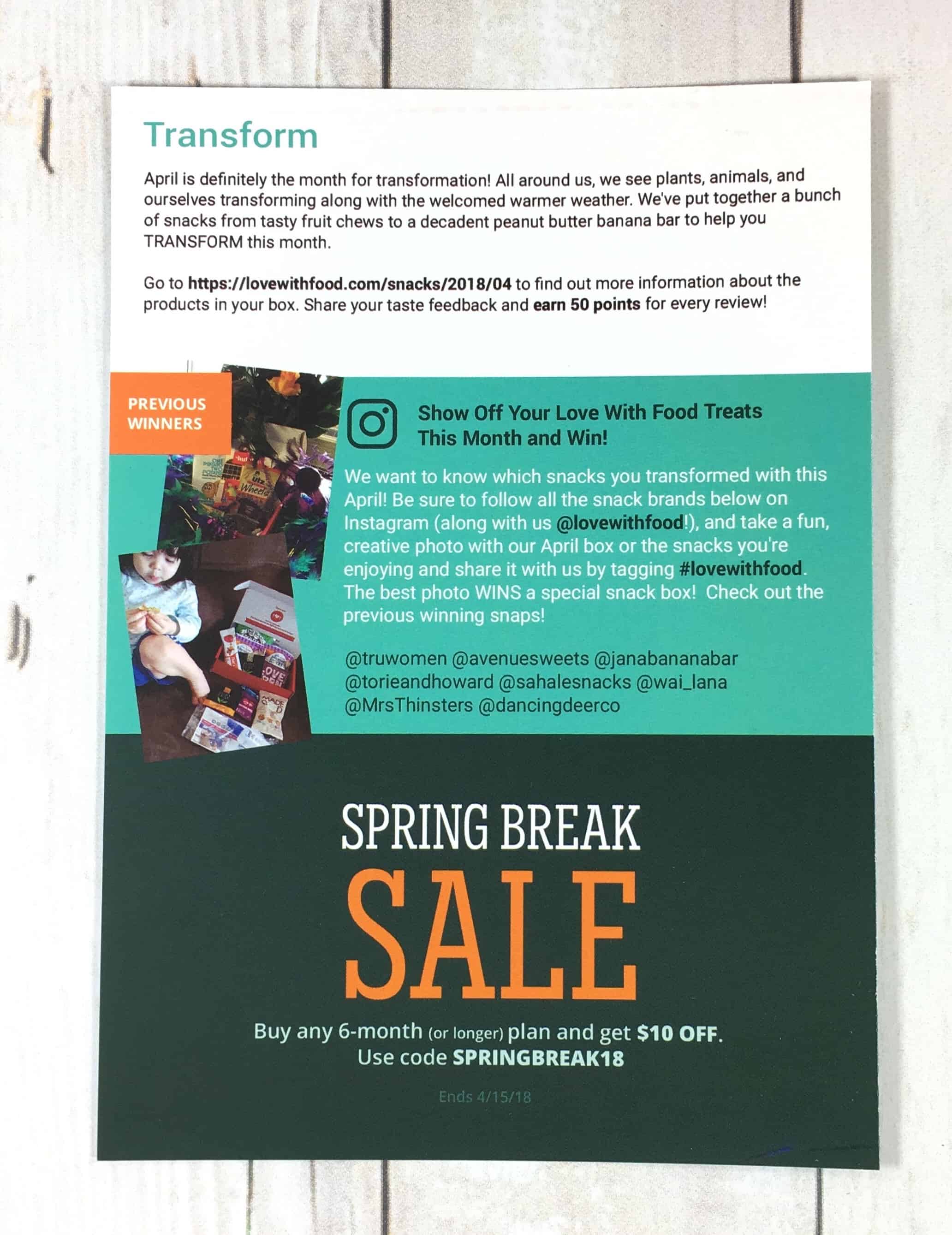 There was info on how you can earn points for reviewing your snacks and then redeem your rewards points for more snacks. If you want to know more about the snacks in your box then you can go to the website and see which snacks are gluten-free, kosher, vegan, etc. You can find this month's info here.
There were a few handouts this month with info on some of the products plus discount codes.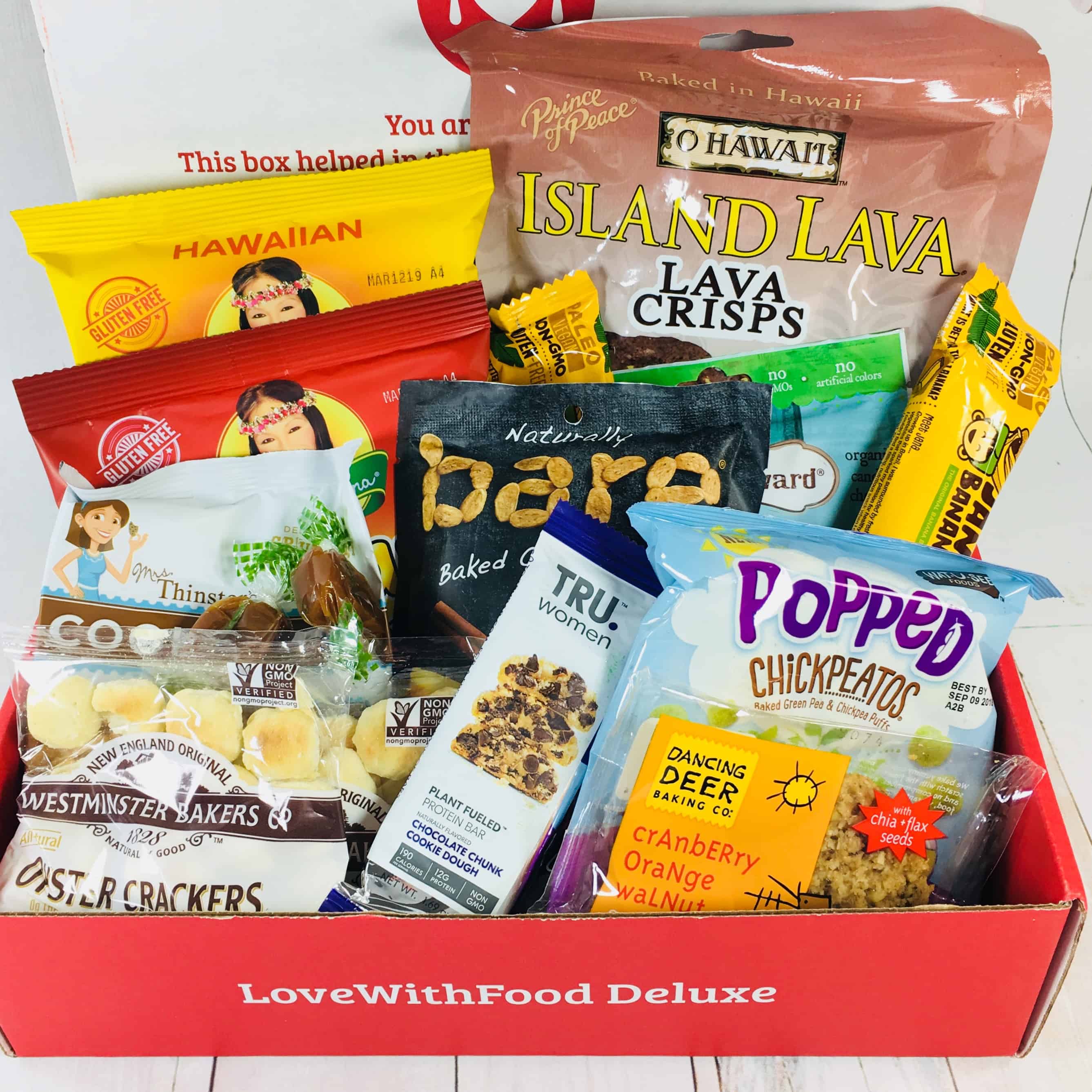 Everything in my box! I love to grab a snack from the box and stick it in my tote without a second thought. No Ziplocs needed and I don't have to worry about change for the vending machine.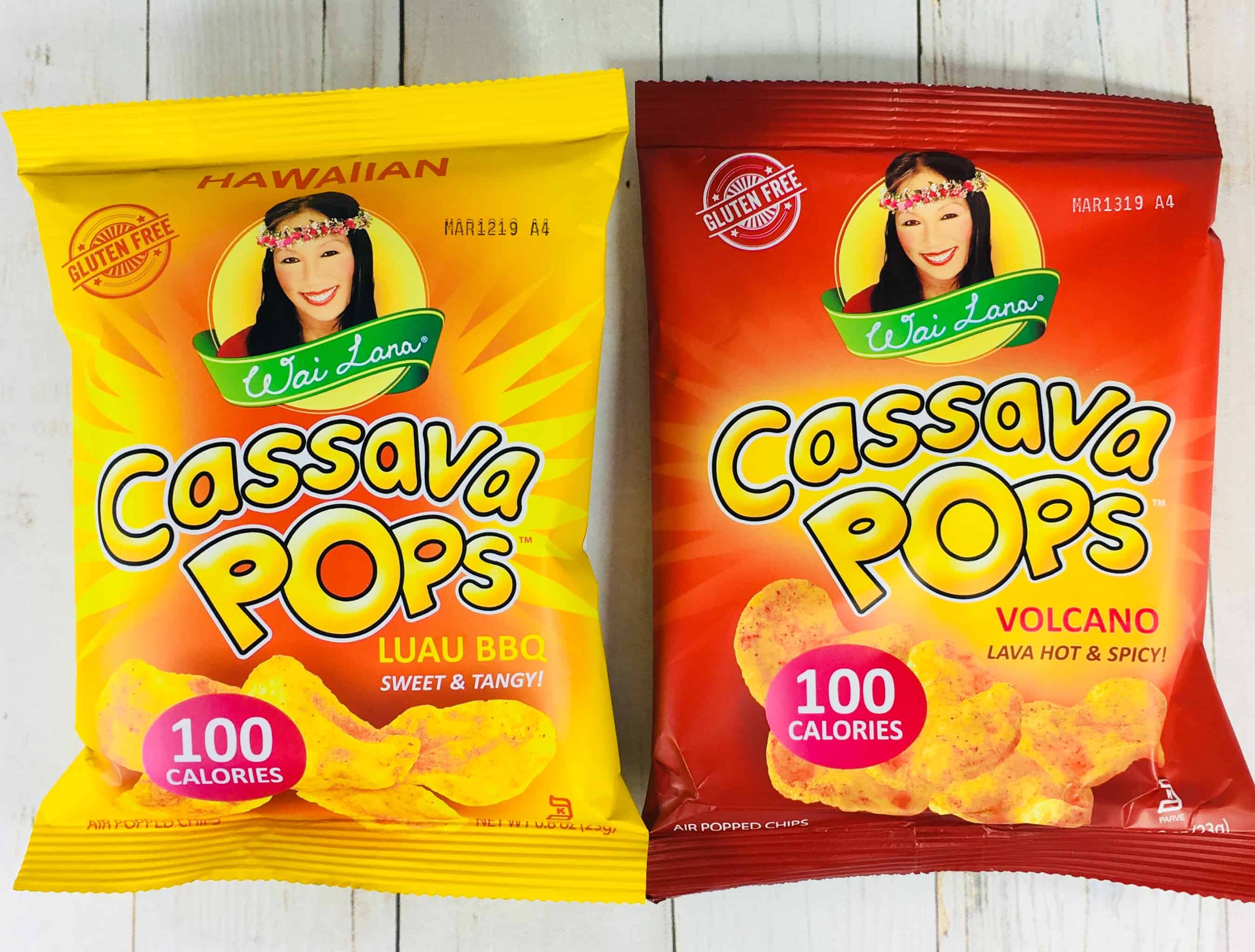 Wai Lana Cassava Pops In Luau BBQ And Volcano ($1.79) I love it when I get multiples, especially when they come in different flavors! My daughter chose the Luau BBQ and I grabbed the Volcano flavor for myself.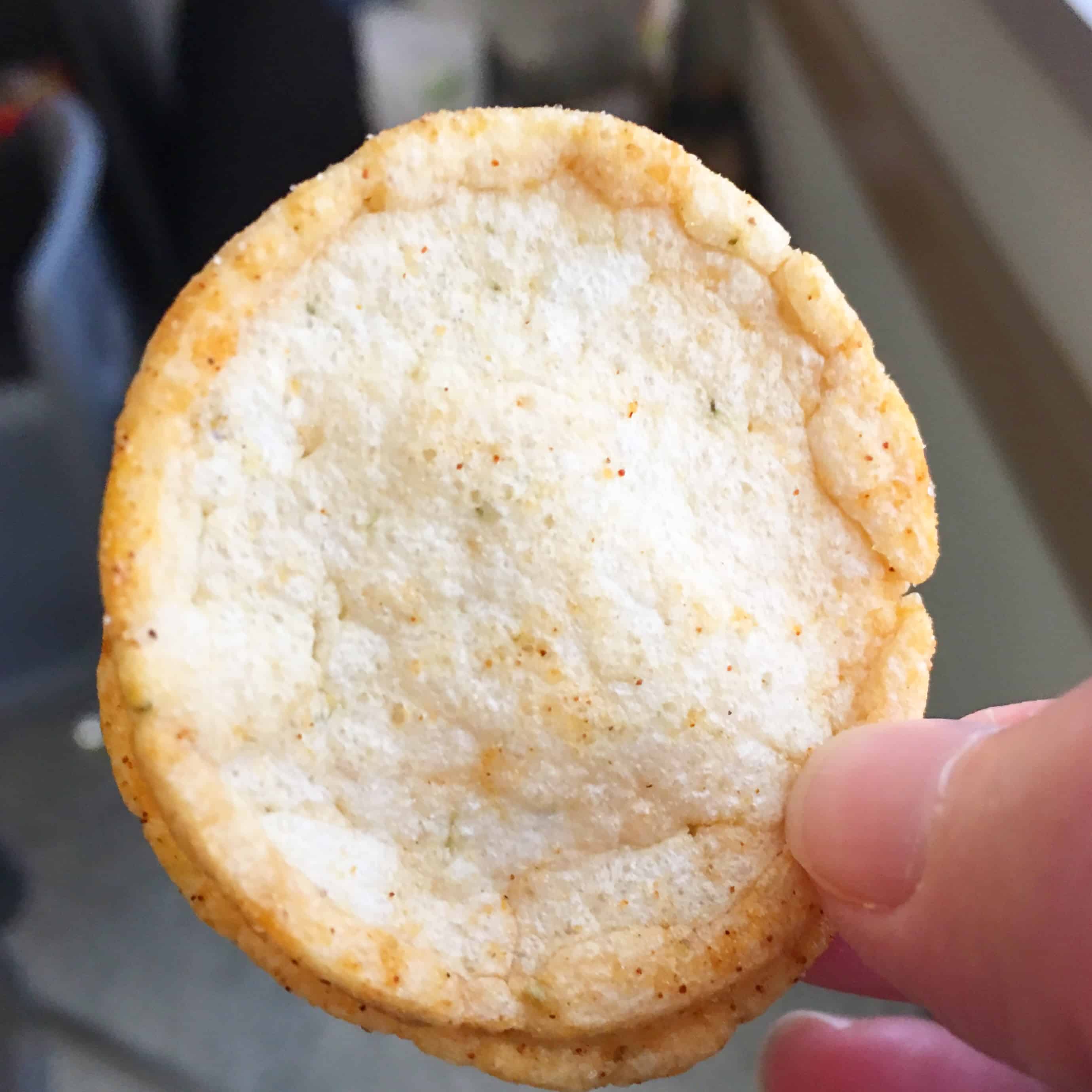 I loved the flavor of the Lava chips, I ate them at a desk with my tuna sandwich! They were spicy but not too spicy and were also a little sweet. I liked the puffy texture, too.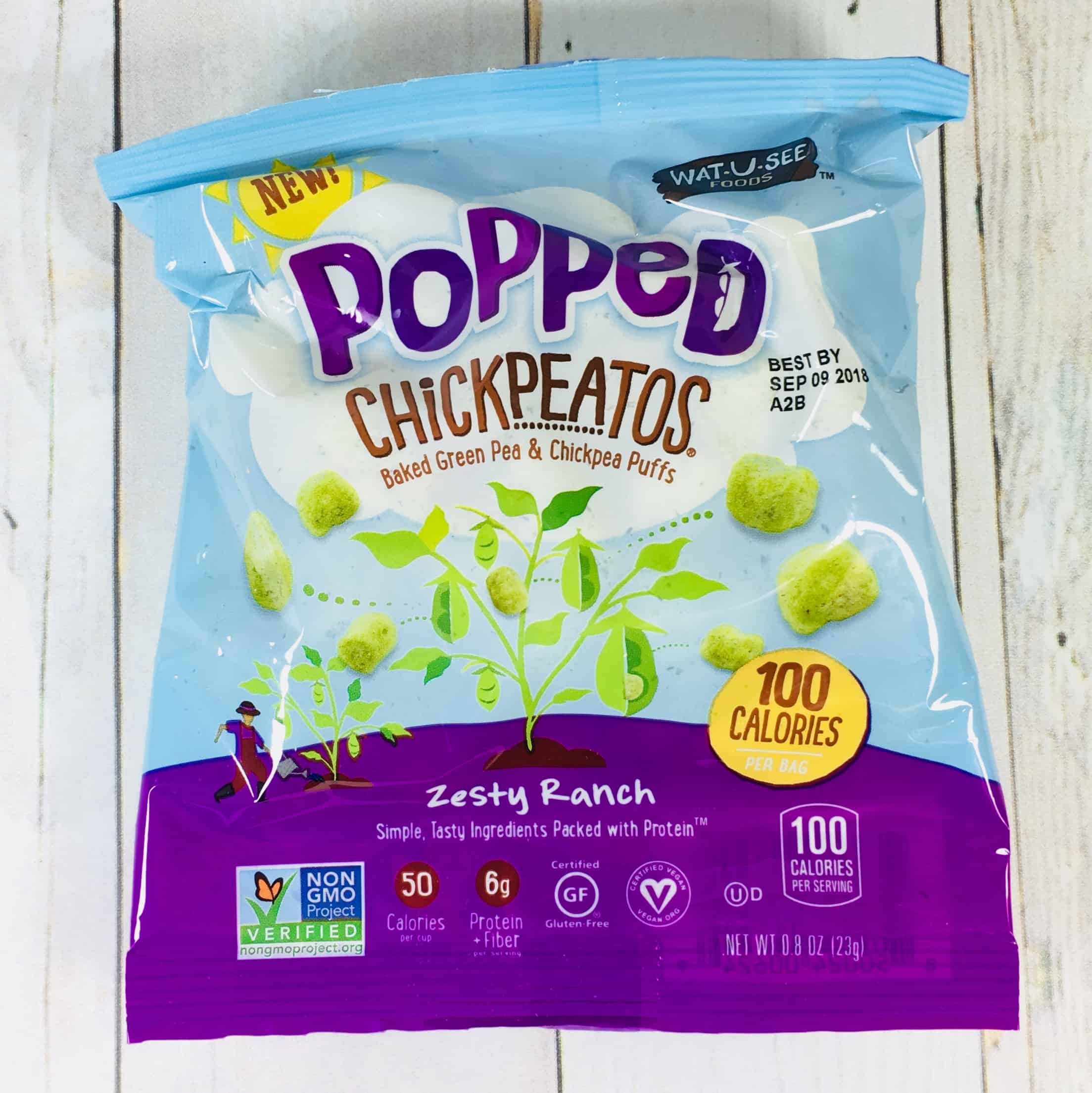 Popped Chickpeatoes ($1.50) are similar to Cheetos Puffs in texture but are vegan and gluten-free.
I wasn't expecting them to look green, which is almost as scary as orange! The flavor was surprisingly good and I liked them!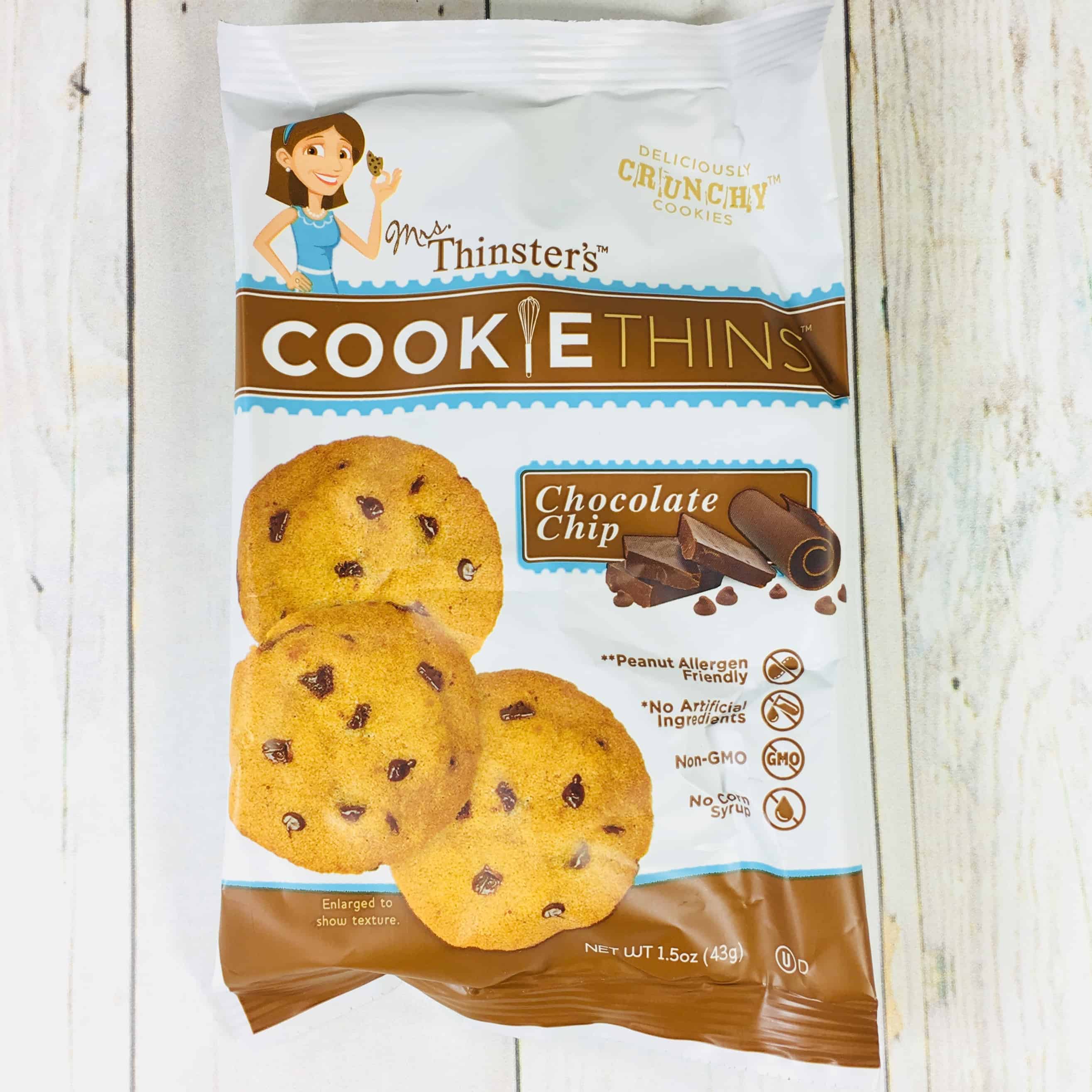 Mrs. Thinster's Chocolate Chip Cookie Thins ($0.70) My daughter loves these cookies and ate these for an afternoon snack. I managed to grab one and it was thin and crispy. Very tasty.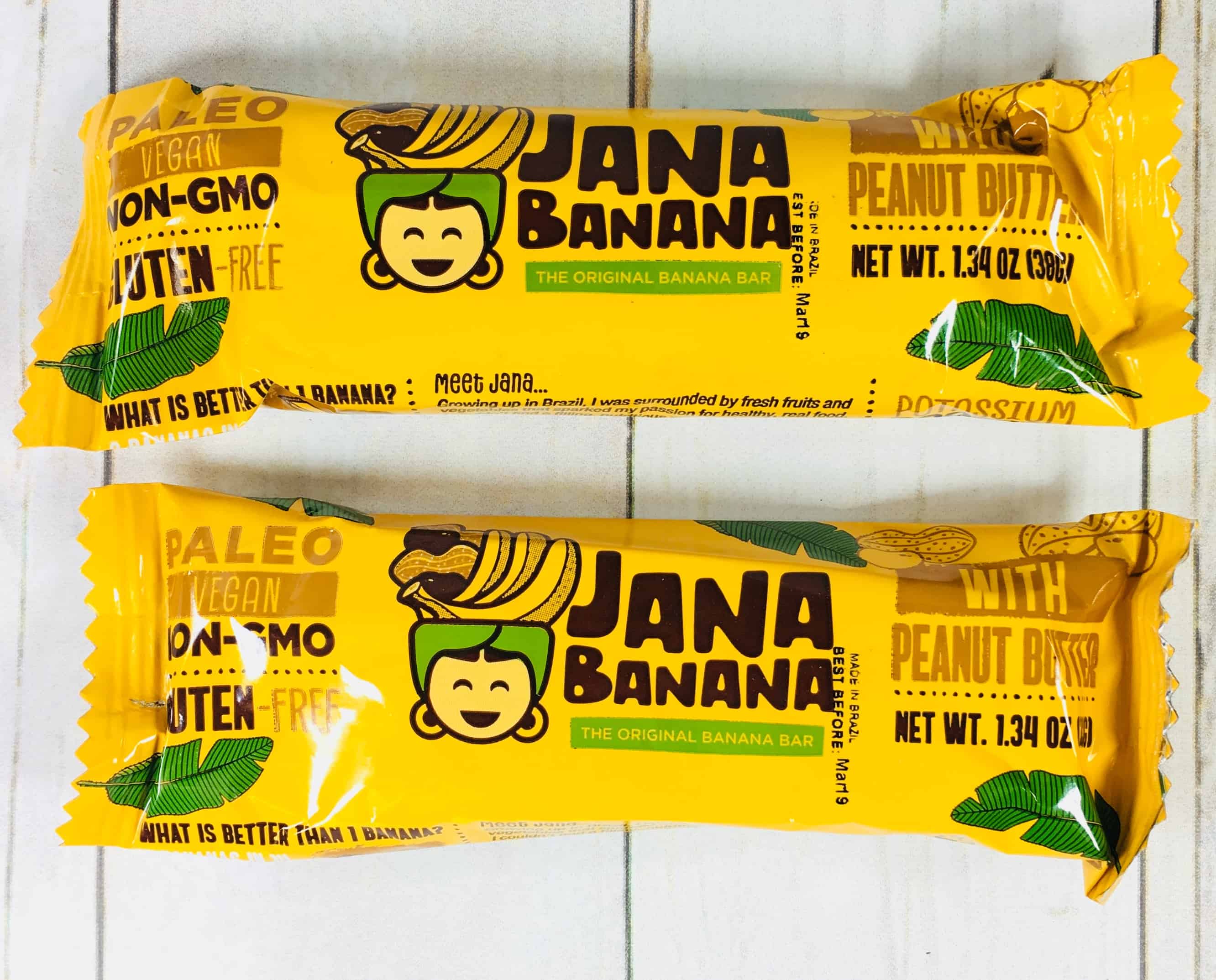 Paleo Vegan Jana Banana Banana Bar With Peanut Butter ($2.32) These are unavailable right now on Amazon, which is too bad because it was delicious!
Sorry about the bad lighting, I was subbing and it was dark in the room. This reminded me of eating banana bread and was so moist and sweet. Sun-ripened bananas are the first ingredient.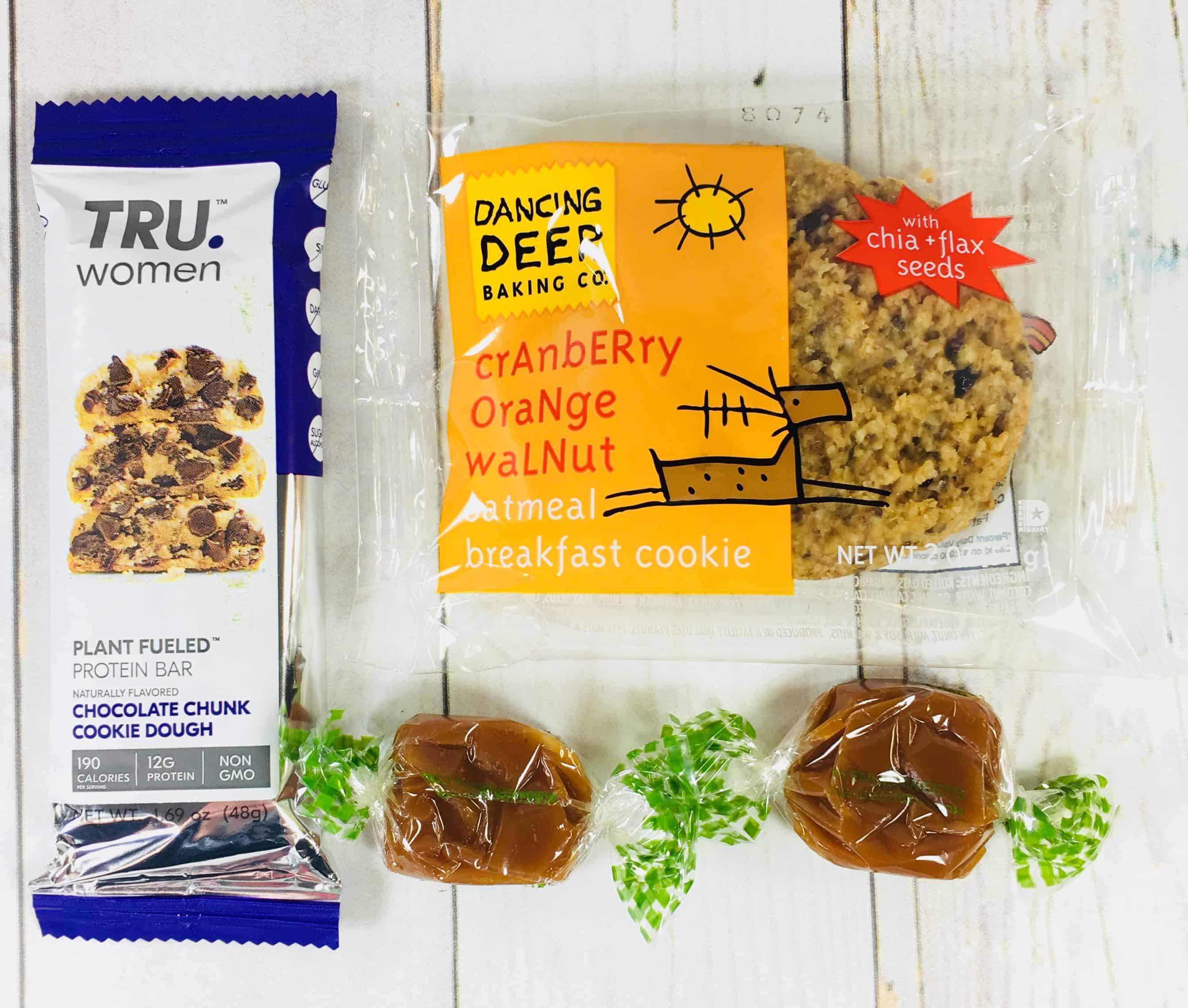 Tru Women Plant Fueled Protein Bar ($2.79) turned into an emergency lunch when I was feeling under the weather and didn't want to cook. It is filled with ingredients I can pronounce, like cassava flour and cashews.
Dancing Deer Baking Co. Cranberry Orange Walnut Oatmeal Breakfast Cookie ($2.08) was very good. It had craisins and a light orange flavor plus crunchy walnuts and chewy pieces of chia.
Avenue Sweets Apple Caramels (80¢) Since having some dental work I've been leery of caramel but I placed a bit in my mouth and let it melt. It had that apple bubble gum sort of flavor and I've never liked apple flavored candies or gum.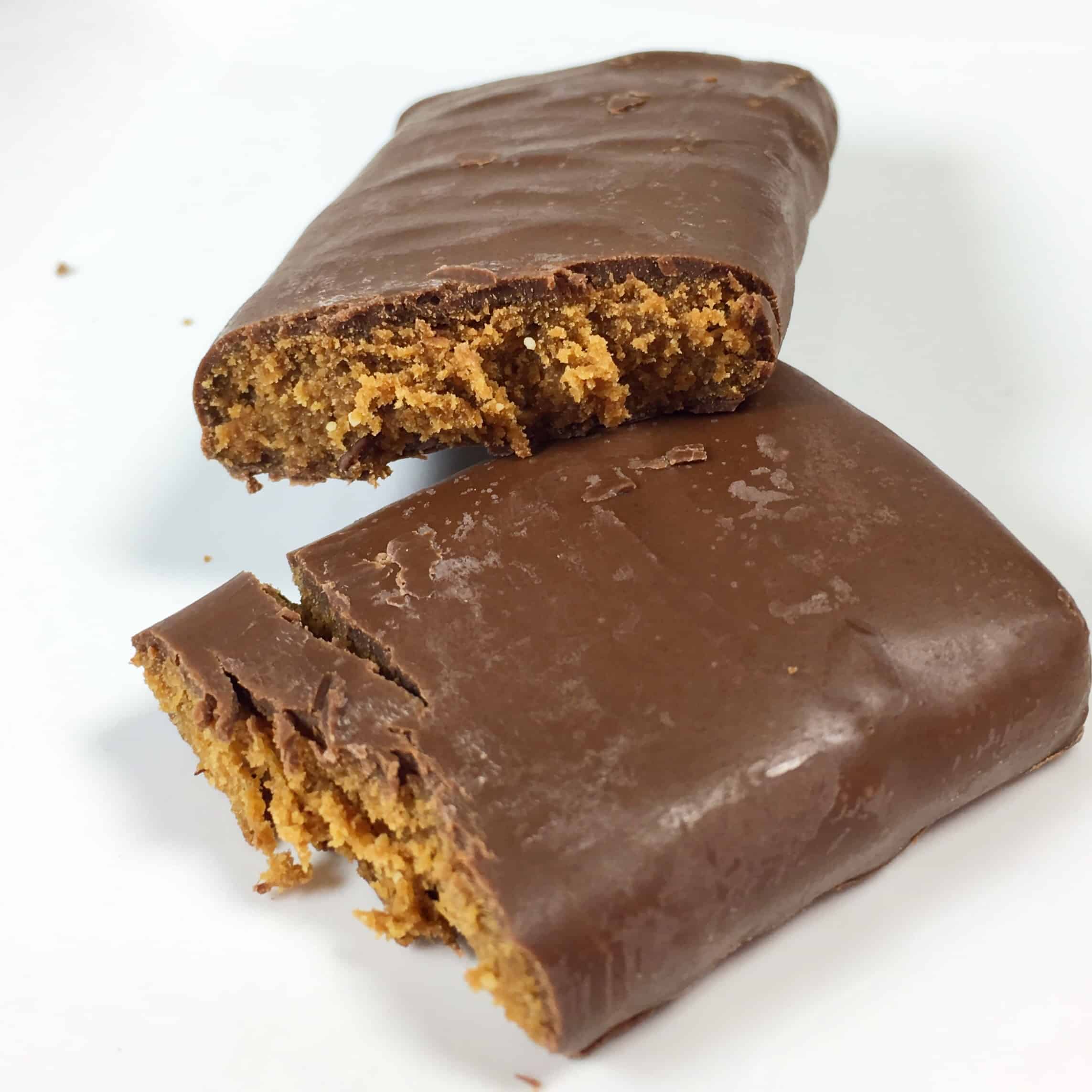 Here's the protein bar. I loved the flavor and the chunks of chocolate inside the bar were perfect. Yum yum!
I need more of these please. They were absolutely delicious!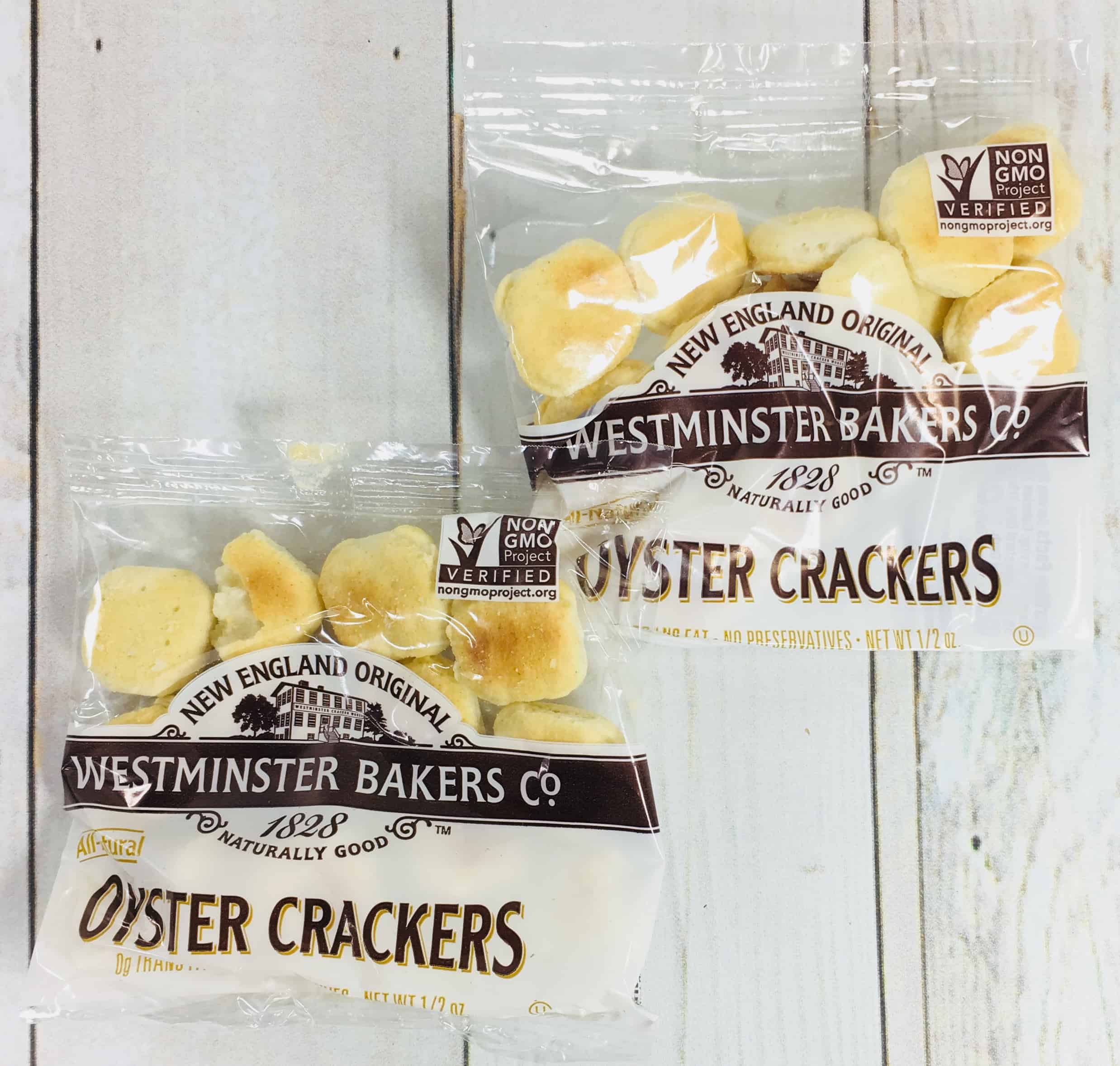 Westminster Bakers Co. Oyster Crackers ($0.40) I think I'll save these for soup night, they are classic oyster crackers.
Torie & Howard Chewie Fruities ($6.09) Here's another one my daughter hid away so I can't find them. They are similar to Starbursts, but even better, because they are flavored and colored naturally rather than with chemicals. They are individually wrapped so you can stick a couple in a lunch bag.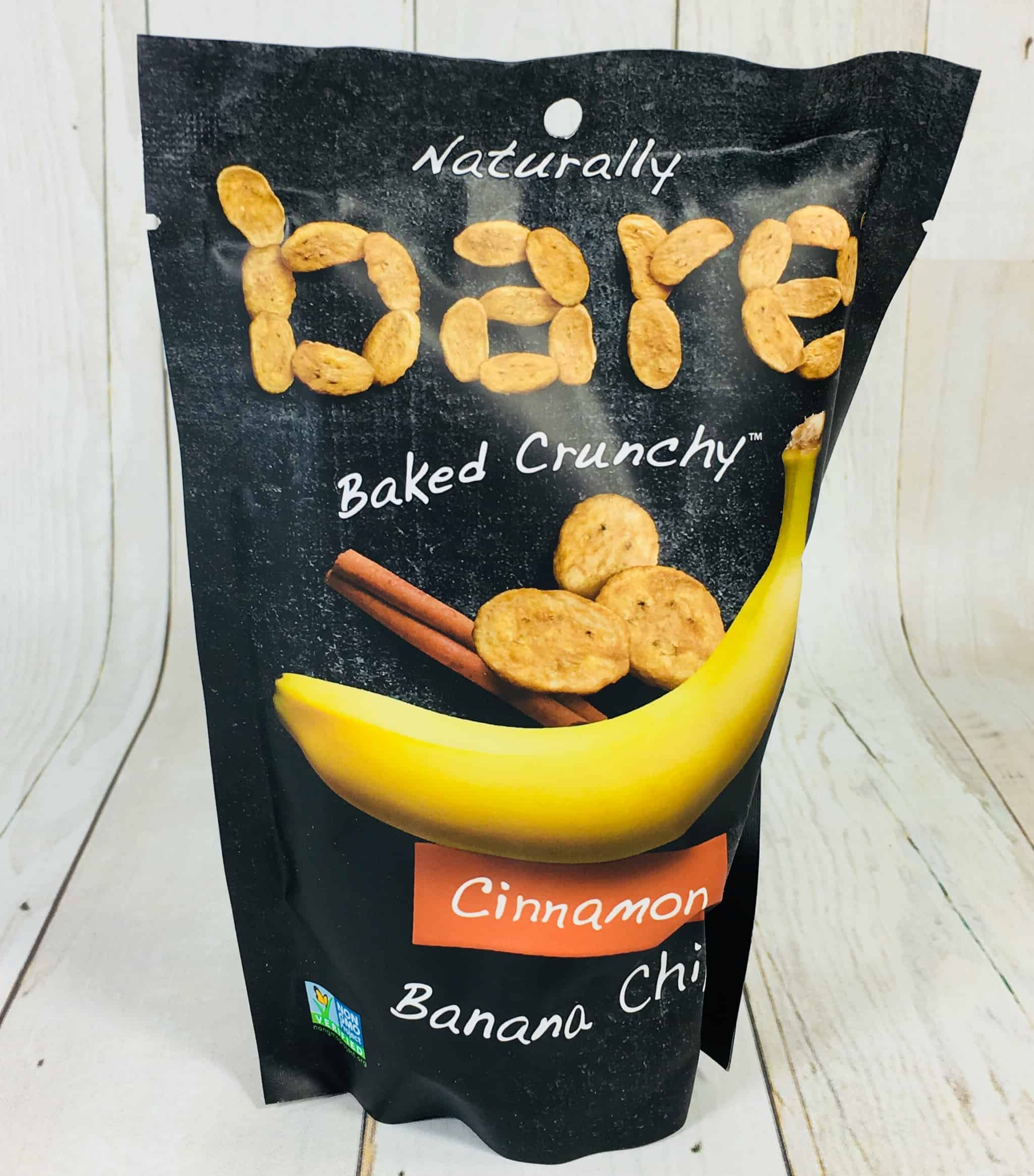 Naturally Bare Baked Crunchy Cinnamon Banana Chips ($5.15) Karina loves fried banana chips but didn't like this healthier alternative. I don't like fried banana chips but did like these!
They are made of only two ingredients – bananas and cinnamon. They are baked instead of fried and have a crunchy texture and are very sweet. The cinnamon keeps it interesting.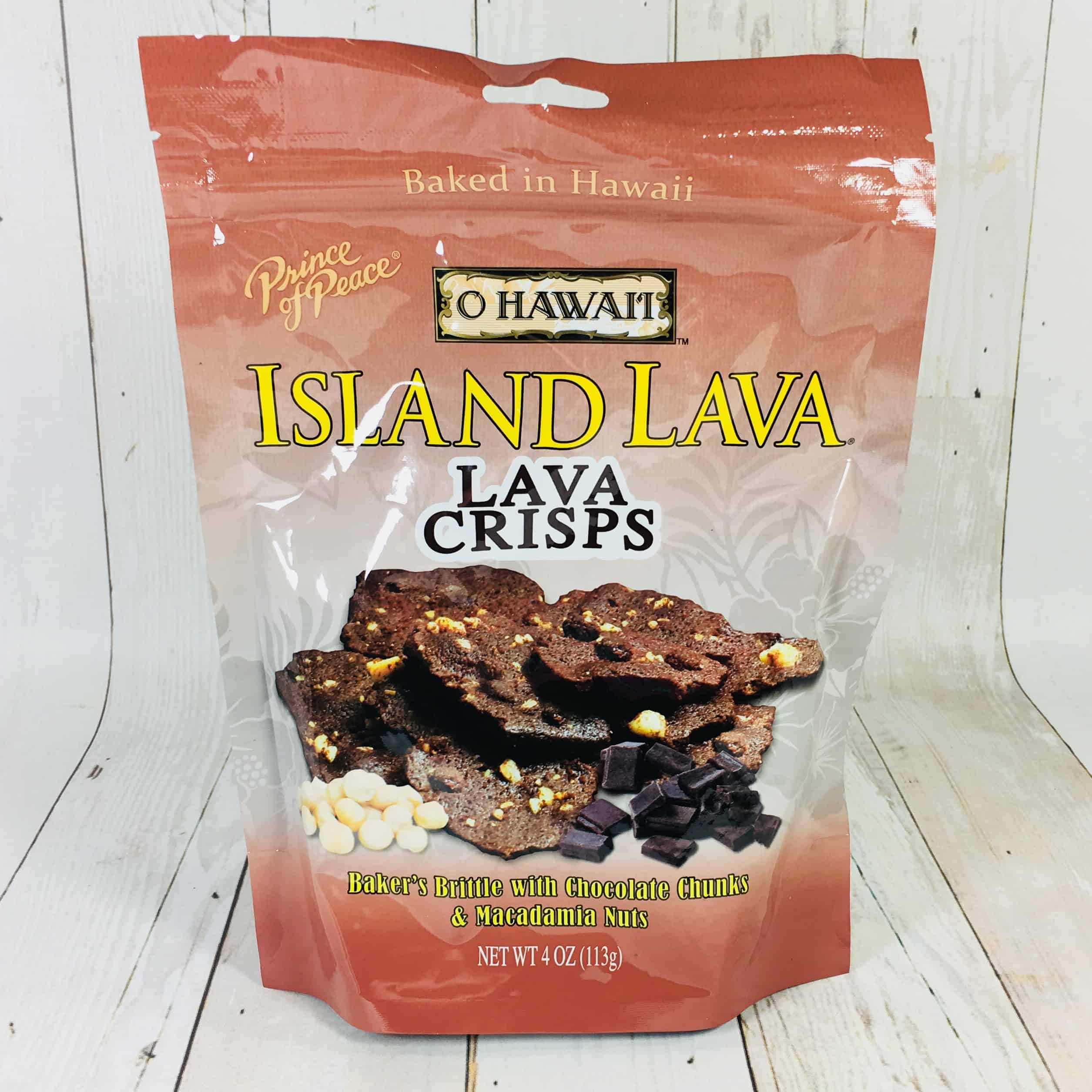 O Hawaii Island Lava Crisps ($5) Here's another one I didn't have to share since my daughter won't eat macadamia nuts. These are like the crunchy edges of a brownie, and are supposed to have brittle and crunchy nuts inside.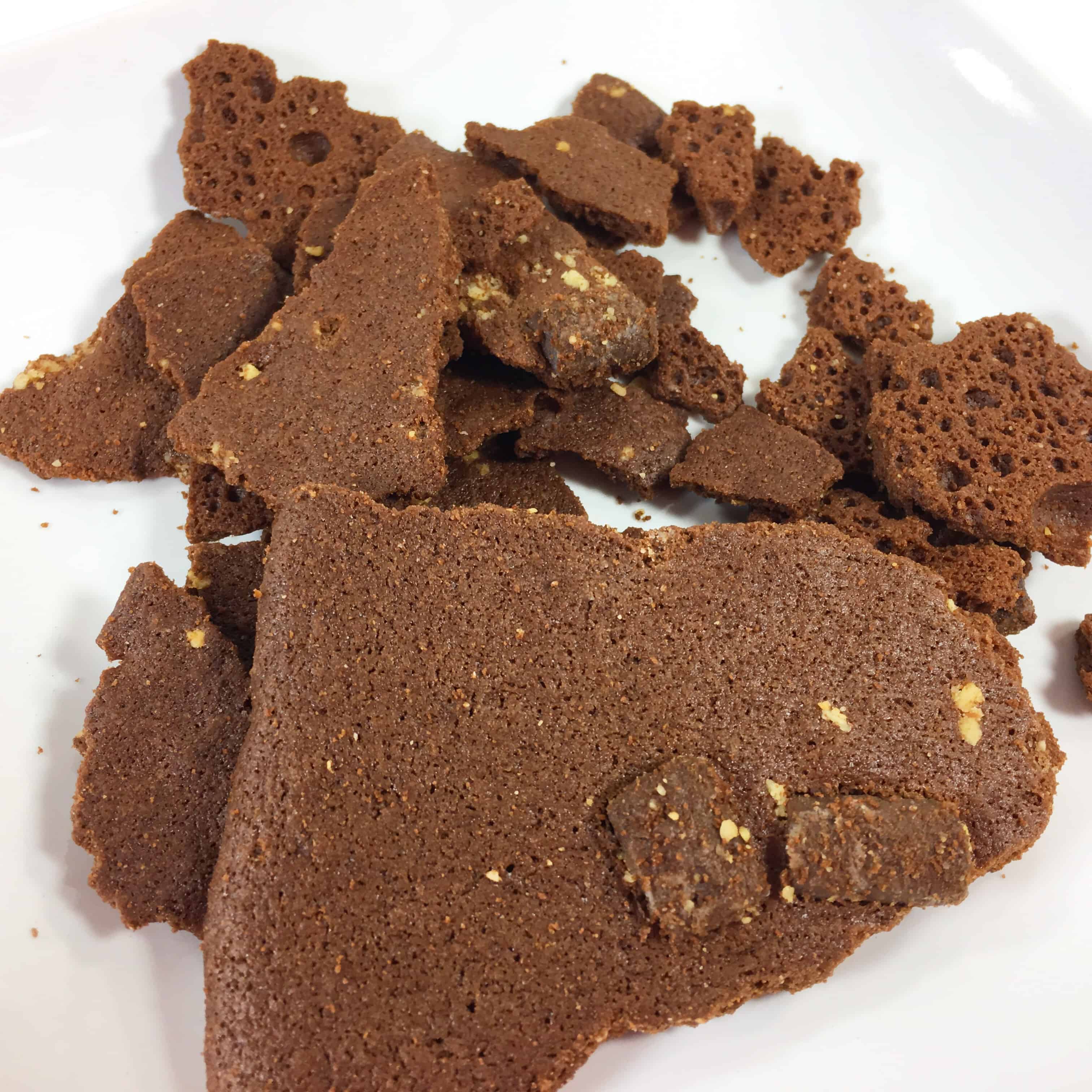 The packaging says "four servings per container" so you would need to use a digital scale to measure out 1 ounce since most of the pieces are small and broken. Also, the amount of nuts in here is minimal. Occasionally I would bite into a chunk of tasty chocolate. Overall, these were very yummy.
I always find mostly hits (and sometimes a miss or two) in my Love With Food Deluxe Box! Luckily, whatever doesn't work for me is usually gobbled up by someone else in the house so it's all good. I liked the variety and of course the convenience is a big plus. I was pleased to find that some of the snacks were hearty enough to stand in for a meal if needed, plus there's a guilty pleasure or two thrown in for fun. I am also happy that I didn't have to look for change for the (expensive) vending machine plus I didn't have to order a case of this or a big bunch of that. I get to try it first and then I can order in bulk if I like it!
What's your favorite snack this month? Tell me what you think in the comments! 
Visit Love with Food to subscribe or find out more.