Lavish Bath Box is a monthly cruelty-free and vegan-friendly bath box. Each box may include a variety of bath bombs, soaps, salts, bubble bars, salts, scrubs, and other items to create that lavish bath. The artisan-made items are either deluxe size or full size.
My box was packed by Jeni this month.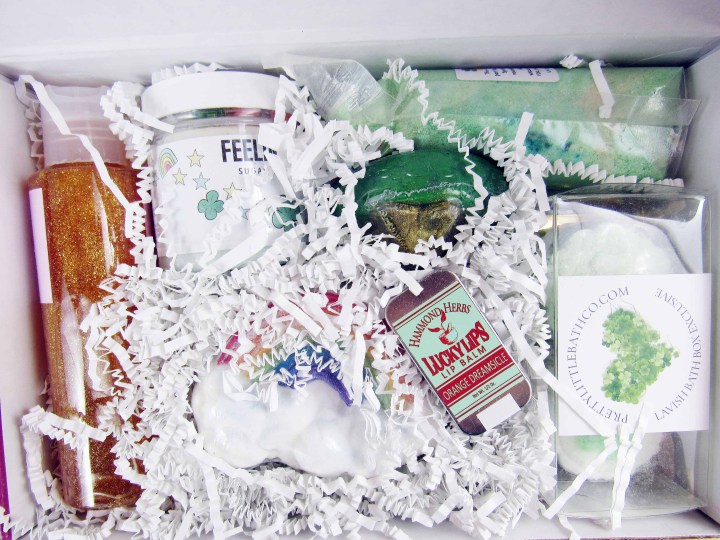 I have a lucky feeling about the March box.
The March Theme is 'Lucky Charm.' J, our nine-year-old son, and I can't wait to see what is in the box.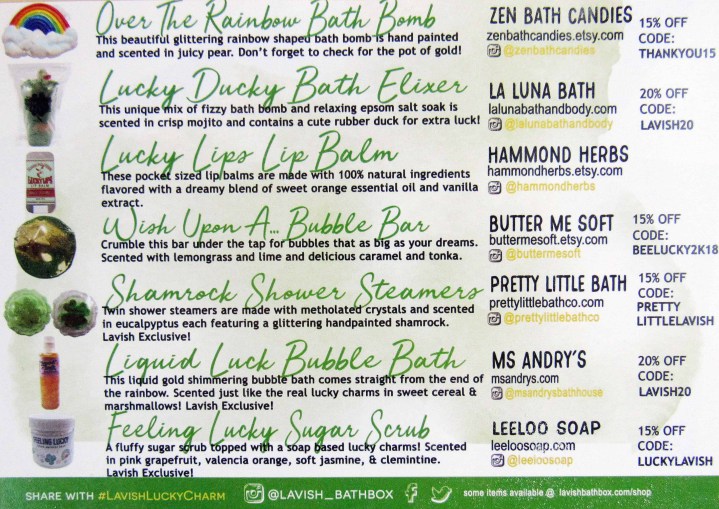 The information card lists the products, descriptions, websites, and coupon codes.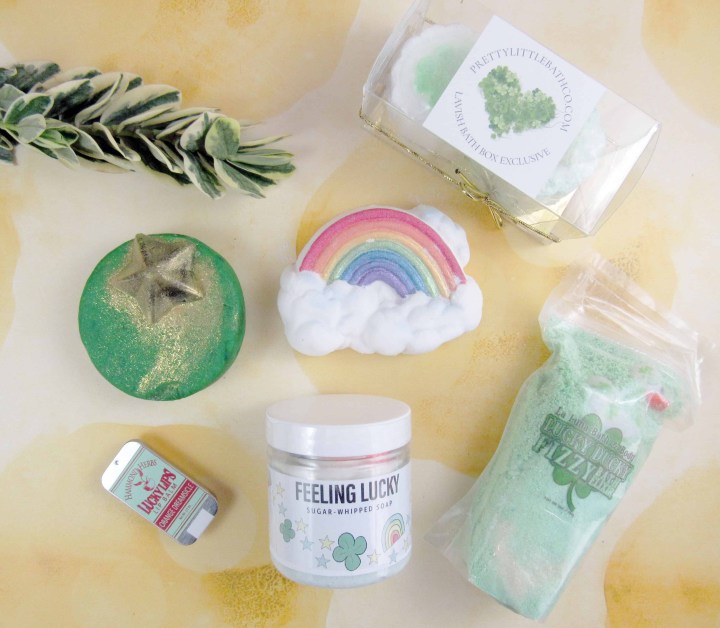 Here are the items in the March Lavish Bath Box. I wonder what hidden treasures are in this box.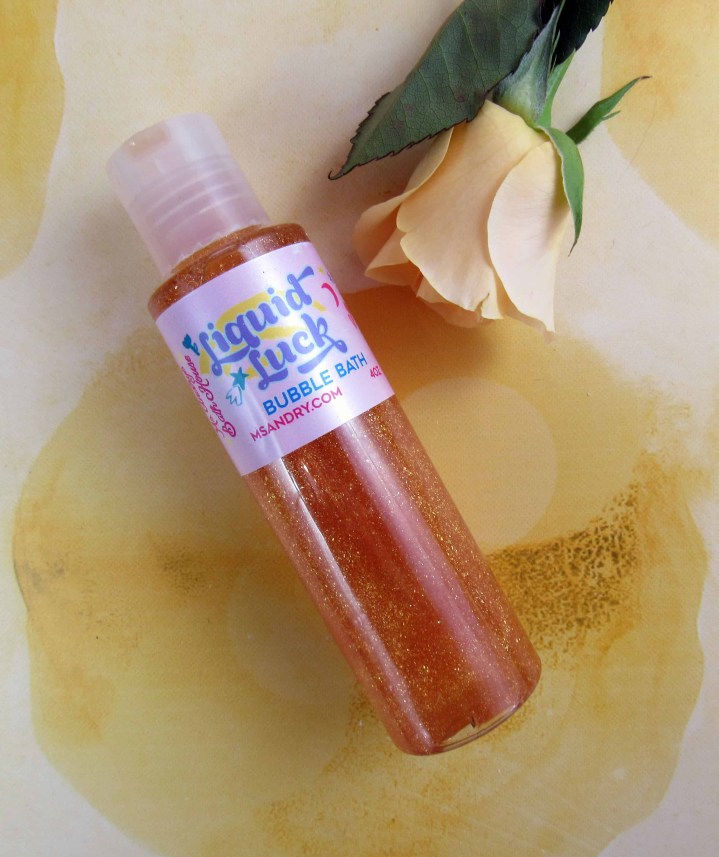 I love how Lavish Bath Box introduces me to interesting companies such as Ms. Andry's Bath House which is a feminist bath and beauty company. The exclusive Ms Andry's Bath House Liquid Luck Bubble Bath (4 oz, appx $8.00) is sparkly and smells deliciously sweet.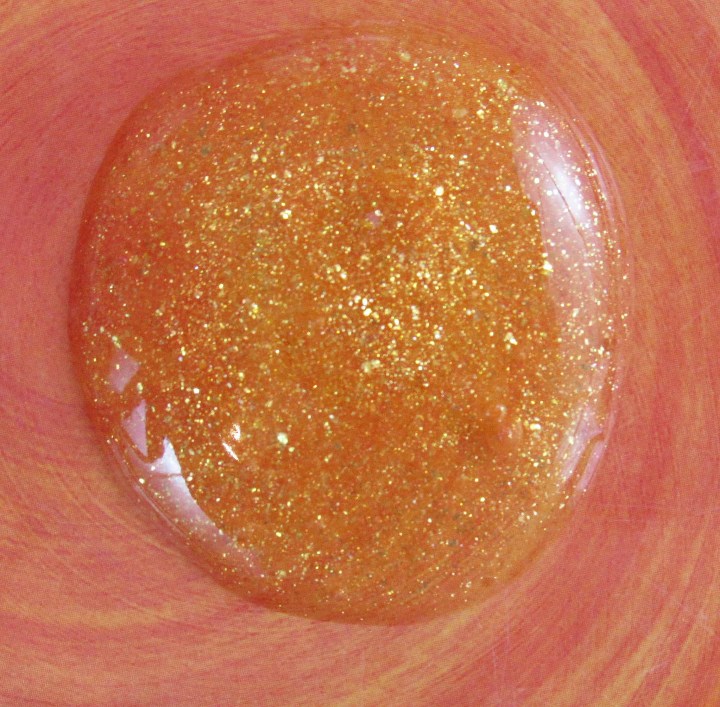 The deliciously sweet scent is the same scent as the lucky charms in a well-known cereal, and the scent is exclusive to Lavish Bath Box.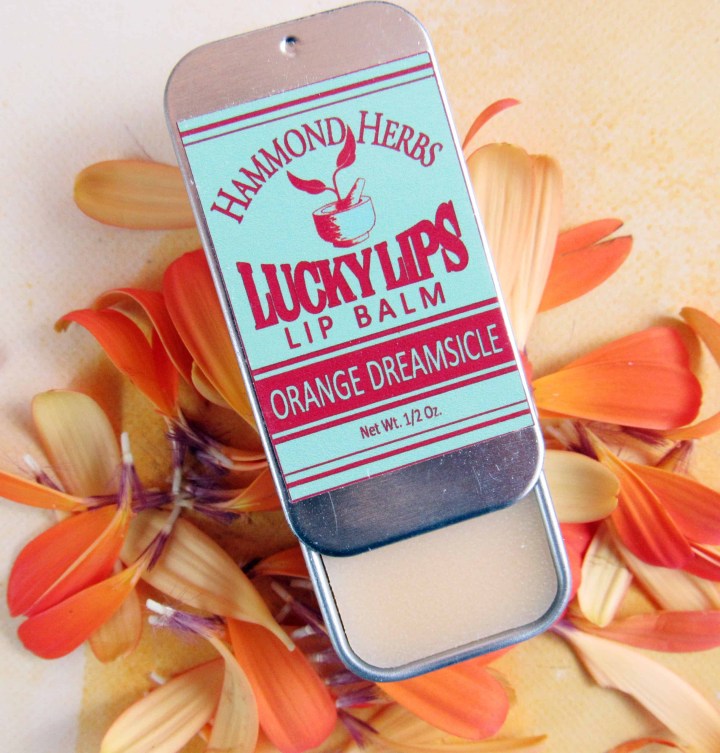 The Made in the USA Hammond Herbs LuckyLips Lip Balm in Orange Dreamsicle (0.5 oz, $3.50)  is what my family needs with winter lasting forever! The balm, created by herbal enthusiasts, has a delightful scent of sweet orange essential oil and vanilla extract. It also has non-GMO vitamin E which thrilled me. I will be keeping the LuckyLips in my purse.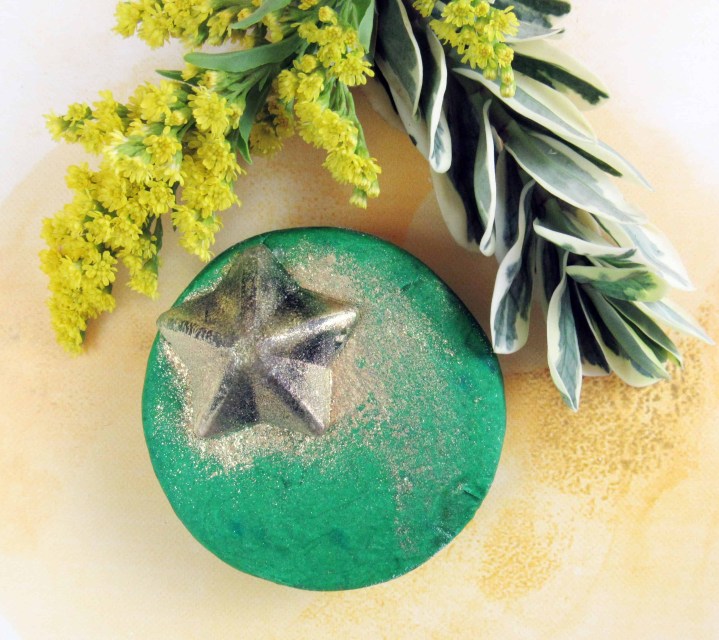 The stunning Wish Upon A Bubble Bar by Butter Me Soft (4 oz, $6.50) brings the luck of the Irish with bubbles and green waters. The complex scent starts off as lemongrass and lime and dies down to caramel and tonka.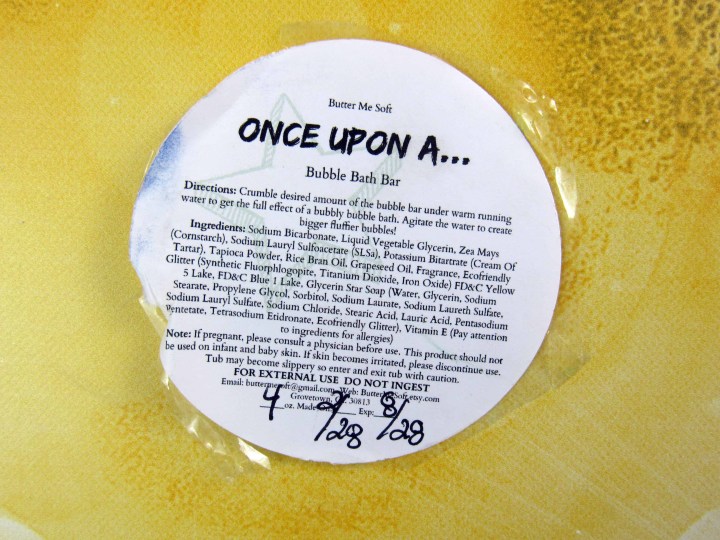 J, our nine-year-old son, automatically claims all bubble bars. This bar will last him three baths. I like that they list the made and expiration date on the label.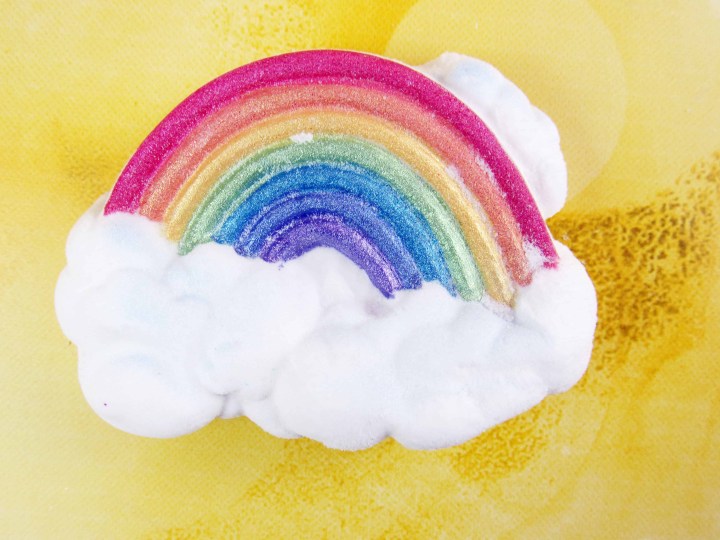 I'm in love! The Made in the USA Over the Rainbow Bath Bomb by Zen Bath Candies (4.5 oz, appx $5.99) is a work of art.
I reluctantly allowed my son to use it because it creates a rainbow!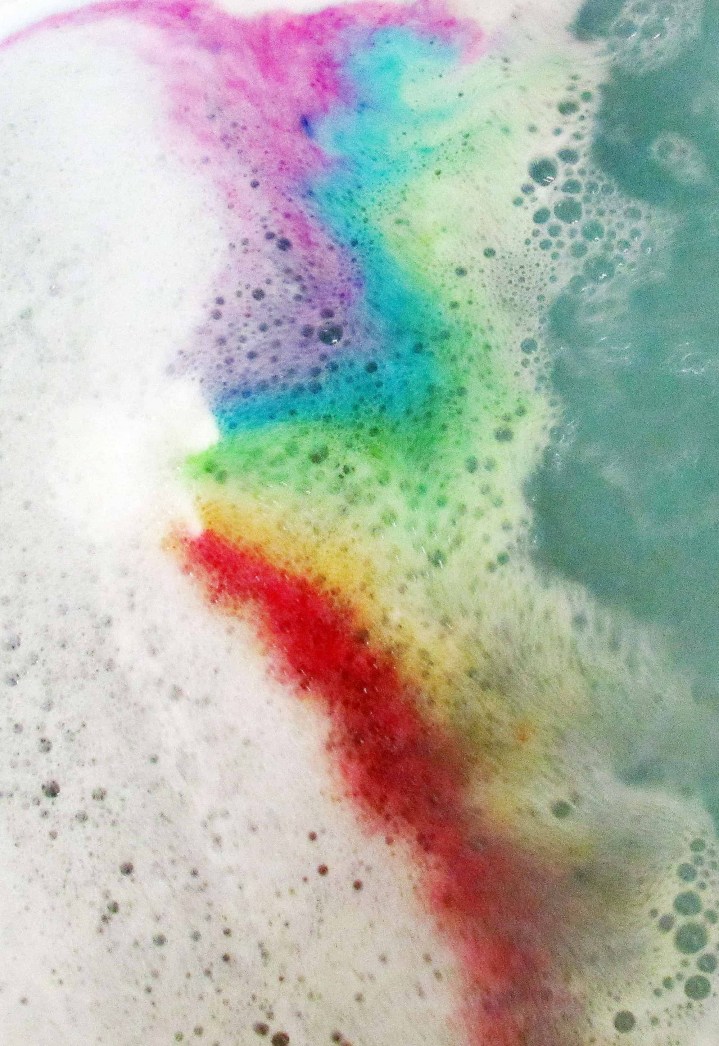 J was amazed! I do think the rainbow would have been more dramatic if I held the bath bomb under the faucet.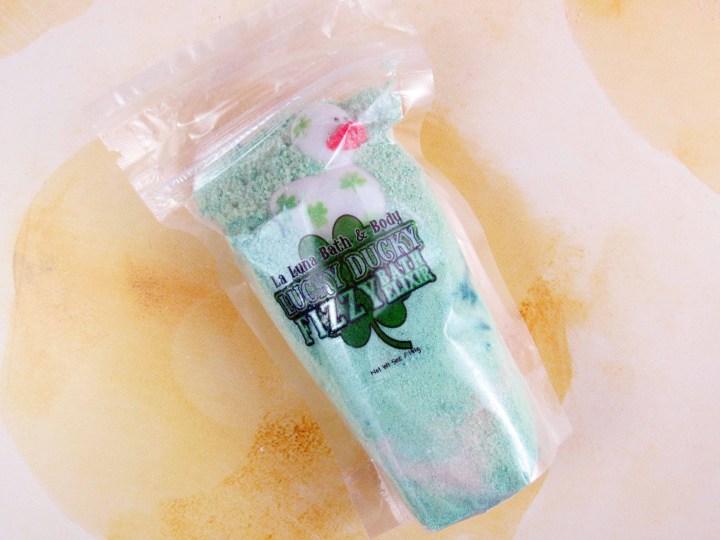 There's a treasure hiding in the Made in the USA La Luna Bath & Body Fizzy Bath Elixir (5 oz, appx $10.00.) The part fizzy bath bomb and part epsom soak created a relaxing mojito scented bath.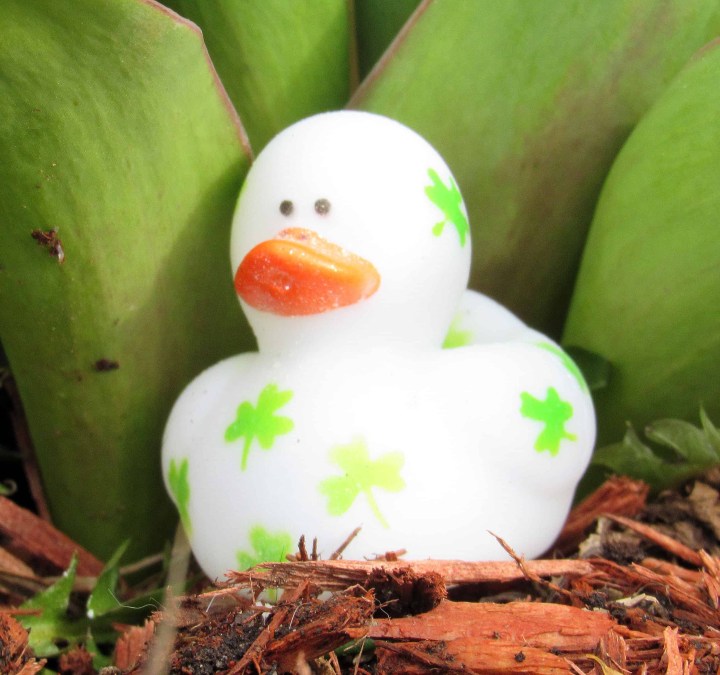 Alas, the Lucky Duck was not to be mine for long. After visiting the tulips, he joined the flock of rubber duckies that belong to J.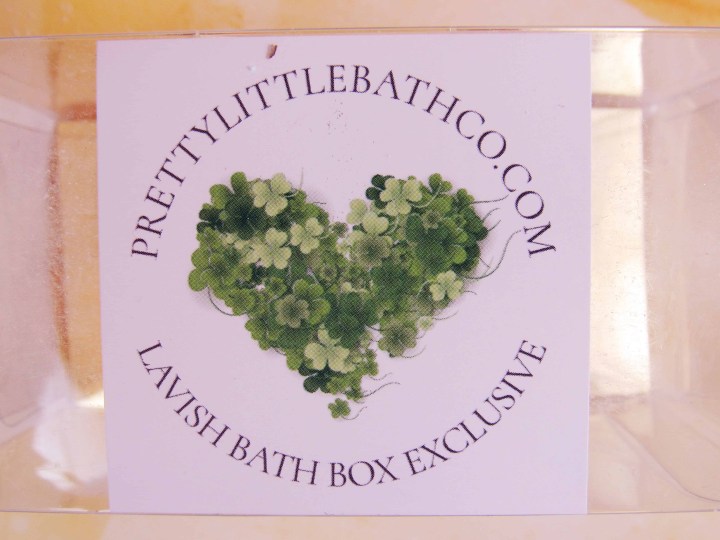 I'm excited about the Lavish Bath Box Exclusive by the Pretty Little Bath Co.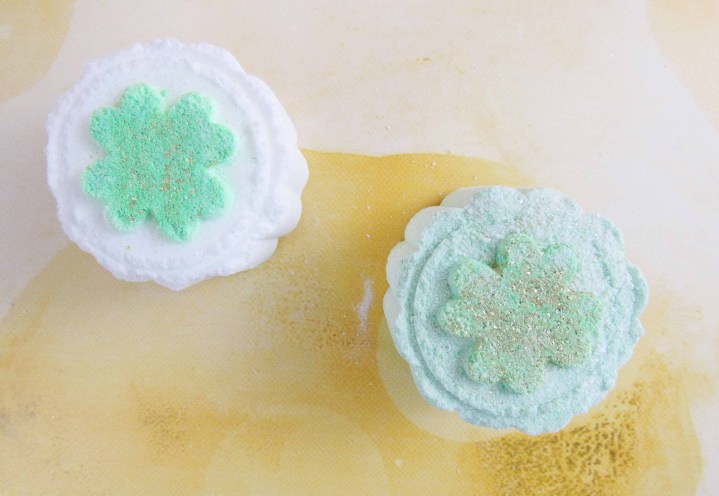 The Shamrock Shower Steamers (2 steamers, appx $7.00 total) are eucalyptus scented which are my favorite kind to use when experiencing allergies or sinus issues.
Be sure to keep them out of the path of direct water. Otherwise, they will dissolve quickly. I hope to see more shower steamers in Lavish Bath. They are rare in the subscription box world.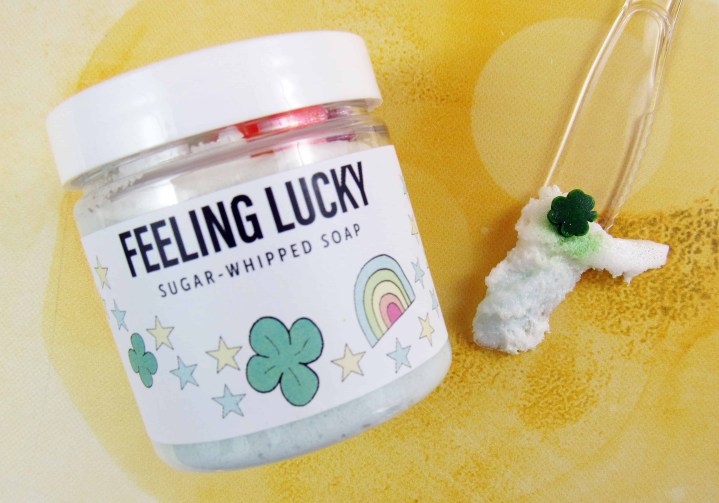 I am feeling lucky that there is a shamrock in my Made in the USA LeeLooSoap's Feeling Lucky Sugar Whipped Soap (4 oz, appx $15.00). The exclusive to Lavish Bath Box scrub has a citrus-scented blend of pink grapefruit, Valencia orange, soft jasmine, and clementine.
The exfoliating scrub has a bit of scrubbing power thanks to the sugar whipped soap. The lucky charms are made out of soap!
The March Lavish Bath Box was full of lucky charm for us. We enjoyed the creative bath, shower, and body products by the artisans featured in the March Box. I love that the cruelty-free box works with small companies in creating exclusives and featuring their products. It is an excellent box for those that want a beautifully curated themed natural bath box.
Did you like this month's box as much as we did? Let us know in the comments!