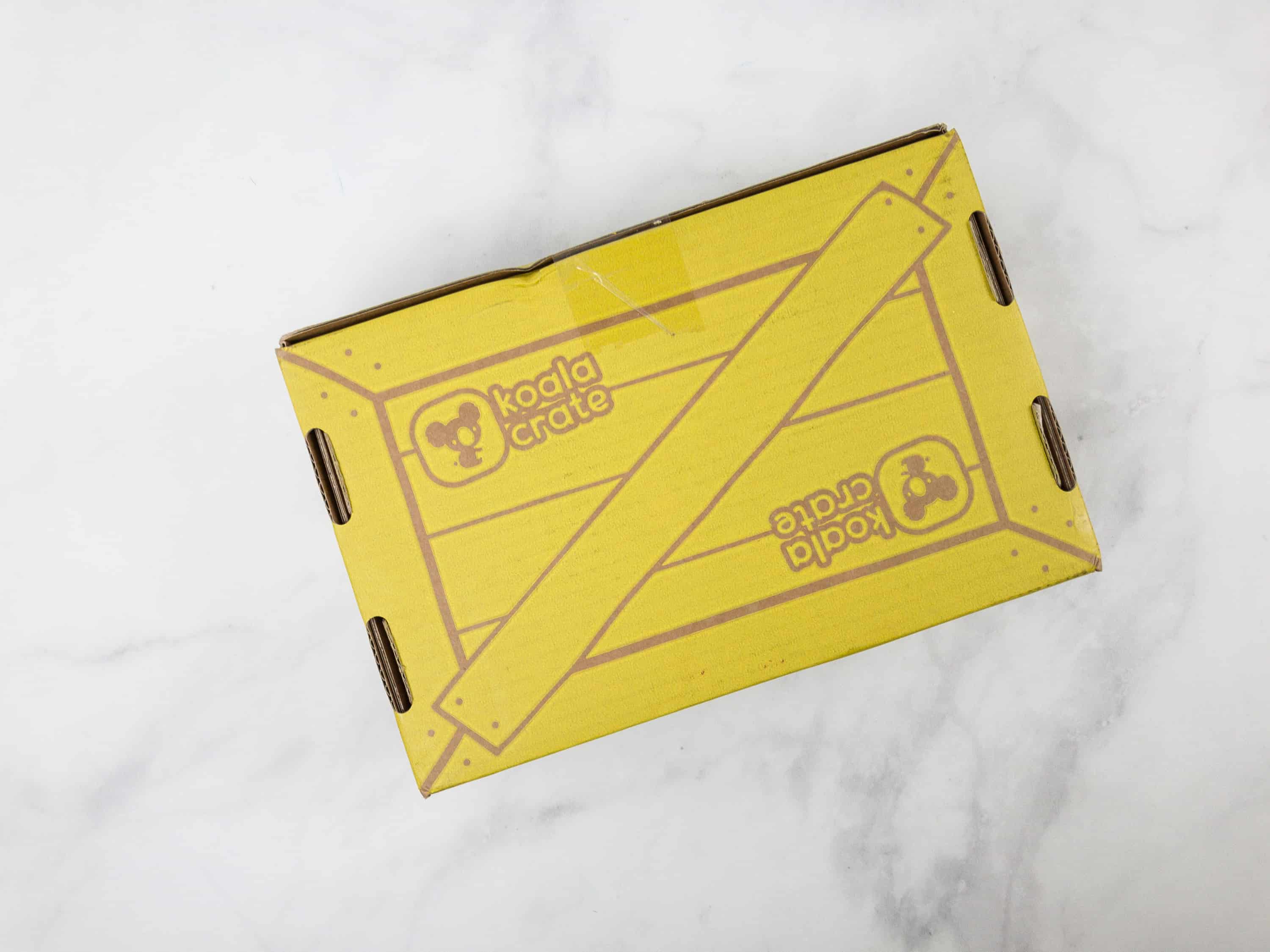 Koala Crate is a monthly subscription box from KiwiCo for preschoolers ages 3 to 5. It is educational and always hands-on. The activities are designed to be developmentally appropriate and enriching while also keeping it engaging, fun, and universally-appealing.
This month's Koala Crate theme was SNOW! As always, the box comes with all the supplies needed to create a trio of fun, age-appropriate crafts — plus it has a magazine with extra games and activities!
There are two books that will come in your Koala Crate. imagine! magazine is "a play and learn magazine" made for you and your preschooler to explore together. My son loves it! I like that the instruction booklet is separate from the magazine, so you can preview the activity while your child works on the activities in the booklet.
Imagine! Magazine
Imagine! magazine contains information relevant to the theme so your child learns a bit about the topic while having fun with the craft and play activities. The information is provided in an age-appropriate format and always feels like a game, not schoolwork.
DEAL: Use this link to save 30% on your first month of Koala Crate! (or any of the KiwiCo family subscriptions – use this page to find the best box for your little one!).
A fun story introduces your child to the theme of the box. The same group of friendly characters is featured each month, and the familiar faces encourage engagement.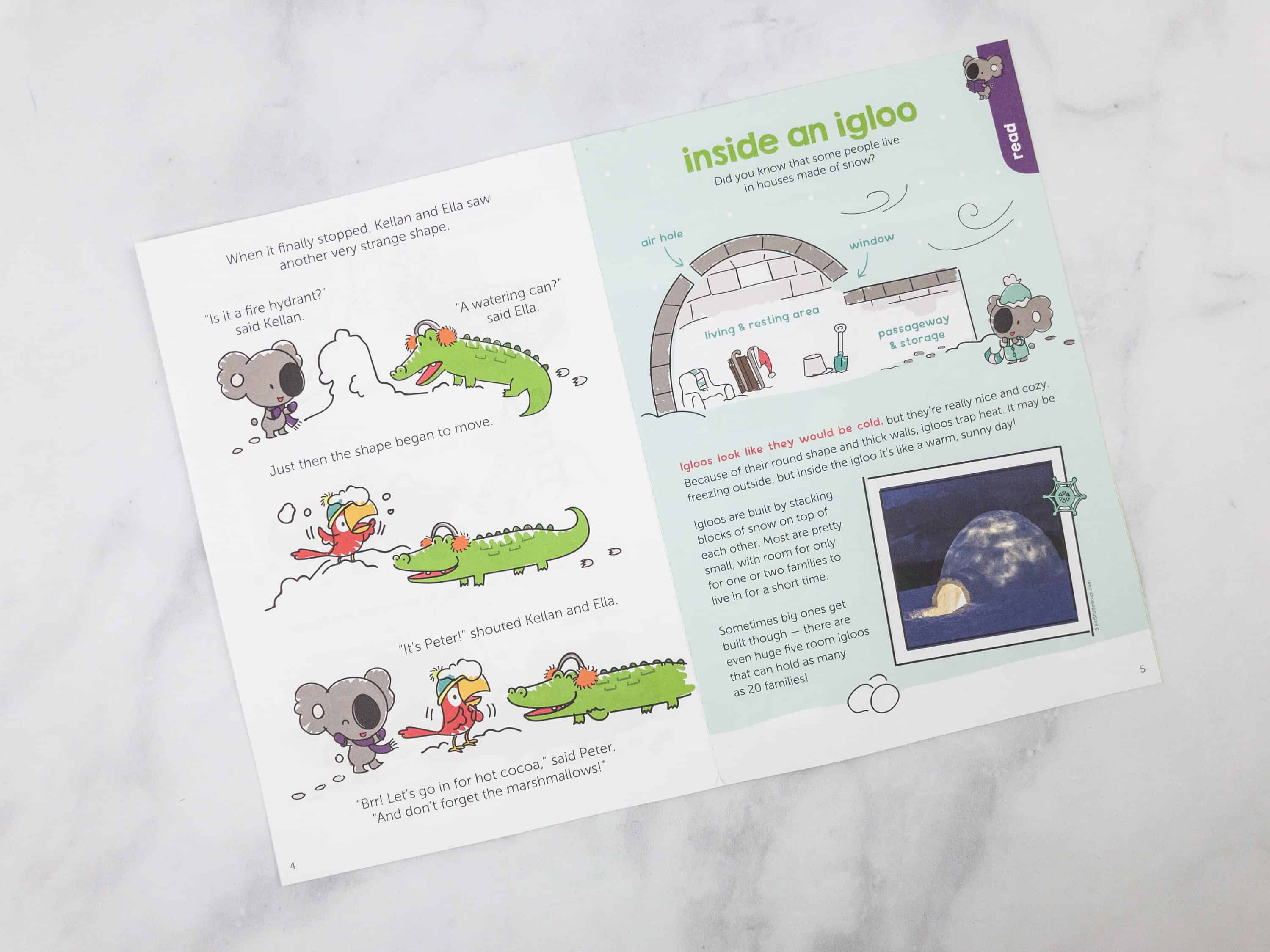 Your kids will always learn a little bit about the top beyond the projects, as imagine! provides some background – at least enough to provide some context and tie the cartoon in with the projects.
In addition to the main projects, there are several games and activities in imagine! magazine. Activities usually include tracing, matching, picture finds, or word recognition games.
Koala Crate Crafts
The instruction booklet is intended for the adult helper and gives detailed instructions for the activity.
It lists all the supplies, the 3 primary activities, the messiness level, and any grownup assistance needed. They've recently added some additional symbols denoting the developmental skills practiced in doing the activity, such as fine or gross motor skills, creativity, etc.
Every activity tells you the required materials, engagement questions to ask your child, step by step instructions, and play ideas. Though most crafts are self-explanatory, they have helpful illustrations and clear instructions, so it's hard to go wrong.
This Crate is a good example of how Koala Crate treats a theme. They build multiple activities around it, giving your child lots to do while remaining immersed in the topic. It makes it easy for caregivers to transition the child from one activity to the next without interruption, but it also creates breakpoints for spreading the Crate across a few crafting sessions. This set of activities required some waiting time for ice to freeze in the freezer and for some modeling compound to dry, so it made sense to spread it out over multiple sessions. When you are done crafting, your child has always learned something and has fun stuff to play with.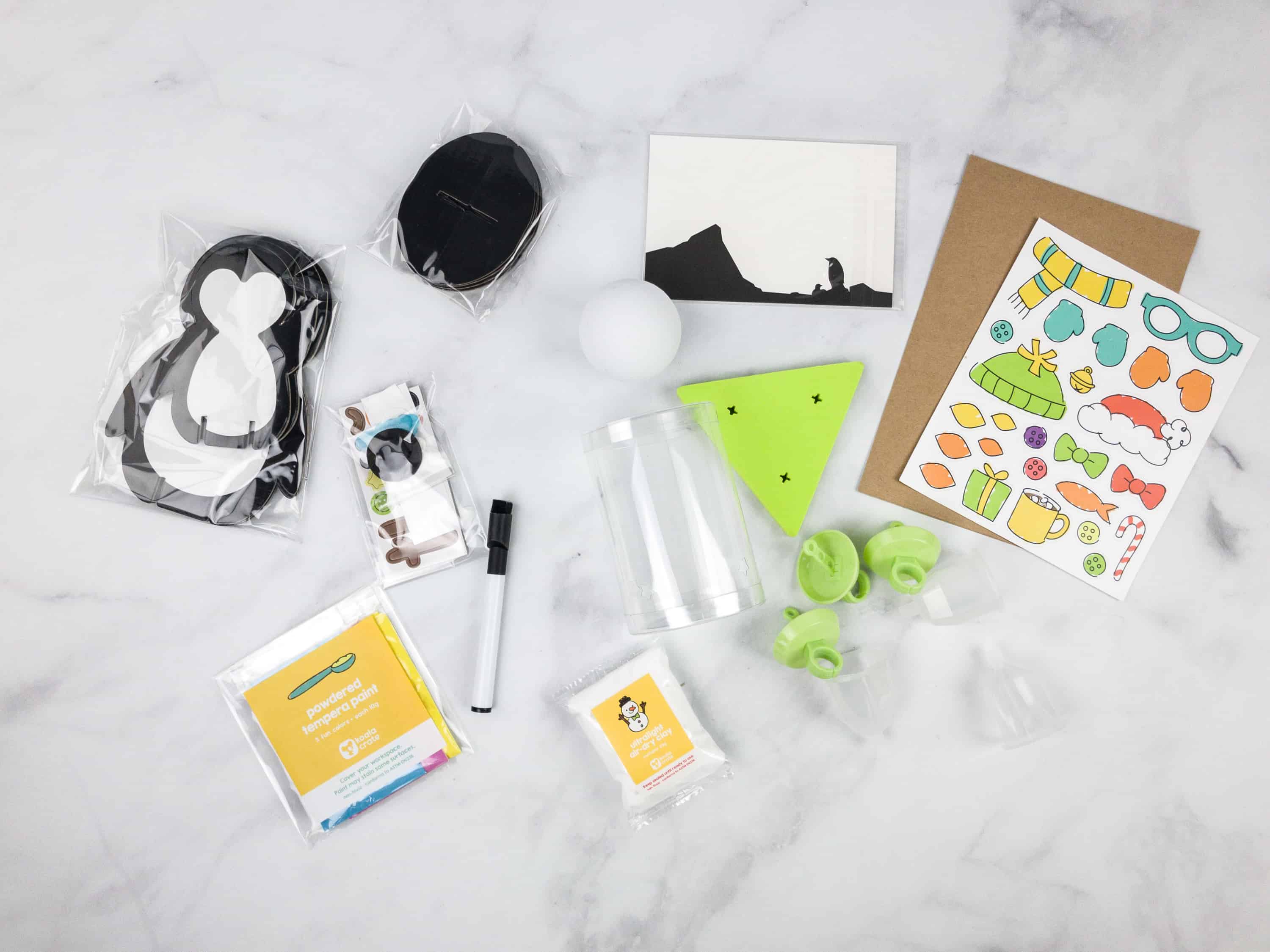 All the materials you'll need to make this month's activities! The activities in a box usually all relate to the same central theme, but they each tend to encourage different types of play and help develop different skills.
Ice Painting Postcards.
First, we need some coloring tools, so we set up the ice molds into the foam base and then filled them with paint powder.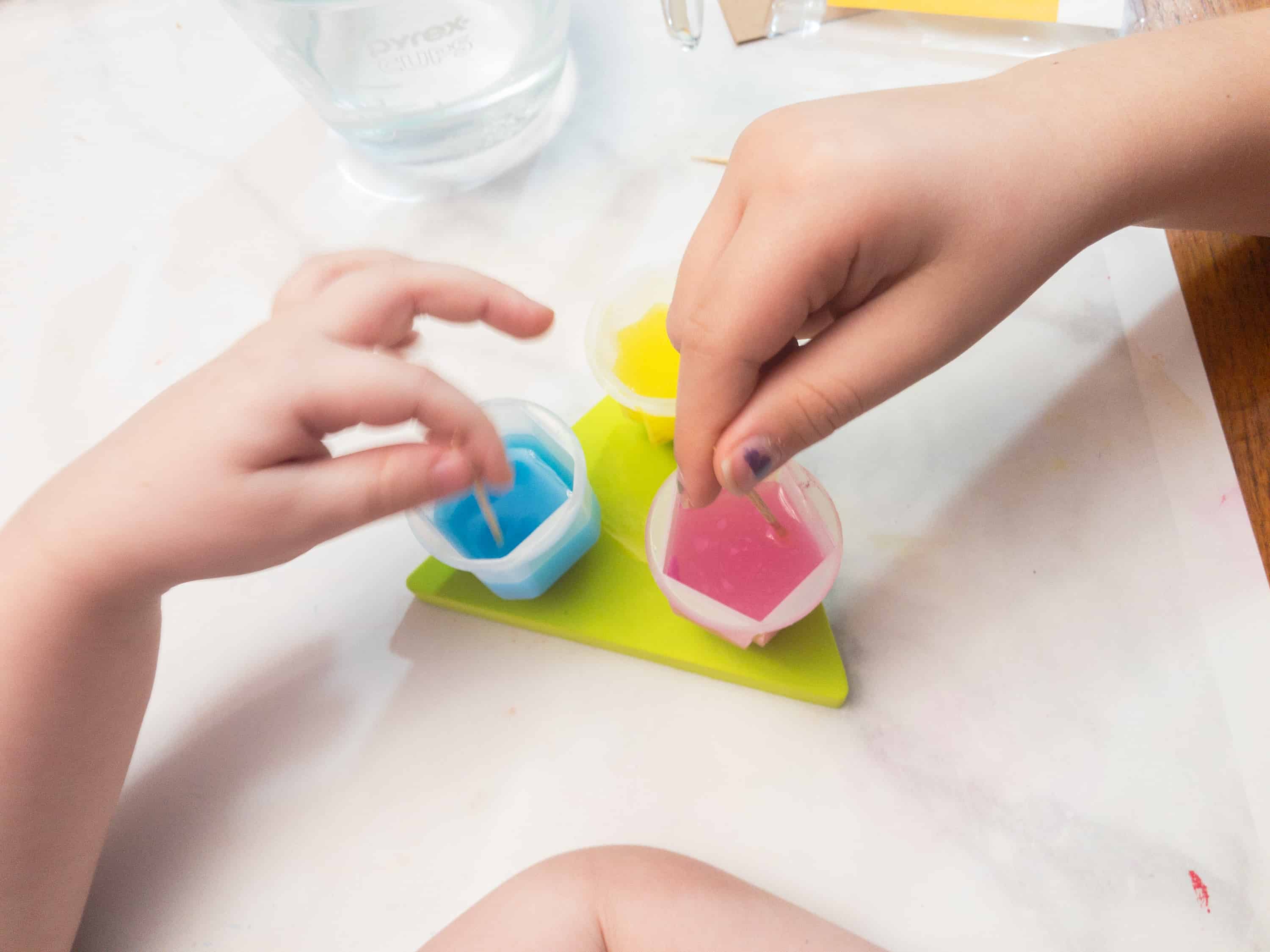 We got three colors of painting powder: red, blue, and yellow.
Our mixed paint went into the freezer overnight – just like making popsicles. We let them set out for a few minutes to loosen in their molds, then we were ready to paint our postcards. The stand was really helpful for limiting the mess during this activity, because my son could set the popsicle paints back in the mold when changing colors.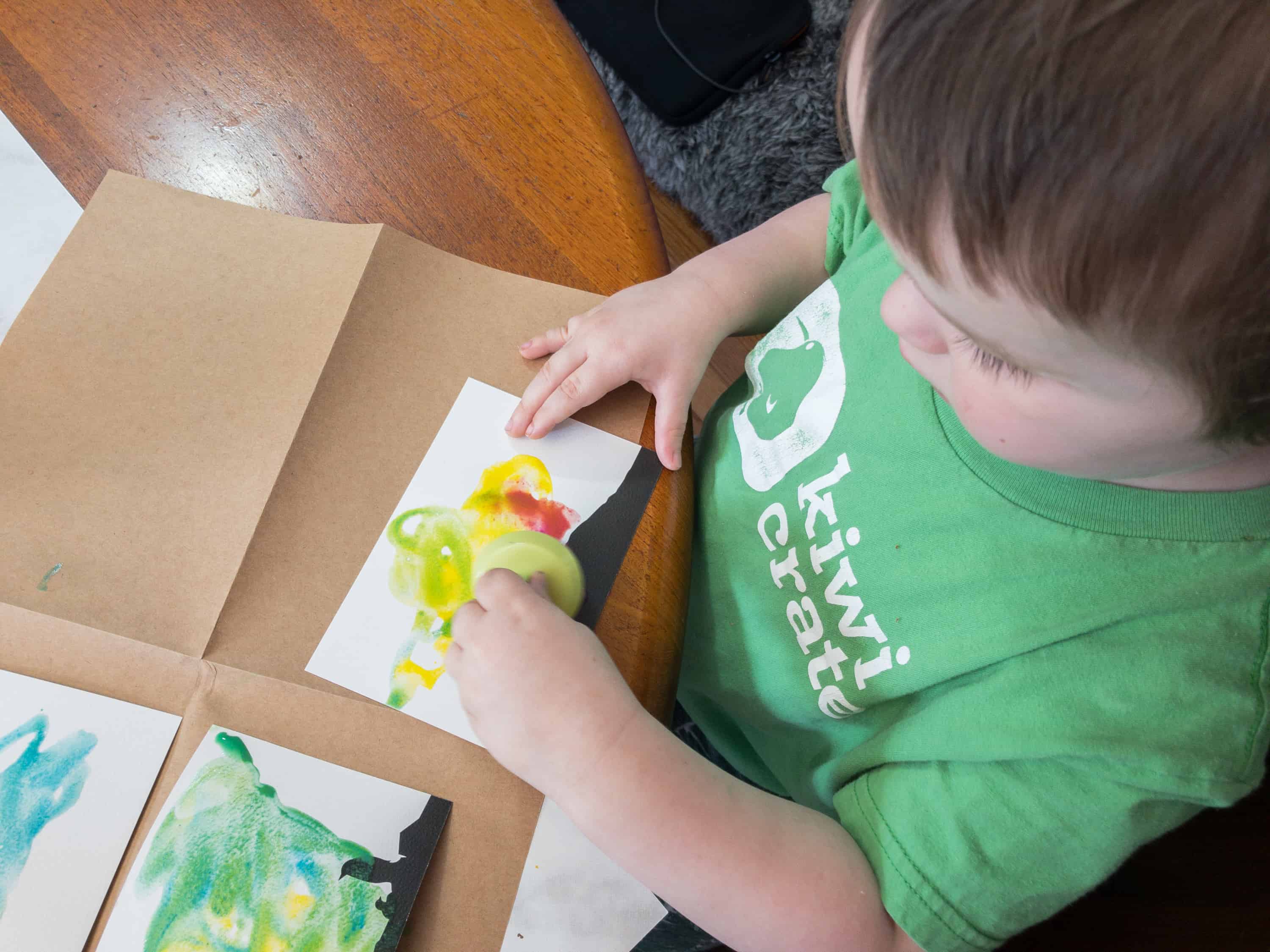 The crate included one blank postcard and two with arctic silhouettes.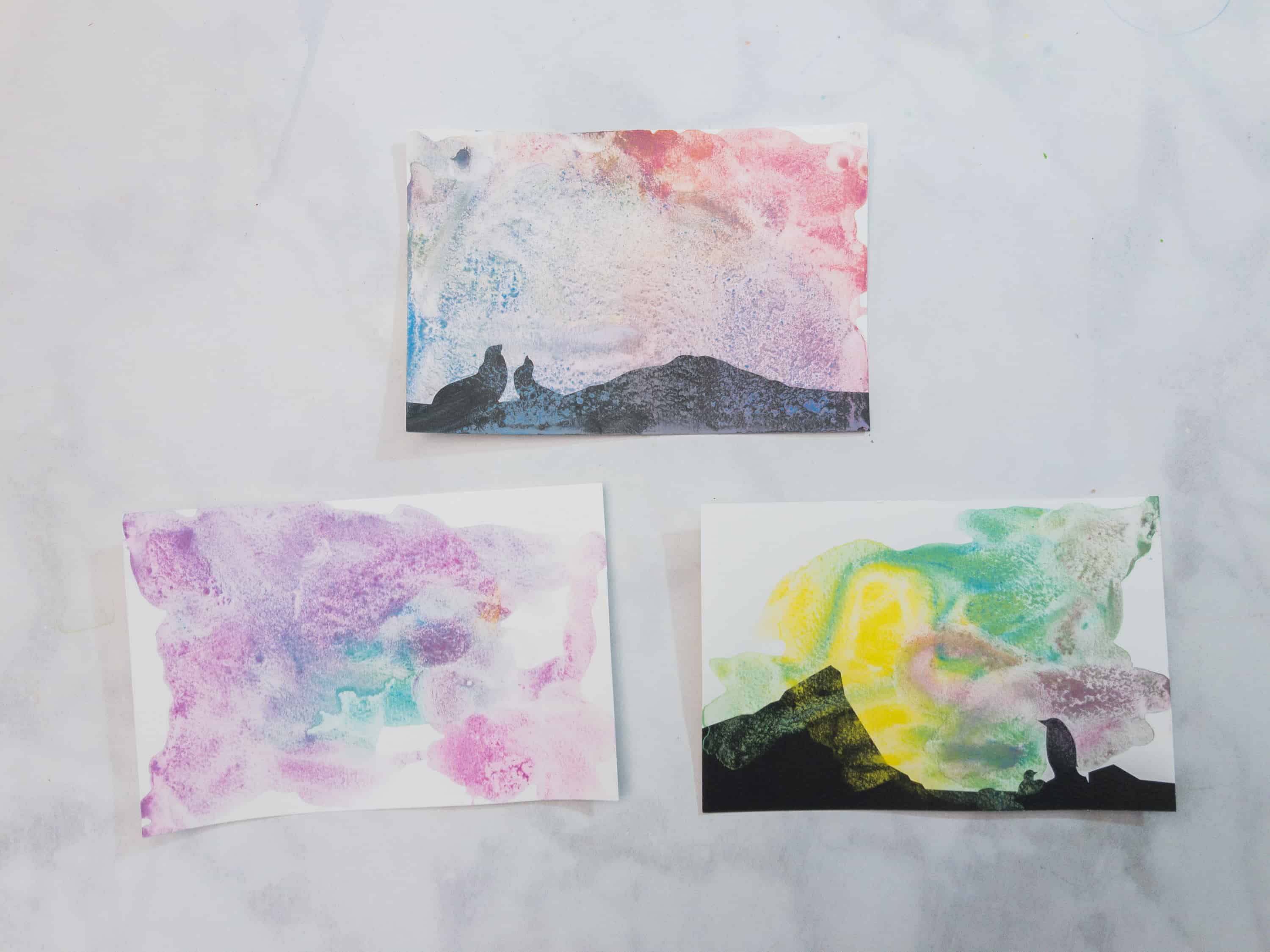 The melting paint pops blended together in a very cool watercolor fashion, creating an Aurora Australis scene.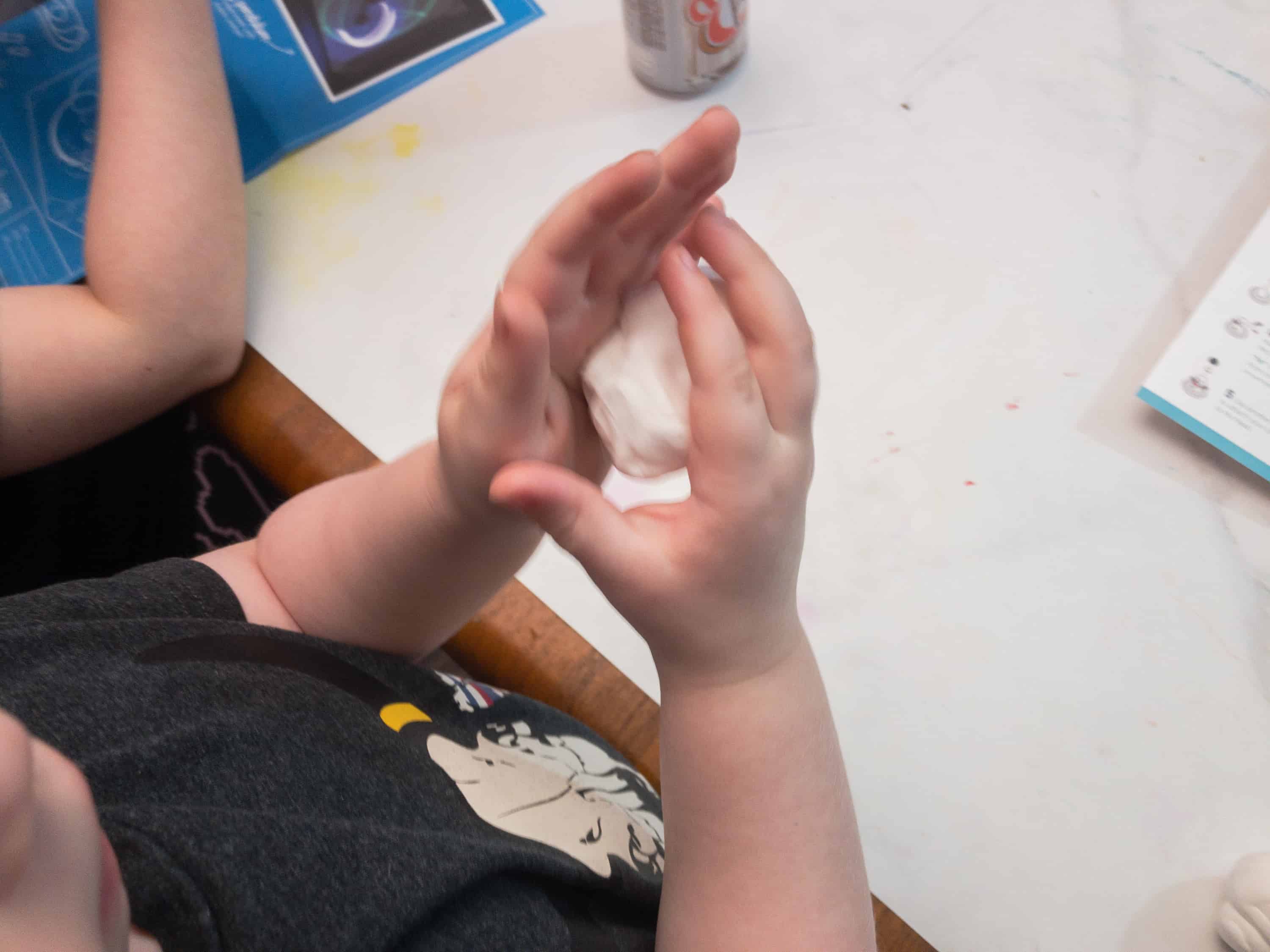 Snow Globe. My son started molding the air-dry clay to make the snow man.
Then, he started sticking the details on the mold.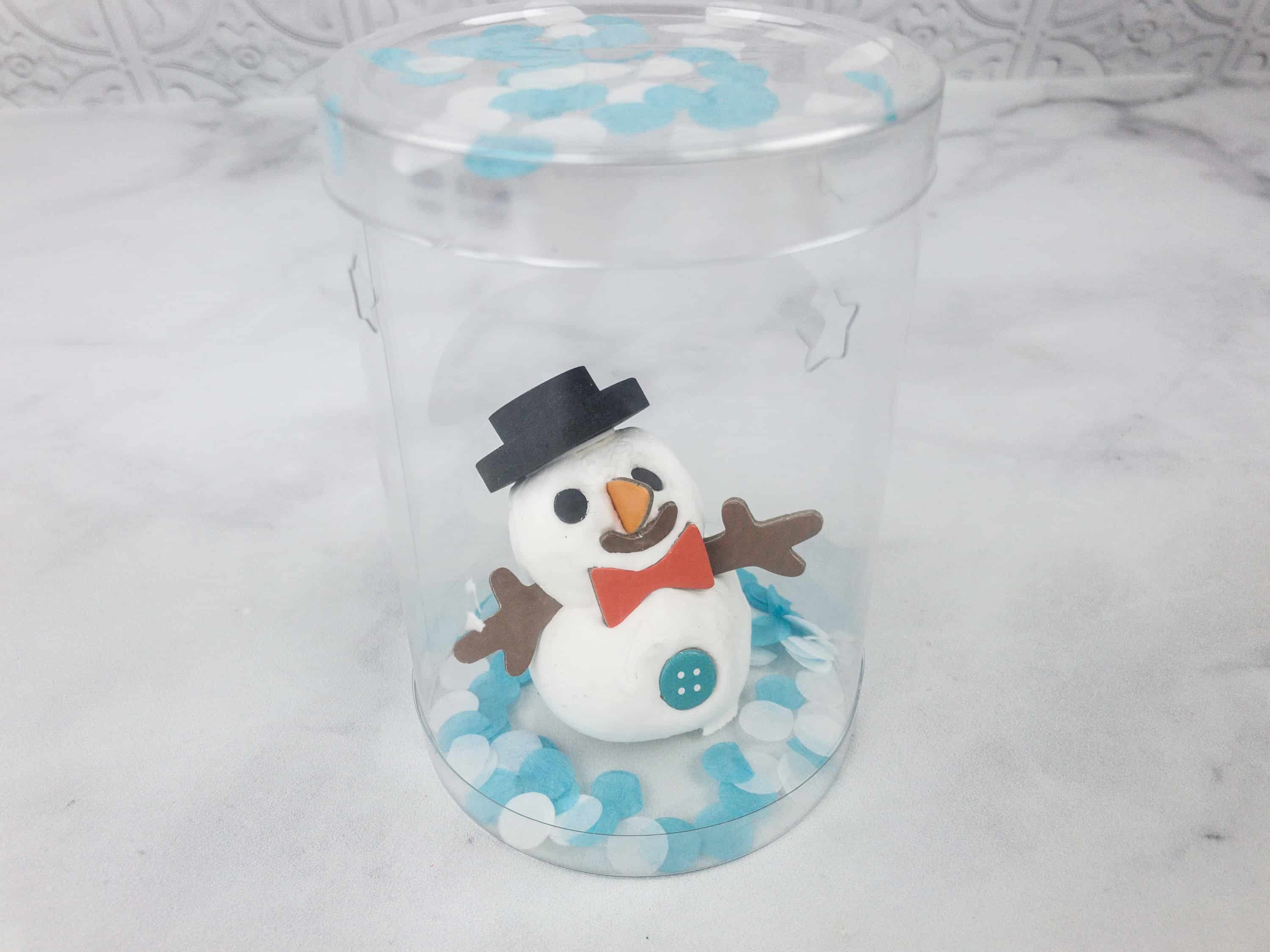 After letting him hang out and dry for awhile, our snowman found a home in a plastic case with some confetti.
Voila, our very own snowglobe!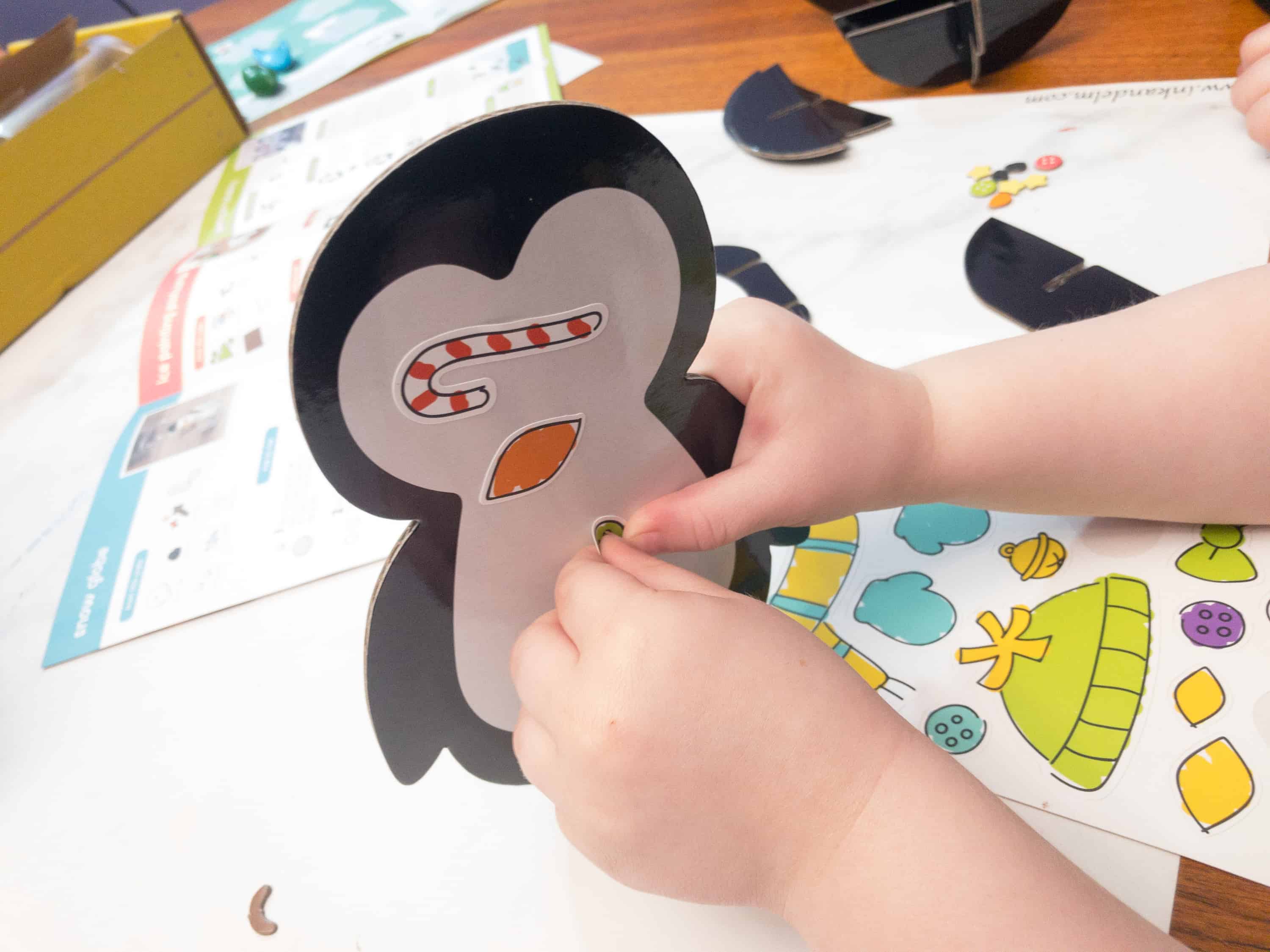 Penguin Bowling. After making the snow man, he proceeded with the penguin cut outs. We allowed him to put the details on the penguins on his own and, well, he decided he wants to put a candy cane on one of the penguins' faces.
They still look great though! The stickers are moveable and can be rearranged easily, so your kids can change up the look of their penguins repeatedly.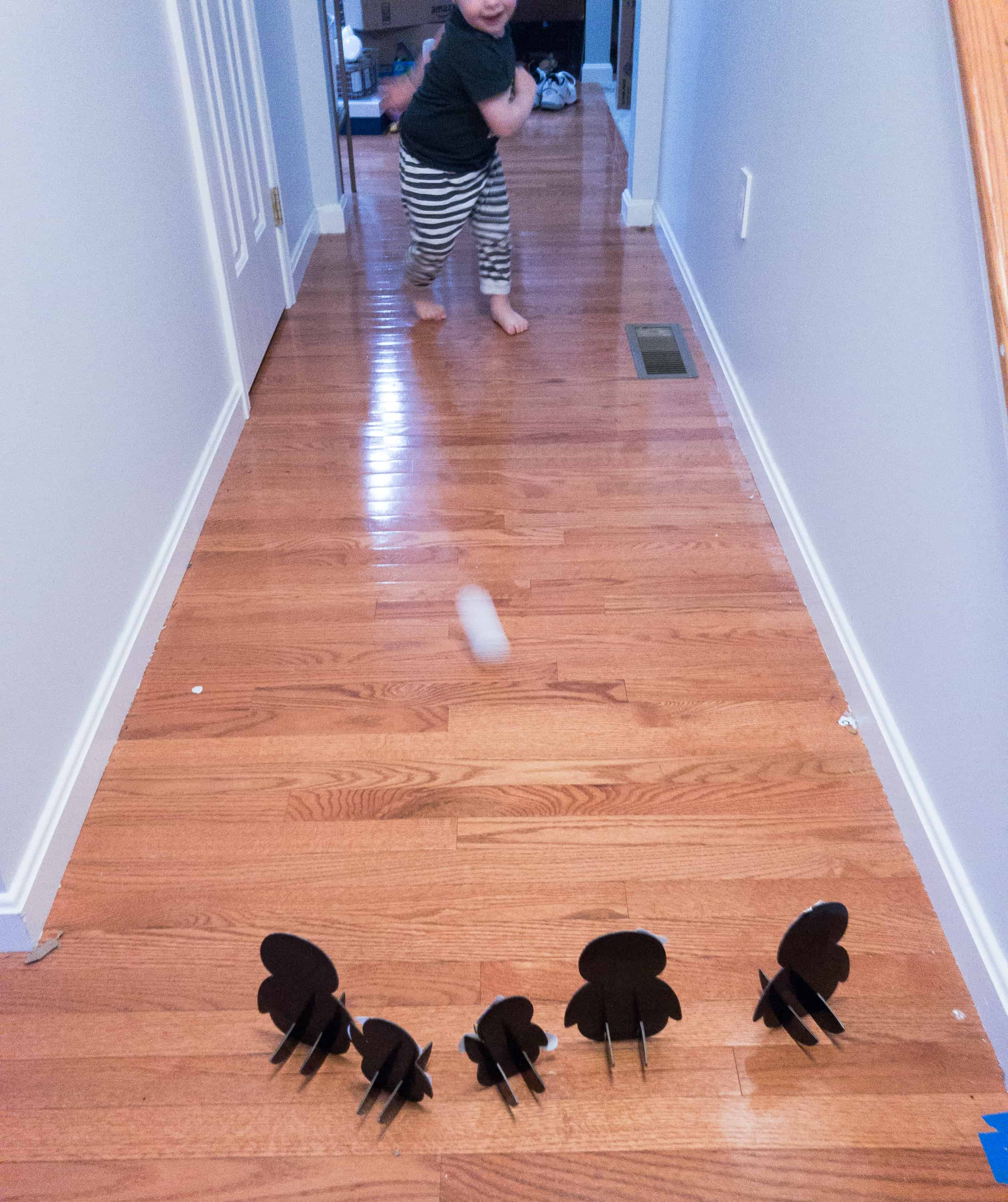 My son also had fun playing penguin bowling! He used the foam ball, which was also provided in the crate, to hit the penguin "pins"! He has quite the arm on him!
Koala Crate Extension Activities
In addition to extension activities using common household supplies, there are also suggestions for further reading on the subject. This month's recommended books are Let It Snow by Maryann Cocca-Leffler, Ten on the Sled by Kim Norman and Liza Woodruff, and Tracks in the Snow by Wong Herbert Yee!
Koala Crate never fails to provide fun hands-on activities for my kids! This month's box taught some cool fact related to snow, but it also encouraged exploration about colors, shapes, and creativity. If you have a pre-schooler, this subscription would be a great after school or weekend activity. Actually, all of the boxes in the KiwiCo family are excellent parent, babysitter or grandparent activity boxes. They make for a great family bonding time and there's no pre-planning hassle.
Our 3 year old son is very independent, and he can actually do most of the activities without any assistance. And for this month's crate, he really enjoyed making the penguin "pins" and playing the penguin bowling. We did need to explain the freezing of the paint pops, as he was eager to start painting immediately — so this crate ended up teaching a lesson on patience, as well!
Have you tried Koala Crate? What did you think of this month's theme?