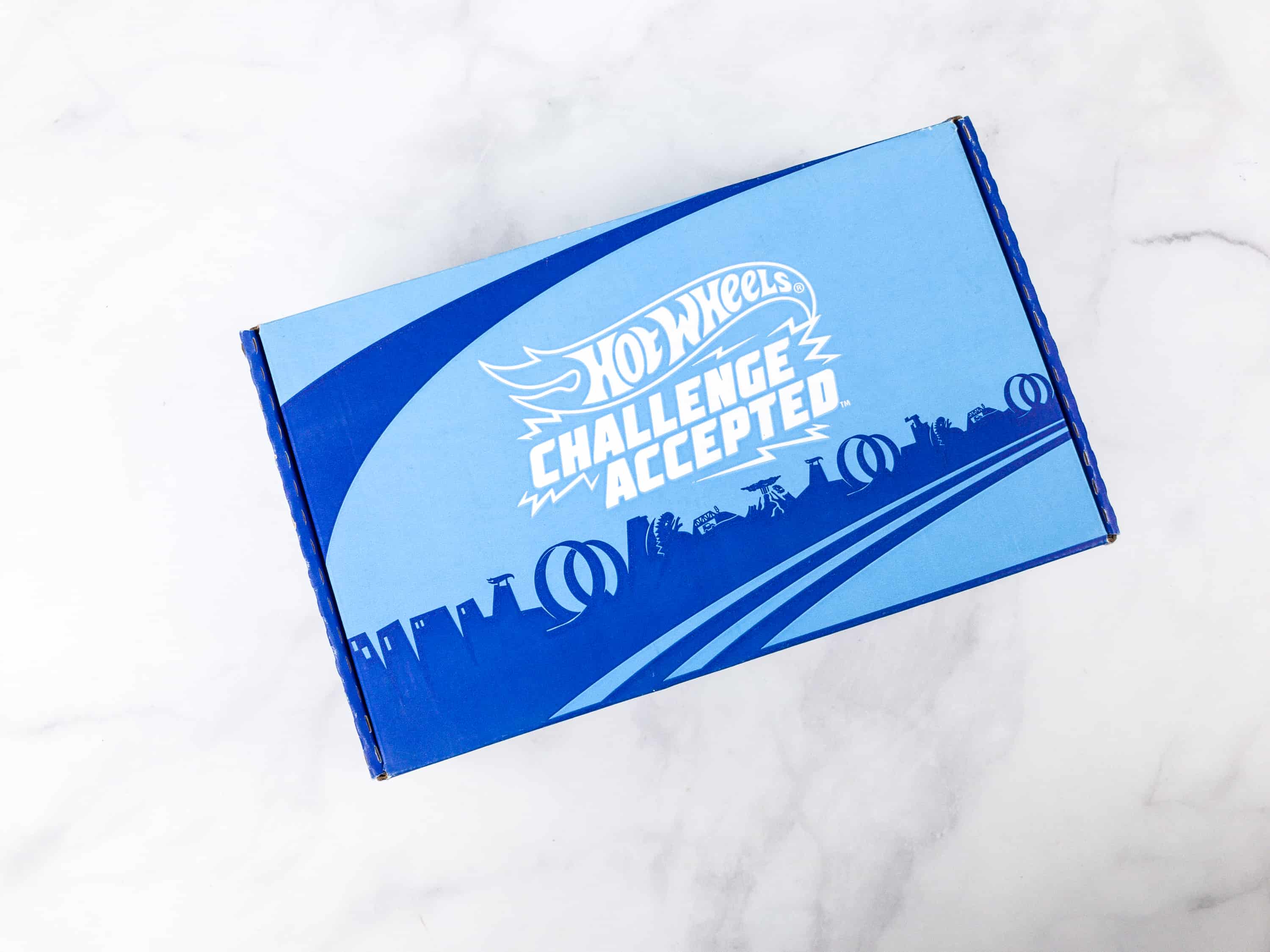 The Hot Wheels: Challenge Accepted Pleybox is a bi-monthly toy subscription box featuring Hot Wheels! There's over $45 value in every box with unique and exclusive merchandise that promises to keep kids busy for hours! Every 2 months, the subscription provides 3 out-of-the-box stunts, reconfigurable box and track pieces, early access to new cars, and exclusive apparel.
FLASH SALE: Get a FREE Hot Wheels 'Challenge Accepted' Pleybox when signing up for a 3 or 6 box subscription with coupon code HELLOSPECIAL3. Ends 4/17 at 11:59 PM PDT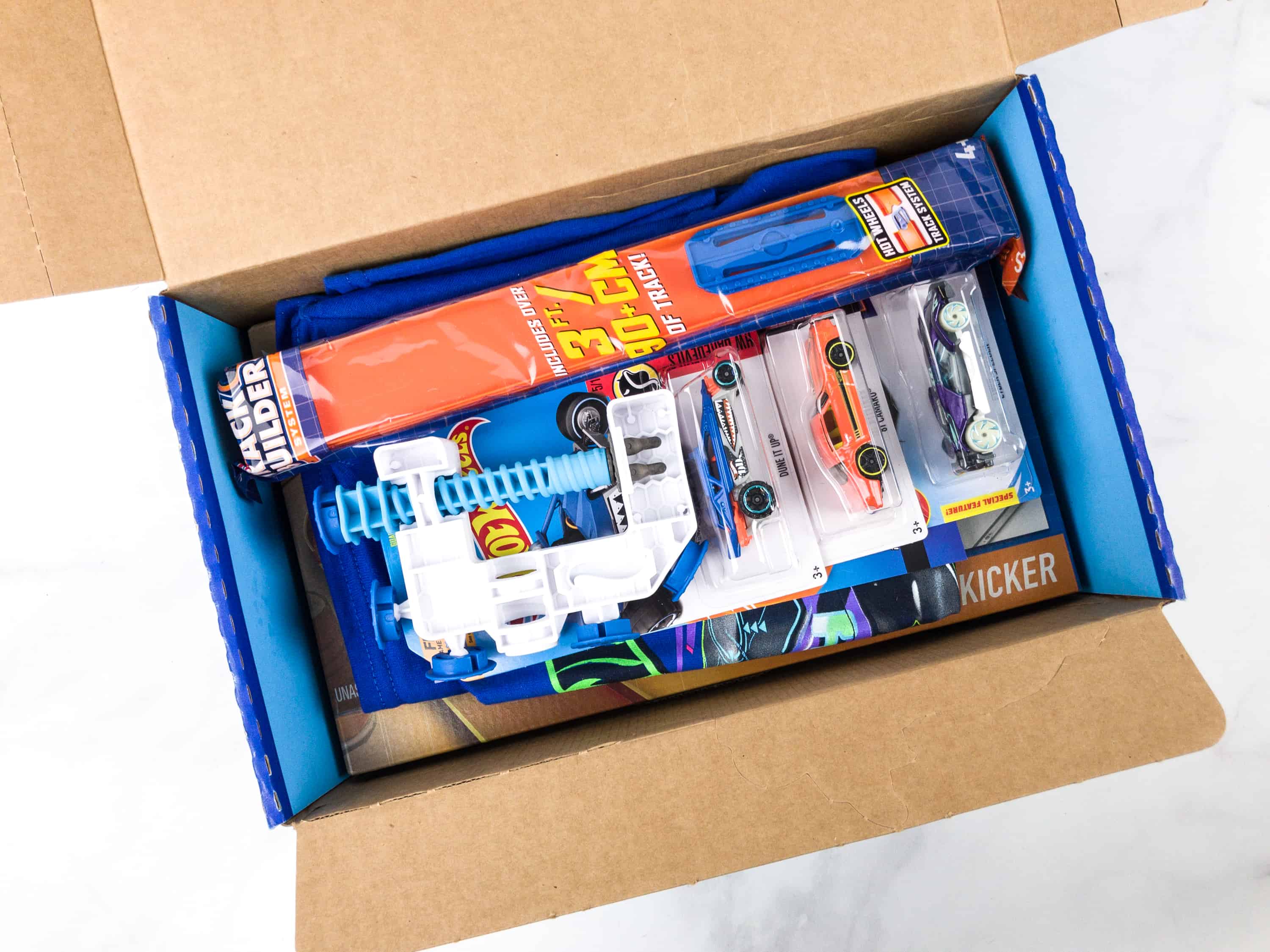 I can already tell that this box is going to be a hit with my kids!

The box includes a Hot Wheels Challenge Accepted activity booklet.
This month's featured race car, the Cyber Speeder!

The activity booklet includes ways on how to build your own race track and use some household items to upgrade it! I love how this encourages a tinkering mindset!
The book wouldn't be complete without fun activities for the kids!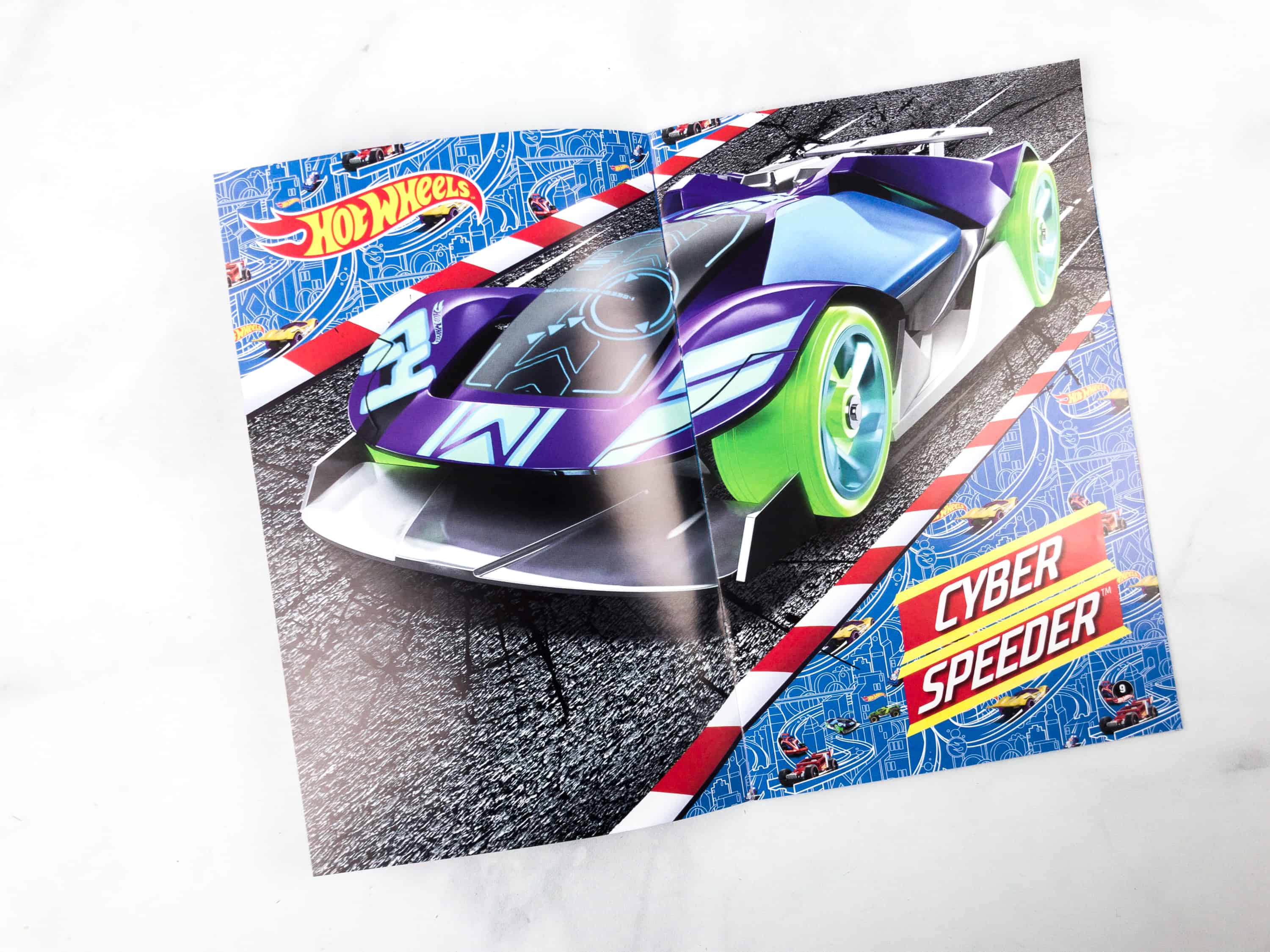 Another look at the CYBER SPEEDER!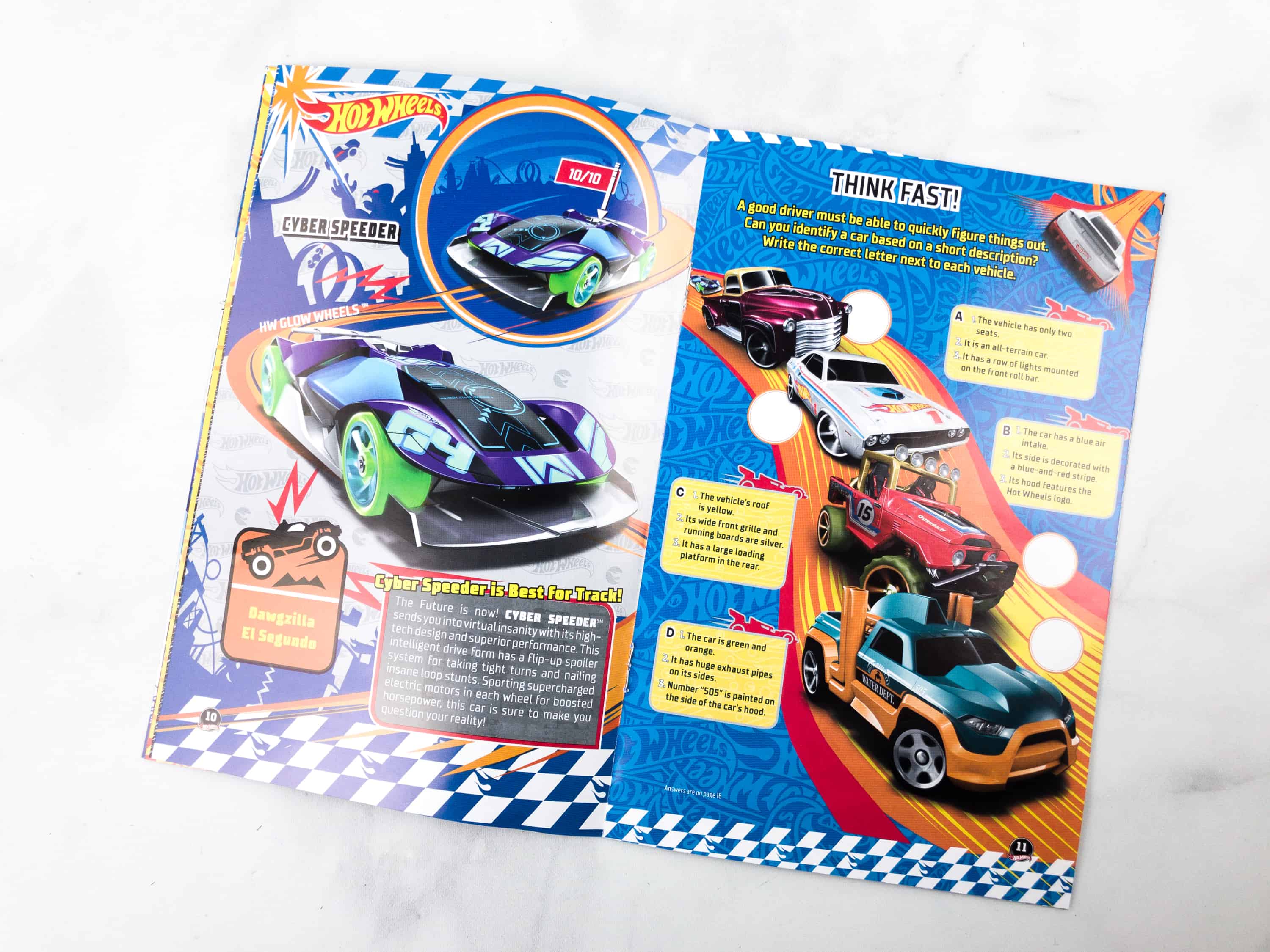 The Cyber Speeder features a high-tech design and supreme performance. This car has a flip-up spoiler system, used for taking tight turns and getting over on insane loop stunts.
Activities like this make a great bonding time for parents and kids, and it is these extras that make the Hot Wheels Pleybox a true activity box and not just a toy subscription!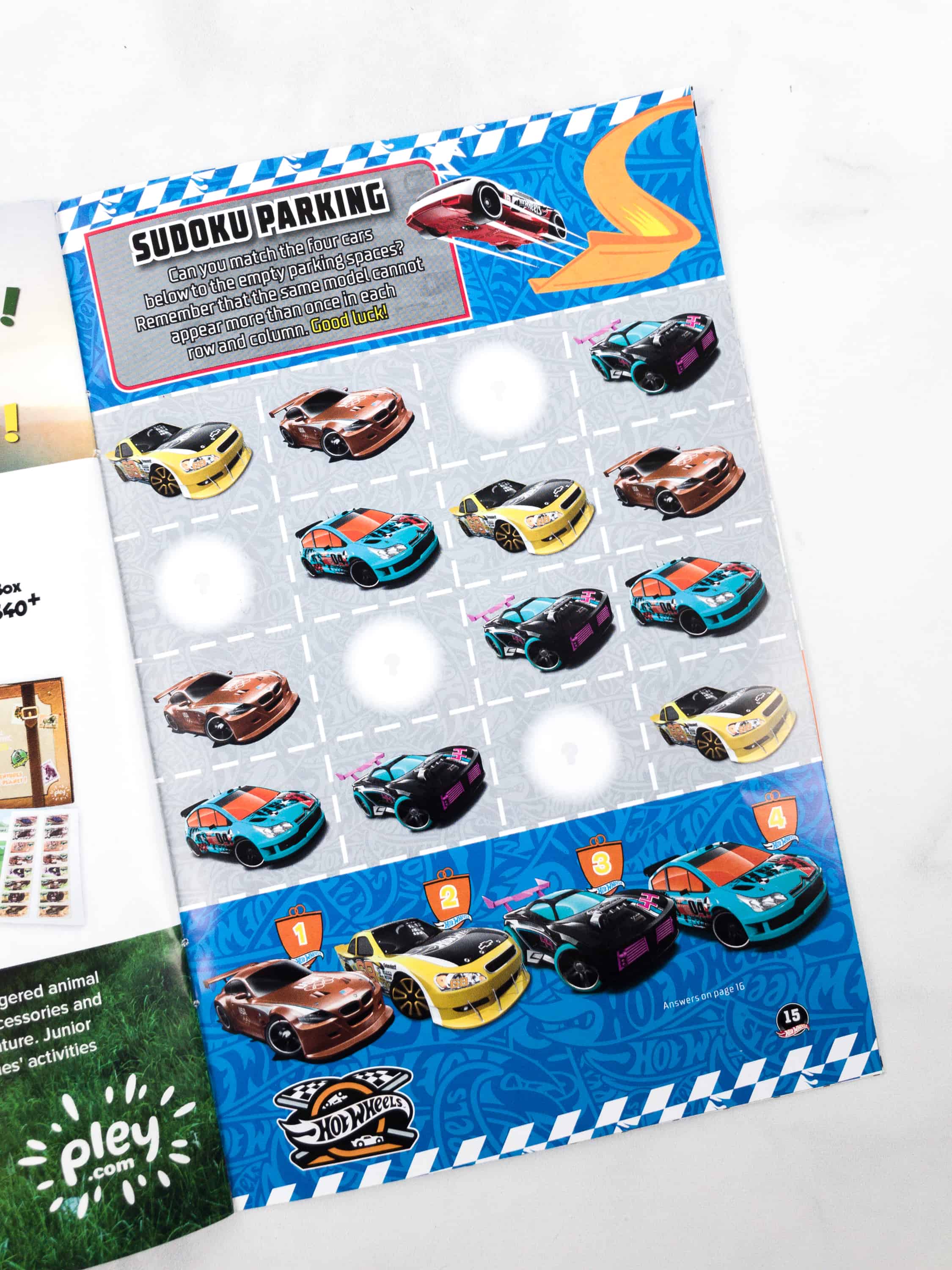 There's even a hot wheel Sudoku Parking activity on one of the pages!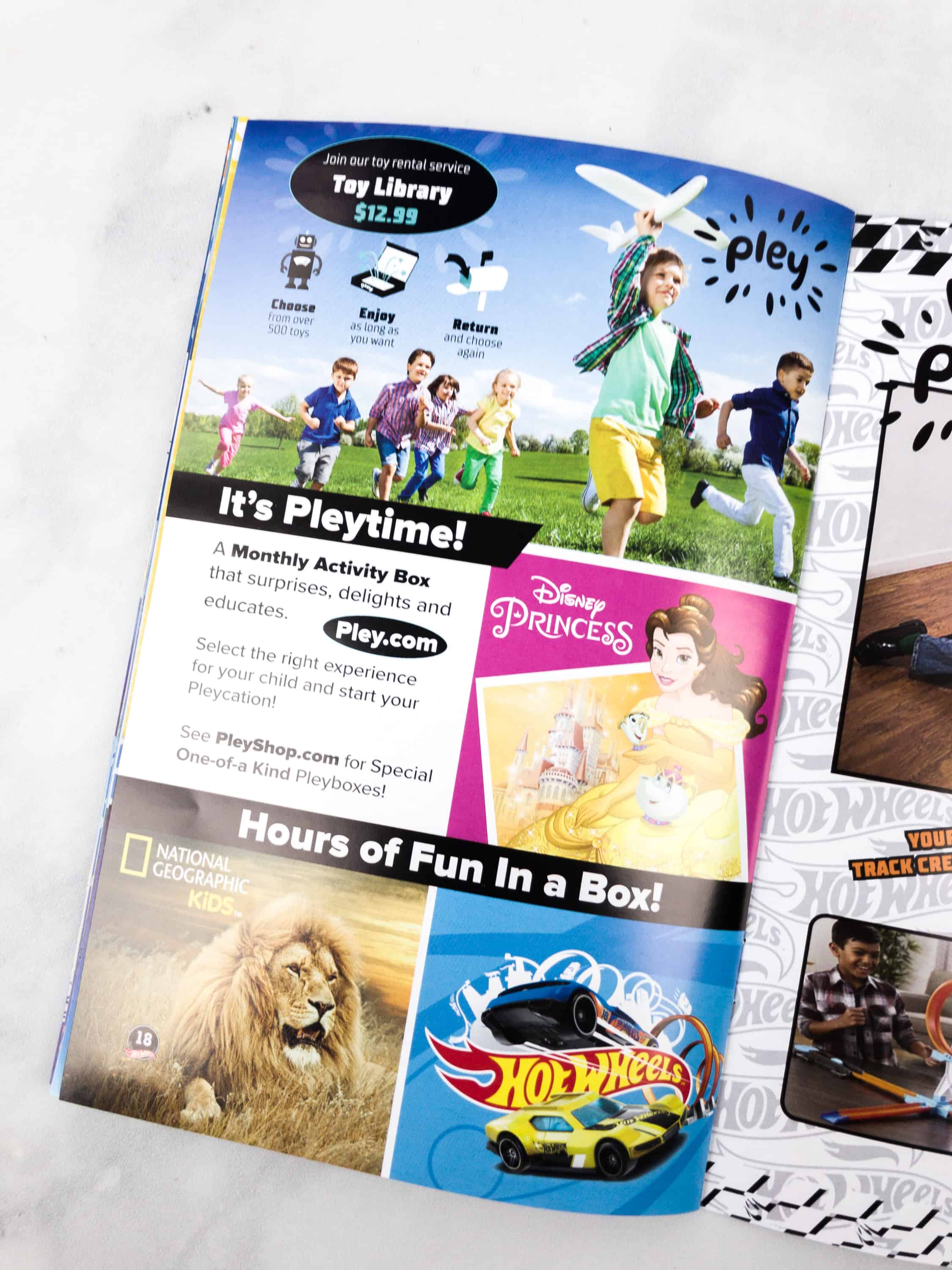 Have you subscribed to NatGeo Pleybox yet? There's also a reminder for that tucked between activities in the book.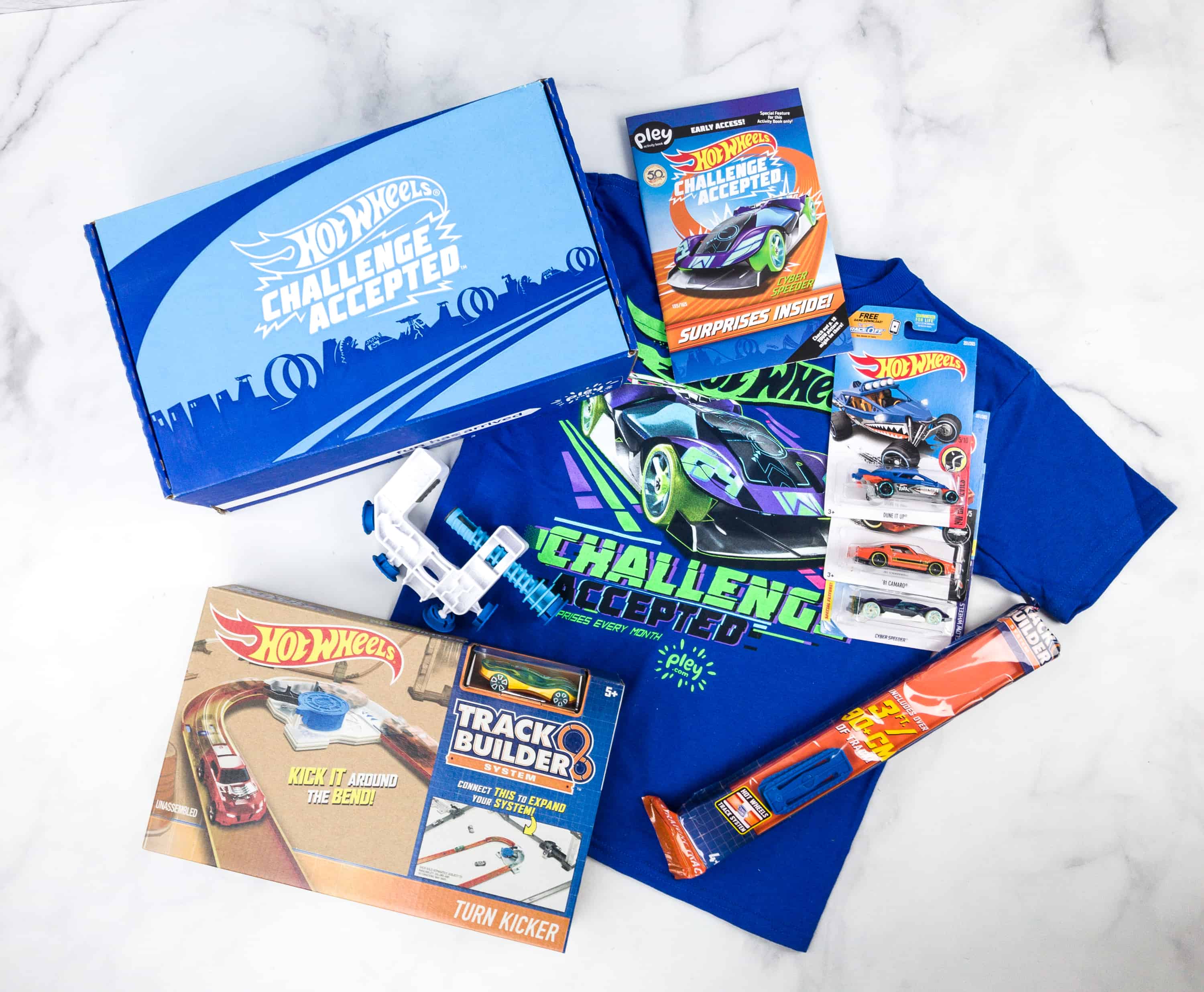 Everything inside this edition of the Hot Wheels box! It's RAD.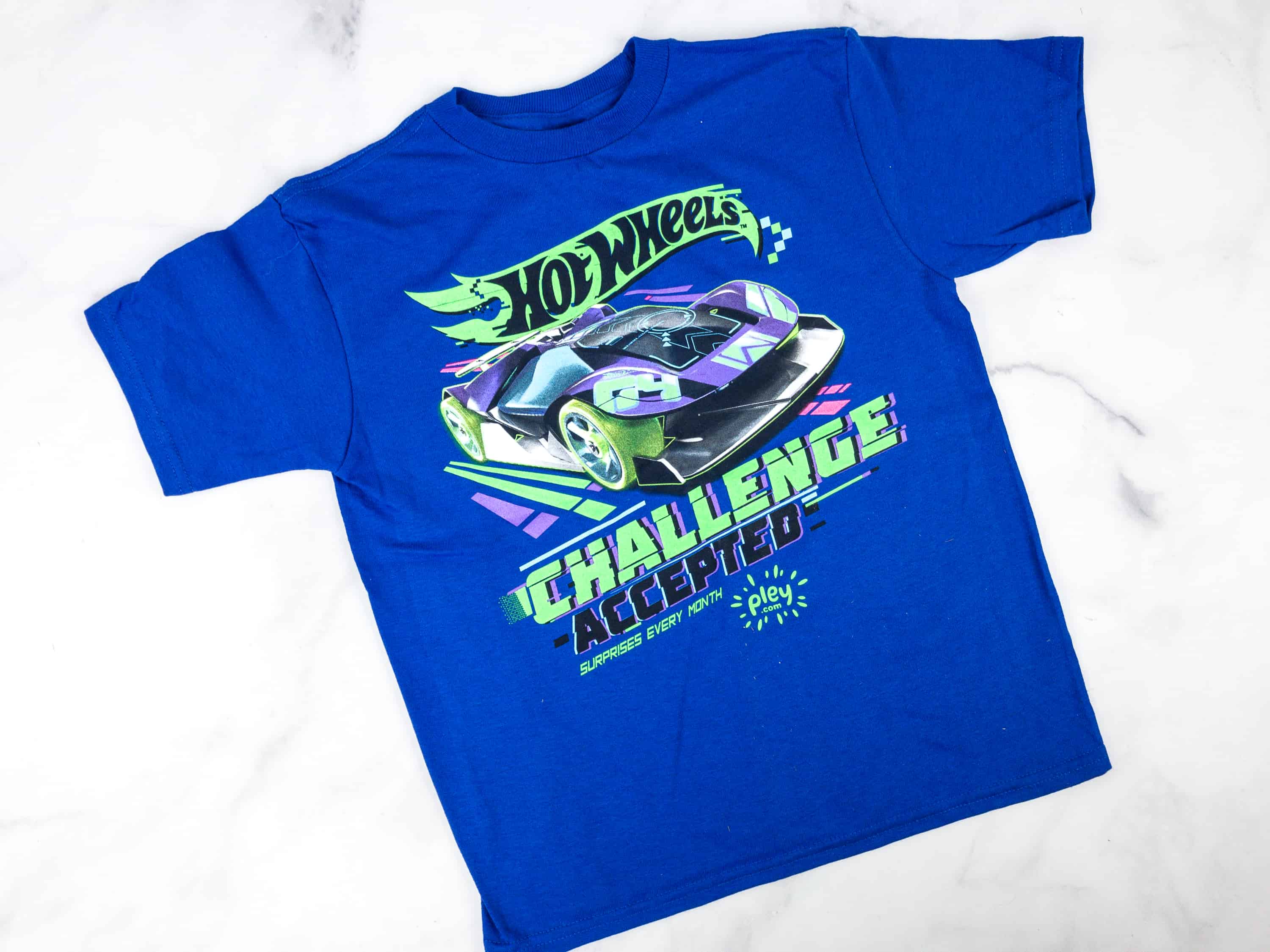 Exclusive Hot Wheels T-Shirt ($15.00) It's an exclusive t-shirt from hot wheels featuring Cyber Speeder!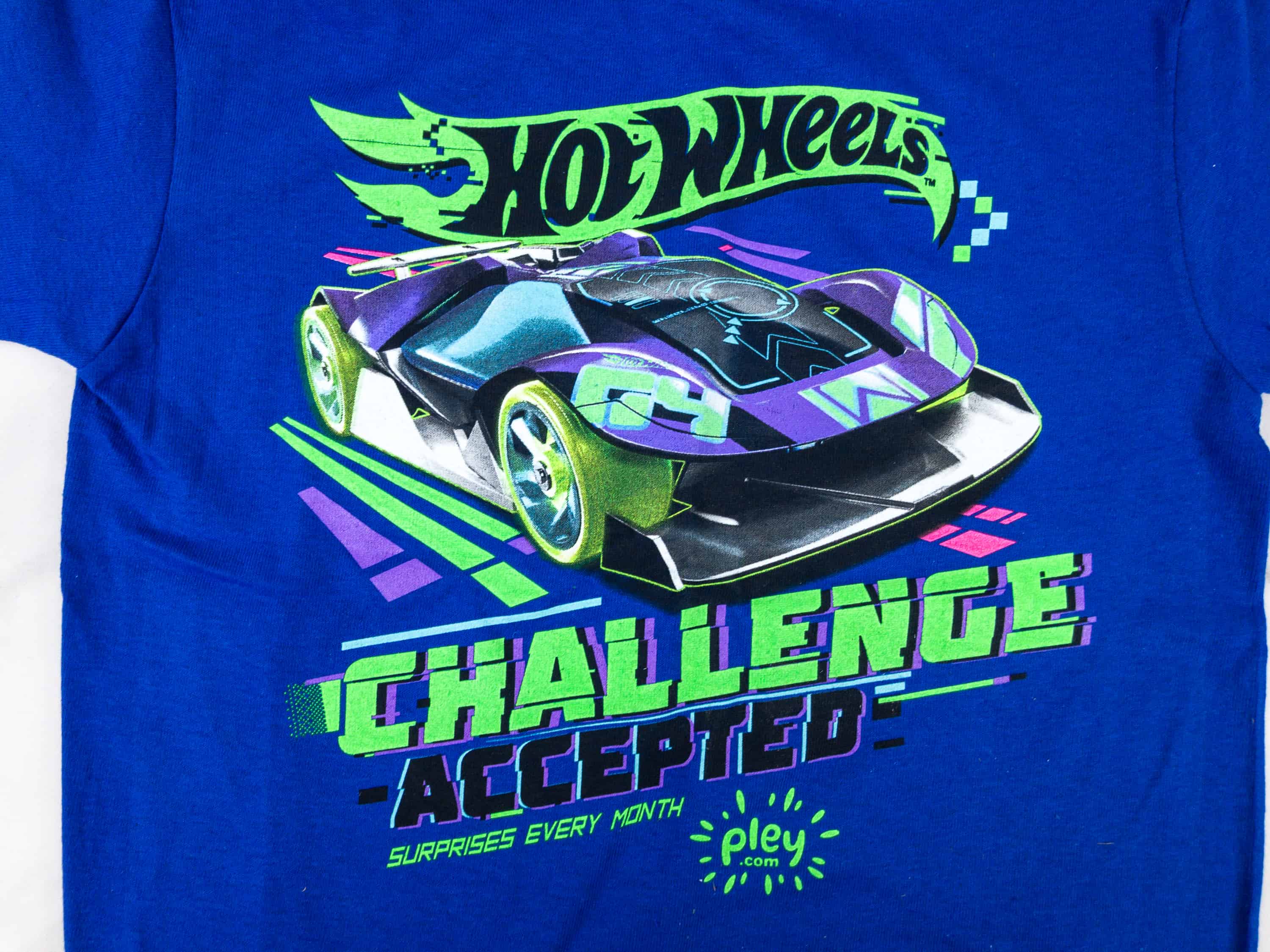 This blue shirt is soft and comfy to wear. It also says CHALLENGE ACCEPTED, and my kids definitely love it! This is a totally great value for us – I haven't ever seen a Hot Wheels shirt at the store, and my kids have had to take turns wearing it!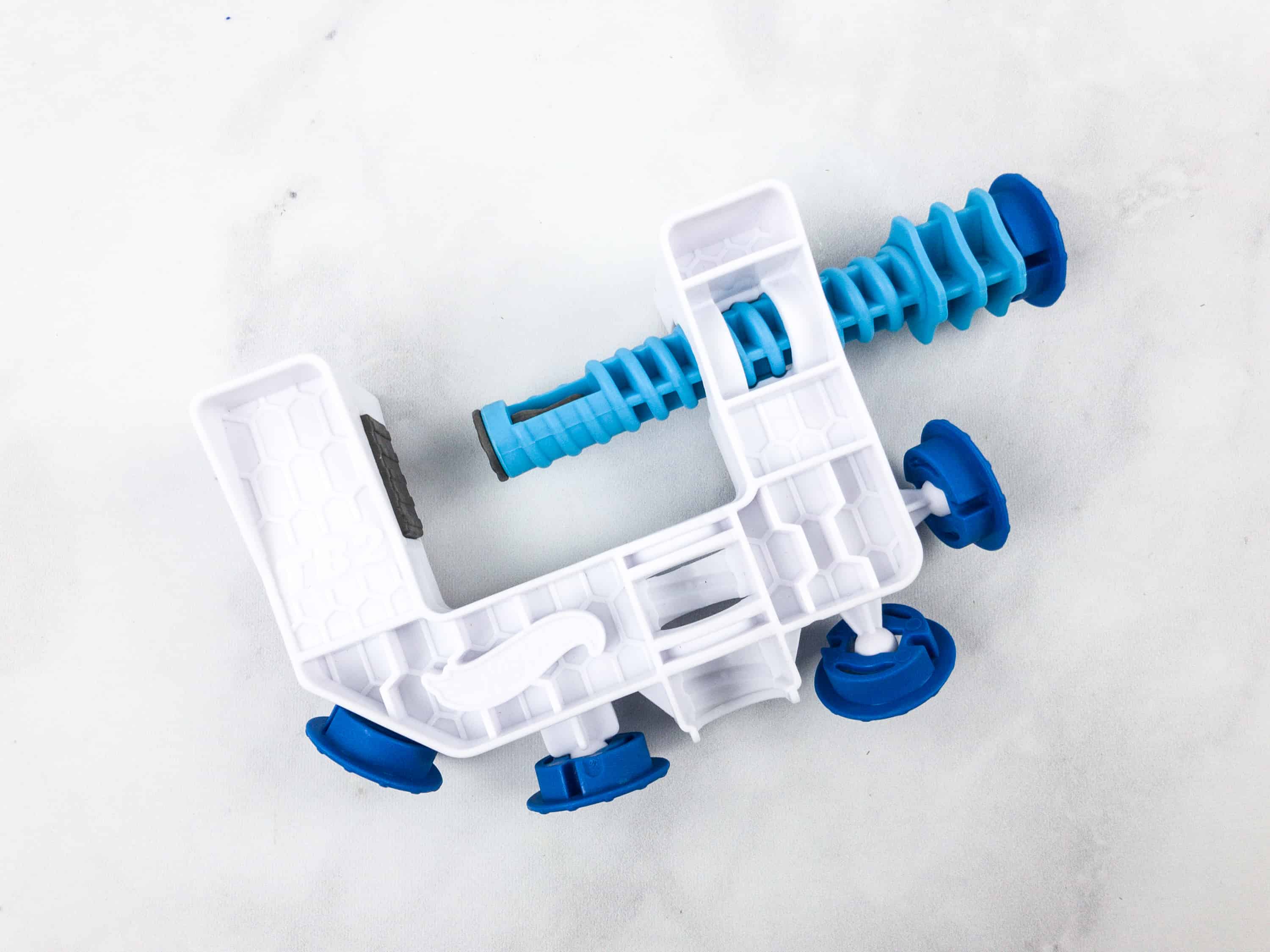 Clamp ($3.99) If you're a Hot Wheels fan, you know that there's a constant need to expand the world you play in. This exclusive accessory is perfect for that purpose!
You can attach this c-clamp accessory to your door, desk, or even chair, and put your racetrack to it to create a high arching slope to take the gravity-powered racing thrills to new heights!

Awesome Racing Tracks ($2.99) This racetrack consists of four separate tracks that can be connected using the Hot Wheels Track System Technology connectors.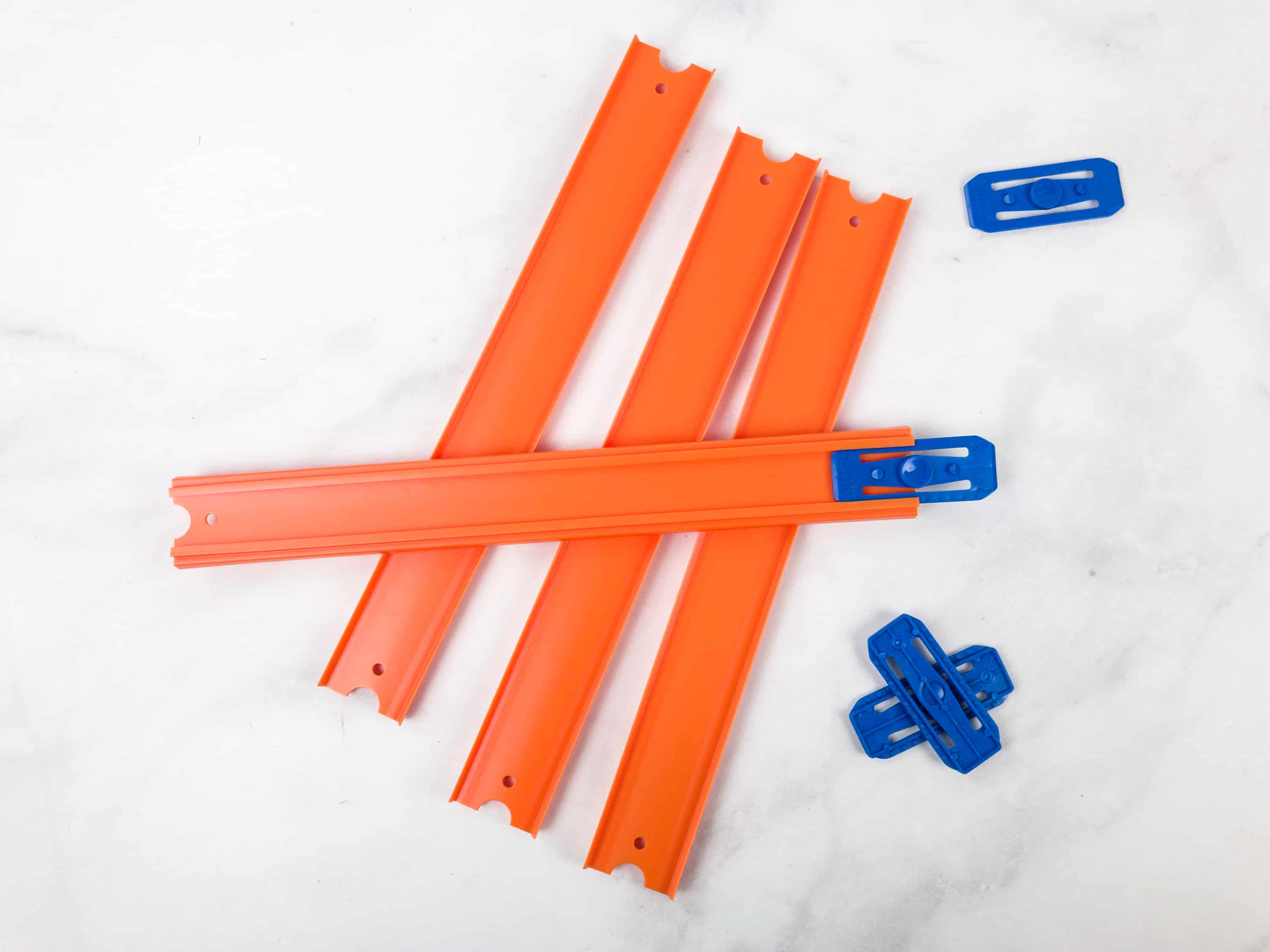 These awesome Hot Wheels add-ons can extend your racetrack up to 3 feet. They can also be linked to any other Hot Wheels racetrack using the racetrack connectors.
Hot Wheels Cars ($3.98) Aside from the featured Cyber Speeder car, we also received two additional cars from Hot Wheels namely Dune It Up and '81 Camaro!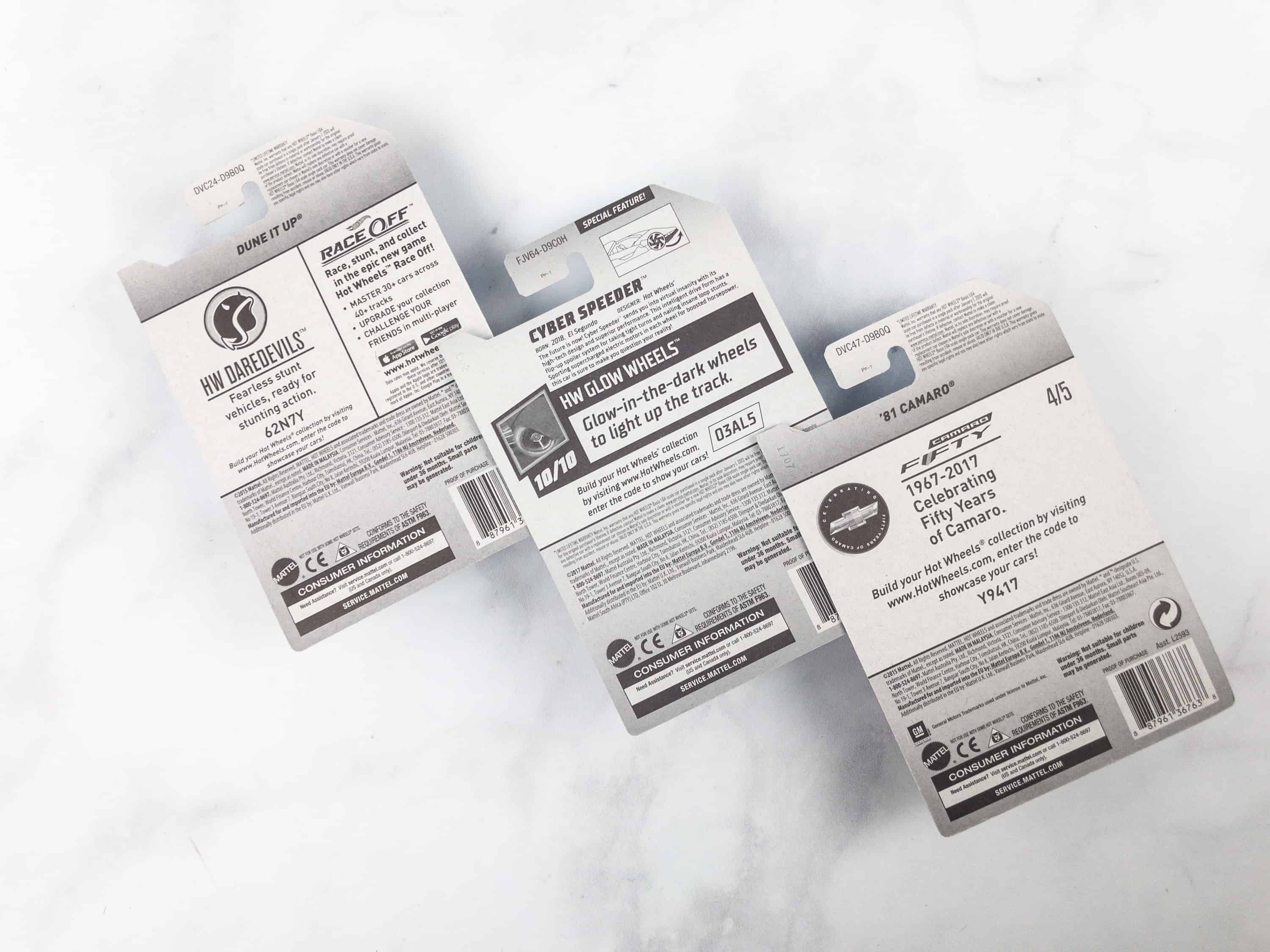 The back of the container provides additional information about each car.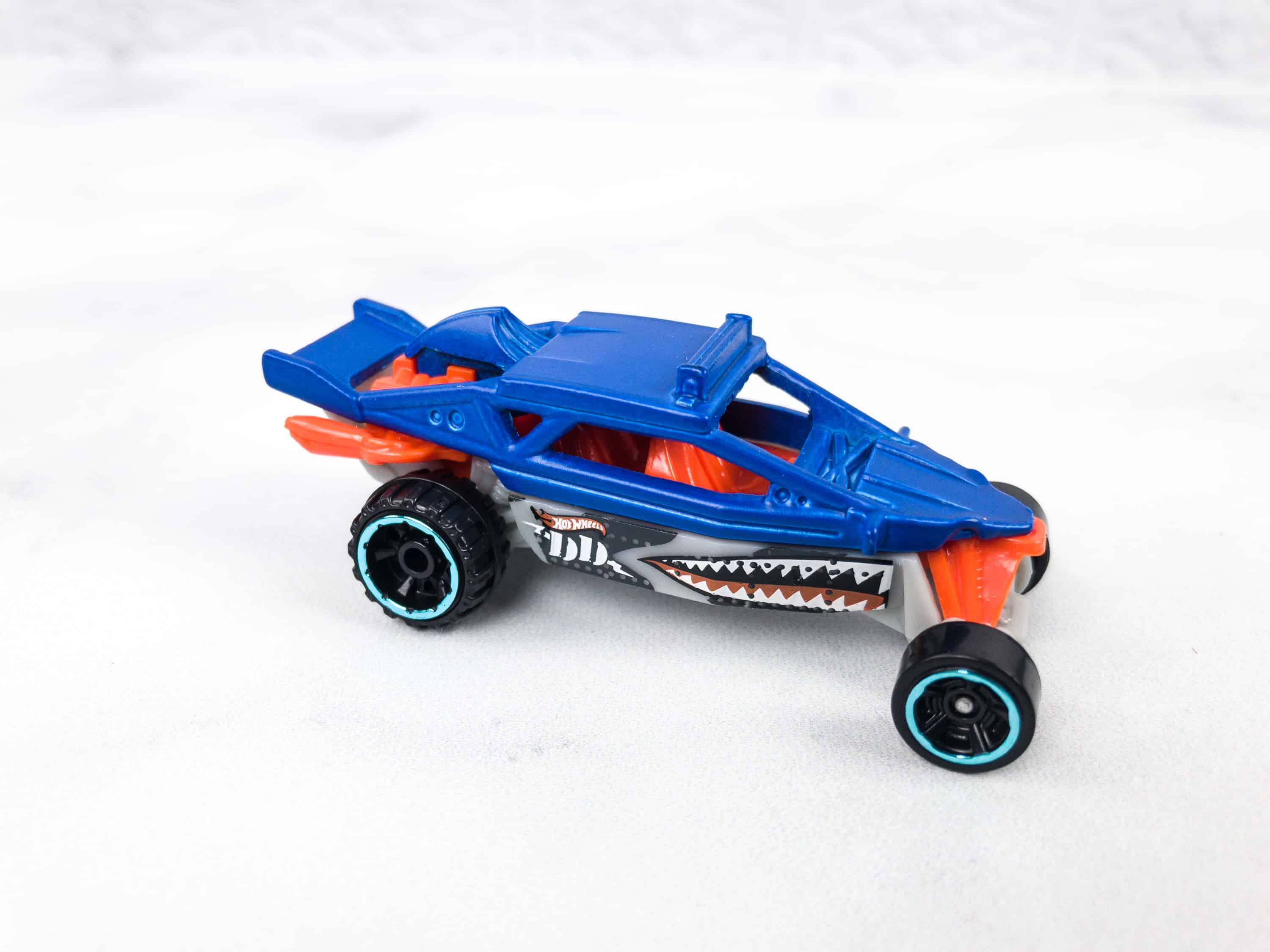 Dune It Up is a daredevil and fearless stunt vehicle that is always ready to perform incredible action and stunts that take a chomp out of opponents!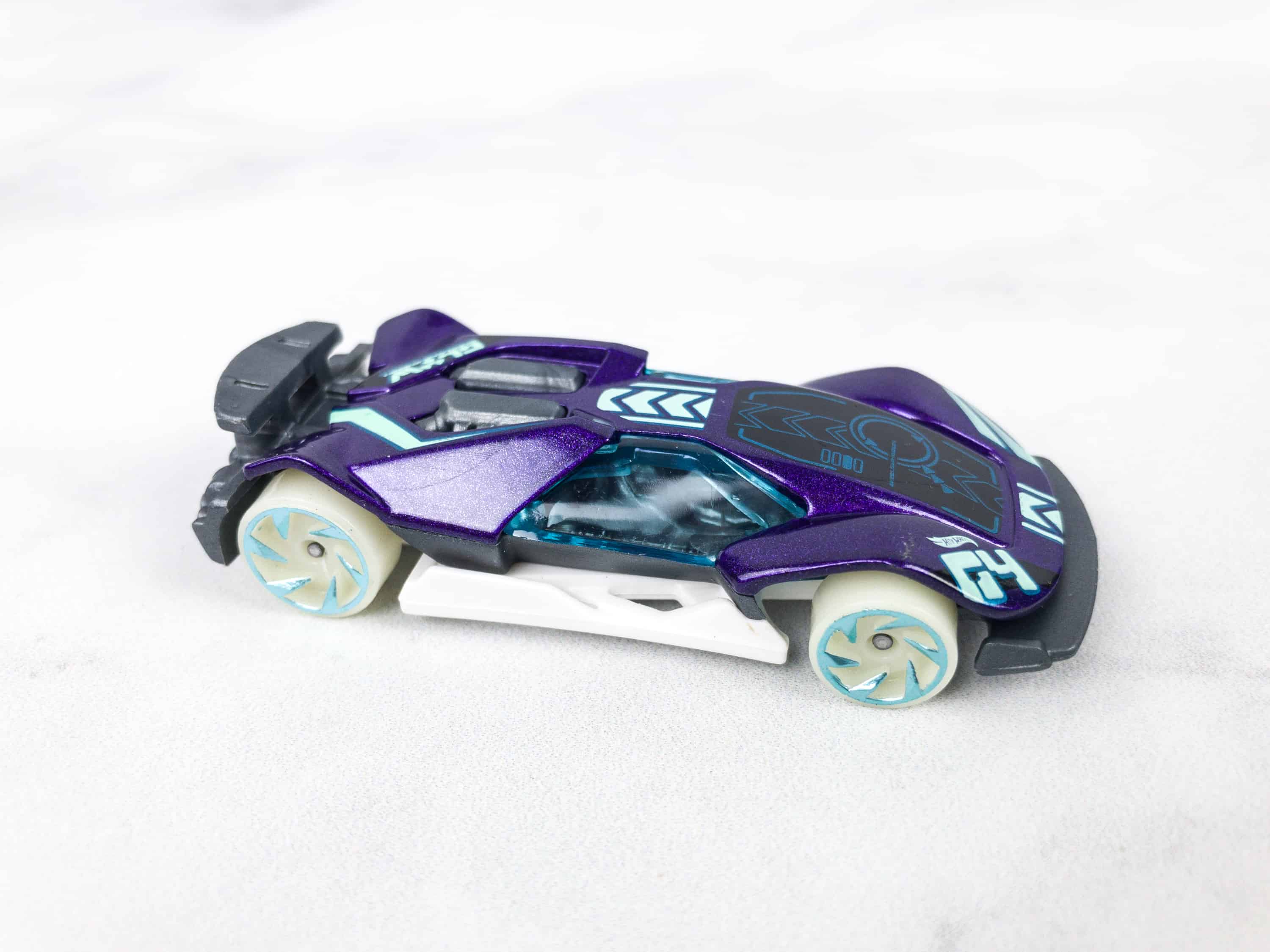 Cyber Speeder is this month's featured race car. It's an extreme super racing vehicle with sophisticated design and extraordinary speed that will make you question reality from imagination. This car also features a glow in the dark wheels.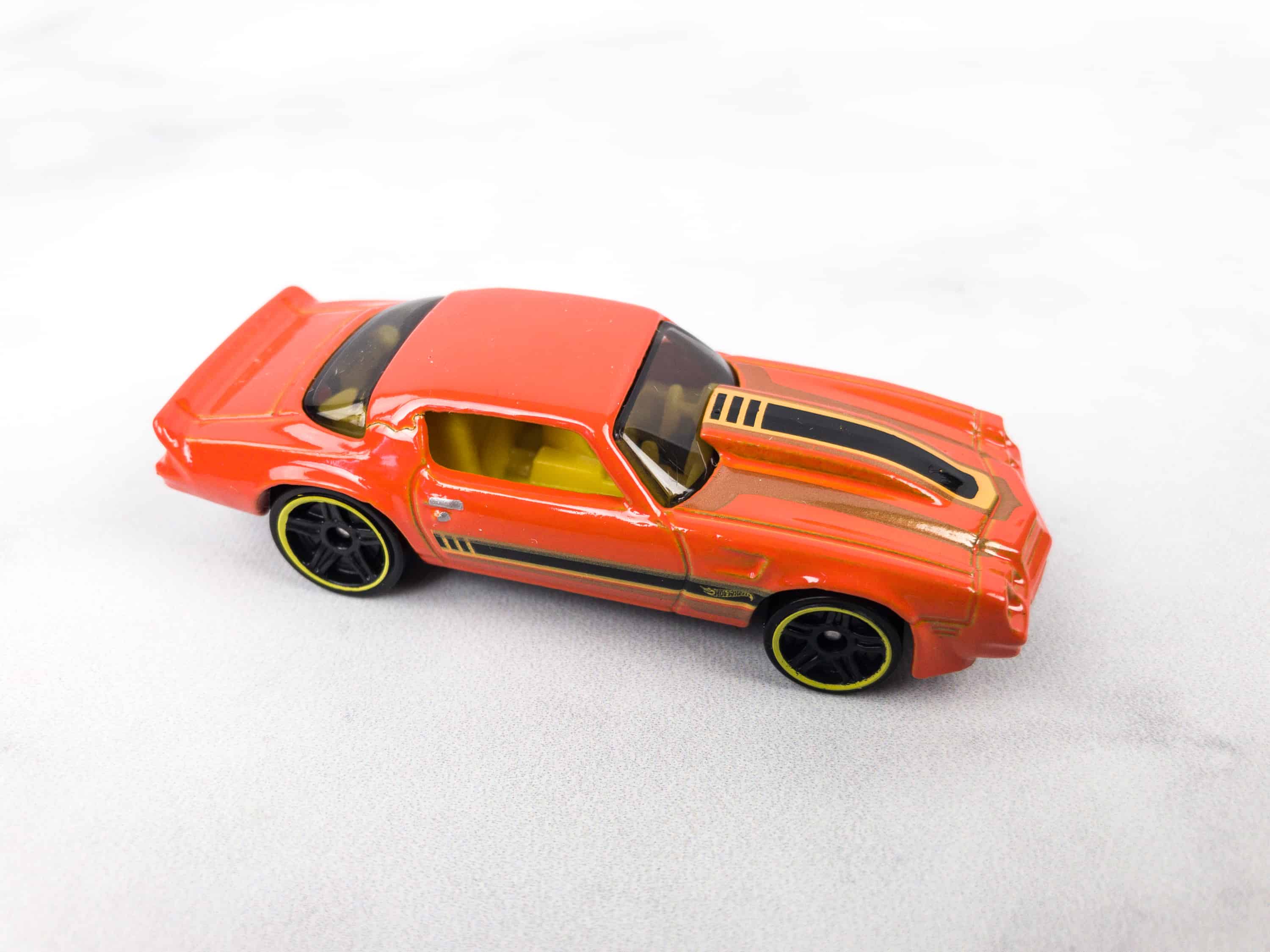 This '81 Camaro Z-28 is designed and set-up for bracket racing, a form of drag racing that allows handicap to its opponent.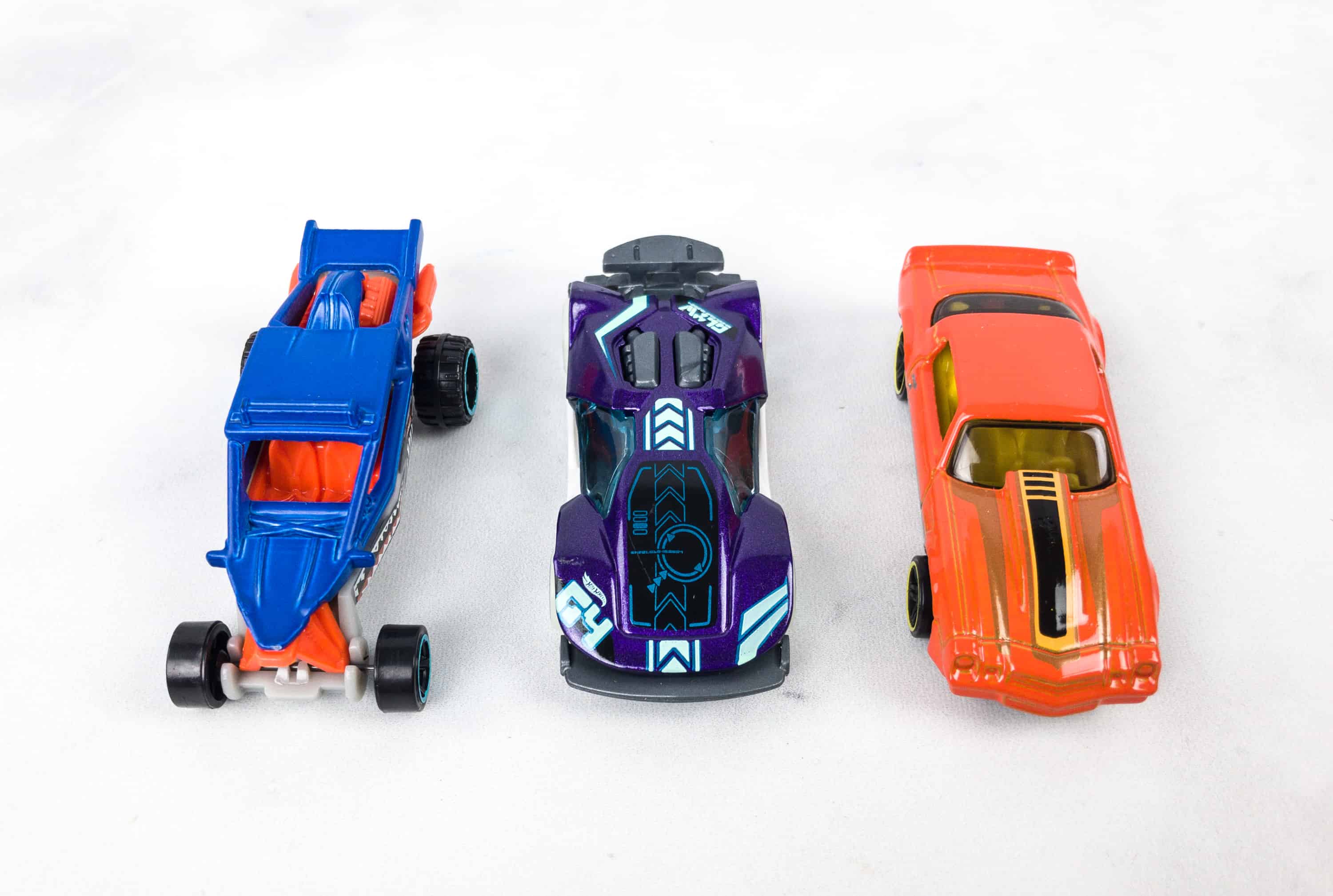 It's a great line-up of race cars and we are ready to rrrrrumble!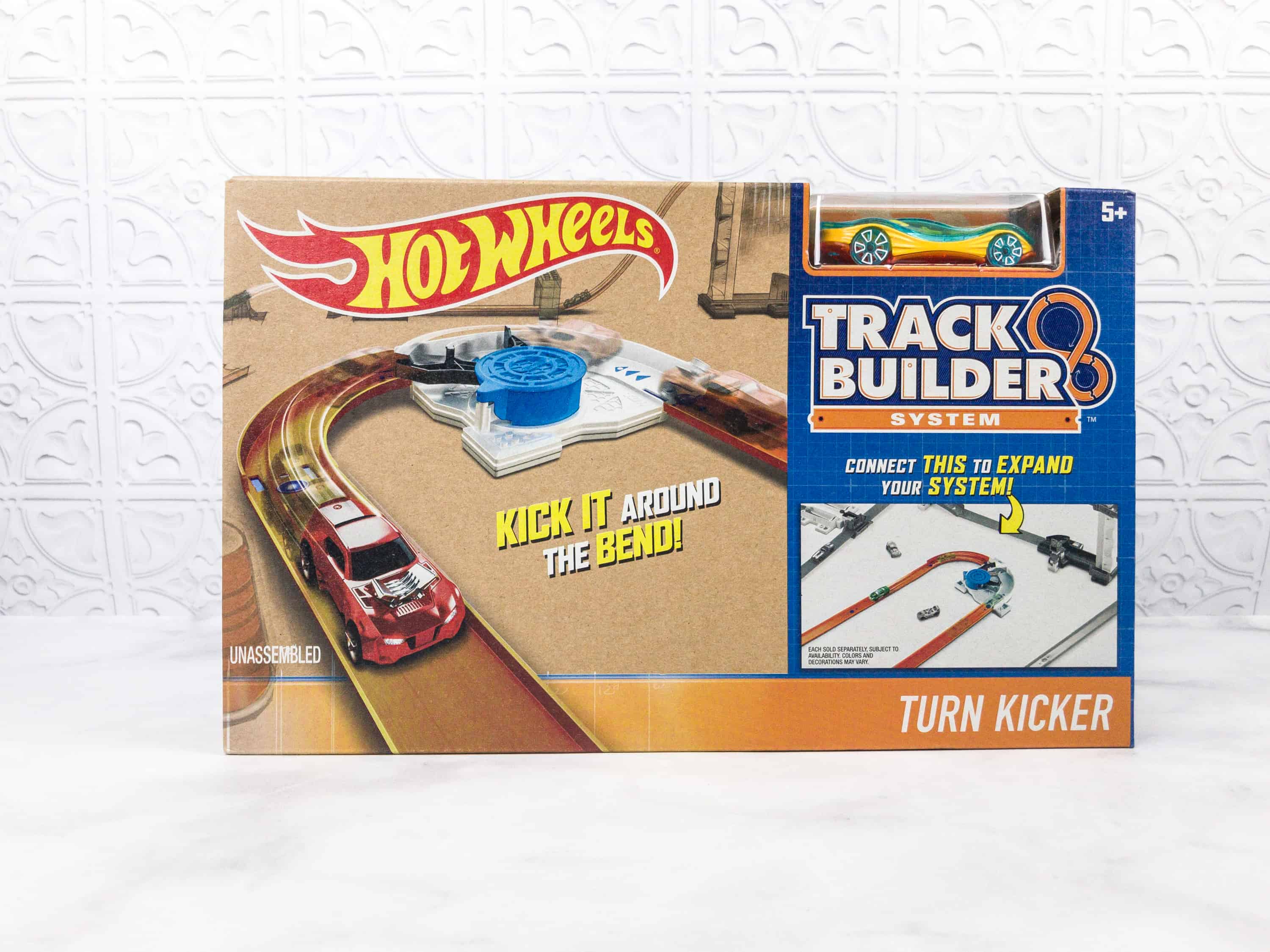 Track Builder – Turn Kicker ($9.99) Turn Kicker is one of the five different stunts from Track Builder. The other stunt tracks available are: Spin Launch, Loop Launcher, Lift & Launch, and 2-Lane Launcher!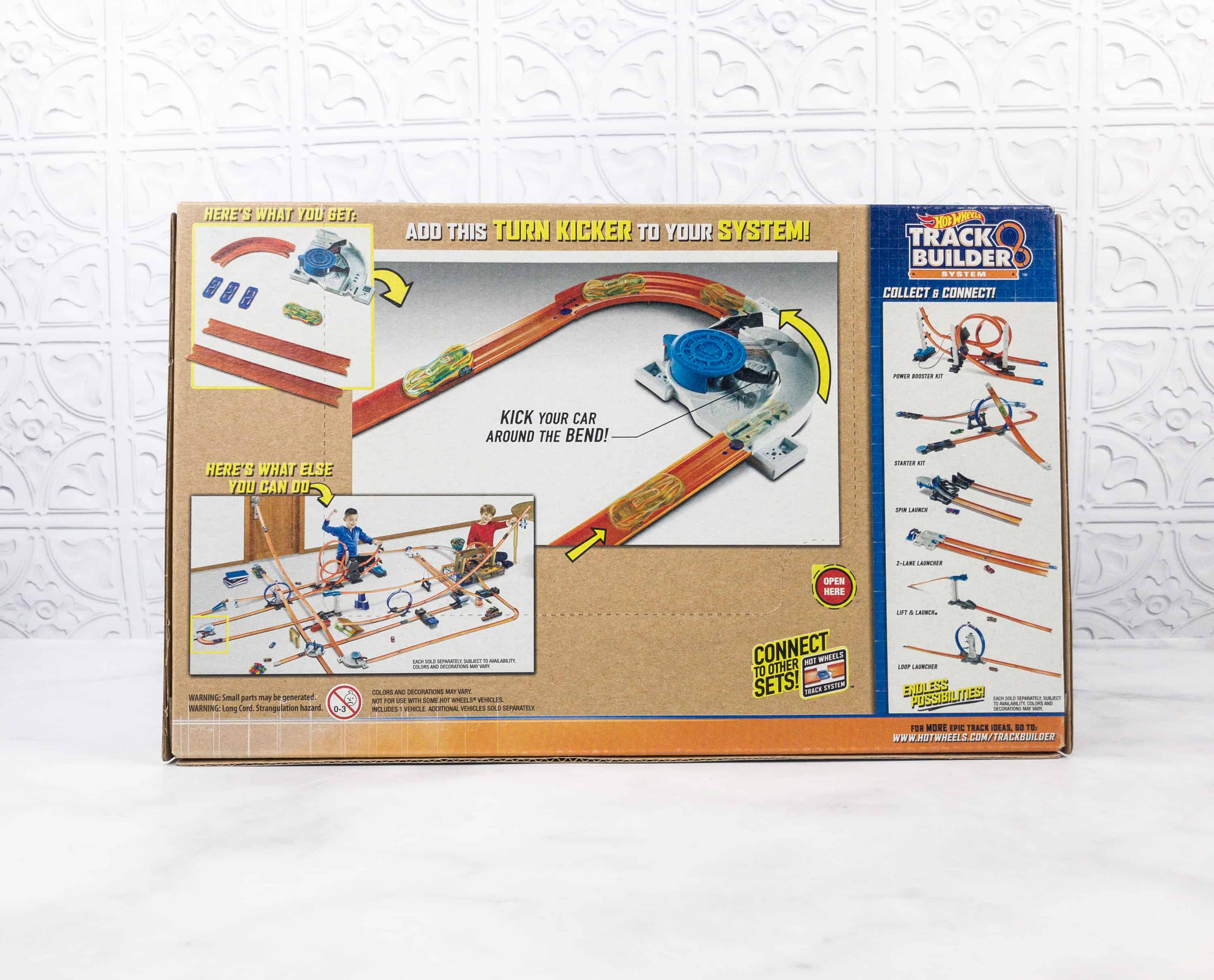 The back of the box shows all the items that you will be getting, and the other tracks to collect!

Here are all the items inside the Track Builder – Turn Kicker Box!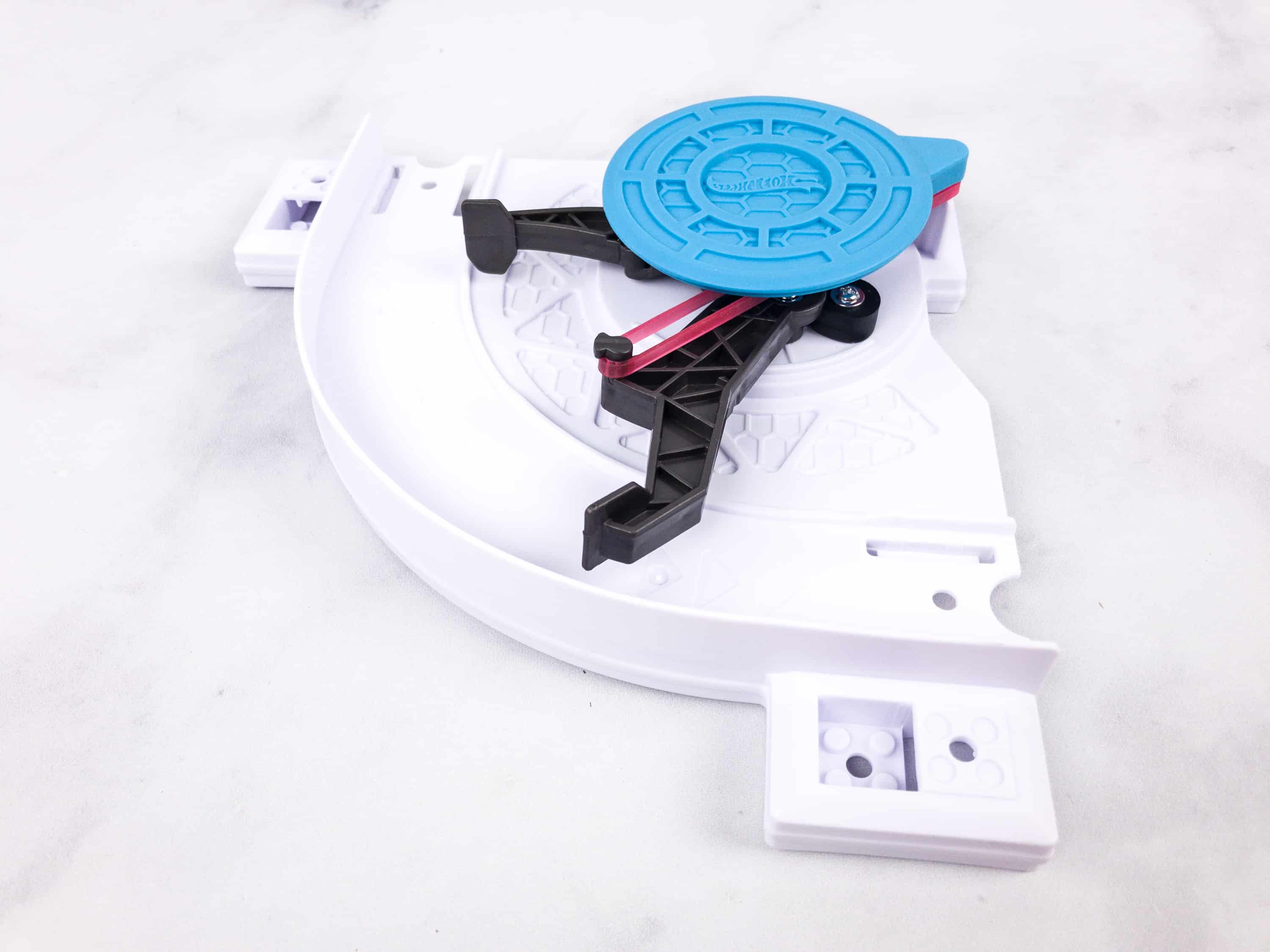 You can boost your car's speed when turning around the bend using this Turn Kicker.
The Turn Kicker racetrack kit also includes another good looking racing car!
The Turn Kicker looks so detailed, you can easily see the Hot Wheels logo on it! It came totally ready to play, no assembly required, so my kids got everything set up.
They were really excited to assemble their new racetrack and had no assistance from us old folks.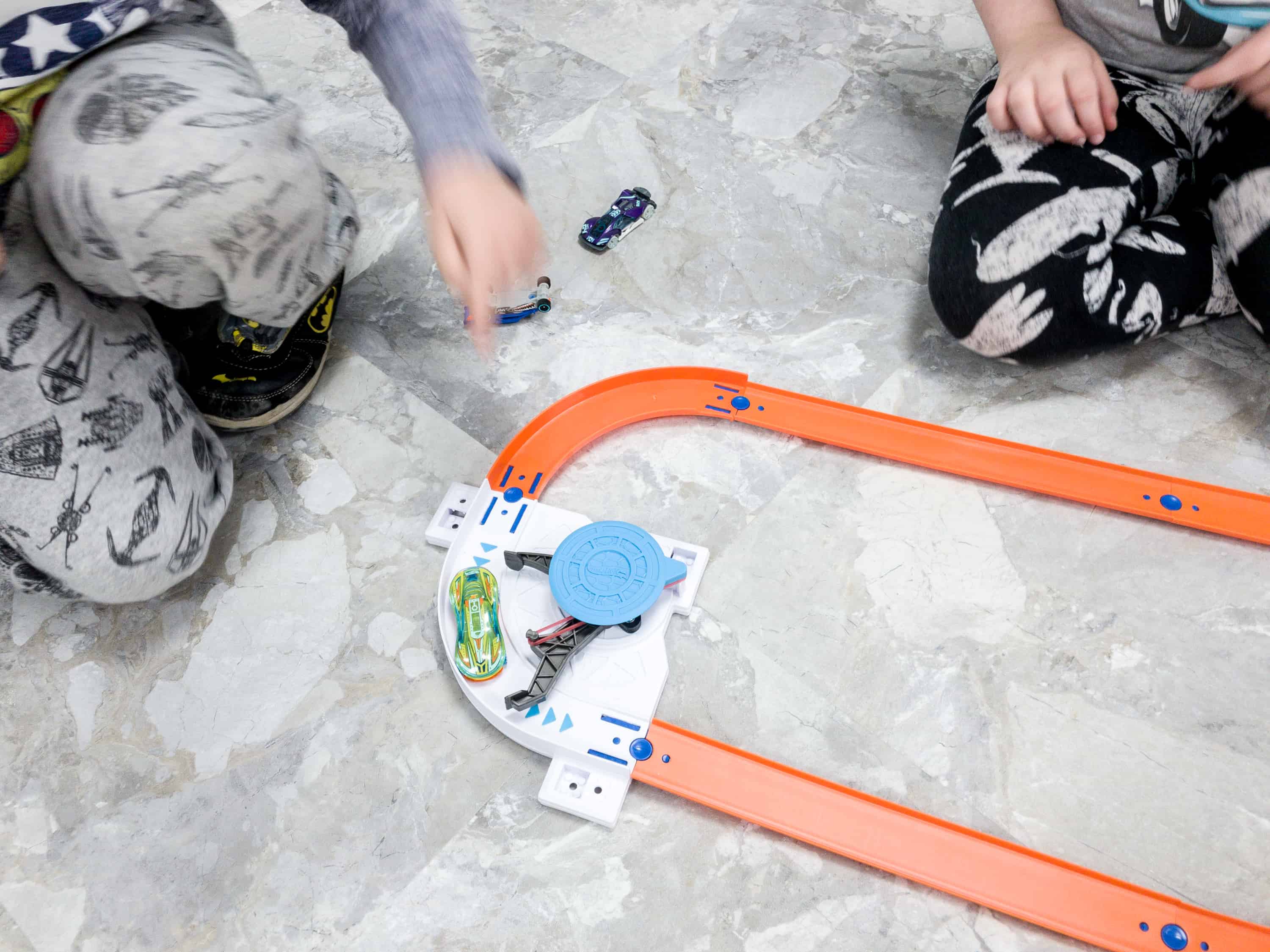 The tracks are so easy to build, and they are ready to do the test driving!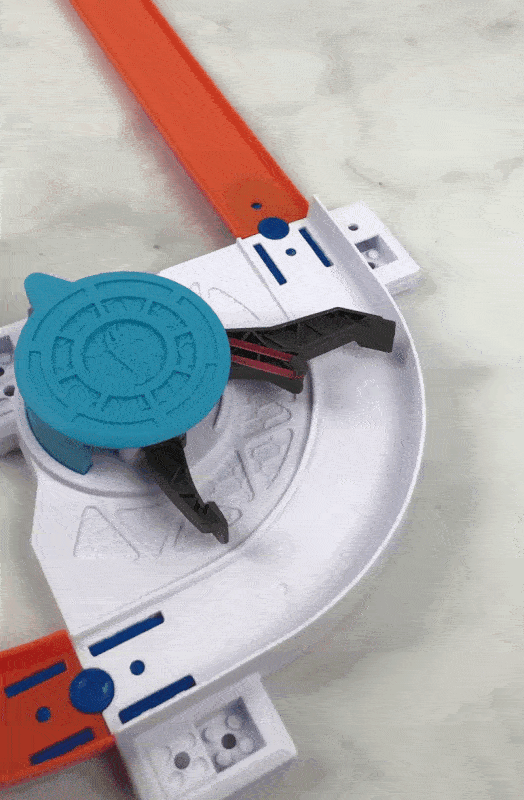 Everything is now in place. Ready, set, go!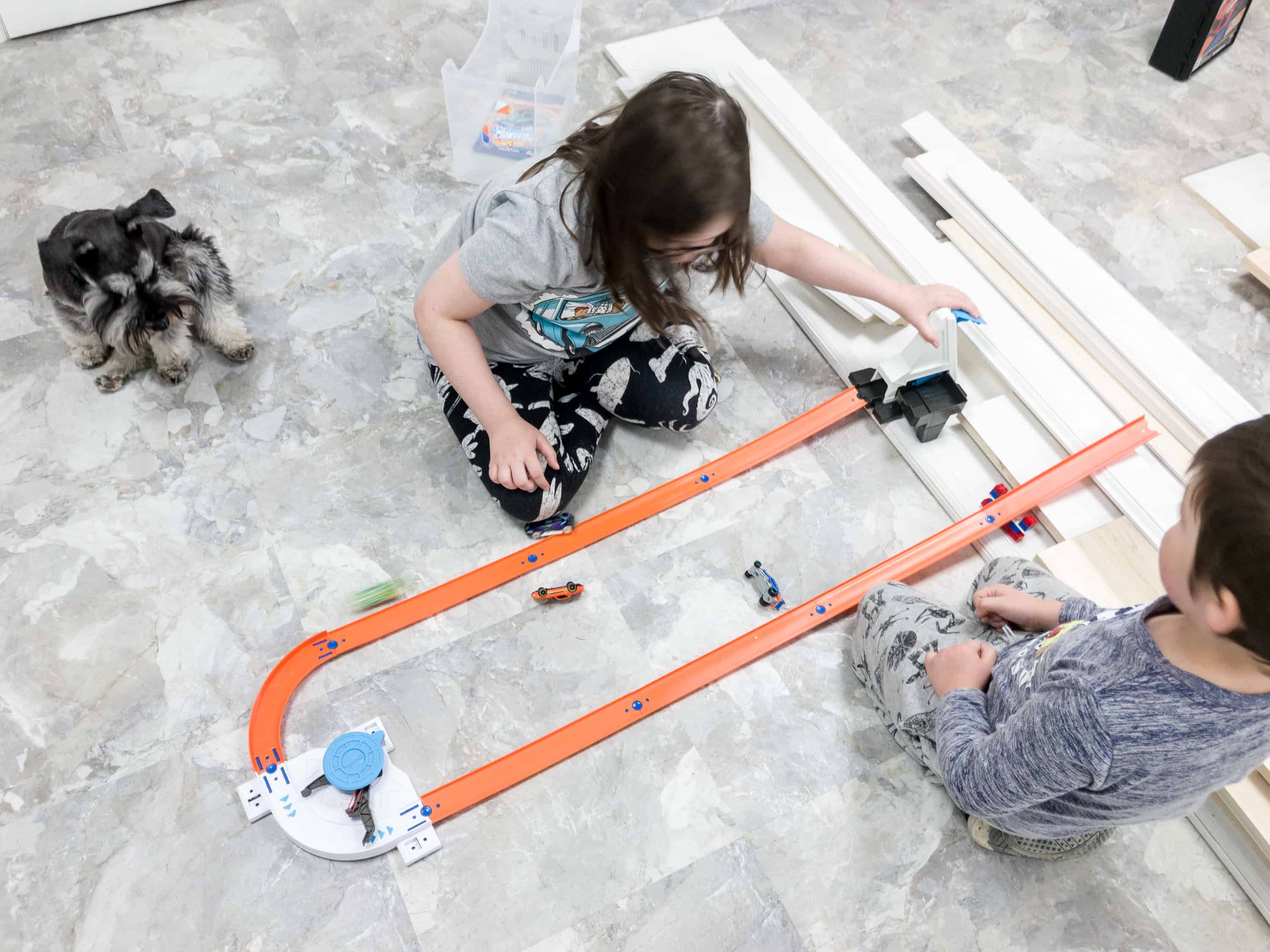 Because Hot Wheels have this tracking system, you won't have any problem connecting your old tracks to your new one like what my kids did. They connected their Rapid Launcher to their new track, Turn Kicker!
We are at the end of our basement remodel and they decided to use the trim as a feature of the set. At one point they disappeared for a whole screen-free two hours just rocking with these rad ramps! This wasn't the first time they played with it, and had previously used the cool tunnel feature of the customizable box: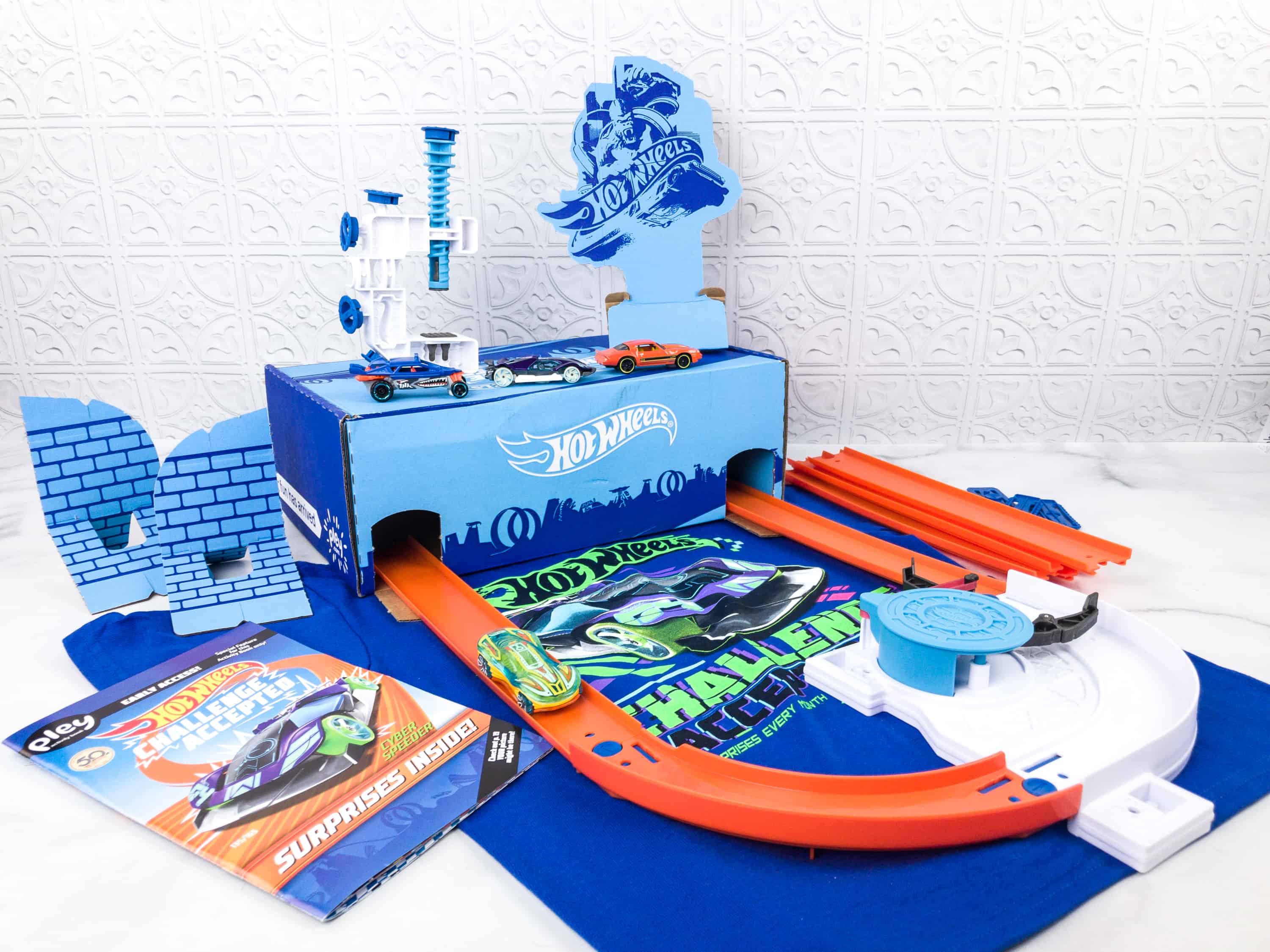 Hot Wheels Pleybox is a great subscription for kids or any kid at heart who loves Hot Wheels or toy cars. They feature an awesome tracking system in which you can connect your old tracks to your new one without trouble, as long as they are authenticated Hot Wheels tracks. They have also included cars that might appeal as collector's items. We totally had a great (screen-free, can't stress that enough) time testing out our cars and tracks this month!
Are you getting the Hot Wheels Pleybox?