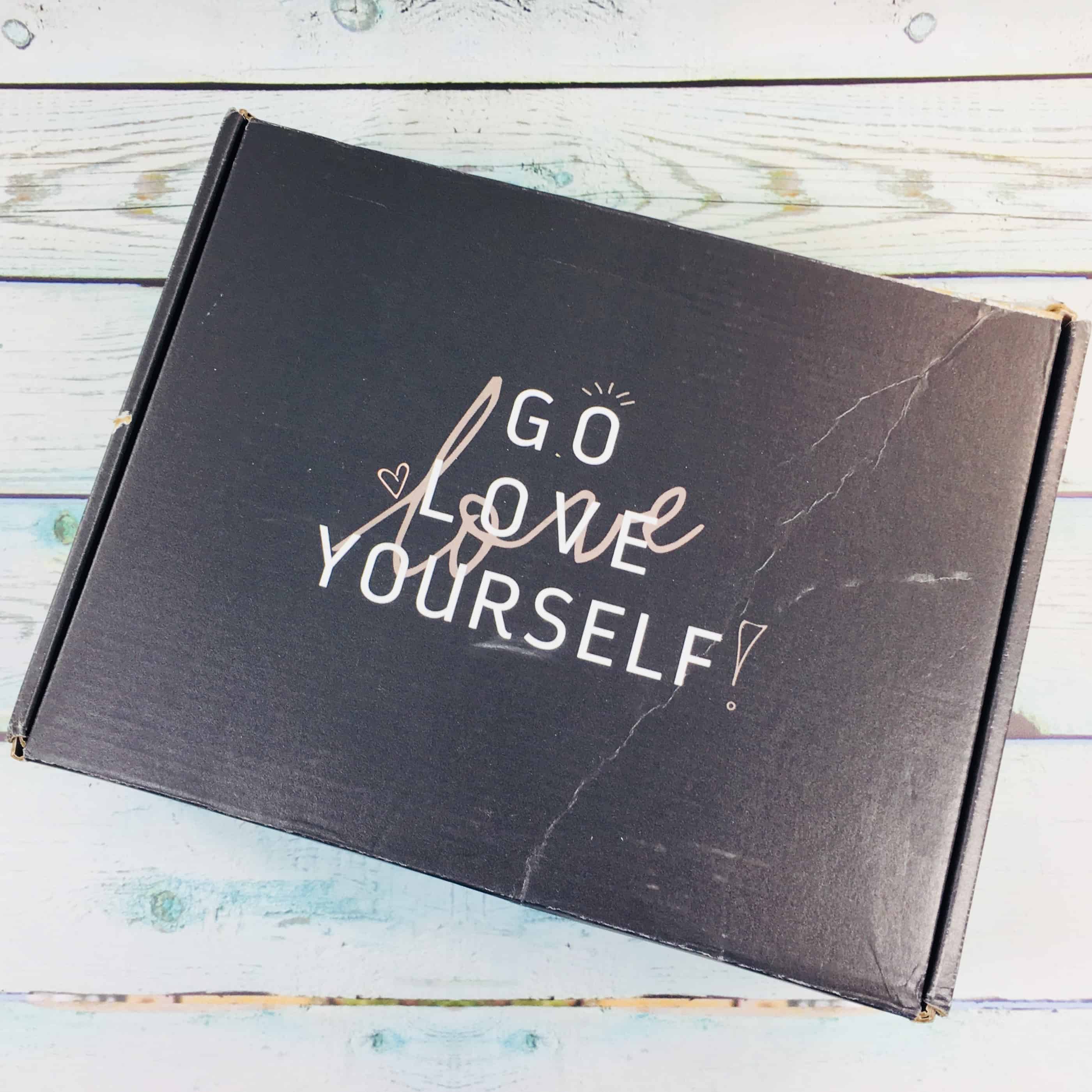 Go Love Yourself is a monthly subscription box to help you live a happier and more fulfilled life. Receive a care package each month just for you, with a personal development book, resources to make the ideas stick, and self-care items to make the reading experience more fun. What can you expect to find in your monthly box?
Each box contains:

a personal development or self help book,
resources to help you put the strategies from the book into action and make it stick,
reading-experience-enhancers, such as tea, candles, and self-care related items,
a complimentary 30-minute coaching session with one of our featured coaches, and
access to additional resources, motivation and support through our exclusive online community!
DEAL: Get 10% off your first box! Use coupon code HELLO.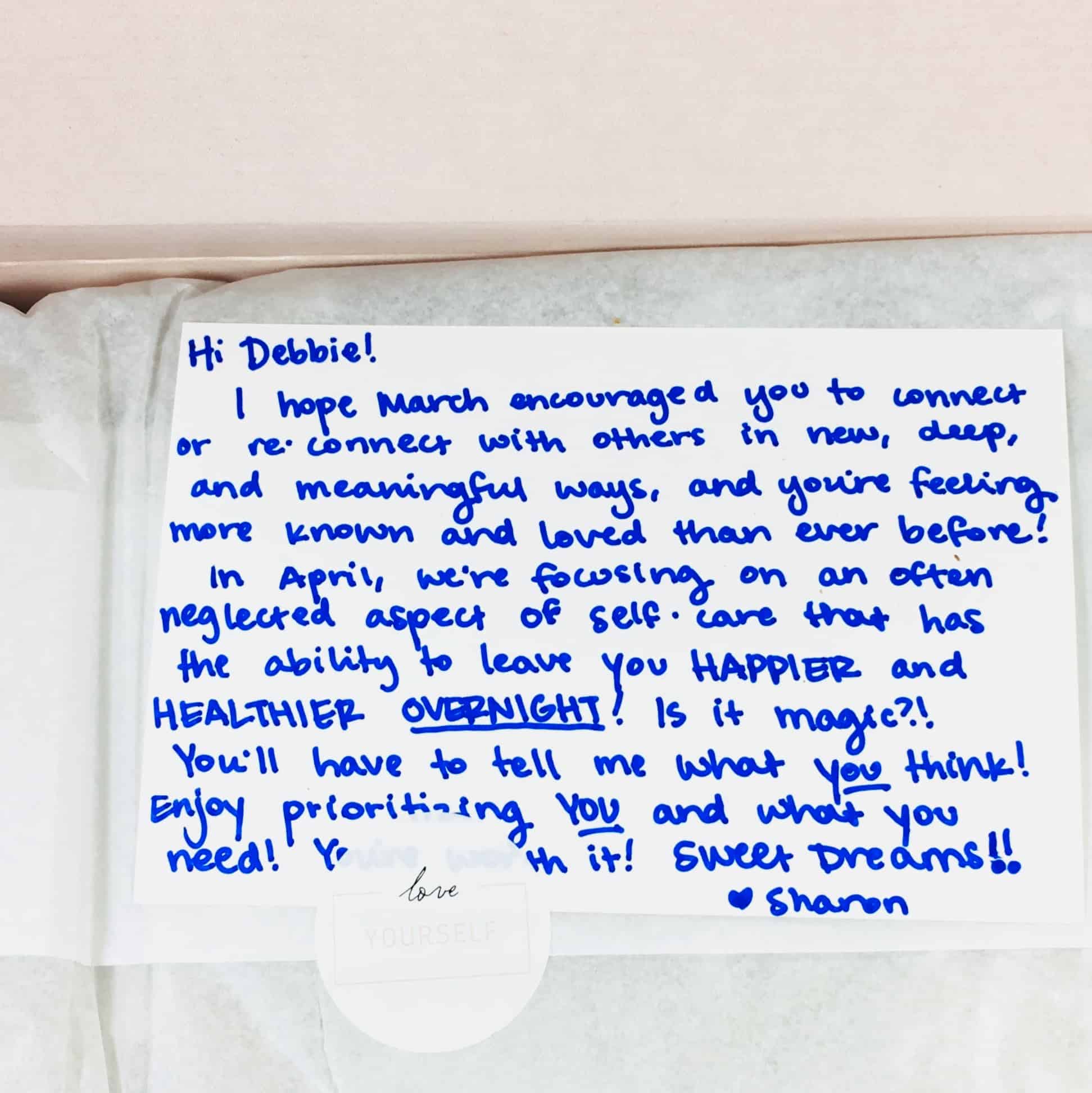 I always appreciate a hand-written note in a subscription box!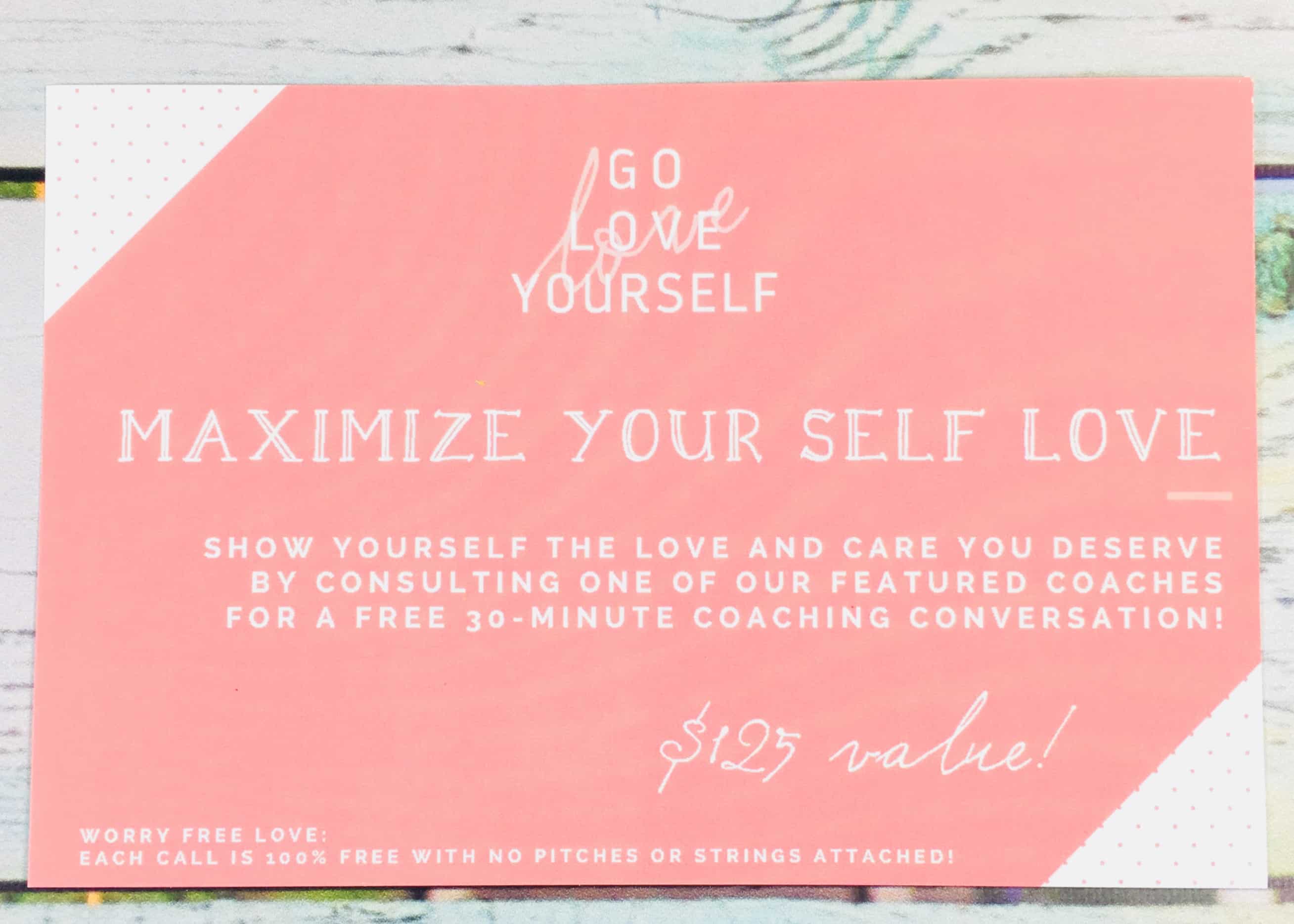 There was a card that stated you could receive a 30-minute complimentary coaching conversation, which is a $125 value.
The back of the card listed the four coaches and their websites.
Next, there was a product information brochure. The brochure mentioned the products and services for this month's box, along with the retail value of each item.
The back of the brochure tells you how to reach out to Go Love Yourself.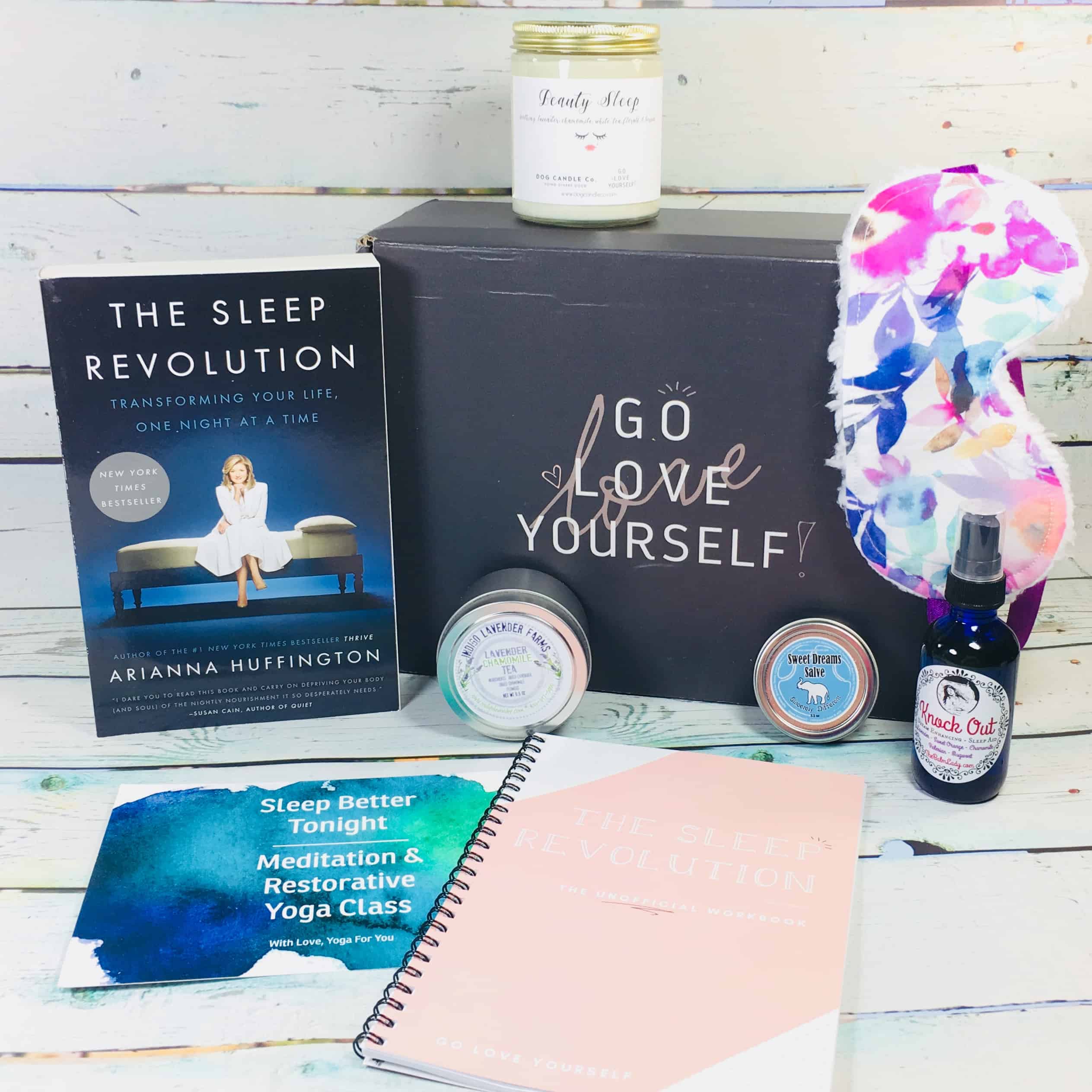 Everything in my box! I love the theme for March – But First, Sleep!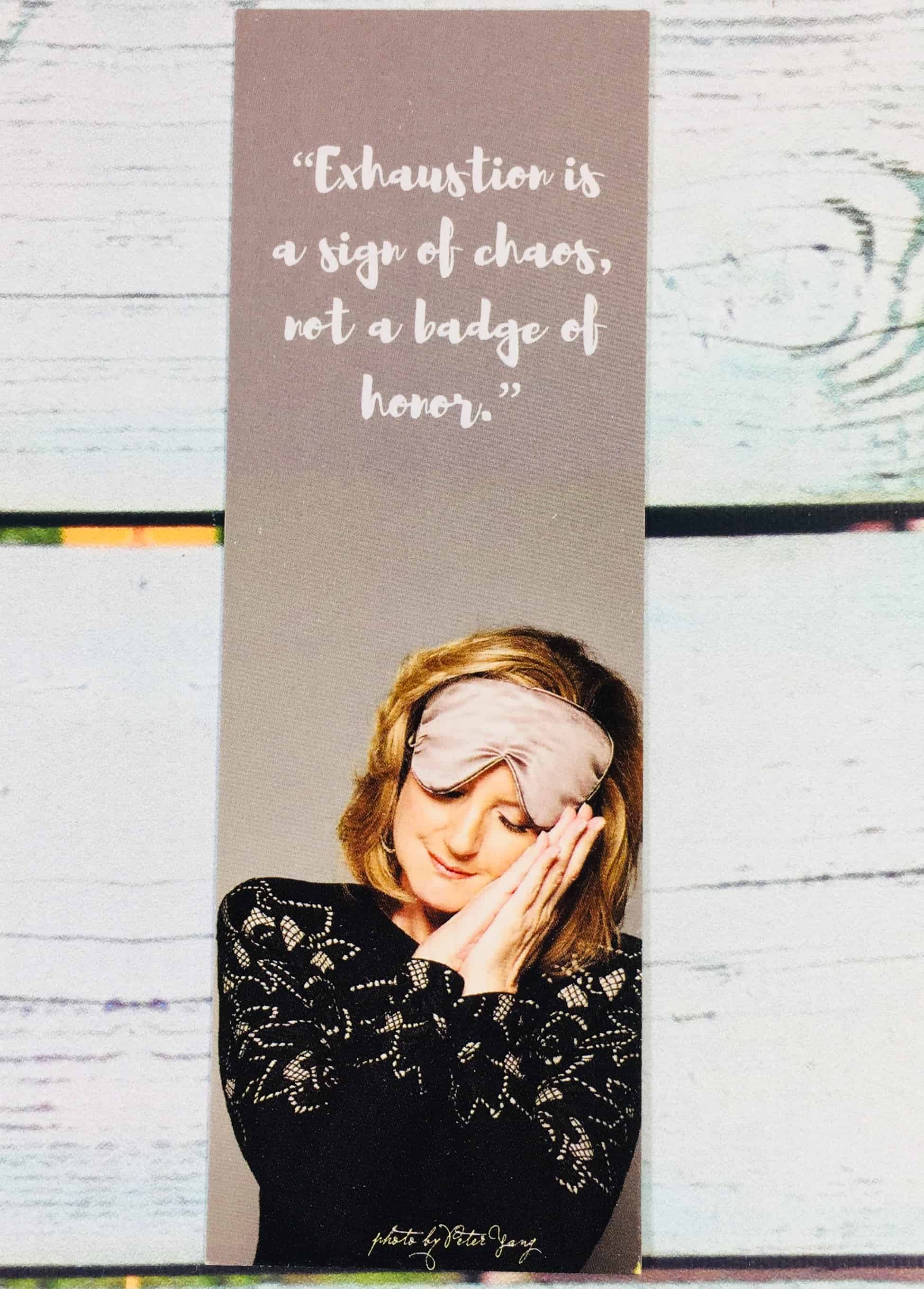 Each month Go Love Yourself features an uplifting book by a featured author. They also enclose a bookmark that goes along with the book.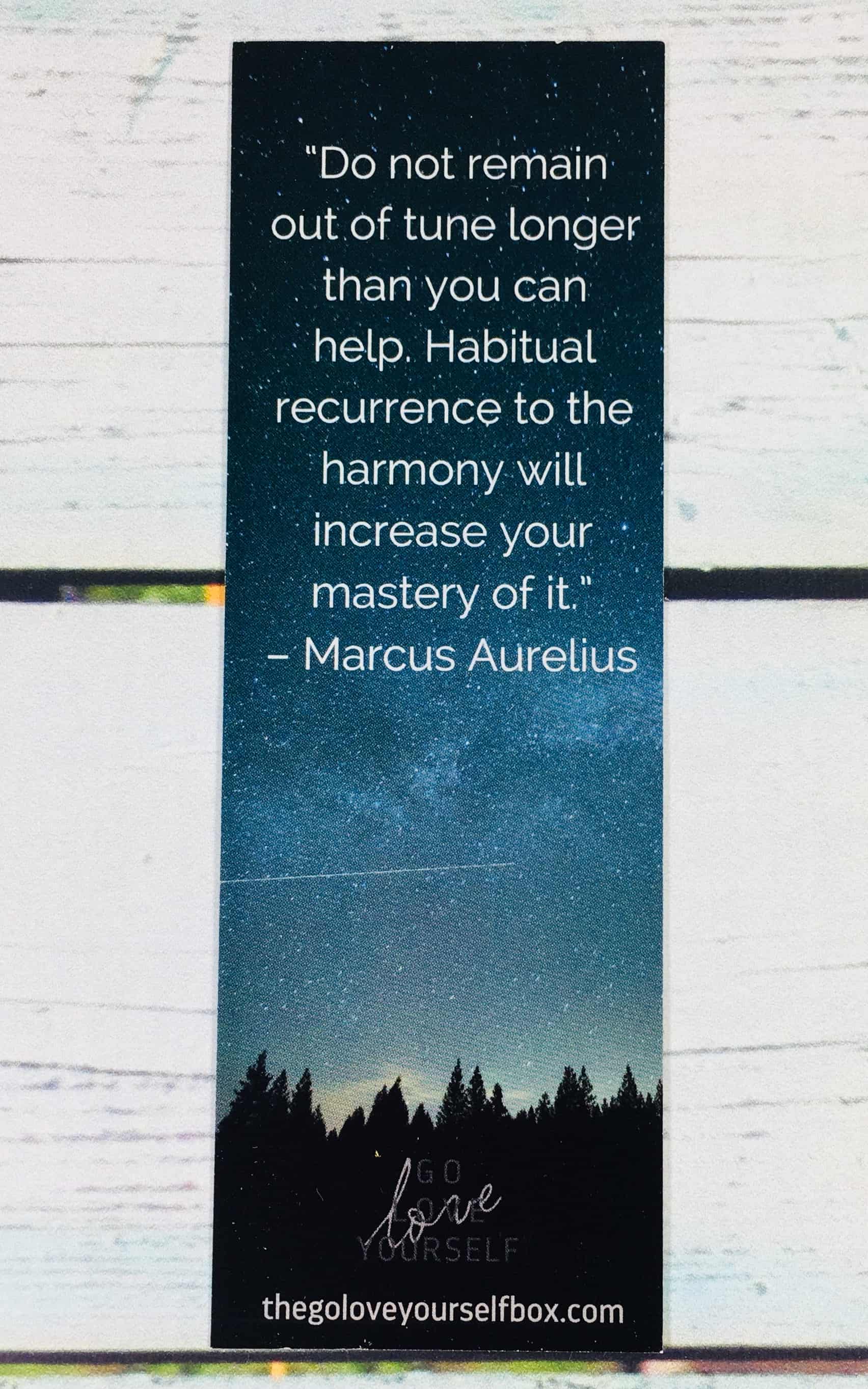 The bookmark has a relevant quote and is a nice touch.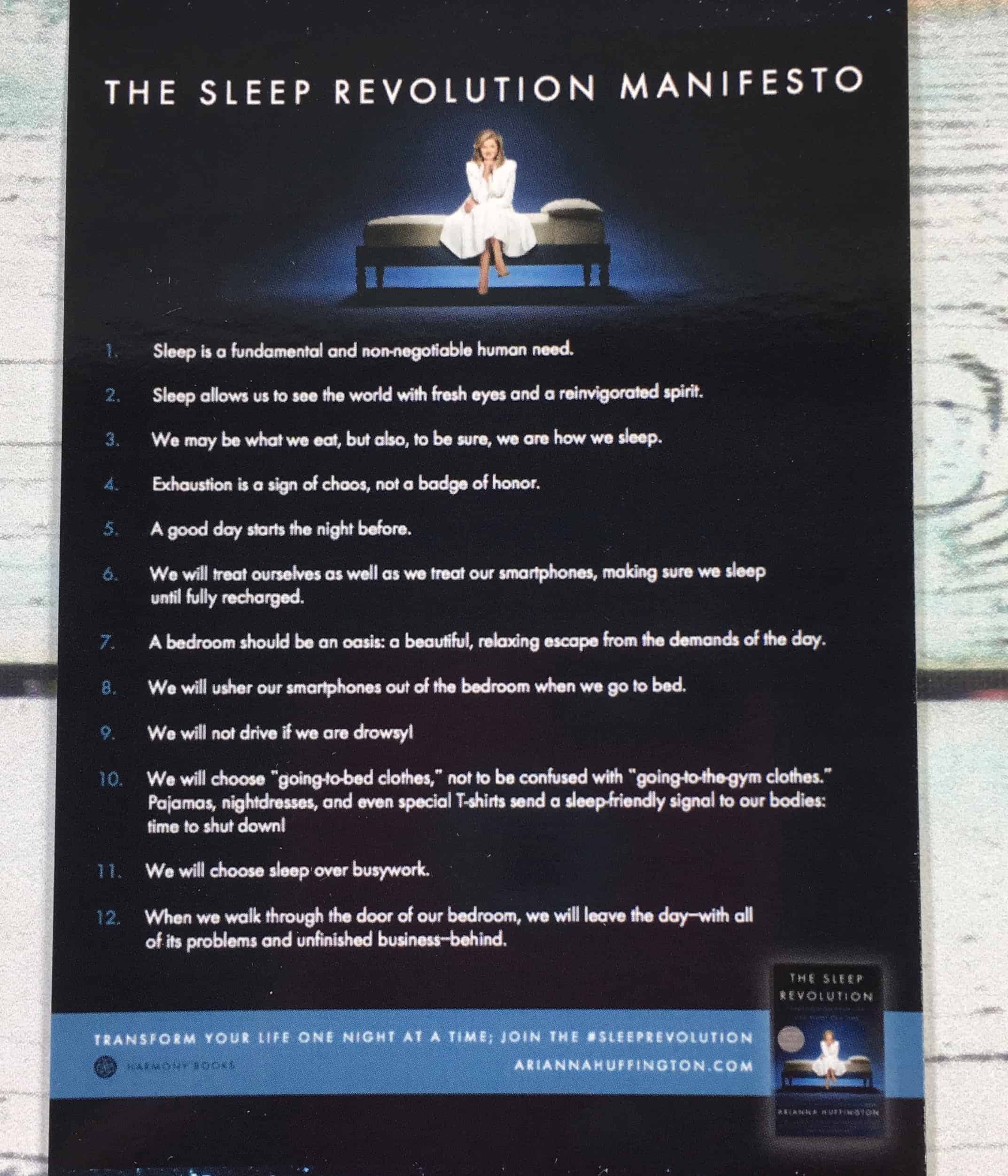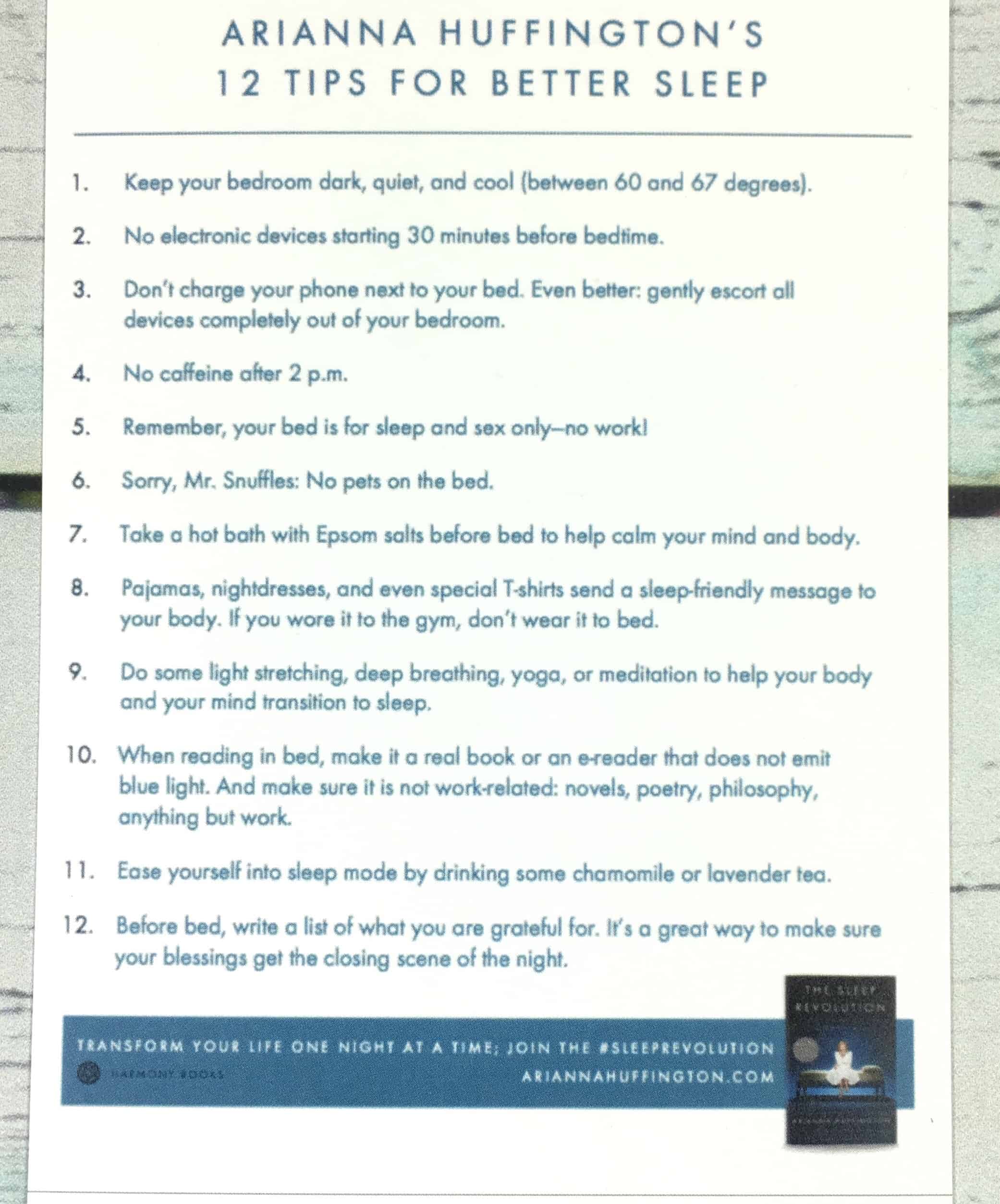 Next up was a card by the author of this month's book selection. Each side offered hints or tips for a good night's sleep, and how to get in that mindset.
The Sleep Revolution By Arianna Huffington ($16 list price, now $10.66) In case you haven't guessed, this month's box is all about getting enough sleep. At work we would brag about how little sleep we got the previous night, like it was something to be proud of. This book wants us to rethink that mentality and help improve our lives.
Co-founder and editor in chief of The Huffington Post Arianna Huffington shows how our cultural dismissal of sleep as time wasted compromises our health and our decision-making and undermines our work lives, our personal lives—and even our sex lives in this New York Times bestseller.

We are in the midst of a sleep deprivation crisis, with profound consequences to our health, our job performance, our relationships and our happiness. What we need is nothing short of a sleep revolution: only by renewing our relationship with sleep can we take back control of our lives.

In The Sleep Revolution, Arianna explores all the latest science on what exactly is going on while we sleep and dream. She takes on the sleeping pill industry, and all the ways our addiction to technology disrupts our sleep. She also offers a range of recommendations and tips from leading scientists on how we can get better and more restorative sleep, and harness its incredible power.

The result is a sweeping, scientifically rigorous, and deeply personal exploration of sleep from all angles, from the history of sleep, to the role of dreams in our lives, to the consequences of sleep deprivation, and the new golden age of sleep science that reveals the vital role sleep plays in our every waking moment and every aspect of our health—from weight gain, diabetes, and heart disease to cancer and Alzheimer's.

In today's fast-paced, always-connected, perpetually-harried and sleep-deprived world, our need for a good night's sleep is more important—and elusive—than ever. The Sleep Revolution both sounds the alarm on our worldwide sleep crisis and provides a detailed road map to the great sleep awakening that can help transform our lives, our communities, and our world.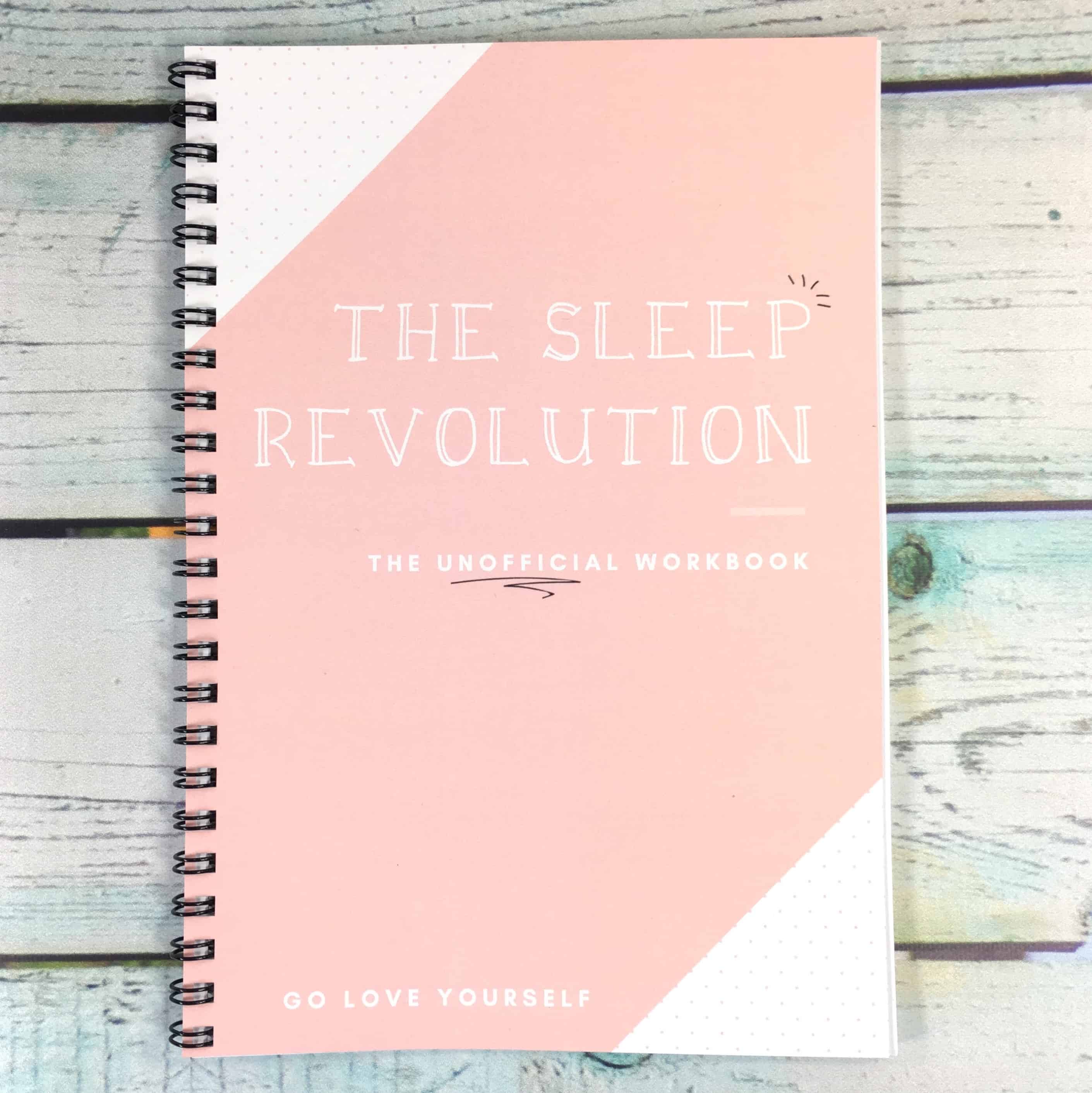 The Sleep Revolution Workbook ($14.95) is a log to go along with the featured book. It isn't currently available but I would expect the Go Love Yourself website to have extra logs for sale in the future.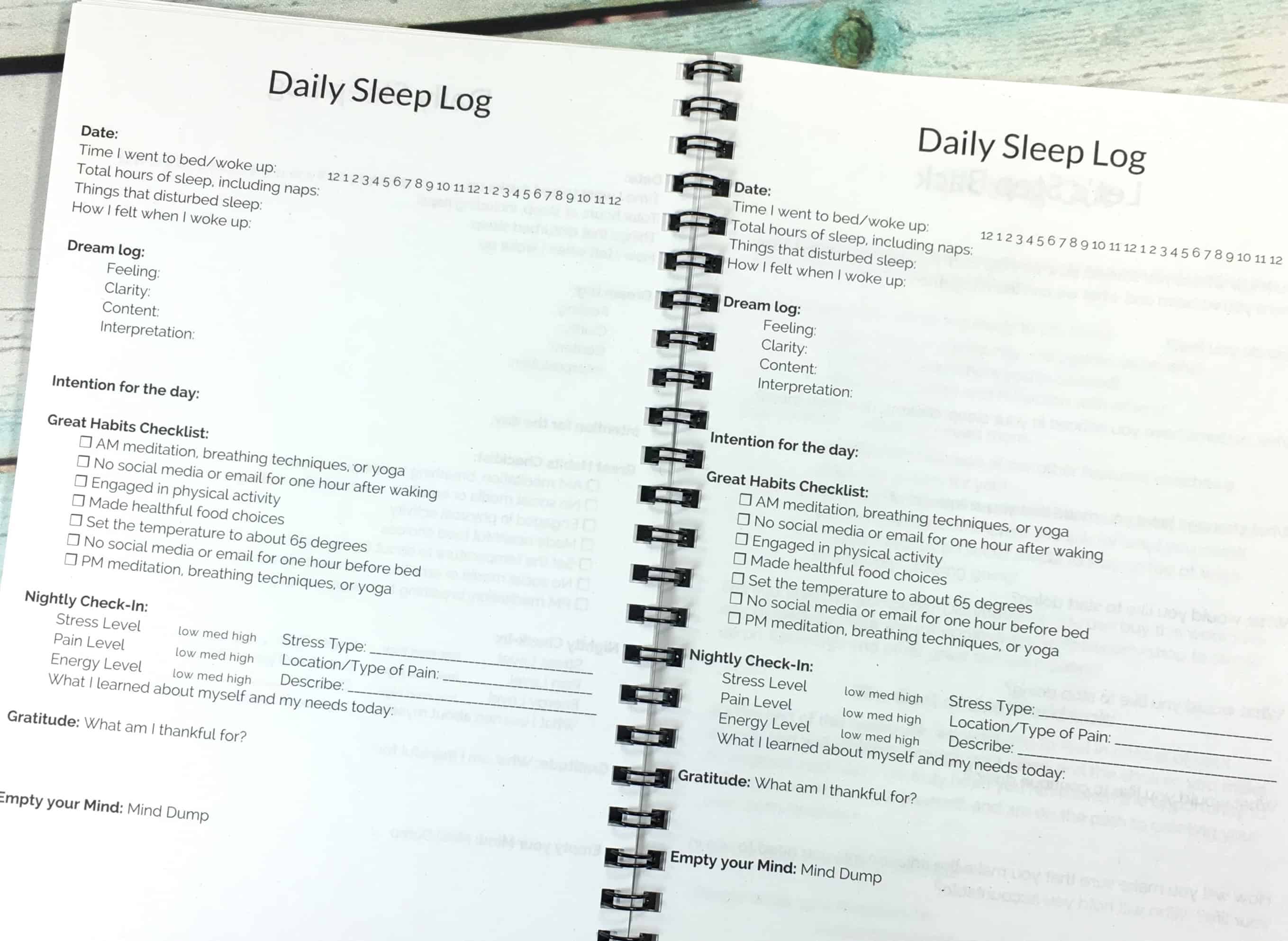 It has place to log your sleep hours, healthy habits for a better night's sleep, and a spot for a little journaling.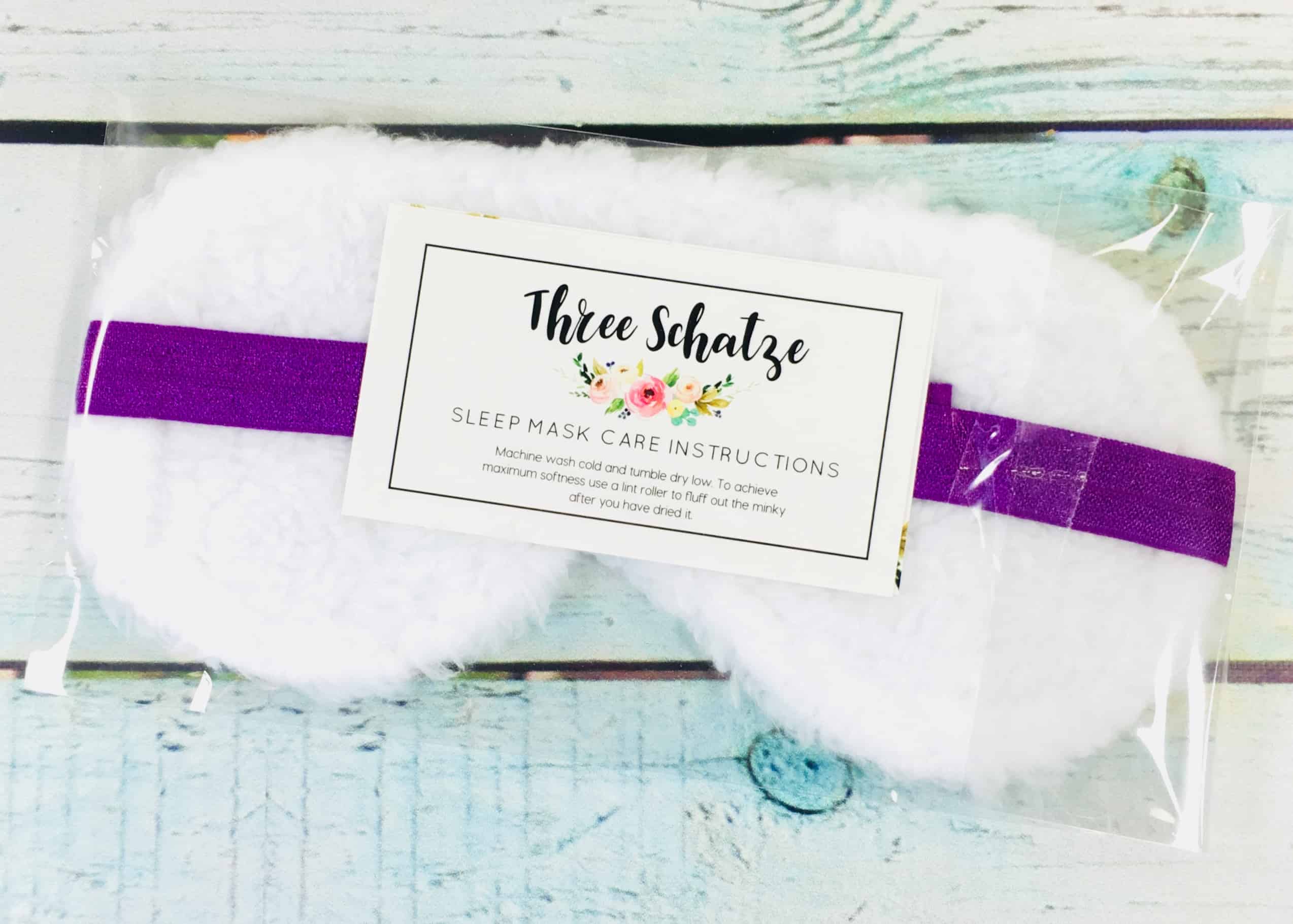 Three Schatze Sleep Mask ($10) This is the prettiest sleep mask I have ever seen.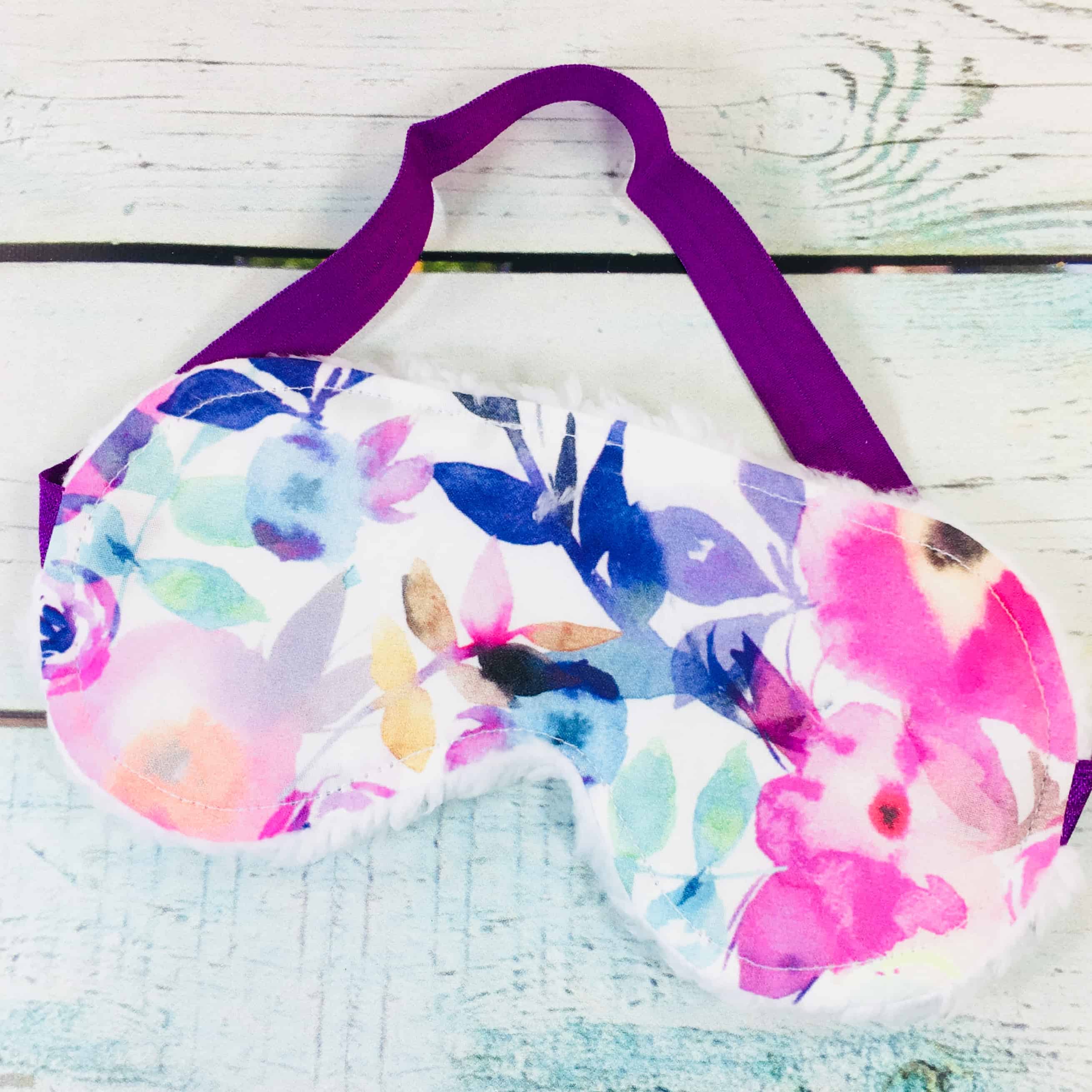 The front has a beautiful floral pattern. I could only find this pattern in a set of 6 masks, but there are lots of other fabrics to choose from and the masks run about $15 a piece.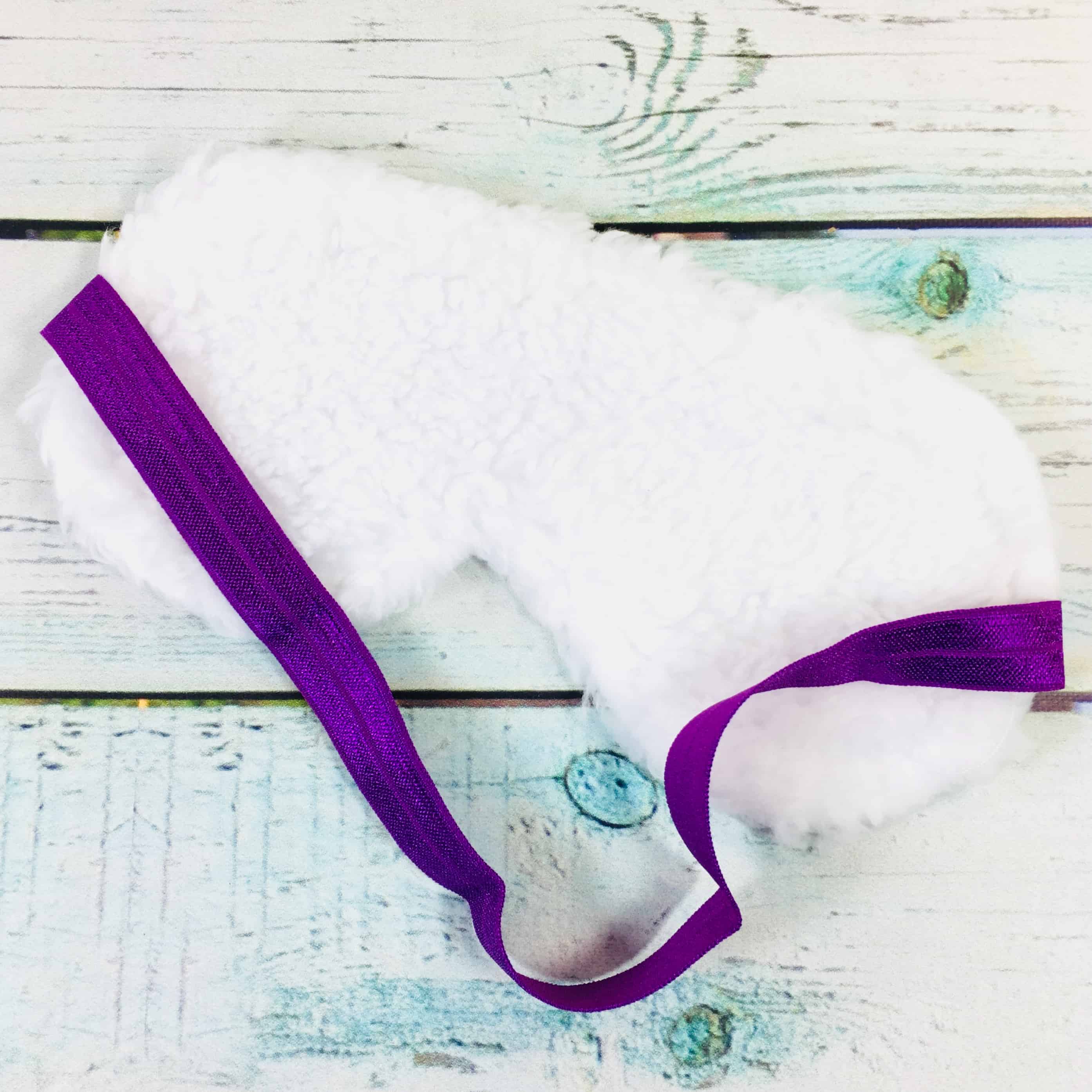 The inside of the mask features minky, a plush, super soft fabric that is typically found on baby blankets. It has a one-size fits most band; if you need it smaller you can custom order one for yourself or add a few stitches to make it tighter.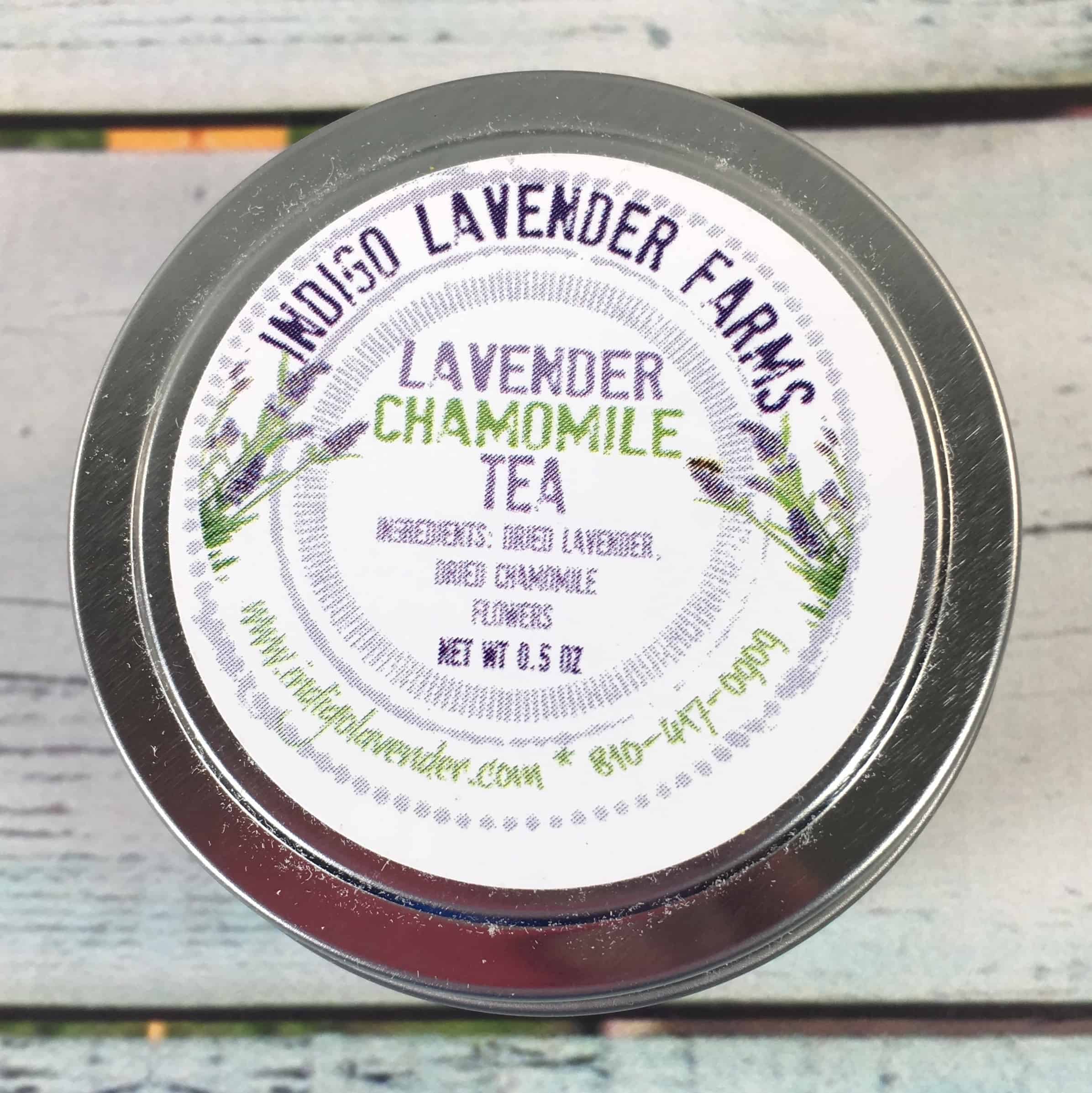 Indigo Lavender Farms Lavender Chamomile Tea ($6) I am a tea nerd so I'm always a little disappointed when sellers don't put the amount of tea to use or what temperature the water should be. The only instructions I could find said to steep for 3-5 minutes. I went ahead and used 1 teaspoon to 8 ounces of boiling water.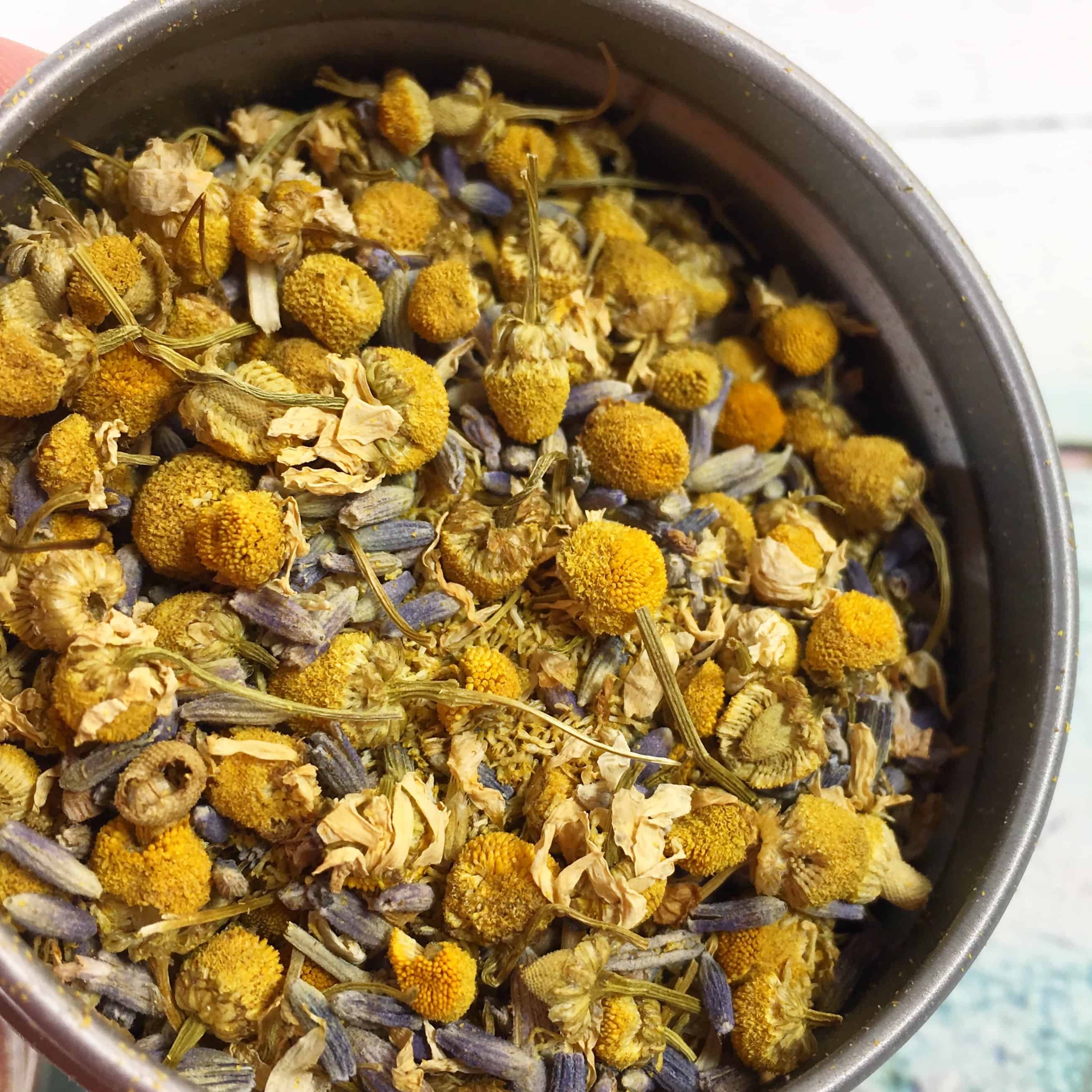 Look at how pretty this is! Lavender and chamomile are both known relaxers but maybe drink a couple of hours before bed if you tend to get up a lot during the night. This could also be used as a facial steam! The taste was mild and herbaceous.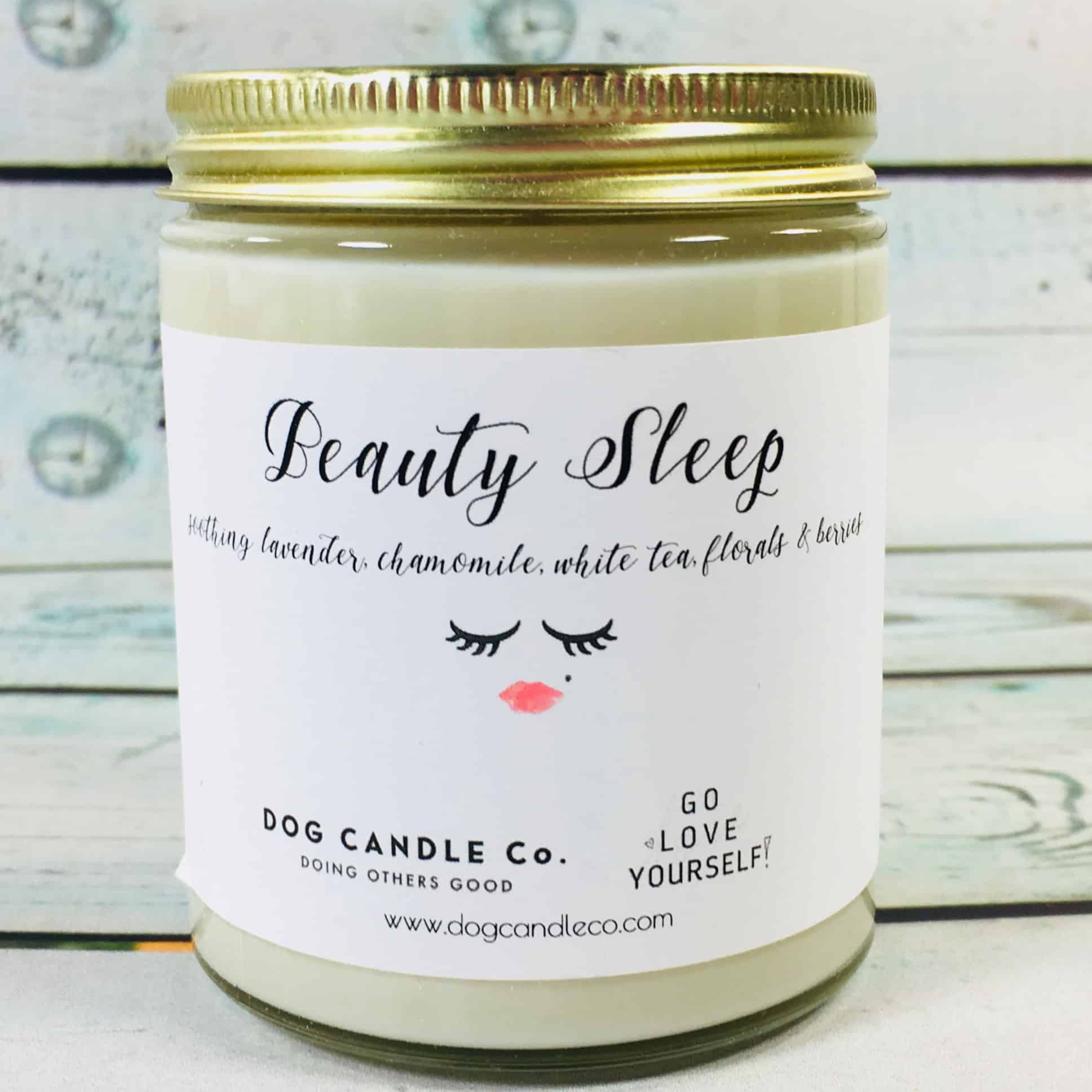 Dog Candle Co Beauty Sleep Candle ($24.99 per card value) This particular scent is a Go Love Yourself exclusive but there are a few others on the DOG website to choose from. DOG (Doing Others Good) donates a portion of sales to shelter dogs.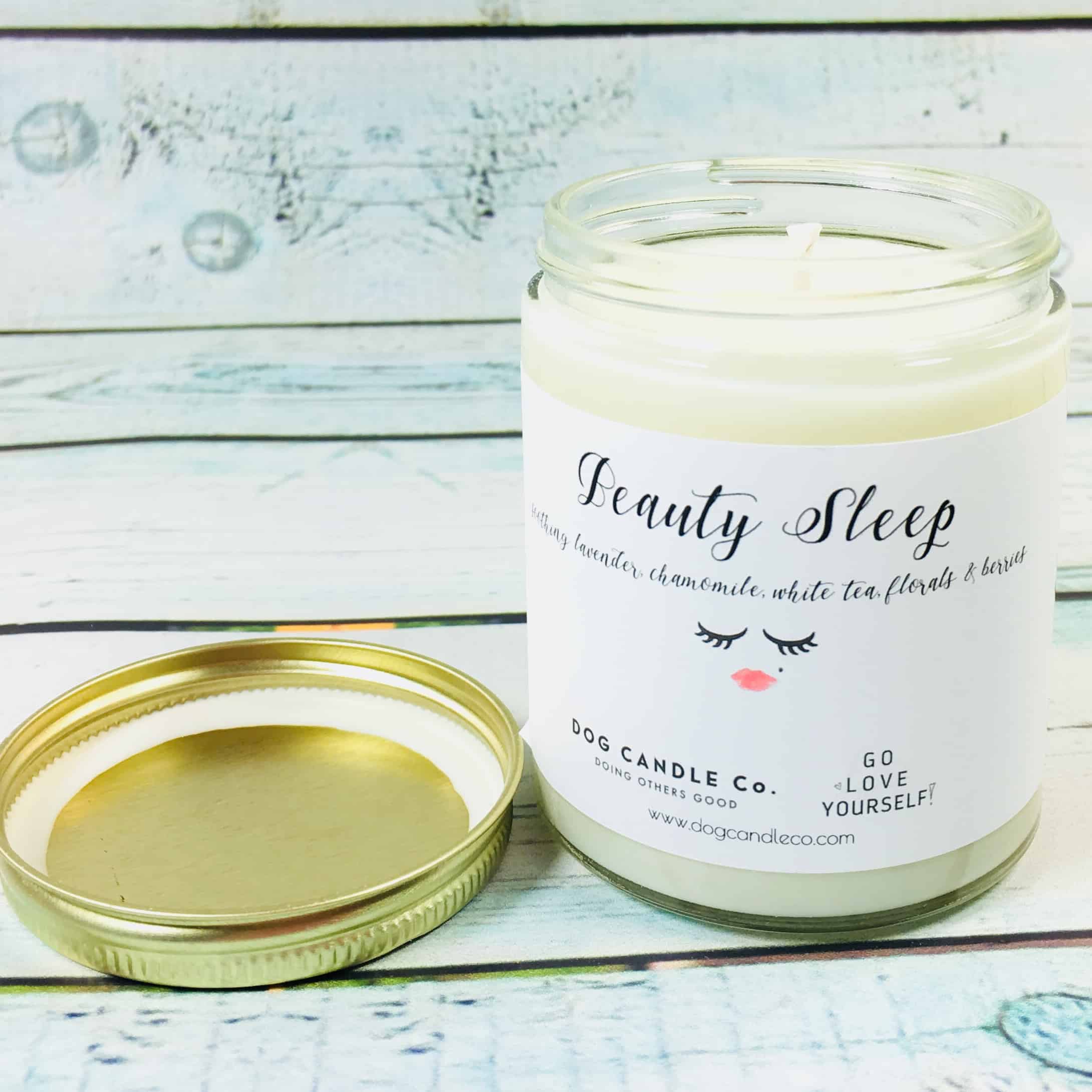 The 100% soy wax hand-poured candle has fragrance notes of lavender, chamomile, white tea, and berries. It smells sweet and fruity.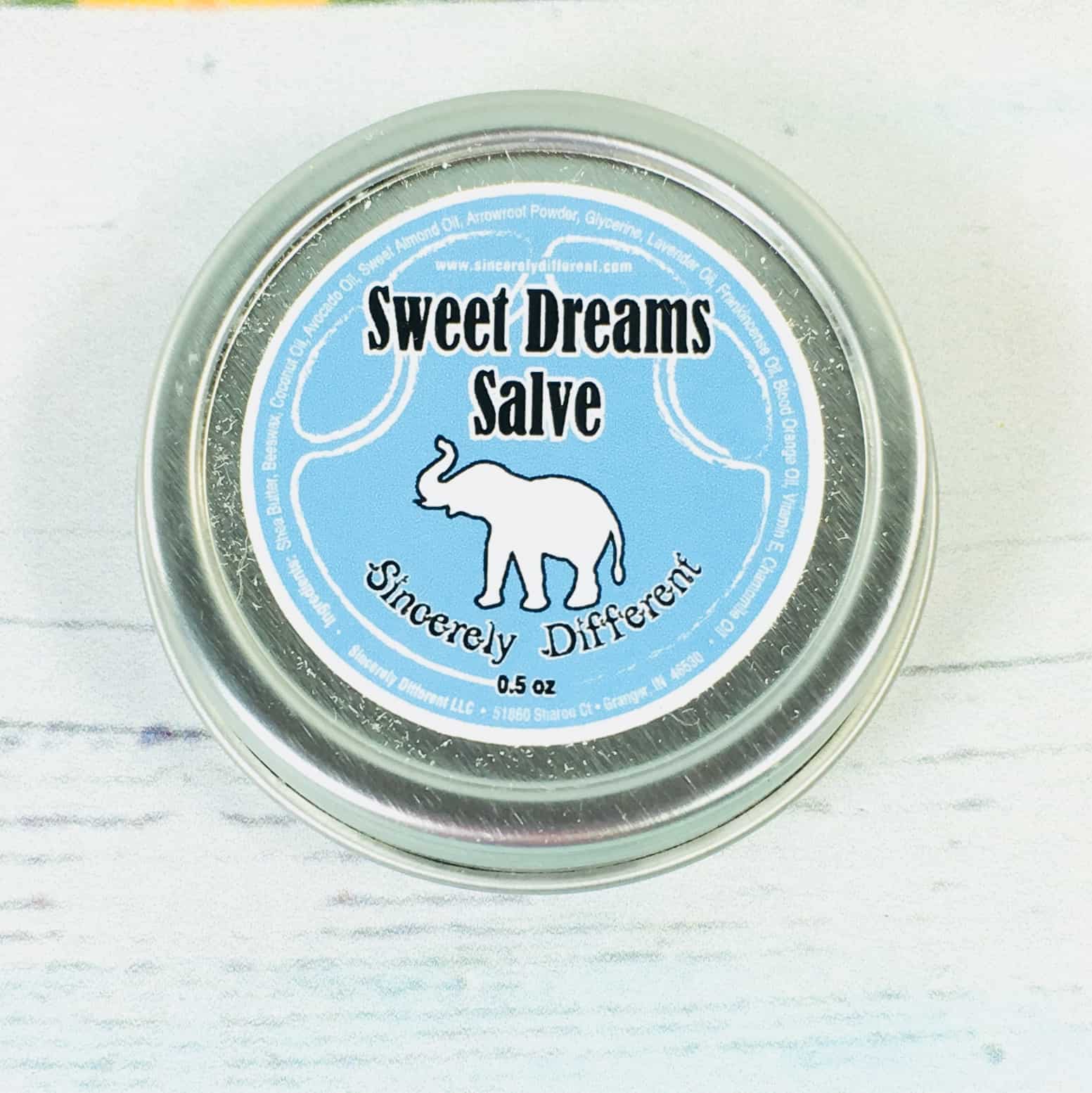 Sweet Dreams Salve In Sincerely DIfferent ($10) I like moisturizing salves such as this one, I just rub it on my wrists before bed and there's no mess.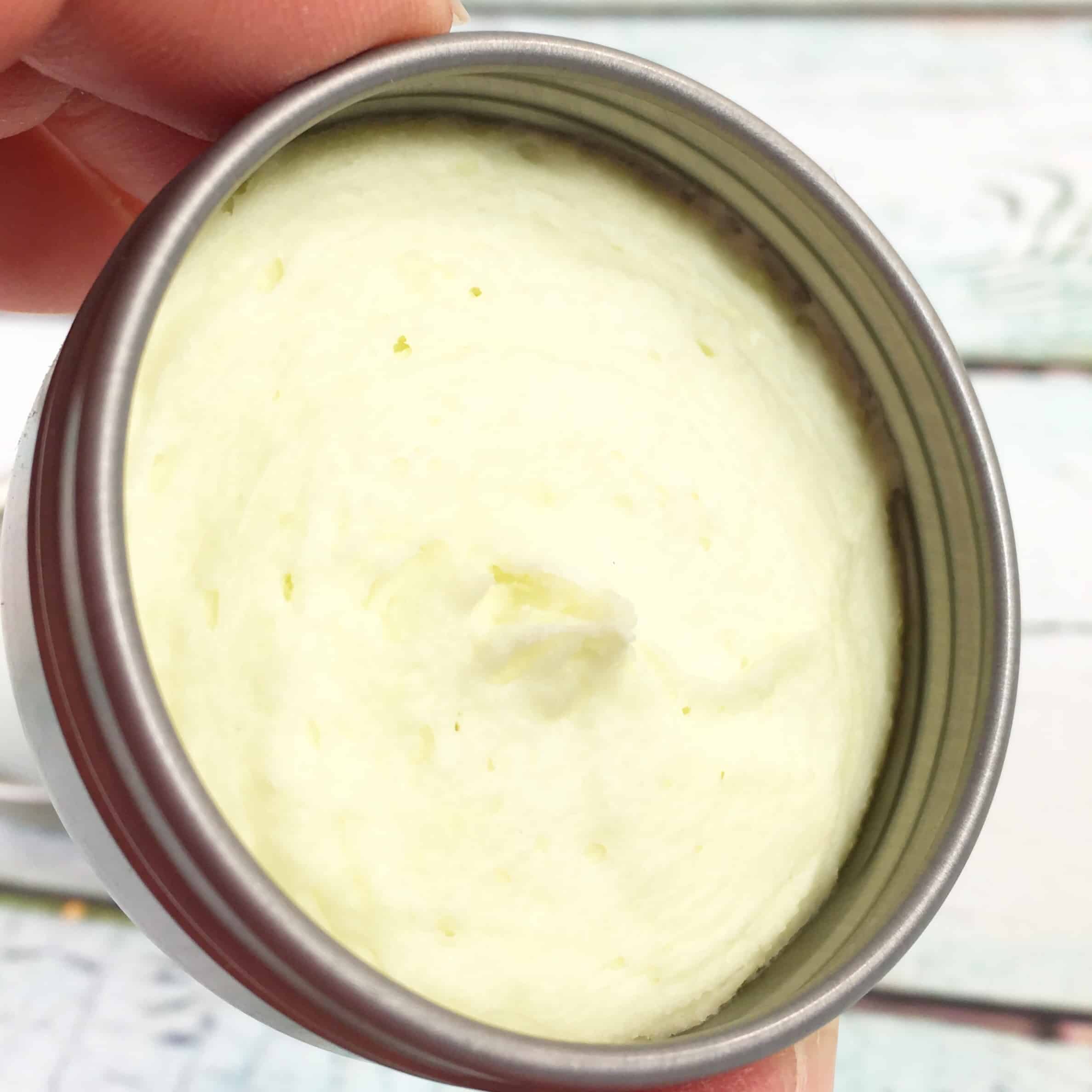 It felt a little gritty when I rubbed it on but it immediately smoothed out and left behind a warm scent, maybe from the frankincense? Very nice!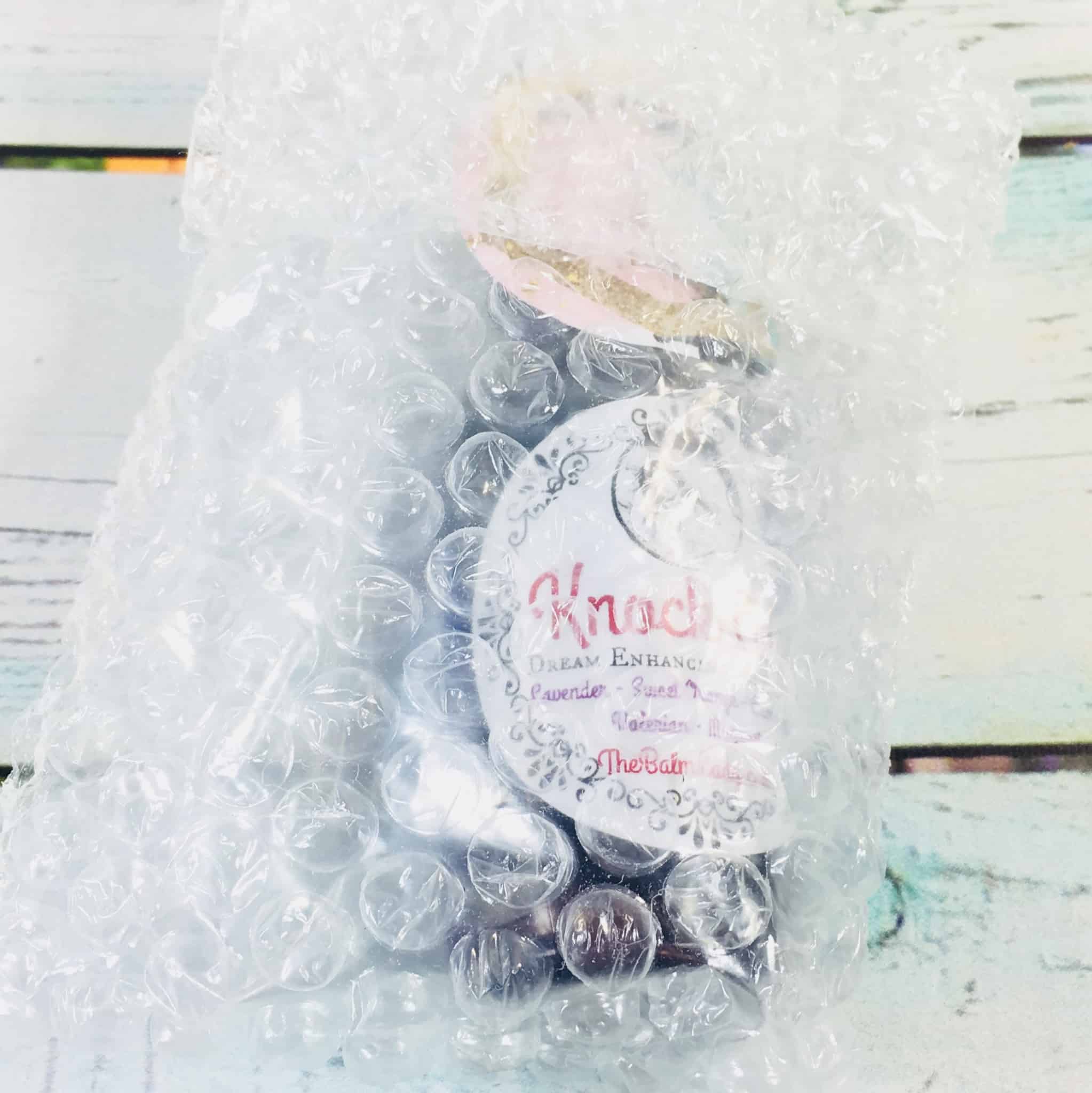 The next item was glass and was wrapped well in bubbles.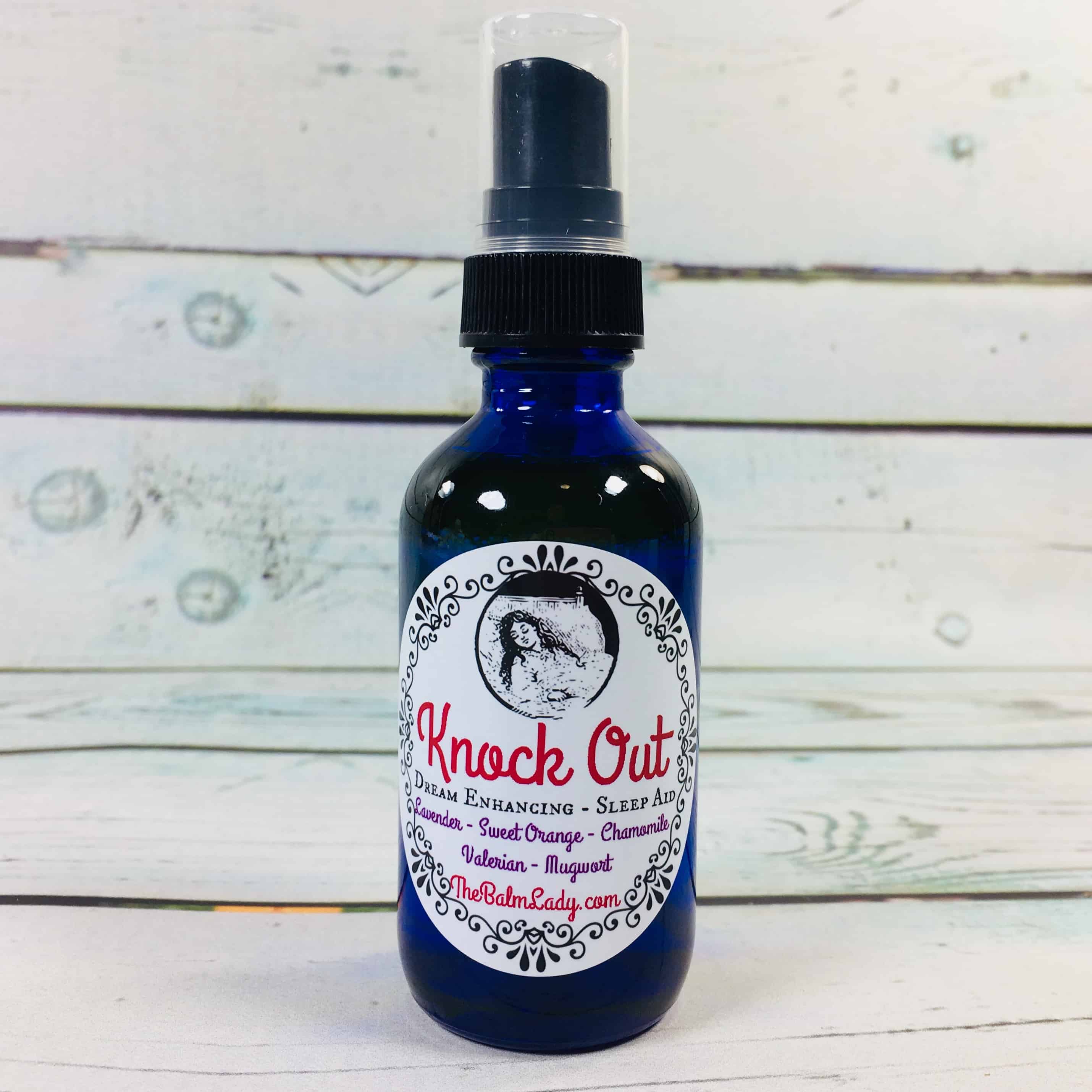 The Balm Lady Knock Out Dream Enhancing Sleep Aid ($9.97) Sprays are often recommended for helping one get a good night's sleep. Just spray it on your sheets and take a deep breath. I know herbs like lavender are calming but I wonder if maybe it helps induce relaxation by regulating breathing, too?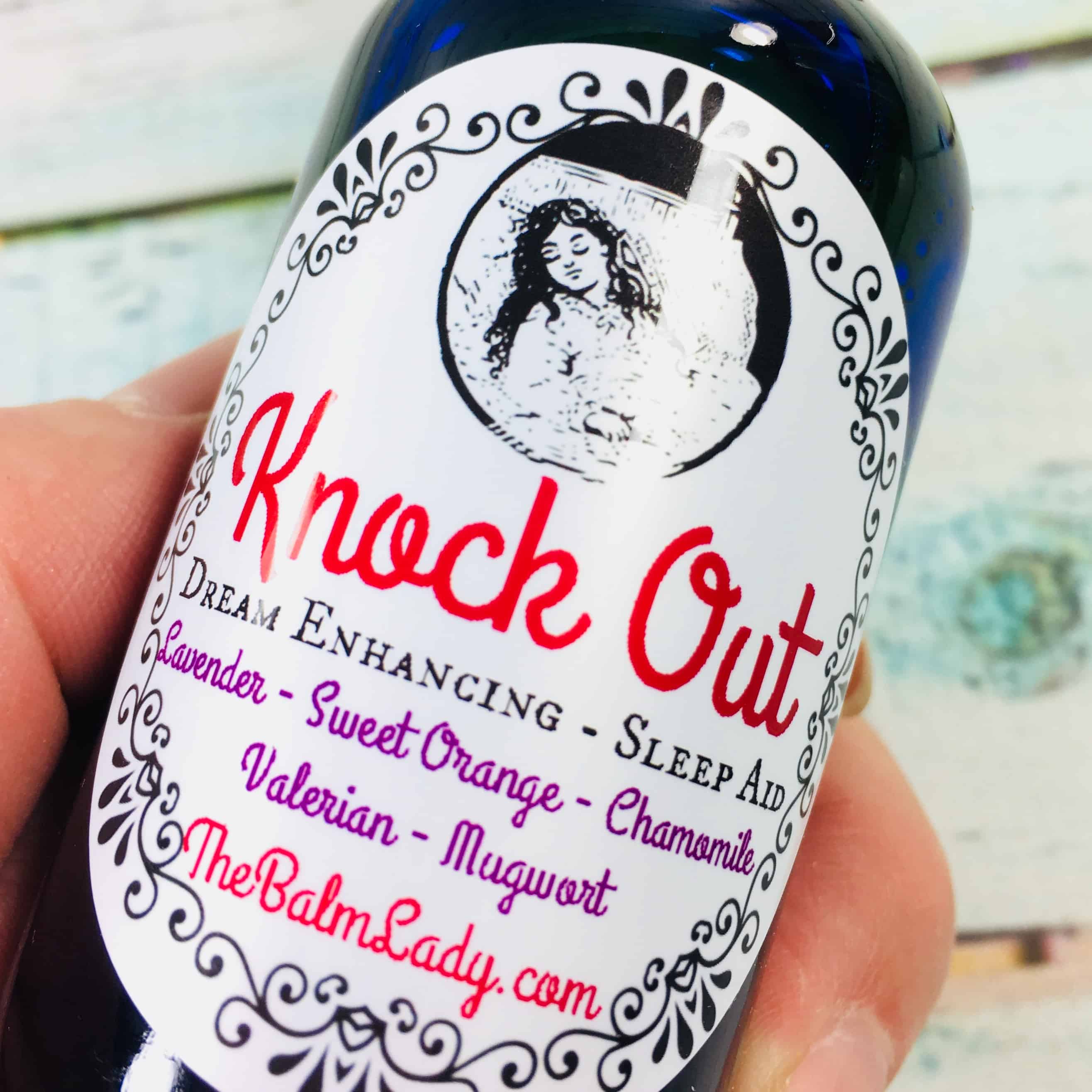 I couldn't find a full list of ingredients but judging by the consistency I would say water is the base. The website mentioned lavender, orange, valerian, mugwort, sandalwood, chamomile, and ylang ylang essential oils are included  to help promote restful sleep. It smelled mostly of oranges. Give it a good shake before spraying since water and oils don't mix and you want to make sure some of those oils come through the sprayer! Otherwise, the oils stay at the top and you are basically spraying water around the room, which is probably why I couldn't smell much the first few times I used it.
There was a card with a website address so you can receive a free guided meditation and restorative yoga class. You simply enter your email and the classes are sent to you instantly. I think this is something anyone can access but I wouldn't have known about it at all if it wasn't for this box. This is listed as a $20 value.
I loved the relaxing theme for the April Go Love Yourself box! I know in my household we can all use more sleep, and the items sent this month may help induce a relaxed state that promotes more restful time in bed. The items in this box are worth around $106.57, including the guided meditation. Go Love Yourself also has an exclusive Facebook page where they post uplifting content and info about the month's box on a daily basis so you can interact with the founder and other subscribers as much as you prefer. I appreciated that the items sent were natural and supported small businesses and the candle company even donates to charity!
Are you getting the Go Love Yourself Box?