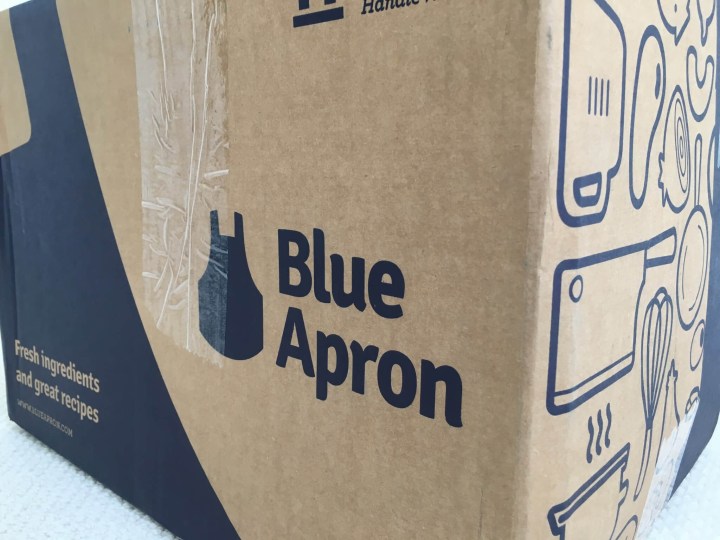 Blue Apron is a subscription box for making great meals at home. If you're like me, you periodically find yourself in a serious cooking rut. You make the same things every week, but the thought of researching a recipe and acquiring all of the ingredients is just too much work. Blue Apron is the solution! Each week, Blue Apron sends you a refrigerated box with all the fresh ingredients you need to make the included recipes. You can select the 2-person plan – 3 meals a week of 2 portions each – or the family plan – 2 to 4 meals a week of 4 portions each. The menus are set, but you can ask Blue Apron to avoid ingredients you don't eat – shellfish and lamb, in my case.
We got the Family Plan for 2 meals. I set the delivery date and it arrived right on time, securely packaged in a heavy-duty box. All of the ingredients are wrapped in an adorable insulated blanket and cooled with ice packs. Mine took a day to arrive and sat on my porch for 3 hours, and everything was perfectly cool inside.
Pricing: 2-Person Plan – $59.94 for 3 recipes. Family Plan (serves 4) – $69.92 for 2 recipes, $139.84 for 4 recipes. 
CURRENT SALE:  Blue Apron is offering five FREE meals with your first two boxes on the 2 person, just use this link to subscribe – ends 4/30!  This coupon is valid for any and all meal combinations including: Airbnb international meals, the Mediterranean Diet, and Customer Favorites!
Need a different deal? $50 off your first 2 boxes of Blue Apron Just use this link to subscribe.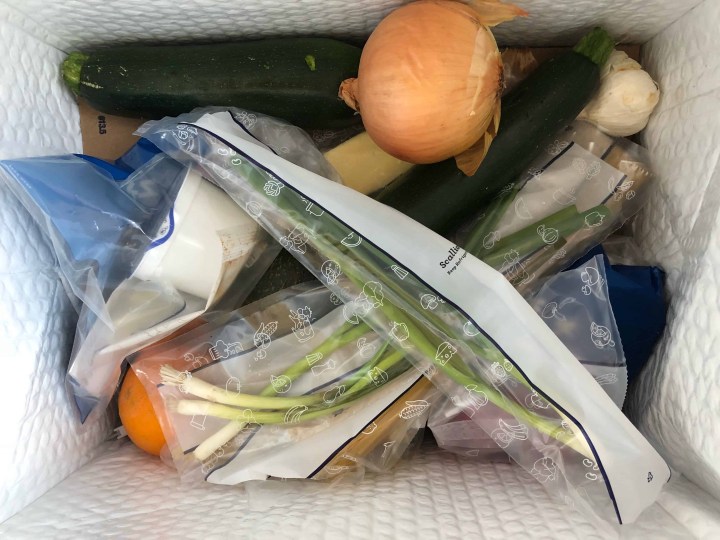 The meat is at the bottom, surrounded by still-frozen gel ice packs. The meat was double-bagged with zip-top bags, which can save a box from a leakage disaster.  So happy you brought the zip-tops back, BA!
Our first meal was the Mexican-Spiced Chicken Tacos with Citrus Salsa and Creamy Zucchini. So many modifiers.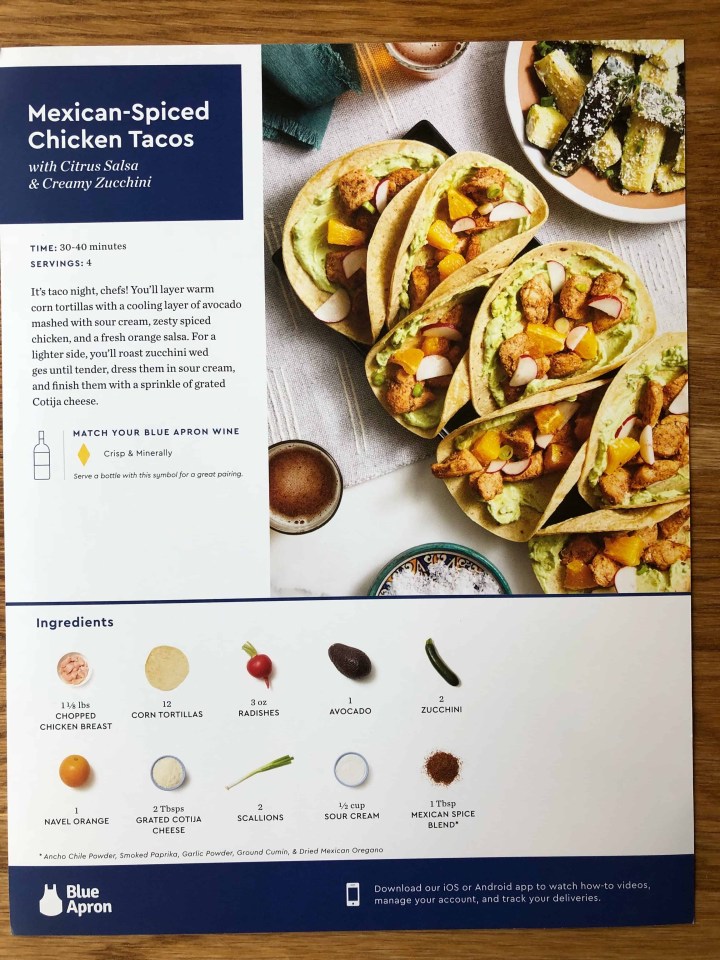 Chicken tacos are in our regular rotation, but ours are of the toss-meat-into-a-tortilla-after-baseball variety, so we were happy to try a slightly more upscale version. As usual, everything was included in the box, even a wee bag of cotija cheese.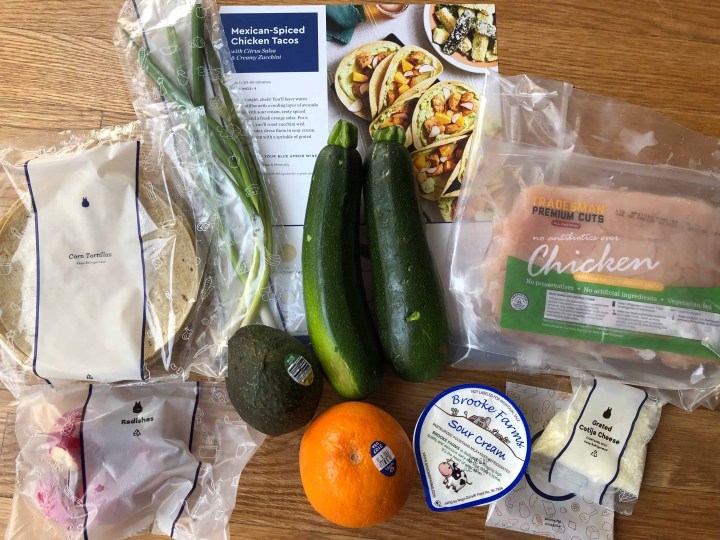 The meals come with nutrition info and ingredients. Know what you're eating!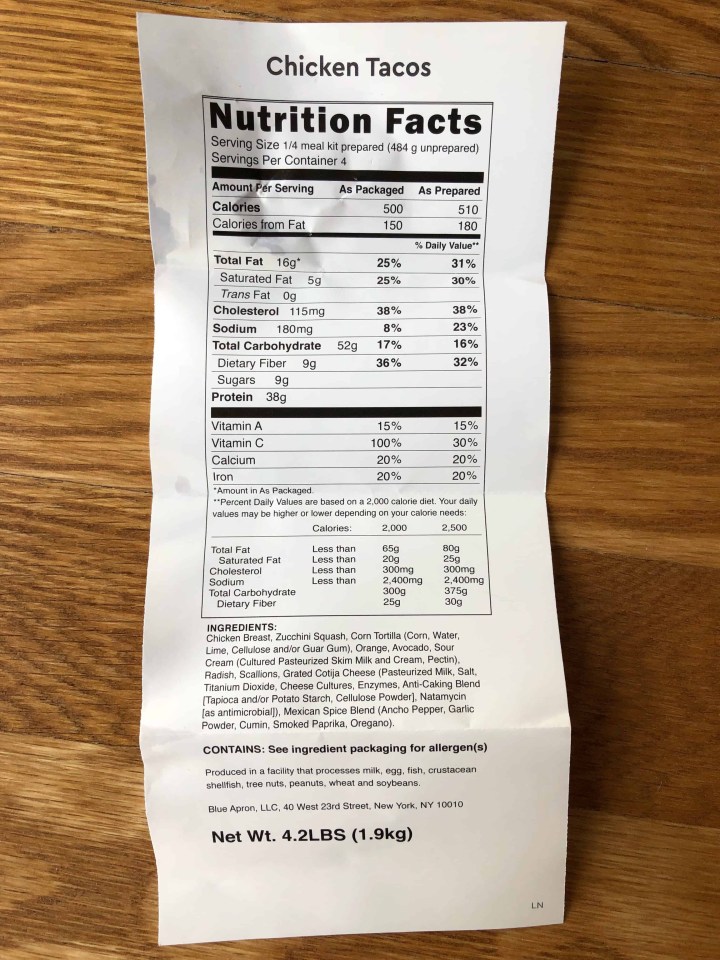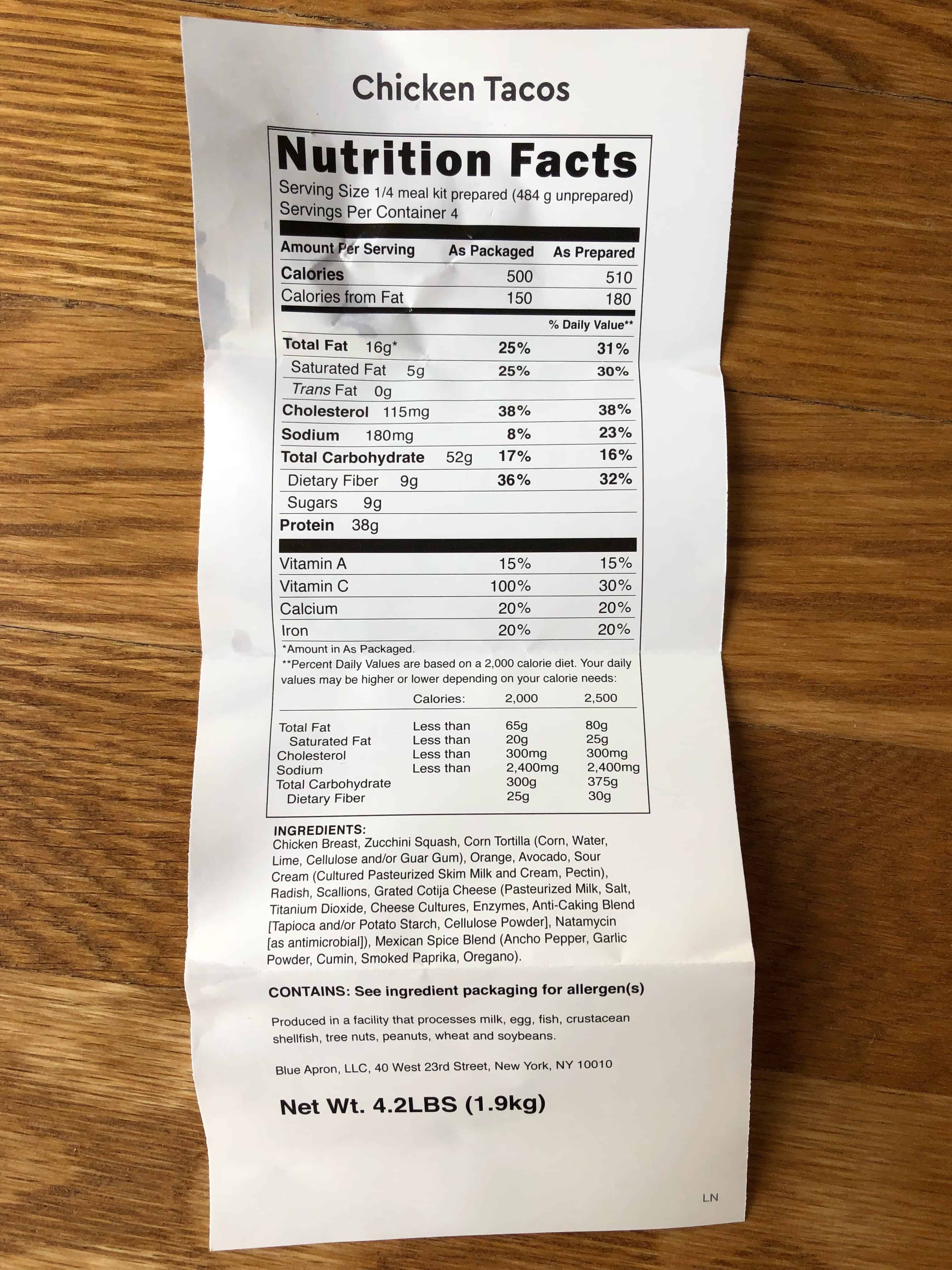 This prep was easy and straightforward. My avocado was perfectly ripe, which was nice, and the rest of the produce was also in good shape. The orange was a tad hard to segment, but that was mostly because I forgot to sharpen my knife.
Normally, there'd be prep photos, plus a finished product, but, um, the internet ate my pics. I am happy to say, however, that the chicken with the BA spice pack was terrific, the radish/orange salsa was delicious, and my non-allergic-to-avocado-family LOVED the avocado/sour cream dressing. I would pull back the time and temp on the zucchini a bit or you risk mushiness. This was a fun version of a staple, and we all enjoyed making and eating it.
Our second meal was the Cincinnati-Style Beef Chili with Spaghetti and White Cheddar Cheese. This time, the internet only ate the cover photo.
My husband is from Cincinnati, and he is particular about his Cincinnati Chili (Skyline for him, not Gold Star). If you've never had it, it's a finely-ground beef and tomato chili with some odd spicing (cinnamon), usually served on top of spaghetti with an enormous pile of mild cheddar shredded on top. You can also have it with beans, onions, and oyster crackers, or on top of tiny hot dogs. It's pretty good stuff, I admit. So, he was excited about BA's version, but also skeptical.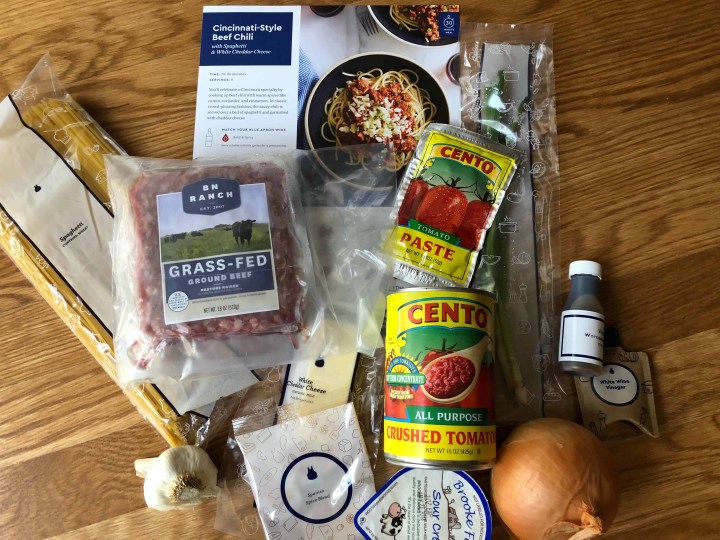 We had the right proportion of everything for our chili this month, except the cheese was a little light if you were going for authentically-enormous piles.
Each recipe comes with these easy-to-follow instructions. Even if you are new to knife skills, you will be able to do everything on this list. There was nothing hard about this prep–you could even do it on a weeknight.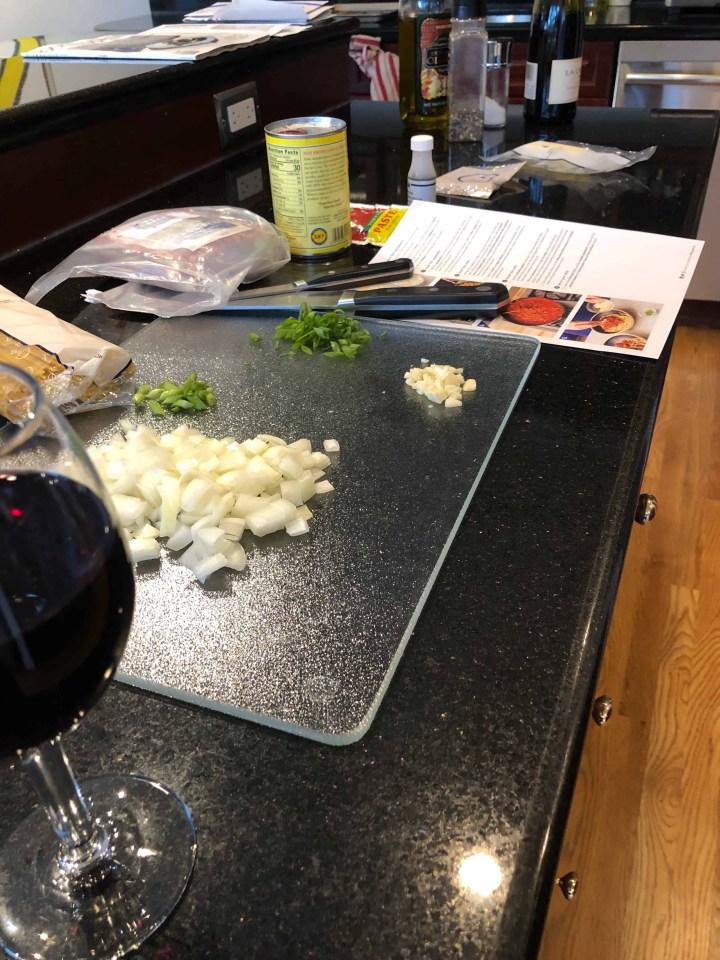 The chili smelled really good and came together quickly.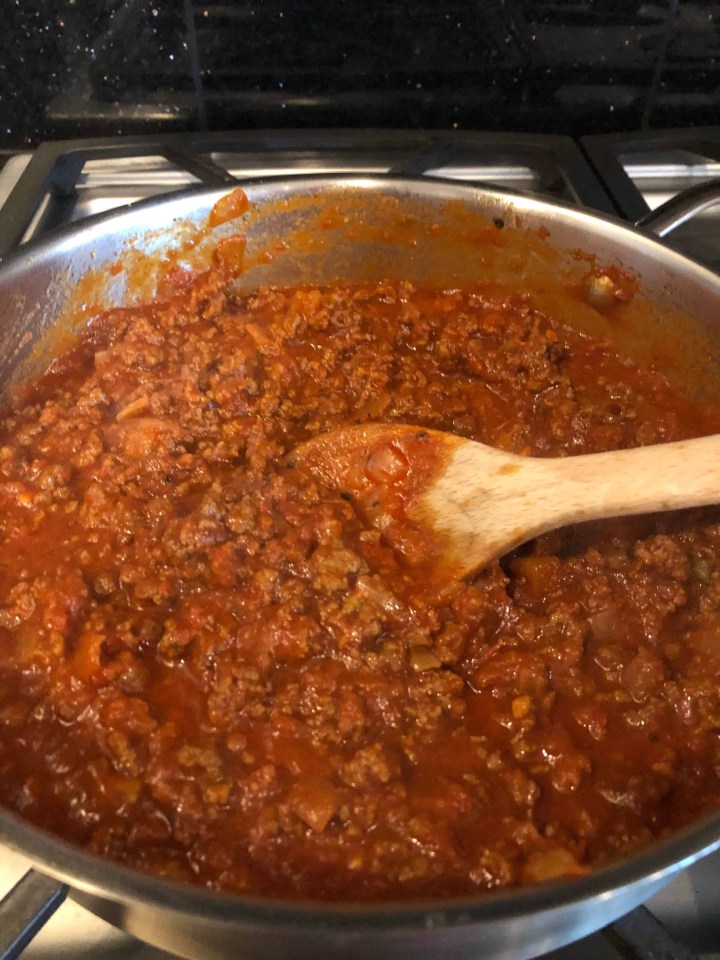 Nutrition facts are good for you. (Just don't look too closely at this one!)
So the verdict from the Cincinnati Chili Connoisseur? Objectively good food. Not particularly authentic-tasting. But, hey, that's why it's just Cincinnati-Style Chili, right? We all enjoyed this, and there was enough for lunch the next day.  Thumbs up.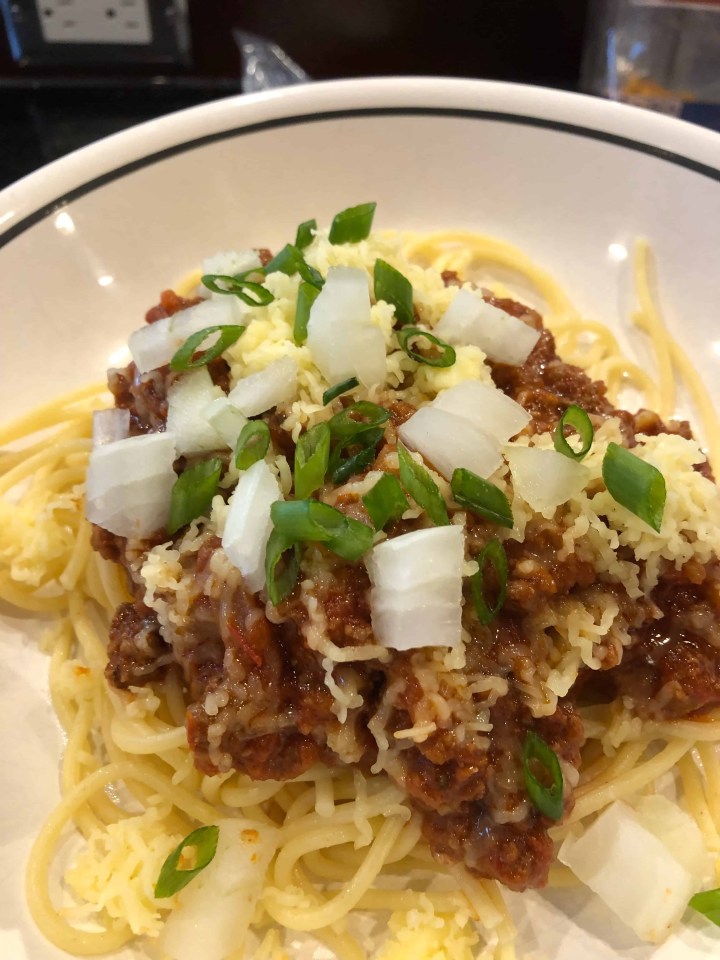 Hey, did you know that Blue Apron has a wine program now? It's super easy to match your wine to your meal, like the tasty Vermentino we had with the unphotographed chicken tacos.
It's nice to not have to decide "what's for dinner" all the time. Overall, Blue Apron has been enjoyable and gets us out of our boring dinner routine. Honestly, you can forget how fun cooking can be. Interesting ingredients, easy recipes, and delicious food. We can't wait to see what we get next time!
Have you had Cincinnati Chili?  Are you a Skyline or Gold Star partisan? Let us know in the comments below!