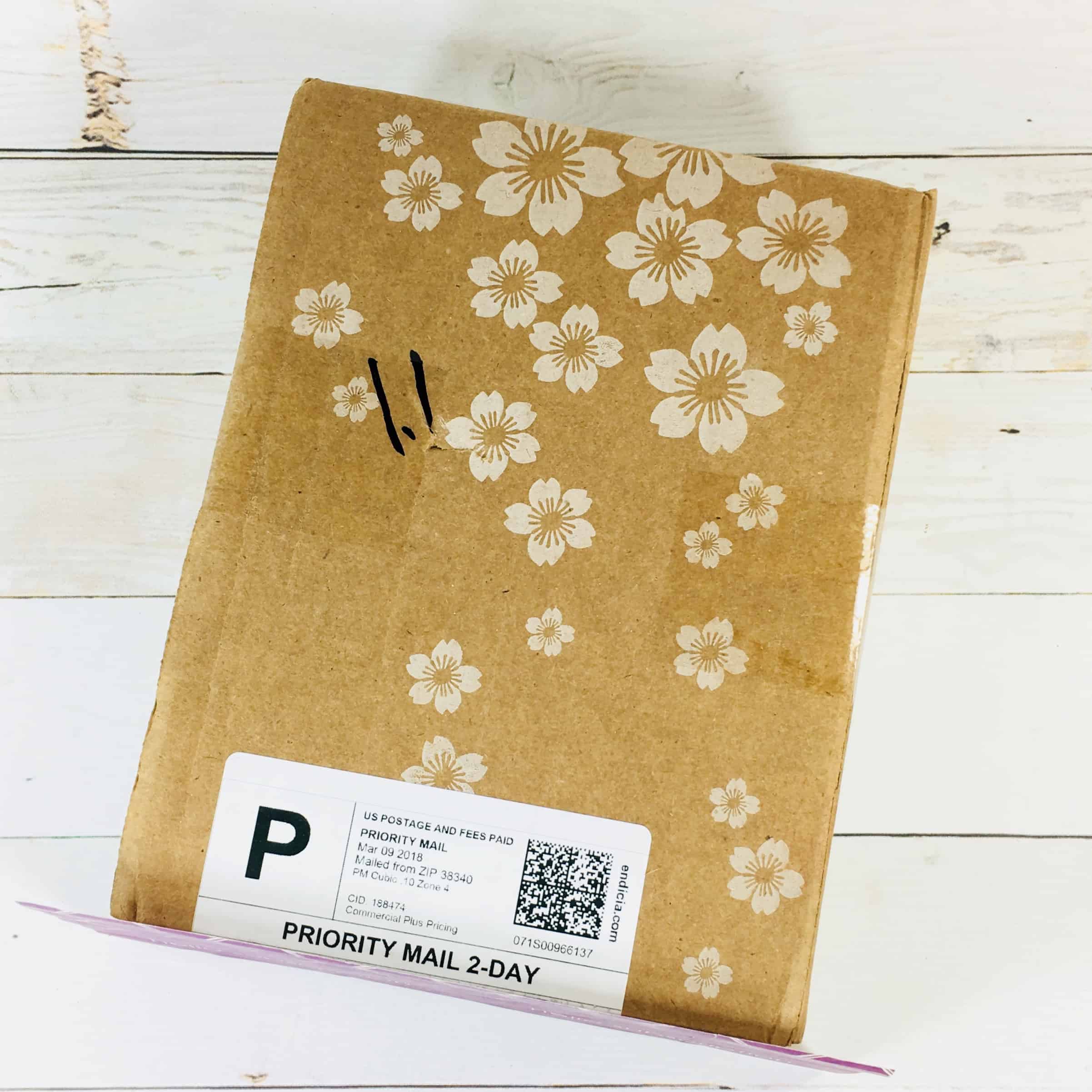 Yuzen is a quarterly subscription box designed to help you bliss out and enjoy natural beauty products and snack items from the comfort of your own home and in larger sizes than traditional subscription boxes. Yuzen is $35 every three months and if you want this Spring box you have until April 30th to sign up and receive the current box. What can you expect to find in your Yuzen box?
Each box includes high-quality natural and organic personal care products, healthy snacks, and lifestyle items carefully chosen from about 6 companies. We recognize that consumers have begun asking where they can find the purest and best quality products but are often overwhelmed by all the choices. Each Yuzen box is carefully curated to provide amazing, healthy lifestyle products you can trust.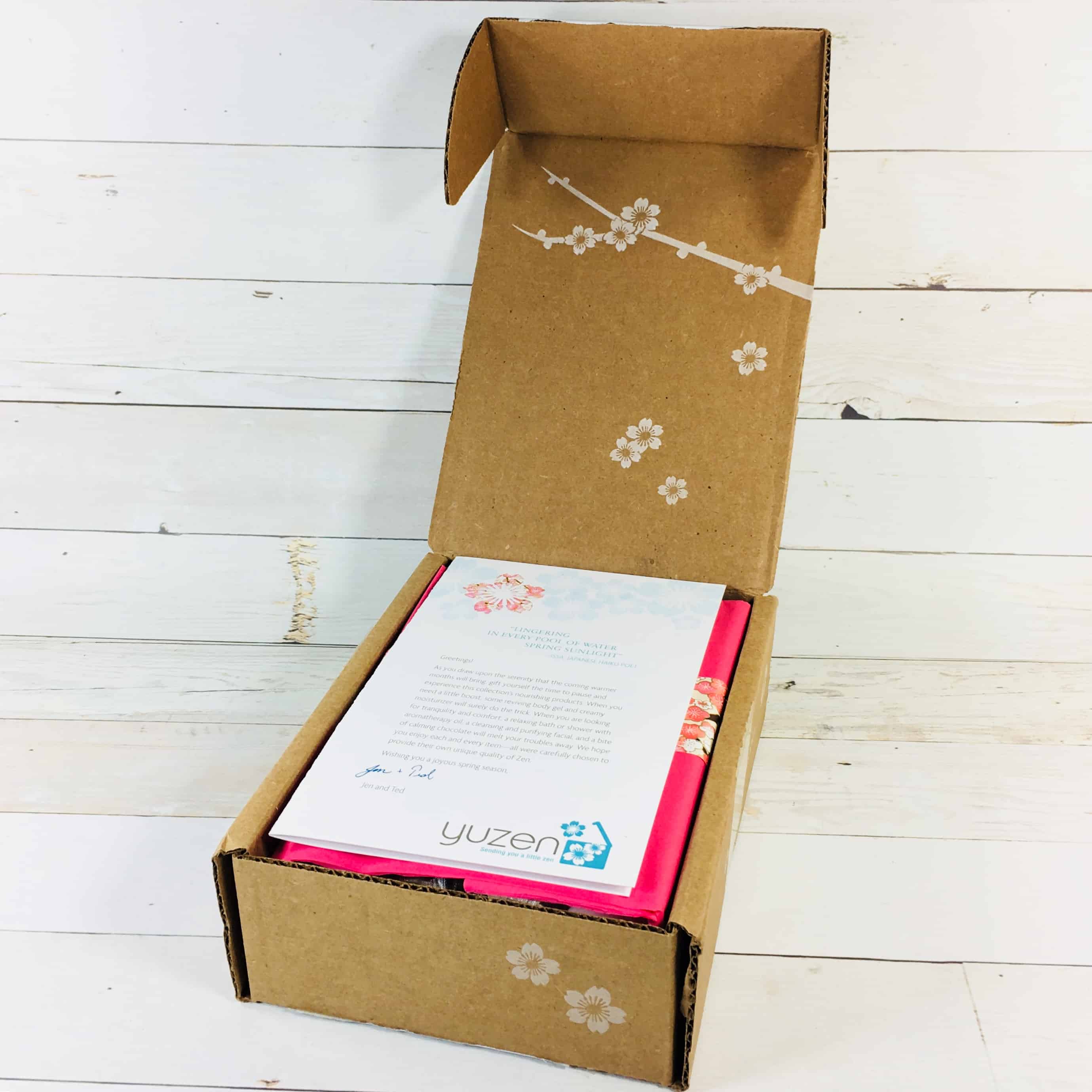 The outside of the box, as well as the inside cover, was covered with flowers that I am going to guess are sakura, little cherry blossoms!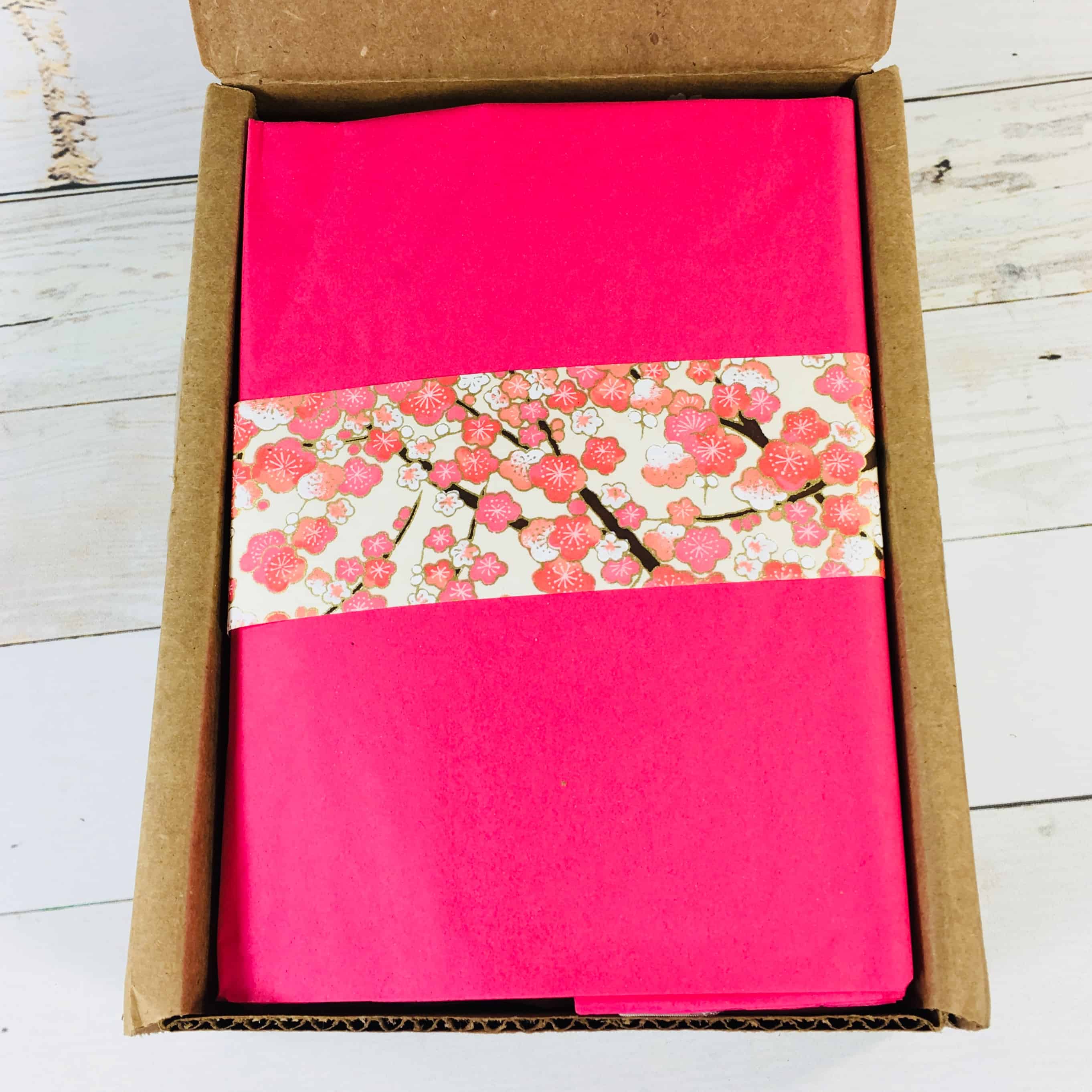 The box presentation was lovely. Hot pink colored tissue paper greeted me and it was accented by some beautiful floral paper. Yuzen has two meanings: it is a type of traditional Japanese paper that can be used in origami, but it is also a play on words. This box is designed to help "you zen" out at home! I'm keeping the paper – if I start a bullet journal, this is going to be used for decoration!
Some of the products were in an organza drawstring bag, others were tucked inside the box. Biodegradable packing peanuts were placed under the tissue paper.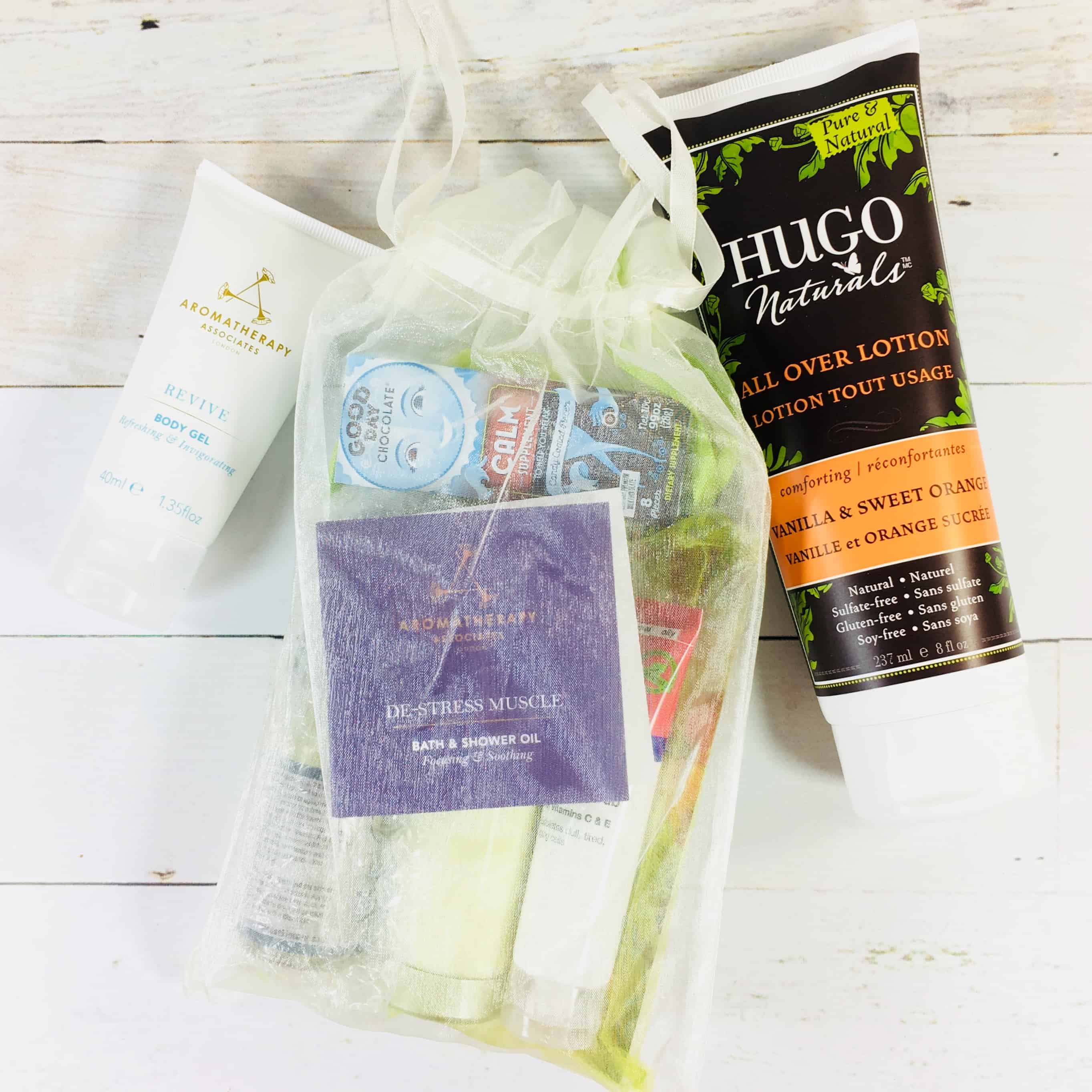 There was a glass item wrapped in bubble wrap to keep it safe.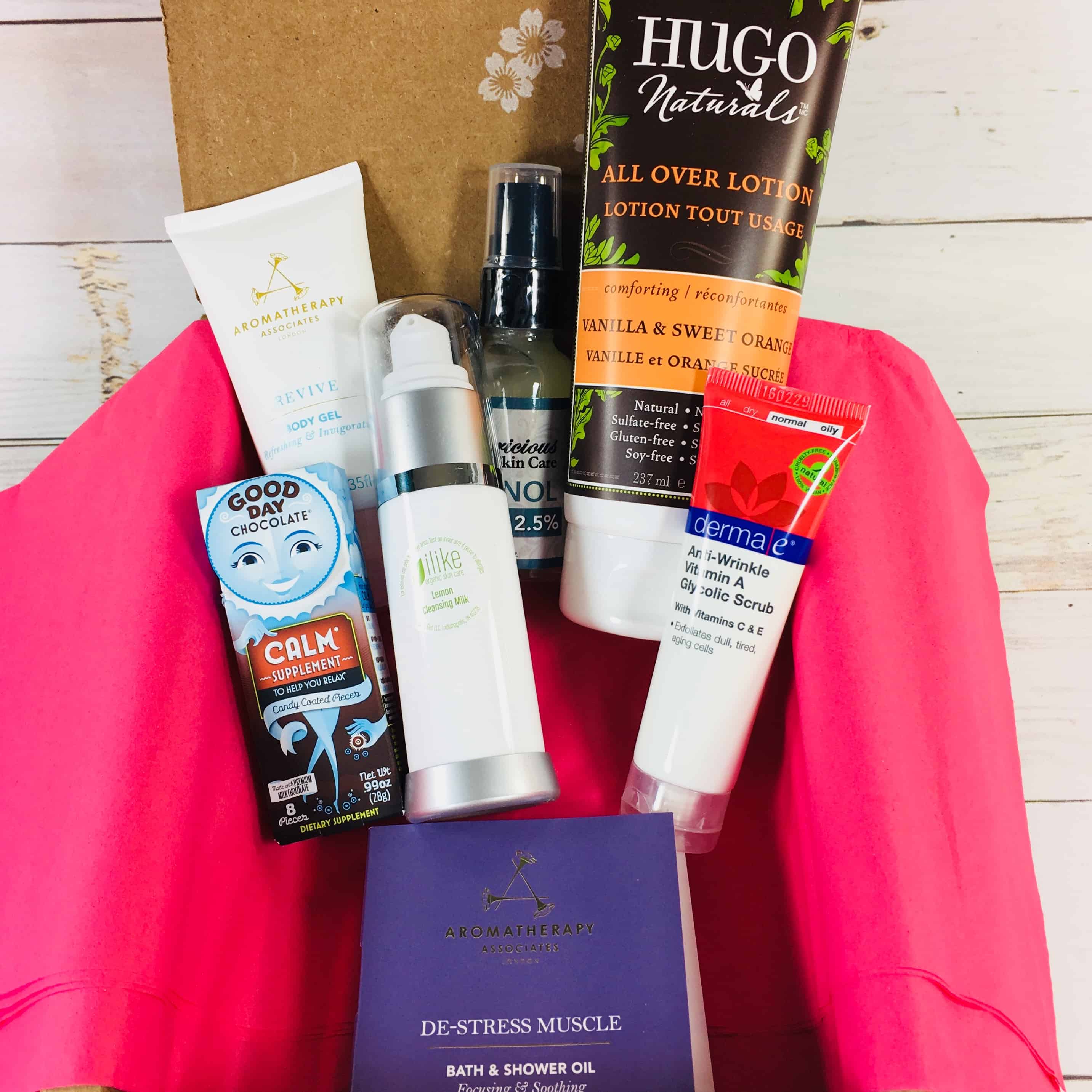 I found a mix of favorite brands and new-to-me brands!
Everything in my box!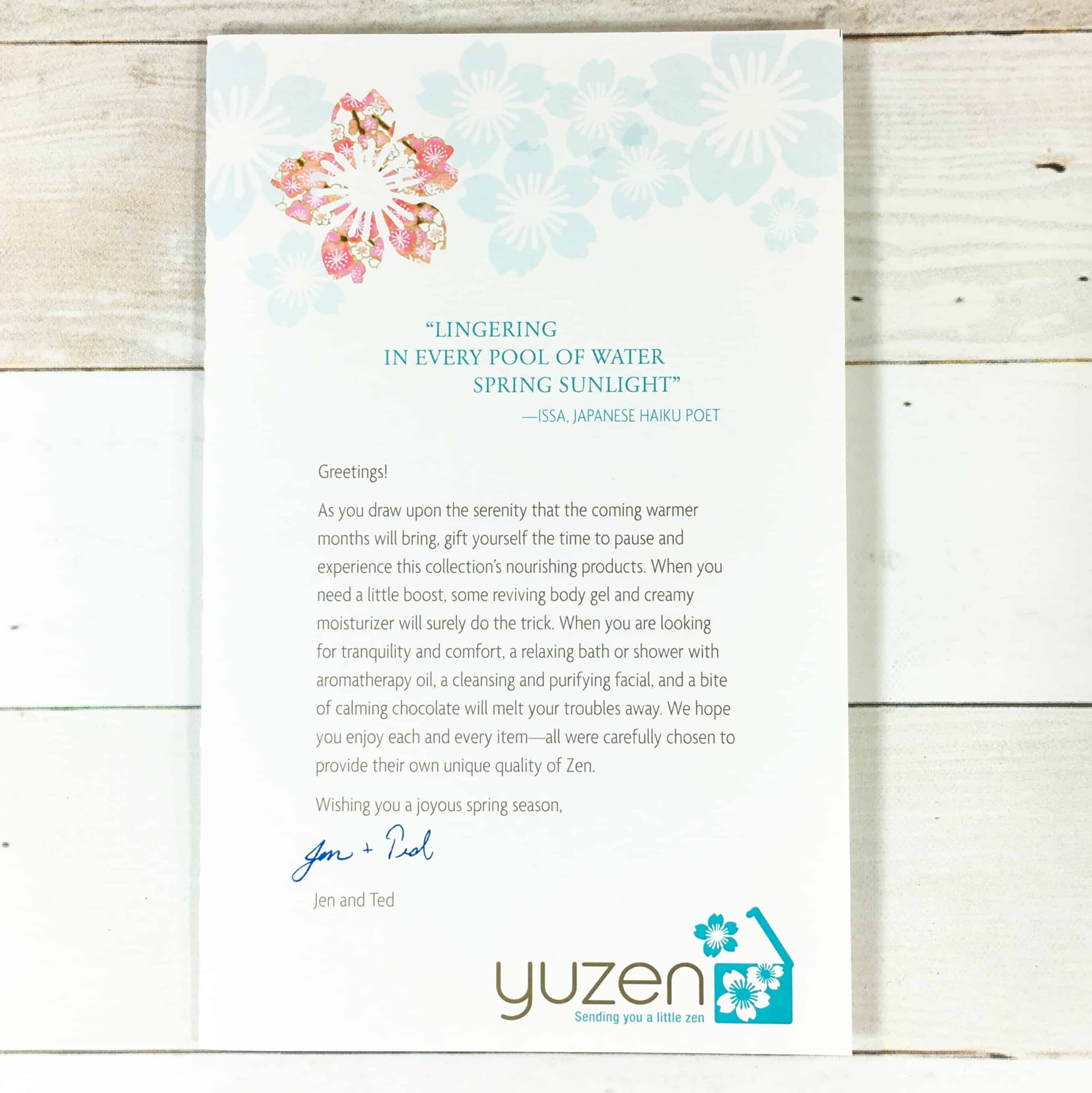 I received a product information brochure that had the intentions of this box noted on the front plus a lovely haiku. "Lingering in every pool of water spring sunlight."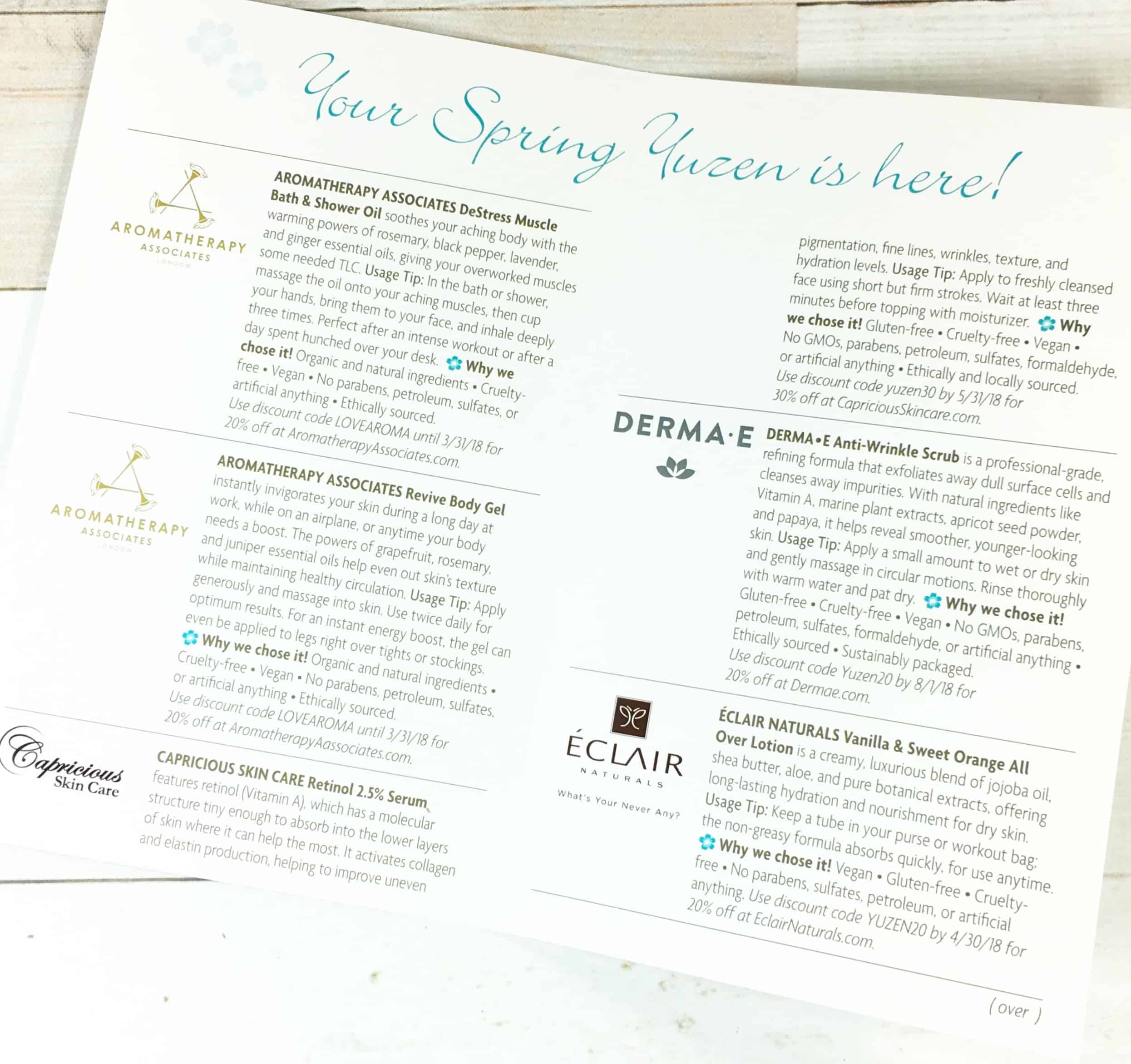 The rest of the brochure listed the items and why they were chosen for this season.
I found info on the back cover about how to share my box on social media.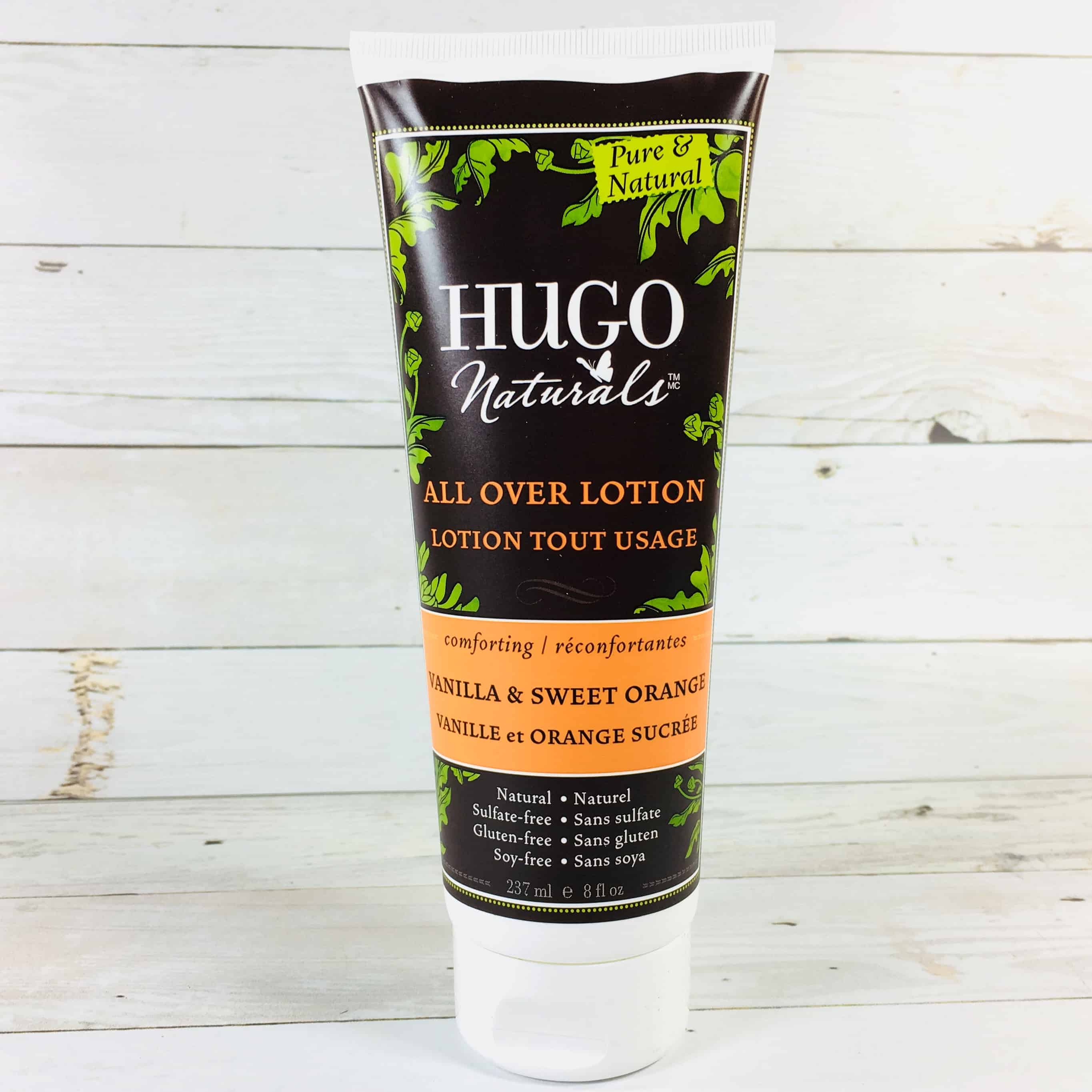 Hugo Naturals All Over Lotion ($8.99) I was very happy to see such a large container of body lotion!
The all natural ingredients include jojoba oil, shea butter, and olive oil and this product is scented with essential oils. It takes a little longer to rub in than grocery store lotion but it is worth it plus it smells so good, like a Dreamsicle! The scent fades quickly so it won't mess with your perfume. NOTE: This is different from the product listed on the card, although the ingredients are similar and the price is the same.
Aromatherapy Associates Revive Body Gel ($10.80) I love good smelling herbally stuff and this product smells uplifting. In fact, anything from Aromatherapy Associates is going to smell amazing!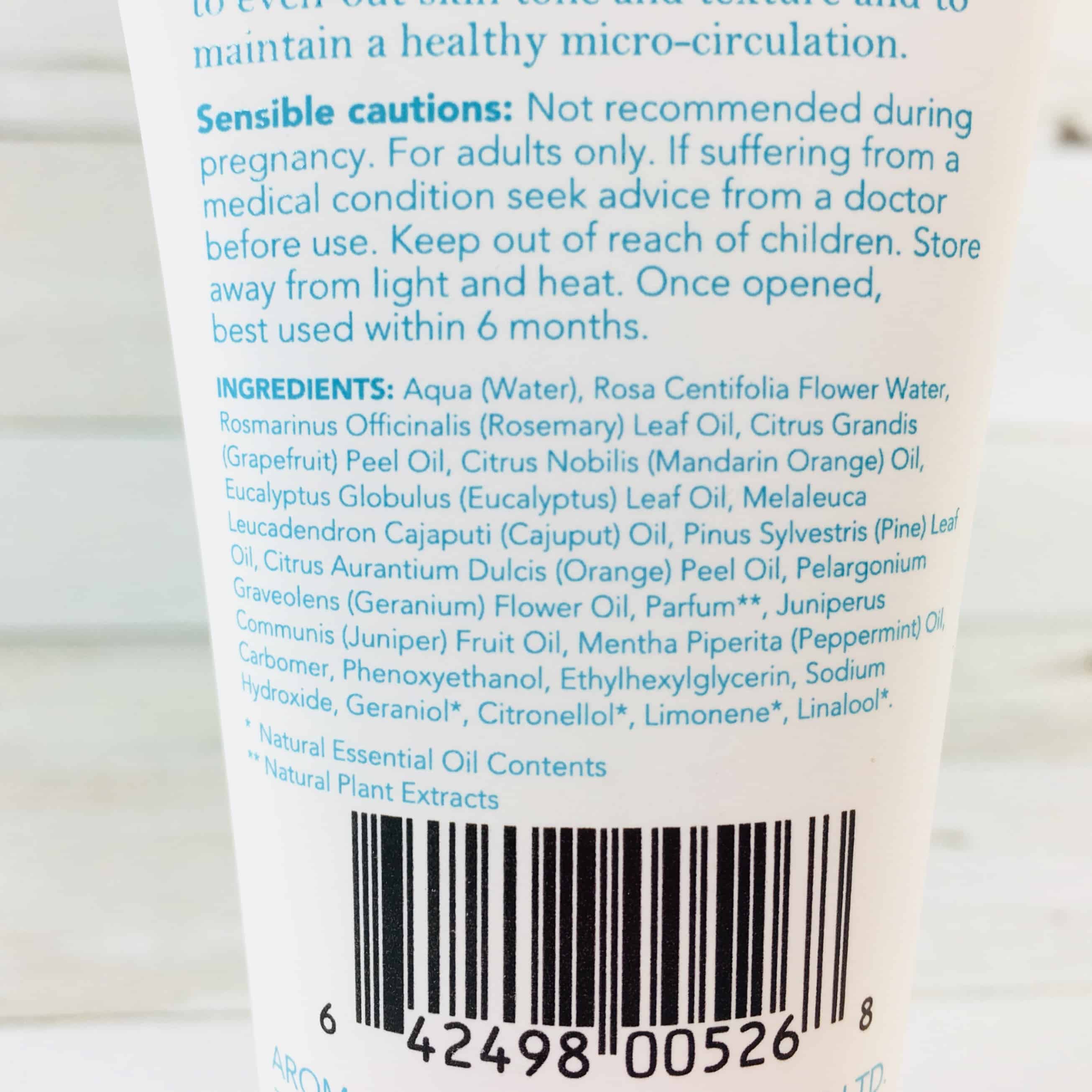 This is a gel that is especially good for tired legs or feet. They suggest dry brushing the skin first, then applying this gel, then using an oil or moisturizer. It was absorbed quickly and is nice to have around, especially with warmer weather on the way.
ilike Lemon Cleansing Milk ($44 Full Size 8.4 oz, $5.24?) I'm not sure how much product is in here, an ounce? This is best for normal to combo skin and is very creamy, no lather at all.
The container was kind of weird. I had to turn it upside down to get the product to come out. I used it as a second step in cleansing. First I used an oil to get rid of the makeup, then followed with this creamy stuff. I was happy to see the toner-soaked cotton ball looking clean!
Capricious Skin Care Retinol Serum ($39.99) Here's a product that is supposed to help fight fine lines and wrinkles, reduce age spots, and improve skin tone and texture.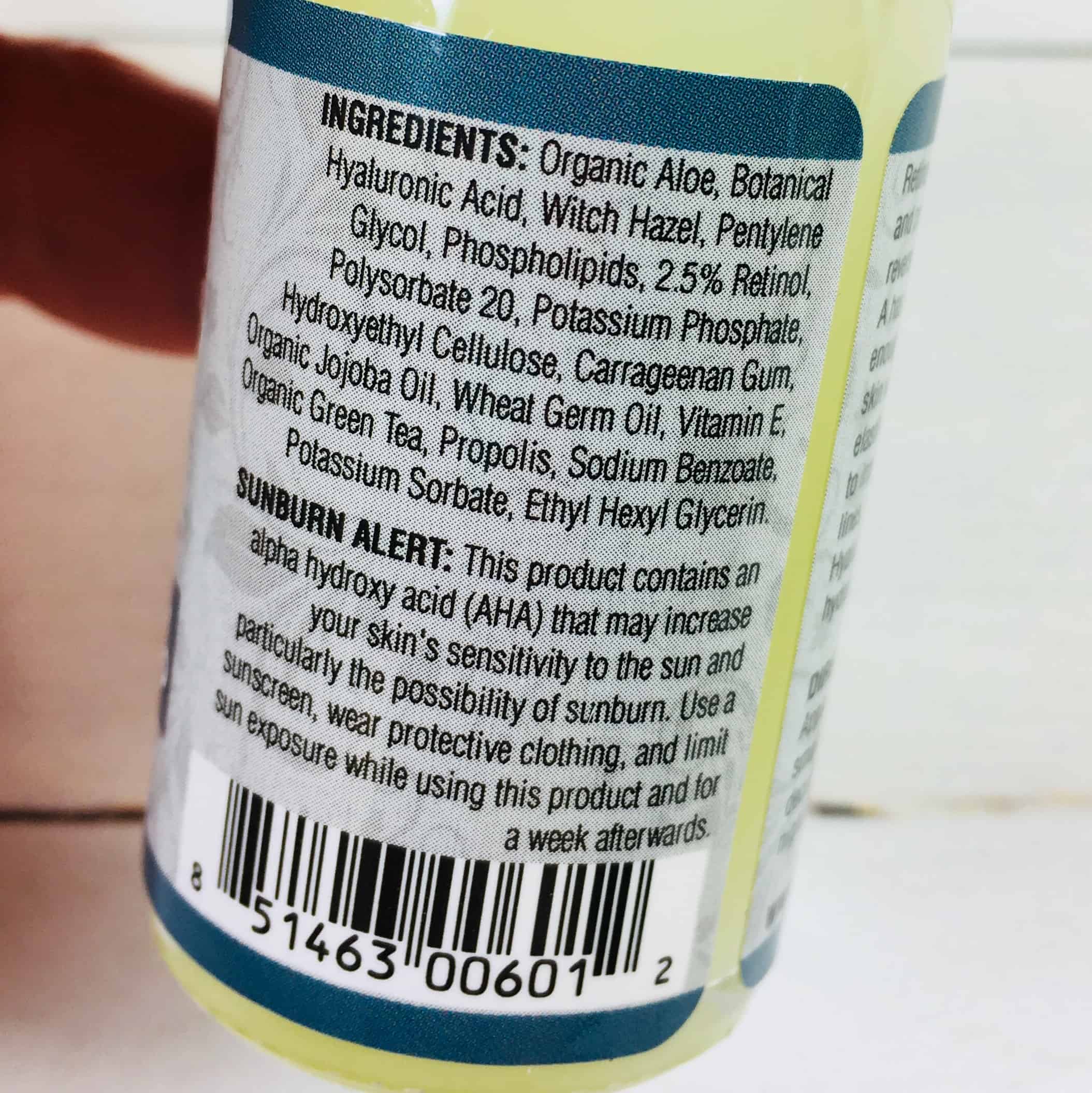 Alpha hydroxy acids may make skin sensitive to the sun so make sure to use this before bed and wear a sunscreen during the day. The gel doesn't have much scent and my skin absorbed it quickly. Follow with your usual moisturizer.
Aromatherapy Associates De-Stress Muscle Bath & Shower Oil ($3.92) I love these little bottles of joy from Aromatherapy Associates! I just rub some of it on my limbs before jumping in the shower and when the warm water hits it then I get a lovely whiff of the amazing blend of oils.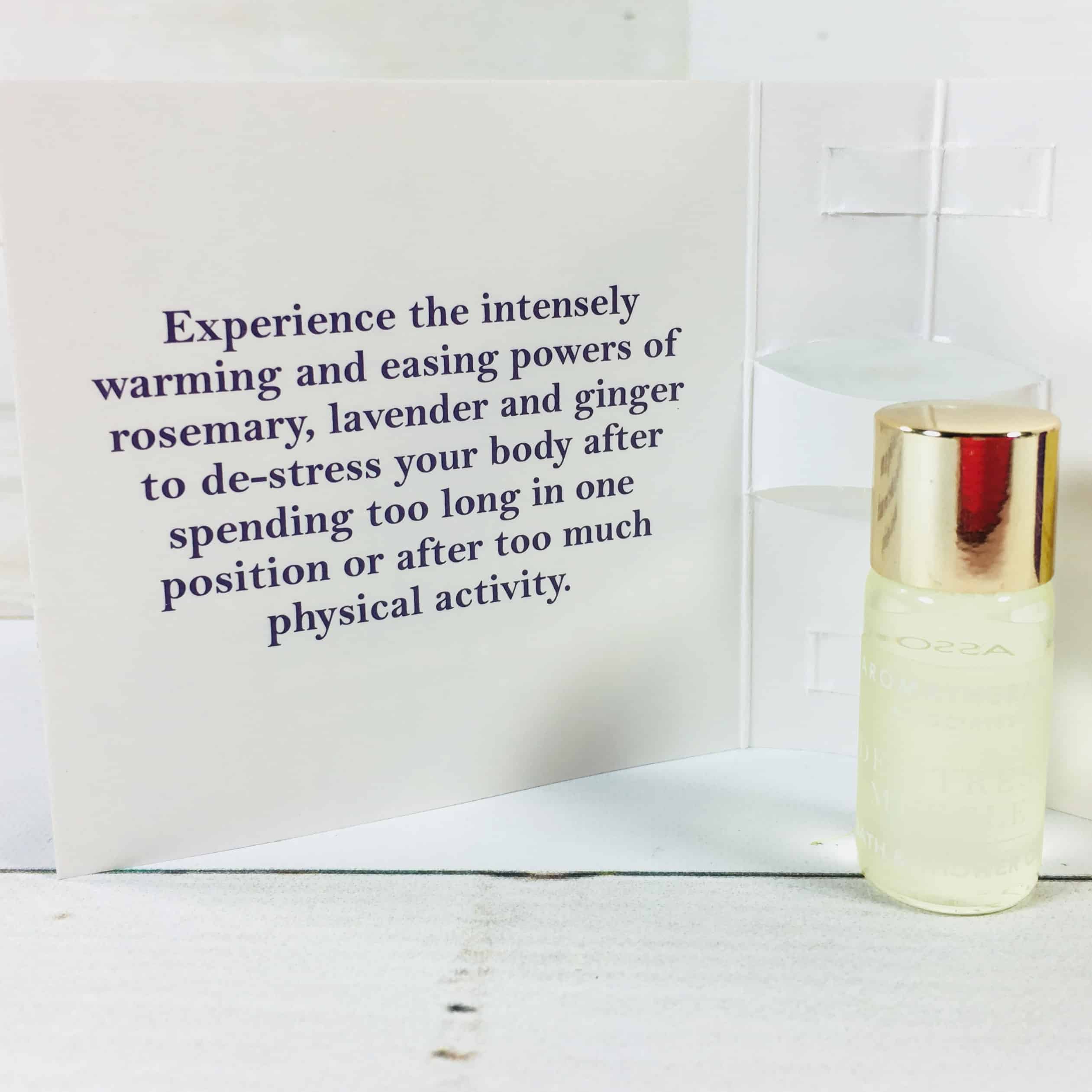 Coconut oil forms the base while a blend of lavender, rosemary, and ginger essential oils smells warm and uplifting. Breathe deeply my friends.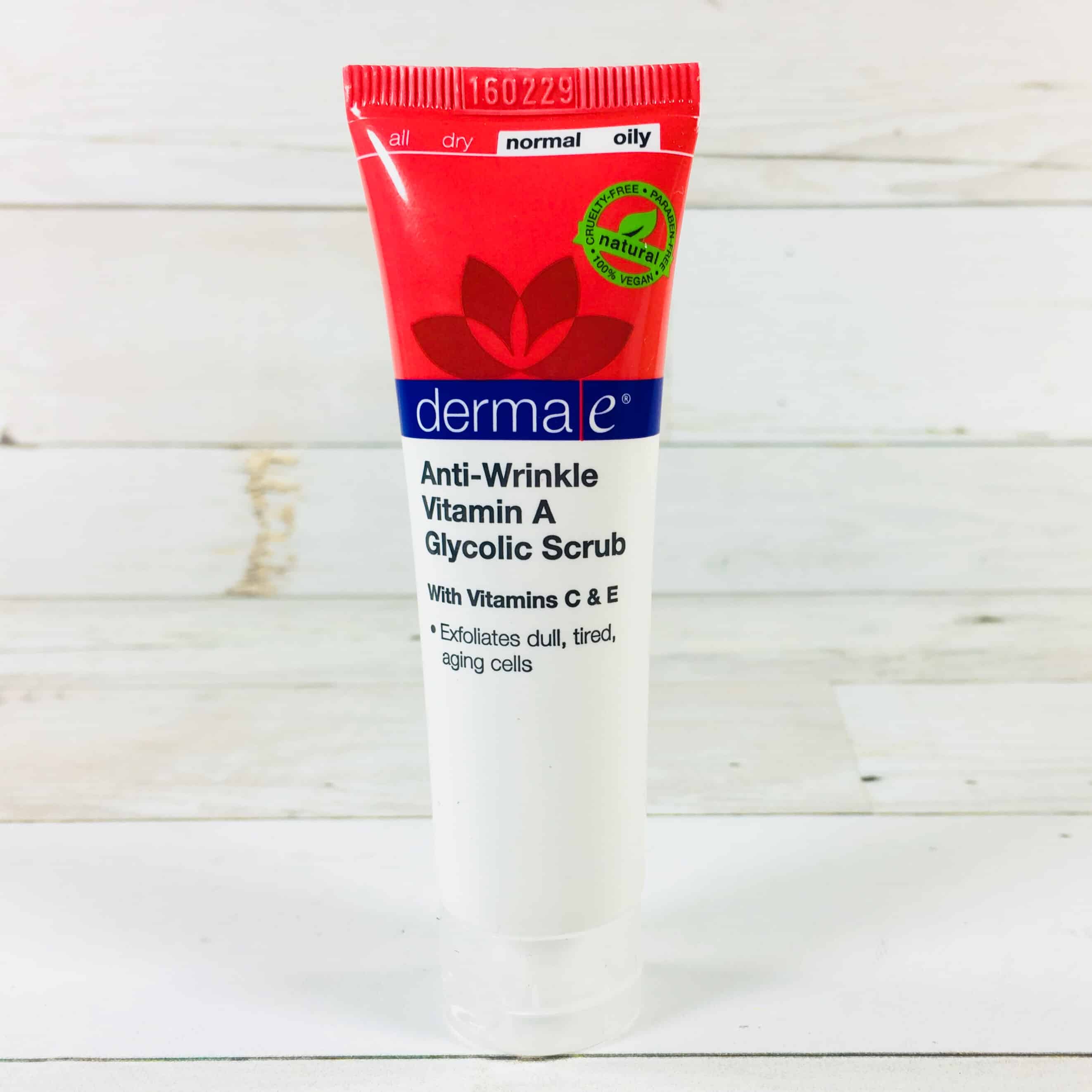 Derma-E Anti Wrinkle Vitamin A Glycolic Scrub ($2.09) I am always happy to find a gentle exfoliator in boxes and this one isn't too harsh. It doesn't take much to get a good lather going and ground up apricot seeds help buff away impurities. It had a strong floral scent.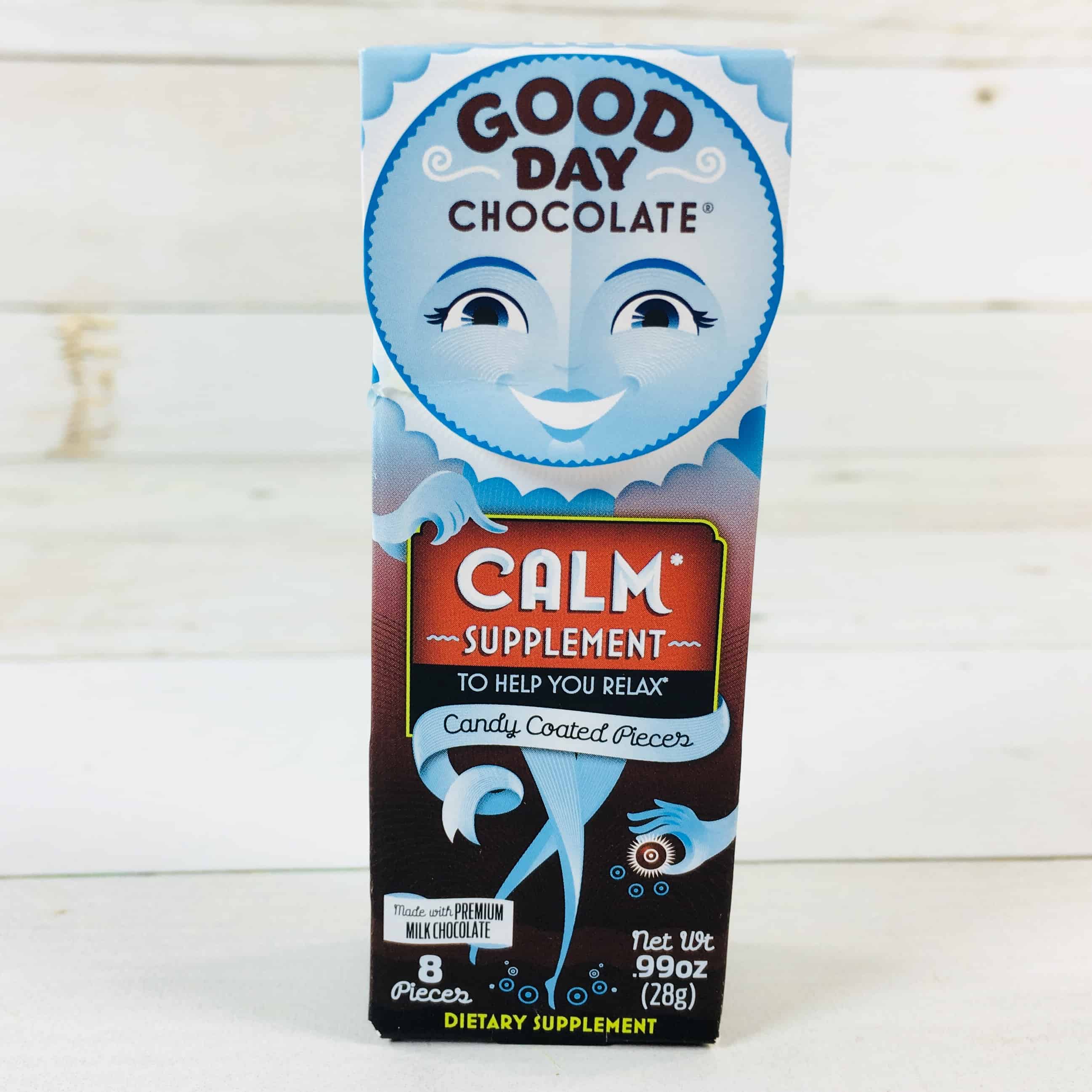 Good Day Chocolate Calm Supplement ($3) This little box is supposed to help you relax by providing a "smooth blend of amino acids and botanicals to help release tension." It's mainly milk chocolate plus some L-Theanine, which is found in green tea.
There were 8 super sized M&M-type candies in the box and at first they had a spicy or herbal flavor, maybe from the turmeric in the colorant? I'm not sure, but the chocolate itself was tasty.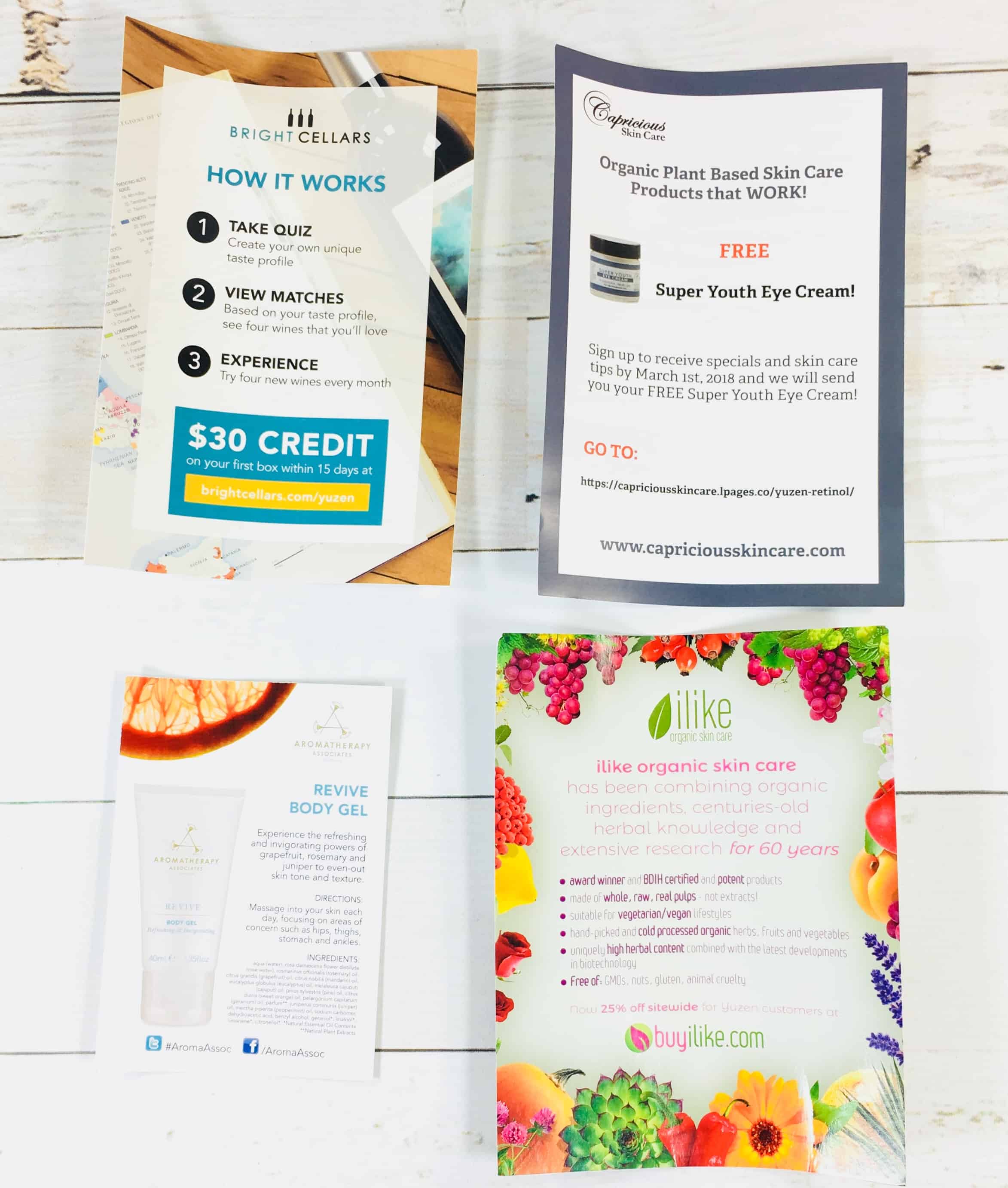 There were several papers about some of the products, an expired coupon code, and a coupon for a wine subscription box.
My Spring Yuzen Box was full of clean products that I felt confident using, knowing they would be non-toxic! I appreciate that Yuzen sent products for my face and body, and even a tasty, relaxing treat. Most of the products were full-sized, plus two travel-sized items and a smaller one-time use product was included. The value was around $74.03. This is around double the price paid for the subscription and great for a natural beauty box!
What did you think of the Spring Yuzen Box? Let me know in the comments!