Yogi Surprise is a yoga-inspired monthly subscription box designed to complement your way of living. Each monthly box contains 6-8 products picked by experienced yogis to complement your yoga practice and your life! It's like getting a care package every month!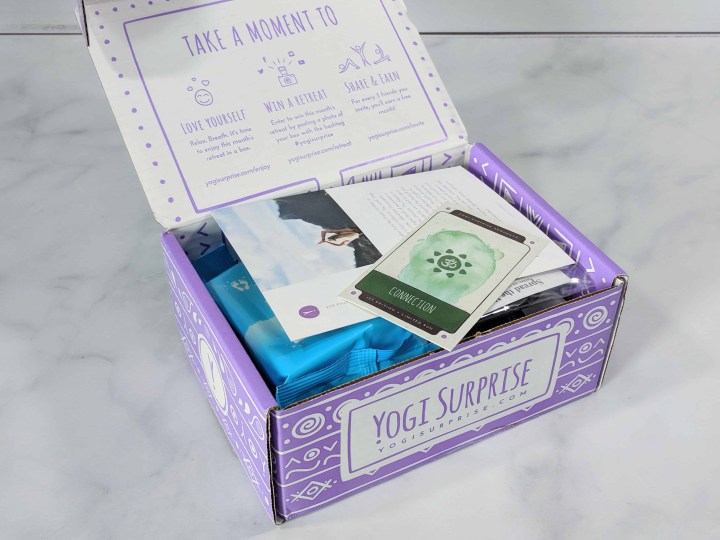 DEAL: Get 25% off your first box! Use coupon code HELLO25.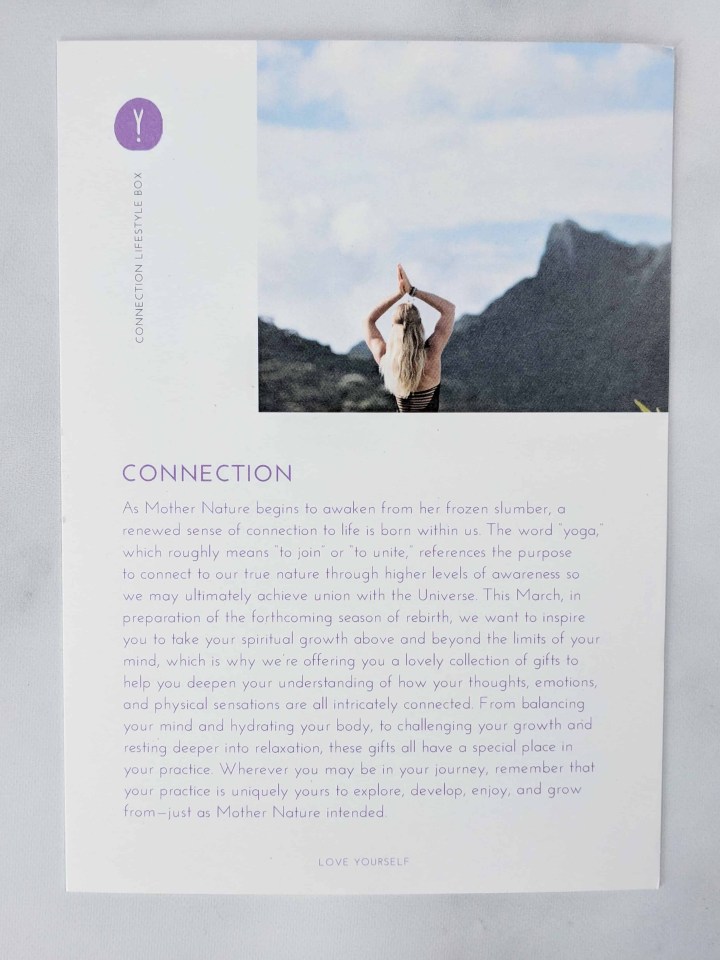 March's theme is "Connection." Yoga means "to join" or "to unite" and this month's offering will help us understand how our thoughts, emotions and physical sensations are all intricately connected.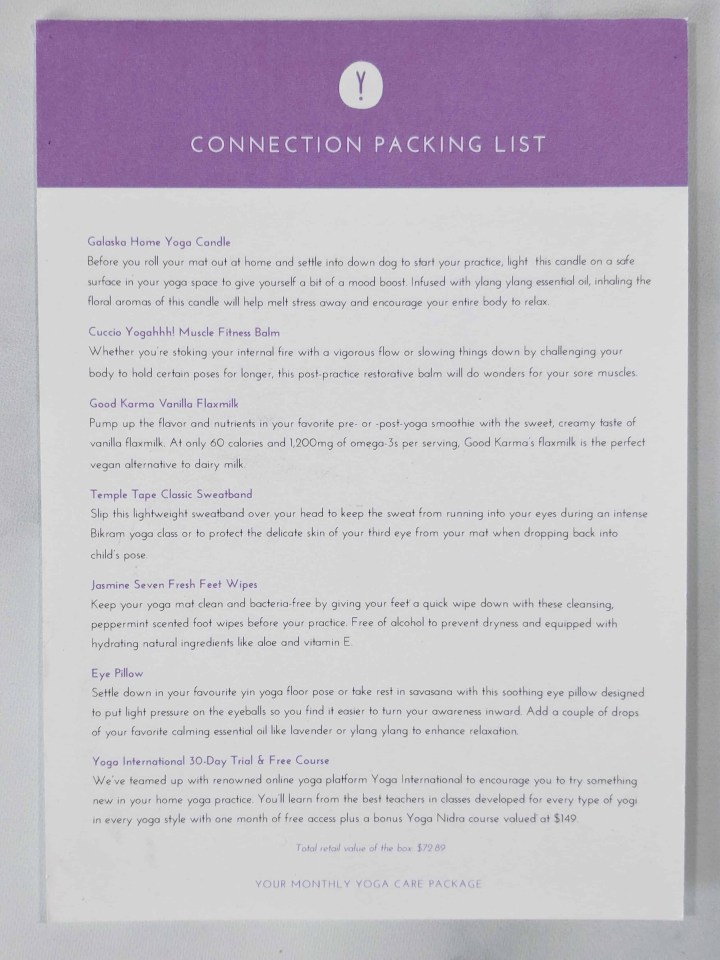 This month's packing list tells us that we are getting 6 lovely items and a free trial to an online yoga platform!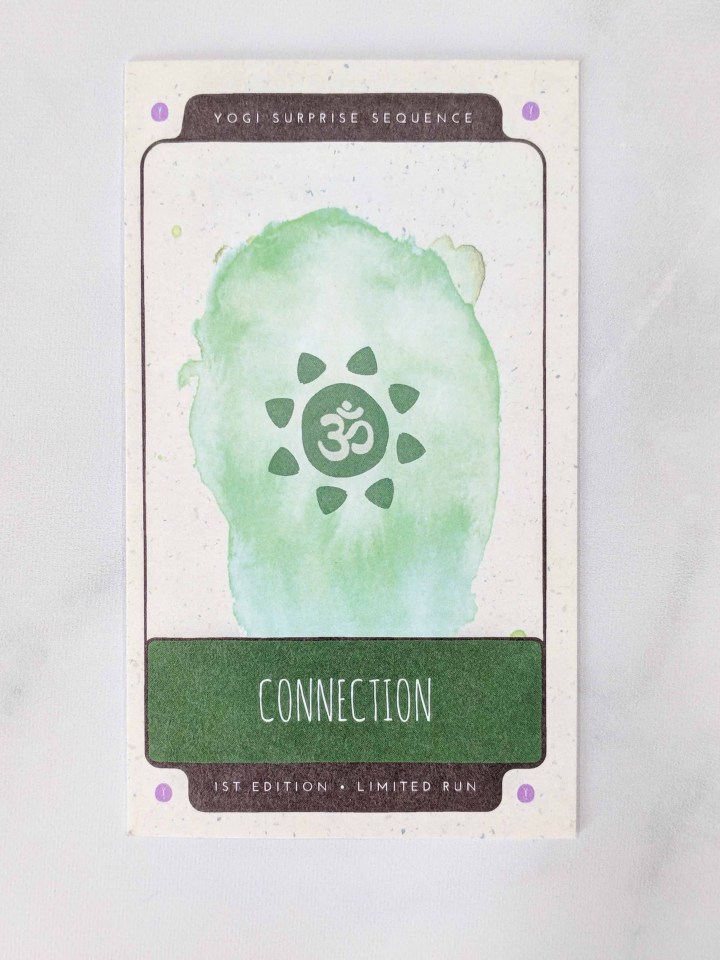 Yogi Surprise Yoga Sequence Series Card. Every month, you receive a little card with a sequence of poses to celebrate the month's theme.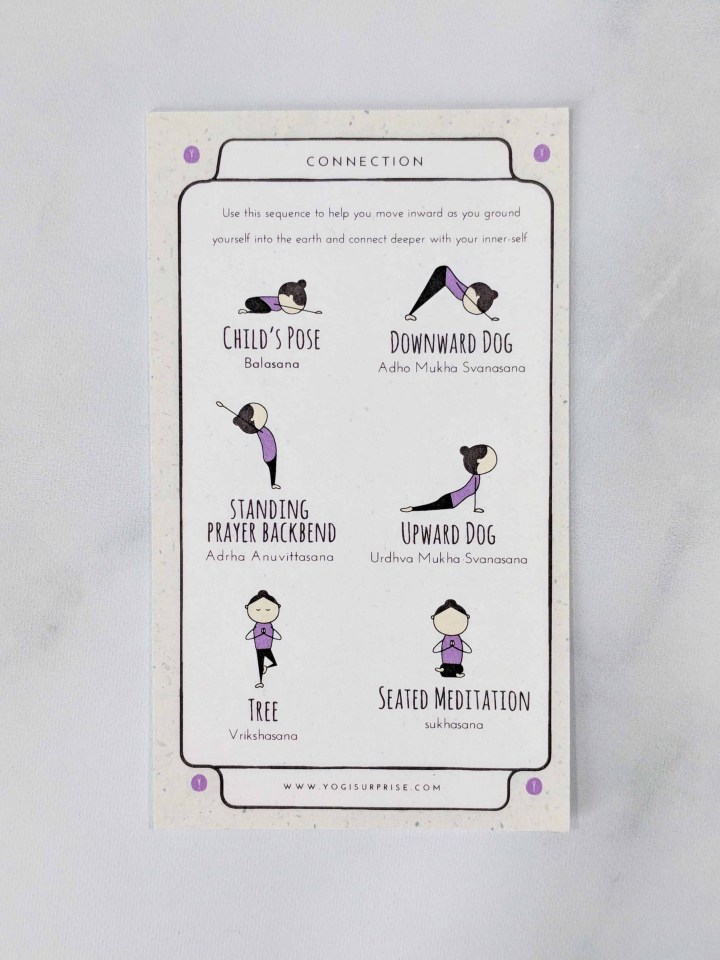 This month's asanas are all about moving inward as we ground ourselves into the earth. Fun fact: you can download all the previous sequence cards on the yogi surprise website so you can have your own little inspiration book.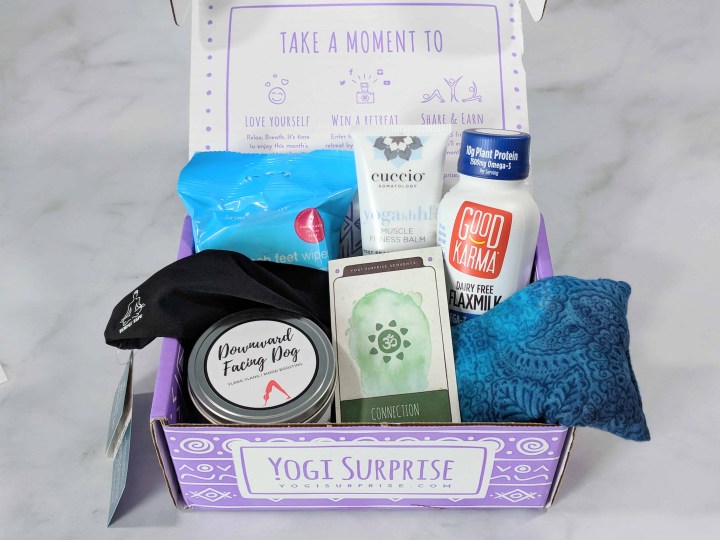 Everything in the box!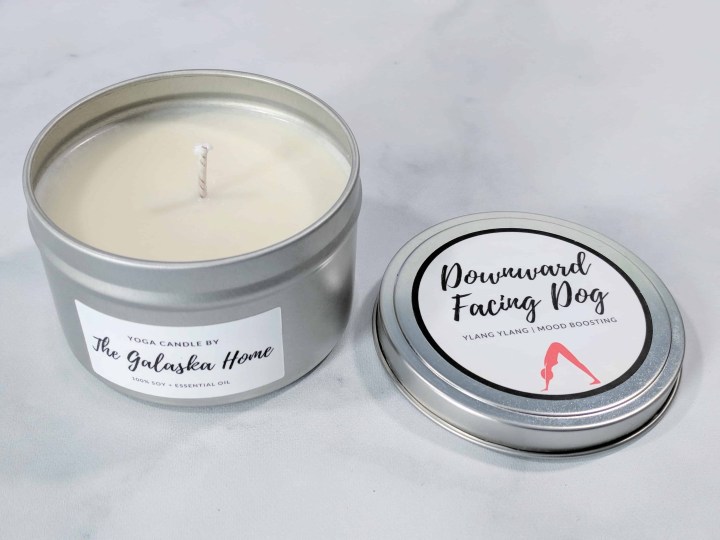 Galaska Home Yoga Candle. This is one of the different scented candle that this company makes to enhance our yoga practice.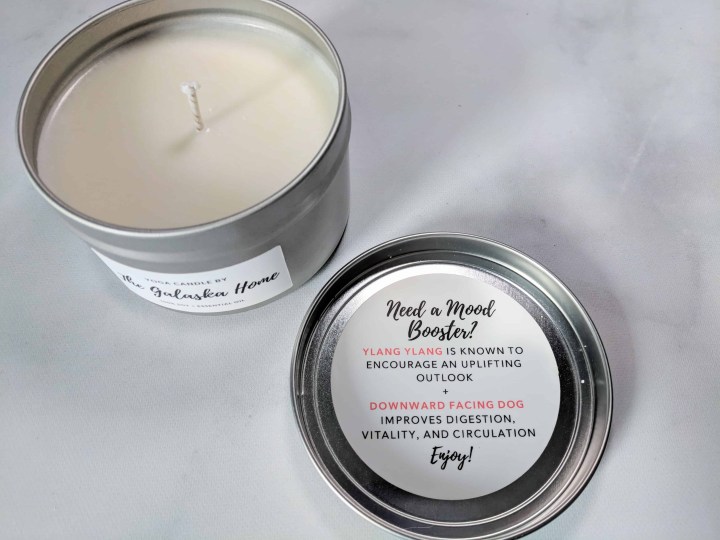 Downward Facing Dog is scented with Ylang Ylang, a very grounding scent that goes lovingly with Downward Facing Dog.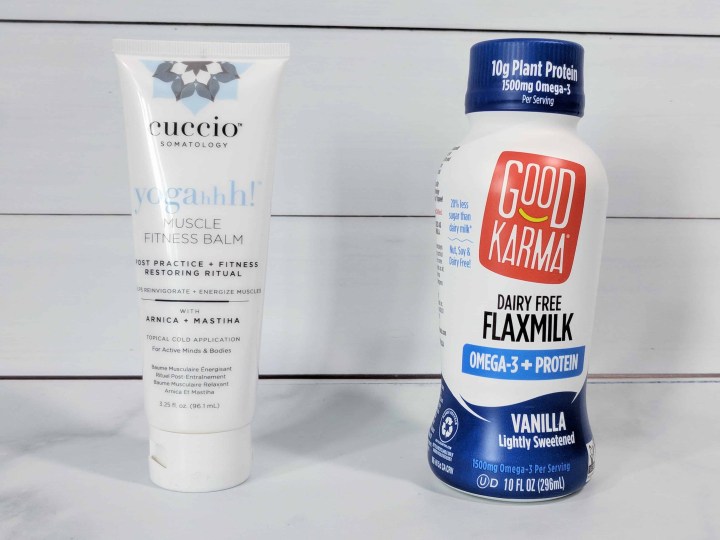 Cuccio Yogahhh! Muscle Fitness Balm. A restorative balm made with arnica and scented with eucalyptus. It also has aloe vera to soothe the skin. It's a nice muscle relaxant rub, with a runny texture that is easily apply and penetrate the skin for a cooling and warming sensation.
Good Karma Vanilla Flaxmilk. Dairy Free Protein Shake with Omega-3, this is a nice replacement to other protein shake. I'm happy that even though it's flavored, it's not overly sweet. It's creamy and totally delicious! It's a great alternative to my soy milk for added calcium and vitamin D in my diet! Ok, the more I drink it, the more I'm thinking it's better than soy milk! I don't know how it compares to almond milk as I don't like the taste.
Temple Tape Classic Sweatband. This is an extra-light headband that will keep the sweat away from the face. The texture is very soft, but it stays in place. It's thin enough that it would fit under a bike helmet.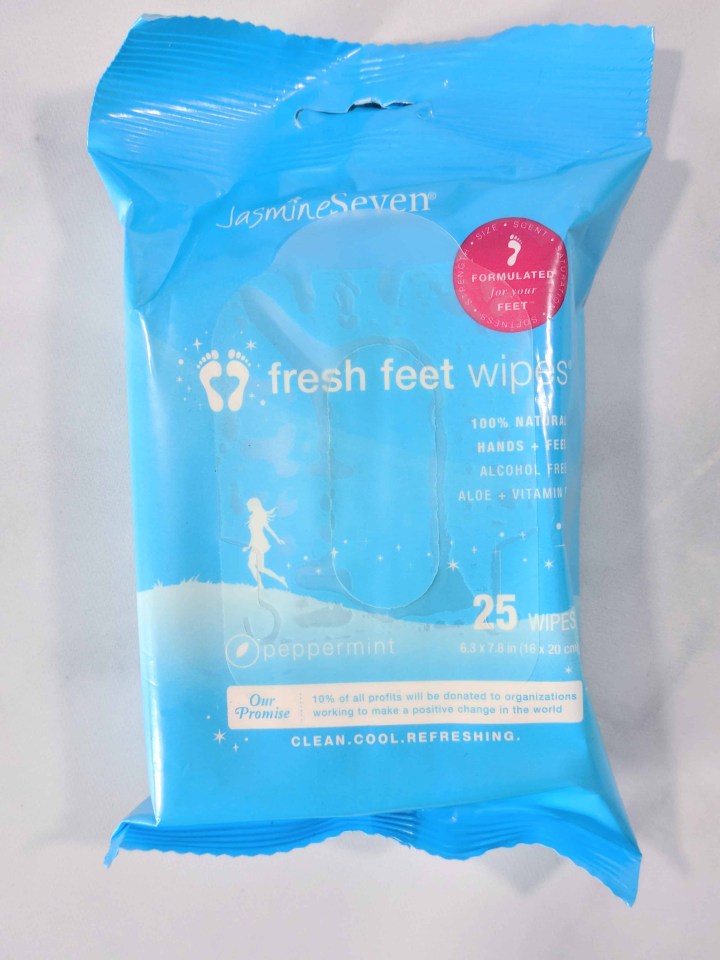 Jasmine Seven Fresh Feet Wipes. I love these wipes! I keep some in the car for on-the-go refreshening. It's made for feet, but you can use it on your hands as well. In the summer, I keep a package in my purse for when I have to remove my sandals when going in someone else's house. I love the peppermint scent!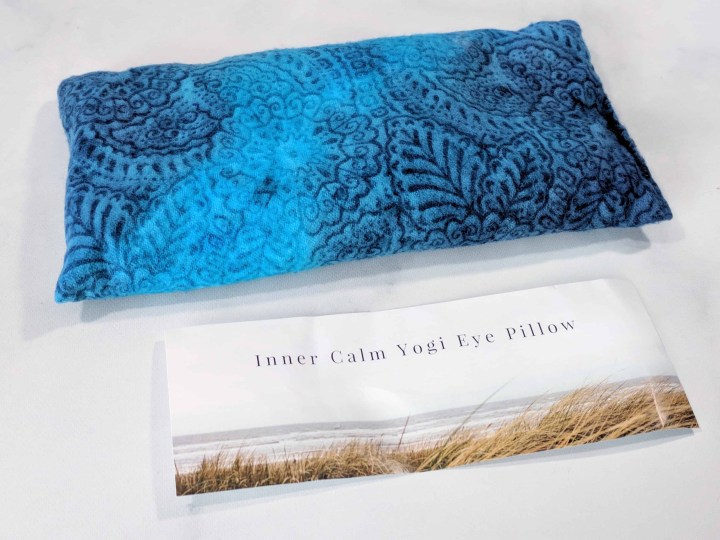 Eye Pillow. The fabric is sooo soft! It's quite heavy, but I like it that way. It stays in place in savasana. I would not put any essential oil on it because not knowing what's inside this pillow, it would be hard to clean it.
Yoga International 30-day Trial & Free Course. With the code on the back of the card, you can access yoga classes in every style you want with well known teacher from the comfort of your home, for 30 days! That's an amazing bonus that I'll be sure to take full advantage of!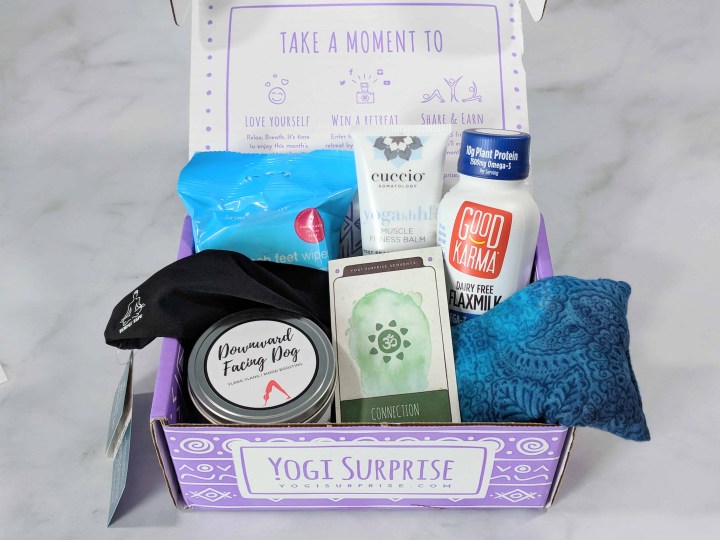 Once again, I loved my Yogi Surprise box. There was a bit of everything to feel connected to ourselves, to the Earth as well as to a community of Yogis (thanks to the free 30-day trial!) This was a lovely care package that would be enjoyed by yoga practitioners, both beginner and advanced, and other fitness enthusiasts! I sure will enjoy it through my daily workout, yoga or meditation!
Are you a Yogi Surprise subscriber? What did you think of the box?